Increase or decrease font size for easier reading : A+ A-
Somphob Benjatikul
Somphob Benjatikul (1945) - สมภพ เบญจาธิกุล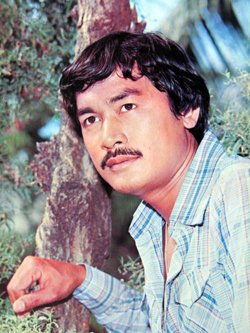 Somphob Benjatikul has played in more than 35 movies
This Somphob Benjatikul movie page contains 21 records.
---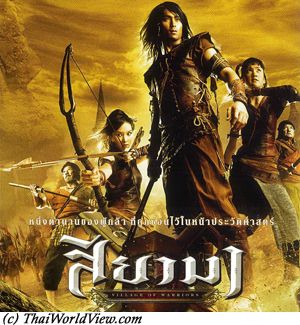 Year

: 2008



Thai title

:

สียามา




English title

: Siyama: Village Of Warriors



Rating

: 2/5


Director

:



Main actor

: Manop Aussawathep,Somphob Benjatikul,Than Thanakorn


Main actress

:



Buy now

:

Two young women and one man from the present are mysteriously destined to travel back in time to an old forgotten Siamese village during Ayuthaya period. This village is blocking Burmese military troops' path to Ayuthaya. The villagers are ready to die for their land in order to protect the capital city of Ayuthaya from being conquered and overthrown. Anna, Gif, and Boat from present day Bangkok use their modern skills in order to help the villagers. As their ancestors sacrified their life to save Ayuthaya against Burma, will they be ready to sacrifice their life also to save their land?



Year

: 2007



Thai title

:

ตำนานสมเด็จพระนเรศวรมหาราช




English title

: King Naresuan



Rating

: 4/5


Director

: ChatriChalerm Yukol



Main actor

: Sorapong Chatree,Chatchai Plengpanich,Phairoj Jaising,Santisuk Promsiri,Manop Aussawathep,Nopachai Chaiyanam,Somphob Benjatikul


Main actress

: Paweena Chareefsakul,Deuan Tem Salitul



Buy now

:

This movie is made in three parts and relates the story of the greatest hero in Thai history, i.e. King Naresuan who was born in 1555. At the age of nine, he had been taken as hostage to Burma for 6 years to ensure Phitsanulok's loyalty to Burmese kingdom. In Pegu, Naresuan is treated as a son of the Burmese king, Bayinnaung, and is afforded all the respect due to a prince. Naresuan is ordained as a novice monk in a Buddhist temple under the supervision of the monk, Khanchong. There he became acquainted with sword fighting and methods of war. As his sister is also held hostage, Naresuan decided it is time for him to return to Siam. He attracted a band of loyal fellows and made his escape back to Phitsanulok.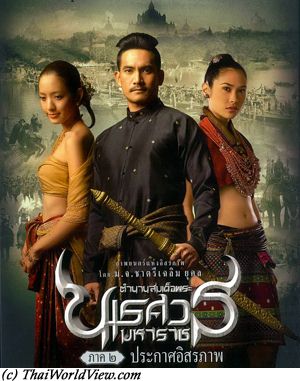 Year

: 2007



Thai title

:

ตำนานสมเด็จพระนเรศวรมหาราช




English title

: King Naresuan 2



Rating

: 5/5


Director

: ChatriChalerm Yukol



Main actor

: Sorapong Chatree,Chatchai Plengpanich,Nopachai Chaiyanam,Somphob Benjatikul,Kom Akadej


Main actress

: Intira Jaroenpura,Paweena Chareefsakul,Deuan Tem Salitul



Buy now

:

Naresuan was sent back to Pegu to represent his father in paying homage to King Nandabayin, who had succeeded Bayinnaung, who passed away in 1581. Naresuan participated with his troops in a Burmese expedition against a Shan state and succeeded in taking a city after the Burmese crown prince and another prince had failed to do so. Naresuan thereby gained the jealous animosity of the crown prince, who plot various attacks against him. Naresuan proclaimed independence from Burma. When crossing River Satong, Naresuan had his forces under attack. With his army across, Naresuan is given a long rifle by his tutor, the monk Khanchong. Naresuan takes aim at the Burmese General across the mile-wide river and fires, killing the man and causing the Burmese troops to loose their morale and cease to follow. In 2009 King Naresuan 3 and 4 are being filmed with government financial support. The Ministry of Culture prioritises its financial support to films that deal with promoting loyalty to the pillars of nation, religion and monarchy. We are back to old times under Thanin Kraivichian's government (1976-1977), where Thai people were tought to be afraid of communism and that the way to survive was already to protect the nation, the religion and the monarchy.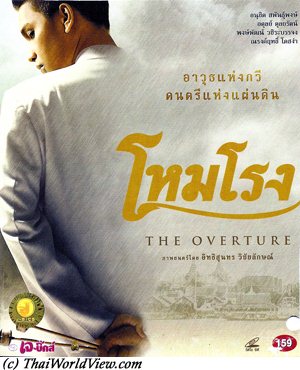 Year

: 2004



Thai title

:

โหมโรง




English title

: The overture



Rating

: 5/5


Director

:



Main actor

: Phongphat Wachirabanjong,Adul Dulyarat,Somphob Benjatikul


Main actress

:



Buy now

:

A young man, Sorn, has a great passion for the ranad ek (ระนาดเอก), Thai xylophone. He was so skilled that he became a royal musician. However Sorn became too proud and was defeated in a competition by a rival. Sorn was able to learn from this failure. Sorn becomes a well-respected musical teacher in the period under Field Marshall Pibulsongkram. It was a time when the government strictly controlled the performance of traditional music, which was deemed "uncivilised". Under the policy of nationalism, the government ordered that folk artists had to have a license to perform in public. The passionate music teacher refused to obey the state's restrictions until the very last moment of his life. Despite its slow start, The overture movie became a box office success due to the attendance of one of Thailand's most prominent ranad players, HRH Princess Maha Chakri Sirindhorn.



Year

: 2003



Thai title

:

คืนบาป พรหมพิราม




English title

: Macabre case of Prom Pi Ram



Rating

: 4/5


Director

: Manop Udomdej



Main actor

: Somphob Benjatikul


Main actress

:



Buy now

:

In year 1977, around 30 males reportedly raped a woman until she died. She had been kicked off her train at Phrom Phiram short of her intended stop for not having a ticket. This movie relates this story and the police enquiry to find the culprits. Local politicians had interfered with the judicial process after the crime. This action raises the inequality facing women in Thai society, especially when they are crime victims. The film's co-producer is ChatriChalerm Yukol. Manop Udomdej started working on his project after he read a book based on the tragedy written by investigative journalist Santi Sawetwimol, who uncovered details about the case that local authorities had tried to cover up.



Year

: 1983



Thai title

:

แก้วขนเหล็ก




English title

: The Dracula



Rating

: 3/5


Director

:



Main actor

: Toon Hiransap,Somphob Benjatikul,Rith Luecha,Somchai Samipak


Main actress

: Apiradee Pawaputanon,Mayura Thanabutr,Pornpan Ketmamatsu
Thai movie แก้วขนเหล็ก / The Dracula was released in year 1983 and lasts 1h22mn. It features some background music by Jean-Michel Jarre and also from James Bond movies. Movie director is สุริยน ดวงทองดี. Wat (Toon Hiransap), Dom (Somphob Benjatikul) and Nin (Apiradee Pawaputanon) are discussing. Dom just gets a heritage (มรดก). It is an old haunted abandoned house. He decides to stay there and so starts restoring it (ตกแต่งห้อง). Rose (Mayura Thanabutr), his fiancee (คู่หมั้น), finds that he changed a lot. An old uncle tells the story of the house. Sir Maekin (ท่าน เมฆินทร์) (Rith Luecha), previous prince (ลูกเจ้าพระยา), wished to marry a young lady (played by Apiradee) but the father refused as the lady was already promised to somebody else. So Maekin kidnapped the lady. His father (Somchai Samipak) imprisoned him for a few days until the wedding was over but Maekin disappeared. Legend said that he become a ghost. Toon helps an old uncle aggressed by two ruffians. He gives him a ring supposed to push back ghosts. One night, Dom is possessed by vampire Maekin. Rose's birthday will happen soon. Dom places a transparent coffin in the house's underground (ห้องใต้ดิน). Dom becomes normal while holding a Buddha amulet, which burns his hand. Maekin possesses him again. Wat uses Tibetan prayers to neutralize the vampire (ผีดิบ). The vampire possesses Wat's young brother (ปรัชญา) in order to shoot Wat. Under Maekin's influence, Dom kidnaps Nin. Wat has no choice but to affront the vampire and use the special ring… A first version was released in year 1971 with Petchara Chaowarat and a later one in year 2003.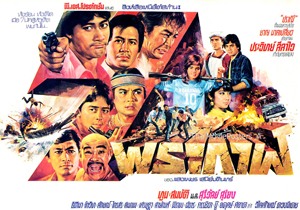 Year

: 1983



Thai title

:

7 พระกาฬ




English title

:



Rating

: 3/5


Director

: ประวิทย์ ลีลาไว



Main actor

: Sombat Methanee,Toon Hiransap,Pipop Pupinyo,Sayan Chantaraviboon,Lak Apichat,Somphob Benjatikul,Kowit Wattanakul,Settha Sirachaya,Kanchit Kwanpracha,Chat Mongkolchai,Sahat Piempongsan,Boo Wibunnan,Somchai Samipak,Adul Dulyarat,Paen Pleumsachai,Pao Porapak


Main actress

: Thitima Sangkapitak,Suriwan Suriyong
Thai movie 7 พระกาฬ was released in year 1983 and lasts 1h55mn. It was released under VHS format and VCD format. It was also released overseas by IFD under the name "US Catman 2 - Boxer Blow". Movie director is ประวิทย์ ลีลาไว. Thai movie 7 พระกาฬ was released multiple times. First time was in year 1967 with Mitr Chaibancha and Petchara Chaowarat. Second time was in year 1983. It was also released as a TV series in year 2004 on CH7. This movie features many famous actors and actresses from decade 1980s. Kanchit Kwanpracha, Sing (Chat Mongkolchai) and Reudi (Thitima Sangkapitak) are having a secret meeting. Kanchit needs to gather seven mercenaries. All of them (Han Meuang Thong - Sombat Methanee, Pipop Pupinyo, Thong Bai as Likay actor – Sayan Chantaraviboon, Boonmee - Lak Apichat, Somphob Benjatikul, Kowit Wattanakul, Settha Sirachaya...) are in jail for multiple murders. Kanchit's team attacks police vehicles during a jail transfer and all seven men can flee in various directions. Reudi receives mission from Kanchit to neutralize Police officer Sattha (ไกรสร แสงอนันต์), who shall capture back the seven inmates. Pho Lieng Saen (Sahat Piempongsan) recruits Boonmee to get rid of his enemy Han Meuang Thong! Sia Mongkol (Boo Wibunnan) wishes to recruit Kowit for a special job. Following a fighting during a Likay performance, Thong Bai has to flee again. Pho Lieng Saen accepts to freeze his revenge towards Han Meuang Thong as the big boss has a more important plan to be performed before. Somchai Samipak, father of Han Meuang Thong, refuses to meet his son anymore. Sattha and Somphob Benjatikul help him as he gets aggressed by Pho Lieng Saen's ruffians looking for his son. Soi (Suriwan Suriyong), daughter of Pho Lieng Saen, meets Prai (Toon Hiransap) and gets help from him as she is harassed by Pao Porapak. Anan (Adul Dulyarat) and his men capture Somphob Benjatikul and Settha Sirachaya. Various mafia leaders (พ่อเลี้ยง), linked to Kanchit, wish to hire the seven men. Kanchit plans to use all of them to perform special secretive actions. Pho Lieng Saen hires Bai and Boonmee. Despite his promise to put aside his own revenge, he sends Boonmee to kill Han Meuang Thong but it fails. Reudi claims to be Han Meuang Thong's wife in order to trap his father. She kidnaps Han's family, i.e his father Somchai and his sister วิไลลักษณ์ ดวงมีเดช, in order to force him to do something against Thai nation. As police disrupts their activities, Police officer Sattha is kidnapped to know who the traitor among the ruffians is. Prai releases him. Then Prai releases Han Meuang Thong's father and sister. Kanchit wishes to prepare a revolution in Thailand to take power through a new political party. Paen Pleumsachai. The seven mercenaries are supposed to do actions to disrupt Thai nation. Aware through Prai, they refuse to betray their country (ขายชาติ) and fight against the ruffians. Ruffians are neutralized. The seven mercenaries saved Thailand, but they still need to go to jail again.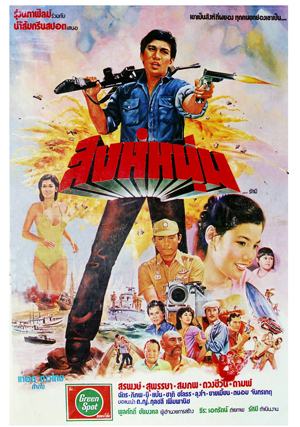 Year

: 1981



Thai title

:

สิงห์หนุ่ม




English title

:



Rating

: 4/5


Director

:



Main actor

: Sorapong Chatree,Chat Mongkolchai,Dam Datsakorn,Pipop Pupinyo,Paen Pleumsachai,Boo Wibunnan,Somphob Benjatikul


Main actress

: Supansa Nuengpirom,Duangcheewan Komolsen
Thai movie สิงห์หนุ่ม was released in year 1981. In Thailand, the movie is lost but the movie last 35mm film reel was preserved by a collector and lasts 24mn. This Thai movie was also released in Sweden by company HB Video-film. พ่อเลี้ยง Hin (Chat Mongkolchai) meets Wattana (Dam Datsakorn) for illegal business. Sakda / Sing (Sorapong Chatree), named as สิงห์หนุ่ม, a policeman, always causes them problems. He stops their drug traffic at the border. Hin decides to attack Sing through his family. His wife is raped and killed. Sing takes revenge but Hin succeeds to flee. Sing sympathized with Pipop Pupinyo and this latter helps him to be recruited by Srisuda (Duangcheewan Komolsen). Srisuda likes Sing a lot. Boo Wibunnan, Hin and Wattana build a traffic together. Policeman Tawan (Somphob Benjatikul) stops their boats trafficking in Thai waters. Srisuda is upset but she is not willing to sell her boats to Boo. Hin's ruffians are jealous to see singer Salika (Supansa Nuengpirom) talking to Tawan so a fight occurs. As Tawan is outnumbered, he gets some help from Sing and his friends. Somphob needs help from Sing and his ruffians to neutralize the ruffians. They all agree. Meanwhile ruffians plan to use the singer Salika to pressure policeman Tawan. Srisuda accepts to take care of Sing's daughter but asks Sing to move in her house... Last ruffians' operation fails again. Pipop is suspected to be a traitor and is killed. Ruffians shoot Srisuda and kidnap Sing's child. During the chase and the shootings, the child is killed. Ruffians then kidnap the singer Salika. Police storms the place but Watttana flees by boat with Salika. Sing follows and releases her.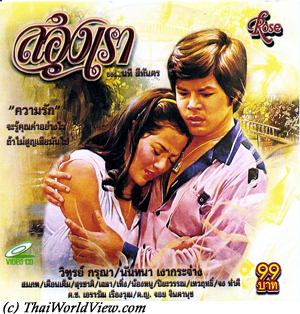 Year

: 1979



Thai title

:

สองเรา




English title

:



Rating

: 3/5


Director

:



Main actor

: Witoon Karuna,Somphob Benjatikul


Main actress

: Nantana Ngao Krajang,Deuan Tem Salitul
Teewa (Witoon Karuna) is a photographer and writer. He is also a butterfly hopping from one woman to another (น้ำผึ้งดวงตา) such as Tuk. He is sweet talker (ปากตรงกับหัวใจเสมอ). It is lust (ความใคร่) before real love (ความรัก). He meets one of his books fan called Rat (Nantana Ngao Krajang) at the party. They get on well but she asks more time to be ready as Teewa was heading directly to a motel. Romantic scenes with Teewa and Rat are shot partially in Ancient City (เมืองโบราณ). Rat's friends warn her about Teewa (เจ้าชู้ที่สุด). Rat's father wishes to send her to America to study. Separation is very difficult (ไม่อยากห่างคุณ). Rat needs to study four years. They see each other a last time in Ayutthaya, symbol of eternal love (เจ้าฟ้ากุ้ง). They promise to wait each other. Teewa has opportunity to go to America for business trip but he is not able to find Rat as she changed address. He doesn't receive news anymore. Teewa starts to indulge in alcohol and finally quits his job. Teewa has a car accident. Tuk gives her blood to save him. They marry and have a child. Four years have passed. Rat finally comes back and contacts Teewa. She also married in America with a fellow Thai student and didn't dare to tell it to Teewa. It is painful (ทรมานใจ) to see other during social parties as love is still here. They secretly meet in Sukhothai. A difficult choice between love and society dictates has to be done. Teewa is thinking to divorce Tuk and marry Rat. Finally seeing their current families wrecking away, they decide it is wiser to stop their impossible love. Movie สองเรา ("two of us") was released in 1979. Same as character Rat, actress Nantana Ngao Krajang stopped her career in 1980 and went to America with her family.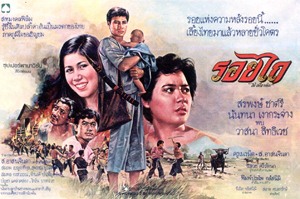 Year

: 1979



Thai title

:

รอยไถ




English title

:



Rating

: 5/5


Director

: Neramit,Sor Asanajinda



Main actor

: Sorapong Chatree,Sor Asanajinda,Somphob Benjatikul,Sompol Kongsuwan


Main actress

: Nantana Ngao Krajang,Wassana Sitthiweth
Thai movie รอยไถ was released in year 1979. The movie lasts 1h48mn. Four versions were directed 1950, 1960, 1979, 1989. Same main actor (Sorapong Chatree) and same main actress (Nantana Ngao Krajang) as "The Scar" (แผลเก่า) - 1976 are playing. Other actors are สุพรรณ บูรณะพิมพ์, Sompol Kongsuwan, จำนง, จิตติน, โกร๋น บางกรวย. Movie directors are Neramit (เนรมิต) and Sor Asanajinda. Talui (Sor Asanajinda), หมอลุย, is a bit crazy but respected as a father by Leu. Leu (Sorapong Chatree) losts his two buffaloes by gambling to Plien. Phan (Wassana Sitthiweth) blames him for this. Leu is brother in law (พี่เคย) of Phan. Leu is married to Pheuan (Nantana Ngao Krajang) and is having one child. Finally Leu defeats the ruffians by fighting as they are unrespectful to Phan. The ruffians (นักเลง) are wishing to take Phan and Pheuan as wives. Oon (Somphob Benjatikul) always wanted to marry Pheuan but he was too late. Bua, the mother, is helping Oon. Bua is upset with Leu as he is poor and lost his mother's heritage by gambling. Oon tries to reignite his love (ย้อนรัก) with Pheuan, who is now considering fleeing from Leu. Pheuan has pity on Leu (ข้าวเปล่าอร่อยดี) and her son so she keeps crying. While Leu is busy repairing the roof, Oon forces her to come as she is still undecided until the last minute. Wedding is happening soon. Oon is worried that Leu will bring a mess and wants to avoid a bloody celebration (ฉลองกับเลือด). Likay is organized. Leu brings his son to Phan and promises to get revenge up to Bangkok as he suffered a lot. Meanwhile Leu hears about the forthcoming wedding. He finally escapes with Pheuan but ruffians are chasing them. He gets injured through a fight versus too many opponents. Talui diverts their attention thanks to firecrackers and helps him to flee. Oon prevents the village headman to use a gun to shoot Leu. The village headman is upset having his men injured so they are looking after Leu. Talui helps Leu same as a father towards a son. Phan takes care of Leu and his son while Leu is sick. Leu understands Phan would have been a better wife than Pheuan. Meanwhile Talui prepares some tricks against the ruffians. The movie ends tragically. Loi, Pheuan and Phan's brother, and Talui die while protecting Leu's house. Even their mother die also. Oon, recognizing his mistake, accepts to give back Pheuan but Leu refuses. He realises too late that Talui is his real father. Having nothing left, he finally quits the area with Phan.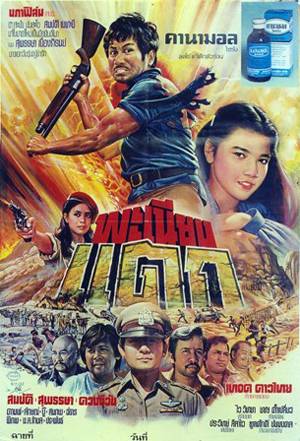 Year

: 1979



Thai title

:

พะเนียงแตก




English title

: Illegal Miner



Rating

: 4/5


Director

:



Main actor

: Sombat Methanee,Somphob Benjatikul,Boo Wibunnan,Dam Datsakorn,Chat Mongkolchai,Pipop Pupinyo,Lak Apichat


Main actress

: Supansa Nuengpirom, Duangcheewan Komolsen
Thai movie พะเนียงแตก was released in year 1979 and lasts 1h51mn. It was also released overseas in Sweden under VHS format and renamed as Illegal Miner. It was distributed by HB Video-film company. Midnight Express film music is used in this movie. A gold transfer is attacked and robbed. Police head nominates Sathan (Somphob Benjatikul) to investigate this robbery. The gold transfer was arranged by Anan, owner of a gold mine. Anan (Boo Wibunnan) is married to a new young wife called Dao (Duangcheewan Komolsen). Dao is also the mistress of ruffian Titio (Dam Datsakorn) so she keeps transferring information to him. Phaniek (Sombat Methanee), a former policeman, is now a drunkard (ขี้เหล้า). He was framed and accused of murdering his wife and her lover. He spent five years in jail. Pipop Pupinyo and Lak Apichat always push him to drink. Anan's daughter, Salika (Supansa Nuengpirom), is coming back from Penang after finishing her financial studies. Dao and Salika don't get on together as Salika starts to have a look in her father's company accounts so Dao is worried she will find the irregularities she has done. A second gold transfer is arranged but it is attacked again by ruffians led by Titio. Phaniek was part of the team protecting the gold transfer as he wanted to ensure that his good old friend Saeng was safe. Unfortunately, Saeng is killed despite Phaniek trying to help him. Lak and Pipop are aware somebody succeeds to escape but they are not aware it is Phaniek. Titio asks them to find and kill the survivor. Sathan has arguments with Lak and Pipop as they also treat Phaniek as a dog. Sathan and Phaniek become friends. Phaniek realises that Sathan is Saeng's son. Sathan is struck between taking revenge and following his duty as policeman. Salika is named as new company boss by her father. Phaniek brings Sathan to work in the mine. Salika hires them despite Titio opposing. Chat Mongkolchai is close friend (เพื่อนรัก) with Titio. Anan and Salika realize that Dao and Titio have stolen money since a long time by forging accounts. Phaniek and Sathan get rid of Chat. Titio is fired by Salika. Titio prepares a revenge and plans to attack the next gold transfer by himself. Ruffians are pushed back by police led by Phaniek and Sathan. But Salika is kidnapped by Titio… Salika is released thanks to Dao, worried that Titio wishes to harass Salika. Ruffians are neutralized. Anan forgives Dao and Phaniek stops drinking alcohol!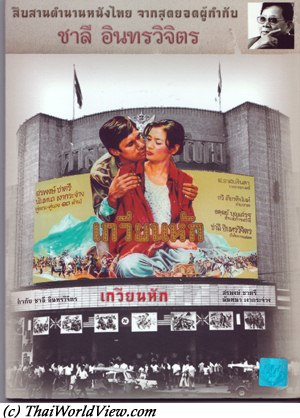 Year

: 1978



Thai title

:

เกวียนหัก




English title

:



Rating

: 4/5


Director

:



Main actor

: Sorapong Chatree,Sor Asanajinda,Somphob Benjatikul,Dam Datsakorn,Sayan Chantaraviboon,Lak Apichat,Kecha Plianvithee,Sawin Sawangrat


Main actress

: Nantana Ngao Krajang,Sarinthip Siriwan,Duangcheewan Komolsen



Buy now

:

Thai movie เกวียนหัก was released in year 1978 and lasts 1h26mn. The DVD picture is not sharp as the original 35mm film was certainly very damaged and incomplete. The DVD was released by Happy Home Entertainment in year 2014. Aunt Sarinthip Siriwan is taking care of her nephew Rien (Nantana Ngao Krajang), whose beauty impresses many men. She is just 16 years old and is the daughter of subdistrict headman Kecha (Kecha Plianvithee). น้อง Kuay (Duangcheewan Komolsen) likes Faeng but he prefers Rien. Sor (Sor Asanajinda) is the Faeng's father. Taming (Dam Datsakorn) is a robber. Sayan Chantaraviboon and Lak Apichat are part of his team. Sawin Sawangrat is the village leader (ผู้ใหญ่). Today is an important day to perform good deeds at the Buddhist temple (ทำบุญที่วัด). Chan (Somphob Benjatikul) tries to seduce Krajang. Festival, dances, songs, fireworks do happen after the religious ceremony. Faeng wins a small contest similar to rocket festival (ประเพณีบุญบั้งไฟ) versus Chan. Faeng (Sorapong Chatree) loves Rien so it generates jealousy from other men in the village. While trying to kiss Rien, Faeng is injured by her to the arm by her spade (ไม่เสียหาย). During the night Taming robs some houses. Faeng is summoned to subdistrict headman's house. Faeng is accused to have joined Taming the night before to rob houses. Faeng has an injury at the arm so he must be culprit. Rien admits she was the one to injure Faeng (เรื่องปล้นหรือเรื่องปล้ำ) because he tried to kiss her. Kecha loses face in front of the villagers! Disappointed, Kuay enters in Faeng's room. He pities her and tells an old secret story about the village leader being the one robbing houses before. They almost become lovers but Faeng asks her to go back. Chan declares his love to Rien but she is not interested. He wishes to ask her hand to her father. Rien and Faeng love each other but the subdistrict headman forbids Faeng to meet his daughter again. The father shall bring her away on the next day. Faeng and Rien become lovers (รักเหมือนโจร). Taming promises to help. Faeng's father is found dead. Faeng storms the subdistrict headman's place as he believes he knows who is behind the murder. Fightings occurs and the village leader is killed. Faeng learns where Chan and Rien are heading. Love circumstances towards Rien push Faeng to become a ruffian. Fierce fightings happen when Taming, Faeng and the ruffians storm the convoy led by Chan. Faeng defeats Chan but Rien dies following her injuries caused by the cart (เกวียน) falling on her.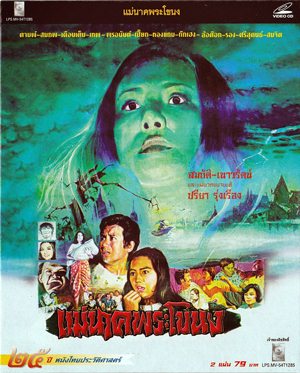 Year

: 1978



Thai title

:

แม่นาคพระโขนง




English title

:



Rating

: 3/5


Director

:



Main actor

: Sombat Methanee,Somphob Benjatikul,Dam Datsakorn,Lor Tok,Thep Thienchai,Uten Boonyong,Rong Kaomulkadee,Songthong


Main actress

: Preeya Roongrueng,Naowarat Yooktanun,Chosri Misommon,Somjit Sapsamruey
Thai movie แม่นาคพระโขนง was released in year 1978 and lasts 1h50mn. Preeya Roongrueng already played Mae Nak role in year 1959. She remained the most famous actress for this role. The 1959 version was very successful. It made more than 1M Baht in 1959, i.e. a huge amount for that period. So for this 1978 version, the movie director reused Preeya Roongrueng again hoping for a similar success. But 19 years have passed. In 1959 Preeya was 19 years old. For 1978 version, she was 38 years old. Preeya mentioned she was getting fatter for the role but it didn't matter as she was playing a ghost! The 1978 movie trailer is also making a reference to the 1959 version. It is Thot Kathin festival (ทอดกฐิน) so lady Somjit Sapsamruey is coming with her two daughters, i.e. Nak and Jampee (ตรีสุคนธ์ ยุกตะนันท์). Phi Mak (Sombat Methanee) and his younger brother Man (Somphob Benjatikul) love the same woman Nak (Preeya Roongrueng). Tui (Rong Kaomulkadee) is playing comic role as usual. Man loves Nak despite she is older than him. Pleum, subdistrict headman's son (ลูกกำนัน), has also interest into Nak. Mak asks Nak for wedding. Disappointed, his brother Man leaves for Bangkok to work there. Nak is pregnant since 2 months. Mak has to leave for Bangkok as he was selected to do his military duty as a soldier. Pleum (Dam Datsakorn) comes to harass Nak but Man is helping her. Naowarat Yooktanun, daughter of officer (นายทหาร), likes Mak but he misses his wife (ห่วงเมีย) and wishes to go home. While delivering, Nak dies (ตายทั้งกลม). Comic actor Thep Thienchai is present at the funerals. A master (อาจารย์) tries to get chin oil but he just makes Nak angry and gets strangled. Nak is upset that Naowarat has interest into Mak. Uten Boonyong wants to hire master Lor Tok to get rid of Nak. It is a complete failure as Lor Tok flees away. At nighttime, Pleum faces Nak. Mak is back home. Things get weird with Mak seeing Nak's arm extension to reach a lemon fallen under the house, food having pla ra taste, baby having Songthong face... Realising she is a ghost (ผี), Mak flees from home and goes to Man's home. Man explains what happened to Mak. They take refuge in the village Buddhist temple. A new master is called and warns that Nak is very powerful (วิญญาณดู่มาก). To neutralize Nak, the master gives a sacred thread to put around her neck. The master captures her spirit into a pot sealed with a sacred cloth. She has to accept her death (หมดเวรหมดกรรม). Mak promises to meet her during next life. The pot is thrown away in the river.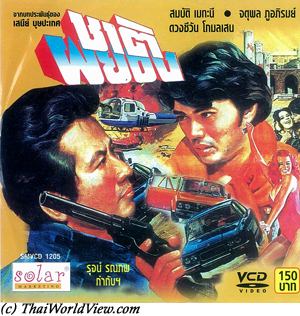 Year

: 1978



Thai title

:

ชาติผยอง




English title

:



Rating

: 3/5


Director

: Ruj Ronnapop



Main actor

: Sombat Methanee,Jatuphol Poopirom,Sor Asanajinda,Sahat Piempongsan,Manop Aussawathep,Somsak Chaisongkram,Paen Pleumsachai,Somphob Benjatikul,Pipop Pupinyo


Main actress

: Duangcheewan Komolsen



Buy now

:

Thai movie ชาติผยอง was released in year 1978 and lasts 1h45mn. It is directed by Ruj Ronnapop. Plaew Suriyong (Sombat Methanee) is back to Thailand after many years in Chicago. His father has been killed. He is immediately kidnapped by ruffians led by Sahat Piempongsan and including Somsak Chaisongkram / Paen Pleumsachai. He has to kill Sarayut (Sor Asanajinda), a popular politician, against a reward of 1M baht and one airplane ticket to go anywhere. Sarayut's wife was fed up with the risks linked to politics so she left him 10 years ago to go to Italy with their young son. Plaew has to be a hitman (มือปืน). Sahat lies to Plaew in order to have Sarayut killed. As Plaew's father was a politician, he would be the right scapegoat. A lady called Romanat (Duangcheewan Komolsen) helps Plaew to prepare the shooting and gets in love with him. Plaew has one week to do the job. The killing shall happen during a speech. He meets Manop Aussawathep to learn more his father's death. Plaew still wanders who has killed his father, who was also a politician. People, who wish to hurt Thailand, killed his father. They now chase him also. Politics in Thailand is full of bad influence (อิทธิพล), corruption and murders through hitmen. Romanat warns him that people try to kill him. Romanat wishes to flee with Plaew and mentions that she knows Sahat will shot Plaew once the job is done. During the political gathering, Plaew doesn't shoot Sarayut but his opponent. This causes Sahat's ire and Plaew needs to flee to Malaysia. Plaew meets Lucky Jack (Jatuphol Poopirom) in Malaysia but they have to flee to Rome, Italy due to problems with police. Lucky Jack is in fact Sarayut's son! In Rome, Plaew seduces Maria that Lucky Jack also loves. As Sahat threatens to kill Romanat, Plaew has seven days to come back to Thailand. Maria loves Plaew but gets killed during a gunfight. Lucky Jack doesn't forgive Plaew. Plaew and Lucky Jack go back to Bangkok to catch Sahat. Sahat sends Romanat as a gift to lucky Jack acting as a local ruffian. Finally both Plaew and Lucky Jack love again the same woman, i.e. Romanat. Plaew learns that Sarayut is behind his father's death. Misunderstandings happen between Jack and Plaew as ruffians push Jack against Plaew. Meanwhile Sarayut, as smart and evil politician, plays also the two men against each other. Sarayut, as nasty politician, is wishing to send Plaew to trial in order not to be accused of any collusion of the previous shooting done by Plaew. He pushes his own son to shoot Plaew. Finally Plaew shots Sarayut but gets shot by Lucky Jack. This is a typical action movie from the 1970s highlighting the bad sides of the Thai politics.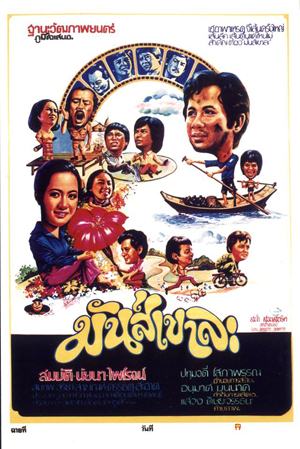 Year

: 1978



Thai title

:

มันส์เขาล่ะ




English title

:



Rating

: 3/5


Director

:



Main actor

: Sombat Methanee,Prachuap Ruekyamdee,Lor Tok,Tawan Siriwat,Suriya Chinaphan,Phairoj Jaising,Sayan Chantaraviboon,Rong Kaomulkadee,Thep Thienchai,Somphob Benjatikul,Boo Wibunnan,Kanchit Kwanpracha,Sahat Piempongsan,Thuam Thoranong


Main actress

: Naiyana Shewanan,Chosri Misommon,Nipaporn Nongnuch,Tharika Thidathip
Thai comedy movie มันส์เขาล่ะ was released in year 1978. The movie is lost in Thailand but a sequence of 1h03mn is left to be seen. Subdistrict headman (กำนัน) Lor Tok wishes to produce a movie with his daughters and his wife playing as actresses. His wife is played by Chosri Misommon. His daughters include Wassana (Naiyana Shewanan) and Nipaporn Nongnuch. Tawan Siriwat seems to oppose the Subdistrict headman's decision. A photo studio is managed by Prachuap Ruekyamdee and his two friends, i.e. Sayan Chantaraviboon and Rong Kaomulkadee. Prachuap and his friends convince Lor Tok to manage the movie for him. They are now looking for a main actor (พระเอก) for their movie but Fui (Sombat Methanee) is finally hired by mistake. Fui's close friend is Thep Thienchai. Lor Tok is the movie producer so they use the money to buy a mercedes! He wishes his family to play in the movie. Somphob Benjatikul is his assistant. Fui and Wassana like each other. Boo Wibunnan is hired as movie director. They are also looking for somebody to write the story. Tawan brings them to meet Mui (Kanchit Kwanpracha) as they are looking for a ruffian (นักเลง). A ceremony for the movie launch (เลี้ยงใหญ่โต๊ะ) is organized. Fui has to sing and does it well (it is Sombat Methanee's real voice). Thuam Thoranong as comic actor is also present. Sahat Piempongsan is used as decorator. Lor Tok always needs to protect his daughters against the young men trying to seduce them. Multiple gags happen during the shooting as Lor Tok doesn't accept any kiss to his daughters. Phairoj Jaising is involved as actor also and a few ดาวยั่ว are joining (Tharika Thidathip). The movie shooting is a disaster. Kamnan Lor Tok is back to his village and is welcomed by Tawan Siriwat and Suriya Chinaphan singing an ironic son and teasing the Subdistrict headman. This comedy is featuring many famous comic actors from 1970s and more than 18 Thai famous actors / actresses.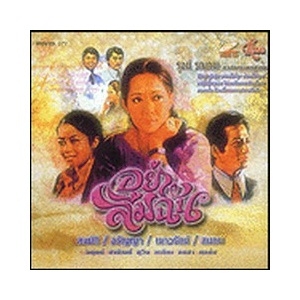 Year

: 1977



Thai title

:

อย่าลืมฉัน




English title

:



Rating

: 3/5


Director

: Ruj Ronnapop



Main actor

: Sombat Methanee,Sawin Sawangrat,Sayan Chantaraviboon,Somphob Benjatikul,Adul Dulyarat


Main actress

: Aranya Namwong,Naowarat Yooktanun,Chosri Misommon,Marasri Isarangkul,Tharika Thidathip
Thai romance movie อย่าลืมฉัน was released in year 1977. The movie lasts around 2 hours 04 minutes and was released under VCD format. Movie director is Director is Ruj Ronnapop. Khaem (Sombat Methanee) and Suriyong (Aranya Namwong), both students, are in love. They shall marry. Finally Suriyong, due to filial duty (บุญคุณ), has to marry an older rich man, who is a banker. Khaem is disappointed and goes overseas. Suriyong never had chance to explain to him (มีเหตุผล). Fed up to be at home, Suriyong looks for a job and is engaged as secretary (เลขา). Her new boss is just back from overseas and is Khaem himself! Working relationship is difficult as Khaem makes it hard for Suriyong due to resentments. Khaem is also giving hard time to his managers (ผู้จัดการ) Somkit (Sawin Sawangrat) and Boon (Sayan Chantaraviboon). Khaem has a new girlfriend (แฟน) called Kaelong (Naowarat Yooktanun). Suriyong still wears the ring given by Khaem. Khaem spies Suriyong as she sees a man called Eua meeting her. For Eua (Somphob Benjatikul), Suriyong is only her stepmother (แม่เลี้ยง). He has no other feelings despite Khaem's suspicion. Alita, Khaem's gig from overseas, is back to Thailand and brings him trouble. Khaem is aware that Suriyong has two children but those two children are in fact from the previous wife of the banker, who died earlier. One night, while bringing the kids for holidays, Khaem becomes lover with Suriyong. There is misunderstanding as Suriyong believes it was arranged to trick her. Suriyong becomes pregnant. Khaem is upset to always see Suriyong with Eua so he writes a harsh letter to her. Khaem asks for a wedding with Kaelong as soon as possible. Finally Suriyong plans to flee overseas (หายกลุ้มก็กลับมาเอง). Khaem, realising his mistakes and misunderstandings due to jealousy, rushes to airport in order to find Suriyong before she leaves Thailand…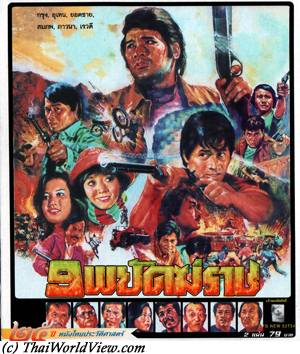 Year

: 1977



Thai title

:

9 พยัคฆ์ราช




English title

:



Rating

: 2/5


Director

:



Main actor

: Krung Srivilai,Yodchai Meksuwan,Uten Boonyong,Pinyo Parnnui,Sithao Petcharoen,Somphob Benjatikul,Sompong Phonmitr


Main actress

: Pawana Chanajit,Rewadee Pattaphong
This movie is one of the many Thai action movies released during decade 1970s. This movie involves a quatuor of famous Thai actors, i.e. Krung Srivilai, Yodchai Meksuwan, Uten Boonyong, Pawana Chanajit. Side characters are Pinyo Parnnui, Sithao Petcharoen, Somphob Benjatikul as a ruffian, Sompong Phonmitr. The daughter Kaessini (Rewadee Pattaphong) is back. She succeeded getting an university diploma. She wishes to use her knowledge for the benefits of the villagers. The villagers have serious issues with local ruffians. Krung is coming from Bangkok. Krung beats a few ruffians. Yodchai Meksuwan is playing a fake medium and provides fake medicine (ยาเทวดา). Yodchai is recruited by Krung. Thugs leader wants to force villagers to sell their land. As they refuse, he kidnaps Pawidee (Pawana Chanajit) in front of her father (Sompong Phonmitr). Shootings happen at the teacher's home. The movie sold by Lepso VCD company seems incomplete or cut as the release of Pawidee is not shown. Frequent fightings happen between ruffians (นักเลง) and Uten and Sa ong. Similar to The Magnificent Seven movie, Krung and his three friends resist to the ruffians. As the ruffians prepare a plan to kill them, Krung prepares a strike back offensive. Ruffians are the ones to fall in a trap. Heavy fightings and shootings happen. All ruffians are defeated or killed. Sa ong is killed. Movie '9 พยัคฆ์ราช' was released in year 1977 and lasts 1h43mn. The Lepso VCD has an horrible sound. Thai action movies were very popular in decade 1970s. This movie gathers many famous stars (Krung Srivilai, Yodchai Meksuwan, Uten Boonyong) but the result is average.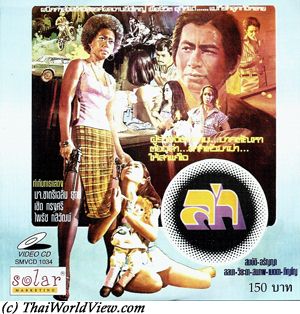 Year

: 1977



Thai title

:

ล่า




English title

: The Hunter



Rating

: 4/5


Director

:



Main actor

: Sombat Methanee,Somsak Chaisongkram,Somphob Benjatikul,Pinyo Parnnui,Lak Apichat


Main actress

: Aranya Namwong,Wiyada Umarin,Lalana Sulawan,Metta Roongrat
A group of ruffians (Pinyo Parnnui) indulging in drugs and alcohol is terrorizing a slum. Mateson (Aranya Namwong) is married to Atisak. They have child called Pheung (Lalana Sulawan). Atisak has a mistress so Mateson has no choice but to divorce. The house remains under Atisak's name as she made the mistake to give him money in order for her parents to believe he was a richer bachelor (ผู้อุปถัมภ์). They have to move in a slum to get cheap rent. They get some support from their aunt (Metta Roongrat). Mateson is looking for a job. Karucha (Sombat Methanee) interviews her. Hearing the unfair rumors on Mateson, he decides to recruit her. Karucha has also a daughter. A fight happens between Karucha and Atisak as they meet in a restaurant. Police, led by police inspector Lak Apichat, is looking for evidence that the ruffians are selling drugs in the slum. Karucha wishes to marry Mateson but she refuses. Meanwhile police shoots the ruffians. Their leader, injured, consigns a bag of heroin to Pheung. When Mateson is back, drug is given to police. Ruffians promises to take revenge on the mother and the daughter. Police is looking after their house. One evening as Karucha couldn't send them back home as his daughter has to be sent to hospital, they get caught in a serious storm and the ruffians catch them inside the slum as the taxi refuses to go up to their home. Both get raped. Mateson still refuses to go in Karucha's home. Pheung remains in a shocked state despite support of the doctor (Wiyada Umarin). The ruffians get released later. Mateson decides to take revenge by herself as men never take responsibility. She frames Atisak in a trap by disguising herself as a black prostitute. Atisak's new girlfriend, being jealous, shoots him. She learns how to make up well. She then shots three ruffians by attracting one of them by playing a junky. All those killings start to have an impact on Mateson's spirit. People start to make a link between the ruffians killings one by one and the number of dolls given to the daughter. Killing happen in atrocious ways such as acid and cut by a train on railway. Two are left, i.e. the leader Yong (Somsak Chaisongkram) and Paew (Somphob Benjatikul). Paew discovers that she is Mateson but finally all die. Mateson has become crazy. She succeeds to kill them one by one but her eager wish to take vengeance leads her to madness. This 2h10mn movie was produced by ChatriChalerm Yukol.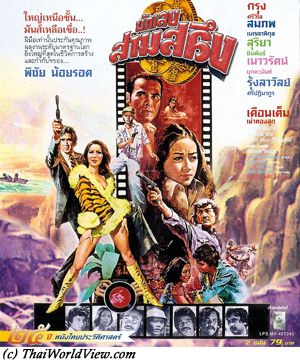 Year

: 1976



Thai title

:

นักเลงสามสลึง




English title

:



Rating

: 3/5


Director

:



Main actor

: Krung Srivilai,Songthong,Suriya Chinaphan,Somsak Chaisongkram,Kecha Plianvithee,Somphob Benjatikul


Main actress

: Naowarat Yooktanun,Deuan Tem Salitul,Runglawan Sripatimakul
Ket (Krung Srivilai) promises to his dying boss to go to Khao Kiaw to find the children he never had time to care of. Viwe (Songthong), an independant ruffian is wandering around Khao Kiaw. Kraison and his sister Mon are besieged in a restaurant by ruffians. Viwe agrees to help them but is asking for money as reward. Ket, having his lunch, helps them by shooting the ruffians. They all flee. Later in the village, Ket helps a young lady called Kaem (น้องสาวคนสวย) (จะไม่มีวาสนาเห็นขาอ่อนของฉัน) harassed by a few ruffians (Somsak Chaisongkram). Ket is looking for uncle Pran. Ket learns from Kaem that uncle Pran was shot a few months ago. Kaem brings Ket to meet Pran's children, i.e. Plaew (Naowarat Yooktanun) and Prai (Suriya Chinaphan). Kaem is Prai's girlfriend. Pracha (Kecha Plianvithee) is the ruffians leader. They all refuse to sell their land to Pracha. Pracha wants to know who is the man who resists to his ruffians. Plaew hires Ket to protect her fields (ไร่). Many beautiful "luk thung" (ลูกทุ่ง) are performed by Krung and Naowarat. Plaew bewares of Ket as he insolent (ทะลึ่ง). Pracha hires Viwe to kill Kraison. The ruffians take revenge over Ket by torturing him but this time Kraison helps to release him. Kaem loves Ket but Ket sees her as a young sister only (ที่ใครที่มัน). Prai is framed by Pracha's mistress and has to kill one of the ruffians to be able to flee away. Viwe asks for additional bonus to Kraison to avoid killing him. It ends up in a fight. Ket, Plaew and Prai threatens Pracha to stop harassing them for a last time but Pracha is preparing his revenge. While a Buddhist ceremony (ผ้าป่า) happens in the village, Plaew is kidnapped. Ket follows Pracha's ruffians in order to release her. Gun fights happen. Pracha and his ruffians are killed. Viwe, always helping people for money, is also shot dead. The movie end is a bit weird as it is discovered that Kraison killed many years ago Ket's brother so he has to revenge his dead brother. Ket is arrested by the police following his bad acts. Plaew promises to wait for him. Thai movie นักเลงสามสลึง (1976) or "the three ruffians" features many famous Thai actors from 1970s decade. Krung Srivilai was then at his zenith. A James Bond soundtrack is used. It lasts 1h50mn. The VCD has one audio track with Thai and one audio track with Lao. This movie is a mix of romance, action and features many songs.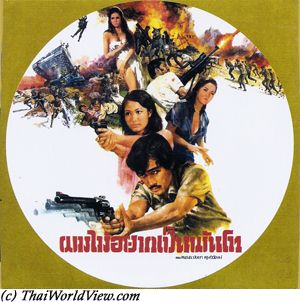 Year

: 1974



Thai title

:

ผมไม่อยากเป็นพันโท




English title

: I Don't Want To Be a Lieutenant



Rating

: 3/5


Director

: ChatriChalerm Yukol



Main actor

: Somphob Benjatikul


Main actress

: Naiyana Shewanan,Sasima Singsiri
It deals with the story of Phanto, a member of Thai secret service, who goes to Cambodia to be a spy. He is looking for informations useful for Thai security and has to face many threats especially from the "red communists".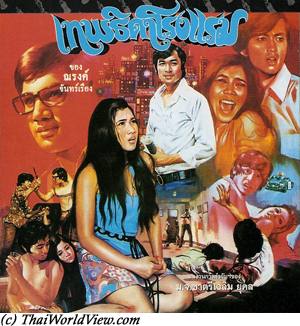 Year

: 1974



Thai title

:

เทพธิดาโรงแรม




English title

: The Angel



Rating

: 5/5


Director

: ChatriChalerm Yukol



Main actor

: Sorapong Chatree,Somphob Benjatikul


Main actress

: Wiyada Umarin
It is about Malee, a Thai country girl, coming to Bangkok and forced to prostitution. She is the hotel angel as she is very kind to everybody. This movie shows the difficult life of prostitutes, i.e. being beaten by pimps, visiting unofficial abortionist in order to terminate unwanted pregnancy, committing suicide, being forced and humiliated by customers, fearing Police, difficulty to have a stable relationship with a man, getting deadly diseases, being denigrated by Thai society. Three girls are depicted. One girl, Malee, all you have to do is give her one smack and she's willing to be a prostitute. She said it's better than working in the fields. The phrase "มาลีเป็นกะหรี่ที่สวยที่สุด" (Malee is the most beautiful prostitute) remains one of the most famous iconic sentence from this movie. It is said by Malee's pimp (Sorapong Chatree). Another girl, you have to beat her up quite a bit before she's willing to be a prostitute. And the last one, the third girl, no matter what you do she won't be a prostitute. She'll jump down, kill herself, but you can't change her. Malee continues to stick to this life because she can have a place to live, food, money to send to her parents in order to build a house. In a famous movie sequence, Malee opens her blouse many times to show her nudity to customers and then her father in the same gesture opens his new home windows paid by Malee hardship. But Malee understands that she has no future as her youth is rushing away. She is not interested by becoming a pimp and grab younger girls so she decides to study tailoring. Being cheated by her boyfriend but having her diploma, Malee can hope for a brighter life and quit this job. Finally she reclaims her dignity. ChatriChalerm Yukol lived for nine months in a brothel when he was writing "The Angel". During the popular uprising on October 14 1973, ChatriChalerm Yukol was shooting this movie, then took the camera out and filmed the demonstration on Ratchadamnoen Avenue. The footage was inserted in the film and was a big success when the movie was shown. This movie has also been registered as National Heritage per the 2016 list released by the Thai Film Archive.
---