Increase or decrease font size for easier reading : A+ A-
Somjin Thammatat
Somjin Thammatat (1930-2004) - สมจินต์ ธรรมทัต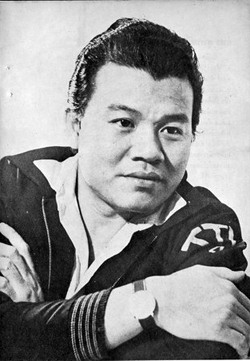 Somjin Thammatat often played ruffians rules
This Somjin Thammatat movie page contains 8 records.
---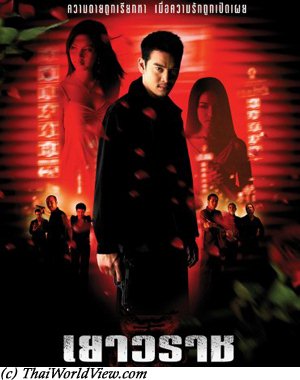 Year

: 2003



Thai title

:

เยาวราช




English title

: Yaowarat



Rating

: 3/5


Director

:



Main actor

: Shahkrit Yamnarm,Somjin Thammatat


Main actress

:
Bangkok Yaowarat district has so far been protected by mafia godfather Tong, with the assistance of Saleng as his right-hand man. Meanwhile, the Pahurat area is controlled by another gangster, Dada, and his close partner, Kaolad. The coexistence of the rival territories is shattered when Saleng and Kaolad challenge each other.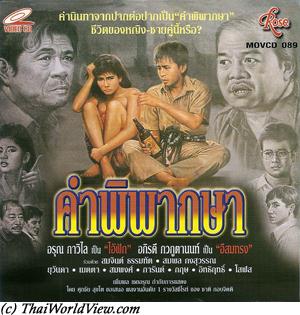 Year

: 1989



Thai title

:

คำพิพากษา




English title

: The judgement



Rating

: 5/5


Director

: Permpol Choei-arun



Main actor

: Somjin Thammatat


Main actress

: Apiradee Pawaputanon
Fak is a brilliant Buddhist novice and villagers expect him to become the next village abbot but Fak decides to defrock in order to take care about his aging father, who is working as a school caretaker. Fak is sent to military duties. When he is back, his father has a new young wife, Somthong, who has mental deficiency. His father dies of a heart attack. As Somthong doesn't remember her address, Fak pities her and let her stay. During a temple fair, she brings trouble by announcing she is Fak's wife. Fak loses face and is bullied by the whole village. After the father, she takes the son!! Some bad words are even censured in the movie by a blank. Stepmother (แม่เลี้ยง) or wife(เมีย)? It becomes the local joke and villagers believe she is Fak's wife already. Nobody believes him when he claims the opposite. Fak is a nice guy that can never say no. So he is exploited by the headmaster (ครูใหญ่) and other villagers. Somthong is half crazy but nobody believes she has a mental deficiency. She is looking for Fak (เห็นฟักไหม) and shows her breast. She gets beaten by villagers as she behaves crazily and is irrespective to elders (เกรงใจหมาดีกว่า). Once again Fak pities her behavior issues with villagers. Officials keep complaining on her. Fak starts to be rejected (รังเกียจ) by villagers. For New Year Fak gives to subdistrict headman (กำนัน) an envelope with money as tradition. The story highlights the corruption of local officials. It is time to cremate (เผาศพ) his father's body but nobody wants to join despite all efforts done by the father for the community. Only one villager joins, i.e. the cremator. The headmaster doesn't join also. Same as the cremator, Fak is rejected by the villagers. Fak starts to drink heavily to forget his problems as he lost face. Society (ชาวบ้าน) did bad with him so it forces him to change his behavior. Every month he saves some money from his salary and the amount is managed by the headmaster. The Buddhist abbot tries to convince him to stop drinking (อายคน) but Fak cannot fulfill his promises. If he lies to monks, then who can trust him? One day he wakes up late as he was drunk. The school children wake him up to open the school door and tease him as Somthong has fallen asleep close to him. He is cross and throws a rock to them. One kid is hurt on the face. As the child's father has complained, the headmaster forces him to leave his job (โดนไล่ออก). He has 5000 baht left with the headmaster. His only remaining friend is the cremator. People on the margins of society stay together. Fak gets beaten by villagers so his leg is stiff forever. Modern development through electricity arrives in the village. The headmaster's wife wants a television and a fridge. The headmaster uses Fak's savings. On one side those officials look good as they collect money for the Buddhist temple, on the other side they are taking profit on Fak. Fak has become a real alcoholic. Nobody believes him when he claims that the headmaster stole his money (โกงเงิน) as he is a drunkard. He acts outside the society norms (ไม่เคารพผู้ใหญ่). As Fak keeps repeating the robbery to everybody, he becomes a nuisance. He is caught by the police. A villager group comes to put pressure on Fak. He needs to show gratitude (น้ำใจ) as the headmaster is a good citizen (คนดีฯหายาก). There is a sad music to announce Fak's coming death as strong alcohol has its toll. Somthong doesn't understand that Fak is dead. Now everybody is afraid of her in the village. The movie is about people judging the others without knowing all the circumstances, about hypocrite people (ผู้ดี), who behave well face to society but badly behind the society, about how rumours and gossiping can hurt people. This movie is based on the novel 'คำพิพากษา' by Chart Korpjitti. Chart Korpjitti was only 27 years old when he wrote this great novel in 1981. Following the success of the novel, this movie and a ten-hour television series were done but both were award-winning commercial flops!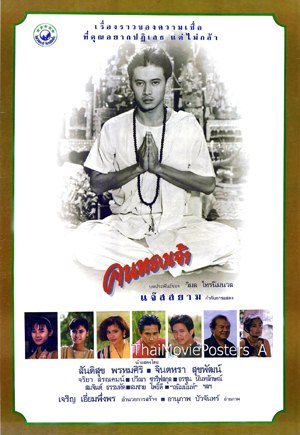 Year

: 1989



Thai title

:

คนทรงเจ้า




English title

: Silhouette of god



Rating

: 5/5


Director

: แจ๊สสยาม



Main actor

: Santisuk Promsiri,Somjin Thammatat


Main actress

: Jintara Sookkapat,Paweena Chareefsakul



Buy now

:

Thai movie คนทรงเจ้า / Silhouette of god was released in year 1989 and lasts 1h58mn. It was released under VHS, VCD and DVD format by BKP company and VCD format by Solar company. A remastered version was released by Five Star Production in the decade 2010s and shown on Thai TV cable. Movie director is แจ๊สสยาม. The movie received four Thai cinema awards. The Culture Ministry registers 25 Thai classic films each year at the National Film Heritage Registry. This movie is part of the 25 films heritage list announced on 04 October 2014, which is Thai Movies Conservation Day. Kam (Santisuk Promsiri) is married with one kid. As the river near their house starts to flood, he must put his livestock in a safer place. He puts them near a shrine (เจ้าพ่อ) on a land which belongs to him as he rents it. Villager Mek is upset as it is near a sacred shrine (ที่ศักดิ์สิทธิ์). Mek asks the spirit to help him to seduce Pagna (น้องพงา) (Jintara Sookkapat), daughter of Phujai. Phujai (Somjin Thammatat) asks Kam to remove his animals but Kam refuses as he does not believe in spirits (ไม่นับถือ). His son falls in the water and dies. Villagers say it is the spirit's revenge. Kam refuses to believe and decides to cut the tree. Maybe due to insolation or spirit's action, he loses conscience on the first attempt to cut the tree. Still stubborn (ไม่ยอม), he finally attaches his buffaloes near the tree. One evening as a storm is happening, his wife starts to give birth, but it does not happen well despite the local midwife's help. Unable to help, she asks him to pay allegiance to the spirit (แก้บน) to save his wife (ปวีณา ชารีฟสกุล). Kam promises to be a medium (คนทรอง) for the tree spirit. It looks like Kam still wishes the tree spirit and the villagers to pay for the bad sins they caused to him. Mek's wife, Phayia (จริยา สรณคมน์), wishes to find a way to get her husband back as he is now fond of Pagna. The spirit tells that her real-life love (คู่ชีวิต) is Kam and makes some filter for her to get back her husband. Finally, Kam and Phayia become lovers. Mek, upset that his wife Phayia (พเยีย) often visits the spirit medium, suspects a relationship between them (ชู้กับเมียเขา) but is unable to catch them. He believes Kam is lying (หลอกลวง) to villagers, indulges in alcohol and wishes to kill Kam. Meanwhile Phujai benefits from the money given as donations to the spirit medium. The spirit performs ceremony to change people's bad luck (สะเดาะเคราะห์). Phujai wishes his daughter to win Songkran beauty contest to be an "angel" (เทพิ) and to find a rich husband for her. Phujai uses a weak-minded man to get rid of Mek. Kam's wife is happy being rich and does not care about the relationship of Kam with other women. Phujai is worried being accused that he masterminded Mek's death. Kam convinces him to hide deeply in the jungle. Then Kam selects four servants (บริวาร), i.e. Mek's former wife (Phayia), Phujai's daughter (Pagna), his own wife and the midwife's niece. All his former enemies are neutralised. This movie leaves the viewer still wondering if Kam is acting or really possessed.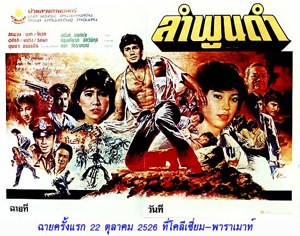 Year

: 1983



Thai title

:

ลำพูนดำ




English title

: Desconocida



Rating

: 4/5


Director

:



Main actor

: Sorapong Chatree,Nard Poowanai,Kowit Wattanakul,Suchao Pongwilai,Pipop Pupinyo,Paen Pleumsachai,Krai Kanchit,Rith Luecha,Somjin Thammatat,Pumi Patanayut,Somsak Chaisongkram


Main actress

: Apiradee Pawaputanon,Thitima Sangkapitak,Piathip Kumwong,Ampha Pusit,Mayura Thanabutr
Thai movie ลำพูนดำ was released in year 1983. The movie was also released in Taiwan under the name "Desconocida" in VHS format. This version was released by Taiwanese company New Ship Film Enterprise Co Ltd and lasts 1h26mn. The movie is in Mandarin language. The original movie has been cut to fit in standard TV format so making the story cutting to be awkward. Other versions released in Thailand last 1h30mn (Cable TV version) or 1h47mn (VHS version). This movie features many famous actors / actresses from decade 1970s~1980s. Young lad, called Paen (Sorapong Chatree), visits famous monk (หลวงพ่อ) in a local Buddhist temple to discuss about his problems. His mother and sister are treated as mistresses by local kingpin Mek. Mek (Somjin Thammatat) also tries to steal the family land. The monk gives to Paen an unique Buddhist amulet called ลำพูนดำ to protect him. Paen is arrested by four policemen led by Paen Pleumsachai. They bring him to a remote area to execute him per Mek's orders but bullets don't enter (นั่งเนี่ยว) as he is protected by the sacred amulet given by the monk. Paen shoots them back. Policeman Nard Poowanai, as หมวด, is also trying to catch him. Kingpin Mek and subdistrict headman Chat (Krai Kanchit) (ลูกน้องมือขวา) are concerned that Paen succeeded to escape. Paen has many enemies (ศัตรูเยอะ). Two ladies Lom (Piathip Kumwong) and Phit (Thitima Sangkapitak), Paen's mother and sister, are visiting the village leader. Both are the village leader's mistresses and Lom is also seduced by Chat (เป็นชู). Thai police is still looking after Paen. Paen takes refuge in a village but the village leader (Pumi Patanayut) warns the police. Paen succeeds to flee by having an hostage called Lamai (Mayura Thanabutr). Paen learns who are his enemies through Somsak Chaisongkram. Paen kills three ruffians (มือปืน). Ruffians kidnap young lady Lamai but Paen releases her and injures the village leader trying to abuse her. Young lady Booklee is kidnapped to become Mek's new minor wife. Khun Mom Sasingha (Kowit Wattanakul) meets Chaba (Ampha Pusit), niece (หลานสาว) of Kamnan Chat. He presents himself as a customer of the underground casino (บ่อน). Pipop Pupinyo is looking for troubles with Sasingha but gets beaten. Chat is then jealous that Sasingha is too close to Chaba. Seua Rit (Suchao Pongwilai) is hired by the village leader to get rid of Paen. Mek's daughter, Pumarin (Apiradee Pawaputanon), is coming back from overseas following successful studies. Her real father is Rit but he doesn't want her daughter to know that her father is a thief so the truth was never disclosed to Pumarin. Paen behaves as a Robin Wood (โจร) by giving free goods to poor villagers. A pact is agreed between Paen, Khun Mom Sasingha and Klot (Rith Luecha). Klot wishes to get revenge on Mek as he killed all his family members and kidnapped his niece Booklee. Paen refuses to meet his sister Phit anymore. Both Chat and Lom are buried alive as Mek discovers they are having an affair. Meanwhile Rit kills pregnant Lamai and her mother as they refused to disclose where Paen is hidden. Phit is having an affair with Seua Rit. Per her strategy to protect her brother, Phit claims to Mek that she has been raped by Rit so that Rit cannot harm Paen anymore. Paen releases Pumarin aggressed by ruffians kidnapping her. Klot gains the trust of Mek in order to better spy him. Paen wishes to get revenge on Mek but police surrounds him. The Buddhist amulet saves Paen one more time. Phit protects Paen a last time by shooting Mek but this latter shoots her before dying. Paen listens to Pumarin and surrenders peacefully to the police. A sequel released in year 1988 was called ลำพูนแดง.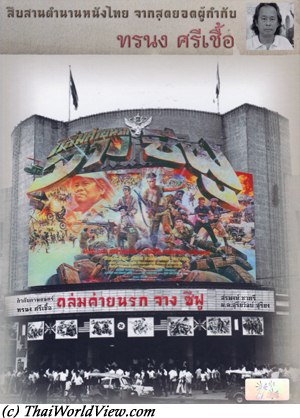 Year

: 1982



Thai title

:

ถล่มค่ายนรกจางซีฟู




English title

: KHUN SA THE OPIUM EMPEROR



Rating

: 3/5


Director

: Toranong Srichua



Main actor

: Sorapong Chatree,Joomjim Khemlek,Tuanton Kammeesri,Manop Aussawathep,Somjin Thammatat,Nirut Sirijanya,Pinyo Parnnui,Somsak Chaisongkram,Pumi Patanayut


Main actress

: Nanthida Kaewbuasai
Thai movie ถล่มค่ายนรกจางซีฟู / 'KHUN SA' THE OPIUM EMPEROR was released in year 1982 and lasts 1h45mn. The DVD soundtrack is quite bad with sound going up and down. The DVD image has also a poor quality. This is a VHS ripped and put on a DVD. Movie director is Toranong Srichua. This movie is about Chang Chi-fu (จางซีฟู) or Khun Sa, famous opium warlord. In January 1982 a Thai Ranger squad, together with units from the Border Patrol Police and the Royal Thai Army, was used to force Khun Sa to move his headquarters from Thailand across the border into Burma. Sorapong Chatree recalls war and is stressed. He is sent to spy Khun Sa. Twenty men, including Tuanton Kammeesri / Pumi Patanayut / พยัคฆ์ รามวาทิน, arrive in the camp led by Khun Sa. Their trainer is Joomjim Khemlek. Khun Sha (Somjin Thammatat), drug warlord, sells drugs to buy weapons. Manop (Manop Aussawathep) has conflicts with Khun Sha. Manop is attacked on his way back by Burmese soldiers but gets help from Nirut (Nirut Sirijanya). Manop is back to his mountain village with Nirut. His younger sister Rungfa (Nanthida Kaewbuasai) welcomes him. A journalist Pinyo Parnnui is arrested by Somsak Chaisongkram. He wishes to interview khun Sa. Sorapong, disguised as a fleeing prisoner, is attacked by a plane and then is arrested by Khun Sa's men. Siriporn (ศิริพร เอี่ยมสุนทร), daughter of Khun Sa, saves his life but he remains tied. Manop learns that the Burmese soldiers who attacked him are in fact soldiers linked to Khun Sa as real Burmese soldiers would not dare entering Thai soil. Upset, Manop and Nirut storm Khun Sa's HQ but get captured. Sorapong wins Siriporn's trust. Khun Sa believes there is a traitor in the camp. Sorapong sympathizes with other men, who are part of the government. Siriporn complains her father produces too much drugs. Drug is given to prisoners to keep them under control. Sorapong succeeds to have his friends escaping but he is then captured. About to be hanged, Sorapong is released by his teammates. Thai forces' attacks against the camp happen. Many people die but Khun Sa succeeds to flee in Burma. This movie is often considered as Thai remake of US movie "Apocalypse Now" by Francis Ford Coppola.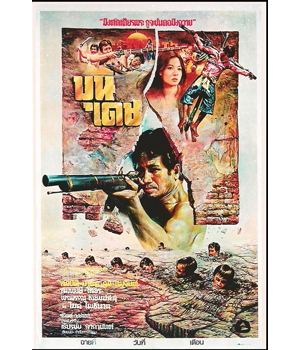 Year

: 1980



Thai title

:

ขุนเดช




English title

:



Rating

: 4/5


Director

:



Main actor

: Sombat Methanee,Manop Aussawathep,Sompong Phonmitr,Pumi Patanayut,Somjin Thammatat


Main actress

: Pornpan Ketmamatsu
Thai movie ขุนเดช was released in year 1980. It takes place in Sukhothai historical park area before it became an official park (1988) as there was still heavy vegetation around the Buddha statues. The movie lasts 1h46mn. This movie was only released under VHS in Thailand and Sweden. Two men are killed by Khun Det (Sombat Methanee) as they are digging in order to steal Buddhist artifacts. Ruffians arrive in the village and hire farmers to dig around in order to find relics. Village leader (ผู้ใหญ่) Sompong (Sompong Phonmitr) refuses to help as it is ancestor's' heritage so it shall not be sold to strangers. Sompong has a mute daughter (Pornpan Ketmamatsu). The leader (เจ้านาย)(ภูมิ พัฒนายุทธ) is looking for Buddha statues (พระสักองค์). Sompong informs the temple abbot that the ruffians even dig near old sacred pagodas but nothing the abbot can do (สัตว์นรก). Khun Det, aware, chases away the workers. Khun Det is then captured, crucified and suspended to a headless Buddha giant statue. Khun Det is rescued by Sompong and his daughter. Khun Det repairs an old gun (ปืนเก่า). As the ruffians are evacuating Buddha statues by boat, Khun Det sinks the boat thanks to his gun. It reminds the scene of Naresuan 2 with the King shooting very far away with a gun to defeat the Burmese king. The leader, seeing that Khun Det is bringing them serious troubles again decide to flee by car with some Buddha statues. Khun Det prevents him to flee by destroying his car and killing him. The father (Somjin Thammatat), in ire as his son is dead, storms the village with ruffians but is unable to find Khun Det. They burn belongings of villagers and threaten the abbot. The father destroys pagodas and tries to bury a big Buddha statue. Khun Det prevents them so the father finally calls Manop Aussawathep, a professional killer. He shots Sompong. This movie also reminds of western such as "The Magnificent Seven" with people protect villagers against ruffians as there is no police. Manop then buries men alive to force Khun Det to show himself. The villagers fight back. The father and his ruffians are killed. Khun Det defeats Manop through an epic final fight. It is a strong movie with violent deaths (heads cut as ruffians cut Buddha statues' heads). Khun Det finally leaves. A Thai serie ขุนเดช was released in year 1999 with Phongphat Wachirabanjong. Another version was released in year 2012.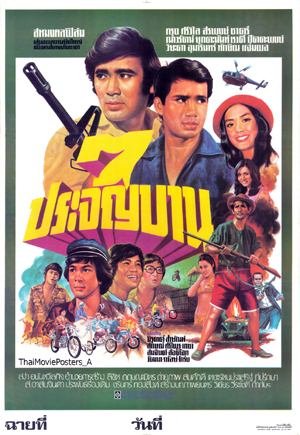 Year

: 1977



Thai title

:

เจ็ดประจัญบาน




English title

:



Rating

: 3/5


Director

: วิเชียร วีระโชติ



Main actor

: Krung Srivilai,Sorapong Chatree,Taksin Jampol,Nirut Sirijanya,Sayan Chantaraviboon,Lak Apichat,Kecha Plianvithee,Somjin Thammatat,Lor Tok,Tawan Siriwat,Pan Borapet,Chanee Yotchai,Krong Kangkengdaeng


Main actress

: Naowarat Yooktanun,Rewadee Pattaphong,Wiyada Umarin
Thai movie เจ็ดประจัญบาน was released in year 1977. Main actors and actresses include Krung Srivilai, Sorapong Chatree, Naowarat Yooktanun, Rewadee Pattaphong, Wiyada Umarin, Taksin Jampol, Nirut Sirijanya, Sayan Chantaraviboon, Lak Apichat, ศรีไพร ใจพระ, Kecha Plianvithee, Somjin Thammatat, Lor Tok, วัฒนา กีชานนท์, Tawan Siriwat, Krong Kangkengdaeng, Pan Borapet, Chanee Yotchai. Movie director is วิเชียร วีระโชติ. The film is lost in Thailand but a sequence in 35mm format can still be seen. The picture is very damaged and reddish. The sound is almost inaudible. It lasts around 50 minutes. During the remaining sequence, the seven mercenaries can be seen. The team includes Krung, Sorapong, Nirut, Lak, Sayan, Taksin and ศรีไพร ใจพระ. They help each other. A mission towards Thai nation is given by their boss. Multiple fighting and shootings against ruffians happen. A romance is happening between Sorapong Chatree and Naowarat Yooktanun. Taksin Jampol is playing famous role of จ่าดับ จำเปาะ role, i.e. a mercenary / a gunman wearing คาดเชือกกล้วย and red pants (กางเกงในสีแดง). The movie "เจ็ดประจัญบาน" was a sequel of movie "หนึ่งต่อเจ็ด" also released in 1977. Movie "หนึ่งต่อเจ็ด" is a lost movie. It featured Krung Srivilai, Sorapong Chatree, Rewadee Pattaphong, Tharika Thidathip, Taksin Jampol, Nirut Sirijanya, Sayan Chantaraviboon, Lak Apichat, ศรีไพร ใจพระ, Aranya Namwong, Kecha Plianvithee, Dam Datsakorn, Adul Dulyarat, อัศวิน รัตนประชา, Pipop Pupinyo, Siripong Isarangkul, Pramin Jarujareet, สมุย. It was a remake of the previous version released in 1958. Thai movie "หนึ่งต่อเจ็ด" (1958 version) featured Surasit Sattayawong, Wilaiwan Watthanaphanit, วิภา วัฒนธำรงค์, Sarinthip Siriwan, Adul Dulyarat, Sor Asanajinda, ทม วิศวชาติ, สมชาย ตันฑกำเนิด. Movie director was Sor Asanajinda. It is a movie mixing action and comedy. The movie made more than one million THB.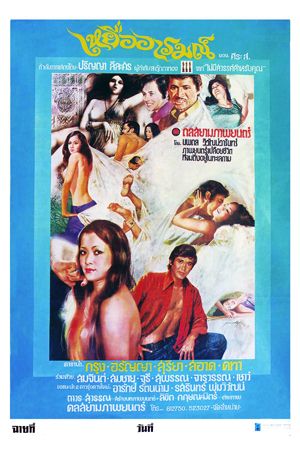 Year

: 1975



Thai title

:

เหยื่ออารมณ์




English title

:



Rating

: 3/5


Director

:



Main actor

: Krung Srivilai,Suriya Chinaphan,Sahat Piempongsan,Chao Klaewklong,Somjin Thammatat,Somchai Samipak


Main actress

: Aranya Namwong,Juree Osiri
Thai movie เหยื่ออารมณ์ (victim of lust) was released in year 1975. Main actors and actresses include Krung Srivilai, Aranya Namwong, Suriya Chinaphan, Sahat Piempongsan, Juree Osiri, Chao Klaewklong, สานต์ คฑา อภัยวงศ์, Somjin Thammatat, Somchai Samipak, สุพรรณ บูรณะพิมพ์, จารุวรรณ ปัญโญภาส. Movie director is ปริญญา ลีละศร. The film is lost in Thailand but a sequence in 35mm format can still be seen. The picture is very damaged and reddish. It lasts ten minutes. During the remaining sequence, misunderstandings occur between Krung and Euay (Aranya). Krung believes Tawan (Suriya Chinaphan) is having an affair with Euay, his girlfriend. Tawan denies and he is just worried about Euay. Euay is having an affair with Sahat Piempongsan. She has a fight with him and gets beaten. Juree Osiri is playing Euay's mother and Chao Klaewklong is playing Euay's father. Euay decides to marry a US soldier as he won't known her past. Euay is in mood after reading an erotic magazine. Thai movies between 1973 and 1976 enjoyed a high freedom and featured themes (lust, pleasure...) that were never seen before in Thai movies.
---