Increase or decrease font size for easier reading : A+ A-
Sisala Thongtara
Sisala Thongtara (1929) - ศรีสละ ทองธารา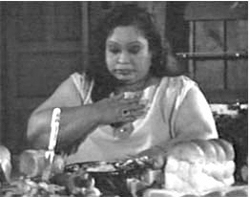 Sisala Thongtara was famous for her corpulence. She often plays relief characters and comic roles
This Sisala Thongtara movie page contains 10 records.
---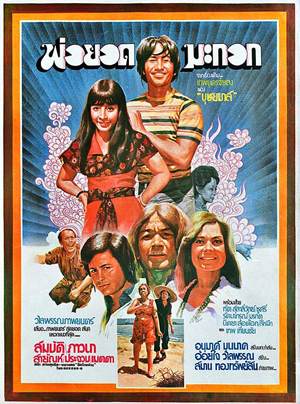 Year

: 1975



Thai title

:

พ่อยอดมะกอก




English title

:



Rating

: 3/5


Director

:



Main actor

: Sombat Methanee,Prachuap Ruekyamdee,Sayan Chantaraviboon,Lor Tok,Tat Ekathat


Main actress

: Pawana Chanajit,Metta Roongrat,Chosri Misommon,Ratanaporn Intarakamhaeng,Malee Wetpraseri,Sisala Thongtara,Sulaleewan Suwanthat
Thai movie พ่อยอดมะกอก was released in year 1975. The movie is lost in Thailand but a sequence of 1h13mn remains to be seen. The last three film reels were saved. Oon (Pawana Chanajit) is a young single lady. Chosri Misommon is her house's domestic helper and also close friend. Prachuap Ruekyamdee and Chui (Sombat Methanee) are brothers with funny hairstyle. Oon's mother is played by Ratanaporn Intarakamhaeng. It seems there is no more father. Grandmother Malee Wetpraseri is the elder sister of the mother. Oon's uncle is played by Tat Ekathat. Oon has to be engaged. She wishes to marry Pong (Sayan Chantaraviboon) and is supported by his sister Pleun (Metta Roongrat). Chui keeps disrupting Oon and Pong. Chui has also a fiancee called Kwan since a long time but he doesn't love her. Malee and Chosri are sent to Aunt's home to investigate who is really Chui. Aunt Sulaleewan Suwanthat welcome them. Chui and Ratchin are same person. Oon shall marry Ratchin, who is from a high status family. Oon lies she is no more pure (เสียหาย) as she is Pong's girlfriend. Ratchin refuses to cancel the wedding and forbids Oon to meet Pong anymore. Engagement (คู่หมั้น) shall happen. Malee is helping Oon to meet Pong. Pong wishes to flee with Oon but Oon cannot do this as it would bring disgrace to her parents and her family name (เกียรติ). As Pong loves really Oon, he has to sacrifice himself (เสียสละ). Chui / Ratchin is aware of Malee's stratagems. Prachuap meets Pong. Ratchin prevents Oon to meet Pong and wishes to accelerate the wedding. Ratchin asks Pong to stop seeing Oon but Pong asks to meet her a last time. Ratchin still believes Oon is pure and wants to avoid Pong being the first. Oon and Ratchin keep fighting. Finally Oon succeeds to escape from Ratchin. She meets Pong but faints. Pong tries to abuse her but gets stopped on time by Ratchin. Pong's intentions were not as pure as he always mentioned. Oon finally marries with Ratchin. This movie similar to many movies from decades 1960s~1970s is about arranged weddings and early engagement done by parents but it finally ends happily.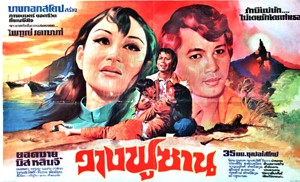 Year

: 1973



Thai title

:

วางฟูซาน




English title

:



Rating

: 3/5


Director

:



Main actor

: Yodchai Meksuwan,Sukon Koewliam,Lor Tok,Pipop Pupinyo,Thep Thienchai,Man Teeraphol,Joomjim Khemlek


Main actress

: Ling Yin,Metta Roongrat,Sisala Thongtara,Wassana Chalakorn
Thai movie วางฟูซาน was released in year 1973. The movie is lost in Thailand but a sequence of 19 minutes remains to be seen. Main actor is Yodchai Meksuwan and main actress is a Hong Kong actress named Miss Ling Yin (มิส หลินจี). Other actors and actresses include Sukon Koewliam, Metta Roongrat, Joomjim Khemlek, Sisala Thongtara, พนม นพพร, Man Teeraphol, Wassana Chalakorn, พูนสวัสดิ์ ธีมากร, Pipop Pupinyo, Lor Tok, สีเผือก, ศรีสุริยา, Thep Thienchai. Men (Yodchai Meksuwan) comes to Hong Kong to perform Thai boxing fighting matches. He is also a gambler. Men is not allowed to enter a casino anymore as he is responsible of the pregnancy of the owner's daughter called Lin. So he has to go back to Thailand. Meanwhile Lin is waiting for him. Later on Men meets Lin again in a Bangkok bar where she is a singer. Seeing she is pregnant, Men brings her in a rented house for her to deliver the baby. He uses Lin's money to indulge other women. Men is seen with Sisala Thongtara and is carrying her packets. Lin is the one supporting financially Men. As the money is running out, Lin is expelled from the house. She ends up in Phetburi and gives birth to a little girl called Liu. Many years later Liu, now a young girl, finds Men full of blood as he has been beaten by local ruffians. She brings Men to her mother Lin. Lin finally forgives Men. Men becomes finally a good guy. One day while he goes to the market, he finds Thai police in his home arresting Lin as her visa is over. Back to Hong Kong, Lin goes back to the place called Wang Fu San. Seeing no hope in her future, no hope to see again Men and her daughter, she decides to jump from a cliff. Hopefully Men and Liu arrive just in time to stop her.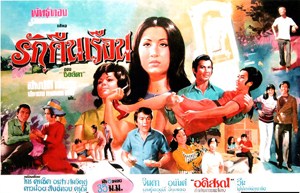 Year

: 1972



Thai title

:

รักคืนเรือน




English title

:



Rating

: 3/5


Director

:



Main actor

: Sombat Methanee,Prachuap Ruekyamdee,Songthong,Krai Kanchit,Daonoi Duangjai


Main actress

: Petchara Chaowarat,Somjit Sapsamruey,Chosri Misommon,Sisala Thongtara,Metta Roongrat,Orasa Isarangkul,Darunee Cheunsakul
Thai movie รักคืนเรือน was released in year 1972. Main actor is Sombat Methanee and main actress is Petchara Chaowarat. The movie is lost in Thailand but a sequence of one hour remains to be seen. The remaining sequence shows a high society party with Petchara singing a song. Petchara is then discussing with Somjit Sapsamruey, her mother. Her mother wants her to marry the son of a friend as they are poor. Veteran actors (Prachuap Ruekyamdee and Songthong), a doctor and a young man (ทม วิศวชาติ) are visiting them. Petchara and the young man appreciate each other. Veteran actress Chosri Misommon is playing a domestic helper. Sombat later on arrives. He is welcomed by Sisala Thongtara and Somjit, then also by Metta Roongrat and Petchara. Petchara is not so happy to meet Sombat. Somjit is feeling unwell and ends up at hospital. Certainly Somjit asks Petchara to really consider Sombat as engagement but Petchara loves already another man. Misunderstanding happens between Petchara and Sombat. A fire in the house happens. This is a romantic drama.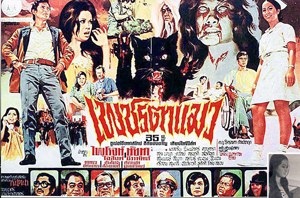 Year

: 1972



Thai title

:

เพชรตาแมว




English title

:



Rating

: 3/5


Director

:



Main actor

: Phairoj Jaising,Manop Aussawathep,Surasit Sattayawong,Tawan Siriwat,Sukon Koewliam,Sompong Phonmitr,Lor Tok


Main actress

: Naiyana Shewanan,Sisala Thongtara,Malalin Bonnak,Khomapat Attaya
Thai movie เพชรตาแมว was released in year 1972. The movie lasts 2h25mn. It seems the movie was never released on DVD or VCD. Only on cable TV so scenes involving alcohol drinking or smoking cigars are blurred. A few songs are featured in the movie similar to all movies beginning of 1970s following huge success of "Mon Rak Luk Tung". Three men are looking in a remote cave for a mystical cat having real diamond eyes. Chat is the one who finds it first but fighting happens with another man. They shoot each other. The third one being a Prince (หม่อม)(Manop Aussawathep), who finally keeps the jewel and doesn't give it back to Chat's daugher. Ten years have passed. The prince is now disabled, lost his wife and child. The jewel brought him bad luck as he is not the real owner. Niphon (Surasit Sattayawong), Tawan Siriwat, Sisala Thongtara, Sukon Koewliam are his domestic helpers. Tawan Siriwat hires a young lady to get the jewel from the Prince. Meanwhile the prince asks Yot (Phairoj Jaising), being a police inspector (สารวัตร), to look for Chat's daughter called Bussayarat. Bussayarat is now a nurse (Naiyana Shewanan). Sompong Phonmitr is her father and wishes to marry her to a local ruffian in order to get money to continue to buy alcohol. Yot helps Bussayarat aggressed by those ruffians. Yot brings Bussayarat to Bangkok in order to meet the Prince believing he found Chat's daughter. As Bussayarat has still a father, the Prince claims she is not the Bussayarat he is looking for but keeps her as a nurse. Niphon introduces to the Prince a fake Bussayarat played by Malalin Bonnak. The Prince asks for 7 days to ensure (สอบถาม) she is the real one. Meanwhile Tawan Siriwat also introduces to the Prince another fake Bussayarat played by Khomapat Attaya. The diamond is sacred (ของศักดิ์สิทธิ์) so it will bring bad luck to malevolent people. Tawan Siriwat, disguised as a ghost (ผี) frightens Malalin to chase her away. Khomapat also faces many black cats in her room and flees. Niphon is married to Nuan (สุพรรณ บูรณะพิมพ์). Nuan is elder sister of Malalin. Niphon is thinking to flee with Malalin when they get the diamond. As Khomapat is in hospital following her shock, Niphon cuts her oxygen approvisionnement to get rid of a competitor. Seeing Yot loving Bussayarat, Malalin is jealous and tries to take Yot away from Bussayarat. Meanwhile Yot is sent by the prince to meet Phra lo (Lor Tok) in order to bring back the diamond. Tawan Siriwat sends some ruffians to steal it but it fails. A ceremony to handover the diamond (มอบเพชร) to Malalin is organised. It ends badly with Tawan Siriwat trying to steal the diamond and injuring Malalin. Yot shots Tawan Siriwat. Being disfigured, Malalin asks Bussayarat to get the diamond for her so that she can have chirurgical operation. Having the diamond, Malalin prepares to flee with Niphon. Khomapat's aunt called Nathalie shots Malalin to get the diamond. Many deaths happen due to the evil power of the diamond (อำนาจของเพชรตาแมว). Nathalie becomes crazy after Niphon steals the diamond from her. Niphon is chased by the police. He shots by mistake Nuan and finally falls from a building. During an official ceremony, the Prince gives back the diamond to Bussayarat.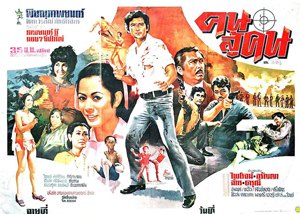 Year

: 1972



Thai title

:

คนสู้คน




English title

:



Rating

: 3/5


Director

:



Main actor

: Phairoj Jaising,Choomporn Theppitak,Chat Mongkolchai,Songthong,Paen Pleumsachai


Main actress

: Aranya Namwong,Marasri Bangchang,Sisala Thongtara,Donnapha Sophee,Darunee Cheunsakul
Thai movie คนสู้คน was released in year 1972. It features Phairoj Jaising as main actors and Aranya Namwong as main actress. It lasts 1h36mn. Two songs are featured in this movie. This is the first movie featuring Phairoj Jaising and Aranya Namwong together. Director is วิจารณ์ ภักดีวิจิตร. Often in 1960 or 1970s Thai movies, music from Italian spaghetti westerns (Ennio Morricone) or James Bond movies was used. Korakot (Phairoj Jaising) arrives in Udon Thani. The introduction sequence even shows old theater โรงหนังเฉลิมวัฒนา. Korakot is back to his village through a bus from Udon Thani. He gets robbed by two ruffians (นักเลงเจ้าถิ่น) including Yuan (Choomporn Theppitak). They steal a jewellery belonging to his mother. Krit (Chat Mongkolchai) rescues him. Some relief characters are played by Songthong and Sisala Thongtara (ศรีสละ ทองธารา). Krit's sister is played by "bad girl" Donnapha Sophee. Knowing his friend's problems, krit chases after the ruffians. Two are killed but Yuan succeeds to flee. Korakot is not able to hold a weapon or fight back (ใจต้องสู้). Khun Phiset is upset with Krit as two of his men were killed. Korakot shall go to Khun Phiset's home to get back his jewellery. On the way, he meets Plienjai, Khun Phiset's daughter (Aranya Namwong), expert in shooting with Daojai (Darunee Cheunsakul). Yuan claims he doesn't have it. Plienjai likes Korakot. Daojai and Krit (สุภาพบุรุษนักสู้) love each other. Yuan loves Plienjai also but it is not reciprocal so he tries to force her. Khun Phiset chases him away. Korakot gets a training from Krit (คนสู้คน). Yuan forges an alliance with another ruffian leader called Seua Sing (Paen Pleumsachai) to get revenge and plans to kidnap Plienjai. As they get pushed back by Krit and Korakot, Seua Sing prepares more men to join. Enticed to get back his mother's jewellery, Korakot is tortured by Sing and Yuan by being attached to a cross and forced to walk under harsh sun. Meanwhile Songthong is killed through an embuscade. Krit helps Korakot before a full dehydration. Korakot's mother is played by Marasri Bangchang. A double wedding happens, i.e. Korakot with Plienjai and Krit with Daojai. Yuan, Sing and their ruffians bring troubles to the party by kidnapping the ladies including Krit's sister. Korakot and Krit chase after the ruffians. Seua Sing rapes Krit's sister. As a bait, Korakot defies Yuan and defeats him while Krit releases the ladies. Through a final shooting, Seua Sing is shot by Krit's sister but she also dies. Newly-wed couples can now find happiness with the ruffians being neutralised.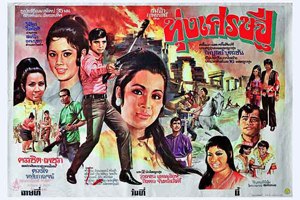 Year

: 1971



Thai title

:

ทุ่งเศรษฐี




English title

:



Rating

: 4/5


Director

:



Main actor

: Kanchit Kwanpracha,Taksin Jampol,Phan Kam,Rujira Isarangkul,Tat Ekathat,Pan Borapet,Adinan Singhiran,Pramin Jarujareet


Main actress

: Petchara Chaowarat,Ratanaporn Intarakamhaeng,Sisala Thongtara,Jomchai Jarintorn
Thai movie ทุ่งเศรษฐี was released in year 1971 and lasts 2h46mn. It was never released under VHS, VCD or DVD but an unofficial version can be found as a collector made a copy of the film, found in 16mm format with soundtrack. This unofficial VHS version features a very damaged black and white image with many vertical lines and distorted sound as the remaining film was projected very often. It is even more damaged than Thai movie มนต์รักลูกทุ่ง. Main actors and actresses are Kanchit Kwanpracha, Petchara Chaowarat, singer รุ่งเพชร แหลมสิงห์, singer กิ่งดาว จันทร์สวัสดิ์, Taksin Jampol, Ratanaporn Intarakamhaeng, Phan Kam, Rujira Isarangkul, สีเผือก, ศรีสุริยา, เทิ่ง สติเฟื่อง, Tat Ekathat, Pan Borapet, Adinan Singhiran, Pramin Jarujareet. 16 songs are featured. Thai movie ทุ่งเศรษฐี is a musical movie (หนังเพลง). The most famous song is ขนมจีนน้ำยา. Subdistrict headman and ruffians' leader Pongdin (Tat Ekathat) is asking lady Molee's hand. She is the village leader Chiaw's (Rujira Isarangkul) daughter. Cherm (Taksin Jampol), armed with swords, pushes back the wedding procession led by Pongdin. Molee (Ratanaporn Intarakamhaeng) succeeds to escape with her boyfriend Pong (Phan Kam). Cherm jumps on a horse and flees also before being overwhelmed. Molee lives with Pong and their child but remains concerned that Pongdin will find them one day. Adinan Singhiran and Pramin Jarujareet succeed to find them but Pong refuses to flee in front of Pongdin again. He is finally killed. Pong's house is burnt. Molee and her child Prai have to flee to Bangkok. Cherm decides to stay in a Buddhist temple. Twenty years have passed. Prai (Kanchit Kwanpracha) and Rung Phet are selling vinyl records during temple fairs. Kwan Dao (Petchara Chaowarat) is visiting the fair also. Prai falls in love with Kwan Dao. He sings romantic song for her. Prai and his friends get beaten by ruffians (including Pan Borapet) because they talked to the daughters of ruffians' leader Pongdin. Pongdin has a wedding plan for his daughter even she doesn't know or love her future husband. Kwan Dao doesn't want to marry a ruffian (นักเลง). Prai with Rung Phet's help are looking for Cherm and Chiaw. While paying respect to an old pagoda, Prai and his friends visit a small wooden house. They are attacked by Borapet and his ruffians. Ruffians are pushed back. They discover that the man meditating in the house is uncle Cherm! Cherm brings them to meet former village leader Chiaw's (Rujira Isarangkul), who is Prai's grandfather! He is now subdistrict headman (กำนัน). Prai is still looking for his father. He doesn't know if his father is still alive or not. Thai boxing matches are organised in the village for the annual festival. It starts with a dwarf match. Next match features Adinan versus Prai. Kwan Dao needs to give the winning reward. Prai defeats Pongdin's champion. It ends up by a lady match. Pongdin accepts them as 'children'. Romance songs occur between Prai and Kwan Dao, male singer (รุ่งเพชร แหลมสิงห์) and female singer (กิ่งดาว จันทร์สวัสดิ์). Face to face occurs between Pongdin, uncle Cherm and Prai. Prai is still looking who killed his father. Both of them are beaten and captured by Pongdin's ruffians. Friends ask for subdistrict headman Chiaw's help. Kwan Dao tries to release Prai and succeeds. Prai knows Pongdon killed his father so he needs to take revenge. Prai captures Pongdin and wishes to torture him on a pyre like he tortured his father (รับกรรม). Molee and Cherm tries to convince him not to kill Pongdin. No more sins shall happen. Seeing his mother collapsing makes Prai realises that he was wrong. Pongdin changes and recognizes his mistakes. Thung Sethi (ทุ่งเศรษฐี) area will have happiness.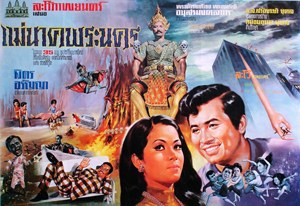 Year

: 1970



Thai title

:

แม่นาคพระนคร




English title

:



Rating

: 3/5


Director

:



Main actor

: Mitr Chaibancha,Sompong Phonmitr,Sukon Koewliam,Op Boonthit,Songthong


Main actress

: Aranya Namwong,Mom Chan Phuangwan,Sisala Thongtara,Kingdao Daranee,Chosri Misommon,Yaowaret Nisakorn
Thai movie แม่นาคพระนคร was released in year 1970. The movie is lost in Thailand but the movie is still available at the Thai Film Archives in Nakhon Pathom. Main actor is Mitr Chaibancha and main actress is Aranya Namwong. Other actors and actresses are Sukon Koewliam, Sompong Phonmitr, Mom Chan Phuangwan, Sisala Thongtara, Kingdao Daranee Op Boonthit, Chosri Misommon, Yaowaret Nisakorn, Songthong. Most of them are comic actors / actresses. So this 1970 version is more comic oriented (หนังผีตลก) than horror oriented. In this 1970 version, Nak also extends her hand but not to catch a lemon falling from the kitchen but to save somebody falling froma building. Mitr is playing Mak (มาก) and Aranya is playing Nak (นาค). The movie is taking place nowadays. Nak is hurt by a car driven by Doctor Mak, who is the reincarnation of soldier Mak from last century! The movie is lasting 145 minutes. The story is still available through old Thai magazines also.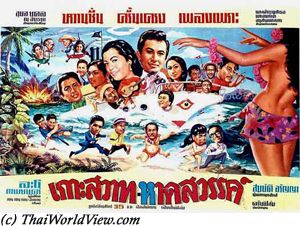 Year

: 1969



Thai title

:

เกาะสวาทหาดสวรรค์




English title

: Paradise Island



Rating

: 3/5


Director

: Prince Anusornmongkolgan



Main actor

: Sombat Methanee,Thuam Thoranong,Rujira Isarangkul,Ruj Ronnapop,Anucha Ratanaman,Op Boonthit,Sukon Koewliam


Main actress

: Aranya Namwong,Chosri Misommon,Manat Boonkiet,Metta Roongrat,Marasri Isarangkul,Sisala Thongtara
Khun Pradeun, a playboy, loves to party. He doesn't work. His father has arguments over coconuts gardens in Ko Samui with another businessman. They bet who could work more successfully, i.e. the son, Khun Pradeun, or the daughter, Khun Tum. Tum is a modern Thai lady wishing to work and with no husband. Her mother wants to find one husband for her but she prefers to go to island Sawat to help her father. If Pradeun wins, Tum must marry him. If he loses, he shall give up his business to her. Similar to many movies at the end of 1960s decade, this movie is rythmed with songs. Pradeun and Tum meet each other on the boat to island Sawat. Pradeun doesn't know the real identity of Tum as he expects somebody called Tum (ตุ่ม - pimple) to be fat, stupid. But he only shows his arrogance and suffisance. Tum and his friends try everything to have Pradeun to go back to Bangkok but to no avail. In the midst of controversy, he falls in love with her. Meanwhile, she begins to be confused because she might be in love with him as well. Pradeun tries dumping tactic to prevent sales but his three thousands coconuts have disappeared. He then needs to sort the coconuts that are mixed on purpose with those of Tum. They decide to use ruffians (นักเลง) to intimidate each other. Despite a few KO, Pradeun is the last one to stand up. Finally he knows the true regarding Tum and slaps her face for her treacherous behavior (in many Thai movies or Thai TV series, violence over women is surprisingly a way for men to show their love). Love is stronger between both of them. He saves her life during a fire in the local school and they finally marry. It is a 2h30 long lovely emotions movie. In 1960s decade, 2 hours length was frequent for many movies. This movie was then successfully updated in 2000s decade as a Thai TV serie.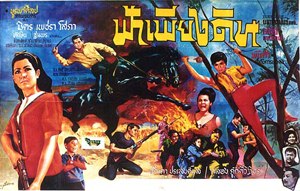 Year

: 1967



Thai title

:

ฟ้าเพียงดิน




English title

:



Rating

: 3/5


Director

: Phan Kam



Main actor

: Mitr Chaibancha,Choomporn Theppitak,Sawin Sawangrat,Adinan Singhira,Taksin Jampol,Sukon Koewliam


Main actress

: Petchara Chaowarat,Sopha Sataporn,Chadaporn Wachirapranee,Sisala Thongtara
Fa Phieng Din (ฟ้าเพียงดิน) is a 1967 Thai movie with Mitr Chaibancha, Petchara Chaowarat and Sopha Sataporn. Only a trailer of 3m35s is left. Other veteran actors playing in this Thai movie are Choomporn Theppitak, Adinan Singhira, Chadaporn Wachirapranee (playing the jealous lady as usual - นางอิจฉา). The trailer is short but enough to see a few fist fights with Mitr. It looks like a Thai western or western Tom Yum Thai movie. Chomphu's (Petchara Chaowarat) father has been killed so she changes her name to Sakira as the murderers are also looking for her expecting to get the heritage. Thewarat (Mitr Chaibancha) is always arguing with Chomphu. He even gets slapped by her the first time they met but when he wants to hit back, he is welcomed by fresh eggs thrown by Chomphu's friends. Director is famous veteran Phan Kam (พันคำ). In 1981 a remake was released with actress Supansa Nuengpirom. It seems to be based on the same story.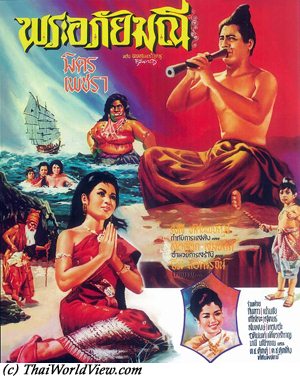 Year

: 1966



Thai title

:

พระอภัยมณี




English title

: Phra Apai Mani



Rating

: 3/5


Director

: Rangsee Thatsanaphayak



Main actor

: Mitr Chaibancha,Lor Tok,Sukon Koewliam,Adinan Singhiran


Main actress

: Petchara Chaowarat,Manee Maneewan,Kingdao Daranee,Sisala Thongtara
Thai movie พระอภัยมณี was released in year 1966 and lasts 1h50mn. Movie director is ครูรังสี ทัศนพยัคฆ์. It was released on VCD and DVD formats by company XxX (Triple X), owned by Khun Toh Pantamit. In year 1999, Toh Pantamit bought the 16mm film. In year 2000, the movie was digitized (15,000 THB per hour!). Then there is still a need to dub, add background music, find piphat original traditional music (ปี่). So it is very costly to release again old movies. The movie was shown in year 2001 in Sala Chalermkrung Theater for Mitr Chaibancha annual commemoration day. It was finally released under VCD and DVD in year 2002. This film is based on a story from Phra Aphai Mani, an epic poem by poet Sunthorn Phu. Actors and actresses include Mitr Chaibancha, Lor Tok, Sukon Koewliam, Adinan Singhiran, Petchara Chaowarat, Manee Maneewan (playing the mermaid), Kingdao Daranee, Sisala Thongtara, เปรมชัย ประภากร. Phra Aphai Manee (Kramon) and his brother Srisuwan come back to their hometown but their boat strands on a remote island. They come back from studying abroad. A lady giant ("YAK" - ยักษ์) abducts Kramon because he plays music so well that she loves him immediately. Kramon becomes her husband. The lady giant changes her shape into a beautiful lady and finally gets pregnant. A boy is born and is called Sinsamut. Kramon is missing his family and never gets full confidence from his giant wife who always closes the heavy stone door when going out of the cave to look for food. His son is human but with the strength of a giant. Following a scary nightmare, the lady giant goes to pray during three days in order to ease the gods. Meanwhile the son opens the door and both escape from the cavern. A beautiful mermaid and her parents bring them to a far island but the lady giant, after three days, chases after them. A local yogi helps them to chase the lady giant but she takes revenge by killing the mermaid's parents. A love story starts with the mermaid. She becomes pregnant also (she will have later a son called Sudsakorn but it is another story. Kramon becomes a monk to pay for his bad deeds. It is impossible to quit the island. One day, a boat is coming with a King and his daughter. Kramon decides to leave the island and brings his son to the kingdom. He promises to come back for the mermaid. On the way back, the lady giant sinks the boat. Kramon believes Sinsamut has drowned and he refuses to go back with his former wife despite her tears and longing requests as giants and humans cannot live together. She prefers to die instead of leaving him. Her heart breaks following sad music played by Kramon. He promises to live with her during next life when she will be reincarnated as a human. The son cannot prevent his mother's death in time.
---