Increase or decrease font size for easier reading : A+ A-
Siripong Isarangkul
Siripong Isarangkul (1925-1991) - ศิริพงษ์ อิศรางกูร ณ อยุธยา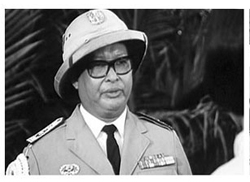 Siripong Isarangkul
This Siripong Isarangkul movie page contains 5 records.
---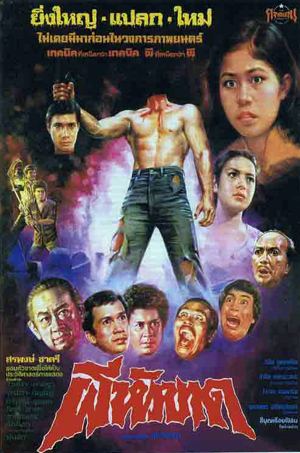 Year

: 1980



Thai title

:

ผีหัวขาด




English title

:



Rating

: 4/5


Director

:



Main actor

: Sorapong Chatree,Lor Tok,Settha Sirachaya,Pinyo Parnnui,Siripong Isarangkul


Main actress

: Wassana Sitthiweth
Thai movie ผีหัวขาด was released in year 1980. It is a lost movie in Thailand. Luckily it was released under VHS format in Taiwan under the name "Siamese curse" / 鬼貢头 in year 1980. It was also released in year 1984 in Malaysia under the name "SUMPAHAN SIAM". SUMPAHAN SIAM was released in Malaysia so it is dubbed in Malaysian. The VHS features subtitles in English, Chinese and Malaysian! It only lasts 1h17mn. A remake was released in year 2002. Chiao (Sorapong Chatree) and young lady Hsiao Feng (Wassana Sitthiweth) are close friends. Chiao dreams about marrying Hsiao Feng. Settha Sirachaya is Chiao's close friend. Lor Tok is one of the village masters (หมอผี). Settha Sirachaya asks for love oil to master Lor Tok. Villager Ken's head is found by Lor Tok during incantations. Those repetitive deaths are worrying so village leader asks for defense troops volunteers in order to protect villagers. Chiao (Sorapong Chatree) and Settha are volunteers. Another villager Ah Hing disliking Chiao is volunteer also. Chiao loves Hsiao Feng but refuses to use love oil done by master Lor Tok. Ah Hing has arguments with Chiao. Ah Hing's father is played by Siripong Isarangkul. A festival is happening so ruffians wish to steal the golden Buddha statue located in the local Buddhist temple. Chiao visits his master, who warns him that he is in danger. He should ordain as monk the day after to avoid losing his life. Chiao acknowledges and leaves. On the way home, a storm occurs, and he looks for a shelter. He ends up in the village Buddhist temple and sees ruffians stealing the golden Buddha statue. He tries to prevent the robbery, but he is killed by ruffian Pinyo Parnnui. His head is cut, and his body hidden in the graveyard. The ruffians fail to steal the Buddha statue. On the following day, Chiao cannot be found in the village. While looking for dead bodies to do corpse oil, Lor Tok finds Chiao's body. Villagers are now aware of his death. The master promises to find the head in order to do a proper cremation ceremony. Meanwhile Chiao's body wakes up and is looking for his head. He frightens villagers. Ruffians try to steal the golden Buddha again but Chiao stops them. Finally Chiao finds his head. During the village festival, Lor Tok stains Hsiao Feng's dress by mistake. She goes to the nearest house, i.e. Yin Hing's place, to clean it. There Hsiao Feng finds all the Buddha statues' stolen heads, so the ruffians have to kill her. Settha interferes and is injured. Villagers try to stop them. Ah Hing threatens to kill Hsiao Feng. Chiao chases them but Siripong involves one skilled master also to fight against Chiao and his master. Chiao's master is defeated. Chiao breaks his opponent's spells. Siripong and Pinyo get killed. The master burns in the fire. Chaio's body and his head get cremated in the big fire.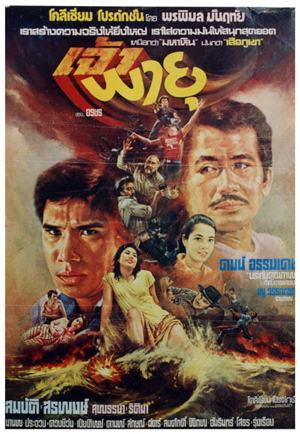 Year

: 1980



Thai title

:

เจ้าพายุ




English title

: Thunder Kid



Rating

: 5/5


Director

: Kom Akadej



Main actor

: Sorapong Chatree,Sombat Methanee,Manop Aussawathep,Prachuap Ruekyamdee,Dam Datsakorn,Somsak Chaisongkram,Lak Apichat,Choomporn Theppitak,Somchai Samipak,Chat Mongkolchai,Pipop Pupinyo,Siripong Isarangkul,Paen Pleumsachai,Pao Porapak


Main actress

: Supansa Nuengpirom,Piathip Kumwong,Thitima Sangkapitak,Duangcheewan Komolsen
Thai movie เจ้าพายุ was released in year 1980 and lasts 1h55mn. It was never released in Thailand but is still available overseas in Sweden as it was sold through VHS format. Palat (Sombat Methanee) rapes Piathip Kumwong, his former wife, as he is upset she has another lover (Manop Aussawathep). A kid is born from this relationship but it has no recognized father (ไม่มีพ่อแต่ต้องมีชื่อ). Manop is said to be Yu's father. Uncle (พ่อลุง) Jaeng (Prachuap Ruekyamdee) names the kid as Thunder (เจ้าพายุ), as he is born during a storm, but his nickname is Yu. When Yu was 3 years old, Piathip left home as Palat was having a new wife called Duangcheewan. Being adults, Eum (Thitima Sangkapitak) and Yu (Sorapong Chatree) love each other since childhood. Eum's parents promise her to another man called To (Dam Datsakorn). Palat, Somsak Chaisongkram and To try everything to break this relationship. Eum and Yu flee but are chased by Palat and ruffians led by To. Yu accepts to surrender and is sent to prison. Manop Aussawathep, father of Yu, learns that Palat has been nominated as chief district. He still has a debt to pay with Palat. While Palat is resting with his family, he does attack them. Palat's new wife (Duangcheewan Komolsen) is shot dead. Pho Seua (Choomporn Theppitak) in prison teaches Yu to master resistance and strength. Yu becomes friend with Pha (Lak Apichat) in prison. Eum, knowing that Yu's father killed Duangcheewan, cannot marry Yu anymore and accepts to marry To. Yu is devastated to learn this news. After a while, Yu is released from jail. Pha is waiting for him. Yu helps Sia Wiwat (Somchai Samipak) and his daughter Chan (Supansa Nuengpirom) Chan having issues with ruffians. He has conflicts with Chat Mongkolchai, head of workers (ป่าไม้). Meanwhile To sends some men (Somsak Chaisongkram and Pipop Pupinyo) to get rid of Yu. Siripong Isarangkul is playing the big boss. They push Manop to force his own son Pha to get rid of Yu. Pha and Yu are in fact brothers. As Pha refuses to kill Yu, To sends Paen Pleumsachai to kill him but it fails as Pha is only injured. Pha gets revenge by shooting Siripong Isarangkul. To's hidden plan is to get rid of Sia Sawat, Yu and to get the sawmill for himself and to get Chan as wife for Chat. Chat uses heavy machine to drop tree logs on the office, where Sia Wiwat and uncle Jaeng are working. Uncle Jaeng dies. Yu has to take revenge on Chat and To. Yu chases To until he can kill him. Final fighting does occur between Manop, Palat and Yu. Manop catches Yu and threatens to kill him if Palat doesn't surrender. Yu is Palat's real son! Piathip already lost one son so she cannot accept this and shoots Manop.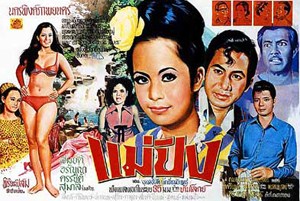 Year

: 1970



Thai title

:

แม่ปิง




English title

:



Rating

: 4/5


Director

:



Main actor

: Sombat Methanee,Sawin Sawangrat,Kanchit Kwanpracha,Sukon Koewliam,Siripong Isarangkul


Main actress

: Aranya Namwong,Chadaporn Wachirapranee,Mom Chan Phuangwan
Thai movie แม่ปิง was released in year 1970 and lasts 2h25mn. The original film is certainly longer as some parts are missing in the VCD released by Lepso. A remake called "มายาพิศวาส" was done in year 1983 with Jarunee Sooksawad. Aranya Namwong plays two roles, i.e. mother Ubon and her daughter Dokbua. The father is sick (กรรม) and invalid. Dokbua wishes to revenge her family. Dokbua simulates a car accident to get attention of Chala (Sombat Methanee). She claims coming from poor province (คนบ้านนอก) and was attracted by a false job offer in Bangkok. Chala and his brother Chet (Sawin Sawangrat) are part of a rich family. Both love Dokbua at first sight. Dokbua is hired as domestic helper in the house. Chet's father, khun Chun, is paralysed. Paen (Chadaporn Wachirapranee) is khun Chun's wife but also Chet's mistress! Chet wishes Dokbua to become his secretary. Chala spends a lot of money and is often described as lost soul (เสียชาติ) as he always borrows money from his father and his brother. Chet tries to abuse Dokbua but she refuses. The father also tries to abuse her but it fails. Chatchai (Kanchit Kwanpracha) has interest in her despite he has already a fiancee called Chaleng (สุมาลี ทองหล่อ), Chala's sister. He doesn't love his fiancee as the engagement was set up by parents and not based on real love. Another domestic helper warns Dokbua about rich people being insincere (ไม่จริงใจ). Chatchai's father, Tawat (Siripong Isarangkul), has interest into Dokbua also. Paen is trying to sell Dokbua to him. Chet tries his luck with Dokbua at night time (ต้องการเธอ) but it fails again. Chala is aware Dokbua has a hidden plan but he cannot identify it. Tawat still wants Dokbua as wife. Dokbua accepts so causing Chala's ire and treating her as นางบำเรอ. Tawat has six wives already. Dokbua accepts in order to become a countess (คุณหญิง). Chala still wonders the hidden plan of Dokbua. The father khun Chun's names Dokbua as head of the company (ล้างบาปก่อนที่จะตาย). After his death, Dokbua is given the whole heritage as he knew she is the daughter of his former enemy. Khun Chun is responsible of Dokbua's father paralysis. Other family members are shocked. Chala is shocked by Dokbua's cynicism and forces her to kiss him. Chatchai, seeing the scene, threatens to tell the truth to his father, if she refuses to become his mistress. Thatchai does not have interest in Chaleng anymore as she is now poor so she keeps indulging in alcohol. Chet tries to seduce Dokbua (หลงเสน่ห์) again causing Paen to be upset. He wishes to marry with Dokbua as she is beautiful and rich. He rejects Paen so she shots Chet with a gun and is arrested by the Police. She has become crazy. Dokbua didn't think her revenge will go that far… She gives back the whole heritage to Chala. Love finally emerges between both.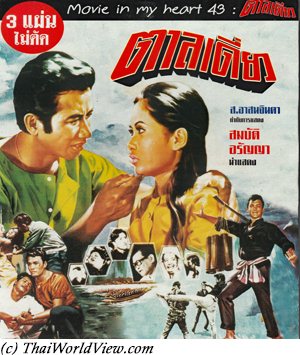 Year

: 1969



Thai title

:

ตาลเดี่ยว




English title

:



Rating

: 4/5


Director

: Sor Asanajinda



Main actor

: Sombat Methanee,Ruj Ronnapop,Tat Ekathat,Pan Borapet,Choomporn Theppitak,Sawin Sawangrat,Paen Pleumsachai,Daonoi Duangjai,Siripong Isarangkul


Main actress

: Aranya Namwong,Metta Roongrat,Somjit Sapsamruey,Kaenjai Meenakanit
Thai movie ตาลเดี่ยว was released in year 1969 and lasts 2h50mn. It was released by Triple XxX company and features 3 VCD discs. The VCDs are mixing sequences based on 35mm format (songs) and sequences based on 16mm format (main movie needing dubbing as this format has originally no track sound). The movie features a few songs. Movie director is Sor Asanajinda. Many famous actors and actresses are featured in this movie such as Sombat Methanee, Aranya Namwong, Ruj Ronnapop, Somjit Sapsamruey, Metta Roongrat, Tat Ekathat, Pan Borapet, Choomporn Theppitak, Sawin Sawangrat, Kaenjai Meenakanit, Paen Pleumsachai, เมืองเริง ปัทมินทร์, Siripong Isarangkul, ขุนแผน ภุมมารักษ์, ถนอม นวลอนันต์, นวลศรี, แป้น ปลื้มสระไชย, ฉกาจ, บิ๊ฟ, พีระพล, ตาล, มานะชัย, Daonoi Duangjai. Dio (Sombat Methanee) and Kut (Ruj Ronnapop) are close friends. Dio's mother, Poei, is played by Somjit Sapsamruey. Kratin (Metta Roongrat) is Kut's sister and she loves Dio. Jamroon Nuatjim is Kratin's father. Tan (Aranya Namwong) is the daughter of subdistrict headman (กำนัน) Phet (Tat Ekathat). Dio's father died in subdistrict headman Phet's garden before by falling from a tree while harvesting sugar palm. Phet forbids Dio to meet his daughter but he agrees to give him a job. Dio's mother is sick and they are running out of money. Kratin gives Dio 100 Baht to buy some medicine. Dio starts to work in Phet's garden to harvest sugar palm. Kratin helps him. Two ruffians (including Pan Borapet) working for subdistrict headman Phet makes joke about him and his relationship with Kratin. A fight occurs, and ruffians get beaten by Dio and Jamroon. They complain to subdistrict headman Phet but as Tan saw them, then Phet knows that both are lying and were looking for troubles first. They quit their work and promise to get revenge towards Dio. Plok (Choomporn Theppitak) wishes Tan to become his wife. He plans to abuse her with the help of the ruffians chased by Phet. Once abused (เสียแล้ว), he will ask for her hand and subdistrict headman Phet cannot refuse. Ladders to climb palm trees are damaged. Dio and Jamroon suspect the ruffians. One evening, Jamroon, being drunk, have arguments with Plok and his men. He gets severely beaten. Plok's father is played by Sawin Sawangrat. Tamleung (Kaenjai Meenakanit) is another lady fond of Dio. Annual festival (งานประจำปี) occurs and features a boat race. Plok tries to kidnap Tan (ลูกตาล) but Dio helps her on time. Plok and his father have to apologize to subdistrict headman Phet and his daughter. Subdistrict headman Phet wishes to give money to Dio as a reward but he refuses. Dio and Tan declare love to each other. Kut, also loving Tan, has even a fight with Dio but recognises he was wrong to fight against his friend. Being jealous, Kratin complains to subdistrict headman Phet to break Dio and Tan relationship. Tan gets beaten by her father and is locked in her room. Dio escapes beating thanks to her mother but he loses his job in the orchard. They have to leave. Dio visits Tan in her room and they become lovers. About to leave by boat, Tan also comes and announces she is leaving her father as she loves Dio and is now his wife. Kratin and Kut are heartbroken. Dio and Tan take refuge in a relative home. Plok and his father announce to subdistrict headman Phet that they will help to find where Dio and Tan are hiding. Dio and Tan move to a relative's place, being a village leader called Duang. His wife, Mae Sri, is upset and afraid to have problems with subdistrict headman Phet so Dio, Tan and the mother move to Bangkok. Plok decides to kidnap Kratin in order to know where Dio is hiding. His father wishes to have Kratin becoming his minor wife. The issue turns badly as other ruffians fight with the father over Kratin. The father dies and Kut is able to release his sister. Life is harsh in Bangkok and Dio has to be tricycle and taxi driver. A child is born. After two years, they finally move back to Duang's place. Mae Sri informs subdistrict headman Phet, who kidnaps his own daughter with Plok's help. Dio, upset, goes to subdistrict headman Phet's house bringing his son. Phet refuses to Dio to see his wife and pushes him severely out. Hearing that Plok plans to rob subdistrict headman Phet's house at night time by claiming being Dio, Dio has to help. One of his friends warns the police. Plok is killed during the fightings. Seeing that Dio is finally a good and brave man, sub district headman Phet agrees to an official wedding of Dio and Tan.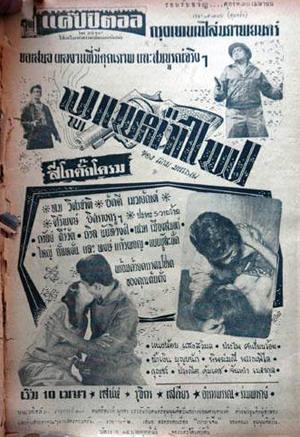 Year

: 1959



Thai title

:

งูเห่าไฟ




English title

:



Rating

: 3/5


Director

:



Main actor

: Tawan Siriwat,Siripong Isarangkul


Main actress

: Namgneun Boonnak
Thai movie งูเห่าไฟ was released in year 1959. It features ทม-แน่งน้อย as main actor and main actress. The movie is lost in Thailand but a damaged sequence of four minutes remains to be seen. Other actors include Tawan Siriwat, Namgneun Boonnak, ทม วิศวชาติ, อัคคี เมฆยัณห์, ถวิล นันทิวงศ์, เสมา เมืองสมุทร. The left sequences include action parts such as fist fighting and gun fights.
---