Increase or decrease font size for easier reading : A+ A-
Sirikwan Nanthasiri
Sirikwan Nanthasiri (1957) - ศิริขวัญ นันทศิริ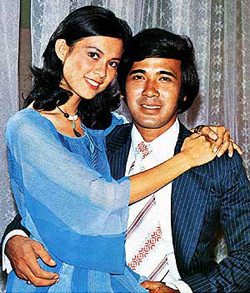 Sirikwan Nanthasiri was Miss Thailand (นางสาวไทย) in 1975. She played in around 20 movies and was a photography model. She remained famous in Thailand due to her pictures in the first Thai "นู้ด" calendar. Fed up to receive only sexy roles (เซ็กซี่) in movies, she quit to take care of her own business
This Sirikwan Nanthasiri movie page contains 8 records.
---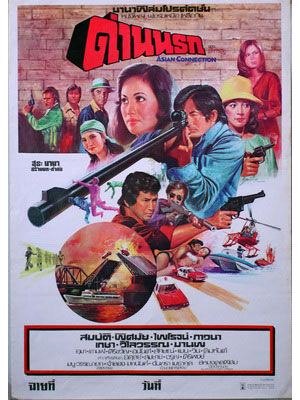 Year

: 1978



Thai title

:

ด่านนรก




English title

: Asian Connection



Rating

: 3/5


Director

:



Main actor

: Sombat Methanee,Phairoj Jaising,Lak Apichat,Kecha Plianvithee,Dam Datsakorn,Manop Aussawathep,Phirapon Piyawan


Main actress

: Pissamai Wilaisak,Pawana Chanajit,Sirikwan Nanthasiri,Wilaiwan Watthanaphanit
Bombs happen in south of Thailand. Soldier Phukphan (Sombat Methanee) and policeman Phan (Phairoj Jaising) have to identify who is behind. Sangvien and his wife Nida (Sirikwan Nanthasiri) are owning a disco. They are suspecting to be involved in the bombing. Phukphan meets Sangvien (Dam Datsakorn) in his disco following a fight with his acolyte Wen (Lak Apichat) and is finally recruited. First task is to shoot a drug dealer but Phukphan just hits him slightly. Ruffian Malboro (Kecha Plianvithee) is coming from Indonesia with his two daughters Suriya (Pissamai Wilaisak) and Dara (Pawana Chanajit). New task given to Phukphan is to kidnap a politician. Phukphan's double game is unmasked by Nida but she remains silent. The kidnapping fails as Phukphan, Phan and the police act on time. Malboro suspects there is betrayal (ทรยศ) inside Sangvien's team. Phukphan is uncovered. Malboro decides now to use his own daughters to plan. Oon, Phukphan's girlfriend, is working in a club. Malboro's ruffians chase Oon to know where Phukphan is living. The murder attempt on Phukphan fails. Following shopping in Siam Square, Dara and Suriya are chased by the police. They flee through a taxi and are finally rescued by Phukphan and Phan. Those two guys cannot resist trying seducing beautiful ladies. The secret organisation (องค์การ) kidnaps Mareusi, daughter of a politician, during her birthday party. It is the unique daughter of a rich politician of Thailand's main party. The organisation retreats to their secret base and asks for a ransom. Wen changes side as he refuses to betray anymore his own country. Phukphan, Phan and the police invade the island. Multiple shootings happen during which Dara, SangVien, Nida and many ruffians lost their life. Malboro dies following a boat accident while fighting with Phukphan. There is a moralist nationalist ending as Wen, who helps Thai police, survives his injuries. Phukphan promises to marry Suriya. ด่านนรก (Asian Connection) is a typical 1970s Thai action movie involving Thai police and Thai army fighting against a mysterious international organisation threatening Thailand integrity.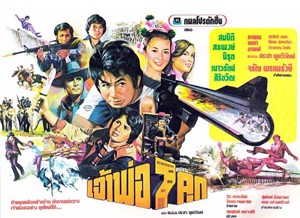 Year

: 1977



Thai title

:

เจ้าพ่อ 7 คุก




English title

:



Rating

: 3/5


Director

:



Main actor

: Sombat Methanee,Sorapong Chatree,Chaiyan Sorakrai,Kecha Plianvithee,Dam Datsakorn,Pipop Pupinyo,Manop Aussawathep,Nirut Sirijanya,Surasit Sattayawong


Main actress

: Naowarat Yooktanun,Sirikwan Nanthasiri
Thai movie เจ้าพ่อ 7 คุก was released in year 1977. It features two major Thai cinema stars together, i.e. Sombat Methanee and Sorapong Chatree. The remaining sequence lasts 1h22mn. Papum (Sombat Methanee) succeeds to escape from prison four times but he is recaptured by the Thai police each time. Sorapong is a soldier. Chaiyan Sorakrai as another soldier gets killed in the fightings. Sorapong is married and has one kid. While he is fighting at the border, his father is killed and his wife is raped by ruffians led by Jit (Kecha Plianvithee) and including Ming and Pipop Pupinyo stealing the cattles. Sorapong finds Pipop and kills him. Before he learns from Pipop that Ming is now in jail so Sorapong surrenders to police in order to be sent to jail. Sorapong ends up in same jail as Papum, who is still trying to escape (นักโทษวิเศษ). He also befriends with Ming. The three guys now prepare to escape. There is a famous scene, where Sombat as prisoner smashes a rat and eats it raw. The three men succeed to escape through some pipes thanks to a file given by Sorapong to Papum in order to cut his chains. After obtaining information on Jit, Sorapong kills the ruffian Ming following a one to one fight. Papum and Sorapong go to north of Thailand to find Jit. They join a group including พ่อเลี้ยง Chawalit (Manop Aussawathep), Nirut Sirijanya and Malee (Sirikwan Nanthasiri). They go through the mountains by small paths. Papum meets Naowarat Yooktanun. Love emerges. Surasit Sattayawong is the hill tribe village leader (ผู้ใหญ่). Two groups are exercising influence, i.e. Jit and Chawalit, around the mountains. Meiyo, Naowarat's younger brother, is shot by Jit's ruffians as he listened to them talking about Papum and Sorapong. Malee has disappeared. The two groups prepare to fight. Nirut releases Malee but they are chased by ruffians. Malee gets shot and dies. Papum and Sorapong escape murder tentative. The two groups confront each other and heavy shootings happen. Final fights between Papum and Dam Datsakorn, between Sorapong and Jit occur. Naowarat helps Papum. Sorapong kills Kecha but gets severly injured and dies. Papum ends up 10 years in prison but Naowarat waits for him. This movie features an impressive list of famous Thai actors and actresses from decade 1970s.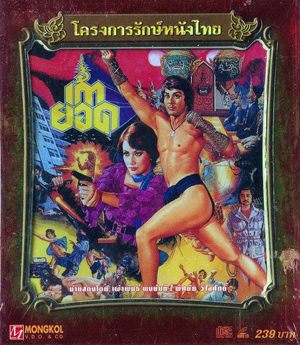 Year

: 1977



Thai title

:

เก้ายอด




English title

:



Rating

: 3/5


Director

:



Main actor

: Phaophan Phongnathee,Tat Ekathat,Krai Kanchit


Main actress

: Pissamai Wilaisak,Sirikwan Nanthasiri,Metta Roongrat
Thongchan (Phaophan Phongnathee - เผ่าพันธุ์ พงษ์นที) takes part successfully in a harsh training camp. He wishes to take part in a specific mission but is rejected and even imprisoned. He decides to flee. He escapes the base thanks to a plane. Lady Arunee (Metta Roongrat) (คุณหญิง) is married to Thongchai, an influential politician. Tat (Tat Ekathat), friend of Thongchai, is organizing his protection. Despite this protection, a murder tentative through injection is done on Thongchai. His son Thongchan is back and accuses Arunee but he gets arrested by Tat. Thongchan succeeds to flee. He gets involved in a political protest. Traitors (คนขายชาต) are trying to bring insurrection (วินาศกรรม) in Thailand. Ratchada (Pissamai Wilaisak) is distributing leaflets during protests and discovers a bomb. She is kidnapped by the ruffians. Witness of the kidnapping, Thongchan helps Pissamai as she is thrown away from the van driving at full speed. Thongchan rescues Pissamai and brings her to a safe hotel room. Ruffians use poisonous spiders to try to kill her but it fails. A mysterious organisation (องค์การ เก้ายอด) is using drugs to convince young people to follow them. Members wear Yak (ยักษ์) mask. A mysterious leader tries to stop Ratchada and Thongchan but they succeed to escape. Real 1973 or 1976 protests footage are used. Protests are politically motivated (ศัตรูของชาติ). The organisation has no pity for its own member as Thomas Cheng (Krai Kanchit) and Nancy (Sirikwan Nanthasiri) get killed. Arunee is also strangled. Tat is identified as the traitor leader. It turns ugly when Thongchan, Ratchada and Thongchan's father, Thai PM, are kidnapped. To avoid signing papers giving full power to the criminal organisation, the father sacrifices his life to release his son. Through a final confrontation, Thongchan, Thai boxing expert, defeats the ruffians using his martial arts skills. Thai Army arrives on time. The hidden den explodes and finally it is revealed that both Thongchan and Ratchada are undercover secret service officers. Thai movie เก้ายอด was released in year 1977 just a few after the tragic events of 1976.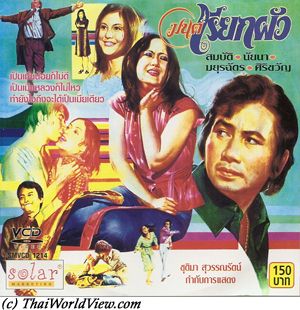 Year

: 1976



Thai title

:

มนต์เรียกผัว




English title

: The Spell



Rating

: 5/5


Director

:



Main actor

: Sombat Methanee,Prachuap Ruekyamdee,Somsak Chaisongkram,Somchai Samipak


Main actress

: Naiyana Shewanan,Mayurachath Muarnprasitivej,Sirikwan Nanthasiri,Sulaleewan Suwanthat,Phong Lada Pimolpan
Thai movie มนต์เรียกผัว was released in year 1976 and lasts 2h16mn. It is a Five Star Production and a remastered version was released in mid-decade 2010s. Previously it was released under VCD format by Solar company (2h12mn). Movie director is ชุติมา สุวรรณรัตน์. This is a romantic family drama movie putting focus on couple life. Plak (Mayurachath Muarnprasitivej) doesn't trust her husband Cheut (รักงาน) as he is working always late having meetings with Somchai Samipak and manager Sak (Prachuap Ruekyamdee). Ram (Somsak Chaisongkram) and aspiring model Rose (Sirikwan Nanthasiri) have a relation. Ram promises to visit her parents to officialise their relationship. Plak remains very upset as for his job, Cheut (Sombat Methanee) has to meet models. She believes he is having affairs, but she cannot catch him. It makes Cheut's life miserable and they often quarrel. Cheut is drunk one night and meets waitress Deuan (Naiyana Shewanan). On the following day, she is aggressed and raped by two ruffians. It is a strong scene and probably one of the first movies where the main actor is unable to help the main actress. Another movie was Thon (โทน) where Chaiya is unable to help Aranya on time. It was a new trend from 1970s movies being more realistic than previous decades. Deuan's mother is played by Sulaleewan Suwanthat. Plak's mother is played by Phong Lada Pimolpan. Rose is pregnant with Ram but he refuses to take responsibility of the baby (คนใจสัตว์) and hits her. He forces Rose to trick Cheut in order to accuse him about the pregnancy. Another day, the ruffians threaten Deuan again but Cheut and Prachuap are luckily there. They help Deuan and a fight occurs with ruffians. Cheut brings back Deuan home. Deuan's mother takes care of eight poor children and raises them so Deuan's work is important to have money for all expenses. There are children from poor prostitutes, who cannot raise them. Cheut finds a job for Deuan in Sak's company in order to work daytime instead of nightime. Plak brings trouble to Deuan so she wishes to change job. Cheut wants to have a child but Plak keeps eating birth control pills. Deuan continues to bring troubles at Cheut's office. He gets closer to Deuan as she has everything he wishes Plak had. By hazard, Plak is present in a shop where Sak buys dresses for Deuan on behalf of Cheut. Sak organises a meeting between the two ladies to ease the tension. Deuan acknowledges she loves Cheut but gets pity from him (ความสงสาร) and not real love (ความรัก). She doesn't wish to break his marriage and mentions that Plak is a bad wife not taking care properly of his husband. Plak wants to take revenge over Cheut and goes out with Ram. Ram brings Plak to a short time hotel. He tries to abuse her but hopefully Sak, passing by, helps her. The next day, Cheut gives a lesson to Ram in a bowling alley but Ram promises to get revenge. Deuan visits a doctor and finds she is pregnant with Cheut. She has a worrying heart disease. The doctor warns she could lose her life by giving birth. But she is willing to take the risk as she knows Cheut wishes a child and she wishes to thank him for all his kindness towards her family. Plak changes her behavior and tries to be a good wife caring about her husband. On the opposite side, Cheut becomes harsher. Plak feels that Cheut changed a lot and that his love has moved to another woman. Cheut comes back home very late even on her birthday. Plak is at hospital and Cheut takes care about Deuan being sick. Ram tricks Cheut by mentioning to Rose's brother that he is one who refused to take responsibility. Cheut is kidnapped while going to Deuan's home to bring her for child delivery. Meanwhile Plak prepares to leave home for UK knowing she has lost Cheut due to her continuous jealous behavior. As Cheut is still not coming to bring Deuan to hospital, Deuan calls his home and talks to Plak without being aware. Decided to do a last good thing for Cheut, she brings Deuan to hospital and then goes towards airport. Cheut gets beaten by Rose's brother but finally Rose confesses Ram is the father. General fighting occurs and Rose shoots Ram going to stab her brother. Cheut arrives at hospital before the delivery. Reading the letter that Plak left for him, he rushes to airport being puzzled by Deuan's sentence that it is probably the last time they meet. He brings back Plak to hospital mentioning that such hasty departure decision should be discussed with cold heart. A child is born but Deuan has died. Plak promises to take care of all children. This movie highlights the difficulties of life for main wife (เมียกลาง) and mistress (เมียน้อย), their place in society, the choice for the husband between two wives and the way some Thai men can abuse women in Thai society (Deuan feeling ashamed of having been raped and not going to police to fill a complaint, Ram refusing assuming Rose's pregnancy).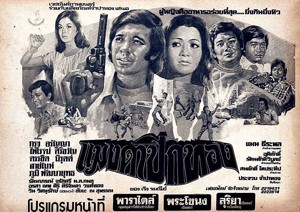 Year

: 1976



Thai title

:

แมงดาปีกทอง




English title

:



Rating

: 3/5


Director

:



Main actor

: Krung Srivilai,Phairoj Jaising,Kanchit Kwanpracha,Pumi Patanayut,Sayan Chantaraviboon,Nirut Sirijanya


Main actress

: Aranya Namwong,Sirikwan Nanthasiri,Orasa Isarangkul
Thai movie แมงดาปีกทอง (Pimp with golden heart) was released in year 1976. The movie is lost in Thailand. It was found in Taiwan under the name "Phoenix the Invincible" as it was released in VHS format. "For your eyes only" (1981) song is featured so the Taiwanese version was released 5 years minimum after the Thai version. This version was released by Taiwanese company New Ship Film Enterprise Co Ltd and lasts 1h27mn. The movie is in Mandarin language with no English subtitles. The movie was also found in Europe under the name "Lady Killer". It lasts 1h28mn and was released under VHS format by company Budget Label. The original movie has been cut to fit in standard TV format 4:3. Krung Srivilai enters as a robber in a house to steal money from a safe. He is the son of the victim! He steals his own father as he needs money! Krung is living with two close friends, i.e. Sayan Chantaraviboon, a steward and photographer, and Pumi Patanayut. Krung and his father despise each other. Krung keeps asking money from his father. He is finally disheritated and his father recommends him to find a lady to nurture him. Trying to gain easy money, Krung loses a big amount to Phairoj Jaising during cards games. Phairoj doesn't give him any credit as he knows Krung has been disheritated. Krung meets Aranya Namwong having problems with her car. Aranya is coming from a rich family. Nirut Sirijanya is her brother. Krung is working as gigolo to earn a living. Sirikwan Nanthasiri meets Krung in a bar. She is Phairoj's girlfriend. Ruffians argue in a pool bar but Kanchit Kwanpracha stops them. Kanchit then spends good time with Sirikwan. Kanchit joins Phairoj's team and takes active part to develop the business. Krung is going out with Orasa Isarangkul as he keeps acting as a gigolo. Finally, Kanchit wants more money from Phairoj for his business participation. It makes Phairoj upset. During a birthday party, two guys (including Pumi) are bothering Aranya but Krung helps. It is a trick as Krung knows well Pumi. Krung and Aranya sympathise and a romance starts. Phairoj's ruffians fail to kill Kanchit. As Phairoj's ruffians fail to get rid of Kanchit through a fight, they finally shoot him. Before dying, Kanchit gave a secret notebook to Sirikwan. Nirut, Aranya's brother, doesn't want her to meet Krung again as he only takes profit of women as gigolo. Krung claims to have changed and has stopped working as a gigolo. Phairoj loves Aranya also. Aranya's father meets Krung but it turns sour. The father is bankrupted so he has to promise his daughter to Phairoj. Phairoj hires Aranya as secretary. Krung has to find 2M USD to pay the father's debts but no way to find such amount. Aranya is not happy working with Phairoj but she has to pay back her father's debts. Fighting in a disco involving Krung and his friends happens again. Sirikwan asks Krung to keep a secret notebook. Phairoj wishes to break with Sirikwan in order to be with Aranya. Sirikwan accepts but threatens him to provide a secret notebook to the police if he doesn't give her a huge amount of money. Phairoj shots Sirikwan. Krung, having the notebook, informs the police. The secret notebook includes all details about Phairoj's illegal business. Thai police is storming Phairoj's den. About to be caught, Phairoj takes Aranya as hostage. Krung risks his life to save her and shows he really cares for her. Krung is injured but Phairoj is shot dead.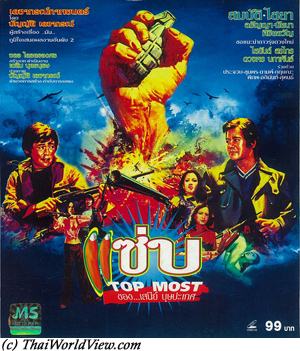 Year

: 1976



Thai title

:

แซ่บ




English title

: Top most



Rating

: 3/5


Director

:



Main actor

: Sombat Methanee,Chaiya Suriyun,Prachuap Ruekyamdee,Dam Datsakorn


Main actress

: Aranya Namwong,Naiyana Shewanan,Sirikwan Nanthasiri
Prakan (Sombat Methanee) and Wi Ok Hen Lom (Chaiya Suriyun) are Pa Wieng's sons. Pa Wieng is the head of a team of bandits (โจร). Once Prakan knows Pa Wieng is not his real father, he flees to find his real father, Sing. A couple, Karn and his girlfriend Duang, is fleeing as Pa Wieng's ruffians are following them up. Karn dies but Duang is saved by Prakan (Sombat Methanee). Pa Wieng is Prakan's stepfather (พ่อเลี้ยง). Prakan is now considered as a traitor (ลูกหมา, ทรยศ) as he tried to flee. Wi Ok Hen Lom is always following Prakan remotely and helps him when needed. Prakan and Duang arrive in the adjacent district. Luang (Dam Datsakorn) is the subdistrict headman (กำนัน) and her sister Deuan (Aranya Namwong) is the village headman. They control very strictly the subdistrict. Sing was the former village headman but his authority has been neutralized. Prakan wants to find the former village headman (ผู้ใหญ่บ้าน) Sing, who is his real father. But Sing refuses to recognize him as his son. Prakan and Duang (เพื่อนรัก) are captured by Deuan (คนเก่ง). Sing's daughter, Kotko, supports them. Prakan helps to protect their oil stock and gets back his freedom. Finally Sing recognises Prakan (ลูกพ่อ). Luang believes Prakan is a undercover policeman (ตำรวจชายแดน). Saming is another mafia leader and is Luang's best friend. Saming and Luang destroy Prakan's house but Deuan doesn't agree (ไม่เห็นด้วย, ไม่ยุติธรรม). It is war declaration with Prakan. Prakan uses rape as weapon to revenge himself against Deuan. Luang asks the district officer (นายอำเภอ) to arrest them but Deuan provides an alibi to Prakan. Luang decides to give Deuan to Saming but Prakan rescues her on time (มารับเมีย). Now Prakan has two wives (มีเมีย2คน), Deuan and Duang! Kotko and Duang are kidnapped. Pa Wieng comes to help but dies in the fight against Luang and Saming. As expected, ruffians are defeated. It is a typical action movie from 1970s decade when local authorities were not respecting the law and were local kingpins. It is also a very bad habit in Thai movies and Thai TV series (ละคร) to use rape as an expression of love. In 2006, a Thai movie with the same name was released but it was a comedy.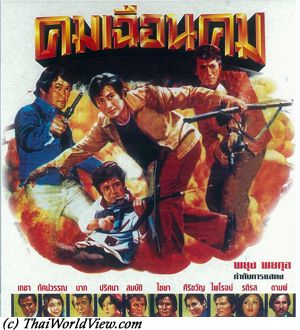 Year

: 1976



Thai title

:

คมเฉือนคม




English title

: The outlaw man



Rating

: 3/5


Director

: Payoong Payakul



Main actor

: Sombat Methanee,Phairoj Jaising,Nard Poowanai,Chaiya Suriyun,Kecha Plianvithee,Dam Datsakorn


Main actress

: Tasawan Saneewong,Prissana Chabaprai,Sirikwan Nanthasiri



Buy now

:

Three men are arrested by the Thai police following a trip to Hong Kong as they are suspected to sell drugs. They are released as no proofs are found. They met a guy called Daeng in the cell and befriended together. A young lady, Maria, Tawai's assistant, pick them up. Daeng is trying to join Tawai's secret organization, which is buying and selling weapons and drugs. Such organization undermines Thailand. As Tawai orders Daeng to kill Krit (Sombat Methanee), Daeng reveals that he is a hidden policeman and convinces Krit, who is a drug smuggler, to join his side. Policemen and gangster groups go to the golden triangle, border between Thailand, Laos and Burma. Heavy fightings happen between both groups. The country traitors are killed or captured. Some policemen are killed but they didn't die in vain as they give their life for the nation, the religion and the monarchy. It is a typical action movie of mid 1970s in which Thailand needs to be protected against external red communist threat. There is a rupture with traditional movies as Thai actors shake hands, listen to western music and kiss ladies in front of spirits shrines.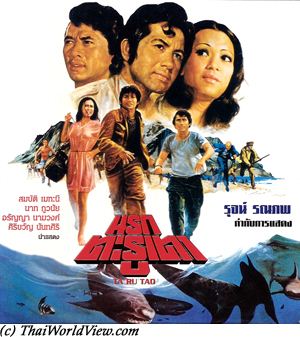 Year

: 1976



Thai title

:

นรกตะรูเตา




English title

: The Hell of Tarutao



Rating

: 3/5


Director

: Ruj Ronnapop



Main actor

: Sombat Methanee,Nard Poowanai,Manop Aussawathep,Adul Dulyarat,Pipop Pupinyo,Phirapon Piyawan


Main actress

: Aranya Namwong,Sirikwan Nanthasiri



Buy now

:

This movie is based on a true story. Koh Tarutao was an island penal colony for prisoners (นักโทษการเมือง) having participated to the failed royalist rebellion in 1933. Through World War II, Tarutao island housed the country's most extreme incarceration center. A lack of supplies during the war left many prisoners to perish from disease or starvation. Two political prisonners arrive on Tarutao island with a bunch of other convicts. Nasty guardians monitored them. Sad and horrible events happened such as male prisoners raped, prisoners eaten by sharks or killed by guardians while trying to escape, prisoners harshly ransacked by guardians, lady raped by chief warden, prison director and doctor killed by chief warden. There is no way to escape from Koh Tarutao (มีแต่ตายกับตาย). The two political prisonners always fight together. They finally try but fail to escape. They are punished to be eaten by crocodiles but are saved by the two young ladies (หญิงสาวชาวเกาะ), who are residents on the island. They get in love and prepare an escape together thanks to the doctor and their father, crazy about money. The escape turns into a bloody tragedy. Only a few succeed to escape.
---