Increase or decrease font size for easier reading : A+ A-
Sinjai Hongthai
Sinjai Hongthai (1965) - สินจัย หงษ์ไทย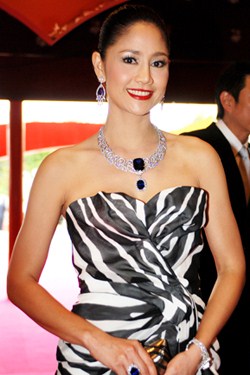 Sinjai Hongthai is a movie and TV serie actress. She started a career as a model. She is acted in her first movie at 16 years old. Her first famous movie was "เพลิงพิศวาส" followed by "นวลฉวี". She got awards for both movies. One recent success was movie "Love of Siam" in 2007 in which she got an award also. She is married to actor Chatchai Plengpanich
This Sinjai Hongthai movie page contains 25 records.
---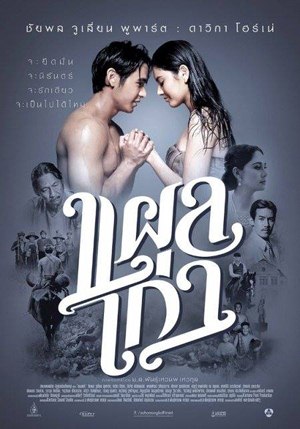 Year

: 2014



Thai title

:

แผลเก่า




English title

: The Scar



Rating

: 4/5


Director

: Pantewanop Tewakul



Main actor

: Phongphat Wachirabanjong,Krung Srivilai,Chaiyapol Pupart


Main actress

: Davika Hoorne,Sinjai Hongthai



Buy now

:

Thai movie แผลเก่า (The Scar) was released multiple times over 50 years. This version was released on mother's day 2014. It really features a beautiful image. The movie action takes place in year 1936. Kwan loves Riem (Davika Hoorne), daughter of the local subdistrict headman called Somyong. Kwan's father (Phongphat Wachirabanjong), village headman, doesn't want his son to love Riem. Riem's father doesn't want Kwan to be around his daughter. Families are enemies. Riem is also in the interest of a Bangkokian young man called Choi. Fighting erupts during a temple fair between Kwan and Choi as Kwan is dancing with Riem. Krung Srivilai as Buddhist temple abbot stops them. Choi gives money to the subdistrict headman as corruption way. He wishes to marry Riem as soon as possible. Kwan and Riem promise to love each other forever in front of local spirit (ศาลเจ้า). Her father announces to Riem that she has to marry Choi. Choi already has many mistresses and children. So Riem and Kwan decide to flee. Choi and the subdistrict headman prevent them. Choi hits Kwan causing him a scar (แผลรักของเรา). Kwan promises revenge. While Kwan is still recovering from injury, Choi and the subdistrict headman bring Riem to Bangkok. Khun Ying (Sinjai Hongthai) buys Riem from the subdistrict headman for 500 baht but forbids her nephew Choi to touch her as he has already many wives and he doesn't care well about them! Kwan's father loved Riem's mother twenty years ago but finally she was forced to marry the subdistrict headman so antagonism stayed between both men. Riem has same face as the lost daughter of the aunt so she raises her same as her daughter to become a noble (ผู้ดี). Kwan goes to Bangkok to find Riem but he is too late as Khun Ying brings Riem overseas for three years. Choi is found injured in Bangkok with a scar... Kwan indulges in alcohol. Kwan promises to his father and to the local spirit shrine to stop drinking. He works hard to keep money, i.e. 500 baht to buy back Riem. Three years have passed. It is year 1939 and World war 2 is starting. Riem is back (ลูกชาวนา) and meets Somchai, member of Thai government. The aunt decides to visit Riem's birthplace again. Kwan meets Riem again. 500 baht is the cost of her shoes only (เจ้าเปลี่ยนไปแล้ว). Somchai (ผู้ชาย Bangkok) takes opportunity to have the aunt and subdistrict headman together to ask Riem's hand. She accepts. Somchai was engaged with the aunt's daughter since childhood. Back to Bangkok, Riem understands that Somchai has already another lover. The wedding is just for principles as she is only a farmer daughter. Only Riem's love was pure and sincere. Riem decides to go back to countryside. It is too late as her mother, Mae Ruay, died already. Kwan has promised to his father to ordain and after ordination he wishes to marry Riem. The Bangkok people try to get back Riem but she refuses. Fighting occurs and Kwan gets shot fatally. Wishing to die in the river, Riem joins him.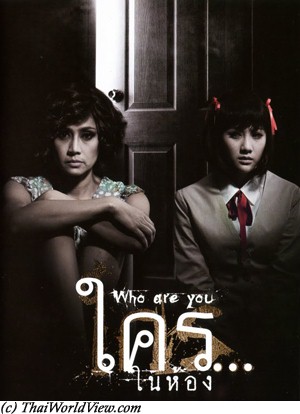 Year

: 2010



Thai title

:

ใคร.....ในห้อง




English title

: Who Are You?



Rating

: 4/5


Director

:



Main actor

:


Main actress

: Sinjai Hongthai



Buy now

:

Nida is single forty years old mum. She is selling VCD at a night market. One night she brings a customer (ลูกค้า) to her home. She tells him that her teenager son, Ton, is staying in his room for 5 years without going out. On the other side of the street, a young teenager girl, Parn, is living with her mother. The mother has never time for Parn as she has a new boyfriend. Nida often visits a mystic medium (อาจารย์), who helps people to discover who they are through meditation (สมาธิ). She convinces her followers to believe in their inner force (ดูพลัง) and to think positively. Her followers shall believe that things can become true though the power of the mind (อำนาจพลังจิต). Teen are living in their world with games and internet. Nida's customer believes Ton has a Japanese own world syndrome (โลกของเขา). The customer, who is working for a TV program, wishes to meet Ton and to have him go out of his room. Ton only talks to his mother through small papers slipped under his room's door. He wishes to kill himself if somebody enters in his room. The customer is killed savagely by Ton. Ton's head cannot be seen. Parn cannot easily go out also as she cannot stand external bacteria (แพ้อากาศ). One day Nida meets Parn and convinces her to use her mind power to fight her allergy. Nida's husband died already. Ton's father was a hunter. Ton only played games. The father didn't want to hinder his son. The father was having an affair and hit Nida. Following a fight she shot him. She still has visions. The mystery about Ton erupts curiosity from the street (ซอย). A man trying to peep in his room is killed. At same time Parn assists to the death but cannot see who is in the room. The next day Parn has to go out to get her cat, which is trapped inside Ton's house. She escalates the gate and enters inside. The reality is then discovered. Nida's husband is not dead. They fought about Ton's custody (ลูกต้องอยู่กับกู). A lost bullet was shot. Ton was hit and died. Ton was only alive through Nida's power of the mind. This thriller movie has a strong influence from Japanese manga.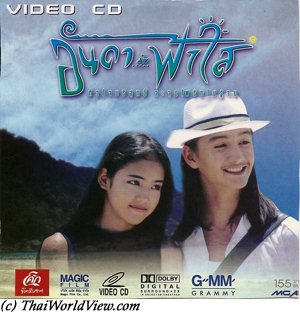 Year

: 1997



Thai title

:

อันดากับฟ้าใส




English title

: Anda and Fasai



Rating

: 3/5


Director

: Pantewanop Tewakul



Main actor

: Ananda Everingham,Phongphat Wachirabanjong,Shahkrit Yamnarm,Krung Srivilai


Main actress

: Sinjai Hongthai,Aranya Namwong
It is about first love between two teens. Their parents claim they shall not follow a first and sudden feeling. Despite their bad parents example who apply for themselves the opposite, they decide to help their parents to find happiness first. It features very nice shooting in South Thailand beaches.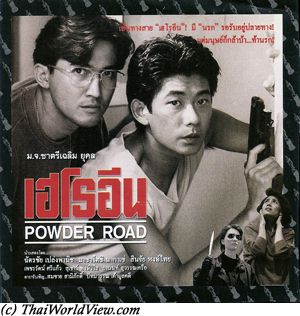 Year

: 1991



Thai title

:

เฮโรอิน




English title

: Powder Road



Rating

: 4/5


Director

: ChatriChalerm Yukol



Main actor

: Chatchai Plengpanich


Main actress

: Sinjai Hongthai



Buy now

:

It is a Japanese co-production. The heroin "road" actually starts in Chiang Rai, comes down the Mekong hidden in ice blocks, and from the ice, the drug gang operates on Pattaya transvestites by putting it into their tits. The movie also raises environmental issues by referring to a Japanese factory, which causes rice field dryness in a village, forcing inhabitants to work in Pattaya.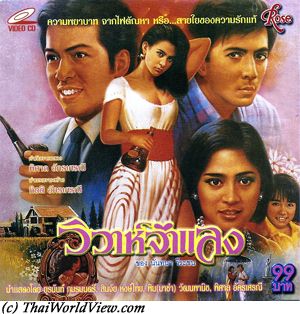 Year

: 1988



Thai title

:

วิวาห์จำแลง




English title

:



Rating

: 3/5


Director

:



Main actor

: Yuranan PamornMontri


Main actress

: Sinjai Hongthai,Marsha,Marasri Bangchang
Two students shall marry when their studies are finished. The boy is going abroad to finish his studies. A nasty teacher drugs and abuses the fiancee in order to force her to marry him. When he is back, his fiancee is married to the nasty teacher. The marriage is a disaster as it is not based on reciprocal love. In order to forget his marriage failure, the nasty teacher seduces the fiance's sister. This is too much for the former fiance...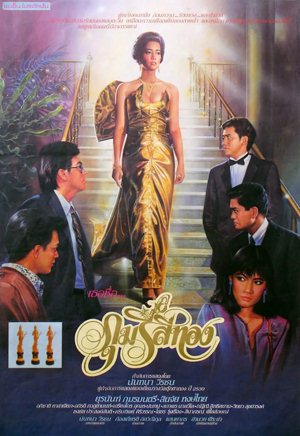 Year

: 1988



Thai title

:

ภุมรีสีทอง




English title

:



Rating

: 3/5


Director

:



Main actor

: Yuranan PamornMontri,Kriengkrai Unhanan,Apichat Halamjiak,Wittaya Sukdamrong


Main actress

: Sinjai Hongthai,Apiradee Pawaputanon,Natanee Sitthisaman,Sarinthip Siriwan
Nam Pheung (Sinjai Hongthai) and Payon are in love. Payon needs to go overseas to study. While rowing on a lake, a storm happens so they take refuge in a small cabana. They become lovers. On the day of leaving overseas, while meeting Nam Pheung at the train station, Payon is hit by a train and dies. Veteran actress Natanee Sitthisaman is the one who warns Nam Pheung. Shocked and while walking along the path, she is kidnapped by two songthaew drivers and raped. Shortly after their wrongdoing, they both die in a traffic accident. Nam Pheung's father is played by veteran actor Wittaya Sukdamrong. The movie ภุมรีสีทอง (the golden queen bee) is narrating the story of a woman that causes the death of all her lovers. Will she ever find true love? This movie received three Thai awards.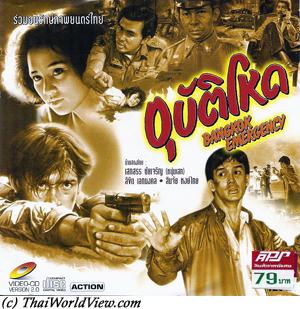 Year

: 1988



Thai title

:

อุบัติโหด




English title

: Bangkok Emergency



Rating

: 3/5


Director

: Toranong Srichua



Main actor

: Likit Eakmongkol


Main actress

: Sinjai Hongthai
A young postman dreams he will become famous. His dreams become true but not the way his policeman father was expecting as he gets twisted in mafia rivalries with a gunman causing his life and his family to be destroyed.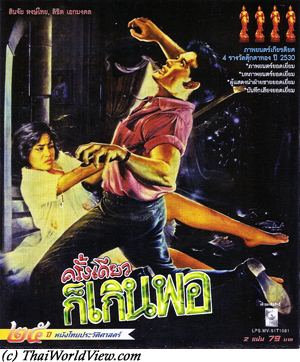 Year

: 1988



Thai title

:

ครั้งเดียวก็เกินพอ




English title

:



Rating

: 4/5


Director

: Manop Udomdej



Main actor

: Likit Eakmongkol,Apichat Halamjiak,Somsak Chaisongkram


Main actress

: Sinjai Hongthai



Buy now

:

Lak is a modern Thai lady. She is fianced since two years but her fiance (คู่หมั้น) is always busy with his work and has no time for her. There is still no confirmed date for the wedding and she is upset by this. In Pukhet, to escape to boredom, Lak (Sinjai Hongthai) meets young bachelor Samon (Likit Eakmongkol). Samon is hot temper and asks for wedding with Lak after a few days of friendship only but she refuses as she has already a fiance. She starts to be fed up with Samon as she doesn't love him. Samon is a butterfly man. Samon invites himself (รังควาน) to Lak's appartement in Phuket. She refuses to tell anything to her fiance as there is nothing to say! Lak accepts to kiss Samon but nothing more. Then Samon forces her and she gives way to Samon. Despite her friend advice, Lak refuses to go to police to file a claim (แจ้งความ) as she is afraid and feels shameful. Lak is back to Bangkok. Samon continues to chase her in Bangkok. Samon contacts Lak's fiance and tell him he and Lak love each other and that he and Lak are lovers. A discussion happens between Lak and her fiance. She cannot stand his kindness and gives back her fiancee ring. He leaves to Indonesia. As Samon is still chasing her, she goes to police to complain. Samon is arrested. Samon's lawyer asks for compromise outside the court to protect her name but she refuses. She claims she was not consenting (ไม่เต็มใจ). Samon's lawyer tries to convince the tribunal that it was not a rape but a common acceptance. Lak changes home and quits Bangkok. She doesn't care anymore about the trial. She is now pregnant. Shall she keep the future baby or not? She doesn't want to destroy the baby future as it is still a life so she decides to keep it. She doesn't want to be forced again by Salmon's acts so she keeps behaving same as before, i.e. doing intensive gym. The foetus dies. She is now freed. She loses the trial as Samon is only condemned to a 600 baht fine. She meets him in an hotel again. He challenges her again. At night time, he succeeds to enter in her house but gets severely beaten and dies when falling from the stairs. She is sent to prison but released promptly. Her former fiance is waiting for her. This Manop Udomdej's movie is related to women position in Thai society (difficulty to prove a rape, abortion difficulty for single woman). This movie received four gold statuette awards (รางวัลตุ๊กตาทอง) in 1987.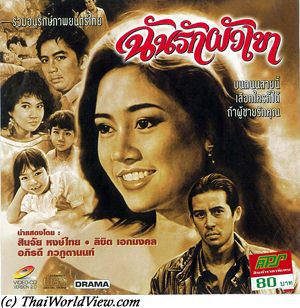 Year

: 1987



Thai title

:

ฉันรักผัวเขา




English title

:



Rating

: 4/5


Director

: Manop Udomdej



Main actor

: Likit Eakmongkol,Apichat Halamjiak


Main actress

: Sinjai Hongthai,Apiradee Pawaputanon
Am is singer in a music club. A young mysterious man called Win is coming every evening. Am refuses to sing a specific song "The last night" (คืนสุดท้าย) for him as it reminds her bad memories. She is living with her mother. She often thinks about her previous fiance, who lied to her as he had already a wife. She is now a singer and needs to be hostess with customers. A producer and a journalist are looking for new singers. They notice Am. Nowadays being capable (สามารถ) is not enough, the journalist would like to request more from Am but she doesn't play such bad game. She made a first music album with the producer. The journalist writes a bad article on Am regarding her relationship with a married man in order to boost record sales. She feels bad and drinks too much. Win brings her home. It is bad journalism. The journalist gets 2 baht per record sold. The journalist claims that nowadays talent (สามารถ) is nothing without advertisement (โฆษณา). The producer makes new songs for her, i.e "I love her husband" (ฉันรักผัวเขา) and "My heart hurts because of you" (ใจเจ็บเพราะว่าเธอ). Am accepts to sing these two songs even if she is worried that it will only corroborates the false news. Am is invited at the journalist's birthday in Cha Am. He tries to force her as he claims her success is due to him but Win knocks out the journalist and helps her. Win and Am become friends and start a relation (แฟน). The journalist continues to write bad news article on Am's love life. ช่างมันฉันไม่แคร์ - she decides to ignore the news. Am discovers that Win has two children already with a woman called Kae. They are married but live separately. Kae has already a new boyfriend (มีใหม่แล้ว). As Win is not yet divorced, Am refuses to go inside his house to protect her honor (ขายหน้า). Win's wife refuses to divorce in order to bring him troubles and to get more money. It is a difficult situation for Am as she is a middle of a broken family. The kids want the mother to stay. Kae calls the journalist. Another dirty (สกปรก) news article is published. Kae takes the two kids to use them as a means (เครื่องมือ) to force Win. She teases (แกล้ง) Win to prevent any happiness for him. She finally agrees for divorce as her children don't love her and her new boyfriend threatens to leave her. Unfortunately when happiness seems to be possible, Win dies in a car accident when going to Pattaya to meet Am. She sings his song "The last night" (คืนสุดท้าย) as a last homage for Win while crying. This movie highlights modern items in Thai society, i.e. the bad journalism, the stigmata of being a woman breaking a married couple.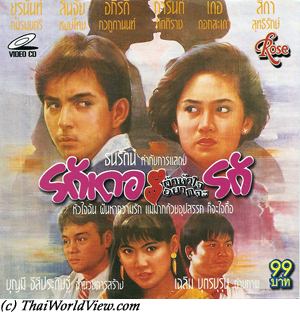 Year

: 1987



Thai title

:

รักเธอถ้าหัวใจอยากจะรัก




English title

:



Rating

: 2/5


Director

:



Main actor

: Yuranan PamornMontri


Main actress

: Sinjai Hongthai,Apiradee Pawaputanon
A woman becomes suddenly very rich after a legacy. Many men are trying to seduce her. A notorious womaniser is also trying and almost win her heart. But the woman discovers this bad reality and breaks up. The man decides to change his behavior and tries to reconquest her. Will he succeed?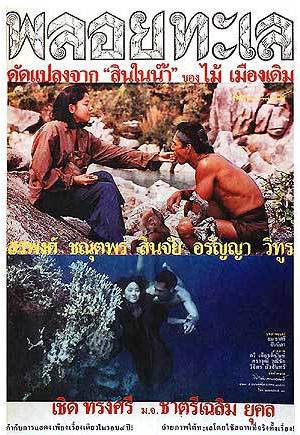 Year

: 1987



Thai title

:

พลอยทะเล




English title

: The Gem from the Deep



Rating

: 5/5


Director

: Cherd Songsri



Main actor

: Sorapong Chatree,Witoon Karuna


Main actress

: Sinjai Hongthai,Aranya Namwong,Juree Osiri,Chanutporn Wisitsopon
Thai movie พลอยทะเล was released in year 1987 and lasts 1h55mn. Movie director is famous director Cherd Songsri. Sorapong Chatree with his short haircut, killing smile and strong body really shines and plays in a great movie compared to the many average action flicks he played in 1980s. Happiness is present on a small island between Kratin (กระถิน), young lady (Sinjai Hongthai), and Rung (รุ่ง) a young man (Sorapong Chatree). They love each other but any wedding decision is linked to their parents. Kratin's parents reject this love. Rung is a diver, collecting seashells and fishies for a living. The movie shows nicely life of island, people collecting coconuts thanks to monkeys, collecting eggs from giant turtles. Beautiful landscapes are shot. Kratin is jealous of Sangpao (สำเภา), another young woman (Chanutporn Wisitsopon) that Rung considers as a sister only (น้องสาว). As Kratin's parents cannot accept such love and wedding, they consider fleeing to the city. While diving, Rung finds a red pure gem (พลอยทะเล, น้ำดี). He plans to sell it to cure his mother (Juree Osiri) but makes the mistake to show it to another villager, father of Kratin. This one and his sons, arguing that Rung behaves badly with his daughter, try to kill him to steal the gem. Rung gives the jewel to Kratin and fights back. In front of Kratin's eyes, he is left for dead. He is only injured and succeeds to reach his mother's home where Sangpao rescues him. Kratin is sent to the city. She meets Sieng, the fishery lady boss (นาย)(Aranya Namwong), who recruits her as domestic helper. Rung recovers slowly and is still upset that the gem is not anymore with him. Sangpao takes care about Rung. A love story is about to start but it doesn't bloom as Rung and Sangpao still have Kratin in mind. Kratin really believes Rung is dead so she is sad. Sieng's brother, Samrien (Witoon Karuna), likes Kratin a lot and starts to seduce her. They become lovers. Kratin shows him the gem. Samrien decides to keep it until their wedding in order to avoid it is stolen by somebody else. One day, Sangpao finds Kratin in the city and informs her that Rung is not dead. Samrien refuses to give back the gem, refuses to let Kratin go and promises her that she will become the fishery owner. The movie shows the fishery work from a cultural point of view. It is bad fate (เวรกรรม) that Kratin saw Rung dead but now it is too late as she needs to have gratitude over the boss and her family. Finally Rung discovers the truth about Kratin and Samrien. Sangpao has to intervene to avoid Rung becoming violent. Sangpao and Kratin have arguments as Kratin cannot give the gem back. Rung also asks Kratin as he needs to cure his mother but she tries to manipulate him. Samrien refuses to give it back to Rung as he believes half of it belongs to him. The fisherman, who brought Rung and his mother to the city, asks for his money but Rung cannot pay him as he hasn't got the gem yet. During a fight the mother is stabbed and dies. A big storm is now happening. Samrien is endangered on a boat. Kratin asks Rung to help Samrien as his boat is stuck. Samrien encourages him not to go but Rung accepts as he is kind hearted so he releases the boat but disappears in the sea. Countryside people have often bigger heart than city people. This gem has caused many people to die. In the morning, the sea sends back Rung's body. He is still alive and Sangpao had been waiting the whole night for him praying. Kratin finally finds Rung stranded on the beach. They promise love to each other. Kratin goes back to Samrien's home to get the gem from a safe but it is no longer in the box. Rung doesn't care about it anymore but Kratin refuses to follow him as she doesn't want to live poorly on the island. It causes Rung's ire as it shows she is more interested by the gem than Rung. He understands that only Songpao really loves him. Sangpao is the one, who gets the gem. A fight between Samrien and Rung occurs as Samrien still wants the gem. Rung defeats him and decides to go back to his island. Sangpao goes back with him. Samrien breaks up with Kratin. Rung sends the gem back in deep sea.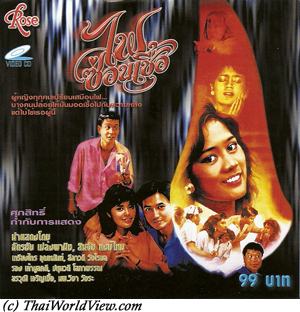 Year

: 1987



Thai title

:

ไฟซ่อนเชื้อ




English title

:



Rating

: 2/5


Director

:



Main actor

: Chatchai Plengpanich,Kriengkrai Unhanan


Main actress

: Sinjai Hongthai
One woman is jealous of her sister, who has found a nice husband. Despite all her attempts, she cannot find the right mate. Her jealousy will lead her to madness.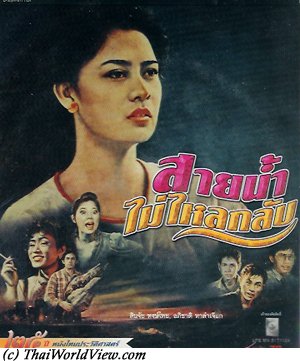 Year

: 1987



Thai title

:

สายน้ำไม่ไหลกลับ




English title

:



Rating

: 5/5


Director

:



Main actor

: Apichat Halamjiak,Somsak Chaisongkram


Main actress

: Sinjai Hongthai,Piathip Kumwong,Linda Khatancharoen
A young lady called Feun (Sinjai Hongthai) is working in a hairdresser shop and washes customers' hair. Khun Warut (Apichat Halamjiak), one customer, has interest in Feun. Phaen (Piathip Kumwong), Feun's stepmother, tries to push her to go out with Warut. Feun's father (Somsak Chaisongkram) indulges in alcohol and is seriously sick. Aniwat is Feun's close friend and wishes to marry her when he finishes his studies. Pressured by Phaen, Feun accepts a dinner invitation from Warut. Aware of this, Aniwat feels betrayed. Warut asks for Feun's hand. Phaen pushes her to accept. Troubled, she wishes to talk to Aniwat. But seeing him with another lady, she finally accepts Warut's offer. Warut starts to be more daring with Feun knowing they will marry soon. The wedding shall be a very small ceremony without Warut's parents. In fact, Warut is already married with three children. Phaen was aware. Warut and Feun don't understand each other. Feun likes to stay home but Warut likes to go to disco. Phaen is not interested in Feun's father but only in money that Warut gives to Feun. Warut doesn't come back home a few days already. While doing shopping with Warut, Warut and Feun meet Warut's wife. Feun understands that Warut lied to her (โลกลวง). She flees but is hit by a car. She is rescued by a DJ who introduces her to another lady called Luang. Feun cannot go back home as she doesn't want to be forced by Phaen again or to meet Warut again. Luang is working as a call girl. First Feun looks for normal jobs (waitress) but she still faces men harassment. She cannot find proper jobs (อยากเป็นคนดีแต่สังคมไม่ยอม). So she has finally no choice than working same as Luang as she is worried about her father. It is a difficult job as some men are crazy or violent. She enters in a whirlpool of sex and easy money. One day, one of her guest is Aniwat! Aniwat still believes Feun is a good person despite doing this job (ต้องการเงิน). Aniwat still loves Feun. Feun accepts to start a real love relationship with Aniwat. Their love is spoilt by meeting some former customers while dining and by a liver disease due to alcohol high level of consumption. Aniwat's friend tries to break this relationship. Feun's friend finds that Aniwat is already fiance with a teacher. Knowing this, she indulges in alcohol again and ends up in hospital. Despite cutting part of her liver, she will not survive long. She leaves the hospital and stays near the sea. Knowing Aniwat's wedding, she ends up in hospital again. Her friend forces Aniwat to visit her to hospital so that he can understand her real love and the pain he caused her. Feun dies in front of him. Movie สายน้ำไม่ไกลกลับ highlights society hypocrisy as it is allowed or understood that a man can have multiple mistresses but the opposite is not accepted. It highlights a society where men harassment is still excessive.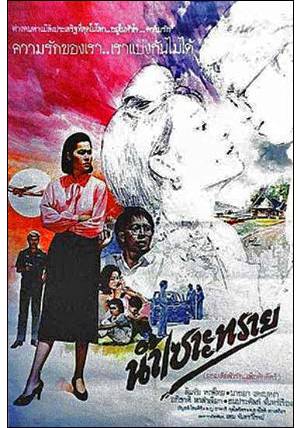 Year

: 1986



Thai title

:

น้ำเซาะทราย




English title

:



Rating

: 3/5


Director

:



Main actor

: Apichat Halamjiak


Main actress

: Sinjai Hongthai,Nardtaya DaengBunga
Teacher Wan (วรรณรี) is married with Pim (ภีม) and has two kids. She is quite old fashioned. She is a dedicated housewife, spends a lot of time to educate kids and take care of the home (เป็นคนดี). She has a high self esteem of herself as she believes she has never done anything wrong. Pim doesn't value his wife's kindness and efforts. He starts to be fed up with Wan. Wan's closest friend is Pukrong (พุดกรอง), a lonely (ความว้าเหว่) and young rich widow (แม่มาย). They know each other for 20 years. Pong, Pim's friend, tries to seduce Pukrong but she is not interested beyond friendship. Pukrong is somebody who dares (คนกล้า). Pim is seduced. Pukrong and Pim become lovers. They have to see each other in discreet places to avoid being seen by others (ขาดกันไม่ได้). Pong starts to be a nuisance as he tries to follow Pukrong everywhere so hindering her love with Pim. Pim has rent a house (บ้านของเรา) so that they can see each other discreetly and happily (รางรัก). Back home, Wan notices a perfume smell on Pim's shirt similar to Pukrong's expensive perfume. Meanwhile Pukrong has decorated "their" home with expensive furniture. Pong announces to Wan that he is aware that Pim and Pukrong are having an affair (เป็นชู้กัน). Pukrong admits in front of Wan and Pim. Pim is seen as a traitor (ผัวทรยศ). Pim is unable to make a proper decision. Wan asks for divorce (ไม่มีทางตกลง) and Pim goes back to Pukrong. Pong pushes Wan to fight back Pukrong to get her husband back (ภรรยาถูกต้อง). Pong pushes Pukrong to go out to have a new life. He presents to her a handsome and honest military colonel called Neephon. If Pim is having happiness outside why Wan cannot have happiness? Pukrong is now pregnant. Pim is upset that another man is inside Wan's life and is taking over his own duty as father. Pukrong starts to be upset by this situation and makes the link with her own son she haven't seen for years. Pukrong misses her son in America and finally decides to go there with her new born child. This way she also gives a chance to Pim and Wan couple. Wan refuses to accept Pim to come back. Pim remains alone. It is a remake of 1973 "น้ำเซาะทราย" movie. The scenario is almost identical. Sinjai Hongthai has always played the modern and liberated woman in many 1980s movies.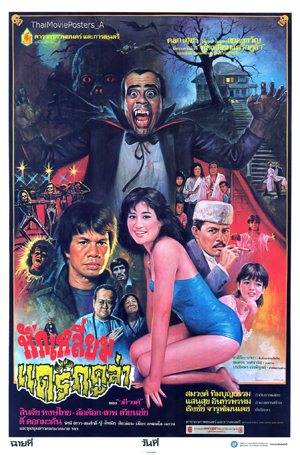 Year

: 1986



Thai title

:

หักเหลี่ยมแดร็กคูล่า




English title

:



Rating

: 2/5


Director

:



Main actor

: Lor Tok,Thep Thienchai,Boo Wibunnan,Somsak Chaisongkram,Supakorn Srisawat,Note Chernyim


Main actress

: Sinjai Hongthai
Thai movie หักเหลี่ยมแดร็กคูล่า was released in year 1986 and lasts 2 hours. It was released under VCD format by company Premium Digital. This movie is a mix of comedy, light horror and some romance. Today is Dracula (Lor Tok)'s birthday. Thep Thienchai meets Doctor Molina (Sinjai Hongthai) on the beach in Pattaya. While doing jet ski, she falls in the water. Thep wishes to help her but finally she is the one to help him as he doesn't know how to swim. Boo Wibunnan welcomes Molina in a house full of spirits. She is doing experiments there. A group of men arrive in Thailand by plane including Somsak Chaisongjram and his boss Supakorn Srisawat. They must kidnap Doctor Molina. Thep is aware as he heard them talking in a massage shop. Somsak and his friends try to kidnap Molina, but they face ghosts protecting the house and retreat. Somsak consults a shaman (หมอผี), who suggests hiring Dracula. Dracula asks for a 500 000 USD fee. Thep needs help from master Bun (Boo Wibunnan). Bun has the reputation to forget the incantation words. Thep shares the risks faced by Molina. Dracula's team attacks but they face Thep's team. Dracula flies directly to Molina's laboratory but Thep intervenes to stop him. Dracula has to retreat. Thep simulates being a vampire (ผีดิบ), but Doctor Molina can identify Thep is a human and hires him as bodyguard. Thep brings Molina around to show her Thailand. Ruffians, led by Somsak, try to kidnap Doctor Molina in a floating market but Thep helps again. Ruffians are trying to kidnap Doctor Molina as her experiments could help to build weapons. She is glad that Thep is helping her without a second thought. Wishing to get rid of Thep, Dracula attracts him in an underground den to play cards and to drink. Thep (คนหน้าผี) is drunk. When he wakes up, he tries to kill Dracula sleeping in his coffin, but he is bitten by him and becomes a vampire. Being a vampire, Thep attracts Doctor Molina in a trap and she is kidnapped. Boo helps and Thep recovers. He helps Molina to escape from Dracula. Ruffians are chasing Thep and Doctor Molina. Ruffians kidnap doctor Molina and they hide in an unfinished building. Thep and police surround the building. Ruffians ask for a plane to quit Thailand with their hostage (ตัวประกัน). Thep helps Police. Arabic men give money reward but Thep refuses as Thai people have kindness (น้ำใจ). Doctor Molina promises not to forget Thep. At the airport, Thep meets Dracula again. A first movie (แดร็กคูล่าต๊อก) with Lor Tok as Dracula was released in 1979.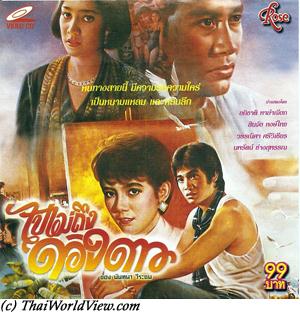 Year

: 1986



Thai title

:

ไปไม่ถึงดวงดาว




English title

:



Rating

: 2/5


Director

:



Main actor

: Apichat Halamjiak


Main actress

: Sinjai Hongthai,Duangta Tungkamanee
A married couple is having bad time as there is no more love between them. Each partner is looking for a new mate. As the husband is finding a new lovely woman but the wife is having trouble with her new lover, this is leading her to a tragic madness.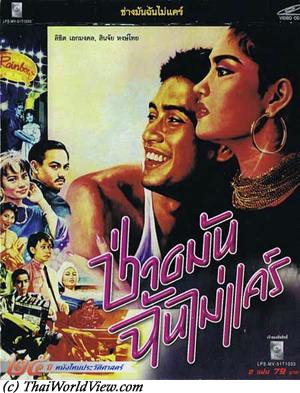 Year

: 1986



Thai title

:

ช่างมันฉันไม่แคร์




English title

: I don't care



Rating

: 4/5


Director

: Pantewanop Tewakul



Main actor

: Likit Eakmongkol


Main actress

: Sinjai Hongthai,Wiyada Umarin,Thitima Sangkapitak



Buy now

:

Pim is a very busy business woman. She is independent, smokes, drinks beer. She wears men clothes like suit and tie. She is a modern 1980s emancipated woman compared to Thai traditional standards. She only believes in herself. A young man called Bird and his friend are living together in a small flat. They have always no money. Pim needs a new model for an advertisement and is looking for one in Siam Square. She meets Bird in a cafe. Pim has a suitor called Komsan, who asks her for wedding. Pim is 30 years old already but she doesn't want to follow traditional ways, i.e. have husband, have children, stop working and stay home. So she refuses. Bird is recruited for underwear commercial shooting. Bird is younger than Pim. He follows Pim to a camping on Pattaya beach. Bird's mother needs 5000 baht. Bird needs to work again. He is Chippendales dancer in the "Rainbow" bar, a club for women, and then male prostitute for ladies. Bird is coming from Northeastern Thailand and has almost no studies knowledge. He is impressed by Pim (แม่โฆษณา) and her leadership. Pim considers herself same as prostitute selling her brain. Bird is fed up with his life as a gigolo. He only meets crazy ladies looking for sex only. One night, Komsan tries to force Pim but Bird chases him. They both tell their life. Pim has been traumatised by the Thai students massacre on 6 October 1976. Pim met Komsan during those events and loved him. But then Komsan changed a lot being mainly interested in money (เงิน) and power (อำนาจ). Regarding Bird, he is a farmer son and his real name is Wang. Pim has choice between Komsan, rich man and ละครพระเอก, and Bird. She is looking for a simple man (คนง่ายๆ). A love story starts between them. Bird is a good hearted man. Bird is often treated as a buffalo (ควาย) in his job as he is coming from countryside and doesn't have high studies knowledge. Bird leaves his job but then needs to do it again to get money to cure his sick friend. Pim's friend knows Bird. Due to jealousy, she announces Pim's relationship with Bird to Pim's boss and Komsan. But Pim doesn't care (ช่างมันฉันไม่แคร์). She quits her job and decides to stay with Bird despite society and family reprobation. The particular punch of this story, apart of from its depiction of low life in Bangkok, was provided by the fact that Pim has been a member of the young radicals in the 1970s. The 6 October 1976 students massacre in Thammasat University has never been fully investigated. When Pim meets old friends, they sing old songs for life (เพลงชีวิต) reminding them about the 1976 events.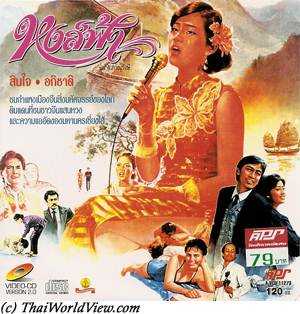 Year

: 1985



Thai title

:

หงส์ฟ้า




English title

:



Rating

: 3/5


Director

:



Main actor

: Apichat Halamjiak,Thuam Thoranong


Main actress

: Sinjai Hongthai,Piathip Kumwong
A Thai man meets a poor Chinese lady called Hong Fa during a business trip, gets married and brings her back to Thailand. But his mother has high ambition and wants him to marry a Thai influent political man's daughter. So she does everything to break the relationship and also keeps their child. Hong Fa becomes a singer and is finally sent to prison after her manager tries abusing her. The wedding with the Thai influent political man's daughter is finally a failure. After 15 years, Hong Fa is released from jail. Will she be able to see her child again?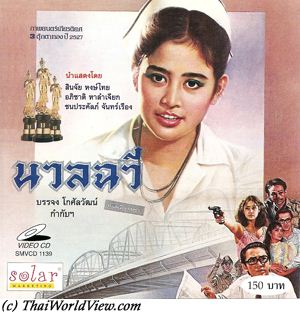 Year

: 1985



Thai title

:

นวลฉวี




English title

:



Rating

: 3/5


Director

:



Main actor

: Apichat Halamjiak,Krailat Kriengkrai,Somsak Chaisongkram,Sompong Phonmitr,Somkuan Krajangsat


Main actress

: Sinjai Hongthai,Sarinthip Siriwan,Wiyada Umarin



Buy now

:

Thai movie นวลฉวี was released in year 1985 and lasts 1h56mn. It has received three Thai awards. Somsak Chaisongkram and two other men carry a dead body at nighttime. Utit (Apichat Halamjiak) is waiting for them and they take the body away by car. On the following day, Sompong Phonmitr finds a woman body floating in the river. It makes news headlines. The body is identified to be a nurse called Nuan Chawee (Sinjai Hongthai). This movie deals about the police enquiry to find who has killed the nurse. Utit (Apichat Halamjiak) is her husband, a doctor, and is claiming her dead body. Utit is interrogated by police. นาย Cheut and his wife, also a nurse, are suspected. Tuwit (Krailat Kriengkrai) is suspected as he used to love Nuan but as this love was not reciprocal, he married another lady. The movie has flashbacks between the investigation and Nuan's story. Nuan and the doctor met each other in the hospital. Nuan fell in love with him and accepted to become his girlfriend. The doctor was going to be sent to Lampang. Nuan was waiting eagerly for the doctor to be back. Nuan presented her father (Somkuan Krajangsat) to doctor Utit as she hoped Utit would ask her hand for wedding. The love was not shared. Utit started to be fed up with Nuan (รำคาญ). Nuan was upset. Fed up by the doctor's lack of responsibility (ไม่ยอมรับผิดชอบ), she threatened to shoot him if he didn't marry. Under pressure, doctor Utit accepted. But the doctor's mother (Sarinthip Siriwan) refused to accept Nuan. Nuan and her father complained to the hospital's director. It caused Utit to be very upset and he hit Nuan. Nuan saw doctor Utit with another girl (Wiyada Umarin). Two brothers were involved in the murder. As Nuan learnt Utit had also married Umarin 6 days after her, she threatened the doctor to go to justice. Utit was fed up with Nuan as she could really mess up his future and position in the society. Wiyada saw her a competitor. So everything was in place to get rid of Nuan and to kill her with the help of the local undertaker (สัปเหร่อ) Somsak and the two brothers as intermediates. Wiyada and doctor Utit finally recognize their culpability. It is based on a real story, which happened in year 1959.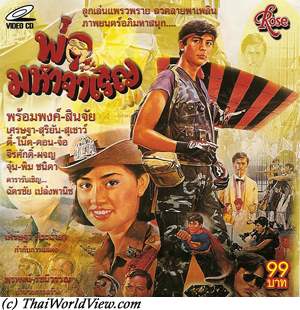 Year

: 1985



Thai title

:

พ่อมหาจำเริญ




English title

:



Rating

: 2/5


Director

:



Main actor

: Prompong Nopparith,Chatchai Plengpanich,Note Chernyim


Main actress

: Sinjai Hongthai
A Thai thief is accomplishing spectacular robberies with his associate. One day, he is caught by a policewoman. In order to avoid being jailed, he has to help her to get a precious diamond back.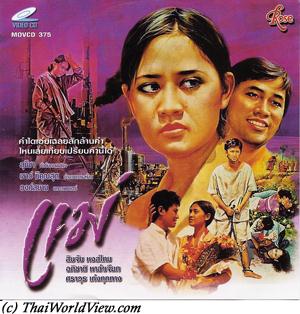 Year

: 1985



Thai title

:

แม่




English title

:



Rating

: 3/5


Director

:



Main actor

: Apichat Halamjiak


Main actress

: Sinjai Hongthai
It is about the strong love between a mother and its child.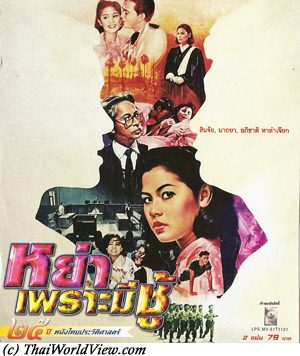 Year

: 1985



Thai title

:

หย่าเพราะมีชู้




English title

: The Accusation



Rating

: 5/5


Director

: Manop Udomdej



Main actor

: Apichat Halamjiak


Main actress

: Sinjai Hongthai,Nardtaya DaengBunga
The English title is the Accusation. Phan is a modern woman, teacher and writer. She is married with Phukphan and there is no love in the couple anymore (ชีวิตคู่น่าเบื่อ) but she needs to endure. They have strong arguments and her husband wishes to push her for divorce. He is an army officer. She finally receives a registered letter suing her for divorce due to adultery (ชู้). It makes newspaper headlines. She wishes to fight back and asks her friend Wan, a lawyer, to help but she refuses as Phan doesn't have strong evidences to refute the accusation. Wan finally changes her mind but has to face a famous lawyer on the other side. They start enquiries on Phukphan's past. The trial starts. The judge would like them to divorce silently to avoid noise and shame but it is too late. They both had a very busy schedule. Phukphan accuses his wife to have an affair with soldier Chayo. The trial raises issues related to sex affairs and private diseases (ติดเชื้อ). Crude details are given during the trial regarding intimate preferences of the husband such as a sadism. He blames his wife for not giving him what he wanted (อารมณ์เพศ). Real crude details are given during the trial. It was quite shocking during 1980s Thai society period. The lawyer is a woman. The defendant is a woman facing the establishment and men hostility. The accuser even tries to use fake testimony involving a policeman. Phukphan wishes to go with another woman. As Phan doesn't want to initiate the divorce, he planned to accuse her of adultery. Who wants to marry a woman who divorces her husband? it is wrongly seen as shameful by Thai society. A woman that asks for divorce is seen as a bad woman. She tried to support hoping her husband would change but he didn't. The movie exposes the horrible realities of her relations and his own sordid sexual life. Phukphan's lawyer claims that Phan's bad behavior is coming from the modern Thai novels she is writing. She finally wins the trial. This movie is widely admired by younger educated and intellectual Thai people. It nevertheless caused a major scandal by its sexual frankness and by the implication that a senior military figure could be guilty of socially inadmissible practices. In 1980s, Sinjai Hongthai played the modern woman in many movies (ฉันรักผัวเขา, ครั้งเดียวก็เกินพอ) directed by Manop Udomdej. She always has to fight for her rights.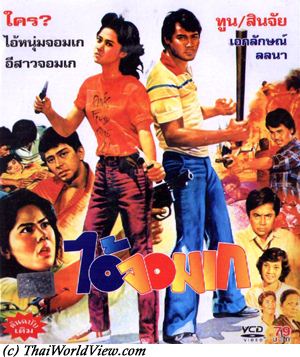 Year

: 1984



Thai title

:

ไอ้จอมเก




English title

:



Rating

: 3/5


Director

:



Main actor

: Toon Hiransap,Sayan Chantaraviboon,Pipop Pupinyo,Chat Mongkolchai


Main actress

: Sinjai Hongthai,Lalana Sulawan



Buy now

:

Keng (Toon Hiransap) is staying in relatives' rich house. The mother is not happy to see Keng at her home despite he is a relative (สอนมารยาท). The mother has two sons (Pochet and Kira) and one daughter called Chan. Chan (Sinjai Hongthai) teaches Thai boxing (สอนมวย) to Keng. Keng wishes to take revenge over ruffian Wo as he is responsible of his mother's death. Keng is Kliaw's young brother (น้องชาย). Kliaw is married to Kira (Sayan Chantaraviboon). Keng has also a school friend called Waew. Pochet loves secretly Waew (Lalana Sulawan) but Waew is already the minor wife of a rich man, i.e. Kira! Chan always protects Keng against Pochet (ลูกไม่รักดี). One day Keng sees Kira with Waew! Following the mother / Pochet's opposition and being only protected by Chan, Keng finally leaves their house. Keng finished drunk and Kliaw / Chan having pity takes care of him. Fed up, the mother decides to use Kam, a ruffian leader, to give Keng a lesson (สั่งสอน). Wo is part of Kam's team. Chan protects Keng against the ruffians as Keng is too afraid to fight. Wo is a pimp (แมงดา) as he is extorting money from Waew. Seeing Wo strangling Waew, Keng finally gets the strength to fight and gives a harsh lesson to Wo (สู้คนได้). Waew is now aware that Kira is Kliaw's husband. To revenge his mother death, Keng decides to hit Wo with Chan's help. The mother (ไม่เกรงใคร) tries to push another woman called Wan into Kira's arms to replace Kliaw. Finally Kliaw decides to leave also the house with Keng. Tired by this stressed situation, Kira stops his relationship with Waew. Pochet asks Waew's hand. As all domestic helpers have left, the mother has to clean the house and to do the cooking as Wan is useless. Wan is a rich man's mistress (เมียเก็บ) already. The mother now knows the real value of Wan and Kliaw. As Pochet is unfaithful with her, Waew shoots him accidentally. Wo, passing by, wishes to terminate Pochet but Waew protects him with her body so being the one to die. The ruffians (including veteran actors Pipop Pupinyo and Chat Mongkolchai) kidnap Chan and her mother. They request 1M baht ransom. Kliaw, Pochet, Keng and Kira storm the ruffians' place to release Chan and the mum. The ruffians are defeated. Finally the mother makes apologies regarding her behavior and the whole family can get happiness back. Thai movie ไอ้จอมเก was released in year 1984. This action romance features a leading actress practising kung fu. In many 1980s movies, actresses such as Apiradee Pawaputanon, Jarunee Sooksawad, Suriwan Suriyong played similar active roles.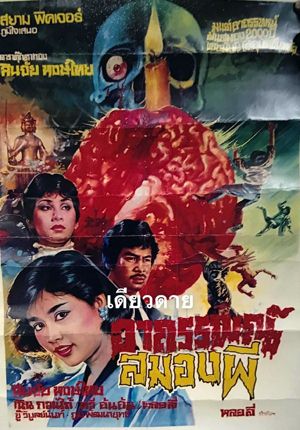 Year

: 1983



Thai title

:

ปีศาจมันสมอง




English title

: The Black Magic with Buddha



Rating

: 3/5


Director

: Lo Lieh



Main actor

: Lo Lieh,Boo Wibunnan,Pumi Patanayut


Main actress

: Candice Yu,Sinjai Hongthai
Thai HK movie ปีศาจมันสมอง / 腦魔 / The Black Magic with Buddha was released in year 1983. It lasts 1h32mn. The movie is lost in Thailand but was recovered from HK. The remaining version has Chinese and English subtitles but has been dubbed also in Thai. Thai VCD was released under the name ปีศาจมันสมอง. A poster under the name อาถรรพณ์สมองผี can also be found. Ben went to Indonesia to recover some sacred item. It is a mummy brain. He shall worship it, asks for a single wish and then destroys it thanks to holy water. If he is greedy, it will backfire on him. He is now back to Bangkok. He wishes to marry Annie (Candice Yu) but Annie's brother Kit (ภูมิ พัฒนายุทธ) refuses until Ben has 1M USD in bank. Boo Wibunnan is Annie's father. Ben asks a wish to the sacred brain. He asks money to his sister. As she refuses, he curses her. Later on, the evil spirit kills her. He then inherits 1M USD and can marry Annie. He worships again the brain to have a happy wedding. Strange accidents happen around his home, animals without brain are found dead. Ben asks for 2M USD from his father-in-law for a risky gold investment but Kit refuses. Kit finally dies as Ben asks the spirit to help him. Annie breaks accidentally the holy water bottle while cleaning Ben's room. Mary, Kit's wife (Sinjai Hongthai), and the father come to stay with Ben and Annie. The spirit starts to be more menacing. Ben buries the brain and puts a big stone on it to avoid it can escape. Annie and Mary decide to put a Brahma shrine in their house to stop the bad luck happening to the family. Annie changes a lot. She becomes vegetarian and refuses contacts with Ben. The spirit also attacks Ben. Ben decides to consult a famous master (อาจารย์) (Lo Lieh) who exorcises him but he cannot remove completely the evil spirit. Ben finally becomes a living evil spirit with his face becoming a brain. The master and Brahma god join their effort to fight and destroy the evil spirit.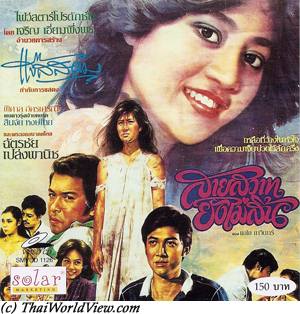 Year

: 1982



Thai title

:

สายสวาทยังไม่สิ้น




English title

:



Rating

: 3/5


Director

:



Main actor

: Chatchai Plengpanich,Pisarn Akraseranee,Suchao Pongwilai,Sor Asanajinda


Main actress

: Sinjai Hongthai
A father has got two children, i.e. a son spending his youth in bar and a daughter, and has also adopted a boy. This latter, after doing successful studies, is promoted general director of the father's company. The first son is very jealous and promises to get a revenge. Once the father is dead, he starts to destabilize the couple.
---