Increase or decrease font size for easier reading : A+ A-
Sinaporn Philailak
Sinaporn Philailak (19xx) - สินาภรณ์ พิไลลักษณ์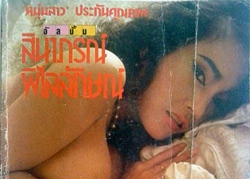 Sinaporn Philailak always played the sexy girl, the bad lady, the ruffians leader's girlfriend
This Sinaporn Philailak movie page contains 6 records.
---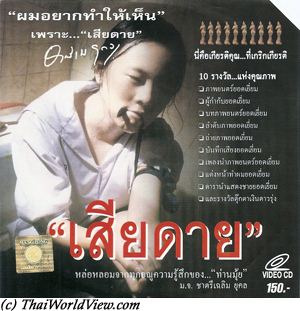 Year

: 1994



Thai title

:

เสียดาย




English title

: Sia Dai 1



Rating

: 4/5


Director

: ChatriChalerm Yukol



Main actor

: Sorapong Chatree,Krailat Kriengkrai


Main actress

: Sinaporn Philailak
The movie title means "What a pity!". It shows the useless life of teenagers, who are addicted. Most of them come from problematic families. They start sniffing glue, then switch to heroin. Some girls are even selling their body to get money to buy drugs. Some die due to overdose. Whith their parents' help and not rejection, they can hope to go back to a standard life. This movie got 10 distinctions at Thai awards. Sia Dai 1 (about urban teenagers and drug abuse) earned more than 50 million baht, while Sia Dai 2 (about Aids and discrimination) brought in less than 10 million baht.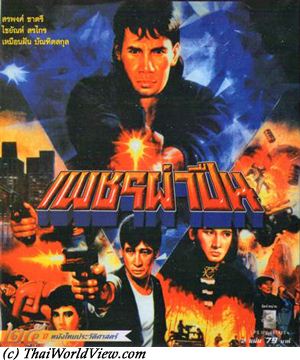 Year

: 1990



Thai title

:

เพชรผ่าปืน




English title

:



Rating

: 3/5


Director

:



Main actor

: Sorapong Chatree,Chaiyan Sorakrai


Main actress

: Sinaporn Philailak
Phet (เพชร), former hitman (มือปืน), receives an offer of 100 000 baht to kill one man. He shall shot Kamrung (คำรน), rich (รวย) man with a high position (ระดับ). It is the last time he wants to be involved in such killing. With his brother Porn (พล), they take care of their old father. There is a land title issue so Phet needs money. Phet shots successfully Kamrung. He sees Sophi, Kamrung's mistress, and falls for her. Kamrung's daughter Yuwadee (ยุวดี) wishes to know the truth about her father's death. The heritage needs to be shared between Sophi and the daughter. Porn, who is a journalist, helps her to investigate on the truth but a mysterious hitman tries to kill Yuwadee. Porn is able to help and save Yuwadee. It looks like Sophi would be the main beneficiary regarding Kamrung's death. Phet visits Sophi at nighttime. Heritage decision gives the house and land to Yuwadee but Sophi can stay until Yuwadee is married. The money and jewels have disappeared from the safe. The lawyer is corrupted by Sophi. Some ruffians put pressure on the newspaper editor to push Porn to stop investigating. Sia is the leader of the ruffians linked to Sophi. Sia hires Phet to kill his brother. Phet cannot do that and finally only the editor is shot in order to scare away Porn. Porn now knows his brother is involved. Sia sends ruffians to kill Phet as he cannot be trusted anymore but they fail. Sia's ruffians now try to kill Porn to stop the investigation. While rescuing his father, Porn is ambushed (วันนี้ตายแน่) but rescued by Phet. Sophi suggests to kidnap Yuwadee to catch the two brothers. Sophi plays men vs men (lawyer, Phet, Sia) using her charms. Porn needs Phet, the hitman, to testimony as a witness in order to accuse Sia. Yuwadee kidnapping fails thanks to Porn. The two brothers finally fight when they meet. Bad people pay for their sins as Sophi is shot by Sia and Sia is shot by Phet. There is a final duel between the two brothers and their father. Phet refuses to surrender to the police (ทำผิดต้องรับผิดชอบ) and prefers to die. Sorapong Chatree seldom plays the bad guy so it is interesting to watch this small low cost budget movie with a "Brother vs Brother" scenario, i.e. the good guy vs the bad guy even if Phet is only a bad guy forced by life circumstances (น้องมือปืน).



Year

: 1987



Thai title

:

สารวัตรเถื่อน




English title

:



Rating

: 3/5


Director

:



Main actor

: Chatchai Plengpanich,Pisarn Akraseranee,Uten Boonyong


Main actress

: Sinaporn Philailak
Thai movie สารวัตรเถือน was released in year 1987 and lasts 1h34mn. An honest police inspector (สารวัตร) is killed by ruffians. He was a good man (รักษาความดี). The ruffians' leader Songyot (Uten Boonyong) is trying to buy land from local villagers. When they refuse, they get killed. The police inspector's assistant called Chatien (Pisarn Akraseranee) tries to continue his legacy by refusing to bend to external influence of powerful notables. Chatchai Plengpanich arrives in the city. Being chased by ruffians, he punches four of them. Chatien is under risk to be expelled from the police as the new police inspector doesn't like him and frames him (รับสินบนง่อๆ). The new police inspector is friend with the ruffians' leader Songyot. Chatchai disrupts the ruffians' drugs trafficking. Chatchai tries to motivate Chatien to remain a good cop (เลือดและวิญญาณของจ้าเป็นตำรวจ). Chatien is fired from police but gets encouragement from Chatchai to stop drinking. Ruffians wish to know who Chatchai is (คนแปลกหน้า). A new chief district officer's assistant called Palat arrives in the city. Chatchai is finally the chief of the police station (สารวัตรใหญ่). Chatchai does the cleaning among the bad behavior of the local policemen (ตำรวจภาษาอะไร). The new police inspector is arrested. Chatien discovers that Songyot is trafficking weapons also but is then captured and tortured. Through an explosive final, Chatchai neutralises the ruffians, arrests Songyot and releases Chatien. Chatien then becomes a new local police inspector. This movie highlights the fact that Thai policemen have to do their duty towards citizen and not towards their own interest.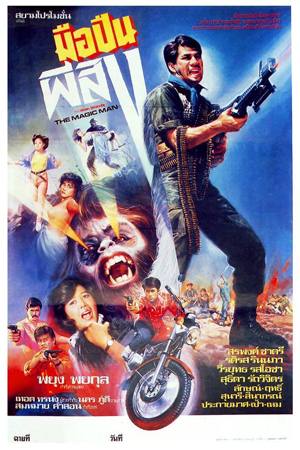 Year

: 1986



Thai title

:

มือปืนผีสิง




English title

: The Magic Man



Rating

: 3/5


Director

: Payoong Payakul



Main actor

: Sorapong Chatree,Lak Apichat,Pao Porapak,Rith Luecha


Main actress

: Thida Thidarat,Sinaporn Philailak
Thai movie มือปืนผีสิง was released in year 1986. It lasts 1h25mn. It is a mix of Thai footage and Hong Kong footage done by Filmark production. The movie is in Spanish language. The international title is "Mad Move". The Thai footage lasts one hour. The Thai actors are not even mentioned in the credits. Director is Payoong Payakul. A lot of sexy scenes are still present but might be removed from the Thai VCD. Lepso released it under the name นักรบผีสิง. Actresses also include ธิดา ธีระรัตน์, สินาภรณ์ พิไลลักษณ์ (Sinaporn Philailak – sexy star), สุนารี. Actors also include วีรยุทธ รสโอชา. Below summary is then partial. Sorapong Chatree is a soldier in black uniform. All his colleagues are dead. Sorapong is seen holding a machine gun and shooting enemies. Lak Apichat is visiting a family. Lak offers money the family but the father refuses. Later on, ruffians kill the whole family. Sorapong is back and finds his family dead. In a sawmill, shootings happen with ruffians. Both Sorapong and Lak are involved in the shootings. As Sorapong believes Lak is responsible of his parents' death, they both fight. Sorapong finally understands that Lak is innocent. Pao Porapak and Rith Luecha are parts of the ruffians. Sorapong finally catches the ruffians, who shot his family. Out of strength, Sorapong collapses and wakes up in a monk's cave. He needs to pacify his heart. While being in a brothel, ruffians have fighting with Lak. Sorapong still has atrocious visions about war. The ruffians send a beautiful lady to seduce Sorapong but it fails. Outside of the room, Pao is waiting and Sorapong is captured by the ruffians. At nighttime Sorapong becomes a werewolf and defeats his captors. The leader's girlfriend abuses the confidence of Bonnie (รติรส รินนภา) but the werewolf stops her. The werewolf abuses her as a revenge. Meeting Lak, the werewolf follows him and by paying respect to a Buddha statue, the werewolf becomes Sorapong again. Rith refuses to believe the stories about a werewolf but finally following the proofs, he gathers a big team to fight back. Finally Sorapong's team acts first. The movie ends up in shootings and two final fights between Lak and Pao, between Sorapong and Rith.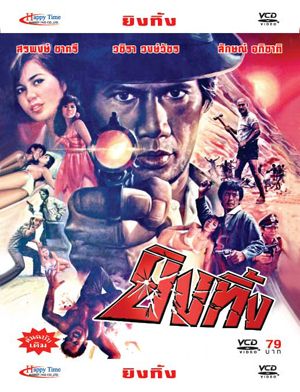 Year

: 1986



Thai title

:

ยิงทิ้ง




English title

:



Rating

: 3/5


Director

:



Main actor

: Sorapong Chatree,Lak Apichat,Chat Mongkolchai,Pipop Pupinyo,Choomporn Theppitak,Pao Porapak,Paen Pleumsachai


Main actress

: Sinaporn Philailak



Buy now

:

Thai movie ยิงทิ้ง was released in year 1986 and lasts 1h20mn but parts of the movie are cut. Ruffians shoot a van transporting money (ปล้นเงินเดือน). Lak Apichat is injured. Police arrives and catches ruffians but Wong (Chat Mongkolchai) and Pon (Pipop Pupinyo) succeed to flee. Pon hides the money but is also arrested later so Wong doesn't know where the money was hidden. Wut (Sorapong Chatree) is police inspector. He is married to Na (วชิรา วงษ์วัชร์), who complains he doesn't give enough time to his family (เป็นหน้าที่). Head of police Choomporn Theppitak enquiries if Lak is involved in the robbing or not. Choomporn gives the case to Wut. By enquiring, Wut meets Wong and Pao Porapak but they succeed to escape due to the mistakes of other policemen. Wong and Pao succeed to release Pon. Choomporn asks Wut to get them back but Wut requests an assistant (ผู้ช่วย), i.e. Lak. As Pon is reluctant to give back the money, Wong kidnaps his wife (พิศมัย ภุมมา). Meanwhile Wut and Lak are chasing Pol also. They fail to catch Wong and Pao despite Pol leads them to their house. Wut verifies that Mon (Sinaporn Philailak) doesn't hide Wong anymore. Choomporn starts to lose patience as Wong is still not captured by Wut. By spying Mon, Wut finally gets back the money but Wong succeeds to escape. Wong kidnaps Na in order to force Wut to give back the money. Following fightings and shootings with ruffians, Wut, Lak and Na defeat them. Lak ends up in jail as he still has to pay for his previous bad behavior. A four minutes trailer is also still available. It features sexy scenes cut off from VHS release.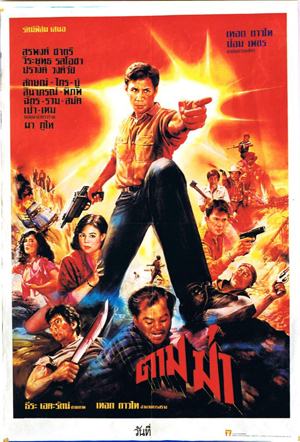 Year

: 1986



Thai title

:

ตามฆ่า




English title

: Twinkle Ninja Fantasy



Rating

: 4/5


Director

:



Main actor

: Sorapong Chatree,Lak Apichat,Krai Kanchit,Boo Wibunnan,Chat Mongkolchai,Pipop Pupinyo,Pao Porapak


Main actress

: Sinaporn Philailak
Thai movie ตามฆ่า was released in year 1986 and lasts 1h46mn. The VHS release is very sharp. The movie was also released overseas by Filmark movie production. It is called "Twinkle Ninja Fantasy". It is mixing the Thai movie and Ninja sequences shot in Hong Kong. Vin (Lak Apichat) organises gambling on a mining site. Manager (ผู้จัดการ) Somchai (Krai Kanchit) decides to give him a harsh lesson. Kiet (Sorapong Chatree) interposes as Somchai is going too far. Fighting erupts and You (Sinaporn Philailak) has to stop them. The big boss Thana (Boo Wibunnan) refuses to fire Kiet as he is a good staff. You is Thana's girlfriend but she is also Somchai's mistress. As Kiet has to transport important company goods, Somchai plans to get rid of him. As Kiet's sister has a domestic accident, Kiet cannot go. Vin then leads the convoy, which is attacked by ruffians. Only Vin succeeds to escape as the ruffians believe he falls from a cliff. You pushes to marry with Thana (แม่เลี้ยง) but this latter wishes to inform his son coming back from overseas first. As the convoy is robbed, Somchai accuses Kiet to be the mastermind behind. Pinyo tries to convince Vin to accuse Kiet but as he refuses, he is beaten and left for dead. Thana doesn't trust Somchai so he wishes to replace him by his son. Aware, Somchai hires Chat Mongkolchai to attack the next convoy led by Thana and Kiet. All staff die including Thana. Only Kiet escapes but his sister gets killed as he takes refuge in his home. Somchai now plans to kill Thana's son called Virayut (วีรยุทธ รสโอชา). While exiting the train station, ruffians chase and shoot Virayut. Luckily doctor Wana (ปรางค์ วงศ์วัช)(แสนสวย) passes by and saves his life. Pipop Pupinyo and Pao Porapak storm the doctor's house to find the son. Wana chases them on time before any killing occurs. Virayut wishes to kill Kiet as You brainwashed him that he is the killer. Ruffians try to kill again Virayut but they fail so they kidnap the doctor Wana. Meanwhile Virayut follows Lak to find Kiet. Following fighting, Virayut understands that Kiet is innocent. Understanding that Somchai doesn't love her, You tries to release Wana but it is too late and she gets killed. Kiet gets revenge over Chat Mongkolchai by putting a grenade in his mouth. Knowing that Somchai is planning to flee overseas by boat, Thai police, Kiet, Vin, Virayut storm the pier to release Wana. The boat succeeds to escape but Kiet and Virayut are on board. Through a final fight, Somchai is killed. As often in Thai movies, it is discovered that Virayut is a Bangkok police officer. Before going to Bangkok, he promotes Kiet as new manager and Vin as intendant. This Thai includes many stereotypes from 1980s Thai action movies.
---