Increase or decrease font size for easier reading : A+ A-
Settha Sirachaya
Settha Sirachaya (1944-2022) - เศรษฐา ศิระฉายา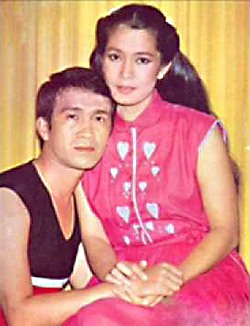 Settha Sirachaya is an actor and a singer. He played in more than 70 movies starting in 1977. He is married to famous actress Aranya Namwong
This Settha Sirachaya movie page contains 33 records.
---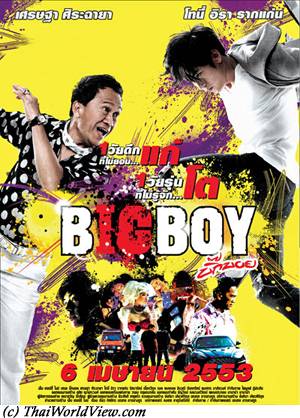 Year

: 2010



Thai title

:

บิ๊กบอย




English title

: Big Boy



Rating

: 3/5


Director

:



Main actor

: Settha Sirachaya


Main actress

:



Buy now

:

Po, a rich young man (วัยรุ่น), loves hip hop dances but his skills are not very good. Taking opportunity to visit his modern and fit grandfather (ปู่) in Bangkok, he wishes to learn dances skills. He goes to Siam Square to find good hip hop dancers. He meets Niew, a young dancer he saw on Youtube. When realizing that Niew is a girl (ไม่เอาผู้หญิงสอน), he refuses to have her as a teacher. But even his grandfather dances better than him (สู้คนแก่ไม่ได้). Po always complains so his grandfather needs to push him. He finally accepts Niew but needs to exercise his body first. He finally learns well. The grandfather didn't dance tango with anybody since his wife died ten years ago. He doesn't like to lose (แพ้) and wishes his grandson to be the same. Po finds that Niew has to perform club dance at nighttime as she is not wealthy. This doesn't break their friendship and a romance story starts between Po and Niew. Teens confront each other through dances competition. Po fails and flees instead of facing the competition. The grandfather wants to achieve his dreams through his grandson. He couldn't win an international dance title 30 years ago. Another dance confrontation turns bad and the grandfather needs to rescue Po. During a car accident, Po breaks his leg and the grandfather is in coma. They all finally recover and understand that dances are for fun, for love but not for winning. The movie shows beautiful shooting sequences of Tango dances and Break dances. It highlights the knowledge transmission between generations. Through hard work, people can achieve their dreams. Settha Sirachaya delivers a neat performance and it seems that his wife, legendary veteran actress Aranya Namwong, can be seen shortly in one sequence.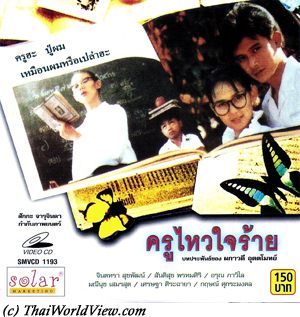 Year

: 1989



Thai title

:

ครูไหวใจร้าย




English title

:



Rating

: 3/5


Director

:



Main actor

: Santisuk Promsiri,Settha Sirachaya,Kiet Kijcharouen


Main actress

: Jintara Sookkapat



Buy now

:

A new lady teacher (ครูคนใหม่) called Sawai (Jintara Sookkapat) is arriving in a remote school (ตำบลเล็กๆ) in northern Thailand. Veteran actor Settha Sirachaya is the school director (ครูใหญ่). Kampaeng (Santisuk Promsiri) doctor is an old friend (เพื่อนที่ดีตลอดไป) also working in the area. Sawai gives strong lessons to pupils not following school rules (มันเกินไป). Strong warnings are given against cigarette and alcohol. Wai puts to herself some strict rules to be a model for pupils. Kampaeng understands it will be almost impossible to have a romantic relationship with Wai as she puts her duty first. Kampaeng gets an award to go studying in Germany but he doesn't want to be far from Wai. He finally leaves convinced by Wai. Many years have passed. Wai is still single. Teacher Wai gets called evil (ใจร้าย) but parents don't dare to tell her as they are all former pupils of teacher Wai. Wai starts to realise what people think about her. Teacher Wai has often back pain recently. She has to go urgently to hospital. Many people around teacher Wai promise to change their behavior and wish Wai to recover fast. They all finally realize that behind her severity, teacher Wai is working hard to build good people. Teacher Wai finally comes back and is welcomed in the village by a huge number of students and parents. This movie highlights dedication of some hardworking teachers going in some remote areas to spread knowledge, Buddhist basis and putting school values even before their private life. Movie ครูไหวใจร้าย was shot in 1989 and includes famous stars Santisuk Promsiri and Jintara Sookkapat. Veteran comic Kiet Kijcharouen, always present in "BOONCHU" (บุญชู) movies serie and "BAAN PHI POP" (บ้านผีปอบ) movies serie, is also present.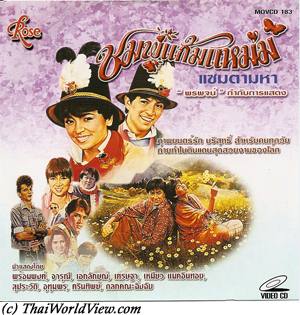 Year

: 1986



Thai title

:

ชมพู่แก้มแหม่ม




English title

:



Rating

: 3/5


Director

:



Main actor

: Yuranan PamornMontri,Lor Tok,Settha Sirachaya


Main actress

: Jarunee Sooksawad
A mother is separated from her Thai husband and move to Austria with her daughter. During her childhood, the daughter has also a half-Thai friend. When growing up, the daughter wants to know her Thai father and decide with her best friend to gather the money to buy the air ticket to Thailand. They try different opportunities (play Molam, simulate red cross helpers, get money from wish fountains).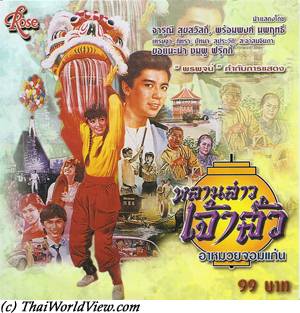 Year

: 1986



Thai title

:

หลานสาวเจ้าสัว




English title

:



Rating

: 3/5


Director

:



Main actor

: Prompong Nopparith,Sor Asanajinda,Settha Sirachaya


Main actress

: Jarunee Sooksawad,Patama Panthong
Two friends are unfortunately making funny mistakes by trying to seduce two young ladies. During Chinese New Year, while trying to earn money in order to repair their mistakes, one of the young lady discovers that she is the Mr Liu's daughter. As Mr Liu is very rich, will it change their frienship and love?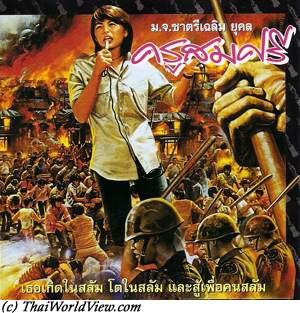 Year

: 1986



Thai title

:

ครูสมศรี




English title

: Somsee



Rating

: 5/5


Director

: ChatriChalerm Yukol



Main actor

: Sor Asanajinda,Settha Sirachaya,Ron Rittichai,Sor Asanajinda


Main actress

: Chalita Puttamapun



Buy now

:

It is about a big company, which wants to expel slum inhabitants in order to build a modern complex. A young teacher called Somsri is representing the slum and is fighting against the company. This movie shows the power of big Thai companies over slums, Thai rich people power over poor people and the Thai useless bureaucracy. Hopefully a Thai official and a lawyer are helping the teacher Somsri as the slum inhabitants are fully in their rights. Unfortunately, the big company doesn't hesitate to use strong ways such a fire, threats and gunmen. The slum finally wins but the lawyer and teacher Somsri lose their life. The movie is based on an activist teacher in the Klong Toei slum area. The idea on which the movie was based is the real life of teacher Pratheep Ungsongtham. She was called the slum angel.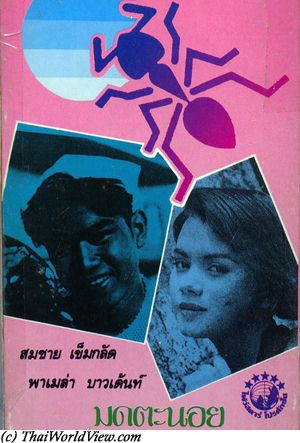 Year

: 1985



Thai title

:

มดตะนอย




English title

:



Rating

: 3/5


Director

:



Main actor

: Toon Hiransap,Settha Sirachaya,Lak Apichat,Sithao Petcharoen,Rong Kaomulkadee


Main actress

: Apiradee Pawaputanon,Pissamai Wilaisak,Thitima Sangkapitak
Young lady Tanoi comes unexpectedly in Khun Nai's house. She claims to be part of the family and wishes to get her share of heritage (มรดก). A lawyer acknowledges the fact but Tanoi will get full heritage when getting married only. Until this date, the heritage is still under Khun Nai's guidance. Tanoi is coming from countryside and is strong at boxing (ต่อย). She has arguments with the neighbour Doctor Chiwan. Tanoi's mother was chased from home twenty years ago by Khun Nai. She doesn't want to take revenge (อย่าชนะความชั่วกับความชั่ว). Tanoi decides to study abroad to show her worthiness to all including Doctor Chiwan. Chakrin, son of Khun Nai, has high interest into Tanoi. There is opposition between countryside lifestyle and Bangkok city lifestyle as Tanoi is coming from salt fields area. She goes back to visit her village with Chakrin. One of the villagers still loves Tanoi. An usual fight between ladies happen. Those fights are always a success with Thai audience with lakorn or 1960-1980s decades movies. Following a car accident, the villager and his sister Saen Dao stay in Doctor Chiwan's home to be closer to Tanoi. While Tanoi is studying abroad, the mother Khun Nai plays cards and sells the furnitures belonging to Tanoi. Khun Nai's daughter indulges herself in alcohol. The mother needs to flee as she cannot pay her debts. After five years abroad, Doctor Chiwan doesn't recognize Tanoi and is mistaken by her as a driver. She is a new Tanoi. She even forgives Khun Nai and her daughter but this latter accepts only to plan to kill Tanoi in order to get the full heritage. Tanoi is kidnapped but saved by Doctor Chiwan and the police. The movie ends happily and bad people are punished. Khun Na's daughter receives the acid she wanted to throw on Tanoi. Saen Dao and the villager have to accept that their love to the doctor and Tanoi are impossible. Doctor Chiwan recognizes his mistake to having looked down poor Tanoi. It is a typical 1980s movie with the leading actress being cross with the leading actor and facing issues with the jealous mother and her daughter. This movie shows the social ascension of a poor lady and that through education the poor lady can become a good person (ผู้ดี). Bad and rich people seem to win over good and poor people but finally there are justice and karma impacts (กรรม).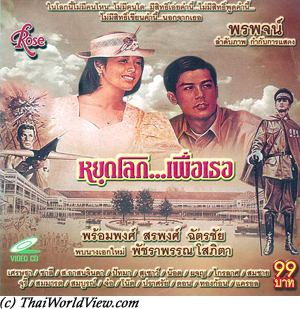 Year

: 1985



Thai title

:

หยุดโลกเพื่อเธอ




English title

:



Rating

: 3/5


Director

:



Main actor

: Sorapong Chatree,Chatchai Plengpanich,Prompong Nopparith,Sor Asanajinda,Settha Sirachaya,Suchao Pongwilai


Main actress

:
During World War II in Thailand, three men love the same woman, one is a Japanese officer whose former wife looks like same the Thai lady, one is a dumb Thai man, the last one is a Thai man collabotating with Japanese soldiers but in fact being an insurgent helping British intelligence.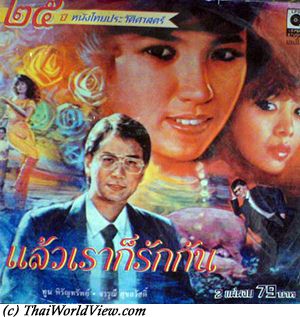 Year

: 1984



Thai title

:

แล้วเราก็รักกัน




English title

:



Rating

: 3/5


Director

:



Main actor

: Toon Hiransap,Settha Sirachaya,Pete Thongjure


Main actress

: Jarunee Sooksawad,Penpak Sirikul
Chalita (Jarunee Sooksawad) is managing an hotel. Penporn, daughter of the managing director Burin, is singing some songs with Kit, the new young singer recruited by Chalita. Chalita trusts Kit and lets him go out with Penporn to have fun. They join a car racing but have a serious accident. Penporn may not walk again. Kit is safe. The manager Burin is very upset by this accident as he has always considered Penporn as his own daughter (หลาน) as Penporn's parents die when she was still a baby. Chalita is fired as she let Penporn have fun with Kit. Chalita is upset as she is not directly responsible of the accident (เรื่องของดวง). Chalita finds a new job in another hotel. Burin, realizing his mistake, wishes to recruit Chalita again by offering a salary two times higher but she refuses. Burin has a strong character, never listens to others (ไม่เห็นใจคนอื่น) and always needs to win (ต้องชนะคนอื่น). Burin believes money can buy everything. Asunee, sexy young lady, is recruited as replacement of Chalita. Kit (ลูกผู้ชาย) affirms to be responsible and will take care about Penporn. Burin forbids Kit to see Penporn again. Kit is seen by Burin as a playboy singer (นักร้อง). There is a strong contrast between Chalita and the sexy Asunee doing Aerobic in front of Burin! Finally Chalita convinces Burin to let Kit visit Penporn. It will help to give comfort to Penporn and hopefully speed up her recovery. Penporn doesn't like Asunee as she is not sincere (จิตใจ). In fact Asunee wishes to marry Burin. The hotel managed by Chalita is much more successful than the one managed by Asunee. Despite efforts from Burin (even buying the hotels she is working in), Chalita refuses to come back to work for him. To protect Penporn and Kit against Burin's ire, Chalita finally accepts. But Burin continues to use dirty tricks (ชั่วร้าย) to try to split Penporn and Kit. Burin even asks Asunee to sleep with Kit in order to break the relationship between Kit and Penporn. But Chalita fights back. Asunee is chased away. Through collaboration (ร่วมมือ) between Burin, Chalita and Kit, Penporn succeeds to walk again! This movie is another romance movie with Toon Hiransap and Jarunee Sooksawad, famous star duo in decade 1980s.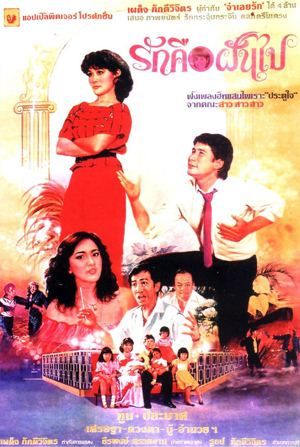 Year

: 1984



Thai title

:

รักคือฝันไป




English title

:



Rating

: 3/5


Director

:



Main actor

: Toon Hiransap,Settha Sirachaya,Boo Wibunnan


Main actress

: Piyamas Monayakol
Thai movie รักคือฝันไป was released in year 1984. It features actors / actresses Toon Hiransap, Piyamas Monayakol, Settha Sirachaya, Boo Wibunnan, ดวงตา. Director is เผด็จ ภักดีวิจิตร. It was released as VHS tape but never as VCD or DVD. The trailer is still available also. รักคือฝันไป plot is based on the music of group สาว สาว สาว, who was very famous in the early eighties. The song ประตูใจ was a big hit. It is a comic romantic movie. Of course the movie features many songs of the Thai group สาว สาว สาว.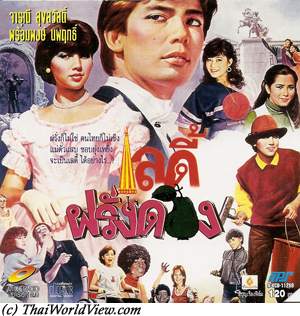 Year

: 1984



Thai title

:

เลดี้ฝรั่งดอง




English title

: Lady Farang dong



Rating

: 3/5


Director

:



Main actor

: Prompong Nopparith,Settha Sirachaya


Main actress

: Jarunee Sooksawad,Aranya Namwong,Ampha Pusit
Vickie, Thai lady, is seduced by an Austrian man, who is already married. Being pregnant, she decides to go back to Thailand. Before leaving, she leaves her daughter, Diana, to the Austrian man. Being an adult, Diana decides to go back to Thailand to find her mother. Will she succeed?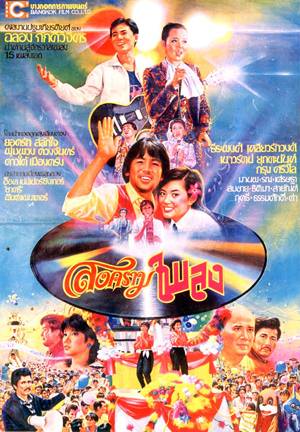 Year

: 1983



Thai title

:

สงครามเพลง




English title

:



Rating

: 4/5


Director

: Chalong Pukdeewichit



Main actor

: Krung Srivilai,Rith Luecha,Manop Aussawathep,Settha Sirachaya,Somchai Samipak,Sayan Chantaraviboon


Main actress

: Pumpuang Duangchan,Naowarat Yooktanun,Thitima Sangkapitak



Buy now

:

Kata (Krung Srivilai) / Leuachai (Rith Luecha) and Manop Aussawathep always have music orchestra (วงดนตรี) competition (สงครามเพลง). Manop's group thinks it has won by using Settha Sirachaya as singer but the group led by Kata uses singer Pumpuang Duangchan. It degenerates and brawl fighting happens between the two groups. Everybody ends up in jail. Police inspector (Somchai Samipak) summon the two orchestra leaders by telling them that music orchestra (วงการเพลง) is an art (วงการศิลาปิน) and should not end up in fighting. Apika (Naowarat Yooktanun) pays the bailing fee (ค่าปรับ). Kata wishes to have the most famous orchestra with Pumpuang as superstar. Manop's group needs to find a new singer able to compete with Pumpuang. They decide to hire heartthrob singer Yotrak salakchai. Many Luk Thung (ลูกทุ่ง) songs are featured in this movie. Sayan Chantaraviboon is featured as the owner of a recording studio. Kampi is younger brother of Kata. Kampi loves secretly a lady called Tosaen (Thitima Sangkapitak). Kampi writes love songs towards Tosaen and those songs are used by Manop's orchestra. Apika, daughter of Manop, discovers that songs are written by Kampi and refuses to buy them anymore believing it is a trick of Kata again. Tosaen becomes lover with Kata. A romance starts between Yotrak and Pumpuang, between Apika and Kampi. It causes concerns to both Kata and Manop (น้องชายของศัตรู). Pumpuang flees so Yotrak leaves the orchestra to find her. Pumpuang is indebted to Kata but she chooses freedom and love towards being a singer. Kata and Manop decide to launch strong fighting (สงครามเพลง / สงครามเลือด) against each other. Amid a battle between the two groups, Pumpuang convinces them for a truce. Tosaen tries to get back Kampi. Leuachai is not ready for truce. Apika quits Kampi as Tosaen left on purpose a bra in his car. During a concert, Leuachai tries to shoot Kata and Manop but finally gets punched by Kampi and then slot by Police. It is the end of violence in music orchestra contest. Tosaen tells the truth to Apika so she can be reunited with Kampi.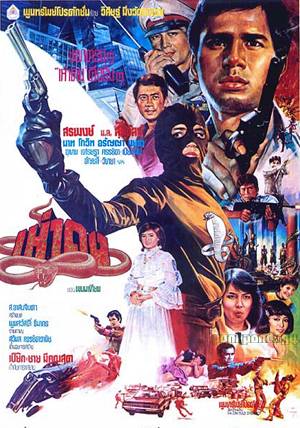 Year

: 1983



Thai title

:

เห่าดง




English title

:



Rating

: 4/5


Director

: เปี๊ยก มีคุณสุต



Main actor

: Sorapong Chatree,Nard Poowanai,Pipop Pupinyo,Kanchit Kwanpracha,Kowit Wattanakul,Settha Sirachaya,Uten Boonyong


Main actress

: Suriwan Suriyong,Aranya Namwong,Piathip Kumwong,Mayura Thanabutr,Marasri Bangchang,Anchalee Chaisiri
Thai movie เห่าดง was released in year 1983 and last 1h55mn. A remastered version was released by Five Star Production (ไฟว์สตาร์โปรดักชั่น) in the decade 2010s and shown on Thai TV cable. As usual on Thai television programs, bad things are blurred such as smoking a cigarette, alcohol bottle or putting a gun on a temple. The movie was also released under VHS format. The movie director is เปี๊ยก มีคุณสุต. A first version of movie "เห่าดง'' was released in 1958 with leading actress Amara Asavananda. The 1983 version featured leading actress Suriwan Suriyong and it was her first movie. The movie song is "จะไปดูหนังไทย บ๊ะ ต้องเห่าดง ดาวดัง สรพงษ์ ผิวคล้ำ นำแสดง สุรีย์วัล สุริยง มาประชันขันแข่ง อรัญญา ก็มา ร่วมกันในเห่าดง". Pleng (เพลิง)(Nard Poowanai) and Kam (Piathip Kumwong) have arguments. Kam complains Pleng is not sincere. Pleng must choose between being a ruffian (นักเลง, การพนัน) versus being an honest military officer (ยุติธรรม). They break up. The military head, Prachom (Kanchit Kwanpracha), promises to help Pleng but this latter refused due to his strong character (กระดูกแข็ง). Pleng has arguments with a debtor, who insults his mother. He stabs him, flees and quits the army. Finally, Pleng becomes a ruffian (เสียคน). Both Prachom and his wife (Marasri Bangchang) are upset by Pleng's decision. Pleng meets dancer Anchalee (Anchalee Chaisiri) in a restaurant. Pleng has a fight with the restaurant owner Prayak (Uten Boonyong) and gets injured. Anchalee takes care of him. Pleng is accepted in the ruffians' team by leader Prayak. Prayak and Chinta (จินดา)(Aranya Namwong) have a child called Bayan. Bayan is in fact a child being kidnapped. Prayak and Chinta need to flee the police and go overseas. Pleng promises to take care of Bayan. Many years have passed. Bayan has now grown up and is renamed Prao (พราว)(Suriwan Suriyong). She has learnt fighting skills (การต่อสู้). While doing shopping, a young policeman called Wut (วุฒิ)(Sorapong Chatree) contacts Prao as Prissana but it is a mistake. But in fact, Prao and Prissana are twins (ลูกแฝด)! They were separated 15 years ago following a robbery by Prayak in Prachom's home. Prissana is Wut's sister. She is engaged to a policeman (Kowit Wattanakul). Hao Dong is a mysterious judiciary punishing ruffians and warning police in advance (ผู้หวังดี). Behind it is Pleng, who always felt guilty to have quit the army. During a last event, Pleng gets shot and killed while helping Wut. Young lady Prao replaces her father Pleng as judiciary. She avenges Pleng by putting a bomb in ruffian leader's car. Wut pretends to be Niwat, insurance representative, in order to investigate the daughter, Saisree (ไซซี)(Mayura Thanabutr), regarding her father's death. In a discotheque, Saisree recognises Prao as they studied together in Japan. Prao studies martial arts including Ninja skills. Wut suspects Prao to be Hao Dong but proofs are not enough. Wut likes Prao (ตํารวจมีหัวใจเหมือนกัน!). Chita and Phayak come back from overseas to support Prao. Prao still wants to catch the real leader of the mysterious society (วงการ). Saisree is now the head of a Chinese style secret society. Both Prao and Saisree want to avenge their father's death. Ruffians are aware that Hao Dong is behind Saisree's father's death, so they want to avenge. Saisree asks Wut to lie to Prao and to attract her in a trap. He refuses. As Saisree loves Wut, she protects him while the ruffians wish to shoot him. Saisree is shot, but Wut succeeds to escape. Prissana is kidnapped by ruffians in order to attract Prao. Wut, the police and Prao storm the ruffians' headquarters. Chita and Phayak, wearing Hao Dong uniforms, are also killed in the fighting, so Prao cannot be accused. Prao is reunited with her parents. A double wedding Prissana / Chao and Prao / Wut can happen.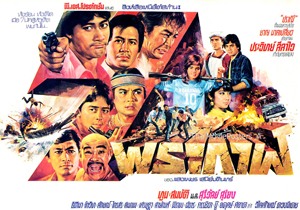 Year

: 1983



Thai title

:

7 พระกาฬ




English title

:



Rating

: 3/5


Director

: ประวิทย์ ลีลาไว



Main actor

: Sombat Methanee,Toon Hiransap,Pipop Pupinyo,Sayan Chantaraviboon,Lak Apichat,Somphob Benjatikul,Kowit Wattanakul,Settha Sirachaya,Kanchit Kwanpracha,Chat Mongkolchai,Sahat Piempongsan,Boo Wibunnan,Somchai Samipak,Adul Dulyarat,Paen Pleumsachai,Pao Porapak


Main actress

: Thitima Sangkapitak,Suriwan Suriyong
Thai movie 7 พระกาฬ was released in year 1983 and lasts 1h55mn. It was released under VHS format and VCD format. It was also released overseas by IFD under the name "US Catman 2 - Boxer Blow". Movie director is ประวิทย์ ลีลาไว. Thai movie 7 พระกาฬ was released multiple times. First time was in year 1967 with Mitr Chaibancha and Petchara Chaowarat. Second time was in year 1983. It was also released as a TV series in year 2004 on CH7. This movie features many famous actors and actresses from decade 1980s. Kanchit Kwanpracha, Sing (Chat Mongkolchai) and Reudi (Thitima Sangkapitak) are having a secret meeting. Kanchit needs to gather seven mercenaries. All of them (Han Meuang Thong - Sombat Methanee, Pipop Pupinyo, Thong Bai as Likay actor – Sayan Chantaraviboon, Boonmee - Lak Apichat, Somphob Benjatikul, Kowit Wattanakul, Settha Sirachaya...) are in jail for multiple murders. Kanchit's team attacks police vehicles during a jail transfer and all seven men can flee in various directions. Reudi receives mission from Kanchit to neutralize Police officer Sattha (ไกรสร แสงอนันต์), who shall capture back the seven inmates. Pho Lieng Saen (Sahat Piempongsan) recruits Boonmee to get rid of his enemy Han Meuang Thong! Sia Mongkol (Boo Wibunnan) wishes to recruit Kowit for a special job. Following a fighting during a Likay performance, Thong Bai has to flee again. Pho Lieng Saen accepts to freeze his revenge towards Han Meuang Thong as the big boss has a more important plan to be performed before. Somchai Samipak, father of Han Meuang Thong, refuses to meet his son anymore. Sattha and Somphob Benjatikul help him as he gets aggressed by Pho Lieng Saen's ruffians looking for his son. Soi (Suriwan Suriyong), daughter of Pho Lieng Saen, meets Prai (Toon Hiransap) and gets help from him as she is harassed by Pao Porapak. Anan (Adul Dulyarat) and his men capture Somphob Benjatikul and Settha Sirachaya. Various mafia leaders (พ่อเลี้ยง), linked to Kanchit, wish to hire the seven men. Kanchit plans to use all of them to perform special secretive actions. Pho Lieng Saen hires Bai and Boonmee. Despite his promise to put aside his own revenge, he sends Boonmee to kill Han Meuang Thong but it fails. Reudi claims to be Han Meuang Thong's wife in order to trap his father. She kidnaps Han's family, i.e his father Somchai and his sister วิไลลักษณ์ ดวงมีเดช, in order to force him to do something against Thai nation. As police disrupts their activities, Police officer Sattha is kidnapped to know who the traitor among the ruffians is. Prai releases him. Then Prai releases Han Meuang Thong's father and sister. Kanchit wishes to prepare a revolution in Thailand to take power through a new political party. Paen Pleumsachai. The seven mercenaries are supposed to do actions to disrupt Thai nation. Aware through Prai, they refuse to betray their country (ขายชาติ) and fight against the ruffians. Ruffians are neutralized. The seven mercenaries saved Thailand, but they still need to go to jail again.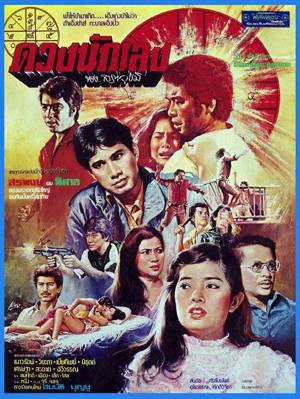 Year

: 1983



Thai title

:

ดวงนักเลง




English title

:



Rating

: 4/5


Director

: Winit Pukdeewichit



Main actor

: Sorapong Chatree,Nirut Sirijanya,Pisarn Akraseranee,Settha Sirachaya,Sahat Piempongsan


Main actress

: Wiyada Umarin,Naowarat Yooktanun,Piathip Kumwong
A mysterious man arrives on a rainy night in a remote city and enters in the hotel bar. The hotel is half owned by young lady called Chonko (Wiyada Umarin). A crazy guy (Settha Sirachaya), always drunk (ขี้เมา), asks him to avoid troubles as bad ruffians are the real leaders here. The mysterious man is called Mek Suriya (Sorapong Chatree) and plays the judiciary guy against the ruffians terrorizing the drunkard (รับรองความปลอดภัย). Alcohol and cigarette are blurred on this movie digitalized from True Cable TV. Bamrong (Nirut Sirijanya) is playing cards against ruffians but lost accusing the ruffians to cheat. Mek ensures that the fight against Bamrong and a ruffian is fair. Mek and Bamrong win back the other half of the hotel from Dang, one of the ruffian working for godfather (เจ้าพ่อ) Sagnop. Serinya (Naowarat Yooktanun) arrives in the hotel and asks help for her brother Seri (Pisarn Akraseranee) who has just been beaten by ruffians. Serinya has come to teach Sagnop's children. Serinya and Seri meet Sagnop's wife (Piathip Kumwong), Sumalee. Sagnop (Sahat Piempongsan) is a strong godfather and doesn't hesitate to punish those who try to cheat him (เก็บใช้ในเมืองผี). Sagnop sends 5 hitmen to clear the issue with Mek. Mek always pays respect (ไหว้) to his Buddhist amulet after hitting some ruffians. Ruffians terrorized the city until Mek dares resisting them. One of the ruffians hitman defies Mek for an outdoor gun duel. It is a trick as other ruffians are hidden in the bush. The hitman is finally defeated and a strong message is sent to their big boss. Mek and Bamrong are too strong to be ordinary ruffians as they are well trained. Other ruffians storm the hotel bar but get defeated again by Mek (ผมไม่เคยตาย / อยากลองดู). Serinya and Seri are undercover policemen. They love each other (คู่รัก). Bamrong and Mek decide to go to Don Luang, Sagnop's ranch, to be become his associates (ลูกน้อง). Sagnop is fond of Serinya and orders to kidnap her. Serinya has to marry with Sagnop but Sagnop is already married to Sumalee. Sumalee rescues Seri and bursts into tears follow up her many years of dispair with Sagnop. In the morning, Sumalee announced to Sagnop her decision to quit him, to go to Bangkok with her children and Seri. Sumalee is finally shot by Sagnop's ruffians as Sagnop cannot accept this. Sagnop orders to kill Seri. Mek and Bamrong, warned by Serinya, go to help him. Bamrong is Sumalee's young brother. One of Bamrong's nephew (หลาน) dies in a shoot out. Revenge is in the air... A final shoot out involving ruffians and army happens during Sagnop and Serinya's wedding. Entertaining Molam dances are featured during the wedding. Sagnop and his ruffians are defeated. Mek Suriya, the mysterious judiciary, leaves (พี่ลาก่อน). The highlight of the movie is the first movie involving two big stars, i.e. Sorapong Chatree and Pisarn Akraseranee. Movie Duang Nak Leng (ดวงนักเลง) is not available on VCD or DVD in Thailand. Some digital versions from TV are available around such as a 1h29mn from Channel 9 (cut version) and a True Move Cable TV version of 1h54mn. It feels like a Tom Yam Thai western movie.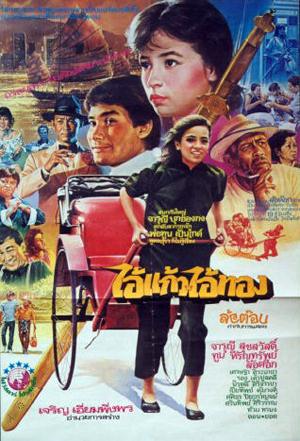 Year

: 1983



Thai title

:

ไอ้แก้วไอ้ทอง




English title

:



Rating

: 3/5


Director

: Lor Tok



Main actor

: Toon Hiransap,Songthong,Settha Sirachaya,Lor Tok,Nirut Sirijanya


Main actress

: Jarunee Sooksawad,Piathip Kumwong,Wiyada Umarin
Ai kaew Ai thong is a romantic comedy featuring Jarunee and Toon. Kaew and Thong are released from prison. Thong is 70 years old and has nowhere to go so Kaew invites him to stay together. His mother chases Kaew away as he sold old artifacts from the family home (แม่ด่า). They need to find ways to make a living such as waiters in a Chinese restaurant. They are finally expelled as food is spilled on customers. They find a new job in a house as gardeners. Maem is the house owner's beautiful daughter. The Chinese restaurant owners have a son Jun who is slightly retarted (ปัญญาอ่อน). They wish their son to marry Maem as her parents own land. So they need to teach him how to seduce a woman. It failed miserably as he falls from balcony into the pond. Kaew dives to help him and gets higher credit from Maem. Kaew and Thong simulate being prince and servant in front of other domestic helpers in order to enhance their status in the house towards Maem. Maem is a strong young lady (คนสวยปากร้าย). Kaew lies to Maem regarding a fake golden necklace in order to get a kiss. Jun parents hire a lady (Wiyada Umarin, veteran actress, often playing such role) to teach Jun how to perform husband duties on bed. As the golden necklace becomes dark after one day, their stratagem fails. Maem condemns them to dig a big hole. While digging, they find an old Chinese sword (ดาบ). The father sends Maem, Kaew and Thong to Hong Kong to sell it. As they cannot sell it, they have to find odd jobs to pay for food and accommodation. Maem is driving a rickshaw. In 1980 rickshaw usage in Hong Kong was already low. Thong is driving a kaido boat. Kaew is doing the tour guide on Cheng Chau island. They are waiting for the father to send tickets back home but the father is very avaricious and expect them to buy the tickets from the spade sale. Feelings start between Maem and Kaew. A ruffian Khun Seu (นักเลง) loves a singer (นักร้อง) and chases after her. Maem is involved as rickshaw driver and helps the singer to flee. To escape from Seu, the singer pays for their tickets back to Thailand. Jun cannot marry Maem anymore as he caught decease from little virtue woman. Knowing that they cannot sell the sword as the Chinese family linkage was broken, the father chases Kaew and Thong from his home causing Maem's despair as Kaew is a kind man (คนมีเมตตา). They finally find a last descendant in Thailand and gets 20M baht for the sword. Kaew can now ask for Maem's hand but performs a last trick to avaricious father. it is a typical good mood romantic comedy from 1980s decade featuring superstar Jarunee and Toon.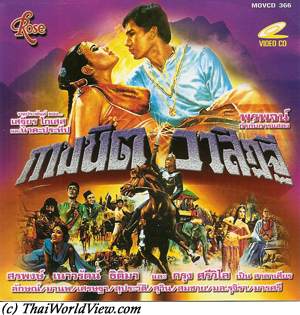 Year

: 1981



Thai title

:

กามนิต วาสิฎฐี




English title

:



Rating

: 3/5


Director

:



Main actor

: Sorapong Chatree,Krung Srivilai,Manop Aussawathep,Lak Apichat,Settha Sirachaya


Main actress

: Naowarat Yooktanun,Thitima Sangkapitak



Buy now

:

It is about the love between the young people, Kamanit and Vasinee. It takes place in India 2000 years ago and features many songs. Coming back to his city, Kamanit is captured by outlaws. While pretending that Kamanit is dead, a fellow man convinces Vasinee's parents to give him her hand. Kamanit, who searched for the Buddha, hoping the Buddha would heal his broken heart. One night he met an old monk and sat talking to him all night because the monk seemed to be able to answer all of his questions. The next morning he bid farewell to the monk and continued in his search for the Buddha, without realizing that the monk he had been talking to all night was the Buddha himself. Even when he was gored to death by a bull, he still didn't realize who he had been speaking to.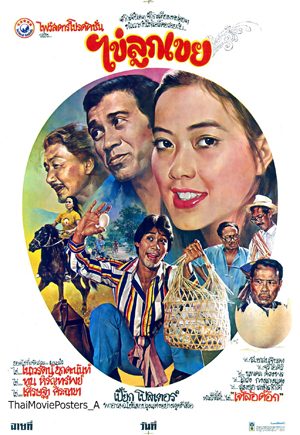 Year

: 1981



Thai title

:

ไข่ลูกเขย




English title

:



Rating

: 5/5


Director

: Piak Poster



Main actor

: Toon Hiransap,Sor Asanajinda,Lor Tok,Settha Sirachaya,Somchai Samipak,Noppadol Duangporn,Krong Kangkengdaeng


Main actress

: Naowarat Yooktanun,Juree Osiri
Thai movie ไข่ลูกเขย was released in year 1981 and lasts 1h50mn. A remastered version was released by Five Star Production (ไฟว์สตาร์โปรดักชั่น) in the decade 2010s and shown on Thai TV cable. The movie was released under VCD format by Solar company. The movie director is Piak Poster. This is a social Romantic Comedy. Mother Juree Osiri wishes to marry her daughter Rose (Naowarat Yooktanun) to Jongsak (Settha Sirachaya), a rich but insipid man. Her husband is played by Somchai Samipak. Tuan (Toon Hiransap) is going to the village to bring improvements. He meets Rose as her car splashes him with mud. As her car refuses to start anymore, he forces her to apologize before bringing her by bicycle to the village. Tieng (Sor Asanajinda) is the village leader and father of Tuan. Tuan is seen as a crazy guy by many villagers. Rose takes her revenge by taking his clothes away while he is bathing in a stream. She forces him to apologize to get his clothes back. As the school headmaster has to go to the city for a meeting, Tuan is the one to help with the children. At that time, there was one teacher for all class levels! Rose realizes that Tuan is a clever man. He is hiding his real identity. Following a conference in Bangkok, Rose's mother is charmed by a young man protecting the poor farmers rights versus the rich Bangkokian society. Turn spends time with Lok Tok to understand his tricks to beat local administration. Noppadol Duangporn wishes to become the new village leader. At nighttime, Tuan hacks Rose's radio in order to sing a song. She tries to unveil him but cannot. Finally, Rose befriends with Tuan. Noppadol informs the mother Juree. Juree complains to Rose that she is coming from a wealthy family with a high status so she shouldn't befriend a farmer. The father Somchai Samipak tries to temporize his wife. Noppadol has an objective to replace Tieng so he goes to meet the chief district officer in the city, Tuan tricks them by emptying their petrol tank and puts a laxative in their drinking water. The next day, they try to get revenge, but Tuan is good at Karate. Meanwhile Rose finds papers and pictures showing the real identity of Tuan. Tuan claims he had no choice as villagers would not trust a civil servant from Bangkok. It was the only way to see the real village problems, the good and bad things done by villagers. They go for a walk and get stuck by a storm. Juree, the mother, coming to inspect her daughter, is then very worried. On the next day, she refuses her daughter Rose to come here again. Upset, Rose claims she sees people value by their achievements and not by their money. She claims Tuan and she are now wife and husband in order to stay in the village. The mother is upset as her daughter marries a poor farmer (คนบ้านนอก). Her husband, Somchai, knows the truth, but doesn't disclose it. Juree tries to bring back her daughter to her home, but she fails. As the village leader is reaching retirement, a new village leader has to be elected. Noppadol is facing Krong Kangkengdaeng. Krong is winning by far as he is more popular. There is a new bailiff (ปลัดอำเภอ) nominated in the area. It is Tuan! Through a good speech, he reminds villagers that he, as a civil servant, is here to serve them and not the opposite! Rose goes back to her home with Tuan. The mother is upset as he keeps singing. On the next day, Jongsak comes to flirt with Rose, but Tuan exits his room wearing a bailiff uniform. Tuan apologizes to the mother and discloses his real identity. The mother is now delighted that her daughter marries Tuan.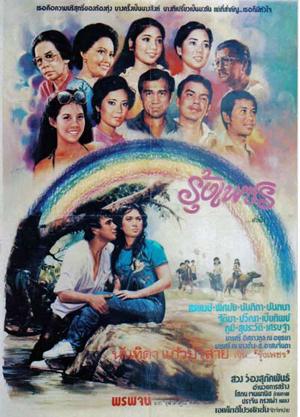 Year

: 1980



Thai title

:

รุ้งเพชร




English title

:



Rating

: 3/5


Director

:



Main actor

: Sorapong Chatree,Sor Asanajinda,Settha Sirachaya


Main actress

: Nanthida Kaewbuasai,Pissamai Wilaisak,Piathip Kumwong,Thitima Sangkapitak,Nantada Ngaokrajang
This movie รุ้งเพชร was shot in 1980. A first version of this story was released in 1961 with Sombat Methanee and Ratanaporn Intarakamhaeng. The main actress is Thai singer Nanthida Kaewbuasai, who sings the famous song "มารักกันใหม่" during the movie. Despite being a grown up teen, Rung (Nanthida Kaewbuasai) still likes children games such as riding buffalo, swimming in river, throwing rock with a sling. She is the leader of small group of friends. Her mother hates Bangkok and doesn't want her daughter to study there. But her mother is sick as she has a severe pain in the stomach. She refuses to leave her home. Rung's father died 10 years ago. The mother finally dies and Rung has to go to Bangkok to a mysterious uncle Phra's home. Her mother always recalled Rung that only uncle Phra helped her when her husband died. Uncle Phra is part of Bangkok rich society (ผู้ดี). Uncle Phra is married to Orapin. Orapin is much younger than uncle Pha and has a lover, who is bankrupted. Orapin is not very happy to see Rung arriving in their home and doesn't understand why Phra wants to take care about this orphan (เด็กกำพร้า). She suspects than Rung is Phra's daughter from a minor wife in Ayuthaya. Anong is Orapin's elder sister. Yai is uncle Phra's son. He behaves like a high society man. Yai has already a fiance. Her name is Nit and she is the second daughter of Anong. They don't get along with Rung. Yai has just finished his studies and needs to be temporary teacher for Rung per his father's request. Rung always speaks frankly (เด็กบ้านนอก). Nit and Yai consider themselves as brother - sister (พี่น้อง) but Anong has other plans in mind and wants to get them married as Yai is very rich. Orapin and Anong are worried about Rung taking a part of the heritage as Uncle Phra is getting older. Rung is doing her studies at UAU. Yai is going abroad. When he is back and while being sick, only Rung takes care about him at nighttime. Yai starts to understand and see Rung's kindness. Pricha, a family friend, has also interest into Nit and starts to seduce her. It is unveiled by uncle Phra that Rung is an hidden family member and child of a famous Thai aristocrat. Shine the jewel and its beauty is revealed... Yai asks Rung to become his fiancee by offering a ring. Anong and her daughter Nit try a last offensive to get Yai back from Rung but to no avail. Yai offers a necklace to Rung causing Orapin and Anong disappointment and ire. Phra agrees to divorce with Orapin but all his heritage is already transferred to Yai so Orapin will get nothing! Orapin and Anong decide to act. They organize Rung kidnapping. Anong tries to poison Phra's teapot but due to a maid mistake Anong finally drinks her owned poisoned tea and dies. Orapin discovers that her lover was cheating her with Anong's elder daughter. Through hate, revenge they kill each other and finally police shots Anong's lover. Yai and Rung can live happily. Nit and Pricha also. In 1980 this movie selling point was "Sorapong meets 6 leading actresses" (สรพงษ์ พบ 6 นางเอก - นันทิดา/นันทนา/พิศมัย/ธิติมา/ปวีณา/เปียทิพย์). This is typical romance movie from beginning of 1980s decade with an impossible love between a poor girl and a rich man. This movie features many famous Thai stars from 1970s-1980s.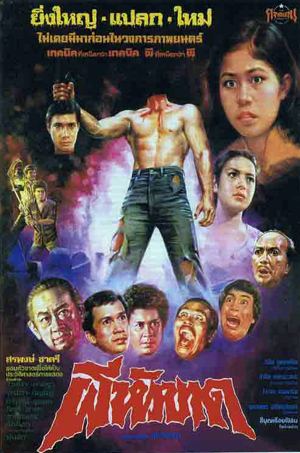 Year

: 1980



Thai title

:

ผีหัวขาด




English title

:



Rating

: 4/5


Director

:



Main actor

: Sorapong Chatree,Lor Tok,Settha Sirachaya,Pinyo Parnnui,Siripong Isarangkul


Main actress

: Wassana Sitthiweth
Thai movie ผีหัวขาด was released in year 1980. It is a lost movie in Thailand. Luckily it was released under VHS format in Taiwan under the name "Siamese curse" / 鬼貢头 in year 1980. It was also released in year 1984 in Malaysia under the name "SUMPAHAN SIAM". SUMPAHAN SIAM was released in Malaysia so it is dubbed in Malaysian. The VHS features subtitles in English, Chinese and Malaysian! It only lasts 1h17mn. A remake was released in year 2002. Chiao (Sorapong Chatree) and young lady Hsiao Feng (Wassana Sitthiweth) are close friends. Chiao dreams about marrying Hsiao Feng. Settha Sirachaya is Chiao's close friend. Lor Tok is one of the village masters (หมอผี). Settha Sirachaya asks for love oil to master Lor Tok. Villager Ken's head is found by Lor Tok during incantations. Those repetitive deaths are worrying so village leader asks for defense troops volunteers in order to protect villagers. Chiao (Sorapong Chatree) and Settha are volunteers. Another villager Ah Hing disliking Chiao is volunteer also. Chiao loves Hsiao Feng but refuses to use love oil done by master Lor Tok. Ah Hing has arguments with Chiao. Ah Hing's father is played by Siripong Isarangkul. A festival is happening so ruffians wish to steal the golden Buddha statue located in the local Buddhist temple. Chiao visits his master, who warns him that he is in danger. He should ordain as monk the day after to avoid losing his life. Chiao acknowledges and leaves. On the way home, a storm occurs, and he looks for a shelter. He ends up in the village Buddhist temple and sees ruffians stealing the golden Buddha statue. He tries to prevent the robbery, but he is killed by ruffian Pinyo Parnnui. His head is cut, and his body hidden in the graveyard. The ruffians fail to steal the Buddha statue. On the following day, Chiao cannot be found in the village. While looking for dead bodies to do corpse oil, Lor Tok finds Chiao's body. Villagers are now aware of his death. The master promises to find the head in order to do a proper cremation ceremony. Meanwhile Chiao's body wakes up and is looking for his head. He frightens villagers. Ruffians try to steal the golden Buddha again but Chiao stops them. Finally Chiao finds his head. During the village festival, Lor Tok stains Hsiao Feng's dress by mistake. She goes to the nearest house, i.e. Yin Hing's place, to clean it. There Hsiao Feng finds all the Buddha statues' stolen heads, so the ruffians have to kill her. Settha interferes and is injured. Villagers try to stop them. Ah Hing threatens to kill Hsiao Feng. Chiao chases them but Siripong involves one skilled master also to fight against Chiao and his master. Chiao's master is defeated. Chiao breaks his opponent's spells. Siripong and Pinyo get killed. The master burns in the fire. Chaio's body and his head get cremated in the big fire.



Year

: 1980



Thai title

:

พ่อจ๋า




English title

:



Rating

: 3/5


Director

:



Main actor

: Sorapong Chatree,Settha Sirachaya,Sor Asanajinda,Witoon Karuna


Main actress

: Nanthida Kaewbuasai,Ratanaporn Intarakamhaeng,Thitima Sangkapitak,Chosri Misommon,Tukata Jindanuch
Yen (Thitima Sangkapitak) flees her family as her father wants to force her to marry a man she doesn't love. She wants to commit suicide. Yen is saved by Pon (Sorapong Chatree), a poor young man living in a slum. They live happily a few months and she gets pregnant. Her father finally finds her. She has to go back with him and leaves Pon. On her wedding day, Pon appears to take back his new born daughter to bring her up. Her name is Yuwadee. During many years, he works very hard to pay for her education and keeps secret his low society level status. Having financial problems following an accident, his daughter Yuwadee has to go back in Yen's family but she is not happy. He finally succeeds to get Yuwadee back. Now becoming a TV serie star, her career is endangered by rumours about her father. Forced to appear on the stage, Pon insults and dishonors himself to avoid that his daughter career is damaged. Will Yuwadee reject her father? Yuwadee character is played by actress and singer Nanthida Kaewbuasai. A few songs are featured in the movie. Thai cinema often uses young actors and make them look older instead of using real veteran actors. This movie highlights the strong bonds between a father and his child. A first version of this movie was directed by Sor Asanajinda in 1957. Sor Asanajinda is playing Yen's father in this 1980 version! Ratanaporn Intarakamhaeng, who played as leading actress in the 1957 version, is also playing in the 1980 version.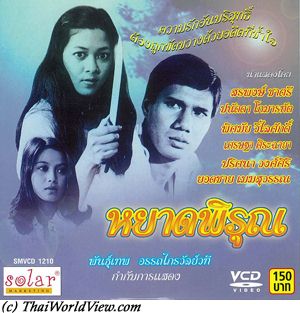 Year

: 1980



Thai title

:

หยาดพิรุณ




English title

:



Rating

: 5/5


Director

:



Main actor

: Sorapong Chatree,Yodchai Meksuwan,Settha Sirachaya,Kamthorn Suwanpiyasiri


Main actress

: Pissamai Wilaisak
A Young lady, called Fai, gives her baby to a rich couple as her husband left her. Her husband is a rickshaw driver and both come from low fringe of Thai society. The baby is named Yat Phirun (หยาดพิรุณ) or Nam Fon as nickname. The new father loves her a lot but the mother Taisanee despises her. They have a second daughter called Nam Phet. Eighteen years passed. Takrit (Sorapong Chatree), young man, is frequenting the daughters. The mother Taisanee still believes Nam Fon is same as her real mother and so should have hot sexual temper (มีไฟ) as she is coming from a poor background. Nam Fon sometimes loses consciousness and forgets what she has just done. Takrit visits the parents' home with his friend Kiti. Nam Fon is sometimes crazy due to painful headaches as she didn't get any love from mother Taisanee (ใจร้าย). The father wishes to separate temporarily his wife and Nam Fon. Nam Fon stays at an aunt's house. Her headaches disappear but then come back. The uncle tries to take advantage of Nam Fon at nighttime. She hits him with a vase but doesn't remember. The uncle claims she enticed him but she refuses to accept a fault (รับผิด) that she didn't do. It will be same as lying (โกหก). Nam Fon is having a double personality syndrome. When she has big headaches, she speaks alone with a low society pronunciation (เสียงประหลาด). Her double personality is called Yat Fon (ผู้ดี - ผู้ต่ำ). She invites Kiti to go out willingly. Takrit meets her in a nightclub at the time Tiki was bringing her to a motel. He rescues her. As the uncle acknowledges his bad behavior, the father and Takrit know that Nam Fon has a problem. The father entrusts Takrit to cure Nam Fon as there is no help to expect from mother Taisanee. Takrit sends her to see a psychanalyst, who uses hypnotism to know the truth. Nam Fon has a split personality (วิญญาณหนึ่งดี - วิญญาณหนึ่งร้าย). Takrit thinks to marry Nam Fon so that she can be far from Taisanee, reduces her headaches and have the double personality die. One body two personalities. Nam Fon's father comes back after 18 years. He asks for 20 000 baht. Taisanee wants to send back Nam Fon to her real father (บุญธรรม). It is too much and Yat Fon beats Taisanee. Taisanee gives money to Nam Fon's father so that he can take her away. Yat Fon is back again and takes a knife to threathen Taisanee and her father. The man acknowledges he is a liar and not her real father, who died already. Taisanee loses consciousness and is sent to hospital. Yat Fon dies in order to be able to give happiness to Nam Fon. Taisanee acknowledges her mistakes and a new relationship can start with Nam Fon. This movie features soundrack from Jerry Goldsmith used in American horror movie The Omen. Pissamai Wilaisak plays swimmingly the bad mother role. This movie highlights prejudices over low society people.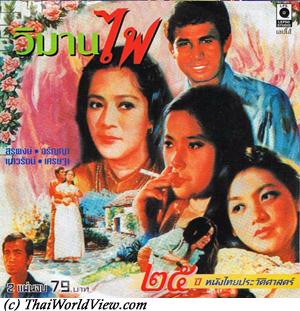 Year

: 1979



Thai title

:

วิมานไฟ




English title

:



Rating

: 3/5


Director

:



Main actor

: Sorapong Chatree,Settha Sirachaya


Main actress

: Aranya Namwong,Naowarat Yooktanun,Pornpan Ketmamatsu
Phumaret is a young man going to a funeral but he is late. His father was a friend of the deceased man. There he meets the three daughters of the deceased man. The eldest daughter Nid provides him a job in the family company, a house to live in and money as salary advance. Phumaret is fond of Noi the second daughter but finally asks Nid for wedding due to her kindness. Disappointed by Noi's refusal, Phumaret also seduces the youngest daughter and marries her secretly one day before his wedding with Nid. The youngest daughter becomes pregnant and a row happens between her, Nid and Phumaret. Nid, being so disappointed and heart broken, stabs her young sister and is confined in a hospital for insane persons. Phumaret decides to become a monk in order to compensate the bad deeds he has done with the three sisters.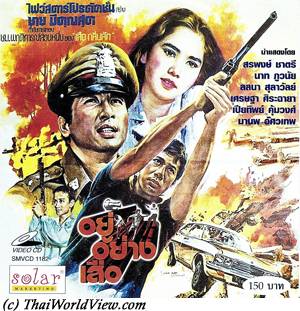 Year

: 1979



Thai title

:

อยู่อย่างเสือ




English title

:



Rating

: 3/5


Director

: Chai Meekunsut



Main actor

: Sorapong Chatree,Settha Sirachaya,Manop Aussawathep,Nard Poowanai


Main actress

: Piathip Kumwong,Lalana Sulawan,Duangcheewan Komolsen
An intensive deforestation is taking place in North of Thailand. Seua (Sorapong Chatree), young man, is back to his native city and is looking for a job. He met Duang, a former girlfriend. Priaw, Duang's brother, drives him to a neighbouring city, Mae Sot, where job opportunities are soaring. Seua meets Pop, an old friend, in order to get job recommendations. Seua is married but he comes alone. They have a drink in a bar. Two interesting characters are working in the bar, i.e. lady Toi (แม่เพลิงไฟ) and ladyboy (กะเทย) Aree, who is a musician and singer. Pop is shot while they are having a drink. A Police inspector (สารวัตร) is investigating the murder but no clues can be found regarding the murderer and cause. It seems to be linked to a corruption and bad influence case. Kamsaen, rich and influential man (พ่อเลี้ยง) , has a beautiful daughter called Kamyat. Pop was a family member but he was not well appreciated as he tried to seduce Kamyat. Seua tries to meet Kamsaen but to no avail. Some ruffians sent by Sinkon, Kamsaen's close assistant, try but fail to drub Seua. Truth has to be hidden and it is a strong message that Seua should stop investigating on Pop's death. The bar manager is shot also. Seua is seriously beaten at the head as he refuses to stop investigating. While driving, Sinkon is also shot by the hitman. A former policeman, Natheum, passing by, sees the hitman's face. All witnesses are killed one by one. Illegal forest concessions (ตัดไม้เถื่อน) business is suspected. Threatening letters are now received by Seua. A plan is prepared with the police inspector. They break over the ruffians directly inside the forest. Shootings happen between police and the ruffians. They release Kamsaen and his daughter held prisoners inside a hut. The ruffian leader succeeds to escape and is still unknown. Natheum is Seua's old friend. While having a drink in the bar, he recognizes Aree as the hitman. Kamsaen has been simulating his capture and is in fact the real headmaster. Toi is his mistress. Kamsaen is killed while trying to resist to the police. Seua, carrying a Magnum 357 gun, revenges his friend Pop by shooting Aree. The magnum 357 is certainly influenced by inspector Harry movies with Clint Eastwood. This movie is a typical action movie from decades 1970s-1980s and features the finest Thai actors and actresses.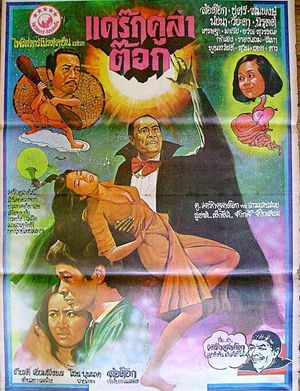 Year

: 1979



Thai title

:

แดร็กคูล่าต๊อก




English title

:



Rating

: 3/5


Director

: Lor Tok



Main actor

: Nirut Sirijanya,Sawin Sawangrat,Settha Sirachaya,Lor Tok,Sithao Petcharoen,Sompong Phonmitr,Kokheng


Main actress

: Naiyana Shewanan,Wiyada Umarin
Klom (Nirut Sirijanya) and Sae (Naiyana Shewanan) love each other. They wish to die together as their love story is impossible as Klom is poor and Sae's father wants her to marry kamnan Oi's son. Oi (Sawin Sawangrat) is an influential local ruffian. The son CheunKlan is played by veteran actor Settha Sirachaya. Some local ghosts (ผีกระสือ and ผีกระหัง) wish to help them as there are already enough spirits in the graveyard (ป่าช้า)! The male spirit helps Klom to give a lesson to CheunKlan and his sbires (มือปืน). The spirits have invited Dracula (ผีฝรั่ง) for a meeting in Thailand to discuss about issues they are facing (overpopulation in cemetery, people doing less donations to spirits...). The two fathers want CheunKlan and Sae (ลูกไม่รักดี) to get engaged. Dracula (Lor Tok) wants to discover Thailand (spicy food and disco). Dracula meets Oum (Wiyada Umarin), a young lady just dropped by her boyfriend. Sae simulates to be possessed (ผีเข้า) but both fathers hire a spirit doctor (หมอผี) to chase the spirit. Sae finally passed away (สิ้นใจ). To help Klom, the two ghosts prepare a plan, one is going to see the hell guardian (Sithao Petcharoen) to ask for clemency and one is possessing the body to prevent decay (เน่าเปื่อย). Klom visits hell to find Sae. He sees some people tortured as they did behave badly in their previous life (member of Parliament having lied and having made false promises...). Corruption is present in hell also! Finally Klong finds Sae in the heaven and get authorization to bring her spirit (วิญญาณ) back to earth. Meanwhile Dracula falls in love with Oum but later on kidnaps also Sae who is back from heaven. This comedy movie starts with a funny idea, sarcastic comments on Thai society but ends up crazily (บ้าบอ) with the real movie director complaining on Lor Tok acting as Dracula. Finally all flee in front of a real ghost. Veteran actor Sithao Petcharoen got a Thai cinema award for his comic role as hell guardian. A second part called หักเหลี่ยมแดร๊กคูล่า was released 7 years later in 1986.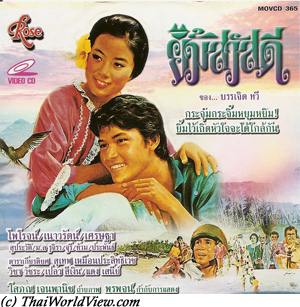 Year

: 1978



Thai title

:

ยิ้มสวัสดี




English title

:



Rating

: 3/5


Director

:



Main actor

: Phairoj Sangwaribut,Settha Sirachaya,Rujira Isarangkul


Main actress

: Naowarat Yooktanun



Buy now

:

Since her birth, a tycoon father is chaperoning his daughter with excess. Her daughter, fed up with this life, decide to flee and go in the south of Thailand. The police is looking for her. She met a journalist that is helping her in exchange of an exclusive news coverage. But love emerges between the two young people.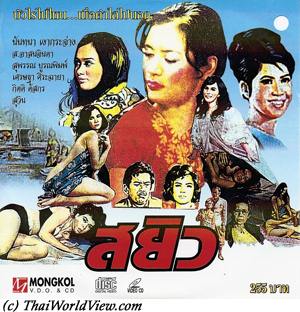 Year

: 1978



Thai title

:

สยิว




English title

:



Rating

: 3/5


Director

:



Main actor

: Sor Asanajinda,Settha Sirachaya


Main actress

: Nantana Ngao Krajang
A policeman and his girl friend are investigating a serial killer stabbing young women and stealing their diamonds jewels.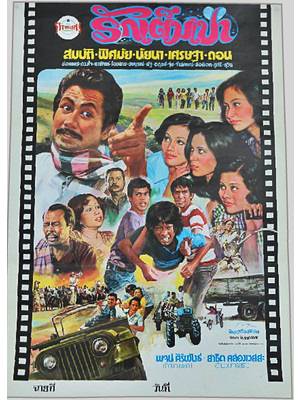 Year

: 1978



Thai title

:

รักเต็มเปา




English title

:



Rating

: 3/5


Director

:



Main actor

: Sombat Methanee,Sayan Chantaraviboon,Settha Sirachaya,Sawin Sawangrat,Lor Tok


Main actress

: Naiyana Shewanan,Pissamai Wilaisak,Chosri Misommon
Thai movie รักเต็มเปา was released in year 1978. It is lost but a sequence of 1h26mn remains to be seen. This movie mixes songs, comedy and romance. Sayan Chantaraviboon, Toei (Settha Sirachaya) and two friends are singing during a Buffalo racing festival to attract interest from Naiyana Shewanan and other beautiful young ladies. They are in conflict with another group of men but Sawin Sawangrat, local subdistrict headman (กำนัน), and To (Sombat Methanee), local village headman, calm them down. Sayan loses and buffaloes run over him. He ends up at a local clinic where a beautiful nurse called Oon takes care of him. To, his father, is upset that his son, Sayan, lost. Pissamai Wilaisak, the head of the clinic, asks him to make less noise. Toei has interest in Naiyana, daughter of Kamnan Sawin, but he is afraid of the father. To promises to help Toei and to visit the subdistrict headman. Chosri Misommon is the wife of Kamnan Sawin. A triple romance is happening. To is from lineage Bai Toei (ตระกูล) so he wants to organize a big procession (ขบวนขันหมาก). Unfortunately Chosri has hearing problems so To and Chosri misunderstood each other. So it ends up in a funny food fighting between the two families as the subdistrict headman refuses the wedding as he has not been informed before. Toei asks help from Lor Tok (นักเลงเก่า) but it turns to a disaster again two times! Sayan leaves the clinic as he was simulating being sick in order to be near Oon. Seeing that love stories are not successful, To has the idea to kidnap the ladies. Sayan messes up and Pissamai is kidnapped instead of Oon. To claims to be สุภาพบุรุษ Bai Toei or ผู้ยิ่งใหญ่ Bai Toei! Meanwhile subdistrict headman Sawin organises a hunt to find the ladies. After seeing To driving a car with the ladies inside, subdistrict headman Sawin shots him but the ladies prevent Sawin and his men to kill them. Pissamai takes care of To. As a wedding is going to happen, some members of the opposite family kidnapped Naiyana, so Sombat and Pissamai follow them and finally they succeed to release Naiyana.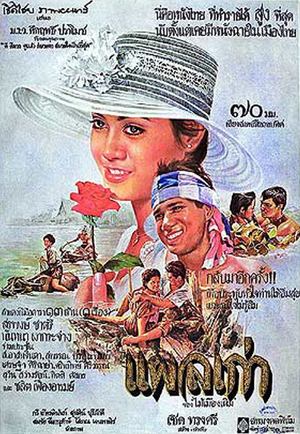 Year

: 1977



Thai title

:

แผลเก่า




English title

: The old scar



Rating

: 5/5


Director

: Cherd Songsri



Main actor

: Sorapong Chatree,Sor Asanajinda,Settha Sirachaya


Main actress

: Nantana Ngao Krajang,Sarinthip Siriwan
The movie is built same a theatrical "Likay" (ลิเก) with traditional music. It portrays the Thai culture and way of life though a romance. Peasant Riem loves Kwan but the love is not reprocical. He loves singing Likay. Traditional peasant way of life, watching over buffalo, rice planting, getting fish from rice fields, ceremonies where young men invite girls they like to dance, Songkran ceremony with small pagoda made of sand are gracefully shown. They finally love each other with a promise in front of the local deities tree. But Riem family refuses this love story. Choi, local gangster, injures Kwan with his sword making a scar. This scar is the symbol of their love that nothing can break. Riem's father wants to sell her to the local gangster Choi. Riem's father is local "Kamnan" (กำนัน) but has many debts with Choi as he likes to gamble and drink alcohol. Riem is enslaved with chains. Kwan infliges a scar to Choi also but when he tries to free Riem, it is too late. Her father and Choi have brought her to Bangkok. There she is integrated to a rich Bangkokian family as she has the same face as their deceased daughter. A young man called Somchai is courting her. Riem discovers high society Bangkokian life with balls and European orchestra. The contrast is flagrant with village life and Kwan playing flute on his buffalo. Kwan arrives in Bangkok and searches for Riem. He cannot find her. He chases Choi to know where he sent Riem but during a sword fight, Choi is killed. Three years have passed. Knowing that her mother is sick, Riem goes back to visit her. Kwan has chance to meet Riem but Kwan also understands that she forgot him. He asks again for the support of the local deities. Riem misses her home and Kwan. She finally comes back as her mother is dying. In the past, her mother marries her husband for money in order to be secure but was never happy with him. So she advises her daughter to listen to her heart as love is more important than money. Riem promises to tell Kwan her decision in front of the local deities tree. On the same day, seeing that his father is getting older and older, Kwan promises him to honor his wish to see his son in yellow robes (ชายผ้าเหลือง) as a monk. Learning that Riem is forced to go back to Bangkok, he decides to help her but faces opposition from Riem's family and Somchai. Finally Somchai shot Kwan fatally and he drowns in front the local deities tree. Riem stabs herself and drowns with her beloved Kwan. Kwan's father will never see his son in yellow robes (ชายผ้าเหลือง) as a monk. Historically, Cherd Songsri's movie is a classic tale of star-crossed lovers and was one of the first Thai films to be a success internationally due to the precise representation of rural Thailand. It got Top award at Festival des 3 Continents in Nantes, France in 1981. This movie is part of the first 25 films heritage list announced on October 4 2011, which is Thai Movies Conservation Day.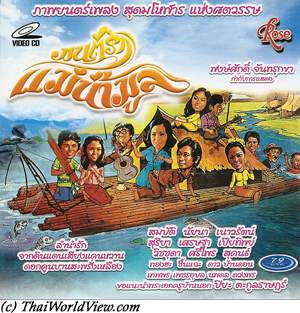 Year

: 1977



Thai title

:

มนต์รักแม่น้ำมูล




English title

:



Rating

: 3/5


Director

:



Main actor

: Sombat Methanee,Sukon Koewliam,Settha Sirachaya,Suriya Chinaphan,Piya Trakulrard,Noppadol Duangporn


Main actress

: Naowarat Yooktanun,Piathip Kumwong,Naiyana Shewanan
This folk-music movie is similar to "mon rak luuk thung". It features folk or "LUUK THUNG" songs. It is about love stories between villagers from Ubon, i.e. a teacher and his fiancee staying in Bangkok, a farmer wishing to be a singer and his fiancee, a school director and a nurse.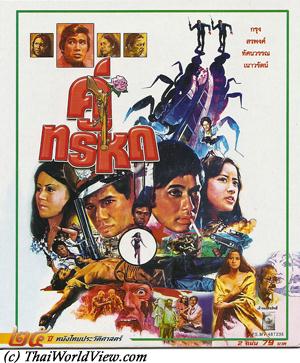 Year

: 1977



Thai title

:

คู่ทรหด




English title

:



Rating

: 4/5


Director

:



Main actor

: Settha Sirachaya,Krung Srivilai,Sorapong Chatree,Adul Dulyarat


Main actress

: Naowarat Yooktanun,Tasawan Saneewong
Ithipon (Sorapong Chatree) is a police inspector (สารวัตร). He doesn't have a car (รถแข่ง) as he refuses any corrupting money from the mafia. Yot (Krung Srivilai) is another policeman, who has a hot temper (รุนแรง) and uses easily guns to stop robbers (ผู้ร้าย). In a single day, he shot four robbers. It makes big headlines in newspapers. Ithipon always follows the law (ความยุติธรรม) and wants to give a good image of the police to Thai citizens. His family is poor. It includes his sister, Am, and his mother. Am is still a student and is addicted (ติต) to marijuana (กัญชา). Ithipon needs to solve many issues linked to the facts that policemen do not always behave well in private life also (club singer pregnant and dropped...). Ithipon sometimes acts like a social assistant. Ithipon's team deals with heroin dealing case, prostitution cases, rape case, police corruption but also everyday ordinary cases. This movie shows the kind of crimes faced by Thai society in 1970s. Yot, by killing some drug dealers, puts the mess again (มือปราบจับตาย) as no proofs and information can be got from dead bodies. Yot's behavior is linked to his past when he was ten years old. His mother was murdered by a carpenter who was acquitted due to lack of proofs despite he saw him with his own eyes! So nowadays he has become a harsh policeman. Yot has been suspended (ถูกราชการ) following the drug failure case. Rich people use their power to influence police. A businesswoman wishes to have her son released! Ithipon needs to arrest his own sister Am as she was caught smoking opium (ติตยา) in an illegal den. Ithipon remains inflexible. The law is same for all so he refuses to help his sister and has to perform his duty (นาที). Yot continues to shoot illegally some bad people and wish to clean the Thai society. Ithipon meets Eewa, his former girlfriend. Ithipon is poor so he couldn't marry with Eewa. As Eewa's parents were sick, Eewa had no choice than becoming the mafia leader Kongwan's mistress. As her parents are both dead, Ithipon proposes to take care of Eewa and hides her. Kongwan's ruffians are looking for Eewa. They storm Ithipon's home, hurt the mother and kidnap him. As Ithipon refuses to speak and to accept dirty money every month, Kongwan drugs him with heroin to make him dependent and to know where is Eewa. Finally Ithipon breaks down and tells them where Eewa is. Being inflexible with law, what did Ithipon gain? His mother is injured, his sister is in hospital and he is also addicted now (ตรงกับกฎหมายไม่ได้อะไร). His family is wrecked and his sister despises him. Eewa is kidnapped by Kongwan again. While being under treatment Ithipon flees from hospital. Being beaten by drug sellers, he is rescued by Pen. She was a prostitute Ithipon helped before to leave this profession. As a way to thank him she takes care about him until he can recover. Redemption is always possible (ยังมีทางแก้). Both his sister and mother have died. Yot continues to do his own justice by cleaning Bangkok from bad guys. Ithipon starts his own revenge by storming and burning Kongwan's heroin warehouse and by shooting ruffians. Kongwan orders to kill Ithipon. He shoots Eewa as she was going to warn Ithipon. Ithipon is injured again. The violence cycle has no end. There is a dirty policeman inside the police station, who always informs Kongwan. Kongwan does the cleaning of informants as a trial against him is ongoing. Yot won't let him go away. While leaving the hospital and going back to his slum house, Ithipon is shot by Kongwan. But this time Kongwan cannot escape his responsibilities and is caught by the police. Ithipon finally wins by following the law (ชนะตามกฎหมาย). This movie includes the 1970s top actors and features a funky "Shaft" 1970s soundtrack. This interesting movie deals about Thai police hardship and difficulty to have a clean police due to low monthly salary and extra judicial killings. It is still an issue nowadays. In 2011 senior police officers own a big illegal casino in the heart of Bangkok. It was was overseen by local police and allowed in only high-stakes gamblers.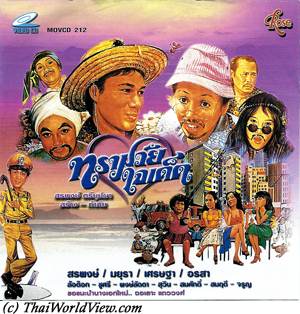 Year

: 1977



Thai title

:

ทรามวัยใจเด็ด




English title

:



Rating

: 3/5


Director

:



Main actor

: Sorapong Chatree,Lor Tok,Settha Sirachaya


Main actress

: Mayura Thanabutr
Four young women want to become policemen. They face harsh selection inside the police school. One of them is coming from a wealthy family but still wants to be a policeman same as her father. The trainer is aware of this and is helping them though gags during the selection and their first assignments.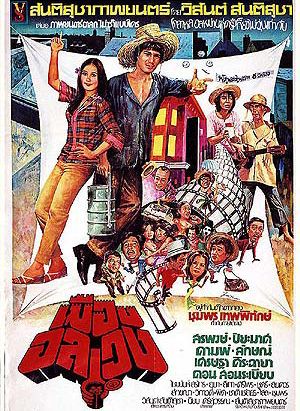 Year

: 1977



Thai title

:

เมืองอลเวง




English title

:



Rating

: 2/5


Director

: Choomporn Theppitak



Main actor

: Sorapong Chatree,Dam Datsakorn,Lak Apichat,Settha Sirachaya,Sithao Petcharoen


Main actress

: Piyamas Monayakol
A young company owner is fed up with life. He is rich and successful but doesn't have real friends. People are only interested in his money. He decides to quit his life and to become a beggar in order to have more freedom. Being a beggar, he meets new friends and become a gardener. Unfortunately a mafia gang is looking for all beggars in the district in order to find him and ask for a ransom. His new friends will help him.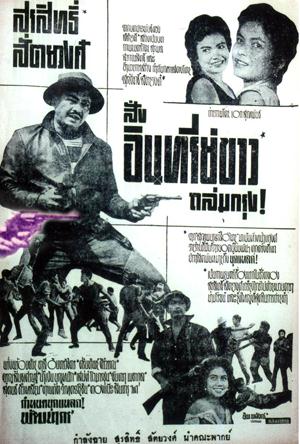 Year

: 1958



Thai title

:

สั่งอินทรีย์ขาวถล่มกรุง




English title

:



Rating

: 3/5


Director

: Surasit Sattayawong



Main actor

: Surasit Sattayawong,Sukon Koewliam,Settha Sirachaya


Main actress

: Sarinthip Siriwan,Namgneun Boonnak
Thai movie สั่งอินทรีย์ขาวถล่มกรุง was released in year 1958. It features Surasit Sattayawong as main actor. The movie is lost in Thailand but a sequence of 22 minutes is left to be seen. The movie was earlier called อินทรีย์ขาว and then renamed before the launch as สั่งอินทรีย์ขาวถล่มกรุง. But name อินทรีย์ขาว still appears in the title credits! For the screenings in Bangkok, Surasit and the team of actors did the dubbing by themselves! It was the first movie as producer for Surasit Sattayawong. Surasit was also the director of this movie. Other actors include Sarinthip Siriwan, Namgneun Boonnak, ชาลี อินทรวิจิตร, จรูญ สินธุเศรษฐ์, เสน่ห์ โกมารชุน, จันทรา เมธากุล, Sukon Koewliam, ทานฑัต วิภาตะโยธิน, ทองแป๊ะ สินจารุ. Surasit is working in a outdoor mine. A woman claiming to love Surasit also has a love affair with the mine's owner. Surasit discovers the truth. Surprising both together, he shoots his wife and the lover. Later on, a big brawl happens in a village. Surasit is now a rickshaw driver. A big street fighting erupts between two groups. After the fighting, a discussion happens in a room. While carrying rice, Surasit has arguments with others workers who makes fun of him. Another general brawl happens. There is a sequence where a child is talking to a fat guy. It looks like it is Settha Sirachaya (เศรษฐา ศิระฉายา) when he was 14 years old.
---