Increase or decrease font size for easier reading : A+ A-
Sayan Chantaraviboon
Sayan Chantaraviboon (1944) - สายัณห์ จันทรวิบูลย์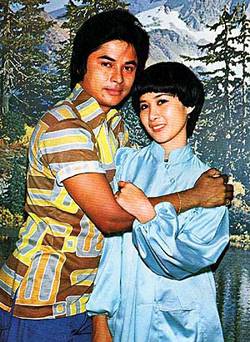 Sayan Chantaraviboon was a famous co-starring actor from 1969 to 1988. He also directed a few movies and was a country music singer (นักร้องลูกทุ่ง). He never got any rewards as rewards only went to starring actors only. His best success is the movie "กามเทพเล่นกล"
This Sayan Chantaraviboon movie page contains 54 records.
---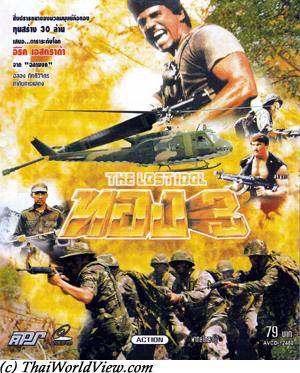 Year

: 1988



Thai title

:

ทอง ภาค 3




English title

: The lost idol



Rating

: 4/5


Director

: Chalong Pukdeewichit



Main actor

: Sorapong Chatree,Erik Estrada,Christoph Klüppel,Likit Eakmongkol,Sayan Chantaraviboon,Krung Srivilai,Rith Luecha


Main actress

: Apiradee Pawaputanon



Buy now

:

Thai movie ทอง ภาค 3 / The lost idol (1988) lasts 89 minutes. Chalong Pukdeewichit is same director as previous sequels. A company of American soldiers is lost in Cambodia in 1975. They face Vietcong attack. They find a Brahma statue made of pure gold. The company carries it and their leader Oliver decides to hide it until the war is over. He betrays his own soldiers by shooting them but one, called Kirt (Erik Estrada), succeeds to flee despite being injured. The leader Oliver believes they are all dead. Meanwhile Red Khmer soldiers led by Sorapong Chatree are still chasing the US soldiers. They shoot Oliver and take for granted that he is dead. Kirt derives on a tree trunk and young Thai lady Lamyai helps him. He recovers and decides to stay with Lamyai. Meanwhile Oliver receives a promotion, a US medal and decides to go back to Thailand. He meets Catherine, his girlfriend, who is a US doctor working at the Thai Cambodian border. Colonel (ผู้พัน) Oliver asks Don (Likit Eakmongkol) to build a team in order to get back the statue from Cambodia. Part of this team are Krung Srivilai and Rith Luecha present in previous opus but with different roles. Christopher (Christoph Klüppel) is also part of the team. He was selected by Chalong Pukdeewichit thanks to his impressive bodybuilding. 1M baht is promised for each. Half now and half when the job is completed. Another group is following Oliver also. They threaten Katherine to get information. To force Kirt to join his team, Oliver kidnaps his daughter. Kirt has to accept to lead them through the Thai Cambodian border as it is full of mines. Meanwhile Katherine is going to Cambodian side to help poor people per her previous promise to Sorapong. It reminds the real story of Phanom Rung lintel stolen during Vietnam war and given back to Thailand in year 1988. Sayan Chantaraviboon and Apiradee Pawaputanon are part of the Red Khmer army. Sorapong's men are all killed during an embuscade and Katherine is captured. The Vietnamese soldiers wish to know why Oliver is back. Despite being tortured, Oliver refuses to speak. Kirt tells the Vietnamese about the gold statue (เทวดารูปทองคำ). The Vietnamese leader (นพพล โกมารชุน) plans to bring it back to Vietnam. One Cambodian man warns Sorapong that this statue belongs to Cambodian heritage and that it should stay here. They attack the truck convoy and the mercenaries free themselves. Sorapong asks mercenaries to join his team if they want to spare their life. If they survive, they will get freedom. The Khmer soldiers and the mercenaries attack the Vietnamese camp. Heavy fightings happen as Vietnamese soldiers have tanks. The Vietnamese leader succeeds to flee with the golden statue through an helicopter. Oliver sneaks in also. The statue finally falls in the lake and the helicopter crashes in the mountain. Chalong Pukdeewichit uses same recipe as previous sequels, i.e. famous Thai actors to be able to attract Thai audience and quite famous foreign actors to attract overseas audience.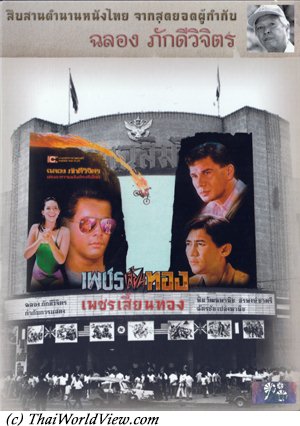 Year

: 1987



Thai title

:

เพชรเสี้ยนทอง




English title

:



Rating

: 4/5


Director

: Chalong Pukdeewichit



Main actor

: Sorapong Chatree,Chatchai Plengpanich,Adul Dulyarat,Rith Luecha,Somchai Samipak,Sayan Chantaraviboon


Main actress

: Marsha,Jariya Anfone



Buy now

:

Thai movie เพชรเสี้ยนทอง was released in year 1987 and lasts 1h48mn. It was released under DVD format by Happy Home Entertainment company. Movie director is Chalong Pukdeewichit. It was actor Tin Settachoke's (ตฤณ เศรษฐโชค) first movie. Policeman Borapon (Sorapong Chatree) shoots a young ruffian being part of a biker gang. The young ruffian hit policemen trying to stop him. Borapon claims it was self-defense, but youngsters accuse Borapon of abuse of power. Those kids are coming from rich families so Borapon loses at court. He is separated from his wife Rutika (จริยา สรณคม - Jariya Anfone). At nighttime Borapon follows his former wife working as DJ in her nightclub. Songklam (Rith Luecha) and Chakrit (Chatchai Plengpanich) are acting as bodyguards of Nat (Marsha) in the nightclub. Borapon's wife is having a new boyfriend going to invest in her club. It makes Borapon very upset. Youngsters are playing fun of Nat, Songklam and Chakrit after seeing them in a mall. Somchai Samipak is uncle of one of the youngsters, i.e. Chetanan (Tin Settachoke). Borapon follows his wife and her boyfriend. While they are drinking, the boyfriend is shot by Songklam, who succeeds to flee. Borapon is accused. He has to take leave from Thai police (พักราชการ). Nat is businessman Orachun's daughter. Orachun (Adul Dulyarat) plans to transfer his business to Chakrit. It is Nat's birthday. Her father is always busy. The youngsters are part of the musicians performing at the birthday. Orachun is satisfied of the music group performance and wishes to greet the singer. When knowing that the singer, Chetanan, is son of former associate Wat, Orachun orders to kill him. The killing fails. Aware of this, Somchai orders his nephew Chetanan to come to Phuket. In Phuket, youngsters meet Borapon and promise to get revenge. Orachun stole money from Wat before when Wat and Orachun were business partners (ลงทุนด้วยกัน). Wat was killed by Orachun's ruffians. Chetanan kidnaps Nat while she is doing windsurf and holds her captured on a remote island in Krabi (ใช้กรรม). It is his plan to revenge against Orachun. Head of police in Phuket is Sayan Chantaraviboon, playing a cameo role. People believe Nat has drown. Rutika arrives in Phuket to ask for money to Orachun. Bullet analysis shows that Borapon is not guilty. Nat makes her captors drink. A fisherman, named Tim, helps her to flee but he has bad ideas in mind. Chetanan helps Nat on time but he gets severely beaten by Tim before. Romance starts between Chetanan and Nat. Tim warns Orachun that the youngsters are staying on a raft on Phi Phi island. While Chetanan is away, Orachun and his men storm the raft and release Nat. One of Chetanan's friends (เอ็ม สุรศักดิ์ วงษ์ไทย) is killed. Rutika comes again to get support from Orachun regarding her debts but she is chased away. Orachun is just looking to take over her business and has no intention to help her. Being ruined, she realized that only Borapon was always nice with her. While having diner, Songklam shoots Rutika. It is part of Orachun's plan to take over the discotheque. Both Borapon and Chetanan are looking for revenge and storm Orachun's home. Heavy shootings occur. Songklam is shot by Borapon. Chakrit and Chetanan shoot each other. Borapon prevents Orachun to shoot Chetanan by injuring him first. Orachun is arrested and admits he was wrong.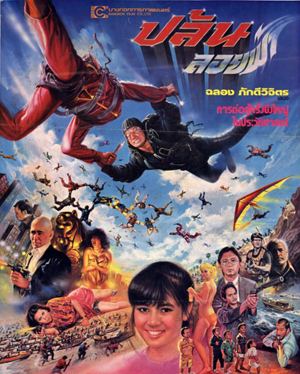 Year

: 1985



Thai title

:

ปล้นลอยฟ้า




English title

: Eye of the condor



Rating

: 3/5


Director

: Chalong Pukdeewichit



Main actor

: Sorapong Chatree,Sayan Chantaraviboon,Thep Po-ngam,Krung Srivilai


Main actress

:
Many guests including Indian merchant Imadoo (Krung Srivilai) are invited to a diamond show to see the famous Diamond Rasamee. Komkrit (Sorapong Chatree), young playboy, is also present. Following a mess during the show, the power supply is cut and Komkrit succeeds to steal the big diamond. The diamond owner dies due to heart crisis. His son promises to take revenge. Komkrit flees thanks to a delta-plane. Komkrit is always accompanied by a dwarf. Komkrit has been hired by ruffian Araki to steal the diamond. Araki is dishonest and tries to get rid of Komkrit. Following a fight, the diamond falls from the window. Two skilled policemen, Den, coming back from America, and Ms Pisawat are responsible to catch Komkrit (โจรปล้นเพชร). Den is a blunderer. Komkrit and his dwarf assistant are looking for the diamond into a slum they believe it falls in. They are aggressively welcomed by a bunch of other dwarfs. Their younger sister (น้องสาว) is Pheung. A romance starts between Pheung and Komkrit. Araki is also looking for Komkrit. The diamond is finally found on the roof of Pheung's house. Following fights and chase with ruffians and police, the diamond is lost in an ice factory. Den forces Komkrit to help the police if he wants to escape prison. The diamond is found in soft drink ice bag. One of the dwarf swallows it. Araki's team and also Imadoo's team fight each other to get the dwarf. Imadoo claims this jewel is a sacred item for his Indian religion. Komkrit finally gets back the diamond following a fight with Araki's ruffian in the air on parachute. Meanwhile Pheung and the dwarfs are taken as hostages (ตัวประกัน) and have to be exchanged against the diamond to save their life. The police and Komkrit storm Araki's secret base at nighttime. It is also storing a huge stock of weapons. Final part of the movie is a typical James Bond sequence with an impressive number of jet- skis invading the island. Traitors to Thailand are punished. Diamond is finally given back to India. As usual with director Chalong Pukdeewichit, his movies include a mix of action, comedy, a few foreign actors and a spice of sexy actress. The movie ปล้นลอยฟ้า is known overseas under the name "Eye of the condor".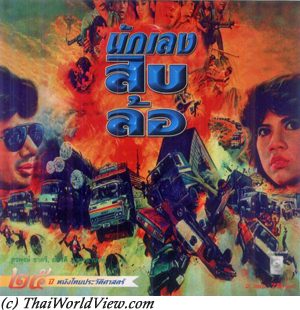 Year

: 1985



Thai title

:

นักเลงสิบล้อ




English title

:



Rating

: 2/5


Director

: Choomporn Theppitak



Main actor

: Sorapong Chatree,Rith Luecha,Nard Poowanai,Lak Apichat,Sayan Chantaraviboon,Somkuan Krajangsat,Doo Dook Kradon,Choomporn Theppitak


Main actress

: Apiradee Pawaputanon,Wiyada Umarin



Buy now

:

Thai movie นักเลงสิบล้อ was released in year 1985 and it lasts 1h37mn. Wut (Sorapong Chatree)(ลูกพี), son of owner of a truck company (รถสิบล้อ), comes urgently from Thailand following request from Lak (Lak Apichat) as his father just died (งานศพ). Sarawat (Nard Poowanai) tries to arrest him as he is over speeding to be on time to the funeral. A bomb explodes during the funeral. His mother (เจ้าภาพ) dies also. Revenge shall happen as his parents' death is a murder. The one, who carried the bomb, is identified as a lady, called Pim (พิมพ์ใจ พรหมมาลี), working in a karaoke. Sia Song (Somkuan Krajangsat), her boyfriend, is aware they spend the night together. Decha (Rith Luecha) is his right hand. Young lady Suntalee (Apiradee Pawaputanon) is leading a mining site and also selling durians (ทุเรียนแม่ค้า). Through a daring tentative, Wut and his team empty Decha's truck causing Sia to lose a lot of money. Umarin is selling trucks. Sia Song is also the shop owner. Wut enquiries on Sia through Song. Sarawat has arguments with tough men but refuses corruption money. As he is always accused to be too strict, he removes his policeman insignia to teach a lesson to the tough drivers. Sia Song orders to shoot Wut but he is only injured him. He gets closer to Suntalee and tells her that he is an undercover policeman. Four men, part of Suntalee's team, plan to betray her in order to steal precious stones (พลอย). Challenged and overwhelmed by the ruffians (คุณจะไม่มีโอกาสเห็นขาอ่อนฉัน), she gets help from Choomporn Theppitak. The traitors join Sia Song's team. Sarawat and Wut try to prevent ruffians doing dirty business at the border. Weapons are hidden in rice bags. They chase Decha driving a big truck carrying teak trees. Drug is hidden in teak trees. Wut and the trucks encircle Sia Song forcing him to surrender. Many great famous Thai actors are present in this movie but the directing is a bit weak. Luk Thung (ลูกทุ่ง) countryside music about trucks is featured in this movie. Trucks (สิบล้อ) in Thailand are ornamented with many drawings and colors.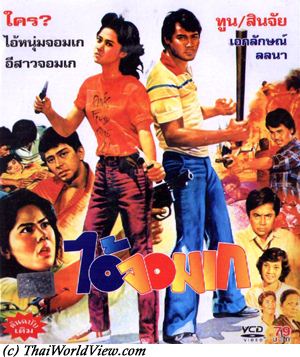 Year

: 1984



Thai title

:

ไอ้จอมเก




English title

:



Rating

: 3/5


Director

:



Main actor

: Toon Hiransap,Sayan Chantaraviboon,Pipop Pupinyo,Chat Mongkolchai


Main actress

: Sinjai Hongthai,Lalana Sulawan



Buy now

:

Keng (Toon Hiransap) is staying in relatives' rich house. The mother is not happy to see Keng at her home despite he is a relative (สอนมารยาท). The mother has two sons (Pochet and Kira) and one daughter called Chan. Chan (Sinjai Hongthai) teaches Thai boxing (สอนมวย) to Keng. Keng wishes to take revenge over ruffian Wo as he is responsible of his mother's death. Keng is Kliaw's young brother (น้องชาย). Kliaw is married to Kira (Sayan Chantaraviboon). Keng has also a school friend called Waew. Pochet loves secretly Waew (Lalana Sulawan) but Waew is already the minor wife of a rich man, i.e. Kira! Chan always protects Keng against Pochet (ลูกไม่รักดี). One day Keng sees Kira with Waew! Following the mother / Pochet's opposition and being only protected by Chan, Keng finally leaves their house. Keng finished drunk and Kliaw / Chan having pity takes care of him. Fed up, the mother decides to use Kam, a ruffian leader, to give Keng a lesson (สั่งสอน). Wo is part of Kam's team. Chan protects Keng against the ruffians as Keng is too afraid to fight. Wo is a pimp (แมงดา) as he is extorting money from Waew. Seeing Wo strangling Waew, Keng finally gets the strength to fight and gives a harsh lesson to Wo (สู้คนได้). Waew is now aware that Kira is Kliaw's husband. To revenge his mother death, Keng decides to hit Wo with Chan's help. The mother (ไม่เกรงใคร) tries to push another woman called Wan into Kira's arms to replace Kliaw. Finally Kliaw decides to leave also the house with Keng. Tired by this stressed situation, Kira stops his relationship with Waew. Pochet asks Waew's hand. As all domestic helpers have left, the mother has to clean the house and to do the cooking as Wan is useless. Wan is a rich man's mistress (เมียเก็บ) already. The mother now knows the real value of Wan and Kliaw. As Pochet is unfaithful with her, Waew shoots him accidentally. Wo, passing by, wishes to terminate Pochet but Waew protects him with her body so being the one to die. The ruffians (including veteran actors Pipop Pupinyo and Chat Mongkolchai) kidnap Chan and her mother. They request 1M baht ransom. Kliaw, Pochet, Keng and Kira storm the ruffians' place to release Chan and the mum. The ruffians are defeated. Finally the mother makes apologies regarding her behavior and the whole family can get happiness back. Thai movie ไอ้จอมเก was released in year 1984. This action romance features a leading actress practising kung fu. In many 1980s movies, actresses such as Apiradee Pawaputanon, Jarunee Sooksawad, Suriwan Suriyong played similar active roles.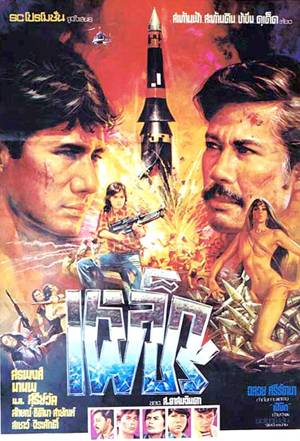 Year

: 1984



Thai title

:

เหล็กเพชร




English title

:



Rating

: 3/5


Director

: Sor Asanajinda



Main actor

: Sorapong Chatree,Manop Aussawathep,Sayan Chantaraviboon,Suchao Pongwilai,Lak Apichat


Main actress

: Suriwan Suriyong,Metta Roongrat,Thitima Sangkapitak
Thai action movie เหล็กเพชร was released in year 1984. The movie is lost in Thailand but a two minutes trailer remains to be seen. The movie producer is Sor Asanajinda. Main actor is Sorapong Chatree. Suriwan Suriyong is the main actress and Manop Aussawathep is playing her father. Other actors are Metta Roongrat, Lak Apichat, Sayan Chantaraviboon, Suchao Pongwilai, Thitima Sangkapitak… The trailer shows some fighting over a moving truck transporting tree trunks. In year 1967 Sor directed the same movie เหล็กเพชร in 16mm format. Sopha Sataporn was then the main actress. The 1967 version is still available.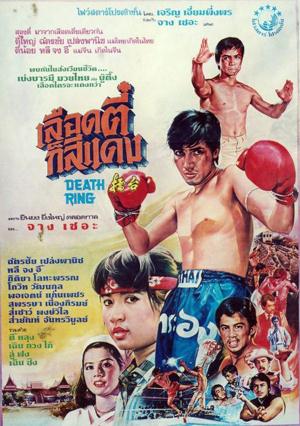 Year

: 1984



Thai title

:

เลือดตี๋ก็สีแดง




English title

: Death Ring



Rating

: 3/5


Director

:



Main actor

: Chatchai Plengpanich,Sayan Chantaraviboon,Porjed Kaenpetch,Suchao Pongwilai,Kowit Wattanakul


Main actress

: Supansa Nuengpirom
The master's daughter, In Mai, sees her lover Dialin Chi in secret. Her father already has plan to marry her to another man called Hang Fai. But he surprises them together. A fight erupts between Hang Fai and Dialin Chi as he lacks respect to his fiancee. Hang Fai uses cowardly a knife during the kung fu fight and finally gets stabbed. Dialin Chi has to run away. He takes refuge in Thailand during three years. Uncle Lu promises to revenge his son, Hang Fai. Many years have passed. In Mai has now a son called Dai Cheung. Uncle Lu's second son is still looking for Dialin. Dai Cheung is looking for his father in Thailand as he earned a living by being a boxer there. Dai Cheung contacts Miss Ko and Fan, the assistant, for boxing job opportunities. Dai Cheung finds a job as sand bag training partner but Thai boxer Salek refuses to use him. They become friends. Salek dreams about a fight with a strong Thai boxer called the leopard. Salek has recognized Dai Cheung's father picture but would not tell who he is. Following arguments, Miss Ko has barred Salek from any Thai boxing match. Dai Cheung succeeds to be recruited as sand bag training partner by the Leopard in order to work up his style but is heavily beaten. He doesn't think Salek can beat the Leopard. Finally it is discovered that Salek is also Dialin Chi's son with a Thai woman. Miss Ko accepts to organise a fight between Salek and the Leopard. The match happens despite Dai Cheung trying to prevent Salek to assist. Salek gets killed on the ring following the Leopard's hard punches. His half-brother is dead. Dai Cheung decides to become a Thai boxer to revenge his half-brother. He trains hard to be able to get a fight versus the Leopard. Finally following a difficult fight, he succeeds to defeat the Leopard but uncle Lu's family members are still around for revenge also... This Hong Kong action movie particularly shines when Chatchai Plengpanich and other Thai actors are around. Hong Kong Kung Fu actors are Lee Chung-Yat and Ti Lung.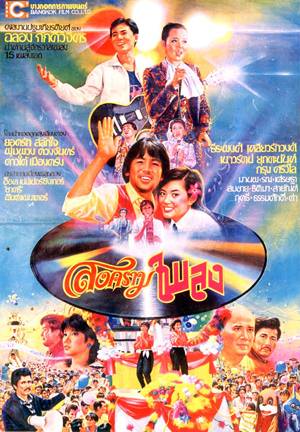 Year

: 1983



Thai title

:

สงครามเพลง




English title

:



Rating

: 4/5


Director

: Chalong Pukdeewichit



Main actor

: Krung Srivilai,Rith Luecha,Manop Aussawathep,Settha Sirachaya,Somchai Samipak,Sayan Chantaraviboon


Main actress

: Pumpuang Duangchan,Naowarat Yooktanun,Thitima Sangkapitak



Buy now

:

Kata (Krung Srivilai) / Leuachai (Rith Luecha) and Manop Aussawathep always have music orchestra (วงดนตรี) competition (สงครามเพลง). Manop's group thinks it has won by using Settha Sirachaya as singer but the group led by Kata uses singer Pumpuang Duangchan. It degenerates and brawl fighting happens between the two groups. Everybody ends up in jail. Police inspector (Somchai Samipak) summon the two orchestra leaders by telling them that music orchestra (วงการเพลง) is an art (วงการศิลาปิน) and should not end up in fighting. Apika (Naowarat Yooktanun) pays the bailing fee (ค่าปรับ). Kata wishes to have the most famous orchestra with Pumpuang as superstar. Manop's group needs to find a new singer able to compete with Pumpuang. They decide to hire heartthrob singer Yotrak salakchai. Many Luk Thung (ลูกทุ่ง) songs are featured in this movie. Sayan Chantaraviboon is featured as the owner of a recording studio. Kampi is younger brother of Kata. Kampi loves secretly a lady called Tosaen (Thitima Sangkapitak). Kampi writes love songs towards Tosaen and those songs are used by Manop's orchestra. Apika, daughter of Manop, discovers that songs are written by Kampi and refuses to buy them anymore believing it is a trick of Kata again. Tosaen becomes lover with Kata. A romance starts between Yotrak and Pumpuang, between Apika and Kampi. It causes concerns to both Kata and Manop (น้องชายของศัตรู). Pumpuang flees so Yotrak leaves the orchestra to find her. Pumpuang is indebted to Kata but she chooses freedom and love towards being a singer. Kata and Manop decide to launch strong fighting (สงครามเพลง / สงครามเลือด) against each other. Amid a battle between the two groups, Pumpuang convinces them for a truce. Tosaen tries to get back Kampi. Leuachai is not ready for truce. Apika quits Kampi as Tosaen left on purpose a bra in his car. During a concert, Leuachai tries to shoot Kata and Manop but finally gets punched by Kampi and then slot by Police. It is the end of violence in music orchestra contest. Tosaen tells the truth to Apika so she can be reunited with Kampi.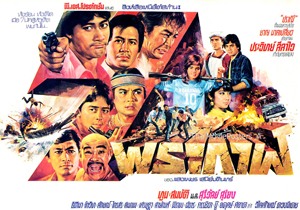 Year

: 1983



Thai title

:

7 พระกาฬ




English title

:



Rating

: 3/5


Director

: ประวิทย์ ลีลาไว



Main actor

: Sombat Methanee,Toon Hiransap,Pipop Pupinyo,Sayan Chantaraviboon,Lak Apichat,Somphob Benjatikul,Kowit Wattanakul,Settha Sirachaya,Kanchit Kwanpracha,Chat Mongkolchai,Sahat Piempongsan,Boo Wibunnan,Somchai Samipak,Adul Dulyarat,Paen Pleumsachai,Pao Porapak


Main actress

: Thitima Sangkapitak,Suriwan Suriyong
Thai movie 7 พระกาฬ was released in year 1983 and lasts 1h55mn. It was released under VHS format and VCD format. It was also released overseas by IFD under the name "US Catman 2 - Boxer Blow". Movie director is ประวิทย์ ลีลาไว. Thai movie 7 พระกาฬ was released multiple times. First time was in year 1967 with Mitr Chaibancha and Petchara Chaowarat. Second time was in year 1983. It was also released as a TV series in year 2004 on CH7. This movie features many famous actors and actresses from decade 1980s. Kanchit Kwanpracha, Sing (Chat Mongkolchai) and Reudi (Thitima Sangkapitak) are having a secret meeting. Kanchit needs to gather seven mercenaries. All of them (Han Meuang Thong - Sombat Methanee, Pipop Pupinyo, Thong Bai as Likay actor – Sayan Chantaraviboon, Boonmee - Lak Apichat, Somphob Benjatikul, Kowit Wattanakul, Settha Sirachaya...) are in jail for multiple murders. Kanchit's team attacks police vehicles during a jail transfer and all seven men can flee in various directions. Reudi receives mission from Kanchit to neutralize Police officer Sattha (ไกรสร แสงอนันต์), who shall capture back the seven inmates. Pho Lieng Saen (Sahat Piempongsan) recruits Boonmee to get rid of his enemy Han Meuang Thong! Sia Mongkol (Boo Wibunnan) wishes to recruit Kowit for a special job. Following a fighting during a Likay performance, Thong Bai has to flee again. Pho Lieng Saen accepts to freeze his revenge towards Han Meuang Thong as the big boss has a more important plan to be performed before. Somchai Samipak, father of Han Meuang Thong, refuses to meet his son anymore. Sattha and Somphob Benjatikul help him as he gets aggressed by Pho Lieng Saen's ruffians looking for his son. Soi (Suriwan Suriyong), daughter of Pho Lieng Saen, meets Prai (Toon Hiransap) and gets help from him as she is harassed by Pao Porapak. Anan (Adul Dulyarat) and his men capture Somphob Benjatikul and Settha Sirachaya. Various mafia leaders (พ่อเลี้ยง), linked to Kanchit, wish to hire the seven men. Kanchit plans to use all of them to perform special secretive actions. Pho Lieng Saen hires Bai and Boonmee. Despite his promise to put aside his own revenge, he sends Boonmee to kill Han Meuang Thong but it fails. Reudi claims to be Han Meuang Thong's wife in order to trap his father. She kidnaps Han's family, i.e his father Somchai and his sister วิไลลักษณ์ ดวงมีเดช, in order to force him to do something against Thai nation. As police disrupts their activities, Police officer Sattha is kidnapped to know who the traitor among the ruffians is. Prai releases him. Then Prai releases Han Meuang Thong's father and sister. Kanchit wishes to prepare a revolution in Thailand to take power through a new political party. Paen Pleumsachai. The seven mercenaries are supposed to do actions to disrupt Thai nation. Aware through Prai, they refuse to betray their country (ขายชาติ) and fight against the ruffians. Ruffians are neutralized. The seven mercenaries saved Thailand, but they still need to go to jail again.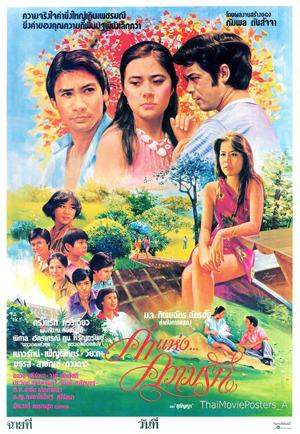 Year

: 1981



Thai title

:

ค่าแห่งความรัก




English title

:



Rating

: 3/5


Director

: ม.จ.ทิพยฉัตร ฉัตรชัย



Main actor

: Toon Hiransap,Pisarn Akraseranee,Sayan Chantaraviboon,Yuranan PamornMontri


Main actress

: Penpak Sirikul,Naowarat Yooktanun,Wiyada Umarin,Duangdao Jarujinda
Thai movie ค่าแห่งความรัก was released in year 1981 and lasts 1h36mn. Movie director is ม.จ.ทิพยฉัตร ฉัตรชัย. Actors and actresses featured are Toon Hiransap, Penpak Sirikul, Naowarat Yooktanun, Wiyada Umarin, Pisarn Akraseranee, Sayan Chantaraviboon, Duangdao Jarujinda, Yuranan PamornMontri, มธุรส รัตนา, ฉลวย ศรีรัตนา, วงศ์ ศรีสวัสดิ์, ประวิตร สุจริตจันทร์, จันตรี สาริกบุตร. Doctor Kengkrai (Toon Hiransap) is always drunk. This is due to his wife Pakpong (Penpak Sirikul) having external affairs but he is unable to divorce her as they have two kids. Sura (Naowarat Yooktanun) is Pakpong's younger sister. Piplin (Wiyada Umarin) is the eldest sister. Sut (Pisarn Akraseranee) helps Kengkrai as he has a car accident and is unable to drive drunk. Sut and Sura have arguments. Sut is hired by Kengkrai as driver and as a helper for his children. Kengkrai has two children but his wife is not taking care of them. Uncle Sut becomes a second father for the children, Moo and Maew. Arguments happen between Sut and Pakpong as she is jealous of him, being loved by her children. Sayan Chantaraviboon, from a rich Thai southern family, greets Sut. Doctor Kengkrai still has a big domain. The doctor has to sell his land as he needs money to pay his wife's debts. Phi Luang, brother in law, wishes to buy the land. Kengkrai has concerns selling the land as it belongs to his children. A mysterious rich man from south of Thailand, Khun Paradon, buys the land for 5M THB by offering higher bid than Phi Luang. The land will remain under Moo and Maew names. The brother in law is upset. Sut is upset against the rich people (ผู้ดี) as Sura listens to him (สัตว์ป่า) talking to Yot. A lost letter indicates Pakpong's bad intentions towards the doctor. Her lover finds the letter and threatens to disclose everything as she wishes to break up. Sut forces the lover to give back the letter and to disappear. Sut has a strong character. He succeeds to clear all issues and problems. Pakpong promises to change (แม่ที่ดีต่อไป). A romance between Sut and Sura is about to start (ไม่กลัวแต่ไม่ไว้ใจ). Paradon (Yuranan PamornMontri) is coming to meet Sura and asks her hand. Piplin gets beaten by her brother and the mother is upset as Pakpong didn't privilege her own family for the land sales. The mother thinks about money only. Paradon challenges Sura on the land. The real Paradon is Sut, who is doing tricks to check Sura's real heart. Sut's secret is finally disclosed and romance can blossom.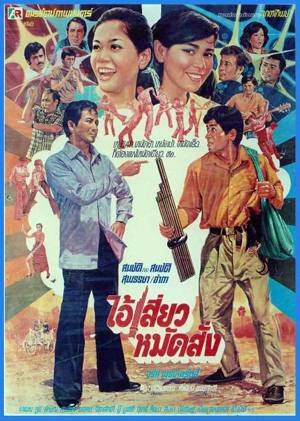 Year

: 1981



Thai title

:

ไอ้เสี่ยวหมัดสั่ง




English title

:



Rating

: 3/5


Director

:



Main actor

: Sombat Methanee,Lak Apichat,Boo Wibunnan,Adul Dulyarat,Manop Aussawathep,Sayan Chantaraviboon,Rith Luecha


Main actress

: Supansa Nuengpirom,Ampha Pusit,Chosri Misommon
Thai movie Ai Sio (ไอ้เสียวหมัดสัง) was released in year 1981 and lasts 2h03mn. Sio (Sombat Methanee) from Isan area is going to Bangkok for the first time to find a job. Some people promise him a fake job in Saraburi. They drug him with sedative pills (ยานอนหลับ) and steal his money. Sio speaks Isan language only. Sio finds the three men again and a fight erupts. Very strong, Sio kills them during the fight thanks to his strong punch. Sio ends up in jail with two other men, Lak Apichat and Boo Wibunnan, who are pickpockets. They become friends. Released from prison, Lak and Boo meet Phi Kang (Adul Dulyarat), who has serious issues with ruffians led by Boonchai (Manop Aussawathep) wishing to buy his garden. There are gems (พลอยแดง) in his garden soil. His children are Sayan Chantaraviboon, Supansa Nuengpirom and her elder sister played by Ampha Pusit. Sombat is having two roles in this movie, i.e. Sio and Sia! Sia Songsak is another local ruffian and his mother is played by Chosri Misommon. Some people confuse Sio and Sia. Sio has to punch people mistaking him as Sia. Sia finally finds Sio. Fighting erupts between both of them. Through the fight, Sio kills Sia due to his strong fist punch. Each time he gets hit below the stomach, Sio loses his temper. Afraid of being arrested by police again, both Sio and Boo leave for Chantaburi. Arriving there, they are involved in another fight and befriend with young men. Boo brings them to work with him. Sio likes fair justice (รักความยุติธรรม). Ruffians propose a 5 to 5 fight. Rith Luecha is one of the fighters. If they lose, they have to sell the garden. Thanks to Sio, they win. Trying a last solution, the ruffians kidnap the two daughters. Even Saran, now able to fight, joins them. Through final fighting, ruffians are neutralized. Sio is injured while protecting Supansa. US movie Rocky soundtrack is used.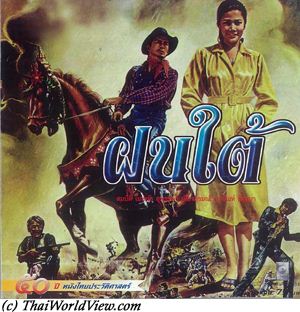 Year

: 1980



Thai title

:

ฝนใต้




English title

:



Rating

: 3/5


Director

:



Main actor

: Sombat Methanee,Sayan Chantaraviboon,Prachuap Ruekyamdee,Boo Wibunnan,Sawin Sawangrat,Pipop Pupinyo,Adul Dulyarat,Chat Mongkolchai


Main actress

: Supansa Nuengpirom,Metta Roongrat,Duangdao Jarujinda
This movie is a Thai Tom Yum (ต้มยำ) western mixing action and comedy. Following a robbery, ruffians have to stop at a house to rest at night time and repair their car. They kill the whole family living there but the kid, called Yot, is only injured and promises to take revenge. He notices that the killer is wearing particular boots. Yot is rescued and healed by a Buddhist monk and doctor Meng (Adul Dulyarat). Twenty years have passed. Yot (Sombat Methanee) is coming back in the area to sell medicine. The area is under the control of mafiosi Lit and his thugs (Pipop Pupinyo and Chat Mongkolchai). Even local subdistrict headman (กำนัน) Cha (Prachuap Ruekyamdee) has difficulty to get authority from them. The district officer (นายอำเภอ) has been killed. The doctor Meng now indulges into alcohol to forget his worries. His wife, Busuba (Metta Roongrat), was deceitful and caused the death of his best friend. She is now Lit's girlfriend. A Thai country music (ลูกทุ่ง) singer (Sayan Chantaraviboon) is coming in the village and teams up with Yot. Lit (Sawin Sawangrat) tries to get rid of Yot, the country music singer and even local subdistrict headman Cha. Yot finds the 20 years old boots in Cha's barn so he believes that local subdistrict headman Cha is responsible of his parents' death. Various events (doctor Meng, Lit and Busaba die) happen until the thugs are neutralized thanks to Yot and the singer, who is in fact an undercover military officer. Remembering the Buddhist monk's advice, Yot doesn't do self justice and becomes the new district officer. It is a typical movie of end of 1970s decade with Thai country music songs, action, comedy, romance (Yot and Chewi (Supansa Nuengpirom), local subdistrict headman Cha's daughter), revenge. A previous version of ฝนใต้ was also done in 1970 already with Sombat Methanee.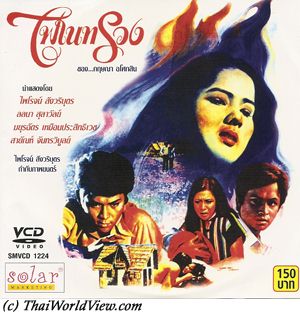 Year

: 1979



Thai title

:

ไฟในทรวง




English title

:



Rating

: 2/5


Director

:



Main actor

: Phairoj Sangwaribut,Sayan Chantaraviboon


Main actress

: Lalana Sulawan,Mayurachath Muarnprasitivej
Long, a young man, falls in love with Yuenda, a young girl still doing her studies. Pop, Yuenda's brother, who is already married, is extremely protective over his younger sister. Anyway a love story blossoms between Long and Yuenda. Yuenda fails her studies and is not willing to do another year. Disappointed by her exams failure, she decides to visit her father a few days. Pop is also coming with her and on the return trip he declares his love for her. He forces her to enter into an incestuous relation. Finally this relation becomes consensual. Shall love come from the heart of body sensations? Pop becomes more and more jealeous when Yuenda meets Long. He announces his relation with Yuenda to Long. Long is shocked. Pop's wife tries to break up the relation by sending Yuenda far away with Long. They take refuge in a remote farm but Pop finds them. They flee away but have issues with three bad guys who stabbed Long. Pop grabs Yuenda so that she cannot visit Long in hospital. Finally Pop's wife manages that Long and Yuenda get married. Pop decides to abduct Yuenda to prevent the wedding but he dies in a car accident.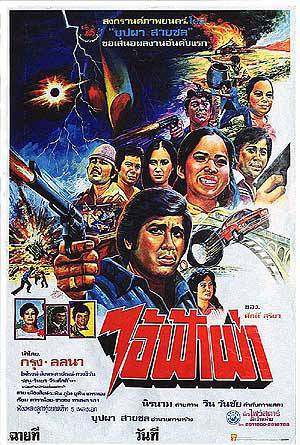 Year

: 1979



Thai title

:

ไอ้ฟ้าผ่า




English title

:



Rating

: 3/5


Director

:



Main actor

: Krung Srivilai,Sawin Sawangrat,Phairoj Jaising,Boo Wibunnan,Sayan Chantaraviboon


Main actress

: Lalana Sulawan,Duangcheewan Komolsen,Ratchanoo Boonchuduang
A new baby is born and is called Ai Fa Pha (ไอ้ฟ้าผ่า) as it is born during a storm. Many years have passed. Yoo (Krung Srivilai) is back from university. His surname is Fa Pha. He is expecting his girlfriend Anoolok (Lalana Sulawan) to wait for him at the bus station but he is welcomed by three ruffians when getting off the bus. Even police led by Phalat, a corrupted official (ราชการเลวๆ), wants to catch him. Yoo takes refuge with his old friend bandit (เสือ) Beung (Phairoj Jaising). The sub-district headman (กำนัน) Pho is having forced land promises of sale with many villagers including Sin (Sayan Chantaraviboon). Beung is a mix of Robin Wood and thief forcing bad guys such as the local rice reseller to be more honest. Yoo and Beung want to help Sin who is treated like a slave by the sub-district headman family. Sin loves Kru, the daughter of Kamnan Pho. Beung kills both the brother and the father. Phalat accepts bribe (ใช้อำนาจ) from a Thai Chinese businessman. Beung wants to arrange a wedding between Sin and Kru but finally Kru becomes Yoo's fiancee as Sin doesn't want to be forced anymore! Phalat wishes to marry Anoolak. But she is still awaiting for Yoo. Her father was forced to fiance her with Phalat due to some debts. Phalat organizes kidnapping of Anoolak. She finally escapes thanks to Sin. Beung shoots the Chinese businessman to stop corruption. Young lady Nokarin likes Beung, an eternal bachelor. Fa Pa, convinced by his family and Anoolak, finally surrenders to the police and his complaints are heard by the district officer. Palat and his acolytes are dismissed (ยุติธรรม). The weddings Yoo / Anoolak and Sin / Kru can happen. But Palat wishes for revenge. They storm the wedding ceremony and shoot guests. The ruffians are defeated but Sin and Beung are shot dead while trying to protect each other. It is linked to their karma. Good deeds are recompensed but bad deeds are paid. Beung's killings are finally paid despite he killed bad people only. A few romantic songs are performed during the movie.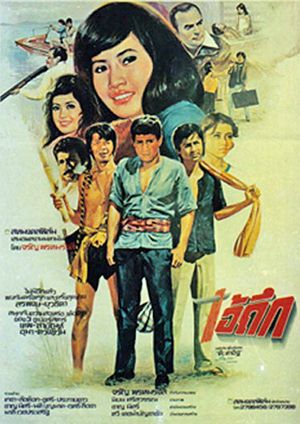 Year

: 1979



Thai title

:

ไอ้ถึก




English title

:



Rating

: 3/5


Director

:



Main actor

: Sorapong Chatree,Sayan Chantaraviboon,Kecha Plianvithee,Rith Luecha,Lor Tok,Thep Thienchai


Main actress

: Chosri Misommon,Duangcheewan Komolsen,Yuwathida Surasawadee
Movie ไอ้ถึก was released in year 1979 and lasts 1h58mn. It is a funny comedy showing the discovery of Bangkok and its modernism by three bumpkins. Lazy husband Sayan (Sayan Chantaraviboon) is chased from home by his wife (Chosri Misommon). His friends are Yiem (Sorapong Chatree) and Phabai (Thep Thienchai). The three friends are fired from their respective home (อยู่วัดตั้งแต่เกิด, home, mistress). They need to find ways to survive. They decide to go to Bangkok (บ้านนอกเข้ากรุง). Various funny situations happen as they are not used to Bangkok modern way of life. They have arguments in a restaurant with ruffians (นักเลง). The ruffians were hired by two young ladies to release their sister Nong Suda kidnapped by Decha (Kecha Plianvithee) and Rith Luecha. The ladies hire the three friends instead. They succeed to release Suda. During the escape, they also take a case belonging to Decha. Ruffians want to get back the suitcase (กระเปาะขอคืน) as it contains important documents related to their business. The three ladies bring the three friends around Bangkok (Happy Land attraction park, Pattaya). They also discover hotels and massage (นวด). As a fighting erupts in the massage parlour, Khun Prangsee (Duangcheewan Komolsen) brings them to her home. They finally befriend with her husband played by Lor Tok (คุณผู้ชายมาแล้ว). After multiple failed trials, Decha finally gets back his suitcase but also kidnaps again Suda and her sisters. The police believes the three friends are responsible of the kidnapping. A fair (งานฉลอง) organized by Khun Prangsee's husband turns to a disaster as police tries to arrest them. By fleeing, the three friends bring the Police by luck to Decha's house. Ruffians are captured. Ladies are released and the three friends are innocented. They prefer to go back to their village than staying in Bangkok. The three ladies bring them to their village but finally flee as Yiem's house collapse on them, as it is discovered that Sayan is already married, as Phabai offers a weird amulet (ปลัดขลิก)!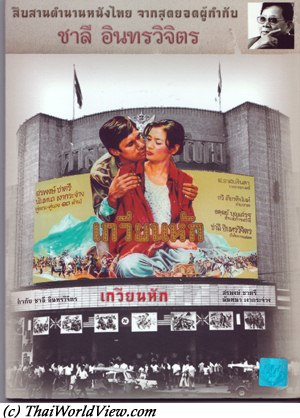 Year

: 1978



Thai title

:

เกวียนหัก




English title

:



Rating

: 4/5


Director

:



Main actor

: Sorapong Chatree,Sor Asanajinda,Somphob Benjatikul,Dam Datsakorn,Sayan Chantaraviboon,Lak Apichat,Kecha Plianvithee,Sawin Sawangrat


Main actress

: Nantana Ngao Krajang,Sarinthip Siriwan,Duangcheewan Komolsen



Buy now

:

Thai movie เกวียนหัก was released in year 1978 and lasts 1h26mn. The DVD picture is not sharp as the original 35mm film was certainly very damaged and incomplete. The DVD was released by Happy Home Entertainment in year 2014. Aunt Sarinthip Siriwan is taking care of her nephew Rien (Nantana Ngao Krajang), whose beauty impresses many men. She is just 16 years old and is the daughter of subdistrict headman Kecha (Kecha Plianvithee). น้อง Kuay (Duangcheewan Komolsen) likes Faeng but he prefers Rien. Sor (Sor Asanajinda) is the Faeng's father. Taming (Dam Datsakorn) is a robber. Sayan Chantaraviboon and Lak Apichat are part of his team. Sawin Sawangrat is the village leader (ผู้ใหญ่). Today is an important day to perform good deeds at the Buddhist temple (ทำบุญที่วัด). Chan (Somphob Benjatikul) tries to seduce Krajang. Festival, dances, songs, fireworks do happen after the religious ceremony. Faeng wins a small contest similar to rocket festival (ประเพณีบุญบั้งไฟ) versus Chan. Faeng (Sorapong Chatree) loves Rien so it generates jealousy from other men in the village. While trying to kiss Rien, Faeng is injured by her to the arm by her spade (ไม่เสียหาย). During the night Taming robs some houses. Faeng is summoned to subdistrict headman's house. Faeng is accused to have joined Taming the night before to rob houses. Faeng has an injury at the arm so he must be culprit. Rien admits she was the one to injure Faeng (เรื่องปล้นหรือเรื่องปล้ำ) because he tried to kiss her. Kecha loses face in front of the villagers! Disappointed, Kuay enters in Faeng's room. He pities her and tells an old secret story about the village leader being the one robbing houses before. They almost become lovers but Faeng asks her to go back. Chan declares his love to Rien but she is not interested. He wishes to ask her hand to her father. Rien and Faeng love each other but the subdistrict headman forbids Faeng to meet his daughter again. The father shall bring her away on the next day. Faeng and Rien become lovers (รักเหมือนโจร). Taming promises to help. Faeng's father is found dead. Faeng storms the subdistrict headman's place as he believes he knows who is behind the murder. Fightings occurs and the village leader is killed. Faeng learns where Chan and Rien are heading. Love circumstances towards Rien push Faeng to become a ruffian. Fierce fightings happen when Taming, Faeng and the ruffians storm the convoy led by Chan. Faeng defeats Chan but Rien dies following her injuries caused by the cart (เกวียน) falling on her.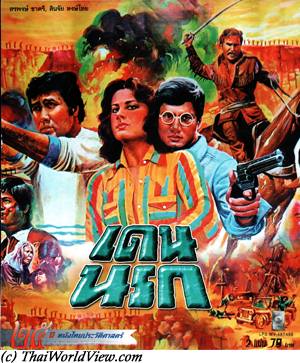 Year

: 1978



Thai title

:

เดนนรก




English title

:



Rating

: 3/5


Director

:



Main actor

: Sorapong Chatree,Krung Srivilai,Dam Datsakorn,Pipop Pupinyo,Sayan Chantaraviboon


Main actress

: Pawana Chanajit
Thai movie เดนนรก is a Tom Yam Thai western even featuring Ennio Morricone's famous soundtrack. Ruffians including Pipop Pupinyo and their leader Seua Hin (Dam Datsakorn) are terrorizing a remote village. Ruffians are robbing villagers and even kidnapping young girls. The village header is handicapped and seems resigned that resistance is useless towards the ruffians. He has two children, is one daughter and one son called Khaem (Sayan Chantaraviboon). The daughter is abducted by ruffians and killed. Her brother promises to revenge her (สู้ซี่). Sin (Sorapong Chatree) and his brother Phayap (Krung Srivilai) are in prison. Phayap is a former likay actor. Sin is more a Buddhist student style as he always says moralistic sentences (ผู้ดีขี้ขุก). They succeed to escape. They meet Khaem, who is impressed by their skills to beat thugs. He requests their help to get rid of the ruffians threatening his village as police station is too far to get any help. Despite early reluctance, finally they all end up in the village. They just arrive when Sithong (Pawana Chanajit) has just been raped by ruffians. Sin and Phayap, understanding villagers pleas, decide to stay to help them. Phayap likes a lot Dok Kaew, a Thai Italian lady. A group of ten ruffians is chased away from the village by Sin and Phayap. Seua Hin, upset that ten of his men flee in front of two men, kills all of them and decides to handle the village by himself. While they are celebrating, ruffians attack the village. The village header refuses to fight as twenty years ago the father and Seua Hin were part of the same ruffians gang. He is handicapped since the day he tried to help a young lady harassed by Seua Hin. Despite beating fairly Seua Hin, this one shots him treacherously. It makes Phayap very upset as he believes the village leader is a coward. Wishing to revenge his father's honor, Khaem goes to fight the ruffians alone and loses his arm in the fighting. Sithong is kidnapped and Sin tries to release her alone. Being outnumbered, he is badly injured. Phayap comes to rescue but Sin is shot by Seua Hin and dies. Injured by Phayap, Seua Hin finally faces the village leader in a final face to face duel but this time, no second chance is given to him. After Sin's burial, Phayap stays in the village with his Thai italian lady. It reminds a bit of US movie " The Magnificent Seven".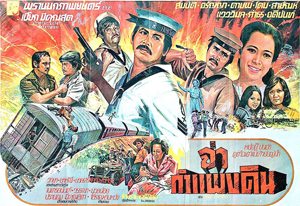 Year

: 1978



Thai title

:

จ่ากำแพงดิน




English title

:



Rating

: 3/5


Director

:



Main actor

: Sombat Methanee,Dam Datsakorn,Adinan Singhiran,Sayan Chantaraviboon,Kamthorn Suwanpiyasiri,Rong Kaomulkadee,Chanee Yotchai,Wittaya Sukdamrong,Dom Singmoli


Main actress

: Aranya Namwong
Thai movie จ่ากำแพงดิน was released in year 1978. It lasts 1h28mn but the sound is partially inaudible. Dam Datsakorn is playing a role on the main actor side. It is pretty rare as most of the time, he is playing a thug leader. Mariners (ทหารเรือ) including Sombat Methanee (with a moustache and always eating betel), Dam Datsakorn and Adinan Singhiran are back to their home town. University student (Sayan Chantaraviboon) is involved in a brawl with thugs and gets support from mariners and Rong Kaomulkadee. Mariners are going back home. Aranya Namwong is a teacher. She is Sombat's girlfriend. The head of the ruffians (Kamthorn Suwanpiyasiri) is upset as his thugs were defeated. Among his ruffians, Chanee Yotchai (ชาณีย์ ยอดชัย) can be seen. Another brawl in a pub happens between mariners and thugs. The university student brings trouble to ruffians as he is catching a pickpocket in a market. Ruffians kidnap Aranya and her friends to work as prostitutes. Her mother is stabbed. The mariners storm the ruffians headquarters to rescue the ladies (น้องเอาคืนมา). They then search them into local brothels (อาละวาดบ่อน). The head of ruffians (พ่อเลี้ยง) is upset that his business is disrupted by those three guys. Two groups of ruffians then unify their efforts. The leader of the second group is played by Dom Singmoli (โดม สิงห์โมฬี). They keep kidnapping young girls or buying them from their parents promising fake jobs in Bangkok. They are also involved in drugs trafficking. Meanwhile the mariners unify their efforts with local police also. The university student is killed by ruffians while trying to stop the ruffians transporting the ladies in a train. Sombat and Dam chase the train. Fighting happens on the moving train. The head of the police is played by Wittaya Sukdamrong (วิทยา สุขดำรงค์). Finally following intense fightings, ruffians are neutralised by the three mariners and the police.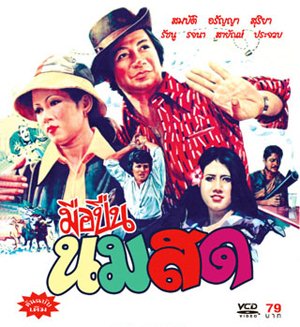 Year

: 1978



Thai title

:

มือปืนนมสด




English title

: The White Killer



Rating

: 3/5


Director

:



Main actor

: Sombat Methanee,Sawin Sawangrat,Prachuap Ruekyamdee,Dam Datsakorn,Pipop Pupinyo,Sayan Chantaraviboon,Suriya Chinaphan,Tat Ekathat


Main actress

: Aranya Namwong,Ratchanoo Boonchuduang



Buy now

:

Thai movie มือปืนนมสด was released in year 1978. It lasts 2h. It features Sombat Methanee as main actor and Aranya Namwong as main actress. The movie was released in Thailand under VCD format and a four minutes trailer also remains to be seen. This movie is a mix of action and comedy. A gathering of scout (ลูกป้า) is happening. A rampage, led by Yai (Prachuap Ruekyamdee) and Phan (Dam Datsakorn), happens as all participants are killed except Suriya Chinaphan. The village leader (ผู้ใหญ่) is shot by Phan. Den (Sombat Methanee) and Aranya Namwong, daughter of the village leader, arrive at same time in the village Don Krating (ดอนกระทิง). Den orders fresh milk and has issues with ruffians led by Phan. Den is singing Likay and is strong at shooting and fighting. Plio (Sayan Chantaraviboon), Jirasak Pinsuwan (จีรศักดิ์ ปิ่นสุวรรณ) and Suriya Chinaphan trap Yai but fail to kill him. Den asks to talk to Kamnan Tat Ekathat in private. Aranya decides to take over his father's activities. Her younger brother Suriya also joins her. One evening at a restaurant Den and Suriya help each other to punch the ruffians so they sympathize together. Ruffians decide to step in as Aranya wishes to federate peasants against Yai. They fail to kill Sawin Sawangrat but Den is captured and tortured. อาจารย์ Sawin and a small kid called Khom help Den. Srinuan, daughter of Yai, always discusses with Plio and shares information with him. Kamnan Tat Ekathat is killed by Yai and his daughter Dok Kaew kidnapped. Yai wishes to abuse her (ใช้กรรม) but hopefully Dok Kaew is released by Suriya. Fake policemen arrest Den, Suriya and Dok Kaew. Den is attached to a moving car by ruffians. Hopefully Aranya and Jirasak can help before it is too late. Srinuan tries to convince her father to stop but to no avail (ไม่ต้องมาสั่งสอน). Phan is having an affair with ChotChoi, Yai's wife. Phan kills those, who discovered him with ChotChoi. Sawin is called as undertaker (สัปเหร่อไม่มีวัด) by ruffians! Two ruffians leaders are opposed to each other (เสือเฒ่าพบสิงห์หนุ่ม) as Yai faces Phan (เพื่อนทรยศ). Den then faces Yai in a final duel but Aranya is the one to shoot him deadly.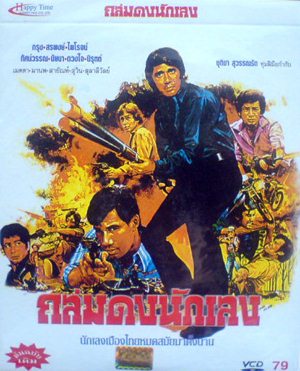 Year

: 1978



Thai title

:

ถล่มดงนักเลง




English title

:



Rating

: 4/5


Director

:



Main actor

: Sorapong Chatree,Krung Srivilai,Phairoj Jaising,Nirut Sirijanya,Manop Aussawathep,Sayan Chantaraviboon,Sawin Sawangrat


Main actress

: Naiyana Shewanan,Metta Roongrat,Tasawan Saneewong,Duangjai Hathaikarn,Sulaleewan Suwanthat



Buy now

:

Thai movie ถล่มดงนักเลง was released in 1978 and lasts 1h53mn. The movie was released under VCD format by Happy Time Marketing company. Movie director is ชุติมา สุวรรณรัต. It is a typical Thai movie from decade 1970s and featuring two top action movies actors, i.e. Sorapong Chatree and Krung Srivilai. Jane (Metta Roongrat), as countryside bus ticket receiver, has issues with four ruffians including Plaew (Manop Aussawathep) and Sayan Chantaraviboon. Ruffians complain that driver Kate (Tasawan Saneewong) is driving too fast on bad countryside roads. Kate chases them away by threatening them with a rifle. Village leader (Sawin Sawangrat) is concerned that Plaew is back after a few years in prison. Nit is the village leader's daughter (Naiyana Shewanan) (หลานสาวคนสวย). Nit warns Krieng (Sorapong Chatree), her fiance, that ruffians are back to the village. Sa (Nirut Sirijanya), a gay character, is harassed by those four ruffians and beaten severely. Reudi (Duangjai Hathaikarn) is nurse for the village and is taking care of Sa. Mun (Krung Srivilai), selling buffalos and managing a herd, is stopping in the village to buy food for his team. Mun is also beaten by the ruffians and is saved by Nit. Mun promises to come back and gets revenge. Thong Chai (Phairoj Jaising) is arriving in the village. Ruffians prepare to steal the buffalo herd to make easy money. Thong Chai is a undercover policeman. Krieng (คู่รัก) is also arriving in the village following letter sent by Nit. Other ruffians also arrive to work for Plaew. The buffalo herd guardians are attacked. All are killed except Mun being injured. Plaew is jealous to see Nit and Krieng together. He asks for a fight one to one with Krieng but gets defeated. Phairoj wishes to catch the big boss, i.e. Seua Klaew, so he needs to collect more evidences. Meanwhile Plaew's team continues to harass villagers. Mun, staying in the village to get revenge, has a fight with Plaew also. Four men and four ladies have romance, i.e. Krieng (Sorapong Chatree) - Nit (Naiyana Shewanan), Sa (Nirut Sirijanya) - Reudi (Duangjai Hathaikarn), Mun (Krung Srivilai) - Kate (Tasawan Saneewong), Thong Chai (Phairoj Jaising) - Jane (Metta Roongrat). Aunt Sulaleewan Suwanthat is found hanged as she refuses to sell rice noodles to the ruffians. Ruffians try to storm Mun's house but they fail. Plaew uses ruffians from other provinces to avoid being involved. Plaew sends bikers to storm the market. The bikers are pushed back but Sawin dies during the fightings. Plaew is fed up to lose so he decides to act under his real name, i.e. Seua Klaew! Ruffians kidnap the four ladies. It turns badly and Jane is shot. Sayan Chantaraviboon is injured by Jane before being shot. Worried to die, Sayan lets Nit and Kate to search for a doctor for him. The four friends storm the ruffians' den. Heavy shooting shootings occur. Police arrives also. Plaew, upset that Sayan let two ladies to flee, shoots Sayan and the nurse Reudi. All ruffians are killed. Sa carries the nurse body.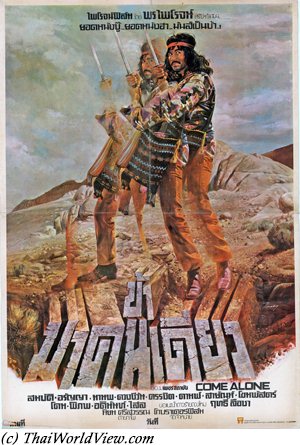 Year

: 1978



Thai title

:

ข้ามาคนเดียว




English title

: Come alone



Rating

: 5/5


Director

: พร ไพโรจน์



Main actor

: Sombat Methanee,Dam Datsakorn,Rith Luecha,Kanchit Kwanpracha,Manop Aussawathep,Sayan Chantaraviboon,Adinan Singhiran,Thep Thienchai


Main actress

: Aranya Namwong,Duangcheewan Komolsen,Khomapat Attaya
Thai movie ข้ามาคนเดียว / Come alone was released in year 1978 and lasts 2h21mn. It was released under DVD and VCD format by XxX company. Movie director is พร ไพโรจน์. Jak Khui (Sombat Methanee) is back to Khorat. He was just released from prison (ติดคุก). He receives recommendations not to come back to Khorat so he disguises in a hippy. Ruffians (Pipop Pupinyo, โดม สิงห์โมฬี, ไสล พูนชัย) follow him as they are unsure it is Jak Khui. He is still looking for his wife Kamsee (Khomapat Attaya) and his son. Undertaker Adinan Singhiran (สัปเหร่อ Sa) helps Jak Khui. Comic Thep Thienchai is part of the team. Jak Khui has to hide in a coffin to escape the ruffians. Yan (Dam Datsakorn), mafia leader (เจ้าพ่อ) in Khorat, wishes to get rid of Jak Khui. Steve (Rith Luecha), hitman (มือดี) from Saraburi, is hired. It was the first movie for Rith Luecha. A Yan's ruffian, former friend with Jak Khui, warns him. Steve and ruffians try to surprise them, but they get pushed back in a cemetery. Yan and his ruffians then storm Uncle Kiet's Thai boxing centre as they believe Jak Khui, former Thai boxer, is hiding there. Kiet's daughter (Duangcheewan Komolsen) and the Thai boxers push them back also (นักเลง vs นักมวย). Some protesters block a factory sawmill manager. Gnot (Kanchit Kwanpracha), as policeman head, lets them do. Hin (Manop Aussawathep) tries to interpose but he is outnumbered. Khaemkaen (Aranya Namwong) asks the protesters to stop. Protesters are pushed by Yan and protected by policeman Gnot. Fighting erupts between Yan and Hin, the new factory manager. Khaemkaen, Yan's fiancee, has to stop them (ต่อยเหมือนเด็กวัด). Sayan Chantaraviboon enters Yan's home to defy him. Appreciating Sayan's boldness, Yan hires him. Jak Khui finally meets his son Simon, who is now a Buddhist novice. Jak Khui stayed five years in prison. Simon has no news about his mother. Sa brings Jak Khui to Kamsee, who is now a crazy woman. His son asks him to stop revenge, but he cannot do it. Kamsee is shot later by Steve. Yan is behind his demise and family misfortune. Jak Khui wishes to revenge (ล้างแค้น). The Thai boxing team is willing to join him. Jak Khui visits Gnot, the corrupt policeman (ตำรวจเลวๆ), but he is outnumbered and taken over to Yan's house. Yan is willing to get rid of Jak Khui as he opposed to him before when he was rising as Khorat mafia leader. They put him in a coffin and plan to throw him from a cliff. Hopefully Sayan Chantaraviboon helps him and they put the warden instead. Jak Khui then visits Khaemkaen to explain to her Yan's bad accomplishments. Hin and his men take back the wood stolen from forests by Yan's ruffians. It makes Yan to be very upset. To their surprise, during Khaemkaen's birthday, ruffians discover that Jak Khui is still alive! Seeing that Thai police starts to have proofs against him, Yan decides to flee. Khaemkaen is kidnapped by Yan. Jak Khui and his team storm the place where Yan and his ruffians are hiding. Jak Khui takes revenge over Yan. Hin and Sayan are finally undercover policemen. Romance can happen between Jak Khui and Khaemkaen.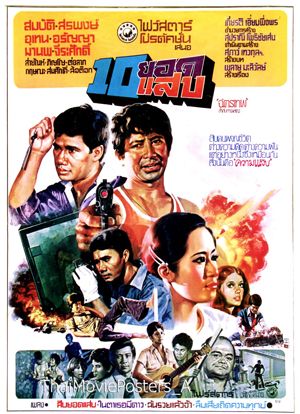 Year

: 1978



Thai title

:

10 ยอดแสบ




English title

: 10 rascals



Rating

: 4/5


Director

: ฉัตรเทพ ฉันทมินิ



Main actor

: Sombat Methanee,Sorapong Chatree,Uten Boonyong,Lor Tok,Somsak Chaisongkram,Tawan Siriwat,Manop Aussawathep,Pinyo Parnnui,Sayan Chantaraviboon


Main actress

: Aranya Namwong
Thai movie 10 ยอดแสบ / 10 rascals was released in year 1978 and lasts 1h52mn. Movie director is ฉัตรเทพ ฉันทมินิ. A remastered version was released by Five Star Production (ไฟว์สตาร์โปรดักชั่น) in the decade 2010s and shown on Thai TV cable. The movie was never released on VHS / VCD / DVD in Thailand. Four songs are featured สิบยอดแสบ, ในตาเธอมีดาว, ฉันรวยแล้วจ้า, ลืมเสียเถิดความทุกข์. Nitaya (Aranya Namwong), going out of a factory by bicycle, is a witness of a lawyer murdered by a hitman and ordered by Han (Somsak Chaisongkram). Han is ordered by his boss to get rid of a traveller arriving at Don Muang airport. The traveller is working for Tawan Siriwat. Tawan (Manop Aussawathep) visits Tawan Siriwat in his supermarket and sees where he stores his gold. Working with Han, Tawan shoots Tawan Siriwat and his men. One of them can flee and injures Tawan. Tawan shoots back at him and a petrol station explodes. Jirasak (จิระศักดิ์ อิศรางกูร) witnesses this event. Pinyo Parnnui is Jirasak's friend selling flower garlands to car owners. Nitaya meets Tawan at the hospital. Tawan lies about his injury. He contacts a ruffian called See Prom (กฤษณะ อำนวยพร) to get the gold on his behalf. Meanwhile Jirasak and Pino go back to the supermarket hoping to steal some food. They see See Prom and his men transporting gold, so they succeed to steal it and flee with See Prom's car. They request help from Rot (Sayan Chantaraviboon) in order to sell the gold. They hide in a hotel, but a man recognizes See Prom's car and alerts him... The three friends succeed to flee and take refuge in a Buddhist temple near their home. See Prom is aware as he gets the information from Rot's wife. Attacked by ruffians, the three friends get help from the undertaker, called Thong (Sombat Methanee), being a half-crazy man back from the Vietnam war. They ask his help to hide the gold. Ruffians are back for revenge. Thong neutralizes the leader Tawan. Tawan proposes them to join his team and to go to North of Thailand to meet Lao Seu, being a gold reseller. Meanwhile Tawan stores the gold in a safe. Later Nitaya visits Tawan and realises there are many ruffians in his home. The four friends celebrate in a restaurant about their future wealth and Nitaya joins them. Nitaya warns the four friends about Tawan as he has no plan to share anything with them. She is aware about the gold. See Prom and Han try to get rid of Nitaya but fail as her Police colleagues help her on time. Police are now aware that Tawan acts as a ruffian and are collecting proofs against him. The four friends wish to get back the gold as they don't trust Tawan. They ask help from two additional friends, Uten Boonyong and Sorapong Chatree, experts in opening safes. Uten has a romance with Melanie, Tawan's girlfriend. He convinces her to help and to bring Tawan outside his home while he and his friends open the safe. They successfully open it thanks to Sorapong and go to the North of Thailand to meet Lao Seu. Tawan, being upset, kills Melanie as she betrayed him. The friends (including ต่อลาภ กำพุศิริ) meet Lao Seu (Lor Tok). They try to sell the gold but Tawan and his ruffians intervene. Fighting occurs. Ruffians are finally killed including See Prom and Tawan. Thai police with Nitaya arrive and arrest everybody.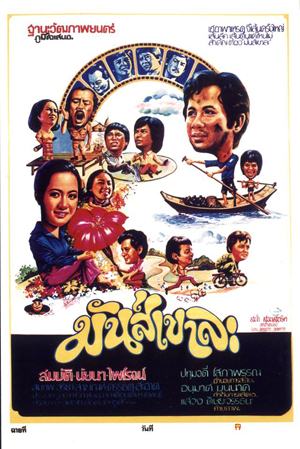 Year

: 1978



Thai title

:

มันส์เขาล่ะ




English title

:



Rating

: 3/5


Director

:



Main actor

: Sombat Methanee,Prachuap Ruekyamdee,Lor Tok,Tawan Siriwat,Suriya Chinaphan,Phairoj Jaising,Sayan Chantaraviboon,Rong Kaomulkadee,Thep Thienchai,Somphob Benjatikul,Boo Wibunnan,Kanchit Kwanpracha,Sahat Piempongsan,Thuam Thoranong


Main actress

: Naiyana Shewanan,Chosri Misommon,Nipaporn Nongnuch,Tharika Thidathip
Thai comedy movie มันส์เขาล่ะ was released in year 1978. The movie is lost in Thailand but a sequence of 1h03mn is left to be seen. Subdistrict headman (กำนัน) Lor Tok wishes to produce a movie with his daughters and his wife playing as actresses. His wife is played by Chosri Misommon. His daughters include Wassana (Naiyana Shewanan) and Nipaporn Nongnuch. Tawan Siriwat seems to oppose the Subdistrict headman's decision. A photo studio is managed by Prachuap Ruekyamdee and his two friends, i.e. Sayan Chantaraviboon and Rong Kaomulkadee. Prachuap and his friends convince Lor Tok to manage the movie for him. They are now looking for a main actor (พระเอก) for their movie but Fui (Sombat Methanee) is finally hired by mistake. Fui's close friend is Thep Thienchai. Lor Tok is the movie producer so they use the money to buy a mercedes! He wishes his family to play in the movie. Somphob Benjatikul is his assistant. Fui and Wassana like each other. Boo Wibunnan is hired as movie director. They are also looking for somebody to write the story. Tawan brings them to meet Mui (Kanchit Kwanpracha) as they are looking for a ruffian (นักเลง). A ceremony for the movie launch (เลี้ยงใหญ่โต๊ะ) is organized. Fui has to sing and does it well (it is Sombat Methanee's real voice). Thuam Thoranong as comic actor is also present. Sahat Piempongsan is used as decorator. Lor Tok always needs to protect his daughters against the young men trying to seduce them. Multiple gags happen during the shooting as Lor Tok doesn't accept any kiss to his daughters. Phairoj Jaising is involved as actor also and a few ดาวยั่ว are joining (Tharika Thidathip). The movie shooting is a disaster. Kamnan Lor Tok is back to his village and is welcomed by Tawan Siriwat and Suriya Chinaphan singing an ironic son and teasing the Subdistrict headman. This comedy is featuring many famous comic actors from 1970s and more than 18 Thai famous actors / actresses.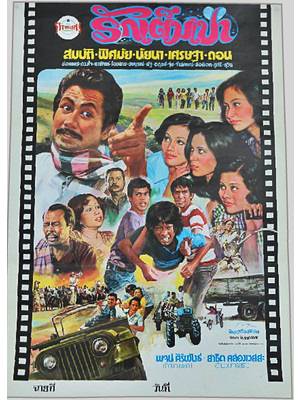 Year

: 1978



Thai title

:

รักเต็มเปา




English title

:



Rating

: 3/5


Director

:



Main actor

: Sombat Methanee,Sayan Chantaraviboon,Settha Sirachaya,Sawin Sawangrat,Lor Tok


Main actress

: Naiyana Shewanan,Pissamai Wilaisak,Chosri Misommon
Thai movie รักเต็มเปา was released in year 1978. It is lost but a sequence of 1h26mn remains to be seen. This movie mixes songs, comedy and romance. Sayan Chantaraviboon, Toei (Settha Sirachaya) and two friends are singing during a Buffalo racing festival to attract interest from Naiyana Shewanan and other beautiful young ladies. They are in conflict with another group of men but Sawin Sawangrat, local subdistrict headman (กำนัน), and To (Sombat Methanee), local village headman, calm them down. Sayan loses and buffaloes run over him. He ends up at a local clinic where a beautiful nurse called Oon takes care of him. To, his father, is upset that his son, Sayan, lost. Pissamai Wilaisak, the head of the clinic, asks him to make less noise. Toei has interest in Naiyana, daughter of Kamnan Sawin, but he is afraid of the father. To promises to help Toei and to visit the subdistrict headman. Chosri Misommon is the wife of Kamnan Sawin. A triple romance is happening. To is from lineage Bai Toei (ตระกูล) so he wants to organize a big procession (ขบวนขันหมาก). Unfortunately Chosri has hearing problems so To and Chosri misunderstood each other. So it ends up in a funny food fighting between the two families as the subdistrict headman refuses the wedding as he has not been informed before. Toei asks help from Lor Tok (นักเลงเก่า) but it turns to a disaster again two times! Sayan leaves the clinic as he was simulating being sick in order to be near Oon. Seeing that love stories are not successful, To has the idea to kidnap the ladies. Sayan messes up and Pissamai is kidnapped instead of Oon. To claims to be สุภาพบุรุษ Bai Toei or ผู้ยิ่งใหญ่ Bai Toei! Meanwhile subdistrict headman Sawin organises a hunt to find the ladies. After seeing To driving a car with the ladies inside, subdistrict headman Sawin shots him but the ladies prevent Sawin and his men to kill them. Pissamai takes care of To. As a wedding is going to happen, some members of the opposite family kidnapped Naiyana, so Sombat and Pissamai follow them and finally they succeed to release Naiyana.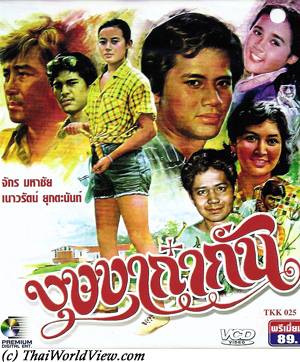 Year

: 1978



Thai title

:

บุษบาก๋ากั่น




English title

:



Rating

: 3/5


Director

:



Main actor

: Sayan Chantaraviboon,Lak Apichat,Juk Mahachai,Pinyo Parnnui,Chat Mongkolchai


Main actress

: Naowarat Yooktanun
Young lady Thep is witness of a robbing and murder of a businessman. Two ruffians fail to silence her as she is able to fight back. By trying to help, she finds herself accused of the murder. She is living with her sick mother. Nathuan, the stepfather, is a lazy man, who only drinks alcohol, plays card and despises Thep. Thep has to flee from her home to avoid being captured by the police. She finds refuge in a slum community. She is welcomed in a group of youngsters selling newspapers. They name her Suey (สวย - beautiful). She accepts to be the elder (พี่) and take care about the younger (น้อง). One of the ruffians, Pen, has a sick mother also. They planned to rob the businessman money as his girlfriend Orathai told them he should withdraw 500 000 Baht on that day. Only 5 000 baht were found but newspapers announces that 10 millions have disappeared. They believe money is with Thep so look for her in Bangkok. Her new friends kindly ((น้ำใจ) give their money to cure her mother. She has to flee the ruffians and take refuge in a fashion designer shop. The businessman was finally only injured. He lied about the money to cause trouble inside ruffians team. His son, Phetchaboon, doesn't like his new step mother. He is right as she is involved in the robbing tentative. The son Phetchaboon chases Suey as he wants to catch those who tried to kill his father. There is a fire in the slum. Their home is burnt. Phetchaboon welcomes the group in his home and also accepts Suey's mother. While going to the slum to fetch her mother back home, there is a fight with Nathuan and the mother is killed. Meanwhile Suey's friends are kidnapped by the ruffians. Pen refuses to join a jewelry robbery. Pen is confused as he needs money to cure his mother but promised to her to be a good man. The ruffians leader Pralit kills his mother as a revenge. Suey recognizes Pen in the street. She catches him with Petchaboon. He tells them where her friends are held prisoners. Suey releases him as he has become a good man but it is too late for his mum. During a feast organized by the businessman, the ruffians open the safe. Aware of the plan, Suey, Petchaboon, Pen and the friends stop them from escaping. Orathai is dismissed and Pen takes revenge over Pralit regarding his mother murder. The movie ends with many happy weddings. The main actor is Juk Mahachai (จักร มหาชัย), who seems to have had a short cinematographic career in 1970s.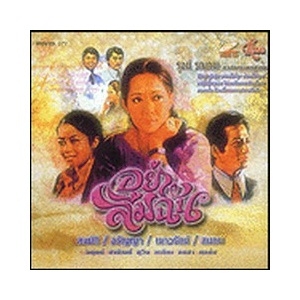 Year

: 1977



Thai title

:

อย่าลืมฉัน




English title

:



Rating

: 3/5


Director

: Ruj Ronnapop



Main actor

: Sombat Methanee,Sawin Sawangrat,Sayan Chantaraviboon,Somphob Benjatikul,Adul Dulyarat


Main actress

: Aranya Namwong,Naowarat Yooktanun,Chosri Misommon,Marasri Isarangkul,Tharika Thidathip
Thai romance movie อย่าลืมฉัน was released in year 1977. The movie lasts around 2 hours 04 minutes and was released under VCD format. Movie director is Director is Ruj Ronnapop. Khaem (Sombat Methanee) and Suriyong (Aranya Namwong), both students, are in love. They shall marry. Finally Suriyong, due to filial duty (บุญคุณ), has to marry an older rich man, who is a banker. Khaem is disappointed and goes overseas. Suriyong never had chance to explain to him (มีเหตุผล). Fed up to be at home, Suriyong looks for a job and is engaged as secretary (เลขา). Her new boss is just back from overseas and is Khaem himself! Working relationship is difficult as Khaem makes it hard for Suriyong due to resentments. Khaem is also giving hard time to his managers (ผู้จัดการ) Somkit (Sawin Sawangrat) and Boon (Sayan Chantaraviboon). Khaem has a new girlfriend (แฟน) called Kaelong (Naowarat Yooktanun). Suriyong still wears the ring given by Khaem. Khaem spies Suriyong as she sees a man called Eua meeting her. For Eua (Somphob Benjatikul), Suriyong is only her stepmother (แม่เลี้ยง). He has no other feelings despite Khaem's suspicion. Alita, Khaem's gig from overseas, is back to Thailand and brings him trouble. Khaem is aware that Suriyong has two children but those two children are in fact from the previous wife of the banker, who died earlier. One night, while bringing the kids for holidays, Khaem becomes lover with Suriyong. There is misunderstanding as Suriyong believes it was arranged to trick her. Suriyong becomes pregnant. Khaem is upset to always see Suriyong with Eua so he writes a harsh letter to her. Khaem asks for a wedding with Kaelong as soon as possible. Finally Suriyong plans to flee overseas (หายกลุ้มก็กลับมาเอง). Khaem, realising his mistakes and misunderstandings due to jealousy, rushes to airport in order to find Suriyong before she leaves Thailand…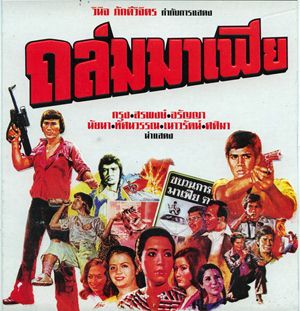 Year

: 1977



Thai title

:

ถล่มมาเฟีย




English title

: Mafia defeated



Rating

: 4/5


Director

: วินิจ ภักดีวิจิตร



Main actor

: Paen Pleumsachai,Pipop Pupinyo,Krung Srivilai,Lor Tok,Sayan Chantaraviboon,Chat Mongkolchai,Somchai Samipak,Sorapong Chatree,Sukon Koewliam,Nirut Sirijanya,Lak Apichat,Manop Aussawathep,Kecha Plianvithee,Boo Wibunnan,Kanchit Kwanpracha,Adul Dulyarat,Man Teeraphol


Main actress

: Naiyana Shewanan,Chosri Misommon,Tasawan Saneewong,Aranya Namwong,Naowarat Yooktanun,Sasima Singsiri
Thai movie ถล่มมาเฟีย (Mafia defeated) was released in year 1977 and lasts 1h54mn. It was released under VCD format by company XxX (Triple X). One song is featured. Movie director is วินิจ ภักดีวิจิตร. Thai actors and actresses featured in this movie are Paen Pleumsachai, Pipop Pupinyo, Krung Srivilai, Lor Tok, Sayan Chantaraviboon, Chat Mongkolchai, Naiyana Shewanan, Somchai Samipak, Sorapong Chatree, Chosri Misommon, Sukon Koewliam, Tasawan Saneewong, Nirut Sirijanya, Lak Apichat, Manop Aussawathep, Kecha Plianvithee, Aranya Namwong, Naowarat Yooktanun, Boo Wibunnan, Kanchit Kwanpracha, Adul Dulyarat, Sasima Singsiri, นรา นพนิรันดร์, Man Teeraphol, ชินดิษฐ์ บุนนาค, เมือง อพอลโล, จวบ, โจ๊ก, สุเทพ เหมือนประสิทธิเวช. This movie includes an impressive number of 30 Thai stars from decade 1970s. Sorapong Chatree, Nirut Sirijanya, Lak Apichat play bad guys in this movie. Normally they always play on the good guys side. Five ruffians including Paen Pleumsachai and Pipop Pupinyo are waiting (มาไม่ดี) for Yot Baramee from Suphanburi. Yot (Krung Srivilai) was just released from prison. Ruffians accuse him of murder but get defeated by Yot. Yot's friends are Lor Tok, Dip (Sayan Chantaraviboon), Han (Chat Mongkolchai) and Baan Yen (Naiyana Shewanan). Krieng (Man Teeraphol) accuses Yot to have killed his father. To avoid causing more issues in the village, Yot leaves for Bangkok with Dip and Lor Tok. Kamnan Somchai (Somchai Samipak) has three children, Mike (Sorapong Chatree), Baan Yen and Yot, being an adopted child. Somchai recommends Yot to contact Mike in Bangkok. Chosri Misommon is playing a crazy secretary, working in company Mike Engineering. Yot, Ding and Lor Tok are looking for job in Bangkok. Mike is not so willing to help as he has only low skills jobs to offer. Songtaew driver (Sukon Koewliam) and receiver (Tasawan Saneewong) have issues with ruffians asking for protection fee. Yot and Dip help and fighting with ruffians occurs. Thai mafia is very powerful and has strong influence. Yot is upset with Thai mafia and would like to stop them. Saem (Nirut Sirijanya) and Lak Apichat, mafia members, visit bars to get money donations (ทำบุญ). Saem and Lak threaten bar owner Chindit (ชินดิษฐ์ บุนนาค) so they have arguments with Yot and Dip, having a drink there and always wishing to help. Policeman Samit (Manop Aussawathep) arrests them. Chindit helps to release them from jail. Sompong (Kecha Plianvithee) is having Watanee (Aranya Namwong) as new girlfriend. His daughter Busalin is back from studying in USA. Busalin (Naowarat Yooktanun) is welcomed in Bangkok by Mike. Saem and Lak try to shoot Yot and Dip, but they succeed to flee thanks to Watanee's car passing by. Mike is part of mafia team working for Sompong. Mike orders Chindit's bar to be closed seven days but Yot and Dip interfere again. Satra (Kanchit Kwanpracha), part of mafia team, asks to kill Yot. Sompong threatens to kill Yot's friends if he refuses to work for him. Satra accuses Mike. Baan Yen is captured by ruffians, who kill her father Somchai and Han. Yot is accused of the murders. Mafia Italy Don Vito (สุเทพ เหมือนประสิทธิเวช) is visiting Thai mafia to show unification. Learning his father's death, Mike tries to shoot Yot despite they are brothers (น้องชาย). Han is not dead and discloses that Krieng is responsible of the murders. The one behind is Satra pushing Mike and Yot against each other. Baan Yen understands the truth. Surapong (Adul Dulyarat), head of police, and his team storm the mafia's den. Yot and his friends are leading. Busalin understands that his father and his ruffians are betraying Thailand (ทำร้ายชาติ). The movie ends up in multiple shootings with Mike and Satra shooting each other, Yot shooting Sompong. Mafia is defeated.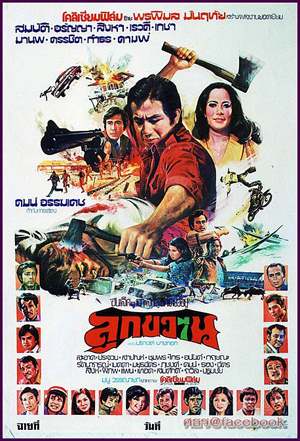 Year

: 1977



Thai title

:

ลูกขวาน




English title

:



Rating

: 3/5


Director

: Kom Akadej



Main actor

: Sombat Methanee,Kom Akadej,Dam Datsakorn,Choomporn Theppitak,Sahat Piempongsan,Kecha Plianvithee,Krai Kanchit,Chat Mongkolchai,Lak Apichat,Prachuap Ruekyamdee,Kamthorn Suwanpiyasiri,Kanchit Kwanpracha,Manop Aussawathep,Pipop Pupinyo,Somsak Chaisongkram,Sayan Chantaraviboon,Chana Sriubon


Main actress

: Aranya Namwong,Ratanaporn Intarakamhaeng,Metta Roongrat,Rewadee Pattaphong
ลูกขวาน is a Thai movie released in year 1977. It lasts 1h54mn. This action movie, directed by director Kom Akadej, features a great bunch of Thai actors. Sing A (Sombat Methanee) arrives too late as his father Nae Klam died already. His father was a big mafia boss (นักเลง) so smaller bosses (Chun - Dam Datsakorn, Kam - Choomporn Theppitak, Pon - Sahat Piempongsan, Krong - Kanchit Kwanpracha) want to become the leader instead. The movie features fighting between those smaller bosses in order to become the big boss. Back from overseas, Sing A is welcomed by KoLit (Kecha Plianvithee) and by his mother (Ratanaporn Intarakamhaeng). Krai Kanchit challenges Sing A but as he is defeated, he finally joins Sing A's team. Ruffians are using axes (ขวาน) for fighting so giving the movie name, i.e. ลูกขวาน, "axe child". Many groups want to get rid of Sing A. Prachom (Lak Apichat) gives a hand to Sing A aggressed by motorbikes on the beach. Kam (Choomporn Theppitak), married to Metta Roongrat, is one of the small leader wanting to kill Sing A. Nop (Kamthorn Suwanpiyasiri) and Sai (Prachuap Ruekyamdee) are close friends with Sing A. Sing A finally sympathizes with Nolee (Aranya Namwong), daughter of Nop. Phi Pon (Sahat Piempongsan) and his team start hostilities and take over a mine. Mek (Chana Sriubon) and Wan are having a love affair. Tan (Manop Aussawathep) orders to kill Sing A. KoLit and Mek defeat Pipop Pupinyo and his guys trying to enter in their ranch. Krong is shot and injured by another gang. Tan refuses to work with Phi Pon (ขายหน้า). Chat Mongkolchai and his ruffians attack Mek's house but get defeated by KoLit and Mek following a long boat race. Wedding is happening between Mek and Wan. Chun is looking for troubles during the wedding but gets punched by Sing A. Tan is burnt in his car by Phi Pon's team and becomes blind. As a revenge, Phi Pon gets killed by Kanchit. Tan relearns to shoot using his ears instead of eyes. Pinyo and his ruffians kill Sing A's mother but get axed by KoLit and Mek. Kam is arrested by the police. Aranya has a cancer but Sing A still wishes to marry her. Tan takes his revenge over those who caused the fire making him blind. All mafia leaders are now out of the game except Chun. A feast is organized but Chun's ruffians (Somsak Chaisongkram) are bringing a mess. Honor needs to be washed with blood (เลือดต้องล้างกับเลือด). Chun's house is stormed and Chun himself is killed but remaining people including Sing A get caught by police. This Kom Akadej's movie is a non stop action movie featuring around twenty key actors / actresses from decade 1970s.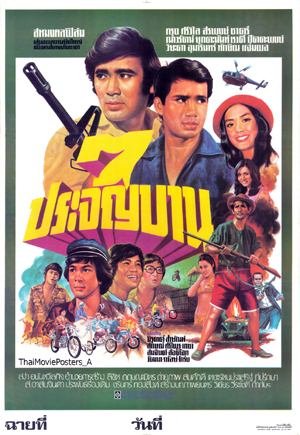 Year

: 1977



Thai title

:

เจ็ดประจัญบาน




English title

:



Rating

: 3/5


Director

: วิเชียร วีระโชติ



Main actor

: Krung Srivilai,Sorapong Chatree,Taksin Jampol,Nirut Sirijanya,Sayan Chantaraviboon,Lak Apichat,Kecha Plianvithee,Somjin Thammatat,Lor Tok,Tawan Siriwat,Pan Borapet,Chanee Yotchai,Krong Kangkengdaeng


Main actress

: Naowarat Yooktanun,Rewadee Pattaphong,Wiyada Umarin
Thai movie เจ็ดประจัญบาน was released in year 1977. Main actors and actresses include Krung Srivilai, Sorapong Chatree, Naowarat Yooktanun, Rewadee Pattaphong, Wiyada Umarin, Taksin Jampol, Nirut Sirijanya, Sayan Chantaraviboon, Lak Apichat, ศรีไพร ใจพระ, Kecha Plianvithee, Somjin Thammatat, Lor Tok, วัฒนา กีชานนท์, Tawan Siriwat, Krong Kangkengdaeng, Pan Borapet, Chanee Yotchai. Movie director is วิเชียร วีระโชติ. The film is lost in Thailand but a sequence in 35mm format can still be seen. The picture is very damaged and reddish. The sound is almost inaudible. It lasts around 50 minutes. During the remaining sequence, the seven mercenaries can be seen. The team includes Krung, Sorapong, Nirut, Lak, Sayan, Taksin and ศรีไพร ใจพระ. They help each other. A mission towards Thai nation is given by their boss. Multiple fighting and shootings against ruffians happen. A romance is happening between Sorapong Chatree and Naowarat Yooktanun. Taksin Jampol is playing famous role of จ่าดับ จำเปาะ role, i.e. a mercenary / a gunman wearing คาดเชือกกล้วย and red pants (กางเกงในสีแดง). The movie "เจ็ดประจัญบาน" was a sequel of movie "หนึ่งต่อเจ็ด" also released in 1977. Movie "หนึ่งต่อเจ็ด" is a lost movie. It featured Krung Srivilai, Sorapong Chatree, Rewadee Pattaphong, Tharika Thidathip, Taksin Jampol, Nirut Sirijanya, Sayan Chantaraviboon, Lak Apichat, ศรีไพร ใจพระ, Aranya Namwong, Kecha Plianvithee, Dam Datsakorn, Adul Dulyarat, อัศวิน รัตนประชา, Pipop Pupinyo, Siripong Isarangkul, Pramin Jarujareet, สมุย. It was a remake of the previous version released in 1958. Thai movie "หนึ่งต่อเจ็ด" (1958 version) featured Surasit Sattayawong, Wilaiwan Watthanaphanit, วิภา วัฒนธำรงค์, Sarinthip Siriwan, Adul Dulyarat, Sor Asanajinda, ทม วิศวชาติ, สมชาย ตันฑกำเนิด. Movie director was Sor Asanajinda. It is a movie mixing action and comedy. The movie made more than one million THB.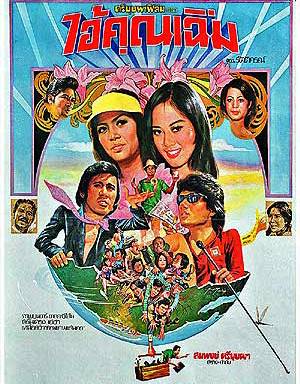 Year

: 1977



Thai title

:

ไอ้คุณเฉิ่ม




English title

:



Rating

: 3/5


Director

:



Main actor

: Sorapong Chatree,Krung Srivilai,Lor Tok,Rith Luecha,Kanchit Kwanpracha,Sayan Chantaraviboon


Main actress

: Naowarat Yooktanun,Mayura Thanabutr
Three beggars are friends and helping each other. One is polishing shoes, one is singing, one is simulating being a blind man in order to be able to sell lottery tickets. One of them has opportunity to work for a businessman and starts a romance with the businessman's daughter. Another one is courting another businessman's daughter. A local mafia gang is kidnapping the two businessmen. Police promises to help but the local police head is part of the mafia gang. The three beggards will manage to release the two businessmen.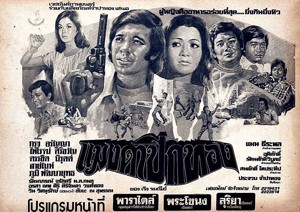 Year

: 1976



Thai title

:

แมงดาปีกทอง




English title

:



Rating

: 3/5


Director

:



Main actor

: Krung Srivilai,Phairoj Jaising,Kanchit Kwanpracha,Pumi Patanayut,Sayan Chantaraviboon,Nirut Sirijanya


Main actress

: Aranya Namwong,Sirikwan Nanthasiri,Orasa Isarangkul
Thai movie แมงดาปีกทอง (Pimp with golden heart) was released in year 1976. The movie is lost in Thailand. It was found in Taiwan under the name "Phoenix the Invincible" as it was released in VHS format. "For your eyes only" (1981) song is featured so the Taiwanese version was released 5 years minimum after the Thai version. This version was released by Taiwanese company New Ship Film Enterprise Co Ltd and lasts 1h27mn. The movie is in Mandarin language with no English subtitles. The movie was also found in Europe under the name "Lady Killer". It lasts 1h28mn and was released under VHS format by company Budget Label. The original movie has been cut to fit in standard TV format 4:3. Krung Srivilai enters as a robber in a house to steal money from a safe. He is the son of the victim! He steals his own father as he needs money! Krung is living with two close friends, i.e. Sayan Chantaraviboon, a steward and photographer, and Pumi Patanayut. Krung and his father despise each other. Krung keeps asking money from his father. He is finally disheritated and his father recommends him to find a lady to nurture him. Trying to gain easy money, Krung loses a big amount to Phairoj Jaising during cards games. Phairoj doesn't give him any credit as he knows Krung has been disheritated. Krung meets Aranya Namwong having problems with her car. Aranya is coming from a rich family. Nirut Sirijanya is her brother. Krung is working as gigolo to earn a living. Sirikwan Nanthasiri meets Krung in a bar. She is Phairoj's girlfriend. Ruffians argue in a pool bar but Kanchit Kwanpracha stops them. Kanchit then spends good time with Sirikwan. Kanchit joins Phairoj's team and takes active part to develop the business. Krung is going out with Orasa Isarangkul as he keeps acting as a gigolo. Finally, Kanchit wants more money from Phairoj for his business participation. It makes Phairoj upset. During a birthday party, two guys (including Pumi) are bothering Aranya but Krung helps. It is a trick as Krung knows well Pumi. Krung and Aranya sympathise and a romance starts. Phairoj's ruffians fail to kill Kanchit. As Phairoj's ruffians fail to get rid of Kanchit through a fight, they finally shoot him. Before dying, Kanchit gave a secret notebook to Sirikwan. Nirut, Aranya's brother, doesn't want her to meet Krung again as he only takes profit of women as gigolo. Krung claims to have changed and has stopped working as a gigolo. Phairoj loves Aranya also. Aranya's father meets Krung but it turns sour. The father is bankrupted so he has to promise his daughter to Phairoj. Phairoj hires Aranya as secretary. Krung has to find 2M USD to pay the father's debts but no way to find such amount. Aranya is not happy working with Phairoj but she has to pay back her father's debts. Fighting in a disco involving Krung and his friends happens again. Sirikwan asks Krung to keep a secret notebook. Phairoj wishes to break with Sirikwan in order to be with Aranya. Sirikwan accepts but threatens him to provide a secret notebook to the police if he doesn't give her a huge amount of money. Phairoj shots Sirikwan. Krung, having the notebook, informs the police. The secret notebook includes all details about Phairoj's illegal business. Thai police is storming Phairoj's den. About to be caught, Phairoj takes Aranya as hostage. Krung risks his life to save her and shows he really cares for her. Krung is injured but Phairoj is shot dead.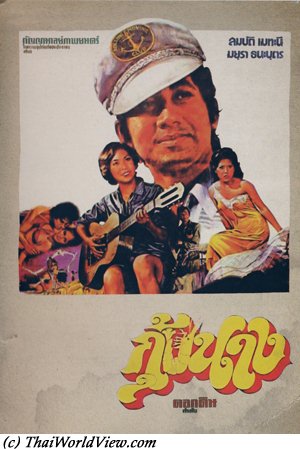 Year

: 1976



Thai title

:

กุ้งนาง




English title

:



Rating

: 3/5


Director

: Dokdin Kanyaman



Main actor

: Sombat Methanee,Dokdin Kanyaman,Prachuap Ruekyamdee,Sayan Chantaraviboon,Choomporn Theppitak,Lak Apichat


Main actress

: Mayura Thanabutr



Buy now

:

Thai movie กุ้งนาง was released in year 1976 and lasts 2h22mn. It is directed by Dokdin Kanyaman. A group of people is stranded on remote island. Their boat is out of petrol. Doctor (หมอ) Niran (Sombat Methanee) is engaged with So but it is arranged by parents so there is no real love between them. His friends include Wetit (Sayan Chantaraviboon) and Cheut (Choomporn Theppitak). They get help from young lad (น้องชาย) Kung (Mayura Thanabutr) seen as กะเทยใจดี. On (Dokdin Kanyaman) helps reluctantly. ตา Prachuap Ruekyamdee is very upset that they helped strangers. Kung is 17 years old and has never quit the island. To avoid similar issue as the mother dumped by a man 17 years ago, Prachuap tries to avoid any contact between Kung and external world so he even lies to her about her sexe genre. Dao, a widowed lady, asks help from doctor Niran as the clinic, launched by her former husband, is not doing well. Niran hesitates as he works for public hospital only. Cheut organises a plan so that Dao and Niran can be together alone. He organises a beach party where Niran drinks a lot. Dao and Niran become lovers. Niran accepts to work for Dao's clinic. Man (Lak Apichat) and another ruffian threaten Prachuap regarding sales of coconuts. Prachuap refuses to sell to them as he has already a contract with another company. Prachuap gets sick and ends up in hospital. Doctor Niran takes good care of him to thanks him and Kung to have helped him before. Kung stays in Niran's house to be close to the grandfather. Kung realizes that On and the grandfather lie to her regarding the differences between a boy and a girl. She realizes that she is a girl! Meanwhile Dao starts to be more and more demanding and very jealous. Niran is upset as Dao thinks about money only and is not generous with patients. Niran brings Kung to a brothel to teach him boy's life (ครู). Niran treats Kung as a male mate so many hilarious sequences occur. Prachuap goes back to his island with Kung. Niran follows them a few days later to announce to Kung that Prachuap has a final stage cancer. Meanwhile Man and his ruffians kidnap Kung. On is also captured. Finally Kung is released by the ruffians as he accepted to marry the ruffians' leader sister, who is pregnant. Niran is back with Dao and Kung has to take care of the pregnant lady. Always looking for easy money, Dao is now involved in illegal business with Cheut. Diamond exchange fails as police intervenes. Dao flees but a ruffian chases her. As same time, Kung brings the pregnant lady to doctor Niran for baby delivery. Dao is shot dead by the ruffian. Kung is injured but succeeds to shoot the ruffian. Finally Kung confesses to Niran that she is a girl. Niran knows it since a long time! Romance can finally happen between them.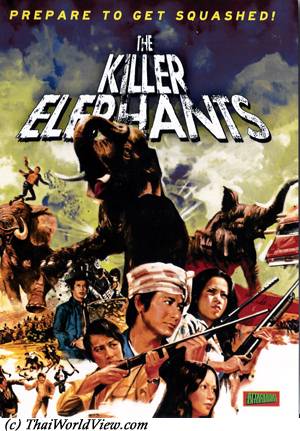 Year

: 1976



Thai title

:

ไผ่กำเพลิง




English title

: Killer Elephants



Rating

: 5/5


Director

: Kom Akadej



Main actor

: Sombat Methanee,Yodchai Meksuwan,Kanchit Kwanpracha,Pipop Pupinyo,Dam Datsakorn,Sayan Chantaraviboon,Kom Akadej


Main actress

: Aranya Namwong,Naiyana Shewanan,Mayurachath Muarnprasitivej
Ruffians are chased by police officer Ching Ming (Yodchai Meksuwan) but he failed to catch them. He meets his old friend Kau Fei (Sombat Methanee). Ruffians are hiding in a Surin timber yard. A big fight happens as Ching Ming wishes to jail them. Hopefully Kau Fei helps Ching Ming but there is no way to know where is the big boss behind. Local police is trying to catch Kau Fei but elephants prevent police to follow up Kau Fei. He has been accused of murder but he was framed. The head of ruffians (Kanchit Kwanpracha) framed him as Kau Fei refuses to sell his farm land to him. Ruffians burn the houses on the farm land. Ching Ming and Kau Fei help people stuck in their home. Ching Ming likes a lot a local lady Shao Feng (Naiyana Shewanan). Kau Fei decides to take revenge by entering in the boss home. He is not here so he captures madame Shu (Aranya Namwong). Ruffians try to rescue her by entering the farm through the forest but they are welcomed by guns and elephants. Kau Fei still loves Shu despite she was forced to go with the boss. Ching Ming tries to arrest Kau Fei but to no avail. Kau Fei comes to town to make trouble inside the boss' favorite nightclub. Shu is now pregnant with Kau Fei. As Shu is about to deliver, Ching Ming helps to bring her to hospital. The boss aware of this wants to use her and the baby as a bait. Taking profit of Surin elephant carnival (เทศกาลของเมืองสุรินทร์), Kau Fei sends a few elephants and villagers to pick up Shu. Kau Fei does a rampage in the boss' house and even injures him but Mau Tien, another ruffian, finishes him. Mau Tien (Dam Datsakorn) becomes the boss and decides to kidnap Shu and two nurses to attract Kau Fei to the plains. Kau Fei and the villagers rescue Shu and the two nurses. Then a crazy rampage of the elephants on the ruffians' camp happens. They are pushing huts and cars with real people inside. Big explosions and houses in fire happen. Even Ching Ming intervenes and helps Shao Feng. He finally lets Kau Fei go to Cambodia. The Thai movie "Killer Elephants" - ไผ่กำเพลิง was released in Thailand in 1976. Main actors are Sombat Methanee and Aranya Namwong. The movie director was Kom Akadej, who got the "international name of Som Kit in the credits, which is a version of his middle name, Somkit. All the other actors got Chinese style names, probably to cash in on the Hong Kong market and the rest of the worlds wish for more Kung Fu movies. The Killer Elephants cannot be found anymore in Thailand except at the Thai Film Archive, the original Thai version. Joseph Lai and his IFD Arts and Entertainment prepared this international version, which is the most common version outside Thailand. This DVD was released by Swedish company Attackafant Entertainment directed by Fred Anderson, a well known lover of Thai cinema. This DVD is the first official ไผ่กำเพลิง DVD release ever. The "Killer Elephants" movie rights in Thailand belongs to Coliseum film (บริษัท โคลีเซี่ยมฟีล์ม), company from Kom Akadej. Up to now no VCD / DVD was released in Thailand with correct rights according to Thai law. Only a video tape was released long time ago. Coliseum film company would sell the rights for all Kom Akadej's movies and not only for 'Killers Elephants' movie. Thai Company XxX (Triple X) was only interested in 'Killer Elephants' movie so up to this day Thai people are still waiting for a Thai version of ไผ่กำเพล to be released again. The movie also includes also famous supporting actors such as Yodchai Meksuwan, Naiyana Shewanan, Mayurachath Muarnprasitivej, Kanchit Kwanpracha, Pipop Pupinyo, Dam Datsakorn, Sayan Chantaraviboon. The finest batch of Thai actors during 1970's! Only Sorapong Chatree and Krung Srivilai are missing. Pipop Pupinyo, Kanchit Kwanpracha and Dam Datsakorn were the regular bad guys in Thai cinema and so of course even in The Killer Elephants! The same story was also released as Thai TV lakorn in 2004.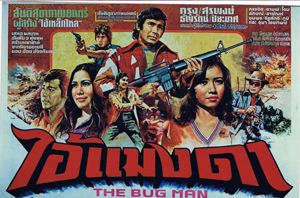 Year

: 1976



Thai title

:

ไอ้แมงดา




English title

: The Bug Man



Rating

: 3/5


Director

: Chai Meekunsut



Main actor

: Krung Srivilai,Sorapong Chatree,Kanchit Kwanpracha,Pipop Pupinyo,Dam Datsakorn,Sayan Chantaraviboon,Lak Apichat,Chat Mongkolchai


Main actress

: Tanyarat Lohanan,Piyamas Monayakol
A Thai man just marries a hill tribe girl called Bokram. His wife is kidnapped by ruffians. He is in fact a man collecting girls for brothels! A mysterious man raid two brothels looking for a lady called Choimai. He is a strong puncher. His name is doctor Chai (Krung Srivilai) and is fiance with Vui, a gym sport woman (นักกีฬาgym). He has lost memory and cannot remember his own fiancee. Hong (Sorapong Chatree) is a well-off son involved with ruffians. Choimai is now prisoner in the prostitution ring leader's house. His name is Yai (Dam Datsakorn) and he is also smuggling weapons. Choimai is in fact Chai's sister. She escapes (ขายตัวกับผู้ชาย) and takes refuge in Dong's home, another ruffian, who is also a brothel owner. Trap is put in place by Yai to capture Chai at Turkish massage place (อาบอบนวด). An electronic device is put near his brain to force him acting on any orders from Yai. Yai uses Chai to give a punchy lesson to Hong. Brothels are similar to slavery as women are chained together. The mamasan (มาม่าซัง) pretends to help Choimai but it is another trap also. She is only interested by her ring and necklace. Brought by three ruffians in a remote place, Hong luckily drives by and helps her. She is welcomed in Hong's parents home (คนสตรี). Hong decides to change his behavior and stop frequenting ruffians. Inside Yai's group, Chai takes revenge over those who kidnapped Choimai. Dong traps Hong (เพื่อนทรยศ) as he has betrayed them. Hong tries to crash him with an old French Citroën DS car. It fails but Hong is finally captured by Yai. Choimai surrenders to Yai to spare Hong's life. Vui is also kidnapped. Chai only simulated being a robot following Yai's orders. Chai succeeds to release Vui. They enter inside Yai's remote camp and gun fights, explosions occur between Yai's ruffians and Chai's friends. Ruffians are defeated. The Lepso VCD image is quite damaged and colorless. It is a recording from TV. Anyway this Thai action movie features part of the finest bunch of 1970s Thai actors. In this movie, Krung Srivilai, best Thai actor in 1974, meets Sorapong Chatree, best Thai actor in 1975. This movie was the most popular movie in 1976. In the title แมงดา means pimp.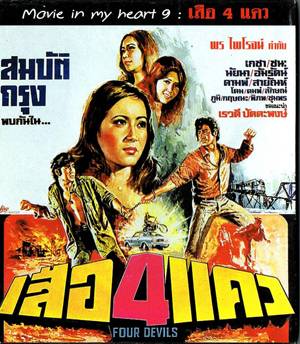 Year

: 1976



Thai title

:

เสือ 4 แคว




English title

: Four Devils



Rating

: 4/5


Director

:



Main actor

: Sombat Methanee,Krung Srivilai,Choomporn Theppitak,Kecha Plianvithee,Pipop Pupinyo,Dam Datsakorn,Chana Sriubon,Kom Akadej,Lak Apichat,Sayan Chantaraviboon,Pan Borapet,Paen Pleumsachai,Pumi Patanayut


Main actress

: Naiyana Shewanan,Rewadee Pattaphong



Buy now

:

Thai movie เสือ 4 แคว was released in year 1976. It lasts 2h20mn. Pleung (Krung Srivilai) and Chat (Sombat Methanee) are always fighting in a prison. The head of prison decide to transfer them to another prison. To avoid any issues during the transfer, they are hogtied together. During transfer, Pleung's teammates attack the police armed escort. Pleung and Chat flee together. Choomporn Theppitak is playing a policeman. They do realize that they have a common enemy called พ่อเลี้ยง Do Tawan (Kecha Plianvithee). Do Tawan is aware that Pleung is now free. Choi (อัมรัตน์ ขัตติยา) is Do Tawan's girlfriend. Four devils [เสือ4แคว] (Pipop Pupinyo – Seua Wang, Dam Datsakorn - Seua Nan, Seua Ping - Chana Sriubon, Seua Yom – โดม สิงห์โมฬี) are called by Do Tawan to kill Pleung. 1M Baht reward is promised for the one who succeeds to kill Pleung. น้อง Kaew (Rewadee Pattaphong), a teacher, is Do Tawan's younger sister. She knows the secret behind her brother. Do Tawan (โจรใจบาป) is selling drugs. Pleung, a former teammate, asked him to stop but ended up in jail because of Do Tawan. Pleung's younger sister Wallin (Naiyana Shewanan) is still kept captive by Do Tawan (ตัวประกัน). A bomb is hidden in her bungalow. Kaew prevents her brother from abusing Wallin. ภูมิ พัฒนายุทธ, Kan (Kom Akadej), Wai (Lak Apichat), Suki (Sayan Chantaraviboon) meet Chat in the restaurant (เอาเต็มที่). He claims to be เสือ4แคว. They sympathize with Chat, who sends them to help Pleung against the 4 devils. Meanwhile, Chat plans to enter Do Tawan group in order to spy them and release Wallin. Pleung, being attacked by Seua, decides to fight back and attack them directly also causing Dam to flee. Do Tawan hires Chat. Seua Ping's team includes veteran actors Pan Borapet, กฤษณะ อำนวยพร and Paen Pleumsachai. Chat pushes the teams against each other. Chat succeeds to exchange Wallin with Kaew simulating a kidnapping. Meanwhile Choi helps to provide information on Do Tawan's business. Chat is identified as the traitor. Chat shall be smashed by a train but Pleung helps him on time. Knowing that Chat is not dead, Do Tawan moves his stock of drugs in a safer place. Pleung identifies the place and decides to attack it. Chat, being finally a policeman, also comes with reinforcement. All ruffians are killed by the Thai A-team. Unable to flee, Do Tawan prefers to explode the warehouse to avoid surrendering. Pleung has to go back to jail but Chat promises that his efforts to catch Do Tawan will be taken into account to reduce the severity. This movie features a huge number of famous Thai actors and actresses.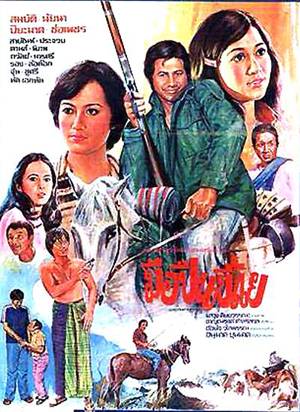 Year

: 1976



Thai title

:

มือปืนขี้แย




English title

:



Rating

: 3/5


Director

:



Main actor

: Sombat Methanee,Dam Datsakorn,Prachuap Ruekyamdee,Pipop Pupinyo,Rong Kaomulkadee,Tawan Siriwat,Sayan Chantaraviboon,Tat Ekathat,Lor Tok,Kokheng


Main actress

: Piyamas Monayakol,Chosri Misommon,Marasri Isarangkul,Naiyana Shewanan
Thai movie มือปืนขี้แย was released in year 1976. This action and comedy movie is lost in Thailand but the first reel lasting 26mn and a 3mn trailer are still available to be seen. Fightings happen with Dam Datsakorn and Pipop Pupinyo as they discover that Sombat Methanee is travelling hidden in their truck. Sombat is accompanied by a tall actor reminding Richard Kiel playing in James Bond movie Moonraker. Comic actor Rong Kaomulkadee is the driver. Sombat Methanee is looking for Kamnan Tawan Siriwat in order to find his mother (Marasri Isarangkul). He finds her but he wishes to identify now who killed his father. Sayan Chantaraviboon wishes to impress young lady KamPoo (Piyamas Monayakol). But he gets bullied by Chosri Misommon and Tat Ekathat. Policeman Raem Prachuap Ruekyamdee meets a friend's daughter, who is now a teacher (ช่อเพชร). Lor Tok is Thai boxing trainer (อาจารย์). Sayan wishes to learn from him as he is not able to fight against anybody. Dao (Naiyana Shewanan) meets Sombat but clash happens between them. Other comic actors are Kokheng and Joomjim Khemlek as policeman.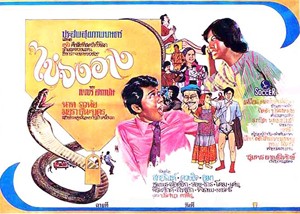 Year

: 1976



Thai title

:

ไข่จงอาง




English title

:



Rating

: 3/5


Director

: Choomporn Theppitak



Main actor

: Nard Poowanai,Sayan Chantaraviboon,Krai Kanchit,Rong Kaomulkadee,Choomporn Theppitak,Lor Tok


Main actress

: Mayura Thanabutr,Duangjai Hathaikarn,Marasri Bangchang
Thai movie ไข่จงอาง was released in year 1976. The movie is lost in Thailand but a remaining sequence of 28 minutes is left to be seen. Veteran actress Marasri Bangchang is collecting debts reimbursement. She is married to younger man called Insee (Rong Kaomulkadee) but his little bird gets burnt by hot soup poured by his wife as he is courting younger lady (แม่ค้า)! This comedy features three male friends (Sayan Chantaraviboon, Nard Poowanai and Pong) looking for fun. Three ladies friends (Nit – Mayura Thanabutr, Pip - Duangjai Hathaikarn, Tip…) realise that their three husbands are going to have fun together but their wives surprise them (อยากตายไหม). Pong is a doctor so he is lying about his friends' health in order to get some compassion from their wives. Other actors are Krai Kanchit, Lor Tok, อุมา, โดม, เด่น, ปริศนา ดาริน, หมึก.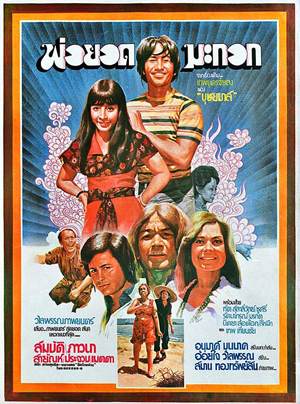 Year

: 1975



Thai title

:

พ่อยอดมะกอก




English title

:



Rating

: 3/5


Director

:



Main actor

: Sombat Methanee,Prachuap Ruekyamdee,Sayan Chantaraviboon,Lor Tok,Tat Ekathat


Main actress

: Pawana Chanajit,Metta Roongrat,Chosri Misommon,Ratanaporn Intarakamhaeng,Malee Wetpraseri,Sisala Thongtara,Sulaleewan Suwanthat
Thai movie พ่อยอดมะกอก was released in year 1975. The movie is lost in Thailand but a sequence of 1h13mn remains to be seen. The last three film reels were saved. Oon (Pawana Chanajit) is a young single lady. Chosri Misommon is her house's domestic helper and also close friend. Prachuap Ruekyamdee and Chui (Sombat Methanee) are brothers with funny hairstyle. Oon's mother is played by Ratanaporn Intarakamhaeng. It seems there is no more father. Grandmother Malee Wetpraseri is the elder sister of the mother. Oon's uncle is played by Tat Ekathat. Oon has to be engaged. She wishes to marry Pong (Sayan Chantaraviboon) and is supported by his sister Pleun (Metta Roongrat). Chui keeps disrupting Oon and Pong. Chui has also a fiancee called Kwan since a long time but he doesn't love her. Malee and Chosri are sent to Aunt's home to investigate who is really Chui. Aunt Sulaleewan Suwanthat welcome them. Chui and Ratchin are same person. Oon shall marry Ratchin, who is from a high status family. Oon lies she is no more pure (เสียหาย) as she is Pong's girlfriend. Ratchin refuses to cancel the wedding and forbids Oon to meet Pong anymore. Engagement (คู่หมั้น) shall happen. Malee is helping Oon to meet Pong. Pong wishes to flee with Oon but Oon cannot do this as it would bring disgrace to her parents and her family name (เกียรติ). As Pong loves really Oon, he has to sacrifice himself (เสียสละ). Chui / Ratchin is aware of Malee's stratagems. Prachuap meets Pong. Ratchin prevents Oon to meet Pong and wishes to accelerate the wedding. Ratchin asks Pong to stop seeing Oon but Pong asks to meet her a last time. Ratchin still believes Oon is pure and wants to avoid Pong being the first. Oon and Ratchin keep fighting. Finally Oon succeeds to escape from Ratchin. She meets Pong but faints. Pong tries to abuse her but gets stopped on time by Ratchin. Pong's intentions were not as pure as he always mentioned. Oon finally marries with Ratchin. This movie similar to many movies from decades 1960s~1970s is about arranged weddings and early engagement done by parents but it finally ends happily.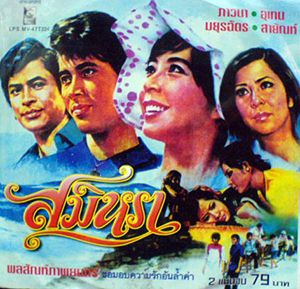 Year

: 1975



Thai title

:

สมิหรา




English title

:



Rating

: 3/5


Director

:



Main actor

: Uten Boonyong,Sayan Chantaraviboon,Sawin Sawangrat,Sukon Koewliam,Rong Kaomulkadee


Main actress

: Pawana Chanajit,Mayurachath Muarnprasitivej,Metta Roongrat
Thai movie สมิหรา was released in year 1975 and lasts 2h01mn. Two students, Alissa (Mayurachath Muarnprasitivej) and Suntaya (Pawana Chanajit), are two close friends studying in Chiang Mai. Pong (Sayan Chantaraviboon) is Alissa's brother. Metta Roongrat is the aunt called Vina. Yot (Uten Boonyong) accepts to take Suntaya as secretary (เลขาคนใหม่) per Alissa's request. Sawin Sawangrat is the father of Yot. Yot hat a hot temper (ใจร้อน, เอาใจตัวเองอย่างเดียว). Vina warns Alissa about letting Suntaya too close to Yot (ใกล้มากก็ไม่เคยจะดี). Pong wishes to marry Suntaya but he is younger (รุ่นน้อง). Yot and Suntaya go to Hat Yai for business trip while Alissa needs to go overseas again. A difficult meeting happens in Hat Yai regarding company ownership. Suntaya demonstrates her negotiating skills and impresses Yot. During nighttime, Suntaya and Yot becomes lovers (ทรยศเพื่อน). They stay in Hotel Samira (สมิหรา) so giving the movie title. Suntaya asks Yot to stop seeing her in Bangkok. Vina also asks Suntaya to find her own place to allow time between Yot and Alissa. Yot wishes to marry with Suntaya but she doesn't want to hurt Alissa. One day Suntaya feels dizzy while walking in Bangkok. She is pregnant. Pong brings her to the doctor. Yot has then a misunderstanding that Suntaya sees secretly Pong. Being sick, Yot visits Suntaya and is surprised by Alissa. Alissa is disappointed by her friend (น่าเจ็บใจ, เสียดายเพื่อนรัก). Feeling guilty, Suntaya is lost. Pong, aware of the situation, proposes to marry her to ensure the child has a father. Finally Suntaya writes a letter to Alissa and disappears. Yot only realises that she was pregnant. Suntaya is now a teacher in a remote hill tribe village. Sukon Koewliam is also playing a short domestic helper role. Pong's friend, a doctor, meets Suntaya in the village and warns Pong as she is going to deliver her baby. It is discovered that Suntaya has hemophilia (รอดไม่ได้). Pong warns Yot. Alissa also joins. During a final touching sequence, Suntaya gives her baby to Yot and Alissa, then passes away.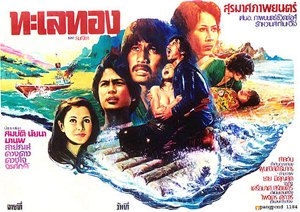 Year

: 1975



Thai title

:

ทะเลทอง




English title

:



Rating

: 4/5


Director

:



Main actor

: Sombat Methanee,Man Teeraphol,Manop Aussawathep,Sayan Chantaraviboon,Choomporn Theppitak


Main actress

: Naiyana Shewanan,Duangdao Jarujinda
Many years ago, Laem Kun Thalae (Sombat Methanee) and Mae Plae (Naiyana Shewanan) were tied to a pole, beaten and left to die in the sea. Laem Kun Thalae survived thanks to his friend Fong but Mae Plae died. Their child was left to a teacher. Many people believed they both died in the sea during high tide. The teacher has three children, i.e. one boy, Pu (Sayan Chantaraviboon), and two daughters, Nang (Naiyana Shewanan) and Neua Oon. Nang is the baby given many years ago. Nang is hard worker but Neua Oon is lazy. Sak, son of Sou (Man Teeraphol), a local ruffian, always wants to bring the two sisters out but Pu refuses and Nang is not interested to go. Sak becomes lover with Neua Oon (ได้เป็นเมีย). Kun (Sombat Methanee) and his friend Fong (Manop Aussawathep) are always seen around. Kun always helps Nang in difficult situations. Pradet (Choomporn Theppitak) is the local policeman officer but is bending to Sou. Sou wishes Pradet to arrest Kun as he is a trouble maker. Nang and Sak's two sisters (Nit and SiriPorn) are kidnapped by overseas woman traffickers. They are rescued by a boat carrying Kun, Sak and Pu. Kun decides then to keep Sak and his sisters as hostage. They take refuge on an island. Pu and Siriporn become lovers. There is a suggestion for Kun to surrender to police (มอบตัว) as Sou is following up them. Nit (Duangdao Jarujinda) promises to help as she loves Kun. Kun doesn't believe in the police fairness so he flees with Nang. As the action is taking place close to Cambodia border, their boat gets attacked by red Cambodian soldiers. They have to jump from the boat but are caught up in a storm. They are finally protected by Mae Plae's spirit (วิญญาณ) and rescued by a boat. Sou and his ruffians team capture Kun and Fong. They are ready for a final vengeance. Nit believes Kun and Laem Kun Thalae are the same individual. Situation is reversed thanks to Kun's skills. Sou, Sak and Nit are now prisoners under Kun. The policeman Pradet agrees to speak and discloses what really happens many years ago between him, Sou and Laem Kun Thalae. Finally Nang's real father is policeman Pradet. His wife Sai is Sou's younger sister. Pradet has a short relationship with Mae Plae. Through jealousy, Sai and Sou took vengeance on Mae Plae and innocent Laem Kun Thalae. So Kun and Laem Kun Thalae are the same man. Despite his initial desire for vengeance, Kun leaves it away and stays with Nang. Thai movie "Thalae Thong" (ทะเลทอง) was released in 1975.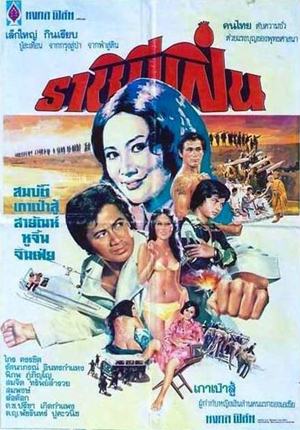 Year

: 1975



Thai title

:

ราชินีฝิ่น




English title

: Female fugitive



Rating

: 3/5


Director

:



Main actor

: Sombat Methanee,Krai Kanchit,Sayan Chantaraviboon,Pipop Pupinyo,Sompong Phonmitr,Lor Tok


Main actress

: Ratanaporn Intarakamhaeng,Kao Pao-Shu
Thai movie ราชินีฝิ่น was released in year 1975. It lasts 1h41mn or 1h43mn depending on the version. It is a lost movie in Thailand but it is still available in Hong Kong where it was released under the name 女逃犯 - "Female fugitive" by Ocean Shores video in year 1979. A lady boss is suspected by the Hong Kong police to be involved in drugs trafficking. She escapes to the police and flees to Thailand. Pipop Pupinyo is her Thai bodyguard. Drug is transported on the back of elephants in Thai Northern jungle. Eddie (Krai Kanchit) is receptionist of the drug. He is collaborating with Tsai Yang (Sayan Chantaraviboon). They bring a doctor in the jungle to produce proper drug in the Golden Triangle. Eddie, humiliated by Li Yung, strong fighter hired by the drug Queen, contacts inspector Wu (Sombat Methanee). Ratanaporn Intarakamhaeng has got a son. She offers him a camera for his birthday. While running, the boy hits a Chinese lady tourist and cameras are exchanged by mistake. The drug Queen sends Li Yung to kill Eddie. The little boy takes pictures of the murder. The murderer chases the little boy. They enter a parade for Songkran. He hits again the same Chinese lady tourist and cameras are exchanged again. Li Yung just gets a camera without film. The drug Queen orders to kill the kid. Elephants are used to carry drug. Thanks to helicopter, Wu succeeds to locate the drug factories in the jungle. Through Sompong Phonmitr, Sombat locates Tsai Yang (small fry) in order to find the drug Queen. Li Yung tries to kidnap the kid but fails. Wu brings troubles to the traffickers by using dogs to sniff them. Lin, the Chinese tourist, befriends with Chang, café owner. The drugs queen hires Tsai Yang's girlfriend as she knows she is upset by her poor life. She uses her to convince Wu to accept bribes but he refuses. Wu is finally defeated by Pinyo due to a knife injury caused by the drug Queen. The knife is poisoned. Wu was a former drug addict but he stopped a long time ago by going to a famous Buddhist temple called Wat Tham Krabok (วัดถ้ำกระบอก) . Tsai Yang's girlfriend realizing her mistake, releases Wu by getting rid of Lor Tok. A chase is happening to catch the drug Queen. A fighting erupts between Li Yung and the drug Queen in the helicopter. Both fall and die.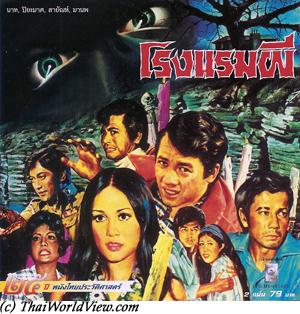 Year

: 1975



Thai title

:

โรงแรมผี




English title

:



Rating

: 3/5


Director

:



Main actor

: Nard Poowanai,Kanchit Kwanpracha,Manop Aussawathep,Lor Tok,Sayan Chantaraviboon,Chana Sriubon,Sithao Petcharoen,Boo Wibunnan,Tat Ekathat


Main actress

: Piyamas Monayakol,Mayurachath Muarnprasitivej,Metta Roongrat
Khun Samong comes in a hotel for one night as it is raining heavily. Her husband chases her but she refuses to follow him up. During the night, she dies being strangled. Footprints on the floor show that the killer is handicapped. The day after a young lady Wilai is coming one night in the same hotel to meet an older man called Siu. He has many banknotes in his suitcase. He also dies and the money disappears. Wilai also dies. The hotel manager Pan finds the money inside his desk drawer. With his partner, he decides to throw away the money in the sea but the banknotes come back with the tide. Khun Samong's husband believes that the hotel management is responsible of his wife's death and the money robbing. So he tries to take revenge over them but it fails. Police is investigating. Khun Samong's husband is also found dead. Finally it is identified that a ghost is living in the hotel. He possessed the hotel manager causing him to walk like a disabled man. Following a chase with the Police, the hotel manager Pan dies. His partner tells a story. Before World War II, Pan flees with a young lady called Sarapee. Sarapee was promised to an older man. This one becomes disabled during World War II due to bombs. He never forgives to Pan and Sarapee. After his death, a house belonging to the older man is given to Pan and Sarapee through legacy. They transform the house into a hotel. Now the ghost is willing to kill all hotel family member one by one, starting with Pan, then his partner. Finally the younger people found that the ghost body is still kept in a crypt below the hotel. They manage to kill the ghost thanks to a sacred Budha image. This movie is different from other Thai horror movies from 1970s decade and more realistic as there are not the usual traditional clown characters that accompany the leading actor.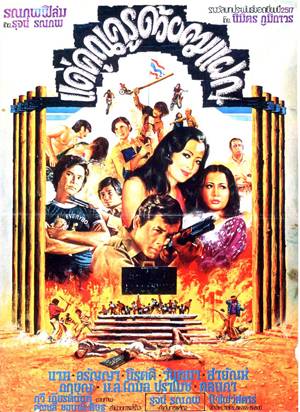 Year

: 1975



Thai title

:

แด่คุณครูด้วยคมแฝก




English title

:



Rating

: 4/5


Director

: Ruj Ronnapop



Main actor

: Nard Poowanai,Sayan Chantaraviboon,Nirut Sirijanya,Somchai Samipak


Main actress

: Aranya Namwong,Donnapha Sophee
Thai movie แด่คุณครูด้วยคมแฝก was released in year 1975 and lasts 1h51mn. The movie was released under VHS format. In a remote village, two teachers are killed as they refuse to mingle with the local leader Krot. Teachers want to protect children (อนาคตของชาติ) and raise education level but ruffians see them as opponents. Chai (Nard Poowanai) is nominated as new school headmaster (ครูใหญ่คนใหม่) for village Krok. The school includes multiple teachers such as teacher Tawon (Sayan Chantaraviboon), teacher Duang (Nirut Sirijanya), teacher Yim (วันทนา บุญบันเทิง), old teacher Piek. Ruffians are always looking for trouble (ขอเรื่อง). Chan Raem (Donnapha Sophee), owner of a local restaurant, likes Chai. Old teacher Piek is often drunk (ขี้เมา) as he is unable to oppose to the ruffians. The ruling here is done through guns (กฎหมายที่นี่คือปืน). Chai meets Duang Kaew (Aranya Namwong), daughter of the ruffians' leader. Duang Kaew doesn't want to help anybody else despite Chai asking her to bring usefulness to society and nation. The subdistrict headman Somchai (Somchai Samipak) organises a motorcycle race. The teachers (ผู้รู้หนังสือ) win so they cause Krot and his men to lose face. The father Krot refuses to help to build a new school. Chai wishes to teach children as the villagers' knowledge needs to increase. No future without knowledge. Teachers are keys in the development of children (ครูคือแม่ที่สอง) in remote villages as parents are busy in rice fields. Krot just wants to keep villagers as idiots because it is easier to recruit men. A party is organised by the subdistrict headman to celebrate the race. Chai continues to try to convince Kaew to help the school. Being drunk, ruffians shoot at teachers and Duang is injured. Young lady Raem goes with Duang as Chai refuses her advances. Ruffians kidnap teacher Yim and rape her. Disgusted, Duang Kaew humiliates the rapists, blames her father (สังสอนพ่อ) and joins villagers' side (ลูกอกตัญญู) to fight injustice. Krot's son uses violence to build popularity (สร้างบารมี) for his father. Old teacher Piek goes for duel with ruffians but he is shot by them. Angry by this death, rebellion happens led by teacher Chai. The father and his men surround the village. Duang Kaew is on the villagers' side. Pushed by his daughter, the father wishes to change and condemn the rapists but his son Kampaeng is not willing. Shooting happens as Kampeng wants to kill teacher Chai. Following confusion and houses burning, Kampaeng is also shot and dies. The father asks to stop the killings and promises to change. He asks teacher Chai to stay and commits 300 000 baht to build a new school. The teacher offers him a book about karma.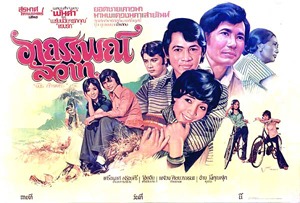 Year

: 1974



Thai title

:

อาถรรพณ์สวาท




English title

:



Rating

: 3/5


Director

: Phan Kam



Main actor

: Yodchai Meksuwan,Sayan Chantaraviboon,Manop Aussawathep,Boo Wibunnan


Main actress

: Pawana Chanajit,Chosri Misommon,Marasri Bangchang,Duangnapa Autthapornphisan
Thai movie อาถรรพณ์สวาท was released in year 1974. This หนังชีวิตรัก movie is lost in Thailand but 59 minutes are left to be seen. Other actors are Duangnapa Autthapornphisan (ดวงนภา อรรถพรพิศาล), จิระศักดิ์, จรัสศรี, ขุนแผน. Movie director is Phan Kam. Nok (Pawana Chanajit) needs to leave for Bangkok. Her friends, including Tao and Kung (Sayan Chantaraviboon), are already missing her. They are close friends (ลูกทะเล). Nok's mum (Marasri Bangchang) sends her in Bangkok to finish her studies. She shall stay in her mother's best friend home. In Bangkok, Nok meets Kata (Yodchai Meksuwan). Chosri Misommon is playing a domestic helper. Kata doesn't welcome Nok as she reminds him a former love that failed and so bad souvenirs. Boo is debtor recover. Walin (Manop Aussawathep), close friend with Kata, likes Nok also. Nok and Yodchai play jealousy games towards each other. Due to debts, Yodchai's mother succeeds to marry Nok and Kata but there is no real love between them. Kata is ashamed as people shall gossip if it is a wedding due to money arrangement. In reality, Nok's mother doesn't have money anymore also! As his mother warns him on his family name status (ตระกูล) if Nok has any bad behavior, Kata starts to enquiry about all activities of Nok. As Nok's mother is bankrupted, Kata's mother is upset to have organised this wedding and tries to find Nok in compromising situation to have an excuse to cancel the wedding. Nok learns that her mother is ruined and gets sick. While Kata is on business trip and Kata's mother refuses to call a doctor, Kung brings Nok out of this heartless home. Kata's mother puts the blame on Nok but Kata is fully aware of his mother's tricks and decides to get Nok back. Finally Kata accepts to give back her freedom to Nok. Going back, he has a car accident. On the hospital bed, Nok declares her love to Kata. The movie ends happily.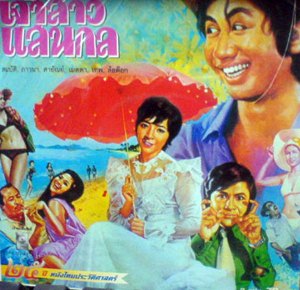 Year

: 1974



Thai title

:

เจ้าสาวแสนกล




English title

:



Rating

: 3/5


Director

:



Main actor

: Sombat Methanee,Sayan Chantaraviboon,Preuhat Boonlong,Lor Tok,Thep Thienchai


Main actress

: Pawana Chanajit,Sasima Singsiri,Metta Roongrat
Thai movie เจ้าสาวแสนกล was released in year 1974. It lasts 1h53mn. Rataya (Pawana Chanajit) is fleeing her father to avoid a forced marriage (หนีแต่งงาน). Her father (Preuhat Boonlong) promised to marry to an older man called Yiu (Lor Tok). As the father has debts with Yiu, he has no choice. Ran (Sombat Methanee) is fed up being a company owner. He wishes to have a break and asks Varun (Sayan Chantaraviboon) to replace him for a while. Many people believe Rataya drown in the river while fleeing her father but Ran saw her swimming away. An old lady aggressed by thugs (ลูกอัปรีย์) mistakes her as a ghost (ผี). Rataya takes refuge in a friend's home called Too (Sasima Singsiri). Ran wants to be a staff (ลูกช้าง) for a while instead of being a boss. Comic actor Thep Thienchai is even having a small role. Interested by Rataya, Ran succeeds to be hired by Yiu as domestic helper under the name of Yim. Rataya makes Yiu believe that she is a ghost now (ผีหลอก). Yim is fully aware but doesn't disclose the secret. Too asks Yui to cancel the debts with Rataya's father in order to avoid the ghost harassing him but he prefers to do good deeds (ทำบุญ). Rataya disguised as a ghost tries to get the document (โฉนดที่ดิน) but it ends badly as Yiu's daughter called Nut shoots at her. Unfortunately she is not injured but Yiu is now aware of the trick. On the way to get back his wife (รับไม่ได้), Yiu is attacked by two masked robbers being Too and Rataya. Yui gives Rataya an ultimatum of 10 days. Yim has a plan to replace Rataya by another lady called Prai (Metta Roongrat). Finally Yui announces he is not able to perform husband duty! Yim gives him a special medicine but it is finally a laxative medicine (มีปืนก็ไม่มีลูก, ยิงเท่าไรก็ไม่ดัง). Rataya starts to suspect that Yim is more than a domestic helper as he can speak English. Yiu gives back the property title and the debt reconnaissance is burnt. Aware that Yim's real name is Ran, Nut, daughter of Yui, is suddenly interested in Yim. Seeing Yim arguing with Nut, Rataya flees away. Movie ends happily, i.e. Ran with Rataya and Yiu with Prim. A TV serie based on the same story was released in year 1992.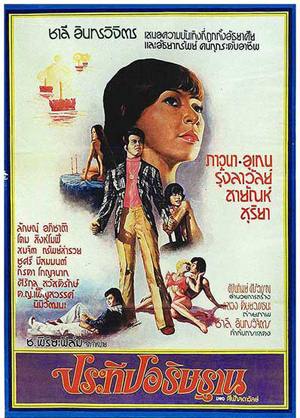 Year

: 1974



Thai title

:

ประทีป อธิษฐาน




English title

:



Rating

: 4/5


Director

:



Main actor

: Uten Boonyong,Sayan Chantaraviboon,Suriya Chinaphan,Lak Apichat


Main actress

: Pawana Chanajit,Chosri Misommon,Somjit Sapsamruey,Runglawan Sripatimakul
Thai movie ประทีป อธิษฐาน was released in year 1974. It lasts 1h57mn. It was shown on Thai TV cable. Pan (Pawana Chanajit) and Kalan (Uten Boonyong) meet during Loi Krathong. Kalan announces to her that he is her future boss as Hotel manager! Chosri Misommon is Pan's aunt. She always asks for money as she keeps gambling. Pan's mother had a lover as her husband didn't take care of her and her daughter. Upset, the husband wished to bring her to her lover for clarification but a car accident happened on the way and both died. So Pan stayed with her aunt. Sek (Suriya Chinaphan) loves Pan and always does courtship her as a gentleman. Kalan's mother is played by Somjit Sapsamruey. Somjit introduced Da (Runglawan Sripatimakul) to Kalan and wishes for a wedding. The mother believes Pan cannot be trust as cashier as her aunt Chosri is a big spender (การพนัน). Aunt Chosri ends up in jail. While nobody wants to be the guarantor, Kalan offers the money to bail her out. Pan is promoted to manager assistant (ผู้ช่วยผู้จัดการ). Karun (Sayan Chantaraviboon), the second son, is back from overseas but he has heart disease. He likes Pan also. An American tourist is always trying to seduce her also. So four men have hopes on her. Finally she marries Karun. The aunt gets a big amount of money (ใช้หนี้). She knows she doesn't love him. Karun is unable to perform husband duties per a congenital disease. Kalan was former lover of Pan's mother but Kalan confirms it was a platonic love. Smoking scenes and love scenes are blurred. Pushed back by Kalan, Da goes with Lak Apichat to Hua Hin. They become lovers. Karun, being over jealous on Pan, ends up at hospital. Kalan decides to marry with Da to avoid any more jealousy crisis. Unfortunately fightings happen at Kalan's wedding as Karun sees Pan talking to Sek. Pan flees. Kalan announces to Da that he cannot love her as he knows she is pregnant with somebody else (Lak). Kalan finally finds back Pan. Meanwhile Karun is getting crazy and even shoots two people at night believing it was Kalan and Pan. Being a bad girl, Da quits Kalan. Finally Kalan and Pan can have happiness. This is a romantic drama from 1970s with much more realistic story compared to 1960s decade movies.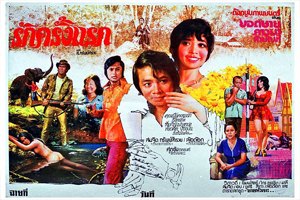 Year

: 1974



Thai title

:

รักครั้งแรก




English title

:



Rating

: 3/5


Director

: Lor Tok



Main actor

: Yodchai Meksuwan,Sayan Chantaraviboon,Op Boonthit,Sithao Petcharoen,Lor Tok,Krai Kanchit


Main actress

: Pawana Chanajit,Chosri Misommon,Somjit Sapsamruey,Malee Wetpraseri,Khomapat Attaya,Manat Boonkiet
Thai movie รักครั้งแรก was released in year 1974. Main actors and actresses include Pawana Chanajit, Yodchai Meksuwan, Sayan Chantaraviboon, Malee Wetpraseri, Somjit Sapsamruey, Op Boonthit, Chosri Misommon, Sithao Petcharoen, Lor Tok, วิภาวดี ตรียะกุล, Khomapat Attaya, Krai Kanchit, Manat Boonkiet. Movie director is Lor Tok. The film is lost in Thailand but a left sequence in 35mm format can still be seen. The picture is very damaged and reddish. It lasts six minutes. During the remaining sequence, Nim (Pawana Chanajit) loves Seum (Yodchai Meksuwan), being a poor man. Sorasak (Sayan Chantaraviboon) is her promised fiance per her parents' arrangement. Sorasak's mother is Manat Boonkiet. On Nim's birthday, an official engagement ceremony shall happen but Nim declares her love to Seum in front of her family. Sorasak loses face and punches Seum afterwards. Nim's parents are mother Mom Somjit Sapsamruey and father Op Boonthit. Chosri Misommon has pity over Nim. Seum teaches Nim to play music with old instrument. Seum is Nim's first love. This movie highlights the dilemma between a chosen marriage by parents and children's own love choice.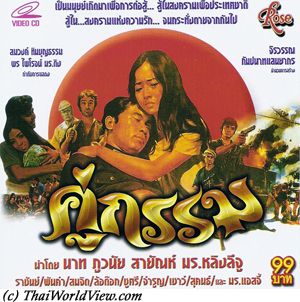 Year

: 1973



Thai title

:

คู่กรรม




English title

:



Rating

: 3/5


Director

:



Main actor

: Nard Poowanai,Lor Tok,Sayan Chantaraviboon,Sukon Koewliam,Jamroon Nuatjim,Chao Klaewklong


Main actress

: Somjit Sapsamruey,Chosri Misommon
This movie is about the tragic love during World War II between a Japanese officer and a Thai lady.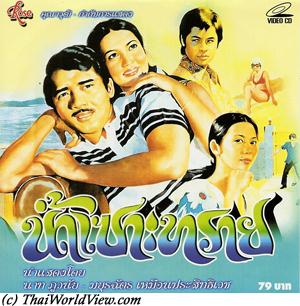 Year

: 1973



Thai title

:

น้ำเซาะทราย




English title

:



Rating

: 5/5


Director

: Wichit Khunawut



Main actor

: Nard Poowanai,Sayan Chantaraviboon


Main actress

: Mayurachath Muarnprasitivej,Wandee Sritrang,Marasri Bangchang



Buy now

:

This movie about two couples interaction. Pim (ภีม), a white-collar, and Wan (วรรณรี), a teacher, are married. Pukrong (พุดกรอง) is a rich and lonely widow (ว้าเหว่). Pong (พงษ์), a bachelor, tries to be Pukrong's sweet heart boyfriend but he is a butterfly. Pim often argues with his wife and Wan feels neglected (น้อยใจ) with Pim. Pim and Pukrong love each other secretly (รักกัน). Wan is too well-mannered (เรียบร้อย) and strict (เคร่งครัด) so Pim is fed up despite she gave her two beautiful children and takes well care of the home. They still use the polite word "ค่ะ" at the end of each sentence. Life is scheduled as a clock with Wan so Pim is fed up. Pim is a frustrated husband and arguments occur with Wan. Pim and Pukrong continue to see each other secretly in Bangkok. Pim needs to lie to Wan (ของขโมยอร่อยกว่า). As Pong continues to be her faithful admirer, he becomes annoying as Pukrong doesn't have full freedom to see Pim. Pukrong has to involve her well-off friend (ผู้ดี - คุณผู้หญิง). It highlights that Thai high society people also plays cards and have same sins. Her friend has to be involved in the lies. Pim rents a house for them to see each other freely (ความสุขของเรา) in order to avoid busy hotels and frequented restaurants. Pukrong spends a lot of money to decorate the house as she wishes a forever love. Pong knows that Pukrong flees behind the house. Pukrong wishes to see Pim every day. Wan knows her husband went out as his clothes smell perfume. Wan and Pong starts to notice. Pong is informed about the truth through a friend who saw them in a bar (เล่นรัก). Wan refuses to believe that her best friend (สุภาพบุรุษ) steal her husband love. Pukrong doesn't want a hidden love. Wan fights back to keep her husband. Can money buy everything including love? There is insinuation (พูดประโชด) between the two women and then a real verbal fight (บาปตื่นเต่น). Wan knows the truth now (ใจเป็นทรายศ). Pukrong is the bad rich high society girl versus Wan, the good teacher worried about position girl and strict mother / wife. Pukrong tells the truth to Wan. Pim has to go back to Wan due to the children. Pakrong feels left over. But it is not as easy. Wan wishes to divorce with Pim and chases him away. Finally Pim goes back to Pakrong. It is now the main wife versus the minor wife (เมียน้อย / เมียหลวง). Pong pushes Wan to fight (สู่). Pong tries to break the relationship as Pim is fed by Pukrong. Wan refuses to see a shaman (หมอผี) to help her to have Pim back. Meanwhile Pim and Pakrong are enjoying their romance. Pukrong is pregnant. Pong presents a military officer Neephon to Wan. If Pim can have a new love, why Wan cannot have one? It creates jealously on Pim's side as he doesn't want his kids to have a new father. This time Pim refuses to divorce. Pukrong has another child in America from a previous relation. She understands Pim's feelings towards his previous family and also understands he will never be able to choose so leaving things unsettled forever so Pukrong decides to go to America with her new born baby. Pim tries to resume relationship with Wan but it is too late. Wan refuses. Pim ends up alone. It is a long movie as it lasts 2h37 with a dubbed soundtrack. This movie highlights Thai society hypocrisy, i.e. Thai men can have a minor wife but the main wife cannot do anything except to complain in silence. Classical music is used in tragic moments. The scenario is inspired from a book written by author Krisna Asokesin (กฤษณา อโศกสิน), who has won the SEAWRITE prize for literature. Another movie remake was done in 1986. It was adapted as Thai TV serie many times also.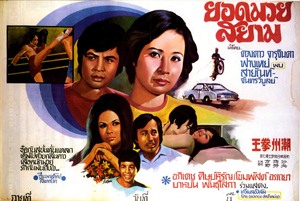 Year

: 1973



Thai title

:

ยอดมวยสยาม




English title

: The greatest Thai boxing



Rating

: 3/5


Director

:



Main actor

: Sayan Chantaraviboon


Main actress

: Duangdao Jarujinda,Khomapat Attaya
Thai movie ยอดมวยสยาม or "The greatest Thai boxing" was released in year 1973. It is a Taiwan | Hong Kong production. It is named 潮州拳王 - "The greatest Thai boxing" or "Boxer King of Chaozhow". It lasts 1h29mn09s. The movie is lost in Thailand but can still be seen at the Taiwan National Film Archive Foundation. It features Thai actor Sayan Chantaraviboon and Thai actresses Duangdao Jarujinda, Khomapat Attaya. A summary is available in Chinese.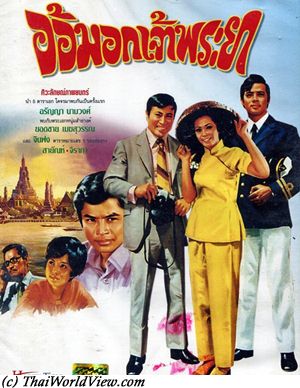 Year

: 1972



Thai title

:

อ้อมอกเจ้าพระยา




English title

:



Rating

: 3/5


Director

:



Main actor

: Yodchai Meksuwan,Sayan Chantaraviboon,Jin Fong


Main actress

: Aranya Namwong



Buy now

:

Thai movie อ้อมอกเจ้าพระยา was released in year 1972 and lasts 2h07mn. It was released under DVD format by company Happy Time Marketing. It features a sharp and colorful image. Saonai is coming from a rich family (ผู้ดี) and living in Hong Kong. Khun Wang (played by Hong Kong number one actor Jin Fong - จินฟง) is her chaperon. It is really nice to see again Hong Kong almost forty years ago with Love Rock scenery, views from the Peak, old cars, absence of high buildings, boat people settlements. Saonai wishes to experience life with poor people so she settles in Mongkok with boat people (ชาวเรือสลัม) community. She pays an old lady to play her mother. Kla is a Thai captain, whose cargo is berthing in Hong Kong a few days. Saonai hits his small pinnace and he falls into the water. Love starts between Saonai and Kla. Khun Wang continues to look for Saonai following her father's orders. Ruffians hit Kla and bring back Saonai to her father. The father wants a good husband (มีนามมีฐานะ) for his daughter and not a sailor. Kla knows the truth about Saonai thanks to the old lady. Saonai is a modern lady believing in love and heart choice. Her father wishes to marry her to Khun Wang (พ่อใจร้ายไม่เห็นใจ). But Khun Wang promises to help Saonai to find Kla. Kla is back to Thailand disappointed by Saonai's lies. In Thailand a young lady, called Porn, loves Kla but Kla indulges in alcohol as he cannot forget Saonai. Saonai arrives in Thailand and looks for captain Kla at the Bangkok port. Kla already resigned from his job. Saonai looks for him in Bang Kapi district. Thanks to an old colleague, Kla is aware that Saonai is looking for him. But they miss each other. Saonai wishes to kill herself. She is helped by Porn. Kla's younger brother, Keng, meets Saonai at Porn's house. She is renamed as Araya. Keng loves her at first sight and promises himself to achieve his goal to build a family. So love feelings are mixed through a few people (Saonai, Kla, Porn, Keng). Saonai fails to meet Kla at Keng's home but understands he is the one she was looking for. Keng is aware of Saonai's love towards Kla. Disappointed by this news, he has a car accident and is almost blind. Anyway he told Kla the good news about Saonai. Meanwhile love emerges between Khun Wang and Porn. Following some last minute misunderstandings (อกหัก), Saonai and Kla are reunited. Three couples have now happiness as Keng falls in love with Khun Wang's younger sister. This old 1973 movie still features beautiful colorful picture and songs. Aranya Namwong is shining. This movie features an homage to the Chao Phraya river, an homage to the Thai King and the Thai Queen during their birthday celebrations with colorful lightings in Bangkok, an homage to the good Chinese Thai relations.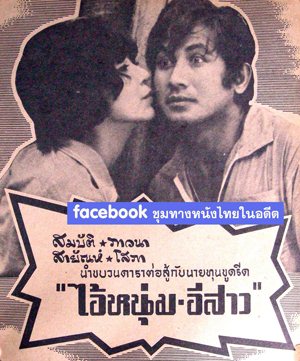 Year

: 1972



Thai title

:

ไอ้หนุ่ม-อีสาว




English title

:



Rating

: 3/5


Director

:



Main actor

: Sombat Methanee,Sayan Chantaraviboon,Choomporn Theppitak,Sawin Sawangrat


Main actress

: Pawana Chanajit,Sopha Sataporn,Metta Roongrat
Thai movie ไอ้หนุ่ม-อีสาว was released in year 1972. Main actors and actresses include Sombat Methanee, Pawana Chanajit, Sayan Chantaraviboon, Sopha Sataporn, Metta Roongrat, Choomporn Theppitak. The film was never released on VHS / VCD / DVD format but a sequence in 16mm format can still be seen in Thailand as one reel is left. It lasts only 14 minutes and is mute. The image quality is very damaged due to humidity on the film. The official movie poster is also lost. During the remaining reel, various sequences can be seen such as a lady talking to a ruffian, ruffians (including Sayan Chantaraviboon) harassing a kid. Pawana Chanajit stops them. Sawin Sawangrat arrives in order to calm down everybody. A lady is talking to two men. Sopha and Pawana are talking to the child (it is maybe a younger brother). Ruffians are back. Pawana pushes back advances from ruffians. Choomporn, Sombat and Metta are talking together. Another man is trying to seduce Pawana through a song.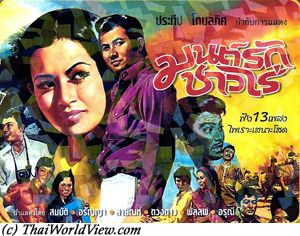 Year

: 1971



Thai title

:

มนต์รักชาวไร่




English title

:



Rating

: 3/5


Director

:



Main actor

: Sombat Methanee,Sayan Chantaraviboon,Phirapon Piyawan


Main actress

: Aranya Namwong
This folk-music movie is similar to "mon rak luuk thung". It features 13 folk or "LUUK THUNG" songs. It is about love stories between feminine villagers and men working from outside the village. Some villager men don't agree that outsiders take interest into local ladies.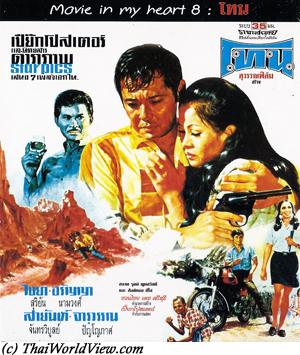 Year

: 1970



Thai title

:

โทน




English title

: Tone



Rating

: 4/5


Director

: Piak Poster



Main actor

: Chaiya Suriyun,Ruj Ronnapop,Sahat Piempongsan,Songthong,Sayan Chantaraviboon


Main actress

: Aranya Namwong,Jaruwan Panyopas



Buy now

:

Thai movie โทน / Tone is the first movie done by Piak Poster. It was released under VCD format by company XxX (Triple X). It features many Thai modern 1970s songs from 'The Impossible' group (วงดิอิมพอสซิเบิ้ล), some classical and traditional Thai songs, and even some American songs including 'Scarborough Fair' in Thai. The main characters are living in a provincial village, i.e. Pon (Chaiya Suriyun), Sang Thong (Songthong) and Nong Kulap (Jaruwan Panyopas). Sang is Pon's best friend following up everywhere. Pon loves Nong Kulap sincerely but Kulap sees him as a close friend only. She also needs to go to Bangkok to continue her studies, so they will be separated (ห่างกัน). Pon didn't do high studies and is living in a Buddhist temple with Luang Ta as a monk's attendant (ลูกศิษย์วัด). He was an orphan (เด็กกำพร้า). Ot (Sayan Chantaraviboon) is a Bangkokian young man visiting some relatives in the village. While having a drink, some ruffians (นักเลง) led by Amnat provoke him and a fight erupts. Pon is involved as he was just passing by and finally, he is helping Ot to get rid of the ruffians. The abbot wishes Pon to continue his studies in Bangkok. Ot proposes to help and Pon is now relocated in Bangkok. He meets Rut, Ot's elder brother (Ruj Ronnapop) and Daeng (Aranya Namwong), Ot's modern young sister. Daeng hates (เกลียด) Pon immediately. It seems Kulap has forgotten Pon. Sang is having quarrels with ruffians, who shot him. Ot meets Kulap randomly in Bangkok. Ot loves Kulap but Pon is not aware that Kulap is now in Bangkok. Daeng's boyfriend Long (Sahat Piempongsan) is a ruffian trying to take advantage of her. Hopefully Pon sees the stratagem and helps her. He gets injured. Daeng starts to see Pon's kindness and now loves secretly Pon. It is Ot's birthday (วันเกิด). Kulap (แฟน) comes to his birthday. It is the first Thai movie showing the 1970 youth with modern Thai and English music, dances and mini dresses. Daeng understands that Pon still loves Kulap and suffers. After a discussion between Pon and Ot, Ot accepts it (ทำใจ) and takes care about Daeng. Love story starts. Long is still cross with Daeng and Pon. He kidnaps Daeng and Kulap. Pon, trying to help, is also captured. Ot is chasing them. Long wishes to sell the two ladies to his friend Amnat. They will work as forced prostitutes. Daeng and Pon fail to escape and Long rapes Daeng. Thanks to Ot, Long is neutralized and is shot by Daeng. Pon shots Amnat so avenging his friend Sang Thong. It is time to forget the bad past and look forward to the bright future. Piak Poster began as a painter of movie posters. He painted 'Tone' movie poster. Tone was Piak Poster's first movie as director. The movie features seven songs. Songthong became famous thanks to the songs he performed in 'Tone' movie. It was the first movie in which the leading actress is raped. Thanks to the modern songs, 'Tone' movie reaped 6M Baht. It was the second biggest success in year 1970 after 'Mon Rak Luuk Thung' with Mitr / Petchara. It was also one of the first movie to use 35mm film instead of 16mm. 'Tone' movie was adapted two times for TV as a lakorn, i.e. in 1992 with Santisuk Promsiri and more recently in 2000s decade with Vinai Kraibutr and Metinee Kingpayome. Tone was the first movie in Thailand to break the monopoly of Mitr-Petchara movies. This movie is part of the first 25 films heritage list announced on October 4 2011, which is Thai Movies Conservation Day. The swimming suit worn by Aranya Namwong became a hit also as it shown the belly. All young ladies in year 1970 bought it. A promotional movie, lasting 17 minutes, shot in black and white, in 16mm format, can be seen online and is showing behind the screen sequences. The movie shooting was done over two years as Piak Poster liked perfection, details and used a lot of film. The film was developed in Japan and 11 copies travelled all over Thailand. It was two times more than usual.
---