Increase or decrease font size for easier reading : A+ A-
Sasithorn Phetrung
Sasithorn Phetrung (1947) - ศศิธร เพชรรุ่ง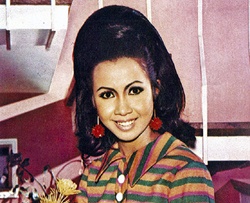 Sasithorn Phetrung had a love story with Mitr Chaibancha
This Sasithorn Phetrung movie page contains 9 records.
---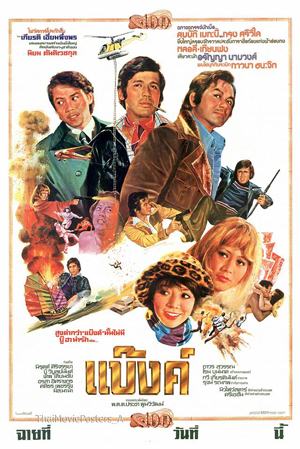 Year

: 1976



Thai title

:

แบ๊งค์




English title

: Bank



Rating

: 3/5


Director

:



Main actor

: Sombat Methanee,Krung Srivilai,Lo lieh,Thep Thienchai,Nirut Sirijanya,Boo Wibunnan,Somchai Samipak,Ruj Ronnapop


Main actress

: Aranya Namwong,Pawana Chanajit,Orasa Isarangkul,Sulaleewan Suwanthat,Sasithorn Phetrung
Thai movie แบ๊งค์ was released in year 1976 and lasts 1h51mn. A remastered version was released in decade 2010s. Shaft movie (1971) soundtrack music is used. Boo Wibunnan is using armored car from bank to transport money. During transportation, the convoy is attacked and money is stolen. An ambulance car is used to be discrete, but police is chasing them. Robbers throw some money to cause a traffic jam and to block the police. The police identifies that 10M THB was stolen but it is fake money. As the fake banknotes are very good quality, Thai police wants to keep it low profile to avoid Thai population to be worried about fake money. Thai police calls back Lit (Sombat Methanee) to investigate. He is currently busy shooting a romance movie directed by Ruj Ronnapop and with actress Orasa Isarangkul. Thep Thienchai, Lit's friend, puts the fake money in the bank. Thep is kidnapped as Boo and Somchai Samipak believe Thep is part of the gang, who stole their money. Lit is following them as he wishes to know who produces the fake money. Releasing Thep, Lit wishes to join Boo as partner. Another 10M bath transaction shall happen soon. A plane brings the money. Police intervenes. Ruffians are neutralized. Lit succeeds to enter in the plane before it takes off. The pilot is his friend Po (Krung Srivilai). Po is just a transporter as he doesn't know where the money is coming from. He receives orders from Hong Kong. Lit flies to Hong Kong and meets inspector Fe (Lo lieh, Hong Kong actor). Some men follow Lit. Fe and Lit find Po again. Po's multiple trips to Hong Kong have intrigued Hong Kong Police so they dispatched a policewoman named Teresa (Aranya Namwong) acting as a singer to check Po. Lio, the bar owner, doesn't like Teresa to mingle with Po so he sends tough men to give a lesson to Po and Lit but it fails. During the fighting, Nirut Sirijanya is injured. Po and Lit send him home and meet his younger sister Lin (Pawana Chanajit). Lio is their uncle and educates them as their parents are dead. Lio is suspected to be the fake banknotes producer. Lio tries to abuse Lin. Lin is going to Chinese University of HK. Sulaleewan Suwanthat brings her to school every day. For their safety, HK Police keeps Lin and her brother. Her brother, being addicted to drugs by Lio, flees after stabbing a policeman. He informs Lio that HK and Thai police are investigating on him. Ruffians attack Lit and Po again in order to catch Lin but it fails. Po takes the opportunity to meet Sasithorn Phetrung. Lin identifies that Nirut is often going in a Chinese temple. HK Police investigates. Under the temple, there is a secret factory producing banknotes. Nirut's father, still alive, is producing fake money for Lio. Knowing that his daughter is now safe with HK Police, he wishes to stop doing this bad business. Fighting erupts with Lio. Lio shoots Nirut and his father then burns the whole temple. Back to his club, he wishes to flee overseas with Teresa, but he is shot by the paralyzed lady, being his club business partner and who is in fact a man! The partner shoots Teresa and flees with the money. Lit and Fe chase the man by car up to Pa Sha Wan and then by boat. About to flee by helicopter, Lit shoots him and all the banknotes fall in the sea...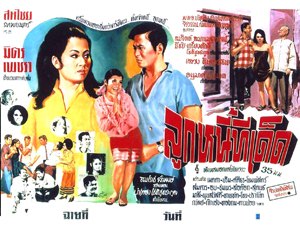 Year

: 1970



Thai title

:

ลูกหนี้ทีเด็ด




English title

:



Rating

: 3/5


Director

:



Main actor

: Mitr Chaibancha,Daonoi Duangjai,Kokheng,Op Boonthit,Somkuan Krajangsat,Sukon Koewliam,Lor Tok,Choomporn Theppitak


Main actress

: Petchara Chaowarat,Metta Roongrat,Prim Praphaporn,Khomapat Attaya,Sasithorn Phetrung,Malee Wetpraseri
Thai movie ลูกหนี้ทีเด็ด was released in year 1970. A partial sequence of 1h45mn in 16mm format is left. It is in mute state and the image is pretty damaged. After removing the damaged sequences, only 1h05mn remains to be seen. Another sequence of three songs in 35mm format lasts 9 minutes. The movie was dubbed and shown in Thai Film Archives in the shorter version of 1h05mn. The movie features 4 songs but only 3 songs are left. The poster selling point is that up to 40 different actors and actresses are present in this movie. Some of the actors are Metta Roongrat, Daonoi Duangjai, Mitr Chaibancha, Prim Praphaporn, Petchara Chaowarat, Kokheng, Op Boonthit, Somkuan Krajangsat, Sukon Koewliam, Lor Tok, Khomapat Attaya, Sasithorn Phetrung, Choomporn Theppitak, Malee Wetpraseri. Lit (Mitr Chaibancha) helps Somkuan Krajangsat and Lor Tok aggressed by ruffians. Somkuan is looking for the house of Op Boonthit so Lit helps him to find it. Wan (Metta Roongrat) is Op's granddaughter. Three friends (Lit and two comic actors) are living together. แม่ค่า Ling (Sasithorn Phetrung) tries to seduce Lit by being friendly with his friends and giving them free food. Ling's mother (Malee Wetpraseri) doesn't want her daughter to meet those poor 3 guys. Sophee, Lit's girlfriend, leaves him as he is poor. Pim (Prim Praphaporn) and Taeng (Petchara Chaowarat) take refuge in their home as rain is falling hard. Pim and Taeng are looking for lost relatives so Lit promises to help them. Policeman Sukon Koewliam and Kokheng are visiting Lit as he needs to pay back some debts. Sukhon threatens to send him to jail. Taeng helps Lit by offering her pearl necklace in order to soothe the usurer. Op Boonthit and Somkuan Krajangsat (พ่ออ้วน) complain Wan likes to go out often. Wan and Noi (Daonoi Duangjai) meet Lit and his two friends to discuss business. Lit visits Op and Somkuan's house. Lit borrows some money as he is opening a business. Wan gives money to Lit and his friends for them to be quiet. Two songs are then featured in the nightclub area. Lit is forbidding his former girlfriend Sophee to dance with Choomporn Theppitak in a nightclub. Chom (Khomapat Attaya) is also present. Lit finally punches Choomporn. Another love song is sung by Khomapat Attaya. Ling declares her love to Lit but Lit only considers her as a younger sister (น้องสาว). Op asks Lit to find his lost daughter. Lit needs to get back the pearl necklace also as Op mentions his lost daughter had such necklace. So he needs to verify if Taeng is the lost daughter or not. Chom is helping by giving money to Lit. Lit buys the necklace back from the Chinese usurier Kokheng. Finally Taeng is reunited with her family thanks to Lit. Later on, Taeng visits Lit in his house. Taeng is then singing with Lit in his house. Thanks to a sign on his chest, Lit is also identified as the lost son of Somkuan. The movie can end up happily. A movie with same name was released in year 1984 but the story is different.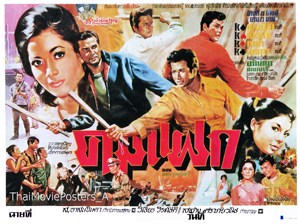 Year

: 1970



Thai title

:

คมแฝก




English title

:



Rating

: 3/5


Director

: Sor Asanajinda



Main actor

: Sombat Methanee,Kecha Plianvithee,Luechai Natnat,Sithao Petcharoen,Krai Kanchit,Sukon Koewliam,Ruj Ronnapop,Chanee Yotchai


Main actress

: Aranya Namwong,Metta Roongrat,Kaenjai Meenakanit,Sasithorn Phetrung
Thai movie คมแฝก was released in year 1970 and lasts 2h16mn. It was released under VCD format by Lepso company. Movie director is Sor Asanajinda. Kan (Sombat Methanee), a policeman, shoots Saen's father, who is smuggling illegal goods. Saen (Kecha Plianvithee) wishes to avenge his father. He invites Kan for a birthday party and drugs him. When Kan wakes up, a dead man is found near him. Kan is accused of murder and is sent ten years in jail. Kan promises to use a baton (คมแฝก) and not a gun anymore for his revenge. After ten years, Kan is back but his family is torn apart. He wishes to revenge against the mafia leader (เจ้าพ่อ) Saen. Sithao Petcharoen and his wife are bar owners. Taprao (Metta Roongrat) is their daughter. Kan's father is dead but Kan is still looking for his mother, his wife Dokmai and his sister Kalog. Dokmai (Kaenjai Meenakanit) is now Saen's wife. Krai Kanchit is a new policeman in the city. Sukon Koewliam, an undertaker (สัปเหร่อ), supports Kan. Kan enters Saen's house to find his mother and sister. Achan (Aranya Namwong), Saen's younger sister, promises to help but she finally betrays him. Kan is captured by Saen. Feeling guilty, Achan releases him. Kan takes refuge in the undertaker's home. Pleung (Luechai Natnat) arrives in the city and ends up in Sithao's bar. A new ruffian Fai (มือดี)(เพชร พิษณุ) arrives in Saen's team. Kan declares his love to Achan. Ruj Ronnapop (ขายยา) warns Kan about the new hitman. Kan bewares of Fai and Pleung despite Ruj confirms Fai is finally on their side. Fai is Pleung's younger brother. Fighting happens between Kan, Ruj, Pleung and Saen's men in Sithao's bar. Police has to intervene. Saen wishes to hire Pleung. While simulating being a movie dubber, Ruj finds weapons hidden in wooden crates. He meets Kalog (Sasithorn Phetrung). Kan sends a grenade to destroy the weapons stock as Saen plans to hurt Thailand. Police inspector Krai comes to arrest Saen but another teammate pretends the weapons belong to him. Achan warns Kalog, younger sister of Kan, about Saen's activities. Kalog succumbs to Ruj. Robbery of a house is failing, and a few ruffians are killed. Saen suspects Kalog is the one disclosing his activities schedule to Kan. Her mother tries to intervene but she is killed. Achan discloses that she is the one warning Kan. Saen and his men storm Sithao's bar. Kan is knocked out. As Saen cannot shoot a man sleeping, he closes his eyes before firing. Dokmai interposes and she is the one being shot. Upset, Saen defies Kan and his friends as he kidnapped the three ladies. Saen, Fai and Ruj go to release them but they have to surrender. It is disclosed that Kan is new chief district and both Fai and Rj being undercover policemen. Caretaker Sukon Koewliam is ordered to prepare three coffins. Kan and his friends have to prepare their own graves (ฝังตัวเอง). Sithao helps to release the ladies and gives them guns. Sukon bring back coffins containing policemen. Shooting happens between policemen and ruffians. Saen finally causes his stock of dynamite to explode as his cigar falls on it. Pleung character played by Luechai Natnat disappears after a while during the movie. It is said it was killed. Maybe there was a conflict between Luechai Natnat and the producer / director so the character Pleung has to be removed.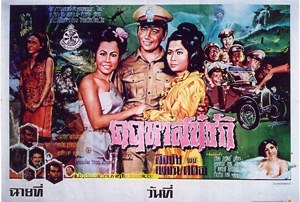 Year

: 1969



Thai title

:

คฤหาสน์รัก




English title

:



Rating

: 2/5


Director

:



Main actor

: Luechai Natnat,Sukon Koewliam,Pipop Pupinyo,Tawan Siriwat,Sithao Petcharoen


Main actress

: Petchara Chaowarat,Preeya Roongrueng,Sasithorn Phetrung
Thai movie คฤหาสน์รัก was released in year 1969. It is a 16mm format movie and lasts 2h05mn. Main actor is Luechai Natnat and main actress is Petchara Chaowarat. A Chinese vendor faces ghosts coming to eat at his shop. Even the police faces ghosts when patrolling at night time. Those lengthy comic sequences last more than 40 minutes. Policemen call their boss, Luechai Natnat, to investigate. While entering in a haunted house, Luechai is greeted by a beautiful lady (Sasithorn Phetrung) in Thai traditional dress and then by Petchara Chaowarat. Then Preeya Roongrueng brings drinks. The other policemen discover Preeya is a ghost and her other friend, a vampire. The woman wearing a Thai traditional dress, Sasithorn Phetrung, is also a ghost. While taking a picture, it is discovered that Petchara is also a ghost. Finally Luechai is also aware. The house is fully haunted. Another real Petchara is coming from airport. Policemen including Sukon Koewliam get confused between Petchara 1 and Petchara 2. It is disclosed that Petchara 1 and all house's inhabitants were killed by ruffians. Veteran comic actor Sithao Petcharoen is also playing as spirit house ghost. Petchara 2 is captured by the same ruffians to force her to sign a document but she refuses. Finally Luechai is informed that Petchara 2 is held captured. Police storm the house but ghosts (including Pipop Pupinyo) already took their revenge. During a final duel between Luechai and Tawan Siriwat, Petchara 1 strangles Tawan. All ghosts have to quit this world being called by the king of hell. This small movie features Luechai Natnat as main actor at a time the main popular actors were Mitr Chaibancha, Sombat Methanee and since many years. Horror movies from decade 1960s despite missing FX effects still have a nostalgic feeling of forever gone era.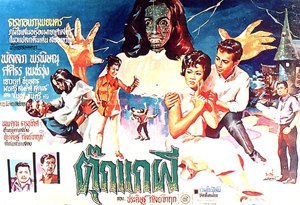 Year

: 1969



Thai title

:

ตุ๊กแกผี




English title

: Gecko ghost



Rating

: 3/5


Director

:



Main actor

: Surayut-Chaiyayut Vetchayan,Sukon Koewliam


Main actress

: Sasithorn Phetrung,Yaowaret Nisakorn,Marasri Bangchang
Thai horror movie ตุ๊กแกผี was released in year 1969. A father (ประดิษฐ์ กัลย์จาฤก) is married with a woman (มารศรี ณ บางช้าง) and have three grownup children, one boy (Surayut- Chaiyayut Vetchayan) and two daughters including Sasithorn Phetrung. His wife is severely sick. So the husband tries to bring in the house a new younger minor wife (Yaowaret Nisakorn). The children disagree with the new minor wife but the father keeps protecting her. Arguments occur and the mother dies due to shock. Her spirit enters a gecko. The son of the minor wife, Phalalop (พัลลภ พรพิษณุ), likes Sasithorn Phetrung. The mother ghost threatens the new wife not to bother her children. Sukon Koewliam is used as a spirit doctor (หมอผี) but he is chased away by the gecko ghost. The ghost lady is having multiple dots on the face similar to a gecko. A famous scene is when the ghost is putting live small mouses in her mouth to eat them. Surayut- Chaiyayut kidnaps a young lady, daughter of the new wife. Her brother Phalalop releases her. Arguments and fightings happen Surayut-Chaiyayut and Phalalop. Phalalop falls from a high cliff and is left as dead. Romance happens between Surayut- Chaiyayut and the minor wife's daughter. Phalalop isn't dead. A romance also happens between Sasithorn Phetrung and Phalalop. Thanks to a second spirit doctor, the second wife neutralises the ghost as a sacred cloth seals the coffin. Meanwhile Phalalop is having a new girlfriend to the high disappointment of Sasithorn Phetrung. Surayut- Chaiyayut finally finds the sacred cloth and removes it. To ruin the reputation of Sasithorn Phetrung, the minor wife hires a man to rape her and a photographer to take dirty pictures but the mother ghost kills the rapist first. A third spirit doctor gives an exorcist knife (มีดหมอ) to stab the body of the ghost mother on the 15th day of lunar calendar. The ghost wakes up on time and order the minor wife to stab herself. The father organizes ceremonies for both spirits to find peace. The two young couples can wed.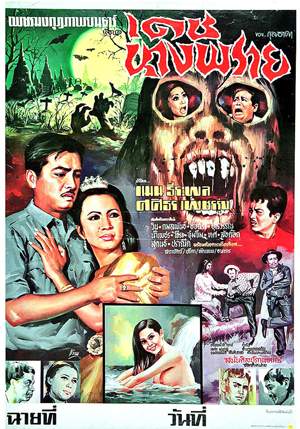 Year

: 1969



Thai title

:

เดชนางพราย




English title

:



Rating

: 3/5


Director

:



Main actor

: Man Teeraphol,Lor Tok,Sukon Koewliam,Joomjim Khemlek


Main actress

: Sasithorn Phetrung
Thai movie เดชนางพราย was released in year 1969. Main actor is Man Teeraphol and main actress is Sasithorn Phetrung. The movie is lost in Thailand but a 3mn30s trailer remains to be seen. This movie is a comedy horror movie. It features Man Teeraphol, Sasithorn Phetrung, วิน, กมลพันธ์, อัจฉรา, อุไรวรรณ, น้ำเพชร, พีระ, Joomjim Khemlek, ทศ, Lor Tok. The left sequence show a ghost transforming itself into a beautiful lady (Sasithorn Phetrung), the romance between Man Teeraphol and the ghost, a black magician (หมอผี) used to chase the ghost. Man Teeraphol and Sasithorn Phetrung are seldom the main stars in movies. As it was a small horror comedy movie, there was no need to have big stars such as Mitr Chaibancha and Petchara Chaowarat.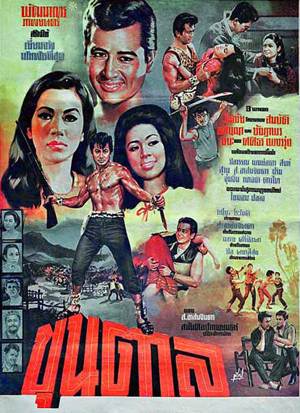 Year

: 1969



Thai title

:

ขุนตาล




English title

:



Rating

: 3/5


Director

: Sor Asanajinda



Main actor

: Sombat Methanee,Sor Asanajinda,Chana Sriubon,Luechai Natnat,Joomjim Khemlek,Sawin Sawangrat,Somkuan Krajangsat


Main actress

: Aranya Namwong,Wilaiwan Watthanaphanit,Prim Praphaporn,Chatchadaporn Laksanawed,Sasithorn Phetrung
Thai movie ขุนตาล was released in year 1969. Main actor is Sombat Methanee and main actress is Aranya Namwong. The movie is lost in Thailand but three reels remain to be seen. The whole movie is reduced to a sequence of 47 minutes so making it difficult to understand in details. Sor Asanajinda is actor and movie director. No movie summary is left to be read. The movie is in 16mm format so without sound as such format requires live dubbing. Two friends always like to fight to settle their disagreement (เพื่อนรัก). They are living in a bandit village (ชุมเสือ). One of them, called Sing (สิงห์), is having a child with Prim Praphaporn. Their son is played by Sombat Methanee. Years have passed, he is now an adult. Following some fighting, Sombat becomes the new leader and gets a crown shaped like a tiger head (มงกุฎหัวเสือ). Sombat summons a spirit doctor (หมอผี) to cure Sasitorn Phetrung (ศศิธร เพชรรุ่ง), who is blind. Some ingredients are missing. In the city, a sequence shows Chana Sriubon, Chatchadaporn Laksanawed (ชัชฎาพร), Sawin Sawangrat and Sor Asanajinda talking together. Sombat and the spirit doctor enter in Pa Sor's house to get some of the missing ingredients. Sombat meets Chadaporn and then Aranya. Wilaiwan Watthanaphanit is the mother of the two daughters, i.e. Chadaporn and Aranya. Sombat is injured by the bandit he defeated before to become the village leader. Chana Sriubon neutralises the bandit so that Sombat can run away. Luechai Natnat is then also injured in Pa Sor's house and flees. He is chased by ruffians but gets help from Sombat. Sombat comes back again to the house to have discussion with Pa Sor and ends up kidnapping Aranya and Sasitorn. Sawin and his ruffians chase them. Chana Sriubon tries to prevent them but gets neutralised. Sombat seems very unhappy over Aranya. Aranya saves Sombat's life while he is attacked again by the rogue bandit. Sawin captures Pa Sor and Chana Sriubon. Aranya asks Sombat to help Pa Sor captured by Sawin. Wilaiwan releases Chana. Luechai gets rid of Sawin. Final duel happens between Sombat and Pa Sor until they realise they are relatives (father / son?).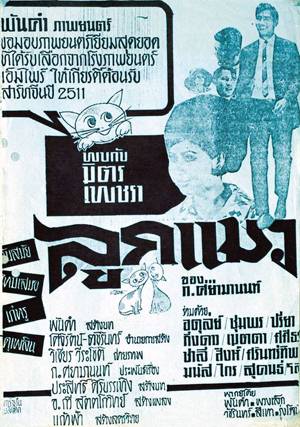 Year

: 1968



Thai title

:

ลูกแมว




English title

:



Rating

: 3/5


Director

: Phan Kam



Main actor

: Mitr Chaibancha,Adul Dulyarat,Krai Kanchit,Choomporn Theppitak,Sawin Sawangrat,Sukon Koewliam,Paen Pleumsachai,Preuhat Boonlong


Main actress

: Petchara Chaowarat,Metta Roongrat,Preeya Roongrueng,Kingdao Daranee,Sasithorn Phetrung,Manat Boonkiet,Sarinthip Siriwan
Luuk Maew (ลูกแมว) is a movie released in 1968. Only 38mn are left and there is no sound as the movie was in 16mm format. With only part of the movie available and no sound, it is difficult to understand the whole story. Mitr Chaibancha's mother would like his son to marry Petchara Chaowarat, who is the daughter of Princess Pa, as she is hoping for a dowry to pay her debts. Mitr is not convinced as he doesn't know Petchara. One ruffian relative (Choomporn Theppitak) of Princess Pa wishes to kill her and Petchara to get the family heritage. Petchara gets shot and falls in the sea. Petchara's nickname is Luk Maew (ลูกแมว), i.e. the name used for the movie title. Petchara gets some help from doctor Adul Dulyarat. As Petchara has disappeared, the mother has already a new plan to marry Mitr to another niece of Princess Pa, i.e. Kingdao (กิ่งดาว ดารณี). While visiting a school, Mitr is hurt by a ball sent by Petchara. They meet for the first time. Mitr brings Petchara back to his home. Petchara shall be the baby-sitter for his disabled niece. In the home there are already Mitr's mother and her two daughters Metta Roongrat and Preeya Roongrueng. Petchara is not welcomed. A long discussion between Mitr and Adul happens following a checkup of the child. The ruffian relative threatens Metta following a night she was drunk. Petchara recognizes the ruffian who shot her and flees from Mitr's home. Petchara is kidnapped. Krai Kanchit helps to release Petchara. The grandfather separated with his wife also tries to help the child. Finally the little girl is reunited with her mother Preeya. The director is popular director Phan Kam. Actress ศศิธร เพชรรุ่ง has also a small role.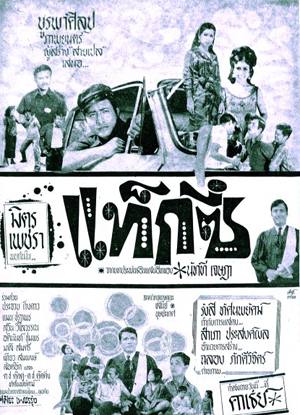 Year

: 1968



Thai title

:

แท็กซี่




English title

: Taxi



Rating

: 3/5


Director

:



Main actor

: Mitr Chaibancha,Prachuap Ruekyamdee,Lor Tok,Choomporn Theppitak,Man Teeraphol,Sawin Sawangrat,Sompong Phonmitr


Main actress

: Petchara Chaowarat,Sasithorn Phetrung,Chadaporn Wachirapranee,Kingdao Daranee,Wilaiwan Watthanaphanit,Malee Wetpraseri
แท็กซี่ is a 1968 Thai movie with Mitr Chaibancha, Prachuap Ruekyamdee, Petchara Chaowarat. Only 4 minutes of the movie are left. It is a 16mm movie without sound. Despite the short passage available, it is enough to see Mitr Chaibancha helping Prachuap Ruekyamdee during a fight. Even comic Lor Tok is present. Grandma veteran actress มาลี เวชประเสริฐ and her two daughters, including Petchara Chaowarat, are living in a rich house. They are kidnapped. Guess Mitr Chaibancha will help to release them! Prachuap Ruekyamdee seems to work in a cafe restaurant where songs are performed. Fight erupts again in the cafe. There is no summary available of this movie. At the end of the movie, many taxis gather to protect main actor Mitr Chaibancha. It is the first movie for veteran actress ศศิธร เพชรรุ่ง (Sasithorn Phetrung). Sasithorn Phetrung later had a love story with Mitr Chaibancha.
---