Increase or decrease font size for easier reading : A+ A-
Sasima Singsiri
Sasima Singsiri (1955) - ศศิมา สิงห์ศิริ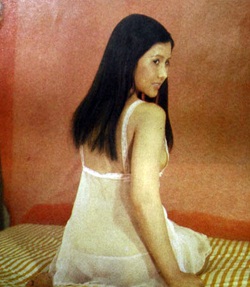 Sasima Singsiri played in more than 20 movies in a 10 years cinematographic career. She often played sexy roles. She could have become a leading actress but Petchara was still famous and Aranya was the most popular during that period. Sasima Singsiri finally got her first role as leading actress (นางเอกเต็มตัว) with Krung in movie "อีหนู". To differentiate herself, she has to play some daring roles (สาวที่กล้า). Her own father even realises films with his daughter. Starting 1981, she became less famous
This Sasima Singsiri movie page contains 9 records.
---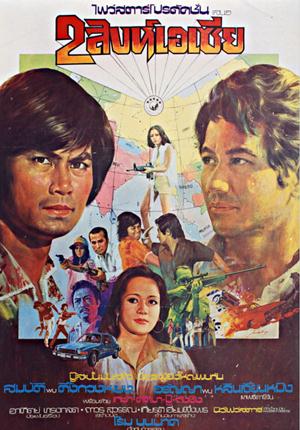 Year

: 1978



Thai title

:

2 สิงห์เอเซีย




English title

: Who holds the golden key?



Rating

: 3/5


Director

:



Main actor

: Sombat Methanee,Boo Wibunnan,Kecha Plianvithee,Alan Tang Kwong-Wing


Main actress

: Aranya Namwong,Sasima Singsiri,Meg Lam Kin-Ming
Thai movie 2 สิงห์เอเซีย was released in year 1978. It features Sombat Methanee / Alan Tang Kwong-Wing as main actors and Aranya Namwong as main actress. The movie is lost in Thailand but a sequence of 39mn remains to be seen. The movie was also released in Hong Kong under the name 金鎖匙 - "Who Holds The Golden Key?" as it was a Thai HK co production. The original film released in Thailand lasted 2 hours. The HK version was cut to last only 1h34mn with scenes focusing on HK actor Alan Tang Kwong-Wing. The movie starts on various HK locations including the Peak where a lady gets envelopes full of money. She is blackmailing some mafia leaders. She is wearing a necklace with a white Buddha. She gets money from a man called Yong also. He sends his sbires to follow her. She asks help from a man called Peter (ตึ้งกวงหยง - Alan Tang Kwong-Wing), a detective, but she flees away with his car while he is fighting against four men. Wang, Peter's boss, has a plan to propose to him. It includes managing mysterious documents for a high fee. Wang has an appointment in Nathan hotel and brings Peter with him. Miss Jang is not there and through the phone, she tells them to go to another meeting place. Miss Jang is found dead there. Wang dies in her car's explosion. Back to the hotel Nathan, Peter succeeds to enter in the room but gets attacked by ruffians that he defeats. Peter gets a phone number on a paper and a mysterious golden key. Peter flies to Thailand through Cathay Pacific and meets a beautiful lady called Meg (Meg Lam Kin-Ming) in the plane. Sombat Methanee enters in Peter's taxi at the Bangkok airport and proposes a 50% 50% partnership. Meg later meets Boo Wibunnan in Bangkok. She is recommended by Yong as a club singer. Laksamee (Sasima Singsiri) is Boo's wife. The mysterious phone number belongs to Aranya Namwong! Aranya knows Miss Jang as they were singers in the same nightclub. Kecha Plianvithee is the head of ruffians (เจ้านาย). He is looking for those important documents. Sombat Methanee is trying to get information from Aranya also. Peter meets Laksamee in the nightclub. Outside the nightclub, he gets attacked by four ruffians sent by Boo but Laksamee helps him to flee. Some daring scenes with Laksamee were censored in Thai version. Boo's wife uses all ways to get information from Peter causing Boo's jealousy. As Peter meets Aranya in the nightclub, Laksamee and Boo spy them through a microphone. Outside Aranya's home, Peter gets attacked by Boo's ruffians again but succeeds to escape thanks to Sombat, who is in fact a Thai policeman. The remaining Thai sequence ends up here. The mafia knows that Peter has the key so they kidnap Aranya's family to force her to steal the key. She succeeds to get the golden key from Peter but she is shot by Boo once he gets the famous list from a bank safe that could be opened only with the golden key. Peter and Sombat follow the ruffians up to a remote island. Heavy shootings happen. Ruffians are captured thanks to Meg. Meg was in fact an undercover policeman.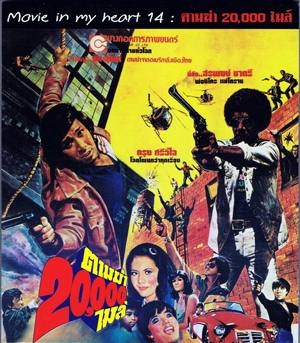 Year

: 1977



Thai title

:

ตามฆ่า 20,000 ไมล์




English title

: Project G-7



Rating

: 3/5


Director

:



Main actor

: Sorapong Chatree,Krung Srivilai,Nirut Sirijanya,Lak Apichat,Somchai Samipak


Main actress

: Pawana Chanajit,Piathip Kumwong,Tasawan Saneewong,Sasima Singsiri



Buy now

:

Thai movie ตามฆ่า 20,000 ไมล์ was released in year 1977 and lasts 1h47mn. Movie director is วินิจ ภักดีวิจิตร. The movie is taking place partly in USA. The movie was released on VCD format in Thailand by company XxX (Triple X) and Lepso Company (TV recording). It was also released overseas under VHS format as an IFD movie named Project G-7 (1h27mn), mixing some part of the original Thai movie and some new sequences shot in Hong Kong. Don (Krung Srivilai) is flying to San Francisco, USA. He met Nit (Piathip Kumwong), working as air hostess, in the plane. Plao (Sorapong Chatree), half black and half Thai man, is a FBI officer and has to work with Don. Thai drug is sold to USA and dealer Chan Sopon is suspected as big money transfers are done by him from Thailand to USA. Police is doing enquiry on a double murder, i.e. a woman and her lover were killed. The killer is Aran (มือฆ่าระดับโลก) (Nirut Sirijanya). The husband, Chan, is a rich businessman and also a generous donator to local Buddhist temple but he claims to have nothing to do with this murder. His mistress is Nit, air hostess. Sasima Singsiri and Tasawan Saneewong are lady journalists enquiring on Chan's suspect wealth. Fighting in a car dealer and a car chase occur. So Don and Plao disrupt Chan's business by catching his heroin. Chan is upset and orders his men to get rid of Don and Plao. The two lady journalists are undercover Thai policewomen. While having a break and having good time on a beach, a hitman misses to shoot Plao and one of the journalist ladies is killed. Plao's wife and his daughter are also killed per retaliation. Plao and Don storm Chan's place but he is gone overseas to Thailand already. Back to Thailand, Lak Apichat and เมือง อพอลโล่, part of Chan's team, follows them. Attacked by ruffians, Thai police woman Krissuda (Pawana Chanajit) comes on time to help Plao and Don. Aran and other ruffians fail to kill them once again but Plao is injured. Ruffians are convinced there is a police traitor among them as Thai police arrests Chan's drug traffickers. Nit is the one helping Thai police. Somchai Samipak is playing the head of police. Aware of ruffians' activities near a golf, Don and Tatsanee are captured and tortured by ruffians (ขายชาติ). Trying to warn Thai police for help, Nit is identified as the traitor. Aran loves secretly Nit since a long time. As Aran disobeys Chan's order to kill Nit, Nit is finally killed by Lak. Plao and Krissuda come to help after being informed by Nit just before her death. Police storms the place. Aran kills the leader Chan as revenge as he loved also Nit. Through a final duel, Plao kills Aran.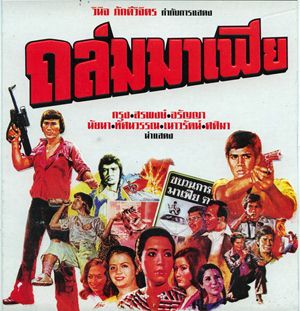 Year

: 1977



Thai title

:

ถล่มมาเฟีย




English title

: Mafia defeated



Rating

: 4/5


Director

: วินิจ ภักดีวิจิตร



Main actor

: Paen Pleumsachai,Pipop Pupinyo,Krung Srivilai,Lor Tok,Sayan Chantaraviboon,Chat Mongkolchai,Somchai Samipak,Sorapong Chatree,Sukon Koewliam,Nirut Sirijanya,Lak Apichat,Manop Aussawathep,Kecha Plianvithee,Boo Wibunnan,Kanchit Kwanpracha,Adul Dulyarat,Man Teeraphol


Main actress

: Naiyana Shewanan,Chosri Misommon,Tasawan Saneewong,Aranya Namwong,Naowarat Yooktanun,Sasima Singsiri
Thai movie ถล่มมาเฟีย (Mafia defeated) was released in year 1977 and lasts 1h54mn. It was released under VCD format by company XxX (Triple X). One song is featured. Movie director is วินิจ ภักดีวิจิตร. Thai actors and actresses featured in this movie are Paen Pleumsachai, Pipop Pupinyo, Krung Srivilai, Lor Tok, Sayan Chantaraviboon, Chat Mongkolchai, Naiyana Shewanan, Somchai Samipak, Sorapong Chatree, Chosri Misommon, Sukon Koewliam, Tasawan Saneewong, Nirut Sirijanya, Lak Apichat, Manop Aussawathep, Kecha Plianvithee, Aranya Namwong, Naowarat Yooktanun, Boo Wibunnan, Kanchit Kwanpracha, Adul Dulyarat, Sasima Singsiri, นรา นพนิรันดร์, Man Teeraphol, ชินดิษฐ์ บุนนาค, เมือง อพอลโล, จวบ, โจ๊ก, สุเทพ เหมือนประสิทธิเวช. This movie includes an impressive number of 30 Thai stars from decade 1970s. Sorapong Chatree, Nirut Sirijanya, Lak Apichat play bad guys in this movie. Normally they always play on the good guys side. Five ruffians including Paen Pleumsachai and Pipop Pupinyo are waiting (มาไม่ดี) for Yot Baramee from Suphanburi. Yot (Krung Srivilai) was just released from prison. Ruffians accuse him of murder but get defeated by Yot. Yot's friends are Lor Tok, Dip (Sayan Chantaraviboon), Han (Chat Mongkolchai) and Baan Yen (Naiyana Shewanan). Krieng (Man Teeraphol) accuses Yot to have killed his father. To avoid causing more issues in the village, Yot leaves for Bangkok with Dip and Lor Tok. Kamnan Somchai (Somchai Samipak) has three children, Mike (Sorapong Chatree), Baan Yen and Yot, being an adopted child. Somchai recommends Yot to contact Mike in Bangkok. Chosri Misommon is playing a crazy secretary, working in company Mike Engineering. Yot, Ding and Lor Tok are looking for job in Bangkok. Mike is not so willing to help as he has only low skills jobs to offer. Songtaew driver (Sukon Koewliam) and receiver (Tasawan Saneewong) have issues with ruffians asking for protection fee. Yot and Dip help and fighting with ruffians occurs. Thai mafia is very powerful and has strong influence. Yot is upset with Thai mafia and would like to stop them. Saem (Nirut Sirijanya) and Lak Apichat, mafia members, visit bars to get money donations (ทำบุญ). Saem and Lak threaten bar owner Chindit (ชินดิษฐ์ บุนนาค) so they have arguments with Yot and Dip, having a drink there and always wishing to help. Policeman Samit (Manop Aussawathep) arrests them. Chindit helps to release them from jail. Sompong (Kecha Plianvithee) is having Watanee (Aranya Namwong) as new girlfriend. His daughter Busalin is back from studying in USA. Busalin (Naowarat Yooktanun) is welcomed in Bangkok by Mike. Saem and Lak try to shoot Yot and Dip, but they succeed to flee thanks to Watanee's car passing by. Mike is part of mafia team working for Sompong. Mike orders Chindit's bar to be closed seven days but Yot and Dip interfere again. Satra (Kanchit Kwanpracha), part of mafia team, asks to kill Yot. Sompong threatens to kill Yot's friends if he refuses to work for him. Satra accuses Mike. Baan Yen is captured by ruffians, who kill her father Somchai and Han. Yot is accused of the murders. Mafia Italy Don Vito (สุเทพ เหมือนประสิทธิเวช) is visiting Thai mafia to show unification. Learning his father's death, Mike tries to shoot Yot despite they are brothers (น้องชาย). Han is not dead and discloses that Krieng is responsible of the murders. The one behind is Satra pushing Mike and Yot against each other. Baan Yen understands the truth. Surapong (Adul Dulyarat), head of police, and his team storm the mafia's den. Yot and his friends are leading. Busalin understands that his father and his ruffians are betraying Thailand (ทำร้ายชาติ). The movie ends up in multiple shootings with Mike and Satra shooting each other, Yot shooting Sompong. Mafia is defeated.



Year

: 1976



Thai title

:

เหมือนฝัน




English title

:



Rating

: 3/5


Director

:



Main actor

: Nard Poowanai,Dam Datsakorn,Taksin Jampol


Main actress

: Pawana Chanajit,Mayurachath Muarnprasitivej,Metta Roongrat,Moeifa,Chosri Misommon,Sasima Singsiri
Thai movie เหมือนฝัน was released in year 1976. It lasts 2h09mn but is still incomplete. Sakuna (Mayurachath Muarnprasitivej), Ot's young sister, shots a man in a nightclub (คนทรยศ). Yeah Nut (Metta Roongrat), a singer, and Kachen (Taksin Jampol), nightclub's owner, believe Ot (Dam Datsakorn) is responsible but he refutes any implication. Yeah Nut and Kachen go upcountry side to meet Meuan (Nard Poowanai), the younger brother of the dead man. He is responsible of a temple school. Meuan decides to go to Bangkok. Yeah Nut likes secretly Meuan. It seems a part of the movie is missing there but Meuan is recruited by Kachen to work as gigolo. Meuan has a girlfriend (แฟน) called Mascilla in Bangkok but still needs to perform his gigolo job with demanding customers such as Moeifa. A hitman (นักเลงรับจ้าง) tries to kill Kachen but Meuan foils this plan. Meuan needs to meet his new customer called Linda. Ot decides to use Sakuna to neutralise Meuan. Meuan is finally the one to catch Sakuna! Meuan, while looking for Linda, gets a pieing from Luuk Maew (Pawana Chanajit). Chosri Misommon is playing a role as Linda's domestic helper. Luuk Maew is Linda's daughter and she dislikes Meuan. Aware that Meuan is going to Kanchanaburi with Linda, Ot prepares a plan to get rid of him. As Linda and Meuan are not back after one week, Mascilla and Luuk Maew go there to look for them. Everybody meets at the same restaurant along the river. General fighting happens and all ends up in police station. Linda and Mascilla decide to fight over Meuan (ถึงเก่ายังไม่มีสนิม). They have arguments about beauty comparison and money (ซื้อความสุขจากเขา). Meuan gets slapped by Linda. Luuk Maew is kidnapped. Meuan is fed up of his job. He indulges in alcohol and has arguments with Linda, Mascilla and Kachen as he feels other people just use him. Meuan kidnaps Sakuna (ตัวประกัน) to exchange her with Luuk Maew. During the exchange, Meuan is injured and Tawat (สมชาย ศรีภูมิ), who kidnapped Luuk Maew, is killed. Sakuna promises to revenge over Meuan. Luuk Maew loves Meuan but finds Linda in bed with Meuan (หลอกลวง). She flees away. Meuan requests his money to Kachen. Meuan plans to give his money back to the temple school he funded. All protagonists meet in the temple. Sakuna wishes to kill Meuan but Yeah Nut wishes to protect him. They end up killing each other. Meuan, injured but helped by Fan, finds strength to bring the money to the temple school. Both Kachen and Ot stop fighting as they have their dead young sisters to take care.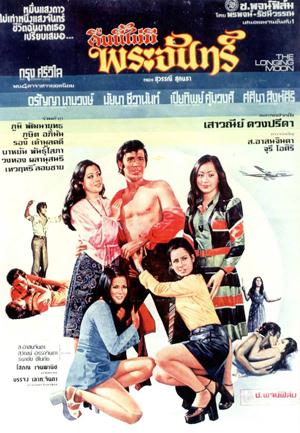 Year

: 1975



Thai title

:

คืนนี้ไม่มีพระจันทร์




English title

:



Rating

: 3/5


Director

:



Main actor

: Krung Srivilai,Sor Asanajinda,Rong Kaomulkadee


Main actress

: Naiyana Shewanan,Aranya Namwong,Piathip Kumwong,Juree Osiri,Sasima Singsiri
Thai movie คืนนี้ไม่มีพระจันทร์ was released in year 1975. The movie is lost in Thailand and only a sequence of 38 minutes remains to be seen. A group of young women including Naiyana Shewanan is sleeping together in a big bungalow near the beach. It is the yearly trip organized by their art university (มหาวิทยาลัยศิลปากร). One of the young ladies recognizes Nat (Krung Srivilai), a male art student of the same university. Back to his home, Soi Dao (Aranya Namwong) is waiting for Nat. Later Nat ends up drinking expensive alcohol with another young lady called Yu (Sasima Singsiri). Nat has no money so is being entertained by ladies. Yu is drunk and Nat brings her home but June (Piathip Kumwong) has time to recognize him. Nat sees women as sexual objects and lies to each of them (เจ้าชู้). He goes from Soi Dao to Yu. Soi Dao is finally pregnant (ลูกเศรษฐี). Soi's father is played by Sor Asanajinda and Soi's mother is played by Juree Osiri. They are concerned about their family name and they don't want Soi Dao to marry anybody. Soi Dao wishes to go abroad as Nat doesn't show interest anymore. Nat is not sure if Naiyana loves him as she is aware of his butterfly activities. Playing a game with another man, Soi Dao arouses Nat to get back his interest through jealousy. The left sequence ends up here. In 1975, this movie makes a lot of noise because of some daring scenes (หนังโป๊ๆ เปลือยๆ).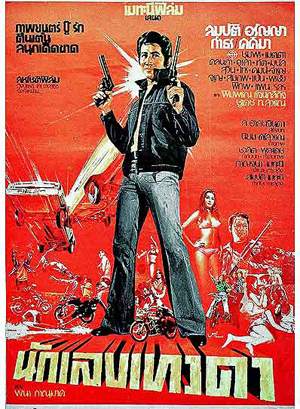 Year

: 1975



Thai title

:

นักเลงเทวดา




English title

:



Rating

: 3/5


Director

: Sombat Methanee



Main actor

: Sombat Methanee,Tat Ekathat,Sawin Sawangrat,Kom Akadej,Kamthorn Suwanpiyasiri,Choomporn Theppitak,Pipop Pupinyo,Krai Kanchit,Sukon Koewliam


Main actress

: Aranya Namwong,Naiyana Shewanan,Orasa Isarangkul,Metta Roongrat,Sasima Singsiri,Donnapha Sophee,Manat Boonkiet



Buy now

:

Thai movie นักเลงเทวดา was released in year 1975. The VCD lasts 1h32mn. Metta Roongrat as market merchant (แม่ค้า) is harassed by ruffians. A car is driven by a mysterious hitman, who kills most of the ruffians of Kamnan Wattana. Wattana (Tat Ekathat) is upset. Kamnan Wattana's daughter, called Wantanee, is played by Naiyana Shewanan. Orasa Isarangkul is also a market merchant (แม่ค้า). Nobody saw his face but he was wearing a red clothing. Thewada (Sombat Methanee) is wearing a red shirt so he is identified as the hitman. Thewada wishes to revenge his friend Somsak killed by ruffians (เทวดามาคิดบัญชี). Thewada enquiries on various ladies to uncover the mysterious hitman. Somsak's wife (ผู้หญิงใจร้าย)(Sasima Singsiri) is involved in the murder with the help of Sawin Sawangrat. Thewada helps Wantanee (ลูกสาวกำนัน). Thewada is not the mysterious killer in red shirt but is willing to find who is behind. Similar to a Thai James Bond with gadgets and kissing all girls (หลงเสน่ห์). Kamnan Wattana agrees to take him as new staff before being son in law (ลูกเขย)! Thewada gets support from Dam (Kom Akadej). A car 'chase happens between Thewada and Kan (Kamthorn Suwanpiyasiri). A sister (Aranya 'Namwong) and her brother (Choomporn Theppitak) are looking for the man, who killed their father นาย Vitun. They believe Thewada is the killer but he succeeds to escape their house just to be captured by Kan (องค์การ). Pipop Pupinyo is part of Kan's team. A third group is with Sawin and Somsak's wife. Kan storms Kamnan Wattana's house and kidnaps his daughter. Metta and Osara are also kidnapped. Thewada and Dam then storm Kan's house to release the ladies. Krai Kanchit is part of Kan's team. Fighting and shooting happen until all ruffians are neutralized or killed. The movie ends up with Thewada leaving with both ladies Aranya and Naiyana.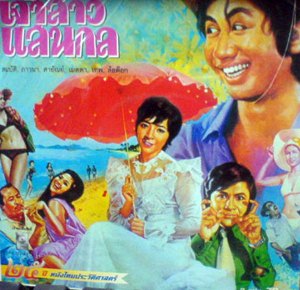 Year

: 1974



Thai title

:

เจ้าสาวแสนกล




English title

:



Rating

: 3/5


Director

:



Main actor

: Sombat Methanee,Sayan Chantaraviboon,Preuhat Boonlong,Lor Tok,Thep Thienchai


Main actress

: Pawana Chanajit,Sasima Singsiri,Metta Roongrat
Thai movie เจ้าสาวแสนกล was released in year 1974. It lasts 1h53mn. Rataya (Pawana Chanajit) is fleeing her father to avoid a forced marriage (หนีแต่งงาน). Her father (Preuhat Boonlong) promised to marry to an older man called Yiu (Lor Tok). As the father has debts with Yiu, he has no choice. Ran (Sombat Methanee) is fed up being a company owner. He wishes to have a break and asks Varun (Sayan Chantaraviboon) to replace him for a while. Many people believe Rataya drown in the river while fleeing her father but Ran saw her swimming away. An old lady aggressed by thugs (ลูกอัปรีย์) mistakes her as a ghost (ผี). Rataya takes refuge in a friend's home called Too (Sasima Singsiri). Ran wants to be a staff (ลูกช้าง) for a while instead of being a boss. Comic actor Thep Thienchai is even having a small role. Interested by Rataya, Ran succeeds to be hired by Yiu as domestic helper under the name of Yim. Rataya makes Yiu believe that she is a ghost now (ผีหลอก). Yim is fully aware but doesn't disclose the secret. Too asks Yui to cancel the debts with Rataya's father in order to avoid the ghost harassing him but he prefers to do good deeds (ทำบุญ). Rataya disguised as a ghost tries to get the document (โฉนดที่ดิน) but it ends badly as Yiu's daughter called Nut shoots at her. Unfortunately she is not injured but Yiu is now aware of the trick. On the way to get back his wife (รับไม่ได้), Yiu is attacked by two masked robbers being Too and Rataya. Yui gives Rataya an ultimatum of 10 days. Yim has a plan to replace Rataya by another lady called Prai (Metta Roongrat). Finally Yui announces he is not able to perform husband duty! Yim gives him a special medicine but it is finally a laxative medicine (มีปืนก็ไม่มีลูก, ยิงเท่าไรก็ไม่ดัง). Rataya starts to suspect that Yim is more than a domestic helper as he can speak English. Yiu gives back the property title and the debt reconnaissance is burnt. Aware that Yim's real name is Ran, Nut, daughter of Yui, is suddenly interested in Yim. Seeing Yim arguing with Nut, Rataya flees away. Movie ends happily, i.e. Ran with Rataya and Yiu with Prim. A TV serie based on the same story was released in year 1992.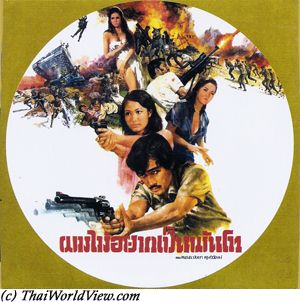 Year

: 1974



Thai title

:

ผมไม่อยากเป็นพันโท




English title

: I Don't Want To Be a Lieutenant



Rating

: 3/5


Director

: ChatriChalerm Yukol



Main actor

: Somphob Benjatikul


Main actress

: Naiyana Shewanan,Sasima Singsiri
It deals with the story of Phanto, a member of Thai secret service, who goes to Cambodia to be a spy. He is looking for informations useful for Thai security and has to face many threats especially from the "red communists".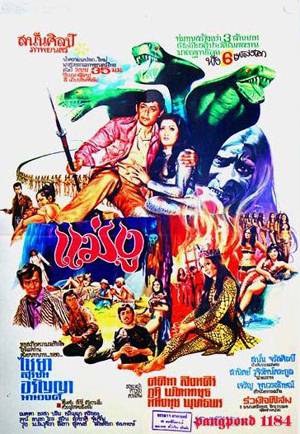 Year

: 1972



Thai title

:

แม่งู




English title

: Snake Queen



Rating

: 3/5


Director

:



Main actor

: Chaiya Suriyun,Ruj Ronnapop,Sithao Petcharoen,Sukon Koewliam,Lor Tok,Sawin Sawangrat,Krai Kanchit


Main actress

: Aranya Namwong,Metta Roongrat,Prim Praphaporn,Sasima Singsiri,Orasa Isarangkul
Booloi and Chom are chased by ruffians. They take refuge in the snake cave (ถ้ำแม่งูสักศีษ). Booloi is pregnant. Ruffians flee as the snake cave has bad reputation. Chom loses trace of his wife. Some snakes transform themselves into young ladies and help Booloi to deliver a baby girl called Haofa. 18 years have passed. Haofa (Aranya Namwong) is now a grown up adult. Haofa still misses her parents. The snake queen selects her as the next queen. This decision makes Haodam (Metta Roongrat) upset. There are fights between ladies during Haofa's crowning. The snake kingdom only includes young ladies and an old sorceress (แม่มด). No men in the cave. In Bangkok, a young man called Tira wishes to ask for young lady Mareudi's hand. Some ruffians, specialized in human trade overseas (รับแขก), keep asking Mareudi to join them for a trip to Japan. She always refuses. Tira's boss called Phanom (Chaiya Suriyun) is playing the matchmaker (เฒ่าแก่) for Pira. Phanom and Pira go to Mae Sai for scientific studies. The ruffians are also going in Mae Sai area to recruit young girls. Ruffians hear about a place near a waterfall with many beautiful girls swimming. So they are hanging around as beautiful girls have been seen bathing. The girls are then attacked by the ruffians but Phanom, being around, is helping and protecting Haofa. They are snakes but Haofa is an human being. A romance is starting between Phanom and Haofa but he cannot go in the cave as it is guarded by snakes. Haodam discloses the incident to the snake queen. According to the snake Queen's rules, nobody is allowed to meet human beings. Chom is accompanying Phanom and is still longing for his lost wife and baby. There is a funny interlude when veteran comic actor, Sithao Petcharoen, is tortured by a fat amazon. Phanom is captured when entering the cave. The Snake Queen condemns him to death but Haofa helps him to flee. Meanwhile snake hunters are back again to attack the hill around the cave. The ruffians are using experts (Lor Tok! Sukon Koewliam!) able to catch snakes (หมองู). Comic sequences happen as they are all useless to charm snakes. The ruffians finally capture the snake girls and the Queen is even shot. The end of the snake kingdom is a disaster. Phanom promises to take care of Haofa and helps to find her father. Haofa wishes to release her other snake sisters. The ruffians try to abuse the snake girls and use them as prostitutes but they transform themselves into venomous snakes. Police finally catches all the ruffians but it is too late as all snakes have been killed. Snakes are really killed and cut in this movie. Only one snake girl, Haodong, survives and she goes back to the snake cave. Haofa is finally reunited with her father. This movie can also be found under Chinese name "蛇國女王'' in China and distributed by Great China Film Co (H.K.). Different character names are used in the Chinese version (Ng Chung for Phanom, Ho Hua for Haofa, Hsiao Hua for Haodam, Chung Shan for Chom, Mei lee for Booloi). The original Thai version of แม่งู lasts 2 hours 50 minutes. The Chinese version has been reduced to 1h30mn only. "Once upon the west" soundtrack is used in the Chinese version. All songs have cut in the Chinese version. Similar to many 1960-1970s Thai movies, it features a long running time and a dozen of songs.
---