Increase or decrease font size for easier reading : A+ A-
Saranyu Wongkrachang
Saranyu Wongkrachang (1960-2020) - ศรัณยู วงษ์กระจ่าง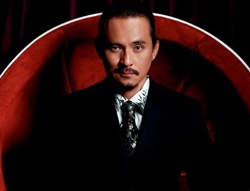 Saranyu Wongkrachang is a Thai movie and TV series actor
This Saranyu Wongkrachang movie page contains 9 records.
---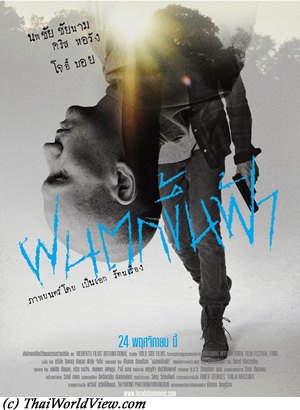 Year

: 2011



Thai title

:

ฝนตกขึ้นฟ้า




English title

: Headshot



Rating

: 4/5


Director

: Pen-Ek Ratanaruang



Main actor

: Nopachai Chaiyanam,Saranyu Wongkrachang


Main actress

: Sirin Horwang



Buy now

:

A hitman (Nopachai Chaiyanam), called Ton, shaves his head and wears monk clothes. During the alms round ceremony, he guns down his target. He is also shot and injured by body guards. He wakes up at hospital still alive after three months. 7 years ago Ton was a former policeman and working closely with Saranyu. During a drug traffic case, Saranyu was shot. Corrupted lawyer tried to buy Ton in order to drop the drug traffic case. Ton despised evil (ความชั่ว) and refused. Ton met Soi, a gorgeous lady. After a wild night together, he woke up finding the girl's bloody body in the hotel room. He fled. It was a trick from the mafia as pictures with him and the girl were taken. Ton still refused to bend to the lawyer and was sent to jail after hurting him. The movie is going back and forth between present and past. Ton is released from hospital but following injuries he sees everything bottom up. After his injury, he is not able to kill properly, feels fed up and wishes to stop. But karma (กรรม) will not let him go... Ton was released from prison after three years. Ton was extracted from the prison and used by a mysterious doctor to be a hitman killing people with bad influence (อิทธิพล). Soi was not dead. Soi or Teewa, her real name, was waiting for him. Ton proposed to marry Teewa (ผมไม่ชอบคนดี. ตายเร็ว). Ton is finally captured by ruffians who use torture to know who orders the killings. He doesn't reveal any name and succeeds to escape. He hijacks a car going to Chumphon. A young lady called Lin (Sirin Horwang) is driving. He sympathizes with the driver. Ton takes refuge in a Buddhist temple as he feels lost in his heart and mind. Teewa has earlier died of an overdose. There is no rightful in this world (ยุติธรรม). It needs to be built by ourselves. Ton finally becomes a monk. Peace of mind doesn't last long as ruffians find him. He needs to disrobe. While fleeing from the temple, he hijacks a car with Lin inside again! It was part of a trick to make Ton lead to the mysterious doctor. During shootings, ruffians are killed and the doctor badly injured. Ton terminates the doctor as he caused Teewa to die earlier. After spending a few years again in prison, he ordains again. One day, he gets shot in the back while wandering for alms... The movie Headshot (ฝนตกขึ้นฟ้า) was selected as Thailand representative movie for Oscar submissions for the Academy Awards. In Thailand movie Headshot got four Golden Swan at the subhanahongsa Awards in 2012. Compared to his previous movies, director Pen-Ek Ratanaruang has done a movie closer to mainstream but still having his own touch. It also highlights corruption presence in Thailand.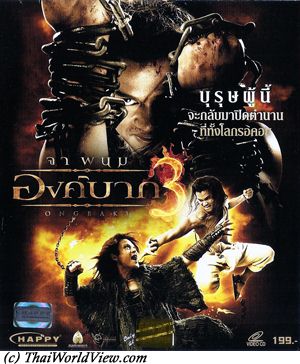 Year

: 2010



Thai title

:

องค์บาก 3




English title

: Ong Bak 3



Rating

: 3/5


Director

: Tony Jaa,Panna Rittikrai



Main actor

: Tony Jaa,Mum Jokmok,Nirut Sirijanya,Choomporn Theppitak,Saranyu Wongkrachang


Main actress

: Patama Panthong



Buy now

:

Ong Bak 3 movie is a follow up of Ong Bak version 2 where Tien was defeated and captured by King Jom Rachan soldiers. Tien (Tony Jaa) is condemned to death by the King Jom Rachan (Saranyu Wongkrachang). His body is broken and beaten harshly. Insurrection is ongoing against the King Jom Rachan (พระองค์) but this latter eliminates all his opponents (Choomporn Theppitak). On the execution day, Tien is saved at last minute and sent to Ayutthaya. Bad omens are seen by the King. To try to influence the future, he sends some ninjas to kill Tien in Ayutthaya. They fail thanks to some courageous Ayutthaya soldiers. Thanks to Buddhist prayers, offerings, casting of a Buddha statue, dances and Buddhist monk's (Nirut Sirijanya) healing skills, Tien is cured. But full recovery is difficult. He considers suicide as he is almost infirmed. Through inner peace, meditation and efforts (ฝึก), he starts to recover management of his limbs. A new fighter take over the King Jom Rachan looking for power only (อำนาจ). Aware of Tien recovery, the new King sends soldiers to catch him and burns his village. Tien is wearing white clothes (purity) while the new King is wearing dark clothes (evil). Tien has no choice but to go to the King palace to defy him in order to release the villagers and his love. Following epic fights including jumping from one elephant to another or using real elephant tusks to fly, Tien defeats the evil King. As usual in Tony Jaa's movies, actor Mum Jokmok is played a relief character. In Ong Bak 2 there was an action scene with two elephants. In Ong Bak 3, the actors were among more than 20 elephants. Tony Jaa introduces Nattayut in Ong Bak 3. It is a dharma martial art that can protect soul from bad deeds. It is a kind of meditation that can heal heart and soul.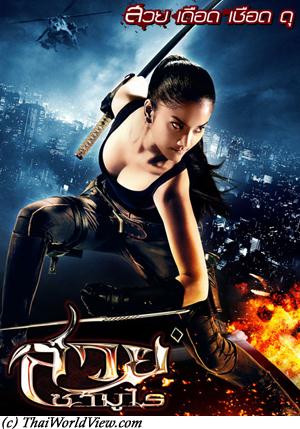 Year

: 2009



Thai title

:

สวยซามูไร




English title

: The Vanquisher



Rating

: 2/5


Director

: Manop Udomdej



Main actor

: Pete Thongjure,Saranyu Wongkrachang


Main actress

:



Buy now

:

The Vainquisher is similar to a B grade movie. Lady Genja is expert in martial skills. She is working in Thai special forces as secret agent. During a mission in South Thailand, Genja is betrayed by her own organization but survives. Claire, her boss, is a treacherous lady. Two years later Genja is involved in an international terrorism threat involving CIA, Thai special forces, South Thailand islamic insurgents and Japanese Ninjas. Wajip, head of terrorists, is hidding in Bangkok. Genja has to face Claire again. English language is used in the main part of the movie as multinational teams are involved to catch Wajip. Sexy women and samourai fights cannot compensate the weak scenario and montage sequences. The owner of Sahamongkol Film International ordered all footage of Chotiros Suriyawong to be deleted from the movie "The Vanquisher" as she was rebuked for wearing a revealing outfit to the Subhanahongsa Awards. Following Tak Bai incident in South of Thailand, this action film was ordered to cut a scene showing gunmen opening fire into a mosque, or facing a ban.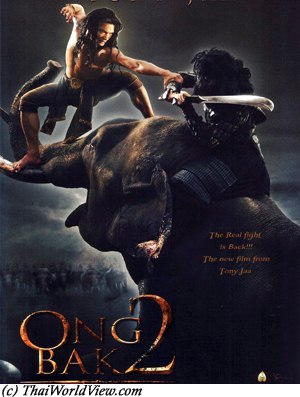 Year

: 2008



Thai title

:

องค์บาก 2




English title

: Ong Bak 2



Rating

: 3/5


Director

:



Main actor

: Sorapong Chatree,Tony Jaa,Santisuk Promsiri,Saranyu Wongkrachang,Nirut Sirijanya


Main actress

: Patama Panthong



Buy now

:

During Ayuthaya period, a teen, called Thien, following a fight with slaves merchants, is rescued by Cheu Nang. Cheu Nang is the village head of a group of warriors and fighters. Thien is the son of Lord Sihadecho, who has been assassinated by Lord Rachasena. Thien is trained to become a powerful fighter in Thai boxing and weapons handling such as sword, spike, nunchaku, rope, bomb etc... Becoming an adult, he helps to stop the former slaves merchants that held him and to release their slaves. He then succeeds to kill Lord Rachasena in his palace but when going back to Cheu Nang's village, he is attacked by score of fighters and is overcome by them. Lord Rachasena is not dead. During a final fight forced by Lord Rachasena, Thien has to compete against Cheu Nang. Ong bak 2 is not a second Opus of Ong Bak as the previous one was taking place in modern Bangkok. At the end of movie, Thien is captured and Lord Rachasena promised him a long and painful agony. Ong Bak 3 is on the way for 2010! Many incredible action scenes are involving Tony Jaa and real elephants. The 2009 Thai Films Award Best Supporting Actor for "Ong Bak 2" was for actor Sorapong Chatree.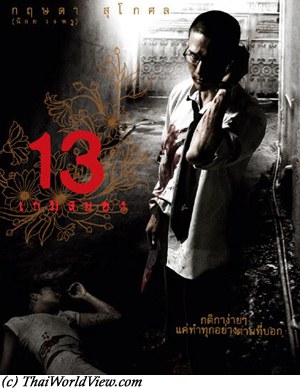 Year

: 2006



Thai title

:

13 เกมสยอง




English title

: 13 Beloved



Rating

: 5/5


Director

: Chookiat Sakweerakul



Main actor

: Krissada Sukosol,Saranyu Wongkrachang


Main actress

:



Buy now

:

Chit is a busy sales guy but his performance is not good. He cannot reimburse his car (his car plate has number 13) as his sales drop. One of his colleague, Pramee, steals his customers as Chit is too slow. His boss fires him as the company is going online so there is a need for less Sales people. Only a young lady called Tong is his friend in this company. Chit has debts. His mother is asking for money. He lies to his mum regarding his financial problems. He receives a phone call from an unknown number. It is a call regarding playing games to win big cash prize. As Chit has debts, he accepts to play but has to follow strict rules (he shall not disclose that he is playing a game). First game is easy. Just got 10 000 baht by crushing a fly with a newspaper (it is worth to note that there is Thaksin Shinawatra picture on the newspaper and his face is crashed against the wall!). Second game is to eat the fly to win 50 000 baht. The final prize is 100 millions baht but there are still 11 games to perform. If one game is lost then the whole money amount is lost. Next game is to make three children cry (the games are related to Chit's own childhood). Then Chit shall steal money from a beggar. Then Chit shall eat special food, i.e. shit, in a Chinese restaurant (he used to insult other people in the past - ฝรั่งขี้นก). Then he shall worship a crazy man. At 13:13 the crazy man announced God shall come (พระเจ้าจะมา) so Chit enters a bus arriving at that time. Chit has arguments with bus passengers regarding a mobile phone and gets beaten. He needs to pay respect (ไหว้) to a ruffian's feet to get it back so starts to lose self-esteem to accept such degrading act. It degenerates to a deadly and bloody fight as Chit almost kills one guy to get the phone. He is now under high stress and accepts to do anything. During next game, he needs to retrieve a dead elderly man, who falls in an indoor wishing well (In modern society people are neglecting their elder parents) and announce the bad news to his family. The relatives were living in a house close to the father but didn't visit him. He then meets his former girlfriend Maew, who wants to become a famous singer. She has a new boyfriend called Chaleum. For the 8th game Chit needs to beat somebody, who has number 8 on his vest. Chaleum has a number 8 on his vest... Due to jealousy over Maew, Chit beats deeply Chaleum. Realizing his acts, he hits again a taxi driver to bring Chaleum to hospital. Meanwhile his crazy actions are shown on TV news and a police inspector (สารวัตร)is chasing him (ผู้ร้าย). His friend Tong, puzzled by his behavior, finds a mysterious 13beloved.com website and starts to make the link with Chit's weird acts. He reaches the hospital, needs to find assistant and to avoid the police. He finds an old lady in room 805 then escapes as he removes glasses and pushes the old lady in wheelchair. He needs to follow up the old lady where she wishes to go. By helping the old lady, he puts a thread over a road causing the death of many teens, racing on their motorbike, through decapitation. Tong finds him and asks him to surrender (มอบตัว). He is already crazy. He needs to grab sword and decides to kill Tong or her dog to stop them interfering in the game. Still having a little bit of humanity, he only kills the dog. He continues the rampage by killing a cow and cutting her guts. He is still followed by Tong. Finally Tong discovers it is an online game encouraging people to forget reality and go beyond convenances. For the last game Chit needs to kill his father, who was brutal with him during his childhood. He now behaves same as his father now. Despite the hate between the father and the son, Chit prefers to lose (ยอมแพ้). The winner is the father who kills his son, Chit. This movie got many overseas awards. It emphazises modern societies where there is less morality and more egoism, self-centerism.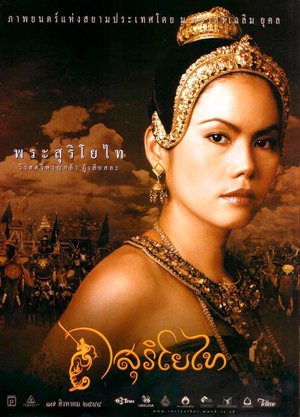 Year

: 2001



Thai title

:

สุริโยไท




English title

: Suriyothai



Rating

: 5/5


Director

: ChatriChalerm Yukol



Main actor

: Sorapong Chatree,Sombat Methanee,Chatchai Plengpanich,Phongphat Wachirabanjong,Saranyu Wongkrachang,Ron Rittichai


Main actress

: Mai Charoeunpura



Buy now

:

It is about a legendary Thai princess who died fighting the Burmese on elephant-back. The film required five years of research and two-and-a-half years of shooting. It has broken almost every record in Thai film history. It is the most expensive at 400 million baht, the most star-studded, with a cast of 2,000 extras and more than 50 elephants and 70 horses. It has the longest shooting time and the longest screening time, i.e. three hours and five minutes. In 2003, an updated five hours version was released. In 2003, the film was also released in the United States with a shorter running time. This version was edited by Francis Ford Coppola, an old classmate of ChatriChalerm Yukol. Reigning monarch Queen Sirikit instigated this movie, financed most of it, arranged for palaces and historic sites to be opened to a film crew for the first time. The Culture Ministry registers 25 Thai classic films each year at the National Film Heritage Registry. This movie is part of the 25 films heritage list announced on 04 October 2015, which is Thai Movies Conservation Day.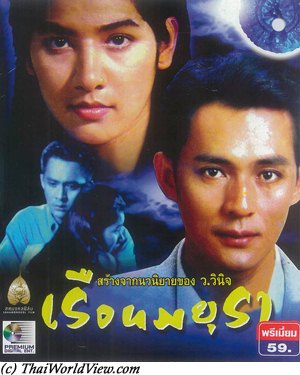 Year

: 1996



Thai title

:

เรือนมยุรา




English title

: House of the Peacock



Rating

: 4/5


Director

: Cherd Songsri



Main actor

: Saranyu Wongkrachang,Ruj Ronnapop


Main actress

: Darin Kornsakoon



Buy now

:

In 1775, a Brahmin priest casts an eclipse. It was during Ayuthaya period when fights with Burma were frequent. Lady Nok Yung and her suite stays in the house of the Peakcock (เรือนมยุรา), which is now out of the time realms and out of reach of Burmese soldiers. Lady Nok Yung made a wedding promise to a noble soldier called Wai Wongsa. Nowadays, on the way to Ayuthaya, a young man, called Pranai, just avoids bumping in a young lady crossing the road. She smiles and disappears in a tree. Is she a ghost or a tree spirit (นางไม้)? Pranai has same face as noble soldier Wai Wongsa. Pranai is the owner of a Siam antiques shop. Today it is Pranai's birthday. He is still single. His sister tries to marry him but to no avail. His sister tries to push young lady Fai. Pranai still wants to meet the mysterious girl. He stays near the tree. Nok Yung needs food for 20 people for one month. Pranai agrees to give but wants to know and understand. Nok Yung agrees to visit Ayuthaya area. She realizes that Sri Ayuthaya was burnt down. Nok Yung asks Pranai not to visit her again. Pranai learns meditation to see his past. Pranai's sister and Fai believes he is possessed by a ghost (ถูกผีเข้า). They use a sorcerer (หมอผี) to cure Pranai and chase the ghost. Meanwhile Arawee, a local young actor, lies to Yipoo, another lady staying in the house of the Peakcock, in order to seduce her by pretending he is an Ayuthaya soldier. He succeeds to enter in the house and so the spell protecting the house is broken. Inhabitants have to flee. The sorcerer and acolytes fight over the gold. Fai's father, called Fa Feun, prevents the robbing. Pranai helps Nok Yung and invites her in his home. Fa Feun loves Nok Yung and gives money to Pranai in order that he breaks up with Nok Yung. Pranai refuses and is looking for a way to send back Nok Yung into the past. Arawee is Waiwongsa's current reincarnation. Believing into karma (กรรม) and in order not to break her promise done 221 years ago, Nok Yung accepts to marry Arawee. Pranai is in despair. Finally Fa Feun convinces Arawee not to marry as Arawee is more interested in his acting career. Pranai is not willing to marry Nok Yung anymore as he believes she is too nice to live in 20th century. The house goes back to the past but Nok Yung finally stays happily with Pranai. This movie questions the old-fashioned morals that are being lost in modern Thailand. Some traditions are getting lost (smile, not speak loudly, no lies). Bangkok development threatens the country-side. We need to take care more of our heritage. The trailer is the TV serie shot in 2540.



Year

: 1993



Thai title

:

ท่านขุนน้อยน้อย แห่งสยาม




English title

: The Little Lord of Siam



Rating

: 4/5


Director

: Somdet Suntipracha



Main actor

: Saranyu Wongkrachang,Sor Asanajinda,Sithao Petcharoen


Main actress

:
A couple with 4 children (Lek, Klang, Yai) move to a new but old house that has a long history (บ้านความรัก). The old house (โบราณ) even belongs to some nobility Thai members during last century. Saran (Saranyu Wongkrachang) believes the house talks to him through an old uncle (Sithao Petcharoen) and through some dreams with old images. Some promoters want to buy the house to build a village centre. But Saran doesn't want to sell despite rumours of ghosts (ผี) and strange events. Some burglars looking for old artifacts leave the house in fear having seen a ghost. The father makes restoration work on the house (บ้านเรา). Ruffians are recruited to try any ways to have the family quit and sell the old house. A small children ghost spirit called Sin (ลูกของพระยา) helps to chase robbers away. He is the one displayed on an old picture. Only Lek can see him. His spirit (วิญญาณ) was stored inside the picture. Halloween is shown as a new tradition entering Thailand. Teen children want their father to hire a traditional healer (หมอผี), played by veteran actor Sor Asanajinda, to chase ghosts (บ้านมีผี). The father hesitates. The company offers to buy back the house ten times the initial price. Tension happens between the wife Chit and her husband. The wife believes her son is getting crazy as he is talking alone. Sin considers himself as as another child of Saran. Following Lek's plea, the traditional healer accepts to stop torturing the little ghost and explain to Lek how to use monks in order to release Khun Noi from Rama V period. Finally Noi leaves them in order to rebirth and stability is coming back inside the family. The Little Lord of Siam (ท่านขุนน้อยน้อย แห่งสยาม) was directed by Somdet Suntipracha, who is a member of Thai aristocracy. This movie reminds of other Thai movies such as "Tawipop" (ทวิภพ) or "House of the Peacock" (เรือนมยุรา) by director Cherd Songsri with a focus on protection of traditional disappearing heritage items or values.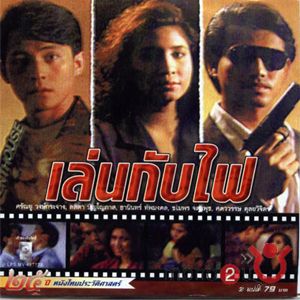 Year

: 1990



Thai title

:

เล่นกับไฟ




English title

:



Rating

: 3/5


Director

:



Main actor

: Sor Asanajinda,Saranyu Wongkrachang


Main actress

: Lalita Panyopas,Chamaiporn Jaturaput,Duangta Tungkamanee
Sida is a young lady, who is pregnant. Her boyfriend, Thong, dumps her away. Ashamed, she kills herself. She always had issues with her authoritarian grandfather. Her older sister, Sakul, refuses to be dictated by her grandfather. Her husband died already. She has a young three years old boy. She meets Plai, who is a butterfly man. Women are toys for him (ของเล่น). Thong is also a former boyfriend of Sakul and still loves her. Plai is having an affair (เรื่องสนุกสนาน) with Thip, Thong's sister. Thip wants to marry but Plai is not willing. Plai has a high interest in Sakul as she is the first woman not falling to his charm. There are conflicts between Plai and Thong. Sakul needs to use Plai as a false boyfriend in order to stop being followed by Thong. She plays with fire (เล่นกับไฟ) as Plai has still a butterfly reputation. Plai comes to stay in Sakul's home. Thong (บัดซบ!) has raped Sakul before. Sakul's son is in fact his son. Plai's mother doesn't want to hear about Sakul. Twenty years ago it was still an issue for a widowed woman having a child to get a new husband in Thai society. Plai and Sakul announces their wedding to beat back Thong and Thip. The authoritarian grandfather and Thong prepare a nasty plan. Plai goes for a last night with Thip but gets beaten by ruffians commanded by the grandfather. He is almost blind. Sakul brings Plai to Pattaya in order to rest. Thong gets crazy as he doesn't know where Sakul and Plai are hiding. He hits and kills Toei, Sakul's friend, to know where they are. Going back home, Sakul and Plai face Thong. A fight erupts and Thong gets deadly shot.
---