Increase or decrease font size for easier reading : A+ A-
Runglawan Sripatimakul
Runglawan Sripatimakul (1957) - รุ้งลาวัณย์ ศรีปฏิมากูร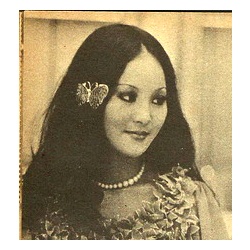 Runglawan Sripatimakul played in more than 33 movies. She often played strong roles such as prostitute
This Runglawan Sripatimakul movie page contains 10 records.
---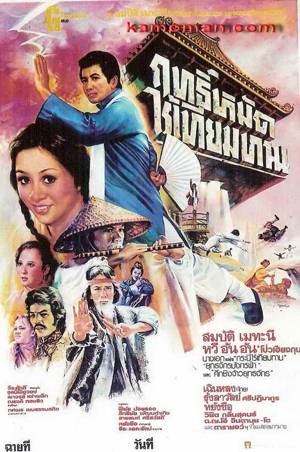 Year

: 1979



Thai title

:

ฤทธิ์หมัดไร้เทียมทาน




English title

: Writing Kung Fu



Rating

: 3/5


Director

:



Main actor

: Sombat Methanee,Bolo Yeung


Main actress

: Runglawan Sripatimakul
Thai HK movie ฤทธิ์หมัดไร้เทียมทาน / "Writing Kung Fu" / 文打 was released in year 1979 and it lasts 1h20mn. Two versions were released. One for the Hong Kong market with John Cheung. One for the Thai market with Thai actor Sombat Methanee. Thai version is lost. Robbery happens during tea war. John Cheung is playing a teacher for poor children. The teacher is expelled by the ruffians from the city. They always tease him. He cannot support it anymore. Only a little girl follows her. He brings her back to his mother (Runglawan Sripatimakul). Runglawan encourages him to teach children as scholars are needed for the country development. Two men, one blind man and his assistant, seek revenge towards a strong thug (Bolo Yeung) following murders in Vietnam. Money to build the school is stolen. The ruffians' leader claim scholars are useless. Children better learn Kung Fu than going to school. The strong thug rapes and kills the daughter. Her mother is found dead also. The ruffians' leader's sister has to beware of the strong thug as he befriends with her father. The blind and his assistant try to take revenge but they fail. Another beggar also fails but before dying he trains the teacher, who can transform himself from a coward chicken into an eagle. The teacher invents a new Kung Fu with movement simulating writing Chinese characters. Meanwhile the strong thug kills all the ruffians including the leader's sister. The teacher chases after him and defies him. Following a difficult fight, the teacher is about to be defeated but succeeds to give a fatal blow to the strong thug. Before dying, the children tell him a last time that they want to come back with him to study.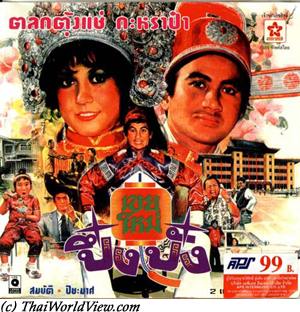 Year

: 1979



Thai title

:

เขยใหม่ปึ๋งปั๋ง




English title

:



Rating

: 2/5


Director

: Kumtorn Tubkunlai



Main actor

: Sombat Methanee,Boo Wibunnan


Main actress

: Piyamas Monayakol,Runglawan Sripatimakul,Chosri Misommon,Janthana Siriporn



Buy now

:

Kimtom is a young man part of a wealthy Chinese family established in Thailand since a few generations. Wo is a young lady part of a Thai traditional high society family (ผู้ดี). Kimtom and Wo love each other but both families refuse this union. The Chinese family wants a rich bride for Kimtom. The Thai family wants a famous family name to match their rank. The Thai high society family despises Chinese customs (strong accent - พูดไทยไม่ชัด, laugh loudly, No good manners - มารยาท, burping during diner). Kimtom wants to prove that Wo's mother is wrong. Wo's mother is pushing towards the son of a Thai rich family linked to old aristocracy. His name is Samkhan (สำคัญ). Kimtom comes to the diner dressed with Chinese traditional old clothes. As Wo's mother thinks that Chinese food is savorless (รสชืดชืด), she makes a very spicy curry for Kimtom! Kimtom's family makes a 2M Baht donation (บริจาค). Wo's family complains about new rich people (เศรษฐีใหม่) versus old aristocracy (เศรษฐีเก่า). It is Wo turn to go for a diner with the Chinese family. Funny situations happen as she doesn't know how to use chopsticks. Finally both families agree for a wedding but the wedding needs to include Chinese and Thai ceremonies. Kimtom doesn't feel well because Wo's mother doesn't accept him. The movie raises issues regarding multiracial weddings. There should be no border for love. The wife needs to stay in the husband's home according to Chinese customs. But Wo's mother keeps her at her home. Misunderstandings keep happening (ทำประชด). Wo is pregnant. The Chinese family wants a boy first. Then both families fight over the education of the child. Finally as Kimtom helps to prevent a robbery on Wo's mother jewels and they move to their own house, happiness and understanding happen again.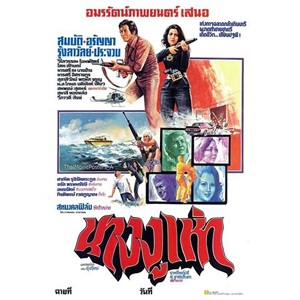 Year

: 1976



Thai title

:

นางงูเห่า




English title

:



Rating

: 4/5


Director

: กิตติพงษ์ เวชภูญาณ



Main actor

: Sombat Methanee,Prachuap Ruekyamdee,Adinan Singhiran,Preuhat Boonlong,Lak Apichat,Sompong Phonmitr,Sukon Koewliam


Main actress

: Aranya Namwong,Runglawan Sripatimakul,Wilaiwan Watthanaphanit,Khomapat Attaya,Marasri Isarangkul,Marasri Bangchang,Sulaleewan Suwanthat
Thai movie นางงูเห่า was released in year 1976 and lasts 1h32mn as incomplete version. The movie was shown in Thai Film Archives in 2017. Movie director is กิตติพงษ์ เวชภูญาณ. One song is featured. Famous robber Cobra lady / นางงูเห่า, as Tai (Aranya Namwong), flees the police, led by Sompong (Sompong Phonmitr), after another daring robbery. Policemen fail to catch her. Tai and her brother Lak (Lak Apichat) steal jewelry from Preuhat Boonlong and Marasri Isarangkul. They also steal another couple, i.e. มล.โกมล ปราโมช and Marasri Bangchang. Prachuap Ruekyamdee, her father, is waiting for Tai outside. They have to flee the police again. The car is hidden in a truck. Police are surrounding their place as there is a traitor among the team. Adinan Singhiran sacrifices himself to attract police attention so that others can flee. Kan (Sombat Methanee) helps a young lady called Choompu (Khomapat Attaya), whose necklace has been stolen. Tai meets Kan at a waterfall while Tai is bathing. Tai's family is still hiding from the Thai police. Lak and her mother (Wilaiwan Watthanaphanit) recommend Tai not to meet Kan again as he could be an undercover policeman. Tai meets Kan again (คนกรุงเทพปากหวาน). A romance starts. Tai's grandmother (Sulaleewan Suwanthat) is about to die and tells her that Prachuap is not her real father. Choompu likes Kan and lies that Tai already has a husband. Tai is disappointed that her father forced her to go down a wrong path. She flees and meets a monk that recommends her to go back to the right path. Kan is a policeman and receives the duty from his boss (จรูญ สินธุเศรษฐ์) to catch the cobra lady. Tai asks for a meeting one to one with the head of the police. Kan comes also. Tai is aware Kan is there. She has important information to share about Thailand security. After doing bad things, she wants to do good things for the nation. Chased by the police, her family is now involved in weapons traffic instead of jewelry traffic. The lady boss (Runglawan Sripatimakul) appreciates Tai and gives her more responsibilities. A new mission is to kill policeman Kan, who is becoming a threat for them... Ruffian Dom (โดม สิงห์โมฬี) said he can manage by himself. Tai helps Kan against Dom. Kan asks Tai to surrender and he will wait for her, but she refuses. Kan gets finally captured by ruffians. Lak and her father release police inspector Kan and open the gates to let police enter. Meanwhile Tai still pretends to be loyal to her boss but the lady boss sees that Tai betrays them. Shootings occur. The lady boss shoots Lak and his father Prachuap. Tai shoots the lady boss but it is too late as Lak and her father are dead. Kan arrests Tai. Finally, Tai is released as she is the lost daughter of the rich people she robbed before!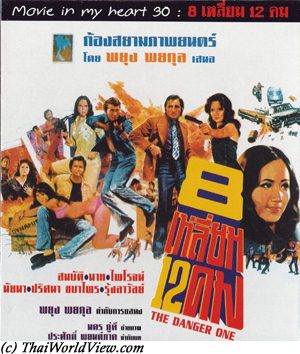 Year

: 1976



Thai title

:

8 เหลี่ยม 12 คม




English title

: The Danger One



Rating

: 3/5


Director

: Payoong Payakul



Main actor

: Sombat Methanee,Dam Datsakorn,Nard Poowanai,Phairoj Jaising,Pipop Pupinyo,Phirapon Piyawan


Main actress

: Prissana Chabaprai,Naiyana Shewanan,Runglawan Sripatimakul,Moeifa,Khomapat Attaya



Buy now

:

Payoong Payakul is the director of the Thai movie "8 เหลี่ยม 12 คม". His wife Prissana Chabaprai is also playing. The movie was released in year 1976 and lasts 1h44mn. The image is a bit reddish and damaged as being the last copy still available on the market. The selling point of the point, according to the poster, is the presence of six movie stars (ดาราเอกโคจร) including Runglawan Sripatimakul, Prissana Chabaprai, Naiyana Shewanan, Nard Poowanai, Sombat Methanee, Phairoj Jaising. The movie features also a few ดาวยั่ว (วิกาวดี, Khomapat Attaya, Moeifa, มิสหลาบยัง) acting in a few daring sequences. A jewellery robbery does happen. Khom (Sombat Methanee) and Chitchai (Dam Datsakorn) are involved. An overseas buyer is now expected in a few days. Anita (Naiyana Shewanan) is the younger sister of Chitchai. Chitchai fails to steal the jewellery suitcase from Khom. Khom sent Krissana (Nard Poowanai) to study in England. Krissana now becomes a policeman. Khom promises it is his last job in order to avoid facing Krissana as a policeman. Tonachai (Phairoj Jaising) with two ladies called Rita and Rosana always help Khom. Chitchai requests the diamonds to Khom earlier than expected. Tonachai has many enemies (ศัตรู) and has a fighting in an underground parking. Chitchai sent some ruffians (Pipop Pupinyo, Phirapon Piyawan...) but it fails. In the morning, Khom brings the 10M baht jewellery for Rita to check. The hotel groom exchanges the small suitcases while they are not aware. Police head asks Krissana to neutralise this jewellery ring. Krissana starts by entering Chitchai's nightclub, i.e. the Suzi bar, by claiming being a life insurance seller. Chitchai's ruffians aware that Krissana is certainly a cop tries to kill him but without success. Khom is concerned that he may face sooner or later Krissana (ปัญหาตัดสินใจไม่ถูก). Krissana gets information from Anita, who is his girlfriend. Khom believes the diamonds have been stolen by Chitchai's team. Rita is in fact part of Chitchai's team also and is finally shot by them. Chitchai captures Khom. The jewels are going to be used in a weapons deal exchange. Aware of the exchange place, Tonachai and the ladies head there. Krissana brings policemen there and also helps to release Khom. The HQ is then stormed and Chitchai is captured. Chitchai recognises his mistakes and is finally happy about the relationship of Rita and Krissana.



Year

: 1976



Thai title

:

3นักสู้ผู้ยิ่งใหญ่




English title

:



Rating

: 3/5


Director

:



Main actor

: Sorapong Chatree,Phairoj Jaising,Sukon Koewliam,Pipop Pupinyo,Uten Boonyong,Boo Wibunnan,Krai Kanchit


Main actress

: Pawana Chanajit,Moeifa,Duangjai Hathaikarn,Runglawan Sripatimakul
3นักสู้ผู้ยิ่งใหญ่ movie deals about two ruffians factions competing for leadership. One group is led by wealthy man (พ่อเลี้ยง) Yan. The second group is led by Sia (คนอิทธิพลมาก). Sia is played by actor Boo Wibunnan, who always plays the mafia leader, half Chinese half Thai, speaking a Thai language mixed with Chinese words. Sia's daughter is Taptim (Pawana Chanajit). She is fair and doesn't hesitate to recognise mistakes done by her father or his team. Both ruffians leader have sexy mistresses (ดาวโป้) played by Moeifa and Runglawan Sripatimakul. Yumei is Yan's mistress but she has also another lover, i.e. Roj (Phairoj Jaising), Yan's close associate. Some of Sia's ruffians take compromising pictures in order to blackmail Roj as they are aware he is having an affair with his boss mistress. Jom (Sorapong Chatree) and his wife Srithong find a job inside Yan's company. Yan's daughter Songla notices Jom. Sia's ruffians threaten villagers working as gold prospectors. Jom and Roj have a fight with Sia's ruffians as they raped one of the village lady. Each ruffians leader is responsible and protecting his territory and people. While Jom is away, Srithong is raped and killed. Jom promises to revenge her. Siep (Uten Boonyong), an undercover policeman, having a strong punch, is entering the area. Sia wishes to recruit him. As Taptim has studied in university, Siep tries to convince her that her father activities are wrong (เดือดร้อน) towards villagers. Jom is captured by some ruffians led by Hin while walking endlessly. He is finally released as he is identified as staff from Yan. Hin accepts Jom in his team and trains him so that he can revenge his wife. Roj And Yumei are expelled by Yan as they are having an affair. Yan has received a comprising picture given by Sia! Roj joins Sia's team. Siep and Taptim try to reconcile both parties causing Sia's ire. As Siep shoots one of Sia's ruffians trying to rape a villager, he is considered as a traitor (ทรยศ) and imprisoned. Jom joins back Yan as he has finished his training. Moeifa drugs Yumei so that she cannot refuse Sia's advances. Her plan is to take the team control with Roj. Yumei is punished and killed by Roj. Knowing Yumei's death, Yan requests a one to one duel with Sia. Yan shots Sia but then Roj cowardly shots Yan also. Roj is the new leader. Meanwhile Taptim helped Siep to flee. Jom and Siep fight back in order to defeat Roj and his ruffians. The area now becomes ruffians free. It is a 2h12 movie with some 1970s key actors. Movie picture is quite poor and colorless. It certainly comes from an old TV program recording.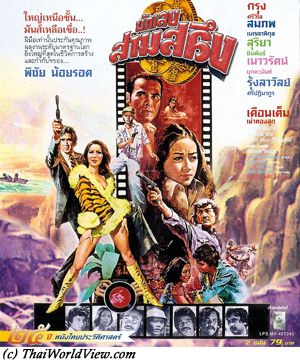 Year

: 1976



Thai title

:

นักเลงสามสลึง




English title

:



Rating

: 3/5


Director

:



Main actor

: Krung Srivilai,Songthong,Suriya Chinaphan,Somsak Chaisongkram,Kecha Plianvithee,Somphob Benjatikul


Main actress

: Naowarat Yooktanun,Deuan Tem Salitul,Runglawan Sripatimakul
Ket (Krung Srivilai) promises to his dying boss to go to Khao Kiaw to find the children he never had time to care of. Viwe (Songthong), an independant ruffian is wandering around Khao Kiaw. Kraison and his sister Mon are besieged in a restaurant by ruffians. Viwe agrees to help them but is asking for money as reward. Ket, having his lunch, helps them by shooting the ruffians. They all flee. Later in the village, Ket helps a young lady called Kaem (น้องสาวคนสวย) (จะไม่มีวาสนาเห็นขาอ่อนของฉัน) harassed by a few ruffians (Somsak Chaisongkram). Ket is looking for uncle Pran. Ket learns from Kaem that uncle Pran was shot a few months ago. Kaem brings Ket to meet Pran's children, i.e. Plaew (Naowarat Yooktanun) and Prai (Suriya Chinaphan). Kaem is Prai's girlfriend. Pracha (Kecha Plianvithee) is the ruffians leader. They all refuse to sell their land to Pracha. Pracha wants to know who is the man who resists to his ruffians. Plaew hires Ket to protect her fields (ไร่). Many beautiful "luk thung" (ลูกทุ่ง) are performed by Krung and Naowarat. Plaew bewares of Ket as he insolent (ทะลึ่ง). Pracha hires Viwe to kill Kraison. The ruffians take revenge over Ket by torturing him but this time Kraison helps to release him. Kaem loves Ket but Ket sees her as a young sister only (ที่ใครที่มัน). Prai is framed by Pracha's mistress and has to kill one of the ruffians to be able to flee away. Viwe asks for additional bonus to Kraison to avoid killing him. It ends up in a fight. Ket, Plaew and Prai threatens Pracha to stop harassing them for a last time but Pracha is preparing his revenge. While a Buddhist ceremony (ผ้าป่า) happens in the village, Plaew is kidnapped. Ket follows Pracha's ruffians in order to release her. Gun fights happen. Pracha and his ruffians are killed. Viwe, always helping people for money, is also shot dead. The movie end is a bit weird as it is discovered that Kraison killed many years ago Ket's brother so he has to revenge his dead brother. Ket is arrested by the police following his bad acts. Plaew promises to wait for him. Thai movie นักเลงสามสลึง (1976) or "the three ruffians" features many famous Thai actors from 1970s decade. Krung Srivilai was then at his zenith. A James Bond soundtrack is used. It lasts 1h50mn. The VCD has one audio track with Thai and one audio track with Lao. This movie is a mix of romance, action and features many songs.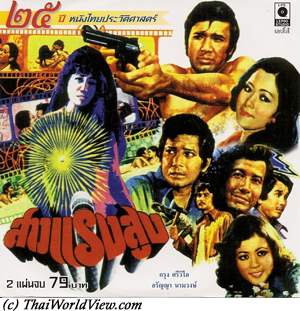 Year

: 1975



Thai title

:

สาวแรงสูง




English title

: Foxy lady



Rating

: 3/5


Director

:



Main actor

: Krung Srivilai,Phairoj Jaising,Manop Aussawathep


Main actress

: Aranya Namwong,Tanyarat Lohanan,Runglawan Sripatimakul
A young woman is asking a detective to find back her mother. The detective accepts as her mother has taken care of him when he was a teen. His enquiry leads him to a human trafficking gang.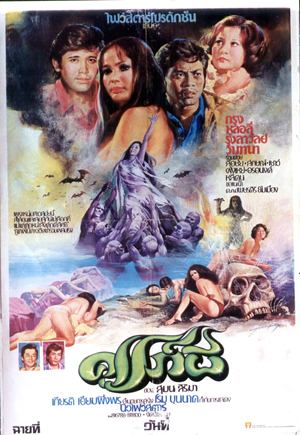 Year

: 1975



Thai title

:

ครรภ์ผี




English title

: The Possessed



Rating

: 3/5


Director

:



Main actor

: Krung Srivilai,Lo Lieh,Luechai Natnat,Lak Apichat,Chao Klaewklong


Main actress

: Runglawan Sripatimakul
Thai movie ครรภ์ผี - 鬼胎 - The Possessed was released in year 1975 and lasts 1h32mn. This movie is only available though VHS in a Chinese or a Thai version. It was certainly longer but VHS movies were often cut to 90 minutes. A Chinese couple in love, Kung Ta (Lo Lieh) and Lei Ting (Runglawan Sripatimakul), are riding a motorbike. They fall from it and the bike cannot be restarted. As rain falls heavily, they take refuge in a cave. This cave features scary statues and human bones. They finally make love in the cave and it wakes up a spirit hidden in a statue. He possesses the man, while he is making love to Lei Ting. Back to Bangkok, Lei Ting is going to hospital, where her father (Chao Klaewklong) is dying. Shek Chiao (Krung Srivilai) as lawyer, is reading the testament. The father disliked Kung Ta as he believed he is lazy. Shek Chiao still loves Lei Ting but she announces him that she is going to marry Kung Ta. Lei Ting names her new husband Mr Pan as managing director. On the wedding night, she cannot stand it and refuses anymore contact with Kung Ta. Luechai Natnat is playing a driver and domestic helper. Lei Ting is finally pregnant. Kung Ta is spoiling the business and is taking his secretary as mistress. Lei Ting discovers her husband is cheating her. Lei Ting is now pregnant for 14 months. Shek Chiao announces to Lei Ting that Kung Ta left for Hong Kong. A baby daughter is born but she has teeth already. This pregnancy was weird indeed. Shek Chiao proposes to be the father but Lei Ting refuses as she has still hope that Kung Ta will come back. Luechai Natnat tries to abuse Ting Lei. He follows a lady (วันทนา บุญบันเทิง) in the garden, who ends up to be a vampire. Lak Apichat as policeman enquiries on the murder. The gouvernante tries to get favour from Ting Lei but luckily Shek Chiao arrives on time. The little girl can transform herself into a beautiful young woman and the governante is also killed. Later on, the vampire tries to get rid of Shek Chiao and policeman Lak Apichat. Shek Chiao's life is spared as the vampire is afraid of Buddhist amulet. Kung Ta is just back and chases the police when they claim his daughter is a vampire. Kung Ta finally realises his daughter is really a vampire. Police brings Buddhist monks to the cave to exorcise the evil. Finally both Kung Ta and the daughter die in the cave crushed by a big statue.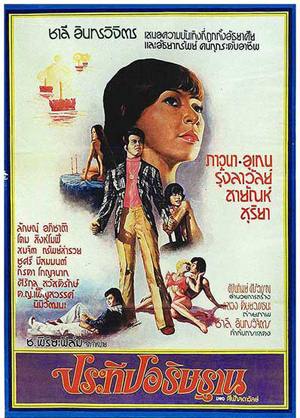 Year

: 1974



Thai title

:

ประทีป อธิษฐาน




English title

:



Rating

: 4/5


Director

:



Main actor

: Uten Boonyong,Sayan Chantaraviboon,Suriya Chinaphan,Lak Apichat


Main actress

: Pawana Chanajit,Chosri Misommon,Somjit Sapsamruey,Runglawan Sripatimakul
Thai movie ประทีป อธิษฐาน was released in year 1974. It lasts 1h57mn. It was shown on Thai TV cable. Pan (Pawana Chanajit) and Kalan (Uten Boonyong) meet during Loi Krathong. Kalan announces to her that he is her future boss as Hotel manager! Chosri Misommon is Pan's aunt. She always asks for money as she keeps gambling. Pan's mother had a lover as her husband didn't take care of her and her daughter. Upset, the husband wished to bring her to her lover for clarification but a car accident happened on the way and both died. So Pan stayed with her aunt. Sek (Suriya Chinaphan) loves Pan and always does courtship her as a gentleman. Kalan's mother is played by Somjit Sapsamruey. Somjit introduced Da (Runglawan Sripatimakul) to Kalan and wishes for a wedding. The mother believes Pan cannot be trust as cashier as her aunt Chosri is a big spender (การพนัน). Aunt Chosri ends up in jail. While nobody wants to be the guarantor, Kalan offers the money to bail her out. Pan is promoted to manager assistant (ผู้ช่วยผู้จัดการ). Karun (Sayan Chantaraviboon), the second son, is back from overseas but he has heart disease. He likes Pan also. An American tourist is always trying to seduce her also. So four men have hopes on her. Finally she marries Karun. The aunt gets a big amount of money (ใช้หนี้). She knows she doesn't love him. Karun is unable to perform husband duties per a congenital disease. Kalan was former lover of Pan's mother but Kalan confirms it was a platonic love. Smoking scenes and love scenes are blurred. Pushed back by Kalan, Da goes with Lak Apichat to Hua Hin. They become lovers. Karun, being over jealous on Pan, ends up at hospital. Kalan decides to marry with Da to avoid any more jealousy crisis. Unfortunately fightings happen at Kalan's wedding as Karun sees Pan talking to Sek. Pan flees. Kalan announces to Da that he cannot love her as he knows she is pregnant with somebody else (Lak). Kalan finally finds back Pan. Meanwhile Karun is getting crazy and even shoots two people at night believing it was Kalan and Pan. Being a bad girl, Da quits Kalan. Finally Kalan and Pan can have happiness. This is a romantic drama from 1970s with much more realistic story compared to 1960s decade movies.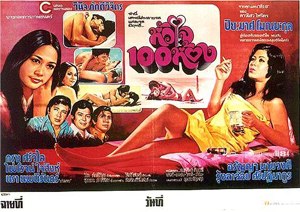 Year

: 1974



Thai title

:

หัวใจ 100 ห้อง




English title

:



Rating

: 3/5


Director

:



Main actor

: Krung Srivilai,Phairoj Jaising


Main actress

: Aranya Namwong,Piyamas Monayakol,Runglawan Sripatimakul
Thai movie หัวใจ 100 ห้อง was released in year 1974. It is a lost movie in Thailand but a sequence of 1h11mn remains to be seen. Klom (Krung Srivilai) (คุณผู้ชาย) comes back home late and is drunk. Klom asks Bang, domestic helper, to bring Khun Klang (Piyamas Monayakol). Klom is very upset. Tam Niem (Phairoj Jaising) is visiting Oon (Aranya Namwong), modern woman smoking and drinking beer. Such characters were not present in 1960s Thai movies. Such characteristics were only for the bad girls but not for the main actress. As soon as Oon left the room, Tam Niem calls another woman called Pan to propose a meeting at 1PM. Krung, married man, calls also Pan for a meeting at 1PM (ดวงใจคนสวย). A third man then calls her. Pan has many boyfriends (ความรักหรือความอยาก). Pan is a modern lady also smoking. Krung gives her 1000 Baht. The third man leaves when she is sleeping and steals the 1000 Baht. Oon calls Klang and argues with her as she believes Klang wishes to steal Klom from her. Klang is still a university student. Klom likes to go to bars and is always flirting (เจ้าชู้). He is also interested in Klang. Klom and Oon had a baby. Klom complains that Oon quit him and so doesn't allow her to come back. An older woman called Mayura, boss of a hotel, hires her lover Tam Niem as manager. Tam Niem is more interested in her daughter (Runglawan Sripatimakul) but he still keeps visiting Oon. Oon complains that Tam Niem visits her only for lust (อารมณ์ใคร่). Tam Niem brings Oon out and they meet Klom. Despite they are separated, there is jealousy to see each other with another partner. Tam Niem also likes Klang. He wishes to marry her as she represents the purity but maybe Klang has to marry Klom due to gratitude (บุญคุณ). Klom still pays for her studies despite he is separated from Oon. Tam Niem has finally a love story with Mayura's daughter, who wishes to marry him. Tam Niem is not in hurry. Oon is now pregnant and Tam Niem is considered to be the father. Klang is very upset with him. Tam Niem promises to marry Oon. Meanwhile Klom, aware that Tam Niem also plans to marry Mayura's daughter, calls Mayura to warn them that Tam Niem is already married with Oon. Tam Niem admits that he loves only Klang so Oon wishes to suicide. Mayura needs to revenge her daughter (เสียตัว). As Oon is about to use a gun to kill herself, Mayura shots Tam Niem three times. Oon falls from the stairs seeing Tam Niem dead. The remaining sequence ends with Oon recovering on a bed with Klang and other family members around. Using women as handkerchief has caused Tam Niem's demise.
---