Increase or decrease font size for easier reading : A+ A-
Rujira Isarangkul
Rujira Isarangkul (1913-1984) - ม.ล.รุจิรา อิศรางกูร ณ อยุธยา
Mom Luang Rujira Isarangkul was part of Thai Royal family. He was involved in cinema industry and has been actor, dubber...
This Rujira Isarangkul movie page contains 14 records.
---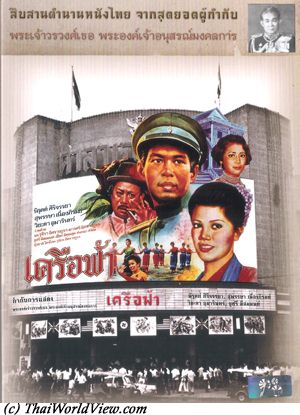 Year

: 1980



Thai title

:

เครือฟ้า




English title

:



Rating

: 4/5


Director

:



Main actor

: Nirut Sirijanya,Rujira Isarangkul


Main actress

: Supansa Nuengpirom,Wiyada Umarin,Sarinthip Siriwan,Chosri Misommon,Marasri Isarangkul,Janthana Siriporn



Buy now

:

Thai movie เครือฟ้า (สาวเครือฟ้า) was released in year 1980. It is available under DVD format (1h49mn) and VCD format (2h01mn) released by former company Solar. During World War 2, Hoi is a military officer (นายทหาร) in Chiang Mai back from overseas. Hoi (ลูกผู้ดี / ลูกพญา) is coming from a high society family (Sarinthip Siriwan). Hoi (Nirut Sirijanya) meets a young Northern lady called Kreua Fa (Supansa Nuengpirom) at a traditional dance event. Chiang Mai is famous for the beauty of its ladies (เมืองคนงาม). Kreua Fa's father raised elephants. Local North people speak local northern dialect in the movie. Kreua Fa makes Hoi discover elephants' life in the forest. A local old notable wishes to marry Kreua Fa. The notable involved in drugs trafficking wishes to get rid of Hoi. A plan is set up to have Hoi having a deadly accident in the forest with an elephant but Kreua Fa helps him on time. Romance starts between them. They finally marry following Northern traditions. As Thailand has declared war to Germany, Hoi needs to go back to Bangkok and then to fight in Europe. His plane is hit and Hoi lost his memory. Three years have passed. Champa has been taking care of him during his long recovery. Hoi's parents settle the wedding with this rich heiress (Wiyada Umarin). Meanwhile Kreua Fa has delivered a child. The evil notable kidnaps Kreua Fa's baby to force her to become his wife. Kreua Fa's friends use elephants to release her and the notable is arrested for drug trafficking. One day Hoi is invited to Chiang Mai to demonstrate Thai airplanes. Kreua Fa hearing the plane believes Hoi comes back for her. Hoi has the feeling he went to Chiang Mai before losing his memory (ความทรองจำ). The new wife is aware of Kreua Fa but hides the truth to Hoi. Officer Pla explains the truth to Kreua Fa that Hoi lost memory as his plane was hit during the war. Kreua Fa needs to wait. Kreua Fa tries to get suicide. Finally aware of a ball given by high society, she decides to find Hoi. During the ball, arguments arise between Kreua Fa and Champa but Hoi cannot remember Kreua Fa. Kreua Fa is so disappointed so she decides to kill herself. Hoi finally recovers his memory. While rushing to find Kreua Fa, he just arrives on time to have her dying in his arms. She entrusts her child to Hoi. This movie has been released in theaters before in year 1953 (Chalit Susewee and Wilaiwan Watthanaphanit) and 1965 (Mitr Chaibancha and Pissamai Wilaisak).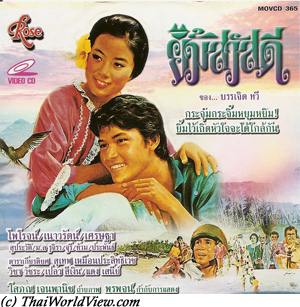 Year

: 1978



Thai title

:

ยิ้มสวัสดี




English title

:



Rating

: 3/5


Director

:



Main actor

: Phairoj Sangwaribut,Settha Sirachaya,Rujira Isarangkul


Main actress

: Naowarat Yooktanun



Buy now

:

Since her birth, a tycoon father is chaperoning his daughter with excess. Her daughter, fed up with this life, decide to flee and go in the south of Thailand. The police is looking for her. She met a journalist that is helping her in exchange of an exclusive news coverage. But love emerges between the two young people.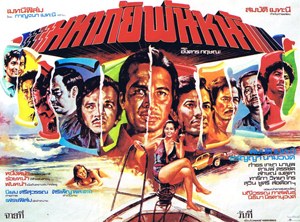 Year

: 1978



Thai title

:

มหาภัยพันหน้า




English title

:



Rating

: 3/5


Director

: Sombat Methanee



Main actor

: Sombat Methanee,Lak Apichat,Kecha Plianvithee,Dam Datsakorn,Rujira Isarangkul,Thep Thienchai,Kanchit Kwanpracha,Manop Aussawathep,Kamthorn Suwanpiyasiri,Pan Borapet,Paen Pleumsachai,Krai Kanchit,Sawin Sawangrat,Wittaya Sukdamrong,Pumi Patanayut


Main actress

: Aranya Namwong,Tharika Thidathip,Metta Roongrat,Orasa Isarangkul



Buy now

:

Thai movie มหาภัยพันหน้า was released in year 1978 and lasts 2h06mn. It was released under VCD and VHS formats. It is a Methanee film production with กาญจนา เมทะนี (Sombat Methanee's wife) as movie producer. Sombat Methanee is movie director. James bond style music is featured. Multiple famous Thai actors and actresses are featured in this movie such as Sombat Methanee, Aranya Namwong, Lak Apichat, Kecha Plianvithee, Dam Datsakorn, Rujira Isarangkul, Thep Thienchai, Kanchit Kwanpracha, Manop Aussawathep, Tharika Thidathip, Metta Roongrat, Kamthorn Suwanpiyasiri, Pan Borapet, Paen Pleumsachai, Krai Kanchit, Orasa Isarangkul, Sawin Sawangrat, Chosri Misommon, Lor Tok, Wittaya Sukdamrong. Multiple murders are committed in various places such as golf club... Each time the killer has a different face, i.e face of Kecha Plianvithee, face of Dam Datsakorn... The killer is having an assistant, i.e. Lak Apichat. The murders are committed by มหาภัยพันหน้า as those men were harmful to Thai society such as corrupted politicians or ruffians trafficking drugs or weapons. The killer is Sakao (Sombat Methanee) with his assistant Wai (Lak Apichat). Sakao is using different masks so he gets called the "great danger with thousand faces" (มหาภัยพันหน้า)! Thep Thienchai and Wai suggest to Sakao to have a lady joining their team. Their boss is Rujira Isarangkul. Det (Kanchit Kwanpracha) is also part of the team. The boss has an important work for them. They have to neutralize Sia Bancha (Kamthorn Suwanpiyasiri). Pho Lieng Boonta (Kecha Plianvithee) and Plaem (Dam Datsakorn) are working with Sia Bancha's team. Sakao and Wai go to Valentino club, where multiple Japanese and Hong Kong singers are working. This is Sia Bancha's usual place. Sakao meets Japanese singer Misiko (Tharika Thidathip). Sakao helps also Sai (Metta Roongrat) beaten by Klang (Krai Kanchit). Sakao has then arguments with Peter (Manop Aussawathep). Fighting occurs in Valentino club. Pho Lieng Boonta asks for an enquiry on Sakao. Sakao changes his face to be similar as Sia Bancha. Ratree, Bancha's girlfriend, is played by Orasa Isarangkul. Sakao enters in Sia Bancha's bedroom to steal documents. Khun Deu (Aranya Namwong) is welcome at the airport by Sakao, Wai and Det. Ruffians recognize Sakao's car and follow it. They aggress Deu being the driver as they believe she is Sakao's wife. Luckily, they flee as police is around. Sakao and Wai disguise themselves as plumbers so that Sakao can listen to Pho Lieng's plans. He meets Misiko again. Peter recognises him so Sakao has to flee on a small motorbike. Deu discovers that Sakao is มหาภัยพันหน้า. Deu finally joins them. Sakao and Klang meet Thongkam (Pumi Patanayut) that recommends them to follow Dr Singhon (Sawin Sawangrat). Ruffians fail to get rid of Sakao. Misiko asks to meet Sakao again and warns him (เล่นกับความตาย) that ruffians are trying to kill him. Sakao is finally captured. Deu uses Dr Singhon's signature to enter in their hidden place and install a microphone under the table. Sakao is beaten but refuses to disclose who he is. Ruffians are doing a weapons traffic to disrupt Thailand. Deu gathers information and informs the Police. Thai Police, led by Wittaya Sukdamrong, are ready to surround the house where ruffians are hiding. House is stormed and all ruffians are neutralized. Misiko was finally an inspector from Japanese Police.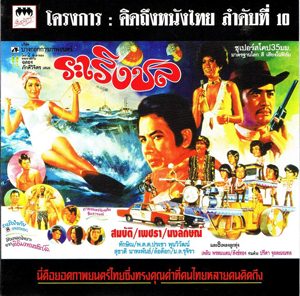 Year

: 1972



Thai title

:

ระเริงชล




English title

: Ra Rueng Chon



Rating

: 5/5


Director

: Chalong Pukdeewichit



Main actor

: Sombat Methanee,Songthong,Rujira Isarangkul,Lor Tok,Pan Borapet,Taksin Jampol,Paen Pleumsachai


Main actress

: Petchara Chaowarat,Somjit Sapsamruey,Marasri Isarangkul,Orasa Isarangkul,Wassana Chalakorn
Thai movie ระเริงชล was released in year 1972 and lasts 2h07mn. It was released under VCD format by XxX company in year 2001. Director is Chalong Pukdeewichit. The movie was found overseas and the picture is sharp and colorful. Unfortunately the first part of the movie (around 20 minutes) was missing. So in order to be able to release the movie, a remaining 35mm film was digitized. As the film reel was almost 30 years old, the colors were gone and scratches could be seen. But at least the first 20 minutes were recovered and VCD was released. Eight songs are featured including the group "Impossible" (วงดิอิมพอสซิเบิ้ล), Songthong and เพลิน พรหมแดน... Petchara wears extraordinary hats in this movie. Pak (Sombat Methanee) is back from overseas. Per his parents' arrangement, he needs to marry a young lady called Rareung (Petchara Chaowarat). His father (Rujira Isarangkul) and his mother (Somjit Sapsamruey) have a debt towards Thon (Lor Tok) and his wife (Marasri Isarangkul), who helped them financially. They must have gratitude (บุญคุณ) towards this family. It is the overseas student versus the upcountry lady (เด็กบ้านนอก). Pak is not willing to marry Rareung and wishes to break the engagement (ถอดหมั้น) as he has a fiancee, called Sopha (นงลักษณ์ โรจนพรรณ), still being overseas. The young lady, Rareung, is behaving like a hippy. If no wedding, Pak's father has to pay back the debt but he doesn't have the money. Pak agrees to work for Thon one year in order to pay back his father's debts. The engagement is maintained. They have to move back to Rayong. Pak met Pleun (เพลิน) as local architect and Sang (Songthon). Plaem (Orasa Isarangkul) is aggressed by ruffians including Pan Borapet. Pleun and Rareung help her on time. Sopha is back from USA and is willing to pay the 1M Baht debt. Pak refuses as he is not a thing that can be purchased. Rareung calls him "golden pimp" (แมงดาปิดทอง)! Pak is authorised by Thon to go to Sopha's birthday. A fight occurs during Sopha's birthday. Bouleu (พ.ต.ต.ประชา พูนวิวัฒน์) hires ruffians to beat Pak as he sees him as a rival. Rareung and his friends help him. Sopha's mother (ประพิศ พราวพรรณ) wishes her daughter to marry Bouleu, a rich businessman. Bouleu has a mistress already (Wassana Chalakorn). Den (ปรีดา จุลละมณฑล) has a car accident with Sopha so he tries to seduce her and comes to her house. Rareung's mother is suddenly dead. Thon has a mistress. Her brother Chu (Taksin Jampol) pushes her to become official wife. Pak refuses that Rareung's breaks her debt contract. Rareung is aggressed by three ruffians but Pak helps her on time. Bouleu hires Chu to recover some drugs fallen in the sea. A party (งานฉลอง) is organised to celebrate new bungalows opening so many families are gathering. Sopha knows she lost to Rareung. Bouleu proposes to help her by damaging the parachute. While Rareung is parasailing, Paen Pleumsachai shoots the parachutes and ruffians kidnap the ladies. They ask for 1M baht ranson to Thon. Bouleu is the mastermind behind. The ransom fails as the police intervenes. Chu is involved but he is doubled. Plaem (sister of policeman Den) and Thon's mistress are also captured. Police is about to storm the island where Bouleu and his team is hiding. Wassana is disappointed that Bouleu still loves Sopha. She warns Pak and the police regarding mines hidden under the beach. Bouleu shoots her. Police led by Den and Pak succeed to storm the HQ and to release the ladies. They have to flee as a time bomb shall destroy the HQ. A final fight occurs between Pak and Bouleu. Wassana harpoons Bouleu. Happy romance can happen between Pak and Rareung, between Den and Sopha, between Pleun and Plaem.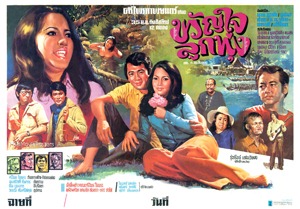 Year

: 1972



Thai title

:

ขวัญใจลูกทุ่ง




English title

: My sweet heart



Rating

: 3/5


Director

: ศรีไพร ใจพระ



Main actor

: Nard Poowanai,Kamthorn Suwanpiyasiri,Sukon Koewliam,Lor Tok,Chaiya Suriyun,Rujira Isarangkul,Op Boonthit,Paen Pleumsachai,Songthong,Sithao Petcharoen


Main actress

: Chosri Misommon
Thai movie ขวัญใจลูกทุ่ง / My sweet heart was released in year 1972 and lasts 2h27mn. Movie director is ศรีไพร ใจพระ. The movie was never released on VHS, VCD, DVD in Thailand. It is only available under 35mm film format, but it was very damaged with colors almost lost. ศรีไพร ใจพระ and บุปผา สายชล were famous singers (นักร้องลูกทุ่ง) since movies ชาติลำชี and มนต์รักลูกทุ่ง shot by รังสี ทัศนพยัคฆ์. They were husband and wife. Movie ขวัญใจลูกทุ่ง was the first movie directed and produced by ศรีไพร and featuring his wife บุปผา as main actress. Chaiya Suriyun was supposed to the main actor in this movie. He started to play in a few sequences, but problems occurred. So, the main actor was changed to Nat Poowanai, who was a new actor who just played in a few movies. Surprisingly Chaiya can still be seen on the movie poster and in a few sequences of the movie. Chot character, played by Chaiya, is killed after a fighting sequence where Chaiya is shot by ruffians. The movie features many actors and actresses such as Kamthorn Suwanpiyasiri, Chosri Misommon, Sukon Koewliam, Lor Tok, Chaiya Suriyun, Nard Puwanai, Rujira Isarangkul, Op Boonthit, Paen Pleumsachai, Songthong, Sithao Petcharoen, วงศ์ทอง ผลานุสนธิ์, พูนสวัสดิ์ ธีมากร, ทานทัต วิภาตะโยธิน,แคหลอ, ชูศรี โรจนประดิษฐ์, ขุนแผน, ถนอม นวลอนันต์, เปี๊ยก, พิม พิไลลักษณ์. 12 songs are featured in this musical movie. Kamthorn Suwanpiyasiri (ลูกกำนัน) wants to seduce Kratin (บุปผา สายชล). Kratin watches boat races with Champi (Chosri Misommon). Sithao Petcharoen is the referee. Uncle Khaem (Rujira Isarangkul) prevents Kratin to meet Yot (Nard Poowanai). He has already a planned engagement with Kamthorn as Yot is a poor man. Kratin is Khaem's granddaughter. Chot (Chaiya Suriyun) and Sri Phrai (ศรีไพร ใจพระ) arrive in the village. Thai boxing match free style is organized and Sri Phrai, despite being a weak opponent, wins. Khaem loses a lot of money. He is upset that Kamthorn makes profit on him. Sri Phrai wishes to marry Kratin. Kamthorn and his ruffians (including Paen Pleumsachai) agress Kratin. Phi Chot and his friends help. Kamthorn gets defeated but one of the ruffians shoots Phi Chot. Op Boonthit plays a Chinese merchant. Hippy Songthong arrives from Bangkok. Uncle Khaem wishes to marry Kratin with Songthong. He is fired as he misbehaves. Next day, a man similar to Songthong with a lady Lin, claiming to be Yot's girlfriend, is having a drink in a cafe. Khaem and his team capture him. The lady flees and meets Kamthorn, who tells her that Yot has already another girlfriend named Kratin. Songthong is covered with flour and chased away. Lin visits Yot and Kratin sees them together so it is causing a misunderstanding. Khaem has to excuse towards Songthong. As a revenge, Songthong is parading the uncle through the city. Following Kratin and Yot pleas, Songthong releases him. The movie ends up happily with uncle Khaem allowing Yot and Kratin to marry, Kamthorn having a romance with Lin.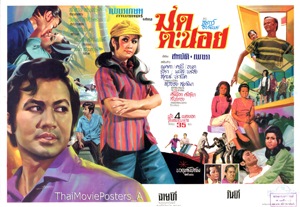 Year

: 1971



Thai title

:

มดตะนอย




English title

:



Rating

: 3/5


Director

: วิจารณ์ ภักดีวิจิตร



Main actor

: Sombat Methanee,Anucha Ratanaman,Rujira Isarangkul,Sukon Koewliam,Songthong


Main actress

: Petchara Chaowarat,Metta Roongrat,Darunee Cheunsakul,Manat Boonkiet



Buy now

:

Thai movie มดตะนอย was released in year 1971 and lasts 1h54mn. The movie was released under VCD format by company TripleX. The picture is quite damaged but still a bit colorful. This is the last found copy of the movie. Movie director is วิจารณ์ ภักดีวิจิตร. Thai actors and actresses featured in this movie are Sombat Methanee, Petchara Chaowarat, Metta Roongrat, ดรุณี ชื่นสกุล - Darunee Cheunsakul, Anucha Ratanaman, Rujira Isarangkul, Manat Boonkiet, พรชัย, Sukon Koewliam, ปราณีต คุ้มเดช, สุวัจชัย สุทธิมา, สีเผือก, ศรีสุริยา, Songthong. It even includes a few songs in 35mm format. Arriving in a beautiful mansion, young lady Motanoi (Petchara Chaowarat) wishes to meet the house owner Nai (Manat Boonkiet). She meets the daughter Kate (Metta Roongrat), who looks down on her. Chakeen (Anucha Ratanaman) is the son having a positive attitude towards Motanoi. Sukon Koewliam is the domestic helper. Motanoi is the recipient of the Apinat family's grandfather's heritage. Maen (Rujira Isarangkul), a lawyer, arrives to check the proof. Motanoi's father is Nikon Apinat. Whenever she marries, then the heritage becomes hers. She meets doctor Cheewan (Sombat Methanee), being her neighbour as she wishes to see his car. The mother wishes her daughter Kate to marry doctor Cheewan. The doctor complains to the mother about Motanoi. Motanoi has a strong character (เด็กกะโปโล) and is unruly (เกเร). It is Kate's birthday (บ้านผู้ดี). The son befriends Motanoi. Motanoi invites herself to Kate's birthday and performs a song at the party. The mother accuses Motanoi to ruin Kate's birthday party. Motanoi is back to her village and meets her old friends Songthong, Saeng Dao (ดรุณี ชื่นสกุล) and Sandon. His friends check if she has changed or not. Villager Sandon still loves Motanoi and refuses to let her belong to somebody else. Sandon performs a heart broken song. Fed up with her friends trying to catch her, she leaves the village with Chakeen. Cheewan meets Sandon as he hits him with his car. Sandon and Saeng Dao finally stay with the doctor. Motanoi leaves for overseas to study. Five years have passed. Young lady Nantaporn is back in Thailand. Maen's car is damaged so doctor Cheewan goes to pick her up but he is not aware that Nantaporn and Motanoi are the same person. The family's fortune is lost as the mother Nai is gambling. As Motanoi has a good heart, she allows them to stay in her house, but they still behave as high-so. Aware of the truth, Cheewan doesn't know how to apologize to Motanoi. Kate gives a love philter to Sandon, but it is acidic. Her plan fails as she is the one , who receives the acid in the face and not Motanoi. Saeng Dao tries to kill Motanoi as she is upset that Chee Wan is always sad because of Motanoi and keeps drinking. The mother has a lover, ruffian Nit. They plan to kill Motanoi to ensure heritage stays with them. Finally, the mother asks for money from the lawyer Maen. Nit and his men try to kidnap Motanoi. Fighting occurs and Cheewan is injured. Police arrive on time as the lawyer Maen alerts them. Motanoi takes care of Cheewan during his recovery. Love emerges while Kate, her mother and ruffians end up in jail. A remake, featuring Toon Hiransap and Apiradee Pawaputanon, was released in 1985.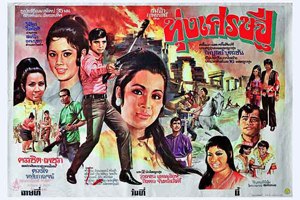 Year

: 1971



Thai title

:

ทุ่งเศรษฐี




English title

:



Rating

: 4/5


Director

:



Main actor

: Kanchit Kwanpracha,Taksin Jampol,Phan Kam,Rujira Isarangkul,Tat Ekathat,Pan Borapet,Adinan Singhiran,Pramin Jarujareet


Main actress

: Petchara Chaowarat,Ratanaporn Intarakamhaeng,Sisala Thongtara,Jomchai Jarintorn
Thai movie ทุ่งเศรษฐี was released in year 1971 and lasts 2h46mn. It was never released under VHS, VCD or DVD but an unofficial version can be found as a collector made a copy of the film, found in 16mm format with soundtrack. This unofficial VHS version features a very damaged black and white image with many vertical lines and distorted sound as the remaining film was projected very often. It is even more damaged than Thai movie มนต์รักลูกทุ่ง. Main actors and actresses are Kanchit Kwanpracha, Petchara Chaowarat, singer รุ่งเพชร แหลมสิงห์, singer กิ่งดาว จันทร์สวัสดิ์, Taksin Jampol, Ratanaporn Intarakamhaeng, Phan Kam, Rujira Isarangkul, สีเผือก, ศรีสุริยา, เทิ่ง สติเฟื่อง, Tat Ekathat, Pan Borapet, Adinan Singhiran, Pramin Jarujareet. 16 songs are featured. Thai movie ทุ่งเศรษฐี is a musical movie (หนังเพลง). The most famous song is ขนมจีนน้ำยา. Subdistrict headman and ruffians' leader Pongdin (Tat Ekathat) is asking lady Molee's hand. She is the village leader Chiaw's (Rujira Isarangkul) daughter. Cherm (Taksin Jampol), armed with swords, pushes back the wedding procession led by Pongdin. Molee (Ratanaporn Intarakamhaeng) succeeds to escape with her boyfriend Pong (Phan Kam). Cherm jumps on a horse and flees also before being overwhelmed. Molee lives with Pong and their child but remains concerned that Pongdin will find them one day. Adinan Singhiran and Pramin Jarujareet succeed to find them but Pong refuses to flee in front of Pongdin again. He is finally killed. Pong's house is burnt. Molee and her child Prai have to flee to Bangkok. Cherm decides to stay in a Buddhist temple. Twenty years have passed. Prai (Kanchit Kwanpracha) and Rung Phet are selling vinyl records during temple fairs. Kwan Dao (Petchara Chaowarat) is visiting the fair also. Prai falls in love with Kwan Dao. He sings romantic song for her. Prai and his friends get beaten by ruffians (including Pan Borapet) because they talked to the daughters of ruffians' leader Pongdin. Pongdin has a wedding plan for his daughter even she doesn't know or love her future husband. Kwan Dao doesn't want to marry a ruffian (นักเลง). Prai with Rung Phet's help are looking for Cherm and Chiaw. While paying respect to an old pagoda, Prai and his friends visit a small wooden house. They are attacked by Borapet and his ruffians. Ruffians are pushed back. They discover that the man meditating in the house is uncle Cherm! Cherm brings them to meet former village leader Chiaw's (Rujira Isarangkul), who is Prai's grandfather! He is now subdistrict headman (กำนัน). Prai is still looking for his father. He doesn't know if his father is still alive or not. Thai boxing matches are organised in the village for the annual festival. It starts with a dwarf match. Next match features Adinan versus Prai. Kwan Dao needs to give the winning reward. Prai defeats Pongdin's champion. It ends up by a lady match. Pongdin accepts them as 'children'. Romance songs occur between Prai and Kwan Dao, male singer (รุ่งเพชร แหลมสิงห์) and female singer (กิ่งดาว จันทร์สวัสดิ์). Face to face occurs between Pongdin, uncle Cherm and Prai. Prai is still looking who killed his father. Both of them are beaten and captured by Pongdin's ruffians. Friends ask for subdistrict headman Chiaw's help. Kwan Dao tries to release Prai and succeeds. Prai knows Pongdon killed his father so he needs to take revenge. Prai captures Pongdin and wishes to torture him on a pyre like he tortured his father (รับกรรม). Molee and Cherm tries to convince him not to kill Pongdin. No more sins shall happen. Seeing his mother collapsing makes Prai realises that he was wrong. Pongdin changes and recognizes his mistakes. Thung Sethi (ทุ่งเศรษฐี) area will have happiness.



Year

: 1971



Thai title

:

มันมากับความมืด




English title

: Out of the Darkness



Rating

: 3/5


Director

: ChatriChalerm Yukol



Main actor

: Sorapong Chatree,Kom Akadej,Rujira Isarangkul,Dam Datsakorn,Surasit Sattayawong,Tawan Siriwat


Main actress

: Naiyana Shewanan,Chosri Misommon,Marasri Isarangkul
A mysterious object fall in the sea. Two scientifists from Bangkok come to the South of Thailand looking for the mysterious object. The local villagers worship what they believe to be a god. But a mysterious creature start to kill villagers at night time. The scientifists have to help the villagers to get rid of this mysterious objet. It was the first Thai science-fiction movie but it was not successful at the box office. In his first film, ChatriChalerm Yukol used new actors, whereas other filmmakers used established superstars.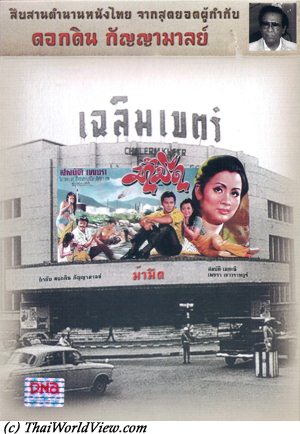 Year

: 1970



Thai title

:

ม้ามืด




English title

:



Rating

: 3/5


Director

: Dokdin Kanyaman



Main actor

: Sombat Methanee,Sawin Sawangrat,Prachuap Ruekyamdee,Choomporn Theppitak,Dokdin Kanyaman,Lor Tok,Rujira Isarangkul


Main actress

: Petchara Chaowarat,Orasa Isarangkul,Wilaiwan Watthanaphanit,Juree Osiri,Khomapat Attaya,Chadaporn Wachirapranee
Thai movie ม้ามืด was released in year 1970. The movie lasts 2h35mn. It is former 16mm format film featuring three songs in 35mm format. Robbers (โจร) are chasing a caravan driven by Kaew (Sawin Sawangrat). Kaew lets a lady called Raya (Wilaiwan Watthanaphanit) to go down first with two young children. Sawin and Raya's husband die later as the caravan falls in a ravine causing a forest fire. During the fire, one of the children disappears (หลานสาว). Sai (Juree Osiri), the husband's mother, accuses Raya to be responsible of those deaths. Prachuap Ruekyamdee, one of the villagers, finally takes care of Raya and her remaining son. Years have passed. The son Chaichan is now an adult and played by Sombat Methanee. He is back from overseas and is supposed to marry but the fiancee Taem Duang changes her mind. He needs to find a solution to avoid his parents losing face (ขายหน้า) in front of the villagers. He helps Meut, a young girl, agressed by ruffians. As a reward for his help, he asks to marry her temporary. The district officer performing the wedding is played by Lor Tok. Keng (Orasa Isarangkul) is Meut (Petchara Chaowarat)'s friend. After the wedding, Meut flees with Keng. In a village, they meet a crazy man who looks like Kaew. They meet also Dokdin Kanyaman. In fact, Meut and Keng have come here to look for petrol. Meanwhile Taem Duang (Khomapat Attaya) and her mother Rasee (Chadaporn Wachirapranee) are gossiping (นินทา) on Chaichan as they believe he was a fake rich guy from countryside. Meut was in fact adopted by Rasee's old husband. Meut wishes to buy a plot of land belonging to Prachuap as it contains petrol. Once Prachuap knows Meut has married his son through a fake wedding, he refuses to sell the land anymore (เขตป่าไม้). Choomporn Theppitak is used by Rasee to perform dirty jobs. Knowing that Meut failed to buy the land, Rasee wants to use her daughter's charms towards Chaichan. Meut recalls from an old grandma that she was brought by her to a rich family when she was young. Chaichan try to stop ruffians led by Choomporn burning the forest (ไฟไม้ป่า). Kaew helps him but gets beaten on the head. His memory is back. Prachuap revels that Kaew is real father of Chaichan, his former associate. Father and son are back together. Bua, a local villager, is pushed by Choomporn and Rasee as granddaughter in order to get heritage but it fails. Finally Rasee, who ordered kidnapping of Meut, shows her real face and tries to force her older husband to transfer heritage to her. Meut and Chaichan stop her on time. It is revealed that Meut is Raya's lost daughter. Meut and Chaichan can now find happiness.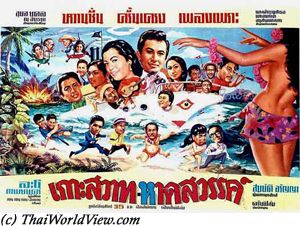 Year

: 1969



Thai title

:

เกาะสวาทหาดสวรรค์




English title

: Paradise Island



Rating

: 3/5


Director

: Prince Anusornmongkolgan



Main actor

: Sombat Methanee,Thuam Thoranong,Rujira Isarangkul,Ruj Ronnapop,Anucha Ratanaman,Op Boonthit,Sukon Koewliam


Main actress

: Aranya Namwong,Chosri Misommon,Manat Boonkiet,Metta Roongrat,Marasri Isarangkul,Sisala Thongtara
Khun Pradeun, a playboy, loves to party. He doesn't work. His father has arguments over coconuts gardens in Ko Samui with another businessman. They bet who could work more successfully, i.e. the son, Khun Pradeun, or the daughter, Khun Tum. Tum is a modern Thai lady wishing to work and with no husband. Her mother wants to find one husband for her but she prefers to go to island Sawat to help her father. If Pradeun wins, Tum must marry him. If he loses, he shall give up his business to her. Similar to many movies at the end of 1960s decade, this movie is rythmed with songs. Pradeun and Tum meet each other on the boat to island Sawat. Pradeun doesn't know the real identity of Tum as he expects somebody called Tum (ตุ่ม - pimple) to be fat, stupid. But he only shows his arrogance and suffisance. Tum and his friends try everything to have Pradeun to go back to Bangkok but to no avail. In the midst of controversy, he falls in love with her. Meanwhile, she begins to be confused because she might be in love with him as well. Pradeun tries dumping tactic to prevent sales but his three thousands coconuts have disappeared. He then needs to sort the coconuts that are mixed on purpose with those of Tum. They decide to use ruffians (นักเลง) to intimidate each other. Despite a few KO, Pradeun is the last one to stand up. Finally he knows the true regarding Tum and slaps her face for her treacherous behavior (in many Thai movies or Thai TV series, violence over women is surprisingly a way for men to show their love). Love is stronger between both of them. He saves her life during a fire in the local school and they finally marry. It is a 2h30 long lovely emotions movie. In 1960s decade, 2 hours length was frequent for many movies. This movie was then successfully updated in 2000s decade as a Thai TV serie.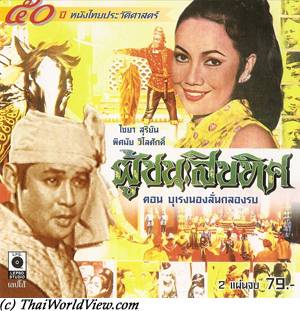 Year

: 1967



Thai title

:

ผู้ชนะสิบทิศ ภาค 2 ตอนบุเรงนองลั่นกลองรบ




English title

: The Conqueror of Ten Directions II



Rating

: 4/5


Director

: Neramit



Main actor

: Chaiya Suriyun,Chana Sriubon,Man Teeraphol,Rujira Isarangkul


Main actress

: Pissamai Wilaisak,Metta Roongrat,Karuna Yuwakorn



Buy now

:

This part of the second part of the "The Conqueror of Ten Directions" trilogy. Sadet (จะเด็ด) starts to be also named as Buren Nong (บุเรงนอง), his future name as a King. Sadet (จะเด็ด)(Chaiya Suriyun) is now staying in the kingdom of Phrae. Prince Sopinya from the kingdom of Hongsawadee is coming for an official visit to the kingdom of Phrae. Katima (Metta Roongrat) is also in Phrae. She is doing sword street performances to make a little money as she lost her purse. Khairoo, head of Hongsawadee swordmen, wishes to buy Katima's sword and has arguments with her. A soldier helps Katima. Katima is dressed like a man. Sadet doesn't recognize Katima and befriends with her. Sadet still uses sweet words with various princesses. Arguments happen between Sadet and Sopinya. Sadet succeeds to have Khairoo judged for malversation causing Sopinya's ire. The king of Phrae uses Sadet as councillor. Sadet is called under the name of Wang. Following Sopinya's bad influence, the king of Phrae finally decides to arrest Sadet. Sopinya proposes to the king of Phrae an alliance against the kingdom of Taungoo. Princess Kusuma (กุสุมา)(Pissamai Wilaisak) tries to warn Sadet and finds Katima in Sadet's room. It is too late. Sadet is imprisoned. Mangtra's help is needed. Mangtra is now the king of Taungoo. Taungoo's army besieges Phrae but needs to retreat. Taungoo's army is swapped away as night time in their encampment. Hongsawadee henchmen brings troubles during the blocus and Sopinya convinces Kusuma to follow him. Sopinya takes advantage over Kusuma while she is sleeping. Meanwhile taking profit of the mess, Katima succeeds to free Sadet and the other prisoners following fierce fights. Mangtra is angry with Sadet and claims he is a traitor (ทรยศ) as he stayed with Phrae instead of Taungoo. He threatens to cut his head following the 40 000 soldiers, who died for nothing. Hopefully the old monk can interfere and saves Sadet offering his own head as a guarantee. Sadet is ordered to seize Phrae and is offered 60 000 soldiers but he only requests 20 000 soldiers. If he fails, his head will be cut. Sadet wins a first battle over a fort on the way to Phrae thanks to a better strategy. Learning that Kusuma has been sent to Hongsawadee, he leaves the army and decides to go there. Sadet gets the confidence of king of Hongsawadee while Sopinya is away. Kusuma still loves Sadet and wishes to die as Sopinya forced her. A fire is provoked in Hongsawadee by Sadet's henchmen. Sadet steals Sopinya's boat and takes back Kusuma with him. The second opus features an impressive performance by actor Chaya Suriyun. The movie continues to mix romance and historical characters.



Year

: 1967



Thai title

:

ผู้ชนะสิบทิศภาคสมบูรณ์ บุเรงนองถล่มหงสาวดี




English title

: The Conqueror of Ten Directions III



Rating

: 4/5


Director

: Neramit



Main actor

: Chaiya Suriyun,Chana Sriubon,Man Teeraphol,Rujira Isarangkul


Main actress

: Pissamai Wilaisak,Metta Roongrat,Karuna Yuwakorn



Buy now

:

This is the last opus of The Conqueror of Ten Directions trilogy. Sadet receives armors and award from Chantra, king of Taungoo kingdom. Chantra, Chantra's sister, still loves Sadet. Kusuma, Phrae kingdom princess, who also loves Sadet, hears everything and leaves for Phrae kingdom. Despite honors given, Mantra is still unhappy with Sadet, following the former military defeats but can do nothing against Sadet as he is seen as a soldier with many virtues (ทหารบารมี). Sadet comes back officially to Taungoo kingdom. The monk mentor protects Sadet as Mantra has still not decided what to with Sadet. Recently Mantra indulges in alcohol. The two men are angry against each other. The war is still ongoing between Hongsawadee and Taungoo kingdoms. Sadet decide to ordain (บวช) to wash his sins and mistakes. Chantra visits him before ordination. They declare their love towards each other once again. Chantra refuses that Sadet ordinates as the kingdom is on war. Sadet captures Khairoo, head of Hongsawadee swordmen. Then Sadet visits Kusuma in Phrae kingdom. Sadet wishes to take Kusuma to Taungoo kingdom. Sadet wants to have both ladies, Chantra and Kusuma, as wives. Khairoo, head of Hongsawadee swordmen, flees from jail and kills the monk, who was the mentor of Sadet and Mantra. Sadet decide to destroy Hongsawadee kingdom as retaliation and defeats their army. Sopinya, Hongsawadee kingdom prince, and Khairoo make an alliance with another warlord to fight Taungoo kingdom. Sadet captures the warlord. The warlord changes alliance and Hongsawadee city is definitively destroyed. Mantra defeats and kills Hongsawadee's king (พระเจ้าสการะวุตพี). Sopinya and Khairoo pay for their sins and are killed. Sadet is also loved by another lady called Katima, who is commoner. Unfortunately seeing that there is no way she can get Sadet's love for her alone, Katima gets suicide. Mantra finally renunciates to the kingdom and Sadet becomes the new king of the three unified kingdoms. The whole trilogy is more than 7 hours long. Even if the 3 VCDs are full, the original movies were in fact cut to fit the VCD format, which means 2h30mn maximum. What a pity Lepso company never releases them in DVD format!



Year

: 1966



Thai title

:

ผู้ชนะสิบทิศ ตอน ยอดขุนพล




English title

: The Conqueror of Ten Directions I



Rating

: 4/5


Director

: Neramit



Main actor

: Chaiya Suriyun,Man Teeraphol,Rujira Isarangkul


Main actress

: Pissamai Wilaisak,Metta Roongrat,Kaenjai Meenakanit,Karuna Yuwakorn



Buy now

:

This story takes place during Ayuthaya period around 1530. It is about politics regarding three kingdoms, i.e. Taungoo - ตองอู (Burma), Phrae (Thailand) and Hongsawadee - หงสาวดี (Mon). It relates the fabulous destiny of Sadet (จะเด็ด) (Chaiya Suriyun). One day he will become King Bayinnaung (พระเจ้าบุเรงนอง), Burmese King, known as "The Conqueror of Ten Directions" as his empire extended up to a big part of Southeast Asia including Thailand. When he was a baby, a monk promised to Sadet a bright future. He was brought up by a royal wet nurse in Kingdom of Taungoo. Mingyinyo (พระเจ้าเมงจีโย) was the King of Taungoo from 1486 to 1531. Sadet becomes very close with King Mingyinyo's children, i.e. Mangtra, the son, and Chantra (จันทรา), the daughter. Sadet is brave, has a nice presence, speaks well so all ladies like him and fall in love with him. Sadet needs to be separated from princess Chantra. He is surprised with Chantra in his room. Their different social status doesn't allow such behavior. He leaves for Hongsawadee. Mangtra wants Sadet to speak to princess Thavadee on his behalf. Princess Thavadee loves Sadet also despite Sadet's attempts to tell how good Mangtra is. Sopinya, Princess Thavadee's brother, is angry with Sadet's behavior and would prefer to have Mangtra as brother-in-law. Khairoo, head of Hongsawadee swordmen, prepares a plan. Jewelry is stolen and found in Sadet's room. Sadet has to flee. The monk tells Sadet to take refuse at Thayaki's sword school. Sadet fights with some ruffians in a restaurant. Those are part of Thayaki's sword school. Sadet has chance to meet Thayaki, his son and his daughter Katima (Metta Roongrat), who likes Sadet a lot. Sadet has opportunity to defeat Khairoo, who was treacherous with him in Hongsawadee. In 1531, Mangtra becomes new king of Taungoo and is now called King Tabinshwehti (พระเจ้าตะเบ็งชะเวตี้). As an acquinted childhood friend to the new king, Sadet gains the royal trust and is made the royal brother-in-law. Sadet then goes to Phrae and meets princess Kusuma (กุสุมา)(Pissamai Wilaisak), whom he tries to seduce also. The movie is divided into three parts. ผู้ชนะสิบทิศ ตอน ยอดขุนพล is part 1. It is based on Thai novel "ผู้ชนะสิบทิศ" or "The Conqueror of Ten Directions" from writer Chote Phraepan (pen name "Yacob" - ยาขอบ). There are ten directions as it includes eight compass directions and it also counts heaven and hell. The Thai novel was adapted to a TV serie, a movie serie and a musical comedy. The song of the same name from the movie series, performed by Charintra Nanthanakorn (ชรินทร์ นันทนาคร) remains one of the most recognizable and popular songs in Thailand. This 1960 old movie has still colorful and clean image that allows enjoying the nice costumes. It lasts 2h30. Old Thai and royal language (ราชาศัพท์) is used during the long dialogues. Big part of the movie is shot indoor.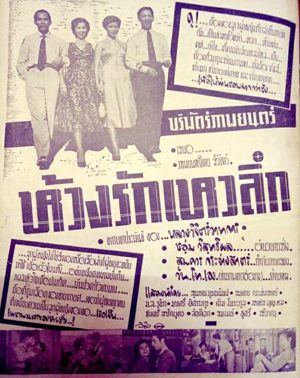 Year

: 1955



Thai title

:

ห้วงรักเหวลึก




English title

:



Rating

: 3/5


Director

: Somkuan Krajangsat



Main actor

: Rujira Isarangkul,Lor Tok,Preuhat Boonlong,Sompong Phonmitr,Somkuan Krajangsat


Main actress

: Chosri Misommon,Marasri Isarangkul
Thai movie ห้วงรักเหวลึก was released in year 1955. Only a sequence of 38mn remains to be seen. It was shown on Thai TV channel 9 many years ago. Movie director is Somkuan Krajangsat. It is a Crime / Drama / Thriller movie. Thai actors and actresses featured in this movie are Rujira Isarangkul, Lor Tok, Preuhat Boonlong, Sompong Phonmitr, Chosri Misommon, สุพรรณ บูรณะพิมพ์, Somkuan Krajangsat, Marasri Isarangkul, เติม โมรากุล, สำราญ เหมือนประสิทธิเวช, จันตรี สาริกบุตร. A woman in prison recalls a case with her lawyer Akatip (อรรถทิพย์)(Rujira Isarangkul). Her name is Khun PraPinpan (ประพิมพรรณ)(สุพรรณ บูรณะพิมพ์). A man called Khun Manot (มาโนช)(เติม โมรากุล), already married, entered in her house while PraPinpan's husband was away. Despite being reluctant, the man forced her. In the morning, she shot him arguing she was raped by him. Akatip's colleague is Sawut (ทรงวุฒิ)(Somkuan Krajangsat). A man brings a letter to the lawyer to show the lady asked indeed to meet Manot. 30,000 baht is requested to keep silent. The lawyer pays for the letter. The lady is finally released. The lawyer hides the letter. PraPinpan admits that Khun Manot and her were already married but still seeing each other (ทําความชั่ว). She killed Manot as he was afraid of his wife. The lady lied during the trial and the lawyer protected her. Prapinpan, after being released, divorces with her current husband Phon Pern (พรเพิ่ม)(สำราญ เหมือนประสิทธิเวช). Prapinpan works now in the lawyer's office. Tiemchan (เทียมจันท)(Marasri Isarangkul), a widow lady, is invited for breakfast. She puts powder in the coffee in the lawyer's wife cup, i.e. Thanomkwan (ถนอมขวัญ) (จันตรี สาริกบุตร). She dies due to poison. People suspects PraPinpan. PraPinpan, now working as secretary, wishes to collaborate and consults Sawut. She discovers that Tiemchan is Akatip's mistress. Akatip is going to marry with Tiemchan. Thanks to PraPinpan and Sawut's efforts, Tiemchan is arrested. Fed up with all this mess, PraPinpan decides to leave for South of Thailand. Sawut loves PraPinpan also. Phon Pern, her previous husband, still harasses her through letters so she shoots him.
---