Increase or decrease font size for easier reading : A+ A-
Ruj Ronnapop
Ruj Ronnapop (1931-2009) - รุจน์ รณภพ
Ruj Ronnapop was an actor and a famous director also. He directed more than 30 movies and acted in more than 50 movies. He was the father of two famous actresses, Mai Charoeunpura and Intira Jaroenpura. He is well known for his romance movies in the 1980s
This Ruj Ronnapop movie page contains 15 records.
---



Year

: 1990



Thai title

:

หลงไฟ




English title

:



Rating

: 3/5


Director

: Ruj Ronnapop



Main actor

: Santisuk Promsiri,Waruth Woratum


Main actress

: Passorn Boonyakiat



Buy now

:

Kaew is a beautiful university student but she is coming from a poor family. Accompanying a friend for job interview, she meets a lady, Waew, that proposes her to work as escort girl and promises her easy money and life. Kaew has to leave her aunt's house as her uncle is trying to take advantage on her so she accepts to work as escort girl and gives 40% to the mamasan. She gets 30 000 Baht for the first night for the loss of virginity. She gets used to easy money. She starts to get advantage of the men that wish to marry her, her office boss and her university friend, Chon. Both of them buy her gold bracelets. Chon is a nice guy coming from country side (Santisuk Promsiri plays again a character similar to Boonchu) with only a 5000 Baht monthly salary. He even sends her money to prepare the dower. A german customer, Jacob, also proposes to marry her in Germany. But Kaew has higher goals. She is used to easy money and doesn't want to lower down her status. She starts to seduce the son of a rich family, who is already fianced. He rapidly gets fond of Kaew. The parents reject this love and enquiry on Kaew's side activities. They cut their son pocket money and his car. The relationship gets tense with Kaew as she is the one to support to him. They finally break up. Meanwhile Chon and Kaew's office boss understand they have been tricked and the police catches her. Kaew tries to have a new life but fails. Being too old for working with Waew as escort girl, she gets trapped with a brutal local pimp, who beats her and forces her to see many customers. She only escapes this hell by stabbing him. Wishing to get an easy life, she only gets pain. She finally leaves for Germany by answering positively to Jacob's offer. Arriving there, some local men take her passport and money. She understands she has been tricked in a local prostitution ring again. She needs to work hard to pay back her debt to Jacob. Fed up by this life with no future, she starts to deeply upset the local prostitution ring. Finally Jacob strangles Kaew. This movie shows the bad situation in which young Thai ladies can be trapped if they choose easy money way of life.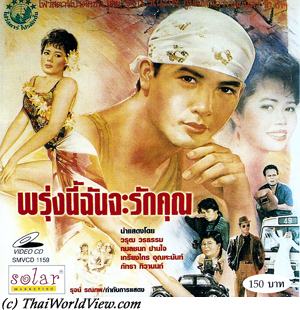 Year

: 1989



Thai title

:

พรุ่งนี้ฉันจะรักคุณ




English title

:



Rating

: 3/5


Director

: Ruj Ronnapop



Main actor

: Waruth Woratum,Kriengkrai Unhanan


Main actress

:
This movie is a remake. The previous version was shot in 1980. A man called Non helps a woman, called Oon, drugged by a taxi driver, who wants to rape her. Oon believes that Non raped her and flees. Non loves Oon but cannot find her anymore as she leaves for France. Oon's sister meets Noon and is fond of him. Non asks her in marriage. When Oon comes back from France, many confusions happen until love emerges between Non and Oon.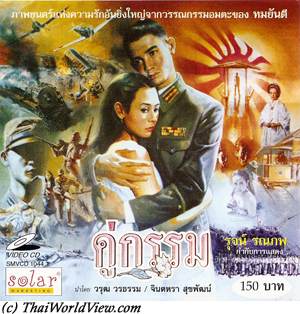 Year

: 1988



Thai title

:

คู่กรรม




English title

:



Rating

: 3/5


Director

: Ruj Ronnapop



Main actor

: Waruth Woratum,Krailat Kriengkrai


Main actress

: Jintara Sookkapat



Buy now

:

This movie is about the tragic love during World War II between a Japanese officer and a Thai lady. It is remake. Previous version was shot in 1973.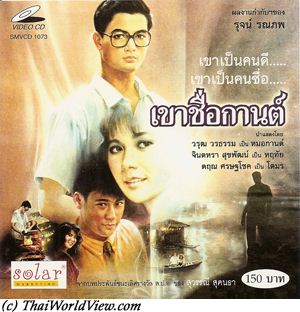 Year

: 1988



Thai title

:

เขาชื่อกานต์




English title

: Dr Karn



Rating

: 4/5


Director

: Ruj Ronnapop



Main actor

: Waruth Woratum


Main actress

: Jintara Sookkapat



Buy now

:

This movie is a remake of the movie "Dr Karn" shot in 1973 but with new actors. The previous version was directed by ChatriChalerm Yukol. Doctor Karn (หมอ) is a new doctor with strong principles. He wishes to treat all people. There is no priority for rich people as he is a public doctor (หมอรัฐบาล). Doctor Kan gets scolded by his management for this. Modern doctors have no wish to go to Isan poor region in northeast of Thailand. During his childhood his mother died while his father was bringing her to the nearest doctor by an ox cart. In rural areas, there are a few doctors so people have to travel far. He meets Areuthai (หฤทัย), his future wife, in Bangkok. Doctor Karn's dream is to be a rural doctor (หมอบ้านนอก) to help and support poor people in Isan area. Karn and Areuthai know each other for 3 months only and decide to marry. Areuthai's former boyfriend, Thomon, is disappointed and promises to wait until Karn stops loving her. They go to Isan region in a remote village using train and local bus through bumpy roads and dry fields. The local district officer (นายอำเภอ) welcomes them. He is quite rigid on standards. But his subordinates are playing cards with other colleagues and villagers! Areuthai discovers life on rural side with no fridge and no oven. Life is difficult (ลำบาก) for Areuthai as she comes from a rich family in Bangkok. There is no electricity after 9pm. First crisis with the district officer happens as he sent the nurses to work away but they still get paid with their governmental salary shared 50% / 50% with them and the district officer. The doctor Karn discovers that local villagers have to pay again for medicine despite it is already paid by government (ยาให้ใช้ไม่ใช่ให้ขาย). He starts to very popular so causing displeasure to the district officer. Doctor Karn is just and fair (ยุติธรรม). His wife helps as a nurse. This movie is a critic of corrupted officers (ราชการ) who prevent the country to develop properly. Doctor Karn doesn't do this job for money but to help poor villagers. Doctor Karn is working for the villagers' health benefit but the district officer is working for his own benefit. He refuses to authorize doctor Karn to open a nighttime station (สถานีอนามัย) in case of emergency. Villagers shall go to the doctor's home! Areuthai wishes to be back to Bangkok as she misses her expensive beauty creams and her mum. Doctor Karn has issue with illegal medicine seller protected by the district officer (หมอจะเดือดร้อน). The district officer's wife tries to brain wash Areuthai about having her own house and being able to have good a school abroad for children. How can Areuthai get this with the small salary of a rural doctor? Areuthai argues that doctor Karn doesn't love her as he doesn't wish to improve their living. Doctor Karn is divided between pleasing his wife and helping poor villagers to get access to healthcare. Areuthai goes back to Bangkok to make a break. Doctor Karn stays as he cannot leave his patients. Areuthai's friend asks her to convince doctor Karn to open a clinic in Bangkok. Money is easy here. The former boyfriend, Thomon (โตมร), still wants to meet Areuthai. Areuthai accepts to meet him but for friendship only as she is married. They have a car accident as Thomon is upset that Areuthai still wishes to back to countryside. Doctor is diligent to do his duty (หมอทำหน้าที่). The district officer is having an illegal casino and protects it through his clique (ลูกน้อง). A fight erupts and one is seriously injured. Doctor Karn can do nothing as he lost too much blood already. Only way is to send him to hospital. Doctor Karn is now aware of the casino. He starts to know too much things. Doctor Karn befriends with a local policeman who indulged in alcohol as he can do nothing to stop the district officer. One evening the doctor's house is shot a few times as a threatening warning. Aware of the accident through a telegram, doctor Karn goes back to Bangkok and finds that Areuthai has lost memory due to accident. Thomon (ลูกเศรษฐี) doesn't want Areuthai to be back with doctor Karn so he organizes his mutation abroad. The doctor headmaster doesn't understand obstinate doctor Karn regarding rural people (คนบ้านนอกโง่หลอกง่าย). He is forced to accept the post or be dismissed. The district officer is under corruption investigation (ถูกย้าย) and he believes doctor Karn denounced him to Bangkok authorities. Finally doctor Karn and Areuthai will go abroad. Doctor Karn needs to go back to countryside a last time to get back his belongings. His policeman friend wants him to help regarding unwanted pregnancy abortion but he cannot do as it is against law. If policemen don't respect law who will respect the law? He unfortunately doesn't come back as he is shot dead as a revenge of the district officer. Doctor Karn was a good man (เขาเป็นคนดี). This story was also adapted 2 times for television in 1980 and 2011.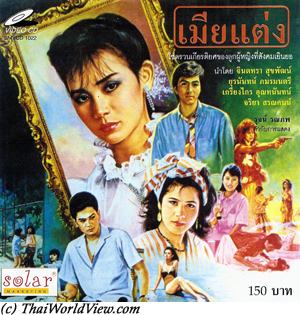 Year

: 1986



Thai title

:

เมียแต่ง




English title

:



Rating

: 3/5


Director

: Ruj Ronnapop



Main actor

: Kriengkrai Unhanan,Yuranan PamornMontri


Main actress

: Jintara Sookkapat,Pissamai Wilaisak,Sarinthip Siriwan
Arunprapai is a woman who has a good look and qualities. Her mother arranges a wedding with Kongkai. Her family life is not happy as Kongkai still visits Prungchat, his former lover. Divorcing seems to be the only solution choice even if relationships start to improve. Prungchat claims she is pregnant of Kongkai to force him to divorce from Arunprapai. The whole thing is just a lie, so he finally goes back to Arunprapai who is pregnant of him.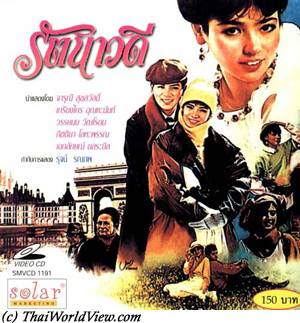 Year

: 1985



Thai title

:

รัตนาวดี




English title

:



Rating

: 2/5


Director

: Ruj Ronnapop



Main actor

: Kriengkrai Unhanan


Main actress

: Jarunee Sooksawad,Sarinthip Siriwan



Buy now

:

Princess (มจ.หญิง) Rattanawadee and her maid are going to London. Her brother's friend, Sadet, is working at the embassy. He was supposed to pick her at the airport but he fails to be on time. Rattanawadee is upset and very angry. She goes to complain at Sadet's home. She mistakes Sadet as the car driver. To avoid losing face, Sadet simulates being the car driver, called Lek, and propose them an Europe tour as a compensation for Sadet's lateness. They visit many countries in Europe including France (Versailles, Chateaux de la Loire...). Lek can speak many languages and is very cultured (รู้จักเยอะ) for a driver (คนขับรถ). Lek faces issues and jealousy from a hiso British Thai man called Wisan and willing to seduce Rattanawadee. The trip continues to Hamburg, Liechtenstein and then to the Swiss lakes. Love starts slowly to emerge. Jealousy also changes side as they meet a Thai tourist, Sasi, having high interest in Lek. Rattanawadee wishes to push Lek to marry Sasi as she is coming from a rich family but Lek will marry somebody for love and not for money. Sasi is rich (รวย) but has no manner (มารยาท). Finally Lek is uncovered as Prince Sadet working for the London embassy. After a short ire from Rattanawadee to have been abused, reciprocal love is declared. This movie has a typical scenario similar to many 1980s romantic movies where the two protagonists don't know their real status and identity. It looks like European countries discovery for Thai people. Whoever car driver or princess everybody expects love.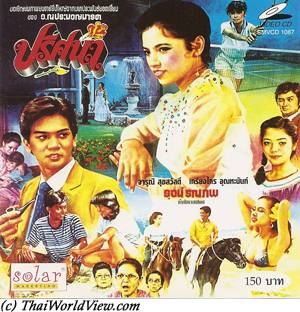 Year

: 1982



Thai title

:

ปริศนา




English title

:



Rating

: 4/5


Director

: Ruj Ronnapop



Main actor

: Kriengkrai Unhanan,Suchao Pongwilai,Adul Dulyarat,Ruj Ronnapop


Main actress

: Jarunee Sooksawad,Linda Khatancharoen,Marasri Bangchang,Sarinthip Siriwan,Marasri Isarangkul,Sulaleewan Suwanthat



Buy now

:

Thai movie ปริศนา was released in year 1982 and lasts 2h08mn. Movie director is Ruj Ronnapop. The movie was released under VCD format by Solar Marketing company. In mid 2010s, it was re-mastered by Five Star production company and shown on True Thai Film cable TV channel. Prisana (Jarunee Sooksawad) is a young Thai lady coming back from USA. Her life vision is influenced by her American education. Her future mate choice should be based on love and not based on family choice or wealth. Will she overcome Thai high society rules? Her father was dead before she was born so her grandmother even refused to recognize Prisana as her granddaughter. Prisana's mother (Marasri Bangchang) welcomes her daughter back from USA after studying 12 years there. It is hard for Prisana to get used to conservative Thai behavior. Fed up at home, Prisana decides to become a teacher (ครู) so she makes herself older. She has two sisters, Seri and Anong. Her older sister has a boyfriend called Sameu (Suchao Pongwilai). One of the student is daughter of a high-level family (ท่านหญิง). Prisana has authority issue with students as the daughter organises rebellion. Prisana teaches her a strong lesson so her brother, Chai, hears about Prisana for the first time. Prawit (เอกลักษณ์ ยลระบิล) meets Anong (ปัทมา ปานทอง) again. Seeing Prisana, Prawit forgets Anong and focus on Prisana only. Chai (Kriengkrai Unhanan) is Prawit's close friend. Chai invites all of them at a party at his home. Ratree (Linda Khatancharoen), Chai's fiance, is upset as Chai dances with Prisana. Ratree is expecting to marry Chai. It is Prisana's birthday. Chai offers her a dog. Prawit offer her a bracelet. Both men are enamoured with Prisana. Following a family trip in Hua Hin, Prisana announces she will not marry Prawit so Anong is happy. Chai is getting closer to Prisana (น่ารักที่สุด). Seeing Ratree unsuccessful to get Chai's love, Sameu tries his luck and kisses Ratree (มนุษย์หลอกลวง). Seri (อัญชลี ชัยศิริ) sees them and is disappointed. Neighbour Anoon (ปรัชญา อัครพล) is back from America and tries to become close to Prisana. Chai tells Prisana that Prawit wants to marry her, so she becomes very upset. Finally, Prawit accepts to marry Anong as he knows he has no more chance with. Chai's aunt (Sarinthip Siriwan) is also very upset as she understands Chai's plan to marry Prisana instead of Ratree, his fiancee. Chai has arguments with his aunt as he refuses to marry Ratree. He doesn't love her and consider her as a younger sister (น้อง). The aunt and Ratree threaten Prisana. Prisana is seen by them as low status girl. The aunt wants this wedding to occur in order to keep money inside the family. At Prawit's wedding, Chai asks Prisana's hand but she doesn't believe him. Prisana is fed up by those high society people. Chai finally offers her a ring for engagement. Pushed by the aunt and Ratree, elder lady Marasri Isarangkul summons both Chai and Prisana. Prisana is looked down again but hopefully her uncle Adul Dulyarat can testify she is the real daughter of his defunct brother. Both the aunt and Ratree lose face and love can blossom between Prisana and Chai.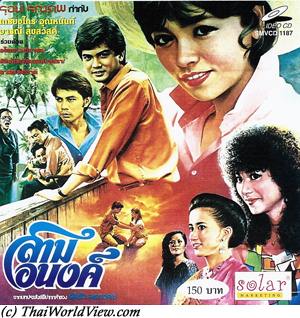 Year

: 1982



Thai title

:

สามอนงค์




English title

:



Rating

: 3/5


Director

: Ruj Ronnapop



Main actor

: Kriengkrai Unhanan


Main actress

: Jarunee Sooksawad,Nipaporn Nongnuch
A grandmother has got four grandchildren, i.e. 3 girls and one boy. Due to heritage machiavellian reasons, she forced a wedding between two of her grandchildren but the boy has already a girl friend. So the newly husband misbehaves with his wife. Fed up by this behavior, her sister brings her back to Chiang Mai. Knowing that his wife is pregnant, the husband asks for forgiveness.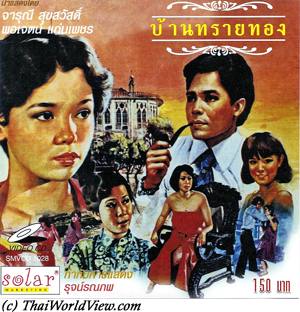 Year

: 1980



Thai title

:

บ้านทรายทอง




English title

:



Rating

: 3/5


Director

: Ruj Ronnapop



Main actor

: Porjed Kaenpetch


Main actress

: Jarunee Sooksawad,Mayurachath Muarnprasitivej,Tharika Thidathip



Buy now

:

It is a love story about a girl named Pojaman from a noble family who fights with relatives to obtain her right as the real owner of the castle. The fighting ends in happiness when she finds true love with the son of one her relatives that she is fighting with. This story has been made into a film and a television series several times in the past four decades.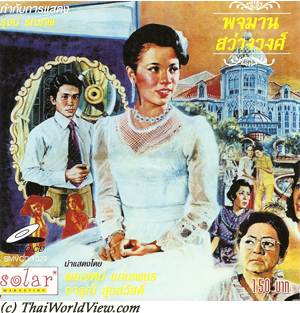 Year

: 1980



Thai title

:

พจมานสว่างวงศ์




English title

:



Rating

: 3/5


Director

: Ruj Ronnapop



Main actor

: Porjed Kaenpetch


Main actress

: Jarunee Sooksawad,Mayurachath Muarnprasitivej,Tharika Thidathip,Sarinthip Siriwan,Suphanee Jitthieng



Buy now

:

Two young new married people from Thai high society receive strong pressure from their family. The husband's mother try to persuade her son to divorce. The wife's younger sister wants to have a pleasant life without working. Will their wedding be strong enough to resist? This movie is the second part of "Baan Sai Thong".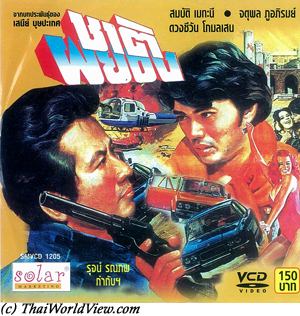 Year

: 1978



Thai title

:

ชาติผยอง




English title

:



Rating

: 3/5


Director

: Ruj Ronnapop



Main actor

: Sombat Methanee,Jatuphol Poopirom,Sor Asanajinda,Sahat Piempongsan,Manop Aussawathep,Somsak Chaisongkram,Paen Pleumsachai,Somphob Benjatikul,Pipop Pupinyo


Main actress

: Duangcheewan Komolsen



Buy now

:

Thai movie ชาติผยอง was released in year 1978 and lasts 1h45mn. It is directed by Ruj Ronnapop. Plaew Suriyong (Sombat Methanee) is back to Thailand after many years in Chicago. His father has been killed. He is immediately kidnapped by ruffians led by Sahat Piempongsan and including Somsak Chaisongkram / Paen Pleumsachai. He has to kill Sarayut (Sor Asanajinda), a popular politician, against a reward of 1M baht and one airplane ticket to go anywhere. Sarayut's wife was fed up with the risks linked to politics so she left him 10 years ago to go to Italy with their young son. Plaew has to be a hitman (มือปืน). Sahat lies to Plaew in order to have Sarayut killed. As Plaew's father was a politician, he would be the right scapegoat. A lady called Romanat (Duangcheewan Komolsen) helps Plaew to prepare the shooting and gets in love with him. Plaew has one week to do the job. The killing shall happen during a speech. He meets Manop Aussawathep to learn more his father's death. Plaew still wanders who has killed his father, who was also a politician. People, who wish to hurt Thailand, killed his father. They now chase him also. Politics in Thailand is full of bad influence (อิทธิพล), corruption and murders through hitmen. Romanat warns him that people try to kill him. Romanat wishes to flee with Plaew and mentions that she knows Sahat will shot Plaew once the job is done. During the political gathering, Plaew doesn't shoot Sarayut but his opponent. This causes Sahat's ire and Plaew needs to flee to Malaysia. Plaew meets Lucky Jack (Jatuphol Poopirom) in Malaysia but they have to flee to Rome, Italy due to problems with police. Lucky Jack is in fact Sarayut's son! In Rome, Plaew seduces Maria that Lucky Jack also loves. As Sahat threatens to kill Romanat, Plaew has seven days to come back to Thailand. Maria loves Plaew but gets killed during a gunfight. Lucky Jack doesn't forgive Plaew. Plaew and Lucky Jack go back to Bangkok to catch Sahat. Sahat sends Romanat as a gift to lucky Jack acting as a local ruffian. Finally both Plaew and Lucky Jack love again the same woman, i.e. Romanat. Plaew learns that Sarayut is behind his father's death. Misunderstandings happen between Jack and Plaew as ruffians push Jack against Plaew. Meanwhile Sarayut, as smart and evil politician, plays also the two men against each other. Sarayut, as nasty politician, is wishing to send Plaew to trial in order not to be accused of any collusion of the previous shooting done by Plaew. He pushes his own son to shoot Plaew. Finally Plaew shots Sarayut but gets shot by Lucky Jack. This is a typical action movie from the 1970s highlighting the bad sides of the Thai politics.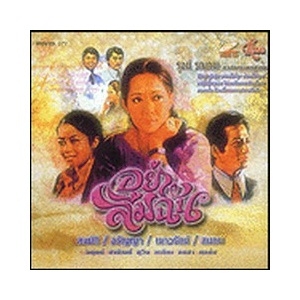 Year

: 1977



Thai title

:

อย่าลืมฉัน




English title

:



Rating

: 3/5


Director

: Ruj Ronnapop



Main actor

: Sombat Methanee,Sawin Sawangrat,Sayan Chantaravi​boon,Somphob Benjatikul,Adul Dulyarat


Main actress

: Aranya Namwong,Naowarat Yooktanun,Chosri Misommon,Marasri Isarangkul,Tharika Thidathip
Thai romance movie อย่าลืมฉัน was released in year 1977. The movie lasts around 2 hours 04 minutes and was released under VCD format. Movie director is Director is Ruj Ronnapop. Khaem (Sombat Methanee) and Suriyong (Aranya Namwong), both students, are in love. They shall marry. Finally Suriyong, due to filial duty (บุญคุณ), has to marry an older rich man, who is a banker. Khaem is disappointed and goes overseas. Suriyong never had chance to explain to him (มีเหตุผล). Fed up to be at home, Suriyong looks for a job and is engaged as secretary (เลขา). Her new boss is just back from overseas and is Khaem himself! Working relationship is difficult as Khaem makes it hard for Suriyong due to resentments. Khaem is also giving hard time to his managers (ผู้จัดการ) Somkit (Sawin Sawangrat) and Boon (Sayan Chantaraviboon). Khaem has a new girlfriend (แฟน) called Kaelong (Naowarat Yooktanun). Suriyong still wears the ring given by Khaem. Khaem spies Suriyong as she sees a man called Eua meeting her. For Eua (Somphob Benjatikul), Suriyong is only her stepmother (แม่เลี้ยง). He has no other feelings despite Khaem's suspicion. Alita, Khaem's gig from overseas, is back to Thailand and brings him trouble. Khaem is aware that Suriyong has two children but those two children are in fact from the previous wife of the banker, who died earlier. One night, while bringing the kids for holidays, Khaem becomes lover with Suriyong. There is misunderstanding as Suriyong believes it was arranged to trick her. Suriyong becomes pregnant. Khaem is upset to always see Suriyong with Eua so he writes a harsh letter to her. Khaem asks for a wedding with Kaelong as soon as possible. Finally Suriyong plans to flee overseas (หายกลุ้มก็กลับมาเอง). Khaem, realising his mistakes and misunderstandings due to jealousy, rushes to airport in order to find Suriyong before she leaves Thailand…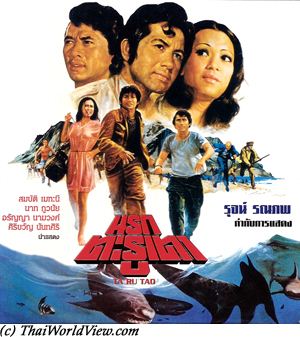 Year

: 1976



Thai title

:

นรกตะรูเตา




English title

: The Hell of Tarutao



Rating

: 3/5


Director

: Ruj Ronnapop



Main actor

: Sombat Methanee,Nard Poowanai,Manop Aussawathep,Adul Dulyarat,Pipop Pupinyo,Phirapon Piyawan


Main actress

: Aranya Namwong,Sirikwan Nanthasiri



Buy now

:

This movie is based on a true story. Koh Tarutao was an island penal colony for prisoners (นักโทษการเมือง) having participated to the failed royalist rebellion in 1933. Through World War II, Tarutao island housed the country's most extreme incarceration center. A lack of supplies during the war left many prisoners to perish from disease or starvation. Two political prisonners arrive on Tarutao island with a bunch of other convicts. Nasty guardians monitored them. Sad and horrible events happened such as male prisoners raped, prisoners eaten by sharks or killed by guardians while trying to escape, prisoners harshly ransacked by guardians, lady raped by chief warden, prison director and doctor killed by chief warden. There is no way to escape from Koh Tarutao (มีแต่ตายกับตาย). The two political prisonners always fight together. They finally try but fail to escape. They are punished to be eaten by crocodiles but are saved by the two young ladies (หญิงสาวชาวเกาะ), who are residents on the island. They get in love and prepare an escape together thanks to the doctor and their father, crazy about money. The escape turns into a bloody tragedy. Only a few succeed to escape.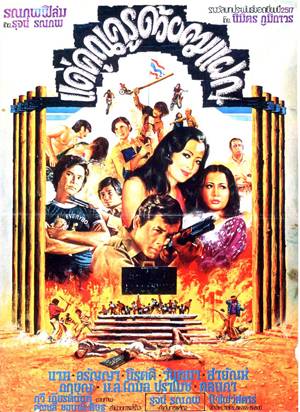 Year

: 1975



Thai title

:

แด่คุณครูด้วยคมแฝก




English title

:



Rating

: 4/5


Director

: Ruj Ronnapop



Main actor

: Nard Poowanai,Sayan Chantaravi​boon,Nirut Sirijanya,Somchai Samipak


Main actress

: Aranya Namwong,Donnapha Sophee
Thai movie แด่คุณครูด้วยคมแฝก was released in year 1975 and lasts 1h51mn. The movie was released under VHS format. In a remote village, two teachers are killed as they refuse to mingle with the local leader Krot. Teachers want to protect children (อนาคตของชาติ) and raise education level but ruffians see them as opponents. Chai (Nard Poowanai) is nominated as new school headmaster (ครูใหญ่คนใหม่) for village Krok. The school includes multiple teachers such as teacher Tawon (Sayan Chantaraviboon), teacher Duang (Nirut Sirijanya), teacher Yim (วันทนา บุญบันเทิง), old teacher Piek. Ruffians are always looking for trouble (ขอเรื่อง). Chan Raem (Donnapha Sophee), owner of a local restaurant, likes Chai. Old teacher Piek is often drunk (ขี้เมา) as he is unable to oppose to the ruffians. The ruling here is done through guns (กฎหมายที่นี่คือปืน). Chai meets Duang Kaew (Aranya Namwong), daughter of the ruffians' leader. Duang Kaew doesn't want to help anybody else despite Chai asking her to bring usefulness to society and nation. The subdistrict headman Somchai (Somchai Samipak) organises a motorcycle race. The teachers (ผู้รู้หนังสือ) win so they cause Krot and his men to lose face. The father Krot refuses to help to build a new school. Chai wishes to teach children as the villagers' knowledge needs to increase. No future without knowledge. Teachers are keys in the development of children (ครูคือแม่ที่สอง) in remote villages as parents are busy in rice fields. Krot just wants to keep villagers as idiots because it is easier to recruit men. A party is organised by the subdistrict headman to celebrate the race. Chai continues to try to convince Kaew to help the school. Being drunk, ruffians shoot at teachers and Duang is injured. Young lady Raem goes with Duang as Chai refuses her advances. Ruffians kidnap teacher Yim and rape her. Disgusted, Duang Kaew humiliates the rapists, blames her father (สังสอนพ่อ) and joins villagers' side (ลูกอกตัญญู) to fight injustice. Krot's son uses violence to build popularity (สร้างบารมี) for his father. Old teacher Piek goes for duel with ruffians but he is shot by them. Angry by this death, rebellion happens led by teacher Chai. The father and his men surround the village. Duang Kaew is on the villagers' side. Pushed by his daughter, the father wishes to change and condemn the rapists but his son Kampaeng is not willing. Shooting happens as Kampeng wants to kill teacher Chai. Following confusion and houses burning, Kampaeng is also shot and dies. The father asks to stop the killings and promises to change. He asks teacher Chai to stay and commits 300 000 baht to build a new school. The teacher offers him a book about karma.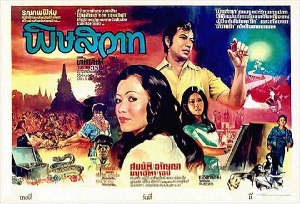 Year

: 1974



Thai title

:

พิษสวาท




English title

:



Rating

: 3/5


Director

: Ruj Ronnapop



Main actor

: Sombat Methanee,Ruj Ronnapop,Somchai Samipak,Thep Thienchai


Main actress

: Aranya Namwong,Mayurachath Muarnprasitivej
Thai movie พิษสวาท was released in year 1974 and lasts 2h20mn. The movie is only available on VHS and was never released on VCD or DVD. The picture is very colourful and sharp. Akanee (Sombat Methanee) has a dream where he cuts the head of a woman. The following day, his friend Chet (Ruj Ronnapop) introduced him to a lady called Chorasinee (Aranya Namwong). She is expert in ancient artifacts (นักนิยมของเก่า). She notices a special jewel owned by Akanee. Akanee is very confused as she is the same lady he just beheaded in his dream. Chorasinee seems to know a lot of things about him. She is able to recall many strange past events. Thip (Mayurachath Muarnprasitivej) loves secretly Akanee. Chorasinee often comes and disappears very fast. She warns Akanee about things not to be done wrongly a second time as nobody has two chances in life! During a charity performance, Chorasinee promises to play an evil lady (นางปีศาจ). Somchai Samipak is interested by her. It seems that Akanee met her in a previous life when he was a prince. She asks her life back to Akanee (ถ่วงชีวิต). Robbers try to steal Akanee's jewel but get punished by an invisible spirit. Chorasinee invites Akanee, Thip and Chet to her home in Ayutthaya. Thep Thienchai welcomes them. During Ayutthaya period, Akanee protected the treasure of the Siamese King. Akanee, to ensure the treasure is not stolen, killed all the guards so that their spirits (วิญญาณ) protect the treasure forever. A lady called Ubon was loved by Akanee's love. Akanee cut Ubon's head also. Somchai's wife is concerned that Chorasinee goes in his car. Chorasinee's duty is to keep the Siamese King's treasure. She is Ubon's resurrection. Somchai wishes to marry Chorasinee and become rich (มหาศาล). Somchai is somebody dishonest as he killed a dealer before to steal his drugs and to keep the agreed money. Somchai is found dead at Chedi Saam Ong. Strange events occur as Thip's painting, formerly showing a beautiful Chorasinee, is now showing an ugly evil spirit (นางปีศาจ). Akanee asks Chet to go to Ayutthaya as he wishes an archeologist team to dig at a specific place as he believes there is a dead body there lying since centuries. A skeleton with a spade is found. It is the Prince's skeleton. Chorasinee invites Akanee to follow her. Thip and Chet follow up. They arrive in a mysterious place and a judgement is occurring per Chorasinee's request. She complains that despite their love, Akanee killed her and gave her a never ending task to look after the treasure. Thip, loving Akanee, agrees to take over but Akanee refuses. Finally the spirit guardian asks Chorasinee to choose somebody to replace her, i.e. Akanee or Thip. She finally accepts to continue doing such role as she cannot choose Akanee as she loves him, she cannot choose Thip as she would lose Akanee's love. Her spirit is then released. Akanee becomes a monk for the rest of his life. They should meet again in another life.
---