Increase or decrease font size for easier reading : A+ A-
Ruj Ronnapop
Ruj Ronnapop (1931-2009) - รุจน์ รณภพ
Ruj Ronnapop was an actor and a famous director also. He directed more than 30 movies and acted in more than 50 movies. He was the father of two famous actresses, Mai Charoeunpura and Intira Jaroenpura. He is well known for his romance movies in the 1980s
This Ruj Ronnapop movie page contains 39 records.
---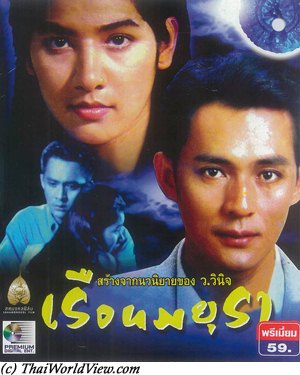 Year

: 1996



Thai title

:

เรือนมยุรา




English title

: House of the Peacock



Rating

: 4/5


Director

: Cherd Songsri



Main actor

: Saranyu Wongkrachang,Ruj Ronnapop


Main actress

: Darin Kornsakoon



Buy now

:

In 1775, a Brahmin priest casts an eclipse. It was during Ayuthaya period when fights with Burma were frequent. Lady Nok Yung and her suite stays in the house of the Peakcock (เรือนมยุรา), which is now out of the time realms and out of reach of Burmese soldiers. Lady Nok Yung made a wedding promise to a noble soldier called Wai Wongsa. Nowadays, on the way to Ayuthaya, a young man, called Pranai, just avoids bumping in a young lady crossing the road. She smiles and disappears in a tree. Is she a ghost or a tree spirit (นางไม้)? Pranai has same face as noble soldier Wai Wongsa. Pranai is the owner of a Siam antiques shop. Today it is Pranai's birthday. He is still single. His sister tries to marry him but to no avail. His sister tries to push young lady Fai. Pranai still wants to meet the mysterious girl. He stays near the tree. Nok Yung needs food for 20 people for one month. Pranai agrees to give but wants to know and understand. Nok Yung agrees to visit Ayuthaya area. She realizes that Sri Ayuthaya was burnt down. Nok Yung asks Pranai not to visit her again. Pranai learns meditation to see his past. Pranai's sister and Fai believes he is possessed by a ghost (ถูกผีเข้า). They use a sorcerer (หมอผี) to cure Pranai and chase the ghost. Meanwhile Arawee, a local young actor, lies to Yipoo, another lady staying in the house of the Peakcock, in order to seduce her by pretending he is an Ayuthaya soldier. He succeeds to enter in the house and so the spell protecting the house is broken. Inhabitants have to flee. The sorcerer and acolytes fight over the gold. Fai's father, called Fa Feun, prevents the robbing. Pranai helps Nok Yung and invites her in his home. Fa Feun loves Nok Yung and gives money to Pranai in order that he breaks up with Nok Yung. Pranai refuses and is looking for a way to send back Nok Yung into the past. Arawee is Waiwongsa's current reincarnation. Believing into karma (กรรม) and in order not to break her promise done 221 years ago, Nok Yung accepts to marry Arawee. Pranai is in despair. Finally Fa Feun convinces Arawee not to marry as Arawee is more interested in his acting career. Pranai is not willing to marry Nok Yung anymore as he believes she is too nice to live in 20th century. The house goes back to the past but Nok Yung finally stays happily with Pranai. This movie questions the old-fashioned morals that are being lost in modern Thailand. Some traditions are getting lost (smile, not speak loudly, no lies). Bangkok development threatens the country-side. We need to take care more of our heritage. The trailer is the TV serie shot in 2540.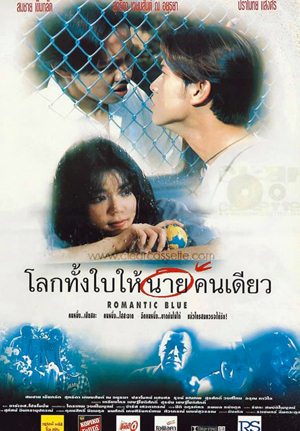 Year

: 1995



Thai title

:

โลกทั้งใบให้นายคนเดียว




English title

: Romantic Blue



Rating

: 4/5


Director

: Prachya Pinkaew



Main actor

: Ruj Ronnapop


Main actress

: Suthida Kasemsan



Buy now

:

Thai movie โลกทั้งใบให้นายคนเดียว / Romantic Blue was released in year 1995 and lasts 1h49mn. It was released under VCD and DVD format by RS Public Company Limited. Movie director is Prachya Pinkaew. This movie has won 4 Thai academy awards. It won the award for Best Movie of 1995 as well as being that year's highest grossing movie. The Romantic Blue movie used singer superstars to play the hero and the heroine. Romantic Blue movie was extremely well-received and set a new record for Thai films. Generating 60 millions THB at the box office, its revenue was at least double of the industry average at that time. Romantic Blue movie went on to represent Thailand and Thai films at several international film contests. Song โลกทั้งใบให้นายคนเดียว by สมชาย เข็มกลัด was also a superhit in 1995. Two brothers love the same girl Pon (Nook - Suthida Kasemsan). One brother is a hard worker, Mai (สมชาย เข็มกลัด), but has stopped his studies in order to work as a mechanic and to support his family. The other brother, Maen (ปราโมทย์ แสงศร), continues to study but is lazy and more interested in courting girls. Mai is working with Uncle Bo and repairs cars. Mai meets Pon as her father's car has troubles. The brothers' father (Ruj Ronnapop) is sick and is sent to hospital. Mai decides to participate with uncle Bo in a car robbery in order to pay the expensive hospital bills. The first robbery is successful but one of the ruffians is unhappy with Mai as he only succeeded to shift the parking guardian focus at the last minute. Mai is very stressed and is busy earning money to pay his father's bills. He has no time to meet Pon and tries to push her towards his brother Maen as he knows Maen loves her. Pon is upset and sad of this situation as she does not love Maen. Her mother announces to Pon that she found a school overseas for her so she will have to leave Thailand soon. Uncle Bo is aware that Mai forces himself to neglect Pon for the sake of his father and younger brother. Maen is aware of the illegal activities of his brother. Things get worse between the two brothers when the father dies. Moreover the ruffians' leader wants to get rid of potential witnesses. Uncle Bo is shot by the leader and Mai just succeeds to escape. The leader kidnaps Maen in order to force Mai to come out. The leader forces Maen to slap and insult Mai. Taking profit of the leader's inattention, Mai rushes into him and gets shot in the shoulder. They both fall from an unfinished building. Maen grabs his brother's hand before he falls to his death. Then Maen rushes his brother Mai to the airport so that he can wish Pon a safe trip.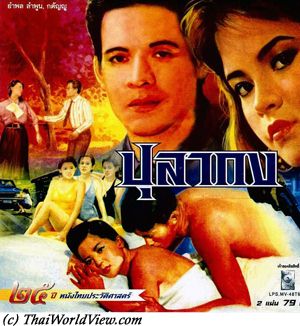 Year

: 1989



Thai title

:

ปุลากง




English title

: Pulakong



Rating

: 3/5


Director

:



Main actor

: Amphol Lumpoon,Ruj Ronnapop


Main actress

:



Buy now

:

Khaem (เข้ม)(Amphol Lumpoon) is playing in an underground casino (บ่อนพนัน). He is a young man coming from a good family. His father has never time to take care about him as he is busy with his factory. The father is worried about his family name as Police often raids casinos but Khaem has no choice to find money (ไม่มีทางเลือก). The father is divorced. Khaem decides to go his own way and wishes to be a policeman. He has a good personality (บริสุทธิ์ทั้งใจทั้งกาย). Khaem is a new policeman (ผู้กองใหม่ ) sent in far South. He meets Toon (ตุ่น), who is a female teacher (ครู) in south of Thailand. Toon and Khaem know each other since childhood. Toon has come to far South of Thailand as she likes countryside life (ชีวิตบ้านนอก) despite harsh life (no electricity at night time, robbers). They were both sent to Pulakong (ปุลากง), which is a remote district in South of Thailand, where villagers are muslim and mainly speak Malaysian. Teacher Toon is helping the village to develop. She helps to resolve villagers problems. There is reminder that they are all Thai whatever the religion they follow. There are many robbers (โจร) and ruffians in the far south (คนร้ายไม่ชอบคนดี, สัตว์นรก). The teacher helps a robber Saliman but it turns bad. Hopefully Khaem can help on time. Saliman loves Noon also. He changes his behavior (เปลี่ยนตัวให้มีค่าสำหรับสังคม) but Toon sees him as a friend only. Khaem and Toon have love for each other but none dares to speak the first. A drama happens in the village. Toon's best Muslim friend suicides herself after an unwanted pregnancy with a Buddhist teacher. Shocked she decides to go back to Bangkok. Meanwhile Khaem is injured at the border. He is cured in Bangkok and a personal nurse is taking care of him. Believing there is no possible love with Khaem, Toon goes back to south of Thailand. Khaem follows her there and declared her love to her. This romance movie includes a few themes related to South of Thailand (different religion but same nation, help to local development, living in harmony), to people redemption (Saliman the robber can become a good man), to the family (parents to give time to their children).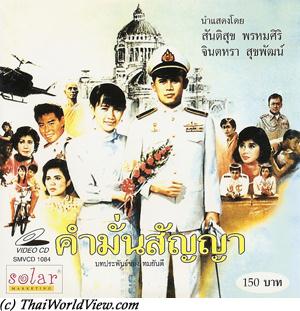 Year

: 1987



Thai title

:

คำมั่นสัญญา




English title

: The Promise



Rating

: 4/5


Director

:



Main actor

: Santisuk Promsiri,Somsak Chaisongkram,Ruj Ronnapop


Main actress

: Jintara Sookkapat



Buy now

:

Thai movie คำมั่นสัญญา was released in year 1987 and lasts 1h59mn. It is the first movie for Santisuk Promsiri. Lin (Santisuk Promsiri) and Da (Jintara Sookkapat) are close friends since childhood. Somsak Chaisongkram, Lin's father, was Da's father subordinate in Thai army. He saved his life during Vietnam war. So special bound exists between them. As Somsak is a poor widower with one boy, the chief installed him as gardener in his house. Da's father is also part of Thai nobility. Somsak reminds his son his position and their duty (บุญคุณ) towards Da's family as he is concerned this childhood friendship could become love. Lin is fully aware. Once being a soldier, Lin asks to be sent on countryside in province. Da is upset as she feels it is treacherous act. Somsak becomes a monk. Somsak and Lin feel that Lin cannot marry Da as their family is inferior status and they do respect Da's family status (ฐานะ), which always supported them. Lin was considered and treated as a son by them. Lin promised to never forget Da (คำมั่นสัญญา). Ruj Ronnapop and his wife Pranee are close friends to Da's parents. Their son Boorana asks Da for wedding. Da doesn't love him. She feels bad as she expects Lin to ask for her hand, but it never happens. Lin intends that family status is more important that real love. Da finally married with Boorana. Lin comes to their wedding and leaves for France for 6 months. Da is not having happiness. Boorana often drinks alcohol, join parties with soldier friends and has a mistress. Boorana complains to Da that her father doesn't help him to climb hierarchy ladder but her father checks capability first so Boorana is jealous of Lin. Somsak starts to be sick. Lin is back from France with gifts. Da is unhappy as her husband has a mistress. Her parents die in helicopter crash. The doctor identifies she has a cancer. Her life is wrecked. She finally divorces. Pranee wants her son Boorana to get half of her money but Ruj as an honest soldier refuses and mentions his son came with nothing, so he shall leave with nothing! Lin promises to stay to take care of Da. As she cannot be cured, she dies peacefully with Lin taking of her until the end.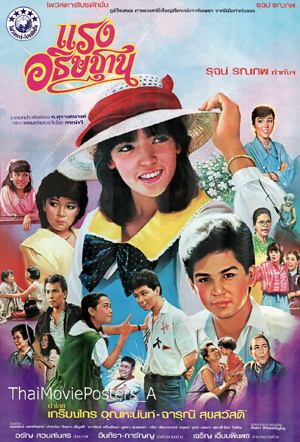 Year

: 1984



Thai title

:

แรงอธิษฐาน




English title

:



Rating

: 4/5


Director

: Ruj Ronnapop



Main actor

: Kriengkrai Unhanan,Adul Dulyarat,Ruj Ronnapop,Porjed Kaenpetch


Main actress

: Jarunee Sooksawad,Anchalee Chaisiri,Sarinthip Siriwan,Sulaleewan Suwanthat,Ratanaporn Intarakamhaeng,Phong Lada Pimolpan,Boosara Narumit
Thai movie แรงอธิษฐาน was released in year 1984 and lasts 1h57mn. Movie director is Ruj Ronnapop. A remastered version was released by Five Star Production (ไฟว์สตาร์โปรดักชั่น) in the decade 2010s and shown on Thai TV cable. The movie was released on VHS format. Thai actors and actresses featured in this movie are Jarunee Sooksawad, Kriengkrai Unhanan, Anchalee Chaisiri, Sarinthip Siriwan, Adul Dulyarat, Ruj Ronnapop, Sulaleewan Suwanthat, Ratanaporn Intarakamhaeng, Phong Lada Pimolpan, Porjed Kaenpetch, ปาหนัน ณ พัทลุง, วรารัตน์ เทพโสธร, Boosara Narumit, รจิต ภิญโญวนิช, ออยา นาวิน, ไพลิน จินดานุช, ลินดา สิริเดชภิญโญ. Manee (Anchalee Chaisiri) and Ruj Ronnapop love each other. Manee is pregnant. Ruj's sister (Sulaleewan Suwanthat) rejects this love story as she is worried about the family status and wishes Ruj to marry a rich lady. Their family has no more wealth. Mae Nom (Ratanaporn Intarakamhaeng) helps Manee but Manee dies while delivering the baby. Ruj is now married to Rattana (Phong Lada Pimolpan) but still sends money for the baby education. Ruj also dies later. The baby is named Pat and is raised by Mae Nom and her husband. Years have passed. Pat is now a teenager played by Jarunee Sooksawad. Adul Dulyarat, knowing Mae Nom, proposes to send Pat to Bangkok as he knows the parents are poor and Pat is willing to study in university in Bangkok. Adul recommends her to stay in Krongkan's house. Ut (Porjed Kaenpetch) loves Pat but his mother is unhappy that her son tries to befriend with Pat, seen as a poor child without biological parents. Ot (Kriengkrai Unhanan) and เอกลักษณ์ ยลระบิล are visiting a local Buddhist temple and take pictures of children playing. Among the children, there is Pat. Pat comes to the Buddhist temple to pray (อธิษฐาน) and asks the famous Buddha Luang Pho to help her to find her family relatives. Ot's mother (Sarinthip Siriwan) tries to find a rich bride for his son but he is not interested. The mother introduces Rattana's daughter, Prakairat, but to no avail. Ot likes books so he is working for Krongkan in her newspaper. Another lady asks her daughter Oya to stay with Krongkan, her aunt. Oya dislikes Pat and a fight occurs as she treats Pat as a domestic helper. While trying to slap Pat, she falls in wet laundry. Oya complains to her mother but Krongkan refuses accusations as she is always fair to everybody. Upset, Oya leaves the house. Ot feels that Prakairat has same look and way of talking as Pat. He thinks they might have the same father. Prakairat is jealous of Pat as Ot is more interested by her. The mother tries to push for engagement between Praikairat and Ot but even Ot's sister said that Pat would be a better choice. The mother just wants a rich bride. Ut proposes Pat to stay in his aunt's house if it is too troublesome to stay in Krongkan's house. Pat meets the aunt being the one, who broke the relationship between Ruj and Manee. She recognizes the pendant that Pat is wearing as it belongs to her family. She believes Pat stole it, but Pat mentioned it is a gift from her father. Finally, an enquiry is done, and it is confirmed that Pat's father is Ruj. Prakairat and her mother are concerned to lose a big part of Ruj's heritage. Ot asks Pat's hand and wishes to marry once she has finished her studies. The aunt wishes to meet Pat again to correct her past mistakes. Finally, a family meeting is organised regarding heritage sharing. The aunt does not apologize for anything and believes she has done the right thing to cause Ruj and Manee to split. Upset and disappointed by her family members behaviour, Pat rejects any rights she has on her father Ruj's heritage as she considers Mae Nom and her husband as her parents. Ot announces he will marry Pat. Love is more important than wealth. The family members are left with their wealth and unhappiness. Luang Pho has realized Pat's wishes as she found her relatives and even more as she met love (แรงอธิษฐาน).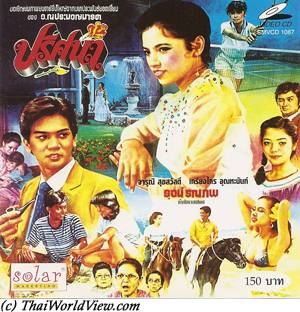 Year

: 1982



Thai title

:

ปริศนา




English title

:



Rating

: 4/5


Director

: Ruj Ronnapop



Main actor

: Kriengkrai Unhanan,Suchao Pongwilai,Adul Dulyarat,Ruj Ronnapop


Main actress

: Jarunee Sooksawad,Linda Khatancharoen,Marasri Bangchang,Sarinthip Siriwan,Marasri Isarangkul,Sulaleewan Suwanthat,Anchalee Chaisiri



Buy now

:

Thai movie ปริศนา was released in year 1982 and lasts 2h08mn. Movie director is Ruj Ronnapop. The movie was released under VCD format by Solar Marketing company. In mid 2010s, it was re-mastered by Five Star production company and shown on True Thai Film cable TV channel. Prisana (Jarunee Sooksawad) is a young Thai lady coming back from USA. Her life vision is influenced by her American education. Her future mate choice should be based on love and not based on family choice or wealth. Will she overcome Thai high society rules? Her father was dead before she was born so her grandmother even refused to recognize Prisana as her granddaughter. Prisana's mother (Marasri Bangchang) welcomes her daughter back from USA after studying 12 years there. It is hard for Prisana to get used to conservative Thai behavior. Fed up at home, Prisana decides to become a teacher (ครู) so she makes herself older. She has two sisters, Seri and Anong. Her older sister has a boyfriend called Sameu (Suchao Pongwilai). One of the student is daughter of a high-level family (ท่านหญิง). Prisana has authority issue with students as the daughter organises rebellion. Prisana teaches her a strong lesson so her brother, Chai, hears about Prisana for the first time. Prawit (เอกลักษณ์ ยลระบิล) meets Anong (ปัทมา ปานทอง) again. Seeing Prisana, Prawit forgets Anong and focus on Prisana only. Chai (Kriengkrai Unhanan) is Prawit's close friend. Chai invites all of them at a party at his home. Ratree (Linda Khatancharoen), Chai's fiance, is upset as Chai dances with Prisana. Ratree is expecting to marry Chai. It is Prisana's birthday. Chai offers her a dog. Prawit offer her a bracelet. Both men are enamoured with Prisana. Following a family trip in Hua Hin, Prisana announces she will not marry Prawit so Anong is happy. Chai is getting closer to Prisana (น่ารักที่สุด). Seeing Ratree unsuccessful to get Chai's love, Sameu tries his luck and kisses Ratree (มนุษย์หลอกลวง). Seri (Anchalee Chaisiri) sees them and is disappointed. Neighbour Anoon (ปรัชญา อัครพล) is back from America and tries to become close to Prisana. Chai tells Prisana that Prawit wants to marry her, so she becomes very upset. Finally, Prawit accepts to marry Anong as he knows he has no more chance with. Chai's aunt (Sarinthip Siriwan) is also very upset as she understands Chai's plan to marry Prisana instead of Ratree, his fiancee. Chai has arguments with his aunt as he refuses to marry Ratree. He doesn't love her and consider her as a younger sister (น้อง). The aunt and Ratree threaten Prisana. Prisana is seen by them as low status girl. The aunt wants this wedding to occur in order to keep money inside the family. At Prawit's wedding, Chai asks Prisana's hand but she doesn't believe him. Prisana is fed up by those high society people. Chai finally offers her a ring for engagement. Pushed by the aunt and Ratree, elder lady Marasri Isarangkul summons both Chai and Prisana. Prisana is looked down again but hopefully her uncle Adul Dulyarat can testify she is the real daughter of his defunct brother. Both the aunt and Ratree lose face and love can blossom between Prisana and Chai.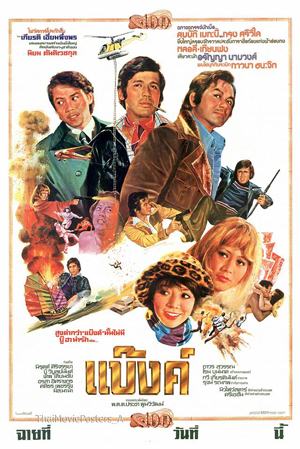 Year

: 1976



Thai title

:

แบ๊งค์




English title

: Bank



Rating

: 3/5


Director

:



Main actor

: Sombat Methanee,Krung Srivilai,Lo lieh,Thep Thienchai,Nirut Sirijanya,Boo Wibunnan,Somchai Samipak,Ruj Ronnapop


Main actress

: Aranya Namwong,Pawana Chanajit,Orasa Isarangkul,Sulaleewan Suwanthat,Sasithorn Phetrung
Thai movie แบ๊งค์ was released in year 1976 and lasts 1h51mn. A remastered version was released in decade 2010s. Shaft movie (1971) soundtrack music is used. Boo Wibunnan is using armored car from bank to transport money. During transportation, the convoy is attacked and money is stolen. An ambulance car is used to be discrete, but police is chasing them. Robbers throw some money to cause a traffic jam and to block the police. The police identifies that 10M THB was stolen but it is fake money. As the fake banknotes are very good quality, Thai police wants to keep it low profile to avoid Thai population to be worried about fake money. Thai police calls back Lit (Sombat Methanee) to investigate. He is currently busy shooting a romance movie directed by Ruj Ronnapop and with actress Orasa Isarangkul. Thep Thienchai, Lit's friend, puts the fake money in the bank. Thep is kidnapped as Boo and Somchai Samipak believe Thep is part of the gang, who stole their money. Lit is following them as he wishes to know who produces the fake money. Releasing Thep, Lit wishes to join Boo as partner. Another 10M bath transaction shall happen soon. A plane brings the money. Police intervenes. Ruffians are neutralized. Lit succeeds to enter in the plane before it takes off. The pilot is his friend Po (Krung Srivilai). Po is just a transporter as he doesn't know where the money is coming from. He receives orders from Hong Kong. Lit flies to Hong Kong and meets inspector Fe (Lo lieh, Hong Kong actor). Some men follow Lit. Fe and Lit find Po again. Po's multiple trips to Hong Kong have intrigued Hong Kong Police so they dispatched a policewoman named Teresa (Aranya Namwong) acting as a singer to check Po. Lio, the bar owner, doesn't like Teresa to mingle with Po so he sends tough men to give a lesson to Po and Lit but it fails. During the fighting, Nirut Sirijanya is injured. Po and Lit send him home and meet his younger sister Lin (Pawana Chanajit). Lio is their uncle and educates them as their parents are dead. Lio is suspected to be the fake banknotes producer. Lio tries to abuse Lin. Lin is going to Chinese University of HK. Sulaleewan Suwanthat brings her to school every day. For their safety, HK Police keeps Lin and her brother. Her brother, being addicted to drugs by Lio, flees after stabbing a policeman. He informs Lio that HK and Thai police are investigating on him. Ruffians attack Lit and Po again in order to catch Lin but it fails. Po takes the opportunity to meet Sasithorn Phetrung. Lin identifies that Nirut is often going in a Chinese temple. HK Police investigates. Under the temple, there is a secret factory producing banknotes. Nirut's father, still alive, is producing fake money for Lio. Knowing that his daughter is now safe with HK Police, he wishes to stop doing this bad business. Fighting erupts with Lio. Lio shoots Nirut and his father then burns the whole temple. Back to his club, he wishes to flee overseas with Teresa, but he is shot by the paralyzed lady, being his club business partner and who is in fact a man! The partner shoots Teresa and flees with the money. Lit and Fe chase the man by car up to Pa Sha Wan and then by boat. About to flee by helicopter, Lit shoots him and all the banknotes fall in the sea...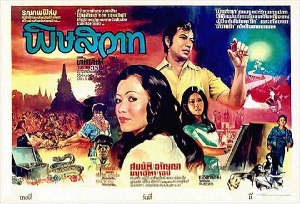 Year

: 1974



Thai title

:

พิษสวาท




English title

:



Rating

: 3/5


Director

: Ruj Ronnapop



Main actor

: Sombat Methanee,Ruj Ronnapop,Somchai Samipak,Thep Thienchai


Main actress

: Aranya Namwong,Mayurachath Muarnprasitivej
Thai movie พิษสวาท was released in year 1974 and lasts 2h20mn. The movie is only available on VHS and was never released on VCD or DVD. The picture is very colourful and sharp. Akanee (Sombat Methanee) has a dream where he cuts the head of a woman. The following day, his friend Chet (Ruj Ronnapop) introduced him to a lady called Chorasinee (Aranya Namwong). She is expert in ancient artifacts (นักนิยมของเก่า). She notices a special jewel owned by Akanee. Akanee is very confused as she is the same lady he just beheaded in his dream. Chorasinee seems to know a lot of things about him. She is able to recall many strange past events. Thip (Mayurachath Muarnprasitivej) loves secretly Akanee. Chorasinee often comes and disappears very fast. She warns Akanee about things not to be done wrongly a second time as nobody has two chances in life! During a charity performance, Chorasinee promises to play an evil lady (นางปีศาจ). Somchai Samipak is interested by her. It seems that Akanee met her in a previous life when he was a prince. She asks her life back to Akanee (ถ่วงชีวิต). Robbers try to steal Akanee's jewel but get punished by an invisible spirit. Chorasinee invites Akanee, Thip and Chet to her home in Ayutthaya. Thep Thienchai welcomes them. During Ayutthaya period, Akanee protected the treasure of the Siamese King. Akanee, to ensure the treasure is not stolen, killed all the guards so that their spirits (วิญญาณ) protect the treasure forever. A lady called Ubon was loved by Akanee's love. Akanee cut Ubon's head also. Somchai's wife is concerned that Chorasinee goes in his car. Chorasinee's duty is to keep the Siamese King's treasure. She is Ubon's resurrection. Somchai wishes to marry Chorasinee and become rich (มหาศาล). Somchai is somebody dishonest as he killed a dealer before to steal his drugs and to keep the agreed money. Somchai is found dead at Chedi Saam Ong. Strange events occur as Thip's painting, formerly showing a beautiful Chorasinee, is now showing an ugly evil spirit (นางปีศาจ). Akanee asks Chet to go to Ayutthaya as he wishes an archeologist team to dig at a specific place as he believes there is a dead body there lying since centuries. A skeleton with a spade is found. It is the Prince's skeleton. Chorasinee invites Akanee to follow her. Thip and Chet follow up. They arrive in a mysterious place and a judgement is occurring per Chorasinee's request. She complains that despite their love, Akanee killed her and gave her a never ending task to look after the treasure. Thip, loving Akanee, agrees to take over but Akanee refuses. Finally the spirit guardian asks Chorasinee to choose somebody to replace her, i.e. Akanee or Thip. She finally accepts to continue doing such role as she cannot choose Akanee as she loves him, she cannot choose Thip as she would lose Akanee's love. Her spirit is then released. Akanee becomes a monk for the rest of his life. They should meet again in another life.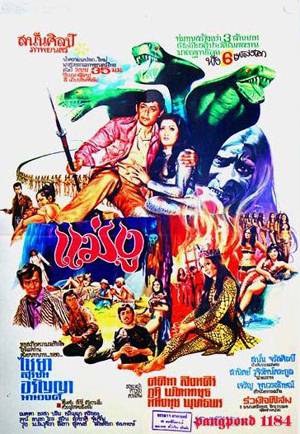 Year

: 1972



Thai title

:

แม่งู




English title

: Snake Queen



Rating

: 3/5


Director

:



Main actor

: Chaiya Suriyun,Ruj Ronnapop,Sithao Petcharoen,Sukon Koewliam,Lor Tok,Sawin Sawangrat,Krai Kanchit


Main actress

: Aranya Namwong,Metta Roongrat,Prim Praphaporn,Sasima Singsiri,Orasa Isarangkul
Booloi and Chom are chased by ruffians. They take refuge in the snake cave (ถ้ำแม่งูสักศีษ). Booloi is pregnant. Ruffians flee as the snake cave has bad reputation. Chom loses trace of his wife. Some snakes transform themselves into young ladies and help Booloi to deliver a baby girl called Haofa. 18 years have passed. Haofa (Aranya Namwong) is now a grown up adult. Haofa still misses her parents. The snake queen selects her as the next queen. This decision makes Haodam (Metta Roongrat) upset. There are fights between ladies during Haofa's crowning. The snake kingdom only includes young ladies and an old sorceress (แม่มด). No men in the cave. In Bangkok, a young man called Tira wishes to ask for young lady Mareudi's hand. Some ruffians, specialized in human trade overseas (รับแขก), keep asking Mareudi to join them for a trip to Japan. She always refuses. Tira's boss called Phanom (Chaiya Suriyun) is playing the matchmaker (เฒ่าแก่) for Pira. Phanom and Pira go to Mae Sai for scientific studies. The ruffians are also going in Mae Sai area to recruit young girls. Ruffians hear about a place near a waterfall with many beautiful girls swimming. So they are hanging around as beautiful girls have been seen bathing. The girls are then attacked by the ruffians but Phanom, being around, is helping and protecting Haofa. They are snakes but Haofa is an human being. A romance is starting between Phanom and Haofa but he cannot go in the cave as it is guarded by snakes. Haodam discloses the incident to the snake queen. According to the snake Queen's rules, nobody is allowed to meet human beings. Chom is accompanying Phanom and is still longing for his lost wife and baby. There is a funny interlude when veteran comic actor, Sithao Petcharoen, is tortured by a fat amazon. Phanom is captured when entering the cave. The Snake Queen condemns him to death but Haofa helps him to flee. Meanwhile snake hunters are back again to attack the hill around the cave. The ruffians are using experts (Lor Tok! Sukon Koewliam!) able to catch snakes (หมองู). Comic sequences happen as they are all useless to charm snakes. The ruffians finally capture the snake girls and the Queen is even shot. The end of the snake kingdom is a disaster. Phanom promises to take care of Haofa and helps to find her father. Haofa wishes to release her other snake sisters. The ruffians try to abuse the snake girls and use them as prostitutes but they transform themselves into venomous snakes. Police finally catches all the ruffians but it is too late as all snakes have been killed. Snakes are really killed and cut in this movie. Only one snake girl, Haodong, survives and she goes back to the snake cave. Haofa is finally reunited with her father. This movie can also be found under Chinese name "蛇國女王'' in China and distributed by Great China Film Co (H.K.). Different character names are used in the Chinese version (Ng Chung for Phanom, Ho Hua for Haofa, Hsiao Hua for Haodam, Chung Shan for Chom, Mei lee for Booloi). The original Thai version of แม่งู lasts 2 hours 50 minutes. The Chinese version has been reduced to 1h30mn only. "Once upon the west" soundtrack is used in the Chinese version. All songs have cut in the Chinese version. Similar to many 1960-1970s Thai movies, it features a long running time and a dozen of songs.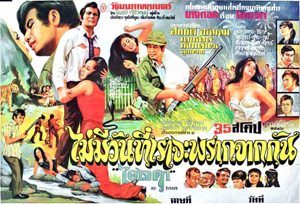 Year

: 1971



Thai title

:

วันที่เราจะพรากจากกัน




English title

:



Rating

: 4/5


Director

:



Main actor

: Sombat Methanee,Prachuap Ruekyamdee,Sithao Petcharoen,Songthong,Sawin Sawangrat,Sukon Koewliam,Chana Sriubon,Ruj Ronnapop


Main actress

: Aranya Namwong,Naowarat Watchara,Sopha Sataporn,Ratanaporn Intarakamhaeng
ไม่มีวันที่เราจะพรากจากกัน (There is no day we will split) was released in year 1971. The full movie lasts 2h27mn. The remaining film is in a poor condition. The image has no more color and is only tinted. Unfortunately the sound is distorted and barely hearable. A full movie summary is still available as some old Thai movie stars magazines can still be found nowadays. The movie remains famous for its 9 to 10 songs. A few songs are sung by Sithao Petcharoen and Songthong. One of the famous singer in this movie is กังวานไพร ลูกเพชร, a countryside singer (นักร้องลูกทุ่ง). He is acting as a couple with Naowarat Watchara in this movie. Main actors in this romantic movie are Aranya Namwong and Sombat Methanee. Interesting to see that Aranya Namwong is wearing big sunglasses that are back to fashion in decade 2010s. Other actors include Prachuap Ruekyamdee, comic actor Sukon Koewliam, Naowarat Watchara, Chana Sriubon, Sopha Sataporn, Ratanaporn Intarakamhaeng, Ruj Ronnapop. Kampee (Sombat Methanee) is orphan but gets patronized by his older sister Rampoei, who is married to rich merchant Vivat. Kampee (คัมภีร์) is engaged with Rewadee (Naowarat Watchara). He goes to study abroad. When he comes back, his fiancee Rewadee is going to marry Pinjo, who was a former friend. Kampee, disappointed, causes big arguments during the wedding, gets beaten and thrown away in the water. When he wakes up, he meets for first time a young woman called Ailada (Aranya Namwong), riding a bicycle and going to help him. Surprised, he leaves rashly by taxi (คนบ้า). Kampee leaves his home as Pinjo's father forces him to go to Sukhothai province. Rampoei wants Kampee to marry Walli, younger sister of Vivat. Kampee meets Ailada again in Phitsanulok train station and they argue again. Kampee shall be the head of forest guards in district Huay Krai. Kampee is welcomed by Plang (Prachuap Ruekyamdee), his assistant. Ailada is Plang's daughter! Kamnan Preuang (Sawin Sawangrat) is doing illegal business in the forest by cutting trees. Plaew, son of Kamnan Preuang, loves Ailada since they are kids. Plang and Kampee have a plan to stop those illegal activities. Having learnt this, Ailada informs Preuang. So Kampee's plan fails. Aware that Ailada is the one who disclosed the plan, Kampee has arguments with her but Ailada finally understands and recognises her mistake. Love starts to emerge. Walli is coming to visit Kampee. To get rid of Walli, Kampee claims he is already engaged with Ailada so she has mischievous behavior with Kampee! Kamnan Preuang and Plaew get agreement with Pinjo to use Rewadee to ease Kampee. Pinjo wishes to kill Kampee as he cannot stand to have Rewadee close to Kampee. It is discovered that Plaew is the real son of Plang and not Preuang. Plaew and Ailanda are then brother and sister! Plaew and Ailanda are looking for Kampee knowing he is endangered by Pinjo's plans to kill him. A thunderstorm happens. Kampee and Ailanda take refuge in a cave. A snake is threatening them. Plaew and Rewadee take refuge in a cave also. Pinjo misunderstands Plaew's intention to help Rewadee. He finally falls in the river and dies. Back from the forest, learning that Kampee and Ailanda plan to marry, Rewadee still tries to get back Kampee and simulates to have spent the night with him. It causes Ailanda's ire, who then flees away. Rewadee apologizes but it is too late. Ailanda is gone and Kampee is back to Bangkok. Kampee indulges in alcohol and finally accept his sister's proposal to marry Walli. Rewadee is pregnant with Plaew. As Ailanda is back to district Huay Krai, Plaew decides to stop Kampee's wedding with Walli to ensure Kampee can marry Ailanda! Plaew lies that Kampee made a young lady pregnant in district Huay Krai so he needs to assume. Finally Kampee and Ailanda are reunited.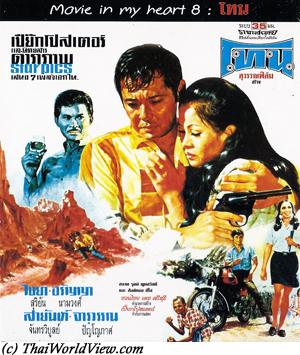 Year

: 1970



Thai title

:

โทน




English title

: Tone



Rating

: 4/5


Director

: Piak Poster



Main actor

: Chaiya Suriyun,Ruj Ronnapop,Sahat Piempongsan,Songthong,Sayan Chantaraviboon


Main actress

: Aranya Namwong,Jaruwan Panyopas



Buy now

:

Thai movie โทน / Tone is the first movie done by Piak Poster. It was released under VCD format by company XxX (Triple X). It features many Thai modern 1970s songs from 'The Impossible' group (วงดิอิมพอสซิเบิ้ล), some classical and traditional Thai songs, and even some American songs including 'Scarborough Fair' in Thai. The main characters are living in a provincial village, i.e. Pon (Chaiya Suriyun), Sang Thong (Songthong) and Nong Kulap (Jaruwan Panyopas). Sang is Pon's best friend following up everywhere. Pon loves Nong Kulap sincerely but Kulap sees him as a close friend only. She also needs to go to Bangkok to continue her studies, so they will be separated (ห่างกัน). Pon didn't do high studies and is living in a Buddhist temple with Luang Ta as a monk's attendant (ลูกศิษย์วัด). He was an orphan (เด็กกำพร้า). Ot (Sayan Chantaraviboon) is a Bangkokian young man visiting some relatives in the village. While having a drink, some ruffians (นักเลง) led by Amnat provoke him and a fight erupts. Pon is involved as he was just passing by and finally, he is helping Ot to get rid of the ruffians. The abbot wishes Pon to continue his studies in Bangkok. Ot proposes to help and Pon is now relocated in Bangkok. He meets Rut, Ot's elder brother (Ruj Ronnapop) and Daeng (Aranya Namwong), Ot's modern young sister. Daeng hates (เกลียด) Pon immediately. It seems Kulap has forgotten Pon. Sang is having quarrels with ruffians, who shot him. Ot meets Kulap randomly in Bangkok. Ot loves Kulap but Pon is not aware that Kulap is now in Bangkok. Daeng's boyfriend Long (Sahat Piempongsan) is a ruffian trying to take advantage of her. Hopefully Pon sees the stratagem and helps her. He gets injured. Daeng starts to see Pon's kindness and now loves secretly Pon. It is Ot's birthday (วันเกิด). Kulap (แฟน) comes to his birthday. It is the first Thai movie showing the 1970 youth with modern Thai and English music, dances and mini dresses. Daeng understands that Pon still loves Kulap and suffers. After a discussion between Pon and Ot, Ot accepts it (ทำใจ) and takes care about Daeng. Love story starts. Long is still cross with Daeng and Pon. He kidnaps Daeng and Kulap. Pon, trying to help, is also captured. Ot is chasing them. Long wishes to sell the two ladies to his friend Amnat. They will work as forced prostitutes. Daeng and Pon fail to escape and Long rapes Daeng. Thanks to Ot, Long is neutralized and is shot by Daeng. Pon shots Amnat so avenging his friend Sang Thong. It is time to forget the bad past and look forward to the bright future. Piak Poster began as a painter of movie posters. He painted 'Tone' movie poster. Tone was Piak Poster's first movie as director. The movie features seven songs. Songthong became famous thanks to the songs he performed in 'Tone' movie. It was the first movie in which the leading actress is raped. Thanks to the modern songs, 'Tone' movie reaped 6M Baht. It was the second biggest success in year 1970 after 'Mon Rak Luuk Thung' with Mitr / Petchara. It was also one of the first movie to use 35mm film instead of 16mm. 'Tone' movie was adapted two times for TV as a lakorn, i.e. in 1992 with Santisuk Promsiri and more recently in 2000s decade with Vinai Kraibutr and Metinee Kingpayome. Tone was the first movie in Thailand to break the monopoly of Mitr-Petchara movies. This movie is part of the first 25 films heritage list announced on October 4 2011, which is Thai Movies Conservation Day. The swimming suit worn by Aranya Namwong became a hit also as it shown the belly. All young ladies in year 1970 bought it. A promotional movie, lasting 17 minutes, shot in black and white, in 16mm format, can be seen online and is showing behind the screen sequences. The movie shooting was done over two years as Piak Poster liked perfection, details and used a lot of film. The film was developed in Japan and 11 copies travelled all over Thailand. It was two times more than usual.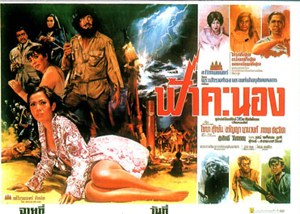 Year

: 1970



Thai title

:

ฟ้าคะนอง




English title

:



Rating

: 4/5


Director

:



Main actor

: Chaiya Suriyun,Sorapong Chatree,Sukon Koewliam,Ruj Ronnapop,Surasit Sattayawong


Main actress

: Aranya Namwong,Pawana Chanajit,Chosri Misommon,Wilaiwan Watthanaphanit
Thai movie ฟ้าคะนอง was released in year 1970 and lasts 1h22mn. It features main actors Chaiya Suriyun, Aranya Namwong and Pawana Chanajit. Movie ฟ้าคะนอง was restored and shown on Thai cable TV. It features a beautiful colorful image. Sorapong Chatree and Charika (Pawana Chanajit) take a bus to go to Fa Khanong pier. Sorapong Chatree, one of the most famous Thai actors with Mitr Chaibancha and Sombat Methanee, was still an unknown actor at that time and was playing side roles. Everybody discourages Charika to go to Fa Khanong island. People are talking about ghosts... It seems many people died before due to pirates. Spirits (วิญญาณ) are said to be around. Chosri Misommon is playing Charika's domestic helper (คนรับใช้). Mysterious deaths happened previously on the island. People, who took the job of nurse (นางพยาบาล) before Charika, all died... Ruj (Ruj Ronnapop) is playing a crazy disabled man (เล่นตุ๊กตา) always scold by the governess. Khun Phujing (Wilaiwan Watthanaphanit) is disabled. Her mother needs also to take medicine. Charika is responsible to take care of them as a nurse. Khun Lek (Aranya Namwong) is Khun Phujing's younger sister. During a storm, Charika has a vision, i.e. she sees a hirsute man entering in her room. The following day, Charika meets Turatee (Chaiya Suriyun) and believes the hirsute man and he are the same person (Chaiya Suriyun plays both roles). At nighttime, the hirsute man enters in the grandmother's room to steal a map. The hirsute man is recognized as Khun Phuchai, who died many years ago. The island superintendent Durong (Surasit Satayawong) and his mistress, the governess, are worried as it could be the map leading to the pirates' treasure of Plao island. The next day, crazy Ruj harass again Chosri and Charika. The governess scolds and beats again but it turns badly as Ruj cuts the governess head! During this messy situation, Charika loses conscience and disappears carried by the hirsute man. Durong is hoping to find a secret pirates' treasure (สมบัติ). He has also a relationship with Khun Phujing. Willing to know what is really happening on Plao island, Chaiya and Lek try to reach the island by boat. The superintendent, a few tough men, Chosri and Khun Phujing follow them by boat also. Both boats capsize but they can all avoid the sharks. Stranded on Plao island, the superintendent is trying to locate the treasure and to catch Turatee, Lek's fiance, and Lek. Durong believes Turatee has the treasure map. An old man Tao is helping Turatee about to be killed. Charika wakes up in a cave with the hirsute man. The hirsute man is Khun Phuying's younger brother, who is still alive. He mentions that Durong killed all nurses. He knows about the pirates' gold hidden in the cave. italian actor. Durong tries to abuse Khun Lek but is injured by Khun Phujing. Durong then shoots and kills Khun Phujing. Tao leads Durong and his men to the treasure. Finally, Durong and his ruffians die as they are more obsessed by collecting gold than running for their life as the cave is collapsing. Lek, khun Phuchai, Charika and Turatee succeed to escape on time. Romance can happen between Lek and Turatee, between Charika and Khun Phuchai.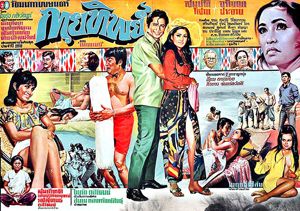 Year

: 1970



Thai title

:

กายทิพย์




English title

:



Rating

: 3/5


Director

:



Main actor

: Sombat Methanee,Chana Sriubon,Prachuap Ruekyamdee,Sukon Koewliam,Sithao Petcharoen,Krai Kanchit,Sawin Sawangrat,Ruj Ronnapop,Sompong Phonmitr,Pan Borapet,Op Boonthit


Main actress

: Aranya Namwong,Sopha Sataporn,Wilaiwan Watthanaphanit,Sarinthip Siriwan,Khomapat Attaya
Thai movie กายทิพย์ was released in year 1970. The movie lasts 2h30mn but only 1h00 is left to be seen. Jaomanat (Sarinthip Siriwan) is Atibadi's domestic helper. Jaomanat has two sons Phayoton (Sombat Methanee) and Pontet (Prachuap Ruekyamdee), playing a gay character (กะเทย). Atibadi (Chana Sriubon) has two daughters Romadee (Aranya Namwong) and Deuan Rung (Sopha Sataporn). Atibadi's wife (Wilaiwan Watthanaphanit), called Nimnuan, is dead already but her soul (วิญญาณ) has possessed Jaomanat. Three house spirits (ศาลพระภูมิเจ้าที่) are also involved. Two of them are played by Sukon Koewliam and Sithao Petcharoen. Krai Kanchit, a hairdresser, gets warned by Phayoton not to disturb Jaomanat anymore. Fighting in slum(สลัม) happens between Phayoton and Krai. Krai is defeated. Sawin Sawangrat comes later with more men to beat Phayoton but the three house spirits help him. สุมาลี ทองหล่อ, mother of Khomapat Attaya, wishes to grab Atibadi. Finally Atibadi takes Sumalee as his new wife. During the wedding party, Khomapat comes with Ruj Ronnapop but Khomapat has more interest in Phayoton. Sompong Phonmitr is playing a หมอทำเสน่ห์. Sumalee and Sawin visit the magician at the same time but they get teased again by the spirits. Krai comes at that time and meets Sumalee. They become lovers. Sumalee and Atibadi spend their honeymoon in Pattaya. Deuan Rung likes Phayoton but this one manages to have his brother Pontet taking care of her so that he can be with Romadee. Meanwhile Krai has seduced also Khomapat so causing Sumalee's ire. She sends Pan Borapet and Sawin to teach (สังสอน) Krai but they kill him. Upset, she also kills Pan Borapet and Sawin. Sumalee is feeling sad (น้อยใจ). Op Boonthit identifies that Nimnuan's sould (วิญญาณ) is inside Jaomanat. A proper ceremony needs to be done. Sumalee wishes to interrupt it. Monks need to be brought. While the soul is about to exit, Sumalee prevents the holy water to be poured. She is struck by a lighting and dies. Ruj is ravaged. Finally Jaomanat can fully recover.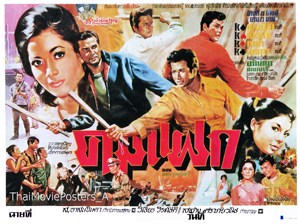 Year

: 1970



Thai title

:

คมแฝก




English title

:



Rating

: 3/5


Director

: Sor Asanajinda



Main actor

: Sombat Methanee,Kecha Plianvithee,Luechai Natnat,Sithao Petcharoen,Krai Kanchit,Sukon Koewliam,Ruj Ronnapop,Chanee Yotchai


Main actress

: Aranya Namwong,Metta Roongrat,Kaenjai Meenakanit,Sasithorn Phetrung
Thai movie คมแฝก was released in year 1970 and lasts 2h16mn. It was released under VCD format by Lepso company. Movie director is Sor Asanajinda. Kan (Sombat Methanee), a policeman, shoots Saen's father, who is smuggling illegal goods. Saen (Kecha Plianvithee) wishes to avenge his father. He invites Kan for a birthday party and drugs him. When Kan wakes up, a dead man is found near him. Kan is accused of murder and is sent ten years in jail. Kan promises to use a baton (คมแฝก) and not a gun anymore for his revenge. After ten years, Kan is back but his family is torn apart. He wishes to revenge against the mafia leader (เจ้าพ่อ) Saen. Sithao Petcharoen and his wife are bar owners. Taprao (Metta Roongrat) is their daughter. Kan's father is dead but Kan is still looking for his mother, his wife Dokmai and his sister Kalog. Dokmai (Kaenjai Meenakanit) is now Saen's wife. Krai Kanchit is a new policeman in the city. Sukon Koewliam, an undertaker (สัปเหร่อ), supports Kan. Kan enters Saen's house to find his mother and sister. Achan (Aranya Namwong), Saen's younger sister, promises to help but she finally betrays him. Kan is captured by Saen. Feeling guilty, Achan releases him. Kan takes refuge in the undertaker's home. Pleung (Luechai Natnat) arrives in the city and ends up in Sithao's bar. A new ruffian Fai (มือดี)(เพชร พิษณุ) arrives in Saen's team. Kan declares his love to Achan. Ruj Ronnapop (ขายยา) warns Kan about the new hitman. Kan bewares of Fai and Pleung despite Ruj confirms Fai is finally on their side. Fai is Pleung's younger brother. Fighting happens between Kan, Ruj, Pleung and Saen's men in Sithao's bar. Police has to intervene. Saen wishes to hire Pleung. While simulating being a movie dubber, Ruj finds weapons hidden in wooden crates. He meets Kalog (Sasithorn Phetrung). Kan sends a grenade to destroy the weapons stock as Saen plans to hurt Thailand. Police inspector Krai comes to arrest Saen but another teammate pretends the weapons belong to him. Achan warns Kalog, younger sister of Kan, about Saen's activities. Kalog succumbs to Ruj. Robbery of a house is failing, and a few ruffians are killed. Saen suspects Kalog is the one disclosing his activities schedule to Kan. Her mother tries to intervene but she is killed. Achan discloses that she is the one warning Kan. Saen and his men storm Sithao's bar. Kan is knocked out. As Saen cannot shoot a man sleeping, he closes his eyes before firing. Dokmai interposes and she is the one being shot. Upset, Saen defies Kan and his friends as he kidnapped the three ladies. Saen, Fai and Ruj go to release them but they have to surrender. It is disclosed that Kan is new chief district and both Fai and Rj being undercover policemen. Caretaker Sukon Koewliam is ordered to prepare three coffins. Kan and his friends have to prepare their own graves (ฝังตัวเอง). Sithao helps to release the ladies and gives them guns. Sukon bring back coffins containing policemen. Shooting happens between policemen and ruffians. Saen finally causes his stock of dynamite to explode as his cigar falls on it. Pleung character played by Luechai Natnat disappears after a while during the movie. It is said it was killed. Maybe there was a conflict between Luechai Natnat and the producer / director so the character Pleung has to be removed.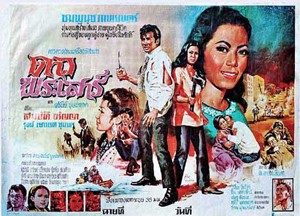 Year

: 1970



Thai title

:

ดาวพระเสาร์




English title

:



Rating

: 4/5


Director

:



Main actor

: Sombat Methanee,Ruj Ronnapop,Sor Asanajinda,Tawan Siriwat,Sorapong Chatree,Daonoi Duangjai


Main actress

: Aranya Namwong,Yaowaret Nisakorn,Chadaporn Wachirapranee
Thai movie ดาวพระเสาร์ was released in year 1970. The movie is lost in Thailand but a sequence lasting nine minutes remains to be seen. Main actors and actresses are Sombat Methanee, Aranya Namwong, Ruj Ronnapop, Yaowaret Nisakorn, Sor Asanajinda, Chadaporn Wachirapranee, Daonoi Duangjai, Tawan Siriwat. A remake was released in year 1983 with different actors Sorapong Chatree (instead of Sombat Methanee), Toon Hiransap (instead of Ruj Ronnapop), Jarunee Sooksawad (instead of Aranya Namwong). Sorapong Chatree played a minor role (ตัวประกอบ) in the 1970 version! 1970 and 1983 versions have a similar scenario. During the short colorful sequence, Sombat Methanee can be seen as Dao Prasuk. Aranya Namwong is also seen with Ruj Ronnapop as her fiance. Chadaporn Wachirapranee Daonoi Duangjai, Sor Asanajinda can also be seen. Sombat Methanee is coming to the wedding with a nice suit and meets the father Tawan Siriwat.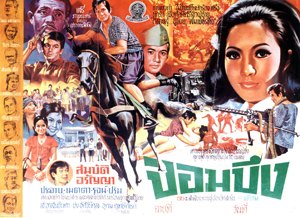 Year

: 1970



Thai title

:

จอมบึง




English title

:



Rating

: 3/5


Director

: Sor Asanajinda



Main actor

: Sombat Methanee,Prachuap Ruekyamdee,Ruj Ronnapop,Tat Ekathat,Songthong


Main actress

: Aranya Namwong,Metta Roongrat,Prim Praphaporn
Thai movie จอมบึง was released in year 1970. Main actors are Sombat Methanee and Aranya Namwong. The movie was never released on VHS / VCD / DVD formats in Thailand. The movie is still available in Thai Film Archives. Only reels 1-2-4 are available. Reel 3 is missing. It is lasting 1h22mn. Two partial reels (2-3) were also found in year 2013 thanks to a teacher and collector of old items in Songkhla area. The remaining sequence is lasting 28 minutes. It is in 35mm format as actors' voice can still be heard despite image and sound being in poor quality. The image is damaged due to water soaking (โดนน้ำ). The director is Sor Asanajinda. The movie features 16 songs according to the film poster. 6 songs have disappeared. Only 10 songs are left. Missing reel 3 in Thai Film Archives is about Sombat going to marry Prim. The ruffians lie to Sombat's father to invite him to the wedding party. They kidnap him to have a guarantee. The main actress Aranya Namwong is also captured by them. In reel 4, Sombat comes to help and rescue his father and Aranya. In a short online sequence, Aranya hits Sombat with her car. Finally, she accepts to take him in her car as he claims to be hurt. Prachuap Ruekyamdee is doing a massage to Metta Roongrat. Suddenly the car driven by Sombat arrives swiftly in their house property. Ruj Ronnapop seems to enjoy alcohol. Seeing Sombat and Aranya together causes a big ire to Metta. She tries to get back Sombat but to no avail.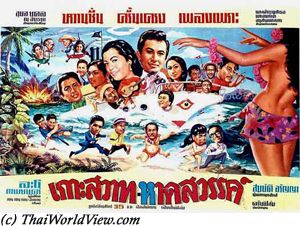 Year

: 1969



Thai title

:

เกาะสวาทหาดสวรรค์




English title

: Paradise Island



Rating

: 3/5


Director

: Prince Anusornmongkolgan



Main actor

: Sombat Methanee,Thuam Thoranong,Rujira Isarangkul,Ruj Ronnapop,Anucha Ratanaman,Op Boonthit,Sukon Koewliam


Main actress

: Aranya Namwong,Chosri Misommon,Manat Boonkiet,Metta Roongrat,Marasri Isarangkul,Sisala Thongtara
Khun Pradeun, a playboy, loves to party. He doesn't work. His father has arguments over coconuts gardens in Ko Samui with another businessman. They bet who could work more successfully, i.e. the son, Khun Pradeun, or the daughter, Khun Tum. Tum is a modern Thai lady wishing to work and with no husband. Her mother wants to find one husband for her but she prefers to go to island Sawat to help her father. If Pradeun wins, Tum must marry him. If he loses, he shall give up his business to her. Similar to many movies at the end of 1960s decade, this movie is rythmed with songs. Pradeun and Tum meet each other on the boat to island Sawat. Pradeun doesn't know the real identity of Tum as he expects somebody called Tum (ตุ่ม - pimple) to be fat, stupid. But he only shows his arrogance and suffisance. Tum and his friends try everything to have Pradeun to go back to Bangkok but to no avail. In the midst of controversy, he falls in love with her. Meanwhile, she begins to be confused because she might be in love with him as well. Pradeun tries dumping tactic to prevent sales but his three thousands coconuts have disappeared. He then needs to sort the coconuts that are mixed on purpose with those of Tum. They decide to use ruffians (นักเลง) to intimidate each other. Despite a few KO, Pradeun is the last one to stand up. Finally he knows the true regarding Tum and slaps her face for her treacherous behavior (in many Thai movies or Thai TV series, violence over women is surprisingly a way for men to show their love). Love is stronger between both of them. He saves her life during a fire in the local school and they finally marry. It is a 2h30 long lovely emotions movie. In 1960s decade, 2 hours length was frequent for many movies. This movie was then successfully updated in 2000s decade as a Thai TV serie.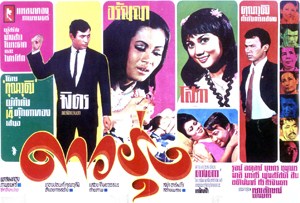 Year

: 1969



Thai title

:

ดาวรุ่ง




English title

:



Rating

: 3/5


Director

: Wichit Khunawut



Main actor

: Mitr Chaibancha,Ruj Ronnapop,Adul Dulyarat,Adinan Singhiran,Choomporn Theppitak


Main actress

: Aranya Namwong,Malee Wetpraseri,Sopha Sataporn,Marasri Isarangkul
Thai movie ดาวรุ่ง was released in year 1969. It features Mitr Chaibancha as main actor and Aranya Namwong as main actress. The movie is lost in Thailand but a sequence of 19 minutes is still left to be seen. The movie is 16mm format so it is in mute state as such format requires live dubbing. There is an animated discussion between Mitr, Ruj Ronnapop, Malee Wetpraseri, Adul Dulyarat and Marasri Isarangkul. Aranya sees Mitr enlacing Sopha Sataporn so it creates misunderstanding. Disappointed, Aranya accepts to be engaged with Adul. Sopha and Ruj marry. Sopha loves secretly Mitr. Wishing to leave Thailand, Sopha tries to prevent him and gives him a goodbye kiss. Ruj seeing this takes a gun to shoot Mitr. Following a fight with Sopha, Ruj falls in the stairs. The sequence ends up by Mitr giving respect to a Buddha statue and Sopha being just behind suddenly. The movie is directed by famous Thai director Wichit Khunawut presented on the poster as the director with 14 Thai cinema rewards. Adinan Singhiran is playing a major d'homme.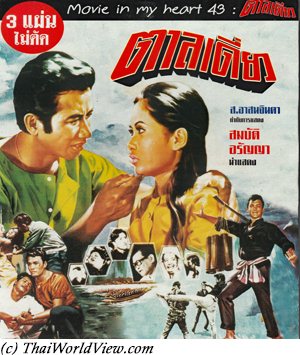 Year

: 1969



Thai title

:

ตาลเดี่ยว




English title

:



Rating

: 4/5


Director

: Sor Asanajinda



Main actor

: Sombat Methanee,Ruj Ronnapop,Tat Ekathat,Pan Borapet,Choomporn Theppitak,Sawin Sawangrat,Paen Pleumsachai,Daonoi Duangjai,Siripong Isarangkul


Main actress

: Aranya Namwong,Metta Roongrat,Somjit Sapsamruey,Kaenjai Meenakanit
Thai movie ตาลเดี่ยว was released in year 1969 and lasts 2h50mn. It was released by Triple XxX company and features 3 VCD discs. The VCDs are mixing sequences based on 35mm format (songs) and sequences based on 16mm format (main movie needing dubbing as this format has originally no track sound). The movie features a few songs. Movie director is Sor Asanajinda. Many famous actors and actresses are featured in this movie such as Sombat Methanee, Aranya Namwong, Ruj Ronnapop, Somjit Sapsamruey, Metta Roongrat, Tat Ekathat, Pan Borapet, Choomporn Theppitak, Sawin Sawangrat, Kaenjai Meenakanit, Paen Pleumsachai, เมืองเริง ปัทมินทร์, Siripong Isarangkul, ขุนแผน ภุมมารักษ์, ถนอม นวลอนันต์, นวลศรี, แป้น ปลื้มสระไชย, ฉกาจ, บิ๊ฟ, พีระพล, ตาล, มานะชัย, Daonoi Duangjai. Dio (Sombat Methanee) and Kut (Ruj Ronnapop) are close friends. Dio's mother, Poei, is played by Somjit Sapsamruey. Kratin (Metta Roongrat) is Kut's sister and she loves Dio. Jamroon Nuatjim is Kratin's father. Tan (Aranya Namwong) is the daughter of subdistrict headman (กำนัน) Phet (Tat Ekathat). Dio's father died in subdistrict headman Phet's garden before by falling from a tree while harvesting sugar palm. Phet forbids Dio to meet his daughter but he agrees to give him a job. Dio's mother is sick and they are running out of money. Kratin gives Dio 100 Baht to buy some medicine. Dio starts to work in Phet's garden to harvest sugar palm. Kratin helps him. Two ruffians (including Pan Borapet) working for subdistrict headman Phet makes joke about him and his relationship with Kratin. A fight occurs, and ruffians get beaten by Dio and Jamroon. They complain to subdistrict headman Phet but as Tan saw them, then Phet knows that both are lying and were looking for troubles first. They quit their work and promise to get revenge towards Dio. Plok (Choomporn Theppitak) wishes Tan to become his wife. He plans to abuse her with the help of the ruffians chased by Phet. Once abused (เสียแล้ว), he will ask for her hand and subdistrict headman Phet cannot refuse. Ladders to climb palm trees are damaged. Dio and Jamroon suspect the ruffians. One evening, Jamroon, being drunk, have arguments with Plok and his men. He gets severely beaten. Plok's father is played by Sawin Sawangrat. Tamleung (Kaenjai Meenakanit) is another lady fond of Dio. Annual festival (งานประจำปี) occurs and features a boat race. Plok tries to kidnap Tan (ลูกตาล) but Dio helps her on time. Plok and his father have to apologize to subdistrict headman Phet and his daughter. Subdistrict headman Phet wishes to give money to Dio as a reward but he refuses. Dio and Tan declare love to each other. Kut, also loving Tan, has even a fight with Dio but recognises he was wrong to fight against his friend. Being jealous, Kratin complains to subdistrict headman Phet to break Dio and Tan relationship. Tan gets beaten by her father and is locked in her room. Dio escapes beating thanks to her mother but he loses his job in the orchard. They have to leave. Dio visits Tan in her room and they become lovers. About to leave by boat, Tan also comes and announces she is leaving her father as she loves Dio and is now his wife. Kratin and Kut are heartbroken. Dio and Tan take refuge in a relative home. Plok and his father announce to subdistrict headman Phet that they will help to find where Dio and Tan are hiding. Dio and Tan move to a relative's place, being a village leader called Duang. His wife, Mae Sri, is upset and afraid to have problems with subdistrict headman Phet so Dio, Tan and the mother move to Bangkok. Plok decides to kidnap Kratin in order to know where Dio is hiding. His father wishes to have Kratin becoming his minor wife. The issue turns badly as other ruffians fight with the father over Kratin. The father dies and Kut is able to release his sister. Life is harsh in Bangkok and Dio has to be tricycle and taxi driver. A child is born. After two years, they finally move back to Duang's place. Mae Sri informs subdistrict headman Phet, who kidnaps his own daughter with Plok's help. Dio, upset, goes to subdistrict headman Phet's house bringing his son. Phet refuses to Dio to see his wife and pushes him severely out. Hearing that Plok plans to rob subdistrict headman Phet's house at night time by claiming being Dio, Dio has to help. One of his friends warns the police. Plok is killed during the fightings. Seeing that Dio is finally a good and brave man, sub district headman Phet agrees to an official wedding of Dio and Tan.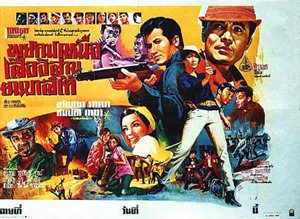 Year

: 1969



Thai title

:

พยัคฆ์เหนือ เสืออิสาน ยมบาลใต้




English title

:



Rating

: 3/5


Director

:



Main actor

: Sombat Methanee,Kecha Plianvithee,Prachuap Ruekyamdee,Surasit Sattayawong,Joomjim Khemlek,Sawin Sawangrat,Ruj Ronnapop


Main actress

: Aranya Namwong,Pawana Chanajit,Kaenjai Meenakanit,Yaowaret Nisakorn
Ruffians capture a man fleeing with a suitcase. Two important letters inside have disappeared from the suitcase when he hit a group of three people while running away. Those people are a father (Surasit Sattayawong), his daughter Fimeuang (Pawana Chanajit) and their friend (Joomjim Khemlek). Those letters are related to their plan to bring troubles from overseas into South of Thailand (คนขายชาติ). Sak (Prachuap Ruekyamdee) and inspector (สารวัตร) Cheut (Sombat Methanee) meet the 3 characters in Nakhon Sawan and sympathize. Ruffians try everything to get back those letters but Sak and Cheut support them. Cheut communicates with his Police Headquarters through young lady Nop (Yaowaret Nisakorn also called Petchara 2). Ramet (Kecha Plianvithee), undercover ruffians leader, tries to seduce Dao (Aranya Namwong) but she doesn't like him. Ramet is a good friend of Krit (Ruj Ronnapop), Dao's brother, as he can always borrow money to him for gambling (พนัน). Cheut also appreciates Dao. Fimeuang and her father take refuge in Chiang Mai. Finally Fimeuang understands that Cheut is a right and trusty man, so she gives him the envelopes. Fimeuang loves secretly Cheut and goes back to Surin. Cheut's heart is divided between Dao, Fimeuang and Nop. Cheut is captured by the ruffians. Finally Sak helps him on time. Ramet is captured but finally later on free again so it looks like a part of the movie is missing. Willing to get back the letters, the ruffians capture Fimeuang and her friend Kamoon. The father shall give back the letters back to Ramet to save his daughter's life. Policeman Cheut, Sak and Nop help to penetrate the ruffians' camp. Dao and Chris also realize who is Ramet while visiting the camp and find that Fimeuang is held captured there. During final shootings, Fimeuang is unfortunately shot. Ruffians are defeated. Movie พยัคฆ์เหนือ เสืออิสาน ยมบาลใต้ is a mix of action and comedy. This small movie really features a great bunch of Thai actors and Thai actresses from decade 1960s.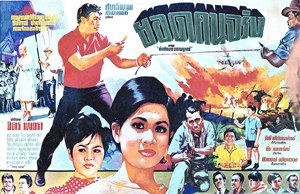 Year

: 1969



Thai title

:

ยอดคนจริง




English title

:



Rating

: 3/5


Director

:



Main actor

: Mitr Chaibancha,Ruj Ronnapop,Choomporn Theppitak,Sukon Koewliam,Preuhat Boonlong,Daonoi Duangjai,Chana Sriubon


Main actress

: Petchara Chaowarat,Somjit Sapsamruey,Manat Boonkiet
ยอดคนจริง is a Thai movie released in year 1969. It is in 16mm format so the movie is mute as such 16mm reels requires dubbing. Main actors are Mitr Chaibancha and Petchara Chaowarat. Other key actors include Ruj Ronnapop, Chana Sriubon, Choomporn Theppitak, Sukon Koewliam, Preuhat Boonlong, Daonoi Duangjai. It is a lost movie and only part of the first reel is left. A 16 minutes passage is available online. A few sequences are about Mitr listening to his boss (Preuhat Boonlong) blaming him. Mitr accepts to seat in a car following the driver's advice for a job. There is a sequence in a nightclub with dance and music concert. Mitr is recruited as bouncer in this nightclub. Fight erupts in the nightclub with Choomporn. Mitr's boss, aware of it, is going to cane him but Petchara prevents it. Working as gardener, Mitr gets comfort from his mum (Somjit Sapsamruey), Petchara and Ruj. The poster is great and shows sequences that are unfortunately not in the 16 minutes passage left. It shows that it is an action movie.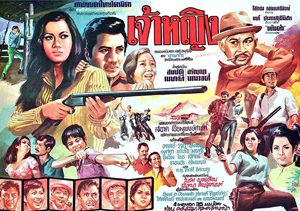 Year

: 1969



Thai title

:

เจ้าหญิง




English title

:



Rating

: 3/5


Director

: Phan Kam,Tae Prakardwutthisan



Main actor

: Sombat Methanee,Sahat Piempongsan,Adul Dulyarat,Choomporn Theppitak,Sukon Koewliam,Joomjim Khemlek,Ruj Ronnapop,Kokheng


Main actress

: Aranya Namwong,Metta Roongrat,Kaenjai Meenakanit
Thai movie เจ้าหญิง was released in year 1969. The whole film is still complete, around 2h30mn, but it was never released in any video format such as VHS, VCD or DVD. The movie is stored at the Thai Film Archives and can be seen there. It is a 16mm movie so no sound is available as such movies were dubbed. This movie is a Thai western and a lot of action, i.e. shootings and boxing fightings, is happening. A short summary is also still available. Busaba is played by actress Aranya Namwong. Busaba's father, played by Adul Dulyarat, has arguments with Luang Soradet (Sahat Piempongsan). Her father dies so Busaba has to be responsible of the paternal ranch. Luang Soradet wishes to extend his own ranch but Busaba refuses to sell. Heun (Sombat Methanee) gets a job in Busaba's ranch but gets trouble with Luang Soradet's ruffians. Kaenjai Meenakanit is on Luang Soradet's side and tries to convince Heun to stay aside. Heun, bathing in waterfalls, helps Kaenchai, whose ankle is twisted. She asks for a massage as a way to entice Heun, who finally throws her in the pond! Heun does protect Busaba as she gets issues with ruffians (house burnt, kidnapping). Heun and his friends push back ruffians attacking a village. Kaenchai shots one ruffian leaders but gets shot also. Heun releases Busaba, who has been captured by ruffians. All friends are arrested by the police. As usual, it is disclosed at the end of the movie that Heun is in fact undercover policeman officer when all ruffians has been neutralized. Busaba is upset but finally forgives Heun. The movie producer was famous director Tae Prakardwutthisan. The movie was given by Tae Prakardwutthisan to Thai Film Archives but it was never released commercially. The movie features 4 songs recorded in 35mm format. Comics are strongly present with veteran actors Sompong Phonmitr, Kokheng, Sukon Koewliam and Joomjim Khemlek.



Year

: 1968



Thai title

:

สายพิณ




English title

:



Rating

: 3/5


Director

:



Main actor

: Sombat Methanee,Ruj Ronnapop,Preuhat Boonlong


Main actress

: Naowarat Watchara
"Sai Pin" (สายพิณ) is a Thai movie released in year 1968. Main actors are Sombat Methanee and Naowarat Watchara. Actress Naowarat was just famous after playing her first role in movie "Chula tree koon" (จุฬาตรีคูณ) with Mitr Chaibancha in year 1967. She even got a Thai cinema golden award (รางวัลตุ๊กตาทอง). สายพิณ is her second movie. The next next famous movie featuring Sombat and Naowarat was "Lom Krot" (ลมกรด). "Sai Pin" (สายพิณ) full movie was supposed to be lost. Finally in year 2013, a final 16mm copy was found belonging to a former outdoor cinema projectionist. The full movie is then still available in Thailand and lasts more than two hours ten minutes. It was never released in any video format. A 20mn extract can be found online. The picture is still very colorful. The movie features also two songs. Sombat rents a house (มาเช่าบ้าน). Ruj Ronnapop is the second tenant. He claims to be rich but has no money. Ruj also claims to be the son of a famous company owner (Preuhat Boonlong). Sombat is the real son but he believes his father has maybe another son with a second wife. The two sisters (Naowarat and สุชาวดี มุกดาประกร, new actress starring for the first time in this movie) are renting part of their house. The company warehouse was burnt. Who did it? Sombat is investigating. The sister gets raped by the ruffian head. As usual, the police arrives when everything is settled down. In the older movies, it was almost impossible to find a movie where bad guys would win. The movie ends up by a double wedding (Sombat / Naowarat and Ruj / สุชาวดี มุกดาประก). Ruj is finally also adopted by Sombat's father as he is finally a good guy also.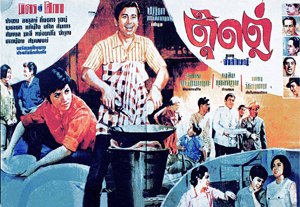 Year

: 1967



Thai title

:

ตุ๊ดตู่




English title

:



Rating

: 3/5


Director

:



Main actor

: Mitr Chaibancha,Daonoi Duangjai,Sukon Koewliam,Prachuap Ruekyamdee,Somkuan Krajangsat,Adul Dulyarat,Ruj Ronnapop,Tat Ekathat,Sompol Kongsuwan


Main actress

: Sopha Sataporn,Kingdao Daranee,Metta Roongrat,Kaenjai Meenakanit,Mom Chan Phuangwan,Malee Wetpraseri
Tut Tu / ตุ๊ดตู่ is a Thai movie released in year 1967 with Mitr Chaibancha and Sopha Sataporn. It is a lost movie in Thailand. Only a 2mn30s sequence is left. Other actors include Daonoi Duangjai, Malee, Malee Wetpraseri, Mom Chan Phuangwan, Kingdao Daranee, Prachuap Ruekyamdee, Sukon Koewliam, Somkuan Krajangsat, Adul Dulyarat, Metta Roongrat, Kaenjai Meenakanit, Ruj Ronnapop, ruffians Tat Ekathat (ทัต เอกทัต) and Sompol Kongsuwan. Sopha is called Tut Tu. Somebody asks for the hand of Tut Tu as a wedding procession (ขบวนแต่งงาน) is seen. She flees to Bangkok. The movie summary is still available thanks to some very old Thai stars magazines.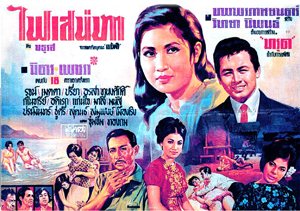 Year

: 1967



Thai title

:

ไฟเสน่หา




English title

:



Rating

: 3/5


Director

:



Main actor

: Mitr Chaibancha,Adinan Singhiran,Ruj Ronnapop,Sukon Koewliam,Sompong Phonmitr,Joomjim Khemlek,Preuhat Boonlong


Main actress

: Petchara Chaowarat,Metta Roongrat,Preeya Roongrueng,Kaenjai Meenakanit,Orasa Isarangkul,Chosri Misommon
Thai movie ไฟเสน่หา was released in year 1967. It features Mitr Chaibancha as main actor and Petchara Chaowarat as main actress. This movie is lost in Thailand and only a 13s sequence is left to be seen. During the short sequence Mitr and Petchara are seen on a raft. Veteran actor Adinan Singhiran can also be seen. On the movie poster, 18 Thai stars are announced, i.e. Mitr Chaibancha, Adinan Singhiran, Ruj Ronnapop, Sukon Koewliam, Sompong Phonmitr, Joomjim Khemlek, Preuhat Boonlong (สาหัส บุญหลง), Petchara Chaowarat, Metta Roongrat, Preeya Roongrueng, Kaenjai Meenakanit, Orasa Isarangkul, Chosri Misommon.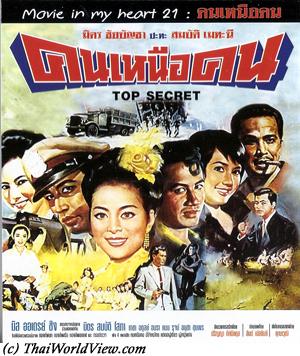 Year

: 1967



Thai title

:

คนเหนือคน




English title

: Top secret



Rating

: 3/5


Director

: Wichit Khunawut



Main actor

: Mitr Chaibancha,Sombat Methanee,Adul Dulyarat,Kecha Plianvithee,Boo Wibunnan,Choomporn Theppitak,Ruj Ronnapop,Man Teeraphol


Main actress

: Sopha Sataporn,Amara Asavananda



Buy now

:

A mysterious Dakota airplane drops a big parcel in the sea, containing in fact the ruffians leader (หัวหน้าใหม่) called Adamcha (Kecha Plianvithee). Meanwhile two Royal Thai airplanes intercept the plane forcing it to land at Don Meuang airport. Thai Army is then aware that a mysterious organisation is preparing plans to harm Thailand so Thai army chief asks his officers to do their best to protect Thailand, Buddhism and the King. Police inspector (สารวัตร) Chet (Mitr Chaibancha) needs to help also and to find an agent called double X. Double X is in fact a police woman called Chin Chin. Adul (Adul Dulyarat) steals some documents in governmental building. Amara (Amara Asavananda), a young lady, supports Adul as part of the organisation. The secret organisation (ผู้ก่อการร้าย) brings disorder in Thailand through bombs and Thai police seems unable to stop them. Chet follows Adamcha's car but gets captured when entering in Adamcha's house. The police chief asks another policeman to help, i.e. Chet's younger brother called Sombat (Sombat Methanee). Real actor names are used in this movie as anyway it was a 16mm movie with dubbing. During an evening party to celebrate their bad achievements, double X's team kidnaps Amara and asks for a ransom. Adul follows the police ladies and after being summoned by Chin Chin (Audrey Sing) regarding his treacherous behavior over Thailand, he accepts to change side. He works for the organisation because of his love for Amara. Sombat helps to release Amara and shoot some policemen (แสดงหนัง). Sombat is finally accepted in the secret organisation following a test. A bank attack turns to a fiasco as police was aware. Sopha (Sopha Sataporn), Sombat's love, is injured. It seems there is spy in the organisation. Sombat helps his brother Chet to flee. Chet is back to the house with full Police squad but Adamcha and his clique have already left. Chet succeeds to get the plan of their new retreat but the ruffians, seeing army soldiers, retreat to a well hidden place. Adul provides the location to the police but is identified as traitor. He is imprisoned and refuses any help from Amara, his former love. Police and army storm the hidden place of their organisation. Following various shootings and Adul's sacrifice, the secret organisation is vanquished. It is another nationalist 1960s movie with police and army protecting Thailand against external threats. The picture quality features many red and green lines (เส้นฝนตกมาก) as company Phanmitr has used the latest film reels available for this movie, which was very popular in 1960s. คนเหนือคน (Top Secret) is a 2h15mn movie. It is also features a few popular songs including a duo Sombat and Sopha.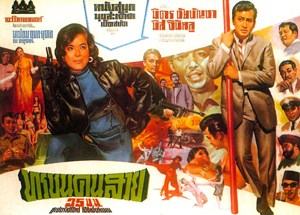 Year

: 1967



Thai title

:

ทรชนคนสวย




English title

: Operation Revenge



Rating

: 4/5


Director

: Mom Ubon Yukol



Main actor

: Mitr Chaibancha,Ruj Ronnapop,Somkuan Krajangsat,Sukon Koewliam,Man Teeraphol,Adinan Singhiran,Preuhat Boonlong,Sawin Sawangrat,Sompol Kongsuwan


Main actress

: Orasa Isarangkul
Thai movie ทรชนคนสวย / Operation Revenge was released in year 1967 and lasts 2h26mn. This movie is directed by Mom Ubon Yukol who is a Thai prince and father of famous Thai director Chatrichalerm Yukol. Thai actors and actresses featured in this movie are Mitr Chaibancha, Ruj Ronnapop, Somkuan Krajangsat, Sukon Koewliam, Man Teeraphol, Adinan Singhiran, Orasa Isarangkul, Preuhat Boonlong, Sawin Sawangrat, Sompol Kongsuwan, สิงห์ มิลินทราศรัย, อดุลย์ กรีน, ทานทัต วิภาตะโยธิน, สักรินทร์ ปุญญฤทธิ์. ทรชนคนสวย is a Thai movie in 35mn format. It was released only in VHS format. In 2020, Thai Film Archives released the remastered version on YouTube on New Year's Eve day. The Film Archive digitized the preserved 35mm film, did cleaning and color grading to match the original release. ทรชนคนสวย is a spy genre movie from 1960s. Such movies follow the popular trend traced by James Bond 007 films. Movie ทรชนคนสวย has a nice and colorful picture. Chairman Wichien (Preuhat Boonlong) is accused of being a traitor causing the secret organization to lose opium worth 100M THB. The organization asks his best friend Tenglin to kill him. He discloses to his friend that opium is hidden in Hong Kong but still gets killed by him. Pusit (Somkuan Krajangsat) is a military officer looking for opium. Police are also looking for it. Vichien's daughter Lin (มิสจิ้นหลู - นางฟ้า from Taiwan) is living in Hong Kong. She wishes to understand why her father was killed. Reung (Mitr Chaibancha), a former policeman, meets her in a hotel. Cheng (Man Teeraphol) contacts Reung to buy the plan guiding to the hidden opium drug versus a 20M baht fee. As Cheng has only half of the money, he gets only half of the map! Suriyan (Ruj Ronnapop) is a policeman. Lin (น่ารัก) listens to Reung and spies his room (แอบฟังอยู่), but she gets discovered by him. She wants to buy the map also. Meanwhile Cheng discovers that sympathetic ink has been used for the map he just bought! Reung shall meet Lin in a nightclub located in Kowloon. She is singing there. Two songs are featured (ปากของคุณน่าจูบจังเลย). Reung invites Lin to Bangkok. Reung gets aggressed by Cheng and his ruffians. Luckily he gets help from Thai policeman Suriyan. Reung and Suriyan need to flee the nightclub. Back to Bangkok, Reung loses a bet to a mysterious Indian guy wishing to get his clothes as the map is inside. Following a fight in the casino, Reung flees wearing underwear only and riding a motorbike with Lin. Reung is accused to have killed the Indian guy and is arrested by Thai police. Pusit helps him to get away. Ruffians try to get back the drugs worth 100M bath (ฝิ่น). Tenglin suspects the drugs to be hidden in Vichien's tomb, but he doesn't inform other ruffians. Pong (สิงห์ มิลินทราศรัย) and Sawin Sawangrat follow him. Lin is going to Songkla and shall meet Reung there. Thai Police are on the way to Songkla also. Suda (Orasa Isarangkul) pretends to be a car failure to meet Reung. She is dangerous (ปีศาจ) and is working for the secret organisation (ถึงอาบคงไม่หายความร้อน / ยินดีเสมอครับ) led by Sompol Kongsuwan. Meanwhile Lin is poisoned in the train by Tenglin, her father's former best friend. She is saved by Pusit. Pong, once knowing where opium is hidden, then kills Tenglin. The opium is hidden under Vichien's grave. Meanwhile ruffians led by Sompol Kongsuwan have a misunderstanding with ruffians led by Cheng. Overcoming danger and traps, Reung and Pusit succeed to enter under the grave and release Lin. Ruffians flee by submarine but it is sunk by Thai army rapid boats. Reung and Lin get married.



Year

: 1967



Thai title

:

7 พระกาฬ




English title

:



Rating

: 3/5


Director

:



Main actor

: Mitr Chaibancha,Adul Dulyarat,Prachuap Ruekyamdee,Ruj Ronnapop,Boo Wibunnan,Sukon Koewliam,Adinan Singhiran,Paen Pleumsachai


Main actress

: Petchara Chaowarat,Preeya Roongrueng,Kwanta Buapliensri



Buy now

:

Seven convicts (ผู้ต้องหา) are inside a van. Their van has a crash so they can successfully escape. They have all different characters, i. e. Dam Prasakorn (ดามพ์ ดัสกร) a car robber, Tong Bai (ทองใบ) a former traditional folk singer (พระเอกลิเก), Han Meuang Tong (หาญ เมืองทอง), Ai Meut (มืด ธรณี), Khom (คม) a tireless card player, Boonmee (บุญมี) a gunman (มือปืน), Phayak (พยัคฆ์). Police is chasing them so some of them are stealing motorbike, car or horse to flee away. Han Meuang Tong, son of a village headman (กำนันเหิน), is having issues with local mafia leader Saen (พ่อเลี้ยงแสน). Saen accuses Han Meuang to have killed his younger brother ten years ago. He wishes to take revenge and sends ruffians to kill him in his hotel. Paeng - 1960 cliche of small virtue lady featured with a cigarette - is supposed to seduce Han Meuang while Pol shall shoot him. It fails and Pol is captured by police thanks to Han Meuang and Thong Bai. Han Meuang's father is unhappy with his son (เสือร้าย) and wishes to kill him as he is now a convict (โจร). Soi (สร้อย), daughter of Saen, helps to hide Khom in her room and asks her father to recruit him. Sia (เสี่ยมังกร), another local mafia leader involved in illegal sawmills, wishes Han Meuang to join him but Saen's ruffians injure Han Meuang following a trap. Saen's ruffians terrorize the villagers to find where Han Meuang is hiding. His sister is even kidnapped. Han Meuang needs to fight back (สู้). A mysterious masked leader (นายอนันต์) reunited the seven fugitives (7 พระกาฬ) together and also all Saen / Sia ruffians. He needs them for a secret mission. They need to get a cargo of weapons to be sold illegally. But police is aware and tries to catch them. There is a police spy within the seven guys (มีหนอนบนไส้). A police inspector is captured to find who the spy is. It is Dam Prasakorn (กรมสืบราชการ). The police inspector (สารวัตร) finally succeeds to flee and it is discovered that three of the former fugitives are working for the police. Han Meuang, wishing to help Thailand, helps to release them. Traitors to Thailand (ทรยศขายชาติ) shall be stopped. Many fights and shootings are happening between the four men and the traitors. Police intervenes also. Ruffians are all killed and their leader's helicopter is shot down by Han Meuang. Finally Han Meuang is an undercover soldier (กองทัพ) so he reconciles with his father. There is moralist ending as Tong Bai also surrenders to police and gives back the money left in a suitcase by the ruffians. This movie includes a mix of action and comedy. it features a beautifully restored colorful picture and lasts 2h21mn. It reminds of 1954 "Seven Samurai" Japanese movie or 1960 "The Magnificent Seven" American movie. Another Thai movie named "7 พระกาฬ" was released in 1983.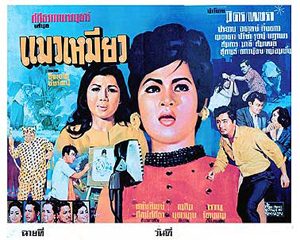 Year

: 1967



Thai title

:

แมวเหมียว




English title

:



Rating

: 3/5


Director

:



Main actor

: Mitr Chaibancha,Daonoi Duangjai,Adul Dulyarat,Sukon Koewliam,Prachuap Ruekyamdee,Ruj Ronnapop,Somkuan Krajangsat


Main actress

: Petchara Chaowarat,Malee Wetpraseri,Mom Chan Phuangwan,Preeya Roongrueng,Metta Roongrat,Kingdao Daranee,Chadaporn Wachirapranee



Buy now

:

Maew (Petchara Chaowarat) is orphan (เด็กกำพร้า). Beum (Daonoi Duangjai) is her close friend. Doctor Yot Kwan (Adul Dulyarat) wishes to become the father of Maew (อุปกรณ์เลีืยงลูก). The doctor's mother (Malee Wetpraseri) also agrees. The doctor suspects that Maew is his own daughter with another woman called Amon. Mom Chan Phuangwan and Sukon Koewliam are domestic helpers in the doctor's house. They are playing relief comic characters. Preeya Roongrueng (แม่ใหม่) is now married to the doctor. She has a son called Pongsak (Prachuap Ruekyamdee) and a daughter called Pla (Metta Roongrat). Kachen (Mitr Chaibancha), taxi driver being aggressed, is helped by Maew and Beum. Maew and Beum are not welcomed by Pla and her mother. The woman called Amon (Kingdao Daranee) is forced by ruffians. In front of the doctor, Preeya and Pla are polite but behind his back, they try everything to chase Maew and Beum from the house. Doctor Yot Kwan sees Amon in a taxi driven by Kachen. The doctor tries to prevent Amon to be beaten by her pimp called Mek. He gets some help from Kachen, who is then slightly injured. Thanks to his kindness, Kachen is authorized to come to the doctor's house whenever he wishes (ยินดีรันใช้). Pla and her mother continue to be hypocrites (หมั่นไส้ / ตอแหล) in front of the doctor and the grandmother. Saranee (Chadaporn Wachirapranee) uses Sarayut (Ruj Ronnapop) to seduce Pla. Somkuan Krajangsat is a policeman. The mother and daughter try to tease (แกล้ง) Maew by hiding jewelry under her bed. Phi Mek is close friend with Chadaporn. Their plan is to take pictures of Pla and Ruj in compromising situation and ask for money. Amon warns Maew. Amon warns also Pla but it is almost too late for Pla. Luckily Kachen arrives on time as Amon called the police. Kachen is a relative of Somkuan. Finally Amon dies in the arm of Maew as she refused to get any help believing she is bad person (ชั่ว). Preeya and Pla apologise for their behavior. The movie แมวเหมียว lasts 2h07mn.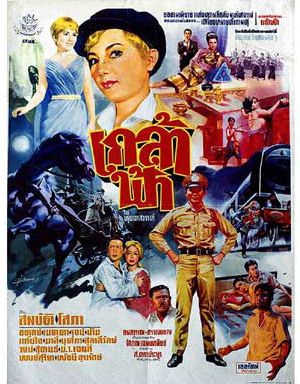 Year

: 1966



Thai title

:

เกล้าฟ้า




English title

:



Rating

: 1/5


Director

:



Main actor

: Sombat Methanee,Ruj Ronnapop,Adul Dulyarat


Main actress

: Sopha Sataporn,Prim Praphaporn,Metta Roongrat
Suey is a young man living in a remote place with a teen, an old blind grand mother and horses. He is a cart driver in Lampang. Roi (Sombat Methanee) is a policeman enquiring on local murders. Khun Kier is a doctor. The doctor wishes to know more about Suey. He finds a passage in his house that leads to a mysterious palace. Mixing reality and dream, the doctor seems to have been a king in previous life and has many women in his harem. Waen Fa was his official wife but he seduces Kae Son, a beautiful musician. Waen Fa has a son called Rom Fa. She is too excessive and wants her son's love only for her with no share with his wife Maria. Klao Fa is the daughter of Maria and Rom Fa. Maria is not able to support the pressure from Waen Fa and leaves the palace. She marries a doctor. Klao Fa has a personality problem as her parents have divorced and make their new life without her. Suey and Klao Fa are the same person. Finally Roi and Klao Fa marry together. This movie has old picture without much color. Soundtrack is new and there is no more Sombat Methanee's voice.



Year

: 1966



Thai title

:

ศึกบางระจัน




English title

: The Battle of Bang Rajan



Rating

: 4/5


Director

:



Main actor

: Sombat Methanee,Taksin Jampol,Ruj Ronnapop,Adul Dulyarat,Sawin Sawangrat,Preuhat Boonlong,Anucha Ratanaman


Main actress

: Pissamai Wilaisak,Preeya Roongrueng



Buy now

:

This movie is about Bang Rajan village. This village is located north of Ayutthaya, the old capital of Siam, predecessor state to modern Thailand. The village played a famous role related to its resistance against the Burmese in the war that saw the destruction of Ayutthaya city in 1767. Tap is a Siamese soldier leader. Siamese people have internal conflicts while they are also fighting with Burma (พม่า). Siamese soldiers kidnap two ladies, who are Tap's sister and Tap's fiancee. They are raped. Tap has the difficult task to choose between rescuing his sister and fiancee or leading the villagers far from Burmese soliders. They take refuge inside Bang rajan village. They help and support each other. Siamese from various villages lure a group of Burmese soldiers with the promise of young women and then turn upon them and kill the whole group. This event leads the whole Burmese army to Bang Rajan. Tap, after taking care of the villagers, goes to rescue his sister and fiancee. His fiancee is soiled (ตัวเสีย) so they cannot come back together. Tap forgives to the Siamese men as they promise to take care of the young ladies so they join his group in Bang Rajan. Burmese army starts to assault Bang Rajan. Burmese has guns but Siamese people have only swords. Women are fighting also. It is the duty for men to become soldier and protect the nation. Burmese come with elephants and big guns. Siamese people needs a big gun to fight back Burmese army. Ayutthaya king refuses to give them a big gun as Bang Rajan is a small village only. Ayutthaya people donate utensils for Bang Rajan to mold a big gun but it is fissured during moulding. Siamese are disadvantaged by their lack of firearms. As Burmese do not succeed to enter inside Bang Rajan with their infantry, they build forts surrounding the village. Siamese soldiers cannot destroy the forts built by the Burmese and suffered casualties from infantry assaults upon those forts. One of the Siamese leaders becomes drunk and furious. Upon a water buffalo, he takes a few men and attacked the Burmese. This event remains a forever legend and has been reused on poster of the 2000s Bang Rajan movie. He was killed and his men routed. Tap and his men succeed to neutralize the big gun before it destroys Bang Rajan walls. But they fail when Burmese use weapons similar to Katyusha multiple rocket launchers. Villagers are outnumbered and killed. Bang Rajan villagers and soldiers sacrifice their life for the nation. Tap and his new girlfriend are the only one to survive. They are rescued by future King Taksin, who liberated Siam from Burmese occupation after Ayutthaya fall in 1767. Such movies were very popular during nationalist era of Thailand, i.e. 1960s with communist threat risk and the 2000s folliwing the 1997 Asian Financial Crisis. This movie highlights the sacrifice of villagers not supported by the official administrators. Sombat Methanee got a gold statuette award (รางวัลตุ๊กตาทอง) received from HM the King for his best actor work. In 1966 the government renovated Bang Rachan camp (ค่ายบางระจัน).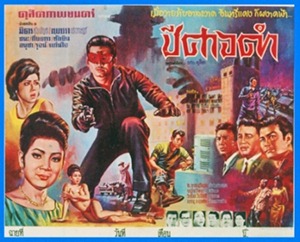 Year

: 1966



Thai title

:

ปีศาจดำ




English title

:



Rating

: 3/5


Director

: Sor Asanajinda



Main actor

: Mitr Chaibancha,Chana Sriubon,Taksin Jampol,Anucha Ratanaman,Ruj Ronnapop,Choomporn Theppitak


Main actress

: Petchara Chaowarat,Kingdao Daranee,Kaenjai Meenakanit
Thai movie ปีศาจดำ was released in year 1966. Main actor is Mitr Chaibancha and main actress is Petchara Chaowarat. The movie is lost in Thailand but a 8 minutes sequence remains to be seen at Thai Film Archives. Other actors are Chana Sriubon, Taksin Jampol, Kingdao Daranee, Anucha Ratanaman, Ruj Ronnapop, Kaenjai Meenakanit, Choomporn Theppitak. The 8 minutes sequence is divided into three small films. Two of the 3 small films still feature nice colors. It is out take sequences so scenes that were rejected in final release. Sequences allow to see Choomporn Theppitak fighting with Taksin Jampol, a Black and White scene of a man wearing black clothes and a mask, Mitr Chaibancha talking to เชาวน์ แคล่วคล่อง, Mitr Chaibancha being captured, Ruj - Taksin - Kingdao are seen. A few still pictures showing some sequences are still available.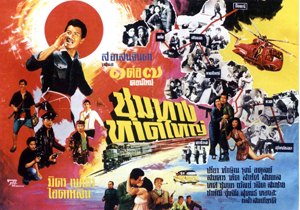 Year

: 1966



Thai title

:

ชุมทางหาดใหญ่




English title

:



Rating

: 4/5


Director

: Sor Asanajinda



Main actor

: Mitr Chaibancha,Sor Asanajinda,Tawan Siriwat,Ruj Ronnapop,Sukon Koewliam,Choomporn Theppitak,Taksin Jampol,Adul Dulyarat,Tat Ekathat,Somkuan Krajangsat,Chanee Yotchai


Main actress

: Petchara Chaowarat,Preeya Roongrueng,Sarinthip Siriwan
Thai movie Chum Hat Jai (ชุมทางหาดใหญ่), directed by Sor Asanajinda in year 1966, is lost in Thailand but luckily a sequence of 1h08mn (three last reels) is still left. It was stored in a museum of a Thai temple in the north of Thailand. Only incomplete summary is available. This movie is a mix of comedy, romance and action. This movie was shot in Songkhla area so showing how this southern city was fifty years ago. As the movie is in 16mm format, it requires live dubbing so the remaining extract is in mute state making it more difficult to understand. Sena Prachan (Mitr Chaibancha) is an army officer. Jing Gang (Petchara Chaowarat) is a fearsome young lady (ไม่กลัวใคร). Sena Prachan is pretending being crazy (อาคารเป็นบ้า) in order to spy Chao Likim's (Tawan Siriwat) activities. Ai Darling (foreign actress) is Chao Likim's daughter. Sena's kisses are able to calm down Ai Darling and also Jing Gang while he is investigating on ruffians. Many other characters are present such as Chanee Yotchai as ruffian, Ruj Ronnapop (Mayong), Sukon Koewliam, Choomporn Theppitak, Taksin Jampol (Bo Bang Rajan), Preeya Roongrueng, Adul Dulyarat (captain). Ai Darling and Jing gang fight over Sena Prachan. Tat (Tat Ekathat) is head of police. Mayong is shot facing seven ruffians. Chao Likim hits his own daughter considered as a traitor (ลูกสาวทรยศ). Sena Prachan helps but is also finally captured. Jing Gang's parents are Somkuan (Somkuan Krajangsat) and Thanyong (Sarinthip Siriwan). Thanyong gets shot while helping Bo Bang Rajan, who is also an undercover military officer. Sor Asanajinda is also playing. A train is chased by a car and an helicopter through Songkhla region landscape. Somkuan, a repent (ผู้ร้ายที่จะกลับใจ), is forced by Chao Likim to be part of a prisoner exchange deal (แลกตัว) but he is carrying a bomb. The movie ends up with multiple shootings between ruffians and the heroes. Somkuan gets shot by Chao Likim but this latter also gets shot by Jing Gang and Sena Prachan.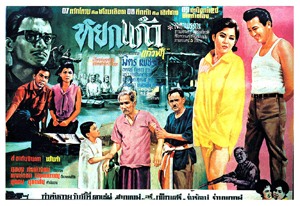 Year

: 1965



Thai title

:

หยกแก้ว




English title

:



Rating

: 4/5


Director

: Phan Kam



Main actor

: Mitr Chaibancha,Adul Dulyarat,Ruj Ronnapop,Sukon Koewliam,Chao Klaewklong


Main actress

: Petchara Chaowarat,Kingdao Daranee,Phong Lada Pimolpan,Mom Chan Phuangwan,Chadaporn Wachirapranee
Thai movie หยกแก้ว was released in year 1965. Main actors and actresses include Mitr Chaibancha, Petchara Chaowarat, Adul Dulyarat, Kingdao Daranee, Ruj Ronnapop, ม.ร.ว. ประสิทธิศักดิ์ สิงหรา, Phong Lada Pimolpan, Sukon Koewliam, Chao Klaewklong, อภิญญา วีระขจร, Mom Chan Phuangwan, Chadaporn Wachirapranee. Movie director is Phan Kam. Sor Asanajinda made the script. The film was never released on VHS / VCD / DVD format but the movie in 16mm format can still be seen in Thailand. It lasts 1h34mn and a dubbed version was shown in Thai Film Archives in 2020. Rich man (ม.ร.ว.ประสิทธิศักดิ์ สิงหรา) welcomes a new domestic helper called Yok (Kingdao Daranee) and his son Chaiyaporn (Adul Dulyarat) loves her immediately. Adul's sister promises Soi Kam (Chadaporn Wachirapranee) to break this relationship. Soi Kam invents a relationship between the doctor and Yok. Chaiyaporn has a misunderstanding with the doctor (Ruj Ronnapop) and Yok. Yok is pregnant and dies. Many years have passed. Narong (Mitr Chaibancha) and Wan / Yok Kaew (Petchara Chaowarat) meet. Narong loves Wan immediately. Yok is back twenty years later. Wan is her daughter. The family will lose the heritage to Yok Kaew except if Chaiyaporn resumes a relationship with Yok. Chaiyaporn finally understands that Soi Kam lied to him for many years. Soi Kam hires Chao Klaewklong to get rid of Yok and Yok Kaew...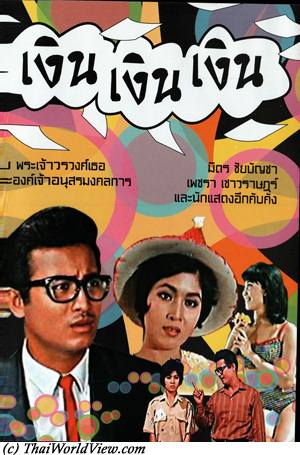 Year

: 1965



Thai title

:

เงิน เงิน เงิน




English title

: Money Money Money



Rating

: 5/5


Director

: Prince Anusorn Mongkolkarn



Main actor

: Mitr Chaibancha,Charin Nantanakorn,Lor Tok,Sukon Koewliam,Adul Dulyarat,Sawin Sawangrat,Daonoi Duangjai,Dokdin Kanyaman,Man Teeraphol,Ruj Ronnapop,Thuam Thoranong,Banglae


Main actress

: Petchara Chaowarat,Wilaiwan Watthanaphanit,Orasa Isarangkul,Chadaporn Wachirapranee,Mom Chan Phuangwan,Chosri Misommon,Sulaleewan Suwanthat



Buy now

:

The movie starts by a small introduction highlighting that everybody fights for money (เงิน เงิน เงิน). This introduction features many actors or actresses with cameo role such as Daonoi Duangjai, Dokdin Kanyaman, Man Teeraphol, Chadaporn Wachirapranee. Tu (Mitr Chaibancha) comes back to Thailand after overseas studies in USA. Tum (สุมาลี ทองหล่อ) is his sister. They are orphans. Their uncle Hirun is a creditor. Mom (Mom Chan Phuangwan) is Hirun's assistant. For Hirun, money is work and work is money. He has no feelings for his customers personal problems. Tu's uncle wants him to take over his duty but Tu doesn't like such job bringing suffering to people (สงสาร) so that is why he has done artistic studies as it can bring happiness to people. He meets Kingkaew (Petchara Chaowarat), a vagabond. Wishing to help poor people and teased by Kingkaew, he proposes to bring the A-ram boys band (เด็กวัด) in Bangkok to play music in a nightclub. His uncle chases him away as he cancelled all debt contracts. Tum is chased also. Teacher (ครู) Rangsun (Charin Nantanakorn) will help writing songs for the band. There is a crazy lady (Wilaiwan Watthanaphanit) in Hirun's house looking for her children. Tum wonders if she is her mother or not. They arrive in Bangkok but have little money. They met a restaurant owner's daughter (Chosri Misommon), willing to join them as a singer. Pa (Sulaleewan Suwanthat) is their house owner. They borrow 300 000 baht from Pa but Tu has to promise to marry her daughter (Orasa Isarangkul) Nataya. Pa knows that Tu is a potential rich heir. Lor Tok proposes ideas for their nightclub promotion. Tu's concept is that art belongs to everybody. Hirun wants to be sure his nephews will fail so he hires ruffians to destroy their nightclub. The ruffians steal their money so Tu and his friends decide to serve and cook by themselves. Hirun comes on the opening day with a bunch of tough ruffians to make noise and also kidnap the performing girls. Indian actor Banglae (บังเละ) is acting as nightclub guard. Kingkaew always find solutions to problems occurring. The ruffians drunk the cook and waiters to delay orders. Hirun takes the teacher (ครู) Rangsun's piano as he didn't pay his rent due to sickness. Adul Dulyarat is a doctor trying to save the teacher Rangsun. Hirun sends his ruffians to create a brawl in order to destroy the nightclub. Artist should be protected. The Thai King giving cinema awards inspires them not to stop fighting (ศีลปินไม่เคยตาย). By hazard, Tum and her friends have chance to release the crazy woman called Nat. Another uncle of Tu called Sompong is released from prison after twenty years. He narrates to Tu the story of his father betrayed by his own brother Hirun and who finally committed suicide. Nat is reunited with her two children, Tu and Tum. All the money of Hirun is coming from the one million baht that the father gave him to raise his children. They promise to take revenge on his 60th birthday coming soon. Hirun has to face the truth on his birthday turning to be a nightmare for him. He finally lost his whole fortune. The nightclub featuring arts becomes a huge success. This movie features 14 songs. A double DVD (3h20mn) including the 35mm movie fully restored was released by Thai Film Archives. The whole movie should even be a bit longer as the song หญ้าโลมดิน sung by Mitr and Petchara is missing. It is present on the VHS version and on a 16mm version left. Another movie version was released in year 1983. Two TV series were released in years 1997 and 2007. The producer is Prince หม่อมอุบล ยุคล. This movie includes more than 60 Thai actors, actresses and singers. Petchara got a Thai cinema reward for this movie. This movie is part of the second 25 films heritage list announced on October 4 2012, which is Thai Movies Conservation Day.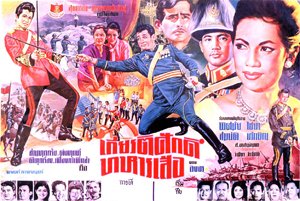 Year

: 1965



Thai title

:

เกียรติศักดิ์ทหารเสือ




English title

:



Rating

: 3/5


Director

: Sor Asanajinda



Main actor

: Sombat Methanee,Chaiya Suriyun,Sor Asanajinda,Adul Dulyarat,Taksin Jampol,Ruj Ronnapop,Anucha Ratanaman,Sompong Phonmitr


Main actress

: Pissamai Wilaisak,Kingdao Daranee,Somjit Sapsamruey
เกียรติศักดิ์ทหารเสือ is a Thai movie released in year 1965. Sor Asanajinda is movie director and actor. The film is lost in Thailand but luckily there is still a "Behind the screen" sequence lasting 20mn. It is in 16mm format so there is no sound and is in black and white color. Main actors are Sombat Methanee, Chaiya Suriyun and Pissamai Wilaisak. A few sequences are featured, i.e. Sor Asanajinda giving orders to Taksin Jampol, Sombat Methanee and Chaiya Suriyun, Pissamai crying, soldiers meeting in which Sombat is stripped of his medals by the general himself and gets slapped also, meeting between Sor Asanajinda and Adul Dulyarat. A general comes and strips himself of his medals. He wishes to kill himself but Sor Asanajinda prevents him to do so. They are all disrupted by an event. During a big assembly in full uniforms, Sor Asanajinda is repeating spade fighting. While Adul is writing, an officer is going to shoot him. Hopefully Sombat intervenes at same time to stop him. The soldier has same face as Sombat! Sequences riding horses. Fight between Sombat and Chaiya. Sequence under the rain where Sombat carries Pissamai. Chaiya helps to get a flag back to avoid Sombat to be executed. The story is inspired by the Three Musketeers from French author Alexandre Dumas. Another version was released in year 1983 and directed again by Sor Asanajinda with actors Toon Hiransap, Kowit Wattanakul, อนุสรณ์ เตชะปัญญา and Pissamai Wilaisak. Finding and watching the 1983 version would allow better understanding of the 1965 behind the screen sequences. Protagonists names are พ.ท.พิสุทธิ (Taksin Jampol), พ.ต.นิเวศน (Chaiya Suriyun), ร.อ.ภูเบศร (Sombat Methanee), หญิงใหญ (Pissamai Wilaisak), หญิงเล็ก (Kingdao Daranee).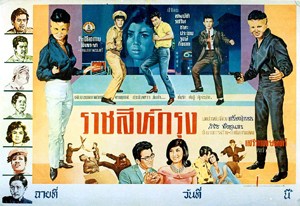 Year

: 1964



Thai title

:

ราชสีห์กรุง




English title

:



Rating

: 3/5


Director

:



Main actor

: Sombat Methanee,Ruj Ronnapop,Chana Sriubon,Sompong Phonmitr,Kokheng,Prachuap Ruekyamdee,Adul Dulyarat,Sukon Koewliam


Main actress

: Malee Wetpraseri, Kingdao Daranee,Preeya Roongrueng
Thai movie ราชสีห์กรุง was released in year 1964. Main actor is Sombat Methanee and main actress is รสลิน วิลาวัลย์. Other actors and actresses are Ruj Ronnapop, Chana Sriubon, Sompong Phonmitr, Kokheng, Prachuap Ruekyamdee, Adul Dulyarat, Malee Wetpraseri, Kingdao Daranee, Preeya Roongrueng, Sukon Koewliam. The movie is lost in Thailand but a 16 minutes sequence remains to be seen (เศษหนัง). As the film is in 16mm format, the sequence is mute as there is no dubbing. Movie director was วิรัช พึ่งสุนทร. Some left sequences show Malee Wetpraseri discussing with Ruj and Kingdao, Sompong Phonmitr wearing a marine suit, Kingdao discussing with her father and mother (Malee). A coin is discovered in a paper. Adul is meeting Ruj for the first time and animosity can be felt. Ruffians are seen on a boat. Ruffians are attacking a house but they get pushed back by inhabitants. Koh heng, Chana Sriubon are having a heated discussion with two other men and a lady in a bar. Misunderstanding and fighting happen. A brawl occurs in the bar. Ruj, Prachuap, Sompong and mariners storm the ruffians' place. Chana is talking to a lady (รสริน วิลาวัลย์) over the phone and then he is picking her up by car. A sequence is showing a house near the sea and people are having fun in a swimming pool. Adul is seen in discussion with another gentleman. Chana is talking with รสริน วิลาวัลย์. Sombat Methanee, main actor, is unfortunately not seen in any of the remaining sequences. The movie is mixing romance and action. The movie poster was drawn by Piak Poster (เปี๊ยกโปสเตอร์).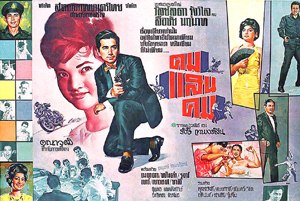 Year

: 1964



Thai title

:

คมแสนคม




English title

:



Rating

: 3/5


Director

: Wichit Khunawut



Main actor

: Luechai Natnat,Adinan Singhiran,Adul Dulyarat,Ruj Ronnapop,Man Teeraphol,Choomporn Theppitak


Main actress

: Metta Roongrat,Yaowaret Nisakorn
Thai action movie คมแสนคม was released in year 1964. It features Luechai Natnat as main actor. The movie is lost in Thailand but a 3mn30s trailer remains to be seen. Wichit Khunawut is one of the most famous Thai director. Songs were written and sung by Charin. Various short sequences are showing new actress Warada Wongwilai (วัลย์ลดา รุ้งวิไล), Adinan Singhiran, Adul Dulyarat as head of the ruffians, Ruj Ronnapop, Man Teeraphol, Metta Roongrat as a singer. A few fights and gun shootings happen. Old views of Bangkok can be seen. Luechai was a famous main actor before the arrival of Mitr Chaibancha and Sombat Methanee.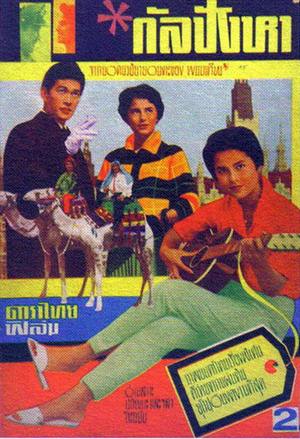 Year

: 1962



Thai title

:

กัลปังหา




English title

:



Rating

: 3/5


Director

: Wichit Khunawut



Main actor

: Chana Sriubon,Ruj Ronnapop,Sukon Koewliam,Preuhat Boonlong,Boo Wibunnan


Main actress

: Kesarin Patamawan,Amara Asavananda,Manat Boonkiet
Thai movie กัลปังหา was released in year 1962. It features Chana Sriubon as main actor and Kesarin Patamawan as main actress. Back from overseas, Kung (Kesarin Patamawan) doesn't want to study anymore as she is old enough. His parents are worried she just wants to have fun with friends. Kung has met Chris (Chana Sriubon) in Italy. Back to Thailand, she meets a fisherman called Naemai (also played by Chana Sriubon) near her home and sympathizes with him. Other actors are Ruj Ronnapop and Boo Wibunnan. She even forces her way (คนดือ) on his boat to see how the life on a boat is. But she takes unreasonable risks. Romance starts between them. Kung receives a request for engagement from Chris. Naemai is arrested by the police. Naemai is Chris' younger brother. Finally aware of the love between Naemai and Kung, Chris breaks his engagement with Kung and lets them having happiness. A VHS from the 16mm film was released in 1992 at the same time as Thai movie สาวน้อย. Director of this movie is famous director Wichit Khunawut. Thai actress Kesarin Patamawan (เกศริน ปัทมวรรณ) played in less than 10 movies before moving to USA. Chana Sriubon played in many other movies with various famous actresses such as in แม่ (with Ratanaporn Intarakamhaeng), ยอดพิศวาส (with สุทิน บัณฑิตกุล), จอมใจเวียงฟ้า (with Metta Roongrat), ก่อนอรุณจะรุ่ง (with Prapan Narkthong), โรงแรมนรก (with Sarinthip Siriwan), สองฝั่งฟ้า (with Pissamai Wilaisak), หมอกสวาท (with Petchara Chaowarat). A remake of movie กัลปังหา with Jarunee Sooksawad, Sorapong Chatree and Nirut Sirijanya was released in year 1985.
---