Increase or decrease font size for easier reading : A+ A-
Rong Kaomulkadee
Rong Kaomulkadee (1947) - รอง เค้ามูลคดี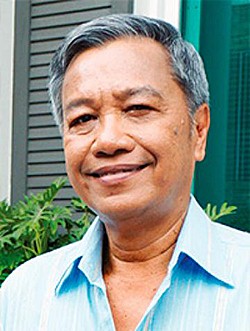 Rong Kaomulkadee has played in more than 62 movies. He is a famous comic actor and also a dubber
This Rong Kaomulkadee movie page contains 21 records.
---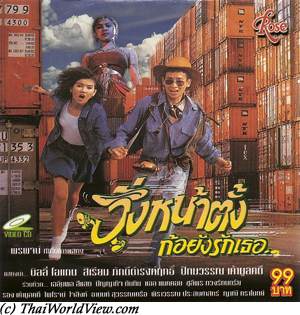 Year

: 1992



Thai title

:

วิ่งหน้าตั้งก็ยังรักเธอ




English title

:



Rating

: 1/5


Director

:



Main actor

: Billy Ogan,Rong Kaomulkadee


Main actress

: Siriam Pakdeedamrongrit
A young man opens a strange bottle containing a woman genius. This woman genius loves the young man but the young man wants the genius help to win the heart of another Thai lady.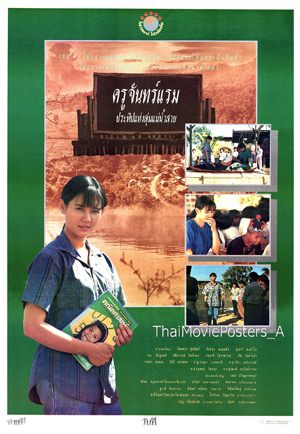 Year

: 1992



Thai title

:

ครูจันทร์แรม ประทีปแห่งลุ่มแม่น้ำสาย




English title

:



Rating

: 4/5


Director

: Phan Kam



Main actor

: Santisuk Promsiri,Suchao Pongwilai,Rong Kaomulkadee


Main actress

: Jintara Sookkapat
Thai movie ครูจันทร์แรม ประทีปแห่งลุ่มแม่น้ำสาย was released in year 1992 and lasts 1h57mn. It was released under VCD format by Solar company. A remastered version was released by Five Star Production (ไฟว์สตาร์โปรดักชั่น) in the decade 2010s and shown on Thai TV cable. Movie director is Phan Kam. Based on a true story, a young girl decides to become a teacher at 15 years old in order to promote reading awareness among mountain villagers, who cannot go to school as they are not recognized as Thai citizens. She also convinced local poor parents that children are not goods to be sold and not to listen to Bangkokians that promise false job offers. She also convinced villagers not to use drugs and young girls not to enter the flesh trade. Being a child in a poor family, Chan Raem performs very well at school and still helps her parents at home. Chan Raem sees the social issues faced by villagers, i.e. drugs selling, middle age lady trying to convince young girls to go working in Bangkok as masseuses (หมอนวด). Middle age lady uses sweet words such as gratitude (บุญคุณ) towards parents, promise of easy job, easy money. Her best friend Kam Kaew finally goes to Bangkok due to necessity (ความจำเป็น). Chan Raem cannot go to the next school level as her parents are poor. Seeing that mountain villagers' children cannot study, she decides to help. She doesn't get help from local authorities, so she does it by herself. Her father (Suchao Pongwilai) borrows 5,000 THB to help her. Local people should have knowledge and be able to read in order not to be abused by Bangkok people. Free school is open for mountain people's children and Chan Raem's parents are preparing the food for lunch time. As the number of children increases dramatically, it costs too much for the parents to bear the cost by themselves. Chan Raem convinces mountain villagers to help 1 THB a day to buy food. Rong Kaomulkadee pushes other villagers to accept. Time passes and Chan Raem becomes an adult and is played by Jintara Sookkapat. She gets help and support from her friend Santisuk Promsiri. Trees are planted. Kam Kaew is back and believes she has made the right choice to go to Bangkok. Chan Raem notices that many adults get lied to as they often sign debt contracts without reading the terms. Chan Raem invites adults to join evening lessons. Kam Kaew is back again from Bangkok. Despite having built a nice house, she has to live outside in a shack. Chan Raem learns she has AIDS stage 3 and will die soon. Her relatives reject her. Meanwhile, traffickers force young ladies to go to Bangkok as their parents sign a contract. Kam Kaew dies. Chan Raem makes an emotional speech to all parents if having a fridge is worth their child's life. Parents promise to reject traffickers. Understanding the risk caused by Chan Raem, traffickers try to oppose Chan Raem and local administration. Ruffians even mention to Thai Police that Chan Raem is running an illegal school (โรงเรียนเถื่อน). Ruffians put pressure by asking the father to pay back his debts immediately. Traffickers try to foul teacher Chan Raem by hiding drugs in the school but they are caught on time. The leader has to flee. Finally, Chan Raem's efforts are recognised. It appears in newspapers and Bangkok Bank sends a delegation to give clothes. The movie ends up as Chan Raem is going to Bangkok to get her price.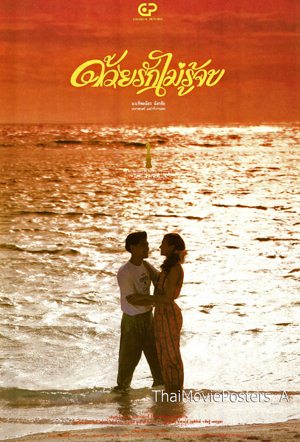 Year

: 1991



Thai title

:

ด้วยรักไม่รู้จบ




English title

:



Rating

: 3/5


Director

: ม.จ.ทิพยฉัตร ฉัตรชัย



Main actor

: Phairoj Jaising,Poonsawat Teemakorn,Rong Kaomulkadee


Main actress

: Siriam Pakdeedamrongrit
Thai movie ด้วยรักไม่รู้จบ was released in year 1991 and last 1h42mn. It was released under VCD format. The movie director is ม.จ.ทิพยฉัตร ฉัตรชัย. Thai actors and actresses featured in this movie are Phairoj Jaising, Poonsawat Teemakorn, Rong Kaomulkadee, Siriam Pakdeedamrongrit, แคทซี่ เฟอร์ริน, อมรรัตน์ อังธนานนท์, สืบ บุญยรัตน์พันธ์, พรสวรรค์ บุญพิทักษ์, วาสิฏฐี เดชกุญชร. Famous robber Poonsawat watches a TV program showing a rich lady spoiling her dogs. One of them even wears a diamond worth a few millions THB. Poonsawat Teemakorn and Rong Kaomulkadee succeed to enter the house and steal the diamond. Poonsawat is arrested by two policewomen Yee Mai (Siriam Pakdeedamrongrit) and Patty. He swallows the diamond with the pizza delivered by the Police. He asks to be released as Police cannot find the diamond. Phairoj Jaising, the police head, refuses. The policewomen leave for holidays. Meanwhile two doctors (จีรศักดิ์ แสงโชติ and Ma - บดินทร์ ดุ๊ก) also leave for a break. They all go on a cruise in South of Thailand. They meet on the boat but do not disclose their real names and jobs. Poonsawat discloses he swallowed the diamond and is sent to hospital for X-ray. He meets Rong working there. Rong promises to exchange X-ray with a patient having heart disease in order to have him released promptly. Finally, the two couples sympathize on the boat and when they are about to disclose the truth, a patient recalls the doctor. The doctor finds an excuse. Later, Yee Mai intervenes to stop a robber, so she also finds an excuse. Both couples are back to Bangkok. Holidays are over. The policewomen must go to the hospital, where the two doctors are working, to arrest Poonsawat. Finally, the first couple knows the truth, but Ma and Yee Mai continue to lie to each other. Various funny sequences occur as Ma simulates being a male nurse and Yee Mai simulates being a rich heir, but she has no money. Finally, while facing an accident, Doctor Ma must help and to disclose he is a doctor. Yee Mai does not dare saying she is a policewoman as Doctor Ma is upset with policewomen trying to arrest his patient Poonsawat despite him being sick. The truth is finally disclosed when the policewoman asks to meet the doctor, preventing her from arresting Poonsawat. The two couples chase Rong and Poonsawat escaping the hospital. Rong and Poonsawat are captured. Ma forgives and accepts that Yee Mai is a policewoman. Romance can blossom.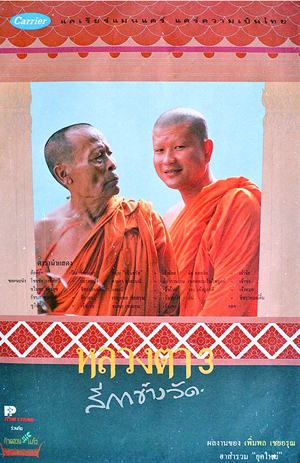 Year

: 1991



Thai title

:

หลวงตา 3 สีกาข้างวัด




English title

:



Rating

: 3/5


Director

: Permpol Choei-arun



Main actor

: Lor Tok,Kiet Kijcharouen,Rong Kaomulkadee


Main actress

: Chamaiporn Jaturaput,Duangta Tungkamanee
Thai movie หลวงตา 3 สีกาข้างวัด was released in year 1991. As it is linked to Buddhist religion, the story is sensible as based on a real story (อดีตพระนิกร-สีกาอร). The movie was even censored and cut a few times. Lor Tok is playing Luang Ta again. Waen (Kiet Kijcharouen) and Biu are playing temple boys (เด็กวัด) roles. Veteran actress Chamaiporn Jaturaput is playing a market woman (แม่ค้า). Luang Ta is always helping and listening to his community. He also faces various problems of daily life with its lies (people asking for money to ordain but claiming later that money disappears...). Oratai's elder sister, Phiya, is a nun (แม่ชี). She quit her home as her father was a drunkard. She ended up working in a brothel. Luang Ta visits a buddhist temple with Biu and Oratai. The monk there is having a huge number of followers and claims having been in paradise and hell already. Speech competition (เทศ) happens between the two monks. The monk (เณร) proposes to Oratai to be his follower (ลูกศิษย์). Oratai accepts. Later on, the monk is looking for opportunities to be alone with Oratai. Biu and Wen always disturb Phiya as Biu is fond of her. Luang Ta uses a funny stratagem to ensure they stop disturbing Phiya (สงบ). The monk gets massage despite still being young. Phiya, worried about her sister Oratai (สีกา), wishes to get her back (ชาวบ้านนินทา). A monk staying alone with woman is incorrect. It tarnishes Buddhism reputation as religion (เรื่องไม่ดีไม่งาม). Phiya, unable to get back her sister, consults Luang Ta. Luang Ta asks help from a senior monk in the hierarchy. Finally Oratai goes back to her sister. Some followers of this monk are upset about Luang Ta and his friends. They wish to kill them. If the monk is defrocked, then they will lose the good life they get through the money coming from donation! (คนชั่ว). They finally get arrested by the police. Oratai becomes a nun (แม่ชี) also. The movie ends up with compassion message as the market woman educates 4 children that are not hers. Director is Permpol Choei-arun famous for his drama and social movies.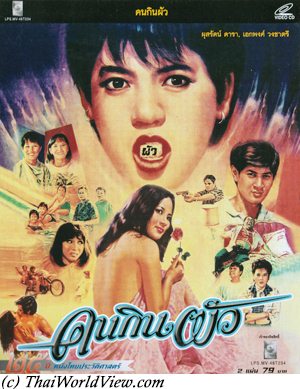 Year

: 1985



Thai title

:

คนกินผัว




English title

:



Rating

: 3/5


Director

:



Main actor

: Rong Kaomulkadee,Boo Wibunnan,Thuam Thoranong


Main actress

:
Thai movie คนกินผัว was released in year 1985 and lasts 1h46mn. The movie is available through VCD and VHS format. Movie director is พิมพานนท์. Actors and actresses featured in this movie are ผุสรัตน์ ดารา, เอกพงศ์ วงศ์ชาตรี, แข ลดา, Rong Kaomulkadee, Boo Wibunnan. Young lady Dalika (ผุสรัตน์ ดารา) is having a rich boyfriend, called Pracha, but they cannot marry as the man hasn't divorced yet. Pracha is shot by a hitman in Bang Saen. Dalika gets help from Niwat and Sampan (Thuam Thoranong). Dalika's mother (แข ลดา) always keeps trying to marry her daughter to a rich man. She has two daughters, Kim and Dalika. As Pracha is dead, the mother needs to find a rich new bachelor. Niwat finally marries with Dalika. He doesn't inform his nephew Kingpan (เอกพงศ์ วงชาตรี) currently in USA. Being already old, Niwat dies during the honeymoon due to heart disease. Rong Kaomulkadee has a comic role. Kingpan is finally back. Kingpan wishes to save money as his uncle business is losing money. So he imposes budget reduction (เศรษฐีขี้งก). Dalika has to move from Bangkok to Bang Saen in order to work in the hotel. Kongpan has bad feelings over Dalika (ดูถูกตลอดเวลา). Hotel customer Boo Wibunnan is interested in Dalika. Dalika and Kingpan will only get the heritage if they do marry (แบ่งสมบัติสักที) but Kingpan refuses. Kingpan has a wife, called Vicky, in America already. After talking to Sampan, he needs the money for the wedding. This time Dalika refuses. Upset by his behavior, she keeps refusing. Dalika asks him to pay phone bill for USA as it is personal bill. Boo Wibunnan dies following electrocution so her third wedding tentative is a failure. Dalika still refuses to marry Kingpan as she doesn't want a fourth man to die. Seeing Kingpan unhappy and drunk, she finally accepts to marry him (แต่งในนาม) for his happiness with Vicky. On the wedding night, King gets sick. Dalika takes good care of him and they become lovers. Upset with Vicky, Kim falls in the sea after trying to kill Vicky. Ready to leave Thailand, Vicky hears Kingpan and Dalika love declaration. Dalika is pregnant with Kingpan. Knowing this, Vicky has pity over Dalika and announces Kingpan she is going back to USA alone.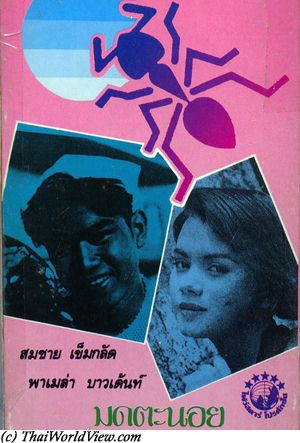 Year

: 1985



Thai title

:

มดตะนอย




English title

:



Rating

: 3/5


Director

:



Main actor

: Toon Hiransap,Settha Sirachaya,Lak Apichat,Sithao Petcharoen,Rong Kaomulkadee


Main actress

: Apiradee Pawaputanon,Pissamai Wilaisak,Thitima Sangkapitak
Young lady Tanoi comes unexpectedly in Khun Nai's house. She claims to be part of the family and wishes to get her share of heritage (มรดก). A lawyer acknowledges the fact but Tanoi will get full heritage when getting married only. Until this date, the heritage is still under Khun Nai's guidance. Tanoi is coming from countryside and is strong at boxing (ต่อย). She has arguments with the neighbour Doctor Chiwan. Tanoi's mother was chased from home twenty years ago by Khun Nai. She doesn't want to take revenge (อย่าชนะความชั่วกับความชั่ว). Tanoi decides to study abroad to show her worthiness to all including Doctor Chiwan. Chakrin, son of Khun Nai, has high interest into Tanoi. There is opposition between countryside lifestyle and Bangkok city lifestyle as Tanoi is coming from salt fields area. She goes back to visit her village with Chakrin. One of the villagers still loves Tanoi. An usual fight between ladies happen. Those fights are always a success with Thai audience with lakorn or 1960-1980s decades movies. Following a car accident, the villager and his sister Saen Dao stay in Doctor Chiwan's home to be closer to Tanoi. While Tanoi is studying abroad, the mother Khun Nai plays cards and sells the furnitures belonging to Tanoi. Khun Nai's daughter indulges herself in alcohol. The mother needs to flee as she cannot pay her debts. After five years abroad, Doctor Chiwan doesn't recognize Tanoi and is mistaken by her as a driver. She is a new Tanoi. She even forgives Khun Nai and her daughter but this latter accepts only to plan to kill Tanoi in order to get the full heritage. Tanoi is kidnapped but saved by Doctor Chiwan and the police. The movie ends happily and bad people are punished. Khun Na's daughter receives the acid she wanted to throw on Tanoi. Saen Dao and the villager have to accept that their love to the doctor and Tanoi are impossible. Doctor Chiwan recognizes his mistake to having looked down poor Tanoi. It is a typical 1980s movie with the leading actress being cross with the leading actor and facing issues with the jealous mother and her daughter. This movie shows the social ascension of a poor lady and that through education the poor lady can become a good person (ผู้ดี). Bad and rich people seem to win over good and poor people but finally there are justice and karma impacts (กรรม).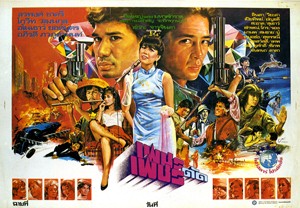 Year

: 1984



Thai title

:

เพชรตัดเพชร




English title

: Diamond vs Diamond



Rating

: 4/5


Director

: สักกะ จารุจินดา



Main actor

: Sorapong Chatree,Kowit Wattanakul,Somchai Samipak,Paen Pleumsachai,Krai Kanchit,Pipop Pupinyo,Manop Aussawathep,Boo Wibunnan,Pao Porapak,Rong Kaomulkadee,Lak Apichat,Sahat Piempongsan,Thep Po-ngam,Suchao Pongwilai


Main actress

: Apiradee Pawaputanon,Piathip Kumwong,Wiyada Umarin,Anchalee Chaisiri,Linda Khatancharoen,Janthana Siriporn,Suphanee Jitthieng



Buy now

:

Thai movie เพชรตัดเพชร was released in year 1984 and lasts 2h07mn. It was released under VCD format by Solar company and under VHS format. A remastered HD version was released during decade 2010s by Five Star Production. This movie features an impressive number of famous Thai actors and actresses from decade 1980s including less known actors หมอซ้ง, พุนสวัสดิ์ ธีมากร, วุมิ คงคาเขตร, ชูศักดิ์ สุธีรธรรม, ดาดา. Movie director is สักกะ จารุจินดา. Thai movie เพชรตัดเพชร was originally released in the year 1966 with Mitr Chaibancha, Luechai Natnat and Petchara Chaowarat. It was also released as Thai TV series in the years 2011 and 2016. Suchao Pongwilai is drunk inside a disco with a partner (Linda Khatancharoen). Mo Sing (หมอซ้ง) tries to seduce the partner so it makes Suchao angry and a fight erupts. Mo Sing loses a two colours denture and gets angry. He shoots Suchao and flees. The partner is found back by Mo Sing, but she claims she doesn't have the denture. Pailin (Piathip Kumwong) is the gang's leader. Yot (Kowit Wattanakul) is her right hand. During a drug exchange, Cheut (Sorapong Chatree) is killed by Yot keeping both drugs and money. Head of police Somchai Samipak talks to police officer Naresuan (Sorapong Chatree). He needs him to neutralise a drug gang working in Thailand, Hong Kong and Macau. Cheut is Naresuan's twin. They were separated when they were 12 years old. Naresuan wishes to revenge his dead brother. Naresuan accepts the mission and will act as Cheut in order to catch Yot. In a bar, Cheut meets Paen Pleumsachai, Pipop Pupinyo as he is looking for Yot. Cheut meets his previous girlfriend Yoi (Wiyada Umarin) having Manop Aussawathep as new husband. Fighting occurs in the bar. Back to Yaowarat district, Cheut ends up in Boo Wibunnan's entertainment centre and meets Anchalee Chaisiri. She suggests him to go to Jumbo bar to find Yot. There, Cheut is facing Pao Porapak. Cheut finally finds Yot with his girlfriend, then steals his suitcase full of drugs and gives it back to the police. Cheut flies to Hong Kong. He meets Pailu (Apiradee Pawaputanon), a singer. Pailu introduces him to Cheng (Krai Kanchit). On a boat in Sai Kung, Cheut meets Cheng again. Coming for a drug exchange, Cheut steals money from Cheng. He gets help from Jo (อโนเชาว์ ยอดบุตร), an undercover HK policeman. HK Police recommends to Cheut to leave Hong Kong as soon as possible for his own safety. Rong Kaomulkadee and Lak Apichat are working for Sahat Piempongsan, former boss of Cheut. Sahat thought Cheut was dead. Knowing Cheut is still alive, he decides to help him. Yot sends a killer to get rid of Cheut but he fails. Cheut learns from head of Police Somchai that Pailu is from Interpol. Another tentative to kill Cheut fails again. Cheut gets help from Rong. Thai police uses a stratagem for Jo to join Cheng's team. Facing a fight with ruffians, Cheng is helped by Jo in a bar. Convinced by his skills, Cheng asks him to join his team. Pailin is business partner with Cheng. Per Pailin's order, Yot captures Cheut. Cheng wants to get back his money. Meanwhile, Sahat captures Pailin's men in order to know where they keep Cheut. Cheut claims the money was confiscated by the HK Police but the drug is still stored in a suitcase hidden in Pailu's home. Pailu gets help from Somchai so that drug is given back to ruffians. Cheng starts to suspect Pailu also. She fails to escape. Meanwhile Thai police surrounds the ruffians' den. Yot plans to kill Cheut but it fails through a final epic fight between Cheut and Yot. Finally Thai police arrests all ruffians. Sahat fails to flee.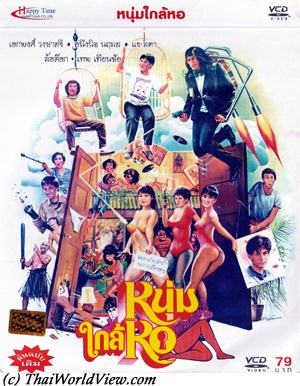 Year

: 1984



Thai title

:

หนุ่มใกล้หอ




English title

:



Rating

: 2/5


Director

:



Main actor

: Lor Tok,Pipop Pupinyo,Thep Thienchai,Doo Dook Kradon,Rong Kaomulkadee,Thuam Thoranong,Note Chernyim,Pao Porapak


Main actress

: Chosri Misommon
Thai movie หนุ่มใกล้หอ was released in year 1984 and it lasts 1h39mn. It is a light sexy comedy and it reminds of the Italian 1970s comedies. The dorm owner (หอสาวแม่) forbids her girls to approach men (สตรีที่ดี). She raises some orphan girls (เลี้ยงเป็นลูก). Pipop Pupinyo is used as a bodyguard to prevent intruders in the dorm. Doctor Lor Tok opens a dorm for men (หอชาย) on the opposite side! Among Lor Tok's disciples, there are veteran actors Doo Dook Kradon, Rong Kaomulkadee, Thuam Thoranong, Note Chernyim. The mother forces Pipop and another guard to take medicine to moderate their ardor (ไม่ไว้ใจ, อารมณ์เพศ). The young men take their revenge by giving to the mother a laxative so that they can be alone with the girls. On the following night, they even cut the water to force the girls to bathe in the swimming pool. Lor Tok tries to provide special medicine (ยาพลังเพศ) to convince Pipop to join them. The mother complains all men are dirty (ลามก). As a new male joins the dorm, the guys change their tactics and use the new handsome guy (รูปหล่อ) to seduce the mother (สุภาพ, แข็งแรง). He succeeds to be invited by the mother as an additional guard when the young ladies sunbathe (สาวอาบแดด). Basically the mother is doing the opposite she was teaching to her girls. They protest against their mother (อย่าทำผิดอีกเลย)! Lor Tok insults her as a mix of madonna (แม่พระ) and witch (แม่มด). Thep Thienchai, as a toilets cleaner, is also involved. Lor Tok is arrested by the police following complaints of Chosri Misommon. Finally the young men fall in love with the ladies. Lor Tok is released from prison and is back with two disciples (ลูกศิษย์) including Pao Porapak. As the two thugs plan to kidnap some girls, the young men intervene to catch them. The ladies dorm's owner decides to remove the fence between the male and female dorms as she recognizes that women cannot live without men. Lor Tok is finally arrested again for selling porn videos. The movie ends up with sexy sequences showing what Lor Tok has secretly filmed. Those sequences present in the 35mm film have been removed from the VCD released by Happy Time. Note Chernyim only plays in a few sequences. There was disagreement on his salary for this movie so he was replaced by Doo Dook Kradon.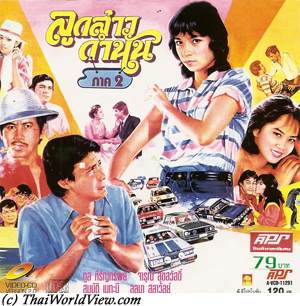 Year

: 1983



Thai title

:

ลูกสาวกำนัน 2




English title

:



Rating

: 3/5


Director

:



Main actor

: Toon Hiransap,Sombat Methanee,Rong Kaomulkadee


Main actress

: Jarunee Sooksawad,Lalana Sulawan,Ampha Pusit
This funny movie is the second opus about the daughter of a district officer. Teng Mo has just married when another woman claims that she is already the wife of her husband! Funny moments happen until Teng Mo and her husband fall in love again.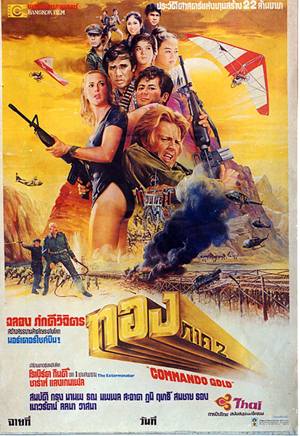 Year

: 1982



Thai title

:

ทอง ภาค 2




English title

: Commando Gold



Rating

: 3/5


Director

: Chalong Pukdeewichit



Main actor

: Sombat Methanee,Krung Srivilai,Sahat Piempongsan,Robert Ginty,Rith Luecha,Somchai Samipak,Manop Aussawathep,Ron Rittichai,Rong Kaomulkadee


Main actress

: Wassana Sitthiweth,Naowarat Yooktanun,Lalana Sulawan,Sarah Langenfeld



Buy now

:

ทอง ภาค 2 / Goldraider is a sequel of ทอง ภาค 1. It was released in year 1982. It lasts 1h33mn. It is a DVD featuring English language with Thai subtitles. The plane leaving Laos with gold bars is shot down. There is a stock valued 200M USD on board. Cheut (Sombat Methanee) and Satra (Krung Srivilai), both present in first sequel, succeed to jump by parachute. Cheut ends in a mountain village where Wassana Sitthiweth is a teacher. Satra ends in another village led by Somchai Samipak and is accused of being a spy. As one leader wishes to marry Naowarat Yooktanun, Satra's life is spared as he needs to offer gold for the wedding. So Satra must lead them. Another team led by Mark (Robert Ginty) and including Cordelia (Sarah Langenfeld), Penpoin (Lalana Sulawan) - explosive expert -, Rith Luecha – knife expert - and others is on the way to the border to prevent communists to grab the gold bars. The commando has to get back three big boxes containing weapons and delivered by planes. The Laotian leader is a general (Manop Aussawathep), who has a crippled leg. He has to catch the gold raiders and find the gold bars to give back to his commander Sahat Piempongsan. While crossing a ravine, the gold raiders get reunited with Satra and Naowarat, who were fleeing from the Laotian soldiers. They finally all get captured except Mark, who flees through his flying motorcycle. Penpoin recognises her former Thai boyfriend, who is now a captain in the communist army. At night time, Mark releases them and they storm the ruffians' camp. As the village chief was killed, Naowarat guides them to the plane. They succeed to steal the gold bars from the laotian soldiers and rush to the Mekong river to wait for US helicopters. Manop Aussawathep tries to steal the gold from his own commander Sahat Piempongsan. Laotian army reinforcement arrives but the gold raiders succeed to slow them down. Gold is finally extracted but 5 of the gold raiders have lost their lives during the expedition.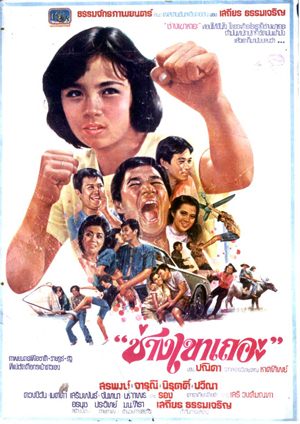 Year

: 1980



Thai title

:

ช่างเขาเถอะ




English title

:



Rating

: 3/5


Director

: เสถียร ธรรมเจริญ



Main actor

: Sorapong Chatree,Nirut Sirijanya,Rong Kaomulkadee


Main actress

: Jarunee Sooksawad,Duangcheewan Komolsen,Natanee Sitthisaman,Metta Roongrat,Janthana Siriporn
Thai movie ช่างเขาเถอะ was released in year 1980 and lasts 1h47mn. It was released under VCD format by company Triple XxX. The VCD is coming from a U-matic tape so the picture is not sharp. Some sequences are lost so the original movie is much longer. As Khun To Phanmitr, Triple XxX company owner, couldn't find a version in 35mm format to digitalise, so he used the U-matic tape version to release a VCD version. Movie director is เสถียร ธรรมเจริญ. This movie is a romantic comedy. Jarunee Sooksawad got best actress award for this movie. A poor family includes four members, i.e. the mother (Natanee Sitthisaman), the father, Tan (อีน้ำตาล สาวชาวนาเมืองสุพรรณ)(Jarunee Sooksawad) and her younger sister named Tok (ปวีณา ปิจเปี่ยมกิจ). A rich family is including various members such as Metta Roongrat, mother and head of the family, and her three children, i.e. Watee (Nirut Sirijanya), Wae (Sorapong Chatree) and Weechanee (Duangcheewan Komolsen). Phi Loi is Tok's boyfriend. The father is disapproving this relationship and wishes to get his daughter back. Her elder sister Tan is harassed by Loi and his ruffians, but she is able to fight back. The father sends Tok to Bangkok and asks Watee to take care of her. The father is killed by Loi and his ruffians as revenge. Loi's mother also dies. Loi believes Tan is behind her death. Tan is aggressed again but gets help from a local uncle. He teaches her self-defense. Tok is pregnant with Watee but she has no time to tell him. Loi and his ruffians are killed. The uncle got rid of them. Tan's mother dies after reading newspaper announcing Watee's wedding. Tan decides to go to Bangkok to find her sister. Tok stays with a masseuse (หมอนวด). The rich family doesn't tell the truth to Tan. They see her kindness when she helps to catch a robber stealing the mother's bag. Phet (Janthana Siriporn) is playing a domestic helper. Metta authorizes Tan to stay until she finds her sister Tok. Tan is finally fired from their home. Weechanee's boyfriend brings her back. Tan helps Lek (Rong Kaomulkadee). So finally, Tan is used as guardian (ยาม) by the rich family. Tan is upset to see uncle Uuu visiting Metta. Uuu asks Metta to get rid of Tan and discloses they spoiled her former heritage but Wae is aware. Tan helps Wae aggressed by ruffians. Tan has often difficulty to control herself so often recites a sentence (ใครจะทำอะไรเราก็ช่างเขาเถอะ) to stay calm. Issue happens when Tok is back in the house. Uncle Uuu is back but Tan rejects him. Uncle Uuu wishes to give back the heritage to her as he knows he misbehaved. She only wants her parents' land and to leave Bangkok. Wae declares his love to Tan. Watee is going to marry Tok. Tan accepts to marry Wae only if he accepts to live in Suphanburi. Wae discovers life on the countryside and has to work in rice fields. Happiness finally happens after Wae getting used to the countryside life.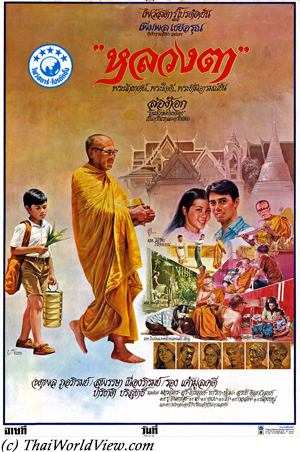 Year

: 1980



Thai title

:

หลวงตา ภาค 1




English title

: The old monk



Rating

: 4/5


Director

: Permpol Choei-arun



Main actor

: Jatuphol Poopirom,Lor Tok,Rong Kaomulkadee,Krailat Kriengkrai,Thuam Thoranong


Main actress

: Supansa Nuengpirom,Mayurachath Muarnprasitivej,Tharika Thidathip,Juree Osiri



Buy now

:

Thai movie หลวงตา ภาค 1 / The old monk was released in year 1980 and lasts 2h13mn (according to Five Star Production website). It was released under multiple formats, a beta-max version (2h01mn), VCD version by Solar (2h02mn), VCD version by BKP (2h05mn), DVD version by BKP (2h05mn), a True Thai Film cable TV version (1h48mn). A remastered version was released during decade 2010s by Five Star Production. Movie director is Permpol Choei-arun. This movie shows the importance of Buddhist abbots in Thai society. Luang Ta (Lor Tok) is an abbot in a Thai Buddhist temple. He is taking care of children (เด็กวัด) given to the temple as the parents are too poor to take care of them. During childhood, young boy Long often deal with stubborn Chuk and Ek. Long (Jatuphol Poopirom) and Ek (Rong Kaomulkadee) are now grown up. Mae Choi (Mayurachath Muarnprasitivej) is Long's mother but she is ashamed (ผู้หญิงขายคัว) so she doesn't disclose who she is. Long is like orphan (ลูกกำพร้า) under the responsibility to Luang Ta. Fighting between Long and Ek occur as Ek always tease others but they remain friends. Luang Ta teaches (สั่งสอน) them continuously. Long is accepted in school army and Ek is accepted in police school. Mae Choi dies. Luang Ta organises a funeral being the main sponsor (เจ้าภาพ). The undertaker (สัปเหร่อ) discloses she worked in a brothel (ซ่อง) before. Young lady Duangjai (Tharika Thidathip) stays in temple as she has nowhere to go. She has little education as her parents thought primary studies were enough. Luang Ta complains that girls should study also and not only do home chores. She regains trust in herself and learns new skills but after a while Luang Ta tells her it is time to leave as it is not correct for a lady to stay in a temple where only men are present. Lom, without parents and who has always lived in Buddhist temple, is in love with a young woman called Wan (Supansa Nuengpirom). Her high society parents (Thuam Thoranong and Juree Osiri) don't want a poor groom. On top of this, they are worried about impacts on their lineage. Lom decides to go at the Thai border as he knows this love is impossible. Wan clashes with her parents, who are more worried about old symbols such as status, fame, lineage instead of their daughter happiness. By reading newspapers, Luang Ta learns that Duangjai made a successful wedding. Pushed by Wan, her parents visit Luang Ta to learn more about Lom. The abbot gives them the whole story. The parents are concerned about gossip as Lom is prostitute's son but Luang Ta reminds them that skills and good personality are not linked to lineage but to own ability. Ek is proud to announce to Luang Ta that he is now police captain with 3 stars. Luang Ta complains that multiple stars don't make people more intelligent. Lom is injured at the border and is sent to hospital. Luang Ta decides to visit him but two robbers (including Krailat Kriengkrai) enter in the Buddhist temple. They kidnap Luang Ta. Surrounded by police led by Ek, they have to endure Luang Ta's sermons (โดนเทศน์ไม่ไหว) so they finally give up and surrender. Long is back to the temple to visit Luang Ta with his wife Wan as her parents have agreed to the wedding.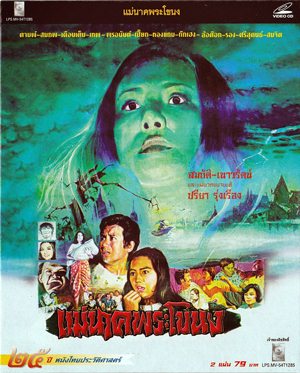 Year

: 1978



Thai title

:

แม่นาคพระโขนง




English title

:



Rating

: 3/5


Director

:



Main actor

: Sombat Methanee,Somphob Benjatikul,Dam Datsakorn,Lor Tok,Thep Thienchai,Uten Boonyong,Rong Kaomulkadee,Songthong


Main actress

: Preeya Roongrueng,Naowarat Yooktanun,Chosri Misommon,Somjit Sapsamruey
Thai movie แม่นาคพระโขนง was released in year 1978 and lasts 1h50mn. Preeya Roongrueng already played Mae Nak role in year 1959. She remained the most famous actress for this role. The 1959 version was very successful. It made more than 1M Baht in 1959, i.e. a huge amount for that period. So for this 1978 version, the movie director reused Preeya Roongrueng again hoping for a similar success. But 19 years have passed. In 1959 Preeya was 19 years old. For 1978 version, she was 38 years old. Preeya mentioned she was getting fatter for the role but it didn't matter as she was playing a ghost! The 1978 movie trailer is also making a reference to the 1959 version. It is Thot Kathin festival (ทอดกฐิน) so lady Somjit Sapsamruey is coming with her two daughters, i.e. Nak and Jampee (ตรีสุคนธ์ ยุกตะนันท์). Phi Mak (Sombat Methanee) and his younger brother Man (Somphob Benjatikul) love the same woman Nak (Preeya Roongrueng). Tui (Rong Kaomulkadee) is playing comic role as usual. Man loves Nak despite she is older than him. Pleum, subdistrict headman's son (ลูกกำนัน), has also interest into Nak. Mak asks Nak for wedding. Disappointed, his brother Man leaves for Bangkok to work there. Nak is pregnant since 2 months. Mak has to leave for Bangkok as he was selected to do his military duty as a soldier. Pleum (Dam Datsakorn) comes to harass Nak but Man is helping her. Naowarat Yooktanun, daughter of officer (นายทหาร), likes Mak but he misses his wife (ห่วงเมีย) and wishes to go home. While delivering, Nak dies (ตายทั้งกลม). Comic actor Thep Thienchai is present at the funerals. A master (อาจารย์) tries to get chin oil but he just makes Nak angry and gets strangled. Nak is upset that Naowarat has interest into Mak. Uten Boonyong wants to hire master Lor Tok to get rid of Nak. It is a complete failure as Lor Tok flees away. At nighttime, Pleum faces Nak. Mak is back home. Things get weird with Mak seeing Nak's arm extension to reach a lemon fallen under the house, food having pla ra taste, baby having Songthong face... Realising she is a ghost (ผี), Mak flees from home and goes to Man's home. Man explains what happened to Mak. They take refuge in the village Buddhist temple. A new master is called and warns that Nak is very powerful (วิญญาณดู่มาก). To neutralize Nak, the master gives a sacred thread to put around her neck. The master captures her spirit into a pot sealed with a sacred cloth. She has to accept her death (หมดเวรหมดกรรม). Mak promises to meet her during next life. The pot is thrown away in the river.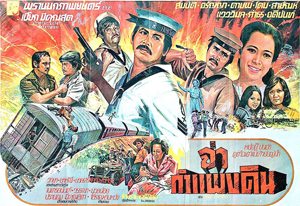 Year

: 1978



Thai title

:

จ่ากำแพงดิน




English title

:



Rating

: 3/5


Director

:



Main actor

: Sombat Methanee,Dam Datsakorn,Adinan Singhiran,Sayan Chantaraviboon,Kamthorn Suwanpiyasiri,Rong Kaomulkadee,Chanee Yotchai,Wittaya Sukdamrong,Dom Singmoli


Main actress

: Aranya Namwong
Thai movie จ่ากำแพงดิน was released in year 1978. It lasts 1h28mn but the sound is partially inaudible. Dam Datsakorn is playing a role on the main actor side. It is pretty rare as most of the time, he is playing a thug leader. Mariners (ทหารเรือ) including Sombat Methanee (with a moustache and always eating betel), Dam Datsakorn and Adinan Singhiran are back to their home town. University student (Sayan Chantaraviboon) is involved in a brawl with thugs and gets support from mariners and Rong Kaomulkadee. Mariners are going back home. Aranya Namwong is a teacher. She is Sombat's girlfriend. The head of the ruffians (Kamthorn Suwanpiyasiri) is upset as his thugs were defeated. Among his ruffians, Chanee Yotchai (ชาณีย์ ยอดชัย) can be seen. Another brawl in a pub happens between mariners and thugs. The university student brings trouble to ruffians as he is catching a pickpocket in a market. Ruffians kidnap Aranya and her friends to work as prostitutes. Her mother is stabbed. The mariners storm the ruffians headquarters to rescue the ladies (น้องเอาคืนมา). They then search them into local brothels (อาละวาดบ่อน). The head of ruffians (พ่อเลี้ยง) is upset that his business is disrupted by those three guys. Two groups of ruffians then unify their efforts. The leader of the second group is played by Dom Singmoli (โดม สิงห์โมฬี). They keep kidnapping young girls or buying them from their parents promising fake jobs in Bangkok. They are also involved in drugs trafficking. Meanwhile the mariners unify their efforts with local police also. The university student is killed by ruffians while trying to stop the ruffians transporting the ladies in a train. Sombat and Dam chase the train. Fighting happens on the moving train. The head of the police is played by Wittaya Sukdamrong (วิทยา สุขดำรงค์). Finally following intense fightings, ruffians are neutralised by the three mariners and the police.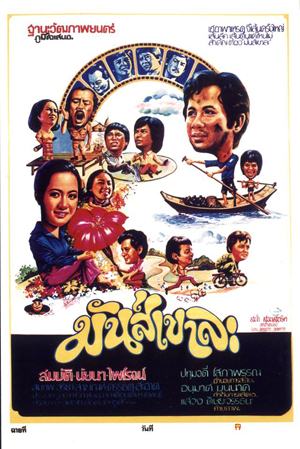 Year

: 1978



Thai title

:

มันส์เขาล่ะ




English title

:



Rating

: 3/5


Director

:



Main actor

: Sombat Methanee,Prachuap Ruekyamdee,Lor Tok,Tawan Siriwat,Suriya Chinaphan,Phairoj Jaising,Sayan Chantaraviboon,Rong Kaomulkadee,Thep Thienchai,Somphob Benjatikul,Boo Wibunnan,Kanchit Kwanpracha,Sahat Piempongsan,Thuam Thoranong


Main actress

: Naiyana Shewanan,Chosri Misommon,Nipaporn Nongnuch,Tharika Thidathip
Thai comedy movie มันส์เขาล่ะ was released in year 1978. The movie is lost in Thailand but a sequence of 1h03mn is left to be seen. Subdistrict headman (กำนัน) Lor Tok wishes to produce a movie with his daughters and his wife playing as actresses. His wife is played by Chosri Misommon. His daughters include Wassana (Naiyana Shewanan) and Nipaporn Nongnuch. Tawan Siriwat seems to oppose the Subdistrict headman's decision. A photo studio is managed by Prachuap Ruekyamdee and his two friends, i.e. Sayan Chantaraviboon and Rong Kaomulkadee. Prachuap and his friends convince Lor Tok to manage the movie for him. They are now looking for a main actor (พระเอก) for their movie but Fui (Sombat Methanee) is finally hired by mistake. Fui's close friend is Thep Thienchai. Lor Tok is the movie producer so they use the money to buy a mercedes! He wishes his family to play in the movie. Somphob Benjatikul is his assistant. Fui and Wassana like each other. Boo Wibunnan is hired as movie director. They are also looking for somebody to write the story. Tawan brings them to meet Mui (Kanchit Kwanpracha) as they are looking for a ruffian (นักเลง). A ceremony for the movie launch (เลี้ยงใหญ่โต๊ะ) is organized. Fui has to sing and does it well (it is Sombat Methanee's real voice). Thuam Thoranong as comic actor is also present. Sahat Piempongsan is used as decorator. Lor Tok always needs to protect his daughters against the young men trying to seduce them. Multiple gags happen during the shooting as Lor Tok doesn't accept any kiss to his daughters. Phairoj Jaising is involved as actor also and a few ดาวยั่ว are joining (Tharika Thidathip). The movie shooting is a disaster. Kamnan Lor Tok is back to his village and is welcomed by Tawan Siriwat and Suriya Chinaphan singing an ironic son and teasing the Subdistrict headman. This comedy is featuring many famous comic actors from 1970s and more than 18 Thai famous actors / actresses.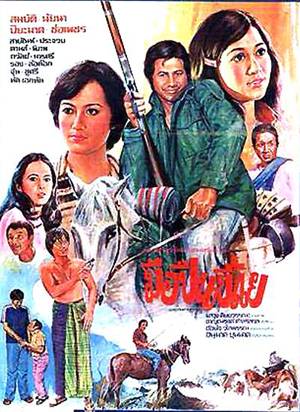 Year

: 1976



Thai title

:

มือปืนขี้แย




English title

:



Rating

: 3/5


Director

:



Main actor

: Sombat Methanee,Dam Datsakorn,Prachuap Ruekyamdee,Pipop Pupinyo,Rong Kaomulkadee,Tawan Siriwat,Sayan Chantaraviboon,Tat Ekathat,Lor Tok,Kokheng


Main actress

: Piyamas Monayakol,Chosri Misommon,Marasri Isarangkul,Naiyana Shewanan
Thai movie มือปืนขี้แย was released in year 1976. This action and comedy movie is lost in Thailand but the first reel lasting 26mn and a 3mn trailer are still available to be seen. Fightings happen with Dam Datsakorn and Pipop Pupinyo as they discover that Sombat Methanee is travelling hidden in their truck. Sombat is accompanied by a tall actor reminding Richard Kiel playing in James Bond movie Moonraker. Comic actor Rong Kaomulkadee is the driver. Sombat Methanee is looking for Kamnan Tawan Siriwat in order to find his mother (Marasri Isarangkul). He finds her but he wishes to identify now who killed his father. Sayan Chantaraviboon wishes to impress young lady KamPoo (Piyamas Monayakol). But he gets bullied by Chosri Misommon and Tat Ekathat. Policeman Raem Prachuap Ruekyamdee meets a friend's daughter, who is now a teacher (ช่อเพชร). Lor Tok is Thai boxing trainer (อาจารย์). Sayan wishes to learn from him as he is not able to fight against anybody. Dao (Naiyana Shewanan) meets Sombat but clash happens between them. Other comic actors are Kokheng and Joomjim Khemlek as policeman.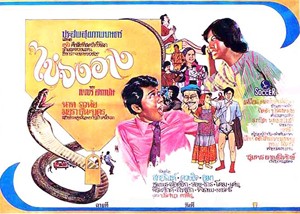 Year

: 1976



Thai title

:

ไข่จงอาง




English title

:



Rating

: 3/5


Director

: Choomporn Theppitak



Main actor

: Nard Poowanai,Sayan Chantaraviboon,Krai Kanchit,Rong Kaomulkadee,Choomporn Theppitak,Lor Tok


Main actress

: Mayura Thanabutr,Duangjai Hathaikarn,Marasri Bangchang
Thai movie ไข่จงอาง was released in year 1976. The movie is lost in Thailand but a remaining sequence of 28 minutes is left to be seen. Veteran actress Marasri Bangchang is collecting debts reimbursement. She is married to younger man called Insee (Rong Kaomulkadee) but his little bird gets burnt by hot soup poured by his wife as he is courting younger lady (แม่ค้า)! This comedy features three male friends (Sayan Chantaraviboon, Nard Poowanai and Pong) looking for fun. Three ladies friends (Nit – Mayura Thanabutr, Pip - Duangjai Hathaikarn, Tip…) realise that their three husbands are going to have fun together but their wives surprise them (อยากตายไหม). Pong is a doctor so he is lying about his friends' health in order to get some compassion from their wives. Other actors are Krai Kanchit, Lor Tok, อุมา, โดม, เด่น, ปริศนา ดาริน, หมึก.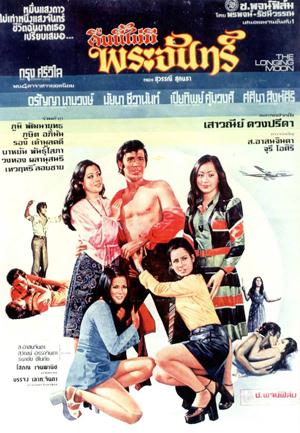 Year

: 1975



Thai title

:

คืนนี้ไม่มีพระจันทร์




English title

:



Rating

: 3/5


Director

:



Main actor

: Krung Srivilai,Sor Asanajinda,Rong Kaomulkadee


Main actress

: Naiyana Shewanan,Aranya Namwong,Piathip Kumwong,Juree Osiri,Sasima Singsiri
Thai movie คืนนี้ไม่มีพระจันทร์ was released in year 1975. The movie is lost in Thailand and only a sequence of 38 minutes remains to be seen. A group of young women including Naiyana Shewanan is sleeping together in a big bungalow near the beach. It is the yearly trip organized by their art university (มหาวิทยาลัยศิลปากร). One of the young ladies recognizes Nat (Krung Srivilai), a male art student of the same university. Back to his home, Soi Dao (Aranya Namwong) is waiting for Nat. Later Nat ends up drinking expensive alcohol with another young lady called Yu (Sasima Singsiri). Nat has no money so is being entertained by ladies. Yu is drunk and Nat brings her home but June (Piathip Kumwong) has time to recognize him. Nat sees women as sexual objects and lies to each of them (เจ้าชู้). He goes from Soi Dao to Yu. Soi Dao is finally pregnant (ลูกเศรษฐี). Soi's father is played by Sor Asanajinda and Soi's mother is played by Juree Osiri. They are concerned about their family name and they don't want Soi Dao to marry anybody. Soi Dao wishes to go abroad as Nat doesn't show interest anymore. Nat is not sure if Naiyana loves him as she is aware of his butterfly activities. Playing a game with another man, Soi Dao arouses Nat to get back his interest through jealousy. The left sequence ends up here. In 1975, this movie makes a lot of noise because of some daring scenes (หนังโป๊ๆ เปลือยๆ).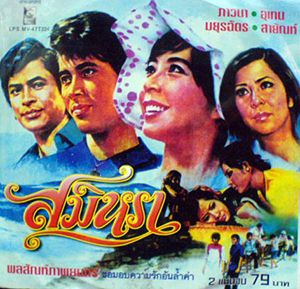 Year

: 1975



Thai title

:

สมิหรา




English title

:



Rating

: 3/5


Director

:



Main actor

: Uten Boonyong,Sayan Chantaraviboon,Sawin Sawangrat,Sukon Koewliam,Rong Kaomulkadee


Main actress

: Pawana Chanajit,Mayurachath Muarnprasitivej,Metta Roongrat
Thai movie สมิหรา was released in year 1975 and lasts 2h01mn. Two students, Alissa (Mayurachath Muarnprasitivej) and Suntaya (Pawana Chanajit), are two close friends studying in Chiang Mai. Pong (Sayan Chantaraviboon) is Alissa's brother. Metta Roongrat is the aunt called Vina. Yot (Uten Boonyong) accepts to take Suntaya as secretary (เลขาคนใหม่) per Alissa's request. Sawin Sawangrat is the father of Yot. Yot hat a hot temper (ใจร้อน, เอาใจตัวเองอย่างเดียว). Vina warns Alissa about letting Suntaya too close to Yot (ใกล้มากก็ไม่เคยจะดี). Pong wishes to marry Suntaya but he is younger (รุ่นน้อง). Yot and Suntaya go to Hat Yai for business trip while Alissa needs to go overseas again. A difficult meeting happens in Hat Yai regarding company ownership. Suntaya demonstrates her negotiating skills and impresses Yot. During nighttime, Suntaya and Yot becomes lovers (ทรยศเพื่อน). They stay in Hotel Samira (สมิหรา) so giving the movie title. Suntaya asks Yot to stop seeing her in Bangkok. Vina also asks Suntaya to find her own place to allow time between Yot and Alissa. Yot wishes to marry with Suntaya but she doesn't want to hurt Alissa. One day Suntaya feels dizzy while walking in Bangkok. She is pregnant. Pong brings her to the doctor. Yot has then a misunderstanding that Suntaya sees secretly Pong. Being sick, Yot visits Suntaya and is surprised by Alissa. Alissa is disappointed by her friend (น่าเจ็บใจ, เสียดายเพื่อนรัก). Feeling guilty, Suntaya is lost. Pong, aware of the situation, proposes to marry her to ensure the child has a father. Finally Suntaya writes a letter to Alissa and disappears. Yot only realises that she was pregnant. Suntaya is now a teacher in a remote hill tribe village. Sukon Koewliam is also playing a short domestic helper role. Pong's friend, a doctor, meets Suntaya in the village and warns Pong as she is going to deliver her baby. It is discovered that Suntaya has hemophilia (รอดไม่ได้). Pong warns Yot. Alissa also joins. During a final touching sequence, Suntaya gives her baby to Yot and Alissa, then passes away.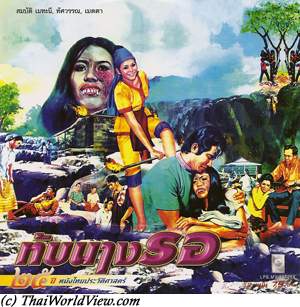 Year

: 1973



Thai title

:

ทับนางรอ




English title

:



Rating

: 3/5


Director

: Chutima Suwannarat



Main actor

: Sombat Methanee,Kamthorn Suwanpiyasiri,Jamroon Nuatjim,Tat Ekathat,Rong Kaomulkadee,Pan Borapet


Main actress

: Tasawan Saneewong,Boosara Narumit,Metta Roongrat,Malee Wetpraseri
Thai movie ทับนางรอ was released in year 1973 and lasts 1h43mn. It was released under VCD format by Lepso Company. Sombat Methanee, Kamthorn Suwanpiyasiri, Pan Borapet, Jamroon Nuatjim, Tasawan Saneewong, Boosara Narumit, Tat Ekathat, Metta Roongrat, Malee Wetpraseri, Rong Kaomulkadee are the main actors and actresses featured in this movie. Movie director is ชุติมา สุวรรณรัต. A baby girl is abandoned in the forest as she has a deformed face (ลูกผี). She is rescued by Tat Ekathat and is named Sopi. At school, she is rejected by other children. Being an adult, her face becomes normal but a awful decease endangers her (อย่าพบความรัก). If she gives life to a baby, she shall die. Her parents (played by Boosara Narumit and Kamthorn Suwanpiyasiri) prevent her from seeing any boy. Chakapan (Sombat Methanee), a Bangkok young man, falls in love with her and asks for her hand but Sopi's parents refuse (เรื่องหัวใจ). Pim (Metta Roongrat) and Rong Kaomulkadee are having a romance. They keep helping Chakapan and Sopi. Sopi is aggressed by two ruffians, including Pan Borapet, working for the village leader. She flees but falls from a cliff. Chakapan saves Sopi's life so her parents finally accept the wedding but knowing that she shall die following a pregnancy. Sopi is now pregnant. Following delivery, Sopi's deformed face is back, so she flees from home with her child. She ends up dying in Chakapan's arms per the doomed prediction.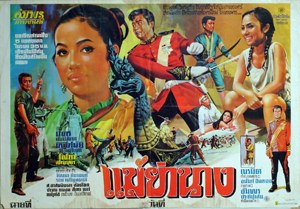 Year

: 1970



Thai title

:

แม่ย่านาง




English title

:



Rating

: 5/5


Director

: Neramit



Main actor

: Mitr Chaibancha,Sor Asanajinda,Sithao Petcharoen,Lor Tok,Preuhat Boonlong,Rong Kaomulkadee


Main actress

: Pissamai Wilaisak,Sopha Sataporn,Kaenjai Meenakanit



Buy now

:

แม่ย่านาง is a 1970 movie in VCD format featuring a still colorful picture and lasting 1h54mn. An additional 30mn reel (the reel number 2) is available through a Thai collector. Young lady Prang (Sopha Sataporn) is waiting for Jiaw (เด็กวัด) to give alms (ตักบาตร) to the monks but he doesn't come today. Jiaw (Mitr Chaibancha) is a temple boy with a kind heart (ใจบุญ) so seeing Jom and his friends trying to steal money donated to the temple, he tries to prevent them to rob money to buy alcohol. Unfortunately he gets accused by Jom so the abbot believes he is the robber. Jiaw is chased from the temple. He decides to sell food (ขายของ) with his two friends by navigating on a boat on river and canals. A mysterious spirit Mae Ya Nang (ผีหลอก) (Pissamai Wilaisak) on the boat bow helps them to get business. Jae (Kaenjai Meenakanit), a shop vendor, likes Jiaw a lot but he is not interested. Sithao Petcharoen has issues with his wife as she doesn't accept he has mistresses. Prang is seen as a young sister (น้องสาว) only by Jiaw. Jiaw seems to love his boat more than anything else despite strong interest from Jae and Prang. Jae is under a charm (ถูกเสน่ห์). A local villager has recruited a black magician (Lor Tok)(หมอผี) to make a love philter to seduce Jae. As uncle Man (พฤหัส บุญหลง - Preuhat Boonlong) breaks the spell, the black magician tries to kill uncle Man. As it fails, he sends Jom and his team protected by magic tattoos. Once again the spirit Mae Ya Nang (แม่ย่านางเรือ) protects Jiaw. In a previous life, the mysterious lady and Jiaw knew each other. The mysterious lady was a princess (ลูกหญิง). As the King's boat (พระองค์) was attacked by pirates, the King ordered Jiaw to take away the princess and to protect her. Jom, who was the head of soldiers, was treacherous to his King and killed him. Sor Asanajinda is the father of Jom. Before dying, Jiaw's friend succeeded to reach him and told the truth about Jom. Spade fighting happened between Jom and Jiaw. Jiaw won and Jom died (ทรยศ). The princess didn't trust the uncle Sor and asked Jiaw to organise their escape. Jiaw was split between his love to the princess and the love to the kingdom. The uncle Sor asked him to leave to preserve the princess. As he finally refused, he was killed by a guard. Knowing his death, the princess got suicide. Back to the present, the black magician sends Jom to kill Jiaw and the uncle Man. Prang and Jae are kidnapped by the black magician (อาจารย์). Jiaw shall avoid any bad actions (จ้องเวร จ้องกรรม) to hope being reunited with the princess one day. Jom kills the black magician as he made a love philter for himself to seduce Jae and Prang instead of doing it for Jom. Through a final fight with Jom, Jiaw is killed while protecting the abbot (in fact the king in a previous life) with his own body. Jiaw failed to protect the King in his previous life but in this life, he saves the monk. Jiaw and the princess are reunited in heaven. The 1h54mn movie is really great but the additional 30mn reel reveals additional details of the movie: Jae is upset that Jiaw prefers to sleep on the boat than with her. Jiaw helps to prevent a kidnapping of Jae. Sithao suggests Jom to visit the black magician to get spells. He is a bad guy always trying to abuse for his own purpose people asking for love philter. Through a sexy scene with an unknown veteran actress, the black magician makes a love philtre to seduce her instead of doing one for her to seduce back her husband Sithao. It is highly probable that this scene would have been cut on any VCD release. Seeing the power of love filters, they recommend the black magician to the villager trying to seduce Jae. As old movies were long, each actor / actress always had the opportunity to have his own long scene to please his fans. It is also very frequent to see Thai people onlookers in outdoor scenes such as market. It was additional potential customers to come watching in cinema to see if they were in the movie! The original movie features 5 songs but the DVD only features 1 song.
---