Increase or decrease font size for easier reading : A+ A-
Ron Rittichai
Ron Rittichai (1949) - รณ ฤทธิชัย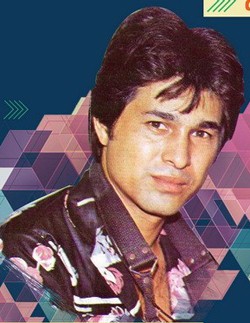 Ron Rittichai
This Ron Rittichai movie page contains 20 records.
---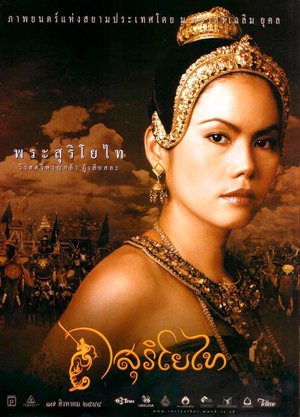 Year

: 2001



Thai title

:

สุริโยไท




English title

: Suriyothai



Rating

: 5/5


Director

: ChatriChalerm Yukol



Main actor

: Sorapong Chatree,Sombat Methanee,Chatchai Plengpanich,Phongphat Wachirabanjong,Saranyu Wongkrachang,Ron Rittichai


Main actress

: Mai Charoeunpura



Buy now

:

It is about a legendary Thai princess who died fighting the Burmese on elephant-back. The film required five years of research and two-and-a-half years of shooting. It has broken almost every record in Thai film history. It is the most expensive at 400 million baht, the most star-studded, with a cast of 2,000 extras and more than 50 elephants and 70 horses. It has the longest shooting time and the longest screening time, i.e. three hours and five minutes. In 2003, an updated five hours version was released. In 2003, the film was also released in the United States with a shorter running time. This version was edited by Francis Ford Coppola, an old classmate of ChatriChalerm Yukol. Reigning monarch Queen Sirikit instigated this movie, financed most of it, arranged for palaces and historic sites to be opened to a film crew for the first time. The Culture Ministry registers 25 Thai classic films each year at the National Film Heritage Registry. This movie is part of the 25 films heritage list announced on 04 October 2015, which is Thai Movies Conservation Day.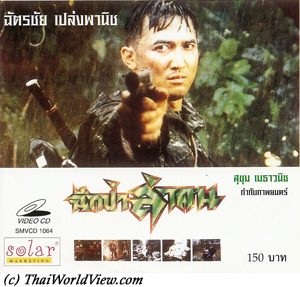 Year

: 1995



Thai title

:

ฉีกป่าล่าคน




English title

:



Rating

: 3/5


Director

:



Main actor

: Chatchai Plengpanich,Ron Rittichai


Main actress

:
Meuk (Chatchai Plengpanich) was fed up with city life (คนเมือง) so moved to live in the jungle in a mountain village. He married a local mountain girl and has one child. Some Bangkokian people come to the forest to have fun and to hunt wild animals. They damage the forest (ทำให้ป่าเดือดร้อน) as they use powerful weapons and have fun by abusing mountain people girls. Meuk goes to the city. When he comes back, his wife has disappeared. He finds her dead raped body. He wishes to revenge against the city people who ruins his life. The Bangkokian people are stopped by forest rangers due to illegal poaching but are released. It shows the inefficiency of rangers to fight against poachers. One of the Bangkokian poacher Sak is hit by an arrow. Solidarity inside the group starts to dissolve. Another man is hit by three arrows and following a misunderstanding is killed by his colleagues. Instead of being hunters, they become hunted by Meuk. One by one the poachers are killed. They reach their pick truck and flee but get lost in the forest. They can stand such situation and are only saved as the rangers car arrives on time. Meuk is injured two times and falls from a waterfall. They all behave same as animals and try to kill each other. Meuk has to kill the two rangers as they are interfering despite being told they shall not involve. The movie ends tragically as Meuk is shot by another mountain villager. The shooting takes place in beautiful Sayok waterfalls. This movie raises a few topics related to the forest destruction, impunity of poachers, lack of respect of mountain / forest villagers.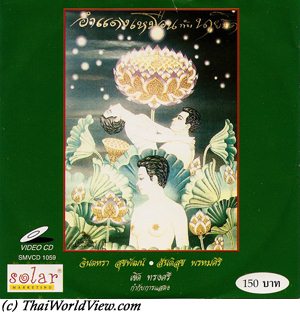 Year

: 1994



Thai title

:

อำแดงเหมือนกับนายริด




English title

: MUEN and RID



Rating

: 5/5


Director

: Cherd Songsri



Main actor

: Santisuk Promsiri,Man Teeraphol,Ron Rittichai


Main actress

: Jintara Sookkapat,Duangdao Jarujinda



Buy now

:

Prior to 1865, women had no status in Thai society. They were looked down on as object with no significant value. Their parents and husbands had the right in law to pawn or sell them, just as they could pawn or sell their cattle. Hence the old Thai saying: "Women are buffaloes, men are humans". Muen was the daughter of peasants in Nontaburi Province. During a storm, she almost drown and was saved by a young monk called Rid. As she was love with the monk, she wanted to be close to him and succeeded to convince the temple abbot to be able to go to the temple school. Despite Thai society obstruction that thought that knowledge was useless for women, she learnt how to read and write. Her parents were trying to force her to marry Poo, who had alread several wives. She managed to escape and took refuge with Rid, who has left the monkhood for her. When he discovered where she was, Poo claimed under the law that Rid had abducted his wife. Muen was arrested, and suffered abuse and mistreatment in Jail. But she never gave up hope, and managed to escape and submit a petition to King Mongkut. She condemned the law as being unfair, and condemned Thai society for condoning men's exploitation and abuse of women. She faced the death penalty for her temerity; Thai society had lived by and respected the laws she attacked for centuries. The King issued a Royal Decree granting her a pardon. Based on a true story, the film celebrates an early case of a struggle for women's rights in Thailand, which resulted in a decree promulgated by King Mongkut in December 1865.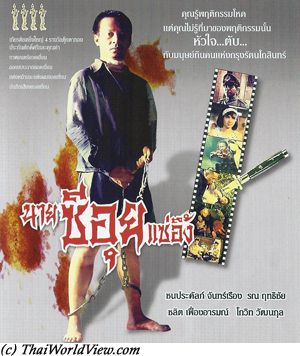 Year

: 1991



Thai title

:

นายซีอุย แซ่อึ้ง




English title

:



Rating

: 3/5


Director

:



Main actor

: Kowit Wattanakul,Ron Rittichai


Main actress

:



Buy now

:

Zee Oui is a Chinese emigrant looking for work in Thailand. He is coming after World War II and faces harsch discrimination from his Thai coworkers as he doesn't understand and speak well Thai. So he always has to change job. He is working hard but fails to gain enough money. He has psychic problems due to the Chinese-Japan war atrocities. He is not able to have a normal relationship with a woman. He believes that eating soup with human heart will give him supernatural power to face his nasty Thai colleagues. He then killed and raped a few Thai children in order to get their heart and liver to prepare his 'special' soup. Parents all over Thailand are worried and police is doing the enquiry to catch the children killer. Zee Oui starts to kill 3 girls in 1954 but always flee to another province after committing a crime. It takes four years for the police to catch him. He was then judged and sentenced to death. This movie are received four Thai film awards (รางวัลตุ๊กตาทอง). Three movies have been shot regarding Zee Oui's life (1984, 1991, 2004). It is based on a real story. The real Zee Oui now resides in a mummified state on display in Bangkok's Museum of Forensic Medicine.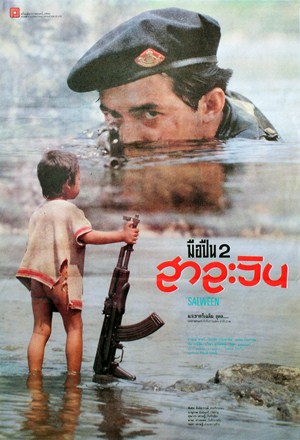 Year

: 1991



Thai title

:

มือปืน 2




English title

: Salween (Gunman II)



Rating

: 5/5


Director

: ChatriChalerm Yukol



Main actor

: Sorapong Chatree,Chatchai Plengpanich,Ron Rittichai,Sor Asanajinda,Suchao Pongwilai


Main actress

: Paweena Chareefsakul



Buy now

:

After WorldWar 2, Burma got its independance from England but the Karen minority problem was left unsolved. So an independance war between Karen and Burmese started. This movie takes place around Salween river, which the border between Thailand and Burma. Aound this area, there is no law, only guns decide. Different protagonists take part: a policeman acting like a outlaw and wishing to revenge his wife killed a few years ago, a young policeman coming from Bangkok with no experience in such difficult area, a Thai deceitful merchant playing Karen against Burmese in order to have access to rich forests full of teak logs, a Burmese general wishing to destroy the Karen stronghold around Salween river, a Karen captain wishing to defend his stronghold and giving in a wrong alliance with the Thai deceitful merchant. The war between Karen and Burmese is still going on and many people call it the forgotten genocide against the Karen people in Burma.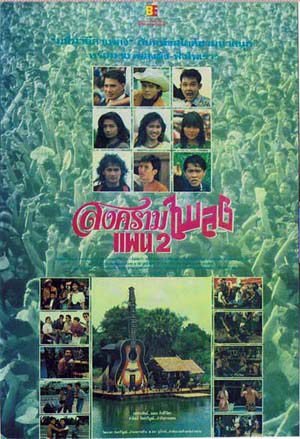 Year

: 1990



Thai title

:

สงครามเพลง แผน 2




English title

:



Rating

: 3/5


Director

: Sayan Chantaraviboon



Main actor

: Sorapong Chatree,Samart Payakaroon,Yodrak Salakjai,Note Chernyim,Manop Aussawathep,Boo Wibunnan,Ron Rittichai


Main actress

: Trirak Rakkarndee
Thai movie สงครามเพลง แผน 2 was released in year 1990 and lasts 1h52mn. The movie was released under VHS format and VCD format. This musical movie is featuring real singers such as Sorapong Chatree (สรพงศ์ ชาตรี), Samart Payakaroon (สามารถ พยัคฆ์อรุณ), สุนารี ราชสีมา, หรั่ง ร็อคเคสตร้า, ทิพย์ ธรรมสิริ, Yodrak Salakjai (ยอดรัก สลักใจ). Movie director is Sayan Chantaraviboon. Yodrak and Note Chernyim are performing in an attraction park. Yodrak tries to protect lady Trirak (Trirak Rakkarndee) aggressed by ruffians led by Ping. Mat (Samart Payakaroon - สามารถ พยัคฆ์อรุณ) stops his Thai boxing match to help also. But Yodrak (Yodrak Salakjai) and Mat are fired from the attraction park for breaking rules. They end up in Pon's house. Pon (Sorapong Chatree) is Yodrak's old friend. Pon is a former singer, who had great success. He is now disabled. Pon had an accident. A car overthrown Pon and his girlfriend. Out of job, all friends have to do small jobs to earn money. Romance occurs between Su (สุนารี ราชสีมา) and Yodrak. Music producers conflicts occur between producer Ron Rittichai from Grand Opinion and producer Phanom (พนม) from Diamond Note as singer Rang invites Thip to sing on the stage. It is songs war (สงครามเพลง / สงครามธุรกิจ) between them. This rivalry causes singers to be enemies (ศัตรู). Singers cannot even contact each other such as Rang and Thip. As they have difficulties to pay debts, Pon is upset but he still is trying to sell his songs. Rang promises to help. Ping tries to aggress Thirak again. The friends have issues with Ping, Boo's son, who threatens to burn Pon's house as a revenge. Pon succeeds to sell two songs thanks to Rang's help. Mat becomes a singer also. Lady from opposite side (สุนารี ราชสีมา) makes Mat to drink a lot. Producer Phanom copies Ron's producer strategy (ลิขสิทธิ์ใหม่ / ลิขสิทธิ์เก่า). Phanom is helped by ธีรพงศ์ เหลียวรักวงศ์ to coerce Mat. Mat is too busy with work. The lady doesn't let him go back home. When back home, he found that Trirak is going to marry with one of the sons of Boo Wibunnan. Mat misses being an ordinary man as there is no rest when being a superstar singer. Finally, they get on well again. Grand Opinion Producer Ron decides to call back Pon. Pon has finished to write a song in honor of his deceased girlfriend. Young lady Thip (ทิพย์ ธรรมสิริ) has similar face as her and will be the one to sing this new song. A concert is organised to differentiate the two producers. Pon and Mat arrive by balloon. Thip sings Pon's new song. It is a huge success. Shooting happens as a revenge and Pon is shot (ถูกยิ่ง). The two producers accept to do peace to ensure Pon's death has a meaning.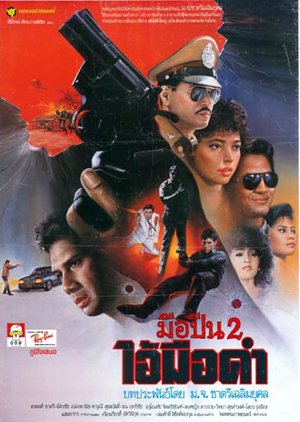 Year

: 1988



Thai title

:

มือปืน 2 ไอ้มือดำ




English title

: Gunman 2 Ai Meu Dam



Rating

: 4/5


Director

:



Main actor

: Sorapong Chatree,Chatchai Plengpanich,Ron Rittichai


Main actress

: Jarunee Sooksawad



Buy now

:

Thai movie มือปืน 2 ไอ้มือดำ was released in year 1988 and lasts 1h45mn. It was released under VCD format by Rose company and features a sharp and colorful image. The scenario has many similarities with movie มือปืน 1 released in year 1983. ผู้กอง Aklai (Chatchai Plengpanich) is a traitor. He is selling M16 weapons to ruffians and rebels. Meanwhile Thai soldiers led by Sorapong men are facing striking attacks from rebels. A helicopter is rescuing the survivors. Sorapong, injured in the leg, is left behind as Uat (Ron Rittichai) abandons him. Four years passed. Aklai is now renamed as Sutham and he is trying to rob an illegal casino. Former head of ruffians Somchai is now a politician and a mafia leader (เจ้าพ่อ). Uat is married with Soma (Jarunee Sooksawad). Uat is now a famous policeman called ไอ้มือดำ as he is wearing a black glove when shooting ruffians. He is very busy with his work and he has never time for his wife Soma. Sutham wishes to become rich so he accepts to be a hitman for Somchai but increases his price each time. Uat waits for proofs (หลักฐาน) to arrest Sutham. Sorapong succeeds to escape from Burma and stays in a Thai farmer family near the border. Having happiness there, he asks for lady Lampoei's hand. Meanwhile Sutham becomes the new mafia boss by getting rid of Somchai. Lampoei is pregnant. Sutham is having issues due to war between mafia bosses. Uat is also causing troubles to Sutham. A hitman injures Uat causing Soma to be very upset as this warning doesn't hamper Uat to slow down. Sorapong brings Lampoei to Bangkok. As the pregnancy is getting worse, a cesarean operation (ผาตัด) is needed but Sorapong doesn't have enough money. Then he has to gamble his life to get money. Despite having lost, the casino owner Sutham lets him go and even gives him money as they know each other. Sorapong has now a moral debt with Sutham and is used by him as a hitman. A child is born but Lampoei dies. Fed up, Soma finally leaves home and she sympathizes with Sutham causing Uat to be very upset. Other mafia leaders kill Sutham's mother and relatives during a birthday. He is left for dead. He then storms a diner gathering the mafia leaders to get revenge. Uat intervenes also. A final striking scene occurs between Sorapong, Uat and Sutham. Sorapong as hitman has to choose between shooting Uat or Sutham, between a man who abandoned him among Burmese soldiers or a man who betrayed his country...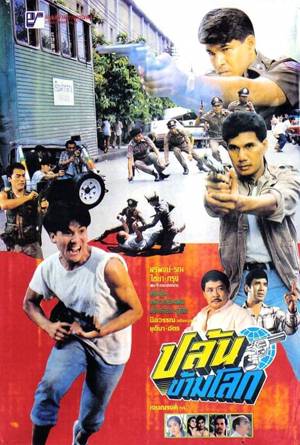 Year

: 1987



Thai title

:

ปล้นข้ามโลก




English title

: Faithful Spirit



Rating

: 3/5


Director

:



Main actor

: Sorapong Chatree,Krung Srivilai,Chaiya Suriyun,Chat Mongkolchai,Somchai Samipak,Ron Rittichai,Lau Wan-Fung


Main actress

: Chutima Kawinla
Thai movie ปล้นข้ามโลก / Faithful Spirit / 手足情 was released in year 1987 and lasts 1h36mn. It is a Hong Kong Thai coproduction. A VHS was also released in Japan and lasts 1h30mn featuring a sharp picture. In Hong Kong, during a police operation, a policeman Saichai (Hong Kong actor Lau Wan-Fung) is surprised to see one of his friends being part of the gangsters they are chasing. He prevents another policeman to shoot his friend, who can flee. The head of the police has now doubt on Saichai's integrity and suspends him from police duty. Saichai is very upset. He has a fight with some gangsters and during the fight, a policeman, trying to arrest them, is killed accidentally. Saichai is accused to have killed this policeman. His friend proposes to Saichai to flee to Thailand and to stay with uncle Chuan. In Thailand, ผู้กอง Sorapong Chatree tries to catch a kidnapper having taken two foreign teachers in hostage. Inspector (สารวัตร) Ron Rittichai (รณ ฤทธิชัย) succeeds to enter in the room and shoots the kidnapper. Uncle Chuan is involved in diamond trade. Palang (Chat Mongkolchai) is disappointed that Chuan wishes to retire. Three ruffians belonging to Palang shoot uncle Chuan and his wife. Khun Kamton (Krung Srivilai) is the big boss. Kamton asks for additional money from all godfathers. Fed up, the godfathers pushed by khun Prasong (Chaiya Suriyun) gather 200 000 baht to get rid of him and a hitman kills Kamton. Uncle Chuan recovers gradually. Saichai promises to take care of Palang. Following a fight in a restaurant, Saichai kills Sia Palang. Godfather Prasong knows that the killer is a former Hong Kong policeman. By threatening Saichai to have him expelled from Thailand, Godfather Prasong hires him to kill other godfathers. One time, he fails as police intervenes. Saichai believes Prasong tried to betray him. Police fails to catch Saichai. Saichai gets a Thai girlfriend called Mary (ชุติมา กาวินละ). Three Hong Kong men are sent to jail following a failed robbery. Saichai knows them. Godfather Prasong is finally arrested by Sorapong following a drug case foiled by Thai police. Somchai Samipak is playing head of Police. Saichai succeeds to release two of his friends. The third one succeeds to escape as police intentionally wants to find other Hong Kong men thanks to him. Police surrounds the house where the Hong Kong men are hiding. They refuse to surrender. Ron Rittichai has to do the dirty job to neutralize the Hong Kong robbers...



Year

: 1987



Thai title

:

เหยื่อ




English title

:



Rating

: 5/5


Director

:



Main actor

: Ron Rittichai


Main actress

: Mayurachath Muarnprasitivej,Jintara Sookkapat,Chosri Misommon
A couple has two teen boys, Long and Lit (elder brother). They don't spend a lot of time with their children as they need to work hard and late to pay back their mortgage. The father often goes on long business trips in provinces. Having no time for their children will bring bad consequences. The wife's younger sister, Sai, is staying as maid. The couple has issues with their teen boys. The boys are playing in illegal underground den, do small smuggling to earn extra money despite the pocket money given already by parents, wander with bad guys (นักเลง). The parents are worried that their kids may be caught by the police following raids on illegal casinos. The maid suggests to buy a video player so that they stay home. They wish to watch porn and violent movies. They borrow tapes from bad guys. It gives them bad ideas such as rape and they starting peeping Sai bathing. The teens are lazy and expect everything is due to them (ลูกแบบเทวดา). Watching violent movies makes Long tense. So he tortures and kills a cat. Watching porn movies arouse the teens (เกิดอารมณ์จะปล่อยที่ไหน). They think about Sai to teach them as she had a boyfriend before. Long drinks alcohol and still frequents the bad guys, who propose to bring him to prostitutes. He is always in bad mood (หงุดหงิด). Lit tries to rape Sai in the bathroom and Long hits her violently on the head. Blood flows. Sai is dead. The teens are murderers that need to hide their crime. They lie that Sai fled away with her new boyfriend in order to avoid that their mother calls the police for disappearance. They hide Sai's corpse inside the garden well. A house lizard (จิ้งจก) falls in front of Long. It is a bad omen as house lizards should never fall from ceiling or walls. A new maid is found to take care of the house. She is a young divorced lady called Sawin. They prevent the new maid to check inside the well as there is a very bad smell. Since Sai's death, Long feels bad and always stay alone. Sawin is not shy and entices Lit. They become lovers. Long becomes jealous. Long's bad friends are arrested for rape. Long starts to panic. He complains that Lit throws away brotherhood versus his girlfriend. They decide to get rid of Sai's corpse while Sawin is going out. Sawin finally discovers the corpse. Long tries to drown Sawin. A fight between the two brothers. Sawin flees and alerts the neighbours. The teens are jailed. The mother becomes crazy. The father blames the society for allowing such bad movies sales and distribution. But watching movies at home is internal affair. เหยื่อ means victim (indirect or direct). This movie is also a warning to parents not giving enough time to their children. Giving them too much freedom can have terrible side effects.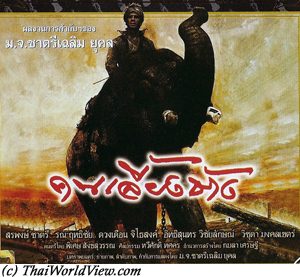 Year

: 1987



Thai title

:

คนเลี้ยงช้าง




English title

: The Elephant Keeper



Rating

: 5/5


Director

: ChatriChalerm Yukol



Main actor

: Sorapong Chatree,Ron Rittichai


Main actress

: Duangdeuan Jithaisong



Buy now

:

It is about forest exploitation by rich people. Boonsong is an elephant keeper, who is having debts with a local and influent pawner. The pawner is supported by a local corrupted police officer. Kamroon is a ranger fighting against illegal loggers in order to protect the forest. Some gunmen try to get rid of Kamroon but Boonsong helps him. Boosong has to do illegal logging in order to pay back his debt to the pawner. Kamroon wants to help him but is killed by the corrupted policeman, who also wants to suppress Boonsong... This movie puts the stress on forest diminishing size due to overexploitation and illegal logging, elephants lacking work as the forest is getting smaller, corrupted policemen, influential people escaping troubles, illiterate poor people exploited by rich Chinese pawners, companies possessing official logging concessions and cheating by adding illegal logging, the helplessness of the simple people as well as the animals caught up in this struggle. The film failed at box office and lost around 7 millions baht. The long history of debate around the Chinese control over business in Thailand is one of the most deep and daring assertions in this movie. This movie touches deeply controversial issues such as the Thai state failing to protect its people against illegal interests. During the filming in the Northeast of Thailand local gangsters, probably working for illegal logging interest, attacked the film crew and one member was killed. The Culture Ministry registers 25 Thai classic films each year at the National Film Heritage Registry. This movie is part of the 25 films heritage list announced on 04 October 2014, which is Thai Movies Conservation Day.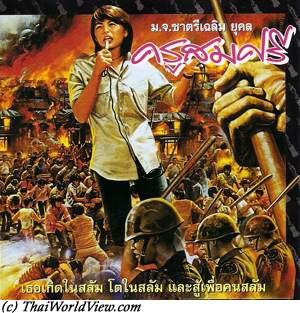 Year

: 1986



Thai title

:

ครูสมศรี




English title

: Somsee



Rating

: 5/5


Director

: ChatriChalerm Yukol



Main actor

: Sor Asanajinda,Settha Sirachaya,Ron Rittichai,Sor Asanajinda


Main actress

: Chalita Puttamapun



Buy now

:

It is about a big company, which wants to expel slum inhabitants in order to build a modern complex. A young teacher called Somsri is representing the slum and is fighting against the company. This movie shows the power of big Thai companies over slums, Thai rich people power over poor people and the Thai useless bureaucracy. Hopefully a Thai official and a lawyer are helping the teacher Somsri as the slum inhabitants are fully in their rights. Unfortunately, the big company doesn't hesitate to use strong ways such a fire, threats and gunmen. The slum finally wins but the lawyer and teacher Somsri lose their life. The movie is based on an activist teacher in the Klong Toei slum area. The idea on which the movie was based is the real life of teacher Pratheep Ungsongtham. She was called the slum angel.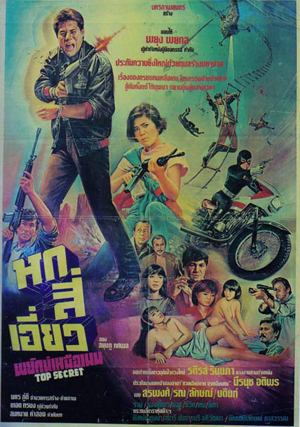 Year

: 1985



Thai title

:

หกสี่เอี่ยว พยัคฆ์เหนือเมฆ




English title

: Top Secret



Rating

: 3/5


Director

: Payoong Payakul



Main actor

: Sorapong Chatree,Lak Apichat,Sithao Petcharoen,Ron Rittichai


Main actress

:
Thai movie หกสี่เอี่ยว พยัคฆ์เหนือเมฆ was released in year 1985. Payoong Payakul is movie director. The movie is lost in Thailand but a sequence of 47 minutes is left to be seen. Lak Apichat is playing a police inspector (สารวัตร) role. Veteran actor รณ ฤทธิชัย is playing a ruffian role. Sithao Petcharoen is playing a comic role as useless policeman. In Thai the countryside, goods exchange shall happen between Sing and a group of soldiers led by Reuang (Sorapong Chatree). They arrive by parachute. Sing plays double role and kill the soldiers including Reuang. A bit later, Sing and his ruffians are also killed by mysterious men wearing black clothes. So nobody knows where the goods (สินค้า) end up. Reuang survives and agrees to look for the culprits. Reuang is arrested by the police. Ruffians learning that he is not dead wish to capture him to identify where their goods are hidden. They succeed to release him but Reuang admits he has no clues where the goods are. Later on, Apichat and a policewoman catch Reuang to know where the goods are hidden but to no avail. Reuang is seen by all as the key entry point (กุญแจดอกสำคัญ). Those goods are important at Thai national level. Reuang accepts to collaborate with the police. The left sequence ends up here. Movie หกสี่เอี่ยว พยัคฆ์เหนือเมฆ was also used in IFD movie Top Secret.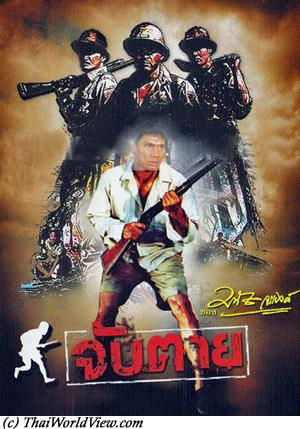 Year

: 1985



Thai title

:

จับตาย




English title

:



Rating

: 3/5


Director

:



Main actor

: Sorapong Chatree,Ron Rittichai


Main actress

:



Buy now

:

Some prisoners (นักโทษ) are used by Rangers police to cut trees in the forest. Porn (Sorapong Chatree) is a quiet prisoner (ครับนาย). Some of the rangers are good men but some are bad guys eager to shoot prisoners when they flee or force them to overwork. Porn is well appreciated by the Rangers police leader as he is always helpful and calm. Krasit, one of the Rangers police, doesn't like Porn as he is too soft. Kasit is spreading rumours of homosexuality (กะเทย) about the two men. Porn is said to have a beautiful girlfriend called Wan in the neighbouring village so Kasit wants to know more. Porn lies to his mother and his girlfriend about his prisoner status. He claims he is still a worker (พนักงาน). Krasit succeeds to steal Porn's girlfriend by telling the truth to Wan's mother. The Rangers police leader is nice and believes in prisoners' redemption so he is giving a lot of autonomy to Porn in the forest. Porn cannot stand Wan's decision (ไม่ทำใจ) and wishes to try to convince her a last time. In one year he shall be released. He is not a criminal (ผู้ร้าย) but Wan's mother forces her daughter to meet Krasit as she is not happy that Porn is a prisoner. Porn was coming from Mae Hong Son and was mistakenly trapped in a brawl. Krasit and Porn fight each other and Porn has no choice than fleeing. Wan cannot follow up. The Rangers police starts to chase Porn in the jungle. Porn has an arm injury as Krasit shots him and then he falls from a cliff. Kasit wants to catch him and kill him (จับตาย). Porn gets refuge with Wan and they flee together. The Rangers police leader cannot help anymore despite Wan's request. Mlabri people (known locally as Phi Tong Luang - ผีตองเหลือง - or "spirits of the yellow leaves") help Wan to go deep inside the forest. The Rangers police follows Wan to know where Porn is hidden. Deadly fights happen in the forest between the Mlabri people and the bad policemen. Krasit dies. Porn finally disguises his death by putting his clothes on a dead body disfigured due to disease.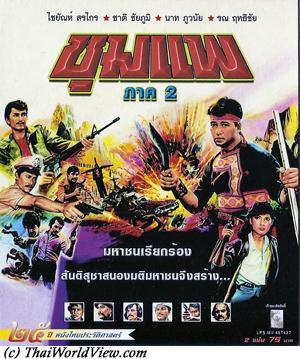 Year

: 1984



Thai title

:

ชุมแพ 2




English title

: Chom Phae 2



Rating

: 3/5


Director

:



Main actor

: Nard Poowanai,Kecha Plianvithee,Chat Mongkolchai,Manop Aussawathep,Chaiyan Sorakrai,Ron Rittichai


Main actress

: Apiradee Pawaputanon



Buy now

:

Chom Phae 2 (ชุมแพ ภาค 2) movie starts by a 5mn section of Chom Phae 1 with actors Sombat Methanee, Dam Datsakorn and actress Piyamas Monayakol. Chatom, the ruffians leader, is captured by the police. Duangjai and Duangpol are his daughters. Police Officer Chayo, promised to Duangpol, refuses to release Chatom. Duangjai hires Chat, a famous thief, in order to help liberate her father. The plan is audacious but successful. Chatom needs now to buy weapons for 20M baht to ruffian leader พ่อ Saen. Weapons are finally stolen (โปลน) and not paid. Saen is upset by Chatom's outrageous beahavior and his daughter Surin tries to calm him down. Both Surin and Duangjai want their fathers to stop being ruffians leaders but they just cannot stop. Chatom's ruffians try to kill Saen but a mysterious masked fighter (Surin!) helps him. Every time Chatom tries to sell the weapons, police is aware. Chatom suspects Chat to inform Chayo. Chatom resurrects Seua Sing (from Chom Phae part 1) as his twin brother to try to kill Police Officer Chayo. Chatom's ruffians try to sell weapons to neighbouring guerrilla (คนเลวชาติ) in the jungle but Saen's team led by Surin fights back. Chatom ruffians kidnap Surin to know who is the spy inside their team. Hopefully Yot helps to release Surin. Chat is finally captured but released by Surin. He joins Saen's team. To get rid of him, Chatom wishes to recruit Hamuyan, a strong hill tribe fighter. Hamuyan is coming from a hill tribe (พี่น้องแมว) and is expert in fighting skills. Hamuyan is recruited by Chatom to kill Chat. Hamuyan accepts as Chat is supposed to be a bad guy and Hamuyan needs money. Police officer Chayo intervenes before they can kill each other. Surin (Apiwadee) is doing well in fighting skills also. Following the failure, Chatom orders to kill Hamuyan but his sbires fail to execute properly. Later on Hamuyan helps Chat and Surin in difficulty against some ruffians. Chat and Hamuyan decide to go back to the mountain to prevent retaliation from Chatom on the hill tribe. Hamuyan's sister Nai Ying prevents a bomb to explose when Chat's car with Hamuyan passes by but she gets shot. Chatom and his ruffians attack the hill tribe village but are welcome by an explosive reception from Chat, Hamuyan and the hill tribe fighters. Police led by Chayo arrives on time. Even Surin joins the shootings. Finally Chatom and Saen kill each other. Chat was finally an undercover policeman. It is a typical 1980s Thai action movie featuring multiple fights, shootings, undercover policeman. Chomphae 1 was released in 1976. The real part 2 is supposed to be movie "ทุ่งลุยลาย" with Sombat Methanee released in 1978. This Chom Phae 2 doesn't feature the main leading actor, i.e. Sombat Methanee and tries to bank on the box office success of part 1.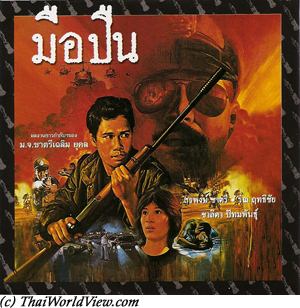 Year

: 1983



Thai title

:

มือปืน




English title

: Gunman I



Rating

: 5/5


Director

: ChatriChalerm Yukol



Main actor

: Sorapong Chatree,Krai Kanchit,Ron Rittichai


Main actress

: Chalita Puttamapun,Janthana Siriporn



Buy now

:

It is about the story of Sommai, a barber, who is acting as a gunman ("MEU PEUN" - มือปืน) in order to get money to cure his sick boy. He is an veteran soldier who has fought in Laos but was left behind by his superior Tanu after saving his life. Now his previous superior is a policeman involved in gunman investigations. Tanu has a reputation for killing criminals. Applying gratitude ("KATANJOO" - กตัญญู) towards his previous mate, the investigation is going slowly until a younger policeman gets involved... This film highlights conflicts between poor people (the gunman and his family), the government officials (policemen and soldiers) and wealthy influential businessmen. This movie has received 5 Thai awards. The opening scene in Gunman I, when the camera moved along and made viewers feel as though they were riding on a motorcycle with the lead character, has remained famous.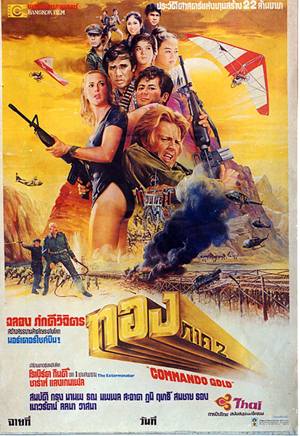 Year

: 1982



Thai title

:

ทอง ภาค 2




English title

: Commando Gold



Rating

: 3/5


Director

: Chalong Pukdeewichit



Main actor

: Sombat Methanee,Krung Srivilai,Sahat Piempongsan,Robert Ginty,Rith Luecha,Somchai Samipak,Manop Aussawathep,Ron Rittichai,Rong Kaomulkadee


Main actress

: Wassana Sitthiweth,Naowarat Yooktanun,Lalana Sulawan,Sarah Langenfeld



Buy now

:

ทอง ภาค 2 / Goldraider is a sequel of ทอง ภาค 1. It was released in year 1982. It lasts 1h33mn. It is a DVD featuring English language with Thai subtitles. The plane leaving Laos with gold bars is shot down. There is a stock valued 200M USD on board. Cheut (Sombat Methanee) and Satra (Krung Srivilai), both present in first sequel, succeed to jump by parachute. Cheut ends in a mountain village where Wassana Sitthiweth is a teacher. Satra ends in another village led by Somchai Samipak and is accused of being a spy. As one leader wishes to marry Naowarat Yooktanun, Satra's life is spared as he needs to offer gold for the wedding. So Satra must lead them. Another team led by Mark (Robert Ginty) and including Cordelia (Sarah Langenfeld), Penpoin (Lalana Sulawan) - explosive expert -, Rith Luecha – knife expert - and others is on the way to the border to prevent communists to grab the gold bars. The commando has to get back three big boxes containing weapons and delivered by planes. The Laotian leader is a general (Manop Aussawathep), who has a crippled leg. He has to catch the gold raiders and find the gold bars to give back to his commander Sahat Piempongsan. While crossing a ravine, the gold raiders get reunited with Satra and Naowarat, who were fleeing from the Laotian soldiers. They finally all get captured except Mark, who flees through his flying motorcycle. Penpoin recognises her former Thai boyfriend, who is now a captain in the communist army. At night time, Mark releases them and they storm the ruffians' camp. As the village chief was killed, Naowarat guides them to the plane. They succeed to steal the gold bars from the laotian soldiers and rush to the Mekong river to wait for US helicopters. Manop Aussawathep tries to steal the gold from his own commander Sahat Piempongsan. Laotian army reinforcement arrives but the gold raiders succeed to slow them down. Gold is finally extracted but 5 of the gold raiders have lost their lives during the expedition.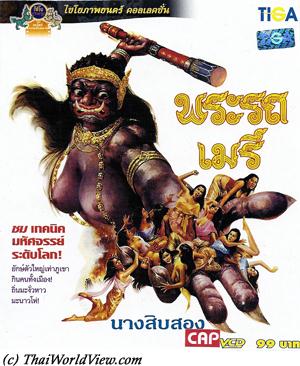 Year

: 1981



Thai title

:

พระรถเมรี




English title

:



Rating

: 3/5


Director

: Sompote Sangduenchai,Neramit



Main actor

: Toon Hiransap,Dam Datsakorn,Ron Rittichai,Sithao Petcharoen,Sompong Phonmitr,Sukon Koewliam


Main actress

: Ampha Pusit,Supansa Nuengpirom,Duangcheewan Komolsen,Janthana Siriporn,Metta Roongrat



Buy now

:

This movie is based on Southern Thai Local Literature. Twelve daughters are abandoned by their parents, who are too poor to educate so many children. The twelve daughters are rescued by a "Yak" woman who promises to take care about them as her own daughters. She deceived them and force them to drink a potion that transform the young girls into beautiful maidens. They escape and are rescued by a Prince, who falls in love with the youngest girl, called Sip Song. He agreed to marry the twelve girls. Once again, the "Yak" woman deceived and force them to drink a potion that makes them 8 months pregnant. The Prince, disappointed by this unexpected pregnancy, expels them and they are imprisoned in a cave, where the "Yak" woman has their eyes removed in order to make an ever young potion for her. Blind and with no food no eat, the ladies eat their new born babies except the son of Sip Song who is raised by a gentle "Yak". The son is called Phrae Rot Meri. Getting older he ran a cock fight to make a living for the 12 ladies. Becoming an adult, he has a deal with the Prince and goes to the "Yak" country to get more magic potions in order to get freedom for the 12 ladies including his mother. But the "Yak" woman is doing all possible tricks to stop him...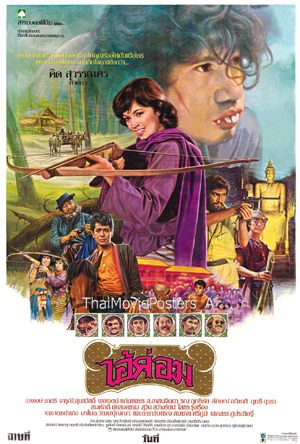 Year

: 1981



Thai title

:

ไอ้ค่อม




English title

:



Rating

: 3/5


Director

: คิด สุวรรณศร



Main actor

: Sorapong Chatree,Porjed Kaenpetch,Sor Asanajinda,Lak Apichat,Somsak Chaisongkram,Ron Rittichai,Rith Luecha,Sawin Sawangrat


Main actress

: Jarunee Sooksawad
It has a scenario based on the tale "The beauty and the beast". An deformed man, hated by all, is helping an endangered young woman.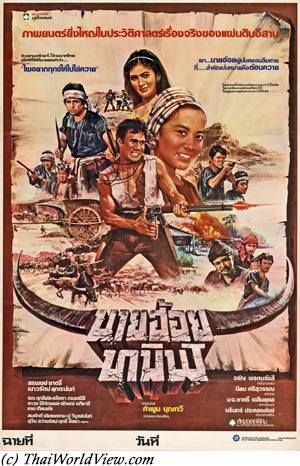 Year

: 1980



Thai title

:

นายฮ้อยทมิฬ




English title

: Nai Hoi Tamin



Rating

: 3/5


Director

:



Main actor

: Sorapong Chatree,Sawin Sawangrat,Lak Apichat,Ron Rittichai


Main actress

: Naowarat Yooktanun
It deals about the adventures of Thai cowboys sending cattle through Isan area to Nakhorn Ratchasima. Outlaws are waiting to steal the buffaloes. The "Nai Hoi" were historical local cattle merchants leading buffalos from Isan to the central regions of Thailand to sell them. This movie has an unique feature, i.e. actors use Isan language to speak. This movie highlights the life of rural people in Isan in historical times. A Thai TV serie based on the movie was shot in 2001.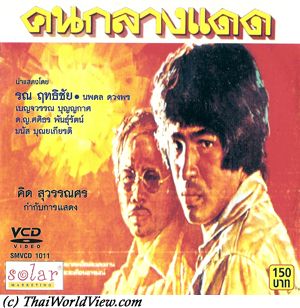 Year

: 1979



Thai title

:

คนกลางแดด




English title

:



Rating

: 5/5


Director

:



Main actor

: Noppadol Duangporn,Ron Rittichai


Main actress

:



Buy now

:

Phlaew and Na have a small company producing ice and transporting it to customers. They share profit 50-50. They are living in a Bangkok slum where families support each other. Phaew is a nice guy. He is sending local children to school and help to send Maew, little girl having respiratory problems, to hospital. Poor children from slum have no time to do homework after school because they sell flowers, newspapers at traffic light intersections. It is a hard job to sell garlands and get revenue when it is the rainy season. Poor people has no time to study as they need to earn money to survive but get blamed by teacher when they arrive late to school or when they couldn't do homework because they were too tired. There is a contrast between rich children playing piano and poor children playing with bamboo. They dream of changing lifes, i.e. sell clothes instead of selling flower garlands. Elders are gambling and drinking. There are internal family fighting on savings. Pa, middle age woman, borrows money from local mafia den. Pa and Na lose at horse betting and Pa cannot reimburse the mafia den. Pa's husband fled away because of her gambling habit and because her daughter got handicapped by a cart while the mother played cards. Pa gets hit by mafia tough men because she cannot give money back. Phlae celebrates his birthday with all poor kids and Na. Alcohol helps them to forget their problems temporary. Phlaew discovers that Na was unfair with him since two years because he doesn't know how to read. Na didn't share the revenue honestly. Phlaew asks for 30 000 Baht to pay back Pa debts and to do good for her daughter Phae. Pa encounters Na when going to give back money to mafia. He convinces her to bet on Thai boxing following a tip he got. When he realizes that the money they bet is coming from Phlaew it is too late. Meanwhile the mafia tough guys are looking for Pa. They look after her daughter Phae to locate the mother. The local insane guy, who tries to protect Phae and Maew, is hit by a knife. Due to the fear, Maew died due to her respiratory problems. Phlaew asks for revenge. One of the participants brings them to the boss, who is getting and selling land from slums in order to build modern buildings. A deadly fight erupts in which Na gets shot. The boss gets badly hurt but survives. Slum people get caught by the Police. Before dying Maew, the little girl, has writen a text to celebrate the Bangkok 200 years anniversary. Bangkok development is done on the back of poor people. Bangkok is not an angel city anymore. People in slum are moved from one place to another following Bangkok development. To chase people from slums, their houses are often burnt. This movie highlights their difficult and poor living condition (youngsters addicted to cheap drugs, poverty, insalubrity...) but they still have a good heart towards each other in a similar way to people living in up-country villages. "คนกลางแดด" means the people under the sun. Slum people same as villagers are second class citizen. This movie has also been registered as National Heritage per the 2016 list released by the Thai Film Archive.
---