Increase or decrease font size for easier reading : A+ A-
Rewadee Siriwila
Rewadee Siriwila (193x) - เรวดี ศิริวิไล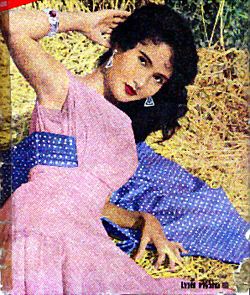 Rewadee Siriwilai
This Rewadee Siriwila movie page contains 3 records.
---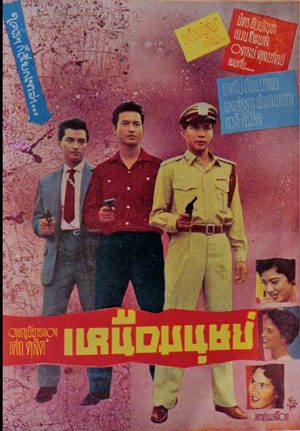 Year

: 1959



Thai title

:

เหนือมนุษย์




English title

:



Rating

: 3/5


Director

: Wichit Khunawut



Main actor

: Mitr Chaibancha,Adul Dulyarat,Man Teeraphol,Sompong Phonmitr,Sukon Koewliam


Main actress

: Rewadee Siriwilai,Kesarin Patamawan,Phong Lada Pimolpan
Thai movie เหนือมนุษย์ was released in year 1959 and lasts 1h26mn. The picture is still colorful. Director is Wichit Khunawut. Mitr Chaibancha was only 25 years old. This is oldest movie still featuring Thai superstar Mitr Chaibancha. Highlight of the movie is Mitr Chaibancha playing with 3 famous main actresses of decade 1950s. Sarawat Cheut (Adul Dulyarat) and Man Teeraphol are policemen. Mitr is playing a bad ruffian, called Krieng, flirting with ladies. Krieng succeeds to win the trust of a gang. The leader sends him in south of Thailand. Sompong Phonmitr follows Krieng as he is impressed by him. Krieng meets Saen, local leader in Pattalung. A local lady called Lada (Rewadee Siriwilai) follows Krieng. Krieng intercepts a truck driven by Saen and containing illicit goods. He joins the Thai police (เจ้าหน้าที่) to catch Saen. Krieng infiltrates another ruffians group and keeps in sync' with Thai police. He meets another lady called Apson (Kesarin Patamawan). Lada is shot while fleeing with Krieng. Businessman Pong asks help from inspector Cheut. Saen kidnaps inspector Man. Krieng helps to release him while ruffians are busy transporting goods. Nit (Phong Lada Pimolpan) is raped by a ruffian. Krieng and Apson joins their efforts to protect Thailand against people trying to hurt the country. Nit steals a document from the ruffians. Undertaker (สัปเหร่อ) kills Saen and Go. Ruffians are aware Krieng betrayed them (ทรยศ). Krieng and Apson are identified as traitors and are attached. Police, called previously by Apson, disturb the ruffians allowing Krieng to escape. Phi Cheua and Nit die during the fightings but Nit shoots Go before dying. Apson is a uncovered policewoman called Achala. It discovered that Krieng's real name is Chet and he is the elder brother of Cheut! Cheut and Chet love the same woman, i.e. Achala. The leader still tries to kill Krieng as revenge. The real leader is Businessman Pong! Krieng succeeds to neutralize the ruffians and escape before the building collapses. He gets Achala's love.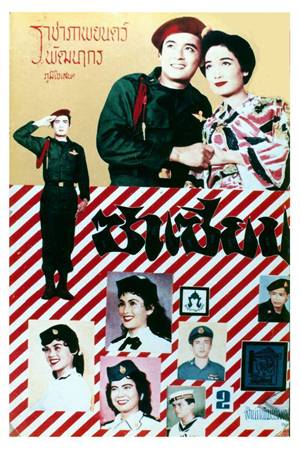 Year

: 1959



Thai title

:

ซาเซียน




English title

: Sasean



Rating

: 3/5


Director

:



Main actor

: Chaiya Suriyun,Sukon Koewliam,Tawan Siriwat


Main actress

: Raodee Sririwilai,Mom Chan Phuangwan,Rewadee Siriwilai
Sasean (ซาเซียน) is a Thai movie released in year 1959 and featuring main actor Chaiya Suriyun and main actress Rewadee Siriwilai. The movie is lost in Thailand but a four minutes sequence as a trailer is still available. The image is still sharp and quite colorful. The short sequence includes war sequences, fist fighting scenes. Other actors include Sukon Koewliam, Tawan Siriwat. A lady is kidnapped but helped by a marine boat soldier. The movie is mute. No summary is available.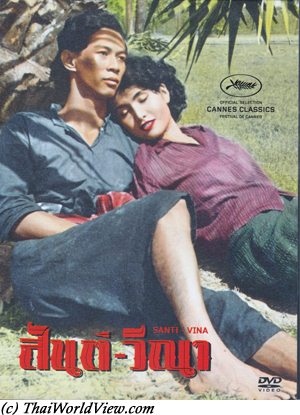 Year

: 1954



Thai title

:

สันติ-วีณา




English title

: Santi-Vina



Rating

: 5/5


Director

: Ratana Pestonji



Main actor

:


Main actress

: Rewadee Siriwilai
Thai movie สันติ-วีณา (Santi-Vina) was considered as a lost movie during many years. It was finally discovered again, restored and available in full length of 113 minutes. In year 2016 it was shown during Cannes Classic section of the 69th Cannes Film Festival. It was the first 35mm Thai movie ever realised. It was produced by หนุมานภาพยนตร์ and directed by Ratana Pestonji in year 1954. Movie Santi-Vina entered Asia-Pacific Film Festival in Tokyo and got three awards. It was the first Thai movie to participate to overseas movies competition and to get award. When back to Thailand, the film couldn't enter due to tax issue. So it was sent to England and got lost! Luckily it was found again in year 2014 in England in the British Film Institute and also in Russian and Chinese Film archives. Santi-Vina was the first Thai movie to be shown in mainland China. A film researcher found that the movie "Santi-Vina" had been sold to Russia and China in the 1950s and was released in those countries. Thai Film Archives kept also a poor quality copy. The restored movie has a colorful and crisp HD image. Santi-Vina movie was released by Thai Film Archives in year 2017 under DVD format. Santi, a poor 10 years old blind boy, is living with his father. Vina, a young girl, takes a pity on him and tries to protect him from the harassing of another boy called Krai. Vina brings Santi to school. Santi's father sends him to stay with Luang Ta, a respectable monk, hopefully that he would learn the Buddhist lessons and by doing good deed, he could regain his eyesight. When they have grown up, Santi and Vina (Rewadee Siriwila) become lovers during Loy Krathong festival. By seeing the flower given by Vina in Santi's hand, the monk understands there is no ending to human suffering. If Santi regains sight one day, the monk wishes he would join the monkhood but in his mind, Santi is thinking about Vina only. Seeing Vina and Santi together, Krai feels jealous because he also loves Vina. Krai asks his parent to arrange a marriage proposal to Vina. Vina's parents are convinced as Krai's father is the village leader. The love story with a blind man (ไอบอด) is impossible as he will not be able to care about his wife. Nevertheless Vina doesn't love Krai so she decides to run away with Santi. Krai tries to stop them at the temple cave but during the fighting, Santi defeats him. However, they are finally caught as trackers are using horses and Santi is severely beaten by Krai. On the day Vina gets married with Krai, Santi feels very sad and decides to get suicide by heading to the cave where big rocks often fall. Luang Ta loses his life in order to save Santi's life. Santi's eyesight is miraculous cured but he realizes that life has no more meaning as he lost Luang Ta. Reminding Luang Ta's comments, Santi reaches real happiness in life is by entering the monkhood. He knows that love together with Vina is no longer possible. In 1976, Pestoni's son Santa remade "Santi-Vina" as a tribute to his father. This remake is currently in poor condition.
---