Increase or decrease font size for easier reading : A+ A-
Rewadee Pattaphong
Rewadee Pattaphong (1957) - เรวดี ปัตตะพงษ์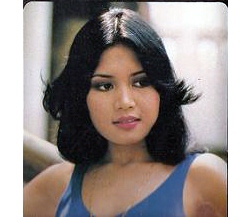 Rewadee Pattaphong is a former miss Thailand
This Rewadee Pattaphong movie page contains 6 records.
---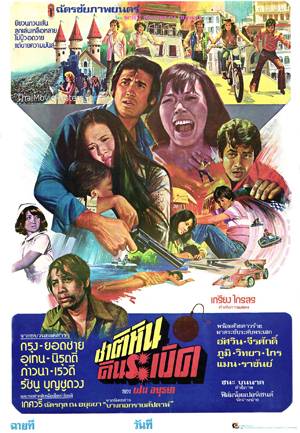 Year

: 1979



Thai title

:

ชาติหินดินระเบิด




English title

:



Rating

: 3/5


Director

:



Main actor

: Krung Srivilai,Yodchai Meksuwan,Nirut Sirijanya,Uten Boonyong,Doo Dook Kradon,Krai Kanchit,Pumi Patanayut


Main actress

: Pawana Chanajit,Rewadee Pattaphong,Ratchanoo Boonchuduang
Thai movie ชาติหินดินระเบิด was released in year 1979. Main actors and actresses include Krung Srivilai, Yodchai Meksuwan, Pawana Chanajit, Nirut Sirijanya, Rewadee Pattaphong, Ratchanoo Boonchuduang, Uten Boonyong, Doo Dook Kradon, Krai Kanchit, Pumi Patanayut, อัศวิน รัตนประชา, จิระศักดิ์ ปิ่นสุวรรณ, วิทยา สุขดำรงค์, ราชันย์ กาญจนมาศ. Movie director is เกรียง ไกรสร. The film is lost in Thailand but a sequence in 35mm format can still be seen. The picture is very damaged and reddish. It lasts ten minutes. During the remaining sequence, Nirut and Doo Dook Kradon are in prison. Pumi Patanayut is about to burn Nirut's wife and her child. Policeman Krung tries to help but he is finally captured. Police surrounds the school where ruffians are hiding and having kids as hostages. Yodchai Meksuwan is playing a blind man. Pumi Patanayut is the head of ruffians. Krung and Nirut enter the school to release Nirut's son. It is successful.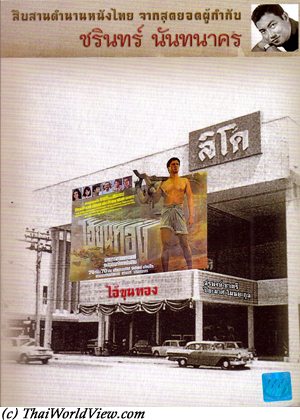 Year

: 1978



Thai title

:

ไอ้ขุนทอง




English title

:



Rating

: 5/5


Director

: Charin Nantanakorn



Main actor

: Sorapong Chatree,Lak Apichat,Prachuap Ruekyamdee,Krai Kanchit,Boo Wibunnan


Main actress

: Piyamas Monayakol,Petchara Chaowarat,Rewadee Pattaphong



Buy now

:

Kun Thong's mother is Mae Kaew (Petchara Chaowarat) but he has no father. Mae Kaew refuses to mention who the father is. Kun Thong's mother is very religious oriented (ทำบุญ). Other children such as Saen (Lak Apichat) scold him about the lack of father. Only young girl Phikun (Piyamas Monayakol) protects him. Years have passed. Phikun is the village headman's daughter (พ่อกำนัน). Saen is the son of a local rich influential man. Kun Thong (Sorapong Chatree) is a poor farmer. Romance is happening between Phikhun and Kunthong. Phikhun believes in kindness (ทำดีได้ดี). Kunthong helps Phikhun during the sacred cloth ceremony around the village chedi (ผ้าห่มพระธาตุ). Saen is jealous about Kunthong. Petchara recommends her son not to have hope about a wedding with Phikhun as he is poor. One day Kunthong helps a young lady called Than being aggressed by ruffians. As Than has no place to go as being sold by her family, Mae Kaew shelters her in her home. At night, while Kunthong and Than are away, Mae Kaew is aggressed by Saen and his ruffians. She losts her sight. She only remembers her aggressor wears a big specific ring. She doesn't have any enemies except Seua Yoi who killed her husband twenty years ago following cards debts. Kunthong wishes to buy eye medicine to a local doctor but pricing argument degenerates into a fight with the doctor's son, who is killed by accident (Krai Kanchit). Kunthong has to flee. Saen wishes to arrest Kunthong. Meanwhile Kunthong is looking for Seua Yoi to kill him. Nowadays Seua Yoi has become a solitary monk in a cave to expiate his past mistakes. He is not the one who hurts his mother. Kunthong misses his mum but finally becomes a thief (กรรมของเขา) but a Robin Hood like as he is only stealing from dishonest people. One day Kunthong has to kill a son in front of his mother to protect himself. He has hard feelings thinking about his own mum. Than has leper (โรคติดต่อ). Kunthong decides stopping being a thief. He gets smacked by Phikhun as he doesn't care about his mum. The one taking full care is Than despite Mae Kaew is not her mother. An engagement is arranged between Phikhun and Saen (ขันหมาก). Phikhun's father forbids her to visit Mae Kaew anymore. Mae Kaew recovers sight thanks to the eye medicine given by Kunthong (แม่มองเห็นแล้ว). Kunthong is aware of the engagement. On the evening, Phikhun disappears with Kunthong. Farmers including Mae Kaew are then expropriated. Their houses are burnt. Than is left behind due to her decease. Than dies in Kunthong's arms but has time to relate the ring story. Through a suspense final, Kunthong and Phikhun surrender to the village headman but Kunthong gets shot by Saen. Only injured, Kunthong shots back Saen. The village headman's thugs shot deadly Kunthong and Phikhun is caught in the crossfire. They die in each other arms. Both Mae Kaew and the village headman feel the pain of losing their child. This movie is really about love for mothers. It is also a tragedy as in real life Petchara Chaowarat became blind a few months after this movie released in 1978. It was her last movie.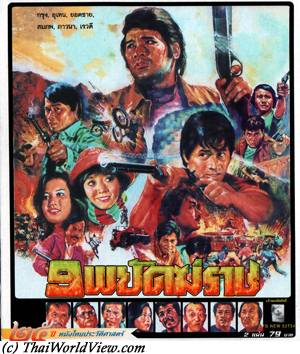 Year

: 1977



Thai title

:

9 พยัคฆ์ราช




English title

:



Rating

: 2/5


Director

:



Main actor

: Krung Srivilai,Yodchai Meksuwan,Uten Boonyong,Pinyo Parnnui,Sithao Petcharoen,Somphob Benjatikul,Sompong Phonmitr


Main actress

: Pawana Chanajit,Rewadee Pattaphong
This movie is one of the many Thai action movies released during decade 1970s. This movie involves a quatuor of famous Thai actors, i.e. Krung Srivilai, Yodchai Meksuwan, Uten Boonyong, Pawana Chanajit. Side characters are Pinyo Parnnui, Sithao Petcharoen, Somphob Benjatikul as a ruffian, Sompong Phonmitr. The daughter Kaessini (Rewadee Pattaphong) is back. She succeeded getting an university diploma. She wishes to use her knowledge for the benefits of the villagers. The villagers have serious issues with local ruffians. Krung is coming from Bangkok. Krung beats a few ruffians. Yodchai Meksuwan is playing a fake medium and provides fake medicine (ยาเทวดา). Yodchai is recruited by Krung. Thugs leader wants to force villagers to sell their land. As they refuse, he kidnaps Pawidee (Pawana Chanajit) in front of her father (Sompong Phonmitr). Shootings happen at the teacher's home. The movie sold by Lepso VCD company seems incomplete or cut as the release of Pawidee is not shown. Frequent fightings happen between ruffians (นักเลง) and Uten and Sa ong. Similar to The Magnificent Seven movie, Krung and his three friends resist to the ruffians. As the ruffians prepare a plan to kill them, Krung prepares a strike back offensive. Ruffians are the ones to fall in a trap. Heavy fightings and shootings happen. All ruffians are defeated or killed. Sa ong is killed. Movie '9 พยัคฆ์ราช' was released in year 1977 and lasts 1h43mn. The Lepso VCD has an horrible sound. Thai action movies were very popular in decade 1970s. This movie gathers many famous stars (Krung Srivilai, Yodchai Meksuwan, Uten Boonyong) but the result is average.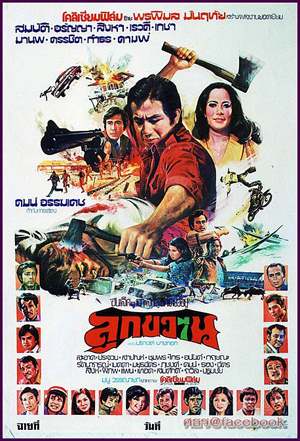 Year

: 1977



Thai title

:

ลูกขวาน




English title

:



Rating

: 3/5


Director

: Kom Akadej



Main actor

: Sombat Methanee,Kom Akadej,Dam Datsakorn,Choomporn Theppitak,Sahat Piempongsan,Kecha Plianvithee,Krai Kanchit,Chat Mongkolchai,Lak Apichat,Prachuap Ruekyamdee,Kamthorn Suwanpiyasiri,Kanchit Kwanpracha,Manop Aussawathep,Pipop Pupinyo,Somsak Chaisongkram,Sayan Chantaravi​boon,Chana Sriubon


Main actress

: Aranya Namwong,Ratanaporn Intarakamhaeng,Metta Roongrat,Rewadee Pattaphong
ลูกขวาน is a Thai movie released in year 1977. It lasts 1h54mn. This action movie, directed by director Kom Akadej, features a great bunch of Thai actors. Sing A (Sombat Methanee) arrives too late as his father Nae Klam died already. His father was a big mafia boss (นักเลง) so smaller bosses (Chun - Dam Datsakorn, Kam - Choomporn Theppitak, Pon - Sahat Piempongsan, Krong - Kanchit Kwanpracha) want to become the leader instead. The movie features fighting between those smaller bosses in order to become the big boss. Back from overseas, Sing A is welcomed by KoLit (Kecha Plianvithee) and by his mother (Ratanaporn Intarakamhaeng). Krai Kanchit challenges Sing A but as he is defeated, he finally joins Sing A's team. Ruffians are using axes (ขวาน) for fighting so giving the movie name, i.e. ลูกขวาน, "axe child". Many groups want to get rid of Sing A. Prachom (Lak Apichat) gives a hand to Sing A aggressed by motorbikes on the beach. Kam (Choomporn Theppitak), married to Metta Roongrat, is one of the small leader wanting to kill Sing A. Nop (Kamthorn Suwanpiyasiri) and Sai (Prachuap Ruekyamdee) are close friends with Sing A. Sing A finally sympathizes with Nolee (Aranya Namwong), daughter of Nop. Phi Pon (Sahat Piempongsan) and his team start hostilities and take over a mine. Mek (Chana Sriubon) and Wan are having a love affair. Tan (Manop Aussawathep) orders to kill Sing A. KoLit and Mek defeat Pipop Pupinyo and his guys trying to enter in their ranch. Krong is shot and injured by another gang. Tan refuses to work with Phi Pon (ขายหน้า). Chat Mongkolchai and his ruffians attack Mek's house but get defeated by KoLit and Mek following a long boat race. Wedding is happening between Mek and Wan. Chun is looking for troubles during the wedding but gets punched by Sing A. Tan is burnt in his car by Phi Pon's team and becomes blind. As a revenge, Phi Pon gets killed by Kanchit. Tan relearns to shoot using his ears instead of eyes. Pinyo and his ruffians kill Sing A's mother but get axed by KoLit and Mek. Kam is arrested by the police. Aranya has a cancer but Sing A still wishes to marry her. Tan takes his revenge over those who caused the fire making him blind. All mafia leaders are now out of the game except Chun. A feast is organized but Chun's ruffians (Somsak Chaisongkram) are bringing a mess. Honor needs to be washed with blood (เลือดต้องล้างกับเลือด). Chun's house is stormed and Chun himself is killed but remaining people including Sing A get caught by police. This Kom Akadej's movie is a non stop action movie featuring around twenty key actors / actresses from decade 1970s.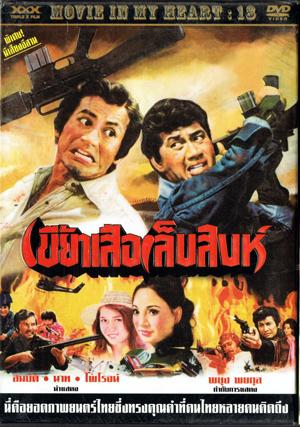 Year

: 1977



Thai title

:

เขี้ยวเสือเล็บสิงห์




English title

:



Rating

: 3/5


Director

: Payoong Payakul



Main actor

: Sombat Methanee,Phairoj Jaising,Nard Poowanai,Dam Datsakorn,Pipop Pupinyo,Pan Borapet


Main actress

: Rewadee Pattaphong



Buy now

:

Thai movie เขี้ยวเสือเล็บสิงห์ was released in year 1977. It lasts 1h48mn. Director is Payoong Payakul. Atit (Sombat Methanee), a mercenary (ทหารรับจ้าง) is back to his village in Isan. His father was kidnapped. Some ruffians try to kill him but Atit is faster to shoot them. He meets his old friend Akan (Phairoj Jaising), now Turkish bath manager. Seua Suk (Dam Datsakorn) and Pan Borapet storm the school as village header Thong complained to the police about their ruffians' activities. Teacher (Rewadee Pattaphong) is his daughter. Mokara (Nard Poowanai), a policeman, acting as a telecom company employee, hides a microphone inside Mien Wo's phone. Athit helps Mokara, aggressed by three ruffians, so they sympathize. He promises to help to find his kidnapped father. Mokara identifies that Mien Wo is the ruffians' leader (นายผู้หญิง) behind the kidnapping. Mokara requests the help of Seua Suk to identify ruffians around. They accept to work together. Upset by this, Mien Wo's team kidnaps the daughter of the village leader Thong to have a guarantee (ตัวประกัน). The dream team composed of Athit, Mokara, Akan, Seua Suk and others prepare to storm the ruffians' place. Pipop Pupinyo is leading the resistance but ruffians are defeated. A foreigner, Athit's friend, tries finally to betray him and to flee by helicopter with the father. Following a daring fight, the foreigner falls from the helicopter but Seua Suk dies while helping Athit. The DVD movie is certainly composed of two sets of partial reels as sometimes the image is colorful and sometimes it is reddish.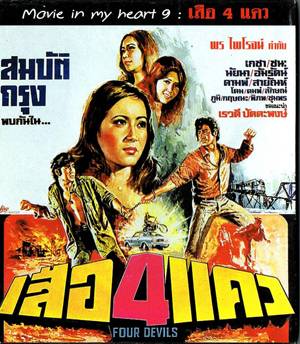 Year

: 1976



Thai title

:

เสือ 4 แคว




English title

: Four Devils



Rating

: 4/5


Director

:



Main actor

: Sombat Methanee,Krung Srivilai,Choomporn Theppitak,Kecha Plianvithee,Pipop Pupinyo,Dam Datsakorn,Chana Sriubon,Kom Akadej,Lak Apichat,Sayan Chantaravi​boon,Pan Borapet,Paen Pleumsachai,Pumi Patanayut


Main actress

: Naiyana Shewanan,Rewadee Pattaphong



Buy now

:

Thai movie เสือ 4 แคว was released in year 1976. It lasts 2h20mn. Pleung (Krung Srivilai) and Chat (Sombat Methanee) are always fighting in a prison. The head of prison decide to transfer them to another prison. To avoid any issues during the transfer, they are hogtied together. During transfer, Pleung's teammates attack the police armed escort. Pleung and Chat flee together. Choomporn Theppitak is playing a policeman. They do realize that they have a common enemy called พ่อเลี้ยง Do Tawan (Kecha Plianvithee). Do Tawan is aware that Pleung is now free. Choi (อัมรัตน์ ขัตติยา) is Do Tawan's girlfriend. Four devils [เสือ4แคว] (Pipop Pupinyo – Seua Wang, Dam Datsakorn - Seua Nan, Seua Ping - Chana Sriubon, Seua Yom – โดม สิงห์โมฬี) are called by Do Tawan to kill Pleung. 1M Baht reward is promised for the one who succeeds to kill Pleung. น้อง Kaew (Rewadee Pattaphong), a teacher, is Do Tawan's younger sister. She knows the secret behind her brother. Do Tawan (โจรใจบาป) is selling drugs. Pleung, a former teammate, asked him to stop but ended up in jail because of Do Tawan. Pleung's younger sister Wallin (Naiyana Shewanan) is still kept captive by Do Tawan (ตัวประกัน). A bomb is hidden in her bungalow. Kaew prevents her brother from abusing Wallin. ภูมิ พัฒนายุทธ, Kan (Kom Akadej), Wai (Lak Apichat), Suki (Sayan Chantaraviboon) meet Chat in the restaurant (เอาเต็มที่). He claims to be เสือ4แคว. They sympathize with Chat, who sends them to help Pleung against the 4 devils. Meanwhile, Chat plans to enter Do Tawan group in order to spy them and release Wallin. Pleung, being attacked by Seua, decides to fight back and attack them directly also causing Dam to flee. Do Tawan hires Chat. Seua Ping's team includes veteran actors Pan Borapet, กฤษณะ อำนวยพร and Paen Pleumsachai. Chat pushes the teams against each other. Chat succeeds to exchange Wallin with Kaew simulating a kidnapping. Meanwhile Choi helps to provide information on Do Tawan's business. Chat is identified as the traitor. Chat shall be smashed by a train but Pleung helps him on time. Knowing that Chat is not dead, Do Tawan moves his stock of drugs in a safer place. Pleung identifies the place and decides to attack it. Chat, being finally a policeman, also comes with reinforcement. All ruffians are killed by the Thai A-team. Unable to flee, Do Tawan prefers to explode the warehouse to avoid surrendering. Pleung has to go back to jail but Chat promises that his efforts to catch Do Tawan will be taken into account to reduce the severity. This movie features a huge number of famous Thai actors and actresses.
---