Increase or decrease font size for easier reading : A+ A-
Ray McDonald
Ray McDonald (1977) - เรย์ แมคโดนัลด์
Ray McDonald
This Ray McDonald movie page contains 12 records.
---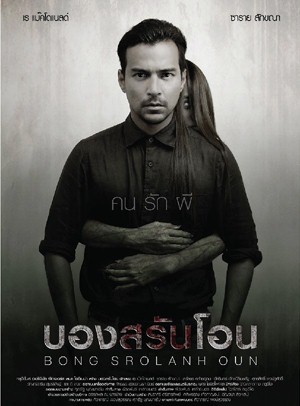 Year

: 2015



Thai title

:

บองสรันโอน




English title

: Bong Srolanh Oun



Rating

: 3/5


Director

:



Main actor

: Ray McDonald


Main actress

:



Buy now

:

Thai movie Bong Srolanh Oun / บองสรันโอน was released in year 2015. It lasts 1h45mn. Don (Ray McDonald) is a computer artist. A new young lady worker น้อง Jaem arrives in his office. Don is single (บ้างาน) and seems to have difficulties to forget his earlier girlfriend. It looks like somebody is always following Don. Jaem likes Don. Don has to see somebody at hospital so he misses job one day. His twin brother is at hospital. A lady seems to always be present in his flat. Worried that Don didn't come to office and cannot be contacted, Jaem heads to his home. On the following day, she is found dead having fallen from Don's flat. Later, when his colleagues organize a party for him, heavy drinking happened in his flat. One of his female colleagues hides to play a peekaboo to him. Unaware of this, Don leaves the flat to bring back a drunken colleague at his home. When back, the female colleague is found dead. Believing something is wrong with his flat, Don inquiries regarding the previous owner. It was a girl coming from Cambodia, who disappeared suddenly. Don goes to Cambodia to see her mother in order to find the truth. The young lady had a Thai boyfriend. He dumps her so she had to find a job. Being pregnant and injured, she hid herself in a suitcase in the flat and died there. Don then stayed over in the flat. It seems that Don's twin brother stayed in this flat before so the Cambodian spirit, believing it is the brother, keeps following Don. Don incinerates the dead body and sent back ashes to Cambodia. But the ghost stays in the flat...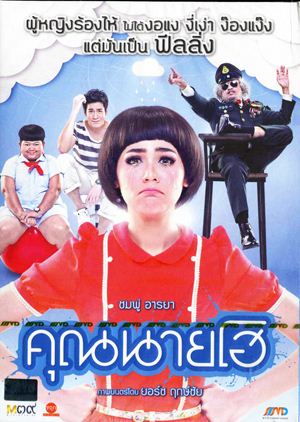 Year

: 2012



Thai title

:

คุณนายโฮ




English title

: Crazy crying lady



Rating

: 2/5


Director

:



Main actor

: Koeti Aramboy,Ray McDonald,Akom Preedakul


Main actress

:



Buy now

:

Thai movie คุณนายโฮ / Crazy crying lady was released in year 2012 and lasts 1h43mn. This movie is a modern Thai romantic comedy film (rom-com). Young lady O (อารยา เอ ฮาร์เก็ต) is very emotive and is always crying very easily. Nana (Koeti Aramboy), her brother, is a katoey rejected by her father (เกลียดกะเทย). O's father (Akom Preedakul) is always wearing military clothes and wishes to sacrifice himself for the Thai nation. Bol (Ray McDonald) is O's boyfriend. O has hard time with her family. Her father shoots by mistake her boyfriend in a paintball shooting game. Her brother hits severely another teenager mocking kathoey in a "takraw" ball game. It is hard for O to cope without her mother, who died already. Her boyfriend wants two separate worlds, i.e. one with her only and one with her family without him! She can always find comfort with her male friend Thiradet, being a doctor (คนที่จำเป็น vs คนสำคัญ). He is always listening and trying to find solutions for her. The doctor Thiradet (ธีรเดช เมธาวราวุธ) identifies O cannot have children soon due to high degenerence of her uterus. She needs to hurry up having a child. The doctor informs the father and his son. They put aside their differences and decide to help her. Her friends convince Boy to invite her in a resort. O is not yet ready as she is waiting for wedding first. She is not ready to enter into a relationship, so they split. Finally, the doctor and O enter into a relationship (แฟน). Unfortunately, it is not timely to have a child but they finally marry. O's family is finally stable.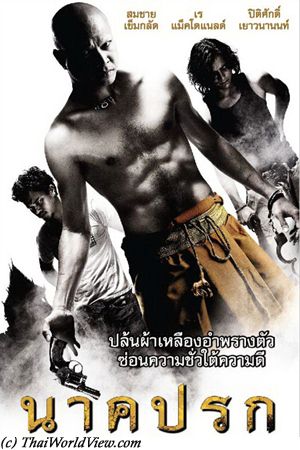 Year

: 2010



Thai title

:

นาคปรก




English title

: In the shadow of Naga



Rating

: 5/5


Director

: Pawat Pawangkasiri



Main actor

: Ray McDonald,Sahat Piempongsan,Somchai Khemklad


Main actress

: Intira Jaroenpura



Buy now

:

7 millions of baht have been hidden following a robbery. One of the robber is called Sing. His girlfriend is a prostitute. The police raids the illegal casino (บ่อน) she is staying in. They are looking for Sing but she doesn't know where he is hiding. The money has been hidden in a Buddhist temple. The three robbers come back to the temple but a chapel (โบสถ์) has been constructed on the top of the cache. They need to dig (ต้องขุด) but as it takes time, the only way is to become monk (ต้องบวช) in order to be able to stay in the temple. Sing points his gun to the abbot to force the ordination. Sing and Dang ordinate (เป็นพระ). Pong prefers to remain as a temple boy. Sing and Pong behave badly as monk, i.e. chase dog with feet, say bad words, don't follow closely the temple rules (ระเบียบของวัด), smoke, hit novice (เณร), don't pray before eating. Sing is atheist and calls the abbot as 'boss' instead of เจ้าอาวาส. At night time, they dig. The morning arrives earlier than expected. They need to hit the temple gong (ระฆัง), need to say blessings. The abbot has to justify their inexperience by mentioning they are new monks (พระบวชใหม่) from Thudong order (พระธุดงค์). Sing cannot support the food at lunch time made of alms donation (ฉันเพื่ออยู่ไม่ใช้อยู่เพื่อฉัน). The abbot is also doing tatoos. Pong asks for tatoos also (ศาสนาพุทธศักดิ์สิทธิ์เกิน ดีกว่าคุณทำร้ายได้). Sing is still complaining. His feet hurt as he is not used to walk bare foot. Life prison was easier. Food is not good. Earlier they promised to share 50% of the money with a fourth unknown man. The abbot has money on him and doesn't hesitate to touch a woman bitten by a snake. Dang and Sing hit badly robbers who were trying to steal Buddha statues in order to protect their secret digging activities inside the chapel. They lie to villagers (หลอกชาวบ้าน). They know they are wrong but still do wrong (รู้ว่าทำผิดแต่ยังทำผิด). Sing misses his girlfriend Nam Peung so he invites her to join him to Wat Pa Lom but she refuses believing it is another bad joke from Sing (ช่วยตัวเองก็แล้วกัน). Believing it can be good for her karma, she finally visits the temple and finds Sing as a monk (หลวงพี่). Sings removes his monk robe to make love to Nam Peung. Sing breaches all Buddhist precepts and brings trouble to the temple community. Pong is a good guy and explains to the abbot what happens before. They did a bank robbery (ปล้นเงิน) and hide the money inside the temple's chapel. Pong wanted to help his blind mother. He has lengthy discussion with the abbot about Buddhism (It is possible to teach some people to be good, it is more difficult with some others สอนให้เป็นคนดีบางคนสอนได้บางคนสอนยาก - Badness is easier to do than goodness / ความชั่วทำง่ายความดียทำยาก). Being discovered by other monks, Sing and Dang threathen to kill the monks if they don't help to dig. At morning time, they need to go for alms (เป็นเวลาบิณฑบาตร). If they don't go, they will have nothing to eat. Today is Makabucha day so local people are coming for offerings (บูชา) and listen to sermon (ฟังเทศน์). Dang decides to give them a poignant sermon regarding children working far away from parents to send them money and encourage parents to teach well their kids (สอนลูกดีดี - กตัญญู) to avoid becoming bad guy like him. While digging, they find a cache but no money. Sing starts to break the main Buddha statue. There is a small golden statue inside. A police inspector enters the chapel. Nam Peung was keeping the police inspector informed. He is a corrupted cop asking for his share. They shot at each other. The police inspector is hit. Dang is hit also. Nam Peung hits Sing, who was going to shoot the abbot. Nam Peung finds the money bag in the base of the Buddha statue but it is empty. She prefers to suicide herself instead of surrending to the police. The abbot takes the responsability on him (ผิดเอง). Pong is arrested. 4 years passed. Pong is doing ordination for his blind mother, who cries when holding the yellow robes (ผ้าเหลือง). The former abbot has defrocked. He has now a wife and a child. He is driving a Mercedes car. He comes back to get the golden Buddha statue. He was the one who kept the money. He is finally arrested and the statue is restituted to the temple. After 3 years waiting for the new film law to avoid a ban, this movie was finally released uncut with a Rate 18+. Making a story with bad monks is strong for the local Thai audience as faith and crime are always taboo in Thai films. There is a comparison between the four characters and the four types of lotus in Buddhism (บัวประเภทไหน).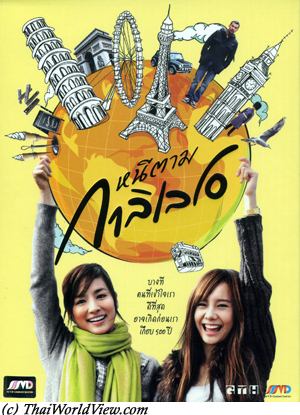 Year

: 2009



Thai title

:

หนีตามกาลิเลโอ




English title

: Dear Galileo



Rating

: 3/5


Director

:



Main actor

: Ray McDonald


Main actress

:



Buy now

:

Two young Thai women, Cherry and Noon, decide to go to London to change their life. They stop studying for one year in order to earn money. They enter with tourist visa and then become illegal resident when their visa expire. They are looking for work in Thai restaurants. Working conditions are difficult as police officers are looking for illegal workers. They discover the harsh reality of working environment (one is fired for arguing with a customer (เถียงลูกค้า), one is fired for being late to work). They befriend with a Thai cook, who, fed up with this illegal life, is finally caught by the police and deported. The two young women decide to go to Paris. They find a new job in a Thai restaurant. Their friendship starts to have trouble as they have often verbal arguments. Noon feels lost in France as she doesn't speak French. Noon meets a young man called Sisit. Sisit is living in an international artistic community in an old manufacturing building with no water and no electricity. The movie gives a bad image of French pharmacy as Cherry cannot get medicine to cure Noon as she has no official prescription. A romance starts between Sisit and Noon. Cherry wishes to do another job. They perform Thai traditional dances (รำไทย) in restaurant. She meets an old friend and is ahasmed as all her schoolmates have found good job. Cherry has skills in design but she stopped her studies. Sisit asks her to resume her studies. There is an analogy with Galileo, who was right (the Earth is not the center of the universe) and Cherry, who is wrong to have stopped studying. Strong foundations are needed to make a good building. Strong studies are needed to make a good adult. Cherry finds a job thanks to a director from Milano. Both friends go to Italy and reach Venezia. They find a job in pizzeria. Noon is arrested by the police as she was cheating on the food given to customers following an idea from Cherry. Noon is sent back to Thailand. Cherry feels lonely and sorry to have caused troubles to her friend. They promise to meet each other at Pisa tower and go to Paris again. This movie highlights friendship, family links, importance of studies, efforts needed to reach goals and encouragement to discover the world outside Thailand.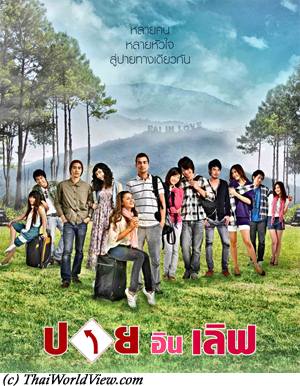 Year

: 2009



Thai title

:

ปายอินเลิฟ




English title

: Pai in love



Rating

: 3/5


Director

: Thanit Jitnukul,Prachya Pinkaew,Bongkoj Kongmalai



Main actor

: Ray McDonald


Main actress

: Supaksorn Chaimongkol



Buy now

:

Paris and Venise are well known to be romantic cities. Is Pai going to be the next romantic city? A group of teens come to Pai to shoot a movie. The young director has many original ideas about love stories in Pai and try to include touching moments. The six small stories are mainly based on succinct and brief unexpected encounters which generate love. The six stories are shot by different directors including Thanit Jitnukul, Bongkoj Kongmalai and Prachya Pinkaew. One story is about a young lady, fed up with her life on Bangkok. She notices some unread postcards in neighbour's letter box. She reads them. It is related to a man writing news about his small business in Pai to his old girlfriend. This one is not interested by the postcards anymore so the young lady decides to go to Pai. In another story, it is discovered that Koi, owner of the shop selling the postcards, writes the letter for the young man as he doesn't know how to write romantic letters. Love finally emerges between Koi and the young man. Prachya Pinkaew's short story is about a man waiting along the road and seeing life events near him. He is located at Pai's mileage stone 0 km (ปาย 0 km). Nice moments happen until it is finally discovered that the man is the spirit (เจ้าที่) of the mileage stone! Bongkoj Kongmalai's short story is about a Bangkokian backpacker coming to Pai to relax. He meets a nice girl who has just been dumped. Unfortunately he needs to go back to Bangkok. Another story if about a man, who needs to marry a young woman, living in Pai, only to share a plot of land. Once they divorce they can sell the land to a multinational corporation willing to build an hotel. As love emerges, they don't divorce and keep the land. The unity of the six stories is sometimes discutable.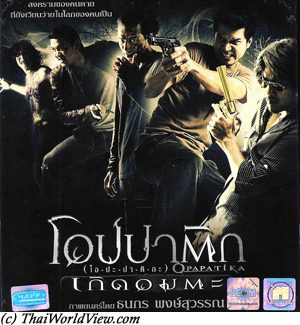 Year

: 2007



Thai title

:

โอปปาติก เกิดอมตะ




English title

: Opapatika



Rating

: 2/5


Director

:



Main actor

: Phongphat Wachirabanjong,Ray McDonald,Shahkrit Yamnarm,Nirut Sirijanya


Main actress

:



Buy now

:

Humans who commit suicide become "opapatika": a race of undead spirits who each have a special power and curse. Techit, a young man seeking the secrets of life after death, becomes an "opapatika" and is ordered to hunt down others of his kind (only four Opapatikas remain) under the guidance of the mysterious Master Sarok and his henchman.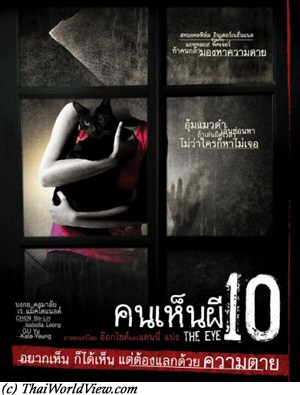 Year

: 2005



Thai title

:

คนเห็นผี 10




English title

: The Eye 10



Rating

: 3/5


Director

: Oxide Pang,Danny Pang



Main actor

: Ray McDonald


Main actress

: Bongkoj Kongmalai



Buy now

:

In Thailand, five Thai and Hong Kong teens, including 2 girls and 3 boys, are interested in scary stories and ghosts. One of them purchases a book titled The Ten Encounters, which describes ten ways to see ghosts. They wish to see ghost as it is fun time for them (เรื่องสนุก). They perform ceremony to call ghosts (พิธีเรียกผี). The ceremonies mix Chinese and Thai ways. One way is to hit chopsticks on a rice bowl to call hungry ghosts. Another way is to use a black cat at midnight to have the ghosts coming. One of the teen boy, Kofai, disappears as he urinates on a tree containing a ghost Mae Takhian (แม่ตะเคียน). It is an insult to the ghosts so he is taken away by them. One of the girls, Apliu, uses another way to see ghosts by applying coffin soil on her eyes. This soil is called hell soil (ดินนรก) and it burns her eyes. Hopefully the mother can help in time. She encourages them not to play with ghosts (รับไม่ไหว) as it is a dangerous matter (ใช้ของ). They still wish to find their friend Kofai. Hong Kong teens are back to their home town and still have ghosts visions in bus, when walking in tunnel or inside public housing estates (ก้มหน้าลง to see ghosts). The shots are particulary scary in Hong Kong old public housing estate. The teens want to stop playing ghost games. They performed a last ceremony to go to underworld by wearing dead people clothes but need to come back when a bell is ringing. They find Kofai but he prefers to stay in the world of death with his girlfriend. The mother cannot call them back on time and so they become spirits already (เรียกวิญญาณกลับไม่ทันเป็นผีแล้ว). The morality is not to play ghost game incorrectly (เล่นพิธีไม่ถูกก็ตายได้) as it can cause death. The film is actually the third of a film trilogy by the Pang brothers. It was shot in Thailand and Hong Kong.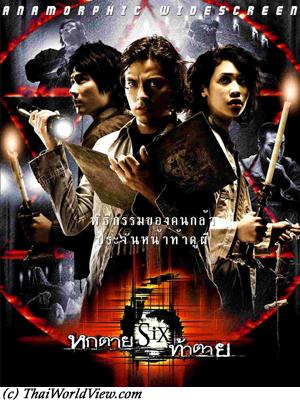 Year

: 2004



Thai title

:

Six หกตายท้าตาย




English title

: Six



Rating

: 4/5


Director

:



Main actor

: Ray McDonald


Main actress

: Intira Jaroenpura



Buy now

:

Fai is a lady having scary visions. She is mysteriously connected to the number "6", which is related to bad luck. On the night before her 24th birthday (2+4 = 6 and 6*4 = 24), her friends come to celebrate. The whole group is composed of 6 men and one woman, Fai. One of the friends foretells their future (ดูดวง) with tarots cards. They shall all die due to ghosts (ผีมีจริง). Following a visit to a Buddhist Thai temple and Chinese shrine to get protective items, they decide to find ghosts. On the way to an old mansion, they almost have a deadly traffic accident. Fai takes a picture of the group but the young men are not displayed on the picture... They reach the old abandoned mansion close to the sea. It looks like a haunted house with bats, rats, a mysterious hidden owner and a scary caretaker. A calling spirit ceremony (พิธีเรียกวิญญาณ) is performed. A woman spirit answers. Fai believes that the spirit wants them to achieve something. They found a room with 6 coffins. They put in place a network of small webcams and microphones in the house. Six of them performs a new calling spirit ceremony in six different rooms. Suspense is increasing. Woman cries are heard. Ravens attack. A ghost is seen. Blood spills. The batteries run out. Once the batteries are replaced, they have disappeared and finally are found in the coffins. All of them were involved in a murder 70 years ago. In fact they already died in the car accident when going to the house. The ghost already takes his revenge. All of them have died except Fai. This movie has a really nice photography. The suspense momentum gets increased very well.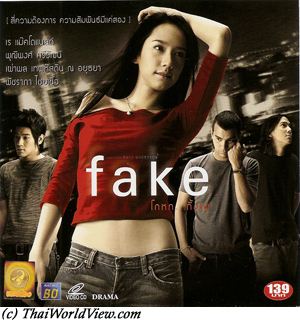 Year

: 2003



Thai title

:

โกหก ... ทั้งเพ




English title

: Fake



Rating

: 4/5


Director

: Thanakorn Pongsuwan



Main actor

: Ray McDonald


Main actress

: Patcharapa Chaichua



Buy now

:

Fake is an art-house movie dealing with the complexities of life in Bangkok. It uses the different perspectives of the three lead characters to tell a love story with the same woman.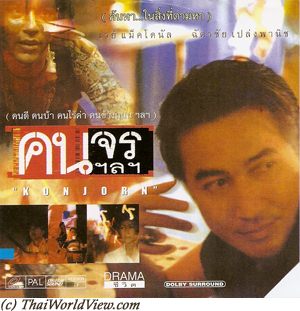 Year

: 1999



Thai title

:

คนจร




English title

: Konjorn



Rating

: 4/5


Director

: Attaporn Thaihirun



Main actor

: Chatchai Plengpanich,Ray McDonald,Suchao Pongwilai,Krailat Kriengkrai


Main actress

:
It depicts a well-to-do Thai-Chinese businessman called Mongkol, his wife, two daughters and son. Things go wrong when two Burmese immigrants hired by the family to do household work get into a fight with his son. They are arrested, but escape from the police and return to the family's house. There they kill the daughter and attack the remaining family members. Dang, a homeless man, witnesses the entire thing. Dang comes from a troubled past, his father was a police captain who was drunkard. His mother's lover subsequently murdered Dang's family. Dang, shocked by the event, became mad and started wondering the streets. As he witnesses the immigrants attack the family, he has his own uncontrollable flashbacks of his own family getting murdered. He tries to communicate with the police to tell them what he sees, but is unable to do so. He is finally the one to help the Thai-Chinese family. It puts the stress about how Thai people are oppressed by the police (i.e. ruthless policemen beating illegal Burmese immigrants, policemen asking and receiving bribes, policemen taking advantage of prostitutes, policemen modifying proofs and truth to get promotion). The multi-layer visual style might turn off normal audience but this is a rare example of avant-garde Thai indie film.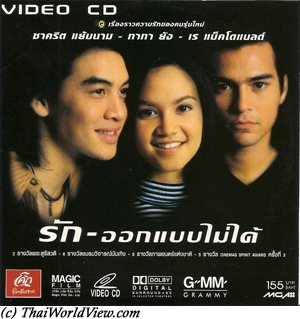 Year

: 1998



Thai title

:

รักออกแบบไม่ได้




English title

: O-Negative



Rating

: 2/5


Director

: Euthana Mukdasanit



Main actor

: Ray McDonald,Shahkrit Yamnarm


Main actress

: Tata Young



Buy now

:

Four young Thai people are very close friends. But when love appears, will they still be good friends?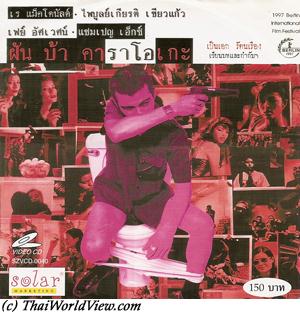 Year

: 1997



Thai title

:

ฝันบ้าคาราโอเกะ




English title

: fun bar karaoke



Rating

: 4/5


Director

: Pen-Ek Ratanaruang



Main actor

: Ray McDonald


Main actress

:



Buy now

:

Pu, a young girl, has been dreaming that her mother, who had died some years before, is building a house. A fortune teller advises her that, should she continue to have this dream, her father will die when the house is completed. Her father, a playboy, is a karaoke regular. He eventually becomes involved with Yok who has connections with the Chinese Mafia. Noi, son of an American soldier who dreams of saving money, learn English and wants to leave for America. He is in love with Pu, but too shy to reveal his love for her. Pu cannot stop dreaming about the house. Her father's relationship with Yok brings him nothing but bad luck... This movie is a study as well as a satire of the co-existence of modernity and superstition.
---