Increase or decrease font size for easier reading : A+ A-
Ratchanoo Boonchuduang
Ratchanoo Boonchuduang (1953) - รัชนู บุญชูดวง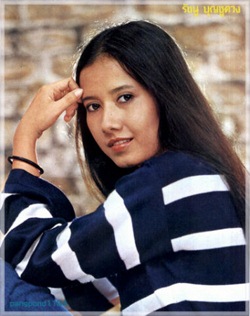 Ratchanoo Boonchuduang has played in numerous Thai TV series
This Ratchanoo Boonchuduang movie page contains 3 records.
---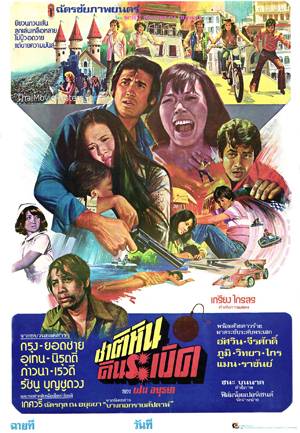 Year

: 1979



Thai title

:

ชาติหินดินระเบิด




English title

:



Rating

: 3/5


Director

:



Main actor

: Krung Srivilai,Yodchai Meksuwan,Nirut Sirijanya,Uten Boonyong,Doo Dook Kradon,Krai Kanchit,Pumi Patanayut,Wittaya Sukdamrong


Main actress

: Pawana Chanajit,Rewadee Pattaphong,Ratchanoo Boonchuduang
Thai movie ชาติหินดินระเบิด was released in year 1979. Main actors and actresses include Krung Srivilai, Yodchai Meksuwan, Pawana Chanajit, Nirut Sirijanya, Rewadee Pattaphong, Ratchanoo Boonchuduang, Uten Boonyong, Doo Dook Kradon, Krai Kanchit, Pumi Patanayut, อัศวิน รัตนประชา, จิระศักดิ์ ปิ่นสุวรรณ, Wittaya Sukdamrong, ราชันย์ กาญจนมาศ. Movie director is เกรียง ไกรสร. The film is lost in Thailand but a sequence in 35mm format can still be seen. The picture is very damaged and reddish. It lasts ten minutes. During the remaining sequence, Nirut and Doo Dook Kradon are in prison. Pumi Patanayut is about to burn Nirut's wife and her child. Policeman Krung tries to help but he is finally captured. Police surrounds the school where ruffians are hiding and having kids as hostages. Yodchai Meksuwan is playing a blind man. Pumi Patanayut is the head of ruffians. Krung and Nirut enter the school to release Nirut's son. It is successful.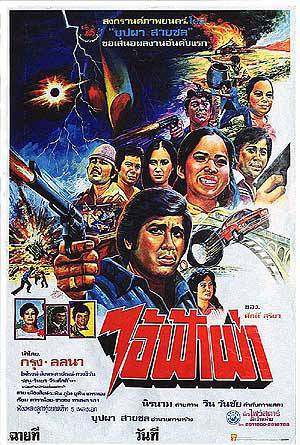 Year

: 1979



Thai title

:

ไอ้ฟ้าผ่า




English title

:



Rating

: 3/5


Director

:



Main actor

: Krung Srivilai,Sawin Sawangrat,Phairoj Jaising,Boo Wibunnan,Sayan Chantaraviboon


Main actress

: Lalana Sulawan,Duangcheewan Komolsen,Ratchanoo Boonchuduang
A new baby is born and is called Ai Fa Pha (ไอ้ฟ้าผ่า) as it is born during a storm. Many years have passed. Yoo (Krung Srivilai) is back from university. His surname is Fa Pha. He is expecting his girlfriend Anoolok (Lalana Sulawan) to wait for him at the bus station but he is welcomed by three ruffians when getting off the bus. Even police led by Phalat, a corrupted official (ราชการเลวๆ), wants to catch him. Yoo takes refuge with his old friend bandit (เสือ) Beung (Phairoj Jaising). The sub-district headman (กำนัน) Pho is having forced land promises of sale with many villagers including Sin (Sayan Chantaraviboon). Beung is a mix of Robin Wood and thief forcing bad guys such as the local rice reseller to be more honest. Yoo and Beung want to help Sin who is treated like a slave by the sub-district headman family. Sin loves Kru, the daughter of Kamnan Pho. Beung kills both the brother and the father. Phalat accepts bribe (ใช้อำนาจ) from a Thai Chinese businessman. Beung wants to arrange a wedding between Sin and Kru but finally Kru becomes Yoo's fiancee as Sin doesn't want to be forced anymore! Phalat wishes to marry Anoolak. But she is still awaiting for Yoo. Her father was forced to fiance her with Phalat due to some debts. Phalat organizes kidnapping of Anoolak. She finally escapes thanks to Sin. Beung shoots the Chinese businessman to stop corruption. Young lady Nokarin likes Beung, an eternal bachelor. Fa Pa, convinced by his family and Anoolak, finally surrenders to the police and his complaints are heard by the district officer. Palat and his acolytes are dismissed (ยุติธรรม). The weddings Yoo / Anoolak and Sin / Kru can happen. But Palat wishes for revenge. They storm the wedding ceremony and shoot guests. The ruffians are defeated but Sin and Beung are shot dead while trying to protect each other. It is linked to their karma. Good deeds are recompensed but bad deeds are paid. Beung's killings are finally paid despite he killed bad people only. A few romantic songs are performed during the movie.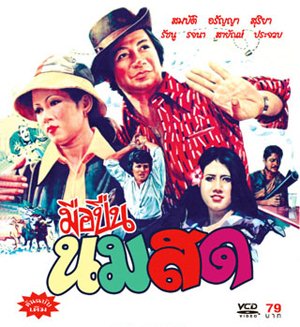 Year

: 1978



Thai title

:

มือปืนนมสด




English title

: The White Killer



Rating

: 3/5


Director

:



Main actor

: Sombat Methanee,Sawin Sawangrat,Prachuap Ruekyamdee,Dam Datsakorn,Pipop Pupinyo,Sayan Chantaraviboon,Suriya Chinaphan,Tat Ekathat


Main actress

: Aranya Namwong,Ratchanoo Boonchuduang



Buy now

:

Thai movie มือปืนนมสด was released in year 1978. It lasts 2h. It features Sombat Methanee as main actor and Aranya Namwong as main actress. The movie was released in Thailand under VCD format and a four minutes trailer also remains to be seen. This movie is a mix of action and comedy. A gathering of scout (ลูกป้า) is happening. A rampage, led by Yai (Prachuap Ruekyamdee) and Phan (Dam Datsakorn), happens as all participants are killed except Suriya Chinaphan. The village leader (ผู้ใหญ่) is shot by Phan. Den (Sombat Methanee) and Aranya Namwong, daughter of the village leader, arrive at same time in the village Don Krating (ดอนกระทิง). Den orders fresh milk and has issues with ruffians led by Phan. Den is singing Likay and is strong at shooting and fighting. Plio (Sayan Chantaraviboon), Jirasak Pinsuwan (จีรศักดิ์ ปิ่นสุวรรณ) and Suriya Chinaphan trap Yai but fail to kill him. Den asks to talk to Kamnan Tat Ekathat in private. Aranya decides to take over his father's activities. Her younger brother Suriya also joins her. One evening at a restaurant Den and Suriya help each other to punch the ruffians so they sympathize together. Ruffians decide to step in as Aranya wishes to federate peasants against Yai. They fail to kill Sawin Sawangrat but Den is captured and tortured. อาจารย์ Sawin and a small kid called Khom help Den. Srinuan, daughter of Yai, always discusses with Plio and shares information with him. Kamnan Tat Ekathat is killed by Yai and his daughter Dok Kaew kidnapped. Yai wishes to abuse her (ใช้กรรม) but hopefully Dok Kaew is released by Suriya. Fake policemen arrest Den, Suriya and Dok Kaew. Den is attached to a moving car by ruffians. Hopefully Aranya and Jirasak can help before it is too late. Srinuan tries to convince her father to stop but to no avail (ไม่ต้องมาสั่งสอน). Phan is having an affair with ChotChoi, Yai's wife. Phan kills those, who discovered him with ChotChoi. Sawin is called as undertaker (สัปเหร่อไม่มีวัด) by ruffians! Two ruffians leaders are opposed to each other (เสือเฒ่าพบสิงห์หนุ่ม) as Yai faces Phan (เพื่อนทรยศ). Den then faces Yai in a final duel but Aranya is the one to shoot him deadly.
---