Increase or decrease font size for easier reading : A+ A-
Ratanaporn Intarakamhaeng
Ratanaporn Intarakamhaeng (1932-2006) - รัตนาภรณ์ อินทรกำแหง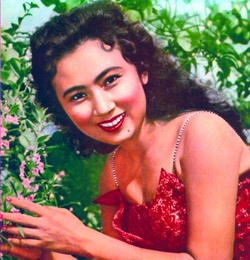 Ratanaporn Intarakamhaeng starred in around 100 films from 1953 to 1985. Her golden age as main actress was from 1954 to 1966 in 36 movies. She was also a movie producer. She won Thai oscars rewards (รางวัลตุ๊กตาทอง) in years 1959 (ไอ้แก่น) and 1960 (ยอดพยศ)
This Ratanaporn Intarakamhaeng movie page contains 28 records.
---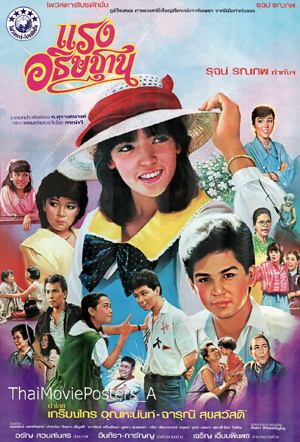 Year

: 1984



Thai title

:

แรงอธิษฐาน




English title

:



Rating

: 4/5


Director

: Ruj Ronnapop



Main actor

: Kriengkrai Unhanan,Adul Dulyarat,Ruj Ronnapop,Porjed Kaenpetch


Main actress

: Jarunee Sooksawad,Anchalee Chaisiri,Sarinthip Siriwan,Sulaleewan Suwanthat,Ratanaporn Intarakamhaeng,Phong Lada Pimolpan,Boosara Narumit
Thai movie แรงอธิษฐาน was released in year 1984 and lasts 1h57mn. Movie director is Ruj Ronnapop. A remastered version was released by Five Star Production (ไฟว์สตาร์โปรดักชั่น) in the decade 2010s and shown on Thai TV cable. The movie was released on VHS format. Thai actors and actresses featured in this movie are Jarunee Sooksawad, Kriengkrai Unhanan, Anchalee Chaisiri, Sarinthip Siriwan, Adul Dulyarat, Ruj Ronnapop, Sulaleewan Suwanthat, Ratanaporn Intarakamhaeng, Phong Lada Pimolpan, Porjed Kaenpetch, ปาหนัน ณ พัทลุง, วรารัตน์ เทพโสธร, Boosara Narumit, รจิต ภิญโญวนิช, ออยา นาวิน, ไพลิน จินดานุช, ลินดา สิริเดชภิญโญ. Manee (Anchalee Chaisiri) and Ruj Ronnapop love each other. Manee is pregnant. Ruj's sister (Sulaleewan Suwanthat) rejects this love story as she is worried about the family status and wishes Ruj to marry a rich lady. Their family has no more wealth. Mae Nom (Ratanaporn Intarakamhaeng) helps Manee but Manee dies while delivering the baby. Ruj is now married to Rattana (Phong Lada Pimolpan) but still sends money for the baby education. Ruj also dies later. The baby is named Pat and is raised by Mae Nom and her husband. Years have passed. Pat is now a teenager played by Jarunee Sooksawad. Adul Dulyarat, knowing Mae Nom, proposes to send Pat to Bangkok as he knows the parents are poor and Pat is willing to study in university in Bangkok. Adul recommends her to stay in Krongkan's house. Ut (Porjed Kaenpetch) loves Pat but his mother is unhappy that her son tries to befriend with Pat, seen as a poor child without biological parents. Ot (Kriengkrai Unhanan) and เอกลักษณ์ ยลระบิล are visiting a local Buddhist temple and take pictures of children playing. Among the children, there is Pat. Pat comes to the Buddhist temple to pray (อธิษฐาน) and asks the famous Buddha Luang Pho to help her to find her family relatives. Ot's mother (Sarinthip Siriwan) tries to find a rich bride for his son but he is not interested. The mother introduces Rattana's daughter, Prakairat, but to no avail. Ot likes books so he is working for Krongkan in her newspaper. Another lady asks her daughter Oya to stay with Krongkan, her aunt. Oya dislikes Pat and a fight occurs as she treats Pat as a domestic helper. While trying to slap Pat, she falls in wet laundry. Oya complains to her mother but Krongkan refuses accusations as she is always fair to everybody. Upset, Oya leaves the house. Ot feels that Prakairat has same look and way of talking as Pat. He thinks they might have the same father. Prakairat is jealous of Pat as Ot is more interested by her. The mother tries to push for engagement between Praikairat and Ot but even Ot's sister said that Pat would be a better choice. The mother just wants a rich bride. Ut proposes Pat to stay in his aunt's house if it is too troublesome to stay in Krongkan's house. Pat meets the aunt being the one, who broke the relationship between Ruj and Manee. She recognizes the pendant that Pat is wearing as it belongs to her family. She believes Pat stole it, but Pat mentioned it is a gift from her father. Finally, an enquiry is done, and it is confirmed that Pat's father is Ruj. Prakairat and her mother are concerned to lose a big part of Ruj's heritage. Ot asks Pat's hand and wishes to marry once she has finished her studies. The aunt wishes to meet Pat again to correct her past mistakes. Finally, a family meeting is organised regarding heritage sharing. The aunt does not apologize for anything and believes she has done the right thing to cause Ruj and Manee to split. Upset and disappointed by her family members behaviour, Pat rejects any rights she has on her father Ruj's heritage as she considers Mae Nom and her husband as her parents. Ot announces he will marry Pat. Love is more important than wealth. The family members are left with their wealth and unhappiness. Luang Pho has realized Pat's wishes as she found her relatives and even more as she met love (แรงอธิษฐาน).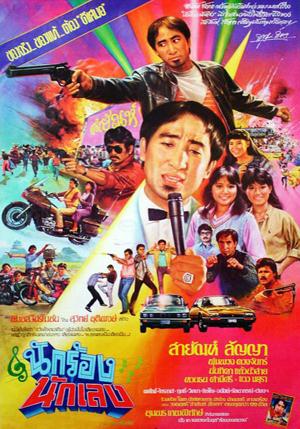 Year

: 1984



Thai title

:

นักร้องนักเลง




English title

:



Rating

: 2/5


Director

:



Main actor

: Sayan Sanya,Rith Luecha,Tuanton Kammeesri,Krailat Kriengkrai


Main actress

: Pumpuang Duangchan,Nanthida Kaewbuasai,Ratanaporn Intarakamhaeng



Buy now

:

The story script relates the conflicts between a singer and bad tough guys. Many songs are featured during the story. Both main actors are famous Luk Thung (ลูกทุ่ง) or Thai country music singers.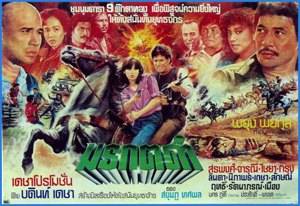 Year

: 1983



Thai title

:

มรกตดำ




English title

:



Rating

: 2/5


Director

:



Main actor

: Sorapong Chatree,Chaiya Suriyun,Rith Luecha,Krung Srivilai,Kecha Plianvithee,Lak Apichat


Main actress

: Jarunee Sooksawad,Nipaporn Nongnuch,Ratanaporn Intarakamhaeng,Linda Khatancharoen
Fighting is happening in a village. All villagers are killed by mercenaries led by Rith (Rith Luecha). Fighters, riding horses and wearing black clothes, led by Maneerak (Jarunee Sooksawad) are chasing them away. Maneerak has a mixed of Ninja and cowboy skills. Two groups are fighting for this area control as it contains precious gems. One group includes Maekin (Krung Srivilai), Kecha (Kecha Plianvithee), Maneewong (Nipaporn Nongnuch) and Maneerak. The opposite group includes Rith, Lak (Lak Apichat) and Runfa (Linda Khatancharoen). Maneerak, Maneewong and Runfa are three sisters. Their father died before. Rith's ruffians are looking over workers digging for gems. Yutta (Sorapong Chatree) finds a big black emerald (มรกตดำ) and flees away but is chased by the guards. The black stone (ก้อนหิน) is a sacred item. It helps to get rid of the guards and a blind monk appears to Yutta to encourage him to take good care of the stone. A mysterious man called Chaiya (Chaiya Suriyun) keeps surveying the two groups. Yutta is involved despite him in the fightings between the two groups as he helped Maneewong and then sold some gems. Yutta loves Runfa but she cannot be trusted as she steals the black stone while he is sleeping. This time, Yutta helps Maneerak, younger sister of Maneewong. The black stone belongs to Tibet and Runfa tries to sell it. Maneerak is able to get the black stone as Rufa's domestic helper stole it. Maneewong wishes to get the full heritage of her father. Maneerak visits her mum (Ratanaporn Intarakamhaeng) in a Buddhist retreat on a hill. Yutta follows her but Maneewong and her lover Maekin are just behind. Duel happens between Yutta and Maekin. Everybody is now looking for the black stone. Maekin kills Rith during the fighting between the two groups. Yutta gets rid of Lak. Finally both Yutta and Maekin are discovered to be undercover police officers (ผู้กอง). Chaiya(Chaiya Suriyun) is an undercover military officer. Chaiya and the mother make everybody realize greed. Understanding is back in the family and Yutta will bring back the black stone to Tibet with Maneerak. This 1h37mn movie is part of Thai Tom Yam western style. The Thai movie poster mentioned that nine Thai stars, having received Thai cinema awards before, are featured in this movie.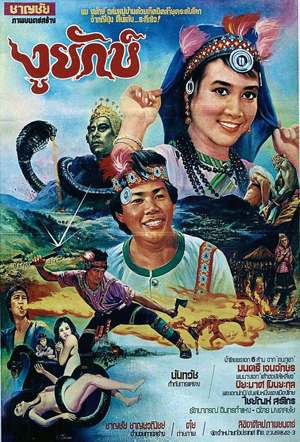 Year

: 1982



Thai title

:

งูยักษ์




English title

: King Kong vs The Snake Phantom



Rating

: 1/5


Director

:



Main actor

: Chaiyan Sorakrai,Chat Mongkolchai,Pao Porapak


Main actress

: Piyamas Monayakol,Ratanaporn Intarakamhaeng
Thai Taiwanese movie "King Kong vs The Snake Phantom" / งูยักษ์ / 金刚大战蛇妖精 was released in year 1982 and lasts 1h34mn. It seems the Taiwanese version was only released in year 1987. The movie is lost in Thailand but a Chinese version with English subtitles is still available and was released under VHS format by Taiwanese company New Ship Enterprise LTD. The movie was certainly cut from the original version in order to fit the VHS format. A group of snake men led by Chat Mongkolchai storm a Miu hill tribe village and kill all villagers. A master is requested to get rid of the snake men. His team, including Chaiyan Sorakrai and his sister Piyamas Monayakol, is looking for the snakes. A rare golden snake is captured. The master is killed but many snakes get cut into pieces during the fightings. The snake king wishes to revenge. The snake men attack the village again. Thanks to a Chinese monk, the snake men are pushed back. Disguised as the monk, the snake king convinces the fierce village fighters to go on a quest. The target is that they get killed while trying to find a mystic nun. One of the village ladies become pregnant with a snake man. The Chinese monk cuts her belly full of snakes. They finally meet Ratanaporn Intarakamhaeng as nun in a cave and get support from her as she offers a powerful magic golden statue. They are attacked by some forest fighters on the way back. Chaiyan Sorakrai defeats Pao Porapak. He exchanges the release of his sister and others versus Pao Porapak's life. The movie ends up by a giant fight between the King snake and the powerful spirit present inside the golden statue. The King snake is defeated.



Year

: 1980



Thai title

:

สิงห์จ้าวพยัคฆ์




English title

:



Rating

: 4/5


Director

:



Main actor

: Chaiyan Sorakrai,Dam Datsakorn,Rith Luecha,Lak Apichat


Main actress

: Supansa Nuengpirom,Ratanaporn Intarakamhaeng
Lek (Chaiyan Sorakrai) asks for his father's shares from Reuang (Dam Datsakorn). Following heated arguments, Reuang claims he cannot pay now and sent his ruffians (including Rith Luecha) to kill Lek. Lek succeeds to escape. Lek learns that Reuang is the one who kills his father and drowns his mother (Ratanaporn Intarakamhaeng). Reuang and Lek's father are former business partners. Lak Apichat helps Lek to recover from his injuries. Before dying, Lek's mother asks him to find his younger brother as the same pendant was given to both children. Kao, Hong Kong art martial performer, is used by Reuang as a bait to carry diamonds. Mona (หมีเซียะ) is a Hong Kong police officer looking for proofs against Reuang. Pha (Supansa Nuengpirom), daughter of Reuang, doesn't like his father job as ruffian (นักเลง) so she flees from home. Reuang likes Kao's skills (เยี่ยมมาก / ฝีมือไม่เบา) so Kao is used as a hitman (มือสังหาร) to get rid of Lek. During the fighting, Lek and Kao realise they have the same pendant so are brothers. They try to storm Reuang home at nighttime but face strong opposition. How can Lek and Pha stay together as Lek has to take revenge on Reuang (ฉันจะทำอย่างไร)? Reuang uses money (สินน้ำใจ) to corrupt officials. The three heros (Lek, Kao and Lak)) disrupt Reuang's business. Reuang hires Keng, a strong kung fu fighter to get rid of them. Despite losing to him, keng lets them ago as he is a former friend of their father. Finally they attack directly Reuang and succeed to capture him. Unwilling to forgive, they put some explosives in the small cabana (ผีเฝ้าที่นี่) and flee the police. They finally surrender three days later and get a fair trial. The movie lasts 1h49mn. This Thai action movie mixes Thai and Hong Kong actors / actresses.



Year

: 1980



Thai title

:

พ่อจ๋า




English title

:



Rating

: 3/5


Director

:



Main actor

: Sorapong Chatree,Settha Sirachaya,Sor Asanajinda,Witoon Karuna


Main actress

: Nanthida Kaewbuasai,Ratanaporn Intarakamhaeng,Thitima Sangkapitak,Chosri Misommon,Tukata Jindanuch
Yen (Thitima Sangkapitak) flees her family as her father wants to force her to marry a man she doesn't love. She wants to commit suicide. Yen is saved by Pon (Sorapong Chatree), a poor young man living in a slum. They live happily a few months and she gets pregnant. Her father finally finds her. She has to go back with him and leaves Pon. On her wedding day, Pon appears to take back his new born daughter to bring her up. Her name is Yuwadee. During many years, he works very hard to pay for her education and keeps secret his low society level status. Having financial problems following an accident, his daughter Yuwadee has to go back in Yen's family but she is not happy. He finally succeeds to get Yuwadee back. Now becoming a TV serie star, her career is endangered by rumours about her father. Forced to appear on the stage, Pon insults and dishonors himself to avoid that his daughter career is damaged. Will Yuwadee reject her father? Yuwadee character is played by actress and singer Nanthida Kaewbuasai. A few songs are featured in the movie. Thai cinema often uses young actors and make them look older instead of using real veteran actors. This movie highlights the strong bonds between a father and his child. A first version of this movie was directed by Sor Asanajinda in 1957. Sor Asanajinda is playing Yen's father in this 1980 version! Ratanaporn Intarakamhaeng, who played as leading actress in the 1957 version, is also playing in the 1980 version.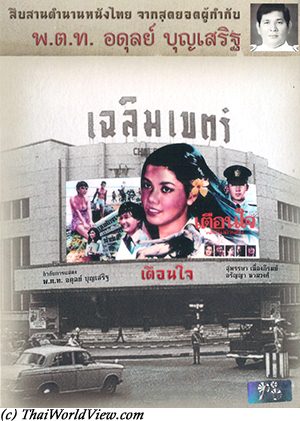 Year

: 1979



Thai title

:

เตือนใจ




English title

:



Rating

: 4/5


Director

: Adul Phijit



Main actor

: Tuanton Kammeesri,Surasit Sattayawong,Lor Tok,Thep Thienchai


Main actress

: Supansa Nuengpirom,Aranya Namwong,Monrudee Yamaphai,Ratanaporn Intarakamhaeng



Buy now

:

Surasit (Surasit Sattayawong) and Ratanaporn (Ratanaporn Intarakamhaeng) have a teenage daughter called Teuan Jai (Supansa Nuengpirom). New soldiers selection (ทหาร) is happening. Lor Tok is their instructor. Strong regulation (ระเบียบ) is taught to them. Young lady Teuan Jai meets one cadet in the bus while going to university. Monrudee Yamaphai as student is her close friend. Tuanton (Tuanton Kammeesri) is married to Aranya Namwong (เมียตำรวจ). He has often nightmares. He is still a low rank policeman making his wife unhappy about his status. Suphansa receives a love letter from one of the soldier. Finally a group of five young soldiers cadets and five young ladies students including Teuan Jai meet each other. They all go to Pattaya. All boys have same goal to serve their country. There are drunkard ruffians at the street entrance leading to Teuan Jai's home. Arguments happen with the young soldiers cadets (นักเรียนเป็นทหาร). One evening, Teuan Jai is raped and killed (มนุษย์ใจสัตว์). A wallet is found with prints on it. The police officer Tuanton investigates on the issue. He visits by night the murdering place and the corpse storeroom (ห้องเก็บศพ) to look for evidences. Thep Thienchai is arrested but he is not the culprit. This murder has caused big emotion and Thai police has to broadcast a message encouraging young ladies to wear appropriate clothing. There is a comparison of young Thai people doing sacrifice to become soldiers and other young people behaving very badly. People having usefulness for the country versus people being a burden. Finally the policeman catches the killer thanks to scratches proofs in his shoulder. As he refuses to acknowledge the murder despite proofs found, the policeman has to force him by using some beatings. Tuanton is finally expelled from the police. This movie is based on a real story, which happened in 1961, where a group of hooligans raped and killed a young student called Teuan Jai PhuangNak. The DVD lasts 1h32mn but the original film is longer. The movie director is Adul Phijit (อดุล พิจิตต์).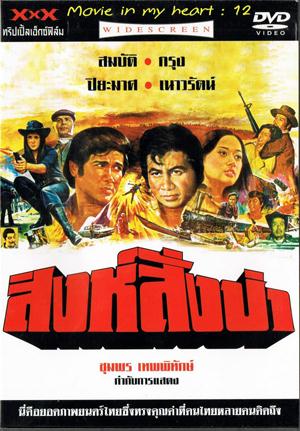 Year

: 1978



Thai title

:

สิงห์สั่งป่า




English title

:



Rating

: 3/5


Director

:



Main actor

: Sombat Methanee,Krung Srivilai,Chanee Yotchai,Kecha Plianvithee,Dam Datsakorn,Lak Apichat,Pipop Pupinyo,Choomporn Theppitak,Lor Tok,Chat Mongkolchai,Pumi Patanayut


Main actress

: Naowarat Yooktanun,Piyamas Monayakol,Ratanaporn Intarakamhaeng,Duangcheewan Komolsen



Buy now

:

Thai movie สิงห์สั่งป่า was released in year 1978. The movie lasts 1h47mn. Sing (Sombat Methanee) helps Pukong (ผู้กอง) Palee aggressed in the train by Chanee Yotchai and other ruffians. Sing goes home in his village Thung Kla as he hasn't seen his mother for years but his home has been robbed and burnt. Anan (Kecha Plianvithee) is the local ruffians' leader. The subdistrict headman (กำนัน) and the police headman are corrupted by Anan. Seua Thong (Dam Datsakorn) is his close hand doing the dirty job. Mae Chom (Ratanaporn Intarakamhaeng), restaurant owner and wife of Anan, encourages Sing to sell his mother's land. Sing meets Tap (Lak Apichat) and Duangcheewan Komolsen, who tell him the difficulties faced by villagers. Pipop Pupinyo is a small ruffians' leader. Chen (Krung Srivalai) is visiting a friend in Thung Kla. He meets Oon (Naowarat Yooktanun), daughter of Anan. Chen knocks out Pipop. Sing's car explodes. It looks like somebody wants to get rid of him. Sing ends up in jail after shooting two ruffians including Chanee. Choomporn Theppitak, as head of police, orders to transfer him to prison. Lor Tok, Chat Mongkolchai, Dao (Piyamas Monayakol) prepare a plan to release one of their inmate colleagues. Seua Dao helps a prisoner so Sing takes opportunity to flee also. Anan is upset as he was planning to have Sing killed during the transportation but his plan foils. Chen and Sing are friends but nobody knows it. A drug and money exchange is planned by Anan and shall be managed by Seua Thong. But the plan is foiled also as Sing and Seua Dao intervene. Chen is suspected to have warned them. Chen is tortured by Anan as he betrayed him. Sing and Tap successfully release him. Only one song is featured in this movie. Somebody from Bangkok insinuates that Seua Thong shall replace Anan. It fails. Finally Sing, Tap and Chen storm Seua Tong's place. Ruffians are killed and Seua Thong dies following a speed boat race. The same team now storms Anan's place. About to kill Anan, Sing listens to Mae Chom and Oon and spares Anan's life. Anan is arrested by Pukong Palee.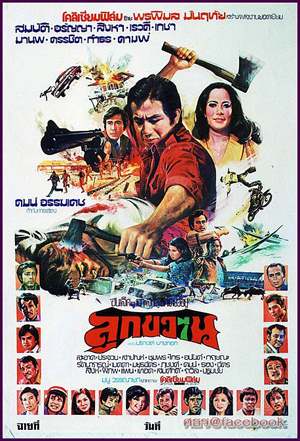 Year

: 1977



Thai title

:

ลูกขวาน




English title

:



Rating

: 3/5


Director

: Kom Akadej



Main actor

: Sombat Methanee,Kom Akadej,Dam Datsakorn,Choomporn Theppitak,Sahat Piempongsan,Kecha Plianvithee,Krai Kanchit,Chat Mongkolchai,Lak Apichat,Prachuap Ruekyamdee,Kamthorn Suwanpiyasiri,Kanchit Kwanpracha,Manop Aussawathep,Pipop Pupinyo,Somsak Chaisongkram,Sayan Chantaraviboon,Chana Sriubon


Main actress

: Aranya Namwong,Ratanaporn Intarakamhaeng,Metta Roongrat,Rewadee Pattaphong
ลูกขวาน is a Thai movie released in year 1977. It lasts 1h54mn. This action movie, directed by director Kom Akadej, features a great bunch of Thai actors. Sing A (Sombat Methanee) arrives too late as his father Nae Klam died already. His father was a big mafia boss (นักเลง) so smaller bosses (Chun - Dam Datsakorn, Kam - Choomporn Theppitak, Pon - Sahat Piempongsan, Krong - Kanchit Kwanpracha) want to become the leader instead. The movie features fighting between those smaller bosses in order to become the big boss. Back from overseas, Sing A is welcomed by KoLit (Kecha Plianvithee) and by his mother (Ratanaporn Intarakamhaeng). Krai Kanchit challenges Sing A but as he is defeated, he finally joins Sing A's team. Ruffians are using axes (ขวาน) for fighting so giving the movie name, i.e. ลูกขวาน, "axe child". Many groups want to get rid of Sing A. Prachom (Lak Apichat) gives a hand to Sing A aggressed by motorbikes on the beach. Kam (Choomporn Theppitak), married to Metta Roongrat, is one of the small leader wanting to kill Sing A. Nop (Kamthorn Suwanpiyasiri) and Sai (Prachuap Ruekyamdee) are close friends with Sing A. Sing A finally sympathizes with Nolee (Aranya Namwong), daughter of Nop. Phi Pon (Sahat Piempongsan) and his team start hostilities and take over a mine. Mek (Chana Sriubon) and Wan are having a love affair. Tan (Manop Aussawathep) orders to kill Sing A. KoLit and Mek defeat Pipop Pupinyo and his guys trying to enter in their ranch. Krong is shot and injured by another gang. Tan refuses to work with Phi Pon (ขายหน้า). Chat Mongkolchai and his ruffians attack Mek's house but get defeated by KoLit and Mek following a long boat race. Wedding is happening between Mek and Wan. Chun is looking for troubles during the wedding but gets punched by Sing A. Tan is burnt in his car by Phi Pon's team and becomes blind. As a revenge, Phi Pon gets killed by Kanchit. Tan relearns to shoot using his ears instead of eyes. Pinyo and his ruffians kill Sing A's mother but get axed by KoLit and Mek. Kam is arrested by the police. Aranya has a cancer but Sing A still wishes to marry her. Tan takes his revenge over those who caused the fire making him blind. All mafia leaders are now out of the game except Chun. A feast is organized but Chun's ruffians (Somsak Chaisongkram) are bringing a mess. Honor needs to be washed with blood (เลือดต้องล้างกับเลือด). Chun's house is stormed and Chun himself is killed but remaining people including Sing A get caught by police. This Kom Akadej's movie is a non stop action movie featuring around twenty key actors / actresses from decade 1970s.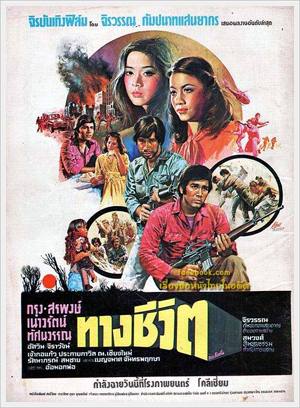 Year

: 1977



Thai title

:

ทางชีวิต




English title

:



Rating

: 3/5


Director

:



Main actor

: Sorapong Chatree,Krung Srivilai,Somchai Samipak


Main actress

: Naowarat Yooktanun,Tasawan Saneewong,Ratanaporn Intarakamhaeng
Thai movie ทางชีวิต was released in year 1977. Main actors and actresses are Krung Srivilai, Sorapong Chatree, Naowarat Yooktanun, Tasawan Saneewong, Ratanaporn Intarakamhaeng, Somchai Samipak. Movie director is สมวงศ์ ทิมบุญธรรม. The movie is lost in Thailand but a sequence in 35mm format can still be seen. The picture is very damaged and reddish. It lasts thirty seconds. During the short sequence, Krung, Sorapong and Tasawan Saneewong can be seen. There is a fighting in a club. Paratroopers are jumping from a plane. A full summary extracted from Thai movies magazines is still available.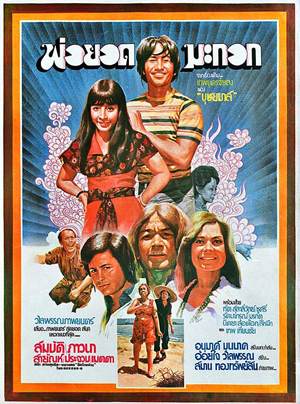 Year

: 1975



Thai title

:

พ่อยอดมะกอก




English title

:



Rating

: 3/5


Director

:



Main actor

: Sombat Methanee,Prachuap Ruekyamdee,Sayan Chantaraviboon,Lor Tok,Tat Ekathat


Main actress

: Pawana Chanajit,Metta Roongrat,Chosri Misommon,Ratanaporn Intarakamhaeng,Malee Wetpraseri,Sisala Thongtara,Sulaleewan Suwanthat
Thai movie พ่อยอดมะกอก was released in year 1975. The movie is lost in Thailand but a sequence of 1h13mn remains to be seen. The last three film reels were saved. Oon (Pawana Chanajit) is a young single lady. Chosri Misommon is her house's domestic helper and also close friend. Prachuap Ruekyamdee and Chui (Sombat Methanee) are brothers with funny hairstyle. Oon's mother is played by Ratanaporn Intarakamhaeng. It seems there is no more father. Grandmother Malee Wetpraseri is the elder sister of the mother. Oon's uncle is played by Tat Ekathat. Oon has to be engaged. She wishes to marry Pong (Sayan Chantaraviboon) and is supported by his sister Pleun (Metta Roongrat). Chui keeps disrupting Oon and Pong. Chui has also a fiancee called Kwan since a long time but he doesn't love her. Malee and Chosri are sent to Aunt's home to investigate who is really Chui. Aunt Sulaleewan Suwanthat welcome them. Chui and Ratchin are same person. Oon shall marry Ratchin, who is from a high status family. Oon lies she is no more pure (เสียหาย) as she is Pong's girlfriend. Ratchin refuses to cancel the wedding and forbids Oon to meet Pong anymore. Engagement (คู่หมั้น) shall happen. Malee is helping Oon to meet Pong. Pong wishes to flee with Oon but Oon cannot do this as it would bring disgrace to her parents and her family name (เกียรติ). As Pong loves really Oon, he has to sacrifice himself (เสียสละ). Chui / Ratchin is aware of Malee's stratagems. Prachuap meets Pong. Ratchin prevents Oon to meet Pong and wishes to accelerate the wedding. Ratchin asks Pong to stop seeing Oon but Pong asks to meet her a last time. Ratchin still believes Oon is pure and wants to avoid Pong being the first. Oon and Ratchin keep fighting. Finally Oon succeeds to escape from Ratchin. She meets Pong but faints. Pong tries to abuse her but gets stopped on time by Ratchin. Pong's intentions were not as pure as he always mentioned. Oon finally marries with Ratchin. This movie similar to many movies from decades 1960s~1970s is about arranged weddings and early engagement done by parents but it finally ends happily.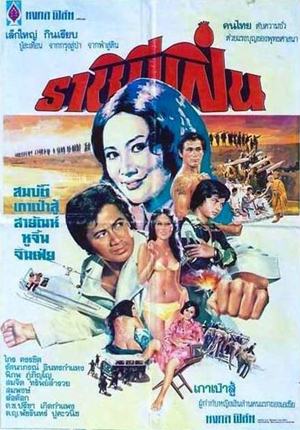 Year

: 1975



Thai title

:

ราชินีฝิ่น




English title

: Female fugitive



Rating

: 3/5


Director

:



Main actor

: Sombat Methanee,Krai Kanchit,Sayan Chantaraviboon,Pipop Pupinyo,Sompong Phonmitr,Lor Tok


Main actress

: Ratanaporn Intarakamhaeng,Kao Pao-Shu
Thai movie ราชินีฝิ่น was released in year 1975. It lasts 1h41mn or 1h43mn depending on the version. It is a lost movie in Thailand but it is still available in Hong Kong where it was released under the name 女逃犯 - "Female fugitive" by Ocean Shores video in year 1979. A lady boss is suspected by the Hong Kong police to be involved in drugs trafficking. She escapes to the police and flees to Thailand. Pipop Pupinyo is her Thai bodyguard. Drug is transported on the back of elephants in Thai Northern jungle. Eddie (Krai Kanchit) is receptionist of the drug. He is collaborating with Tsai Yang (Sayan Chantaraviboon). They bring a doctor in the jungle to produce proper drug in the Golden Triangle. Eddie, humiliated by Li Yung, strong fighter hired by the drug Queen, contacts inspector Wu (Sombat Methanee). Ratanaporn Intarakamhaeng has got a son. She offers him a camera for his birthday. While running, the boy hits a Chinese lady tourist and cameras are exchanged by mistake. The drug Queen sends Li Yung to kill Eddie. The little boy takes pictures of the murder. The murderer chases the little boy. They enter a parade for Songkran. He hits again the same Chinese lady tourist and cameras are exchanged again. Li Yung just gets a camera without film. The drug Queen orders to kill the kid. Elephants are used to carry drug. Thanks to helicopter, Wu succeeds to locate the drug factories in the jungle. Through Sompong Phonmitr, Sombat locates Tsai Yang (small fry) in order to find the drug Queen. Li Yung tries to kidnap the kid but fails. Wu brings troubles to the traffickers by using dogs to sniff them. Lin, the Chinese tourist, befriends with Chang, café owner. The drugs queen hires Tsai Yang's girlfriend as she knows she is upset by her poor life. She uses her to convince Wu to accept bribes but he refuses. Wu is finally defeated by Pinyo due to a knife injury caused by the drug Queen. The knife is poisoned. Wu was a former drug addict but he stopped a long time ago by going to a famous Buddhist temple called Wat Tham Krabok (วัดถ้ำกระบอก) . Tsai Yang's girlfriend realizing her mistake, releases Wu by getting rid of Lor Tok. A chase is happening to catch the drug Queen. A fighting erupts between Li Yung and the drug Queen in the helicopter. Both fall and die.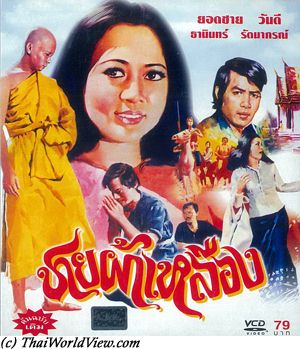 Year

: 1974



Thai title

:

ชายผ้าเหลือง




English title

:



Rating

: 3/5


Director

:



Main actor

: Yodchai Meksuwan


Main actress

: Wandee Sritrang,Metta Roongrat,Ratanaporn Intarakamhaeng
Thong and Boon Yen have two boys, called Phet and Ploy. Phet is the elder. Robbers, lead by Yoi, kill Thong when raiding his house. Twenty years later, following her mother's wish to see him in yellow robes (ชายผ้าเหลือง) as a monk, Phet goes to Bangkok with his uncle to buy materials. Every Thai mother expects his son to become a monk before being married. It bring many Buddhist good deeds to the parents. Meanwhile robbers, lead by Yoi, injure Ploy when raiding the family house. Phet, discovering that Yoi killed his father and injured his brother, shoots him and then becomes an outlaw. Yot, Yoi's son, uses Phet's name to commit more burglaries. Phet's mother convinces Phet to surrender to the district officer. Yot and his robbers team fires at Phet's team and at the district officer so bringing a misunderstanding between Phet and the officer. if nobody can let Phet becomes good, he will then be an outlaw forever. His mother is disappointed by his behavior, saying it was not worth to educate him for becoming an outlaw and that feeding milk to him (ค่าน้ำนม) was a waste. Ploy is preparing to become a monk. Phet finally catches Yot and brings him to the district officer. Phet refuses to stop being an outlaw and grabs a girl to live with him. His mother shoots at him. Before dying, Phet and his mother confirm their filial love and Phet can grab Ploy's yellow robe as his brother has become a monk.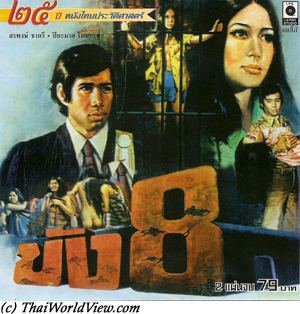 Year

: 1974



Thai title

:

ขัง 8




English title

:



Rating

: 3/5


Director

:



Main actor

: Sorapong Chatree,Krung Srivilai,Kom Akadej


Main actress

: Piyamas Monayakol,Ratanaporn Intarakamhaeng,Marasri Bangchang
Thai movie ขัง 8 was released in year 1974 and is showing realistic life in prison. Thai movie ขัง 8 was released in year 1974 and is showing realistic life in prison. Dao (Piyamas Monayakol) finds her fiance in bed with another woman (แฟนใหม่). As he is going to break the engagement with her, Dao shoots him. Policeman (Kom Akadej) arrests Dao. Her mother (Ratanaporn Intarakamhaeng) keeps crying. Dao is condemned to prison (ติดคุก) and discovers the harsh life there. Elder prisoner is played by Marasri Bangchang. Prassadee (Krung Srivilai) is the prison supervisor. Oratai has arguments with Dao as she wished Dao to be her husband (เป็นสามี). As they fight, both of them are condemned to isolation quarters. Oratai finally recognizes her mistake under the pressure of Prassadee. Dao faces adversity in prison with its internal harsh rules (ระเบียบ) and lack of freedom. Her lawyer Songkram (Sorapong Chatree) visits her and he succeeds to get her released for a retrial. Dao is reunited with her family again. Outside of prison, she realises who is or is not her real friend. She needs to convince a friend to be her witness (พยาน) for the retrial. Songkram promises to help. The father dies. Songkram confesses that he is helping Dao as he has gratitude towards her father. The father refused a debt reimbursement but asked him to promise to marry Dao. Per gratitude over the father (บุญคุณ), Songkram asks for Dao's hand. As tomorrow will be the trial decision, Dao asks him to wait. The tribunal condemns Dao to full life imprisonment. She has to do at least 8 years to hope for any pre-release (สั่งกรรมก็รับกรรม). Songkram promises to wait. Songkram continues to visit Dao regularly but is also now Tuk's boyfriend. Dao learns about his wedding and is of course disappointed. Her surname is นางฟ้าขัง8. When she exits from prison after five years for good behavior, she finds Songkram and her younger sister Tuk have a child. Anyway she is not resentful. It was the first movie of Piyamas Monayakol. A remake was done in year 2002.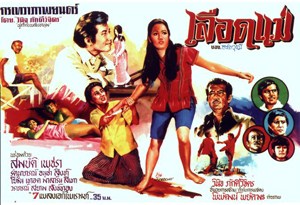 Year

: 1972



Thai title

:

เลือดแม่




English title

:



Rating

: 3/5


Director

:



Main actor

: Sombat Methanee,Choomporn Theppitak,Anucha Ratanaman,Songthong,Sithao Petcharoen


Main actress

: Petchara Chaowarat,Ratanaporn Intarakamhaeng,Malalin Bonnak
This 1972 Thai movie เลือดแม่ lasts 2h20mn. Its full version still exists among a Thai collector but it was never released through any official video format such as VHS, VCD or DVD. A 40mn sequence can be watched online. A Bangkokian man (Anucha Ratanaman) is lying to an upcountry girl (Ratanaporn Intarakamhaeng) about his love. Ratanaporn is then pregnant. Knowing that Anucha will not come back, she flees her home to avoid shame and ends up in a thieves' den. A baby girl is born. Years have passed. The baby girl is Petchara Chaowarat. While being an adult, she gets rescued by Choomporn Theppitak as she was getting threatened by ruffians. As Petchara wishes to know who her father is (she only has a pendant), she flees to Bangkok with Choomporn. Being aggressed by thugs, they get help from Sombat Methanee. Malalin Bonnak (มาลาริน) is Sombat's promised fiancee. As they have no place to go, Sombat helps them to stay at a friend's home. Malalin sees Petchara as a concurrent for Sombat's heart. Love emerges between Sombat and Petchara. Malalin and her mother makes a plan to denigrate Petchara. She is drugged while sleeping and a ruffian simulates leaving her bed while Sombat is just here. Choomporn learning this gives a lesson to Malalin. Her mother being sick, Petchara and Choomporn have to go back to their home town. Malalin's mother orders a ruffian to go also in order to kill Petchara as Sombat refuses to marry her daughter. The shootings go wrong in the village. Choomporn protects Petchara with his own body and dies. The ruffian gets injured by Petchara's stepfather, who also dies. Back to Bangkok as Malalin's mother refuses to pay anything to the ruffian, she also gets shot. Anucha, aware of the whole story, goes to the village with Sombat. Both love stories finally blossom, i.e. Sombat and Petchara, Anucha and Rattaporn. Seven songs are performed including singer Songthong.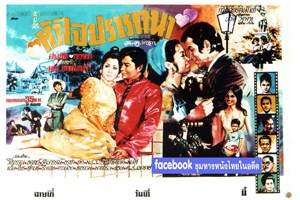 Year

: 1972



Thai title

:

หัวใจปรารถนา




English title

:



Rating

: 3/5


Director

:



Main actor

: Sombat Methanee,Ek Amarin,Adul Dulyarat,Sukon Koewliam,Daonoi Duangjai


Main actress

: Petchara Chaowarat,Wilaiwan Watthanaphanit,Ratanaporn Intarakamhaeng,Orasa Isarangkul
Thai movie หัวใจปรารถนา was released in year 1972. The movie is lost in Thailand but a nine minutes mute sequence remains to be seen. It has a very damaged picture. This movie is a romance movie. Despite being a 1972 movie and labeled as 35mm movie, it is in 16mm format. It was probably shown in Thai provinces where 16mm projectors were still popular. Main actor is Sombat Methanee and main actress is Petchara Chaowarat. It features เอก อัมรินทร์ as a new main actor, Wilaiwan Watthanaphanit, Adul Dulyarat, Ratanaporn Intarakamhaeng, Orasa Isarangkul, Sukon Koewliam, Daonoi Duangjai. The left sequence shows Petchara in the arms of Ek Amarin (เอก อัมรินทร์) and talking together. They are wearing princely clothes. Wilaiwan is talking to Orasa. They are maybe playing jealous ladies roles. Wilaiwan is gorgeous in Hong Kong dress Cheongsam. Sombat Methanee, main actor, is unfortunately not seen in any of the remaining sequences. The movie featured 7 songs.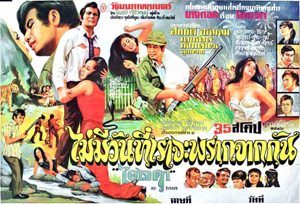 Year

: 1971



Thai title

:

วันที่เราจะพรากจากกัน




English title

:



Rating

: 4/5


Director

:



Main actor

: Sombat Methanee,Prachuap Ruekyamdee,Sithao Petcharoen,Songthong,Sawin Sawangrat,Sukon Koewliam,Chana Sriubon,Ruj Ronnapop


Main actress

: Aranya Namwong,Naowarat Watchara,Sopha Sataporn,Ratanaporn Intarakamhaeng
ไม่มีวันที่เราจะพรากจากกัน (There is no day we will split) was released in year 1971. The full movie lasts 2h27mn. The remaining film is in a poor condition. The image has no more color and is only tinted. Unfortunately the sound is distorted and barely hearable. A full movie summary is still available as some old Thai movie stars magazines can still be found nowadays. The movie remains famous for its 9 to 10 songs. A few songs are sung by Sithao Petcharoen and Songthong. One of the famous singer in this movie is กังวานไพร ลูกเพชร, a countryside singer (นักร้องลูกทุ่ง). He is acting as a couple with Naowarat Watchara in this movie. Main actors in this romantic movie are Aranya Namwong and Sombat Methanee. Interesting to see that Aranya Namwong is wearing big sunglasses that are back to fashion in decade 2010s. Other actors include Prachuap Ruekyamdee, comic actor Sukon Koewliam, Naowarat Watchara, Chana Sriubon, Sopha Sataporn, Ratanaporn Intarakamhaeng, Ruj Ronnapop. Kampee (Sombat Methanee) is orphan but gets patronized by his older sister Rampoei, who is married to rich merchant Vivat. Kampee (คัมภีร์) is engaged with Rewadee (Naowarat Watchara). He goes to study abroad. When he comes back, his fiancee Rewadee is going to marry Pinjo, who was a former friend. Kampee, disappointed, causes big arguments during the wedding, gets beaten and thrown away in the water. When he wakes up, he meets for first time a young woman called Ailada (Aranya Namwong), riding a bicycle and going to help him. Surprised, he leaves rashly by taxi (คนบ้า). Kampee leaves his home as Pinjo's father forces him to go to Sukhothai province. Rampoei wants Kampee to marry Walli, younger sister of Vivat. Kampee meets Ailada again in Phitsanulok train station and they argue again. Kampee shall be the head of forest guards in district Huay Krai. Kampee is welcomed by Plang (Prachuap Ruekyamdee), his assistant. Ailada is Plang's daughter! Kamnan Preuang (Sawin Sawangrat) is doing illegal business in the forest by cutting trees. Plaew, son of Kamnan Preuang, loves Ailada since they are kids. Plang and Kampee have a plan to stop those illegal activities. Having learnt this, Ailada informs Preuang. So Kampee's plan fails. Aware that Ailada is the one who disclosed the plan, Kampee has arguments with her but Ailada finally understands and recognises her mistake. Love starts to emerge. Walli is coming to visit Kampee. To get rid of Walli, Kampee claims he is already engaged with Ailada so she has mischievous behavior with Kampee! Kamnan Preuang and Plaew get agreement with Pinjo to use Rewadee to ease Kampee. Pinjo wishes to kill Kampee as he cannot stand to have Rewadee close to Kampee. It is discovered that Plaew is the real son of Plang and not Preuang. Plaew and Ailanda are then brother and sister! Plaew and Ailanda are looking for Kampee knowing he is endangered by Pinjo's plans to kill him. A thunderstorm happens. Kampee and Ailanda take refuge in a cave. A snake is threatening them. Plaew and Rewadee take refuge in a cave also. Pinjo misunderstands Plaew's intention to help Rewadee. He finally falls in the river and dies. Back from the forest, learning that Kampee and Ailanda plan to marry, Rewadee still tries to get back Kampee and simulates to have spent the night with him. It causes Ailanda's ire, who then flees away. Rewadee apologizes but it is too late. Ailanda is gone and Kampee is back to Bangkok. Kampee indulges in alcohol and finally accept his sister's proposal to marry Walli. Rewadee is pregnant with Plaew. As Ailanda is back to district Huay Krai, Plaew decides to stop Kampee's wedding with Walli to ensure Kampee can marry Ailanda! Plaew lies that Kampee made a young lady pregnant in district Huay Krai so he needs to assume. Finally Kampee and Ailanda are reunited.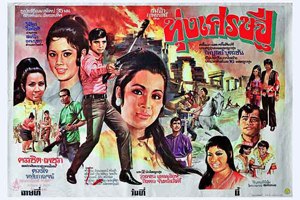 Year

: 1971



Thai title

:

ทุ่งเศรษฐี




English title

:



Rating

: 4/5


Director

:



Main actor

: Kanchit Kwanpracha,Taksin Jampol,Phan Kam,Rujira Isarangkul,Tat Ekathat,Pan Borapet,Adinan Singhiran,Pramin Jarujareet


Main actress

: Petchara Chaowarat,Ratanaporn Intarakamhaeng,Sisala Thongtara,Jomchai Jarintorn
Thai movie ทุ่งเศรษฐี was released in year 1971 and lasts 2h46mn. It was never released under VHS, VCD or DVD but an unofficial version can be found as a collector made a copy of the film, found in 16mm format with soundtrack. This unofficial VHS version features a very damaged black and white image with many vertical lines and distorted sound as the remaining film was projected very often. It is even more damaged than Thai movie มนต์รักลูกทุ่ง. Main actors and actresses are Kanchit Kwanpracha, Petchara Chaowarat, singer รุ่งเพชร แหลมสิงห์, singer กิ่งดาว จันทร์สวัสดิ์, Taksin Jampol, Ratanaporn Intarakamhaeng, Phan Kam, Rujira Isarangkul, สีเผือก, ศรีสุริยา, เทิ่ง สติเฟื่อง, Tat Ekathat, Pan Borapet, Adinan Singhiran, Pramin Jarujareet. 16 songs are featured. Thai movie ทุ่งเศรษฐี is a musical movie (หนังเพลง). The most famous song is ขนมจีนน้ำยา. Subdistrict headman and ruffians' leader Pongdin (Tat Ekathat) is asking lady Molee's hand. She is the village leader Chiaw's (Rujira Isarangkul) daughter. Cherm (Taksin Jampol), armed with swords, pushes back the wedding procession led by Pongdin. Molee (Ratanaporn Intarakamhaeng) succeeds to escape with her boyfriend Pong (Phan Kam). Cherm jumps on a horse and flees also before being overwhelmed. Molee lives with Pong and their child but remains concerned that Pongdin will find them one day. Adinan Singhiran and Pramin Jarujareet succeed to find them but Pong refuses to flee in front of Pongdin again. He is finally killed. Pong's house is burnt. Molee and her child Prai have to flee to Bangkok. Cherm decides to stay in a Buddhist temple. Twenty years have passed. Prai (Kanchit Kwanpracha) and Rung Phet are selling vinyl records during temple fairs. Kwan Dao (Petchara Chaowarat) is visiting the fair also. Prai falls in love with Kwan Dao. He sings romantic song for her. Prai and his friends get beaten by ruffians (including Pan Borapet) because they talked to the daughters of ruffians' leader Pongdin. Pongdin has a wedding plan for his daughter even she doesn't know or love her future husband. Kwan Dao doesn't want to marry a ruffian (นักเลง). Prai with Rung Phet's help are looking for Cherm and Chiaw. While paying respect to an old pagoda, Prai and his friends visit a small wooden house. They are attacked by Borapet and his ruffians. Ruffians are pushed back. They discover that the man meditating in the house is uncle Cherm! Cherm brings them to meet former village leader Chiaw's (Rujira Isarangkul), who is Prai's grandfather! He is now subdistrict headman (กำนัน). Prai is still looking for his father. He doesn't know if his father is still alive or not. Thai boxing matches are organised in the village for the annual festival. It starts with a dwarf match. Next match features Adinan versus Prai. Kwan Dao needs to give the winning reward. Prai defeats Pongdin's champion. It ends up by a lady match. Pongdin accepts them as 'children'. Romance songs occur between Prai and Kwan Dao, male singer (รุ่งเพชร แหลมสิงห์) and female singer (กิ่งดาว จันทร์สวัสดิ์). Face to face occurs between Pongdin, uncle Cherm and Prai. Prai is still looking who killed his father. Both of them are beaten and captured by Pongdin's ruffians. Friends ask for subdistrict headman Chiaw's help. Kwan Dao tries to release Prai and succeeds. Prai knows Pongdon killed his father so he needs to take revenge. Prai captures Pongdin and wishes to torture him on a pyre like he tortured his father (รับกรรม). Molee and Cherm tries to convince him not to kill Pongdin. No more sins shall happen. Seeing his mother collapsing makes Prai realises that he was wrong. Pongdin changes and recognizes his mistakes. Thung Sethi (ทุ่งเศรษฐี) area will have happiness.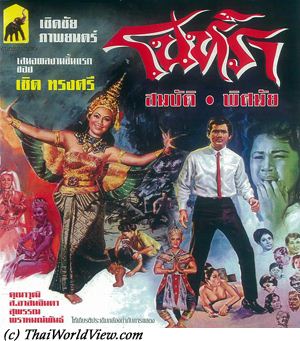 Year

: 1966



Thai title

:

โนห์รา




English title

:



Rating

: 4/5


Director

: Cherd Songsri,Wichit Khunawut,Sor Asanajinda



Main actor

: Sombat Methanee,Lor Tok


Main actress

: Pissamai Wilaisak,Preeya Roongrueng,Ratanaporn Intarakamhaeng
Tiew is a young man performing Nora (รำโนราห์ใต้) dance in Nakhon Sri Thammarat. The Nora is a traditional dance of South Thailand. In South Thai language it is called the "Chatri" (ชาตรี). Tiew is in love with a lady called Pimpa (Ratanaporn Intarakamhaeng). Pimpa is pregnant with him but her grandmother refuses this love. She drugs Pimpa with a sleep potion in order that a Bangkok lawyer becomes her husband instead of a Nora dance performer. Pimpa wishes to get suicide but her aunt convinces her to tell the truth to Tiew. She doesn't dare and Tiew rejects Pimpa. Pimpa decides to keep the child and gives her child the name "Nora". 18 years passed. Pimpa is only a minor wife (เมียน้อย) and works as a domestic helper to pay for Nora studies. The lawyer's daughter, called Kaekae (Preeya Roongrueng), dislikes Nora (Pissamai Wilaisak) and likes to spread rumours that Nora's mother works as prostitute. Other students mock Nora. Nora and her real father miss each other. Nora sells sweets in school to help her mother. Kanchit (Sombat Methanee) is Kaekae's boyfriend. Kanchit is seeing many girls as he is rich, single and handsome. Nora learns to perform Nora dance. Kanchit gets interest in Nora despite Nora has already a boyfriend called Sompop. Kanchit is fed up with hi-so girls (ร่างกายสวยแต่ใจไม่สวย). Kaekae's mother hires a ruffian to hurt Nora after a performance. He throws some acid on her face. Sompop is not willing to visit Nora anymore due to her ghost (ผี) face. Hopefully Nora succeeds to recover. Kanchit plans to marry Nora. Following Kaekae's mother orders, Nora is kidnaped. Kanchit follows up the kidnapers and the Thai police is giving a hand. Kaekae got punished as being raped instead of Nora and she becomes crazy. The mother is jailed. Tiew still performs Nora but gets no more interest from the public (โนราห์สมัยเก่า - โนราห์สมัยใหม่). Tiew dies on the stage following a lost bullet. Art (ศิลป์) needs to be kept. Nora needs to perform to honour her father's memory. There is a conflict with Nora and Kanchit wedding day. Kanchit cannot change the date and threaten to cancel the wedding. Nora chooses to go to Nakhon Sri Thammarat. The movie highlights cultural aspects, arts protection and conservation. It is a cherished theme by director Cherd Songsri. This movie is Cherd Songsri's first movie and has still an excellent color conservation. As often, Preeya Roongrueng plays the bad girlfriend. It is a typical 1960s movie with leading actor (พระเอก) coming from rich background, leading actress (นางเอก) coming from a poor background, villains (ตัวกง) wishing to hurt Nora, funny comedians supporting the leading actor (ตัวตลก - Lor Tok as Kanchit's driver), bad girls (นางอิจฉา) played by Kaekae and her mother. It mixes action, love, comedy and drama. It was the most successful Thai movie in 1966. This movie has also been adapted as a Thai TV serie (ละคร).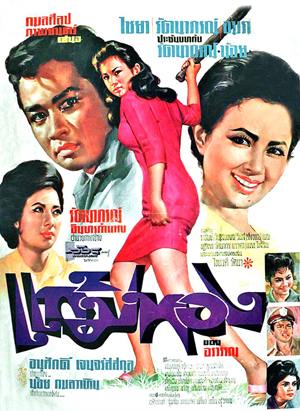 Year

: 1966



Thai title

:

แก้มทอง




English title

:



Rating

: 3/5


Director

: Ratanaporn Intarakamhaeng



Main actor

: Chaiya Suriyun,Sukon Koewliam,Sompong Phonmitr,Adinan Singhiran,Choomporn Theppitak


Main actress

: Ratanaporn Intarakamhaeng,Ratanaporn Noi,Amara Asavananda
Thai movie แก้มทอง was released in year 1966. The movie is lost in Thailand but a sequence of 9mn30s is still available. The movie features Chaiya Suriyun as main actor and Ratanaporn Intarakamhaeng / Ratanaporn Noi (รัตนาภรณ์น้อย). In this movie, Ratanaporn Noi is the main actress. Ratanaporn Intarakamhaeng is playing Ratanaporn Noi's mother. Other actors include Sompong Phonmitr and Sukon Koewliam. Chaiya is not seen in the remaining sequence except in a still picture inside the credits. Ratanaporn Intarakamhaeng was the producer of this movie. Various sequences show two sexy women talking to each other, police raiding a prostitution joint (ซ่องโสเภณี) including comic scenes with Sukon Koewliam and a fat lady. A few comic sequences are still shown including Sompong are still present.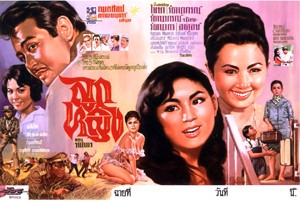 Year

: 1965



Thai title

:

ลูกหญิง




English title

:



Rating

: 3/5


Director

: น้อย กมลวาทิน



Main actor

: Chaiya Suriyun,Sompong Phonmitr,Somkuan Krajangsat,Adul Dulyarat,Sukon Koewliam,Sompol Kongsuwan,Pramin Jarujareet,Kokheng


Main actress

: Ratanaporn Intarakamhaeng,Chadaporn Wachirapranee,Mom Chan Phuangwan
Thai movie ลูกหญิง was released in year 1965. Main actors and actresses include Chaiya Suriyun, Ratanaporn Intarakamhaeng, รัตนาภรณ์ น้อย อินทรกำแหง, รัตนากร อินทรกำแหง, Adul Dulyarat, Chadaporn Wachirapranee, Somkuan Krajangsat, ราชันย์ กาญจนมาศ, Sompol Kongsuwan, Pramin Jarujareet, สังวรณ์, Sompong Phonmitr, พูนสวัสดิ์ ธีมากร, Sukon Koewliam, ทองฮะ, ทองแถม, Mom Chan Phuangwan, ปราณีต คุ้มเดช, Kokheng. Actresses รัตนาภรณ์น้อย (Ratanaporn Noi) and รัตนากร (Ratanakorn) were molded by Ratanaporn Intarakamhaeng. Luk Ying is played by actress รัตนาภรณ์น้อง or รัตนาภรณ์น้อย, i.e. young Ratanaporn. Her first movie was in ลูกนก. She played in other movies such as แก้มทอง, บัวหลวง, ชาละวัน. At that time, Ratanaporn Intarakamhaeng was very famous but started to be too old for romance movies (being more than 30 years old). So marketers wanted to introduce a new actress with a younger face similar to Ratanaporn Intarakamhaeng to play the role of daughter / mother. Movie director is น้อย กมลวาทิน. Movie producer is Ratanaporn Intarakamhaeng. The film was never released on VHS / VCD / DVD format but the movie in 16mm format can still be seen in Thailand. It was found in the South of Thailand in Surat Thani thanks to a teacher and collector of old items in Songkhla area. Two reels are left so only 48 minutes can be seen. A dubbed version was shown in Thai Film Archives in 2020. The remaining film is very damaged but still colorful. The movie takes place in Chiang Mai and then in Bangkok. Chaiya Suriyun plays two roles as a father and a younger man (wearing a moustache) being a musician. Following a fight in a bar, Wissanoo (Chaiya Suriyun) is injured and left for dead. His daughter, Luk Ying (Ratanaporn Noi), asks for help. Pol passing by with Thipsuda (Chadaporn Wachirapranee) decides to help. At the hospital, Thipsuda helps to pay for the bill. Thipsuda becomes finally Wissanoo's new wife (เมียใหม่). Years have passed. Luk Ying is now an adult. Thipsuda is always jealous about Luk Ying (ลำบากใจ). Wissanoo decides to send his daughter to her grandfather's (Somkuan Krajangsat) home in Chiang Mai. Adul (Adul Dulyarat), a policeman, is injured and cured at the grandfather's house so he has the chance to know Luk Ying (ลูกหญิง). Adul is going to marry Luk Ying so the father Wissanoo (นักดนตรี) is invited to the wedding. Arriving there, he recalls his relationship with Walai (Ratanaporn Intarakamhaeng), Luk Ying's mother. He feels bad to have sent his daughter in Chiang Mai. He recalls he met Walai in similar condition in an event in Chiang Mai many years ago and asked her to live in Bangkok with her. They fled to Bangkok as Wissanoo was a poor musician and Walai, the unique granddaughter of a rich man (Somkuan Krajangsat). Wissanoo and Walai had a daughter called Luuk Ying. After a few years for unclear reasons, Walai left back to Chiang Mai and left behind her husband and daughter. She wrote a letter but Wissanoo burnt before reading it. The 48 minutes ends when they meet again at Luk Ying's wedding and their love is still here.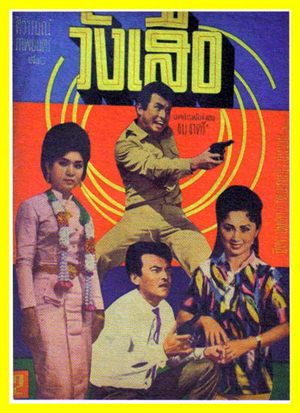 Year

: 1965



Thai title

:

วังเสือ




English title

:



Rating

: 3/5


Director

: Neramit



Main actor

: Mitr Chaibancha,Prachuap Ruekyamdee,Sor Asanajinda,Sukon Koewliam,Jamroon Nuatjim


Main actress

: Petchara Chaowarat,Ratanaporn Intarakamhaeng
Thai movie วังเสือ was released in year 1965. The movie is lost in Thailand. Only a short left colorful movie trailer lasts 2 minutes 20 seconds. The remaining sequence is in mute state as the reel is in 16mm format. Main actor is Mitr Chaibancha and main actress is Petchara Chaowarat. It features Prachuap Ruekyamdee, Ratanaporn Intarakamhaeng, Sor Asanajinda, ชาย, วงศ์, ธัญญา, Sukon Koewliam. Movie directors are มารุต and ครูเนรมิต. Remaining sequences allow seeing Mitr as a government official, Petchara, Prachuap as bad guy, Ratanaporn as Mitr's mother. Various short sequences feature fighting, shooting, Mitr upset with Petchara, Sukon, Petchara escaping from ruffians, Jamroon Nuatjim.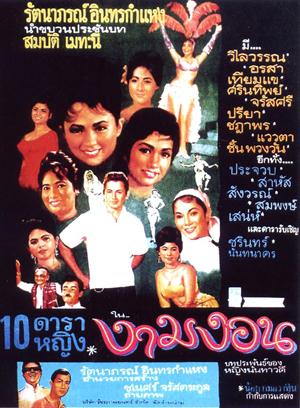 Year

: 1963



Thai title

:

งามงอน




English title

:



Rating

: 3/5


Director

:



Main actor

: Sombat Methanee,Prachuap Ruekyamdee,Charin Nantanakorn,Sompong Phonmitr,Preuhat Boonlong


Main actress

: Ratanaporn Intarakamhaeng,Sarinthip Siriwan,Mom Chan Phuangwan,Wilaiwan Watthanaphanit,Preeya Roongrueng,Orasa Isarangkul,Chadaporn Wachirapranee
Thai movie งามงอน was released in year 1963. It is a romantic comedy movie. It features Sombat Methanee as main actor and Ratanaporn Intarakamhaeng as main actress. The full movie is lost in Thailand but around three film reels are still available (more than 40 minutes). The movie is in 16mm format so it is in mute state as such movie requires live dubbers. No summary is available. This movie was produced by Ratanaporn and directed by her husband. Sombat Methanee's five first movies were produced by Ratanaporn's company (รุ้งเพชร - 1961...). In 1963, Sombat had a similar hairstyle as Mitr Chaibancha. Ratanaporn is playing two roles, i.e. two twin sisters. Sombat Methanee and Prachuap Ruekyamdee wish to seduce the two sisters. An evening party (masquerade ball) is organized. Ratanaporn is disguised as an old sorceress (แม่มด). She gives advices to Preeya Roongrueng. Sombat is getting confused between the two sisters at the masquerade ball. Orasa Isarangkul invites Sombat to dance. Prachuap simulates to have a leg injury to have opportunity to talk to Ratanaporn. He is wearing a fake moustache and works a waiter to be able to join the party. Sombat disguises also himself into a waiter to be close to Ratanaporn. Many Thai stars are playing in this movie, i.e. Sombat Methanee, Prachuap Ruekyamdee, Charin Nantanakorn, Sompong Phonmitr, Preuhat Boonlong, Ratanaporn Intarakamhaeng, Sarinthip Siriwan, Mom Chan Phuangwan, Wilaiwan Watthanaphanit, Preeya Roongrueng, Orasa Isarangkul, Chadaporn Wachirapranee. Chadaporn Wachirapranee is playing the wife of Preuhat Boonlong. 10 Thai feminine stars are present! Finally a romance starts between Sombat and Ratanaporn.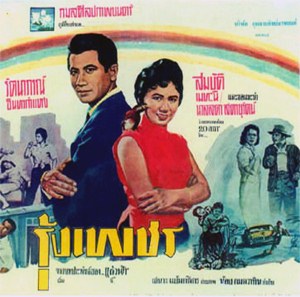 Year

: 1961



Thai title

:

รุ้งเพชร




English title

:



Rating

: 3/5


Director

:



Main actor

: Sombat Methanee,Preuhat Boonlong,Adinan Singhiran


Main actress

: Ratanaporn Intarakamhaeng,Juree Osiri,Sarinthip Siriwan,Mom Chan Phuangwan
This movie รุ้งเพชร was shot in 1961. Main actors are Sombat Methanee and Ratanaporn Intarakamhaeng. It was Sombat Methanee's first movie (พระเอกใหม่). It was first opportunity for Sombat as a handsome young and muscular leading actor. Sombat was 4 to 5 years younger than the leading actress. This 16mm version is partially lost and only 48 minutes are still left to be seen. The film has no sound as all 16mm movies were dubbed. Rung's best close friend is a bird "NOK IENG" (นกเอี้ยง) sitting on her shoulder. As often in old Thai movies, bad female characters are depicted as smoking girls. Another version, a 35mm film, was shot in 1980 with Sorapong Chatree, Sor Asanajinda, Settha Sirachaya as actors and Nanthida Kaewbuasai, Pissamai Wilaisak, Piathip Kumwong, Thitima Sangkapitak, Nantada Ngaokrajang as actresses. A few sequences can be seen in both movies such as fruit throwing on Sombat's head, Sombat as a teacher to a stubborn student, Sombat looking for Rung who has fled from home. A nice old Renault 1960 is driven by Sombat. Some sequences only happen in 1961 version such as a romantic sequence in a cave, Sombat doing unsuccessful iron clothing and cooking food. The 1961 version still has a quite colorful image.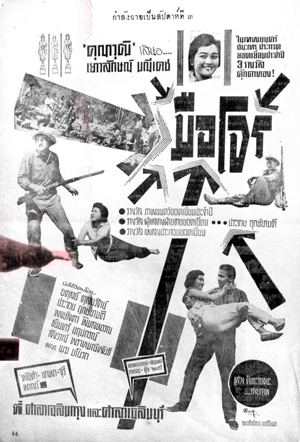 Year

: 1961



Thai title

:

มือโจร




English title

:



Rating

: 3/5


Director

: Wichit Khunawut



Main actor

: Adul Dulyarat,Prachuap Ruekyamdee


Main actress

: Ratanaporn Intarakamhaeng,Usa Atcharanimit
Thai movie มือโจร is a Thai movie released in year 1961. Main actors are Adul Dulyarat and Prachuap Ruekyamdee. In year 1961, Adul is still the main actor. Soon he got only second role as Mitr Chaibancha, Sombat Methanee and Chaiya Suriyun became new favorite actors. Main actress is เยาวลักษณ์ มณีเดช, a new comer. Only 54 minutes is left to be seen. It has been remastered so it has a colorful and sharp picture. This movie got three Thai cinema rewards. Younger sister Saen borrows necklace of 40000 baht (สร้อยเพชร) from her elder sister to go to a party. She lost it. Worried to be accused of stealing the necklace, she flees in another city. She meets Adul there. While travelling, their vehicle has a technical issue. The driver walks away to get another car. Meanwhile they are attacked by robbers led by Yot (Prachuap Ruekyamdee). Discovering that Adul is a doctor, Yot (Prachuap) kidnaps both Adul and the young lady. Yot's wife is sick. She got malaria. Yot has finally a good heart. He was forced by life events to become a ruffian. The ruffians' troupe needs to flee to another place as police is chasing them. Sampan, Yot's wife, asks him to surrender (มอบตัว). Yot has arguments with one of his ruffians trying to steal his bounty. Yot is injured in the leg. While the troupe goes to find food, Sampan, the doctor and the young lady Saen flee. Knowing that she is pregnant, Sampan finally goes back to Yot to ensure her child has a father. Saen understands the doctor is a good man. Saen has to leave for Bangkok. Finally the doctor quits his job and joins her. Ratanaporn Intarakamhaeng and Usa Atcharanimit have two small roles as cameo. Famous director is Wichit Khunawut. He made a remake of his own movie in year 1972. It was then called หัวใจป่า.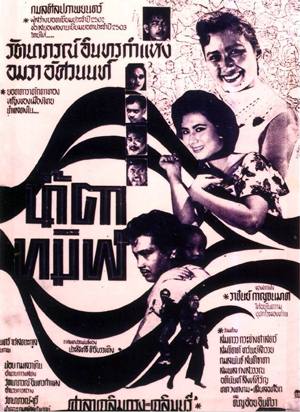 Year

: 1960



Thai title

:

น้ำตาทมิฬ




English title

:



Rating

: 3/5


Director

:



Main actor

: Ratchan Kanchanamat,Somkuan Krajangsat,Lor Tok,Adinan Singhiran,Sompol Kongsuwan


Main actress

: Ratanaporn Intarakamhaeng,Amara Asavananda,Somjit Sapsamruey
Thai movie น้ำตาทมิฬ was released in year 1960. Main actor is Ratchan Kanchanamat (ราชันย์ กาญจนมาศ) and main actress is Ratanaporn Intarakamhaeng. Other actors and actresses are Amara Asavananda, Somkuan Krajangsat, Lor Tok, Somjit Sapsamruey, กมลพันธ์ สันติธาดา, Sompol Kongsuwan, Adinan Singhiran, ทศ วงศ์งาม. The movie is lost in Thailand but a ten minutes sequence remains to be seen. It is still very colorful. A three minutes sequence online shows Ratanaporn Intarakamhaeng talking to Ratchan Kanchanamat, Amara with Somkuan Krajangsat, Amara drinking alcohol and starting to be drunk, a boat speeding on the Chao Praya river. The movie was produced by Ratanaporn Intarakamhaeng. Ratchan Kanchanamat is a main actor from decade 1950s. He played in อกสามศอก (1958) and later on in ชีวิตบัดซบ (1976).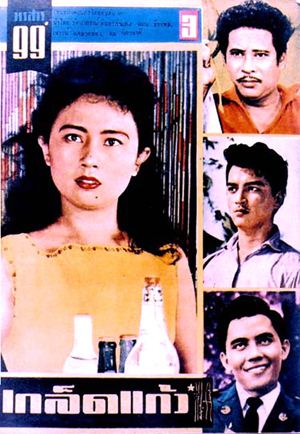 Year

: 1958



Thai title

:

เกล็ดแก้ว




English title

:



Rating

: 3/5


Director

: Phan Kam



Main actor

: Man Teeraphol,Adinan Singhiran,Tawan Siriwat


Main actress

: Ratanaporn Intarakamhaeng,Mom Chan Phuangwan,Somjit Sapsamruey
Thai movie เกล็ดแก้ว was released in year 1958. The movie is lost in Thailand but a 6 minutes colorful and sharp trailer is still available. Main actors are Ratanaporn Intarakamhaen and (Man Teeraphol. Other actors are Tawan Siriwat (ดาวร้าย), Mom Chan Phuangwan. The movie is mainly shot in province Chumphon. It starts with a nice sequence of a family at the beach around Hua Hin. Khun Thanya (Man Teeraphol), young Bangkokian man, has a bad behaviour. He flees from Bangkok to Chumphon and meets Kaet Kaew. Kaet Kaew (Ratanaporn Intarakamhaeng) is a local village young lady. Adinan Singhiran loves Kaet Kaew but love is not reciprocal (พี่น้อง). Plaew (เชาวน์ แคล่วคล่อง), another villager, also loves Kaet Kaew so fighting happens between the two men. Kae Son (Somjit Sapsamruey) is the mother of Kaet Kaew. Love emerges between khun Thanya and Kaet Kaew despite her mum warning her against Bangkok people. Kaet Kaew follows him to Bangkok but faces disappointment. Back to Chumphon she marries with Plaew. A remake was released in year 1983 with Sorapong Chatree and Naowarat Yooktanun.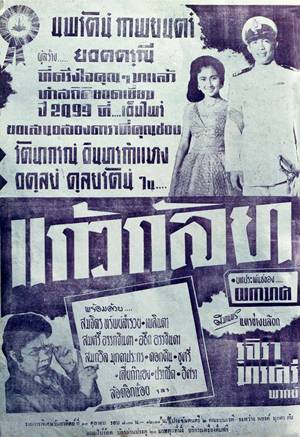 Year

: 1958



Thai title

:

แก้วกัลยา




English title

:



Rating

: 3/5


Director

:



Main actor

: Adul Dulyarat,Lor Tok Noi,Banglae,Dokdin Kanyaman,Banglae


Main actress

: Ratanaporn Intarakamhaeng,Chosri Misommon,Somjit Sapsamruey
Thai movie แก้วกัลยา was released in year 1958. It features Adul Dulyarat as main actor and Ratanaporn Intarakamhaeng as main actress. The movie is lost in Thailand but a damaged sequence of five minutes remain to be seen. Adul is playing an officer. In 1958 he was still a main actor. Other actors include Lor Tok Noi, Banglae (บังเละ) playing the comic Indian guy as usual, Dokdin Kanyaman playing a mariner, Chosri Misommon, Somjit Sapsamruey. A middle age lady makes Ratanaporn crying. The middle age lady is using her as a servant. Ratanaporn is working later on boats.
---