Increase or decrease font size for easier reading : A+ A-
Ratana Pestonji
Ratana Pestonji (1908-1970) - รัตน์ เปสตันยี
Ratana Pestonji didn't direct many movies and his 7 movies were not big successes at the box office. But all his movies reflect a good quality mixing suspense humor so they have become classics. He made a black-and-white film (Country Hotel) while everybody else had gone colour. He used sound on film, while the audience in those days wanted to hear live dubbing. The dubbers were the stars and each province had its own famous film dubbers. He was the first director to understand that 16mm Thai movies couldn't be shown outside Thailand as dubbing was needed. So he makes high quality movie in 35mm. He made the first Thai film to get an award abroad, i.e. 1954's "Santi-Vina", which was awarded at the Asia-Pacific Film Festival in Tokyo. He never has famous Thai stars such as Mitr Chaibancha or Petchara Chaowarat playing in his movies as they took long time to be filmed included long sequences to be remembered and played many times until the right scene and voices were recorded. Mitr was very busy with huge queue of movies in the pipe. So Ratana used less famous actors who did performed very well also. Those were second role actors or actresses when playing with Mitr or Petchara but then got the opportunity to be the main stars in Ratana's movies. His last movie was "น้ำตาลไม่หวาน" (1964). He is known as the pioneer of Thai cinema. He received an award from Alfred Hitchcok in 1937 for his first movie "Tang". He died while giving a speech to movie executives and complaining of the lack of the support from government to Thai film industry. "I've spent every baht I ever earned on my productions and now I have to make adverts just to survive. The foreign film distributors have been preying on Thai cinemas," he said in 1970. Ratana innovated and his innovations became standard, such as the use of colour, 35mm film and sound recording
This Ratana Pestonji movie page contains 4 records.
---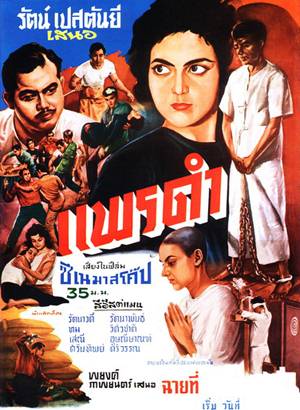 Year

: 1961



Thai title

:

แพรดำ




English title

: Black Silk



Rating

: 5/5


Director

: Ratana Pestonji



Main actor

:


Main actress

:
Seni is a manager of a nightclub. Two men, Sin and Wan, come to visit him and ask him to pay back his debts but he has no money! He refuses to pay and threatening words are exchanged. Young man Tom is used by Seni as odd job man. Phrae, a young widow, is working on clothes confection. She has a baby. Her surname is "Phrae dam" (แพรดำ) as she is mourning for two years. Tom wants to bring happiness back to her but she always refuses to go out with him arguing it is still too early. Sema, Seni's twin brother (ลูกแฟด), just dies of malaria. Seni decides to bury the corpse there and not bring it back to Bangkok. He has a hidden plan. Since years Seni wishes to buy Wan's land but knows Wan will never sell to him due to the debt issue. Seni asks Tom to bring Phrae in order that she pretends to be the buyer. Things turn wrong as Phrae is not aware of the role she is expected to play and Wan refuses to sell. Seni strangles Wan and Tom shots Sin. Seni disguises this as a crime, i.e. Sin having killed Wan and then fleeing away. Phrae has a temporary loss of consciousness. Tom forgets Phrae's shoes there. Seni then simulates his death in a car crash. A burnt corpse is found in the car. It is in fact Sin's corpse. Seni takes Sema's identity, his own brother, in order to get life insurance payment following the car accident. Tom shall get a part in order to marry with Phrae. Seni has a reputation of good man but he is in fact evil. He is now the new owner of the nightclub under Sema's identity and gets the money from insurance company. Meanwhile Phrae is always sick. Phrae chases Tom from her house as he is a murderer. Sema is worried that Phrae could disclose the whole truth so he suggests Tom to stop seeing her. He gives Tom 20 000 bath and a car. Sema has a plan to control Phrae without killing her. Her baby is kidnapped. Sema sets up a plan pretending Sin's father has killed Tom and kidnapped Phrae's child as retaliation. If she dares going to police, the baby will die. Lost, she consults the temple abbot who advices her to become a nun (แม่ชี) to find inner peace. She has already been punished by losing her child by mingling with those two crooks. From black clothes (ดำ) she now wears white clothes. Tom still takes care of her child and wishes to find her as the baby is very sick. He finally finds her. She quits the nunnery to look after her baby. Tom dreams of a new life with Phrae and the baby but Phrae refuses as he lied to her so many times. Sema, aware that Tom brings Phrae back home, rushes to find them. To protect Phrae from Sema, Tom has to shoot him. Police catches him and Phrae. The baby dies while they are in jail. A trial happens. Tom denies any wrong doing but the shoes left by Phrae are the missing proof. Tom is sentenced to death. Phrae is spared and becomes a nun again. People may believe Karma (กรรม) doesn't exist but this movie highlights its impacts and results on people actions. Bad deeds and sinners have been punished. It was a 35mm movie released in 1961. Phrae is played by Ratana Pestonji's own daughter. It was shot in 35mm so that it could participate to overseas movies competitions such as Berlin 1961 festival. The movie got a photography award in Thai cinema yearly awards ceremony in 1961. This movie has also been registered as National Heritage per the 2016 list released by the Thai Film Archive.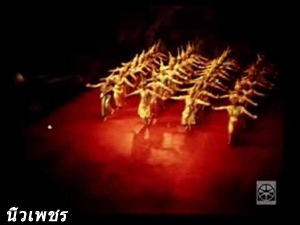 Year

: 1958



Thai title

:

นิ้วเพชร




English title

: The Diamond Finger



Rating

: 3/5


Director

: Ratana Pestonji



Main actor

:


Main actress

:
Thai dance movie นิ้วเพชร (The Diamond Finger) was released in year 1958. It lasts 27 minutes. This movie was released by Thai Fine Arts Department. Photography was done by Ratana Pestonji. Kukrit Pramoj was the narrator. The background voice is in English. A giant, named Noon Tuk (ยักษ์นนทุก), is the last of this race. Apsara are worshipping Shiva and also tease the giant Noon Tuk by removing his hair. Upset, he goes to see Shiva, who gives him a Diamond finger, instrument of death by pointing people. Noon Tuk kills a few Apsara by using the power of the Diamond Finger. Seeing how the power is used badly, Vishnu transforms himself in a beautiful girl to save the Apsara. Noon Tuk, wishing to seduce her, follows exactly her dancing gesture. Through the snake gesture, he points at his own leg and kills himself. This movie has also been registered as National Heritage per the 2011 list released by the Thai Film Archive.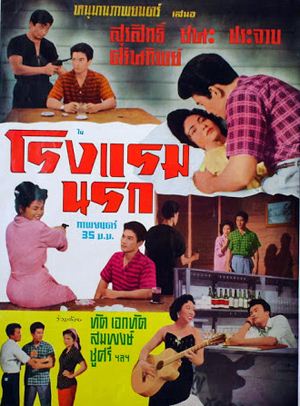 Year

: 1957



Thai title

:

โรงแรมนรก




English title

: Country Hotel



Rating

: 5/5


Director

: Ratana Pestonji



Main actor

: Prachuap Ruekyamdee,Chana Sriubon,Sompong Phonmitr,Tat Ekathat


Main actress

: Sarinthip Siriwan
The hotel bar caretaker Noi is a brave guy (Prachuap Ruekyamdee) but he is a bit gullible and too nice to customers. The hotel is used as rehearsal hall by choral or a Philippine artist such as miss Flora or Chinese opera (งิ้ว) or even a boxing match. The hotel is often used for arm wrestling competition. The caretaker Noi can often beat men much stronger than him. This strange hotel has only one room and it is already occupied by Mr Chana (Chana Sriubon). Issue arises when a young lady called Riem (Sarinthip Siriwan) asks for a room also. Chana renames the hotel Paradise as hotel Hell (โรงแรมนรก) as it is too noisy. Chana and Riem keep arguing for the room and even fight for pillows (ใจดำ). Chana is getting mad as he cannot sleep properly. Rumors about bandit Seua Din reach the hotel. Taking a bath in a nearby river, Riem needs to borrow Chana's gun to protect herself in case Seua Din is around. As Chana refuses, she bets with him and wins a shooting game. Three ruffians including a fierce guy called Krai are looking for Chana as he is an accountant. They wish to rob his money before he pays company salaries. Noi's uncle is shot. Riem is back when they start to beat Noi and Chana to know when the money arrives. The ruffians are quite polite (เสือสุภาพบุรุษ) but determined to get the money. Noi tells that Riem is Chana's wife. To make Chana speaks, the ruffians threaten his wife's integrity. Chana finally accepts to tell that money will arrive at 4am. Love emerges between Riem and Chana. One of the ruffians helps Noi as he was looking for honest job and not a thief job. Krai shoots his two friends at nighttime as he believes they betrayed him by protecting Chana. Seua Din enters in the hotel and wishes to get the money also with no sharing. So a Russian roulette game is organised between Krai and Seua Din. Seua Din is very polite (เสือสุภาพบุรุษ) also but not Krai who breaks the game rules and shoots him. Chana and Noi capture Krai. The agent sending the money was Riem, daughter of the company owner. Chana and Riem cannot marry as Chana believes he is a small accountant only. Riem succeeds to convince him. There is a great performance of Prachuap Ruekyamdee who is playing a major role here instead of being a second role in a movie with leading actor Mitr Chaibancha. The movie scenario is very witty. Country Hotel (โรงแรมนรก) is a 1957 black and white movie lasting 2h19mn. It was filmed in 35mm format (using real actors voice) at the opposite of mainstream Thai movies using 16mm format (using dubbers). The movie received 3 awards in 1959 (best director, best image, best sound). The bar can still be found at Thai Film Archives museum. Western classical music is used. There is a great soundtrack used to create special ambience when fighting is happening. It is an indoor movie shooting.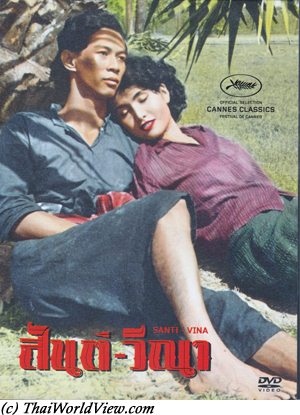 Year

: 1954



Thai title

:

สันติ-วีณา




English title

: Santi-Vina



Rating

: 5/5


Director

: Ratana Pestonji



Main actor

:


Main actress

: Rewadee Siriwilai
Thai movie สันติ-วีณา (Santi-Vina) was considered as a lost movie during many years. It was finally discovered again, restored and available in full length of 113 minutes. In year 2016 it was shown during Cannes Classic section of the 69th Cannes Film Festival. It was the first 35mm Thai movie ever realised. It was produced by หนุมานภาพยนตร์ and directed by Ratana Pestonji in year 1954. Movie Santi-Vina entered Asia-Pacific Film Festival in Tokyo and got three awards. It was the first Thai movie to participate to overseas movies competition and to get award. When back to Thailand, the film couldn't enter due to tax issue. So it was sent to England and got lost! Luckily it was found again in year 2014 in England in the British Film Institute and also in Russian and Chinese Film archives. Santi-Vina was the first Thai movie to be shown in mainland China. A film researcher found that the movie "Santi-Vina" had been sold to Russia and China in the 1950s and was released in those countries. Thai Film Archives kept also a poor quality copy. The restored movie has a colorful and crisp HD image. Santi-Vina movie was released by Thai Film Archives in year 2017 under DVD format. Santi, a poor 10 years old blind boy, is living with his father. Vina, a young girl, takes a pity on him and tries to protect him from the harassing of another boy called Krai. Vina brings Santi to school. Santi's father sends him to stay with Luang Ta, a respectable monk, hopefully that he would learn the Buddhist lessons and by doing good deed, he could regain his eyesight. When they have grown up, Santi and Vina (Rewadee Siriwila) become lovers during Loy Krathong festival. By seeing the flower given by Vina in Santi's hand, the monk understands there is no ending to human suffering. If Santi regains sight one day, the monk wishes he would join the monkhood but in his mind, Santi is thinking about Vina only. Seeing Vina and Santi together, Krai feels jealous because he also loves Vina. Krai asks his parent to arrange a marriage proposal to Vina. Vina's parents are convinced as Krai's father is the village leader. The love story with a blind man (ไอบอด) is impossible as he will not be able to care about his wife. Nevertheless Vina doesn't love Krai so she decides to run away with Santi. Krai tries to stop them at the temple cave but during the fighting, Santi defeats him. However, they are finally caught as trackers are using horses and Santi is severely beaten by Krai. On the day Vina gets married with Krai, Santi feels very sad and decides to get suicide by heading to the cave where big rocks often fall. Luang Ta loses his life in order to save Santi's life. Santi's eyesight is miraculous cured but he realizes that life has no more meaning as he lost Luang Ta. Reminding Luang Ta's comments, Santi reaches real happiness in life is by entering the monkhood. He knows that love together with Vina is no longer possible. In 1976, Pestoni's son Santa remade "Santi-Vina" as a tribute to his father. This remake is currently in poor condition.
---