Increase or decrease font size for easier reading : A+ A-
Pumpuang Duangchan
Pumpuang Duangchan (1961) - พุ่มพวง ดวงฉันทร์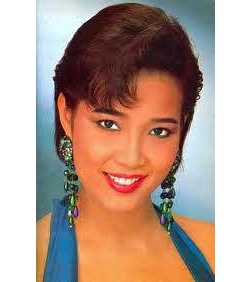 Pumpuang Duangchan was a Thai singer called the Queen of Thai country music. She came from central city of Suphanburi and adapted "LUUK TUNG" to 1980s Thai pop music with an emphasis on youth, look and orchestra with many dancers dressed in glittering costume. She died from overwork when she was 31 years old in 1992. She played in a few Thai movies
This Pumpuang Duangchan movie page contains 5 records.
---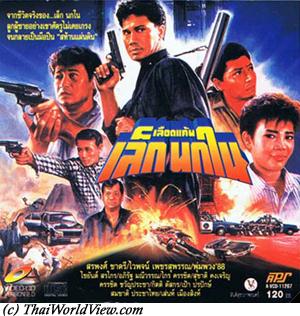 Year

: 1989



Thai title

:

เลือดแค้น เล็ก นกใน




English title

:



Rating

: 3/5


Director

:



Main actor

: Sorapong Chatree,Kanchit Kwanpracha,Chaiyan Sorakrai,Krai Kanchit,Pao Porapak


Main actress

: Pumpuang Duangchan
LepsoStudio also sells this movie but names it incorrectly as มือปืนสะท้านเมือง or 7 สิงห์แดนนรก. This movie is based on a real story. Life's circumstance changes Lek's existence and forces him to kill 12 men. A few village headmen (ผู้ใหญ่บ้าน) have a meeting to decide who will be the next subdistrict headman (กำนัน). Current subdistrict headman Liem wants to push his own son to be his successor. His son is a local police officer. They use bad influence (อิทธิพล) to control the subdistrict. Village headman Naparn tries to oppose. Naparn has two sons, Lek (Sorapong Chatree) and Porn. One night village headman Naparn and Porn are killed. Subdistrict headman Liem hire a hitman (มือปืนรับจ้าง) to kill also Lek. During the funeral (งานศพ), the police officer asks Lek to follow the law (หน้าที่ของกฎหมาย). Lek decides to do his own justice as it will be too difficult to find proofs against a subdistrict headman backed up by a policeman son. The subdistrict headman Liem and one of his son are killed by Lek, who has to flee. The subdistrict headman Liem's second son is not killed as he is a policeman. Liem's ruffians team asks support to subdistrict headman Sing (Kanchit Kwanpracha). Various intimidation and murders are performed by the ruffians team. Lek's family members or friends are killed one by one. They were innocent. Lek cannot remain neutral (เป็นคนดีไม่ได้). Lek has no choice than to exit from his retreat. He shoots a few ruffians. Then Lek quits the province to find a new job. He gets a job in a sawmill (โรงเลื่อย) in Saraburi. The boss is a lady (Pumpuang Duangchan). As he saves her from a log accident, they become sweethearts (แฟน). The ruffians find his retreat. A first murder tentative fails. Understanding that the ruffians will never let him safe, he decides to get rid of them (ต้องฆ่าให้หมด) to solve this endless situation. Lek prays every evening as life's circumstance forces him to kill ruffians to protect people he loves. Lek refuses to become an official hitman as he will not kill people who didn't hurt him. He attacks directly the ruffians' HQ. Sing and the ruffians are afraid for their lives. They ask help from another subdistrict headman. Lek and his remaining friends decide to raid his house to get rid of them. Police arrives to separate both groups. Believing that Lek is injured, his wife hurries up to go there and convince him to surrender (มอบตัว). After a trial, Lek and his friends are condemned to life imprisonment but are finally released after 12 years in jail. The real Lek was then killed by a hitman in 1993.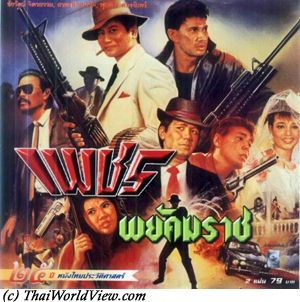 Year

: 1988



Thai title

:

เพชรพยัคฆราช




English title

:



Rating

: 3/5


Director

:



Main actor

: Sombat Methanee,Sorapong Chatree,Krailat Kriengkrai,Krung Srivilai,Tuanton Kammeesri


Main actress

: Pumpuang Duangchan,Apiradee Pawaputanon



Buy now

:

Chat (Sorapong Chatree) and Thanong (Sombat Methanee) are mafia members (นักเลง) and friends. Thanong is a mafia head (เจ้าพ่อ). There are always internal fights with other mafia leaders. Nancy (Apiradee Pawaputanon) is Chat's girlfriend. Chat and Thanong are dressed like Chicago gangsters and are always smoking cigars. Thanong's younger brother, Rut, is a policeman but he is not fully aware about his brother's activities. Pen (Pumpuang Duangchan) is a nurse. Thanong likes her a lot (นักรัก). Thanong wishes to change his job but he cannot leave his subordinates (ลูกน้อง). Thanong asks Pen for wedding. A shooting happens during the wedding but none is injured. Chat escapes to Shing, who is now a traitor and wishes to get rid of Thanong to take his position (บ้าอำนาจ). Thanong, through a Typical Rambo 2 scene with big guns, wishes to punish Shing. Thanong is captured by the police following a rampage at Shing's home and sent to jail. Chat needs to send Nancy away so that he can handle the situation. She is finally killed. Chat wishes to revenge her. There is a famous scene featuring a killing rampage by Chat in a restaurant with guns hidden in each flower pot. Three years have passed. Thanong is released from prison but he doesn't want to return to underworld mafia. Chat was injured to the ankle so he cannot walk properly anymore. Chat is now a car glass washer. Without their boss, Thanong's men are wrecked (กูรอมึง). Thanong is accused of Rut's sister murder. Rut is upset because his brother is a ruffian (เป็นพี่เป็นโจร) so his management doesn't trust him. Thanong's men including Chat are disappointing that Thanong wants to be out of mafia business (วางมือจากวงการ) and doesn't want to give a lesson to Shing. Shing wants Thanong to be back in business as partner but Thanong refuses. Shing's men beat severely Chat and also threaten Rut to convince Thanong to change his mind. Chat succeeds to get proofs regarding Shing's illegal activities. Those proofs are given to Rut. Before fleeing, Chat and Thanong wish to face Shing a last time for an ultimate revenge. It is the last movie where Sombat Methanee had the leading role. This Thai movie is based on the Hong Kong movie "A Better Tomorrow" (1986) shot by John Woo. The scenario is very similar. It involves strong action and some comedy. Sorapong Chatree plays same role as Chow Yun-Fat. The movie is entertaining but the realisation is not as good as the one from John Woo. The end of the movie is very weird. It stops abruptly when Thanong is going to face Shing. Thanong is expected to die. There is unfortunately a weird movie abrupt ending.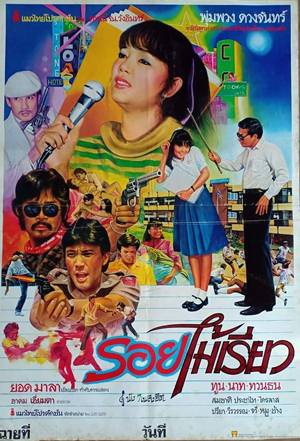 Year

: 1984



Thai title

:

รอยไม้เรียว




English title

:



Rating

: 3/5


Director

:



Main actor

: Toon Hiransap,Nard Poowanai,Tuanton Kammeesri


Main actress

: Pumpuang Duangchan
Thai movie รอยไม้เรียว was released in year 1984. Main actors and actresses are Toon Hiransap, Pumpuang Duangchan, Nard Poowanai, Tuanton Kammeesri… The movie was released under VHS format many years ago. It was never released later under VCD format. The movie is currently lost in Thailand. A sequence of 4 minutes and 30 seconds is left to be seen and was found at the end of a VHS tape. Unfortunately the movie was erased by another movie so only a short sequence is left to be seen. According to the poster, the movie features seven songs. In the remaining sequence being the end of the movie, Mali (Pumpuang Duangchan) and Yot (Toon Hiransap) arrive to a school by car. A teacher, played by Nard Poowanai, helped her to build a new life. Mali is going overseas and comes a last time to pay her respect to her teacher.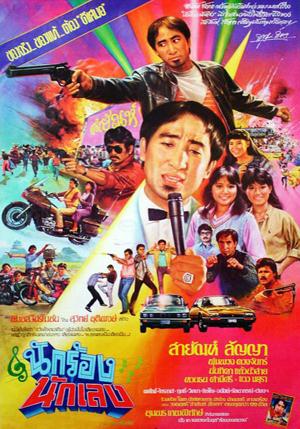 Year

: 1984



Thai title

:

นักร้องนักเลง




English title

:



Rating

: 2/5


Director

:



Main actor

: Sayan Sanya,Rith Luecha,Tuanton Kammeesri,Krailat Kriengkrai


Main actress

: Pumpuang Duangchan,Nanthida Kaewbuasai,Ratanaporn Intarakamhaeng



Buy now

:

The story script relates the conflicts between a singer and bad tough guys. Many songs are featured during the story. Both main actors are famous Luk Thung (ลูกทุ่ง) or Thai country music singers.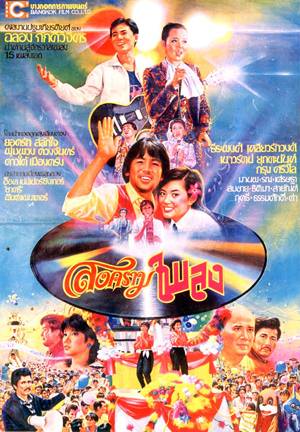 Year

: 1983



Thai title

:

สงครามเพลง




English title

:



Rating

: 4/5


Director

: Chalong Pukdeewichit



Main actor

: Krung Srivilai,Rith Luecha,Manop Aussawathep,Settha Sirachaya,Somchai Samipak,Sayan Chantaraviboon


Main actress

: Pumpuang Duangchan,Naowarat Yooktanun,Thitima Sangkapitak



Buy now

:

Kata (Krung Srivilai) / Leuachai (Rith Luecha) and Manop Aussawathep always have music orchestra (วงดนตรี) competition (สงครามเพลง). Manop's group thinks it has won by using Settha Sirachaya as singer but the group led by Kata uses singer Pumpuang Duangchan. It degenerates and brawl fighting happens between the two groups. Everybody ends up in jail. Police inspector (Somchai Samipak) summon the two orchestra leaders by telling them that music orchestra (วงการเพลง) is an art (วงการศิลาปิน) and should not end up in fighting. Apika (Naowarat Yooktanun) pays the bailing fee (ค่าปรับ). Kata wishes to have the most famous orchestra with Pumpuang as superstar. Manop's group needs to find a new singer able to compete with Pumpuang. They decide to hire heartthrob singer Yotrak salakchai. Many Luk Thung (ลูกทุ่ง) songs are featured in this movie. Sayan Chantaraviboon is featured as the owner of a recording studio. Kampi is younger brother of Kata. Kampi loves secretly a lady called Tosaen (Thitima Sangkapitak). Kampi writes love songs towards Tosaen and those songs are used by Manop's orchestra. Apika, daughter of Manop, discovers that songs are written by Kampi and refuses to buy them anymore believing it is a trick of Kata again. Tosaen becomes lover with Kata. A romance starts between Yotrak and Pumpuang, between Apika and Kampi. It causes concerns to both Kata and Manop (น้องชายของศัตรู). Pumpuang flees so Yotrak leaves the orchestra to find her. Pumpuang is indebted to Kata but she chooses freedom and love towards being a singer. Kata and Manop decide to launch strong fighting (สงครามเพลง / สงครามเลือด) against each other. Amid a battle between the two groups, Pumpuang convinces them for a truce. Tosaen tries to get back Kampi. Leuachai is not ready for truce. Apika quits Kampi as Tosaen left on purpose a bra in his car. During a concert, Leuachai tries to shoot Kata and Manop but finally gets punched by Kampi and then slot by Police. It is the end of violence in music orchestra contest. Tosaen tells the truth to Apika so she can be reunited with Kampi.
---