Increase or decrease font size for easier reading : A+ A-
Pumi Patanayut
Pumi Patanayut (19xx) - ภูมิ พัฒนายุทธ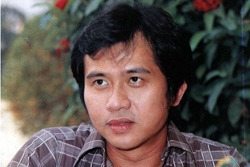 Pumi Patanayut often played ruffian role
This Pumi Patanayut movie page contains 16 records.
---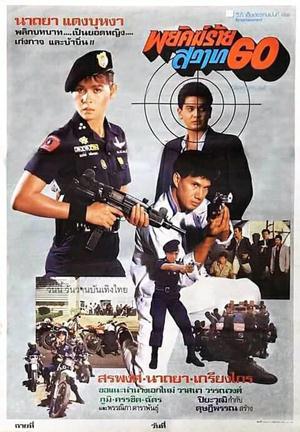 Year

: 1987



Thai title

:

พยัคฆ์ร้ายสวาท 60




English title

:



Rating

: 3/5


Director

:



Main actor

: Sorapong Chatree,Kriengkrai Unhanan,Kanchit Kwanpracha,Pumi Patanayut,Chat Mongkolchai,White Padungkan


Main actress

: Nardtaya DaengBunga



Buy now

:

Thai movie พยัคฆ์ร้ายสวาท 60 was released in year 1987 and lasts 1h32mn. It was released under VCD format by Lepso company. It is a small Police movie with Sorapong Chatree and three subordinates (ลูกน้อง) with highlights on policewomen. James Bond movie is used as soundtrack. Three overseas gangs from Hong Kong, Japan and Thailand gather for business. Police inspector (สารวัด) Toma It (Sorapong Chatree) has to work with policewoman Nee (Nardtaya DaengBunga) to neutralize those gangs. Two other assistants including Oratai (วาสนา วรรณวงศ์) join them. Policewoman Oratai is acting as a singer. Drug exchange occurs outside the club. Shootings happen. White Padungkan has a short role and gets killed. Police intervenes and drug is seized. Amnat (Kanchit Kwanpracha) is the Thai mafia boss. Hiu (Kriengkrai Unhanan) is the Japan mafia boss. Wang Kae (Pumi Patanayut) is the Hong Kong mafia boss. Amnat has betrayed the other mafia leaders. Wang Kae and Chat Mongkolchai arrive in Thailand. Amnat's team fail to kill them. They bring diamonds. Hiu asks all mafia leaders to put disagreements aside and focus on Thai police first as the dirty business is endangered. Nee's younger sister Prissana wished to go overseas for work and suddenly disappears. Nee wants to know where she found a job. She is aware of a hairdresser shop proposing easy overseas job, It is owned by Amnat's girlfriend, Chamfa. Chamfa introduces Nee to the Japanese manager Saekino, who invites her to a restaurant. It is his tactic to kidnap girls and then send them overseas for prostitution. Police teammates come to help. Nee releases the girls kidnapped in a warehouse. Ashamed, Prissana gets suicide. The mother wishes Oratai to leave Police as she doesn't want to lose another daughter. Nee cannot disappoint her father already dead. Police are aware of a drug exchange, so Toma It and his team trap the ruffians. Ruffians suspect there is a traitor among them. Police use Oratai to infiltrate ruffians. Saekino has been released from jail. Ruffians capture Nee's mother. Nee succeeds to release her mother and kills Saekino. Oratai is part of the new batch of women brought by Champa. Ruffians have identified that Oratai is a policewoman. Song, the traitor among the ruffians, helps Oratai to flee. Police start to surround the warehouse. Ruffians start to evacuate ladies. Oratai releases the ladies captured in a bus. Ruffians' leaders try to flee. Thai Police succeed to neutralize all of them and all leaders are killed or captured.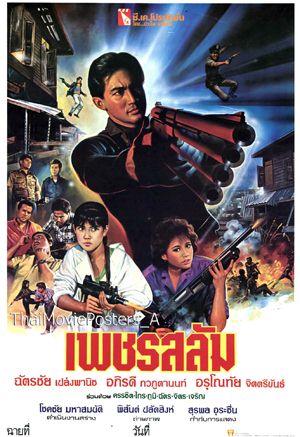 Year

: 1987



Thai title

:

เพชรสลัม




English title

:



Rating

: 2/5


Director

: สุรพล อุระชื่น



Main actor

: Chatchai Plengpanich,Kanchit Kwanpracha,Krai Kanchit,Chat Mongkolchai,Pumi Patanayut


Main actress

: Apiradee Pawaputanon,อรุโณทัย จิตรีขันธ์
During a parliament session inauguration, two members of a party are shot by a hitman. One dies. The son, called Ek (Chatchai Plengpanich), decides to investigate in order to find the murderer and motive. Ek locates Saeng, the hitman but this one is killed as he didn't do his job properly. Saeng's sister, Sopha, sees Ek's face and believes he shot her brother. Damrong, deputy (ผู้แทน) of the same party is also shot and killed. Wadee (Apiradee Pawaputanon), his girlfriend, also wishes to know the motive. Police suspects bad politics motives. Pramod is the political opponent of Damrong. San, policeman, is investigating on this case. Ek is captured by some ruffians while investigating. Chat is the ruffians' leader who killed Saeng. San helps Ek on time but Chat is shot before disclosing any information. Sopha comes to apologize to Ek on her behalf of her dead brother. Wadee wishes to continue Damrong's goal to build a school in a slum. There is style opposition between Sopha, pure lady working as singer at nighttime and Wadee. A romance starts between Ek and Sopha. Ek needs also to spend time with Wadee on the project to build a school. Ek identifies that the head of ruffians was driving the motorbike used by Saeng to shot Damrong. He is linked to Pramod and his acolyte Vinai, highly suspected as corrupted politicians. By investigating on Pramod and Vinai, Ek is captured but released by Wadee. Pramod gets rid of Vinai as he is getting too cowardly and afraid of investigations so he cannot be trusted anymore. Ek is accused of Vinai murder. Meanwhile Sopha succeeds to get Pramod's secret documents showing his involvement in illicit business. Ek's uncle is killed while trying to protect Sopha. Sopha is kidnapped. As they cannot wait for the police, Ek and Wadee have no choice but to storm Pramod's home in order to rescue Sopha. It is a typical action movie from 1980s decade related to ruffians and featuring many shootings and fights.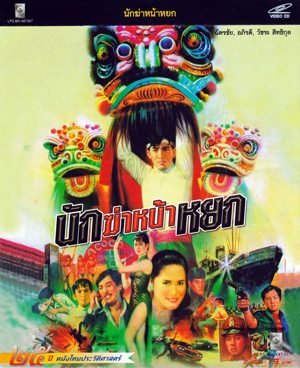 Year

: 1987



Thai title

:

นักฆ่าหน้าหยก




English title

: Ninja Force of Assassins



Rating

: 3/5


Director

:



Main actor

: Chatchai Plengpanich,Krai Kanchit,Pumi Patanayut,Somsak Chaisongkram


Main actress

: Kanchana Jindawat,Apiradee Pawaputanon,Marasri Bangchang



Buy now

:

Thai movie นักฆ่าหน้าหยก was released in year 1987 and lasts 1h33mn. It was released under VCD and VHS format in Thailand. Parts of the movie are censored. An international version released by Filmark is named as "Ninja Force of Assassins". It is a mix of the Thai movie นักฆ่าหน้าหยก and Ninja sequences shot in Hong Kong. The Filmark version is shorter but it keeps violence and nudity sequences removed from Thai VCD. Film director is ศุภสิทธิ์. Actors and actresses include Chatchai Plengpanich, Kanchana Jindawat, Krai Kanchit, Pumi Patanayut, Apiradee Pawaputanon, Somsak Chaisongkram, Marasri Bangchang, วัชระ สิทธิกูล, เทิดพร มโนไพบูลย์, เพชร, เด่น ปรีชา, โจ๊ก ท่าฉลอม. Kata's father is hit by a car and dies. He was refusing to bend to ruffians' bad influence. Kata (Chatchai Plengpanich) wishes to revenge his father, who was a policeman. Ruffians' leader Tong is shot during a lion dance performance by Kata and his acolyte Yot. New leader is Krai Kanchit. Police suspects the killer to be a professional hitman (มือปืนรับจ้าง). Wee (Kanchana Jindawat) sees Kata shooting a ruffian's leader in Don Muang. Kata earns the name as มือปืนหน้าหยก as he is handsome. Wee's brother is police leader Chatree (Pumi Patanayut). Krai, Lin Jung (Apiradee Pawaputanon) and his team are also concerned about who is shooting them one by one. Kata gets close (ร่วมมือ) to Lin Jung. Wee knows that Kata is a hitman but doesn't disclose the truth to her brother as Kata is doing good for the society by getting rid of bad men. Ruffians, having clarified that there is no internal war between them, decide to gather to get rid of Kata. Somsak Chaisongkram chases him in a mall and Kata is beaten. Police head Chatree is upset to see Wee having issues when being with Kata. She was shot and almost kidnapped. Wee is hiding something to him. Lin is upset to see Kata with Wee. Lin loves Kata, but she knows she has no way to become his official girlfriend (แฟน). She is playing double game. She is helping Wee, being captured by ruffians to attract Kata in a trap. She is identified as traitor by ruffians and later Lin is found dead. Ruffians take revenge on Yot's aunt (Marasri Bangchang). Chatree has no proofs but reminds Kata that law shall be applied for all (หน้าที่ของกฎหมาย) but Kata refuses. Kata and Yot storm the hangar where ruffians are exchanging drugs. Fiercely fighting is occurring as Kata is having a submachine gun. Ruffians are defeated but Yot is killed. Krai is finally captured by Chatree.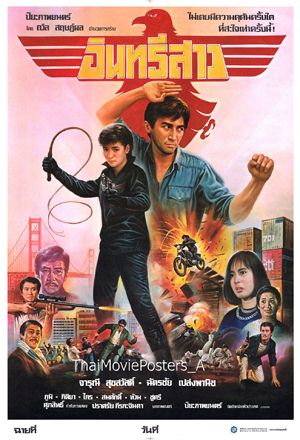 Year

: 1986



Thai title

:

อินทรีสาว




English title

: Insee Sao



Rating

: 3/5


Director

: ศุภสิทธิ์



Main actor

: Chatchai Plengpanich,Krai Kanchit,Somsak Chaisongkram,Pumi Patanayut,Thuam Thoranong


Main actress

: Jarunee Sooksawad,Chosri Misommon
Thai movie Insee Sao / อินทรีสาว was released in year 1986 and lasts 1h24mn. it was released under VCD format by Lepso Company. Movie director is ศุภสิทธิ์. Oon (Jarunee Sooksawad)'s father is killed by a hitman. Oon is back from overseas. Uncle Thuam Thoranong and aunt Chosri Misommon take care of Oon. A ruffian named Chat Thep (Chatchai Plengpanich) is suspected regarding the murder but he is innocent. Ruffians Viboon (Krai Kanchit), Somsak Chaisongkram and Pumi Patanayut wish to get rid of Oon to take over the family business. Oon claims she can get rid of them without Thep's help. Thep helps as Oon brings a mess in Viboon's club. Two of Oon's friends have opened a karate dojo for ladies. Ruffians try to get rid of Thep also but this time Oon is the one to help. At nighttime, Oon disguises herself as masked justiciary lady (อีนทรีสาว). Pumi, as hitman, tries to shoot Oon but Thep is the one injured. Oon takes good care of him at hospital. Ruffians fail to kill him at hospital. Chased by ruffians, Oon brings them to the dojo. Oon's friends neutralize the ruffians. Thep thrashes Viboon and Somsak as revenge. Pumi hires a hitman 100 000 baht to get rid of Oon (อินทรีสาว) but he fails. Pumi also fails to kill Thep. Thep promises them a bloody war (สงครามเลือด) if they continue. Thep warns Viboon and Somsak. Four hitmen are hired this time by Pumi. They also fail. Ruffians get revenge over Thep's family and capture him. They use him as bait to attract Oon. Aware that Thep is held prisoner in a hangar, Oon and three of her friends, being the karate dojo owners, join her. They storm the hangar. Fighting scenes are often played in accelerated way to make them more thrilling. Fighting and shooting occur in the hangar. Ruffians' leaders are killed but Oon's friends are also shot.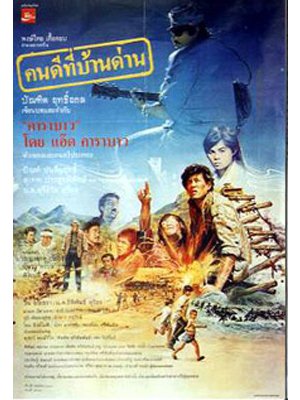 Year

: 1985



Thai title

:

คนดีที่บ้านด่าน




English title

:



Rating

: 5/5


Director

: Bandit Ritthakol



Main actor

: Bin Banleurit,Manop Aussawathep,Lak Apichat,Pumi Patanayut,Suchao Pongwilai,Chat Mongkolchai


Main actress

: Suriwan Suriyong
Thai movie คนดีที่บ้านด่าน was released in year 1985 and lasts 1h44mn. It released in Thailand under VHS format. Movie director is Bandit Ritthakol. A few engaged songs feature justice (ความยุติธรรม). Carabao songs (such as มหาลัย) are featured in the movie. Students are coming to countryside to help villagers. The village leader is called Meui (Manop Aussawathep). Lak Apichat is one of the friendly villagers. Students offer free medical services, help to reinforce school temporary building. Nat (Suriwan Suriyong) is the local school teacher. Nat is separated for two years ago with student Chanuan (Bin Banleurit). Chanuan wishes to resume relationship with Nat but she refuses as she doesn't want to suffer again. Her decision to go in this poor remote village is linked to Chanuan's previous bad behavior. Some villagers such as Wan (Pumi Patanayut) don't welcome students (อาศัยพัฒนาหมู่บ้าน). Local influential man Boonsong is working with Wan to replace Meui. Boonsong gives free wood to build the school. Boonsong forbids anybody to go in some parts of the forest. They cut illegally trees in the forest per student Waen's discovery (ทำร้ายป่า). Arguments occur between students as they don't agree on the way to manage this. The majority decides not to be involved as it is outside their mandate. Wan of course protects Boonsong as he is supporting the villagers to keep them quiet. Meui wishes that Chanuan quits the village as arguments occur with Nat as she doesn't want to forgive him. Waen complains Thailand will become a desert (ทะเลทราย) with all those trees cut illegally. Waen wishes Chanuan to bring some pictures to newspapers. Waen and Chanuan see men led by Chat Mongkolchai and Ong Nai (Suchao Pongwilai) cutting trees. Waen dies shot by ruffians led by Boonsong (คนที่มีอิทธิพล). Mon people are working for Boonsong and get paid in medicine and weapons to be able to fight against Burmese military government (การฆ่าและการต่อสู้ไม่เหมือนกัน). Ong Nai understands Chanuan as he is also a former student, but he cannot help. During the weapons trading, Boonsong's ruffians shoot the Mon people. Only Ong Nai escapes. Ruffians storm the student's place and burn the school as they believe one of them hides the camera. As they threaten Nat, Uan interposes and gets killed. Chanuan has not enough proofs to accuse Boonsong and Wan. To avoid more deaths, students must leave by train. Chanuan decides to go back to rebuild a school as a memorial to Waen and Uan. Students follow him. School has been burnt. Nat and Chanuan resume friendship. Ong Nai has a debt towards Boonsong. He gives Waen's camera back to Chanuan and promises to manage Boonsong per the forest laws... Meanwhile Nat and the children have been kidnapped by the Boonsong's ruffians. They succeed to escape but are chased by ruffians. Meanwhile Thai army, Chanuan and Meui face the ruffians. Shootings happens and Meui is killed. Ruffians send big logs on the Thai army and children but luckily nobody is injured. Chanuan and Lak chase ruffians. Lak loses his life while protecting Chanuan. About to escape, Boonsong is shot by Wan. Wan gets the credit to have stopped Boonsong despite Chanuan claiming he was right hand of Boonsong. Thai army leader mentions to Chanuan that it is time for students to go back to Bangkok. Nothing they can do against what is good or bad here. Wan is nominated as new village leader. Nat refuses to go back to Bangkok as she needs to take care of the kids. Despite adversity, she has to stay and not flee. The only solution for Chanuan to protect Nat and the Baan Dan villagers is to shoot Wan... After shooting Wan, Chanuan is arrested but remains คนดีที่บ้านด่าน in the villagers' hearts.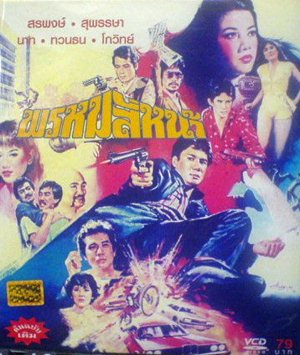 Year

: 1984



Thai title

:

พรหมสี่หน้า




English title

:



Rating

: 3/5


Director

:



Main actor

: Sorapong Chatree,Pumi Patanayut,Nard Poowanai,Tuanton Kammeesri,Kowit Wattanakul,Krai Kanchit,Pipop Pupinyo,Rith Luecha,Chat Mongkolchai,Paen Pleumsachai,Somsak Chaisongkram,Pao Porapak


Main actress

: Supansa Nuengpirom,Piathip Kumwong,Wiyada Umarin
Thai movie พรหมสี่หน้า was released in year 1984 and lasts 1h44mn. It was released under VCD format and also under VHS format. สุรพล กรสวัสดิ์ is the movie director. Many actors and actresses are featured in this movie such as Sorapong Chatree, Pumi Patanayut, Nard Poowanai, Tuanton Kammeesri, Kowit Wattanakul, Krai Kanchit, Pipop Pupinyo, Rith Luecha, Chat Mongkolchai, Paen Pleumsachai, Somsak Chaisongkram, Supansa Nuengpirom, Piathip Kumwong, Wiyada Umarin, โสธรณ์ รุ่งเรือง, วรารัตน์ เทพโสธร. Wan (Sorapong Chatree) calls from Germany for his father's birthday party. A bomb, hidden in the birthday cake, explodes. The whole family almost dies. His elder sister (Piathip Kumwong) and also the family car driver (โสธรณ์ รุ่งเรือง) survive. Teen Ta (ด.ญ. กระแต) has also survived but she is now paralyzed. Wan, a former soldier, is back from Germany. Police is too slow for Wan so he decides to manage by himself. His father was a businessman. Wan watches the birthday video and identifies a man offering a gift and leaving soon. He is a ruffian living in Chiang Mai. Wan learns through that ruffian that Pumi Patanayut is involved and was the one to order to bring the cake. Pumi Patanayut is working for mafia leader (พ่อเลี้ยง) Nard Poowanai. Noun (Tuanton Kammeesri) is a journalist refusing corruption and doing inquiries on Nard. Mai (Supansa Nuengpirom) is a young lady, whose mother was also killed by Nard due to business conflict. Kowit Wattanakul is close friend of Wan and introduces him to Mai. Mafia leader Nard Poowanai is trying to become member of parliament and is supported by Wiyada Umarin, his girlfriend. Wan starts to get revenge. Nard's right hand is first killed by Wan. Nard suspects Mai. Then Wan shots Kamlee (Paen Pleumsachai) and warns Nard that soon it will be his turn. Wan is introduced to the ruffians as new shareholder with Mai. It is a trick to be close to the ruffians and the next one to be killed is Pumi Patanayut. Noun is investigating on those killings. Wan and Kowit are identified to be behind the murders. Kowit is shot by ruffians while visiting uncle Sai (Pipop Pupinyo). Wan has no choice but to continue in order to get rid of mafia leader Nard. Nard hires a hitman to get rid of Wan but it fails. Chat Mongkolchai kidnaps โสธรณ์ in order to find where Wan is hiding. As Mai is passing, she is kidnapped and โสธรณ์ is killed. Chat (หน้าตัวเมีย) wants to force Mai to sign documents. Wan successfully releases Mai and chases after Nard until he kills him. Wan is finally pardoned by Thai police thanks to Mai's plea.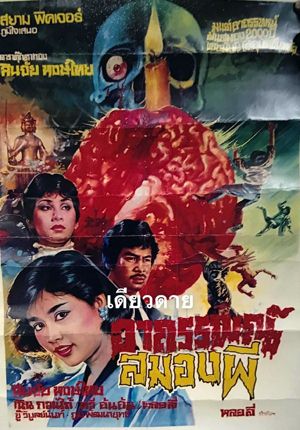 Year

: 1983



Thai title

:

ปีศาจมันสมอง




English title

: The Black Magic with Buddha



Rating

: 3/5


Director

: Lo Lieh



Main actor

: Lo Lieh,Boo Wibunnan,Pumi Patanayut


Main actress

: Candice Yu,Sinjai Hongthai
Thai HK movie ปีศาจมันสมอง / 腦魔 / The Black Magic with Buddha was released in year 1983. It lasts 1h32mn. The movie is lost in Thailand but was recovered from HK. The remaining version has Chinese and English subtitles but has been dubbed also in Thai. Thai VCD was released under the name ปีศาจมันสมอง. A poster under the name อาถรรพณ์สมองผี can also be found. Ben went to Indonesia to recover some sacred item. It is a mummy brain. He shall worship it, asks for a single wish and then destroys it thanks to holy water. If he is greedy, it will backfire on him. He is now back to Bangkok. He wishes to marry Annie (Candice Yu) but Annie's brother Kit (ภูมิ พัฒนายุทธ) refuses until Ben has 1M USD in bank. Boo Wibunnan is Annie's father. Ben asks a wish to the sacred brain. He asks money to his sister. As she refuses, he curses her. Later on, the evil spirit kills her. He then inherits 1M USD and can marry Annie. He worships again the brain to have a happy wedding. Strange accidents happen around his home, animals without brain are found dead. Ben asks for 2M USD from his father-in-law for a risky gold investment but Kit refuses. Kit finally dies as Ben asks the spirit to help him. Annie breaks accidentally the holy water bottle while cleaning Ben's room. Mary, Kit's wife (Sinjai Hongthai), and the father come to stay with Ben and Annie. The spirit starts to be more menacing. Ben buries the brain and puts a big stone on it to avoid it can escape. Annie and Mary decide to put a Brahma shrine in their house to stop the bad luck happening to the family. Annie changes a lot. She becomes vegetarian and refuses contacts with Ben. The spirit also attacks Ben. Ben decides to consult a famous master (อาจารย์) (Lo Lieh) who exorcises him but he cannot remove completely the evil spirit. Ben finally becomes a living evil spirit with his face becoming a brain. The master and Brahma god join their effort to fight and destroy the evil spirit.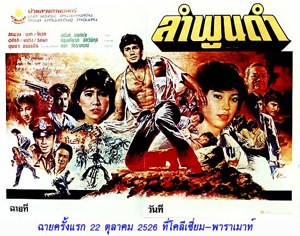 Year

: 1983



Thai title

:

ลำพูนดำ




English title

: Desconocida



Rating

: 4/5


Director

:



Main actor

: Sorapong Chatree,Nard Poowanai,Kowit Wattanakul,Suchao Pongwilai,Pipop Pupinyo,Paen Pleumsachai,Krai Kanchit,Rith Luecha,Somjin Thammatat,Pumi Patanayut,Somsak Chaisongkram


Main actress

: Apiradee Pawaputanon,Thitima Sangkapitak,Piathip Kumwong,Ampha Pusit,Mayura Thanabutr
Thai movie ลำพูนดำ was released in year 1983. The movie was also released in Taiwan under the name "Desconocida" in VHS format. This version was released by Taiwanese company New Ship Film Enterprise Co Ltd and lasts 1h26mn. The movie is in Mandarin language. The original movie has been cut to fit in standard TV format so making the story cutting to be awkward. Other versions released in Thailand last 1h30mn (Cable TV version) or 1h47mn (VHS version). This movie features many famous actors / actresses from decade 1970s~1980s. Young lad, called Paen (Sorapong Chatree), visits famous monk (หลวงพ่อ) in a local Buddhist temple to discuss about his problems. His mother and sister are treated as mistresses by local kingpin Mek. Mek (Somjin Thammatat) also tries to steal the family land. The monk gives to Paen an unique Buddhist amulet called ลำพูนดำ to protect him. Paen is arrested by four policemen led by Paen Pleumsachai. They bring him to a remote area to execute him per Mek's orders but bullets don't enter (นั่งเนี่ยว) as he is protected by the sacred amulet given by the monk. Paen shoots them back. Policeman Nard Poowanai, as หมวด, is also trying to catch him. Kingpin Mek and subdistrict headman Chat (Krai Kanchit) (ลูกน้องมือขวา) are concerned that Paen succeeded to escape. Paen has many enemies (ศัตรูเยอะ). Two ladies Lom (Piathip Kumwong) and Phit (Thitima Sangkapitak), Paen's mother and sister, are visiting the village leader. Both are the village leader's mistresses and Lom is also seduced by Chat (เป็นชู). Thai police is still looking after Paen. Paen takes refuge in a village but the village leader (Pumi Patanayut) warns the police. Paen succeeds to flee by having an hostage called Lamai (Mayura Thanabutr). Paen learns who are his enemies through Somsak Chaisongkram. Paen kills three ruffians (มือปืน). Ruffians kidnap young lady Lamai but Paen releases her and injures the village leader trying to abuse her. Young lady Booklee is kidnapped to become Mek's new minor wife. Khun Mom Sasingha (Kowit Wattanakul) meets Chaba (Ampha Pusit), niece (หลานสาว) of Kamnan Chat. He presents himself as a customer of the underground casino (บ่อน). Pipop Pupinyo is looking for troubles with Sasingha but gets beaten. Chat is then jealous that Sasingha is too close to Chaba. Seua Rit (Suchao Pongwilai) is hired by the village leader to get rid of Paen. Mek's daughter, Pumarin (Apiradee Pawaputanon), is coming back from overseas following successful studies. Her real father is Rit but he doesn't want her daughter to know that her father is a thief so the truth was never disclosed to Pumarin. Paen behaves as a Robin Wood (โจร) by giving free goods to poor villagers. A pact is agreed between Paen, Khun Mom Sasingha and Klot (Rith Luecha). Klot wishes to get revenge on Mek as he killed all his family members and kidnapped his niece Booklee. Paen refuses to meet his sister Phit anymore. Both Chat and Lom are buried alive as Mek discovers they are having an affair. Meanwhile Rit kills pregnant Lamai and her mother as they refused to disclose where Paen is hidden. Phit is having an affair with Seua Rit. Per her strategy to protect her brother, Phit claims to Mek that she has been raped by Rit so that Rit cannot harm Paen anymore. Paen releases Pumarin aggressed by ruffians kidnapping her. Klot gains the trust of Mek in order to better spy him. Paen wishes to get revenge on Mek but police surrounds him. The Buddhist amulet saves Paen one more time. Phit protects Paen a last time by shooting Mek but this latter shoots her before dying. Paen listens to Pumarin and surrenders peacefully to the police. A sequel released in year 1988 was called ลำพูนแดง.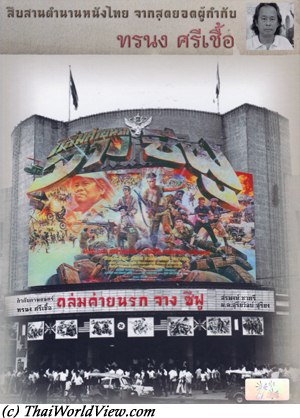 Year

: 1982



Thai title

:

ถล่มค่ายนรกจางซีฟู




English title

: KHUN SA THE OPIUM EMPEROR



Rating

: 3/5


Director

: Toranong Srichua



Main actor

: Sorapong Chatree,Joomjim Khemlek,Tuanton Kammeesri,Manop Aussawathep,Somjin Thammatat,Nirut Sirijanya,Pinyo Parnnui,Somsak Chaisongkram,Pumi Patanayut


Main actress

: Nanthida Kaewbuasai
Thai movie ถล่มค่ายนรกจางซีฟู / 'KHUN SA' THE OPIUM EMPEROR was released in year 1982 and lasts 1h45mn. The DVD soundtrack is quite bad with sound going up and down. The DVD image has also a poor quality. This is a VHS ripped and put on a DVD. Movie director is Toranong Srichua. This movie is about Chang Chi-fu (จางซีฟู) or Khun Sa, famous opium warlord. In January 1982 a Thai Ranger squad, together with units from the Border Patrol Police and the Royal Thai Army, was used to force Khun Sa to move his headquarters from Thailand across the border into Burma. Sorapong Chatree recalls war and is stressed. He is sent to spy Khun Sa. Twenty men, including Tuanton Kammeesri / Pumi Patanayut / พยัคฆ์ รามวาทิน, arrive in the camp led by Khun Sa. Their trainer is Joomjim Khemlek. Khun Sha (Somjin Thammatat), drug warlord, sells drugs to buy weapons. Manop (Manop Aussawathep) has conflicts with Khun Sha. Manop is attacked on his way back by Burmese soldiers but gets help from Nirut (Nirut Sirijanya). Manop is back to his mountain village with Nirut. His younger sister Rungfa (Nanthida Kaewbuasai) welcomes him. A journalist Pinyo Parnnui is arrested by Somsak Chaisongkram. He wishes to interview khun Sa. Sorapong, disguised as a fleeing prisoner, is attacked by a plane and then is arrested by Khun Sa's men. Siriporn (ศิริพร เอี่ยมสุนทร), daughter of Khun Sa, saves his life but he remains tied. Manop learns that the Burmese soldiers who attacked him are in fact soldiers linked to Khun Sa as real Burmese soldiers would not dare entering Thai soil. Upset, Manop and Nirut storm Khun Sa's HQ but get captured. Sorapong wins Siriporn's trust. Khun Sa believes there is a traitor in the camp. Sorapong sympathizes with other men, who are part of the government. Siriporn complains her father produces too much drugs. Drug is given to prisoners to keep them under control. Sorapong succeeds to have his friends escaping but he is then captured. About to be hanged, Sorapong is released by his teammates. Thai forces' attacks against the camp happen. Many people die but Khun Sa succeeds to flee in Burma. This movie is often considered as Thai remake of US movie "Apocalypse Now" by Francis Ford Coppola.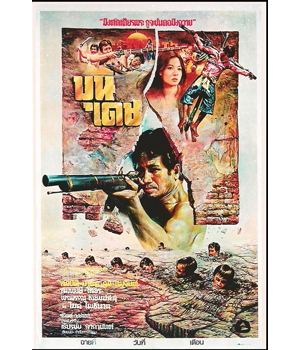 Year

: 1980



Thai title

:

ขุนเดช




English title

:



Rating

: 4/5


Director

:



Main actor

: Sombat Methanee,Manop Aussawathep,Sompong Phonmitr,Pumi Patanayut,Somjin Thammatat


Main actress

: Pornpan Ketmamatsu
Thai movie ขุนเดช was released in year 1980. It takes place in Sukhothai historical park area before it became an official park (1988) as there was still heavy vegetation around the Buddha statues. The movie lasts 1h46mn. This movie was only released under VHS in Thailand and Sweden. Two men are killed by Khun Det (Sombat Methanee) as they are digging in order to steal Buddhist artifacts. Ruffians arrive in the village and hire farmers to dig around in order to find relics. Village leader (ผู้ใหญ่) Sompong (Sompong Phonmitr) refuses to help as it is ancestor's' heritage so it shall not be sold to strangers. Sompong has a mute daughter (Pornpan Ketmamatsu). The leader (เจ้านาย)(ภูมิ พัฒนายุทธ) is looking for Buddha statues (พระสักองค์). Sompong informs the temple abbot that the ruffians even dig near old sacred pagodas but nothing the abbot can do (สัตว์นรก). Khun Det, aware, chases away the workers. Khun Det is then captured, crucified and suspended to a headless Buddha giant statue. Khun Det is rescued by Sompong and his daughter. Khun Det repairs an old gun (ปืนเก่า). As the ruffians are evacuating Buddha statues by boat, Khun Det sinks the boat thanks to his gun. It reminds the scene of Naresuan 2 with the King shooting very far away with a gun to defeat the Burmese king. The leader, seeing that Khun Det is bringing them serious troubles again decide to flee by car with some Buddha statues. Khun Det prevents him to flee by destroying his car and killing him. The father (Somjin Thammatat), in ire as his son is dead, storms the village with ruffians but is unable to find Khun Det. They burn belongings of villagers and threaten the abbot. The father destroys pagodas and tries to bury a big Buddha statue. Khun Det prevents them so the father finally calls Manop Aussawathep, a professional killer. He shots Sompong. This movie also reminds of western such as "The Magnificent Seven" with people protect villagers against ruffians as there is no police. Manop then buries men alive to force Khun Det to show himself. The villagers fight back. The father and his ruffians are killed. Khun Det defeats Manop through an epic final fight. It is a strong movie with violent deaths (heads cut as ruffians cut Buddha statues' heads). Khun Det finally leaves. A Thai serie ขุนเดช was released in year 1999 with Phongphat Wachirabanjong. Another version was released in year 2012.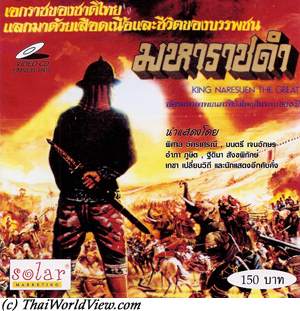 Year

: 1979



Thai title

:

มหาราชดำ




English title

: King Naresuen The Great



Rating

: 3/5


Director

: Toranong Srichua



Main actor

: Pisarn Akraseranee,Kecha Plianvithee,Somsak Chaisongkram,Pumi Patanayut


Main actress

: Ampha Pusit,Thitima Sangkapitak



Buy now

:

This movie is about King Naresuen The Great. The King Naresuan was famous for having a duel on elephants with the Burmese Crown Prince and won against him in year 1593. King Naresuan regained independence from Burma for the kingdom of Ayuthaya.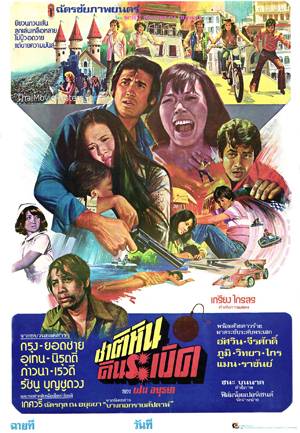 Year

: 1979



Thai title

:

ชาติหินดินระเบิด




English title

:



Rating

: 3/5


Director

:



Main actor

: Krung Srivilai,Yodchai Meksuwan,Nirut Sirijanya,Uten Boonyong,Doo Dook Kradon,Krai Kanchit,Pumi Patanayut,Wittaya Sukdamrong


Main actress

: Pawana Chanajit,Rewadee Pattaphong,Ratchanoo Boonchuduang
Thai movie ชาติหินดินระเบิด was released in year 1979. Main actors and actresses include Krung Srivilai, Yodchai Meksuwan, Pawana Chanajit, Nirut Sirijanya, Rewadee Pattaphong, Ratchanoo Boonchuduang, Uten Boonyong, Doo Dook Kradon, Krai Kanchit, Pumi Patanayut, อัศวิน รัตนประชา, จิระศักดิ์ ปิ่นสุวรรณ, Wittaya Sukdamrong, ราชันย์ กาญจนมาศ. Movie director is เกรียง ไกรสร. The film is lost in Thailand but a sequence in 35mm format can still be seen. The picture is very damaged and reddish. It lasts ten minutes. During the remaining sequence, Nirut and Doo Dook Kradon are in prison. Pumi Patanayut is about to burn Nirut's wife and her child. Policeman Krung tries to help but he is finally captured. Police surrounds the school where ruffians are hiding and having kids as hostages. Yodchai Meksuwan is playing a blind man. Pumi Patanayut is the head of ruffians. Krung and Nirut enter the school to release Nirut's son. It is successful.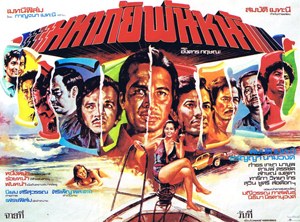 Year

: 1978



Thai title

:

มหาภัยพันหน้า




English title

:



Rating

: 3/5


Director

: Sombat Methanee



Main actor

: Sombat Methanee,Lak Apichat,Kecha Plianvithee,Dam Datsakorn,Rujira Isarangkul,Thep Thienchai,Kanchit Kwanpracha,Manop Aussawathep,Kamthorn Suwanpiyasiri,Pan Borapet,Paen Pleumsachai,Krai Kanchit,Sawin Sawangrat,Wittaya Sukdamrong,Pumi Patanayut


Main actress

: Aranya Namwong,Tharika Thidathip,Metta Roongrat,Orasa Isarangkul



Buy now

:

Thai movie มหาภัยพันหน้า was released in year 1978 and lasts 2h06mn. It was released under VCD and VHS formats. It is a Methanee film production with กาญจนา เมทะนี (Sombat Methanee's wife) as movie producer. Sombat Methanee is movie director. James bond style music is featured. Multiple famous Thai actors and actresses are featured in this movie such as Sombat Methanee, Aranya Namwong, Lak Apichat, Kecha Plianvithee, Dam Datsakorn, Rujira Isarangkul, Thep Thienchai, Kanchit Kwanpracha, Manop Aussawathep, Tharika Thidathip, Metta Roongrat, Kamthorn Suwanpiyasiri, Pan Borapet, Paen Pleumsachai, Krai Kanchit, Orasa Isarangkul, Sawin Sawangrat, Chosri Misommon, Lor Tok, Wittaya Sukdamrong. Multiple murders are committed in various places such as golf club... Each time the killer has a different face, i.e face of Kecha Plianvithee, face of Dam Datsakorn... The killer is having an assistant, i.e. Lak Apichat. The murders are committed by มหาภัยพันหน้า as those men were harmful to Thai society such as corrupted politicians or ruffians trafficking drugs or weapons. The killer is Sakao (Sombat Methanee) with his assistant Wai (Lak Apichat). Sakao is using different masks so he gets called the "great danger with thousand faces" (มหาภัยพันหน้า)! Thep Thienchai and Wai suggest to Sakao to have a lady joining their team. Their boss is Rujira Isarangkul. Det (Kanchit Kwanpracha) is also part of the team. The boss has an important work for them. They have to neutralize Sia Bancha (Kamthorn Suwanpiyasiri). Pho Lieng Boonta (Kecha Plianvithee) and Plaem (Dam Datsakorn) are working with Sia Bancha's team. Sakao and Wai go to Valentino club, where multiple Japanese and Hong Kong singers are working. This is Sia Bancha's usual place. Sakao meets Japanese singer Misiko (Tharika Thidathip). Sakao helps also Sai (Metta Roongrat) beaten by Klang (Krai Kanchit). Sakao has then arguments with Peter (Manop Aussawathep). Fighting occurs in Valentino club. Pho Lieng Boonta asks for an enquiry on Sakao. Sakao changes his face to be similar as Sia Bancha. Ratree, Bancha's girlfriend, is played by Orasa Isarangkul. Sakao enters in Sia Bancha's bedroom to steal documents. Khun Deu (Aranya Namwong) is welcome at the airport by Sakao, Wai and Det. Ruffians recognize Sakao's car and follow it. They aggress Deu being the driver as they believe she is Sakao's wife. Luckily, they flee as police is around. Sakao and Wai disguise themselves as plumbers so that Sakao can listen to Pho Lieng's plans. He meets Misiko again. Peter recognises him so Sakao has to flee on a small motorbike. Deu discovers that Sakao is มหาภัยพันหน้า. Deu finally joins them. Sakao and Klang meet Thongkam (Pumi Patanayut) that recommends them to follow Dr Singhon (Sawin Sawangrat). Ruffians fail to get rid of Sakao. Misiko asks to meet Sakao again and warns him (เล่นกับความตาย) that ruffians are trying to kill him. Sakao is finally captured. Deu uses Dr Singhon's signature to enter in their hidden place and install a microphone under the table. Sakao is beaten but refuses to disclose who he is. Ruffians are doing a weapons traffic to disrupt Thailand. Deu gathers information and informs the Police. Thai Police, led by Wittaya Sukdamrong, are ready to surround the house where ruffians are hiding. House is stormed and all ruffians are neutralized. Misiko was finally an inspector from Japanese Police.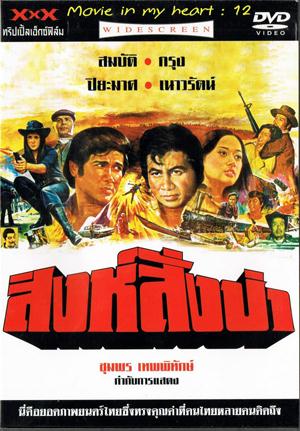 Year

: 1978



Thai title

:

สิงห์สั่งป่า




English title

:



Rating

: 3/5


Director

:



Main actor

: Sombat Methanee,Krung Srivilai,Chanee Yotchai,Kecha Plianvithee,Dam Datsakorn,Lak Apichat,Pipop Pupinyo,Choomporn Theppitak,Lor Tok,Chat Mongkolchai,Pumi Patanayut


Main actress

: Naowarat Yooktanun,Piyamas Monayakol,Ratanaporn Intarakamhaeng,Duangcheewan Komolsen



Buy now

:

Thai movie สิงห์สั่งป่า was released in year 1978. The movie lasts 1h47mn. Sing (Sombat Methanee) helps Pukong (ผู้กอง) Palee aggressed in the train by Chanee Yotchai and other ruffians. Sing goes home in his village Thung Kla as he hasn't seen his mother for years but his home has been robbed and burnt. Anan (Kecha Plianvithee) is the local ruffians' leader. The subdistrict headman (กำนัน) and the police headman are corrupted by Anan. Seua Thong (Dam Datsakorn) is his close hand doing the dirty job. Mae Chom (Ratanaporn Intarakamhaeng), restaurant owner and wife of Anan, encourages Sing to sell his mother's land. Sing meets Tap (Lak Apichat) and Duangcheewan Komolsen, who tell him the difficulties faced by villagers. Pipop Pupinyo is a small ruffians' leader. Chen (Krung Srivalai) is visiting a friend in Thung Kla. He meets Oon (Naowarat Yooktanun), daughter of Anan. Chen knocks out Pipop. Sing's car explodes. It looks like somebody wants to get rid of him. Sing ends up in jail after shooting two ruffians including Chanee. Choomporn Theppitak, as head of police, orders to transfer him to prison. Lor Tok, Chat Mongkolchai, Dao (Piyamas Monayakol) prepare a plan to release one of their inmate colleagues. Seua Dao helps a prisoner so Sing takes opportunity to flee also. Anan is upset as he was planning to have Sing killed during the transportation but his plan foils. Chen and Sing are friends but nobody knows it. A drug and money exchange is planned by Anan and shall be managed by Seua Thong. But the plan is foiled also as Sing and Seua Dao intervene. Chen is suspected to have warned them. Chen is tortured by Anan as he betrayed him. Sing and Tap successfully release him. Only one song is featured in this movie. Somebody from Bangkok insinuates that Seua Thong shall replace Anan. It fails. Finally Sing, Tap and Chen storm Seua Tong's place. Ruffians are killed and Seua Thong dies following a speed boat race. The same team now storms Anan's place. About to kill Anan, Sing listens to Mae Chom and Oon and spares Anan's life. Anan is arrested by Pukong Palee.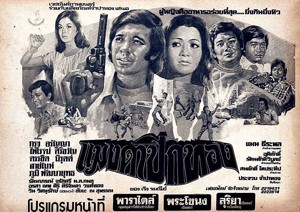 Year

: 1976



Thai title

:

แมงดาปีกทอง




English title

:



Rating

: 3/5


Director

:



Main actor

: Krung Srivilai,Phairoj Jaising,Kanchit Kwanpracha,Pumi Patanayut,Sayan Chantaraviboon,Nirut Sirijanya


Main actress

: Aranya Namwong,Sirikwan Nanthasiri,Orasa Isarangkul
Thai movie แมงดาปีกทอง (Pimp with golden heart) was released in year 1976. The movie is lost in Thailand. It was found in Taiwan under the name "Phoenix the Invincible" as it was released in VHS format. "For your eyes only" (1981) song is featured so the Taiwanese version was released 5 years minimum after the Thai version. This version was released by Taiwanese company New Ship Film Enterprise Co Ltd and lasts 1h27mn. The movie is in Mandarin language with no English subtitles. The movie was also found in Europe under the name "Lady Killer". It lasts 1h28mn and was released under VHS format by company Budget Label. The original movie has been cut to fit in standard TV format 4:3. Krung Srivilai enters as a robber in a house to steal money from a safe. He is the son of the victim! He steals his own father as he needs money! Krung is living with two close friends, i.e. Sayan Chantaraviboon, a steward and photographer, and Pumi Patanayut. Krung and his father despise each other. Krung keeps asking money from his father. He is finally disheritated and his father recommends him to find a lady to nurture him. Trying to gain easy money, Krung loses a big amount to Phairoj Jaising during cards games. Phairoj doesn't give him any credit as he knows Krung has been disheritated. Krung meets Aranya Namwong having problems with her car. Aranya is coming from a rich family. Nirut Sirijanya is her brother. Krung is working as gigolo to earn a living. Sirikwan Nanthasiri meets Krung in a bar. She is Phairoj's girlfriend. Ruffians argue in a pool bar but Kanchit Kwanpracha stops them. Kanchit then spends good time with Sirikwan. Kanchit joins Phairoj's team and takes active part to develop the business. Krung is going out with Orasa Isarangkul as he keeps acting as a gigolo. Finally, Kanchit wants more money from Phairoj for his business participation. It makes Phairoj upset. During a birthday party, two guys (including Pumi) are bothering Aranya but Krung helps. It is a trick as Krung knows well Pumi. Krung and Aranya sympathise and a romance starts. Phairoj's ruffians fail to kill Kanchit. As Phairoj's ruffians fail to get rid of Kanchit through a fight, they finally shoot him. Before dying, Kanchit gave a secret notebook to Sirikwan. Nirut, Aranya's brother, doesn't want her to meet Krung again as he only takes profit of women as gigolo. Krung claims to have changed and has stopped working as a gigolo. Phairoj loves Aranya also. Aranya's father meets Krung but it turns sour. The father is bankrupted so he has to promise his daughter to Phairoj. Phairoj hires Aranya as secretary. Krung has to find 2M USD to pay the father's debts but no way to find such amount. Aranya is not happy working with Phairoj but she has to pay back her father's debts. Fighting in a disco involving Krung and his friends happens again. Sirikwan asks Krung to keep a secret notebook. Phairoj wishes to break with Sirikwan in order to be with Aranya. Sirikwan accepts but threatens him to provide a secret notebook to the police if he doesn't give her a huge amount of money. Phairoj shots Sirikwan. Krung, having the notebook, informs the police. The secret notebook includes all details about Phairoj's illegal business. Thai police is storming Phairoj's den. About to be caught, Phairoj takes Aranya as hostage. Krung risks his life to save her and shows he really cares for her. Krung is injured but Phairoj is shot dead.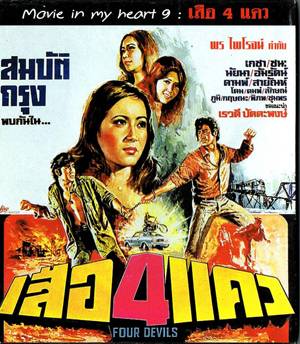 Year

: 1976



Thai title

:

เสือ 4 แคว




English title

: Four Devils



Rating

: 4/5


Director

:



Main actor

: Sombat Methanee,Krung Srivilai,Choomporn Theppitak,Kecha Plianvithee,Pipop Pupinyo,Dam Datsakorn,Chana Sriubon,Kom Akadej,Lak Apichat,Sayan Chantaraviboon,Pan Borapet,Paen Pleumsachai,Pumi Patanayut


Main actress

: Naiyana Shewanan,Rewadee Pattaphong



Buy now

:

Thai movie เสือ 4 แคว was released in year 1976. It lasts 2h20mn. Pleung (Krung Srivilai) and Chat (Sombat Methanee) are always fighting in a prison. The head of prison decide to transfer them to another prison. To avoid any issues during the transfer, they are hogtied together. During transfer, Pleung's teammates attack the police armed escort. Pleung and Chat flee together. Choomporn Theppitak is playing a policeman. They do realize that they have a common enemy called พ่อเลี้ยง Do Tawan (Kecha Plianvithee). Do Tawan is aware that Pleung is now free. Choi (อัมรัตน์ ขัตติยา) is Do Tawan's girlfriend. Four devils [เสือ4แคว] (Pipop Pupinyo – Seua Wang, Dam Datsakorn - Seua Nan, Seua Ping - Chana Sriubon, Seua Yom – โดม สิงห์โมฬี) are called by Do Tawan to kill Pleung. 1M Baht reward is promised for the one who succeeds to kill Pleung. น้อง Kaew (Rewadee Pattaphong), a teacher, is Do Tawan's younger sister. She knows the secret behind her brother. Do Tawan (โจรใจบาป) is selling drugs. Pleung, a former teammate, asked him to stop but ended up in jail because of Do Tawan. Pleung's younger sister Wallin (Naiyana Shewanan) is still kept captive by Do Tawan (ตัวประกัน). A bomb is hidden in her bungalow. Kaew prevents her brother from abusing Wallin. ภูมิ พัฒนายุทธ, Kan (Kom Akadej), Wai (Lak Apichat), Suki (Sayan Chantaraviboon) meet Chat in the restaurant (เอาเต็มที่). He claims to be เสือ4แคว. They sympathize with Chat, who sends them to help Pleung against the 4 devils. Meanwhile, Chat plans to enter Do Tawan group in order to spy them and release Wallin. Pleung, being attacked by Seua, decides to fight back and attack them directly also causing Dam to flee. Do Tawan hires Chat. Seua Ping's team includes veteran actors Pan Borapet, กฤษณะ อำนวยพร and Paen Pleumsachai. Chat pushes the teams against each other. Chat succeeds to exchange Wallin with Kaew simulating a kidnapping. Meanwhile Choi helps to provide information on Do Tawan's business. Chat is identified as the traitor. Chat shall be smashed by a train but Pleung helps him on time. Knowing that Chat is not dead, Do Tawan moves his stock of drugs in a safer place. Pleung identifies the place and decides to attack it. Chat, being finally a policeman, also comes with reinforcement. All ruffians are killed by the Thai A-team. Unable to flee, Do Tawan prefers to explode the warehouse to avoid surrendering. Pleung has to go back to jail but Chat promises that his efforts to catch Do Tawan will be taken into account to reduce the severity. This movie features a huge number of famous Thai actors and actresses.
---