Increase or decrease font size for easier reading : A+ A-
Prissana Chabaprai
Prissana Chabaprai (1945) - ปริศนา ชบาไพร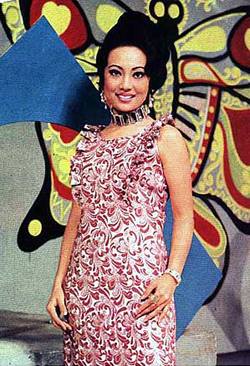 Prissana Chabaprai is married to movie director Payoong Payakul
This Prissana Chabaprai movie page contains 9 records.
---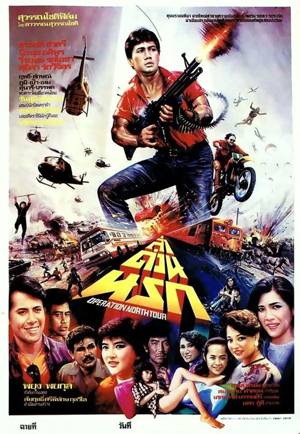 Year

: 1986



Thai title

:

ล่าด่วนนรก




English title

: Operation North Tour



Rating

: 2/5


Director

: Payoong Payakul



Main actor

: Sorapong Chatree,Rith Luecha,Lak Apichat


Main actress

: Prissana Chabaprai
Pen and Tong (Sorapong Chatree) meet each other in a bus going to Chiang Mai. Nobody knows the real reason of Tong arrival to Chiang Mai. He just comes to rest and to see a friend called Den. A few people are killed by a hitman (มือปืน) and acolytes in a pool club. Tong is witness of the murder. He shots one killer. Pen's business is also threatened by local mafia. Chiang Mai area is dominated by two local mafia heads. A lady called Gnam seduces Tong to know the truth regarding his visit to Chiang Mai but to no avail. Gnam is linked to mafia. The two mafia rings fight each other. During a shooting at the Chiang Mai airport by another hitman, a young man called Suchai helps to protect Saichai, daughter of Somchai (Rith Luecha), mafia leader. Suchai gains the trust of Somchai. The two mafia leaders decide to unify their efforts instead of fighting. Gnam is killed during a fight between Tong and a ruffian. Finally Suchai gets information that both mafia team will gather in Don Pui area to sell drug. Gun fights happen between mafia and the police helped by Tong, Den and Suchai. Similar to a a Thai copy of Rambo II, Tong carries a huge machine gun with ammunitions over the shoulder. The movie features fightings shot with a Hong Kong action movie style. As often during such Thai action movies, it is revealed that the main characters were undercover policemen. Many Thai action movies in 1980s decade include influence from Hong Kong movies and American movie Rambo II fighting style.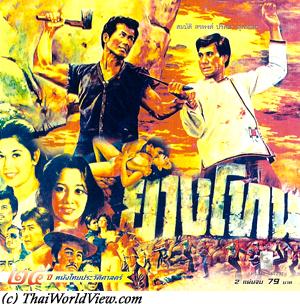 Year

: 1981



Thai title

:

ยางโทน




English title

:



Rating

: 3/5


Director

: Payoong Payakul



Main actor

: Sombat Methanee,Sorapong Chatree,Phairoj Jaising,Dam Datsakorn


Main actress

: Supansa Nuengpirom,Prissana Chabaprai
While Yot (Sorapong Chatree), young man, is away from his home, three ruffians raid his house and kill his parents. They were looking for a red jade (หยกแดง). Yot promises to punish the three robbers. Than (Sombat Methanee) is a farmer who has a family. He refuses to sell his rice to the local village headman (กำนัน) as the offered price is too low. The local village headman uses strong power (อำนาจ) and bad influence (อิทธิพล) to coerce villagers. Yot helps Than to beat the local ruffians. They sympathize. At nighttime ruffians come again but Yot shoots one of them. In the following morning, the local village headman comes with the police to arrest the two men. Following a misunderstanding between thugs, Yot and Than can flee. Yot continues his way to find the murderers of his parents. He finds two of them and learns that a rich man (เศรษฐีใหญ่) from Phrae and Nan provinces has ordered to get the red jade. Meanwhile the local village headman chases Than up to his home and shoots his wife. This is his final crime as Than shoots him also. Arrived in Nan, Yot receives help from the local mafia head Sai Wan as he had arguments with a prostitute in a local hotel. Sai Wan recruits Yot. Meanwhile Than enters Pho Liang Rak's ruffian team. Fights happen between the local mafia teams. Yot identifies that Pho Liang Rak is responsible of his parents' death. Pho Liang Rak and his team are neutralized but then Yot and Than fight over the red jade. They finally realize they are brothers. They decide to sell the red jade to build a Buddhist temple. This movie is a Thai Tom Yum (ต้มยำ) western from decades 1970s-1980s.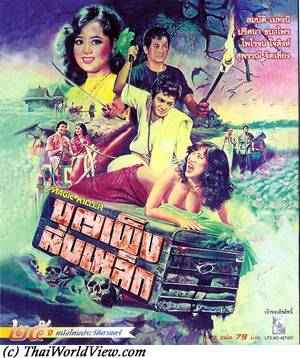 Year

: 1980



Thai title

:

บูญเพ็ง หีบเหล็ก




English title

: The Magic Killer



Rating

: 3/5


Director

: Payoong Payakul



Main actor

: Sombat Methanee,Phairoj Jaising,Lak Apichat,Sithao Petcharoen


Main actress

: Prissana Chabaprai,Suphanee Jitthieng
Boon Peng is a famous local spirit doctor (หมอชื่อเสียง) with known skills (เมตตามหานิยม, วิชา, วิเศษ). Boon Peng can see future and destiny (ชะตา, ดูจิต). Boon Peng and his clique take advantage of gullible people. Divorced ladies (แม่ม่าย) or young girls only visit him. One of them, Mae Na, disappeared. Thiu (Sombat Methanee) and lady Prin love each other but Prin's mother wants her daughter to marry Boon Peng. Mae Na's dead body is found by Thiu in a mysterious coffer (หีบเหล็ก) hidden close to the river. There is Mae Na's dead body in the chest. A Boon Peng's sbire was seen carrying the chest. Boon Peng's ruffians (ลูกน้อง) have arguments with Thiu, who distrusts Boon Peng. Thiu surveys what is happening around Boon Peng's House. Boon Peng asks to be Prin's fiance (คู่หมั้น). Boon Peng tries to use love potion (น้ำมันพราย) to win Prin's heart. Thiu becomes an adversary (รู้มากแล้ว). Prin cannot refuse as she needs to show gratitude (กตัญญู) to her mother. Boon Peng wants to accelerate the wedding date but Thiu decides to fight back (ต่อสู้สำหรับความรักของเรา). It is Thiu's real Love (ศักดิ์สิทธิ์) against Boon Peng's bad black magic. Meanwhile another Boon Peng's follower wishes to be her wife. Boon Peng has to kill her as she was threatening to announce their relationship to the whole village. The daughter is witness that her mother stopped at Boon Peng's house. Thiu arrests Boon Peng, who is condemned to death by decapitation. According to the legend swords couldn't cut his head (ดาบฟันไม่เข้า) until he accepts remorse (ชดใช้กรรม). This movie reminds of 1960s Thai horror movies ambiance mixing comedy and slight horror with frightening owl sounds. This movie is based on a real story, which happened during Rama VI period. A spirit doctor has many followers (ลูกศิษย์), who were mainly ladies. He killed some of them for their money and was throwing the bodies away hidden in a chest. He was finally captured and killed in 1919. A version of this story was done in 1967. Sombat Methanee was already the main actor.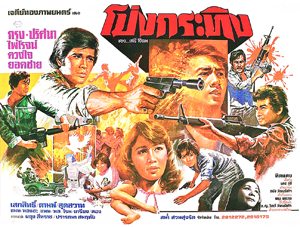 Year

: 1979



Thai title

:

โป่งกระทิง




English title

:



Rating

: 3/5


Director

:



Main actor

: Krung Srivilai,Dam Datsakorn,Yodchai Meksuwan,Phairoj Jaising,Man Teeraphol


Main actress

: Prissana Chabaprai,Duangjai Hathaikarn
Thai action movie โป่งกระทิง was released in year 1979. Main actors are Krung Srivilai and Prissana Chabaprai. This movie is lost in Thailand. The three last reels are only left to be seen. Phairoj Jaising and three ladies (Duangjai Hathaikarn, Prissana Chabaprai) including Kaew are having issues with ruffians. They decide to fight back. Shootings are exchanged with ruffians. Krung Srivilai as policeman (หัวหน้าสถานีคนใหม่) tries to arrest the ruffians. Det (Dam Datsakorn) and Man Teeraphol are the ruffians' leaders. Yodchai Meksuwan is subdistrict headman. Det is using bad influence (อิทธิพล) over the area. Det and Phi Khun are buying weapons (อาวุธ). Their den is surrounded by policemen led by Krung but they refuse to give up. Heavy shootings happen. Det is finally captured.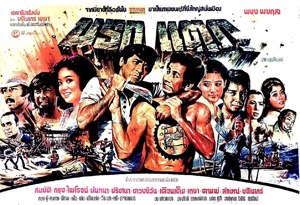 Year

: 1979



Thai title

:

นรกแตก




English title

:



Rating

: 3/5


Director

: Payoong Payakul



Main actor

: Sombat Methanee,Krung Srivilai,Phairoj Jaising,Dam Datsakorn,Kecha Plianvithee,Lak Apichat,Pipop Pupinyo,Boo Wibunnan,Phirapon Piyawan


Main actress

: Nantana Ngao Krajang,Prissana Chabaprai,Duangcheewan Komolsen,Deuan Tem Salitul
Thai movie นรกแตก was released in year 1979. It features Sombat Methanee and Krung Srivilai. This action movie is lost in Thailand but a trailer lasting 1 minute 30 seconds is left to be seen. The short trailer shows Sombat (ยิ่ง มหายศ) receiving sacred tattoos from a famous monk from South of Thailand so giving him mystical power, a knife fight between Sombat and Dam. Other actors are Phairoj Jaising, Pipop Pupinyo, Dam Datsakorn, Duangcheewan Komolsen, Kecha Plianvithee, Lak Apichat, Nantana Ngao Krajang, Boo Wibunnan, Prissana Chabaprai. This movie was a mixed of action and mystic (หนังบู๊ผสมไสยศาสตร์) same as เสาร์ 5 (1976). There are ghosts (ผีดิบ) and pirates (โจรสลัด). Director was Phayung Phayakul (พยุง พยกุล). The main actress in this director's movies is always his own wife, i.e. Prissana Chabaprai.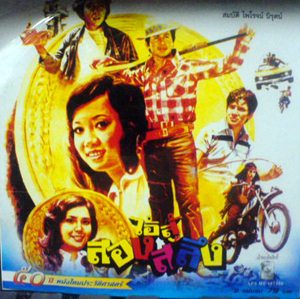 Year

: 1978



Thai title

:

ไอ้สู้สองสลึง




English title

:



Rating

: 1/5


Director

:



Main actor

: Sombat Methanee,Nirut Sirijanya,Phairoj Jaising,Kokheng,Boo Wibunnan


Main actress

: Duangcheewan Komolsen,Prissana Chabaprai
Thai movie ไอ้สู้สองสลึง was released in year 1978. It is available on a VCD lasting 1h58. Kwan (Nirut Sirijanya) and Yot (Phairoj Jaising) help two ladies harassed by six ruffians in a village. They both flee the village for Bangkok due to different reasons (one due to a unwanted wedding and the other as a bored rich guy - เศรษฐีผู้เดินดิน). They only do crazy things such as stealing chicken donated to Buddha, burning a car engine...They end up in a city in a very bad hotel but are expelled as a fire starts due to a BBQ in the room. They eat in an expensive restaurant but do not have money to pay the bill. Kokheng is playing a funny waiter. Butr (Duangcheewan Komolsen) is dreaming that Kwan would be her prince. They have to work for the restaurant to pay back. Tamanoon (Sombat Methanee) only arrives at 1h02mn despite being the main actor in the movie credits. Tamanoon's father wishes to marry him with one of the three daughters of Boo Wibunnan, the restaurant owner. Tamanoon wish to marry the three girls but finally choose one, i.e. Ratchanida (Prissana Chabaprai). Ratchanida is not happy by this. They plan to play tricks on Tamanoon with Kwan and Yot's help by using drinks causing flatulences. But Boo is the one to drink it! Some ruffians kidnap the three daughters and ask for one million baht ransom. Finally thanks to Yot and Tamanoon, the ladies are released. Grateful, weddings are arranged by Boo. This movie is mixing comedy, romance and some action.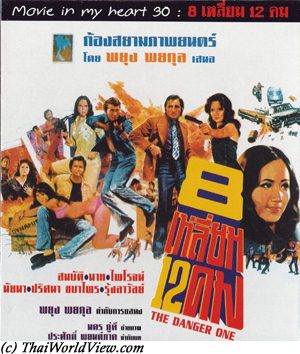 Year

: 1976



Thai title

:

8 เหลี่ยม 12 คม




English title

: The Danger One



Rating

: 3/5


Director

: Payoong Payakul



Main actor

: Sombat Methanee,Dam Datsakorn,Nard Poowanai,Phairoj Jaising,Pipop Pupinyo,Phirapon Piyawan


Main actress

: Prissana Chabaprai,Naiyana Shewanan,Runglawan Sripatimakul,Moeifa,Khomapat Attaya



Buy now

:

Payoong Payakul is the director of the Thai movie "8 เหลี่ยม 12 คม". His wife Prissana Chabaprai is also playing. The movie was released in year 1976 and lasts 1h44mn. The image is a bit reddish and damaged as being the last copy still available on the market. The selling point of the point, according to the poster, is the presence of six movie stars (ดาราเอกโคจร) including Runglawan Sripatimakul, Prissana Chabaprai, Naiyana Shewanan, Nard Poowanai, Sombat Methanee, Phairoj Jaising. The movie features also a few ดาวยั่ว (วิกาวดี, Khomapat Attaya, Moeifa, มิสหลาบยัง) acting in a few daring sequences. A jewellery robbery does happen. Khom (Sombat Methanee) and Chitchai (Dam Datsakorn) are involved. An overseas buyer is now expected in a few days. Anita (Naiyana Shewanan) is the younger sister of Chitchai. Chitchai fails to steal the jewellery suitcase from Khom. Khom sent Krissana (Nard Poowanai) to study in England. Krissana now becomes a policeman. Khom promises it is his last job in order to avoid facing Krissana as a policeman. Tonachai (Phairoj Jaising) with two ladies called Rita and Rosana always help Khom. Chitchai requests the diamonds to Khom earlier than expected. Tonachai has many enemies (ศัตรู) and has a fighting in an underground parking. Chitchai sent some ruffians (Pipop Pupinyo, Phirapon Piyawan...) but it fails. In the morning, Khom brings the 10M baht jewellery for Rita to check. The hotel groom exchanges the small suitcases while they are not aware. Police head asks Krissana to neutralise this jewellery ring. Krissana starts by entering Chitchai's nightclub, i.e. the Suzi bar, by claiming being a life insurance seller. Chitchai's ruffians aware that Krissana is certainly a cop tries to kill him but without success. Khom is concerned that he may face sooner or later Krissana (ปัญหาตัดสินใจไม่ถูก). Krissana gets information from Anita, who is his girlfriend. Khom believes the diamonds have been stolen by Chitchai's team. Rita is in fact part of Chitchai's team also and is finally shot by them. Chitchai captures Khom. The jewels are going to be used in a weapons deal exchange. Aware of the exchange place, Tonachai and the ladies head there. Krissana brings policemen there and also helps to release Khom. The HQ is then stormed and Chitchai is captured. Chitchai recognises his mistakes and is finally happy about the relationship of Rita and Krissana.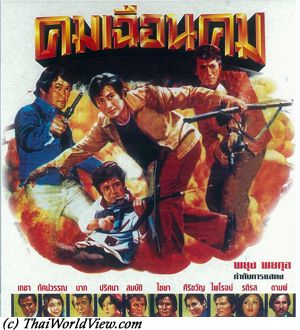 Year

: 1976



Thai title

:

คมเฉือนคม




English title

: The outlaw man



Rating

: 3/5


Director

: Payoong Payakul



Main actor

: Sombat Methanee,Phairoj Jaising,Nard Poowanai,Chaiya Suriyun,Kecha Plianvithee,Dam Datsakorn


Main actress

: Tasawan Saneewong,Prissana Chabaprai,Sirikwan Nanthasiri



Buy now

:

Three men are arrested by the Thai police following a trip to Hong Kong as they are suspected to sell drugs. They are released as no proofs are found. They met a guy called Daeng in the cell and befriended together. A young lady, Maria, Tawai's assistant, pick them up. Daeng is trying to join Tawai's secret organization, which is buying and selling weapons and drugs. Such organization undermines Thailand. As Tawai orders Daeng to kill Krit (Sombat Methanee), Daeng reveals that he is a hidden policeman and convinces Krit, who is a drug smuggler, to join his side. Policemen and gangster groups go to the golden triangle, border between Thailand, Laos and Burma. Heavy fightings happen between both groups. The country traitors are killed or captured. Some policemen are killed but they didn't die in vain as they give their life for the nation, the religion and the monarchy. It is a typical action movie of mid 1970s in which Thailand needs to be protected against external red communist threat. There is a rupture with traditional movies as Thai actors shake hands, listen to western music and kiss ladies in front of spirits shrines.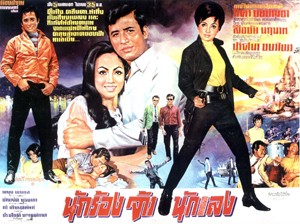 Year

: 1971



Thai title

:

นักร้องจ้าวนักเลง




English title

:



Rating

: 3/5


Director

: Payoong Payakul



Main actor

: Mitr Chaibancha,Luechai Natnat


Main actress

: Prissana Chabaprai
Thai movie นักร้องจ้าวนักเลง was released in year 1971. Main actors and actresses are Mitr Chaibancha, Luechai Natnat, Prissana Chabaprai. The movie is lost in Thailand but a sequence in 16mm format lasting 34s can still be seen. It is a song extract in 35mm format. Movie director is Payoong Payakul. The movie featuring Mitr Chaibancha was shown one year after Mitr died. The cinematographic atmosphere was not good at that time as Mitr Chaibancha just died so only one copy of this movie was released. This movie couldn't be shown in Thai provinces and it was not auspicious to project a movie with an already dead actor. The movie features five songs.
---