Increase or decrease font size for easier reading : A+ A-
Pornpan Ketmamatsu
Pornpan Ketmamatsu (1960) - พรพรรณ เกษมมัสสุ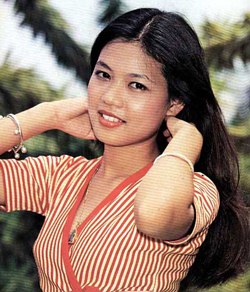 Pornpan Ketmamatsu played in more than 25 movies from 1981 to 1990
This Pornpan Ketmamatsu movie page contains 7 records.
---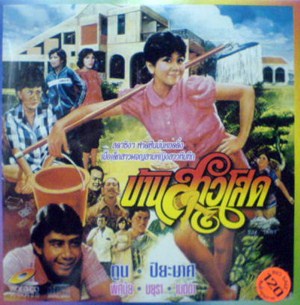 Year

: 1984



Thai title

:

บ้านสาวโสด




English title

:



Rating

: 3/5


Director

:



Main actor

: Toon Hiransap,Boo Wibunnan,Somchai Samipak,Somkuan Krajangsat,Supakorn Srisawat,Krong Kangkengdaeng


Main actress

: Piyamas Monayakol,Metta Roongrat,Pissamai Wilaisak,Mayura Thanabutr,Pornpan Ketmamatsu,Janthana Siriporn,Manat Boonkiet
Thai movie บ้านสาวโสด was released in year 1984. The TV cable version lasts around 1h55mn and is coming from channel "true thaifilm". So cigarettes, alcoholic drinks and even sexy posters on the wall are blurred. Two songs are featured in this movie. A first version of this movie was released in year 1970 with Mitr Chaibancha, Kanchit Kwanpracha and Petchara Chaowarat. Three sisters are still single, i.e. Yip (Metta Roongrat), Teuan (Pissamai Wilaisak), Waraipon (Mayura Thanabutr). One is her mid- forties, one is her mid-thirties, one is her mid-twenties. Yip likes women more than men. A lawyer (อำนวย ศิริจันทร์) discloses the father's testament. They get heritage from their father including the house to share. If they ever marry, they lose any rights to the house. Being singles, they challenge each other who will get married first. A friend will send her son Ting (หลาน) to stay in their house after having studied in Bangkok. The domestic helpers (Janthana Siriporn...) leave as there are fed up by miser Teuan. Plaew (Piyamas Monayakol) is hired as new domestic helper. The three ladies get interest into Ting (Toon Hiransap), 26 years old, as he is very handsome (หน้าหอม). Ting meets Tangwon (Boo Wibunnan) and Metti (Supakorn Srisawat). They wish to rent the house behind บ้านสาวโสด. Businessman Somchai Samipak has a new wife. His daughter is Plaew but she left home as she is unhappy with her new stepmother Vichanee (Pornpan Ketmamatsu). Plaew is suspected by Ting to be the daughter of a rich businessman. Ting's parents are played by Somkuan Krajangsat and Manat Boonkiet. Teuan is worried that Plaew will take Ting from them. Ting's father already found a fiancee for his son. Thanks to Krong Kangkengdaeng, Ting is hired as a driver (คนขับรถ) by Somchai. Plaew and her sister wonder why Ting behaves this way. The new young wife Vichanee is Metti's mistress but she asks Ting to keep quiet on this and she provides a photo album on Plaew (คุณหญิง) to Ting. Vichanee also become mistress with Ting (ความต้องการ). Ting fails to show that Plaew is in fact a rich businessman's daughter. Ting's parents are worried that their son gets enamoured with a domestic helper (เด็กคนใช้). Following a family trip to Pattaya, Ting's parents meet Plaew's parents and both of them are uncovered! Romance can finally start between Ting and Plaew.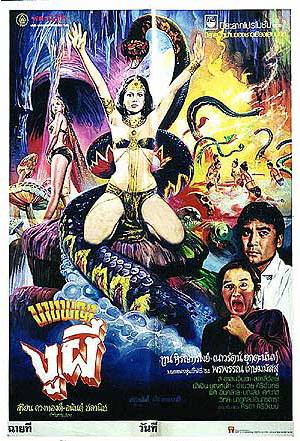 Year

: 1984



Thai title

:

นางพญางูผี




English title

: Ghost Snake Queen



Rating

: 3/5


Director

:



Main actor

: Toon Hiransap,Sor Asanajinda


Main actress

: Naowarat Yooktanun,Pornpan Ketmamatsu,Namgneun Boonnak
Some villagers are hired to catch snakes. A big snake (งูใหญ่) remains to be caught. Chat is one of the villagers. His wife is about to deliver. During a storm, Chat is killed by a huge snake and the baby girl is possessed by a snake. The little girl renamed Boonmee is rescued by a family, who also has a baby girl called Kamfa (Naowarat Yooktanun). They are now grown up beautiful women. Boonmee (Pornpan Ketmamatsu) always think her parents love Kamfa more than her. It is Songkran day. Some Bangkokian people, undercover policeman Cha (Toon Hiransap) and professor Phalat (Sor Asanajinda), come to the village. Young and old people often die in the village so they come to investigative. Nobody knows the real death cause. Some bodies are kept in Wat Khun Duang. Songkran is celebrated there so Cha meets Kamfa and Boonmee. Brother (พี่) Inta is jealous. Both ladies like Cha very much. The temple coffins only contain snakes but no corpses. Villagers afraid of the evil (งูผี). In order to get rid of the evil spirit, there is a need to identify in which body the spirit has taken refuge in. Boonmee brings jealousy in Ita's heart versus Cha. The subdistrict headman's daughter is bitten by a snake. Cha goes to city to bring back a real doctor as he doesn't trust the local shaman (หมอผี). Boonmee (นางปีศาจ) causes the spirit to possess Kamfa and to kill the subdistrict headman's daughter. Villagers now believe Kamfa is the evil spirit (งูผีร้าย). Boonmee kills her own father to prevent him to help Kamfa. Kamfa is captured and will be burnt (เผ่า) in front of the subdistrict headman's house. Cha comes on time but Inta and villagers prevent him to help. Cha and Kamfa shall die on a real stake. A forest monk (พระธุดงค์) stops the fire and announces Kamfa is not the evil spirit that villagers are looking for. The monk asks Kamfa to put a sacred necklace around Boonmee's neck to neutralize the spirit. Kamfa is concerned that her mother shall not stand losing her husband and then one daughter. Boonmee apologizes to her sister and promises not to kill anyone again. The old sorcerer spirit has to bite villagers and drink their blood to remain young. Boonmee seduces and hypnotizes Cha. Kamfa and Phalat have to find a way to release Cha. Boonmee captures her own sister to give her for sacrifice to the snake spirit showing no gratitude to her mother. At nighttime the mother sneaks in the cave and sends on time the sacred necklace on the spirit's head breaking all spells. Evil is defeated and the cave is sealed. It is a remake of 1966 Thai movie "งูผี" with Mitr Chaibancha and Petchara Chaowarat. Compared to 1966 version, Boonmee is much more temptress and is helped by a bunch of sexy amazones. Modern disco and even James Bond soundtrack are used. It is a typical horror movie from 1970-1980s mixing scaring and funny sequences. A second opus of นางพญางูผี was released in 1990 with Bin Banleurit.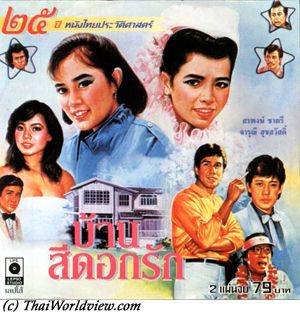 Year

: 1984



Thai title

:

บ้านสีดอกรัก




English title

:



Rating

: 3/5


Director

:



Main actor

: Sorapong Chatree,Thongchai McIntyre,Suchao Pongwilai,Krung Srivilai


Main actress

: Naowarat Yooktanun,Jarunee Sooksawad,Pornpan Ketmamatsu
A young lady Apple is supposed to get married. On her wedding day, another lady comes to get back her husband (หลอกเรา). Apple is disappointed again. Apple is part of a group of three ladies, who are close friends and always help each other. One is Pen (Naowarat Yooktanun), one is sexy Nook (Pornpan Ketmamatsu) and the last one is Apple (Jarunee Sooksawad). They decide to focus on money first instead of love as all men are liars anyway. They find a job in the same company. At night time, they play an escort role in a gambling casino (บ่อน) in order to try finding rich men but the police raids the place. Apple gets refuge in Chatri's car as she mistakes it as a taxi in order to escape to the police. Apple tries her luck again in her search for a rich man (เศรษฐี) in a sport club. They meet Krit (Thongchai McIntyre), who invites them to Chiang Mai in his countryside house. Apple asks Chatri (Sorapong Chatree) to drive them to Chiang Mai. As his car is broken, they just dropped him to go for hitchhiking. Chatri also is also rescued by Krit. He knows the game played by the three girls and have strong sarcasms over them. While wandering in the forest, they have arguments with illegal loggers. They are kidnaped but succeeded to flee except Nook. Krit saves Nook. They finally go back to Bangkok as they run out of money. Pen put the furnitures in a pawn shop (โรงจำนำ) to get money. Krit orders the furnitures to be replaced. Apple is fed up with rich people so she leaves her friends. The movie ends happily with the three ladies getting married. This movie is a typical romantic comedy from 1980s led by local superstars Sorapong Chatre and Jarunee Sooksawad. It also shows modern women vision and status in 1980s Thai society.



Year

: 1983



Thai title

:

แก้วขนเหล็ก




English title

: The Dracula



Rating

: 3/5


Director

:



Main actor

: Toon Hiransap,Somphob Benjatikul,Rith Luecha,Somchai Samipak


Main actress

: Apiradee Pawaputanon,Mayura Thanabutr,Pornpan Ketmamatsu
Thai movie แก้วขนเหล็ก / The Dracula was released in year 1983 and lasts 1h22mn. It features some background music by Jean-Michel Jarre and also from James Bond movies. Movie director is สุริยน ดวงทองดี. Wat (Toon Hiransap), Dom (Somphob Benjatikul) and Nin (Apiradee Pawaputanon) are discussing. Dom just gets a heritage (มรดก). It is an old haunted abandoned house. He decides to stay there and so starts restoring it (ตกแต่งห้อง). Rose (Mayura Thanabutr), his fiancee (คู่หมั้น), finds that he changed a lot. An old uncle tells the story of the house. Sir Maekin (ท่าน เมฆินทร์) (Rith Luecha), previous prince (ลูกเจ้าพระยา), wished to marry a young lady (played by Apiradee) but the father refused as the lady was already promised to somebody else. So Maekin kidnapped the lady. His father (Somchai Samipak) imprisoned him for a few days until the wedding was over but Maekin disappeared. Legend said that he become a ghost. Toon helps an old uncle aggressed by two ruffians. He gives him a ring supposed to push back ghosts. One night, Dom is possessed by vampire Maekin. Rose's birthday will happen soon. Dom places a transparent coffin in the house's underground (ห้องใต้ดิน). Dom becomes normal while holding a Buddha amulet, which burns his hand. Maekin possesses him again. Wat uses Tibetan prayers to neutralize the vampire (ผีดิบ). The vampire possesses Wat's young brother (ปรัชญา) in order to shoot Wat. Under Maekin's influence, Dom kidnaps Nin. Wat has no choice but to affront the vampire and use the special ring… A first version was released in year 1971 with Petchara Chaowarat and a later one in year 2003.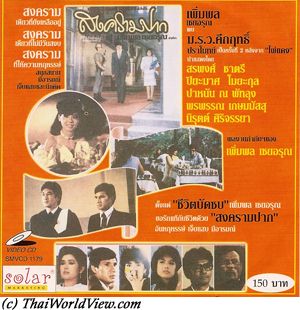 Year

: 1983



Thai title

:

สงครามปาก




English title

:



Rating

: 4/5


Director

: Permpol Choei-arun



Main actor

: Sorapong Chatree,Lor Tok,Nirut Sirijanya,Der Doksadao


Main actress

: Piyamas Monayakol,Wiyada Umarin,Pornpan Ketmamatsu
Atawut is working in governement as speaker. He is married to Pim and they have a young son. He has also a mistress called Nat. He claims buying hot fresh food to his wife when coming back late but the driver just heats it up on the car engine! His wife, Pim, starts to be aware. A lawyer, who loves Nat, is waiting that Nat is fed up flirting with a married man. Atawut is coming from Isan area, Northeast of Thailand. He wants to participate to local elections in the "People" party (พรรคประชาชน). He wears blue-cotton farmer clothes (มอฮ่อม) during his meetings. Pim, his wife, comes from a high society family but he is coming from a poor Isan family. He wins because his wife gives away money so that he can get popular. She couldn't allow her family name to be tarnished in case of defeat. Atawut cannot bear it, gets drunk and goes with Nat. But he is lying to his mistress also. He is a womaniser up to the point local newspapers publish a picture of him and a local cinema star. Meanwhile Pim's younger sister, Pamela, comes back from America. Fed up by Nat and Pim, Atawut takes a break and goes to Chiang Mai. There he meets Pamela visiting Chiang Mai also. Nat announces it to Pim and its circle (สังคมผู้ดี). She is insulted as a pandering lady (นางบำรุง). Pim looses face and decides to divorce. Atawut asks her to think twice in order to protect his representative title invoking that having mistress is common issue in Thailand. But this is not acceptable for women! As he sees his wife eating with another man (in fact for business purpose), Atawut loses temper. He uses a gun and injures Pim. The trial starts. The man who loves Nat is Atawut's lawyer. Atawut misses his family. He stays humble and simple. He finds an old Isan friend selling Thai coffee (โอเลี้ยง). His friend is not unfaithful. Atawut is rich but not happy. His friend is poor but happy. Atawut will loose child and everything due to his bad behavior. Parents of both sides try to corrupt the judge by offering gifts but despite living in small house, he refuses. Trial is over and the child shall stay in custody with the mother. Finally both side misses each other so much and for the good sake of the young son go back together for an happy ending. This movie raises many 1980s society issues, i.e. men able to cheat wives as a common society issue, corruption in elections, corruption in justice, divorce in high society, men vs women behavior.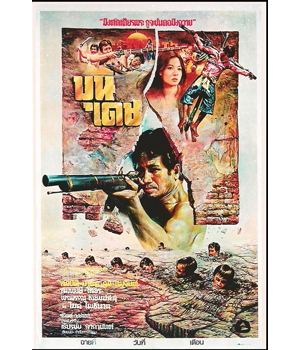 Year

: 1980



Thai title

:

ขุนเดช




English title

:



Rating

: 4/5


Director

:



Main actor

: Sombat Methanee,Manop Aussawathep,Sompong Phonmitr,Pumi Patanayut,Somjin Thammatat


Main actress

: Pornpan Ketmamatsu
Thai movie ขุนเดช was released in year 1980. It takes place in Sukhothai historical park area before it became an official park (1988) as there was still heavy vegetation around the Buddha statues. The movie lasts 1h46mn. This movie was only released under VHS in Thailand and Sweden. Two men are killed by Khun Det (Sombat Methanee) as they are digging in order to steal Buddhist artifacts. Ruffians arrive in the village and hire farmers to dig around in order to find relics. Village leader (ผู้ใหญ่) Sompong (Sompong Phonmitr) refuses to help as it is ancestor's' heritage so it shall not be sold to strangers. Sompong has a mute daughter (Pornpan Ketmamatsu). The leader (เจ้านาย)(ภูมิ พัฒนายุทธ) is looking for Buddha statues (พระสักองค์). Sompong informs the temple abbot that the ruffians even dig near old sacred pagodas but nothing the abbot can do (สัตว์นรก). Khun Det, aware, chases away the workers. Khun Det is then captured, crucified and suspended to a headless Buddha giant statue. Khun Det is rescued by Sompong and his daughter. Khun Det repairs an old gun (ปืนเก่า). As the ruffians are evacuating Buddha statues by boat, Khun Det sinks the boat thanks to his gun. It reminds the scene of Naresuan 2 with the King shooting very far away with a gun to defeat the Burmese king. The leader, seeing that Khun Det is bringing them serious troubles again decide to flee by car with some Buddha statues. Khun Det prevents him to flee by destroying his car and killing him. The father (Somjin Thammatat), in ire as his son is dead, storms the village with ruffians but is unable to find Khun Det. They burn belongings of villagers and threaten the abbot. The father destroys pagodas and tries to bury a big Buddha statue. Khun Det prevents them so the father finally calls Manop Aussawathep, a professional killer. He shots Sompong. This movie also reminds of western such as "The Magnificent Seven" with people protect villagers against ruffians as there is no police. Manop then buries men alive to force Khun Det to show himself. The villagers fight back. The father and his ruffians are killed. Khun Det defeats Manop through an epic final fight. It is a strong movie with violent deaths (heads cut as ruffians cut Buddha statues' heads). Khun Det finally leaves. A Thai serie ขุนเดช was released in year 1999 with Phongphat Wachirabanjong. Another version was released in year 2012.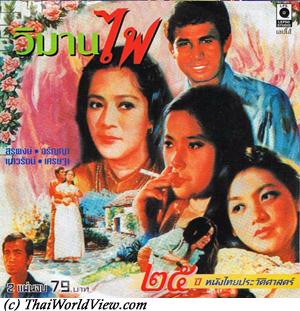 Year

: 1979



Thai title

:

วิมานไฟ




English title

:



Rating

: 3/5


Director

:



Main actor

: Sorapong Chatree,Settha Sirachaya


Main actress

: Aranya Namwong,Naowarat Yooktanun,Pornpan Ketmamatsu
Phumaret is a young man going to a funeral but he is late. His father was a friend of the deceased man. There he meets the three daughters of the deceased man. The eldest daughter Nid provides him a job in the family company, a house to live in and money as salary advance. Phumaret is fond of Noi the second daughter but finally asks Nid for wedding due to her kindness. Disappointed by Noi's refusal, Phumaret also seduces the youngest daughter and marries her secretly one day before his wedding with Nid. The youngest daughter becomes pregnant and a row happens between her, Nid and Phumaret. Nid, being so disappointed and heart broken, stabs her young sister and is confined in a hospital for insane persons. Phumaret decides to become a monk in order to compensate the bad deeds he has done with the three sisters.
---