Increase or decrease font size for easier reading : A+ A-
Porjed Kaenpetch
Porjed Kaenpetch (1950) - พอเจตน์ แก่นเพชร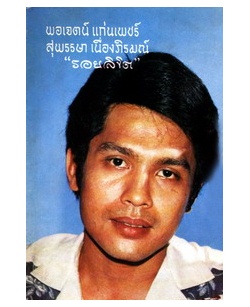 Porjed Kaenpetch
This Porjed Kaenpetch movie page contains 18 records.
---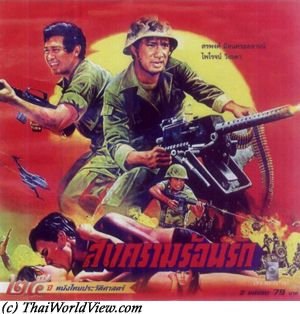 Year

: 1986



Thai title

:

สงครามร้อนรัก




English title

:



Rating

: 2/5


Director

:



Main actor

: Sorapong Chatree,Phairoj Jaising,Porjed Kaenpetch,Dam Datsakorn


Main actress

: Wiyada Umarin,Moeifa
During Vietnam war some Thai soldiers are facing the Vietcong resistance. It is their last days of their engagement. One of them, Athit, has a Vietnamese girlfriend called Cheut Cheun, but needs to be separated from her. Athit promises to come back. Due to the South Vietnam invasion by North Vietnam, he cannot keep his promise. Many Vietnamese boat people then flee to Hong Kong. Cheut Cheun's father forces his daughter to leave Vietnam in order to secure a better future for her. The smugglers are part of the mafia. Those evil men rape the young girl on the boat. The boat is hijacked by Thai ruffians and the boat people are put in a cage. The young girls are transferred to another boat by the ruffians, who wish to send them to Thailand. Athit and his friend Wat accidentally see Cheut Cheun. She was sent to a bordel. Athit promises to help. Cheut Cheun refuses to obey the mamasan (มาม่าซัง) so faces wrath from her and is tortured (ทรมาน). The mamasan considers the girls (เด็กผู้หญิง) as things and now wishes to send them to singapore due to the deranging noise made by Athit. It is difficult for Athit to free Cheut Cheun due to the mamasan's bad influence (อิทธิพล). He wishes to buy a ticket to send her back to Vietnam. He convinces the police to investigate and helps to gather proofs. He doesn't have enough money to buy her back so he tries to organize an escape but it fails. His friend Wat is killed. The police finally arrests (จับ) the mamasan and her ruffians. This movie highlights the boat people phenomena and the mafia taking profit of it. The main actress is from Philippines. She might had less concern that Thai actresses to play sexy scenes. Soundtrack from Dario Argento's horror movies is used.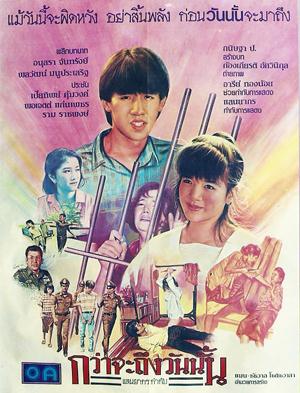 Year

: 1985



Thai title

:

กว่าจะถึงวันนั้น




English title

:



Rating

: 4/5


Director

:



Main actor

: Porjed Kaenpetch


Main actress

: Piathip Kumwong
Ploeun (Piathip Kumwong) is a domestic helper in Chat's house. She has a baby but her husband is currently in prison. The owner of the house, while his wife and kids are away, try to abuse Ploeun. While protecting herself, Chat is stabbed accidentally. Ploeun gives the baby to a temple abbot who renames the baby as Pol. Ploeun surrenders to the police (มอบตัว). Ploeun is sent to jail for ten years. The abbot finally gives Pol to a couple unable to have children as he worries about the child's future if it stays in the Buddhist temple. The couple has finally a daughter called Ann and the secret about Pol's birth is kept. Bad influence (อิทธิพล) is everywhere even inside the prison. Ploeun is condemned to 10 more years in prison following a tragic conflict with another nasty inmate. Pol and Ann are now grown up adults. Ann is fond of a pub singer called Sak. Famous song "กว่าจะถึงวันนั้น" (When that day will happen) is featured. Finally Ploeun exits from prison. The abbot is dead already but she succeeds to find her son. She doesn't dare to tell him the truth in order to avoid damaging his future. She finds a job as domestic helper in the parents' home. She over takes care about Pol so raising concerns by the main house supervisor. Pol is having trouble with his sister as she keeps seeing the singer. He even slaps her to stop this relationship. Exceeded the main house supervisor reveals to Ann that Pol isn't her real brother (ปากเสีย / ปากหมา). Ploeun is ready to stab the house supervisor to protect her son's future. Finally hearing a conversation, Pol knows the truth. Unsure about his future, he starts to work on a construction site (ฝึก). The singer Sak asks 300 000 baht to Ann for a business. Ann believe they will marry (เป็นเขย). As her mother is not so willing, Ann empties her bank account and put her jewels in a pawnshop. Sak loves nobody except money. Finally as Sak is unfaithful with Ann, arguments happens. As Pol is looking for his sister, he arrives at the peak of the arguments. Gun is used. Sak is found dead. Pol is arrested by the police and his step parents reject him arguing it was a waste to have educated him as the blood from his real mother was anyway stronger. In prison, Pol is aware who is his real mother (รับกรรม). During the trial, Ann finally reveals that she is the one who shot the singer. Knowing she was in danger, knowing that the singer made a sex video tape to blackmail her, the tribunal gives a light sentence. Moral of the movie is that good behavior is not always linked to birth circumstances as the birth state doesn't preclude if people will be good or bad. Movie "กว่าจะถึงวันนั้น" was released in year 1985. It is a movie coming from TV Channel 9 through a digital recording but as usual some dialogues are censored by a blank when actors are using strong words.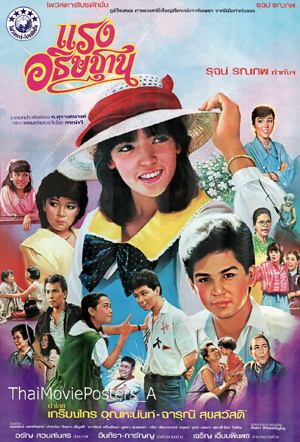 Year

: 1984



Thai title

:

แรงอธิษฐาน




English title

:



Rating

: 4/5


Director

: Ruj Ronnapop



Main actor

: Kriengkrai Unhanan,Adul Dulyarat,Ruj Ronnapop,Porjed Kaenpetch


Main actress

: Jarunee Sooksawad,Anchalee Chaisiri,Sarinthip Siriwan,Sulaleewan Suwanthat,Ratanaporn Intarakamhaeng,Phong Lada Pimolpan,Boosara Narumit
Thai movie แรงอธิษฐาน was released in year 1984 and lasts 1h57mn. Movie director is Ruj Ronnapop. A remastered version was released by Five Star Production (ไฟว์สตาร์โปรดักชั่น) in the decade 2010s and shown on Thai TV cable. The movie was released on VHS format. Thai actors and actresses featured in this movie are Jarunee Sooksawad, Kriengkrai Unhanan, Anchalee Chaisiri, Sarinthip Siriwan, Adul Dulyarat, Ruj Ronnapop, Sulaleewan Suwanthat, Ratanaporn Intarakamhaeng, Phong Lada Pimolpan, Porjed Kaenpetch, ปาหนัน ณ พัทลุง, วรารัตน์ เทพโสธร, Boosara Narumit, รจิต ภิญโญวนิช, ออยา นาวิน, ไพลิน จินดานุช, ลินดา สิริเดชภิญโญ. Manee (Anchalee Chaisiri) and Ruj Ronnapop love each other. Manee is pregnant. Ruj's sister (Sulaleewan Suwanthat) rejects this love story as she is worried about the family status and wishes Ruj to marry a rich lady. Their family has no more wealth. Mae Nom (Ratanaporn Intarakamhaeng) helps Manee but Manee dies while delivering the baby. Ruj is now married to Rattana (Phong Lada Pimolpan) but still sends money for the baby education. Ruj also dies later. The baby is named Pat and is raised by Mae Nom and her husband. Years have passed. Pat is now a teenager played by Jarunee Sooksawad. Adul Dulyarat, knowing Mae Nom, proposes to send Pat to Bangkok as he knows the parents are poor and Pat is willing to study in university in Bangkok. Adul recommends her to stay in Krongkan's house. Ut (Porjed Kaenpetch) loves Pat but his mother is unhappy that her son tries to befriend with Pat, seen as a poor child without biological parents. Ot (Kriengkrai Unhanan) and เอกลักษณ์ ยลระบิล are visiting a local Buddhist temple and take pictures of children playing. Among the children, there is Pat. Pat comes to the Buddhist temple to pray (อธิษฐาน) and asks the famous Buddha Luang Pho to help her to find her family relatives. Ot's mother (Sarinthip Siriwan) tries to find a rich bride for his son but he is not interested. The mother introduces Rattana's daughter, Prakairat, but to no avail. Ot likes books so he is working for Krongkan in her newspaper. Another lady asks her daughter Oya to stay with Krongkan, her aunt. Oya dislikes Pat and a fight occurs as she treats Pat as a domestic helper. While trying to slap Pat, she falls in wet laundry. Oya complains to her mother but Krongkan refuses accusations as she is always fair to everybody. Upset, Oya leaves the house. Ot feels that Prakairat has same look and way of talking as Pat. He thinks they might have the same father. Prakairat is jealous of Pat as Ot is more interested by her. The mother tries to push for engagement between Praikairat and Ot but even Ot's sister said that Pat would be a better choice. The mother just wants a rich bride. Ut proposes Pat to stay in his aunt's house if it is too troublesome to stay in Krongkan's house. Pat meets the aunt being the one, who broke the relationship between Ruj and Manee. She recognizes the pendant that Pat is wearing as it belongs to her family. She believes Pat stole it, but Pat mentioned it is a gift from her father. Finally, an enquiry is done, and it is confirmed that Pat's father is Ruj. Prakairat and her mother are concerned to lose a big part of Ruj's heritage. Ot asks Pat's hand and wishes to marry once she has finished her studies. The aunt wishes to meet Pat again to correct her past mistakes. Finally, a family meeting is organised regarding heritage sharing. The aunt does not apologize for anything and believes she has done the right thing to cause Ruj and Manee to split. Upset and disappointed by her family members behaviour, Pat rejects any rights she has on her father Ruj's heritage as she considers Mae Nom and her husband as her parents. Ot announces he will marry Pat. Love is more important than wealth. The family members are left with their wealth and unhappiness. Luang Pho has realized Pat's wishes as she found her relatives and even more as she met love (แรงอธิษฐาน).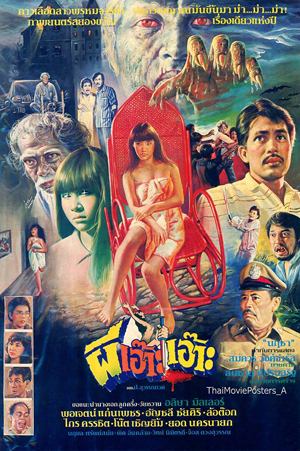 Year

: 1984



Thai title

:

ผีเอ๊าะ เอ๊าะ




English title

:



Rating

: 3/5


Director

: นฤชา



Main actor

: Porjed Kaenpetch,Lor Tok,Note Chernyim,Krai Kanchit


Main actress

: Anchalee Chaisiri
Thai movie ผีเอ๊าะ เอ๊าะ was released in year 1984. It was released under VCD format by Rose company. Movie director is นฤชา. A Thai husband called Sankap (Krai Kanchit) comes to rest in a remote house with his wife Oon (Anchalee Chaisiri), a domestic helper and his teenage daughter, Kaew (วัยหวาน อลิษา มิลเล่อร์). Ting is the mute (ใบ้) guardian of the old house. He is similar to a Quasimodo. Strange and scary noises can be heard at nighttime especially in the attic. Bones (ที่เก็บกระดูก) are found there. Kaew has her periods for the first time (เป็นสาวแล้ว). Through hidden passages in the house walls, the guardian spies the family. Through incantations, the guardian is calling an old spirit (ปลุกวิญญาณ) in front of a skeleton. The spirit needs a virgin (หญิงพรหมจารี) and pure blood. The spirit extended his life since more than 100 years thanks to virgin blood (บริสุทธิ์). Kaew is finally possessed (ถูกผีเข้า), speaks with a male voice and has extreme strength (แรงมาก). She tries to strangle the domestic helper. While her father is out to get a doctor, Kaew continues her rampage towards her mother and the domestic helper. The mother and domestic helper are not strong enough to face such a hell spirit (ผีนรก). The domestic helper is killed. Sankap arrives too late with a doctor. The doctor is even thrown out of the window and dies. Vichan (Porjed Kaenpetch), Sankap's friend, visits them and is surprised to find the house very quiet. He also sees the two corpses. He has difficulties to believe in ghosts until the spirit wakes up. Vichan suspects the guardian so he follows him up inside his hut. Oon suggests to call a shaman (หมอผี). The guardian is neither mute neither handicapped. Some zombies try to catch Vinchan. Meanwhile the spirit lies to Oon and convinces her to open the locked door. A fight happens between the spirit and Sankap. Despite cutting its arms and head, Sankap is overcome by the spirit. Sankap and Oon are killed. A purification fire started by Vichan burns the skeleton and wax effigies. Spirits are defeated. Vichan promises to take care of Kaew. Compared to other contemporary 1980s Thai horror movies, this movie doesn't have much comic relief despite Lor Tok and Note Chernyim acting, so it is more similar to western standards despite having simple Fx. It could be the Thai version of "The Exorcist"!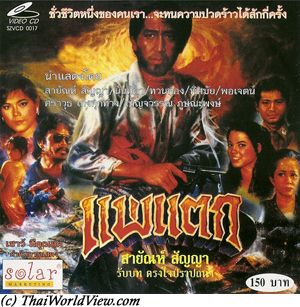 Year

: 1984



Thai title

:

แพแตก




English title

:



Rating

: 3/5


Director

:



Main actor

: Sayan Sanya,Porjed Kaenpetch


Main actress

: Pissamai Wilaisak,Nanthida Kaewbuasai
Phai (Sayan Sanya) is living with his mother and younger sister called Kaew. Wut is Phai's friend and becomes policeman. Wut is Kaew's boyfriend. Phai loves a local prostitute, called Rampeung, but his mother despises her. The local mafia doesn't want to release Rampeung so Phai has serious arguments with them. Phai learns that Kaew has a blood cancer. There is a need to change her blood but it is expensive. He cannot tell the truth in order that Kaew keeps high moral. People start to believe he has a devious relationship with his sister as he takes care of her too much. He cannot accept Kaew and Wut's wedding as it would cause Kaew's death. His mother chases him from home. Before living home, he tells the truth to his mother causing her to indulge into alcohol when knowing the truth. While wandering, he prevents a gunman to kill an entrepreneur called Chat. Chat gives him shelter in his home. Dao (Sayan Sanya), Chat's daughter, is fond of him. Wut is now a policeman. Kaew's mother refuses the wedding also. Wut become an inflexible policeman. Love and duty are different things. Chat and Somjet, a local mafia leader, are involved in various bad traffics. Chat is killed by Somjet but it is believed that Phai killed Dao's father. Rampeung is shot while protecting Phai. Dao understands that Phai is innocent. Kaew is sent to hospital. Phai goes back home and fight successfully against Somjet. A storm destroys his house. Phai believes his mother and sister are dead. He kills himself due to despair despite Wut's last attempt to save him. Both main actors are famous Luk Thung (ลูกทุ่ง) or Thai country music singers. Both Sayan Sanya and Nanthida Kaewbuasai perform songs during the movie.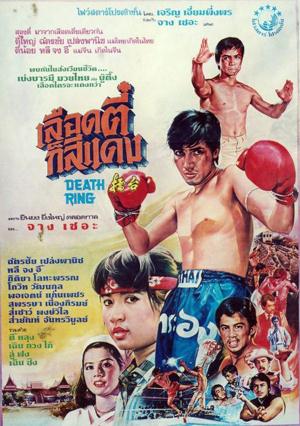 Year

: 1984



Thai title

:

เลือดตี๋ก็สีแดง




English title

: Death Ring



Rating

: 3/5


Director

:



Main actor

: Chatchai Plengpanich,Sayan Chantaraviboon,Porjed Kaenpetch,Suchao Pongwilai,Kowit Wattanakul


Main actress

: Supansa Nuengpirom
The master's daughter, In Mai, sees her lover Dialin Chi in secret. Her father already has plan to marry her to another man called Hang Fai. But he surprises them together. A fight erupts between Hang Fai and Dialin Chi as he lacks respect to his fiancee. Hang Fai uses cowardly a knife during the kung fu fight and finally gets stabbed. Dialin Chi has to run away. He takes refuge in Thailand during three years. Uncle Lu promises to revenge his son, Hang Fai. Many years have passed. In Mai has now a son called Dai Cheung. Uncle Lu's second son is still looking for Dialin. Dai Cheung is looking for his father in Thailand as he earned a living by being a boxer there. Dai Cheung contacts Miss Ko and Fan, the assistant, for boxing job opportunities. Dai Cheung finds a job as sand bag training partner but Thai boxer Salek refuses to use him. They become friends. Salek dreams about a fight with a strong Thai boxer called the leopard. Salek has recognized Dai Cheung's father picture but would not tell who he is. Following arguments, Miss Ko has barred Salek from any Thai boxing match. Dai Cheung succeeds to be recruited as sand bag training partner by the Leopard in order to work up his style but is heavily beaten. He doesn't think Salek can beat the Leopard. Finally it is discovered that Salek is also Dialin Chi's son with a Thai woman. Miss Ko accepts to organise a fight between Salek and the Leopard. The match happens despite Dai Cheung trying to prevent Salek to assist. Salek gets killed on the ring following the Leopard's hard punches. His half-brother is dead. Dai Cheung decides to become a Thai boxer to revenge his half-brother. He trains hard to be able to get a fight versus the Leopard. Finally following a difficult fight, he succeeds to defeat the Leopard but uncle Lu's family members are still around for revenge also... This Hong Kong action movie particularly shines when Chatchai Plengpanich and other Thai actors are around. Hong Kong Kung Fu actors are Lee Chung-Yat and Ti Lung.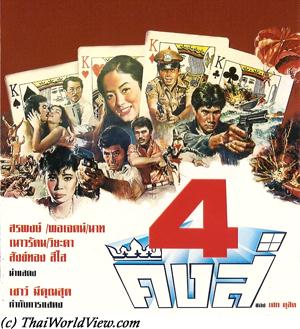 Year

: 1982



Thai title

:

สี่คิงส์




English title

:



Rating

: 3/5


Director

:



Main actor

: Sorapong Chatree,Nard Poowanai,Porjed Kaenpetch,Sahat Piempongsan,Kanchit Kwanpracha,Songthong


Main actress

: Naowarat Yooktanun,Wiyada Umarin



Buy now

:

The police is looking after a gang called "the four Kings" that extorts money from businessmen. The police is contacting a former repentant to get information but this one refuses to get involved in order to protect his family. Unfortunately, the "four Kings" gang, believing that the former repentant is helping the police, decides to kill him. They retaliate over his wife and daughter, who are killed. The former repentant then decides to fight "the four Kings" gang until death. A first version of this movie was released in year 1959. It featured Chaiya Suriyun and Amara Asavananda as main actors.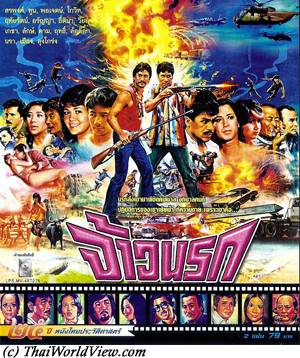 Year

: 1982



Thai title

:

จ้าวนรก




English title

:



Rating

: 3/5


Director

: Payoong Payakul



Main actor

: Sorapong Chatree,Lor Tok,Toon Hiransap,Kecha Plianvithee,Dam Datsakorn,Rith Luecha,Porjed Kaenpetch,Lak Apichat,Kowit Wattanakul,Pao Porapak,Paen Pleumsachai


Main actress

: Aranya Namwong,Wiyada Umarin,Thitima Sangkapitak,Reuthairat Amatawanit
Khongra (Sorapong Chatree) is relative (หลาน) of Am Su Ra Krai (Toon Hiransap). Khongra is coming to Phailom district to visit Am. Am's team, such as Wo (Lak Apichat), needs to carry guns as the area is full of ruffians (นักเลงบ้านนอก) such as Thaem (Porjed Kaenpetch). Mr Putr is accused to have stolen (ปล้นรถไถ) Am's tractor. Local ruffians forbid farmers to cultivate the fields but as Khongra dares to bring a tractor, he has no choice but to shoot them. Later on, he helps a young lady Chairon harassed by three ruffians. Chairon is living alone as her parents died already. Thaem is defeated by Khongra on one to one fight. Friendship starts between Thaem and Khongra. Godfather (เจ้าพ่อ) Bamjong (Kecha Plianvithee) wishes to recruit Khongra as he likes his style. Khongra discovers that the tractor was stolen by Mr Putr despite his disclaimer. Romance starts between Khongra and Chairon. All the illegal activities are handled by a local few godfathers including lady Sa (Aranya Namwong), Bamjong, Dam (Dam Datsakorn) and Reut (Rith Luecha). Chairon has been kidnapped and Khongra is ordered to leave the area within 24 hours. Meanwhile Khongra (เสียตัว) is also kidnapped by mysterious Amazons (Sopha played by Wiyada Umarin and Thitima Sangkapitak) but succeeds to escape. Gnoh (Kowit Wattanakul) is a policeman coming to arrest drug traffickers believed to be linked to local ruffians. Am, Khongra storm Putr's home to know where Chairon is. Before dying, Putr just says she is located at Beung Mai. While going to Beung Mai, they meet Sopha again. It is a trick to split Am, Wo and Khongra. In a fierce shooting, Wo is killed. Sa is suspected to have kidnapped Am. Khongra and Thaem are captured and imprisoned with Am. Chairon provides a hidden message but her behavior is noticed by the guard (ทรยศ). Chairon and Sopha are sentenced to death by Sa. Hopefully Khongra, who succeeds to escape, helps them on time. A festival for farmers is happening in Phailom district. Khongra is aware of the ruffians' plan to intimidate farmers in order to finally possess the whole land in the area. Explosions happen during the festivities. Following various shootings and car chasing, all ruffians are killed or captured by Khongra, Am and police led by Gnoh. This Thai movie จ้าวนรก, directed by Payoong Payakul, is a typical 1980s action movie involving many key leading actors from decades 1970s-1980s.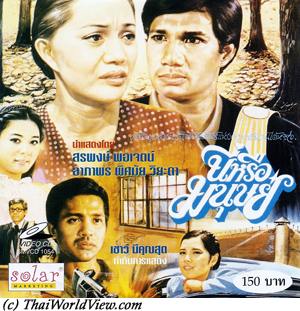 Year

: 1982



Thai title

:

นี่หรือมนุษย์




English title

:



Rating

: 4/5


Director

:



Main actor

: Sorapong Chatree,Porjed Kaenpetch,Manop Aussawathep


Main actress

: Pissamai Wilaisak,Wiyada Umarin,Apaporn Kornthip



Buy now

:

Boonleuang is a lady coming from a poor family. She married Cheut coming from a rich noble family (ผู้ดี). Cheut's mother never accepted that her son marries such lady. Boonleuang and Cheut have one son called Sak. Cheut's mother succeeds to convince Boonleuang through moral pressure to let her educate her son in order that he can have a bright future. Following problems with police, one Boonleuang's neighbour entrusts her to take care of her new born daughter, Saichai, and flee with his son, Chai. He is finally caught by the Police. Cheut and Boonleuang also separate later on. Twenty years passed. Saichai meets Sak, a young lawyer, coming from a rich family. Boonleuang warns her daughter not to continue to meet Sak as rich people can become noble (ผู้ดี) thanks to money but can never become good people (คนดี). Sia is another older man interested Saichai but he has financial conflict with Sak. He tries to have him killed by using professional killer. Chai has become a professional killer and also loves Saichai. He tries to force her to become his wife but fails. When trying to kill Sak, he injures Saichai. The former neighbour exits from prison after 20 years and announces to his son, Chai, that Saichai is in fact his sister. This latter ashamed by his former behavior and knowing that Sia has placed a bomb under Sak's car sacrifices his life for his sister to have happiness with Sak. Boonleuang finally learns that Sak is her son. Knowing that Sia wants to kill Sak, she tries to stop him. He refuses. Sia is killed and Boonleuang recognizes she is the murderer. She has to go to trial. Sak is the defense lawyer but Cheut, Sak's father, is the defendant layer to protect Boonleuang. The son against the father. Saichai asks for pity for his mother but Sak refuses to mix love and professional duty. Sak is very harsh against her mother during the trial. The former neighbour acknowledges that Boonleuang only injured Sia but that he is the one that killed him. Sak acknowledges his defeat. Once Sak realizes that Boonleuang is his mother, it is too late, she has died due to deep sorrows.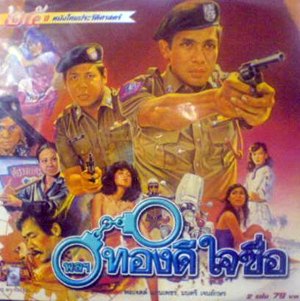 Year

: 1982



Thai title

:

พลฯ ทองดีใจซื่อ




English title

:



Rating

: 5/5


Director

: ยอด มาลา



Main actor

: Porjed Kaenpetch,Tuanton Kammeesri,Somchai Samipak,Krailat Kriengkrai,Wittaya Sukdamrong


Main actress

: Moeifa,Anchalee Chaisiri
Thai movie พลฯ ทองดีใจซื่อ was released in year 1982 and lasts 1h43mn. It was released under VCD format by Lepso company. Movie director is ยอด มาลา. This is a social movie about Thai police (หนังสะท้อนชีวิต). Actors and actresses are Porjed Kaenpetch, Tuanton Kammeesri, Somchai Samipak, Krailat Kriengkrai, Moeifa, Montree Jenuksorn (มนตรี เจนอักษร), Wittaya Suk Damrong, Anchalee Chaisiri. The movie took place during Bangkok 200 years anniversary. Somchai Samipak welcomes a new promotion of fresh policemen including Thongdee, Samak, Krailat. They work in parallel with experienced policemen. Three addicts kidnap a child and ask for a car to flee. Child is released and Thongdee (Porjed Kaenpetch) even saves one of the ruffians jumping from the bridge. One policeman has seventeen years' experience but never took bribes to make additional revenue (มือสะอาด) or additional job to make ends meet. Some policemen accept bribery and let truck drivers to go even if they committed infraction. Police inspector's wife (Anchalee Chaisiri) doesn't follow law. Thongdee and his colleague have issues with her but her husband Tuanton Kammeesri agrees with the policemen's actions. Tuanton Kammeesri got his position thanks to his wife. She is upset and is having an affair with drug addict. Krailat Kriengkrai is a policeman drinking alcohol. Thongdee and his colleague have issues with a child of a deputy. Rich kid believes relations can help them to avoid police. His mother is Moeifa (คุณหญิง). Even Thongdee's boss is on Moeifa's side and is blaming his own men. The deputy finally forces his wife and son to apologize. He blames the police boss saying that people, who build the country, are not the police inspector who stays in the air-conditioned room. Thongdee and nurse Duangjai are going to marry. Unfortunately, Thongdee is shot while police is trying to catch some robbers. Thongdee cannot speak anymore due to the injury and has to leave Thai police. Policeman salary (เงินเดือนหลวง) is very low. Two policemen families are living in a slum. One policeman, Samak, is fair. The other one is corrupted and gets extra money by getting money from citizen. Samak's wife is fed up with her poor life and is seeing the corrupted policeman enjoying good life. Thai police help citizen and ensure law is applied (ระเบียบกฎหมาย). Police catches one deputy's wife who was playing cards. Thai police helps a pregnant woman and a birth happens in a police car. Two Thai policemen save a lady wishing to get suicide as her husband has a minor wife. Finally, the corrupted policeman gets caught by his wife as he was having a minor wife, i.e. rich people problems... Samak is shot during a last mission before heading to his wife's birthday. Krailat is also killed in front of Thongdee while trying to stop an altercation between small ruffians. This movie shows that they are good and dedicated Thai policemen to do their duty also and not only corrupted ones.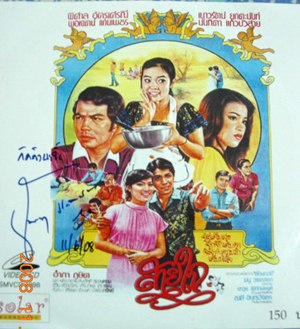 Year

: 1981



Thai title

:

สายใจ




English title

:



Rating

: 3/5


Director

:



Main actor

: Pisarn Akraseranee,Porjed Kaenpetch,Sawin Sawangrat,Somsak Chaisongkram


Main actress

: Naowarat Yooktanun,Sarinthip Siriwan,Nanthida Kaewbuasai,Ampha Pusit,Janthana Siriporn
Thai movie สายใจ was released in year 1981. It lasts 1h45mn. Yae Suk (Naowarat Yooktanun) and Den (Pisarn Akraseranee) have a car accident. They find an arrangement for the damages (ค่าเสียหาย). Her parents are Sarinthip Siriwan (คุณหญิง) and Sawin Sawangrat. Da (Nanthida Kaewbuasai) is her sister. Yae Suk is selling old items from her grandfather to allow the family to survive (หมดตัวแล้ว). But the parents either gamble the money or bet on horses. The father meet Somsak Chaisongkram and Saksit (Porjed Kaenpetch) while playing cards. The father invites them for lunch as he has the idea to marry his daughters in order to get money from the dowry (ค่าสินสมรส). A family gathering for all parties including Ampha Pusit happens to know each other. Da doesn't like Saksit as she believes he is just a gambler. He loses on purpose. Saksit pretends he can buy anything (ซื้อความนับถือความรักไม่ได้). Pho Lieng is also interested by Da and even tries to abuse her. Saksit helps her on time. They all go for a hike in the mountain but accidents occur. Finally Saksit and Da sympathize. Pho Lieng sends men to get rid of them. They have to spend the night in the forest but finally defeat the ruffians. As his daughters spent night outside home, the father claims his family name is tarnished (ขายหน้า). Da refuses to get sold (ถูกขาย). One old family friend mentions that the family name is already tarnished since a long time as the father and mother are strong gamblers. It shouldn't be the daughters' duty to pay for their gambling vice. Misunderstanding happens between Da and Saksit. Den helps to solve the issue. They finally get reunited also.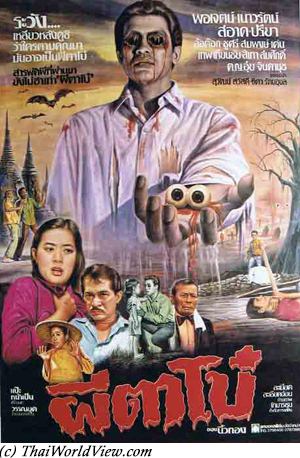 Year

: 1981



Thai title

:

ผีตาโบ๋




English title

:



Rating

: 3/5


Director

:



Main actor

: Porjed Kaenpetch,Lor Tok,Sahat Piempongsan,Sithao Petcharoen,Sompong Phonmitr,Thep Thienchai,Somsak Chaisongkram


Main actress

: Naowarat Yooktanun,Preeya Roongrueng,Chosri Misommon



Buy now

:

A fake taxi driver (No taxi meter in 1981 on taxis!) captures a young lady student. His boss, a mysterious and unscrupulous doctor (หมอ) Kampon, takes away her eyes. One of the eyes cannot be used as the fake taxi driver punches her. Da, the doctor's wife, is blind following a car accident so Kampon needs to find new eyes (ดวงตา). Noi (Naowarat Yooktanun) and Pol,a young couple, are married but have financial difficulties. Pol is looking for a job. The bad servants capture a drunken tramp to steal his eyes. His eyes cannot be used as they are sick (ตายฟรีๆสองคน!). So Kampon shall select next time the donor by himself. Kampon meets Pol and is immediately interested by his eyes. Nang Soi (Preeya Roongrueng), Kampon's servant, is possessed by the two dead spirits (ผีเข้า), i.e. the lady student and the tramp, while walking near their graves. A shaman (หมอผี) is needed. The shaman recommends to put drawing representing religious mystical symbols (ยันต์) and sacred threads (สายสิญจน์) in front of the house to repel ghosts. Kampon's servant comes to take Pol to work. It is a trick to take his eyes to give to his blind wife. The body is thrown away in the same cemetery as the previous bodies (ศพ). Noi has bad premonition about her husband. One of servant Off wishes to help some villagers friends to make love filters so he tells them where to find a fresh dead body, i.e. Pol, to make corpse oil (น้ำมันพราย). Thanks to Pol's eyes, Da can see again. A shaman (อาจารย์) wakes up Pol's spirit by wishing to get corpse oil (ผีตาโบ๋). It turns to a fiasco. Pol wants his eyes back (เอาลูกตาของกูคืนมา) and wishes to kill Kampon. Noi is worried about her husband and visits Kampon to get news. There is opposition between the modern doctor (นักวิทยาศาสตร์) and the ghost. The doctor has to accept ghost reality and asks help from a traditional shaman called Ket! Pol ghost visits his own house and discusses with his youngest daughter. Only young children are not afraid of ghosts. Pol ghost terrorizes local villagers. Pol appears in Noi's dreams and asks her to remove the sacred items in front of Kampon's house. He is now able inside the house, gets revenge and his eyes back. Shaman Ket cannot help and escapes death as Noi asks Pol ghost to stop his killings. Pol ghost is reduced to ashes and worms as the sunny morning arrives. There is a short funny apparition of legendary comic actor Lor Tok as a guy stealing coconuts at nighttime. As usual in 1980s movies, there is mix of slight horror and comedy with simple Fx effects.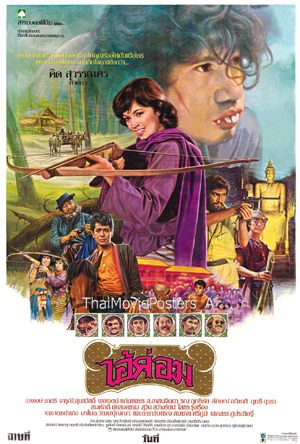 Year

: 1981



Thai title

:

ไอ้ค่อม




English title

:



Rating

: 3/5


Director

: คิด สุวรรณศร



Main actor

: Sorapong Chatree,Porjed Kaenpetch,Sor Asanajinda,Lak Apichat,Somsak Chaisongkram,Ron Rittichai,Rith Luecha,Sawin Sawangrat


Main actress

: Jarunee Sooksawad
It has a scenario based on the tale "The beauty and the beast". An deformed man, hated by all, is helping an endangered young woman.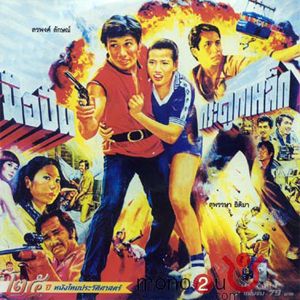 Year

: 1981



Thai title

:

มือปืน กระดูกเหล็ก




English title

: Iron Bone killer



Rating

: 3/5


Director

: Payoong Payakul



Main actor

: Sorapong Chatree,Nard Poowanai,Dam Datsakorn,Porjed Kaenpetch,Lak Apichat,Phairoj Jaising,Sithao Petcharoen


Main actress

: Thitima Sangkapitak,Supansa Nuengpirom,Moeifa
Thai movie Iron Bone killer / มือปืน กระดูกเหล็ก was released in year 1981. It is directed by famous action movie director Payoong Payakul. It lasts 1h56mn. While driving back from an underground casino, Kit Meka (Sorapong Chatree) finds a dead man lying on the road with a pod full of money. Kit gets shot and injured by two men but succeeds to flee after shooting them. Another car chases him. He takes refuge at a doctor's home but the ruffians do a rampage there. He finally ends up in a neighbouring house where a young enthusiastic lady welcomes him warmly. He leaves to go to funeral of his friend Phi Kamnan Pan. He meets Seua Tot (Nard Poowanai) and Moeifa there. Kit escapes to ruffians again and is rescued by a young lady called Pim. The ruffians' leader, Pho Luang (Dam Datsakorn), is upset that his men are not able to catch Kit named as มือปืน กระดูกเหล็ก so he has to be involved himself. Pho Luang's girlfriend is called Taorung (Thitima Sangkapitak). Porjed Kaenpetch, playing a policeman, is investigating on the ruffians' activities. Pim is the niece (หลานสาว) of Seua Tot. Lak Apichat is part of Seua Tot's team. Kit helps Tot betrayed by one of his teammates. Meanwhile Pim is disfigured and raped by Pho Luang's ruffians. Seua Tot promises revenge. Tot takes revenge on Pho Luang's mother. They also kidnap Pho Luang's wife Taorung and ask for 500 000 baht (ผู้นรก) ransom. Pho Luang and his men chase after them. They take refuge in a Christian village (หมู่บ้านศาสนา). Kit and Seua Tot's team diverge and split. Seua Tot's team falls into an embuscade and Seua Tot is left for dead. Fed up to always been chasen, Kit decides to counterattack. Kit shoots Pho Luang's men and through a final fight, both Pho Luang and Kit fall from a cliff but only Kit survives. Ot (Phairoj Jaising) takes over Pho Luang's illegal business. Some ruffians led by Ot try to kill Kit. Kit ends up facing the policeman Pat (Porjed Kaenpetch). Pat is former lover of Taorung and still loves her. Taorung's heart is still split but promises forever love to Kit (ดวงเดียว). Meanwhile Kit only sees himself as a staff of Taorung. He meets Farung (Supansa Nuengpirom) and asks her father (Sithao Petcharoen) to teach him Thai boxing. Ot and his men decide to get rid of Kit. Pat chases the ruffians and ends up in a duel with Ot. Kit helps Pat before Ot can shot him. Seua Thot also saves Kit but dies, being shot by Ot. All ruffians being neutralized, Kit ends up with both Taorung and Farung.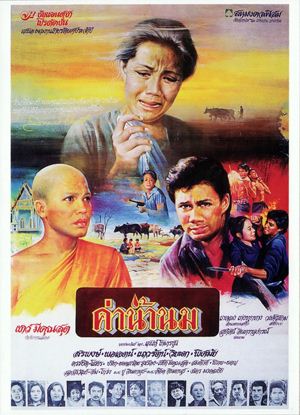 Year

: 1981



Thai title

:

ค่าน้ำนม




English title

:



Rating

: 5/5


Director

: เชาว์ มีคุณสุต



Main actor

: Sorapong Chatree,Porjed Kaenpetch,Chat Mongkolchai,Somsak Chaisongkram,Kanchit Kwanpracha,Pipop Pupinyo,Joomjim Khemlek


Main actress

: Pissamai Wilaisak,Naowarat Yooktanun,Wiyada Umarin,Yotsoi Komarachoon,Sulaleewan Suwanthat,Preeya Roongrueng



Buy now

:

Thai movie ค่าน้ำนม was released in year 1981 and lasts 1h55mn. It was released under VCD format by Solar company and under DVD format by Happy Home Entertainment. It is a remake of the movie ชายผ้าเหลือง shot in 1974. This movie has a similar scenario to the version shot in 1974 but it focuses more about the mother suffering. Previous cinematographic versions were released in year 1953 and 1960 (with Mitr Chaibancha and Preeya Roongrueng). The story is about the love of a mother (Pissamai Wilaisak) towards her two sons, Khun Thong (Sorapong Chatree) and Salika (Porjed Kaenpetch). The mother Bua is widow since her husband was killed by bandits robbing her house. Pissamai wishes to have her two sons becoming monks in order to see them with brown robes (ชายผ้าเหลือง). She needs money to prepare the ceremony. She asks to borrow 2000 THB from the local subdistrict headman but he is unwillingly. Hopefully his daughter Kratin (Wiyada Umarin) pushes him. Another young lady, named Lamduan (Naowarat Yooktanun), also helps by offering money. While Salika is away having sweet talks with Malai (Yotsoi Komarachoon), bandits including village leader Chat Mongkolchai and Somsak Chaisongkram attack Bua's house. The mother is slightly injured and bandits flee away. One of them, Na Kha, is injured to the leg by Salika. The next day, Khun Thong realises Na Kha's injury is not done when chasing bandits but when attacking his home. He now understands that Na Kha previously killed his father 10 years ago during a similar robbery. Khun Thong, in self defense, shots Na khan. The mother's love becomes painful because Khun Thong has become an outlaw (เสือ). Malee, Na Kha's daughter, is then upset with Salika as he is Khun Thong's brother. Malee's mother is played by Preeya Roongrueng. In real life, Preeya Roongrueng is also Yotsoi Komarachoon's mother. Na Khan's son (โสธร รุ่งเรือง) uses Khun Thong's name to raid other houses so Khun Thong has no way to quit. Khun Thong is a Thai Robin Wood and gives help to the poorest. Khun Thong is still a good son and keeps the money he robbed for his mother and his younger brother to enter monkhood (บวชให้แม่). Rejected by both his mother and brother, who refuse dirty money (เงินโจรต้องอยู่กับโจร), Khun Thong decides to work as a peasant and carpenter to earn money from his hard work. But fate is against him. His girlfriend Kratin is trapped by Na khan son's gang, raped and killed. Khun Thong is accused again. His mother is disappointed by his behavior, saying it was not worth to educate him for becoming an outlaw and that feeding milk to him (ค่าน้ำนม) was such a waste. He becomes an outlaw again to catch Na Khan's son. Meanwhile, Na Kha's son is upset with his sister Malee as she is pregnant with Salika. Sulaleewan Suwanthat protects Malee against her brother's ire. Khun Thong wants his teammates (Kanchit Kwanpracha, Pipop Pupinyo, Joomjim Khemlek) to surrender and become good people. Finally he catches Na Khan's son, who recognizes all the evil he has done under Khun Thong's name. It is too late as her mother doesn't want to talk to Khun Thong anymore. Willing to die, he misbehaves a last time to force his mother to shoot him. Before dying, Khun Thong and his mother confirm their filial love and Khun Thong can grab Salika's yellow robe as his brother has become a monk. It is certainly one of the best roles of Sorapong Chatree.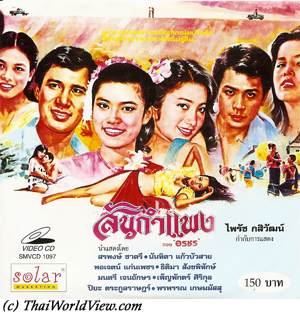 Year

: 1980



Thai title

:

สันกำแพง




English title

:



Rating

: 3/5


Director

:



Main actor

: Sorapong Chatree,Porjed Kaenpetch


Main actress

: Nanthida Kaewbuasai,Penpak Sirikul,Thitima Sangkapitak



Buy now

:

Two friends, Som living in Chiang Mai and Daeng in Bangkok, are in love with two Chiang Mai girls. Following a dramatic misunderstanding, the two friends set apart as Daeng is wrongly accused of courting Som's girl friend and being responsible of her pregnancy. Disappointed by Daeng's behavior, Som marries Daeng's girlfriend, who is also pregnant. Twenty years later, their children meet in Chiang Mai. Will they be able to have a love story after their parents' failure twenty years ago?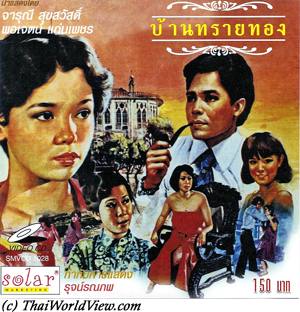 Year

: 1980



Thai title

:

บ้านทรายทอง




English title

:



Rating

: 3/5


Director

: Ruj Ronnapop



Main actor

: Porjed Kaenpetch


Main actress

: Jarunee Sooksawad,Mayurachath Muarnprasitivej,Tharika Thidathip



Buy now

:

It is a love story about a girl named Pojaman from a noble family who fights with relatives to obtain her right as the real owner of the castle. The fighting ends in happiness when she finds true love with the son of one her relatives that she is fighting with. This story has been made into a film and a television series several times in the past four decades.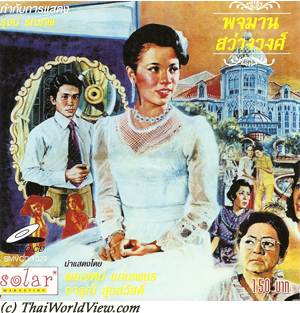 Year

: 1980



Thai title

:

พจมานสว่างวงศ์




English title

:



Rating

: 3/5


Director

: Ruj Ronnapop



Main actor

: Porjed Kaenpetch


Main actress

: Jarunee Sooksawad,Mayurachath Muarnprasitivej,Tharika Thidathip,Sarinthip Siriwan,Suphanee Jitthieng



Buy now

:

Two young new married people from Thai high society receive strong pressure from their family. The husband's mother try to persuade her son to divorce. The wife's younger sister wants to have a pleasant life without working. Will their wedding be strong enough to resist? This movie is the second part of "Baan Sai Thong".
---