Increase or decrease font size for easier reading : A+ A-
Pongsak Pongsuwan
Pongsak Pongsuwan (1966) - พงศ์ศักดิ์ พงษ์สุวรรณ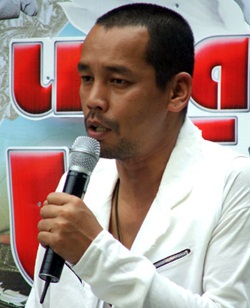 Pongsak Pongsuwan is a Thai comic actor. He is also known in Thailand by his stage name, Theng Therdtherng (เท่ง เถิดเทิง)
This Pongsak Pongsuwan movie page contains 8 records.
---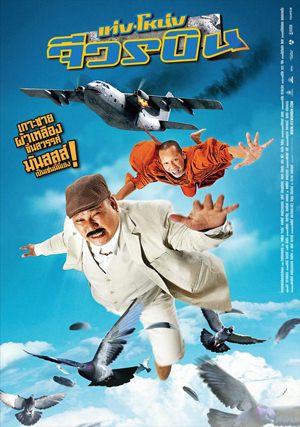 Year

: 2011



Thai title

:

เท่ง โหน่ง จีวรบิน




English title

:



Rating

: 3/5


Director

: Pongsak Pongsuwan



Main actor

: Pongsak Pongsuwan,Chusak Aiemsuk,Mum Jokmok,Somchai Sakdikul,Akom Preedakul


Main actress

: Tukkie



Buy now

:

Thai movie เท่ง โหน่ง จีวรบิน was released in year 2011. It lasts 1h26mn. Sia Nong (Chusak Aiemsuk) welcomes a Thai monk (Pongsak Pongsuwan) coming to Tibet by plane. A TV program announced that ruffians' leader Somchai Sakdikul has escaped from prison. Inside the plane, there are also Tukkie (ตุ๊กกี้ ชิงร้อย) as air hostess, Mum Jokmok as pilot, Amina (อมีนา พินิจ) as secretary. They board in the plane but it is hijacked by Somchai (สมชาย เข็มกลัด). He forces all the men to jump from the plane except the monk and the secretary. The robbers target a safe belonging to Sia Nong. The plane lands in the Golden Triangle but the robbers are unable to open the safe. Thanks to coded sentences, the monk succeeds to find the first code. As a comic interlude, Akom Preedakul comes to buy drugs and weapons. A second code is needed to open the safe but the secretary Amina asks for guarantee for her and the monk. By saving a child having fever, the monk gets reconnaissance from the villagers as they believed the kid was possessed (ผีเข้า). The monk gets mystic power recognition (บรามีหลวงพี่). He succeeds to change the villagers' mentality but Somchai is still his enemy. Somchai rebels against Sadikul. Sadikul lets them flee by plane. Fighting happens in the plane and the monk has to use a lingam (ลิงค์) to prevent petrol leaking. As a monk cannot touch a woman, he is unable to reenter in the plane… The plane finally succeeds to land miraculously. Sadikul goes to jail for 5 years and humbly recognised that having sacred amulets cannot help when you misbehave. Right behavior is inside the heart. This comedy still delivers a few key Buddhist messages.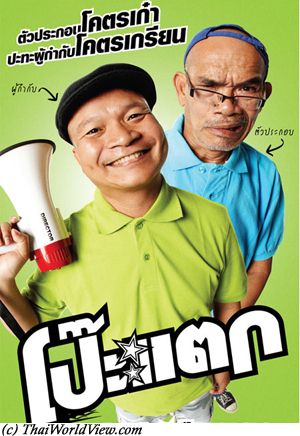 Year

: 2010



Thai title

:

โป๊ะแตก




English title

:



Rating

: 1/5


Director

: Mum Jokmok



Main actor

: Mum Jokmok,Pongsak Pongsuwan,Akom Preedakul,Thep Po-ngam,Chusak Aiemsuk


Main actress

: Tukkie



Buy now

:

This movie is a comedy that explores the lives in front and behind the camera of Thai's film industry. Mum Jokmok has invited all the comic actors from decade 2000s such as Tukkie, Pongsak Pongsuwan, Akom Preedakul, Thep Po-ngam... Certainly not a 100 millions baht movie, which is the new mark for box-office hit for decade 2000s movies. Thep Po-ngam is Mum Jokmok's mentor. In 2009, the Court of Justice of Thailand affirmed Thep Po-ngam bankrupt so there is self irony when he visits Mum Jokmok to produce a movie. He finally only gets a role as actor. Mum Jokmok is responsible of a company making movies. Same as comic TV programs, there is a funny noise at each gag. Mum Jokmok is the director (ผู้กำกับ) and faces many comic issues to have the movie shot. It includes the ceremony (งานเลี้ยงปิดกลอง) for the blessing of a new movie. Various comic sequences happing during shooting and behind the stage. This movies looks like more a succession of sketchs linked with a Thai movie shooting background. It looks like more a TV comic program put on a movie stage. There is no real story.



Year

: 2010



Thai title

:

ตุ๊กกี้ เจ้าหญิงขายกบ




English title

: Tukky



Rating

: 3/5


Director

:



Main actor

: Akom Preedakul,Pongsak Pongsuwan


Main actress

: Tukkie



Buy now

:

Tukky is selling frogs on a market and has always arguments with other vendors (แม่ค้า) or the local mafia asking for their monthly extorsion fee. Tukky is always kissing her frogs and is hoping that one day, one frog will become a prince. One day a prince really comes and Tukky gets kidnapped. She wakes up dressed like a princess. She is now the princess (เจ้าหญิง) of a small kingdom called Padangrawee. She takes revenge on the market mafia and other market vendors who oppressed her before. Finally Tukky is not the real princess of the kingdom but she is used as a replacement due to political reasons. She needs to do her best (ตั้งใจให้เป็นเจ้าหญิงดีที่สุด) to act as a princess. She needs to take urgent lessons to increase her skills. Those lessons include horse riding, wine tasting, society dances. The crazy teachers are famous comic actors Akom Preedakul, Pongsak Pongsuwan who are giving a very good performance as usual. Tukky is also relooked. She is finally successfully presented to the press. She gets her motivation through her love to her main bodyguard (หมวกบังตาแต่ความรักไม่บังหัวใจ). Her presence causes the ire of a mysterious lobbying group sending a ninja to get rid of her. During a diner with the prime minister, she gets drunk and defeats the ninja thanks to flatulence and vomit. Flatulence and vomit don't have the same taboo as westerner movies. She is thinking to stop playing the princess as the risks are very high but she is the hope (ความหวัง) of the kingdom so she cannot stop. The real princess is finally uncovered. Both the real princess and Tukky are kidnapped. Finally thanks to the bodyguards, they are released and the ruffians are defeated. There is great fun during the first part of the movie but the second part is more conventional.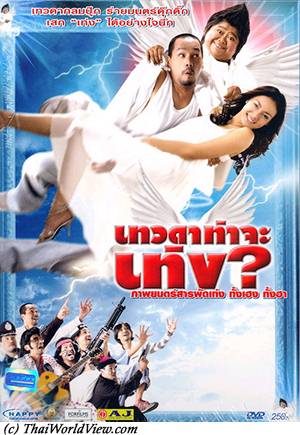 Year

: 2008



Thai title

:

เทวดาท่าจะเท่ง




English title

: Tengs Angel



Rating

: 3/5


Director

:



Main actor

: Pongsak Pongsuwan,Charoenporn Awnlamai


Main actress

: Bongkoj Kongmalai,Wiyada Umarin



Buy now

:

Kluey is working in a Likay theater (ลิเก) in Nakhon Pathom. One day Kluey makes an offering to a shrine spirit and invites the spirit to watch Likay. A comic deity comes every evening to enjoy the Likay performance. Kluey is single and always dreams about Fa, a Thai actress (ดารา). Kluey gets always mocked (โดนแกล้ง) by others. Only a young woman called Oum has interest in him but he is not aware of it. He is so sad that the comic deity (เทวดา) decides to help him. Kluey asks wishes to the deity. He wishes to get 500 000 baht and Fa to be his girlfriend. But the deity makes the reality different from his dreams! He has to become a robber to get 500 000 baht from a 7-11 eleven shop and has Fa as hostage. As the deity always misinterprets Kluey's wishes, it creates various humorous sequences. In one sequence, he is the monk wishing to expulse the spirit from Buppha Rahtree (บุปผาราตรี) played by Fa. It is an hommage to Thai director Yuthlert Sippapak for his Buppha Rahtree movie saga blending horror and comedy. Then in another sequence Kluey is a grandfather (ปู่) in a hospital visited by his granddaughter as he wished that Fa takes care about him. In the last sequence he wishes to be a rich star to be able to seduce Fa. Finally he understands that he has to be himself (เป็นตัวเอง). He also realizes that love was close to him with Oum. There is a happy ending.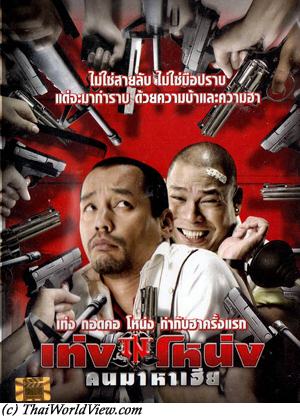 Year

: 2007



Thai title

:

เท่งโหน่ง คนมาหาเฮีย




English title

: Teng and Nong: The Movie



Rating

: 3/5


Director

:



Main actor

: Pongsak Pongsuwan,Mum Jokmok,Phairoj Jaising,Chusak Aiemsuk


Main actress

:



Buy now

:

Awkard parking valets Nong and Teng are assigned by their gangster boss to deliver a valuable Chinese statuette to another gangster boss. During the journey, they decide to take a side trip and what should have been a simple job turns into a major fiasco with a police chase and many funny jokes.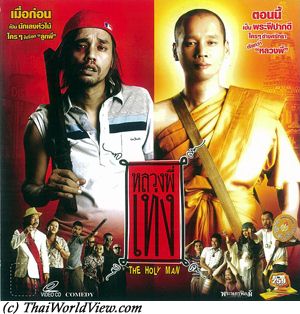 Year

: 2005



Thai title

:

หลวงพี่เท่ง




English title

: The Holy Man



Rating

: 3/5


Director

: Note Chernyim



Main actor

: Pongsak Pongsuwan,Note Chernyim,Somchai Sakdikul


Main actress

:



Buy now

:

A bad-boy-turned monk is trying to bring back the Buddhist faith to villagers. He is facing opposition from a local mafia boss using his daughter as a fake spirit medium. This simple but entertaining comedy was the second-biggest-grossing movie of the year 2005 with a Bt141 million in ticket revenues.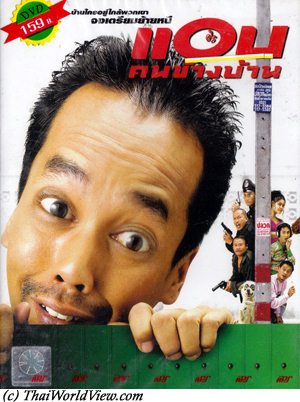 Year

: 2003



Thai title

:

แอบคนข้างบ้าน




English title

:



Rating

: 3/5


Director

:



Main actor

: Pongsak Pongsuwan,Akom Preedakul,Somchai Sakdikul


Main actress

:
A thief expert in forgery has to help the police to look for a house hiding a drug ring. So he has to spy all the houses in a neighborhood. This movie plays with everybody's hidden secret to know what our neighbours are doing!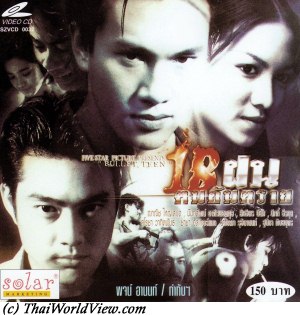 Year

: 1997



Thai title

:

18 ฝนคนอันตราย




English title

: Bullet Teen



Rating

: 5/5


Director

:



Main actor

: Sorapong Chatree,Suchao Pongwilai,Pongsak Pongsuwan


Main actress

: Naowarat Yooktanun



Buy now

:

Dong (โด่ง) is released from prison. His friend Tor (ต่อ), his brother Ta (ต๊ะ) and his girlfriend Ploy are waiting for him. Ta is mute. They work in a family garage repairing cars. Ta and Dong try to become good teens now. They also try to have happy love stories but fights often happen with local gangsters. Dong loves Ploy, sister of Kong, a local gangster leader. One day Ta's girlfriend Ying is gang raped in front of him by four men from Kong's gang and Ta cannot help. Revenge is inevitable. They storm Kong's gambling den. Following gun fight, one of the ruffians is shot dead. It turns badly (ทางที่ไม่ต้องการ). They kidnap Kong's girlfriend as protection ( ตัวประการ) and also grab a bag containing money and amphetamine drugs (ยาบ้า). Police is involved through inspector Sarawat (สารวัตร), who is wearing amazing colorful "Luk thung" clothes. The father is disappointed by his sons (ลูกชั่ว). The teens are misunderstood but they cannot turn back anymore. Kong is chasing them for the bag not for his girlfriend. Veteran actor Sorapong Chatree is playing the bad corrupted cop. He seldom plays bad guys. Veteran actor Suchao Pongwilai is playing the honest cop Vilai. It is ironic that he plays the rightful policeman this time as normally he always plays the corrupted official role. Things get out of control. Kong and the inspector try to catch them. Following a gun fight, a policeman is shot by the corrupted inspector and the teens get accused again. There is no rightful law in this modern society. There is a 2 millions baht reward to catch them. Ta is injured. Even Ying is endangered in the hospital. They help her on time and bring Ploy as nurse to take care of Ta. Ta leaves a love message for his father (ผมรักพ่อ). Surrounded by the police, they have to jump from a Bangkok bridge. Vilai starts to notice the close relationship between Kong and Sarawat. They take shelter in the Christian church in Thonburi. Kong attacks the parents' house. The father is injured and Ta dies. Only Dong and Tor are left but Ploy prevents them to rush for revenge (ใช้่อารมณ์). Forced by Kong, Ploy refuses to leave for Hong Kong. Relations get sour between the police officer and Kong. The police officer kidnaps Kong's young brother to get a ransom. During the exchange, Dong and Ta irrupts causing a mess and gun fights between all. The movie then features 15 last minutes of intense action and bloody scenes. It ends tragically for all protagonists. The movie song is sing by Seua Thanapol (เสือ ธนพล). Due to 1997 Asian financial crisis, the movie didn't perform as good as it should have at Thai box office (25M baht).
---