Increase or decrease font size for easier reading : A+ A-
Piyamas Monayakol
Piyamas Monayakol (1953) - ปิยะมาศ โมนยะกุล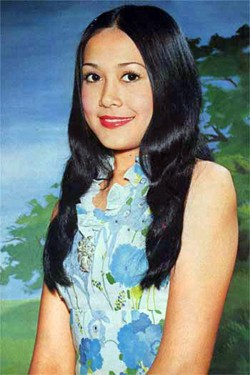 Piyamas Monayakol was married to Thai director Kumtorn Tubkunlai and has played in all his comedy movies. In 1971, she took part to a beauty contest and started her cinematographic career by playing in movie "ขัง 8" in 1974. In 1978 she started to play in comedies directed by her husband, Kumtorn Tubkunlai, such as ทายาทป๋องแป๋ง. She then played in many other Thai comedies. During her whole career she played in around 80 movies. Piyamas Monayakol and Sorapong Chatree duo was one of the most popular Thai film duos during years 1975s-1985s as they played in around 40 movies together
This Piyamas Monayakol movie page contains 34 records.
---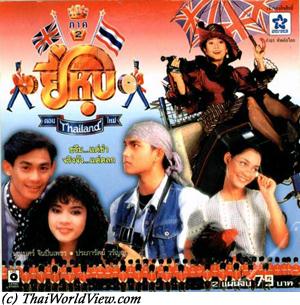 Year

: 1994



Thai title

:

มาดามยี่หุบ 2




English title

: Madam Yeehoob 2



Rating

: 3/5


Director

: Kumtorn Tubkunlai



Main actor

: Sor Asanajinda


Main actress

: Piyamas Monayakol
The full title is มาดามยี่หุบ ภาค 2 จากอังกฤษถึงประเทศไทย. Poo is Madam Yeehoob's daughter. They have been 18 years away from Thailand. They have arguments with Pittaya, young man, at the airport. In Yeehoob's Thai house, the maid is played by actress Nattanee Sitthisaman, who became famous thanks to บ้านผีปอบ movie serie. All visitors are afraid of her :) Pittaya is a young rich man. Somsri, a tour guid, is trying to seduce him but he only has interest in Poo. Meanwhile a photographer, called Teh, is looking for a new model. Somsri asks Teh to take compromising picture of Poo in Wat Po. Finally love quarreling happens as both Pittaya and Teh are fond of Poo. Madam Yeehoob buys a new car to visit her family in the countryside. When playing golf, Pittaya meets a countryside girl called Pla. He mistakes her as Poo as they have same face. Pla and Poo are twins (แฝด). The grandfather took care of Pla while Poo and Madam Yeehoo were in England. Madam Yeehoo wishes to send Pla to Bangkok to teach her modern life. Pla discovers hi-so life when she is invited for diner by Pittaya's father and she commits many funny breaches of etiquette. Meanwhile Poo shall learn countryside life and house chores. Many humorous scenes happen until Pittaya and Teh understood that there are two ladies so no need to be rivals. It is Kumtorn Tubkunlai's second movie based on twins. As usual his wife, Piyamas Monayakol, was playing in this movie.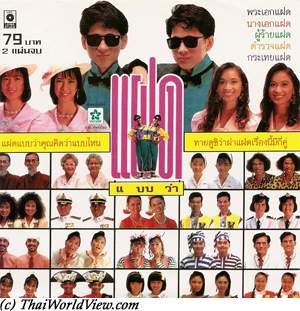 Year

: 1992



Thai title

:

แฝดแบบว่า




English title

:



Rating

: 2/5


Director

: Kumtorn Tubkunlai



Main actor

:


Main actress

: Piyamas Monayakol
Two twins are set apart when they were babies. As they are becoming adults, they have the feeling they miss another part of themselves. This movie is based on twins confusion gags and gather an impressive collection of twins.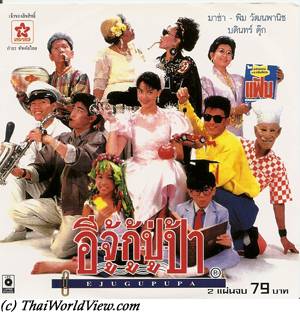 Year

: 1987



Thai title

:

อีจู้กู้ปู่ป้า




English title

: Ejugupupa



Rating

: 1/5


Director

: Kumtorn Tubkunlai



Main actor

: Kamthorn Suwanpiyasiri


Main actress

: Marsha,Piyamas Monayakol,Sulaleewan Suwanthat,Sarinthip Siriwan
A young woman is back from Germany. Her older relatives are quarreling in order to take care about her and find the best husband for her. But the young lady has other ideas in her mind...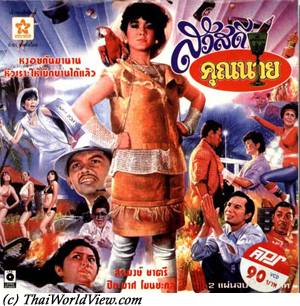 Year

: 1984



Thai title

:

สวัสดีคุณนาย




English title

:



Rating

: 3/5


Director

: Kumtorn Tubkunlai



Main actor

: Sorapong Chatree,Supakorn Srisawat


Main actress

: Piyamas Monayakol,Wiyada Umarin
A HiSo family (วงผู้ดี) has a special domestic helper (คนใช้พิเศษ) called Kaew. She can break glass with her strong pitched voice. The daughter has her fiancee (คู่หมั้นชาย), Duangtawan, studying in England. He needs to come back (ธุระสำคัญ) to Bangkok following his father's request. There was a wedding promise between the parents. But Duangtawan wants to check his future wife's mindset first so he disguises himself as the family's car driver (คนขับรถ). His own driver, Phat Thai, becomes the Mom Chao (หม่อมเจ้า) and visits the HiSo family. Kaew (นางตัวดี) simulates herself as the Madam (คุณนาย) as her boss is out for holidays. Finally Duangtawan and Kaew start to be very close as Duangtawan appreciates her simplicity and frankness despite simulating being a Madam. The movie shows Thai society equality through food, i.e. rich / poor people can also sit on the floor, eat papaya salad (ส้มตำ) and sticky rice (ข้าวเหนียว). The Madam is asking for an engagement diner. As Duangtawan's father confirms, she comes back earlier than expected. Quiproquo happens again as Madam's daughter tries to seduce the car driver as she believes he is the real Duangtawan. She brings him to a short time motel (ข่มขืนเขา). Finally Duangtawan tells to Kaew the truth about his real identity but she flees ashamed of her own condition. Through a final quiproquo, the truth is revealed to all. It is finally discovered that Kaew is also the granddaughter of rich family. It a nice small movie but it lacks the craziness and dances that can be found in Bollywood movies.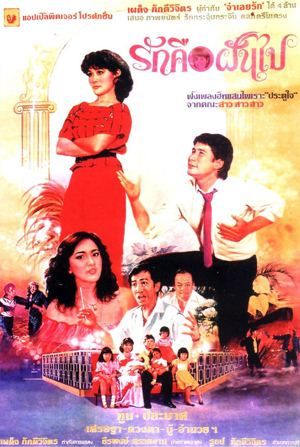 Year

: 1984



Thai title

:

รักคือฝันไป




English title

:



Rating

: 3/5


Director

:



Main actor

: Toon Hiransap,Settha Sirachaya,Boo Wibunnan


Main actress

: Piyamas Monayakol
Thai movie รักคือฝันไป was released in year 1984. It features actors / actresses Toon Hiransap, Piyamas Monayakol, Settha Sirachaya, Boo Wibunnan, ดวงตา. Director is เผด็จ ภักดีวิจิตร. It was released as VHS tape but never as VCD or DVD. The trailer is still available also. รักคือฝันไป plot is based on the music of group สาว สาว สาว, who was very famous in the early eighties. The song ประตูใจ was a big hit. It is a comic romantic movie. Of course the movie features many songs of the Thai group สาว สาว สาว.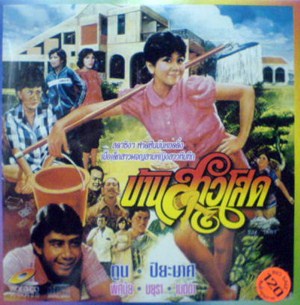 Year

: 1984



Thai title

:

บ้านสาวโสด




English title

:



Rating

: 3/5


Director

:



Main actor

: Toon Hiransap,Boo Wibunnan,Somchai Samipak,Somkuan Krajangsat,Supakorn Srisawat,Krong Kangkengdaeng


Main actress

: Piyamas Monayakol,Metta Roongrat,Pissamai Wilaisak,Mayura Thanabutr,Pornpan Ketmamatsu,Janthana Siriporn,Manat Boonkiet
Thai movie บ้านสาวโสด was released in year 1984. The TV cable version lasts around 1h55mn and is coming from channel "true thaifilm". So cigarettes, alcoholic drinks and even sexy posters on the wall are blurred. Two songs are featured in this movie. A first version of this movie was released in year 1970 with Mitr Chaibancha, Kanchit Kwanpracha and Petchara Chaowarat. Three sisters are still single, i.e. Yip (Metta Roongrat), Teuan (Pissamai Wilaisak), Waraipon (Mayura Thanabutr). One is her mid- forties, one is her mid-thirties, one is her mid-twenties. Yip likes women more than men. A lawyer (อำนวย ศิริจันทร์) discloses the father's testament. They get heritage from their father including the house to share. If they ever marry, they lose any rights to the house. Being singles, they challenge each other who will get married first. A friend will send her son Ting (หลาน) to stay in their house after having studied in Bangkok. The domestic helpers (Janthana Siriporn...) leave as there are fed up by miser Teuan. Plaew (Piyamas Monayakol) is hired as new domestic helper. The three ladies get interest into Ting (Toon Hiransap), 26 years old, as he is very handsome (หน้าหอม). Ting meets Tangwon (Boo Wibunnan) and Metti (Supakorn Srisawat). They wish to rent the house behind บ้านสาวโสด. Businessman Somchai Samipak has a new wife. His daughter is Plaew but she left home as she is unhappy with her new stepmother Vichanee (Pornpan Ketmamatsu). Plaew is suspected by Ting to be the daughter of a rich businessman. Ting's parents are played by Somkuan Krajangsat and Manat Boonkiet. Teuan is worried that Plaew will take Ting from them. Ting's father already found a fiancee for his son. Thanks to Krong Kangkengdaeng, Ting is hired as a driver (คนขับรถ) by Somchai. Plaew and her sister wonder why Ting behaves this way. The new young wife Vichanee is Metti's mistress but she asks Ting to keep quiet on this and she provides a photo album on Plaew (คุณหญิง) to Ting. Vichanee also become mistress with Ting (ความต้องการ). Ting fails to show that Plaew is in fact a rich businessman's daughter. Ting's parents are worried that their son gets enamoured with a domestic helper (เด็กคนใช้). Following a family trip to Pattaya, Ting's parents meet Plaew's parents and both of them are uncovered! Romance can finally start between Ting and Plaew.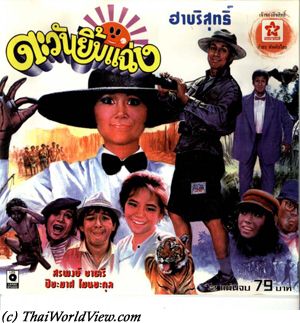 Year

: 1984



Thai title

:

ตะวันยิ้มแฉ่ง




English title

:



Rating

: 3/5


Director

: Kumtorn Tubkunlai



Main actor

: Sorapong Chatree,Sor Asanajinda


Main actress

: Piyamas Monayakol,Janthana Siriporn
In Nan province, animist forest people (คนป่า) are discovered. They are called "Phi Tong Leuang" (ผีตองเหลือง) or Mlabri ethnic group. They do not possess anything and share everything within the group. They are exploited by Bangkokian people to cut trees in forest. They stop to cut trees because deities (ผีฟ้า) are angry. A professor sends a group of students including a young lady called Doktawan to study and to catch a "Phi Tong Leuang" in the forest. In Ta Wa Dung village, people from Chinese origins are living. They are far from civilization and are friend of the Mlabri ethnic group. Cheng is a young man living in Ta Wa Dung village. The students mistakes Cheng as a Mlabri ethnic group member and catches him. Cheng is same as French Asterix and his magic potion. Cheng gets high strength when getting exposed to sun. As he wishes to visit Bangkok, he lets himself captured. There, he is exposed like an animal in a cage. Doktawan educates him to modern world (radio, music, dance). A romance happens between Cheng and Doktawan. The illegal logging company sends ruffians to get rid of Cheng so he has to flee. Police catches him and sends him to hospital for crazy people as he is walking half naked. Meanwhile Cheng's parents are worried and decide to go to Bangkok to search for him. They arrive in Bangkok with elephants and horses to look for him! Finally Cheng is reunited with his family but it is discovered that he is not a Mlabri so he needs to help Doktawan to find real Mlabri ethnic group members. Meanwhile the illegal logging company wants to kill all Mlabri people to be able to exploit the forest. Gun fight happens in famous Earth Pillars site at Sao Din. Police arrives on time to rescue the students and Mlabri. This is a typical Thai comedy from the 1980s decade with a "katoey" (กะเทย) in the funny and silly role, gags from "Raiders of the Lost Ark" and "The Gods Must Be Crazy" (1981). There is very bad taste as the illegal logging company ruffians often carry a nazi flag to emphasize their badness. In 2009 the operator of a waxworks museum in Pattaya has been forced to cover up a giant billboard of Adolf Hitler giving a Nazi salute after complaints. This movie includes first introduction of hidden advertisement with beer brand name promotion.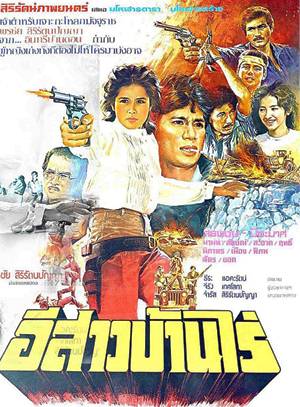 Year

: 1983



Thai title

:

อีสาวบ้านไร่




English title

:



Rating

: 3/5


Director

:



Main actor

: Sorapong Chatree,Manop Aussawathep,Lak Apichat,Sahat Piempongsan,Rith Luecha,Pipop Pupinyo,Chat Mongkolchai


Main actress

: Piyamas Monayakol,Nipaporn Nongnuch
Thai movie อีสาวบ้านไร่ was released in year 1983. Main actor is Sorapong Chatree and main actress is Piyamas Monayakol. The movie is lost in Thailand but a trailer of three minutes is still available. Other actors include Manop Aussawathep, Lak Apichat, Sahat Piempongsan, Rith Luecha, Nipaporn Nongnuch, Pipop Pupinyo, Chat Mongkolchai. The three minutes trailer show various sequences such as Piyamas Monayakol being a fearful young lady able to use guns and fight also, brawls involving Sorapong Chatree. It looks like Piyamas Monayakol is back to her hometown after studying in Bangkok and have then issues with some local ruffians (Rith, Chat, Pipop, Manop). Thanks to Sorapong and Lak, she fights back against ruffians. A love story is also happening between Sorapong and Piyamas. A first version of movie อีสาวบ้านไร่ with Sombat Methanee and Aranya Namwong was released in year 1970. The 1970 version features songs but the 1983 is a pure action movie with no songs.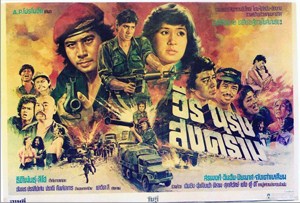 Year

: 1983



Thai title

:

วีรบุรุษสงคราม




English title

: Jungle heat



Rating

: 3/5


Director

:



Main actor

: Sorapong Chatree,Der Doksadao,Doo Dook Kradon,Supakorn Srisawat,Pipop Pupinyo


Main actress

: Piyamas Monayakol,Preeya Roongrueng,Sulaleewan Suwanthat
Thai movie วีรบุรุษสงคราม / Jungle heat was released in year 1983. It is a Thai / Hong Kong / Taiwanese coproduction. Multiple versions were released, i.e. a Thai version never released on any VHS / VCD format and targeting local Thai market, a Hong Kong / Taiwanese version for international market. The Thai version is lost but an incomplete version lasting 1h20mn was shown before in Thai film archives. The overseas version was released under the name of Jungle Heat. An IFD version lasts 1h17mn. It is available through various VHS versions in Japan (lasting 1h30mn), Philippines, Taiwan and China. Some Thai actors are still part of the international version such as Piyamas Monayakol, Pipop Pupinyo, Preeya Roongrueng. Main actors and actresses in Thai version are Sorapong Chatree, ฉิน ฮั่น, Piyamas Monayakol, ถัง เต้า เหลียน เฉิน ซิง, อุ้ย ผิง เอ้า, ฟาง เฟย เซิน, Preeya Roongrueng, Pipop Pupinyo, Sulaleewan Suwanthat, Der Doksadao, Doo Dook Kradon, Supakorn Srisawat. Sorapong Chatree is the main actor of the Thai version. During the Vietnam war, a few men are hired and trained to drive US trucks among Vietcong lines. A US captain hires Tony and his men, but the drivers are not aware of the risks. The drivers get a three weeks training. The drivers are going out to have fun at night time. One of them, Rick, meets bar lady Piyamas Monayakol and romance starts. A new member Chiang Sing joins them. Their trucks have brakes issues, so accident occurs. They are finally captured by the Vietcong (including Pipop Pupinyo) and tortured. The movie features many strong torture sequences such as acid pouring on the head, prisonners burnt with petrol by a rat on fire, scie usage... They succeed to escape. They complain to the lieutenant. As they need money, they finally go again to evacuate weapons as the war is just over but they are attacked by the same Vietcong members. Rick is missing. Piyamas misses him and blames Tony to have abandoned him. US soldiers cannot help as war is over. Tony and his men decide to act first. Following fierce fighting in a cave, Tony and his team release Rick. Being attacked by other Vietcong members, they get support from US lieutenant. War is over and the team has run out of money. Upset as the team spent money to save him, Rick joins a dangerous motorcycle competition. He loses his life while competing and Piyamas gets a lot of money, but she throws it away as money cannot replace the love she lost.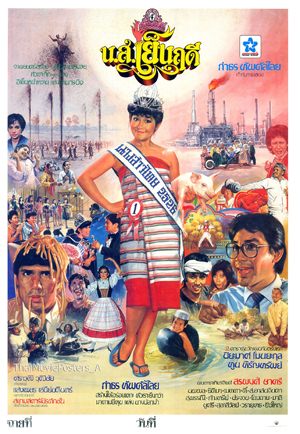 Year

: 1983



Thai title

:

น.ส.เย็นฤดี




English title

:



Rating

: 2/5


Director

: Kumtorn Tubkunlai



Main actor

: Sorapong Chatree,Toon Hiransap,Supakorn Srisawat,Sor Asanajinda,Prachuap Ruekyamdee


Main actress

: Piyamas Monayakol,Metta Roongrat,Thitima Sangkapitak,Suphanee Jitthieng,Malee Wetpraseri,Chosri Misommon,Sulaleewan Suwanthat



Buy now

:

A 70 years old man discovers he has a hidden daughter. Of course his daughter in law doesn't want to share the heritage with this girl and tries many stratagems...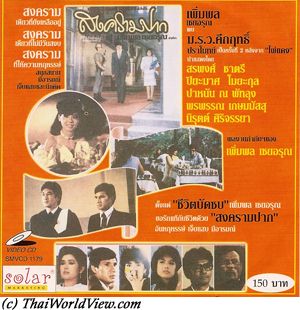 Year

: 1983



Thai title

:

สงครามปาก




English title

:



Rating

: 4/5


Director

: Permpol Choei-arun



Main actor

: Sorapong Chatree,Lor Tok,Nirut Sirijanya,Der Doksadao


Main actress

: Piyamas Monayakol,Wiyada Umarin,Pornpan Ketmamatsu
Atawut is working in governement as speaker. He is married to Pim and they have a young son. He has also a mistress called Nat. He claims buying hot fresh food to his wife when coming back late but the driver just heats it up on the car engine! His wife, Pim, starts to be aware. A lawyer, who loves Nat, is waiting that Nat is fed up flirting with a married man. Atawut is coming from Isan area, Northeast of Thailand. He wants to participate to local elections in the "People" party (พรรคประชาชน). He wears blue-cotton farmer clothes (มอฮ่อม) during his meetings. Pim, his wife, comes from a high society family but he is coming from a poor Isan family. He wins because his wife gives away money so that he can get popular. She couldn't allow her family name to be tarnished in case of defeat. Atawut cannot bear it, gets drunk and goes with Nat. But he is lying to his mistress also. He is a womaniser up to the point local newspapers publish a picture of him and a local cinema star. Meanwhile Pim's younger sister, Pamela, comes back from America. Fed up by Nat and Pim, Atawut takes a break and goes to Chiang Mai. There he meets Pamela visiting Chiang Mai also. Nat announces it to Pim and its circle (สังคมผู้ดี). She is insulted as a pandering lady (นางบำรุง). Pim looses face and decides to divorce. Atawut asks her to think twice in order to protect his representative title invoking that having mistress is common issue in Thailand. But this is not acceptable for women! As he sees his wife eating with another man (in fact for business purpose), Atawut loses temper. He uses a gun and injures Pim. The trial starts. The man who loves Nat is Atawut's lawyer. Atawut misses his family. He stays humble and simple. He finds an old Isan friend selling Thai coffee (โอเลี้ยง). His friend is not unfaithful. Atawut is rich but not happy. His friend is poor but happy. Atawut will loose child and everything due to his bad behavior. Parents of both sides try to corrupt the judge by offering gifts but despite living in small house, he refuses. Trial is over and the child shall stay in custody with the mother. Finally both side misses each other so much and for the good sake of the young son go back together for an happy ending. This movie raises many 1980s society issues, i.e. men able to cheat wives as a common society issue, corruption in elections, corruption in justice, divorce in high society, men vs women behavior.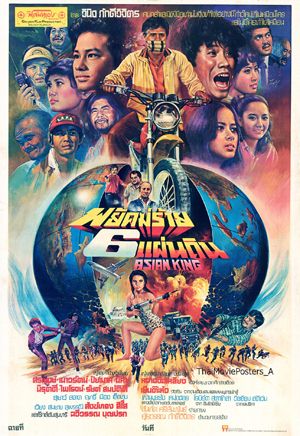 Year

: 1982



Thai title

:

พยัคฆ์ร้าย 6 แผ่นดิน




English title

: Asian King



Rating

: 3/5


Director

:



Main actor

: Sorapong Chatree,Sahat Piempongsan,Suchao Pongwilai,Songthong,Rith Luecha,Phairoj Jaising,Somchai Samipak,Nirut Sirijanya


Main actress

: Naowarat Yooktanun,Piyamas Monayakol,Suphanee Jitthieng,Chaweewan Boonprok



Buy now

:

Thai movie พยัคฆ์ร้าย 6 แผ่นดิน / Asian King was released in year 1982 and lasts 1h48mn (Thai PBS version is only 1h42mn as reduced version with smoking / drinking sequences blurred and violent or sexy sequences cut). It was released under VCD format by Lepso Studio. The movie was also released overseas under the name "Top Team Force" by Filmark movie. It was also released under the name "Deadly Hunt" under VHS format in Sweden by company Video World. An international police squad (Thailand, Indonesia, Malaysia, Hong Kong, Korea and Philippines) investigates on a crime ring called "Asian King". The Police squad (ตำรวจสากล) is led by Somchai Samipak. The "Asian King" gang is led by Bulap (Sahat Piempongsan) and เมือง อพอลโล่. In Hong Kong, Rith Luecha performs a robbery inside a jewellery. The owner is shot by Rith. David is against the shooting so he gets knockout by Rith. Rith and his men flee and meet with their local boss, Suchao Pongwilai. Police chase them but they succeed to escape by boat. David, arrested by Hong Kong police, is accused of international diamond robbery but released as proofs are not enough. Thai police follows him to spy his activities as they still have doubts on him. A whole international Police team is gathering to fight the Asian King gang. Win (Sorapong Chatree) is one of the Police team leader. Lady Napossa (Naowarat Yooktanun) joins the team as her jeweller father was killed by Asian King gang. David is back to Thailand as he wants to get revenge over the "Asian King" gang, who killed his family as retaliation. Diamonds are stolen again during a Bangkok diamond show despite the police presence. David saves Suwana's life (Piyamas Monayakol) by being shot instead of her. Catherine (Chaweewan Boonprok), part of Asian King team, gets the tasks to kill some male policemen. She targets David first but fails. Songthong is part of Thai police also. Rumours are heard that Asian King team needs to gather in Pattaya. Asian King team tries all ways to get rid of the special police force but to no avail. Asian King team's cache entrance is hidden under a hotel swimming pool. Two members are captured and Songthong is shot dead. Win and Napossa are also captured. The other members localise also the cache. All members succeed to escape. The Thai army comes to help the policemen to neutralize the Asian King tean. Through a final battle, many characters are injured or killed while assaulting the Asian King gang's fortress. Win's self sacrifice inside the fortress succeeds to destroy it. A Thai TV serie or Lakorn (ละคร) based on this story was also done in 2003. Despite a classic scenario, the highest value of this movie is to include the finest bunch of Thai actors from beginning of 1980s decade.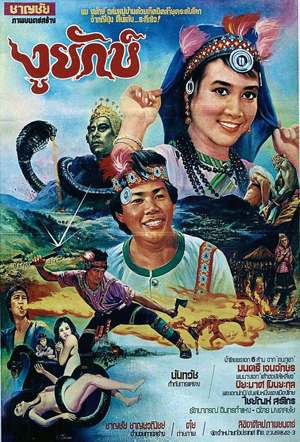 Year

: 1982



Thai title

:

งูยักษ์




English title

: King Kong vs The Snake Phantom



Rating

: 1/5


Director

:



Main actor

: Chaiyan Sorakrai,Chat Mongkolchai,Pao Porapak


Main actress

: Piyamas Monayakol,Ratanaporn Intarakamhaeng
Thai Taiwanese movie "King Kong vs The Snake Phantom" / งูยักษ์ / 金刚大战蛇妖精 was released in year 1982 and lasts 1h34mn. It seems the Taiwanese version was only released in year 1987. The movie is lost in Thailand but a Chinese version with English subtitles is still available and was released under VHS format by Taiwanese company New Ship Enterprise LTD. The movie was certainly cut from the original version in order to fit the VHS format. A group of snake men led by Chat Mongkolchai storm a Miu hill tribe village and kill all villagers. A master is requested to get rid of the snake men. His team, including Chaiyan Sorakrai and his sister Piyamas Monayakol, is looking for the snakes. A rare golden snake is captured. The master is killed but many snakes get cut into pieces during the fightings. The snake king wishes to revenge. The snake men attack the village again. Thanks to a Chinese monk, the snake men are pushed back. Disguised as the monk, the snake king convinces the fierce village fighters to go on a quest. The target is that they get killed while trying to find a mystic nun. One of the village ladies become pregnant with a snake man. The Chinese monk cuts her belly full of snakes. They finally meet Ratanaporn Intarakamhaeng as nun in a cave and get support from her as she offers a powerful magic golden statue. They are attacked by some forest fighters on the way back. Chaiyan Sorakrai defeats Pao Porapak. He exchanges the release of his sister and others versus Pao Porapak's life. The movie ends up by a giant fight between the King snake and the powerful spirit present inside the golden statue. The King snake is defeated.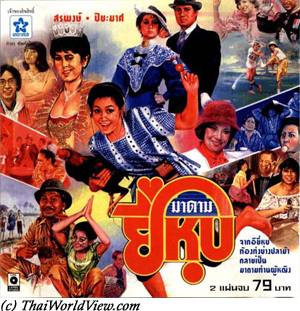 Year

: 1982



Thai title

:

มาดามยี่หุบ




English title

: Madam Yeehoob



Rating

: 3/5


Director

: Kumtorn Tubkunlai



Main actor

: Sorapong Chatree,Sor Asanajinda


Main actress

: Piyamas Monayakol,Pissamai Wilaisak,Wiyada Umarin



Buy now

:

Following a promise done by his father 20 years ago, Ekarat has to marry Yee hoop, a young lady educated in old style. Ekala's mother doesn't want his son to marry a bumpy country side girl. Yee Hoop's parents leave her in Ekarat's parents home so she can get used to urban life. She gets introduced to the family. Only Ekarat's younger brother, who is a katoey, is supporting her to learn things about modern life. She does many hilarious mistakes. Is she really a bumpy girl or is she simulating? Ekarat is first puzzled then seduced by Yee Hoop. Finally following his mother disapproval, he marries her in country side. When Yee Hoop goes back to Ekarat's mother home, she is subject to bad tricks, bad jokes from the mother relatives. One girl who always wanted to marry Ekarat for his money, even engages a hitman to get rid of Yee Hoop. Everything is finally settled but Yee Hoop flees to England believing that Ekarat is involved. She arrives at the time of Lady Di wedding with Prince Charles. Real images of the wedding are used. Finally Ekarat and Yee Hop get reunified. A second opus was done 12 years later and a Thai TV serie based on the movie was shot in 2004.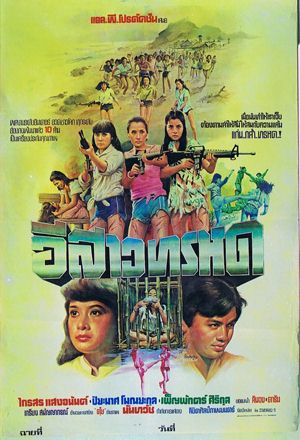 Year

: 1982



Thai title

:

อีสาวทรหด




English title

: Angels with Golden Guns



Rating

: 2/5


Director

:



Main actor

: Kraison Saenganan


Main actress

: Piyamas Monayakol,Penpak Sirikul
Angels with Golden Guns / Virgin Apocalypse is a IFD movie released in year 1981 and based on a Thai movie named อีสาวทรหด released in year 1982. The DVD lasts 1h22mn. It is HK Thai co production. Two versions were released, i.e. one for Thailand with actor Kraison Saenganan and one for Hong Kong with a Chinese actor. The HK version was released in Thailand under the name สวยประหาร ผ่าดงปืน. It seems that the original Thai version was never released on VHS, VCD or DVD in Thailand. A group of women tries to flee but they are caught back, tortured and some left as dead. They are forced to prostitution to bring money to the local mafia. Two fake film producers are looking for models in nightclub then a group of girls is kidnapped during a shooting session. A policeman tries to get the truth from the fake movie producer but gets captured. Among the girls, there are Piyamas Monayakol and Penpak Sirikul. Fighting happens at night time between two groups of girls. They are punished. But finally they try to escape again but get captured back through some shooting sequences over the river Kwai bridge. The rebellion leaders get caught and threatened. Two groups of ladies keep fighting. Used and abused, they must unite to fight. Rebellion happens and many dead happen on both sides as Piyamas and Penpak succeed to get M16 rifles. Their goal is now to catch the big boss. They kill his sbires one by one to reach him. The three ladies work with the cop to catch him.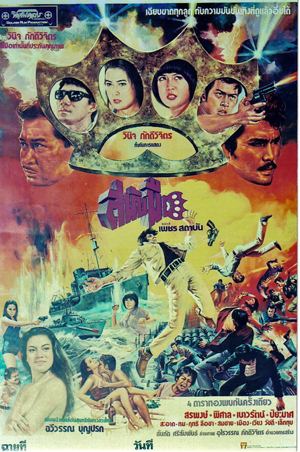 Year

: 1981



Thai title

:

สนับมือ




English title

:



Rating

: 3/5


Director

: วินิจ ภักดีวิจิตร



Main actor

: Sorapong Chatree,Pisarn Akraseranee,Rith Luecha,Sahat Piempongsan,Somchai Samipak


Main actress

: Naowarat Yooktanun,Piyamas Monayakol,Chaweewan Boonprok



Buy now

:

Thai movie สนับมือ was released in year 1981 and lasts 1h46mn. The movie was released under VCD format by TripleX company. Movie director is วินิจ ภักดีวิจิตร. Dao (Piyamas Monayakol) is a pickpocket. Ek (Sorapong Chatree) is a policeman and San (Pisarn Akraseranee) is his colleague. Dao is captured by them. Ek, having pity on her, hires her as a maid. Umarin (Naowarat Yooktanun), a policewoman, stands in Don Meuang. She tries to trick ruffian Rith Luecha, coming to get diamonds. Following failed diamond exchange at the airport, Ek chases Rith by car. Ruffians succeed to flee by motorbike. Diamonds in a suitcase are stolen by another biker. Head of the ruffians' organisation is upset that Rith failed. Boonleut (Sahat Piempongsan), Ek's boss, encourages Ek and San. Ek and Umarin shall marry. Umarin is a bit worried that Dao stays at Ek's home as a domestic helper. San is having a romance with young lady Nida (Chaweewan Boonprok) and is trying to find who is the ruffians' big boss but nobody ever saw him before. San learns that the organisation wants to get rid of Ek. A shooting in a golf course is foiled thanks to Dao. Nida informs San about a drug deal in Pattaya on a boat. Somchai Samipak, as head of police, gives instructions to Ek and others. San intercepts the ruffians going back to the beach through a speed boat. He shoots them and keeps the suitcase full of money. Meanwhile Ek and Thai police stop the boat trafficking the drugs. Dao is aware that San keeps the money and asks for 50%. San gives 1M THB to a school. Ruffians including Meuang (เมือง อพอลโล่) try to kill Ek again but they fail again. Dao uses a knuckle duster (สนับมือ) to kill one ruffian but does not disclose who she really is. Thai police wonder who is helping them. Nida is shot by Meuang. San is about to be killed also but Dao helps him. Meuang discloses to the organisation boss that Dao is the one using a knuckle duster. Ek discovers that Dao gives all her salary to her poor mother. Back to home, both Dao and Ek are captured by Rith. San uses Umarin as a bait. Umarin is captured and San follows the ruffians to know where their location is. Nai Boonleut is unveiled as the head of the secret organisation. Boonleut wants the money and his diamonds back. Meanwhile San warns Police colleagues and helps to release Ek. Thai police storm the ruffians' den. Heavy shootings happen and ruffians are neutralized.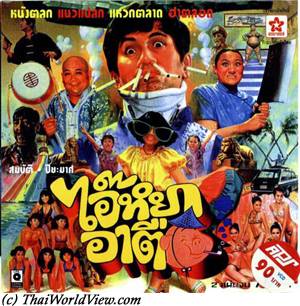 Year

: 1981



Thai title

:

ไอ๊หยา อาตือ




English title

:



Rating

: 3/5


Director

: Kumtorn Tubkunlai



Main actor

: Sombat Methanee,Boo Wibunnan


Main actress

: Piyamas Monayakol



Buy now

:

An old 700 years old Chinese mummy is displayed in a Thai museum. Despite the numerous police guards, a robbery happens and the original mummy is replaced by a copy. A thief is injured during a shooting with police. The head of police goes to pick up his daughter Chim coming back from England at the airport and realises that her daughter's boyfriend, called Sak, has same face as the thief. Meanwhile the thief, called Kimtheun, dies at the hospital. The head of police wants Sak to replace the dead thief at the hospital so that his thievish colleagues come to free him and so the police will be able to locate the mommy. Sak cannot refuse if he wishes to marry the head of police's daughter! A Chinese descendant and owner of antique shop is the one to order the robbery. A thievish colleague comes to the hospital not to help Sak but no kill him in order that he cannot talk anymore. Sak flees and takes refuge in the colleague's car trunk. He arrives in Chinese Viharnra Sien shrine in Chonburi province. Sak has to act like Kimtheun and discovers that he has one older wife and two children. Sak doesn't speak Chinese very well. Hopefully he can argue that his head injuries cause him to lose memory. There is some light mockery of old Chinese customs in Thailand (boss with numerous concubines and much younger that the main wife, strong accent when speaking Thai, mixing of Chinese and Thai words Atia for father - Ama for mother, eat pork crazily). Next plan is to steal the Democracy Monument's two golden offering bowls in Bangkok. Arguments and comic situations happen when Chim finds Sak with the Chinese wife. Sak claims he is Kimtheun. Chim starts to be suspicious. Kimtheun's youngest brother knows well a Chim's friend so Sak is broken cover when Chim and her friends visit the Chinese shrine. Sak needs to tell the truth to Chim. Sak argues he didn't do anything with Kimtheun's wife as she cut off her husband's manhood before and gave it to ducks as Kimtheun was too unfaithful (Surgeons in Thailand have become experts at re-attaching things). Sak and Chim follow up the antique shop owner up to Baan Beung in his secret cave where he hides the mummy. Being discovered, the boss hides himself inside the mummy armour. Sak and Chim need to replace the false mummy by the real mummy before Chinese authorities find the trick. It would cause the father to lose his job. During the mummy inspection, the mummy becomes alive as the antique owner doesn't want to go to China causing a big fear to everybody. Finally Sak and Chim happily marry. Director Kumtorn Tubkunlai has directed many comedies related to Chinese culture background. It is similar style and gags as the Pink Panther movie.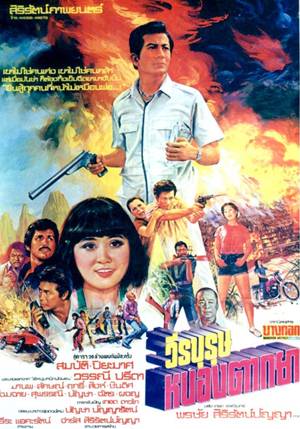 Year

: 1980



Thai title

:

วีรบุรุษหนองตากยา




English title

: Hero of Nong Takaya



Rating

: 3/5


Director

:



Main actor

: Sombat Methanee,Manop Aussawathep,Lak Apichat,Rith Luecha,Chat Mongkolchai,Boo Wibunnan


Main actress

: Piyamas Monayakol,Suphanee Jitthieng
Thai action movie วีรบุรุษหนองตากยา was released in year 1980. It features Sombat Methanee as main actor and Piyamas Monayakol as main actress. The movie is lost in Thailand but a 1mn30s trailer is still available. Other actors include Manop Aussawathep, Lak Apichat, Rith Luecha, Suphanee Jitthieng, Chat Mongkolchai, Boo Wibunnan. During the short trailer, a few sequences can be seen. They are related to some fightings involving Sombat, Manop playing a hitman again, ruffian leader played by Sing Milinsasai and scolding his teammates… A partial summary is still available. Boo Wibunnan is an influential man buying coercively sugar canes from local farmers but at a much lower price than the governmental prices. He is helped by local subdistrict headman Ying (Sing Milinsasai), who is a former ruffian leader. Sombat Methanee is a doctor working at the medical dispensary in Nong Takaya (นองตากยา) village. Seeing the ruffians bad behavior, the doctor decide to help the villagers.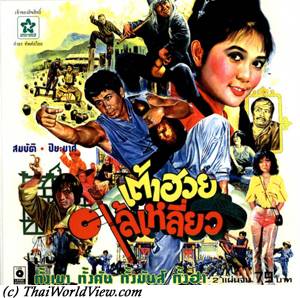 Year

: 1980



Thai title

:

เต้าฮวยไล้เหลี่ยว




English title

:



Rating

: 3/5


Director

: Kumtorn Tubkunlai



Main actor

: Sombat Methanee,Lor Tok,Boo Wibunnan,Phirapon Piyawan


Main actress

: Piyamas Monayakol,Suphanee Jitthieng



Buy now

:

This movie is a parody of Hong Kong Kung Fu movies that were popular in Thailand during 1970s decade. Thao Huay is a traditional Thai man selling healthy Chinese soups. His family is originating from China. Thao Huay's father gets beaten by some members of the Kung Fu school Snake Boxing (มวยงู) and dies. Aspiring for revenge, Thao Huay looks for a master to learn boxing and become a disciple (ลูกศิษย์). Meanwhile Thao Hua meets a young Thai lady called Waan, who is papaya salad seller (แม่ค้าส้มตำ). He has arguments with her in the local market (ตลาด) regarding a selling site location. Waan learns that her real father is Chinese so she goes to live together in his home with her mother. His Chinese father has already a wife so there are arguments who is the main wife (เมียหลวง) and who is the minor wife (เมียน้อย). The father is having a jewelry (ร้านทอง). Sompong, a rich young coming back from America, tries to seduce Waan but Waan still has a sweet spot for Thao Huay. A robbery is happening at the jewelry. Robbers hide the jewelry inside Thao Huay's palanquin. Thao Huay faces hardships during the training with the master. He learns the monkey dance (รำมวยลิง). This dance skills gets highest efficiency if the fighter is drunk also. Waan is kinadped by Kung Fu school Snake Boxing. Thao Huay is going to rescue her. With the help of his master, the Kung Fu school is defeated. Thao Huay gives back the gold and can marry Waan.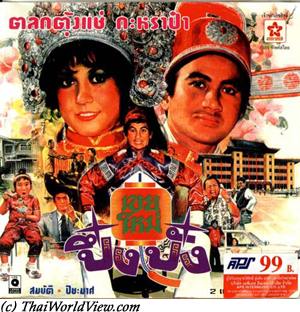 Year

: 1979



Thai title

:

เขยใหม่ปึ๋งปั๋ง




English title

:



Rating

: 2/5


Director

: Kumtorn Tubkunlai



Main actor

: Sombat Methanee,Boo Wibunnan


Main actress

: Piyamas Monayakol,Runglawan Sripatimakul,Chosri Misommon,Janthana Siriporn



Buy now

:

Kimtom is a young man part of a wealthy Chinese family established in Thailand since a few generations. Wo is a young lady part of a Thai traditional high society family (ผู้ดี). Kimtom and Wo love each other but both families refuse this union. The Chinese family wants a rich bride for Kimtom. The Thai family wants a famous family name to match their rank. The Thai high society family despises Chinese customs (strong accent - พูดไทยไม่ชัด, laugh loudly, No good manners - มารยาท, burping during diner). Kimtom wants to prove that Wo's mother is wrong. Wo's mother is pushing towards the son of a Thai rich family linked to old aristocracy. His name is Samkhan (สำคัญ). Kimtom comes to the diner dressed with Chinese traditional old clothes. As Wo's mother thinks that Chinese food is savorless (รสชืดชืด), she makes a very spicy curry for Kimtom! Kimtom's family makes a 2M Baht donation (บริจาค). Wo's family complains about new rich people (เศรษฐีใหม่) versus old aristocracy (เศรษฐีเก่า). It is Wo turn to go for a diner with the Chinese family. Funny situations happen as she doesn't know how to use chopsticks. Finally both families agree for a wedding but the wedding needs to include Chinese and Thai ceremonies. Kimtom doesn't feel well because Wo's mother doesn't accept him. The movie raises issues regarding multiracial weddings. There should be no border for love. The wife needs to stay in the husband's home according to Chinese customs. But Wo's mother keeps her at her home. Misunderstandings keep happening (ทำประชด). Wo is pregnant. The Chinese family wants a boy first. Then both families fight over the education of the child. Finally as Kimtom helps to prevent a robbery on Wo's mother jewels and they move to their own house, happiness and understanding happen again.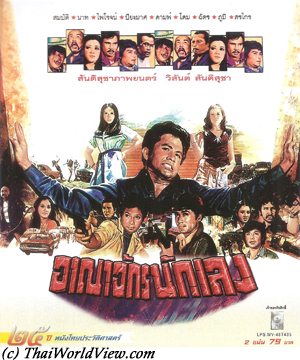 Year

: 1978



Thai title

:

อาณาจักรนักเลง




English title

:



Rating

: 3/5


Director

:



Main actor

: Sombat Methanee,Lak Apichat,Kanchit Kwanpracha,Kecha Plianvithee,Nard Poowanai,Chat Mongkolchai,Pipop Pupinyo,Dam Datsakorn,Phairoj Jaising


Main actress

: Piyamas Monayakol,Duangcheewan Komolsen,Tanyarat Lohanan,Duangjai Hathaikarn



Buy now

:

Thai movie อาณาจักรนักเลง was released in year 1978. It lasts 1h54mn. Labeu (Sombat Methanee) is a policeman. He gets some help from Siaw (Lak Apichat) to capture ruffians. He gets framed by drug traffickers and ends up in jail. Policeman Kanchit (Kanchit Kwanpracha) is building a team including Somjing (Piyamas Monayakol) to fight traffickers. He asks to get Labeu in his team as he believes he is not guilty and it would be a redemption opportunity. Labeu is reluctant but as it is to neutralise a dangerous organisation and clean Thailand's bad reputation as drug trafficking platform, he finally accepts. Drug traffickers include the boss Decha (เจ้านาย - Kecha Plianvithee), Phi Ho (Dam Datsakorn), Chat Mongkolchai, Pipop Pupinyo, Suriya Chinaphan and Duangcheewan Komolsen as secretary. Police team includes Nard Poowanai, Kanchit (Kanchit Kwanpracha), Somjing (Piyamas Monayakol), Gnamta (Tanyarat Lohanan), Labeu (Sombat Methanee). Decha is aware that Labeu has been released. Yousuf is killed in his jail (กุญแจดอกสำคัญ) before being able to share information. Drugs traffickers shall not be underestimated. Ruffians try to stop Labeu but he is now using similar ways as them (grenade...) as he is no longer an official police inspector. Drug ends up in seaport Sri Racha. Phairoj is working as an informant with whoever pays him. Interpol works with Thai people. Pinyo shots one of the foreign policeman. Labeu succeeds to get Kwan's agenda. Kwan (Duangjai Hathaikarn)(หลานสาว), Decha's relative, is captured by Labeu while inspecting a wagon supposed to contain drugs. Money exchange is proposed. Labeu acts like a ruffian now. Phairoj Jaising (อาชีพขายขาว) gives free information to Gnamta as he despises drugs which made his brother die. Decha kills Duangchiwan being unfaithful with Phairoj. Decha killed Kwan's real father many years ago to take over the business. Decha refuses to share the drugs money benefits with his colleagues and imprisons them. Getting back Kwan, he takes refuge in a hidden maze but it gets storms by Labeu and the police. Decha is killed by Apichat. The drugs gang is annihilated and Labeu reinserted in the police as officer (สารวัตร).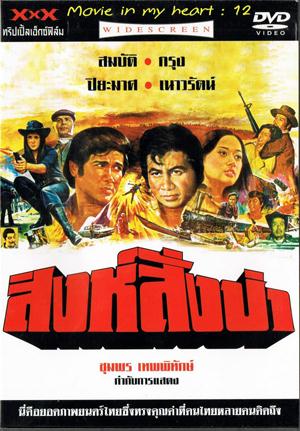 Year

: 1978



Thai title

:

สิงห์สั่งป่า




English title

:



Rating

: 3/5


Director

:



Main actor

: Sombat Methanee,Krung Srivilai,Chanee Yotchai,Kecha Plianvithee,Dam Datsakorn,Lak Apichat,Pipop Pupinyo,Choomporn Theppitak,Lor Tok,Chat Mongkolchai,Pumi Patanayut


Main actress

: Naowarat Yooktanun,Piyamas Monayakol,Ratanaporn Intarakamhaeng,Duangcheewan Komolsen



Buy now

:

Thai movie สิงห์สั่งป่า was released in year 1978. The movie lasts 1h47mn. Sing (Sombat Methanee) helps Pukong (ผู้กอง) Palee aggressed in the train by Chanee Yotchai and other ruffians. Sing goes home in his village Thung Kla as he hasn't seen his mother for years but his home has been robbed and burnt. Anan (Kecha Plianvithee) is the local ruffians' leader. The subdistrict headman (กำนัน) and the police headman are corrupted by Anan. Seua Thong (Dam Datsakorn) is his close hand doing the dirty job. Mae Chom (Ratanaporn Intarakamhaeng), restaurant owner and wife of Anan, encourages Sing to sell his mother's land. Sing meets Tap (Lak Apichat) and Duangcheewan Komolsen, who tell him the difficulties faced by villagers. Pipop Pupinyo is a small ruffians' leader. Chen (Krung Srivalai) is visiting a friend in Thung Kla. He meets Oon (Naowarat Yooktanun), daughter of Anan. Chen knocks out Pipop. Sing's car explodes. It looks like somebody wants to get rid of him. Sing ends up in jail after shooting two ruffians including Chanee. Choomporn Theppitak, as head of police, orders to transfer him to prison. Lor Tok, Chat Mongkolchai, Dao (Piyamas Monayakol) prepare a plan to release one of their inmate colleagues. Seua Dao helps a prisoner so Sing takes opportunity to flee also. Anan is upset as he was planning to have Sing killed during the transportation but his plan foils. Chen and Sing are friends but nobody knows it. A drug and money exchange is planned by Anan and shall be managed by Seua Thong. But the plan is foiled also as Sing and Seua Dao intervene. Chen is suspected to have warned them. Chen is tortured by Anan as he betrayed him. Sing and Tap successfully release him. Only one song is featured in this movie. Somebody from Bangkok insinuates that Seua Thong shall replace Anan. It fails. Finally Sing, Tap and Chen storm Seua Tong's place. Ruffians are killed and Seua Thong dies following a speed boat race. The same team now storms Anan's place. About to kill Anan, Sing listens to Mae Chom and Oon and spares Anan's life. Anan is arrested by Pukong Palee.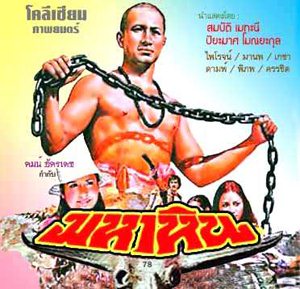 Year

: 1978



Thai title

:

มหาหิน




English title

: Maha Hin



Rating

: 5/5


Director

: Kom Akadej



Main actor

: Sombat Methanee,Sukon Koewliam,Adinan Singhiran,Sawin Sawangrat,Pipop Pupinyo,Phairoj Jaising,Kanchit Kwanpracha,Lak Apichat,Dam Datsakorn,Rith Luecha,Kecha Plianvithee,Manop Aussawathep,Kom Akadej


Main actress

: Piyamas Monayakol,Wiyada Umarin
Hin (Sombat Methanee) is a monk. One day he receives a letter from his younger niece announcing that his parents have been killed by ruffians, their house burnt and cattle stolen. Hin finally disrobes (ศึก). After so many years as monk, only a few people recognize him, i.e. Lung Kiaw (Sukon Koewliam) and his former teacher (Adinan Singhiran). Sombat Methanee shaved his head for this movie. Hin still behaves like a monk, speaks like a monk (โยม), carry his umbrella and stay calm but sometimes it is too much to endure and ruffians get smashed! Subdistrict headman Loi (Sawin Sawangrat) is now living on the land belonging to Hin's relatives. He is always protected by a bunch of ruffians including Pipop Pupinyo. Fon (Piyamas Monayakol) is the daughter of subdistrict headman Loi. Lom (Phairoj Jaising), Hin's former classmate, is the son of subdistrict headman Loi. Phi Saen (Kanchit Kwanpracha) takes care of Neung and Sai, Hin's nephews. Ang (Lak Apichat) always follows Hin to help him. Lom's girlfriend is called Chada (Wiyada Umarin) and is the daughter of Pho Lieng. Hin just wants to take care of his nephews and not bring trouble regarding the land (ผมมาดี). A new house is built and vegetables are planted. Hin wears colorful shirts (สีแปลกๆ). On the way to sell the corn, Hin's truck is stolen and Hin is beaten. Dam Datsakorn and Rith Luecha are the ones behind. They are Pho Lieng's faithful lieutenants! As Hin is at hospital, Rith kidnaps Sai. Ruffians fail to kill Hin at the hospital so he is aware through Neung and Fon. Pho Lieng (Kecha Plianvithee), the big boss, wishes to marry Fon but Loi knows his daughter will never accept. Seua Tim (Manop Aussawathep) is seen with Pho Lieng but keeps his independence. Hin finds Sai but it is too late as she has been raped and killed. Hin has to forget his previous Buddhist vows (เรื่องคนชั่ว) to take revenge. Hin reuses the chain that was used to kill Sai in order to hit the ruffians. Fierceful fights happen between Hin and Rith / Dam in an underground casino. Despite Hin winning, Pho Lieng orders the ruffians to kill Hin but Seua Tim forbids as guns are not allowed in his casino. Hin kidnaps Fon to bring trouble to Kamnan Loi. Pho lieng orders to kill Subdistrict headman Loi as this latter refuses to enter in a bigger scale of corruption (แบ่งกันกินแบ่งกันใช่). Lom and Fon believes the murderer is Hin. Finally Seua Tim explains the truth to them. Justice happens and all the ruffians are killed. Hin leaves as a lonely cowboy. Movie Maha Hin (มหาหิน) was released in year 1978 and directed by famous action movies director Kom Akadej (เจ้าพ่อหนังบู๊เมืองไทย). This movie really features a big bunches of major actors during decade 1970s. Sombat Methanee got 1M baht to cut his hair and be bald as he couldn't play other movies during many months.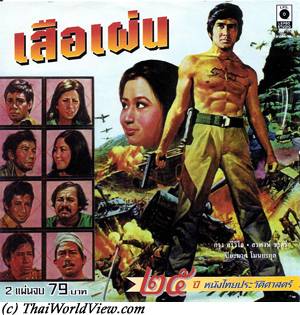 Year

: 1978



Thai title

:

เสือเผ่น




English title

:



Rating

: 3/5


Director

:



Main actor

: Krung Srivilai,Sorapong Chatree,Manop Aussawathep,Phairoj Jaising


Main actress

: Piyamas Monayakol,Mayurachath Muarnprasitivej
During World War II a man quits the police to go back in his village. There he becomes an outlaw by robbing local people. He joins force with the Thai police to enter resistance and fight Japanese troops. After the end of the war, he still continues to be an outlaw. This time, the Thai police won't allow it anymore...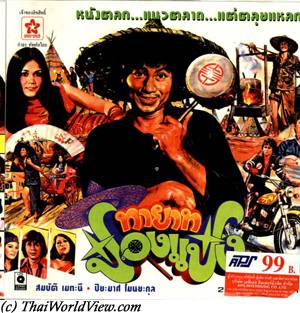 Year

: 1978



Thai title

:

ทายาทป๋องแป๋ง




English title

:



Rating

: 3/5


Director

: Kumtorn Tubkunlai



Main actor

: Sombat Methanee


Main actress

: Piyamas Monayakol,Metta Roongrat,Tharika Thidathip,Marasri Bangchang



Buy now

:

Following the father death, a Thai family called Thanayu needs to share an heritage (มรดก) between family members. An unexpected heir is found but he is coming from a Chinese lineage as the father had a Chinese mistress. The Thai family is looking for a man called Pong Peng. Pong Peng is upset that his mother was rejected by the Thai family so he decides to tease them. Pong Peng wears old Chinese clothes, speaks with a strong accent and uses bad manners. Pong Peng meets the whole family during a diner, including daughter Oon, brother Rajan and an aunt. The grandfather, believing that Pong Peng is having a harsh life, gives a 15 000 Baht monthly allowance for him to learn Thai properly (พูดไทยไม่ชัด), to wear decent clothes and to prepare his wedding in order to accelerate his integration in Thai society. The grandfather has Oon in mind but she refuses to marry. Oon needs to help Pong Peng to buy modern clothes. A lunch in a Chinese restaurant turns to a disaster. Her dress is full of food. He brings to a motel to clean her dress and gets slapped by Oon for going to such a sleazy place. Rajan, Oon's brother is always playing cards and loses a lot of money to Pongpat, a ruffian. Pongpat is the leader of a bikers group. The aunt's daughter tries to seduce Pong Peng but to no avail. Oon still refuses to marry Pong Peng and flees from home. Her car gets catched by the bikers. Pongpat asks for one million baht ransom. Pong Peng rescues Oon following gun fights with the bikers. The Thai family discovers that Pong Peng is a rich man and a company owner. Oon is upset by Pong Peng's lies. The movie ends happily.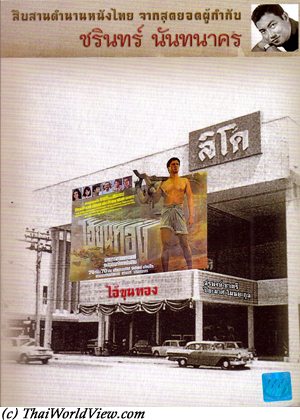 Year

: 1978



Thai title

:

ไอ้ขุนทอง




English title

:



Rating

: 5/5


Director

: Charin Nantanakorn



Main actor

: Sorapong Chatree,Lak Apichat,Prachuap Ruekyamdee,Krai Kanchit,Boo Wibunnan


Main actress

: Piyamas Monayakol,Petchara Chaowarat,Rewadee Pattaphong



Buy now

:

Kun Thong's mother is Mae Kaew (Petchara Chaowarat) but he has no father. Mae Kaew refuses to mention who the father is. Kun Thong's mother is very religious oriented (ทำบุญ). Other children such as Saen (Lak Apichat) scold him about the lack of father. Only young girl Phikun (Piyamas Monayakol) protects him. Years have passed. Phikun is the village headman's daughter (พ่อกำนัน). Saen is the son of a local rich influential man. Kun Thong (Sorapong Chatree) is a poor farmer. Romance is happening between Phikhun and Kunthong. Phikhun believes in kindness (ทำดีได้ดี). Kunthong helps Phikhun during the sacred cloth ceremony around the village chedi (ผ้าห่มพระธาตุ). Saen is jealous about Kunthong. Petchara recommends her son not to have hope about a wedding with Phikhun as he is poor. One day Kunthong helps a young lady called Than being aggressed by ruffians. As Than has no place to go as being sold by her family, Mae Kaew shelters her in her home. At night, while Kunthong and Than are away, Mae Kaew is aggressed by Saen and his ruffians. She losts her sight. She only remembers her aggressor wears a big specific ring. She doesn't have any enemies except Seua Yoi who killed her husband twenty years ago following cards debts. Kunthong wishes to buy eye medicine to a local doctor but pricing argument degenerates into a fight with the doctor's son, who is killed by accident (Krai Kanchit). Kunthong has to flee. Saen wishes to arrest Kunthong. Meanwhile Kunthong is looking for Seua Yoi to kill him. Nowadays Seua Yoi has become a solitary monk in a cave to expiate his past mistakes. He is not the one who hurts his mother. Kunthong misses his mum but finally becomes a thief (กรรมของเขา) but a Robin Hood like as he is only stealing from dishonest people. One day Kunthong has to kill a son in front of his mother to protect himself. He has hard feelings thinking about his own mum. Than has leper (โรคติดต่อ). Kunthong decides stopping being a thief. He gets smacked by Phikhun as he doesn't care about his mum. The one taking full care is Than despite Mae Kaew is not her mother. An engagement is arranged between Phikhun and Saen (ขันหมาก). Phikhun's father forbids her to visit Mae Kaew anymore. Mae Kaew recovers sight thanks to the eye medicine given by Kunthong (แม่มองเห็นแล้ว). Kunthong is aware of the engagement. On the evening, Phikhun disappears with Kunthong. Farmers including Mae Kaew are then expropriated. Their houses are burnt. Than is left behind due to her decease. Than dies in Kunthong's arms but has time to relate the ring story. Through a suspense final, Kunthong and Phikhun surrender to the village headman but Kunthong gets shot by Saen. Only injured, Kunthong shots back Saen. The village headman's thugs shot deadly Kunthong and Phikhun is caught in the crossfire. They die in each other arms. Both Mae Kaew and the village headman feel the pain of losing their child. This movie is really about love for mothers. It is also a tragedy as in real life Petchara Chaowarat became blind a few months after this movie released in 1978. It was her last movie.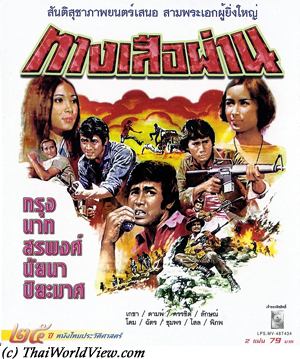 Year

: 1977



Thai title

:

ทางเสือผ่าน




English title

:



Rating

: 3/5


Director

: Choomporn Theppitak



Main actor

: Krung Srivilai,Nard Poowanai,Sorapong Chatree,Pipop Pupinyo,Lak Apichat,Dam Datsakorn,Kecha Plianvithee,Chat Mongkolchai,Kanchit Kwanpracha,Choomporn Theppitak


Main actress

: Piyamas Monayakol,Naiyana Shewanan
Krieng (เกรียง - Krung Srivilai) and Krai (ไกร - Sorapong Chatree) are brothers. They have a sister called Kaew. The third brother is away. They are part of a poor family and their father is sick. Ruffians are terrorising the local villagers (ปล้อนบ้าน). Krieng and Krai want to report a killing (แจ้งความ) to the village headman but he is out of town. The village headman has two children, Sarapee and her brother Han (หาญ - Dam Datsakorn). Han uses a lot of bad influence (อิทธิพล) and is always accompanied by ruffians. Han is committing extortion under the name of Seua Hin (เสืออินทร์). Sarapee is Krieng's love. Some villagers refuse to sell their land to Boonthong (บุญทอง), a local rich businessman. Boonthong is using Han to push them. He has a beautiful daughter called Angkap (อังกาบ - Piyamas Monayakol). Angkap is Krai's love (นางฟ้ามาแล้ว). Han doesn't appreciate his sister to go out with Krieng so this one is beaten by ruffians. Han also loves Angkap. Han is collaborating with Boonthong. Angkap is promised by her father to Han. The third son, Kan (กาญจน์), played by Nard Poowanai, is back. While Krieng and Krai are working in the fields, Kaew and the father are killed. The three brothers are looking for revenge. The village headman is not aware that his son is smuggling with Boonthong. Ket (เกตุ – Lak Apichat) is one of Han's ruffians but he has a nice heart and always warns Angkap if something fishy is under preparation. Han is always looking for arguments with Krieng even during a temple fair. Han uses Ket to shoot Krai in the back while performing Thai folk dance (รำวง) as he is jealous of his relation with Angkap. Ket is playing double game as a fake bullet is used to shoot Krai. Ket warns Angkap that Han plans a night attack to get rid of Krai. Warned by Angkap, the three brothers prepare a surprise for Han and his ruffians. The ruffians fall in a trap and only Han and a few guys escape death. Han takes revenge over Ket by raping and killing his wife. Ket recognizes that Han's missing short button is the one he found near his wife's dead body. Following fist fights and car motorbike chase between Ket and Han, Han finally succeeds to flee. Han kills Boonthong to get his money and recruits more mercenaries. The three brothers and Ket are ready to fight back but they need to face 50 ruffians having M16 guns. Police lead by Mot is coming to help. Ruffians take Sarapee as hostage. A final face to face between the father and Han, the ruffian son, happens. Following a misunderstanding the village headman shoots his own son. Ket also dies. It is moralist ending. Ket is an unknown hero and law remains stronger than filial bonds. It is a 2h03mn movie. This movie features the new 1970s generation of Thai leading actors, i.e. Krung, Sorapong, Nard (สามพระเอกผู้ยิ่งใหญ่).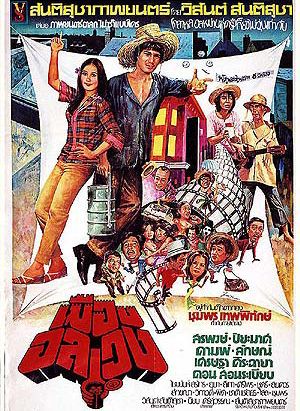 Year

: 1977



Thai title

:

เมืองอลเวง




English title

:



Rating

: 2/5


Director

: Choomporn Theppitak



Main actor

: Sorapong Chatree,Dam Datsakorn,Lak Apichat,Settha Sirachaya,Sithao Petcharoen


Main actress

: Piyamas Monayakol
A young company owner is fed up with life. He is rich and successful but doesn't have real friends. People are only interested in his money. He decides to quit his life and to become a beggar in order to have more freedom. Being a beggar, he meets new friends and become a gardener. Unfortunately a mafia gang is looking for all beggars in the district in order to find him and ask for a ransom. His new friends will help him.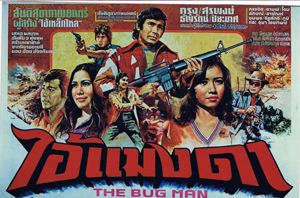 Year

: 1976



Thai title

:

ไอ้แมงดา




English title

: The Bug Man



Rating

: 3/5


Director

: Chai Meekunsut



Main actor

: Krung Srivilai,Sorapong Chatree,Kanchit Kwanpracha,Pipop Pupinyo,Dam Datsakorn,Sayan Chantaraviboon,Lak Apichat,Chat Mongkolchai


Main actress

: Tanyarat Lohanan,Piyamas Monayakol
A Thai man just marries a hill tribe girl called Bokram. His wife is kidnapped by ruffians. He is in fact a man collecting girls for brothels! A mysterious man raid two brothels looking for a lady called Choimai. He is a strong puncher. His name is doctor Chai (Krung Srivilai) and is fiance with Vui, a gym sport woman (นักกีฬาgym). He has lost memory and cannot remember his own fiancee. Hong (Sorapong Chatree) is a well-off son involved with ruffians. Choimai is now prisoner in the prostitution ring leader's house. His name is Yai (Dam Datsakorn) and he is also smuggling weapons. Choimai is in fact Chai's sister. She escapes (ขายตัวกับผู้ชาย) and takes refuge in Dong's home, another ruffian, who is also a brothel owner. Trap is put in place by Yai to capture Chai at Turkish massage place (อาบอบนวด). An electronic device is put near his brain to force him acting on any orders from Yai. Yai uses Chai to give a punchy lesson to Hong. Brothels are similar to slavery as women are chained together. The mamasan (มาม่าซัง) pretends to help Choimai but it is another trap also. She is only interested by her ring and necklace. Brought by three ruffians in a remote place, Hong luckily drives by and helps her. She is welcomed in Hong's parents home (คนสตรี). Hong decides to change his behavior and stop frequenting ruffians. Inside Yai's group, Chai takes revenge over those who kidnapped Choimai. Dong traps Hong (เพื่อนทรยศ) as he has betrayed them. Hong tries to crash him with an old French Citroën DS car. It fails but Hong is finally captured by Yai. Choimai surrenders to Yai to spare Hong's life. Vui is also kidnapped. Chai only simulated being a robot following Yai's orders. Chai succeeds to release Vui. They enter inside Yai's remote camp and gun fights, explosions occur between Yai's ruffians and Chai's friends. Ruffians are defeated. The Lepso VCD image is quite damaged and colorless. It is a recording from TV. Anyway this Thai action movie features part of the finest bunch of 1970s Thai actors. In this movie, Krung Srivilai, best Thai actor in 1974, meets Sorapong Chatree, best Thai actor in 1975. This movie was the most popular movie in 1976. In the title แมงดา means pimp.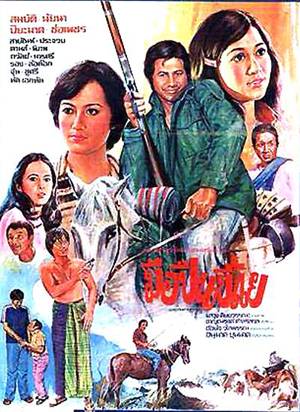 Year

: 1976



Thai title

:

มือปืนขี้แย




English title

:



Rating

: 3/5


Director

:



Main actor

: Sombat Methanee,Dam Datsakorn,Prachuap Ruekyamdee,Pipop Pupinyo,Rong Kaomulkadee,Tawan Siriwat,Sayan Chantaraviboon,Tat Ekathat,Lor Tok,Kokheng


Main actress

: Piyamas Monayakol,Chosri Misommon,Marasri Isarangkul,Naiyana Shewanan
Thai movie มือปืนขี้แย was released in year 1976. This action and comedy movie is lost in Thailand but the first reel lasting 26mn and a 3mn trailer are still available to be seen. Fightings happen with Dam Datsakorn and Pipop Pupinyo as they discover that Sombat Methanee is travelling hidden in their truck. Sombat is accompanied by a tall actor reminding Richard Kiel playing in James Bond movie Moonraker. Comic actor Rong Kaomulkadee is the driver. Sombat Methanee is looking for Kamnan Tawan Siriwat in order to find his mother (Marasri Isarangkul). He finds her but he wishes to identify now who killed his father. Sayan Chantaraviboon wishes to impress young lady KamPoo (Piyamas Monayakol). But he gets bullied by Chosri Misommon and Tat Ekathat. Policeman Raem Prachuap Ruekyamdee meets a friend's daughter, who is now a teacher (ช่อเพชร). Lor Tok is Thai boxing trainer (อาจารย์). Sayan wishes to learn from him as he is not able to fight against anybody. Dao (Naiyana Shewanan) meets Sombat but clash happens between them. Other comic actors are Kokheng and Joomjim Khemlek as policeman.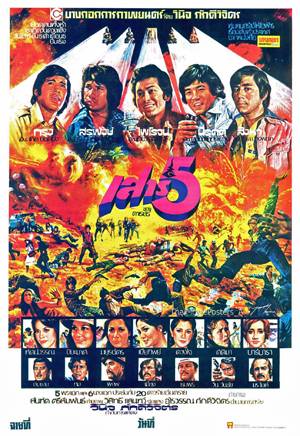 Year

: 1976



Thai title

:

เสาร์ 5




English title

:



Rating

: 2/5


Director

:



Main actor

: Krung Srivilai,Sorapong Chatree,Phairoj Jaising,Nirut Sirijanya,Pipop Pupinyo


Main actress

: Piyamas Monayakol,Tasawan Saneewong,Piathip Kumwong,Mayurachath Muarnprasitivej,Duangjai Hathaikarn



Buy now

:

5 friends are reunited for a mission in Northeast of Thailand. They were soldiers during Vietnam war. They receive sacred powerful Buddha amulets from a famous Buddhist monk in order to protect them during fighting. They have to swear, holding Thai flag, that they are willing to sacrifice their life for the nation, the religion and the monarchy. Sent on mission, they are facing a bunch of thieves, foreign people having a secret base with powerful rockets to threaten Thailand. Finally with the support of five women soldiers, they defeat the villains. Five major actors and actresses from the 1970s were featuring in this action movie.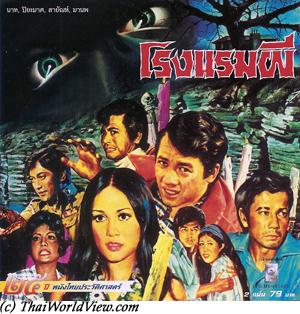 Year

: 1975



Thai title

:

โรงแรมผี




English title

:



Rating

: 3/5


Director

:



Main actor

: Nard Poowanai,Kanchit Kwanpracha,Manop Aussawathep,Lor Tok,Sayan Chantaraviboon,Chana Sriubon,Sithao Petcharoen,Boo Wibunnan,Tat Ekathat


Main actress

: Piyamas Monayakol,Mayurachath Muarnprasitivej,Metta Roongrat
Khun Samong comes in a hotel for one night as it is raining heavily. Her husband chases her but she refuses to follow him up. During the night, she dies being strangled. Footprints on the floor show that the killer is handicapped. The day after a young lady Wilai is coming one night in the same hotel to meet an older man called Siu. He has many banknotes in his suitcase. He also dies and the money disappears. Wilai also dies. The hotel manager Pan finds the money inside his desk drawer. With his partner, he decides to throw away the money in the sea but the banknotes come back with the tide. Khun Samong's husband believes that the hotel management is responsible of his wife's death and the money robbing. So he tries to take revenge over them but it fails. Police is investigating. Khun Samong's husband is also found dead. Finally it is identified that a ghost is living in the hotel. He possessed the hotel manager causing him to walk like a disabled man. Following a chase with the Police, the hotel manager Pan dies. His partner tells a story. Before World War II, Pan flees with a young lady called Sarapee. Sarapee was promised to an older man. This one becomes disabled during World War II due to bombs. He never forgives to Pan and Sarapee. After his death, a house belonging to the older man is given to Pan and Sarapee through legacy. They transform the house into a hotel. Now the ghost is willing to kill all hotel family member one by one, starting with Pan, then his partner. Finally the younger people found that the ghost body is still kept in a crypt below the hotel. They manage to kill the ghost thanks to a sacred Budha image. This movie is different from other Thai horror movies from 1970s decade and more realistic as there are not the usual traditional clown characters that accompany the leading actor.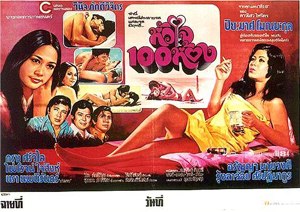 Year

: 1974



Thai title

:

หัวใจ 100 ห้อง




English title

:



Rating

: 3/5


Director

:



Main actor

: Krung Srivilai,Phairoj Jaising


Main actress

: Aranya Namwong,Piyamas Monayakol,Runglawan Sripatimakul
Thai movie หัวใจ 100 ห้อง was released in year 1974. It is a lost movie in Thailand but a sequence of 1h11mn remains to be seen. Klom (Krung Srivilai) (คุณผู้ชาย) comes back home late and is drunk. Klom asks Bang, domestic helper, to bring Khun Klang (Piyamas Monayakol). Klom is very upset. Tam Niem (Phairoj Jaising) is visiting Oon (Aranya Namwong), modern woman smoking and drinking beer. Such characters were not present in 1960s Thai movies. Such characteristics were only for the bad girls but not for the main actress. As soon as Oon left the room, Tam Niem calls another woman called Pan to propose a meeting at 1PM. Krung, married man, calls also Pan for a meeting at 1PM (ดวงใจคนสวย). A third man then calls her. Pan has many boyfriends (ความรักหรือความอยาก). Pan is a modern lady also smoking. Krung gives her 1000 Baht. The third man leaves when she is sleeping and steals the 1000 Baht. Oon calls Klang and argues with her as she believes Klang wishes to steal Klom from her. Klang is still a university student. Klom likes to go to bars and is always flirting (เจ้าชู้). He is also interested in Klang. Klom and Oon had a baby. Klom complains that Oon quit him and so doesn't allow her to come back. An older woman called Mayura, boss of a hotel, hires her lover Tam Niem as manager. Tam Niem is more interested in her daughter (Runglawan Sripatimakul) but he still keeps visiting Oon. Oon complains that Tam Niem visits her only for lust (อารมณ์ใคร่). Tam Niem brings Oon out and they meet Klom. Despite they are separated, there is jealousy to see each other with another partner. Tam Niem also likes Klang. He wishes to marry her as she represents the purity but maybe Klang has to marry Klom due to gratitude (บุญคุณ). Klom still pays for her studies despite he is separated from Oon. Tam Niem has finally a love story with Mayura's daughter, who wishes to marry him. Tam Niem is not in hurry. Oon is now pregnant and Tam Niem is considered to be the father. Klang is very upset with him. Tam Niem promises to marry Oon. Meanwhile Klom, aware that Tam Niem also plans to marry Mayura's daughter, calls Mayura to warn them that Tam Niem is already married with Oon. Tam Niem admits that he loves only Klang so Oon wishes to suicide. Mayura needs to revenge her daughter (เสียตัว). As Oon is about to use a gun to kill herself, Mayura shots Tam Niem three times. Oon falls from the stairs seeing Tam Niem dead. The remaining sequence ends with Oon recovering on a bed with Klang and other family members around. Using women as handkerchief has caused Tam Niem's demise.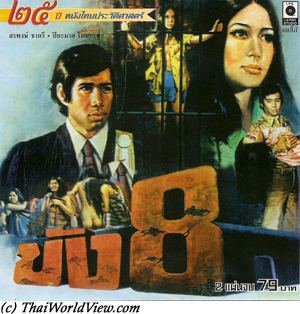 Year

: 1974



Thai title

:

ขัง 8




English title

:



Rating

: 3/5


Director

:



Main actor

: Sorapong Chatree,Krung Srivilai,Kom Akadej


Main actress

: Piyamas Monayakol,Ratanaporn Intarakamhaeng,Marasri Bangchang
Thai movie ขัง 8 was released in year 1974 and is showing realistic life in prison. Thai movie ขัง 8 was released in year 1974 and is showing realistic life in prison. Dao (Piyamas Monayakol) finds her fiance in bed with another woman (แฟนใหม่). As he is going to break the engagement with her, Dao shoots him. Policeman (Kom Akadej) arrests Dao. Her mother (Ratanaporn Intarakamhaeng) keeps crying. Dao is condemned to prison (ติดคุก) and discovers the harsh life there. Elder prisoner is played by Marasri Bangchang. Prassadee (Krung Srivilai) is the prison supervisor. Oratai has arguments with Dao as she wished Dao to be her husband (เป็นสามี). As they fight, both of them are condemned to isolation quarters. Oratai finally recognizes her mistake under the pressure of Prassadee. Dao faces adversity in prison with its internal harsh rules (ระเบียบ) and lack of freedom. Her lawyer Songkram (Sorapong Chatree) visits her and he succeeds to get her released for a retrial. Dao is reunited with her family again. Outside of prison, she realises who is or is not her real friend. She needs to convince a friend to be her witness (พยาน) for the retrial. Songkram promises to help. The father dies. Songkram confesses that he is helping Dao as he has gratitude towards her father. The father refused a debt reimbursement but asked him to promise to marry Dao. Per gratitude over the father (บุญคุณ), Songkram asks for Dao's hand. As tomorrow will be the trial decision, Dao asks him to wait. The tribunal condemns Dao to full life imprisonment. She has to do at least 8 years to hope for any pre-release (สั่งกรรมก็รับกรรม). Songkram promises to wait. Songkram continues to visit Dao regularly but is also now Tuk's boyfriend. Dao learns about his wedding and is of course disappointed. Her surname is นางฟ้าขัง8. When she exits from prison after five years for good behavior, she finds Songkram and her younger sister Tuk have a child. Anyway she is not resentful. It was the first movie of Piyamas Monayakol. A remake was done in year 2002.
---