Increase or decrease font size for easier reading : A+ A-
Pinyo Parnnui
Pinyo Parnnui (1954) - ภิญโญ ปานนุ้ย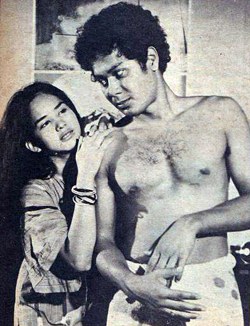 Pinyo Parnnui played in more than 20 movies during six years. Nowadays Pinyo Parnnui works for the office of disaster prevention and mitigation
This Pinyo Parnnui movie page contains 16 records.
---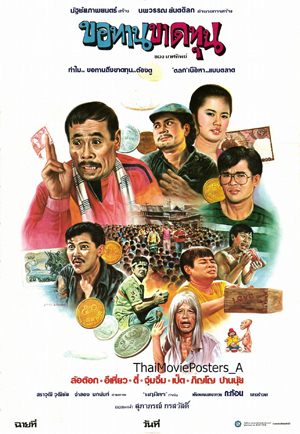 Year

: 1987



Thai title

:

ขอทานขาดทุน




English title

:



Rating

: 1/5


Director

: นฤมิตร



Main actor

: Lor Tok,Joomjim Khemlek,Pinyo Parnnui,Supakorn Srisawat


Main actress

:
Three comics are doing shows on the street and ask for tip money. They found a suitcase full of banknotes on the street. They give it back to the owner and refuse any reward. The owner, called Truat, is impressed by their kind heart, so recruits them. Truat is sick and doctor tells him he doesn't have a lot of time left to live. He asks them to get a specific medicine for him. If they don't help him, he will give all his heritage to social organizations. He has only half of the paper giving hints on this medecine. The other part is located in Pattaya with a psychic called "Chi Fat". Then they now need to find a beggar. Later on they have to find a girl named Madonna. Then they face two brigands groups (Red versus Yellow) wishing to get their money. Then they help a man following a weird operation in hospital. They find love during their quest of the medecine paper. This is a typical Thai weak comedy from 1980s decade with a "katoey" (กะเทย) in the funny and silly role.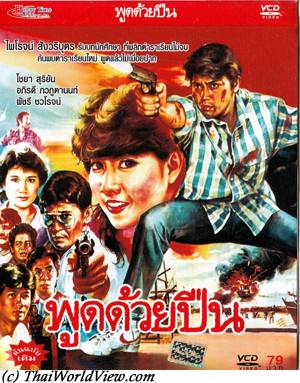 Year

: 1984



Thai title

:

พูดด้วยปืน




English title

:



Rating

: 3/5


Director

:



Main actor

: Phairoj Sangwaribut,Chaiya Suriyun,Lak Apichat,Pinyo Parnnui,Krailat Kriengkrai


Main actress

: Apiradee Pawaputanon



Buy now

:

Thai action movie พูดด้วยปืน was released in year 1984 and it lasts 89 minutes. Eh (Phairoj Sangwaribut) is a student. His friend Tor is beaten by two thugs. The leader takes revenge as Tor sent him to jail 3 years ago. The two thugs then try to attack Eh but he succeeds to get rid of them. His girlfriend is Sa (Apiradee Pawaputanon). Tor is back home but he is blamed by his father for being useless and being a gay. Eh is back to Choomporn as his parents have been killed. His father, a politician, was killed by ruffians (Lak Apichat, Pinyo Parnnui) as he refused to withdraw from next election. His wife was killed also. Police inspector (สารวัตร) suspects Ah Kadet (Chaiya Suriyun) but he has no proofs. Eh has to sell the house and land as his parents were indebted. He entrusts his sister Eoh to his father's friend. He decides to stop studying. Eh stays with Chom (Krailat Kriengkrai). Eh gets a shot gun and gets revenge by shooting one of the killers. Ruffians get revenge by shooting Eh's parents' friends but Eh refuses to provide hints to the police. Lak is shot but Eh is injured. The boss hires two thugs from Bangkok to work with Pinyo to get rid of Eh. They are the two thugs, who got beaten by Eh so they want to take their revenge. Pinyo (สัตว์นรก) is then killed also. The two thugs get punished again. Ah Kadet pushes Tor to kill Eh if he wants to get back his parents' belongings. Finally Eh gets rid of Ah Kadet in a shipyard. Eh shall marry with Sa next month but Tor, unaware of Ah Kadet's death, shall still execute his orders...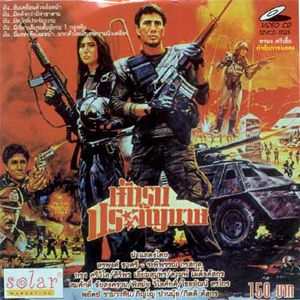 Year

: 1984



Thai title

:

นักรบประจัญบาน




English title

: Cobra Thunderbolt



Rating

: 4/5


Director

: Toranong Srichua



Main actor

: Sorapong Chatree,Krung Srivilai,Chaiyan Sorakrai,Dam Datsakorn,Somsak Chaisongkram,Pinyo Parnnui


Main actress

: Pissamai Wilaisak
Thai movie นักรบประจัญบาน was released in year 1984 and lasts 1h47mn. Toranong Srichua is the movie director. The Thai VCD has a good image quality but is 4:3 format. A Japanese VHS version is in 16:9 format but only lasts 1h29mn. It is a Sahamongkol production. A group of heavily armed Thai terrorists (including Dam Datsakorn, Somsak Chaisongkram, Pinyo Parnnui) are trained in Thailand. The Thai army commander asks to neutralize them asap. Tet (Krung Srivilai), previous military officer and now disabled, is sitting on a wheelchair and is pushed by his wife (Pissamai Wilaisak). He is providing advices to Thai army commander. Det (Sorapong Chatree) is Tet's previous best fighter (นักรบ). Tet was his superior (ภูพาน) in year 1971. Both Tet and Det were the only survivors following heavy fightings at the Thai border. Tet lost use of his legs. The Daily News Press director sends his best journalist Ann (ศิริพร เอี่ยมสุนทร) to enquiry on a factory building illegally war weapons. The factory owner is Somsak Chaisongkram. The journalist receives threatening to stop her investigation on the factory. Meanwhile Tet demonstrates to Thai army commander his latest armored vehicle (รถวิเศษ). His own daughter (ระพีพรรณ กรสกุล) is the driver. Somsak is also very interested but Tet refuses to sell to him. Somsak sold weapons to communists causing Tet's former military unit to be decimated. Ruffians storm Tet's house and kidnap his wife. Police inspector (Chaiyan Sorakrai) wishes to help but Tet prefers to handle by himself as those kidnappers are not standard ruffians. Det, learning the news from a newspaper, decides to flee while doing community work in order to help his former boss. Ann helps him to find Tet. During tentative exchange with Somsak, Tet's wife is killed through a remote bomb hidden on her body. It is war. Tet provides proofs to Ann that Somsak sold weapons illegally to Cambodia, Lao and Vietnam. Tet is kidnapped. A bomb is put in Daily news' office by a renegade police officer but Police inspector Chaiyan stops it on time. Police locates the terrorist camp and tries to destroy it. Det uses the armored vehicle. Tet's daughter joins him with an individual flying machine. As policemen get difficulties, they wipe the terrorist opposition and release Tet. For this movie, Krung Srivilai made his head bald and was sitting in a wheelchair during whole movie. Toranong Srichua used his movie as a reference to show what risks could happen in Thailand in the future. Some happened (domestic terrorists, police officer betraying country, remote bombs on people…).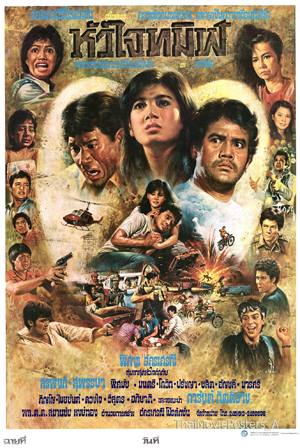 Year

: 1983



Thai title

:

หัวใจทมิฬ




English title

:



Rating

: 3/5


Director

: Pisarn Akraseranee



Main actor

: Sorapong Chatree,Kowit Wattanakul,Pinyo Parnnui,Chaiyan Sorakrai


Main actress

: Supansa Nuengpirom,Pissamai Wilaisak,Marasri Isarangkul,Duangjai Hathaikarn,Anchalee Chaisiri
Thai movie หัวใจทมิฬ was released in year 1983 and lasts 1h17mn. It was released under VCD format by Lepso Company and Rose Company. Movie director is Pisarn Akraseranee. Pissamai Wilaisak and her mother Marasri Isarangkul are heads of a drug cartel. A drug exchange occurs but it is a trick by the Thai police led by officer Kincha (Sorapong Chatree) and Kowit Wattanakul. They surround the ruffians' den. Heavy fighting occurs as ruffians are using war weapons such as machine guns. Marasri, seriously injured, takes grenades and races towards police cars. Kincha ends up at hospital and remaining ruffians flee. Kincha's wife (Duangjai Hathaikarn) asks him to stop as she is worried her children will have no father. Knowing who is the policeman leading the assault in the newspaper, Thong Kam (Pissamai Wilaisak) promises to get revenge. Sifa (Anchalee Chaisiri), Pinyo Parnnui, Montree Jenuksorn (มนตรี เจนอักษร), ปรัชญา อัครพล, ชลิต เฟื่องอารมย์, อภิชาติ อรรถจินดา and Chaiyan Sorakrai are part of the crazy ruffians. Sifa, being pregnant, gets married with วิสูตร ตุงคะรัตน์ (Thai Elvis Presley). The wedding doesn't end up well as the husband has a mistress. He sets up a bomb in the car. Both Sifa and her brother Chaiyan die. Montree gets revenge over Elvis but gets shot by Kincha. Another ruffian is captured. Mother Thong Kam is very upset. Kowit and Waen (Supansa Nuengpirom), Kincha's younger sister, are close friends. Ruffians kidnap by mistake Waen as she used her brother's car. Back home Kincha finds his family was killed. Thai police use the captured ruffian and organises a fake escape to identify where ruffians are hidden. Thai police storms the area and all ruffians are killed including the mother. One ruffian, named Karan (การันต์ กิตติราช), succeeds to escape with the younger sister Waen. He follows his mother's orders despite she is dead. He helps when Waen is bitten by a snake. Thong Kam was a raising mother, who trained them to be tamil. Waen starts to understand and to pity her kidnapper. He is injured by Kowit but still able to flee. He helps again Waen aggressed by crazy campers. Love occurs. Finally, Thai police surrounds the Buddhist cave, where they are hiding. Waen tries to convince her brother Kincha not to shoot at เจนอักษร. He doesn't understand her sister. Karan has to exit from the cave hearing Waen crying. As he is carrying a gun, Thai police shoots him. หัวใจทมิฬ is another violent movie shot by Pisarn Akraseranee.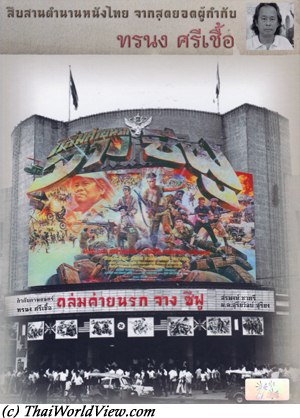 Year

: 1982



Thai title

:

ถล่มค่ายนรกจางซีฟู




English title

: KHUN SA THE OPIUM EMPEROR



Rating

: 3/5


Director

: Toranong Srichua



Main actor

: Sorapong Chatree,Joomjim Khemlek,Tuanton Kammeesri,Manop Aussawathep,Somjin Thammatat,Nirut Sirijanya,Pinyo Parnnui,Somsak Chaisongkram,Pumi Patanayut


Main actress

: Nanthida Kaewbuasai
Thai movie ถล่มค่ายนรกจางซีฟู / 'KHUN SA' THE OPIUM EMPEROR was released in year 1982 and lasts 1h45mn. The DVD soundtrack is quite bad with sound going up and down. The DVD image has also a poor quality. This is a VHS ripped and put on a DVD. Movie director is Toranong Srichua. This movie is about Chang Chi-fu (จางซีฟู) or Khun Sa, famous opium warlord. In January 1982 a Thai Ranger squad, together with units from the Border Patrol Police and the Royal Thai Army, was used to force Khun Sa to move his headquarters from Thailand across the border into Burma. Sorapong Chatree recalls war and is stressed. He is sent to spy Khun Sa. Twenty men, including Tuanton Kammeesri / Pumi Patanayut / พยัคฆ์ รามวาทิน, arrive in the camp led by Khun Sa. Their trainer is Joomjim Khemlek. Khun Sha (Somjin Thammatat), drug warlord, sells drugs to buy weapons. Manop (Manop Aussawathep) has conflicts with Khun Sha. Manop is attacked on his way back by Burmese soldiers but gets help from Nirut (Nirut Sirijanya). Manop is back to his mountain village with Nirut. His younger sister Rungfa (Nanthida Kaewbuasai) welcomes him. A journalist Pinyo Parnnui is arrested by Somsak Chaisongkram. He wishes to interview khun Sa. Sorapong, disguised as a fleeing prisoner, is attacked by a plane and then is arrested by Khun Sa's men. Siriporn (ศิริพร เอี่ยมสุนทร), daughter of Khun Sa, saves his life but he remains tied. Manop learns that the Burmese soldiers who attacked him are in fact soldiers linked to Khun Sa as real Burmese soldiers would not dare entering Thai soil. Upset, Manop and Nirut storm Khun Sa's HQ but get captured. Sorapong wins Siriporn's trust. Khun Sa believes there is a traitor in the camp. Sorapong sympathizes with other men, who are part of the government. Siriporn complains her father produces too much drugs. Drug is given to prisoners to keep them under control. Sorapong succeeds to have his friends escaping but he is then captured. About to be hanged, Sorapong is released by his teammates. Thai forces' attacks against the camp happen. Many people die but Khun Sa succeeds to flee in Burma. This movie is often considered as Thai remake of US movie "Apocalypse Now" by Francis Ford Coppola.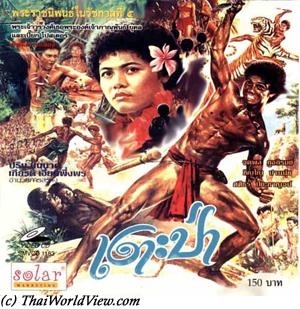 Year

: 1980



Thai title

:

เงาะป่า




English title

:



Rating

: 5/5


Director

: Prince Bhanu Yukol,Piak Poster



Main actor

: Jatuphol Poopirom,Pinyo Parnnui


Main actress

:



Buy now

:

Thai movie เงาะป่า was released in year 1980 and lasts 1h32mn. It was released under VCD format. It was remastered in full HD format by Five Star production in mid-2010s. Movie director is Piak Poster. This movie takes place in a tribe located in a forest. They have all a dark skin so are called "เงาะป่า" tribe. Sompla (Jatuphol Poopirom) is a young fearless man skilled in animal hunt with blowpipe and knowledgeable in medicinal herbs and plants. The tribe is wearing clothes like South Pacific tribes. Lamhap (ศศิธร ปิยะกาญจน์) is the daughter of the local sorcerer (หมอผี). The local sorcerer would like Sompla to become the next sorcerer as he is getting older but Sompla refuses. The tribe exchanges goods from the forest with Thai villagers at the market. Anao, the village leader's son, is good at sales so Lamhap's parents appreciate him. The movie highlights their everyday life in the forest, i.e. getting fruits and food from the forest, be aware of danger such as snake and tiger... It is a beautiful ode to natural life. There is a contest to shoot flowers and to win ladies hearts. Jealousy happens between Sompla and the village leader's son, Anao (Pinyo Parnnui), as both love Lamhap. Lamhap prefers Sompla but the marriage decision is linked to her parents' choice. The village leader wants his son to become the next leader and wishes Anao to marry Lamhap. After a misunderstanding with Sompa, Lamhap accepts to marry the village leader's son. The wedding is beautifully shot, and it reminds about Thai movie "The old scar" (แผลเก่า), which also features portraiture of Thai culture and way of life through a tragic romance. Sompa ruins the wedding night by making noise and sending rocks on their roof. While Anao goes out to catch the intruders, Sompla kidnaps Lamhap. The movie includes beautiful ambient light shooting with torches as the village leader's family is chasing them. Sompla and Lamhap flee. They go deep inside the forest. They are tracked down due their fire smoke. A fight happens between Sompa and Anao. The winner shall get Lamhap. Sompa wins by attracting Anao inside the deep forest instead of fighting inside a clearing. Unfortunately, another fighter shoots Sompla with a poisonous arrow. Sompla dies and Lamhap kills herself over Sompla's body. This movie was directed by the General Major His Royal Highness Prince Bhanu Yukol, a pioneering Thai filmmaker. He was the uncle of famous director Prince ChatriChalerm Yukol. Thai actor Jatuphol Poopirom received a posthumous Thai award for his performance as he died in 1981 in a car accident. The movie soundtrack mixes a traditional and entertaining music. It is based on a novel (Romance of the Sakai) by Thai King Rama 5. The Culture Ministry registers 25 Thai classic films each year at the National Film Heritage Registry. This movie is part of the 25 films heritage list announced on 04 October 2015, which is Thai Movies Conservation Day.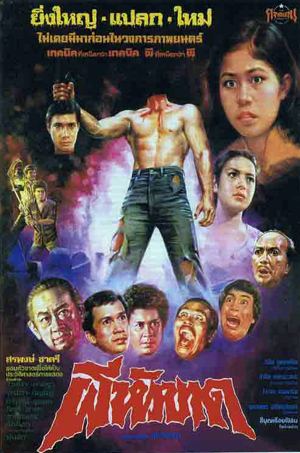 Year

: 1980



Thai title

:

ผีหัวขาด




English title

:



Rating

: 4/5


Director

:



Main actor

: Sorapong Chatree,Lor Tok,Settha Sirachaya,Pinyo Parnnui,Siripong Isarangkul


Main actress

: Wassana Sitthiweth
Thai movie ผีหัวขาด was released in year 1980. It is a lost movie in Thailand. Luckily it was released under VHS format in Taiwan under the name "Siamese curse" / 鬼貢头 in year 1980. It was also released in year 1984 in Malaysia under the name "SUMPAHAN SIAM". SUMPAHAN SIAM was released in Malaysia so it is dubbed in Malaysian. The VHS features subtitles in English, Chinese and Malaysian! It only lasts 1h17mn. A remake was released in year 2002. Chiao (Sorapong Chatree) and young lady Hsiao Feng (Wassana Sitthiweth) are close friends. Chiao dreams about marrying Hsiao Feng. Settha Sirachaya is Chiao's close friend. Lor Tok is one of the village masters (หมอผี). Settha Sirachaya asks for love oil to master Lor Tok. Villager Ken's head is found by Lor Tok during incantations. Those repetitive deaths are worrying so village leader asks for defense troops volunteers in order to protect villagers. Chiao (Sorapong Chatree) and Settha are volunteers. Another villager Ah Hing disliking Chiao is volunteer also. Chiao loves Hsiao Feng but refuses to use love oil done by master Lor Tok. Ah Hing has arguments with Chiao. Ah Hing's father is played by Siripong Isarangkul. A festival is happening so ruffians wish to steal the golden Buddha statue located in the local Buddhist temple. Chiao visits his master, who warns him that he is in danger. He should ordain as monk the day after to avoid losing his life. Chiao acknowledges and leaves. On the way home, a storm occurs, and he looks for a shelter. He ends up in the village Buddhist temple and sees ruffians stealing the golden Buddha statue. He tries to prevent the robbery, but he is killed by ruffian Pinyo Parnnui. His head is cut, and his body hidden in the graveyard. The ruffians fail to steal the Buddha statue. On the following day, Chiao cannot be found in the village. While looking for dead bodies to do corpse oil, Lor Tok finds Chiao's body. Villagers are now aware of his death. The master promises to find the head in order to do a proper cremation ceremony. Meanwhile Chiao's body wakes up and is looking for his head. He frightens villagers. Ruffians try to steal the golden Buddha again but Chiao stops them. Finally Chiao finds his head. During the village festival, Lor Tok stains Hsiao Feng's dress by mistake. She goes to the nearest house, i.e. Yin Hing's place, to clean it. There Hsiao Feng finds all the Buddha statues' stolen heads, so the ruffians have to kill her. Settha interferes and is injured. Villagers try to stop them. Ah Hing threatens to kill Hsiao Feng. Chiao chases them but Siripong involves one skilled master also to fight against Chiao and his master. Chiao's master is defeated. Chiao breaks his opponent's spells. Siripong and Pinyo get killed. The master burns in the fire. Chaio's body and his head get cremated in the big fire.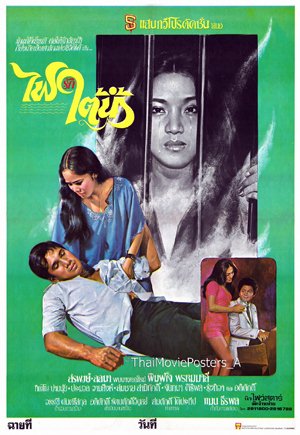 Year

: 1979



Thai title

:

ไฟรักใต้น้ำ




English title

:



Rating

: 3/5


Director

: Man Teeraphol



Main actor

: Sorapong Chatree,Somchai Samipak,Pinyo Parnnui


Main actress

: Lalana Sulawan,Janthana Siriporn
Thai movie ไฟรักใต้น้ำ was released in year 1979 and lasts 1h34mn. The movie was available on VHS. It is a movie recording on TV CH3 many years ago. It was first movie for actress พิมพ์ใจ พรหมมาลี. Movie director is Man Teeraphol. It is businessman Somchai's (Somchai Samipak) birthday party. His daughter Tum (Lalana Sulawan) is managing the party with the help of Bun (Sorapong Chatree), being a dedicated staff. Su (Janthana Siriporn) is Tum's close friend. Vinny is Tum's sister. Bun meets attractive young lady Jit (พิมพ์ใจ พรหมมาลี) at the party. On the next day, Jit starts trying to seduce Bun. Bun is a clerkman without money and is very shy. He lives in a slum. Jit invites Bun to go out. Vinny sees Bun and Jit together. Bun and Jit become lovers. Jit wants to marry Bun. Bun does not move to Jit's home as he does not want to be perceived as profiting from a richer woman (กอดเมียน้อย). They marry but Bun wants to keep money on his own for the wedding. Jit works for the government. Jit has a strong libido. Peung (Pinyo Parnnui) is mute and is a musician in Pattaya hotel. Jit has a manager, who is her former lover. Jit is not fully happy with her married life. Jit spends a lot of money as she must join official events (งานสังคม), so it makes Bun upset. Bun works hard so he does not have time for his wife at nighttime due to tiredness. Jit needs sex (ต้องการ). Having dinner with her boss, he drugs her. Vinny and Su see Jit in the car and see her running out from a short time hotel. Jit fled from the hotel before her boss could do anything to her. They share the news with the father Somchai and Tum. Back home, she drinks a lot and argues with Tum, who is sending Bun back home. Bun slaps Jit, who quit their home. Back to Pattaya hotel, Jit drinks a lot as she complains Bun does not understand her. The boss just wants a mistress and makes many promises to Jit. She is not interested. Finally, Peung and Jit become lovers. Jit is not yet divorced but is having an affair with Peung (ชู้). Tum is aware through Vinny. Jit needs desire (ความใคร่). Bun is sick as he works too much. He is just husband in name (ผัวในนาม) so he is also upset. The ladies bring Bun to Pattaya to try to find a solution. Bun sees Jit with Peung. He punches Peung and slaps Jit. At evening time, Bun drinks a lot. Peung, wishing to get revenge, hits him with a stick. He then tries to strangle Tum. Jit, looking for Peung, intervenes and has no choice but to stab Peung. Jit ends up in jail and recognizes her mistakes, but it is too late. She wishes good luck to Bun and Tum together.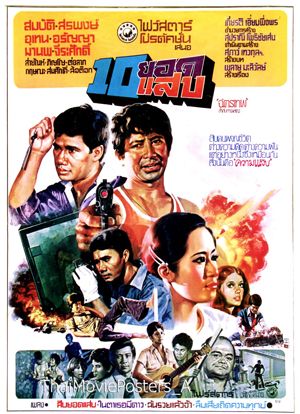 Year

: 1978



Thai title

:

10 ยอดแสบ




English title

: 10 rascals



Rating

: 4/5


Director

: ฉัตรเทพ ฉันทมินิ



Main actor

: Sombat Methanee,Sorapong Chatree,Uten Boonyong,Lor Tok,Somsak Chaisongkram,Tawan Siriwat,Manop Aussawathep,Pinyo Parnnui,Sayan Chantaraviboon


Main actress

: Aranya Namwong
Thai movie 10 ยอดแสบ / 10 rascals was released in year 1978 and lasts 1h52mn. Movie director is ฉัตรเทพ ฉันทมินิ. A remastered version was released by Five Star Production (ไฟว์สตาร์โปรดักชั่น) in the decade 2010s and shown on Thai TV cable. The movie was never released on VHS / VCD / DVD in Thailand. Four songs are featured สิบยอดแสบ, ในตาเธอมีดาว, ฉันรวยแล้วจ้า, ลืมเสียเถิดความทุกข์. Nitaya (Aranya Namwong), going out of a factory by bicycle, is a witness of a lawyer murdered by a hitman and ordered by Han (Somsak Chaisongkram). Han is ordered by his boss to get rid of a traveller arriving at Don Muang airport. The traveller is working for Tawan Siriwat. Tawan (Manop Aussawathep) visits Tawan Siriwat in his supermarket and sees where he stores his gold. Working with Han, Tawan shoots Tawan Siriwat and his men. One of them can flee and injures Tawan. Tawan shoots back at him and a petrol station explodes. Jirasak (จิระศักดิ์ อิศรางกูร) witnesses this event. Pinyo Parnnui is Jirasak's friend selling flower garlands to car owners. Nitaya meets Tawan at the hospital. Tawan lies about his injury. He contacts a ruffian called See Prom (กฤษณะ อำนวยพร) to get the gold on his behalf. Meanwhile Jirasak and Pino go back to the supermarket hoping to steal some food. They see See Prom and his men transporting gold, so they succeed to steal it and flee with See Prom's car. They request help from Rot (Sayan Chantaraviboon) in order to sell the gold. They hide in a hotel, but a man recognizes See Prom's car and alerts him... The three friends succeed to flee and take refuge in a Buddhist temple near their home. See Prom is aware as he gets the information from Rot's wife. Attacked by ruffians, the three friends get help from the undertaker, called Thong (Sombat Methanee), being a half-crazy man back from the Vietnam war. They ask his help to hide the gold. Ruffians are back for revenge. Thong neutralizes the leader Tawan. Tawan proposes them to join his team and to go to North of Thailand to meet Lao Seu, being a gold reseller. Meanwhile Tawan stores the gold in a safe. Later Nitaya visits Tawan and realises there are many ruffians in his home. The four friends celebrate in a restaurant about their future wealth and Nitaya joins them. Nitaya warns the four friends about Tawan as he has no plan to share anything with them. She is aware about the gold. See Prom and Han try to get rid of Nitaya but fail as her Police colleagues help her on time. Police are now aware that Tawan acts as a ruffian and are collecting proofs against him. The four friends wish to get back the gold as they don't trust Tawan. They ask help from two additional friends, Uten Boonyong and Sorapong Chatree, experts in opening safes. Uten has a romance with Melanie, Tawan's girlfriend. He convinces her to help and to bring Tawan outside his home while he and his friends open the safe. They successfully open it thanks to Sorapong and go to the North of Thailand to meet Lao Seu. Tawan, being upset, kills Melanie as she betrayed him. The friends (including ต่อลาภ กำพุศิริ) meet Lao Seu (Lor Tok). They try to sell the gold but Tawan and his ruffians intervene. Fighting occurs. Ruffians are finally killed including See Prom and Tawan. Thai police with Nitaya arrive and arrest everybody.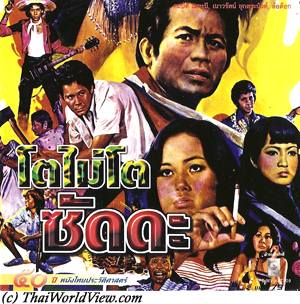 Year

: 1978



Thai title

:

โตไม่โตซัดดะ




English title

:



Rating

: 4/5


Director

:



Main actor

: Sombat Methanee,Lor Tok,Pinyo Parnnui


Main actress

: Naowarat Yooktanun,Naiyana Shewanan,Metta Roongrat
Ananda, high society lady, is pregnant. She has to give away her child to save appearances. Twenty years passed. Ananda is still thinking about her lost child. Ananda is the elder (พีใหญ่) and has two brothers Klang (พีกลาง) and Lek (พีเล็ก). She is married to a man called Boon and they have a daughter called Phiu. Klang (Sombat Methanee) refuses a wedding with Phiu as they are like brother and sister (ญาติ). Klang is fiance to a singer called ReudeeWan (Naowarat Yooktanun). Klang is ashamed that ReudeeWan is a singer but she wants to keep her freedom. Tia (Naiyana Shewanan) is a young girl living in a poor family. Her brother is called To. He is deformed like Quasimodo. They are selling food by using a mobile cart. Drugged people kill Tia and To's mother to get money to buy narcotics. One day accidentally Klang destroys Tia's cart and asks her to work as domestic helper with her brother when he learns about her mother's tragic death. One evening Lek is drunk and Phiu takes benefit of it to secure her future. ReudeeWan fights with Tia as ReudeeWan sees Tia as a rival. Tia uses sharp tongue with Phiu, ReudeeWan and Ananda. Tia has feelings for Klang. Boon always plays cards and loses. One day Boon is drunk and tries to abuse Tia. As he is the master (เจ้านาย), he believes he can have right over Tia (ดูถูกคนใช้) and treats her as a prostitute. To protects his sister, To hits Boon. Tia slaps Ananda as this latter despises her. Tia and To leave the home as there are not happy (ไม่สบายใจ) here. Tia finds a new job as beautician. To becomes a thief! 200 000 baht are stolen by ruffians. To is captured but is released as he helps the Police to get back the money. The head of the ruffians is Boon! Tia is working in a beauty shop (ผู้เสริมสวย). Ruffians kidnap her as Boon wants Tia to be his wife (เมีย). She succeeds to flee and threatens to fill a complaint (แจ้งความ). Following Klang's request, To and Tia are back to his home. Later To is shot by gun. Ananda is selfish (ใจร้าย) as she refuses to stain her car with To's bleeding body. In fact To is Ananda's lost child. To is safe (ปลอดภัย). Still looking for revenge, Boon orders to kill Ananda but To sacrifices his life to save her. To asks Ananda to take care of Tia (ฝาก). Boon gets shot by his own ruffians. This movie highlights that perceptions can be wrong. Poor people can be good also and high society people (ผู้ดี) can be bad also. This two hours movie features nice 1970s songs.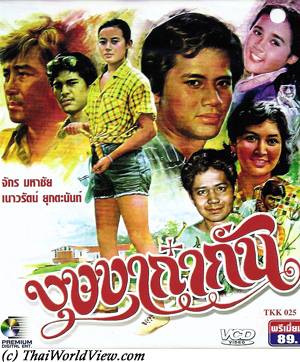 Year

: 1978



Thai title

:

บุษบาก๋ากั่น




English title

:



Rating

: 3/5


Director

:



Main actor

: Sayan Chantaraviboon,Lak Apichat,Juk Mahachai,Pinyo Parnnui,Chat Mongkolchai


Main actress

: Naowarat Yooktanun
Young lady Thep is witness of a robbing and murder of a businessman. Two ruffians fail to silence her as she is able to fight back. By trying to help, she finds herself accused of the murder. She is living with her sick mother. Nathuan, the stepfather, is a lazy man, who only drinks alcohol, plays card and despises Thep. Thep has to flee from her home to avoid being captured by the police. She finds refuge in a slum community. She is welcomed in a group of youngsters selling newspapers. They name her Suey (สวย - beautiful). She accepts to be the elder (พี่) and take care about the younger (น้อง). One of the ruffians, Pen, has a sick mother also. They planned to rob the businessman money as his girlfriend Orathai told them he should withdraw 500 000 Baht on that day. Only 5 000 baht were found but newspapers announces that 10 millions have disappeared. They believe money is with Thep so look for her in Bangkok. Her new friends kindly ((น้ำใจ) give their money to cure her mother. She has to flee the ruffians and take refuge in a fashion designer shop. The businessman was finally only injured. He lied about the money to cause trouble inside ruffians team. His son, Phetchaboon, doesn't like his new step mother. He is right as she is involved in the robbing tentative. The son Phetchaboon chases Suey as he wants to catch those who tried to kill his father. There is a fire in the slum. Their home is burnt. Phetchaboon welcomes the group in his home and also accepts Suey's mother. While going to the slum to fetch her mother back home, there is a fight with Nathuan and the mother is killed. Meanwhile Suey's friends are kidnapped by the ruffians. Pen refuses to join a jewelry robbery. Pen is confused as he needs money to cure his mother but promised to her to be a good man. The ruffians leader Pralit kills his mother as a revenge. Suey recognizes Pen in the street. She catches him with Petchaboon. He tells them where her friends are held prisoners. Suey releases him as he has become a good man but it is too late for his mum. During a feast organized by the businessman, the ruffians open the safe. Aware of the plan, Suey, Petchaboon, Pen and the friends stop them from escaping. Orathai is dismissed and Pen takes revenge over Pralit regarding his mother murder. The movie ends with many happy weddings. The main actor is Juk Mahachai (จักร มหาชัย), who seems to have had a short cinematographic career in 1970s.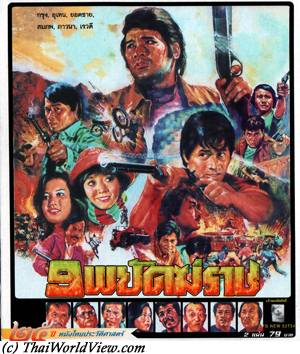 Year

: 1977



Thai title

:

9 พยัคฆ์ราช




English title

:



Rating

: 2/5


Director

:



Main actor

: Krung Srivilai,Yodchai Meksuwan,Uten Boonyong,Pinyo Parnnui,Sithao Petcharoen,Somphob Benjatikul,Sompong Phonmitr


Main actress

: Pawana Chanajit,Rewadee Pattaphong
This movie is one of the many Thai action movies released during decade 1970s. This movie involves a quatuor of famous Thai actors, i.e. Krung Srivilai, Yodchai Meksuwan, Uten Boonyong, Pawana Chanajit. Side characters are Pinyo Parnnui, Sithao Petcharoen, Somphob Benjatikul as a ruffian, Sompong Phonmitr. The daughter Kaessini (Rewadee Pattaphong) is back. She succeeded getting an university diploma. She wishes to use her knowledge for the benefits of the villagers. The villagers have serious issues with local ruffians. Krung is coming from Bangkok. Krung beats a few ruffians. Yodchai Meksuwan is playing a fake medium and provides fake medicine (ยาเทวดา). Yodchai is recruited by Krung. Thugs leader wants to force villagers to sell their land. As they refuse, he kidnaps Pawidee (Pawana Chanajit) in front of her father (Sompong Phonmitr). Shootings happen at the teacher's home. The movie sold by Lepso VCD company seems incomplete or cut as the release of Pawidee is not shown. Frequent fightings happen between ruffians (นักเลง) and Uten and Sa ong. Similar to The Magnificent Seven movie, Krung and his three friends resist to the ruffians. As the ruffians prepare a plan to kill them, Krung prepares a strike back offensive. Ruffians are the ones to fall in a trap. Heavy fightings and shootings happen. All ruffians are defeated or killed. Sa ong is killed. Movie '9 พยัคฆ์ราช' was released in year 1977 and lasts 1h43mn. The Lepso VCD has an horrible sound. Thai action movies were very popular in decade 1970s. This movie gathers many famous stars (Krung Srivilai, Yodchai Meksuwan, Uten Boonyong) but the result is average.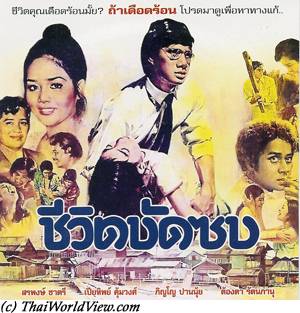 Year

: 1977



Thai title

:

ชีวิตบัดซบ




English title

: Damned life



Rating

: 5/5


Director

: Euthana Mukdasanit,Permpol Choei-arun



Main actor

: Sorapong Chatree,Pinyo Parnnui


Main actress

: Piathip Kumwong



Buy now

:

Teacher Tom and his hairdresser wife Reusi are living in a slum. They have a daughter. Tom is very dedicated to his job and study books every evening. His wife is bored and wishes to have a more exciting life. Following a friend invitation to a high society party, she goes alone as Tom believes it is not his world. There she meets a rich man and becomes her lover. She starts to go back home very late and doesn't go to her daughter's school activities. Following arguments between Tom and Reusi, they finally agree to divorce and Reusi announce to him that he is not the real father of their daughter! The slum is also full of robers and drug sellers. By unfortunate incident, Tom contributes to the arrest of one drug seller. This latter wishes to take revenge on Tom. Reusi is finally dumped by her rich lover. Tom and Reusi finally stay together for the good sake of their daughter and start to have hapiness again. One stormy night when Tom is out for working late, 4 drunk men lead by the drug seller enter in Tom's house, rape his wife and kill his daughter. Tom chases them and kills them one by one but his life is wrecked. What a damned life... This movie about slum dwellers earned Bt1 million at the box office. In 1977 this movie was almost a clone of the popular newspapers' front pages as it dealt with drugs, rape, divorce, violence. Virtue is not rewarded. Sorapong Chatree got his first Thai cinema reward thanks to this movie (ตุ๊กตาทองตัวแรกของพระเอกสรพงษ์ ชาตรี).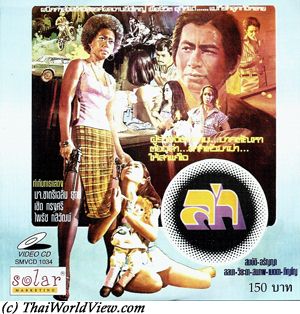 Year

: 1977



Thai title

:

ล่า




English title

: The Hunter



Rating

: 4/5


Director

:



Main actor

: Sombat Methanee,Somsak Chaisongkram,Somphob Benjatikul,Pinyo Parnnui,Lak Apichat


Main actress

: Aranya Namwong,Wiyada Umarin,Lalana Sulawan,Metta Roongrat
A group of ruffians (Pinyo Parnnui) indulging in drugs and alcohol is terrorizing a slum. Mateson (Aranya Namwong) is married to Atisak. They have child called Pheung (Lalana Sulawan). Atisak has a mistress so Mateson has no choice but to divorce. The house remains under Atisak's name as she made the mistake to give him money in order for her parents to believe he was a richer bachelor (ผู้อุปถัมภ์). They have to move in a slum to get cheap rent. They get some support from their aunt (Metta Roongrat). Mateson is looking for a job. Karucha (Sombat Methanee) interviews her. Hearing the unfair rumors on Mateson, he decides to recruit her. Karucha has also a daughter. A fight happens between Karucha and Atisak as they meet in a restaurant. Police, led by police inspector Lak Apichat, is looking for evidence that the ruffians are selling drugs in the slum. Karucha wishes to marry Mateson but she refuses. Meanwhile police shoots the ruffians. Their leader, injured, consigns a bag of heroin to Pheung. When Mateson is back, drug is given to police. Ruffians promises to take revenge on the mother and the daughter. Police is looking after their house. One evening as Karucha couldn't send them back home as his daughter has to be sent to hospital, they get caught in a serious storm and the ruffians catch them inside the slum as the taxi refuses to go up to their home. Both get raped. Mateson still refuses to go in Karucha's home. Pheung remains in a shocked state despite support of the doctor (Wiyada Umarin). The ruffians get released later. Mateson decides to take revenge by herself as men never take responsibility. She frames Atisak in a trap by disguising herself as a black prostitute. Atisak's new girlfriend, being jealous, shoots him. She learns how to make up well. She then shots three ruffians by attracting one of them by playing a junky. All those killings start to have an impact on Mateson's spirit. People start to make a link between the ruffians killings one by one and the number of dolls given to the daughter. Killing happen in atrocious ways such as acid and cut by a train on railway. Two are left, i.e. the leader Yong (Somsak Chaisongkram) and Paew (Somphob Benjatikul). Paew discovers that she is Mateson but finally all die. Mateson has become crazy. She succeeds to kill them one by one but her eager wish to take vengeance leads her to madness. This 2h10mn movie was produced by ChatriChalerm Yukol.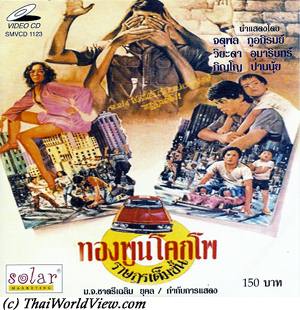 Year

: 1977



Thai title

:

ทองพูน โคกโพ ราษฎรเต็มขั้น




English title

: Taxi Driver (Citizen I)



Rating

: 5/5


Director

: ChatriChalerm Yukol



Main actor

: Jatuphol Poopirom,Pinyo Parnnui,Somsak Chaisongkram,Boo Wibunnan


Main actress

: Wiyada Umarin,Marasri Isarangkul



Buy now

:

Thai movie ทองพูน โคกโพ ราษฎรเต็มขั้น / Taxi Driver (Citizen I) was released in year 1977. Thongpoon (Jatuphol Poopirom) is a Thai farmer coming from Udon Thani and going to Bangkok. Thongpoon sold his rice field in Udon and has spared money during five years to buy a taxi. This taxi represents the future for him and his young son. It is his dream to have his own taxi. Thongpoon is gullible. Rich Bangkok people cheat him by claiming having no change but Taen, a kind-hearted prostitute, gives him a note without asking change back. Her name is Taen (Wiyada Umarin) and she has issues with Somsak Chaisongkram (แมงดา) as she is pregnant. Thongpoon helps chasing Somsak away and becomes her regular taxi driver. He picks up her at her working place (อาบอบนวด). Thongpoon proposes to Taen to take care about his son but not easy to stop such job well paid. Thongpoon meets also Pinyo Parnnui, who claims to be a Thai soldier having fought in Vietnam and now being paralyzed. When his taxi get stolen by bad boys, his life alters. As they also steal his money, he is expelled from his home by his landlord (Marasri Isarangkul) as he cannot pay the rent. He ends up working on a construction site. His goal is to get back his taxi by all means. Pinyo brings him where the ruffians mingle but he gets beaten again. A business card lost allows to identify Boo Wibunnan as garage owner. He then forgets Taen and son. He refuses money from Taen to buy a new taxi as he doesn't want to be a pimp (แมงดา). He storms Boo's garage and kill the ruffians trying to stop him. This madness leads him to prison. This movie highlights the impossible fight between poor and rich influential people, the analogy between the buffalo and the taxi for poor Isan people in Bangkok. Jatuphol Poopirom got a Thai award for his performance. It was his first movie. Sorapong Chatree was supposed to play the main role of Thongpoon but he was not available for the shooting so new comer Jatuphol Poopirom replaced him. As Jatuphol Poopirom died during a car accident in 1981, Sorapong Chatree played the main role in Citizen II. ChatriChalerm Yukol drove around Bangkok for weeks with cab drivers gathering anecdotes for "The Citizen".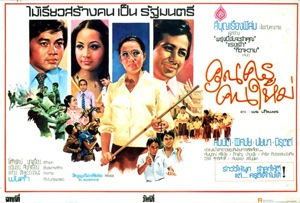 Year

: 1975



Thai title

:

คุณครูคนใหม่




English title

:



Rating

: 4/5


Director

: Phan Kam



Main actor

: Sombat Methanee,Nirut Sirijanya,Pinyo Parnnui


Main actress

: Pissamai Wilaisak,Naiyana Shewanan
Teacher (ครู) Rabiep (Pissamai Wilaisak) leaves Nakhon Sawan school as she needs to bring her mother for treatment in a modern Bangkok hospital. Her sister is Mon (Naiyana Shewanan). Another school headmaster, following a recommendation from his Nakhon Swan friend, asks her to join his school and teach a boys class (นักเรียนอะไรไม่มีมารยาท). Santhi comes to school but doesn't enter class so gets scolded by teacher Rabiep. Rabiep is torn between her concern towards her sick mother and her teacher duty (หน้าที่). She takes deep concern in her pupils future and wants all of them to pass exams (พ่อแม่ที่สองของนักเรียน). Rabiep is still single. As a young teen Thong (Pinyo Parnnui) is chased away from Santhi's home, Rabiep accepts to shelter him. Santhi comes back to Thong to ask him to join his ruffians group but he refuses so gets severely beaten. Per teacher Rabiep's code, Santhi is canned six times as he refuses to apologize to Thong. Khun Sathan, Santhi's father, comes to complain to the school. He has funded the school (นายทุน). 18 years ago Sathan (Sombat Methanee) and Rabiep had a love story but finally Sathan married another lady. Sathan believes Rabiep takes revenge over him through his son and asks the school headmaster to fire Rabiep. The headmaster is in a difficult situation as he is indebted to Sathan. Meanwhile Mon goes to complain to Sathan's but only meets doctor Nophol (Nirut Sirijanya). Santhi is arrested by the police following fighting in a bordel. Teacher Rabiep makes him leave the jail and Sathan understands Rabiep's kindness towards her Pupils. Per doctor Nophol's request, Mon, university student in her last year to become teacher, accepts to give private lessons to Santhi. As he tries to abuse Mon, he gets slapped by his father and flees from home. Following his wife's death, Sathan didn't educate him in a right way (ตามใจ). Due to lack of money and difficult life in slum house, Santhi finally accepts to go back to school but tries to tarnish Rabiep's name (ทำให้เสียชื่อ) as he is aware of the love story 18 years ago. As Sathan chases away his son, he ends in a coffee shop where he is beaten by thugs. Teacher Rabiep recovers him from the police and offers him a new chance by giving him a shelter in her home (รักครูเหมือนแม่). Santhi becomes a good guy helping on chores and is studying well. He accepted in the army. Sathan forgives to his son and starts a new romance with teacher Rabiep. All bad pupils have become good guys and give their respect to teacher Rabiep (วันไหว้ครู). The movie highlights teacher dedication and their importance in their duty to transform children into good adults. It is the first movie for veteran actor Pinyo Parnnui.
---