Increase or decrease font size for easier reading : A+ A-
Piathip Kumwong
Piathip Kumwong (1948) - เปียทิพย์ คุ้มวงศ์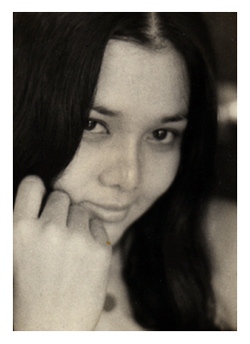 Piathip Kumwong
This Piathip Kumwong movie page contains 35 records.
---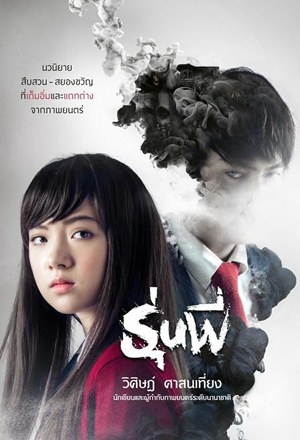 Year

: 2015



Thai title

:

รุ่นพี่




English title

: Senior



Rating

: 4/5


Director

: Wisit Sasanatieng



Main actor

: Sahat Piempongsan


Main actress

: Piathip Kumwong



Buy now

:

Thai movie รุ่นพี่ / Senior was released in year 2015. The movie lasts 1h47mn. Movie director is Wisit Sasanatieng. Mon, student in a convent, is a lonely girl talking alone. Both her parents die 12 years ago. Since that time, she can see and feel spirit's presence. One young male spirit keeps asking for her help but she refuses. She sympathises with another girl called Ann. Both of them are always harassed by other school girls. Mon finally accepts to help the spirit Run Phi to resolve a murder and a burglary (มรดก). Mon is able to feel spirits (สัมพันธ์). Mon contacts people involved such as Doctor Saneu (Sahat Piempongsan) and Mrs Wipha (Piathip Kumwong) but they don't appreciate that such old case is reopened 50 years after. The spirit needs her help as he is not able to go through walls or doors if the building mapping has changed. The murderer (ฆาตกร) is still unknown. Her friend Ann is pregnant. A teacher is her boyfriend but he refuses to take responsibility (ช่วยไม่ได้). Romance does happen between Mon and the spirit despite they cannot see each other. An evil spirit tries to prevent Mon to investigate. Ann gets suicide as she was harassed by other schoolmates and humiliated by the teacher uploading a naked picture of her on Facebook. Mon asks the spirit to help her. Frightened by ghost visions, the teacher goes to Police and unveils he is the one, who uploaded the picture. At the same time, Mon discovers who killed Run Phi. A Thai princess (ท่านหญิง) loved a common man, i.e. Doctor Saneu. Their daughter (หนู) Daeng was terrorized by the princess so she pushes her in the swimming pool. Daeng became the Catholic school headmistress. Doctor Saneu always wishes to protect his daughter Daeng so killing all who investigate this murder case. As the case is now resolved, Run Phi can now quit this world. This movie got a few Thai cinema awards such as Best director.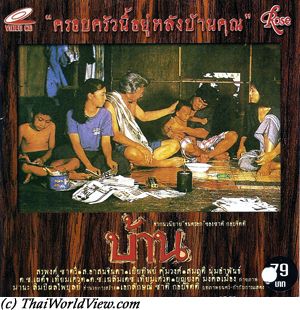 Year

: 1987



Thai title

:

บ้าน




English title

:



Rating

: 4/5


Director

: Chat Korbjitti



Main actor

: Sorapong Chatree,Sor Asanajinda


Main actress

: Piathip Kumwong
This sad story relates the story of a man coming from countryside with his family to earn a living in Bangkok. They are living in a slum. He has two kids. He has to work hard on construction side. Their dream is to have their own home (บ้าน). His daughter is selling flowers on a street. His son is helping his mother to prepare the flowers. They have a third child. The family borrows money to build a house. His grandfather is also joining the family in Bangkok. The man becomes a fisherman and has to leave home from long periods. His wife has an affair and gets pregrant. He expelled her from home. His daughter is having an affair with a young man and he also expelled her from home. The fishing boat is caught in Cambodian seas and he is sent in jail for 6 months. His grandfather get hurt on his back and cannot walk properly anymore. His son is sent to youth jail as he robs metal to buy medicine for his grandfather. Feeling useless, the grandfather gets suicide. When he is back from Cambodia, his family is wracked. This movie depicts life in urban slums of Bangkok with all its suffering and hardship. It was the object of much enthousiasm and praise among foreigners in Thailand and Thai intellectuals. Everyone in the story suffers from an unkind fate. The problems of the whole family stem from its leader only.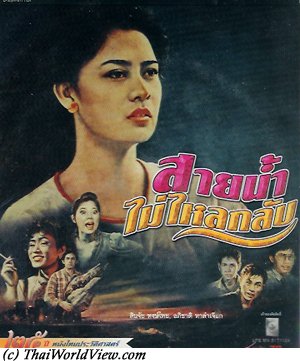 Year

: 1987



Thai title

:

สายน้ำไม่ไหลกลับ




English title

:



Rating

: 5/5


Director

:



Main actor

: Apichat Halamjiak,Somsak Chaisongkram


Main actress

: Sinjai Hongthai,Piathip Kumwong,Linda Khatancharoen
A young lady called Feun (Sinjai Hongthai) is working in a hairdresser shop and washes customers' hair. Khun Warut (Apichat Halamjiak), one customer, has interest in Feun. Phaen (Piathip Kumwong), Feun's stepmother, tries to push her to go out with Warut. Feun's father (Somsak Chaisongkram) indulges in alcohol and is seriously sick. Aniwat is Feun's close friend and wishes to marry her when he finishes his studies. Pressured by Phaen, Feun accepts a dinner invitation from Warut. Aware of this, Aniwat feels betrayed. Warut asks for Feun's hand. Phaen pushes her to accept. Troubled, she wishes to talk to Aniwat. But seeing him with another lady, she finally accepts Warut's offer. Warut starts to be more daring with Feun knowing they will marry soon. The wedding shall be a very small ceremony without Warut's parents. In fact, Warut is already married with three children. Phaen was aware. Warut and Feun don't understand each other. Feun likes to stay home but Warut likes to go to disco. Phaen is not interested in Feun's father but only in money that Warut gives to Feun. Warut doesn't come back home a few days already. While doing shopping with Warut, Warut and Feun meet Warut's wife. Feun understands that Warut lied to her (โลกลวง). She flees but is hit by a car. She is rescued by a DJ who introduces her to another lady called Luang. Feun cannot go back home as she doesn't want to be forced by Phaen again or to meet Warut again. Luang is working as a call girl. First Feun looks for normal jobs (waitress) but she still faces men harassment. She cannot find proper jobs (อยากเป็นคนดีแต่สังคมไม่ยอม). So she has finally no choice than working same as Luang as she is worried about her father. It is a difficult job as some men are crazy or violent. She enters in a whirlpool of sex and easy money. One day, one of her guest is Aniwat! Aniwat still believes Feun is a good person despite doing this job (ต้องการเงิน). Aniwat still loves Feun. Feun accepts to start a real love relationship with Aniwat. Their love is spoilt by meeting some former customers while dining and by a liver disease due to alcohol high level of consumption. Aniwat's friend tries to break this relationship. Feun's friend finds that Aniwat is already fiance with a teacher. Knowing this, she indulges in alcohol again and ends up in hospital. Despite cutting part of her liver, she will not survive long. She leaves the hospital and stays near the sea. Knowing Aniwat's wedding, she ends up in hospital again. Her friend forces Aniwat to visit her to hospital so that he can understand her real love and the pain he caused her. Feun dies in front of him. Movie สายน้ำไม่ไกลกลับ highlights society hypocrisy as it is allowed or understood that a man can have multiple mistresses but the opposite is not accepted. It highlights a society where men harassment is still excessive.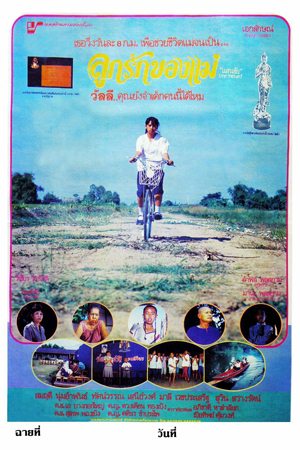 Year

: 1986



Thai title

:

ลูกรักของแม่




English title

: Walli 2



Rating

: 3/5


Director

:



Main actor

: Apichat Halamjiak,Sawin Sawangrat


Main actress

: Tasawan Saneewong,Piathip Kumwong



Buy now

:

As Wally is living without a mother and with a blind grandmother, her father stops being a monk in order to take care about his daughter. Many people gossip that he is interesting by donations given by many Thai people. Wally's sad life continues with the loss of her father and then grandmother. She finally succeeds her university graduation.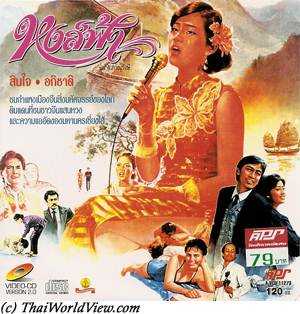 Year

: 1985



Thai title

:

หงส์ฟ้า




English title

:



Rating

: 3/5


Director

:



Main actor

: Apichat Halamjiak,Thuam Thoranong


Main actress

: Sinjai Hongthai,Piathip Kumwong
A Thai man meets a poor Chinese lady called Hong Fa during a business trip, gets married and brings her back to Thailand. But his mother has high ambition and wants him to marry a Thai influent political man's daughter. So she does everything to break the relationship and also keeps their child. Hong Fa becomes a singer and is finally sent to prison after her manager tries abusing her. The wedding with the Thai influent political man's daughter is finally a failure. After 15 years, Hong Fa is released from jail. Will she be able to see her child again?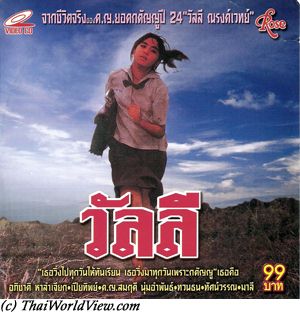 Year

: 1985



Thai title

:

วัลลี




English title

: Walli



Rating

: 4/5


Director

:



Main actor

: Apichat Halamjiak


Main actress

: Piathip Kumwong,Tasawan Saneewong,Malee Wetpraseri



Buy now

:

It is based on a true story. Wally is a girl living with her blind grandmother and mother. Her mother is sick and Wally has to run every day 8 kilometers to go to school and go back to take care of her mother. Villagers think that there is an evil spirit "PHI POP" (ผีปอบ) in the mother's body and hurt her badly. Unfortunately Wally doesn't have money to cure her mother. Wally's bad fate and gratitude ("KATANJOO" - กตัญญู) towards her mother stirs up Thai people and she receives many donations including money and bicycles. But it is too late to cure her mother...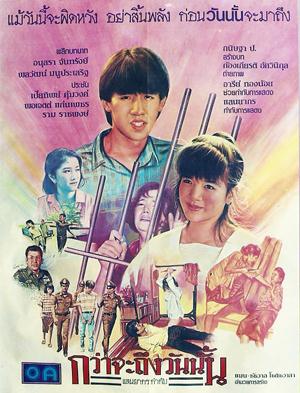 Year

: 1985



Thai title

:

กว่าจะถึงวันนั้น




English title

:



Rating

: 4/5


Director

:



Main actor

: Porjed Kaenpetch


Main actress

: Piathip Kumwong
Ploeun (Piathip Kumwong) is a domestic helper in Chat's house. She has a baby but her husband is currently in prison. The owner of the house, while his wife and kids are away, try to abuse Ploeun. While protecting herself, Chat is stabbed accidentally. Ploeun gives the baby to a temple abbot who renames the baby as Pol. Ploeun surrenders to the police (มอบตัว). Ploeun is sent to jail for ten years. The abbot finally gives Pol to a couple unable to have children as he worries about the child's future if it stays in the Buddhist temple. The couple has finally a daughter called Ann and the secret about Pol's birth is kept. Bad influence (อิทธิพล) is everywhere even inside the prison. Ploeun is condemned to 10 more years in prison following a tragic conflict with another nasty inmate. Pol and Ann are now grown up adults. Ann is fond of a pub singer called Sak. Famous song "กว่าจะถึงวันนั้น" (When that day will happen) is featured. Finally Ploeun exits from prison. The abbot is dead already but she succeeds to find her son. She doesn't dare to tell him the truth in order to avoid damaging his future. She finds a job as domestic helper in the parents' home. She over takes care about Pol so raising concerns by the main house supervisor. Pol is having trouble with his sister as she keeps seeing the singer. He even slaps her to stop this relationship. Exceeded the main house supervisor reveals to Ann that Pol isn't her real brother (ปากเสีย / ปากหมา). Ploeun is ready to stab the house supervisor to protect her son's future. Finally hearing a conversation, Pol knows the truth. Unsure about his future, he starts to work on a construction site (ฝึก). The singer Sak asks 300 000 baht to Ann for a business. Ann believe they will marry (เป็นเขย). As her mother is not so willing, Ann empties her bank account and put her jewels in a pawnshop. Sak loves nobody except money. Finally as Sak is unfaithful with Ann, arguments happens. As Pol is looking for his sister, he arrives at the peak of the arguments. Gun is used. Sak is found dead. Pol is arrested by the police and his step parents reject him arguing it was a waste to have educated him as the blood from his real mother was anyway stronger. In prison, Pol is aware who is his real mother (รับกรรม). During the trial, Ann finally reveals that she is the one who shot the singer. Knowing she was in danger, knowing that the singer made a sex video tape to blackmail her, the tribunal gives a light sentence. Moral of the movie is that good behavior is not always linked to birth circumstances as the birth state doesn't preclude if people will be good or bad. Movie "กว่าจะถึงวันนั้น" was released in year 1985. It is a movie coming from TV Channel 9 through a digital recording but as usual some dialogues are censored by a blank when actors are using strong words.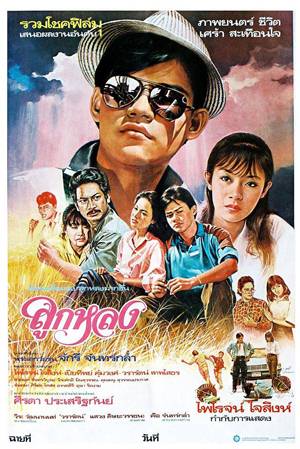 Year

: 1985



Thai title

:

ลูกหลง




English title

:



Rating

: 3/5


Director

: Phairoj Jaising



Main actor

: Phairoj Jaising


Main actress

: Piathip Kumwong,Janthana Siriporn
Thai movie ลูกหลง was released in year 1985 and lasts 1h38mn. Phairoj Jaising is the movie director. A man (Phairoj Jaising) and a woman (Piathip Kumwong) have couple issues as they come from different background. Jaising often goes home late being drunk. Jaising loses his job because of Chirasak (จิระศักดิ์ ปิ่นสุวรรณ). Following another fight with his wife, Jaising flees with his child. Piathip doesn't know where to find Jaising. Chirasak proposes her to become her new husband and to give her an adopted child to raise. She accepts the child named Nat but refuses to marry again. 20 years have passed. Nat (จักรี จันทร์กล่ำ) is now an adult but he is spending a lot of money. His mother Piathip never says no. She is worried about his frequentations. His girlfriend, Pon, claiming to come from rich family, is in fact coming from a poor background and is being pushed by her brother (แมงดา). Pon hires Janthana Siriporn to play her mother. They rent a house to look richer. Going on week-end together, Nat's car hits a young lady, called Kaew (ศิรดา ประเสริฐกันย์), crossing the street. She is Jaising's daughter! Nat is worried about Kaew so he stays behind to visit her every day. Pon goes back home first to borrow money from Nat's mother. Jaising asks her daughter to be careful about Bangkokian young men (หนุ่มกรุงเทพ). Some local young men unhappy about Nat's behavior decide to give him a lesson. They fail. The mother Piathip and Pon come to the poor house to get Nat back. As he isn't there, Kaew gets insulted. Finally, Jaising chases Nat from his home when he knows he is the son of Piathip. Nat accepts to marry Pon following his mother's insistence. Learning the event through newspaper, Kaew asks Jaising to go to the wedding. The wedding is finally broken as it is disclosed that Pon has many debts and Janthana also discloses Pon is not her daughter. Chirasak explains the truth to all parties. Kaew and Nat can have happiness together.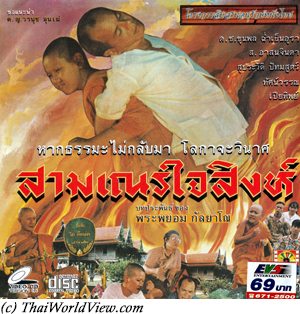 Year

: 1985



Thai title

:

สามเณรใจสิงห์




English title

:



Rating

: 5/5


Director

:



Main actor

: Sor Asanajinda,Pao Porapak


Main actress

: Tasawan Saneewong,Piathip Kumwong



Buy now

:

Thai movie สามเณรใจสิงห์ was released in year 1985 and lasts 1h38mn. It is available under VCD format. Some of the actresses and actors are ด.ช.ขุนพล ฉ่ำเย็นอุรา, สุประวัติ ปัทมสูตร, วรนุช ลุนเผ่, โชติช่วง พุทธสิน. Thai movie สามเณรใจสิงห์ is a powerful movie about Thai Buddhism and people greediness. The story was written by a Thai monk. A family has four kids. The wife Sae (Tasawan Saneewong) is managing a small restaurant selling food and drinks. The husband is a drunkard. He has a group of 4 friends (including Pao Porapak) always drinking together. He keeps asking money to his wife to buy alcohol. The grandmother is rich and keeps supporting her daughter. One son called Sing Chai is still going to school. Two other daughters and another son are not doing much except asking for money, partying, taking drugs. One day, one of the son's friend tries to steal money from the grandma by threatening her with an artisanal bomb. It ends badly as the grandma dies and the son loses his leg in the explosion. Sing Chai believes there is a waste of money and injuries as a huge and expensive funeral is organised with outdoor movies, firecrackers... Luang Ta (Sor Asanajinda) is always around. It is Buddhist lent (เข้าพรรษา) coming and Sing Chai is sad to see his family going towards this wrong path. Sae and her husband argue on money, so she gets beaten and then asks for divorce. Sae then keeps playing cards. One day one of the daughter Usa is found dead having been raped by thugs but her parents don't care. Unable to support this anymore, Sing Chai enters monkhood as novice. Sae has a new lover, i.e. the village leader, who keeps borrowing money from her. Sai, one of Sae's daughter, is also his mistress. Luang Ta keeps smoking and delivers sermons in old fashioned way. Novice Sing Chai delivers sermon in a modern way. It makes Luang Ta upset as a novice becomes more popular than him. Even Piathip Kumwong is not visiting Luang Ta anymore but novice Sing Chai to get advice. Sae, knowing that the villager leader and her daughter Sai betrayed her (คนทรยศ), wishes to get suicide. Novice Sing Chai helps her on time and the mother becomes a nun. Young teen girl Chantana is back to the village and invites novice Sing Chai to get alms everyday (รับบาตร). Sing Chai is feeling awkward caught by human feelings toward Chantana. Luang Ta tries to catch him doing improper things (ศึกแน่ๆ). Sing Chai is even accused of committing a murder. Village leader Gneun, father of Chantana, is causing troubles. Luang Ta recognizes he was wrong to try to accuse Sing Chai. Gneun is finally shot by Sai as he was refusing to recognize his paternity. Sing Chai rejects his mother due to bad feeling but recognizes his mistake. He still hopes to convince his father to stop drinking alcohol. On the way to his father's home, a fire occurs. Sing Chai saves his father but the handicapped son is unable to flee. Mother Sae (ยอมแม่) is sick and dies while listening sermon. The father (ยอมพ่อ) becomes a monk also. The movie ends up on Sae's funeral where Sae's voice in background regrets to have led such a bad life.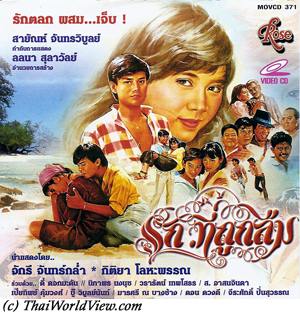 Year

: 1984



Thai title

:

รักที่ถูกลืม




English title

:



Rating

: 3/5


Director

:



Main actor

: Sor Asanajinda


Main actress

: Lalana Sulawan,Piathip Kumwong
A young man has promised to marry a young girl, who is finishing her studies abroad. But he is in fact a womaniser. After her return to Thailand, the young woman discovers this bad reality and breaks up. The young man decides to change his behavior and tries to reconquest his former love. Will he succeed?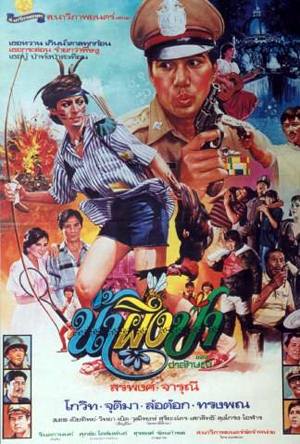 Year

: 1984



Thai title

:

น้ำผึ้งป่า




English title

:



Rating

: 3/5


Director

:



Main actor

: Sorapong Chatree,Lor Tok


Main actress

: Jarunee Sooksawad,Piathip Kumwong
Two sisters, Chom and Prakai Kaew bear children at the same time. Chom's husband is a bad guy (โจร). Following serious arguments with Chom, he comes to take his child back but Chom gives him Prakai Kaew's child. 17 years passed. Pheung (Jarunee Sooksawad) is a young smart lady living in a village. Her best friend is Phet, a fat cheerful teenager. As they have debts with the local Chinese merchant, they set up a King Kong show at the local temple fair to earn money in order to pay back the debts. It turns to a disaster. Wit, her father, is a reseller of stolen jewelry. Police catches Wit's colleagues. Pheung escapes nearly the police (หนีตำรวจ). A policeman, called Sing, only gets her necklace. Pheung's father is violent and drinks alcohol. He doesn't really love his daughter (ไม่รักลูก). Sing shows the necklace to a local notable who recognize the necklace as her missing granddaughter's necklace. As Prakai Kaew died already, Chom has taken care of Prakai Kaew's daughter, who is in fact Chom's real daughter as Chom exchanged the two girls during the kidnapping. Her daughter is called Lai. The grandfather invites Nam Pheung to stay with her real family. Pheung reaches her new home (บ้านหรือวัง). She is renamed as Nam Pheung. Chom is not happy and refuses to recognize her as her daughter. Her friend Phet can join Nam Pheung. There are typical gags when countryside (บ้านนอก) people enter high society (ผู้ดีสังคม). Policeman Sing is Lai's boyfriend. Chom uses ruffians to hurt Nam Pheung but it fails as she knows how to fight. Sing is very interested in Nam Pheung (สนใจเด็กคนนี่). Meanwhile Wit is in trouble with his former colleagues. Wit and Chom were lovers ten years ago. Lai is Chom and Wit's daughter. Chom wants to push Lai to be the wife of a Thai prince. She invents a pretext (ถูกของ) due to black magic for not having recognized Nam Pheung. Nam Pheung is in fact Prakai kaew's daughter. Chom prepares an evil plan again. Nam Pheung is kidnaped by Wit's ruffians. Sing, the prince rescue her. Chom is punished. It is a typical 1980s romance movie following Lakorn style with the leading actress (นางเอก) as Nam Pheung, the leading actor (พระเอก) as Sing, the bad girl (นางอิจฉา) as Lai and Chom, the funny supporting comedian (ตัวตลก) as Phet. Those romance movies were edulcorated with no kiss between the main stars.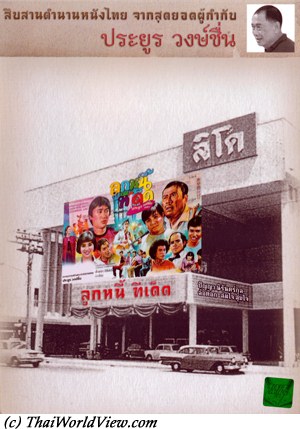 Year

: 1984



Thai title

:

ลูกหนี้ทีเด็ด




English title

:



Rating

: 4/5


Director

:



Main actor

: Lor Tok,Note Cheunyim,Doo Dook Kradon,Rith Luecha,Der Doksadao


Main actress

: Piathip Kumwong,Malee Wetpraseri



Buy now

:

Thai movie ลูกหนี้ทีเด็ด was released in year 1984 and lasts 1h36mn. The movie was released under DVD format by company Happy Home Entertainment. The movie features many songs. A music orchestra (วงดนตรี) has difficulty to make a living. Part of the members include Note Cheunyim, Rop (ปัญญา นิรันดร์กุล), Doo Dook Kradon, Tranee (Der Doksadao). Their producer is Rith Luecha but they have no success. Rith Luecha is married to Bun Reuang (Piathip Kumwong). They have never time to take care about their daughter Ro Rak (จิตต์โสภิณ ลิมปิสวัสดิ์). พี่ Niaw as new producer tries to find new ideas. The group doesn't have expected success (หมดตัว) as concert halls remain almost empty. Last chance is to release a tape but Phi Niaw (Lor Tok) has to sell his house (ขายไม่ออก). His secretary Suphanee is also his wife. His friends ask Rop to marry Ro Rak as she is coming from rich family. He needs to seduce her first but he is not expert at all (กำลังโบ้เบ้ / อย่าลีลา). Rith is having affairs while his wife Bun Reuang is always out on charity events with a high society woman (คุณหญิง). Phi Niaw lost his car, his house and about to lose his wife as the other orchestra members suggest to use Suphanee to seduce Rith. The music orchestra is looking for a new style (เพลงสตริง) to be popular. Bun Reuang chases all of them away after seeing Rop trying to seduce her daughter and after knowing that Rith has given money without asking for reimbursement as Tranee always introduces beautiful ladies to him to ease loan requests... They leave for upcountry. Ro Rak hides in their van. Police is called by Bun Reuang. Rop is almost arrested for kidnapping a teen but finally released as the problems are coming from the fact that the parents are not talking each other. Bun Reuang needs to organize a concert for orphan children (เด็กกำพร้า) so she needs a music orchestra. Only Tranee's orchestra is available...so she has to remove her complaint regarding unpaid debts. The concert is a huge success. She saves face. Rop and Ro Rak renew their friendship.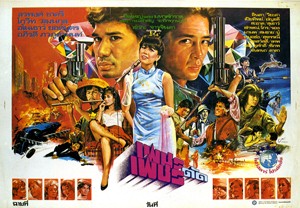 Year

: 1984



Thai title

:

เพชรตัดเพชร




English title

: Diamond vs Diamond



Rating

: 4/5


Director

: สักกะ จารุจินดา



Main actor

: Sorapong Chatree,Kowit Wattanakul,Somchai Samipak,Paen Pleumsachai,Krai Kanchit,Pipop Pupinyo,Manop Aussawathep,Boo Wibunnan,Pao Porapak,Rong Kaomulkadee,Lak Apichat,Sahat Piempongsan,Thep Po-ngam,Suchao Pongwilai


Main actress

: Apiradee Pawaputanon,Piathip Kumwong,Wiyada Umarin,Anchalee Chaisiri,Linda Khatancharoen,Janthana Siriporn,Suphanee Jitthieng



Buy now

:

Thai movie เพชรตัดเพชร was released in year 1984 and lasts 2h07mn. It was released under VCD format by Solar company and under VHS format. A remastered HD version was released during decade 2010s by Five Star Production. This movie features an impressive number of famous Thai actors and actresses from decade 1980s including less known actors หมอซ้ง, พุนสวัสดิ์ ธีมากร, วุมิ คงคาเขตร, ชูศักดิ์ สุธีรธรรม, ดาดา. Movie director is สักกะ จารุจินดา. Thai movie เพชรตัดเพชร was originally released in the year 1966 with Mitr Chaibancha, Luechai Natnat and Petchara Chaowarat. It was also released as Thai TV series in the years 2011 and 2016. Suchao Pongwilai is drunk inside a disco with a partner (Linda Khatancharoen). Mo Sing (หมอซ้ง) tries to seduce the partner so it makes Suchao angry and a fight erupts. Mo Sing loses a two colours denture and gets angry. He shoots Suchao and flees. The partner is found back by Mo Sing, but she claims she doesn't have the denture. Pailin (Piathip Kumwong) is the gang's leader. Yot (Kowit Wattanakul) is her right hand. During a drug exchange, Cheut (Sorapong Chatree) is killed by Yot keeping both drugs and money. Head of police Somchai Samipak talks to police officer Naresuan (Sorapong Chatree). He needs him to neutralise a drug gang working in Thailand, Hong Kong and Macau. Cheut is Naresuan's twin. They were separated when they were 12 years old. Naresuan wishes to revenge his dead brother. Naresuan accepts the mission and will act as Cheut in order to catch Yot. In a bar, Cheut meets Paen Pleumsachai, Pipop Pupinyo as he is looking for Yot. Cheut meets his previous girlfriend Yoi (Wiyada Umarin) having Manop Aussawathep as new husband. Fighting occurs in the bar. Back to Yaowarat district, Cheut ends up in Boo Wibunnan's entertainment centre and meets Anchalee Chaisiri. She suggests him to go to Jumbo bar to find Yot. There, Cheut is facing Pao Porapak. Cheut finally finds Yot with his girlfriend, then steals his suitcase full of drugs and gives it back to the police. Cheut flies to Hong Kong. He meets Pailu (Apiradee Pawaputanon), a singer. Pailu introduces him to Cheng (Krai Kanchit). On a boat in Sai Kung, Cheut meets Cheng again. Coming for a drug exchange, Cheut steals money from Cheng. He gets help from Jo (อโนเชาว์ ยอดบุตร), an undercover HK policeman. HK Police recommends to Cheut to leave Hong Kong as soon as possible for his own safety. Rong Kaomulkadee and Lak Apichat are working for Sahat Piempongsan, former boss of Cheut. Sahat thought Cheut was dead. Knowing Cheut is still alive, he decides to help him. Yot sends a killer to get rid of Cheut but he fails. Cheut learns from head of Police Somchai that Pailu is from Interpol. Another tentative to kill Cheut fails again. Cheut gets help from Rong. Thai police uses a stratagem for Jo to join Cheng's team. Facing a fight with ruffians, Cheng is helped by Jo in a bar. Convinced by his skills, Cheng asks him to join his team. Pailin is business partner with Cheng. Per Pailin's order, Yot captures Cheut. Cheng wants to get back his money. Meanwhile, Sahat captures Pailin's men in order to know where they keep Cheut. Cheut claims the money was confiscated by the HK Police but the drug is still stored in a suitcase hidden in Pailu's home. Pailu gets help from Somchai so that drug is given back to ruffians. Cheng starts to suspect Pailu also. She fails to escape. Meanwhile Thai police surrounds the ruffians' den. Yot plans to kill Cheut but it fails through a final epic fight between Cheut and Yot. Finally Thai police arrests all ruffians. Sahat fails to flee.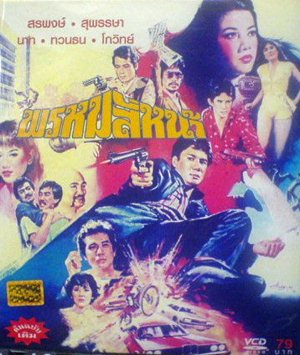 Year

: 1984



Thai title

:

พรหมสี่หน้า




English title

:



Rating

: 3/5


Director

:



Main actor

: Sorapong Chatree,Pumi Patanayut,Nard Poowanai,Tuanton Kammeesri,Kowit Wattanakul,Krai Kanchit,Pipop Pupinyo,Rith Luecha,Chat Mongkolchai,Paen Pleumsachai,Somsak Chaisongkram,Pao Porapak


Main actress

: Supansa Nuengpirom,Piathip Kumwong,Wiyada Umarin
Thai movie พรหมสี่หน้า was released in year 1984 and lasts 1h44mn. It was released under VCD format and also under VHS format. สุรพล กรสวัสดิ์ is the movie director. Many actors and actresses are featured in this movie such as Sorapong Chatree, Pumi Patanayut, Nard Poowanai, Tuanton Kammeesri, Kowit Wattanakul, Krai Kanchit, Pipop Pupinyo, Rith Luecha, Chat Mongkolchai, Paen Pleumsachai, Somsak Chaisongkram, Supansa Nuengpirom, Piathip Kumwong, Wiyada Umarin, โสธรณ์ รุ่งเรือง, วรารัตน์ เทพโสธร. Wan (Sorapong Chatree) calls from Germany for his father's birthday party. A bomb, hidden in the birthday cake, explodes. The whole family almost dies. His elder sister (Piathip Kumwong) and also the family car driver (โสธรณ์ รุ่งเรือง) survive. Teen Ta (ด.ญ. กระแต) has also survived but she is now paralyzed. Wan, a former soldier, is back from Germany. Police is too slow for Wan so he decides to manage by himself. His father was a businessman. Wan watches the birthday video and identifies a man offering a gift and leaving soon. He is a ruffian living in Chiang Mai. Wan learns through that ruffian that Pumi Patanayut is involved and was the one to order to bring the cake. Pumi Patanayut is working for mafia leader (พ่อเลี้ยง) Nard Poowanai. Noun (Tuanton Kammeesri) is a journalist refusing corruption and doing inquiries on Nard. Mai (Supansa Nuengpirom) is a young lady, whose mother was also killed by Nard due to business conflict. Kowit Wattanakul is close friend of Wan and introduces him to Mai. Mafia leader Nard Poowanai is trying to become member of parliament and is supported by Wiyada Umarin, his girlfriend. Wan starts to get revenge. Nard's right hand is first killed by Wan. Nard suspects Mai. Then Wan shots Kamlee (Paen Pleumsachai) and warns Nard that soon it will be his turn. Wan is introduced to the ruffians as new shareholder with Mai. It is a trick to be close to the ruffians and the next one to be killed is Pumi Patanayut. Noun is investigating on those killings. Wan and Kowit are identified to be behind the murders. Kowit is shot by ruffians while visiting uncle Sai (Pipop Pupinyo). Wan has no choice but to continue in order to get rid of mafia leader Nard. Nard hires a hitman to get rid of Wan but it fails. Chat Mongkolchai kidnaps โสธรณ์ in order to find where Wan is hiding. As Mai is passing, she is kidnapped and โสธรณ์ is killed. Chat (หน้าตัวเมีย) wants to force Mai to sign documents. Wan successfully releases Mai and chases after Nard until he kills him. Wan is finally pardoned by Thai police thanks to Mai's plea.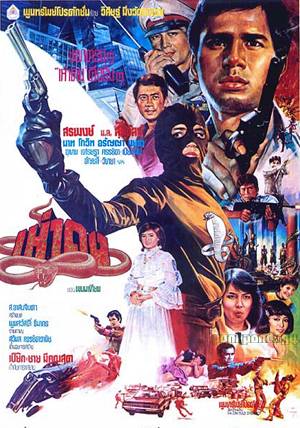 Year

: 1983



Thai title

:

เห่าดง




English title

:



Rating

: 4/5


Director

: เปี๊ยก มีคุณสุต



Main actor

: Sorapong Chatree,Nard Poowanai,Pipop Pupinyo,Kanchit Kwanpracha,Kowit Wattanakul,Settha Sirachaya,Uten Boonyong


Main actress

: Suriwan Suriyong,Aranya Namwong,Piathip Kumwong,Mayura Thanabutr,Marasri Bangchang,Anchalee Chaisiri
Thai movie เห่าดง was released in year 1983 and last 1h55mn. A remastered version was released by Five Star Production (ไฟว์สตาร์โปรดักชั่น) in the decade 2010s and shown on Thai TV cable. As usual on Thai television programs, bad things are blurred such as smoking a cigarette, alcohol bottle or putting a gun on a temple. The movie was also released under VHS format. The movie director is เปี๊ยก มีคุณสุต. A first version of movie "เห่าดง'' was released in 1958 with leading actress Amara Asavananda. The 1983 version featured leading actress Suriwan Suriyong and it was her first movie. The movie song is "จะไปดูหนังไทย บ๊ะ ต้องเห่าดง ดาวดัง สรพงษ์ ผิวคล้ำ นำแสดง สุรีย์วัล สุริยง มาประชันขันแข่ง อรัญญา ก็มา ร่วมกันในเห่าดง". Pleng (เพลิง)(Nard Poowanai) and Kam (Piathip Kumwong) have arguments. Kam complains Pleng is not sincere. Pleng must choose between being a ruffian (นักเลง, การพนัน) versus being an honest military officer (ยุติธรรม). They break up. The military head, Prachom (Kanchit Kwanpracha), promises to help Pleng but this latter refused due to his strong character (กระดูกแข็ง). Pleng has arguments with a debtor, who insults his mother. He stabs him, flees and quits the army. Finally, Pleng becomes a ruffian (เสียคน). Both Prachom and his wife (Marasri Bangchang) are upset by Pleng's decision. Pleng meets dancer Anchalee (Anchalee Chaisiri) in a restaurant. Pleng has a fight with the restaurant owner Prayak (Uten Boonyong) and gets injured. Anchalee takes care of him. Pleng is accepted in the ruffians' team by leader Prayak. Prayak and Chinta (จินดา)(Aranya Namwong) have a child called Bayan. Bayan is in fact a child being kidnapped. Prayak and Chinta need to flee the police and go overseas. Pleng promises to take care of Bayan. Many years have passed. Bayan has now grown up and is renamed Prao (พราว)(Suriwan Suriyong). She has learnt fighting skills (การต่อสู้). While doing shopping, a young policeman called Wut (วุฒิ)(Sorapong Chatree) contacts Prao as Prissana but it is a mistake. But in fact, Prao and Prissana are twins (ลูกแฝด)! They were separated 15 years ago following a robbery by Prayak in Prachom's home. Prissana is Wut's sister. She is engaged to a policeman (Kowit Wattanakul). Hao Dong is a mysterious judiciary punishing ruffians and warning police in advance (ผู้หวังดี). Behind it is Pleng, who always felt guilty to have quit the army. During a last event, Pleng gets shot and killed while helping Wut. Young lady Prao replaces her father Pleng as judiciary. She avenges Pleng by putting a bomb in ruffian leader's car. Wut pretends to be Niwat, insurance representative, in order to investigate the daughter, Saisree (ไซซี)(Mayura Thanabutr), regarding her father's death. In a discotheque, Saisree recognises Prao as they studied together in Japan. Prao studies martial arts including Ninja skills. Wut suspects Prao to be Hao Dong but proofs are not enough. Wut likes Prao (ตํารวจมีหัวใจเหมือนกัน!). Chita and Phayak come back from overseas to support Prao. Prao still wants to catch the real leader of the mysterious society (วงการ). Saisree is now the head of a Chinese style secret society. Both Prao and Saisree want to avenge their father's death. Ruffians are aware that Hao Dong is behind Saisree's father's death, so they want to avenge. Saisree asks Wut to lie to Prao and to attract her in a trap. He refuses. As Saisree loves Wut, she protects him while the ruffians wish to shoot him. Saisree is shot, but Wut succeeds to escape. Prissana is kidnapped by ruffians in order to attract Prao. Wut, the police and Prao storm the ruffians' headquarters. Chita and Phayak, wearing Hao Dong uniforms, are also killed in the fighting, so Prao cannot be accused. Prao is reunited with her parents. A double wedding Prissana / Chao and Prao / Wut can happen.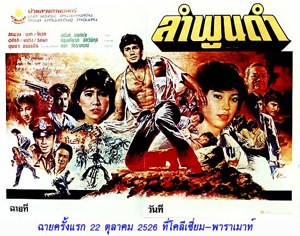 Year

: 1983



Thai title

:

ลำพูนดำ




English title

: Desconocida



Rating

: 4/5


Director

:



Main actor

: Sorapong Chatree,Nard Poowanai,Kowit Wattanakul,Suchao Pongwilai,Pipop Pupinyo,Paen Pleumsachai,Krai Kanchit,Rith Luecha,Somjin Thammatat,Pumi Patanayut,Somsak Chaisongkram


Main actress

: Apiradee Pawaputanon,Thitima Sangkapitak,Piathip Kumwong,Ampha Pusit,Mayura Thanabutr
Thai movie ลำพูนดำ was released in year 1983. The movie was also released in Taiwan under the name "Desconocida" in VHS format. This version was released by Taiwanese company New Ship Film Enterprise Co Ltd and lasts 1h26mn. The movie is in Mandarin language. The original movie has been cut to fit in standard TV format so making the story cutting to be awkward. Other versions released in Thailand last 1h30mn (Cable TV version) or 1h47mn (VHS version). This movie features many famous actors / actresses from decade 1970s~1980s. Young lad, called Paen (Sorapong Chatree), visits famous monk (หลวงพ่อ) in a local Buddhist temple to discuss about his problems. His mother and sister are treated as mistresses by local kingpin Mek. Mek (Somjin Thammatat) also tries to steal the family land. The monk gives to Paen an unique Buddhist amulet called ลำพูนดำ to protect him. Paen is arrested by four policemen led by Paen Pleumsachai. They bring him to a remote area to execute him per Mek's orders but bullets don't enter (นั่งเนี่ยว) as he is protected by the sacred amulet given by the monk. Paen shoots them back. Policeman Nard Poowanai, as หมวด, is also trying to catch him. Kingpin Mek and subdistrict headman Chat (Krai Kanchit) (ลูกน้องมือขวา) are concerned that Paen succeeded to escape. Paen has many enemies (ศัตรูเยอะ). Two ladies Lom (Piathip Kumwong) and Phit (Thitima Sangkapitak), Paen's mother and sister, are visiting the village leader. Both are the village leader's mistresses and Lom is also seduced by Chat (เป็นชู). Thai police is still looking after Paen. Paen takes refuge in a village but the village leader (Pumi Patanayut) warns the police. Paen succeeds to flee by having an hostage called Lamai (Mayura Thanabutr). Paen learns who are his enemies through Somsak Chaisongkram. Paen kills three ruffians (มือปืน). Ruffians kidnap young lady Lamai but Paen releases her and injures the village leader trying to abuse her. Young lady Booklee is kidnapped to become Mek's new minor wife. Khun Mom Sasingha (Kowit Wattanakul) meets Chaba (Ampha Pusit), niece (หลานสาว) of Kamnan Chat. He presents himself as a customer of the underground casino (บ่อน). Pipop Pupinyo is looking for troubles with Sasingha but gets beaten. Chat is then jealous that Sasingha is too close to Chaba. Seua Rit (Suchao Pongwilai) is hired by the village leader to get rid of Paen. Mek's daughter, Pumarin (Apiradee Pawaputanon), is coming back from overseas following successful studies. Her real father is Rit but he doesn't want her daughter to know that her father is a thief so the truth was never disclosed to Pumarin. Paen behaves as a Robin Wood (โจร) by giving free goods to poor villagers. A pact is agreed between Paen, Khun Mom Sasingha and Klot (Rith Luecha). Klot wishes to get revenge on Mek as he killed all his family members and kidnapped his niece Booklee. Paen refuses to meet his sister Phit anymore. Both Chat and Lom are buried alive as Mek discovers they are having an affair. Meanwhile Rit kills pregnant Lamai and her mother as they refused to disclose where Paen is hidden. Phit is having an affair with Seua Rit. Per her strategy to protect her brother, Phit claims to Mek that she has been raped by Rit so that Rit cannot harm Paen anymore. Paen releases Pumarin aggressed by ruffians kidnapping her. Klot gains the trust of Mek in order to better spy him. Paen wishes to get revenge on Mek but police surrounds him. The Buddhist amulet saves Paen one more time. Phit protects Paen a last time by shooting Mek but this latter shoots her before dying. Paen listens to Pumarin and surrenders peacefully to the police. A sequel released in year 1988 was called ลำพูนแดง.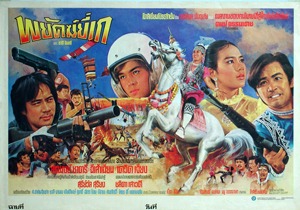 Year

: 1983



Thai title

:

พยัคฆ์ยี่เก




English title

: The Opera Hero



Rating

: 5/5


Director

: Kom Akadej



Main actor

: Sorapong Chatree,Sor Asanajinda,Manop Aussawathep,Pipop Pupinyo,Panna Rittikrai,Somsak Chaisongkram,Kom Akadej,Note Chernyim,Supakorn Srisawat,Chat Mongkolchai,Rith Luecha


Main actress

: Suriwan Suriyong,Piathip Kumwong
Thai movie พยัคฆ์ยี่เก was released in year 1983 and last 1h50mn. It was released under VHS format. A Hong Kong version, also released under VHS format, lasts 1h30mn. The movie is directed by Kom Akadej. Two Hong Kong actors are featured, i.e. David Chiang and Norman Chu. On the movie poster released in Hong Kong, they are of course shown preeminently. A Likay (Thai folk traditional theater) troupe led by teacher Pong (ครู) (Sor Asanajinda) performs in Sukhothai. The main Likay actor is played by Tuan Tong (Sorapong Chatree) and gets a lot of flowers offered especially by ladies including Piathip Kumwong, wife of the village leader (ผู้ใหญ่). It makes the village leader (Manop Aussawathep) to be very upset so he storms the Likay theater with his ruffians (Pipop Pupinyo, Panna Rittikrai and Somsak Chaisongkram) to fight with Tuan Tong as he cannot accept that his wife (แม่ตัวดี) spends money on a Likay handsome actor. Both end up at the police station but the police head (Kom Akadej) finally releases Tuan Tong as he did nothing wrong. Back to the Likay theater, Tuan Tong is beaten by ruffians. A local doctor, called Thongdee, always gives free health care to the Likay troupe. Chased again by the ruffians, Tuan Tong and Note Chernyim have to steal David Chiang's jeep to flee. David Chiang, Suriwan Suriyong and Supakorn Srisawat (ดี๋ ดอกมะดัน) are brothers and sisters. Getting back his jeep, David meets Chompoo, Tuan Tong's sister, (ชลิดา เสาวดี) so he even learns Likay skills as he is enamoured. Suriwan is expert in deltaplane. A jewellery money exchange turns badly between Manop and Sothon (โสธร รุ่งเรือง). Sothon is shot by Chat Mongkolchai but he succeeds to flee. He hides the jewellery inside the Likay theater. David is also looking for Sothon so it creates a misunderstanding between Tuan Tong and David. Sothon is killed by ruffians using a deltaplane shooting harpoons but they are still looking for the missed jewellery. They burnt the Likay theater as retaliation. Teacher Pong sells one diamond to rebuild the theater. He has hidden the real jewellery through the fake jewels used in Likay costumes. As Chat failed to capture Pong and is even shot by David, he is replaced by โดม สิงโมฬี. Ruffians storm the Likay theater again during a performance. Teacher Pong is shot by the ruffians with harpoons and killed. Chompoo is captured as she is wearing half of the real jewellery. The ruffians are led by Norman Chu, doctor Thongdee (ชาลี อินทรวิจิตร) and Rith Luecha. David and others Likay male actors (Note Chernyim...) are also captured. Tuan Tong and Suriwan storm the campment. Multiple fightings and shootings happen. Most of the protagonists die except Tuan Tong, Suriwan and his sister.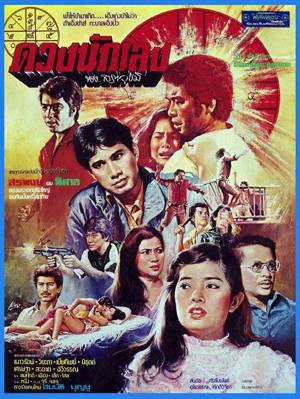 Year

: 1983



Thai title

:

ดวงนักเลง




English title

:



Rating

: 4/5


Director

: Winit Pukdeewichit



Main actor

: Sorapong Chatree,Nirut Sirijanya,Pisarn Akraseranee,Settha Sirachaya,Sahat Piempongsan


Main actress

: Wiyada Umarin,Naowarat Yooktanun,Piathip Kumwong
A mysterious man arrives on a rainy night in a remote city and enters in the hotel bar. The hotel is half owned by young lady called Chonko (Wiyada Umarin). A crazy guy (Settha Sirachaya), always drunk (ขี้เมา), asks him to avoid troubles as bad ruffians are the real leaders here. The mysterious man is called Mek Suriya (Sorapong Chatree) and plays the judiciary guy against the ruffians terrorizing the drunkard (รับรองความปลอดภัย). Alcohol and cigarette are blurred on this movie digitalized from True Cable TV. Bamrong (Nirut Sirijanya) is playing cards against ruffians but lost accusing the ruffians to cheat. Mek ensures that the fight against Bamrong and a ruffian is fair. Mek and Bamrong win back the other half of the hotel from Dang, one of the ruffian working for godfather (เจ้าพ่อ) Sagnop. Serinya (Naowarat Yooktanun) arrives in the hotel and asks help for her brother Seri (Pisarn Akraseranee) who has just been beaten by ruffians. Serinya has come to teach Sagnop's children. Serinya and Seri meet Sagnop's wife (Piathip Kumwong), Sumalee. Sagnop (Sahat Piempongsan) is a strong godfather and doesn't hesitate to punish those who try to cheat him (เก็บใช้ในเมืองผี). Sagnop sends 5 hitmen to clear the issue with Mek. Mek always pays respect (ไหว้) to his Buddhist amulet after hitting some ruffians. Ruffians terrorized the city until Mek dares resisting them. One of the ruffians hitman defies Mek for an outdoor gun duel. It is a trick as other ruffians are hidden in the bush. The hitman is finally defeated and a strong message is sent to their big boss. Mek and Bamrong are too strong to be ordinary ruffians as they are well trained. Other ruffians storm the hotel bar but get defeated again by Mek (ผมไม่เคยตาย / อยากลองดู). Serinya and Seri are undercover policemen. They love each other (คู่รัก). Bamrong and Mek decide to go to Don Luang, Sagnop's ranch, to be become his associates (ลูกน้อง). Sagnop is fond of Serinya and orders to kidnap her. Serinya has to marry with Sagnop but Sagnop is already married to Sumalee. Sumalee rescues Seri and bursts into tears follow up her many years of dispair with Sagnop. In the morning, Sumalee announced to Sagnop her decision to quit him, to go to Bangkok with her children and Seri. Sumalee is finally shot by Sagnop's ruffians as Sagnop cannot accept this. Sagnop orders to kill Seri. Mek and Bamrong, warned by Serinya, go to help him. Bamrong is Sumalee's young brother. One of Bamrong's nephew (หลาน) dies in a shoot out. Revenge is in the air... A final shoot out involving ruffians and army happens during Sagnop and Serinya's wedding. Entertaining Molam dances are featured during the wedding. Sagnop and his ruffians are defeated. Mek Suriya, the mysterious judiciary, leaves (พี่ลาก่อน). The highlight of the movie is the first movie involving two big stars, i.e. Sorapong Chatree and Pisarn Akraseranee. Movie Duang Nak Leng (ดวงนักเลง) is not available on VCD or DVD in Thailand. Some digital versions from TV are available around such as a 1h29mn from Channel 9 (cut version) and a True Move Cable TV version of 1h54mn. It feels like a Tom Yam Thai western movie.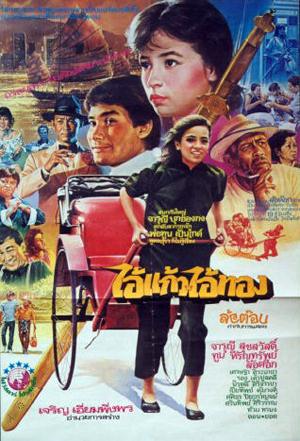 Year

: 1983



Thai title

:

ไอ้แก้วไอ้ทอง




English title

:



Rating

: 3/5


Director

: Lor Tok



Main actor

: Toon Hiransap,Songthong,Settha Sirachaya,Lor Tok,Nirut Sirijanya


Main actress

: Jarunee Sooksawad,Piathip Kumwong,Wiyada Umarin
Ai kaew Ai thong is a romantic comedy featuring Jarunee and Toon. Kaew and Thong are released from prison. Thong is 70 years old and has nowhere to go so Kaew invites him to stay together. His mother chases Kaew away as he sold old artifacts from the family home (แม่ด่า). They need to find ways to make a living such as waiters in a Chinese restaurant. They are finally expelled as food is spilled on customers. They find a new job in a house as gardeners. Maem is the house owner's beautiful daughter. The Chinese restaurant owners have a son Jun who is slightly retarted (ปัญญาอ่อน). They wish their son to marry Maem as her parents own land. So they need to teach him how to seduce a woman. It failed miserably as he falls from balcony into the pond. Kaew dives to help him and gets higher credit from Maem. Kaew and Thong simulate being prince and servant in front of other domestic helpers in order to enhance their status in the house towards Maem. Maem is a strong young lady (คนสวยปากร้าย). Kaew lies to Maem regarding a fake golden necklace in order to get a kiss. Jun parents hire a lady (Wiyada Umarin, veteran actress, often playing such role) to teach Jun how to perform husband duties on bed. As the golden necklace becomes dark after one day, their stratagem fails. Maem condemns them to dig a big hole. While digging, they find an old Chinese sword (ดาบ). The father sends Maem, Kaew and Thong to Hong Kong to sell it. As they cannot sell it, they have to find odd jobs to pay for food and accommodation. Maem is driving a rickshaw. In 1980 rickshaw usage in Hong Kong was already low. Thong is driving a kaido boat. Kaew is doing the tour guide on Cheng Chau island. They are waiting for the father to send tickets back home but the father is very avaricious and expect them to buy the tickets from the spade sale. Feelings start between Maem and Kaew. A ruffian Khun Seu (นักเลง) loves a singer (นักร้อง) and chases after her. Maem is involved as rickshaw driver and helps the singer to flee. To escape from Seu, the singer pays for their tickets back to Thailand. Jun cannot marry Maem anymore as he caught decease from little virtue woman. Knowing that they cannot sell the sword as the Chinese family linkage was broken, the father chases Kaew and Thong from his home causing Maem's despair as Kaew is a kind man (คนมีเมตตา). They finally find a last descendant in Thailand and gets 20M baht for the sword. Kaew can now ask for Maem's hand but performs a last trick to avaricious father. it is a typical good mood romantic comedy from 1980s decade featuring superstar Jarunee and Toon.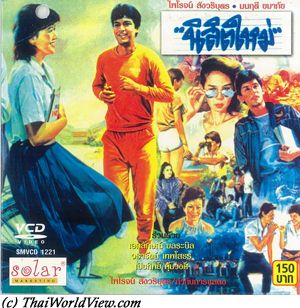 Year

: 1983



Thai title

:

นิสิตใหม่




English title

:



Rating

: 2/5


Director

:



Main actor

: Phairoj Sangwaribut


Main actress

: Monrudee Yamaphai,Piathip Kumwong
Wattee is a university student. In a hurry as he has forgotten one book, he borrows Pla's bicycle. Some other students believe he intends to steal the bicycle. He needs to prove that Pla has given him the bicycle keys but Pla is sick for a few days. He is judged by university court of justice but he is saved by Pla just in time. A love story starts between Wattee and Pla but former Pla's boyfriend still wants to marry with her. His family and Pla's mother prepare a plan in which Pla's mother company is bankrupted. Pla has no choice than to marry her former boyfriend in order to save her mother and her company. Things end up well as Wattee is able to tell the truth to Pla before she leaves to England. This movie highlights the Thai modern society changes in which young people choose their mate by themselves and not following their parents' wishes anymore.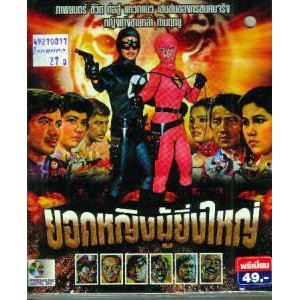 Year

: 1981



Thai title

:

ยอดหญิง ผู้ยิ่งใหญ่




English title

:



Rating

: 2/5


Director

:



Main actor

: Sombat Methanee,Yodchai Meksuwan,Kecha Plianvithee,Pipop Pupinyo,Lak Apichat,Boo Wibunnan,Thuam Thoranong,Paen Pleumsachai,Krong Kangkengdaeng


Main actress

: Wassana Sitthiweth,Piathip Kumwong,Duangcheewan Komolsen.Suphanee Jitthieng
Thai movie ยอดหญิง ผู้ยิ่งใหญ่ was released in year 1981. The version seen only lasts 1h05mn so too many scenes were cut making the storytelling bit weird. Boss (เจ้านาย) Bancha (Kecha Plianvithee) is trafficking weapons. Pipop Pupinyo is part of his team. A mysterious masked vigilante man, wearing black clothes, is trying to stop him. It is Nam (Sombat Methanee). A truck carrying weapons is stopped by Thai Police thanks to Nam. Nam warns Bancha but a fighting erupts with his tough guys. Nam gets help from a mysterious masked vigilante woman, wearing red clothes. Nam meets Nissa (Wassana Sitthiweth), daughter of the police head. Yot (Lak Apichat) helps Pat (Piathip Kumwong) kidnapped by ruffians. Ruffians kidnap Sia / เสี่ย Boo Wibunnan's child and shoot him in the shoulder. Hopefully red and black masked vigilantes follow the car but get attacked by yellow masked men (องค์การสีเลือง). Two ladies Pat and Nissa (นกสองตัว) are captured by Bancha's team, who are preparing to betray Thailand. Yodchai Meksuwan and Darlin (Duangcheewan Komolsen), from Malaysia, are police members. Bancha threatens the police head to kill his daughter Nissa if their business is disrupted again. Nam simulates joining the yellow gang in order to be able to release the ladies. Nam cannot reach agreement so a one to one (ต่อสู้แบบลูกผู้ชาย) fight must happen. Police finally arrives. Pat sacrifices her life to save Nam. Lak helps to release Darlin, who is identified to be the mysterious red masked vigilante woman. All ruffians are captured or killed. The identity of the gang leader (ลืมชาติ) is then known... Other actors are เศกสิทธิ์, Suphanee Jitthieng,โดม สิงโมฬี, Krong Kangkengdaeng.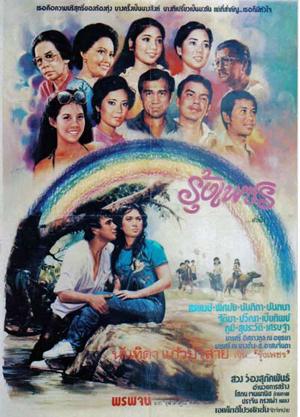 Year

: 1980



Thai title

:

รุ้งเพชร




English title

:



Rating

: 3/5


Director

:



Main actor

: Sorapong Chatree,Sor Asanajinda,Settha Sirachaya


Main actress

: Nanthida Kaewbuasai,Pissamai Wilaisak,Piathip Kumwong,Thitima Sangkapitak,Nantada Ngaokrajang
This movie รุ้งเพชร was shot in 1980. A first version of this story was released in 1961 with Sombat Methanee and Ratanaporn Intarakamhaeng. The main actress is Thai singer Nanthida Kaewbuasai, who sings the famous song "มารักกันใหม่" during the movie. Despite being a grown up teen, Rung (Nanthida Kaewbuasai) still likes children games such as riding buffalo, swimming in river, throwing rock with a sling. She is the leader of small group of friends. Her mother hates Bangkok and doesn't want her daughter to study there. But her mother is sick as she has a severe pain in the stomach. She refuses to leave her home. Rung's father died 10 years ago. The mother finally dies and Rung has to go to Bangkok to a mysterious uncle Phra's home. Her mother always recalled Rung that only uncle Phra helped her when her husband died. Uncle Phra is part of Bangkok rich society (ผู้ดี). Uncle Phra is married to Orapin. Orapin is much younger than uncle Pha and has a lover, who is bankrupted. Orapin is not very happy to see Rung arriving in their home and doesn't understand why Phra wants to take care about this orphan (เด็กกำพร้า). She suspects than Rung is Phra's daughter from a minor wife in Ayuthaya. Anong is Orapin's elder sister. Yai is uncle Phra's son. He behaves like a high society man. Yai has already a fiance. Her name is Nit and she is the second daughter of Anong. They don't get along with Rung. Yai has just finished his studies and needs to be temporary teacher for Rung per his father's request. Rung always speaks frankly (เด็กบ้านนอก). Nit and Yai consider themselves as brother - sister (พี่น้อง) but Anong has other plans in mind and wants to get them married as Yai is very rich. Orapin and Anong are worried about Rung taking a part of the heritage as Uncle Phra is getting older. Rung is doing her studies at UAU. Yai is going abroad. When he is back and while being sick, only Rung takes care about him at nighttime. Yai starts to understand and see Rung's kindness. Pricha, a family friend, has also interest into Nit and starts to seduce her. It is unveiled by uncle Phra that Rung is an hidden family member and child of a famous Thai aristocrat. Shine the jewel and its beauty is revealed... Yai asks Rung to become his fiancee by offering a ring. Anong and her daughter Nit try a last offensive to get Yai back from Rung but to no avail. Yai offers a necklace to Rung causing Orapin and Anong disappointment and ire. Phra agrees to divorce with Orapin but all his heritage is already transferred to Yai so Orapin will get nothing! Orapin and Anong decide to act. They organize Rung kidnapping. Anong tries to poison Phra's teapot but due to a maid mistake Anong finally drinks her owned poisoned tea and dies. Orapin discovers that her lover was cheating her with Anong's elder daughter. Through hate, revenge they kill each other and finally police shots Anong's lover. Yai and Rung can live happily. Nit and Pricha also. In 1980 this movie selling point was "Sorapong meets 6 leading actresses" (สรพงษ์ พบ 6 นางเอก - นันทิดา/นันทนา/พิศมัย/ธิติมา/ปวีณา/เปียทิพย์). This is typical romance movie from beginning of 1980s decade with an impossible love between a poor girl and a rich man. This movie features many famous Thai stars from 1970s-1980s.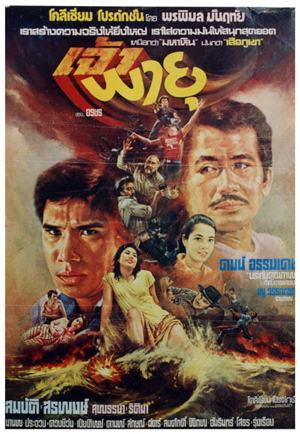 Year

: 1980



Thai title

:

เจ้าพายุ




English title

: Thunder Kid



Rating

: 5/5


Director

: Kom Akadej



Main actor

: Sorapong Chatree,Sombat Methanee,Manop Aussawathep,Prachuap Ruekyamdee,Dam Datsakorn,Somsak Chaisongkram,Lak Apichat,Choomporn Theppitak,Somchai Samipak,Chat Mongkolchai,Pipop Pupinyo,Siripong Isarangkul,Paen Pleumsachai,Pao Porapak


Main actress

: Supansa Nuengpirom,Piathip Kumwong,Thitima Sangkapitak,Duangcheewan Komolsen
Thai movie เจ้าพายุ was released in year 1980 and lasts 1h55mn. It was never released in Thailand but is still available overseas in Sweden as it was sold through VHS format. Palat (Sombat Methanee) rapes Piathip Kumwong, his former wife, as he is upset she has another lover (Manop Aussawathep). A kid is born from this relationship but it has no recognized father (ไม่มีพ่อแต่ต้องมีชื่อ). Manop is said to be Yu's father. Uncle (พ่อลุง) Jaeng (Prachuap Ruekyamdee) names the kid as Thunder (เจ้าพายุ), as he is born during a storm, but his nickname is Yu. When Yu was 3 years old, Piathip left home as Palat was having a new wife called Duangcheewan. Being adults, Eum (Thitima Sangkapitak) and Yu (Sorapong Chatree) love each other since childhood. Eum's parents promise her to another man called To (Dam Datsakorn). Palat, Somsak Chaisongkram and To try everything to break this relationship. Eum and Yu flee but are chased by Palat and ruffians led by To. Yu accepts to surrender and is sent to prison. Manop Aussawathep, father of Yu, learns that Palat has been nominated as chief district. He still has a debt to pay with Palat. While Palat is resting with his family, he does attack them. Palat's new wife (Duangcheewan Komolsen) is shot dead. Pho Seua (Choomporn Theppitak) in prison teaches Yu to master resistance and strength. Yu becomes friend with Pha (Lak Apichat) in prison. Eum, knowing that Yu's father killed Duangcheewan, cannot marry Yu anymore and accepts to marry To. Yu is devastated to learn this news. After a while, Yu is released from jail. Pha is waiting for him. Yu helps Sia Wiwat (Somchai Samipak) and his daughter Chan (Supansa Nuengpirom) Chan having issues with ruffians. He has conflicts with Chat Mongkolchai, head of workers (ป่าไม้). Meanwhile To sends some men (Somsak Chaisongkram and Pipop Pupinyo) to get rid of Yu. Siripong Isarangkul is playing the big boss. They push Manop to force his own son Pha to get rid of Yu. Pha and Yu are in fact brothers. As Pha refuses to kill Yu, To sends Paen Pleumsachai to kill him but it fails as Pha is only injured. Pha gets revenge by shooting Siripong Isarangkul. To's hidden plan is to get rid of Sia Sawat, Yu and to get the sawmill for himself and to get Chan as wife for Chat. Chat uses heavy machine to drop tree logs on the office, where Sia Wiwat and uncle Jaeng are working. Uncle Jaeng dies. Yu has to take revenge on Chat and To. Yu chases To until he can kill him. Final fighting does occur between Manop, Palat and Yu. Manop catches Yu and threatens to kill him if Palat doesn't surrender. Yu is Palat's real son! Piathip already lost one son so she cannot accept this and shoots Manop.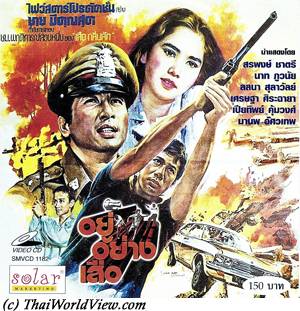 Year

: 1979



Thai title

:

อยู่อย่างเสือ




English title

:



Rating

: 3/5


Director

: Chai Meekunsut



Main actor

: Sorapong Chatree,Settha Sirachaya,Manop Aussawathep,Nard Poowanai


Main actress

: Piathip Kumwong,Lalana Sulawan,Duangcheewan Komolsen
An intensive deforestation is taking place in North of Thailand. Seua (Sorapong Chatree), young man, is back to his native city and is looking for a job. He met Duang, a former girlfriend. Priaw, Duang's brother, drives him to a neighbouring city, Mae Sot, where job opportunities are soaring. Seua meets Pop, an old friend, in order to get job recommendations. Seua is married but he comes alone. They have a drink in a bar. Two interesting characters are working in the bar, i.e. lady Toi (แม่เพลิงไฟ) and ladyboy (กะเทย) Aree, who is a musician and singer. Pop is shot while they are having a drink. A Police inspector (สารวัตร) is investigating the murder but no clues can be found regarding the murderer and cause. It seems to be linked to a corruption and bad influence case. Kamsaen, rich and influential man (พ่อเลี้ยง) , has a beautiful daughter called Kamyat. Pop was a family member but he was not well appreciated as he tried to seduce Kamyat. Seua tries to meet Kamsaen but to no avail. Some ruffians sent by Sinkon, Kamsaen's close assistant, try but fail to drub Seua. Truth has to be hidden and it is a strong message that Seua should stop investigating on Pop's death. The bar manager is shot also. Seua is seriously beaten at the head as he refuses to stop investigating. While driving, Sinkon is also shot by the hitman. A former policeman, Natheum, passing by, sees the hitman's face. All witnesses are killed one by one. Illegal forest concessions (ตัดไม้เถื่อน) business is suspected. Threatening letters are now received by Seua. A plan is prepared with the police inspector. They break over the ruffians directly inside the forest. Shootings happen between police and the ruffians. They release Kamsaen and his daughter held prisoners inside a hut. The ruffian leader succeeds to escape and is still unknown. Natheum is Seua's old friend. While having a drink in the bar, he recognizes Aree as the hitman. Kamsaen has been simulating his capture and is in fact the real headmaster. Toi is his mistress. Kamsaen is killed while trying to resist to the police. Seua, carrying a Magnum 357 gun, revenges his friend Pop by shooting Aree. The magnum 357 is certainly influenced by inspector Harry movies with Clint Eastwood. This movie is a typical action movie from decades 1970s-1980s and features the finest Thai actors and actresses.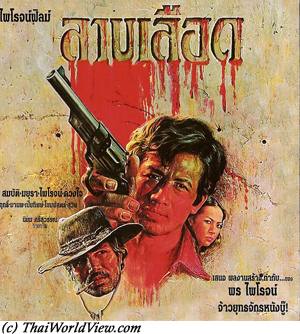 Year

: 1979



Thai title

:

ลาบเลือด




English title

:



Rating

: 3/5


Director

:



Main actor

: Sombat Methanee,Phairoj Jaising,Manop Aussawathep,Sawin Sawangrat,Rith Luecha,Pipop Pupinyo


Main actress

: Piathip Kumwong,Mayura Thanabutr,Duangjai Hathaikarn



Buy now

:

Drunk ruffians are terrorizing a shop while listening to an old Boney M song. Sukol gives them a lesson. Seuabin (Rith Luecha) is the leader of the ruffians. They kidnap villagers and force them to work as slaves (ทาส). Sukol (Sombat Methanee) is working in a gambling den (บ่อน). He meets his old friend Phairoj Jaising. They were former Thai soldiers during the war in Laos. Both of them have been requested to meet in this remote Isan city by their old friend Siaw (Manop Aussawathep). Siaw requests help as his two sisters, Bao (Mayura Thanabutr) and Mon (Duangjai Hathaikarn), have disappeared. They are part of the working slaves (ทำไร่กัญชา) and have been lured by fake job offers. Bao is sick but to get medicine from the guards, women have to offer their body. No problem (มาเลย) for Chai (Piathip Kumwong), who is a former kind hearted prostitute, in order to help Bao. As usual Pipop Pupinyo is playing the ruthless ruffian also. Sukol loves to eat Larb Luat dish (ลาบเลือด). Phairoj, simulating to be an up country bumpkin, is recruited as worker by the agency offering expensive fake jobs. Seua Ling (Sawin Sawangrat) is the big boss. Meanwhile showing his fighting and shooting skills, Sakol is recruited by Seua Ling. Rivalry happens between Sakol and Seuabin as both are skilled gunman (มือปืน). When Chai is sick, nobody is helping her (ใจหมา). She dies during the night refusing Mon to sacrifice herself for her. Sakol asks Siaw to provide explosives. Sawin has an important 500 kg shipment to be done so extra ruffians come. New plan is to release all inmates and not only the two sisters. Seuabin prepares a putsch against Seua Ling as he is upset that Seua Ling is too friendly with Sakol and also wishing to get a bigger share of money. The plan seems to go wrong when Seuabin captures and tortures Sakol to know the truth. Phairoj organises the inmates uprising and uses weapons hidden by Siaw in the field. Through a thrilling and explosive final, all ruffians are defeated or killed. Finally Siaw offers his two sisters to Sakol and Phairoj as rewards. ลาบเลือด is a 2h08mn Thai western.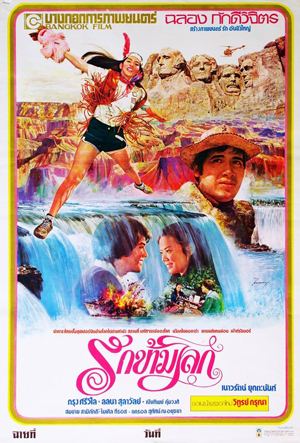 Year

: 1978



Thai title

:

รักข้ามโลก




English title

:



Rating

: 3/5


Director

: Chalong Pukdeewichit



Main actor

: Krung Srivilai,Somchai Samipak,Witoon Karuna


Main actress

: Naowarat Yooktanun,Piathip Kumwong,Lalana Sulawan,Juree Osiri



Buy now

:

Thai police inspector (สารวัตร) Ton (Krung Srivilai) is chasing drug traffickers. Heroin traffickers are shot dead by a mysterious helicopter while trying to flee police in USA. 20M baht are lost. To compensate their loss, traffickers need to get drugs directly from Golden Triangle in Thailand. Anong (Piathip Kumwong) is married to a drunkard foreigner. Nit (Naowarat Yooktanun) is her daughter. The husband Mike has a secret arrangement with the US ruffians as he becomes rich suddenly. They all travel to USA. The drug traffic is coming from Thailand to USA through antics. Maem Clara is a small antics shop's owner. She is working with Pai (สมชาย สามิภักดิ์ - Somchai Samipak), who is the driver, and with Fon (Witoon Karuna). Noon (Lalana Sulawan) is Pai's daughter. Even Osiri, veteran actress and Somchai Samipak's wife, has a small role. Pai's van is followed up by Mike. Mike tries to stop Pai's van. Finally Ton helps to push back the ruffians but they all have to flee. Unfortunately Anong is captured by Mike (เป็นตัวประกัน) while fleeing. While running away from the ruffians, romance starts between Noon and Ton, between Fon and Nit. Ton fails to find heroin in uncle Pai's van. Maem Clara is the real master behind the traffic. As usual, Krung can defeat his opponents thanks to his powerful kicks. Heroin is finally hidden inside the teak wood that uncle Pai ordered from Thailand. Mike is dropped and shot by his friends. Nit and Noon are also captured. Before dying, Mike discloses to Ton where the ruffians are heading to. Police is then chasing their boat. Through final shootings and bombings, ruffians are all killed, Mit and Noon are released but Nit's mother is losing her life. Thai movie รักข้ามโลก, directed by Chalong Pukdeewichit, was mainly shot in USA in 1978. This romance and action movie includes one love song by Witoon Karuna. Another movie called ล่าข้ามโลก directed by Chalong Pukdeewichit was also shot in USA in 1983.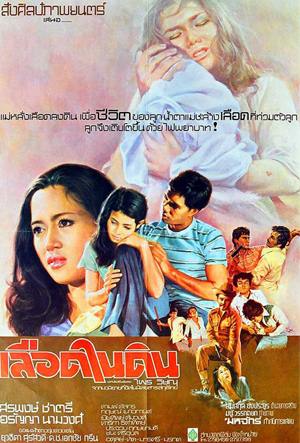 Year

: 1978



Thai title

:

เลือดในดิน




English title

:



Rating

: 3/5


Director

:



Main actor

: Sorapong Chatree,Prachuap Ruekyamdee,Dam Datsakorn,Adul Dulyarat,Chana Sriubon


Main actress

: Aranya Namwong,Piathip Kumwong,Yuwathida Surasawadee,Tharika Thidathip
Thai movie เลือดในดิน was released in year 1978. It features Sorapong Chatree as main actor and Aranya Namwong as main actress. The movie is lost in Thailand but a three minutes 30 seconds trailer remains to be seen. Other actors are Prachuap Ruekyamdee, Dam Datsakorn, Piathip Kumwong, Adul Dulyarat. Yuwathida Surasawadee, Tharika Thidathip, Chana Sriubon. It is a strong drama movie (เป็นหนังชีวิตเข้มข้น). It looks like a child was separated from his father. Getting adult, Sorapong is reunited with his father (Prachuap). Many fightings do happen on this family drama movie.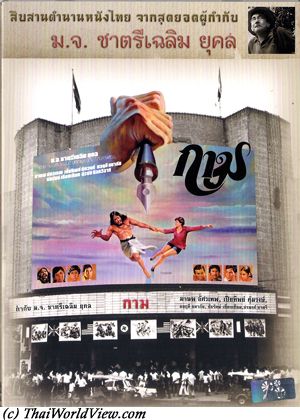 Year

: 1978



Thai title

:

กาม




English title

: Kama



Rating

: 5/5


Director

: ChatriChalerm Yukol



Main actor

: Manop Aussawathep,Sorapong Chatree,Dam Datsakorn,Nirut Sirijanya,Adul Dulyarat,Somsak Chaisongkram


Main actress

: Piathip Kumwong,Monrudee Yamaphai,Wiyada Umarin,Metta Roongrat



Buy now

:

Chet (Sorapong Chatree) performs love scene with Manvika (Piathip Kumwong) in front of cameras. Manvika (ดาวโป้) is a sex movies star. Veena (Monrudee Yamaphai), her teen daughter, feels ashamed. Manvika draws a line between public life and private life. She works hard to pay her daughter's studies. There is a crazy painter called Marut (Manop Aussawathep) living near their home and drawing big vagina, i.e. his vision of a mother, or big penis (พระเจ้า), i.e. his vision of the humanity creation. The art critic doesn't understand him and sees him as a sex maniac only. The artist is seen as obscene (ลามก) by his neighbours. Veena gets interest in this artist and also starts to draw similar vagina during school art lessons. She is studying in a catholic private school. Next week is Veena's birthday. Veena has feelings that her mother doesn't spend enough time with her and more time with other men while playing movies. A journalist called Surasak keeps harassing the mother. As a vengeance as Manvika slapped him, the journalist publishes picture of her daughter Veena presented as a new star (ดาวรุ่งดาวใหม่). Despite not being aware, Veena is threatened to be expelled if it ever happens again as her school can only accept good mindset lady (สุภาพบุรุษสตรี). Society doesn't make a difference between a job and real personality of people. They all believe Manvika can only be an easy woman. The artist is also despised as sexual representations cannot be art according to society prejudices. While going back from restaurant, Veena's friend car hits the artist. Veena helps to bring him back home safely. The journalist is still angry and writes devastating reviews about Manvika. He is also a corrupted guy accepting money to write good reviews. Veena understands the artist motivations and doesn't believe what he is drawing is dirty as it is the origins of our world. People start to gossip, including Surasak the journalist, as Veena visits him every day. Neighbours believe a sex maniac artist and a daughter of porno star can only do bad things together. Veena wishes the artist to draw mountains or sea and he follows her advice. Following Surasak's pressure, Manvika is downgraded to second role by movie director (Adul Dulyarat). One evening, the artist wishes to draw a nude painting of Veena. Afraid she starts shouting and fighting back. Surasak following them secretly takes pictures to be published on Thairat newspaper's first page and pretending a rape. The artist is beaten by the mob. Nobody talks anymore to Veena (คนเลว) at her school. Manvika tries to get help from other newspapers but with no avail. Veena is fired from her school. Surasak's wife (Metta Roongrat) asks him to consider how he would react if his own daughter was tarnished the same way. Nobody comes to Veena's birthday (รังเกียจหนู). Newspapers can shape belief of people as even Manvika doubts about her own daughter. Only the artist understood her, so she leaves her home to find him in Koh Samet (เข้าใจกันดี). Following Manvika's tearful pleas, Surasak recognizes his mistakes and promises not to write about her and her family anymore. Being recognized on Koh Samet island, police and her mother are coming to get Veena back. Veena doesn't want to go back with her mum and be called as sex star daughter (ลูกสาวดาวโป้) again. Marut, the artist, gets shot by the police. Only the crazy artist was understanding Veena. This movie กาม includes strong critique of newspapers living on scandals (ข่าวเป็นข่าว), strong critique of society preconceived opinions on art and people public life. Many famous Thai actors have a cameo appearance in this movie.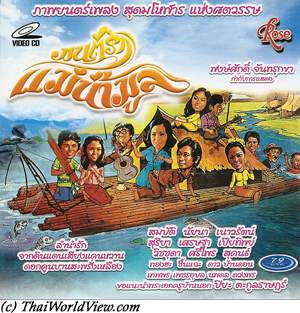 Year

: 1977



Thai title

:

มนต์รักแม่น้ำมูล




English title

:



Rating

: 3/5


Director

:



Main actor

: Sombat Methanee,Sukon Koewliam,Settha Sirachaya,Suriya Chinaphan,Piya Trakulrard,Noppadol Duangporn


Main actress

: Naowarat Yooktanun,Piathip Kumwong,Naiyana Shewanan
This folk-music movie is similar to "mon rak luuk thung". It features folk or "LUUK THUNG" songs. It is about love stories between villagers from Ubon, i.e. a teacher and his fiancee staying in Bangkok, a farmer wishing to be a singer and his fiancee, a school director and a nurse.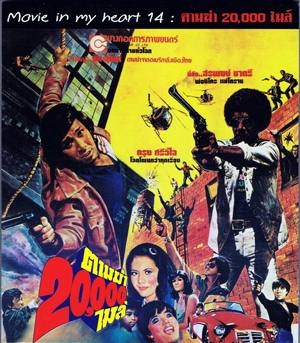 Year

: 1977



Thai title

:

ตามฆ่า 20,000 ไมล์




English title

: Project G-7



Rating

: 3/5


Director

:



Main actor

: Sorapong Chatree,Krung Srivilai,Nirut Sirijanya,Lak Apichat,Somchai Samipak


Main actress

: Pawana Chanajit,Piathip Kumwong,Tasawan Saneewong,Sasima Singsiri



Buy now

:

Thai movie ตามฆ่า 20,000 ไมล์ was released in year 1977 and lasts 1h47mn. Movie director is วินิจ ภักดีวิจิตร. The movie is taking place partly in USA. The movie was released on VCD format in Thailand by company XxX (Triple X) and Lepso Company (TV recording). It was also released overseas under VHS format as an IFD movie named Project G-7 (1h27mn), mixing some part of the original Thai movie and some new sequences shot in Hong Kong. Don (Krung Srivilai) is flying to San Francisco, USA. He met Nit (Piathip Kumwong), working as air hostess, in the plane. Plao (Sorapong Chatree), half black and half Thai man, is a FBI officer and has to work with Don. Thai drug is sold to USA and dealer Chan Sopon is suspected as big money transfers are done by him from Thailand to USA. Police is doing enquiry on a double murder, i.e. a woman and her lover were killed. The killer is Aran (มือฆ่าระดับโลก) (Nirut Sirijanya). The husband, Chan, is a rich businessman and also a generous donator to local Buddhist temple but he claims to have nothing to do with this murder. His mistress is Nit, air hostess. Sasima Singsiri and Tasawan Saneewong are lady journalists enquiring on Chan's suspect wealth. Fighting in a car dealer and a car chase occur. So Don and Plao disrupt Chan's business by catching his heroin. Chan is upset and orders his men to get rid of Don and Plao. The two lady journalists are undercover Thai policewomen. While having a break and having good time on a beach, a hitman misses to shoot Plao and one of the journalist ladies is killed. Plao's wife and his daughter are also killed per retaliation. Plao and Don storm Chan's place but he is gone overseas to Thailand already. Back to Thailand, Lak Apichat and เมือง อพอลโล่, part of Chan's team, follows them. Attacked by ruffians, Thai police woman Krissuda (Pawana Chanajit) comes on time to help Plao and Don. Aran and other ruffians fail to kill them once again but Plao is injured. Ruffians are convinced there is a police traitor among them as Thai police arrests Chan's drug traffickers. Nit is the one helping Thai police. Somchai Samipak is playing the head of police. Aware of ruffians' activities near a golf, Don and Tatsanee are captured and tortured by ruffians (ขายชาติ). Trying to warn Thai police for help, Nit is identified as the traitor. Aran loves secretly Nit since a long time. As Aran disobeys Chan's order to kill Nit, Nit is finally killed by Lak. Plao and Krissuda come to help after being informed by Nit just before her death. Police storms the place. Aran kills the leader Chan as revenge as he loved also Nit. Through a final duel, Plao kills Aran.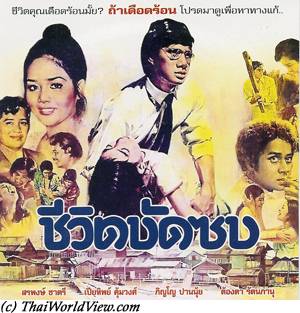 Year

: 1977



Thai title

:

ชีวิตบัดซบ




English title

: Damned life



Rating

: 5/5


Director

: Euthana Mukdasanit,Permpol Choei-arun



Main actor

: Sorapong Chatree,Pinyo Parnnui


Main actress

: Piathip Kumwong



Buy now

:

Teacher Tom and his hairdresser wife Reusi are living in a slum. They have a daughter. Tom is very dedicated to his job and study books every evening. His wife is bored and wishes to have a more exciting life. Following a friend invitation to a high society party, she goes alone as Tom believes it is not his world. There she meets a rich man and becomes her lover. She starts to go back home very late and doesn't go to her daughter's school activities. Following arguments between Tom and Reusi, they finally agree to divorce and Reusi announce to him that he is not the real father of their daughter! The slum is also full of robers and drug sellers. By unfortunate incident, Tom contributes to the arrest of one drug seller. This latter wishes to take revenge on Tom. Reusi is finally dumped by her rich lover. Tom and Reusi finally stay together for the good sake of their daughter and start to have hapiness again. One stormy night when Tom is out for working late, 4 drunk men lead by the drug seller enter in Tom's house, rape his wife and kill his daughter. Tom chases them and kills them one by one but his life is wrecked. What a damned life... This movie about slum dwellers earned Bt1 million at the box office. In 1977 this movie was almost a clone of the popular newspapers' front pages as it dealt with drugs, rape, divorce, violence. Virtue is not rewarded. Sorapong Chatree got his first Thai cinema reward thanks to this movie (ตุ๊กตาทองตัวแรกของพระเอกสรพงษ์ ชาตรี).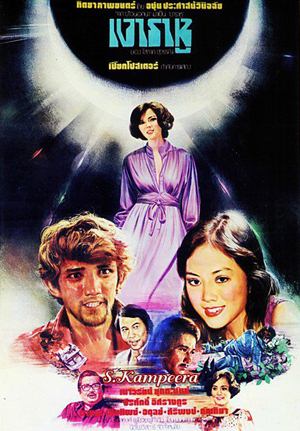 Year

: 1976



Thai title

:

เงาราหู




English title

:



Rating

: 5/5


Director

: Piak Poster



Main actor

: Jirasak Isarangkun Na Ayuthaya,Manop Aussawathep,Adul Dulyarat


Main actress

: Naowarat Yooktanun,Piathip Kumwong,Kantima Daraphan



Buy now

:

A young girl called Tong, living in a slum, is going to stay with her aunt (น้า) Malika (Piathip Kumwong). Many years ago Tong's mother helped Malika who was 6 months pregnant but her boyfriend refused to take care of the baby. As the mother dies of disease, Malika promises to take care of Tong. Malika is Khun Boontaeng's minor wife (เมียน้อย). Khun Boontaeng is avarious so is not so happy to see Tong (หลานสาว) with Malika. He wishes to put her in board school (โรงเรียนประจำ) in order to have full time happiness with Malika. Next week a doctor friend called Tiu will come at their home. Alcohol is needed as he is inconsolable since his wife's death (พ่อม่าย). They finally meet Tiu (Manop Aussawathep) at the golf club. Tiu has a 15 years old son. There is reflection about true love and purchased love (ซื้อความสุข). Many years have passed. Tong (Naowarat Yooktanun) is now a grown up beautiful student wishing to become a a graduate (บัณฑิต). Relation has turned sour with Boontaeng due to his major wife (เมียหลวง). Tiu offers Malika to open a business. Malika wishes Tong to study accountability (เรียนบัญชี) to help take of the company finances. Finally as Boontaeng dies, his wife wants to get back the house! Malika asks Tiu's help who then accepts to host them. Malika manages later to have Tiu signing documents to have her responsible of his fortune. Malika doesn't want to face same fate as with Boontaeng. Even Tiu's son (ลูกชาย), Tom, shall get nothing but he anyway never visits his father. Maybe he is ashamed to have an alcoholic father (ขี้เมา)? Tom gets a monthly salary from his father but sends somebody to get it on his behalf. Tiu continues to indulge in alcohol (ลูกไม่รักดี). Malika doesn't believe in true love. They come to rest in Cha Am in their seaside resort. His son Tom is a rebel with tainted blond hair and hanging around with hippie students. He is staying in a tent with his friends near his father house and denigrates Tong. Tiu is found unanimated on the floor during the night. As Malika is gone with the car, Tong has many difficulties to convince Tom to get a doctor. Tiu remains handicapped and almost paralyzed. He cannot speak properly anymore. Malika refuses to take care of him as she is too busy with her business. She has money but wants now society reconnaissance (เกรด). Tong has to take care about Tiu. Malika gets full power to manage Tiu's asset with the son's approval as he doesn't care about heritage anyway. A rich man Namkeun (Adul Dulyarat) wants to do a join business with Malika. Malika makes many social donations (บริจาคมากเกินไป) so starts to have financial problems. So she pushes Tong to marry him. Tong accepts not because of love but because of gratitude towards Malika (กตัญญู). Tong moves to Phuket (ความรักเกิดยาก). Tong doesn't want to be compared with her aunt Malika as she has studied high enough to take care about herself so she doesn't dream about the heritage of Namkeun. Namkeun has a secret, i.e. following a car accident he cannot perform husband duties anymore. Wiphat is the manager (ผู้จัดการ) taking care of Namkeun's Business activities. It is Tom! Tom believes Malika and Tong are professional experts to grab older rich men. Tom is not upset about his father's heritage but about the house as it is coming from his mum. Being denigrated by Tom and raped by her husband, Tong decides to go back to Bangkok. Due to her foolish expenses, Malika has fired many domestic helpers and sold home furnitures. In fact Malika even sold the house to Khun Namkeun as wedding fee with Tong. Tong promises to Tiu to get the house back in order to give it back to Tom. Malika dreams to become Khun Ying Malika (คุณหญิง) and spends a lot of money on various donations. Tom puts Malika in hospital as she has become crazy with her nobility wishes. He knows that the house now belongs to Tong. Following a drunken evening, Tong gets hurt by her sadistic husband again. Falling from the stairs, Tom brings her to a doctor. During her delirium, she talks to Tiu announcing she succeeds to get the house back. The only solution to save her is to have Namkeun finding a sadistic partner like him. While being cured by the doctor, one of the domestic helper takes benefit to start a relationship with Namkeun. She is sadistic also. Finally Namkeun offers divorce with Tong. She can go back to Bangkok to live happily with Tom, Tiu and even Malika released for mad house. This interesting 1976 movie deals with various modern society themes such as minor and main wife, reconnaissance and status. Main actor is Jirasak Isarangkun Na Ayuthaya, who played only a few movies during 1970s decade. Movie เงาราหู directed by Piak Poster is 2h23mn long. A Thai TV serie with Pete Thongjure was released in 1995.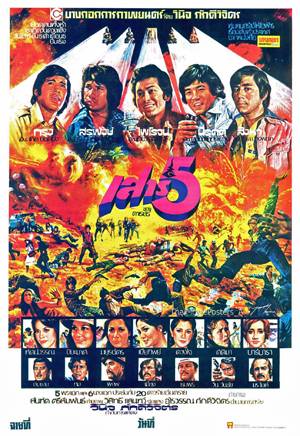 Year

: 1976



Thai title

:

เสาร์ 5




English title

:



Rating

: 2/5


Director

:



Main actor

: Krung Srivilai,Sorapong Chatree,Phairoj Jaising,Nirut Sirijanya,Pipop Pupinyo


Main actress

: Piyamas Monayakol,Tasawan Saneewong,Piathip Kumwong,Mayurachath Muarnprasitivej,Duangjai Hathaikarn



Buy now

:

5 friends are reunited for a mission in Northeast of Thailand. They were soldiers during Vietnam war. They receive sacred powerful Buddha amulets from a famous Buddhist monk in order to protect them during fighting. They have to swear, holding Thai flag, that they are willing to sacrifice their life for the nation, the religion and the monarchy. Sent on mission, they are facing a bunch of thieves, foreign people having a secret base with powerful rockets to threaten Thailand. Finally with the support of five women soldiers, they defeat the villains. Five major actors and actresses from the 1970s were featuring in this action movie.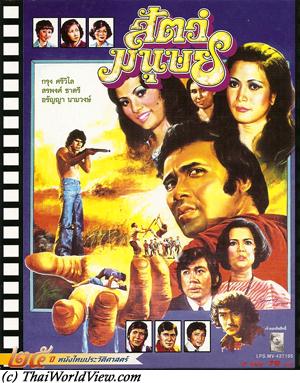 Year

: 1976



Thai title

:

สัตว์มนุษย์




English title

:



Rating

: 5/5


Director

:



Main actor

: Sorapong Chatree,Krung Srivilai,Jamroon Nuatjim


Main actress

: Aranya Namwong,Piathip Kumwong
Chot (Sorapong Chatree) and his sister Choi (Aranya Namwong) are children of poor farmers. Chot loves Soi, who is the subdistrict headman's daughter (กำนัน). They love each other but Chot cannot have any hope as he is too poor (เด็กเรียนควาย). Chot helps his sister Choi as she was going to be raped by three ruffians (สัตว์นรก!) that are protected by the local subdistrict headman. Saeng, son of the subdistrict headman, requests a young lady called Bua as a payment for her mother's debt. Bua takes refuge in Chot's father home. Meanwhile Chot is arrested as he hit earlier the three ruffians. It is unfair and the family has no money to pay the bail (ประกัน). The father needs to ask a local Chinese moneylender for 10 000 baht to pay the bail. There are always issues between Saeng and Chot. Saeng would like to kill Chot. One night, Saeng's ruffians rob the 10 000 baht reimbursement and kidnap Bua. The subdistrict headman and village headman are not helpful to poor people. The village headman prevents Chot and other men to look after the ruffians as Chot shot one of the robbers. Bua is then found dead. Choi is very upset as Bua's death is due to the village headman (ผู้ใหญ่บ้าน) inactivity and his refusal to take responsability (ไม่รับผิดชอบ) as he prefers to help rich people only. As the headman hits her sister, Chot, in full anger, shots him and then needs to flee. Chai is the local Chinese moneylender's son. He is no respect for others. Chai (ลูกเศรษฐี) tries to shoot birds in a Buddhist temple despite the abbot's request to stop. Chot, who took refuge in this temple, prevents him to do so as a temple shall remain a peaceful haven. If we accept human sins, what kind of future will Buddhism have? (ถ้าเรายอมให้มนุษย์ทำบาป ศาสนาจะมีอนาคตอะไร). Pliu, future lawyer, promises to marry Choi. Chot succeeds to get back the 10 000 bath from Saeng (ตอบแทนความชั่ว). The father refuses the money believing his son is now a brigand (โจร). Heavy floods happen. All crops are devasted. The father has no more money to invest in new crops. Be good and there is nothing good happening to them (ความดีไม่เอาแล้ว). The father receives 3000 bath to plant new crops but Choi must accept to be the moneylender's domestic helper (เป็นขี้ข้าดอกเบี้ย). As Chot was injured, he cannot help. Only the Buddhist abbot helps him. Choi is drugged by the moneylender and raped. Then she is forced by Chai. She fell in hell (ตกนรก). She supports this situation as respect to her father (กตัญญูสำหรับพ่อ). Tia, the moneylender, likes Choi very much and decides to take her as minor wife. She accepts in order to remove her father's debt but this one doesn't understand his daughter (sent her to be a maid and not a wife - ส่งให้เป็นแม่บ้านไม่ได้ส่งให้เป็นเมีย) and decides to stop any relationship with her (ไม่มีลูกสาวแล้ว, คนอยู่ละโลก, ผู้หญิงขายตัว). Money has destroyed his world and family. The father has a heart attack and dies. Choi is now pregnant. Most likely the father is Chai and not Tia, the father. Tia's wife puts everybody under his own responsibility. Wishing to do good one time in his life, Tia promises to give a house and one million bath for Chai to marry Choi (ฮี่ควาย). Saeng then threathens to kill Tua if he doesn't handover a bus line. Rich and influent people are sinful (สัตว์มนุษย์) behaving worst than animals. Finally Tia asks Choi to convince Chot to give a lesson to Saeng versus a promise to help Chot against authorities. During the fight Saeng accidentally dies. Chot surrenders (มอบตัว) and is finally forgiven by the tribunal thanks to lawyer Pliu. Choi continues to behave badly with no respect, no care for anybody except himself. He finally has a business conflict with Tia and dies, being shot by Soi. This movie has a deranging question regarding karma. People who do good and follow up Buddhist precepts are the poor losers. The moneylender, the subdistrict headman's family do not follow the law and are the one reaping the profit. Is it worth to be always good people when injustice prevails? Actor Sorapong Chatree got a best Thai actor award for this movie.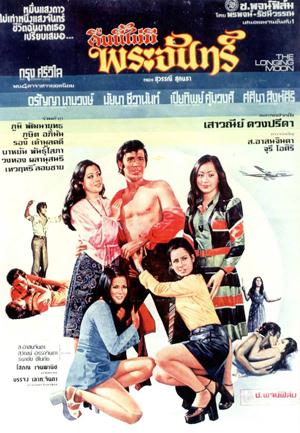 Year

: 1975



Thai title

:

คืนนี้ไม่มีพระจันทร์




English title

:



Rating

: 3/5


Director

:



Main actor

: Krung Srivilai,Sor Asanajinda,Rong Kaomulkadee


Main actress

: Naiyana Shewanan,Aranya Namwong,Piathip Kumwong,Juree Osiri,Sasima Singsiri
Thai movie คืนนี้ไม่มีพระจันทร์ was released in year 1975. The movie is lost in Thailand and only a sequence of 38 minutes remains to be seen. A group of young women including Naiyana Shewanan is sleeping together in a big bungalow near the beach. It is the yearly trip organized by their art university (มหาวิทยาลัยศิลปากร). One of the young ladies recognizes Nat (Krung Srivilai), a male art student of the same university. Back to his home, Soi Dao (Aranya Namwong) is waiting for Nat. Later Nat ends up drinking expensive alcohol with another young lady called Yu (Sasima Singsiri). Nat has no money so is being entertained by ladies. Yu is drunk and Nat brings her home but June (Piathip Kumwong) has time to recognize him. Nat sees women as sexual objects and lies to each of them (เจ้าชู้). He goes from Soi Dao to Yu. Soi Dao is finally pregnant (ลูกเศรษฐี). Soi's father is played by Sor Asanajinda and Soi's mother is played by Juree Osiri. They are concerned about their family name and they don't want Soi Dao to marry anybody. Soi Dao wishes to go abroad as Nat doesn't show interest anymore. Nat is not sure if Naiyana loves him as she is aware of his butterfly activities. Playing a game with another man, Soi Dao arouses Nat to get back his interest through jealousy. The left sequence ends up here. In 1975, this movie makes a lot of noise because of some daring scenes (หนังโป๊ๆ เปลือยๆ).
---