Increase or decrease font size for easier reading : A+ A-
Piak Poster
Piak Poster (1932) - เปี๊ยก โปสเตอร์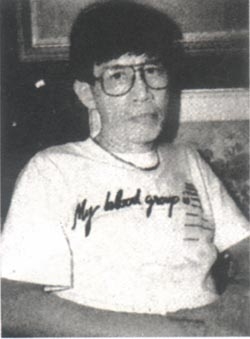 Piak Poster is famous for having done the first successful Thai teen movie in 1976 (Wai-on-la-won). He has also directed many romance movies. Most of his romance movies finish tragically. He also known as Somboonsuk Niyomsiri (สมบูรณ์สุข นิยมศิริ). His movies differ from conventional 1960s style so he was hailed as a new wave director (ชู). He directed 27 movies. Piak Poster began as a painter of movie posters, so earning the pseudonym that stuck even after he became a famous director.
This Piak Poster movie page contains 13 records.
---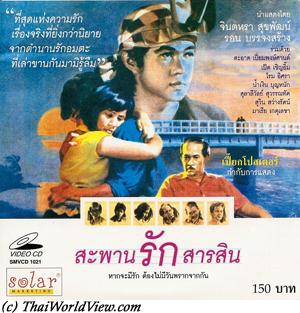 Year

: 1987



Thai title

:

สะพานรักสารสิน




English title

:



Rating

: 4/5


Director

: Piak Poster



Main actor

: Ron Banjongsang,Sahat Piempongsan,Sawin Sawangrat


Main actress

: Jintara Sookkapat,Namgneun Boonnak,Sulaleewan Suwanthat



Buy now

:

Thai movie สะพานรักสารสิน lasts 1h35mn. It was released under VCD many years ago but a HD version remastered is available since year 2015. It is based on a real story happened in 1973 on Phuket island. Sulaleewan Suwanthat is playing the mother. Kotham (Ron Banjongsang) is a good son as he is working in a farm of rubber tree and coconut and giving all his money to his mum. He is also driving local small bus to help his friend. He meets Hiu (Jintara Sookkapat), an university student who has good heart (น้ำใจ) to protect him with her umbrella while he is changing a bus wheel during a thunderstorm. Hiu's father (Sahat Piempongsan) is aware that his daughter is seating in the front with Tom so he forbids her. Kotham buys a doll (ตุ๊กตา) for Hiu knowing she likes it. Romance starts between Hiu and Kotham . While enjoying a local festival, Hiu is surprised by her father and slapped (ลูกไม่รักดี). Back home, she is severely beaten by her father, who even disapproves his daughter going to university. The father meets khun Arun, an administrative officer, as he wishes him to marry her swiftly. Hiu offers herself to Kotham but he refuses (บูชา Hiu). They finally decide to flee on a remote island. Kotham becomes a diver to catch pearls and seashells. Police finds them and Kotham ends up in jail as Hiu is not yet 20 years old. The local Kamnan (Sawin Sawangrat) convinces the father to remove the complaint on Kotham. But the father doesn't forgive. He hits his daughter with a stick in front of Kotham. Hiu is pregnant. Kotham loses his mother. The father still wants his daughter to marry Arun. Only suicide appears a solution for the youngsters. The mother and Kotham's friends wish to stop them but they are too late. The two corpses are found later clinched to each other. As they are inseparable even in the death, Hiu's father orders to bury them together. This movie has also been registered as National Heritage per the 2016 list released by the Thai Film Archive.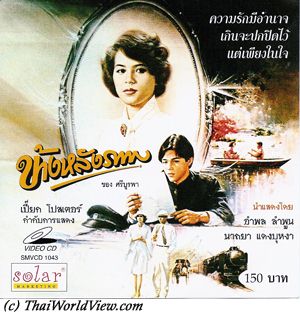 Year

: 1984



Thai title

:

ข้างหลังภาพ




English title

: Behind the Painting



Rating

: 3/5


Director

: Piak Poster



Main actor

: Amphol Lumpoon


Main actress

: Nardtaya DaengBunga
This movie is about the impossible love between a young man and a married woman older than him. The action takes place in Japan. The movie highlights the restricted existence of unmarried women and the pressure for them to marry, whatever the circumstances. This movie is based on a romantic novel written by Kulap Saipradit (กุหลาบ สายประดิษฐ์). Behind the Painting is widely regarded as one of the best-written novels in the Thai language.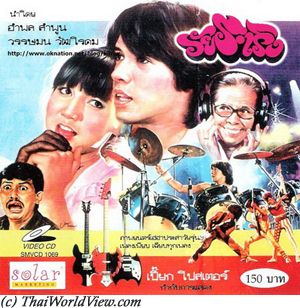 Year

: 1984



Thai title

:

วัยระเริง




English title

:



Rating

: 3/5


Director

: Piak Poster



Main actor

: Amphol Lumpoon


Main actress

: Sulaleewan Suwanthat
Students in class 650 are teenagers. They spend time to make jokes. Their new teacher (อาจารย์) Sri Nuan doesn't understand them and only blame them. So they often flee school and spend time in Siam Square. Teachers have difficulties to educate this class. Teenager Phong uses money from his school fees to buy music instrument and doesn't wish to pursue business studies to replace one day his father as the head of recording studio company. He doesn't go to school anymore. His father is upset. Phong stops going back home and spends time playing music. His grandmother, Pradit, who is also a teacher, blames his father for not giving enough time for his son. She knows the difficulties to teach teenagers. She asks Phong and his friends to stay and play music in her backyard so that she knows where they are. She asks Phong to create a song regarding Europe countries location with a modern rock music. It is an immediate success with the teenagers. They learn and have fun at same time. The grandmother is smart. She knows that teenagers need to study what they like in order to get better results. During a school outing, one of the children of class 650 saves another teen from drowning. The teacher Sri Nuan must acknowledge her mistake and that those kids have also a positive added value to Thai society. During the year end exams, the children of class 650 have very good results thanks to the songs of teacher Pradit. The songs start to be well known but Thai kids cannot buy them. Record producers including Phong's father are queueing for a contract but the group manager is the grandmother so she knows how to defend the kids rights and interests again the business vultures. Finally the father accepts to sign a contract to avoid a competitor to get the deal. They become stars now. Finally they come back to the school year end spectacle to perform. To the puzzlement of all, they perform traditional Thai music. Elders shall respect youth aspirations but youth shall also respect elders achievements as both of them have values. It is Amphol Lumpoon's first role.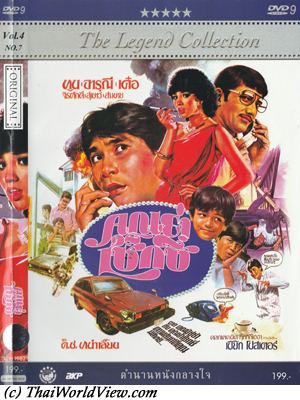 Year

: 1982



Thai title

:

คุณย่าเซ็กซี่




English title

:



Rating

: 2/5


Director

: Piak Poster



Main actor

: Toon Hiransap,Der Doksadao,Somchai Samipak,Doo Dook Kradon,Suchao Pongwilai


Main actress

: Jarunee Sooksawad,Juree Osiri,Sulaleewan Suwanthat,Chosri Misommon



Buy now

:

Thai movie คุณย่าเซ็กซี่ was released in year 1982 and it lasts 1h57mn. It is available under DVD format released by BKP. Movie director is Piak Poster. An old doctor friend visits Et (Toon Hiransap). Et asks for Thip's hand (Jarunee Sooksawad). Thip's father (Somchai Samipak) has a shock. Et visits his doctor friend to find a solution. Chosri Misommon and Doo Dook Kradon are playing crazy patients (อย่าถือคนบ้า ว่าคนเม่า). One of the kids, Mee, is kidnapped by Suchao Pongwilai. Suchao is asking for 300 000 baht as ransom. The kid succeeds to escape and even tricks his kidnappers. The kidnappers lie to Et and capture him. He still has to give a ransom to be released. Luckily the Police is passing by and he can escape. Ruffians are finally identified and jailed by Police. Et can finally marry Thip. Et and Thip are singing a song reminding of วัยอลวน movie in 1975. วัยอลวน was also director by Piak Poster. His old doctor friend (จิรศักดิ์ อิศรางกูร) asks him for help. He needs him to take care about a lady's best friend so that he can focus to seduce her without having a chaperon always around. Et teaches her tennis. Thip sees him with that lady and back home, he gets severely beaten and even falls from the stairs. Incantations (คาถา) from the grandfather are used to make people smaller or bigger so that he is not humiliated by his wife anymore but it is only a dream. Believing Et is becoming crazy as he keeps mumbling incantations, Thip calls the doctor to check his condition. The doctor asks Thip to be nice towards Et as he missed love when he was a kid. Thip announced to the head of school (Juree Osiri) that she quits her job to take care about her home. It is Thip's birthday. As Thip is wearing old style clothes so one of her friend restyles her. So she becomes sexy (คุณย่าเซ็กซี่). Love is back between Et and Thip. The movie can end happily.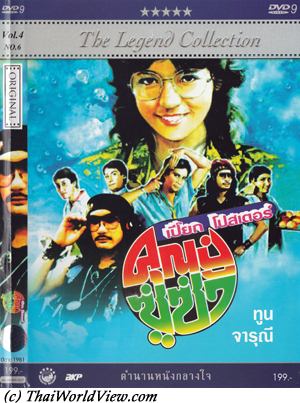 Year

: 1981



Thai title

:

คุณปู่ซู่ซ่า




English title

:



Rating

: 2/5


Director

: Piak Poster



Main actor

: Toon Hiransap,Der Doksadao,Somchai Samipak


Main actress

: Jarunee Sooksawad,Juree Osiri,Sulaleewan Suwanthat,Janthana Siriporn,Chaweewan Boonprok,Patama Panthong



Buy now

:

Thai movie คุณปู่ซู่ซ่า was released in year 1981 and lasts 1h59mn. It is available under DVD format released by BKP. Movie director is Piak Poster. Invited to a wedding party, Et (Toon Hiransap) is still single and is a playboy. He meets Juree Osiri. Et has inherited from his grandfather so he doesn't need to work. He doesn't want to marry as he likes freedom. He invites young lady Pat (Patama Panthong) to Pattaya. Kaew (Der Doksadao), his domestic helper, invites a lady (Janthana Siriporn) in his home while he is away. A little girl called Mot comes to their home. She is Et's relative daughter. As her family has financial issues, the relatives leave Mot with him. Et gets issues with police as he goes to teenager's party (ซวยจริงๆ). Mot's teacher is Thip (Jarunee Sooksawad). As there is nobody to stay with Mot, Thip stays to be her friend as both Kaew and Et are out every night. Et is going out with Chaweewan Boonprok. Enamoured with the teacher Thip (ครูสวยฉิบหาย), Kaew suggests bad ideas to Et in order to seduce Thip such as using sedative (ยานอนหลับ) or inviting her while there is nobody at home. All ideas fail and Thip is very upset with Et as she complains he lives a bad life only spending money and bringing no value to Thai society (ประโยชน์ต่อสังคม). Thip decides to change. Thip's father (Somchai Samipak) is a bakery's owner. Et succeeds to be hired in the bakery and launches successful cakes having tits shape. A co-worker (Sulaleewan Suwanthat) complains he is salacious (ลามก). Worried that Et will bring shame to his father and their business, Thip fires him. Apologizing for his behavior and feeling very sad, Et quits the bakery. While helping the father aggressed by two robbers, he is injured by them. Finally Thip understands Et is a good guy. Et promises to quit his bad behavior and acts as an adult. The second part of this Thai movie is named as คุณย่าเซ็กซี่ was released in year 1982.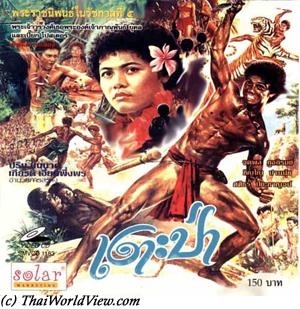 Year

: 1980



Thai title

:

เงาะป่า




English title

:



Rating

: 5/5


Director

: Prince Bhanu Yukol,Piak Poster



Main actor

: Jatuphol Poopirom,Pinyo Parnnui


Main actress

:



Buy now

:

Thai movie เงาะป่า was released in year 1980 and lasts 1h32mn. It was released under VCD format. It was remastered in full HD format by Five Star production in mid-2010s. Movie director is Piak Poster. This movie takes place in a tribe located in a forest. They have all a dark skin so are called "เงาะป่า" tribe. Sompla (Jatuphol Poopirom) is a young fearless man skilled in animal hunt with blowpipe and knowledgeable in medicinal herbs and plants. The tribe is wearing clothes like South Pacific tribes. Lamhap (ศศิธร ปิยะกาญจน์) is the daughter of the local sorcerer (หมอผี). The local sorcerer would like Sompla to become the next sorcerer as he is getting older but Sompla refuses. The tribe exchanges goods from the forest with Thai villagers at the market. Anao, the village leader's son, is good at sales so Lamhap's parents appreciate him. The movie highlights their everyday life in the forest, i.e. getting fruits and food from the forest, be aware of danger such as snake and tiger... It is a beautiful ode to natural life. There is a contest to shoot flowers and to win ladies hearts. Jealousy happens between Sompla and the village leader's son, Anao (Pinyo Parnnui), as both love Lamhap. Lamhap prefers Sompla but the marriage decision is linked to her parents' choice. The village leader wants his son to become the next leader and wishes Anao to marry Lamhap. After a misunderstanding with Sompa, Lamhap accepts to marry the village leader's son. The wedding is beautifully shot, and it reminds about Thai movie "The old scar" (แผลเก่า), which also features portraiture of Thai culture and way of life through a tragic romance. Sompa ruins the wedding night by making noise and sending rocks on their roof. While Anao goes out to catch the intruders, Sompla kidnaps Lamhap. The movie includes beautiful ambient light shooting with torches as the village leader's family is chasing them. Sompla and Lamhap flee. They go deep inside the forest. They are tracked down due their fire smoke. A fight happens between Sompa and Anao. The winner shall get Lamhap. Sompa wins by attracting Anao inside the deep forest instead of fighting inside a clearing. Unfortunately, another fighter shoots Sompla with a poisonous arrow. Sompla dies and Lamhap kills herself over Sompla's body. This movie was directed by the General Major His Royal Highness Prince Bhanu Yukol, a pioneering Thai filmmaker. He was the uncle of famous director Prince ChatriChalerm Yukol. Thai actor Jatuphol Poopirom received a posthumous Thai award for his performance as he died in 1981 in a car accident. The movie soundtrack mixes a traditional and entertaining music. It is based on a novel (Romance of the Sakai) by Thai King Rama 5. The Culture Ministry registers 25 Thai classic films each year at the National Film Heritage Registry. This movie is part of the 25 films heritage list announced on 04 October 2015, which is Thai Movies Conservation Day.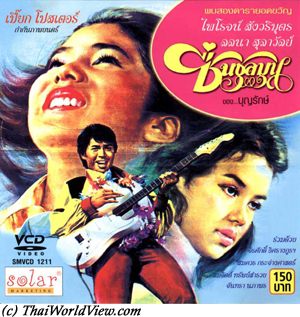 Year

: 1978



Thai title

:

ชื่นชุลมุน




English title

:



Rating

: 3/5


Director

: Piak Poster



Main actor

: Phairoj Sangwaribut,Somkuan Krajangsat


Main actress

: Lalana Sulawan



Buy now

:

This movie is the third part of the movie serie "Wai On-la-won" (วัยอลวน). O (โอ๋) and Tam (ตั้ม) are now a happy married couple. O's father gets convinced to participate in a bus company business and has to buy shares. He needs to pay 200 000 baht. Tam is a nice husband but still likes to flirt with ladies and go for lunch with them. Sometimes he has a party with friends and his monthly salary is gone! He is so happy when he believes that O is pregnant but she has only a minor tiredness. O's father has given the money but didn't get any official reconnaissance papers as promised so got cheated (โดนโกง). Somchai, their relative (ญาติ) and domestic helper (คนรับใช้), gets biten by a fierce dog and has scars. The owner only gives 20 baht for compensation. He is the same guy who promises to sign documents regarding the loan from O's father. Tam asks for 200 000 baht compensation. Refusal is received and the issue has to be settled at tribunal (ฟ้องศาล). Tam enquiries to get proofs that the dog belongs to rich bad guy. Tam claims her relative was going to play in a movie to justify the important money amount. Trial starts but witnesses used by Tam cannot match the strong opposition from the lawyer. Family life go on for Tam and O. Tam buys a car. His musician skills are also well used in various occasions to play modern Thai music. Two songs from this movie became hits. His friends bring him to a massage parlor (อาบอบนวด). There he meets a masseuse that presents him a friend wishing to become a movie star. He convinces her to play her best performance during the trial if she wishes to get employed by his friend. It works so well! The movie highlights poor people fight against rich dishonest people. Piak poster movies reflects an image of Thai society with its good aspects and bad aspects. They are a joy to watch.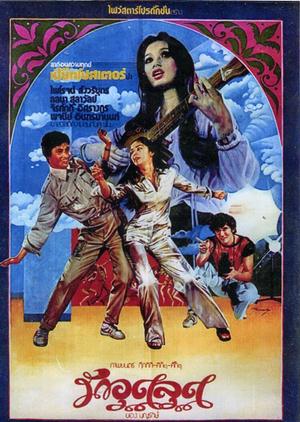 Year

: 1977



Thai title

:

รักอุตลุต




English title

:



Rating

: 3/5


Director

: Piak Poster



Main actor

: Phairoj Sangwaribut,Somkuan Krajangsat


Main actress

: Lalana Sulawan
Tam is now a junior lawyer (ทนายความ) but he wishes to get a new job as he doesn't fit well with lawyer job requirements. He is too nice to be a strong lawyer. While going to his new work, his taxi hurts another car (ขึ้นอุบัติเหตุ). There are arguments as Tam helps the taxi driver to get more damage fees from the rich car owner. The rich owner car is his new boss! So Tam quits his new job. He finds a new job as fire extinguisher seller but it is a failure again (ตกงาน). So finally Tam finds a job as model (นายแบบ) for a modern clothes designer. He meets Nit, a lady working as singer and model. Tam wishes to have friendship only. O starts to be jealous as many ladies like pictures of Tam in magazines. Tam doesn't understand O's reluctance (ไม่เสียอะไรเลย). To challenge him, O becomes a model also but Tam cannot stand other men commenting about his wife. They both stop this job. They finish their model career dancing on a podium with flashy clothes as it was the disco era. Tam still meets Nit but as a friend. Tam is hiding money from his wife as pocket money. Tam knows Nit's elder sister as he is the one to condemn her when he was still a lawyer (กลุ้มใจ). Will this friendship turn into love? Tam starts to go back home late and giving bad excuses. Et, a photographer, also loves Nit. O sees Tam and Nit in a car. Troubles happen (เรื่องใหญ่). Tam argues that Nit is already Et's girlfriend. Nit asks Et to play her boyfriend role to avoid troubles between Tam and O. Finally Nit falls in depression as she loves Tam but Tam is already married. Et helps her to recover and to forget Tam. Tam finally finds a job in Bangkok bank and happy couple life is resumed with O. This is the second opus of Wai On La Won by director Piak Poster. Same recipes as previous movie Wai On La Won (วัยอลวน) are applied, i.e. modern songs such as ชูวับ ชูวับ, use of English words in Thai sentences. The movie made 9 millions baht at the Thai cinema box office.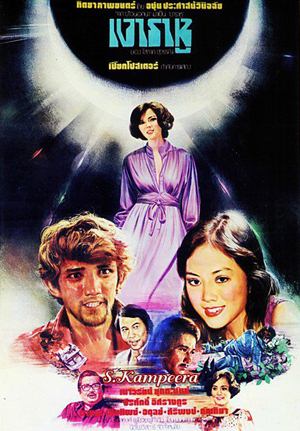 Year

: 1976



Thai title

:

เงาราหู




English title

:



Rating

: 5/5


Director

: Piak Poster



Main actor

: Jirasak Isarangkun Na Ayuthaya,Manop Aussawathep,Adul Dulyarat


Main actress

: Naowarat Yooktanun,Piathip Kumwong,Kantima Daraphan



Buy now

:

A young girl called Tong, living in a slum, is going to stay with her aunt (น้า) Malika (Piathip Kumwong). Many years ago Tong's mother helped Malika who was 6 months pregnant but her boyfriend refused to take care of the baby. As the mother dies of disease, Malika promises to take care of Tong. Malika is Khun Boontaeng's minor wife (เมียน้อย). Khun Boontaeng is avarious so is not so happy to see Tong (หลานสาว) with Malika. He wishes to put her in board school (โรงเรียนประจำ) in order to have full time happiness with Malika. Next week a doctor friend called Tiu will come at their home. Alcohol is needed as he is inconsolable since his wife's death (พ่อม่าย). They finally meet Tiu (Manop Aussawathep) at the golf club. Tiu has a 15 years old son. There is reflection about true love and purchased love (ซื้อความสุข). Many years have passed. Tong (Naowarat Yooktanun) is now a grown up beautiful student wishing to become a a graduate (บัณฑิต). Relation has turned sour with Boontaeng due to his major wife (เมียหลวง). Tiu offers Malika to open a business. Malika wishes Tong to study accountability (เรียนบัญชี) to help take of the company finances. Finally as Boontaeng dies, his wife wants to get back the house! Malika asks Tiu's help who then accepts to host them. Malika manages later to have Tiu signing documents to have her responsible of his fortune. Malika doesn't want to face same fate as with Boontaeng. Even Tiu's son (ลูกชาย), Tom, shall get nothing but he anyway never visits his father. Maybe he is ashamed to have an alcoholic father (ขี้เมา)? Tom gets a monthly salary from his father but sends somebody to get it on his behalf. Tiu continues to indulge in alcohol (ลูกไม่รักดี). Malika doesn't believe in true love. They come to rest in Cha Am in their seaside resort. His son Tom is a rebel with tainted blond hair and hanging around with hippie students. He is staying in a tent with his friends near his father house and denigrates Tong. Tiu is found unanimated on the floor during the night. As Malika is gone with the car, Tong has many difficulties to convince Tom to get a doctor. Tiu remains handicapped and almost paralyzed. He cannot speak properly anymore. Malika refuses to take care of him as she is too busy with her business. She has money but wants now society reconnaissance (เกรด). Tong has to take care about Tiu. Malika gets full power to manage Tiu's asset with the son's approval as he doesn't care about heritage anyway. A rich man Namkeun (Adul Dulyarat) wants to do a join business with Malika. Malika makes many social donations (บริจาคมากเกินไป) so starts to have financial problems. So she pushes Tong to marry him. Tong accepts not because of love but because of gratitude towards Malika (กตัญญู). Tong moves to Phuket (ความรักเกิดยาก). Tong doesn't want to be compared with her aunt Malika as she has studied high enough to take care about herself so she doesn't dream about the heritage of Namkeun. Namkeun has a secret, i.e. following a car accident he cannot perform husband duties anymore. Wiphat is the manager (ผู้จัดการ) taking care of Namkeun's Business activities. It is Tom! Tom believes Malika and Tong are professional experts to grab older rich men. Tom is not upset about his father's heritage but about the house as it is coming from his mum. Being denigrated by Tom and raped by her husband, Tong decides to go back to Bangkok. Due to her foolish expenses, Malika has fired many domestic helpers and sold home furnitures. In fact Malika even sold the house to Khun Namkeun as wedding fee with Tong. Tong promises to Tiu to get the house back in order to give it back to Tom. Malika dreams to become Khun Ying Malika (คุณหญิง) and spends a lot of money on various donations. Tom puts Malika in hospital as she has become crazy with her nobility wishes. He knows that the house now belongs to Tong. Following a drunken evening, Tong gets hurt by her sadistic husband again. Falling from the stairs, Tom brings her to a doctor. During her delirium, she talks to Tiu announcing she succeeds to get the house back. The only solution to save her is to have Namkeun finding a sadistic partner like him. While being cured by the doctor, one of the domestic helper takes benefit to start a relationship with Namkeun. She is sadistic also. Finally Namkeun offers divorce with Tong. She can go back to Bangkok to live happily with Tom, Tiu and even Malika released for mad house. This interesting 1976 movie deals with various modern society themes such as minor and main wife, reconnaissance and status. Main actor is Jirasak Isarangkun Na Ayuthaya, who played only a few movies during 1970s decade. Movie เงาราหู directed by Piak Poster is 2h23mn long. A Thai TV serie with Pete Thongjure was released in 1995.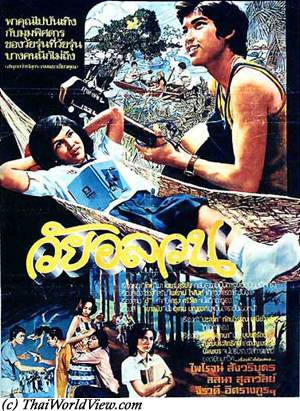 Year

: 1976



Thai title

:

วัยอลวน




English title

: Wai On La Won



Rating

: 3/5


Director

: Piak Poster



Main actor

: Phairoj Sangwaribut,Somkuan Krajangsat


Main actress

: Lalana Sulawan
Tam (ตั้ม) is an university student. He takes additional jobs as he doesn't come from a rich family. He rents a house to a strict owner, who has two daughters. Tam tries to seduce the first daughter but she is already engaged. Tam is an evening teacher (อาจารย์) and teaches the second teen daughter called O (โอ๋), who is quite stubborn (ดื้อ) and not willing to learn (ไม่ตั้งใจเรียน). The father believes O is having an affair with Tam. The father is old style (แบบโบราณ ). He decides to send O every day (จะส่งเรียน) to school. Tam continues to support her secretly through messages hidden in books (No sms and chat in 1976!). Love emerges between O and Tam despite the father's surveillance. Tam needs to use tricks to deceive the father. In parallel Tam is still following lawyer studies. He needs to find trick to get money to finish to pay his studies. The father threatens Tam to force him to leave but to no avail. Finally O and Tam can get married. This movie serie by Piak Poster included four opus, i.e. วัยอลวน (1976), รักอุตลุต (1977), ชื่นชุลมุน (1978), วัยอลวน 4 (2005). This first opus was a break with 1970s movies as it was the first successful teen movie including new modern actors (Phairoj and Lalana) and especially modern music. It was the first teen movie, which changed the local trend where the main actor had to be always polite, good looking with a robust body. The director, Piak Poster, used a new actor, Phairoj Sangwaribut, who was quite slim. At the beginning, the movie was a failure. No theaters were interested to show it as the 6th October 1976 sad events just happened. Piak Poster shown it to the students and good feedbacks started to spread. Nice modern songs and guitar performances helped to popularize the movie. Finally it reaped 8 millions Baht. ตั้ม and โอ๋ became popular nicknames in that period.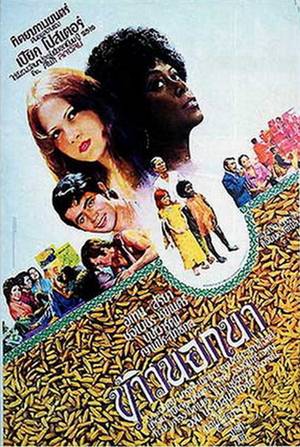 Year

: 1975



Thai title

:

ข้าวนอกนา




English title

:



Rating

: 5/5


Director

: Piak Poster



Main actor

: Uten Boonyong,Adul Dulyarat,Suriya Chinaphan


Main actress

: Sulaleewan Suwanthat,Marasri Bangchang,Khomapat Attaya,Namgneun Boonnak
Thai movie Khao Nok Na (ข้าวนอกนา) was released in year 1975 and directed by Piak Poster. It lasts 1h38mn. An aunt (Sulaleewan Suwanthat) is raising two children, the elder called Deuan is 5 years old and the youngest is called Dam (หีดำ). Both fathers are different. Dam's father is a black man so she is called Dam (ดำ – black) as a reference to her skin color. The children were temporarily given to the aunt by the mother. Unable to raise them, the aunt wishes to sell them to a rich lady. The rich lady (Marasri Bangchang) doesn't want Dam (ไม่ชอบเด็กดำๆ) and buys only Deuan for 3000 baht. She is renamed as Deuan Krai Saen (บุบผารัตน์ ญาณประสิทธิกุล). Father is veteran actor Adul Dulyarat. Finally Dam (ช่อเพชร ชัยเนตร) is sold to a family to become a helper (คนใช้งาน) and to be the puppet of the daughter. Veteran actress Khomapat Attaya is part of the other helpers. Dam is always stubborn (ดือ) as people dislike her skin color. Phi Pan (Suriya Chinaphan) is the son of a taxi driver, who always supported Dam but died earlier in a car accident. The house is becoming a mess with the daughter being pregnant with one male driver and the son spending like crazy on music instruments to build a band. The real mother is back and is asking for her two daughters. The aunt gives the address but the rich lady (คุณผู้หญิง) refuses to let Deuan go. The real mother, always seen smoking, goes to the police to get her rights respected. She finds first Dam. Adul refuses to give back Deuan and proposes 50 000 baht. She accepts and has to sign a contract. Having the money, she also rejects Dam and asks her to go back to her home. Disappointed by her own mother, Dam is looking for a job. She becomes a singer in a nightclub and sings her difficulties as being black in Thailand. Meanwhile the rich family watches Deuan playing in a ballet representation. Dam finds Phi Pan in the street and brings him to her home. They become lover as Dam believes he would be a caring man like his father but Pan is a lazy boy taking profit of girls' money. Pan is using Dam's money to entertain another lady. Adul finds that Deuan goes back home late and is wearing a ring given by a young boy Pop (เลือดแม่ของแค่มันแรง) (Uten Boonyong). Dam is finally dumped by Pan so indulges in alcohol and becomes a short time prostitute. She is surnamed as ลิง (monkey) or สกปรก (dirty) and being rejected by Thai society (equally by rich and poor Thai people). Dam meets people having problems also and starts indulging in drugs to forget daily problems. Pop tries to bring Deuan to a short time motel but finally changes his mind as she keeps crying and mentioning her father's pressure. Dam meets finally Deuan. Deuan is in paradise (สวรรค์) and Dam is in hell (นรก). Finally Deuan ends up with Dam indulging drugs as her paradise is also a hell being the daughter of an easy lady. Police captures the whole group. Deuan's parents bail her, forgive her mistakes and accept her relationship with Pop. A US black man bails Dam from jail and brings her to USA with him. The movie highlights racism in Thailand. Following Vietnam war, many similar cases of children born from Thai prostitutes and black US soldiers did happen in Thailand. A TV serie on the same story was released in year 2013. Khao Nok Na (ข้าวนอกนา) is an interesting title. Normally rice is white so Dam is the rice "outside" the field, i.e. being black and different from the majority of Thai people. The movie got 4 awards (รางวัลตุ๊กตาทอง), i.e. best actress, best song, best story, best supportive role.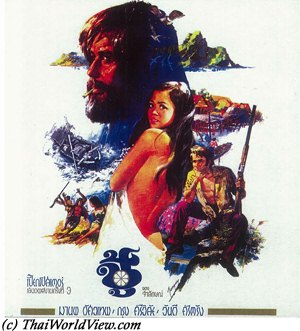 Year

: 1972



Thai title

:

ชู้




English title

: The Adulterer



Rating

: 3/5


Director

: Piak Poster



Main actor

: Krung Srivilai,Manop Aussawathep


Main actress

: Wandee Sritrang



Buy now

:

Thai movie ชู้ / The Adulterer was released in year 1972. It was released under VCD format by company XxX (Triple X). Movie director is Piak Poster. Movie ชู้ is his third movie. Piak Poster used a new unknown main actress called Wandee Sritrang. A boat is caught in a storm. The only survivor is a young lady (Riem) that is stranded on a remote island. A strong but lonely man (Cheung) rescues her. The man, who didn't have contact with any woman for years, forces her to have a relationship with him. They finally become wife and husband. Their first child is a boy. One day, Cheung gets fish poison into the eyes. Riem has to go to nearest fishing village to look for the doctor. The doctor is away but a young man (Thep) is replacing him. Riem and Thep have been lovers before. Thep is a seductive guy and a womaniser. He is aware that beautiful and expensive white pearls can be found in Cheung's island. He manipulates Riem saying that Cheung has many pearls, whose he doesn't want to share with Riem for the good sake of their child's future. He resumes his relationship with Riem. He cures slowly Cheung and drugs him every night to search for his pearls chest with Riem. Forgetting to eat drugs one night, Cheung starts to be aware of the situation. He knows that his wife Riem and her lover Thep want to get his pearl treasure and get rid of him. So lying to them that he needs to dive to get the pearls to share with them, Riem and Thep feed him that so he can recover fast. Simulating blindness, he is aware of everything. He brings them to a remote island where he reveals his secret and perforate the boats preventing any return. Riem has late sorrows, i.e. she was dumped by Thep before getting on the fishing boat caught in the storm and then raped by Cheung, so unlucky she is. Cheung looses his anger and wishes to let them go. He leaves to bring her son to Riem but Thep wishes to take revenge and tries to kill him. Finally while trying to protect Cheung and his son, Riem is shot by Thep. Cheung leaves the island with a dying Riem and Thep is left alone on the remote island where nobody never stops... This movie is about adultery described in a non conventional way with action and stage setting reduce to the minimum on a remote island. It is far from Bangkokian romantic drama with palatial suburban estate house. Krung Srivilai received a Thai award for his performance. This movie was so successful that it was screened again in 1975. The Culture Ministry registers 25 Thai classic films each year at the National Film Heritage Registry. This movie is part of the 25 films heritage list announced on 04 October 2015, which is Thai Movies Conservation Day.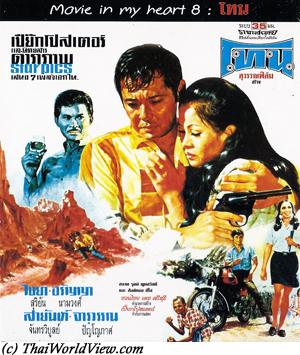 Year

: 1970



Thai title

:

โทน




English title

: Tone



Rating

: 4/5


Director

: Piak Poster



Main actor

: Chaiya Suriyun,Ruj Ronnapop,Sahat Piempongsan,Songthong,Sayan Chantaravi​boon


Main actress

: Aranya Namwong,Jaruwan Panyopas



Buy now

:

Thai movie โทน / Tone is the first movie done by Piak Poster. It was released under VCD format by company XxX (Triple X). It features many Thai modern 1970s songs from 'The Impossible' group (วงดิอิมพอสซิเบิ้ล), some classical and traditional Thai songs, and even some American songs including 'Scarborough Fair' in Thai. The main characters are living in a provincial village, i.e. Pon (Chaiya Suriyun), Sang Thong (Songthong) and Nong Kulap (Jaruwan Panyopas). Sang is Pon's best friend following up everywhere. Pon loves Nong Kulap sincerely but Kulap sees him as a close friend only. She also needs to go to Bangkok to continue her studies, so they will be separated (ห่างกัน). Pon didn't do high studies and is living in a Buddhist temple with Luang Ta as a monk's attendant (ลูกศิษย์วัด). He was an orphan (เด็กกำพร้า). Ot (Sayan Chantaraviboon) is a Bangkokian young man visiting some relatives in the village. While having a drink, some ruffians (นักเลง) led by Amnat provoke him and a fight erupts. Pon is involved as he was just passing by and finally, he is helping Ot to get rid of the ruffians. The abbot wishes Pon to continue his studies in Bangkok. Ot proposes to help and Pon is now relocated in Bangkok. He meets Rut, Ot's elder brother (Ruj Ronnapop) and Daeng (Aranya Namwong), Ot's modern young sister. Daeng hates (เกลียด) Pon immediately. It seems Kulap has forgotten Pon. Sang is having quarrels with ruffians, who shot him. Ot meets Kulap randomly in Bangkok. Ot loves Kulap but Pon is not aware that Kulap is now in Bangkok. Daeng's boyfriend Long (Sahat Piempongsan) is a ruffian trying to take advantage of her. Hopefully Pon sees the stratagem and helps her. He gets injured. Daeng starts to see Pon's kindness and now loves secretly Pon. It is Ot's birthday (วันเกิด). Kulap (แฟน) comes to his birthday. It is the first Thai movie showing the 1970 youth with modern Thai and English music, dances and mini dresses. Daeng understands that Pon still loves Kulap and suffers. After a discussion between Pon and Ot, Ot accepts it (ทำใจ) and takes care about Daeng. Love story starts. Long is still cross with Daeng and Pon. He kidnaps Daeng and Kulap. Pon, trying to help, is also captured. Ot is chasing them. Long wishes to sell the two ladies to his friend Amnat. They will work as forced prostitutes. Daeng and Pon fail to escape and Long rapes Daeng. Thanks to Ot, Long is neutralized and is shot by Daeng. Pon shots Amnat so avenging his friend Sang Thong. It is time to forget the bad past and look forward to the bright future. Piak Poster began as a painter of movie posters. He painted 'Tone' movie poster. Tone was Piak Poster's first movie as director. The movie features seven songs. Songthong became famous thanks to the songs he performed in 'Tone' movie. It was the first movie in which the leading actress is raped. Thanks to the modern songs, 'Tone' movie reaped 6M Baht. It was the second biggest success in year 1970 after 'Mon Rak Luuk Thung' with Mitr / Petchara. It was also one of the first movie to use 35mm film instead of 16mm. 'Tone' movie was adapted two times for TV as a lakorn, i.e. in 1992 with Santisuk Promsiri and more recently in 2000s decade with Vinai Kraibutr and Metinee Kingpayome. Tone was the first movie in Thailand to break the monopoly of Mitr-Petchara movies. This movie is part of the first 25 films heritage list announced on October 4 2011, which is Thai Movies Conservation Day. The swimming suit worn by Aranya Namwong became a hit also as it shown the belly. All young ladies in year 1970 bought it. A promotional movie, lasting 17 minutes, shot in black and white, in 16mm format, can be seen online and is showing behind the screen sequences. The movie shooting was done over two years as Piak Poster liked perfection, details and used a lot of film. The film was developed in Japan and 11 copies travelled all over Thailand. It was two times more than usual.
---