Increase or decrease font size for easier reading : A+ A-
Phongphat Wachirabanjong
Phongphat Wachirabanjong (1961) - พงษ์พัฒน์ วชิรบรรจง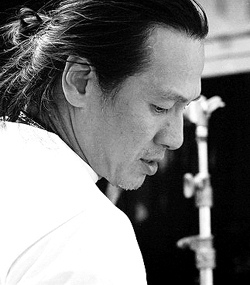 Phongphat Wachirabanjong has appeared in numerous motion pictures and TV series. He has played many different types of characters from military officials to madmen. He was also a famous rock star in Thailand
This Phongphat Wachirabanjong movie page contains 13 records.
---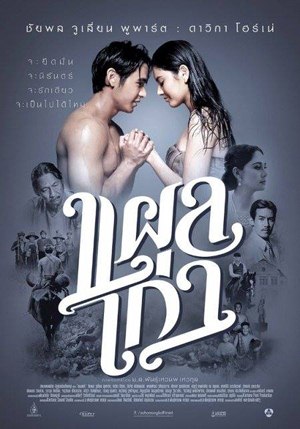 Year

: 2014



Thai title

:

แผลเก่า




English title

: The Scar



Rating

: 4/5


Director

: Pantewanop Tewakul



Main actor

: Phongphat Wachirabanjong,Krung Srivilai,Chaiyapol Pupart


Main actress

: Davika Hoorne,Sinjai Hongthai



Buy now

:

Thai movie แผลเก่า (The Scar) was released multiple times over 50 years. This version was released on mother's day 2014. It really features a beautiful image. The movie action takes place in year 1936. Kwan loves Riem (Davika Hoorne), daughter of the local subdistrict headman called Somyong. Kwan's father (Phongphat Wachirabanjong), village headman, doesn't want his son to love Riem. Riem's father doesn't want Kwan to be around his daughter. Families are enemies. Riem is also in the interest of a Bangkokian young man called Choi. Fighting erupts during a temple fair between Kwan and Choi as Kwan is dancing with Riem. Krung Srivilai as Buddhist temple abbot stops them. Choi gives money to the subdistrict headman as corruption way. He wishes to marry Riem as soon as possible. Kwan and Riem promise to love each other forever in front of local spirit (ศาลเจ้า). Her father announces to Riem that she has to marry Choi. Choi already has many mistresses and children. So Riem and Kwan decide to flee. Choi and the subdistrict headman prevent them. Choi hits Kwan causing him a scar (แผลรักของเรา). Kwan promises revenge. While Kwan is still recovering from injury, Choi and the subdistrict headman bring Riem to Bangkok. Khun Ying (Sinjai Hongthai) buys Riem from the subdistrict headman for 500 baht but forbids her nephew Choi to touch her as he has already many wives and he doesn't care well about them! Kwan's father loved Riem's mother twenty years ago but finally she was forced to marry the subdistrict headman so antagonism stayed between both men. Riem has same face as the lost daughter of the aunt so she raises her same as her daughter to become a noble (ผู้ดี). Kwan goes to Bangkok to find Riem but he is too late as Khun Ying brings Riem overseas for three years. Choi is found injured in Bangkok with a scar... Kwan indulges in alcohol. Kwan promises to his father and to the local spirit shrine to stop drinking. He works hard to keep money, i.e. 500 baht to buy back Riem. Three years have passed. It is year 1939 and World war 2 is starting. Riem is back (ลูกชาวนา) and meets Somchai, member of Thai government. The aunt decides to visit Riem's birthplace again. Kwan meets Riem again. 500 baht is the cost of her shoes only (เจ้าเปลี่ยนไปแล้ว). Somchai (ผู้ชาย Bangkok) takes opportunity to have the aunt and subdistrict headman together to ask Riem's hand. She accepts. Somchai was engaged with the aunt's daughter since childhood. Back to Bangkok, Riem understands that Somchai has already another lover. The wedding is just for principles as she is only a farmer daughter. Only Riem's love was pure and sincere. Riem decides to go back to countryside. It is too late as her mother, Mae Ruay, died already. Kwan has promised to his father to ordain and after ordination he wishes to marry Riem. The Bangkok people try to get back Riem but she refuses. Fighting occurs and Kwan gets shot fatally. Wishing to die in the river, Riem joins him.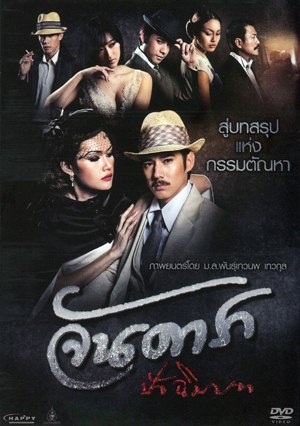 Year

: 2013



Thai title

:

จันดารา ปัจฉิมบท




English title

: Jan Dara The Finale



Rating

: 4/5


Director

: Pantewanop Tewakul



Main actor

: Mario Maurer,Chaiyapol Pupart,Kriengkrai Unhanan,Phongphat Wachirabanjong


Main actress

: Bongkoj Kongmalai



Buy now

:

Thai movie จันดารา ปัจฉิมบท - The Finale was released in year 2013 and lasts 2 hours. Jan and Ken flee to Phichit. Back to Phichit, Jana identifies that he is not a child issued from a rape but through a common agreed relationship. He learns the truth through his grandmother and a former policeman. Twenty years ago, the grandmother had no choice but to accept the conditions given by Khun Luang (สัตว์นรก) in order to marry Dara. Ken gets married and has a child. Jan keeps sending letters to Aisin. In Bangkok, Kaew continues to misbehave with men. She also starts a relationship with Krajon, the son of Bee. When Bee and Khun Luang are back from Singapore, Kaew and Krajon announce to them that they want to get married as Kaew is 3 months pregnant. The wedding is impossible as Krajon is the hidden son of Khun Luang with Bee. Bee never told the truth to them. Khun Luang has a serious attack. To solve this mess, Khun Luang has no choice but to ask Jan to marry Kaew. Per his grandmother's orders, Jan accepts but Khun Luang has to give back all the family belongings (land, house, company) that he took 20 years ago. Jan visits Aisin but she just died from disease. Jan is heart broken. Kriengkrai Unhanan is invited to the wedding of Jan and Kaew. Kaew keeps calling him Ai Jan (ไอ้จัน). Bee and Jan become lovers. Kaew is about to deliver her child (เด็กอัปรีย์). Being older, the child is identified as retarded. Jan wishes to have a child with Bee but she is now sterile. Khun Luang, seeing Jan and Bee making love, has another attack and becomes fully paralyzed. Aunt Nawat goes back to Phichit. Bee refuses to make love to Jan anymore as she was doing it only to protect Khun Luang. There was no real love with Jan. Upset, using a mask to hide his face, Jan rapes Kaew and hits Khun Luang with a whip. Ken also decides to leave for Pichit as Jan has become unlivable. War happens in Bangkok. US planes send bombs. Khun Krajon saves Khun Jan's life and dies. Khun Luang also dies. Kaew becomes a Tom, following Jan's aggression. Bee decides to leave the house. Kaew is pregnant with Jan. Complaining that Bee leaves her with Jan, Kaew gets suicide by jumping from high floor as she doesn't want to give a child to Jan. Jan ends up alone and never marries again.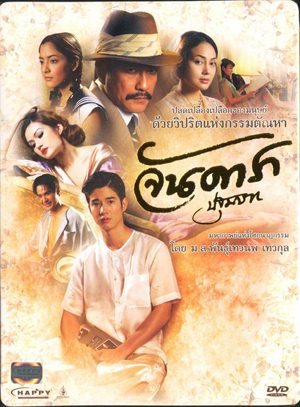 Year

: 2012



Thai title

:

จันดารา ปฐมบท




English title

: Jan Dara The Beginning



Rating

: 4/5


Director

: Pantewanop Tewakul



Main actor

: Mario Maurer,Phongphat Wachirabanjong,Chaiyapol Pupart,Kriengkrai Unhanan


Main actress

: Bongkoj Kongmalai



Buy now

:

Thai movie จันดารา ปฐมบท / Jan Dara The Beginning was released in year 2012 and lasts 2 hours. It features a beautiful picture as usual with director Pantewanop Tewakul. Khun Wang's wife, called Dara, just died during delivery. Khun Wang promises to remain single for the rest of his life. Nawat (Bongkoj Kongmalai) is the nurse hired to take care of the son. After 100 days of mourning, Khun Wang starts to behave very badly (สกปรก, ลามก) with women in his house. Nawat becomes his mistress. She is then pregnant. Khun Wang teaches his daughter Kaew to despise Jan (ไอ้จันทร์), who caused the death of Dara during pregnancy. Khun Wang hits him badly for this (ไม่ต้อง เที่ยง). Many years have passed. In year 1932, Jan (Mario Maurer) meets Aisin. Aisin has same face as his mother Dara. Ken (Chaiyapol Pupart) is Jan's close friend (เพื่อน รัก) and is a servant in their home. The movie happens same time as end of full monarchy in Thailand. Jan is a hard worker student and is not interested by girls. Since childhood, Jan and Ken have seen the father's depravation. Ken wishes to initiate Jan with women. He uses his girlfriend Soi (เปิดบริสุทธ์) to corrupt him. Aisin's father is played by Phongphat Wachirabanjong. Old lover Boonluang from Singapore comes to stay in Khun Wang's home. She has a handsome son, a young officer. Nawat is of course upset. Only Nawat protects Jan. Jan is looking for his sketch book so has to go to Boonluang room. She doesn't have the book anymore. It is with Kaew. Kaew, seeing the book, has dirty ideas so forces Ken to attach her and to make love to her. Jan misunderstands and believes it is a rape so he hits Ken. When Khun Wang goes home, he wishes to kill Ken. Jan opposes saying he is the one, who raped Kaew. Kaew also agrees this way. Khun Wang wishes to kill Jan and shouts that Jan is a son of robber (โจร) and not his own son. During the confusion, a domestic helper is killed as Nawat and Boonluang prevent Khun Wang to shoot Jan. Nawat is Jan's aunt and tells him the truth of her mother being raped by a robber many years ago. The mother, pregnant, had to marry with Khun Wang to hide the shame. Jan and Ken leave Khun Wang's home.



Year

: 2012



Thai title

:

อันธพาล




English title

: Gangster - Antapal



Rating

: 5/5


Director

: Kongkiat Khomsiri



Main actor

: Krissada Sukosol,Phongphat Wachirabanjong


Main actress

:



Buy now

:

Chot (Krissada Sukosol) defeats Saeng (Phongphat Wachirabanjong) in a one to one knife fighting. Dang and Chot take over Saeng's illegal business (นักเลง) such as drug, gambling, gold shop and prostitution. This movie offers a great 1950s atmosphere representation including old standalone theater (โรงหนังเก่า) with live dubbing. A few historical mistakes are present as posters of Sirikwan Nanthasiri (ภาพโฆษณาสุราไก่แดง)(1972) and movie poster of คนกินเมีย (1974) are used. Piak and Tong are working in the cinema and wish to become ruffians also. Four kings are holding the business. Poo (ดังใหญ่) wishes to extend his territory. Dang wishes to ordain for his mother (บวชให้แม่) but Poo is bringing trouble as he wants his own territory (ที่). Chot is the first to use a gun so the gangster period evolves from knife to gun (ยุคมีด / ยุคปืน). Chot tries to shot Poo but fails to reach his target as the gun is defective. Police arrests ruffians and jails them. Dang dies in a car accident while going to south of Thailand. Four years have passed. The movie highlights the booming industry of Thai cinema in 1950s / 1960s by showing big billboards advertising latest film releases. Police has taken over the mafia and being the one receiving protection fee. Chot is released from prison. Piak and Tong are waiting for him. Police is also waiting to put him back to jail. Chot keeps seeing the ghost of the woman he unfortunately killed while trying to shot Poo as his gun was built with poor quality. Chot has changed and is more receptive to small shop owners' problems. Some scenes are shot in a cinema showing "Hao Dong" (เห่าดง - 1958) famous movie. Chot is not as inflexible as before. Despite kidnapping a ruffian leader for execution, Chot gives him a last chance to fight back. Oti is a new strong ruffian. Piak defects from Chot's group to join Oti. Oti is a bloody fighter. He even shots with rifle the police leader. Through final shootings, Chot and his team attack Oti and his boss. Nobody survives. The movie Gangster - Antapal (อันธพาล) was released in 2012. The movie Gangster – Antapal (อันธพาล) is based on similar characters previously used in 1997's Dang Bireley's and Young Gangsters (2499 อันธพาล ครองเมือง) but it is not a remake. The movie goes beyond Dang character and shows the real gangster era through Chot's character. The movie includes past stories or souvenirs from elderly people.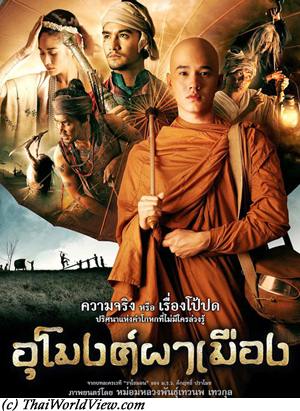 Year

: 2011



Thai title

:

อุโมงค์ผาเมือง นางยั่วสวาท




English title

: The Outrage



Rating

: 5/5


Director

: Pantewanop Tewakul



Main actor

: Ananda Everingham,Phongphat Wachirabanjong,Mum Jokmok,Dom Hetrakul,Mario Maurer


Main actress

: Chermarn Boonyasak



Buy now

:

A young monk Anoon goes to visit his father as wandering monk (พระธุดงค์). He recalls his life while walking home. He remembers his twin brother, Anan, whose wife died while delivering a baby. He wishes to disrobe (สึก) as he lost abilities to find answers to people regarding life. While wandering in the forest, he meets a noble couple on horse and palanquin. The husband is found later dead in the forest. Bandit Singkham is caught. Before being sentenced, he narrates the story. Bandit (โจรป้า) Singkham, seeing the beautiful lady in the palanquin, wishes to have her becoming his wife so he needs to get rid of the husband Khun Seuk (Ananda Everingham). He claims to have some golden swords to sell. It is a trick to knock out the husband and then kills all guards. He rapes her in front of the husband and she takes pleasure at it. He doesn't kill them but the lady complains the bandit doesn't give credit to their rank (เกียรติ). Singkham finally releases the husband and offers him a duel to avenge his honor. Despite being a strong swordsman, the husband is defeated by the smart forest bandit. During the trial, the wife also narrates her story. She was the daughter of a domestic servant. Khun Seuk was fond of her because of her beauty and married her four years ago. Following the rape, Khun Seuk desigrates his wife. She is no longer worth causing her heart to broken as she is not responsible of this event. Did she kill her own husband as she claims? The tribunal uses a medium to know the truth from the spirit (ผี). Khun Seuk's wife asks bandit Singkham to take her with him and to kill Khun Seuk also (ใจดำ). Singkham refuses to do so. The wife flees. Singkham releases Khun Seuk but he cannot stop crying knowing his wife treachery. He finally kills himself. Who is telling the truth? A domestic helper Prasok passing by during the event finally tells the truth. The wife denigrates Singkham refusing to go either him or glare him. To proof his worthiness, the wife Sampai asks him to defeat Khun Seuk in a fight. Khun Seuk refuses to fight with Singkham as it is below his status. He complains his wife still remains a low level woman (ลูกคนครัว) as she accepted the rape instead of killing herself avoid him to lose face (ขายหน้า). Sampai remains alone as both men refuse to take her anymore. Both of them are not real men (ไม่ใช่ลูกผู้ชาย). Following a duel, Khun Seuk impales himself. The one getting the blade was Prasok himself to sell it to get money for his poor family. Prasok and the beggar teach the young monk a lot on humanity. The young monk finally stays in the monkhood. Movie "Kon Khon" (คนโขน) was Thailand's submission to 2012 Academy Awards. It was a controversial choice because of lack of critical acclaim and box-office success. Movie อุโมงค์ผาเมือง นางยั่วสวาท / The Outrage was not chosen as it is a remake of Akira Kurosawa's award-winning "Rashomon" (1950). "Rashomon" was translated into Thai by the statesman MR Kukrit Pramoj. The movie includes Buddhist themes related to jealousy, greed for women or for jewels, lies, human behaving like animal (สัตว์), hatred, ire, lie, lazy, simulation, cowardliness, weakness towards women cries, death, unhappiness (ความทุกข์), status of high people (ผู้ดี). Greed causes to lose finally everything.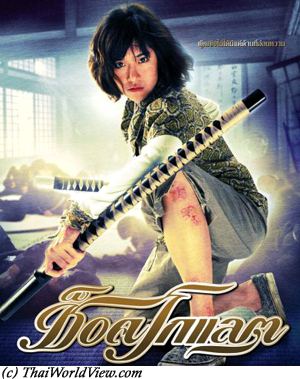 Year

: 2008



Thai title

:

ช็อคโกแลต




English title

: Chocolate



Rating

: 3/5


Director

: Prachya Pinkaew



Main actor

: Phongphat Wachirabanjong


Main actress

: Yanin Vismistananda



Buy now

:

This movie is done by same director that realized famous movies "Ong Bak" and "Tom Yum Goong", which received international success. The main actor is a young lady who has autist problems. She has half Japanese and half Thai so she is called "Chocolate". Her Japanese father has to go back to Japan many years ago following a conflict with a Thai mafia boss. As her mother is very sick, she has to retrieve money from men who owned money to her mother. They are not willing to pay back so she has to use her incredible Thai boxing skills to convince them... The Thai mafia boss has decided to get rid of them so her Japanase father has to come back in order to confront the Thai mafia for an ultimate revenge.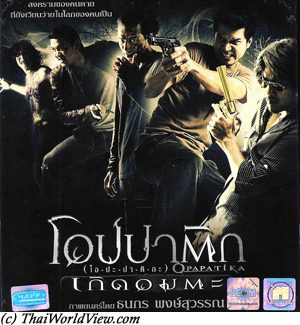 Year

: 2007



Thai title

:

โอปปาติก เกิดอมตะ




English title

: Opapatika



Rating

: 2/5


Director

:



Main actor

: Phongphat Wachirabanjong,Ray McDonald,Shahkrit Yamnarm,Nirut Sirijanya


Main actress

:



Buy now

:

Humans who commit suicide become "opapatika": a race of undead spirits who each have a special power and curse. Techit, a young man seeking the secrets of life after death, becomes an "opapatika" and is ordered to hunt down others of his kind (only four Opapatikas remain) under the guidance of the mysterious Master Sarok and his henchman.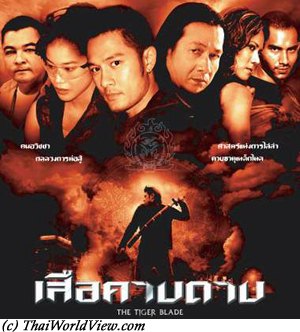 Year

: 2005



Thai title

:

เสือคาบดาบ




English title

: The Tiger Blade



Rating

: 2/5


Director

:



Main actor

: Phongphat Wachirabanjong


Main actress

:



Buy now

:

Tiger Blade is like a B serie movie based on manga style. A secret police unit member called Yos is attacked by ruffians while in his home. Using his expert fighting skills, he succeeds to get rid of them. He chases the ruffians up to a disco. Police tries to arrest them but their leader Mahesak has special supernatural fightings skills thanks to sacred tattoos. Yos asks to work with young lady Duangdao. This gang of criminals with supernatural powers, led by Mahesak, releases a rebel Karen warlord Phunphan (Phongphat Wachirabanjong) out of prison. They target to steal the national treasury of Thailand in order to fund Phunphan's fight against Burmese junta. The secret police unit, led by Yost, fights the criminals in various battles. Yos and Duangdao are fighting against strong opponents. They need to use magic to defeat them so Yos succeeds to get a mysterious blade (ดาบ) from a Thai Buddhist temple. Only this blade allows getting rid of criminals protected by sacred tattoos. Various fightings happen and two main criminals are neutralized. Phunphan told Yos that Duangdao is a traitor in his team. Uten is finally the real traitor. An impressive karts chase happens in Bangkok. A bank robbery is organized by Phunphan. Finally multiple treacheries happen as the big amount of money attract many people. Yos, Duangdao and Phunphan stop the criminals and money is given back to Thailand except one bag kept by Phunphan! It is a movie fully packed with action scenes but the scenario is a bit complex to follow.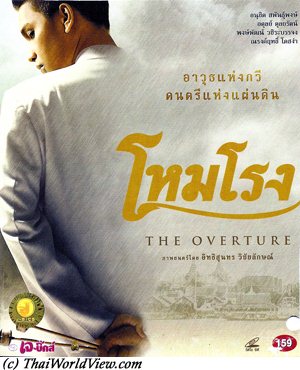 Year

: 2004



Thai title

:

โหมโรง




English title

: The overture



Rating

: 5/5


Director

:



Main actor

: Phongphat Wachirabanjong,Adul Dulyarat,Somphob Benjatikul


Main actress

:



Buy now

:

A young man, Sorn, has a great passion for the ranad ek (ระนาดเอก), Thai xylophone. He was so skilled that he became a royal musician. However Sorn became too proud and was defeated in a competition by a rival. Sorn was able to learn from this failure. Sorn becomes a well-respected musical teacher in the period under Field Marshall Pibulsongkram. It was a time when the government strictly controlled the performance of traditional music, which was deemed "uncivilised". Under the policy of nationalism, the government ordered that folk artists had to have a license to perform in public. The passionate music teacher refused to obey the state's restrictions until the very last moment of his life. Despite its slow start, The overture movie became a box office success due to the attendance of one of Thailand's most prominent ranad players, HRH Princess Maha Chakri Sirindhorn.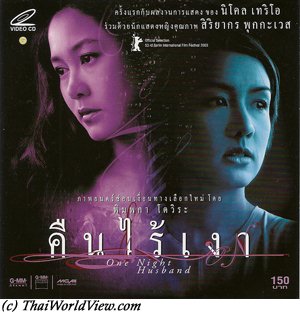 Year

: 2003



Thai title

:

คืนไร้เงา




English title

: One night husband



Rating

: 3/5


Director

: Pimpaka Towira



Main actor

: Phongphat Wachirabanjong


Main actress

: Nicole Theriault,Siriyakorn Pukkaves
The film follows the life of Sipang, an urbane and self-confident Bangkok woman whose husband disappears after he receives a mysterious phone call on the night of their wedding. She begins to search for him with the help of his elder brother Chatchai and his introverted wife Busaba, a traditional housewife totally dependent on her abusive husband. During the search, Sipang and Busaba, who are worlds apart in outlook, grow increasingly close and explore the value of life, love and devotion as women living in contemporary Thai society.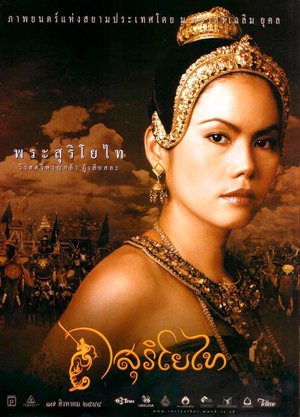 Year

: 2001



Thai title

:

สุริโยไท




English title

: Suriyothai



Rating

: 5/5


Director

: ChatriChalerm Yukol



Main actor

: Sorapong Chatree,Sombat Methanee,Chatchai Plengpanich,Phongphat Wachirabanjong,Saranyu Wongkrachang,Ron Rittichai


Main actress

: Mai Charoeunpura



Buy now

:

It is about a legendary Thai princess who died fighting the Burmese on elephant-back. The film required five years of research and two-and-a-half years of shooting. It has broken almost every record in Thai film history. It is the most expensive at 400 million baht, the most star-studded, with a cast of 2,000 extras and more than 50 elephants and 70 horses. It has the longest shooting time and the longest screening time, i.e. three hours and five minutes. In 2003, an updated five hours version was released. In 2003, the film was also released in the United States with a shorter running time. This version was edited by Francis Ford Coppola, an old classmate of ChatriChalerm Yukol. Reigning monarch Queen Sirikit instigated this movie, financed most of it, arranged for palaces and historic sites to be opened to a film crew for the first time. The Culture Ministry registers 25 Thai classic films each year at the National Film Heritage Registry. This movie is part of the 25 films heritage list announced on 04 October 2015, which is Thai Movies Conservation Day.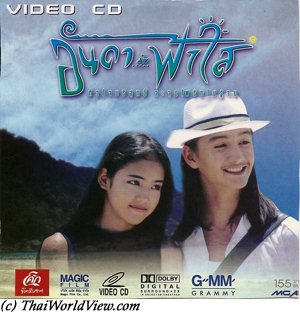 Year

: 1997



Thai title

:

อันดากับฟ้าใส




English title

: Anda and Fasai



Rating

: 3/5


Director

: Pantewanop Tewakul



Main actor

: Ananda Everingham,Phongphat Wachirabanjong,Shahkrit Yamnarm,Krung Srivilai


Main actress

: Sinjai Hongthai,Aranya Namwong
It is about first love between two teens. Their parents claim they shall not follow a first and sudden feeling. Despite their bad parents example who apply for themselves the opposite, they decide to help their parents to find happiness first. It features very nice shooting in South Thailand beaches.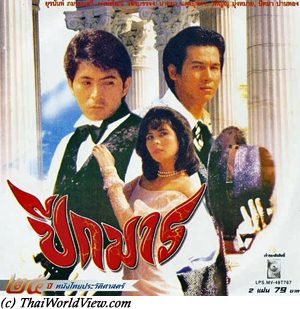 Year

: 1987



Thai title

:

ปีกมาร




English title

:



Rating

: 3/5


Director

:



Main actor

: Yuranan PamornMontri,Phongphat Wachirabanjong


Main actress

: Nardtaya DaengBunga
Salai is in her thirties. She is pregnant and is about to deliver. Her husband Phu is staying with his mother. His mother is very possessive and doesn't like Salai. She even don't trust her to educate her own baby. She makes life a hardship for everybody up to the point Salai is fed up and asks for divorce. She finally takes a break and goes back to Isan to work as archaeologist at an old Khmer temple (Prasat Hin Khao Phanom Rung). She meets a young man in his twenties called Laiseu, who immediately loves her. He is courting her but she refuses. She comes back to Bangkok. The mother wants to force the divorce. Phu is weak with his mother and always listen to her. Laiseu continues his courtship with Salai but nothing happens between both. One day, Phu sees Salai and Laiseu together so believes she is unfaithful to him. Phu hits Salai very hard and rapes her. She is sent to hospital. Her lawyer friend suggests her to sue her husband. In 1980s Thai society it was unbelievable to sue a husband for such motives as it was considered as private couple issues. Only in 2007, The Thai national assembly has passed into law the nation's first marital rape bill. Salai now carries a gun to protect her-self. Laiseu also asks Phu to leave Salai alone and without troubles. Finally for the sake of their child, they reunite and Phu finally speaks strongly with her mother in order to get his independance. This movie was adapted later to a Thai TV serie (ละคร).
---