Increase or decrease font size for easier reading : A+ A-
Phong Lada Pimolpan
Phong Lada Pimolpan (1931) - พงษ์ลดา พิมลพรรณ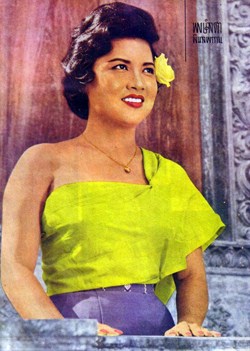 Phong Lada Pimolpan was a main actress in decade 1950s. Later on, she was famous for playing the mother and then the grandmother in Thai TV series
This Phong Lada Pimolpan movie page contains 9 records.
---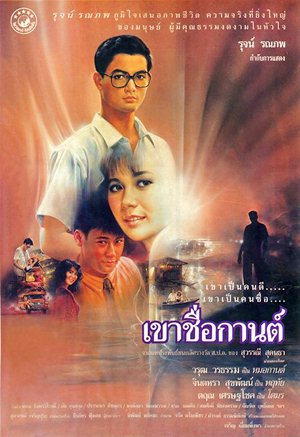 Year

: 1988



Thai title

:

เขาชื่อกานต์




English title

: Dr Karn



Rating

: 4/5


Director

: Ruj Ronnapop



Main actor

: Waruth Woratum,Somsak Chaisongkram


Main actress

: Jintara Sookkapat,Phong Lada Pimolpan



Buy now

:

This movie is a remake of the movie "Dr Karn" shot in 1973 but with new actors. The previous version was directed by ChatriChalerm Yukol. Doctor Karn (หมอ) is a new doctor with strong principles. He wishes to treat all people. There is no priority for rich people as he is a public doctor (หมอรัฐบาล). Doctor Kan gets scolded by his management for this. Modern doctors have no wish to go to Isan poor region in northeast of Thailand. During his childhood his mother died while his father was bringing her to the nearest doctor by an ox cart. In rural areas, there are a few doctors so people have to travel far. He meets Areuthai (หฤทัย), his future wife, in Bangkok. Doctor Karn's dream is to be a rural doctor (หมอบ้านนอก) to help and support poor people in Isan area. Karn and Areuthai know each other for 3 months only and decide to marry. Areuthai's former boyfriend, Thomon, is disappointed and promises to wait until Karn stops loving her. They go to Isan region in a remote village using train and local bus through bumpy roads and dry fields. The local district officer (นายอำเภอ) welcomes them. He is quite rigid on standards. But his subordinates are playing cards with other colleagues and villagers! Areuthai discovers life on rural side with no fridge and no oven. Life is difficult (ลำบาก) for Areuthai as she comes from a rich family in Bangkok. There is no electricity after 9pm. First crisis with the district officer happens as he sent the nurses to work away but they still get paid with their governmental salary shared 50% / 50% with them and the district officer. The doctor Karn discovers that local villagers have to pay again for medicine despite it is already paid by government (ยาให้ใช้ไม่ใช่ให้ขาย). He starts to very popular so causing displeasure to the district officer. Doctor Karn is just and fair (ยุติธรรม). His wife helps as a nurse. This movie is a critic of corrupted officers (ราชการ) who prevent the country to develop properly. Doctor Karn doesn't do this job for money but to help poor villagers. Doctor Karn is working for the villagers' health benefit but the district officer is working for his own benefit. He refuses to authorize doctor Karn to open a nighttime station (สถานีอนามัย) in case of emergency. Villagers shall go to the doctor's home! Areuthai wishes to be back to Bangkok as she misses her expensive beauty creams and her mum. Doctor Karn has issue with illegal medicine seller protected by the district officer (หมอจะเดือดร้อน). The district officer's wife tries to brain wash Areuthai about having her own house and being able to have good a school abroad for children. How can Areuthai get this with the small salary of a rural doctor? Areuthai argues that doctor Karn doesn't love her as he doesn't wish to improve their living. Doctor Karn is divided between pleasing his wife and helping poor villagers to get access to healthcare. Areuthai goes back to Bangkok to make a break. Doctor Karn stays as he cannot leave his patients. Areuthai's friend asks her to convince doctor Karn to open a clinic in Bangkok. Money is easy here. The former boyfriend, Thomon (โตมร), still wants to meet Areuthai. Areuthai accepts to meet him but for friendship only as she is married. They have a car accident as Thomon is upset that Areuthai still wishes to back to countryside. Doctor is diligent to do his duty (หมอทำหน้าที่). The district officer is having an illegal casino and protects it through his clique (ลูกน้อง). A fight erupts and one is seriously injured. Doctor Karn can do nothing as he lost too much blood already. Only way is to send him to hospital. Doctor Karn is now aware of the casino. He starts to know too much things. Doctor Karn befriends with a local policeman who indulged in alcohol as he can do nothing to stop the district officer. One evening the doctor's house is shot a few times as a threatening warning. Aware of the accident through a telegram, doctor Karn goes back to Bangkok and finds that Areuthai has lost memory due to accident. Thomon (ลูกเศรษฐี) doesn't want Areuthai to be back with doctor Karn so he organizes his mutation abroad. The doctor headmaster doesn't understand obstinate doctor Karn regarding rural people (คนบ้านนอกโง่หลอกง่าย). He is forced to accept the post or be dismissed. The district officer is under corruption investigation (ถูกย้าย) and he believes doctor Karn denounced him to Bangkok authorities. Finally doctor Karn and Areuthai will go abroad. Doctor Karn needs to go back to countryside a last time to get back his belongings. His policeman friend wants him to help regarding unwanted pregnancy abortion but he cannot do as it is against law. If policemen don't respect law who will respect the law? He unfortunately doesn't come back as he is shot dead as a revenge of the district officer. Doctor Karn was a good man (เขาเป็นคนดี). This story was also adapted 2 times for television in 1980 and 2010.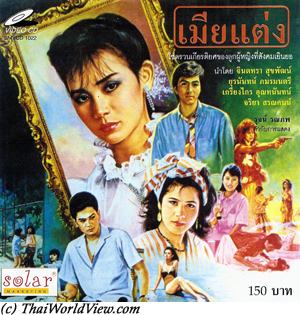 Year

: 1986



Thai title

:

เมียแต่ง




English title

:



Rating

: 4/5


Director

: Ruj Ronnapop



Main actor

: Kriengkrai Unhanan,Yuranan PamornMontri


Main actress

: Jintara Sookkapat,Pissamai Wilaisak,Sarinthip Siriwan,Phong Lada Pimolpan,Wilaiwan Watthanaphanit,Anchalee Chaisiri
Thai movie เมียแต่ง was released in year 1986 and lasts 1h53mn. It was released under VHS format and also under VCD format by Solar. Movie director is Ruj Ronnapop. Guest stars are Phong Lada Pimolpan and Wilaiwan Watthanaphanit. KongKrai (Yuranan PamornMontri) and Plung (จริยา สรณคมน์), liberale and modern lady, are having a relationship. Plung doesn't want to marry despite KongKrai's request. She enjoys free sex. KongKrai's mother is Pissamai Wilaisak. Prai (Jintara Sookkapat), young lady, and Plung know each other. The mother chooses Prai as wife for her son KongKrai. Plung is going to America. Chom (Kriengkrai Unhanan), ปลัดอำเภอ, wished to marry Prai. Prai doesn't want to break Chom's wedding. Chom's wife is pregnant despite they are separated. Aunt Lam (Sarinthip Siriwan). KongKrai doesn't want to marry Prai but wedding happens due to gratitude obligation (บุญคุณ) between families. Clash occurs between KongKrai and Prai. They finally marry. KongKrai keeps drinking on the wedding day. Chom wishes the best to the newlyweds. First night is a disaster. Back from America, Plung learns that KongKrai is married. Back to his work, Plung kidnaps KongKrai. It is traditional wife versus modern wife. Prai prepares clothes, does the cooking. It is an arranged wedding but the mother Pissamai tried to find the best wife for her son. Plung is acting for a divorce. Prai and Plung meet for the first time officially since Prai is married. Plung brings drunk KongKrai back home and stays over night! Pissamai calls her นางบำเรอ. It is เมียแต่ง versus เมียไม่แต่ง. Progressively KongKrai starts to see Prai's kindness and endurance. Being often drunk, he forces his way to his Prai's room during the night. Chom has divorced. Pissamai refuses a divorce between Prai and KongKrai. The mother finally accepts but she asks KongKrai to give her 5M Baht! While KongKrai being drunk again, he is offered the virginity of a poor student for 10k baht (ความบริสุทธิ์). Realizing his mistake, he gives 10k Baht to the student for her to recover her debts and pay her final studies quarter. KongKrai is old sin (กรรมเก่าของ) of Prai. KongKrai brings Plung to Japan. KongKrai starts to be jealous of Chom. Willing to improve situation with Prai and fed up by Plung's continuous jealousy crisis, KongKrai brings his wife Prai out for diner. Plung erupts on the house and announces she is pregnant. Prai agrees to divorce for Plung's child to have a father. Prai doesn't want a single baht as compensation. KongKrai is unable to take a decision. He doesn't want to divorce his good wife but is pushed by his responsibilities of future father. Seeing Prai being sick, Chom brings her to hospital and Prai is diagnosed as pregnant. Meanwhile after enquiries, KongKrai finds that Plung is lying. She is not pregnant. Willing to announce the good news to Prai, he is rejected by her and learns from Chom that she is pregnant! Despite knowing she was pregnant, Prai (เมียแต่ง) sacrificed herself towards Plung (เมียน้อย). Knowing she is losing KongKrai, Plung rushes and brings a gun. KongKrai interposes to protect Prai and is shot. Prai forgives to KongKrai and they can have a happy married life.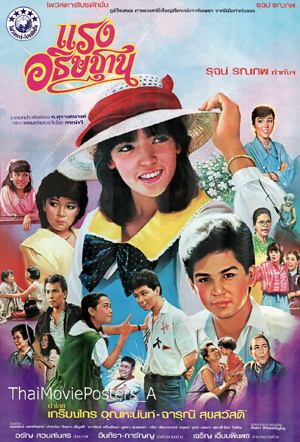 Year

: 1984



Thai title

:

แรงอธิษฐาน




English title

:



Rating

: 4/5


Director

: Ruj Ronnapop



Main actor

: Kriengkrai Unhanan,Adul Dulyarat,Ruj Ronnapop,Porjed Kaenpetch


Main actress

: Jarunee Sooksawad,Anchalee Chaisiri,Sarinthip Siriwan,Sulaleewan Suwanthat,Ratanaporn Intarakamhaeng,Phong Lada Pimolpan,Boosara Narumit
Thai movie แรงอธิษฐาน was released in year 1984 and lasts 1h57mn. Movie director is Ruj Ronnapop. A remastered version was released by Five Star Production (ไฟว์สตาร์โปรดักชั่น) in the decade 2010s and shown on Thai TV cable. The movie was released on VHS format. Thai actors and actresses featured in this movie are Jarunee Sooksawad, Kriengkrai Unhanan, Anchalee Chaisiri, Sarinthip Siriwan, Adul Dulyarat, Ruj Ronnapop, Sulaleewan Suwanthat, Ratanaporn Intarakamhaeng, Phong Lada Pimolpan, Porjed Kaenpetch, ปาหนัน ณ พัทลุง, วรารัตน์ เทพโสธร, Boosara Narumit, รจิต ภิญโญวนิช, ออยา นาวิน, ไพลิน จินดานุช, ลินดา สิริเดชภิญโญ. Manee (Anchalee Chaisiri) and Ruj Ronnapop love each other. Manee is pregnant. Ruj's sister (Sulaleewan Suwanthat) rejects this love story as she is worried about the family status and wishes Ruj to marry a rich lady. Their family has no more wealth. Mae Nom (Ratanaporn Intarakamhaeng) helps Manee but Manee dies while delivering the baby. Ruj is now married to Rattana (Phong Lada Pimolpan) but still sends money for the baby education. Ruj also dies later. The baby is named Pat and is raised by Mae Nom and her husband. Years have passed. Pat is now a teenager played by Jarunee Sooksawad. Adul Dulyarat, knowing Mae Nom, proposes to send Pat to Bangkok as he knows the parents are poor and Pat is willing to study in university in Bangkok. Adul recommends her to stay in Krongkan's house. Ut (Porjed Kaenpetch) loves Pat but his mother is unhappy that her son tries to befriend with Pat, seen as a poor child without biological parents. Ot (Kriengkrai Unhanan) and เอกลักษณ์ ยลระบิล are visiting a local Buddhist temple and take pictures of children playing. Among the children, there is Pat. Pat comes to the Buddhist temple to pray (อธิษฐาน) and asks the famous Buddha Luang Pho to help her to find her family relatives. Ot's mother (Sarinthip Siriwan) tries to find a rich bride for his son but he is not interested. The mother introduces Rattana's daughter, Prakairat, but to no avail. Ot likes books so he is working for Krongkan in her newspaper. Another lady asks her daughter Oya to stay with Krongkan, her aunt. Oya dislikes Pat and a fight occurs as she treats Pat as a domestic helper. While trying to slap Pat, she falls in wet laundry. Oya complains to her mother but Krongkan refuses accusations as she is always fair to everybody. Upset, Oya leaves the house. Ot feels that Prakairat has same look and way of talking as Pat. He thinks they might have the same father. Prakairat is jealous of Pat as Ot is more interested by her. The mother tries to push for engagement between Praikairat and Ot but even Ot's sister said that Pat would be a better choice. The mother just wants a rich bride. Ut proposes Pat to stay in his aunt's house if it is too troublesome to stay in Krongkan's house. Pat meets the aunt being the one, who broke the relationship between Ruj and Manee. She recognizes the pendant that Pat is wearing as it belongs to her family. She believes Pat stole it, but Pat mentioned it is a gift from her father. Finally, an enquiry is done, and it is confirmed that Pat's father is Ruj. Prakairat and her mother are concerned to lose a big part of Ruj's heritage. Ot asks Pat's hand and wishes to marry once she has finished her studies. The aunt wishes to meet Pat again to correct her past mistakes. Finally, a family meeting is organised regarding heritage sharing. The aunt does not apologize for anything and believes she has done the right thing to cause Ruj and Manee to split. Upset and disappointed by her family members behaviour, Pat rejects any rights she has on her father Ruj's heritage as she considers Mae Nom and her husband as her parents. Ot announces he will marry Pat. Love is more important than wealth. The family members are left with their wealth and unhappiness. Luang Pho has realized Pat's wishes as she found her relatives and even more as she met love (แรงอธิษฐาน).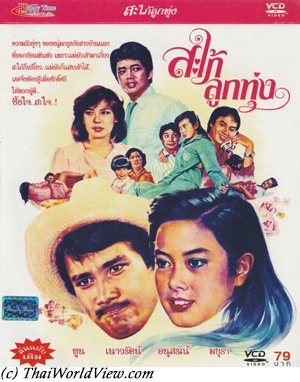 Year

: 1982



Thai title

:

สะใภ้ลูกทุ่ง




English title

:



Rating

: 3/5


Director

:



Main actor

: Toon Hiransap,Somchai Samipak,Sor Asanajinda


Main actress

: Naowarat Yooktanun,Mayura Thanabutr,Malee Wetpraseri,Janthana Siriporn,Phong Lada Pimolpan



Buy now

:

Thai movie สะใภ้ลูกทุ่ง was released in year 1982 and lasts 1h48mn. It was released under VCD format by Lepso and Happy Time companies. Movie director is ดริน ดารากร. Mui (Naowarat Yooktanun) and Khaem (Mayura Thanabutr) are sisters and have arguments with their mother Malee (Malee Wetpraseri). It seems that Malee is preparing an arranged wedding with a Bangkokian young man. It could be Ati (Toon Hiransap) or At (ยิ่งใหญ่ อายะนันท์), a gay man. Mui is upset as she read a letter sent by Ati looking down her sister (บ้านนอก, เมียลูกทุ่ง). The two young men are also upset as they don't plan to get married. Waew (Janthana Siriporn) is playing a comic domestic helper. Ati's Father is played by Somchai Samipak. Ati simulates being sick so only his mother (Phong Lada Pimolpan) and At are going to Ubon. Ati has multiple girlfriends. So being in trouble with them, he finally also goes to Ubon. Ati meets Mui as he is hurt by her motorbike. He meets her father Sor Asanajinda. When realizing that Ati is the Bangkok guy who wrote the nasty letter, she chases him away. Chok (อนุสรณ์ เดชะปัญญา), At's boyfriend (แฟน), needs 100 000 baht to finish his doctor studies. Sor has also a debt towards Somchai and his wife as he borrowed money to pay Mui's doctor studies so that is why his family has to agree to a wedding. Mui is upset with Bangkok people, who denigrate (ดูถูก) countryside people. To get the 100 000 baht from Malee, At accepts to marry Khaem but there is no love. The mother uses Khaem as her slave. At prepares to divorce by claiming Khaem has an affair with doctor Chok. Chok acknowledges due to the debt he owes to Ati. Mui, being doctor student with Chok, is upset by his behavior and discloses to the whole family that it is only a lie as Chok and At are gays. Sor has died so Mui and Khaem go back to Ubon. Chok keeps drinking as he loved secretly Mui and is ashamed of his behavior (ไม่น่าบัดซบ). Ati finally marries Mui but his mother keeps being upset having Mui as daughter in law. The mother now invents a relationship between Chok and Mui to ruin Ati's wedding. Malee, being sick, is cured by Mui (หมอเทวดา) so relationship is improved between Mui and Malee. Chok and Khaem finally marry as Chok wishes to repair his previous mistakes. Somchai forces his wife to change her behavior. At tries to shoot Chok during the wedding but Ati interposes and gets shot. Mui cures him. The mother apologizes to Mui and happiness is back in the family. Mui and Ati roam Isan remote villages to cure sick people. This comedy romantic movie also has a few social aspects such Bangkok people vs countryside people, elders deciding wedding on behalf of younger people, girls studying…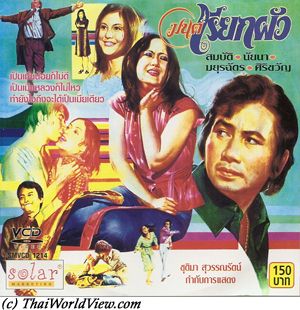 Year

: 1976



Thai title

:

มนต์เรียกผัว




English title

: The Spell



Rating

: 5/5


Director

:



Main actor

: Sombat Methanee,Prachuap Ruekyamdee,Somsak Chaisongkram,Somchai Samipak


Main actress

: Naiyana Shewanan,Mayurachath Muarnprasitivej,Sirikwan Nanthasiri,Sulaleewan Suwanthat,Phong Lada Pimolpan
Thai movie มนต์เรียกผัว was released in year 1976 and lasts 2h16mn. It is a Five Star Production and a remastered version was released in mid-decade 2010s. Previously it was released under VCD format by Solar company (2h12mn). Movie director is ชุติมา สุวรรณรัตน์. This is a romantic family drama movie putting focus on couple life. Plak (Mayurachath Muarnprasitivej) doesn't trust her husband Cheut (รักงาน) as he is working always late having meetings with Somchai Samipak and manager Sak (Prachuap Ruekyamdee). Ram (Somsak Chaisongkram) and aspiring model Rose (Sirikwan Nanthasiri) have a relation. Ram promises to visit her parents to officialise their relationship. Plak remains very upset as for his job, Cheut (Sombat Methanee) has to meet models. She believes he is having affairs, but she cannot catch him. It makes Cheut's life miserable and they often quarrel. Cheut is drunk one night and meets waitress Deuan (Naiyana Shewanan). On the following day, she is aggressed and raped by two ruffians. It is a strong scene and probably one of the first movies where the main actor is unable to help the main actress. Another movie was Thon (โทน) where Chaiya is unable to help Aranya on time. It was a new trend from 1970s movies being more realistic than previous decades. Deuan's mother is played by Sulaleewan Suwanthat. Plak's mother is played by Phong Lada Pimolpan. Rose is pregnant with Ram but he refuses to take responsibility of the baby (คนใจสัตว์) and hits her. He forces Rose to trick Cheut in order to accuse him about the pregnancy. Another day, the ruffians threaten Deuan again but Cheut and Prachuap are luckily there. They help Deuan and a fight occurs with ruffians. Cheut brings back Deuan home. Deuan's mother takes care of eight poor children and raises them so Deuan's work is important to have money for all expenses. There are children from poor prostitutes, who cannot raise them. Cheut finds a job for Deuan in Sak's company in order to work daytime instead of nightime. Plak brings trouble to Deuan so she wishes to change job. Cheut wants to have a child but Plak keeps eating birth control pills. Deuan continues to bring troubles at Cheut's office. He gets closer to Deuan as she has everything he wishes Plak had. By hazard, Plak is present in a shop where Sak buys dresses for Deuan on behalf of Cheut. Sak organises a meeting between the two ladies to ease the tension. Deuan acknowledges she loves Cheut but gets pity from him (ความสงสาร) and not real love (ความรัก). She doesn't wish to break his marriage and mentions that Plak is a bad wife not taking care properly of his husband. Plak wants to take revenge over Cheut and goes out with Ram. Ram brings Plak to a short time hotel. He tries to abuse her but hopefully Sak, passing by, helps her. The next day, Cheut gives a lesson to Ram in a bowling alley but Ram promises to get revenge. Deuan visits a doctor and finds she is pregnant with Cheut. She has a worrying heart disease. The doctor warns she could lose her life by giving birth. But she is willing to take the risk as she knows Cheut wishes a child and she wishes to thank him for all his kindness towards her family. Plak changes her behavior and tries to be a good wife caring about her husband. On the opposite side, Cheut becomes harsher. Plak feels that Cheut changed a lot and that his love has moved to another woman. Cheut comes back home very late even on her birthday. Plak is at hospital and Cheut takes care about Deuan being sick. Ram tricks Cheut by mentioning to Rose's brother that he is one who refused to take responsibility. Cheut is kidnapped while going to Deuan's home to bring her for child delivery. Meanwhile Plak prepares to leave home for UK knowing she has lost Cheut due to her continuous jealous behavior. As Cheut is still not coming to bring Deuan to hospital, Deuan calls his home and talks to Plak without being aware. Decided to do a last good thing for Cheut, she brings Deuan to hospital and then goes towards airport. Cheut gets beaten by Rose's brother but finally Rose confesses Ram is the father. General fighting occurs and Rose shoots Ram going to stab her brother. Cheut arrives at hospital before the delivery. Reading the letter that Plak left for him, he rushes to airport being puzzled by Deuan's sentence that it is probably the last time they meet. He brings back Plak to hospital mentioning that such hasty departure decision should be discussed with cold heart. A child is born but Deuan has died. Plak promises to take care of all children. This movie highlights the difficulties of life for main wife (เมียกลาง) and mistress (เมียน้อย), their place in society, the choice for the husband between two wives and the way some Thai men can abuse women in Thai society (Deuan feeling ashamed of having been raped and not going to police to fill a complaint, Ram refusing assuming Rose's pregnancy).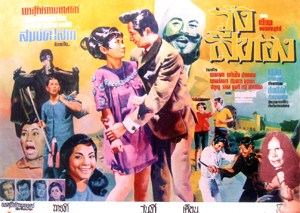 Year

: 1968



Thai title

:

วังสีทอง




English title

:



Rating

: 3/5


Director

: Sulaleewan Suwanthat



Main actor

: Sombat Methanee,Somkuan Krajangsat,Adinan Singhiran,Choomporn Theppitak,Krai Kanchit,Jamroon Nuatjim


Main actress

: Sopha Sataporn,Sulaleewan Suwanthat,Chosri Misommon,Metta Roongrat,Kaenjai Meenakanit,Phong Lada Pimolpan
วังสีทอง is a Thai movie released in year 1968. It features Sombat Methanee as main actor and Sopha Sataporn as main actress. Other actors are Somkuan Krajangsat, Metta Roongrat, Choomporn Theppitak, Krai Kanchit, Kaenjai Meenakanit, Sulaleewan Suwanthat, Adinan Singhiran, Chosri Misommon. The movie is lost in Thailand but a trailer of five minutes is still available. Without a summary and the 16mm movie being in mute state, it is difficult to understand the story. Various short sequences are show Krai abusing of Metta, a man disguised in black outfit, Sombat punching Adinan trying to abuse Sopha. This movie ambiance reminds of other movies such as ปราสาททราย or ฟ้าคะนอง. The movie producer is ป้าทอง also called as Sulaleewan Suwanthat. Other less known actors include สุพรรณ บูรณะพิมพ์-จำรูญ หนวดจิ๋ม-ทนงศักดิ์ ภักดีเทวา.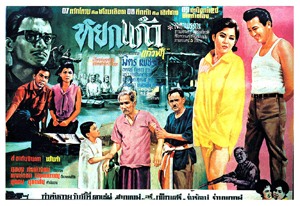 Year

: 1965



Thai title

:

หยกแก้ว




English title

:



Rating

: 4/5


Director

: Phan Kam



Main actor

: Mitr Chaibancha,Adul Dulyarat,Ruj Ronnapop,Sukon Koewliam,Chao Klaewklong


Main actress

: Petchara Chaowarat,Kingdao Daranee,Phong Lada Pimolpan,Mom Chan Phuangwan,Chadaporn Wachirapranee
Thai movie หยกแก้ว was released in year 1965. Main actors and actresses include Mitr Chaibancha, Petchara Chaowarat, Adul Dulyarat, Kingdao Daranee, Ruj Ronnapop, ม.ร.ว. ประสิทธิศักดิ์ สิงหรา, Phong Lada Pimolpan, Sukon Koewliam, Chao Klaewklong, อภิญญา วีระขจร, Mom Chan Phuangwan, Chadaporn Wachirapranee. Movie director is Phan Kam. Sor Asanajinda made the script. The film was never released on VHS / VCD / DVD format but the movie in 16mm format can still be seen in Thailand. It lasts 1h34mn and a dubbed version was shown in Thai Film Archives in 2020. Rich man (ม.ร.ว.ประสิทธิศักดิ์ สิงหรา) welcomes a new domestic helper called Yok (Kingdao Daranee) and his son Chaiyaporn (Adul Dulyarat) loves her immediately. Adul's sister promises Soi Kam (Chadaporn Wachirapranee) to break this relationship. Soi Kam invents a relationship between the doctor and Yok. Chaiyaporn has a misunderstanding with the doctor (Ruj Ronnapop) and Yok. Yok is pregnant and dies. Many years have passed. Narong (Mitr Chaibancha) and Wan / Yok Kaew (Petchara Chaowarat) meet. Narong loves Wan immediately. Yok is back twenty years later. Wan is her daughter. The family will lose the heritage to Yok Kaew except if Chaiyaporn resumes a relationship with Yok. Chaiyaporn finally understands that Soi Kam lied to him for many years. Soi Kam hires Chao Klaewklong to get rid of Yok and Yok Kaew...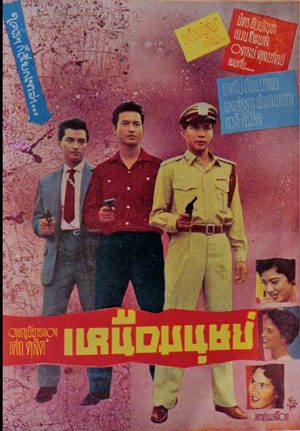 Year

: 1959



Thai title

:

เหนือมนุษย์




English title

:



Rating

: 3/5


Director

: Wichit Khunawut



Main actor

: Mitr Chaibancha,Adul Dulyarat,Man Teeraphol,Sompong Phonmitr,Sukon Koewliam


Main actress

: Rewadee Siriwilai,Kesarin Patamawan,Phong Lada Pimolpan
Thai movie เหนือมนุษย์ was released in year 1959 and lasts 1h26mn. The picture is still colorful. Director is Wichit Khunawut. Mitr Chaibancha was only 25 years old. This is oldest movie still featuring Thai superstar Mitr Chaibancha. Highlight of the movie is Mitr Chaibancha playing with 3 famous main actresses of decade 1950s. Sarawat Cheut (Adul Dulyarat) and Man Teeraphol are policemen. Mitr is playing a bad ruffian, called Krieng, flirting with ladies. Krieng succeeds to win the trust of a gang. The leader sends him in south of Thailand. Sompong Phonmitr follows Krieng as he is impressed by him. Krieng meets Saen, local leader in Pattalung. A local lady called Lada (Rewadee Siriwilai) follows Krieng. Krieng intercepts a truck driven by Saen and containing illicit goods. He joins the Thai police (เจ้าหน้าที่) to catch Saen. Krieng infiltrates another ruffians group and keeps in sync' with Thai police. He meets another lady called Apson (Kesarin Patamawan). Lada is shot while fleeing with Krieng. Businessman Pong asks help from inspector Cheut. Saen kidnaps inspector Man. Krieng helps to release him while ruffians are busy transporting goods. Nit (Phong Lada Pimolpan) is raped by a ruffian. Krieng and Apson joins their efforts to protect Thailand against people trying to hurt the country. Nit steals a document from the ruffians. Undertaker (สัปเหร่อ) kills Saen and Go. Ruffians are aware Krieng betrayed them (ทรยศ). Krieng and Apson are identified as traitors and are attached. Police, called previously by Apson, disturb the ruffians allowing Krieng to escape. Phi Cheua and Nit die during the fightings but Nit shoots Go before dying. Apson is a uncovered policewoman called Achala. It discovered that Krieng's real name is Chet and he is the elder brother of Cheut! Cheut and Chet love the same woman, i.e. Achala. The leader still tries to kill Krieng as revenge. The real leader is Businessman Pong! Krieng succeeds to neutralize the ruffians and escape before the building collapses. He gets Achala's love.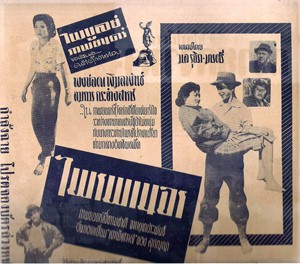 Year

: 1957



Thai title

:

ไพรพเนจร




English title

:



Rating

: 3/5


Director

: Rangsee Thatsanaphayak



Main actor

: Somkuan Krajangsat,Tat Ekathat,Pramin Jarujareet,Sukon Koewliam


Main actress

: Phong Lada Pimolpan
Thai movie ไพรพเนจร was released in year 1957. Main actors and actresses include Somkuan Krajangsat, Phong Lada Pimolpan, Tat Ekathat, Pramin Jarujareet, Sukon Koewliam. Movie director is Rangsee Thatsanaphayak. The film was never released on VHS / VCD / DVD format but the movie in 16mm format can still be seen in Thailand. It is still colorful. It lasts 25mn and is the last reel of the film. Movie director is Rangsee Thatsanaphayak. Somkuan Krajangsat is playing the main actor and Phong Lada Pimolpan is playing the main actress. Old Thai movies, where Somkuan Krajangsat is playing the main actor, are very rare. During the remaining sequences, Somkuan is carrying Phong Lada. Phong Lada Pimolpan is playing Tat Ekathat's daughter. This sequence can be seen on the movie poster. Other scenes include Somkuan riding an elephant, illegal logging in the forest, romance between Somkuan and Phong Lada, action scenes between groups led by Pramin and Tat Ekathat...
---