Increase or decrease font size for easier reading : A+ A-
Phan Kam
Phan Kam (1922) - พันคำ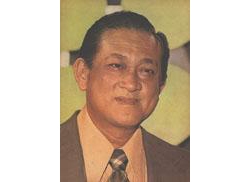 Phan Kam has directed more than 60 movies from 1958 to 1992. He has also known as "พร้อมสิน สีบุญเรือง".
This Phan Kam movie page contains 19 records.
---



Year

: 1983



Thai title

:

เลขาคนใหม่




English title

:



Rating

: 3/5


Director

: Phan Kam



Main actor

: Sorapong Chatree,Sor Asanajinda


Main actress

: Jarunee Sooksawad
A business man is looking for a secretary. He finally finds one, who is going to upset his life!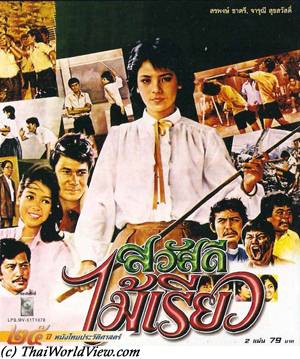 Year

: 1982



Thai title

:

สวัสดีไม้เรียว




English title

:



Rating

: 4/5


Director

: Phan Kam



Main actor

: Sorapong Chatree,Sor Asanajinda,Suchao Pongwilai


Main actress

: Jarunee Sooksawad,Ampha Pusit,Namgneun Boonnak
A new teacher (ครูใหม่) called Sirin (Jarunee Sooksawad) is recruited. She notices that two students always arrive late. One is a boy called Satit coming from a rich family (ลูกเศรษฐี). One is a girl called Kalaya coming from a slum family (สลัม). The movie highlights the importance to study for teens but also the importance for teachers to keep interest from their students (รักเรียน). This school has a strict director and strict teachers keeping the same program and activities without changes over years. Sirin tries to change this mindset. In Thai schools students show respect to their teachers in the mornign and evening (ไหว้ครู) and get hit with a stick (ลงโทษ) when they fail to obey to the school rules. Sirin faces opposition from the teacher head when she wishes to punish Satit for his bad behavior. Only the poor child Boonmee gets punished. Sirin wants to have same treatment for all children either rich or poor. A fight happens between Satit and Boonmee. Satit's elder brother, called Narit, comes to complain about the new teacher at the shool. He trusts Satit and doesn't know he is behaving badly. Kalaya has no time to study. Every early morning she has to deliver newspapers. Her father is always drunk and hit his wife. Kalaya is too ashamed to say why she is late everyday. Teachers decide to buy a bicycle for her so she doesn't have to run in the morning (same as movie Walli - วัลลี). Satit keeps stealing things. This time he steals teacher belongings and accuses Boomee. Hopefully Sirin is aware of the stratagem but Narit refuses to believe that his younger brother has problems as he is coming from a rich family. Money doesn't buy happiness... Kalaya didn't come to school since many days as her father sold the bicycle to buy alcohol. She now works in a construction site. Students decide to share the workload regarding newspapers distribution so that she can be on time in school. Following a brawl, Satit is sent to Police station. Teacher Sirin confirm (รับรอง) her students integrity so that they can be released. The school is going to take part in sport competition with other schools. They have big hope in cycling with Kalaya and Thai boxing with Boonmee. Poor children train hard while rich children just enjoy beach. Sirin sees Satit stealing the director's ring. She prevents the robbing but gets injured as Satit pushes her violently. The director doesn't believe Satit could be a robber. Losing trust in her director, Sirin resigns. Students refuse to study until Sirin is back. Finally Satit tells the truth to his brother. This one asks the director to recruit back Sirin. Sirin refuses to acknowledge the director's requests but accepts when students implore her. Competition starts. The school wins in boxing and cycling. Satit becomes a good boy. Despite strange cuts in the editing, this movie is full of good feelings, i.e. school importance, teacher dedication, studies, rich and poor society opposition...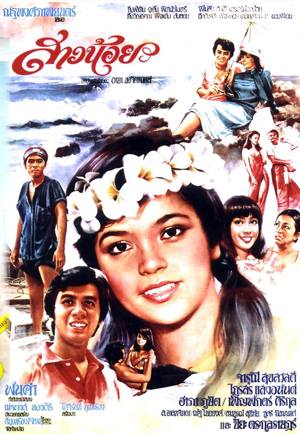 Year

: 1981



Thai title

:

สาวน้อย




English title

:



Rating

: 4/5


Director

: Phan Kam



Main actor

: Piya Trakulrard,Sor Asanajinda,Kraison Saenganan,Boo Wibunnan,Sompong Phonmitr


Main actress

: Jarunee Sooksawad,Ampha Pusit,Penpak Sirikul,Chosri Misommon
Thai movie สาวน้อย was released in year 1981. Main actors are Jarunee Sooksawad, Kraison Saenganan (ไกรสร แสงอนันต์) and Piya Trakulrard. Other actors are Ampha Pusit, Penpak Sirikul, Sor Asanajinda, Chosri Misommon as friendly governess, Boo Wibunnan as film producer, Sompong Phonmitr. Movie director is Phan Kam. The movie lasts 1h43mn. A first version was released in year 1958 with Charin Nantanakorn as main actor and ทรงศรี เทวคุปต์ as main actress. The 1958 movie is still available in Thailand. It was shot in Koh Si Chang but the 1981 version happens in Koh Samet. The shooting took one week there. Sao Noi is a romantic movie. Suwalee (Ampha Pusit) is engaged with Siem (Kraison Saenganan). Siem's father called Pla wishes to marry a young lady called Marasee (Penpak Sirikul)(แม่เลี้ยง) but Siem knows she is a bad lady. Marasee uses ruffians to hit Siem. He loses memory, ends up on a remote island and meets Nit (Jarunee Sooksawad). Love emerges between them causing Nit's friend, Cheut (Piya Trakulrard), to be disappointed. Pla finds back his son. Siem brings Nit to Bangkok to his father's home. Following surgery, Siem (Kraison) remembers Suwalee but forgets Nit. As Nit sees Marasee having an affair with another man, Nit is accused of stealing jewellery and leaves their home. Luckily she succeeds to become a movie star. Real old standalone theaters are shown with huge real billboards of Jarunee Sooksawad (โรงเพชรรามา - Pratunam, โรงเมโทร - Ratchathewi, โรงหนังแกรนด์ - Wang Uurapha). She even wins a Thai oscar award. Disappointed by Siem and despite fame, Nit wishes to go back to her island. Cheut, looking for Nit, punches Siem, who then recovers his memory. He rushes to the island to find Nit. They finally reconcile. Cheut ends up with Suwalee.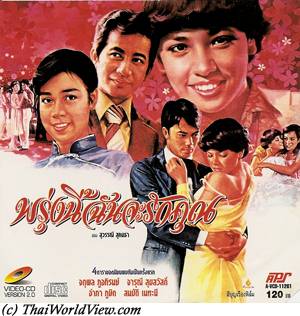 Year

: 1980



Thai title

:

พรุ่งนี้ฉันจะรักคุณ




English title

:



Rating

: 3/5


Director

: Phan Kam



Main actor

: Sombat Methanee,Jatuphol Poopirom


Main actress

: Jarunee Sooksawad,Ampha Pusit,Yotsoi Komarachoon



Buy now

:

A man called Non helps a woman, called Oon, drugged by a taxi driver, who wants to rape her. Oon believes that Non raped her and flees. Non loves Oon but cannot find her anymore as she leaves for France. Oon's sister meets Noon and is fond of him. Non asks her in marriage. When Oon comes back from France, many confusions happen until love emerges between Non and Oon.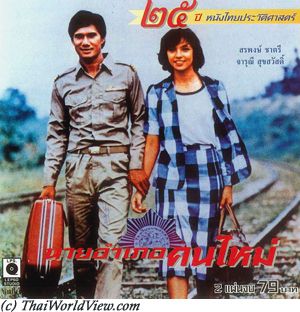 Year

: 1980



Thai title

:

นายอำเภอคนใหม่




English title

:



Rating

: 4/5


Director

: Phan Kam



Main actor

: Sorapong Chatree,Sombat Methanee,Sor Asanajinda,Suchao Pongwilai


Main actress

: Jarunee Sooksawad,Penpak Sirikul,Reuthairat Amatawanit



Buy now

:

In Northern Thailand, a district officer is shot in the back. He was fighting against illegal trees cut. It is the fourth officer killed on duty in five years. A new one (Sombat Methanee) is nominated. The new district officer understands very fast that a latent corruption happens and that local people (ชาวป่า) are expected to give gifts (chickens, daughter given as maid as a compensation of non paid debts...). The new district officer's adjoint is called Palat and is played by Suchao Pongwilai again with brio in the role of rogue officer. Sor Asanajinda plays the role of a brusque villager complaining indirectly regarding rampant corruption. His son Pol (Sorapong Chatree) is also very active. The minister who sent the district officer has problems with his own daughter, Nit (Jarunee Sooksawad), due to misunderstanding with his new wife. She leaves for the same village Daran Thong and becomes the local teacher. Nit has also medicine knowledge and has to face local fear of ghosts and sorcerer (หมอผี). Old people prefer using sorcerer instead of modern pills. Thanks to Nit and with Pol's leadership, the farmers ask for higher prices and debts resettlement to the trader. Local trader tries to corrupt the district officer but fails to do so. The corrupted subdistrict headman (กำนัน) and trader start to be very upset. They try to buy land as they know that a road will be built to the village but Pol asks villagers to refuse to sell. The subdistrict headman daughter Sophit is back from studying abroad. Palat is secretly fond of her. A young lady called Bukham is raped and killed by Palat. Palat accuses Pol with false proofs. Pol flees and discovers that many trees are cut illegally. Nobody speaks due to fear. The new district officer asks Pol to surrender if he is innocent. Pol's father is found hanged as he spoke too much (พูดประชด - พูดมาก) against corrupted officers. The adjoint uses local people to build the road at a cheaper price. Nit brings the villagers to the province officer to ask for full payments and she wins. Meanwhile Palat rapes the subdistrict headman daughter Sophit and strangles her. Pol's brother sees it and warns his brother. Sabin and Nit get attacked. Sabin is captured but Nit can flee. Nit and Pol come to help Sabin and bring Sophit's dead body to the subdistrict headman. This one wishes to kill Palat as revenge but gets shot before. Finally Palat gets smashed by a log in the illegal logging factory and the district officer helps to catch all ruffians. A school and hospital shall be built by the previous corrupting trader. The movie finishes happily, Nit is named school director (ครูใหญ่ใหม่), Pol is named new subdistrict headman (กำนันใหม่). This movie with social and meaningful messages also involves comedy and romance and not only pure drama. A new generation of government officials is here to replace the previous corrupted generation.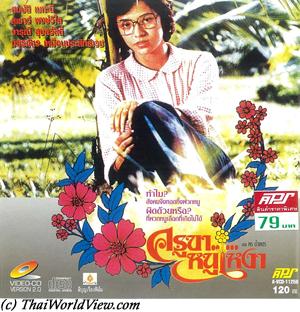 Year

: 1978



Thai title

:

ครูขาหนูเหงา




English title

:



Rating

: 3/5


Director

: Phan Kam



Main actor

: Sombat Methanee,Suchao Pongwilai


Main actress

: Jarunee Sooksawad,Mayurachath Muarnprasitivej,Yotsoi Komarachoon
Wannee is a ลูกครึ่ง or "luk kreung", i.e. half Thai and half foreigner. Her mother is Thai but she doesn't know who is her father. She is staying in an internship who other girls. Her mother, who is a "rented wife" (เมียให้เช่า), visits her from times to times. She is often seen with a different foreigner so many teens laugh at Wannee. Wannee's mother is doing such job to pay for her daughter school. Some of Wannee's friend have also problems, one girl has no official parents, one is half Thai half American from a black US sailor that quit Thailand after Vietnam war. Thirty years ago, half Thai / half foreign kids were not as popular as nowadays. Another girl seems to have a normal family but her parents don't love each other, have no time to get interest in their daughter and just stay together for appearance. Fed up by mockeries, Wannee rejects her mother. Later on, Wannee starts to get blind. She realizes that her mother was finally a good caring mother. Her mother is now dying of an uterus cancer. Why children have to bear with their parents' decisions and mistakes?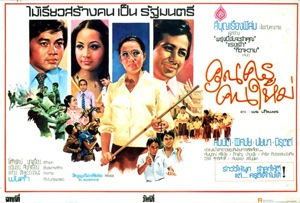 Year

: 1975



Thai title

:

คุณครูคนใหม่




English title

:



Rating

: 4/5


Director

: Phan Kam



Main actor

: Sombat Methanee,Nirut Sirijanya,Pinyo Parnnui


Main actress

: Pissamai Wilaisak,Naiyana Shewanan
Teacher (ครู) Rabiep (Pissamai Wilaisak) leaves Nakhon Sawan school as she needs to bring her mother for treatment in a modern Bangkok hospital. Her sister is Mon (Naiyana Shewanan). Another school headmaster, following a recommendation from his Nakhon Swan friend, asks her to join his school and teach a boys class (นักเรียนอะไรไม่มีมารยาท). Santhi comes to school but doesn't enter class so gets scolded by teacher Rabiep. Rabiep is torn between her concern towards her sick mother and her teacher duty (หน้าที่). She takes deep concern in her pupils future and wants all of them to pass exams (พ่อแม่ที่สองของนักเรียน). Rabiep is still single. As a young teen Thong (Pinyo Parnnui) is chased away from Santhi's home, Rabiep accepts to shelter him. Santhi comes back to Thong to ask him to join his ruffians group but he refuses so gets severely beaten. Per teacher Rabiep's code, Santhi is canned six times as he refuses to apologize to Thong. Khun Sathan, Santhi's father, comes to complain to the school. He has funded the school (นายทุน). 18 years ago Sathan (Sombat Methanee) and Rabiep had a love story but finally Sathan married another lady. Sathan believes Rabiep takes revenge over him through his son and asks the school headmaster to fire Rabiep. The headmaster is in a difficult situation as he is indebted to Sathan. Meanwhile Mon goes to complain to Sathan's but only meets doctor Nophol (Nirut Sirijanya). Santhi is arrested by the police following fighting in a bordel. Teacher Rabiep makes him leave the jail and Sathan understands Rabiep's kindness towards her Pupils. Per doctor Nophol's request, Mon, university student in her last year to become teacher, accepts to give private lessons to Santhi. As he tries to abuse Mon, he gets slapped by his father and flees from home. Following his wife's death, Sathan didn't educate him in a right way (ตามใจ). Due to lack of money and difficult life in slum house, Santhi finally accepts to go back to school but tries to tarnish Rabiep's name (ทำให้เสียชื่อ) as he is aware of the love story 18 years ago. As Sathan chases away his son, he ends in a coffee shop where he is beaten by thugs. Teacher Rabiep recovers him from the police and offers him a new chance by giving him a shelter in her home (รักครูเหมือนแม่). Santhi becomes a good guy helping on chores and is studying well. He accepted in the army. Sathan forgives to his son and starts a new romance with teacher Rabiep. All bad pupils have become good guys and give their respect to teacher Rabiep (วันไหว้ครู). The movie highlights teacher dedication and their importance in their duty to transform children into good adults. It is the first movie for veteran actor Pinyo Parnnui.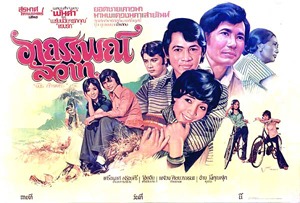 Year

: 1974



Thai title

:

อาถรรพณ์สวาท




English title

:



Rating

: 3/5


Director

: Phan Kam



Main actor

: Yodchai Meksuwan,Sayan Chantaravi​boon,Manop Aussawathep,Boo Wibunnan


Main actress

: Pawana Chanajit,Chosri Misommon,Marasri Bangchang,Duangnapa Autthapornphisan
Thai movie อาถรรพณ์สวาท was released in year 1974. This หนังชีวิตรัก movie is lost in Thailand but 59 minutes are left to be seen. Other actors are Duangnapa Autthapornphisan (ดวงนภา อรรถพรพิศาล), จิระศักดิ์, จรัสศรี, ขุนแผน. Movie director is Phan Kam. Nok (Pawana Chanajit) needs to leave for Bangkok. Her friends, including Tao and Kung (Sayan Chantaraviboon), are already missing her. They are close friends (ลูกทะเล). Nok's mum (Marasri Bangchang) sends her in Bangkok to finish her studies. She shall stay in her mother's best friend home. In Bangkok, Nok meets Kata (Yodchai Meksuwan). Chosri Misommon is playing a domestic helper. Kata doesn't welcome Nok as she reminds him a former love that failed and so bad souvenirs. Boo is debtor recover. Walin (Manop Aussawathep), close friend with Kata, likes Nok also. Nok and Yodchai play jealousy games towards each other. Due to debts, Yodchai's mother succeeds to marry Nok and Kata but there is no real love between them. Kata is ashamed as people shall gossip if it is a wedding due to money arrangement. In reality, Nok's mother doesn't have money anymore also! As his mother warns him on his family name status (ตระกูล) if Nok has any bad behavior, Kata starts to enquiry about all activities of Nok. As Nok's mother is bankrupted, Kata's mother is upset to have organised this wedding and tries to find Nok in compromising situation to have an excuse to cancel the wedding. Nok learns that her mother is ruined and gets sick. While Kata is on business trip and Kata's mother refuses to call a doctor, Kung brings Nok out of this heartless home. Kata's mother puts the blame on Nok but Kata is fully aware of his mother's tricks and decides to get Nok back. Finally Kata accepts to give back her freedom to Nok. Going back, he has a car accident. On the hospital bed, Nok declares her love to Kata. The movie ends happily.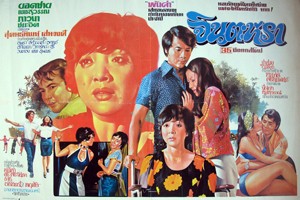 Year

: 1973



Thai title

:

จินตะหรา




English title

:



Rating

: 4/5


Director

: Phan Kam



Main actor

: Yodchai Meksuwan,Choomporn Theppitak,Adul Dulyarat,Preuhat Boonlong


Main actress

: Pawana Chanajit,Amara Asavananda,Marasri Bangchang,Juree Osiri
Thai movie จินตะหรา was released in year 1973 and lasts 1h50mn. It was released under VHS format. Movie director is Phan Kam. It is a romance drama (หนังชีวิตรัก). Montree (Yodchai Meksuwan) is a famous sport student in the university. Kesa (Choomporn Theppitak) introduces him to sexy lady Kha (อภิญญา วีระขจร). Basaba (สุคนธ์ทิพย์ เสนะวงศ์) and Jintara (Pawana Chanajit) are close friends and are joking about Montree. Kha makes Montree drinks a lot. Montree flees before sleeping with her making her very upset. Busaba's father and Jintara's mother have decided to marry. This is a new wedding for the parents (Amara Asavananda and Adul Dulyarat). The grandfather (Preuhat Boonlong) hopes to have a grandson (หลาน) so that his son's life is useful (เสียชาติเกิด)! Busaba and Jintara become half-sisters but from different father and mother! Jealousy often occurs between the two sisters as Jintara likes to have or to use everything that Busaba has. Busaba has interests in Montree. Jintara hides to read playboy. Jintara starts to be jealous to see Busaba and Montree together. Jintara tries to take Montree away from Busaba. Montree is confused. The grandfather wants a son to keep the family lineage. He pushes his son to take a minor wife as the new wife is still not pregnant. Jintara is blamed by her mother as she keeps having bad behavior, i.e. เอาแต่ใจตัวเอง. Jintara collapses (เป็นลม) due to big headache. A doctor finds she has a brain cancer. She has only six months to live. She changes her behavior and becomes a nice person (ความหวังดี). She tries to reunite Montree and Busaba but it fails. In order to push back Montree to Busaba, she stops showing interest to Montree and simulates to be interested in another student called Asawin. Fighting occurs between Asawin and Montree. Montree is injured. Montree's mother, Juree Osiri, complains that Jintara brings troubles to her son (ลูกไม่รักดี). Jintara's mother is finally pregnant. Montree wishes to know the truth behind Jintara's behavior change. Jintara's health is getting worse. Her mother is about to deliver and Jintara has still to perform the school theater performance for orphelin children. Her theater performance becomes similar to her real life as she collapses during the last scene (ฉากสุดท้าย). The new child is a daughter and is named Jintara as the first Jintara is leaving this world… Jintara makes Montree and Busaba promise to love each other.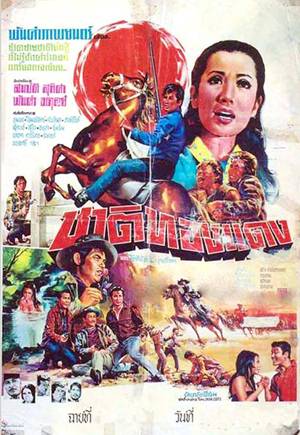 Year

: 1970



Thai title

:

ชาติทองแดง




English title

:



Rating

: 3/5


Director

: Phan Kam



Main actor

: Sombat Methanee,Adul Dulyarat,Chanee Yotchai,Choomporn Theppitak,Anucha Ratanaman,Sukon Koewliam,Joomjim Khemlek,Sawin Sawangrat


Main actress

: Suthisa Putnuch,Khomapat Attaya,Kantima Daraphan
Thai movie ชาติทองแดง was released in year 1970. Main actor is Sombat Methanee and main actress is Suthisa Putnuch. The movie is lost in Thailand but a 2mn14s trailer remains to be seen. The movie director is Phan Kam. The movie is a Thai Western. During the short trailer various sequences can be seen such as Chanee Yotchai hitting a man, a gun duel between Adul Dulyarat and Phan Kam, a fighting scene with Sombat against four men, Anucha Ratanaman flirting with a young lady, Vet actress sexy 1 and 2, a typical waterfall Thai movie scene with a naked lady swimming, a knife duel between Sombat Methanee and Chanee Yotchai, a scene with main actress Suthisa Putnuch. Other actors and actresses are Choomporn Theppitak, Khomapat Attaya, Sukon Koewliam, Joomjim Khemlek, Sawin Sawangrat, Kantima Daraphan.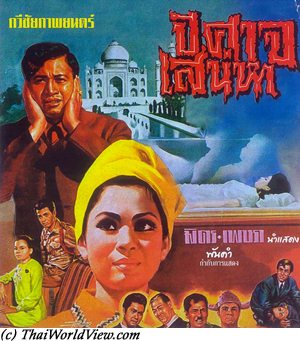 Year

: 1969



Thai title

:

ปีศาจเสน่หา




English title

:



Rating

: 4/5


Director

: Phan Kam



Main actor

: Mitr Chaibancha,Sukon Koewliam,Choomporn Theppitak,Preuhat Boonlong,Krai Kanchit


Main actress

: Petchara Chaowarat,Kaenjai Meenakanit,Boosara Narumit,Wilaiwan Watthanaphanit
Kangwan (กังวาน) and Karaket (การะเกด) meet each other in a Buddhist temple at night time. Kangwan, young and rich bachelor, is studying magic and ghosts knowledge (วิชาชุบชีวิต). Karaket brings flowers to her mother grave, Nang Sopha. Ladies O and Karaket are half sisters, i.e. same father but different mothers. O's mother was the main wife. Karaket's mother, Nang Sopha, was the minor wife (เมียน้อย). Kangwan's father and the two daughters' father agreed to have Kangwan marry one of the two daughters. O and her mother are jealous towards Karaket especially as Kangwan has more interest into Karaket than into O. The mother decides to have Karaket killed. She is already responsible of Karaket's mother death twenty years ago by poisoning. The mother and her maid try to poison Karaket's drinking water. Nang Sopha ghost protects her daughter but no killing shall be done to avoid adding more sins to her karma (กรรม). The poisoning attempt fails thanks to the ghost intervention. The bad mother then uses a monk to purify the house and install a sacred thread around the house to prevent ghosts from entering. Kangwan has to go to India to continue his studies. Meanwhile the bad mother attempts another trial to kill Karaket by putting a snake inside a box. This time due to sacred tread (สายสิญจน์) the ghost cannot help her and she dies following the snake bite. Kangwan is at Taj Mahal when Karaket's spirit asks for help. It is time for judgement in hell and Phra Yom (God of the underworld) takes Karaket with him. Kangwan has to fulfill the earlier promise between both families and is forced to marry O. But thanks to his knowledge in white magic, his soul (วิญญาณ) goes to hell to pick up Karaket and brings her back in the living world. The trueness behind Karaket's death is known. The mother sizes a gun and kills her maid, who has revealed the truth, and is strangled by Nang Sopha ghost before being able to kill Karaket a second time. Kangwan and Karaket can marry happily. In this old movie, there are typical dog howlings to indicate ghosts coming and Fx effect are limited to images superposition for ghosts apparition. This great old 1960s movie with superstars Mitr Chaibancha and Petchara Chaowara is typical of old Thai movies with the bad girl (นางอิจฉา) trying everything to be the main actor's girlfriend and always trying to get rid of the leading actress (นางเอก).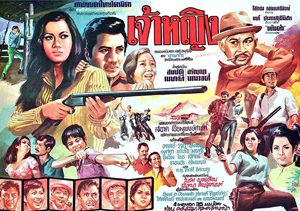 Year

: 1969



Thai title

:

เจ้าหญิง




English title

:



Rating

: 3/5


Director

: Phan Kam,Tae Prakardwutthisan



Main actor

: Sombat Methanee,Sahat Piempongsan,Adul Dulyarat,Choomporn Theppitak,Sukon Koewliam,Joomjim Khemlek,Ruj Ronnapop,Kokheng


Main actress

: Aranya Namwong,Metta Roongrat,Kaenjai Meenakanit
Thai movie เจ้าหญิง was released in year 1969. The whole film is still complete, around 2h30mn, but it was never released in any video format such as VHS, VCD or DVD. The movie is stored at the Thai Film Archives and can be seen there. It is a 16mm movie so no sound is available as such movies were dubbed. This movie is a Thai western and a lot of action, i.e. shootings and boxing fightings, is happening. A short summary is also still available. Busaba is played by actress Aranya Namwong. Busaba's father, played by Adul Dulyarat, has arguments with Luang Soradet (Sahat Piempongsan). Her father dies so Busaba has to be responsible of the paternal ranch. Luang Soradet wishes to extend his own ranch but Busaba refuses to sell. Heun (Sombat Methanee) gets a job in Busaba's ranch but gets trouble with Luang Soradet's ruffians. Kaenjai Meenakanit is on Luang Soradet's side and tries to convince Heun to stay aside. Heun, bathing in waterfalls, helps Kaenchai, whose ankle is twisted. She asks for a massage as a way to entice Heun, who finally throws her in the pond! Heun does protect Busaba as she gets issues with ruffians (house burnt, kidnapping). Heun and his friends push back ruffians attacking a village. Kaenchai shots one ruffian leaders but gets shot also. Heun releases Busaba, who has been captured by ruffians. All friends are arrested by the police. As usual, it is disclosed at the end of the movie that Heun is in fact undercover policeman officer when all ruffians has been neutralized. Busaba is upset but finally forgives Heun. The movie producer was famous director Tae Prakardwutthisan. The movie was given by Tae Prakardwutthisan to Thai Film Archives but it was never released commercially. The movie features 4 songs recorded in 35mm format. Comics are strongly present with veteran actors Sompong Phonmitr, Kokheng, Sukon Koewliam and Joomjim Khemlek.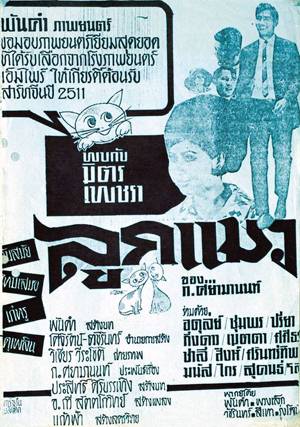 Year

: 1968



Thai title

:

ลูกแมว




English title

:



Rating

: 3/5


Director

: Phan Kam



Main actor

: Mitr Chaibancha,Adul Dulyarat,Krai Kanchit,Choomporn Theppitak,Sawin Sawangrat


Main actress

: Petchara Chaowarat,Metta Roongrat,Preeya Roongrueng,Kingdao Daranee,Sasithorn Phetrung,Manat Boonkiet
Luuk Maew (ลูกแมว) is a movie released in 1968. Only 38mn are left and there is no sound as the movie was in 16mm format. With only part of the movie available and no sound, it is difficult to understand the whole story. Mitr Chaibancha's mother would like his son to marry Petchara Chaowarat, who is the daughter of Princess Pa, as she is hoping for a dowry to pay her debts. Mitr is not convinced as he doesn't know Petchara. One ruffian relative (Choomporn Theppitak) of Princess Pa wishes to kill her and Petchara to get the family heritage. Petchara gets shot and falls in the sea. Petchara's nickname is Luk Maew (ลูกแมว), i.e. the name used for the movie title. Petchara gets some help from doctor Adul Dulyarat. As Petchara has disappeared, the mother has already a new plan to marry Mitr to another niece of Princess Pa, i.e. Kingdao (กิ่งดาว ดารณี). While visiting a school, Mitr is hurt by a ball sent by Petchara. They meet for the first time. Mitr brings Petchara back to his home. Petchara shall be the baby-sitter for his disabled niece. In the home there are already Mitr's mother and her two daughters Metta Roongrat and Preeya Roongrueng. Petchara is not welcomed. A long discussion between Mitr and Adul happens following a checkup of the child. The ruffian relative threatens Metta following a night she was drunk. Petchara recognizes the ruffian who shot her and flees from Mitr's home. Petchara is kidnapped. Krai Kanchit helps to release Petchara. The grandfather separated with his wife also tries to help the child. Finally the little girl is reunited with her mother Preeya. The director is popular director Phan Kam. Actress ศศิธร เพชรรุ่ง has also a small role.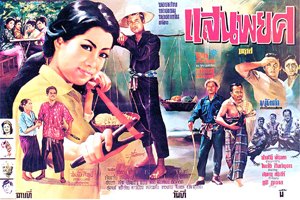 Year

: 1968



Thai title

:

แสนพยศ




English title

:



Rating

: 3/5


Director

: Phan Kam



Main actor

: Mitr Chaibancha,Daonoi Duangjai,Prachuap Ruekyamdee,Lor Tok,Sompong Phonmitr,Sukon Koewliam


Main actress

: Aranya Namwong,Naowarat Watchara,Preeya Roongrueng,Sarinthip Siriwan,Mom Chan Phuangwan
Thai movie แสนพยศ was released in year 1968 and features key actors Mitr Chaibancha and Aranya Namwong. Other actors / actresses include Daonoi Duangjai, Prachuap Ruekyamdee, Naowarat Watchara, Preeya Roongrueng, Lor Tok, Sukon Koewliam, Sompong Phonmitr and หม่อมชั้น (famous Thai actress from royal lineage and often playing low roles such as domestic helpers…). It was shot at same time as movie Iten – อีแตน (35mm format and year 1968). The movie was lost in Thailand but finally a partial reel was found in year 2013 thanks to a teacher and collector of old items in Songkhla area. A 5mn30s sequence is still available. It is in fact the first movie (16mm format) played by Aranya Namwong after she became Miss Thailand. A group of ladies including Naowarat Watchara are talking together and seem to prepare a plan. Not sure if it is targeted against Aranya? In another sequence Aranya is locked. A mamasan wants to force Aranya to go with a rich customer but she gets slapped. Even ruffians fail to coerce her. Last sequence is showing Mitr and Aranya talking together under a tree. Aranya Namwong played in movie ลมหนาว but only in a short sequence where she sang a song. Later on, she played again with Mitr in อีแตน which is often mistaken as Aranya's first movie. In Fact Iten (อีแตน) is her movie in 35mm format and แสนพยศ is her first movie in 16mm format! The two movies were probably shot at the same time. The movie poster announces that Mitr meets miss Thailand! A TV serie (ละคร) was done in year 2000.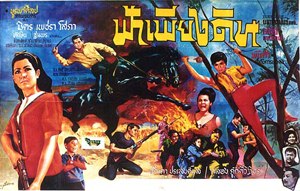 Year

: 1967



Thai title

:

ฟ้าเพียงดิน




English title

:



Rating

: 3/5


Director

: Phan Kam



Main actor

: Mitr Chaibancha,Choomporn Theppitak,Sawin Sawangrat,Adinan Singhira,Taksin Jampol,Sukon Koewliam


Main actress

: Petchara Chaowarat,Sopha Sataporn,Chadaporn Wachirapranee,Sisala Thongtara
Fa Phieng Din (ฟ้าเพียงดิน) is a 1967 Thai movie with Mitr Chaibancha, Petchara Chaowarat and Sopha Sataporn. Only a trailer of 3m35s is left. Other veteran actors playing in this Thai movie are Choomporn Theppitak, Adinan Singhira, Chadaporn Wachirapranee (playing the jealous lady as usual - นางอิจฉา). The trailer is short but enough to see a few fist fights with Mitr. It looks like a Thai western or western Tom Yum Thai movie. Chomphu's (Petchara Chaowarat) father has been killed so she changes her name to Sakira as the murderers are also looking for her expecting to get the heritage. Thewarat (Mitr Chaibancha) is always arguing with Chomphu. He even gets slapped by her the first time they met but when he wants to hit back, he is welcomed by fresh eggs thrown by Chomphu's friends. Director is famous veteran Phan Kam (พันคำ). In 1981 a remake was released with actress Supansa Nuengpirom. It seems to be based on the same story.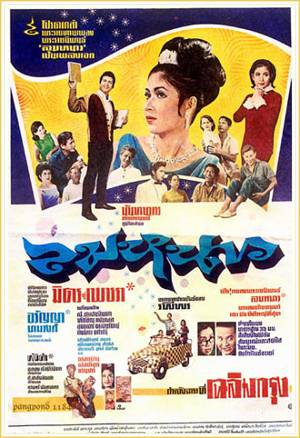 Year

: 1966



Thai title

:

ลมหนาว




English title

:



Rating

: 3/5


Director

: Phan Kam



Main actor

: Mitr Chaibancha,Sor Asanajinda,Taksin Jampol,Adul Dulyarat,Dokdin Kanyaman,Lor Tok,Charin Nantanakorn,Anucha Ratanaman


Main actress

: Petchara Chaowarat,Aranya Namwong,Preeya Roongrueng,Kingdao Daranee,Sarinthip Siriwan
Lom Nao - ลมหนาว (1966) is a lost movie. Only the poster and the movie song are left. Luckily there are still 13 minutes 'behind the scene' sequences in black and white to be seen. Movie director is Phan Kam. It is a movie in which many famous Thai actors and actresses played, i.e. Mitr Chaibancha, Petchara Chaowarat, Aranya Namwong, Sor Asanajinda, Taksin Jampol, Adul Dulyarat, Dokdin Kanyaman, Lor Tok, Preeya Roongrueng, Kingdao Daranee. It was Aranya Namwong's first movie. She was just awarded during a recent Miss Thailand beauty contest. An orchestra was used for the movie theme sung by Aranya Namwong. 16mm movies used a single camera for the shooting. Various sequences can be seen, i.e. Charin and Lor Tok helping Mitr Chaibancha and Taksin Jampol engaged in a fight with ruffians. Another sequence is involving Petchara Chaowarat wearing a beautiful dress and featuring the movie theme song. It is the dress that can be seen on the movie poster. A sequence of Charin and Aranya Namwong can be seen. Those sequences were recorded in 35mm format so that the original song was together with the movie reel. Other sequences are recorded in 16mm format so requesting a live dubbing. Other sequences feature Mitr Chaibancha and Petchara Chaowarat together on a small boat. A funny sequence with Dokdin Kanyaman singing can also be seen. Worth to notice that in real life Mitr Chaibancha and Kingdao Daranee were married. Petchara Chaowarat and Charin Nantanakorn married later in year 1975.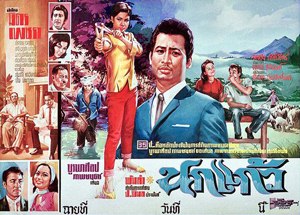 Year

: 1966



Thai title

:

นกแก้ว




English title

:



Rating

: 3/5


Director

: Phan Kam



Main actor

: Mitr Chaibancha,Adul Dulyarat,Prachuap Ruekyamdee,Lor Tok,Sukon Koewliam,Anucha Ratanaman


Main actress

: Petchara Chaowarat,Kaenjai Meenakanit,Prim Praphaporn,Sarinthip Siriwan,Manat Boonkiet
นกแก้ว is a 1969 Thai movie in 16mm format with no sound. It was directed by Phan Kam, who directed more than 60 movies in his whole career. Only 1h10mn is left. Only the first and last film reels are left. So it is difficult to understand accurately the whole story. Prachuap Ruekyamdee is Petchara's close friend. In a village on the countryside, Petchara Chaowarat catches Lor Tok trying to get fishes in their field. Sukon Koewliam is also having another comic role in the village. A grandfather in a wheel chair is talking to his son in Bangkok. As he is going old, he needs to prepare his succession. Petchara is his hidden granddaughter with another woman. The rich family siblings doesn't want her to receive anything. Anucha Rattanamarn is fiance with Kaenjai Meenakanit. They prepare a plan to disinherit Petchara. Mitr Chaibancha, the grandson, is offering flowers to the grandfather. There is a carnival in the village. Adul Dulyarat, a mysterious rich man, meets with Petchara. Petchara and Kaenchai meet also. She gives her a letter. What is inside the letter? Certainly a letter in which Petchara shall reject her rights to the heritage. Later on, Adul wants Petchara to sign a letter but she refuses so he slaps her. Adul threatens her mother to force Petchara to sign the letter. Meanwhile Mitr and Ruekyamdee enter secretly in the house where Petchara is held prisoner in order to help her. Shootings happen with ruffians but Thai police arrive on time to catch Adul. There is an important meeting to open heritage documents at the same time. Petchara arrives on time before the final signature! The grandfather was kept in the dark regarding Petchara by his own family but they all got arrested by police for forgery. Many movies names with Mitr and Petchara started with นก (bird) such as นกยูง (1969), นกแก้ว (1969), นกขมิ้น (1965) or นกน้อย (1964).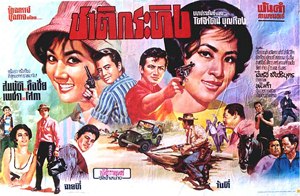 Year

: 1966



Thai title

:

ชาติกระทิง




English title

:



Rating

: 3/5


Director

: Phan Kam



Main actor

: Sombat Methanee,Luechai Natnat,Sukon Koewliam,Joomjim Khemlek,Lor Tok,Boo Wibunnan


Main actress

: Petchara Chaowarat,Sopha Sataporn,Preeya Roongrueng,Kwanta Buapliensri
Chat Krathing (ชาติกระทิง) is a 1966 Thai movie but only 6mn30 are left. Only a trailer is left. The whole movie is lost as it is a 16mm format reel so it was certainly shown until it became unusable. No movie summary is currently available. Only a commercial movie poster is left. This movie features four big stars, i.e. Sombat Methanee, Luechai Natnat, Petchara Chaowarat and Sopha Sataporn. They are together for the first time and for the only time. Some ruffians harass veteran comic Sukon Koewliam. So Petchara Chaowarat protects him by hitting one of the ruffians. On next sequence, the ruffians speed through a village but this time they face Sombat Methanee. Fist fights happen. Romance between two couples Sopha / Luechai and Sombat / Petchara happen. Famous director Phan Kam (พันคำ) is there again. Luechai is part of the fight party. Movies with him are hard to find as his fame period was during 1957-1960, just before Mitr Chaibancha golden period, and then between 1964-1972. Scenario is unknown but certainly good guys (Sombat and Luechai) are fighting against ruffians terrorizing a village. Even veteran actor Chinese Boo Wibunnan can be seen in the short trailer. Actors Joomjim Khemlek, Lor Tok, Preeya Roongrueng, Kwanta Buapliensri are also mentioned in the credits but unfortunately cannot be seen in the short trailer left.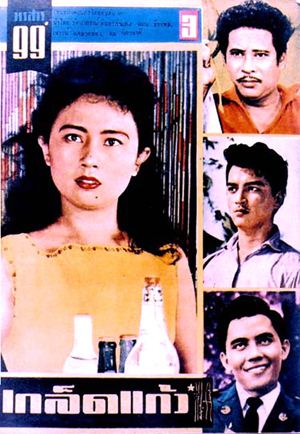 Year

: 1958



Thai title

:

เกล็ดแก้ว




English title

:



Rating

: 3/5


Director

: Phan Kam



Main actor

: Man Teeraphol,Adinan Singhiran,Tawan Siriwat


Main actress

: Ratanaporn Intarakamhaeng,Mom Chan Phuangwan,Somjit Sapsamruey
Thai movie เกล็ดแก้ว was released in year 1958. The movie is lost in Thailand but a 6 minutes colorful and sharp trailer is still available. Main actors are Ratanaporn Intarakamhaen and (Man Teeraphol. Other actors are Tawan Siriwat (ดาวร้าย), Mom Chan Phuangwan. The movie is mainly shot in province Chumphon. It starts with a nice sequence of a family at the beach around Hua Hin. Khun Thanya (Man Teeraphol), young Bangkokian man, has a bad behaviour. He flees from Bangkok to Chumphon and meets Kaet Kaew. Kaet Kaew (Ratanaporn Intarakamhaeng) is a local village young lady. Adinan Singhiran loves Kaet Kaew but love is not reciprocal (พี่น้อง). Plaew (เชาวน์ แคล่วคล่อง), another villager, also loves Kaet Kaew so fighting happens between the two men. Kae Son (Somjit Sapsamruey) is the mother of Kaet Kaew. Love emerges between khun Thanya and Kaet Kaew despite her mum warning her against Bangkok people. Kaet Kaew follows him to Bangkok but faces disappointment. Back to Chumphon she marries with Plaew. A remake was released in year 1983 with Sorapong Chatree and Naowarat Yooktanun.
---