Increase or decrease font size for easier reading : A+ A-
Pete Thongjure
Pete Thongjure (1968) - พีท ทองเจือ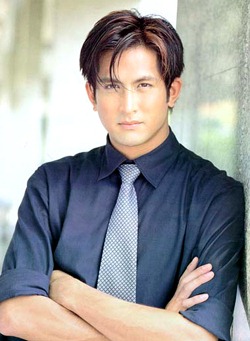 Pete Thongjure stops acting between 2003 and 2010 being busy raising his two young daughters and being a race car driver
This Pete Thongjure movie page contains 7 records.
---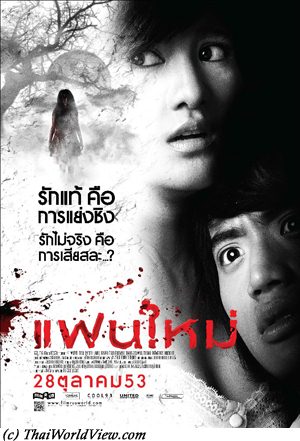 Year

: 2010



Thai title

:

แฟนใหม่




English title

: Fan Mai



Rating

: 4/5


Director

: Piyaphan Chuphet



Main actor

: Pete Thongjure,Ananda Everingham


Main actress

:



Buy now

:

A young lady called Sree sees her boyfriend Oof going to cinema with another girl called Ying. Oof is a rich young playboy and also a liar. Hearing Oof speaking to Sree that she has no value for him, Ying, sad and disappointed, gets suicide. Oof and Sree start to have many frightening visions and see Ying ghost. Mo, Sree's sister, helps her to find a role in a horror movie. The film producer (played by Pete Thongjure) likes Sree a lot. Meanwhile Oof still tries to resume relationship with Sree as he feels lonely. To have a break, Mo brings Sree and her friends on a remote island accessible by a ferry carrying cars. The horror movie will be shot there. A bad omen is welcoming them as police is just extracting a dead body from the sea. Their hotel resort is quite empty as it is low season. The film producer is also the owner of the resort. The friends leave the hotel after seeing a ghost at nighttime. Going back, they inform Sree that they read in a newspaper that Oof jumps to his death from a building! Once the movie is shot, a romance starts between Sree and the film producer. Back to her room, Oof is waiting for her. They have arguments as Sree was in fact the one having pushed Ying from the roof. It was not a suicide. But Oof didn't stop or prevent Sree to push Ying. Following a fight, Sree stabs Oof. When her sister is back to the room, Sree also kills her. Sree always had animosity against her beloved sister as she loves stealing things from her such as her doll many years ago or recently the resort owner... Having another ghostly vision, she stabs the resort owner trying to help her. While putting the bodies inside a big hole, she falls inside due to the sloppy soil caused by heavy rain. She gets crushed by a spirit house. Ananda Everingham appears after the credits. He was a former boyfriend of Sree. The same director made the movie "My Ex" (แฟนเก่า) in 2009 related also to a former girlfriend coming from grave and looking for revenge.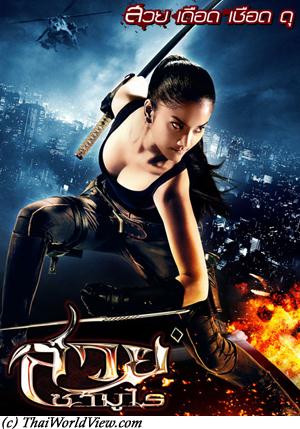 Year

: 2009



Thai title

:

สวยซามูไร




English title

: The Vanquisher



Rating

: 2/5


Director

: Manop Udomdej



Main actor

: Pete Thongjure,Saranyu Wongkrachang


Main actress

:



Buy now

:

The Vainquisher is similar to a B grade movie. Lady Genja is expert in martial skills. She is working in Thai special forces as secret agent. During a mission in South Thailand, Genja is betrayed by her own organization but survives. Claire, her boss, is a treacherous lady. Two years later Genja is involved in an international terrorism threat involving CIA, Thai special forces, South Thailand islamic insurgents and Japanese Ninjas. Wajip, head of terrorists, is hidding in Bangkok. Genja has to face Claire again. English language is used in the main part of the movie as multinational teams are involved to catch Wajip. Sexy women and samourai fights cannot compensate the weak scenario and montage sequences. The owner of Sahamongkol Film International ordered all footage of Chotiros Suriyawong to be deleted from the movie "The Vanquisher" as she was rebuked for wearing a revealing outfit to the Subhanahongsa Awards. Following Tak Bai incident in South of Thailand, this action film was ordered to cut a scene showing gunmen opening fire into a mosque, or facing a ban.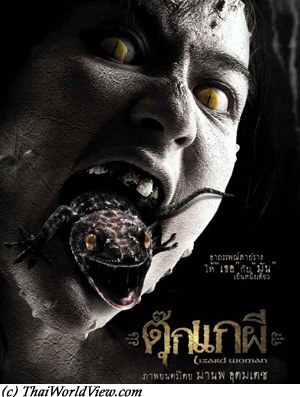 Year

: 2004



Thai title

:

ตุ๊กแกผี




English title

: Lizard Woman



Rating

: 2/5


Director

: Manop Udomdej



Main actor

: Pete Thongjure


Main actress

:



Buy now

:

A writer has just finished her latest book which is a story about an evil lizard. She comes face to face with strange apparitions and a supernatural curse with lizards, but nobody believes her. Her boyfriend suggests her to go seeing a doctor for analysis, but she refuses. She soon realizes that her life is endangered and starts to discover a way to stop it without knowing that she may be the cause of this mysterious evil.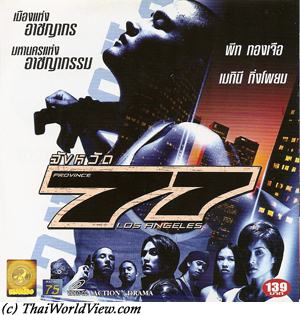 Year

: 2003



Thai title

:

จังหวัด 77




English title

: Province 77 Los Angeles



Rating

: 3/5


Director

:



Main actor

: Pete Thongjure


Main actress

: Metinee Kingpayome



Buy now

:

It is dealing about Thai people emigrating to USA. Most of them start to settle in Los Angeles in an area called "Thai town" or the Thai 77th province as many Thai people live there. A father with three children is facing issues with his restaurant. He still wants to apply Thai traditional values, but his eldest daughter is living with an American man and his son is frequenting a local gang. Only his youngest daughter still try to follow his advice. The father hires a new Thai immigrant in his restaurant. This man is a former cop who has come to put an end to criminal gang. Through confrontation with the local gang, the Thai family unifies again. Since the 1970s, "Thai town" area has been the gateway for Thai immigrants coming to Southern California. Of the 50 000 Thai residents in Los Angeles County, a good portion are believed to live around "Thai town".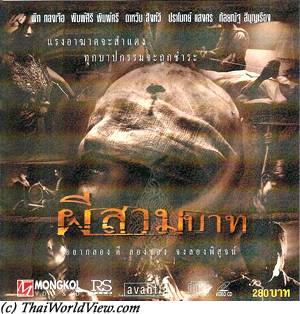 Year

: 2001



Thai title

:

ผีสามบาท




English title

: Bangkok Haunted



Rating

: 3/5


Director

:



Main actor

: Pete Thongjure


Main actress

:
It contains three stories about one ghost hidden in a drum, a woman using oil of corpse ("NAM MAN PRAI" - น้ำมันพราย) to make love potions, a ghost manipulating a policeman to take her revenge.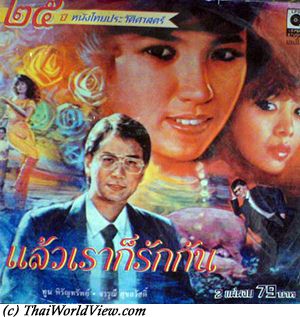 Year

: 1984



Thai title

:

แล้วเราก็รักกัน




English title

:



Rating

: 3/5


Director

:



Main actor

: Toon Hiransap,Settha Sirachaya,Pete Thongjure


Main actress

: Jarunee Sooksawad,Penpak Sirikul
Chalita (Jarunee Sooksawad) is managing an hotel. Penporn, daughter of the managing director Burin, is singing some songs with Kit, the new young singer recruited by Chalita. Chalita trusts Kit and lets him go out with Penporn to have fun. They join a car racing but have a serious accident. Penporn may not walk again. Kit is safe. The manager Burin is very upset by this accident as he has always considered Penporn as his own daughter (หลาน) as Penporn's parents die when she was still a baby. Chalita is fired as she let Penporn have fun with Kit. Chalita is upset as she is not directly responsible of the accident (เรื่องของดวง). Chalita finds a new job in another hotel. Burin, realizing his mistake, wishes to recruit Chalita again by offering a salary two times higher but she refuses. Burin has a strong character, never listens to others (ไม่เห็นใจคนอื่น) and always needs to win (ต้องชนะคนอื่น). Burin believes money can buy everything. Asunee, sexy young lady, is recruited as replacement of Chalita. Kit (ลูกผู้ชาย) affirms to be responsible and will take care about Penporn. Burin forbids Kit to see Penporn again. Kit is seen by Burin as a playboy singer (นักร้อง). There is a strong contrast between Chalita and the sexy Asunee doing Aerobic in front of Burin! Finally Chalita convinces Burin to let Kit visit Penporn. It will help to give comfort to Penporn and hopefully speed up her recovery. Penporn doesn't like Asunee as she is not sincere (จิตใจ). In fact Asunee wishes to marry Burin. The hotel managed by Chalita is much more successful than the one managed by Asunee. Despite efforts from Burin (even buying the hotels she is working in), Chalita refuses to come back to work for him. To protect Penporn and Kit against Burin's ire, Chalita finally accepts. But Burin continues to use dirty tricks (ชั่วร้าย) to try to split Penporn and Kit. Burin even asks Asunee to sleep with Kit in order to break the relationship between Kit and Penporn. But Chalita fights back. Asunee is chased away. Through collaboration (ร่วมมือ) between Burin, Chalita and Kit, Penporn succeeds to walk again! This movie is another romance movie with Toon Hiransap and Jarunee Sooksawad, famous star duo in decade 1980s.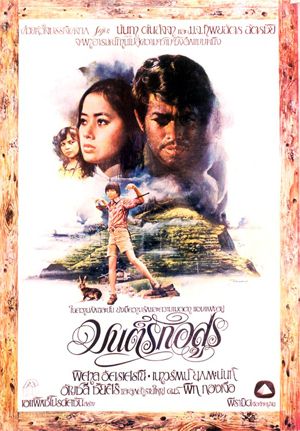 Year

: 1978



Thai title

:

มนต์รักอสูร




English title

:



Rating

: 4/5


Director

:



Main actor

: Pisarn Akraseranee,Pete Thongjure,Sompong Phonmitr


Main actress

: Naowarat Yooktanun,Sulaleewan Suwanthat,Anchalee Chaisiri
มนต์รักอสูร is a Thai movie released in year 1978. Nam Pheung (Naowarat Yooktanun) is a teacher but she needs to miss school often as her parents are sick. The father (เชาว์ แคล่วคล่อง) cannot see anymore. The mother (Sulaleewan Suwanthat) is sick also. The school headmaster (ครูใหญ่) cannot keep her in the school but proposes his help as he loves Nam Pheung. She refuses. Phan (Sompong Phonmitr) recommends Nam Pheung to Teut (Pisarn Akraseranee), a rich man looking for a domestic helper and teacher for his son. The son (Pete Thongjure) is very badly educated and doesn't listen to anybody (เด็กอาละวาด). The father is alcoholic and has a bad temper (คนใจยักษ์ใจหมา). Nam Pheung shall get 30 000 bath for one year and her parents to be sent to hospital in Bangkok so she accepts. Villagers comment that Teut bought Nam Pheung. The son Nan dislikes her as he is worried she wants to replace his deceased mother (อีตาหวาน). Despite her willingness to improve the house (better food, birds), Nan still dislikes her (เกลียดมัน, อยากเป็นแม่เลี้ยงของฉัน, พ่อเอาเป็นเมีย). The headmaster is still chasing Nam Pheung for wedding but she still refuses. Nan invents that he saw them kissing. So Teut is upset by Nam Pheung and forces her one night treating her like a slave (นาย / ทาส). Theuan (Anchalee Chaisiri), sister of the deceased wife, still dreams of making Teut her husband. She receives a letter sent by Nan asking for help. While visiting his tea factory, Teut is injured at the head. Nam Pheung is acting as nurse. Theuan hasn't a good behavior (beer, smoking) compared to Nam Pheung. Theuan arranges to chase away the domestic helpers close to Nam Pheung and Nam Pheung herself. Theuan has to do the cooking and cleaning by herself as she has chased everybody out of the house and it turns to be a disaster. Teut misses Nam Pheung. Theuan wishes to go back to Bangkok. Finally Teut declares his love to Nam Pheung and Nan considers her as his new mother. The movie is ending too fast. Probably part of the movie end has been cut. The movie is lasting 1h43mn and this version is coming from a Vhs copy. A first movie version was released in year 1954 and Thai TV series were released in years 1989 and 2004. Following the success of romantic movie รักเอย, the movie producer used the two same main actors. The movie was shot in 9 days only.
---