Increase or decrease font size for easier reading : A+ A-
Permpol Choei-arun
Permpol Choei-arun (1944) - เพิ่มพล เชยอรุณ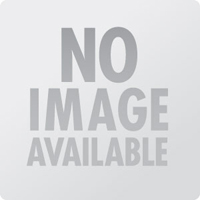 Permpol Choei-arun is famous for his drama films. He made serious films about society and poor people
This Permpol Choei-arun movie page contains 10 records.
---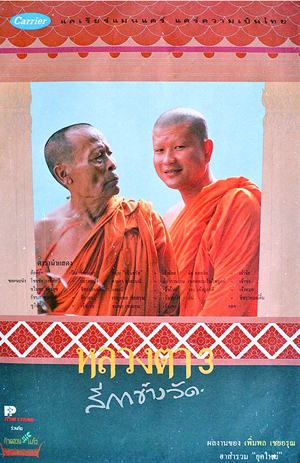 Year

: 1991



Thai title

:

หลวงตา 3 สีกาข้างวัด




English title

:



Rating

: 3/5


Director

: Permpol Choei-arun



Main actor

: Lor Tok,Kiet Kijcharouen,Rong Kaomulkadee


Main actress

: Chamaiporn Jaturaput
Thai movie หลวงตา 3 สีกาข้างวัด was released in year 1991. As it is linked to Buddhist religion, the story is sensible as based on a real story (อดีตพระนิกร-สีกาอร). The movie was even censored and cut a few times. Lor Tok is playing Luang Ta again. Waen (Kiet Kijcharouen) and Biu are playing temple boys (เด็กวัด) roles. Veteran actress Chamaiporn Jaturaput is playing a market woman (แม่ค้า). Luang Ta is always helping and listening to his community. He also faces various problems of daily life with its lies (people asking for money to ordain but claiming later that money disappears...). Oratai's elder sister, Phiya, is a nun (แม่ชี). She quit her home as her father was a drunkard. She ended up working in a brothel. Luang Ta visits a buddhist temple with Biu and Oratai. The monk there is having a huge number of followers and claims having been in paradise and hell already. Speech competition (เทศ) happens between the two monks. The monk (เณร) proposes to Oratai to be his follower (ลูกศิษย์). Oratai accepts. Later on, the monk is looking for opportunities to be alone with Oratai. Biu and Wen always disturb Phiya as Biu is fond of her. Luang Ta uses a funny stratagem to ensure they stop disturbing Phiya (สงบ). The monk gets massage despite still being young. Phiya, worried about her sister Oratai (สีกา), wishes to get her back (ชาวบ้านนินทา). A monk staying alone with woman is incorrect. It tarnishes Buddhism reputation as religion (เรื่องไม่ดีไม่งาม). Phiya, unable to get back her sister, consults Luang Ta. Luang Ta asks help from a senior monk in the hierarchy. Finally Oratai goes back to her sister. Some followers of this monk are upset about Luang Ta and his friends. They wish to kill them. If the monk is defrocked, then they will lose the good life they get through the money coming from donation! (คนชั่ว). They finally get arrested by the police. Oratai becomes a nun (แม่ชี) also. The movie ends up with compassion message as the market woman educates 4 children that are not hers. Director is Permpol Choei-arun famous for his drama and social movies.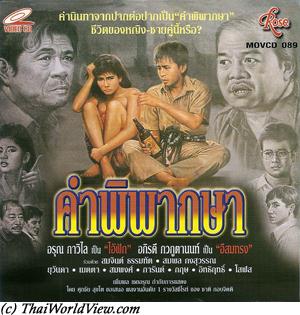 Year

: 1989



Thai title

:

คำพิพากษา




English title

: The judgement



Rating

: 5/5


Director

: Permpol Choei-arun



Main actor

: Somjin Thammatat


Main actress

: Apiradee Pawaputanon
Fak is a brilliant Buddhist novice and villagers expect him to become the next village abbot but Fak decides to defrock in order to take care about his aging father, who is working as a school caretaker. Fak is sent to military duties. When he is back, his father has a new young wife, Somthong, who has mental deficiency. His father dies of a heart attack. As Somthong doesn't remember her address, Fak pities her and let her stay. During a temple fair, she brings trouble by announcing she is Fak's wife. Fak loses face and is bullied by the whole village. After the father, she takes the son!! Some bad words are even censured in the movie by a blank. Stepmother (แม่เลี้ยง) or wife(เมีย)? It becomes the local joke and villagers believe she is Fak's wife already. Nobody believes him when he claims the opposite. Fak is a nice guy that can never say no. So he is exploited by the headmaster (ครูใหญ่) and other villagers. Somthong is half crazy but nobody believes she has a mental deficiency. She is looking for Fak (เห็นฟักไหม) and shows her breast. She gets beaten by villagers as she behaves crazily and is irrespective to elders (เกรงใจหมาดีกว่า). Once again Fak pities her behavior issues with villagers. Officials keep complaining on her. Fak starts to be rejected (รังเกียจ) by villagers. For New Year Fak gives to subdistrict headman (กำนัน) an envelope with money as tradition. The story highlights the corruption of local officials. It is time to cremate (เผาศพ) his father's body but nobody wants to join despite all efforts done by the father for the community. Only one villager joins, i.e. the cremator. The headmaster doesn't join also. Same as the cremator, Fak is rejected by the villagers. Fak starts to drink heavily to forget his problems as he lost face. Society (ชาวบ้าน) did bad with him so it forces him to change his behavior. Every month he saves some money from his salary and the amount is managed by the headmaster. The Buddhist abbot tries to convince him to stop drinking (อายคน) but Fak cannot fulfill his promises. If he lies to monks, then who can trust him? One day he wakes up late as he was drunk. The school children wake him up to open the school door and tease him as Somthong has fallen asleep close to him. He is cross and throws a rock to them. One kid is hurt on the face. As the child's father has complained, the headmaster forces him to leave his job (โดนไล่ออก). He has 5000 baht left with the headmaster. His only remaining friend is the cremator. People on the margins of society stay together. Fak gets beaten by villagers so his leg is stiff forever. Modern development through electricity arrives in the village. The headmaster's wife wants a television and a fridge. The headmaster uses Fak's savings. On one side those officials look good as they collect money for the Buddhist temple, on the other side they are taking profit on Fak. Fak has become a real alcoholic. Nobody believes him when he claims that the headmaster stole his money (โกงเงิน) as he is a drunkard. He acts outside the society norms (ไม่เคารพผู้ใหญ่). As Fak keeps repeating the robbery to everybody, he becomes a nuisance. He is caught by the police. A villager group comes to put pressure on Fak. He needs to show gratitude (น้ำใจ) as the headmaster is a good citizen (คนดีฯหายาก). There is a sad music to announce Fak's coming death as strong alcohol has its toll. Somthong doesn't understand that Fak is dead. Now everybody is afraid of her in the village. The movie is about people judging the others without knowing all the circumstances, about hypocrite people (ผู้ดี), who behave well face to society but badly behind the society, about how rumours and gossiping can hurt people. This movie is based on the novel 'คำพิพากษา' by Chart Korpjitti. Chart Korpjitti was only 27 years old when he wrote this great novel in 1981. Following the success of the novel, this movie and a ten-hour television series were done but both were award-winning commercial flops!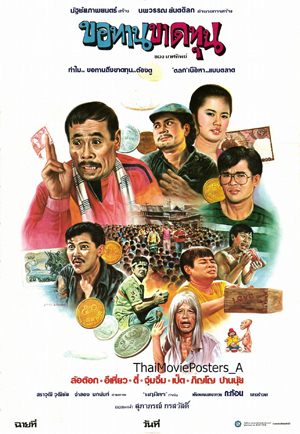 Year

: 1985



Thai title

:

หลวงตาน้อยธุดงค์ชายแดน




English title

: Luang Ta Noi



Rating

: 1/5


Director

: Permpol Choei-arun



Main actor

: Lor Tok


Main actress

:
Three comics are doing shows on the street and ask for tip money. They found a suitcase full of banknotes on the street. They give it back to the owner and refuse any reward. The owner, called Truat, is impressed by their kind heart, so recruits them. Truat is sick and doctor tells him he doesn't have a lot of time left to live. He asks them to get a specific medicine for him. If they don't help him, he will give all his heritage to social organizations. He has only half of the paper giving hints on this medecine. The other part is located in Pattaya with a psychic called "Chi Fat". Then they now need to find a beggar, later on a girl named Madonna. Then they faced two brigands groups (Red versus Yellow) wishing to get their money. Then they help a man following a weird operation in hospital. They find love during their quest of the medecine paper. This is a typical Thai weak comedy from the 1980s decade with a "katoey" (กะเทย) in the funny and silly role. The cover is not matching the movie inside the VCD made by Lepso company. The beginning of the movie is scrapped so only the actors names are displayed and not even the movie title. Luang Ta Noi is supposed to be part of the Luang Ta movie series (หลวงตา) done by famous director Permpol Choei-arun.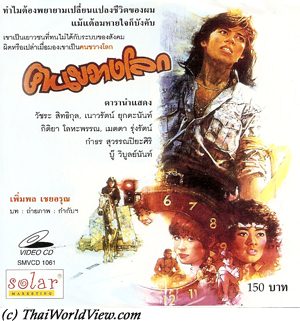 Year

: 1984



Thai title

:

คนขวางโลก




English title

:



Rating

: 5/5


Director

: Permpol Choei-arun



Main actor

: Kamthorn Suwanpiyasiri


Main actress

: Naowarat Yooktanun,Metta Roongrat
Chun is the unique child of a rich family. His father and mother always fight. The husband is cheating his wife and asks his son to keep the secret. Nobody understands or cares about him. Chun is like a beatnik, having long hair and driving an old beetle car. Chun is studying art painting. But even judges don't understand his work. He is fed up with life and rules. Thai students are not educated to challenge rules, the system or think by themselves. Only weak people fear the settled system. Society askes him to stop involvement in politics and focus on studies. He rides a horse in Bangkok to avoid traffic jam and promote his paintings. He challenges his art teacher and makes him upset. When seeing his father doing dangerous business involving risks for the staff health in a factory, he denounces him to the press but nothing is done as they are corrupted. So he makes an union to fight for staff right. His father is disappointed that his son betrays him. His uncle has a plan to have him come back in the society standard rules and be able to take over the company as his father is going old. The uncle orders he cannot see his girlfriend Wee as he is an ungrateful son. Chun goes in gogo bar and blames everybody for the society decadence, Thai men providing young girls to foreigners, indulgence in alcohol... He is expelled by the doormen and beaten by them. He is rescued by Nao, freelance working girl, who initiates him to love. He disappears for 4 days. A love story starts between them. Nao introduces him to her younger sister, who is Wee's best friend! Chun understands that Nao is a prostitute so leaves her. Everybody is lying to him, i.e. the father indulging with young men, the mother indulging in playing cards, Nao selling her body... He gets refuge in a slum. As money runs out, he sells his paintings. Nao recognizes his paintings and finds Chun but he rejects her due to her duplicity. Nao acknowledges but she has no choice as women are puppets that men are using. She does it for her sister to study as they have no more parents. Puzzled, Chun tortures himself same as hermit (ฤาษี). He is very sick so Nao calls his parents. A fight happens between ruffians sent by his parents and slum kids. Chun is sent to visit a psychiatric doctor for crazy people. Did he receive a good education from his parents? His father tries to change him so that he can work in the family factory but to no avail. He identifies himself to Van Gogh. He is forced to live a life like a prisoner with no freedom. His father wants to put him in an hospital for crazy people. Chun is ready to suicide himself. His slum friends and Wee rescue him just on time. This movie is a criticism of Thai education system. People are not themselves. They need to follow society precepts and cannot challenge them.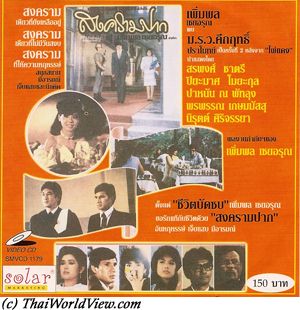 Year

: 1983



Thai title

:

สงครามปาก




English title

:



Rating

: 4/5


Director

: Permpol Choei-arun



Main actor

: Sorapong Chatree,Lor Tok,Nirut Sirijanya,Der Doksadao


Main actress

: Piyamas Monayakol,Wiyada Umarin,Pornpan Ketmamatsu
Atawut is working in governement as speaker. He is married to Pim and they have a young son. He has also a mistress called Nat. He claims buying hot fresh food to his wife when coming back late but the driver just heats it up on the car engine! His wife, Pim, starts to be aware. A lawyer, who loves Nat, is waiting that Nat is fed up flirting with a married man. Atawut is coming from Isan area, Northeast of Thailand. He wants to participate to local elections in the "People" party (พรรคประชาชน). He wears blue-cotton farmer clothes (มอฮ่อม) during his meetings. Pim, his wife, comes from a high society family but he is coming from a poor Isan family. He wins because his wife gives away money so that he can get popular. She couldn't allow her family name to be tarnished in case of defeat. Atawut cannot bear it, gets drunk and goes with Nat. But he is lying to his mistress also. He is a womaniser up to the point local newspapers publish a picture of him and a local cinema star. Meanwhile Pim's younger sister, Pamela, comes back from America. Fed up by Nat and Pim, Atawut takes a break and goes to Chiang Mai. There he meets Pamela visiting Chiang Mai also. Nat announces it to Pim and its circle (สังคมผู้ดี). She is insulted as a pandering lady (นางบำรุง). Pim looses face and decides to divorce. Atawut asks her to think twice in order to protect his representative title invoking that having mistress is common issue in Thailand. But this is not acceptable for women! As he sees his wife eating with another man (in fact for business purpose), Atawut loses temper. He uses a gun and injures Pim. The trial starts. The man who loves Nat is Atawut's lawyer. Atawut misses his family. He stays humble and simple. He finds an old Isan friend selling Thai coffee (โอเลี้ยง). His friend is not unfaithful. Atawut is rich but not happy. His friend is poor but happy. Atawut will loose child and everything due to his bad behavior. Parents of both sides try to corrupt the judge by offering gifts but despite living in small house, he refuses. Trial is over and the child shall stay in custody with the mother. Finally both side misses each other so much and for the good sake of the young son go back together for an happy ending. This movie raises many 1980s society issues, i.e. men able to cheat wives as a common society issue, corruption in elections, corruption in justice, divorce in high society, men vs women behavior.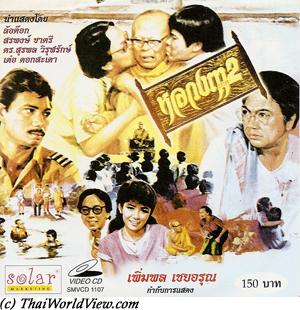 Year

: 1982



Thai title

:

หลวงตา 2




English title

:



Rating

: 3/5


Director

: Permpol Choei-arun



Main actor

: Lor Tok,Sorapong Chatree,Der Doksadao


Main actress

:



Buy now

:

This second opus shows the importance of Buddhist abbots and village headmen ("KAMNAN" - กำนัน) in Thai society. A turbulent young man has been sent by his father in a temple to receive a good education. He still misbehaves and flees with a young lady. Hopefully the village headman and the abbot are here to ease tension and solve issues. It emphasizes the cooperation of all generations to solve village problems.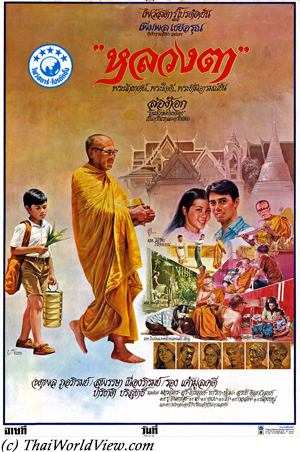 Year

: 1980



Thai title

:

หลวงตา




English title

:



Rating

: 3/5


Director

: Permpol Choei-arun



Main actor

: Jatuphol Poopirom,Lor Tok,Rong Kaomulkadee


Main actress

: Supansa Nuengpirom,Mayurachath Muarnprasitivej,Tharika Thidathip



Buy now

:

It shows the importance of Buddhist abbots in Thai society. A young man, without parents and who has always lived in temples ("DEK WAT" - เด็กวัด), is in love with a young woman. Her parents don't want a poor groom. Hopefully the abbot is here...



Year

: 1979



Thai title

:

ไผ่แดง




English title

: Red bamboo



Rating

: 5/5


Director

: Permpol Choei-arun



Main actor

: Sorapong Chatree,Suchao Pongwilai,Krailat Kriengkrai


Main actress

: Lalana Sulawan



Buy now

:

Red bamboo is a novel writen by famous writer M.R. Kukrit Pramoj in 1954. It was reprinted 19 times and translated in 9 languages. It is adapted from "The Little World of Don Camillo". The movie deals about the opposition between the new faith (Communism) and the old faith (Buddhism). It is about the conflicts that arose between traditional Thai village life and the forces of modernization that were transforming the country. It takes place in Isan region, northeastern part of Thailand. It is the hot season. Kwen is a local villager but he is seen as a communist even if he doesn't fully understand the doctrine foundations. He wants to refuse the help from government. Monk and government are working together to give food to poor villagers. Evan Luang Pho Buddha statue is magically giving advice to the abbot, Sompan, as sometimes he has also doubts ansd weaknesses. Kwen, the red communist, helps villagers and challenges the local power regarding debt cycle and the current society behavior. When Kwen was a child, he was friend (สหาย) with Sompan. Kwen believes that religion is hurt by the politics as they are too close. The government uses the Buddhist religion as an ally. Both Sompan, the abbot, and Kwen, the red communist, want to help poor people but not in the same way. The abbot is seen as a traitor (ทรยศ) by the communists. The rain finally comes. Kwen thinks that religion is only helping people when they are hungry in order that later they do donations to the temple. A Chinese moneylender, called Sia, is present in the village. The villagers believe time has arrived and that communist rebellion will happen. They plan to get weapons and arrest the monks. Kwen warns his friend Sompan but he refuses to leave. Finally the rebellion was only a falso rumour. Tom is one of Kwen's partisan. Tom doesn't want to ordain 15 days but finally accepts to ease his aging mother (ไม่นับถือศาสนา). Sompan is first reluctant to accept. Another Kwen's partisan, Thip, causes trouble. Thip's girlfriend, Kathiem, is three months pregnant. Kathiem would like to follow up traditions but Thip refuses (ไม่ย่อมแต่ง) to follow as traditions are a threat to own liberty (เสรี). Love shall prevail over traditions. Finally the wedding happens. On top of this Tom is not willing to disrobe. So Kwen is angry with Sompan (หลอกชาวบ้าน). A fake monk raises belief into spirits in order to get money from villagers but he is expelled by Sompan. Meanwhile the Chinese moneylender gets some villagers' land and rent it to them! There is still no school in the village. Sompan and Kwen support each other to help financing the school (บริจาค). As the money is not enough, Sompan gives money from the temple to help build the school (โรงเรียนประชาชน). Tom and the subdistrict headman's daughter like each other so Tom disrobes. Tom's mother has no land anymore as she sold it to get money from the Chinese moneylender. There is an issue to decide on the location of the school. The two villages are separated by a small bridge. A meeting is organized in the Buddhist temple to solve the conflict (โรงเรียนใหม่). The school shall be built on the bridge so it is really in the middle of the two villages. But the soil now belongs to rich moneylender Sia. Sia already agreed with the district Chief Officer to build a dam so arguments raise between Sia and the villagers. The soil transfer is found as illegal as it was not officially stamped. Ruffians come with guns. So the villagers have to flee but Kwen prepares a plan to fight back. Kwen wishes to fight against corrupted officials. Villagers capture Sia and his ruffians during nighttime. Finally a high ranking official recognizes that Sia is a dishonest man and thanks the villagers for their action towards him. The school can now be completed. Collaboration between Kwen and Sompan is finally successful as Kwen accepts to ease down his communist aspirations. In 1990, a Thai TV serie (ละคร) based on the same story was produced This movie has also bee registered as National Heritage per the 2016 list released by the Thai Film Archive.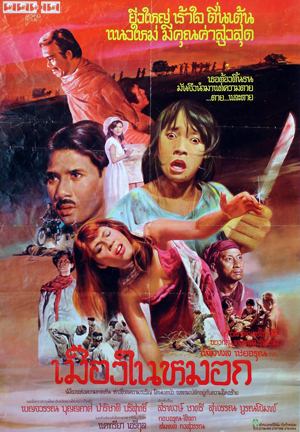 Year

: 1978



Thai title

:

เมืองในหมอก




English title

: A Town in Fog



Rating

: 5/5


Director

: Permpol Choei-arun



Main actor

: Sorapong Chatree


Main actress

:
A young woman, Fong, is taking care of a small misty hotel in the countryside with her mother. It is Thailand rural area with buffalo carts. Fong is handicapped and cannot walk properly. Her mother with the help of a domestic helper drugs and kills the customers to steal their belongings. Fong feels very guilty (เราไม่บาป). The parents had a son, Siaw, also but he left home many years ago following a conflict with his father. As robbers stole their savings, the family needs to continue their sins. The new victim is a medicine salesman. They put poison in his drink, then rob his money, throw the body in a canal and burn his belongings. Fon recalls the day when the robbers attacked the hotel. They were crazy and violent similar to the movie "A Clockwork Orange". The father was shot and killed. Fon was gang raped and the mother was hurt. Fon is handicapped since that day. They have paid for their sins. But where is the son? Right now Siaw is a successful engineer working in aeronautics. The mother wishes to stop but the daughter is willing to continue as her dream is to see the sea so they need more money. They have arguments but Fong is now used to it (ชินแล้ว). Meanwhile the son, enjoying seaside, wishes to go back home after 20 years to see his family. The son has decided to go back to see his mother but will not tell his real identity first (จะเล่นละครกับแม่). Seven bodies have been found recently around the village. The local marshal has no clue. Fong is always afraid of three local women, who participate in cursing rituals as only evil can kill so many people. A modern couple comes to the hotel. Fong is jealous of the girl. At nighttime the couple is drugged but only the man drank tea. Realizing their mistake, the cruel family needs to kill the young lady but she resists. A tragic chase happens in local Khmer temple ruins. The lady is finally killed by wild dogs. Siaw, the son, and his girlfriend arrive in the small city. As his girlfriend is sick, Siaw finally goes alone to the remote hotel. Having left his home so long ago he doesn't dare saying who he is. Still under the failure of the previous killing, the family doesn't want any other customers but he makes the mistake to show that he has a lot of money. He wants to be friendly (กันเอง) with the family. There is an impressive actor performance from Sorapong Chatree playing the son. At nighttime they give him the deadly tea and throw his body in the local river. Meanwhile the young lady is not dead and reaches the small town. She warns the sheriff. When keeping the dead's belongings and his ID card, the mother realizes he was Siaw, her son. Saddened, she eats the same drug and throws herself in the river. The sheriff comes to arrest them but it is too late. Muang Nai Mok movie, directed by Permpol Choei-arun, is adapted from Jean Paul Sartre's play. There are reminiscences of Western spaghetti scenes atmosphere.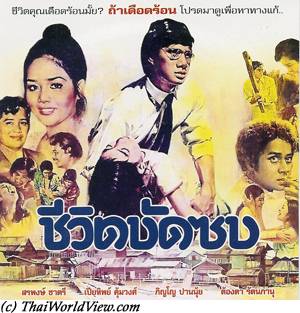 Year

: 1977



Thai title

:

ชีวิตบัดซบ




English title

: Damned life



Rating

: 5/5


Director

: Euthana Mukdasanit,Permpol Choei-arun



Main actor

: Sorapong Chatree,Pinyo Parnnui


Main actress

: Piathip Kumwong



Buy now

:

Teacher Tom and his hairdresser wife Reusi are living in a slum. They have a daughter. Tom is very dedicated to his job and study books every evening. His wife is bored and wishes to have a more exciting life. Following a friend invitation to a high society party, she goes alone as Tom believes it is not his world. There she meets a rich man and becomes her lover. She starts to go back home very late and doesn't go to her daughter's school activities. Following arguments between Tom and Reusi, they finally agree to divorce and Reusi announce to him that he is not the real father of their daughter! The slum is also full of robers and drug sellers. By unfortunate incident, Tom contributes to the arrest of one drug seller. This latter wishes to take revenge on Tom. Reusi is finally dumped by her rich lover. Tom and Reusi finally stay together for the good sake of their daughter and start to have hapiness again. One stormy night when Tom is out for working late, 4 drunk men lead by the drug seller enter in Tom's house, rape his wife and kill his daughter. Tom chases them and kills them one by one but his life is wrecked. What a damned life... This movie about slum dwellers earned Bt1 million at the box office. In 1977 this movie was almost a clone of the popular newspapers' front pages as it dealt with drugs, rape, divorce, violence. Virtue is not rewarded. Sorapong Chatree got his first Thai cinema reward thanks to this movie (ตุ๊กตาทองตัวแรกของพระเอกสรพงษ์ ชาตรี).
---