Increase or decrease font size for easier reading : A+ A-
Pen-Ek Ratanaruang
Pen-Ek Ratanaruang (1962) - เป็นเอก รัตนเรือง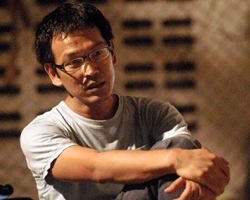 Pen-Ek Ratanaruang, one of the 1997 legend's pioneers, always opened new records of Thai cinema overseas. After his directorial debut Fun Bar Karaoke, he made Sixtynine, Monrak Transistor, Last Life in the Universe and Invisible Wave. Today Pen-Ek is more to be known as an international director
This Pen-Ek Ratanaruang movie page contains 8 records.
---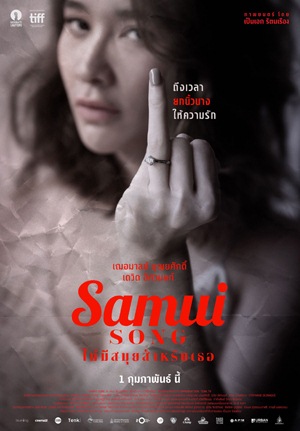 Year

: 2018



Thai title

:

ไม่มีสมุยสำหรับเธอ




English title

: Samui song



Rating

: 5/5


Director

: Pen-Ek Ratanaruang



Main actor

: David Asavanond


Main actress

: Laila Boonyasak
Thai movie ไม่มีสมุยสำหรับเธอ / Samui song was released in year 2017 and lasts 1h48mn. Movie director is Pen-Ek Ratanaruang. A car accident happens as the driver tries to avoid a body on the ground. The lady driver Wee (Laila Boonyasak) is injured and ends up at hospital. She meet a man called Kai (David Asavanond) and tells him about her personal problems. Her French middle age husband, Chalom, is being influenced by a local guru (ท่าน) and is spending a lot of time in his meditation retreat. The master has bad reputation of being a butterfly man with his lady disciples. Wee doesn't believe in him. Wee talks on the phone through a toilets scene. Wee is a former Thai TV serie (ละครโทรทัศน์) star. The couple argued about this master (บ้าๆ) so she fled as her husband slapped her. While fleeing from home, she had a car accident. Kai suggests she should divorce but she is stuck as she would get nothing if she is the one initiating the divorce. Back from hospital, she stays home, and her husband is upset as the car is severely damaged. The French husband invited the master and two of his close disciples to his home. After talking religion, they ask for beer! After a while, the master asks to go to Wee's room (she is all yours). The husband tried to have masturbation while watching his wife and the guru, but he is impotent. She decides to call Kai. Kai asks for 800 000 THB. Kai needs money as his mother has Alzheimer disease. The killing doesn't end up as scheduled. Due to rainy day, he slips while going to shoot the husband. He must kill him with a heavy bronze object. In the morning, the body has disappeared. The police finds the injured body on the road. While her husband is at hospital, the master invites himself to Wee's home, but she asks him to leave. Later, buried items used during the murder tentative are found in the forest. Two ruffians follow Kai and enter in his home. He is able to get rid of them and flees with his sick mum. They take refuge in a Buddhist temple. About to steal money from the temple, he is captured by ruffians. The story moves to a movie projection on an island. A teenage girl Noi is aggressed by a man. The teenage girl is rescued and finds shelter in a young lady having a child already. They become lovers. Back home, Kai is waiting for the lady. It is Wee, who changed appearance! A fight occurs as Kai comes for revenge. The movie ends with a confusion between real life and TV series life. What is the story real or just a TV series? The movie theater release was forbidden in Thailand below 18 years old due to some troubling scenes.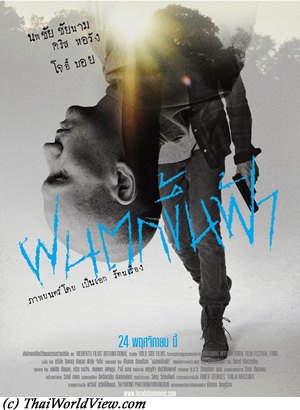 Year

: 2011



Thai title

:

ฝนตกขึ้นฟ้า




English title

: Headshot



Rating

: 4/5


Director

: Pen-Ek Ratanaruang



Main actor

: Nopachai Chaiyanam,Saranyu Wongkrachang


Main actress

: Sirin Horwang



Buy now

:

A hitman (Nopachai Chaiyanam), called Ton, shaves his head and wears monk clothes. During the alms round ceremony, he guns down his target. He is also shot and injured by body guards. He wakes up at hospital still alive after three months. 7 years ago Ton was a former policeman and working closely with Saranyu. During a drug traffic case, Saranyu was shot. Corrupted lawyer tried to buy Ton in order to drop the drug traffic case. Ton despised evil (ความชั่ว) and refused. Ton met Soi, a gorgeous lady. After a wild night together, he woke up finding the girl's bloody body in the hotel room. He fled. It was a trick from the mafia as pictures with him and the girl were taken. Ton still refused to bend to the lawyer and was sent to jail after hurting him. The movie is going back and forth between present and past. Ton is released from hospital but following injuries he sees everything bottom up. After his injury, he is not able to kill properly, feels fed up and wishes to stop. But karma (กรรม) will not let him go... Ton was released from prison after three years. Ton was extracted from the prison and used by a mysterious doctor to be a hitman killing people with bad influence (อิทธิพล). Soi was not dead. Soi or Teewa, her real name, was waiting for him. Ton proposed to marry Teewa (ผมไม่ชอบคนดี. ตายเร็ว). Ton is finally captured by ruffians who use torture to know who orders the killings. He doesn't reveal any name and succeeds to escape. He hijacks a car going to Chumphon. A young lady called Lin (Sirin Horwang) is driving. He sympathizes with the driver. Ton takes refuge in a Buddhist temple as he feels lost in his heart and mind. Teewa has earlier died of an overdose. There is no rightful in this world (ยุติธรรม). It needs to be built by ourselves. Ton finally becomes a monk. Peace of mind doesn't last long as ruffians find him. He needs to disrobe. While fleeing from the temple, he hijacks a car with Lin inside again! It was part of a trick to make Ton lead to the mysterious doctor. During shootings, ruffians are killed and the doctor badly injured. Ton terminates the doctor as he caused Teewa to die earlier. After spending a few years again in prison, he ordains again. One day, he gets shot in the back while wandering for alms... The movie Headshot (ฝนตกขึ้นฟ้า) was selected as Thailand representative movie for Oscar submissions for the Academy Awards. In Thailand movie Headshot got four Golden Swan at the subhanahongsa Awards in 2012. Compared to his previous movies, director Pen-Ek Ratanaruang has done a movie closer to mainstream but still having his own touch. It also highlights corruption presence in Thailand.



Year

: 2009



Thai title

:

นางไม้




English title

: Nymph



Rating

: 4/5


Director

: Pen-Ek Ratanaruang



Main actor

: Nopachai Chaiyanam


Main actress

:



Buy now

:

According to Thai animist beliefs, นางไม้ or "NANG MAI" is a female spirit inhabiting a tree. The movie starts with two men chasing a woman in a jungle. The camera wanders in the jungle. Only screams from the lady can be heard. Then no sound anymore. The camera continues to wander in the jungle then reaches a waterfall where the two men corpses are floating in a pond. Nok and Mae are married since a few years. Their wedding is slowing down. They go in the jungle a few days for camping. Nok is only interested in photographing trees. He finds a specific tree and starts to caress it. Mae also wanders on her side. Nok seems to be troubled as he even lost his glasses found by Mae in the jungle. One night her husband disappears. She goes to see the national park rangers. They have no explanations on the disappearance as normally beasts don't attack humans. As she wishes to stay one more night in the jungle, a ranger gives her sacred Buddha amulets for protection. She keeps calling him on mobile phone and hears weird sounds. While searching at night time, she finds one of his slippers. She collapses and is found by the rangers at morning time. Mae's boss, Korn, arrives and brings back Mae to Bangkok. They had an affair. The same evening Korn talks to his wife Noi to announce he breaks up. But Nok miraculously comes home also. He now behaves strangely, buy many trees and immaculate Mae with soil. Mae is not in hurry anymore to break up with Nok. There is a mix between Nok and Korn presence in Mae's home. Was Nok really back? She goes back to the forest to try to cut the tree. The end is resolved by the affair between Mae and Korn ending for good as requested by the spirit. Nok goes back to the forest to stay with the spirit. This movie is about about couple relationship. Nymph movie was screened in the 'Un Certain Regard' section, a category reserved for daring or unconventional works.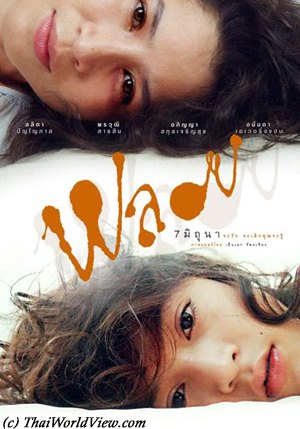 Year

: 2007



Thai title

:

พลอย




English title

: Ploy



Rating

: 3/5


Director

: Pen-Ek Ratanaruang



Main actor

: Ananda Everingham


Main actress

: Lalita Panyopas



Buy now

:

Wit comes from America with his wife Daeng (Lalita Panyopas) for funerals. He has been living there for 10 years. Daeng finds a paper with a phone number related to a lady called Noi in Wit's pocket. He meets a young 19 years old teen girl called Ploy at the hotel coffee shop and invites her to rest in his room while waiting 4 hours for her mother. She has a black eye. A mysterious hotel maid taking good care of a suit. Daeng disagrees to let Ploy stay in their hotel room but doesn't dare to tell her frankly. The hotel barman (Ananda Everingham) wears the suit. He meets the maid in a hotel bathroom. They made love in the room. There is contrast between this new relationship and jealousy happening between Daeng and Wit regarding Ploy. While Wit is sleeping, Daeng tries to suffocate Ploy and kills her. Meanwhile a lady called Noi knocks at the door with a child. Everything was a dream. Daeng argues with Wit about his feelings as he is always busy at the restaurant or watching football late with his friend. Wit refuses to explain who is Noi. Daeng leaves the hotel room. Discussions about end of relationship love happen between Wit and Ploy. Daeng indulges in alcohol as she is a former Thai actress. She stopped acting 10 years ago. She follows a man claiming to be a former fan. Some parts might be dream or reality. The movie keeps the ambiguity. She follows him until his warehouse home. She starts to be worried. She cannot contact Wit as he has gone out with Ploy. The man drugs Daeng, starts to be more daring and tries to rape her. Wit is worried about Daeng (อย่าทิ้งพี่นะ). In the morning, Daeng flees but the man gets a gun to chase her. Following a fight, a gun shot is heard. Who gets shot? Finally Daeng arrives on time for the funeral and Wit confirms his love for Daeng. Ploy (พลอย) is a 2007 movie directed by Pen-Ek Ratanaruang. It mixes love, couple crisis and expiration of relationship.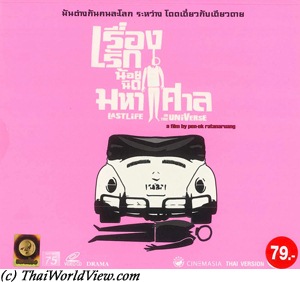 Year

: 2003



Thai title

:

เรื่องรัก น้อยนิด มหาศาล




English title

: Last Life in the Universe



Rating

: 4/5


Director

: Pen-Ek Ratanaruang



Main actor

: Asano Tadanobu


Main actress

:



Buy now

:

Kenji is a Japanese working in a Bangkok library. He is obsessed by suicide. Noi and Nid are two sisters working in Karaoke for Japanese customers. Wishing to jump from a bridge, Kenji is distracted by a young woman he recognises from the library. This woman, Nid, is hit by a car and killed. Kenji then spends three days with Noi in her home. They start to learn and appreciate each other despite their opposite characters but Noi has to go to Osaka for work. The movie has a slow, dark and bleak pace. It has received many awards (Venice Film Festival, Thailand National Film Association Awards, Bangkok International Film Festival).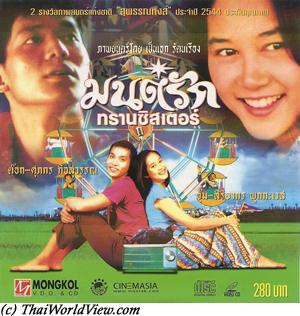 Year

: 2001



Thai title

:

มนต์รักทรานซิสเตอร์




English title

: Mon Rak Transistor



Rating

: 5/5


Director

: Pen-Ek Ratanaruang



Main actor

:


Main actress

: Siriyakorn Pukkaves



Buy now

:

It is about a young rural man's quest for fame as a folk singer. Phaen has a great love for music and always sings at temple fairs in his village. During one fair he meets and falls in love with a young lady called Sadao. On their wedding day, Phaen gives Sadao a transistor radio. Soon, Sadao is pregnant but Phaen has to leave home as he has to enter military service. While there, he enters a singing contest and wins. He spends two years in a band that never goes anywhere. After a tragic accident with his boss, he is forced to flee and work in a sugarcane plantation. But a fight causes him to lose his job. As things go from bad to worse, he is sent to prison after robbing. Finally he goes back home with empty hands and lost dreams. This movie has received many Thai awards. The Culture Ministry registers 25 Thai classic films each year at the National Film Heritage Registry. This movie is part of the 25 films heritage list announced on 04 October 2014, which is Thai Movies Conservation Day.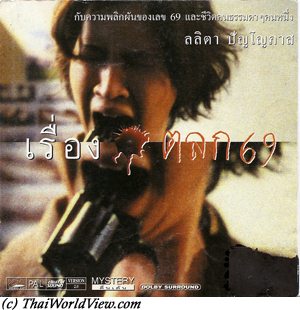 Year

: 1999



Thai title

:

เรื่องตลก69




English title

: 6ixtynin9



Rating

: 4/5


Director

: Pen-Ek Ratanaruang



Main actor

: Sithao Petcharoen


Main actress

: Lalita Panyopas



Buy now

:

Tum was sacked from a finance company. One day, she finds a noodle box that contains over a million baht. Her life was never the same again when gangsters started looking for the missing money. This movie got awards at Berlin and Brooklyn film festivals. The Culture Ministry registers 25 Thai classic films each year at the National Film Heritage Registry. This movie is part of the 25 films heritage list announced on 04 October 2015, which is Thai Movies Conservation Day.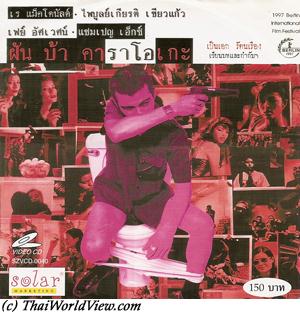 Year

: 1997



Thai title

:

ฝันบ้าคาราโอเกะ




English title

: fun bar karaoke



Rating

: 4/5


Director

: Pen-Ek Ratanaruang



Main actor

: Ray McDonald


Main actress

:



Buy now

:

Pu, a young girl, has been dreaming that her mother, who had died some years before, is building a house. A fortune teller advises her that, should she continue to have this dream, her father will die when the house is completed. Her father, a playboy, is a karaoke regular. He eventually becomes involved with Yok who has connections with the Chinese Mafia. Noi, son of an American soldier who dreams of saving money, learn English and wants to leave for America. He is in love with Pu, but too shy to reveal his love for her. Pu cannot stop dreaming about the house. Her father's relationship with Yok brings him nothing but bad luck... This movie is a study as well as a satire of the co-existence of modernity and superstition.
---