Increase or decrease font size for easier reading : A+ A-
Pen Pisut
Pen Pisut (1964) - เพ็ญ พิสุทธิ์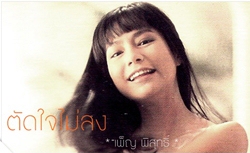 Pen Pisut
This Pen Pisut movie page contains 6 records.
---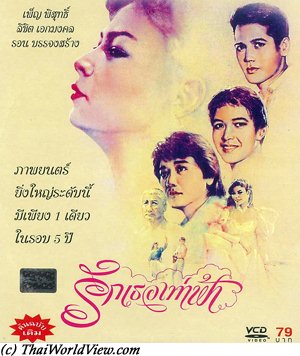 Year

: 1989



Thai title

:

รักเธอเท่าฟ้า




English title

:



Rating

: 3/5


Director

:



Main actor

: Likit Eakmongkol,Sor Asanajinda


Main actress

: Aranya Namwong,Pen Pisut



Buy now

:

Tik loves a young man called Mike but Tik's mother doesn't like him. She wants Tik to marry Boonsot, son of her friend. Tik, being drugged on her mother's orders, is raped by Boonsot to force her to become his wife. The wedding day turns to a tragedy. Tik's father has a fatal heart attack. Boonsot is caught by the police a few days later as he is a drug dealer. So Tik's mother decides to become a nun. Tik goes to see Mike again but Mike already has a new girlfriend. The doctor, who previously treated her father, has also interest in Tik. Finally Boonsot, who escapes from prison, saves Tik from the lawyer Khanit, who tried to rape and kill her. Being arrested again, he declares that he has always loved Tik (รักTikเท่าฟ้า) sincerely.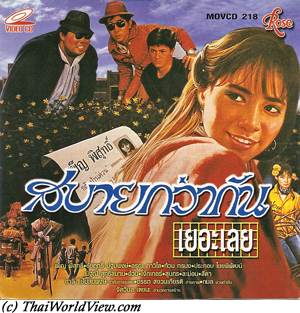 Year

: 1988



Thai title

:

สบายกว่ากันเยอะเลย




English title

:



Rating

: 1/5


Director

:



Main actor

:


Main actress

: Pen Pisut
Three jobless men after a few failed tests finally find a job in a detective agency. They have to look for the daughter of a rich man. This lady left home following misunderstanding with her step-mother. This latter doesn't help the apprentice detectives as her daughter then become the only heir.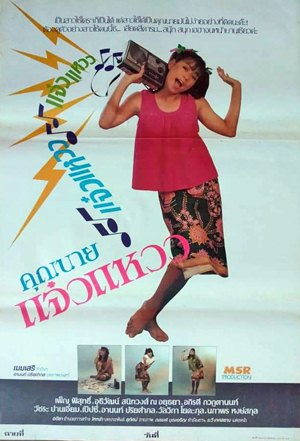 Year

: 1988



Thai title

:

คุณนายแจ๋วแหวว




English title

:



Rating

: 1/5


Director

:



Main actor

:


Main actress

: Apiradee Pawaputanon,Pen Pisut



Buy now

:

Thai movie คุณนายแจ๋วแหวว was released in year 1988 and lasts 1h34mn. Thai actors and actresses featured in this movie are Pen Pisut, อธิวัฒน์ สนิทวงศ์ ณ อยุธยา, Apiradee Pawaputanon, วัชระ ปานเอี่ยม, รวัฒน์ ทองจิตติ, วัลวิภา โยคะกุล. The movie was released under VCD format by company Lepso Studio LTD. Chaew (Pen Pisut) is engaged as a new maid in a big house. She has no experience so makes silly and funny mistakes. The employer's son (อธิวัฒน์ สนิทวงศ์ ณ อยุธยา) starts to get fond of Chaew. Of course his girlfriend tries to oppose. But such a wedding between a maid and the son of a rich family is socially impossible. Chaew has to flee. Hopefully it is discovered that in fact Chaew is coming from a rich family...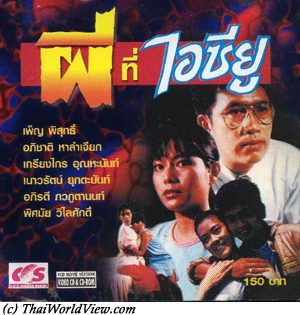 Year

: 1987



Thai title

:

เหตุเกิดที่ห้องไอซียู




English title

: Ghost in ICU room



Rating

: 3/5


Director

:



Main actor

: Apichat Halamjiak,Kriengkrai Unhanan


Main actress

: Pissamai Wilaisak,Naowarat Yooktanun,Apiradee Pawaputanon,Pen Pisut
Doctor (หมอ) Bucha saves Mrs Kamala life through reanimation. Mrs Kamala has heart problems since years and had helped to donate (บริจาค) money for the hospital construction. Mrs Kamala and her family, including her two daughters Koi and Kung, come to rest at a seaside resort. Doctor Bucha is married to Noon, who is always very jealous and doesn't like he spends too much time with patients. Koi and Kung are dragged in a dirty trick by Noon's brother following a party but the doctor, aware, can help the two sisters. Noon is jealous of Koi and Kung as she has concerns to protect her husband. Koi knows Bucha before Noon. Bucha and Noon is an arranged wedding and not a love wedding. Korn's brother, Nat, is a lazy guy, who wishes to marry Koi as she is coming from a rich family. A ceremony is organised for the new hospital building offered by Kamala. Noon jokes about entering ICU room to be close to her husband. This is a bad omen as she has a car accident while following her brother stealing goods from her home. But Noon spirit (วิญญาณ) is still around (พี่หมอค่ะ). A nurse trying to seduce Doctor Bucha is found dead. Bucha is accused by the police. Noon now threatens Koi and asks her to stop seeing doctor Bucha. At nighttime Noon frightens Mrs Kamala causing her to have a heart attack. Mrs Kamala seems to be dead but she suddenly resurrects being possessed by Noon. Mrs Kamala starts to behave like Noon and tries to seduce Doctor Bucha. A domestic helper understanding that Mrs Kamala is now a ghost gets killed also. Mrs Kamala's husband decides to consult a monk on spirit chasing. A sacred cloth is given. Mrs Kamala tries to kill her own daughter Koi but the usage of the sacred cloth neutralizes successfully the evil spirit. Bucha and Koi can now have happiness. This movie is 1h16mn only.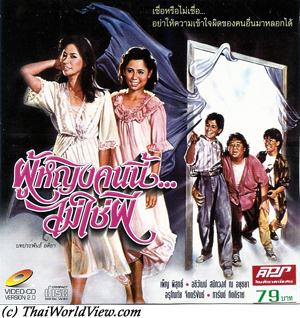 Year

: 1987



Thai title

:

ผู้หญิงคนนี้ไม่ใช่ผี




English title

:



Rating

: 1/5


Director

:



Main actor

:


Main actress

: Pen Pisut
A woman has a very weird behavior. She is behaving like a ghost. His husband doesn't know what to do as doctors cannot find anything wrong. Her best friend, believing that she is possessed, decides to help by using a spirit doctor. A strange old man is seen wandering around the house. The old maid, taking care of the possessed woman, seems to know him. The husband, fed up by his wife's behavior, is spending time outside with a mistress. The best friend's willingness to help ends tragically by her death. Her boyfriend continues to investigate to reveal the truth.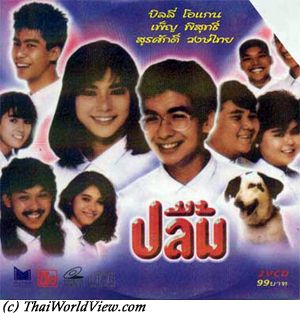 Year

: 1986



Thai title

:

ปลื้ม




English title

:



Rating

: 3/5


Director

: Thanit Jitnukul



Main actor

: Billy Ogan


Main actress

: Pen Pisut
Pleum is a teen comedy and romantic movie. It involves many male characters such as Beng, Nat, Duang (ด้วง), Somchai and a few female characters such as Ah, Parn, Fon (น้ำฝน). Waen's friends bring him for a last surprise party as he is going abroad. All remaining friends move to a new house. They have concern that the house is haunted. The rent is cheap as it is an old house. The teens experience life in community. The boys try seduction games with girls but it is a failure (ไม่กล้า). Nat tries to be Parn's boyfriend (แฟน). Friends help each other and give hints to succeed. Somchai is trying with Fon (จีบผู้หญิง) but he is too timid (ปิ๊งๆผู้หญิง). Jealousy and misunderstanding happens between Nat and Parn. Somchai needs to fight Fon's boyfriend through a Thai boxing fight to win Fon. Fon's presence dynamizes Somchai to win the match. Nat and Parn finally also reconcile. It is a good mood movie with modern 1980s songs and a succession of funny gags even if there is a lack of real scenario. This movie got success in 1980s thanks also to the song ตัดใจไม่ลง. The movie made 10M baht at the box office and got a best director award in Thai cinema ceremonies (รางวัลสุพรรณหงส์ทองคำ). It is the second part of Thai movie "ซึมน้อยหน่อย... กะล่อนมากหน่อย" which includes only new actors so new faces! So it was a new kind of comedy style for 1980s teens including jokes (หน้าแตก), language shortcuts, songs style teen public was used to. Many other similar teens movies followed up this trend but they were not as successful.
---