Increase or decrease font size for easier reading : A+ A-
Pawana Chanajit
Pawana Chanajit (1942-2012) - ภาวนา ชนะจิต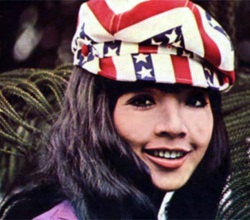 Pawana Chanajit was called the Asian Pearl. She also played in Hong Kong movies in 1971-1974. She won the award for Best Supporting actress in 1960 for her first role in movie called Saeng Soon (แสงสูรย์)
This Pawana Chanajit movie page contains 39 records.
---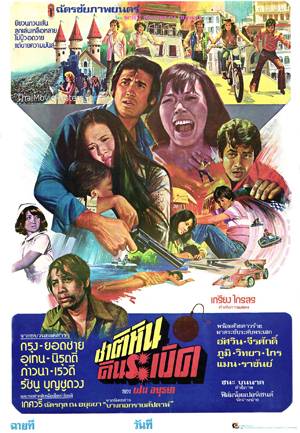 Year

: 1979



Thai title

:

ชาติหินดินระเบิด




English title

:



Rating

: 3/5


Director

:



Main actor

: Krung Srivilai,Yodchai Meksuwan,Nirut Sirijanya,Uten Boonyong,Doo Dook Kradon,Krai Kanchit,Pumi Patanayut,Wittaya Sukdamrong


Main actress

: Pawana Chanajit,Rewadee Pattaphong,Ratchanoo Boonchuduang
Thai movie ชาติหินดินระเบิด was released in year 1979. Main actors and actresses include Krung Srivilai, Yodchai Meksuwan, Pawana Chanajit, Nirut Sirijanya, Rewadee Pattaphong, Ratchanoo Boonchuduang, Uten Boonyong, Doo Dook Kradon, Krai Kanchit, Pumi Patanayut, อัศวิน รัตนประชา, จิระศักดิ์ ปิ่นสุวรรณ, Wittaya Sukdamrong, ราชันย์ กาญจนมาศ. Movie director is เกรียง ไกรสร. The film is lost in Thailand but a sequence in 35mm format can still be seen. The picture is very damaged and reddish. It lasts ten minutes. During the remaining sequence, Nirut and Doo Dook Kradon are in prison. Pumi Patanayut is about to burn Nirut's wife and her child. Policeman Krung tries to help but he is finally captured. Police surrounds the school where ruffians are hiding and having kids as hostages. Yodchai Meksuwan is playing a blind man. Pumi Patanayut is the head of ruffians. Krung and Nirut enter the school to release Nirut's son. It is successful.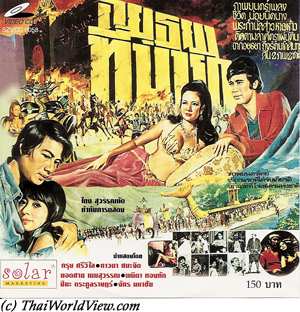 Year

: 1979



Thai title

:

อยุธยาที่ข้ารัก




English title

: The last day of Ayudhya



Rating

: 3/5


Director

:



Main actor

: Krung Srivilai,Yodchai Meksuwan,Piya Trakulrard,Surasit Sattayawong,Tawan Siriwat,Lor Tok,Pipop Pupinyo,Pan Borapet


Main actress

: Pawana Chanajit,Chosri Misommon,Somjit Sapsamruey,Marasri Bangchang,Sulaleewan Suwanthat



Buy now

:

Thai movie อยุธยาที่ข้ารัก / The last day of Ayudhya was released in year 1979 and lasts 2h18mn. The movie features many songs. The Thai chief soldier (Tawan Siriwat) is a traitor. Young lady Lam Duan (พนิดา ทองทัต) helps the Thai King (Surasit Sattayawong) to flee. Ayutthaya city is burnt and destroyed as the traitor opens the door to Burmese soldiers. Resistance is on. Lam Duan and her husband Reuang (Yodchai Meksuwan) try to kill the Burmese King but they fail and are sentenced to death. They promise to love each other every life (ทุกชาติ) and to kill the Thai traitor. 200 years have passed. Lam Duan is reborn under MouMou's name. Reuang is reborn under Decha's name. Sulaleewan Suwanthat is playing MouMou's mother. Dam (Pipop Pupinyo) kidnaps the subdistrict headman's daughter. Decha (Yodchai Meksuwan) likes painting and falls for Noi (Pawana Chanajit), a good heart prostitute. Decha is hired (นับสืบ) by a rich lady (Somjit Sapsamruey) to find her lost granddaughter (หลานสาวเศรษฐี). Dam buys a young lady called MouMou (พนิดา ทองทัต) for 3 nights from her parents but she refuses and escape after hitting Dam. Decha finally helps her but she doesn't trust believing he is another rapist. They take refuge in a cave. At nighttime, Decha dreams that MouMou is Noi and makes love to her. He promises to be responsible of his acts. Chased by Dam's ruffians including Pan Borapet, MouMou splits with Decha to attract the ruffians. She is unfortunately shot by ruffians and falls from a cliff. Toon (Lor Tok) is Decha's assistant. Lor Tok as medium (คนทรง) convinces the grandmother that Noi is her lost granddaughter. If Decha marries Noi, lost granddaughter, then they will have 1M baht to share! On the wedding day, MouMou is back. She wants to get her husband Decha back. Krung was the one to rescue MouMou when she falls from the cliff. He wishes to marry her but she refuses as she loves Decha, her husband in this life and previous life as Reuang. In order not to lose 1M baht, Noi has to accept to share Decha with MouMou. One day in alternance (โควตา) but jealousy makes it impossible to happen. Krung Srivilai has finally a small role in this movie but he is displayed on the poster as the main actor. Decha and Noi plan to send MouMou to a psychiatric hospital. She rebels and when facing Tawan Siriwat, she reminds he was the traitor in Ayutthaya and stabs him. The rich lady realises that her missed granddaughter is MouMou and not Noi! MouMou flees and reaches Ayutthaya. There, disappointed by life, she becomes a nun.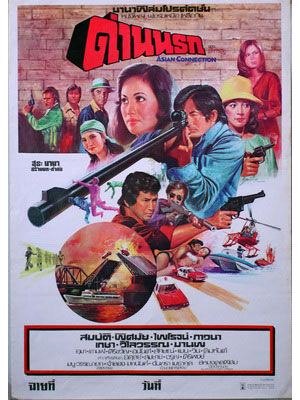 Year

: 1978



Thai title

:

ด่านนรก




English title

: Asian Connection



Rating

: 3/5


Director

:



Main actor

: Sombat Methanee,Phairoj Jaising,Lak Apichat,Kecha Plianvithee,Dam Datsakorn,Manop Aussawathep,Phirapon Piyawan


Main actress

: Pissamai Wilaisak,Pawana Chanajit,Sirikwan Nanthasiri,Wilaiwan Watthanaphanit
Bombs happen in south of Thailand. Soldier Phukphan (Sombat Methanee) and policeman Phan (Phairoj Jaising) have to identify who is behind. Sangvien and his wife Nida (Sirikwan Nanthasiri) are owning a disco. They are suspecting to be involved in the bombing. Phukphan meets Sangvien (Dam Datsakorn) in his disco following a fight with his acolyte Wen (Lak Apichat) and is finally recruited. First task is to shoot a drug dealer but Phukphan just hits him slightly. Ruffian Malboro (Kecha Plianvithee) is coming from Indonesia with his two daughters Suriya (Pissamai Wilaisak) and Dara (Pawana Chanajit). New task given to Phukphan is to kidnap a politician. Phukphan's double game is unmasked by Nida but she remains silent. The kidnapping fails as Phukphan, Phan and the police act on time. Malboro suspects there is betrayal (ทรยศ) inside Sangvien's team. Phukphan is uncovered. Malboro decides now to use his own daughters to plan. Oon, Phukphan's girlfriend, is working in a club. Malboro's ruffians chase Oon to know where Phukphan is living. The murder attempt on Phukphan fails. Following shopping in Siam Square, Dara and Suriya are chased by the police. They flee through a taxi and are finally rescued by Phukphan and Phan. Those two guys cannot resist trying seducing beautiful ladies. The secret organisation (องค์การ) kidnaps Mareusi, daughter of a politician, during her birthday party. It is the unique daughter of a rich politician of Thailand's main party. The organisation retreats to their secret base and asks for a ransom. Wen changes side as he refuses to betray anymore his own country. Phukphan, Phan and the police invade the island. Multiple shootings happen during which Dara, SangVien, Nida and many ruffians lost their life. Malboro dies following a boat accident while fighting with Phukphan. There is a moralist nationalist ending as Wen, who helps Thai police, survives his injuries. Phukphan promises to marry Suriya. ด่านนรก (Asian Connection) is a typical 1970s Thai action movie involving Thai police and Thai army fighting against a mysterious international organisation threatening Thailand integrity.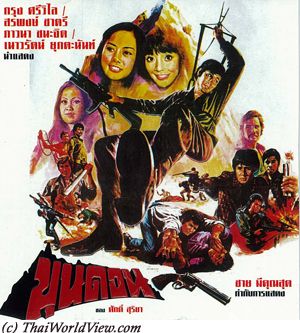 Year

: 1978



Thai title

:

ขุนดอน




English title

:



Rating

: 3/5


Director

: Chai Meekunsut



Main actor

: Sorapong Chatree,Krung Srivilai,Manop Aussawathep,Phairoj Jaising,Kanchit Kwanpracha


Main actress

: Naowarat Yooktanun,Duangcheewan Komolsen,Pawana Chanajit
In Isan area, during a traditional dance (รำวง) party in a village, young man Pui (Sorapong Chatree) and young woman Bulai (Naowarat Yooktanun) are agressed by local ruffian (ผู้ร้าย). Khun Don, local Robin Hood thief, chases the thugs (นักเลง) away. The ruffians' leader is subdistrict headman (กำนัน) Phichit. Two Bangkokian friends come to visit Bulai, i.e. Phanit (Pawana Chanajit) and Thantip (Duangcheewan Komolsen). Phanit mistakes Khun Don with another man called Paradorn that she loved before. Phichit, lewd (ลามก) headman, wants Bulai as his wife. Phichit accuses the two Bangkokian ladies to be linked to Khun Don. Subdistrict headman Phichit is using bad influence (อิทธิพล), strong power (อำนาจ) and money to control the area and performs robbery (ปล้น). His team commits bus burglary under Khun Don name. Pui is accused of roberry and jailed by police officer (ผู้กอง) Thanu (Phairoj Jaising). Mysteriously the district offer orders to free Pui. Bulai joins Khun Don's team to fight subdistrict headman Phichit. Amorous jousts happens between the main characters. Infiltering Phichit's team, Bulai provides information to catch him and his ruffians. Police and army join. Following heavy gun fights, Phichit and his thugs are neutralized (ทำร้ายชาติ). As often during such Thai action movies, it is revealed that three young ladies were undercover policewomen. Pui is a also a policeman and Khun Don is a soldier. Couples are formed and weddings are announced. It is a typical movie 1970s mixing action, romance and songs (Country style Luk Thung - ลูกทุ่ง - and Molam - หมอลำ - music). Eight major actors from 1970s decade are present in this movie.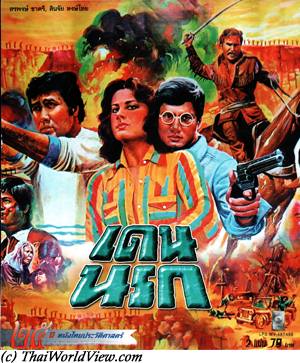 Year

: 1978



Thai title

:

เดนนรก




English title

:



Rating

: 3/5


Director

:



Main actor

: Sorapong Chatree,Krung Srivilai,Dam Datsakorn,Pipop Pupinyo,Sayan Chantaravi​boon


Main actress

: Pawana Chanajit
Thai movie เดนนรก is a Tom Yam Thai western even featuring Ennio Morricone's famous soundtrack. Ruffians including Pipop Pupinyo and their leader Seua Hin (Dam Datsakorn) are terrorizing a remote village. Ruffians are robbing villagers and even kidnapping young girls. The village header is handicapped and seems resigned that resistance is useless towards the ruffians. He has two children, is one daughter and one son called Khaem (Sayan Chantaraviboon). The daughter is abducted by ruffians and killed. Her brother promises to revenge her (สู้ซี่). Sin (Sorapong Chatree) and his brother Phayap (Krung Srivilai) are in prison. Phayap is a former likay actor. Sin is more a Buddhist student style as he always says moralistic sentences (ผู้ดีขี้ขุก). They succeed to escape. They meet Khaem, who is impressed by their skills to beat thugs. He requests their help to get rid of the ruffians threatening his village as police station is too far to get any help. Despite early reluctance, finally they all end up in the village. They just arrive when Sithong (Pawana Chanajit) has just been raped by ruffians. Sin and Phayap, understanding villagers pleas, decide to stay to help them. Phayap likes a lot Dok Kaew, a Thai Italian lady. A group of ten ruffians is chased away from the village by Sin and Phayap. Seua Hin, upset that ten of his men flee in front of two men, kills all of them and decides to handle the village by himself. While they are celebrating, ruffians attack the village. The village header refuses to fight as twenty years ago the father and Seua Hin were part of the same ruffians gang. He is handicapped since the day he tried to help a young lady harassed by Seua Hin. Despite beating fairly Seua Hin, this one shots him treacherously. It makes Phayap very upset as he believes the village leader is a coward. Wishing to revenge his father's honor, Khaem goes to fight the ruffians alone and loses his arm in the fighting. Sithong is kidnapped and Sin tries to release her alone. Being outnumbered, he is badly injured. Phayap comes to rescue but Sin is shot by Seua Hin and dies. Injured by Phayap, Seua Hin finally faces the village leader in a final face to face duel but this time, no second chance is given to him. After Sin's burial, Phayap stays in the village with his Thai italian lady. It reminds a bit of US movie " The Magnificent Seven".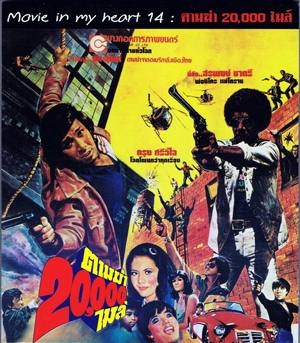 Year

: 1977



Thai title

:

ตามฆ่า 20,000 ไมล์




English title

: Project G-7



Rating

: 3/5


Director

:



Main actor

: Sorapong Chatree,Krung Srivilai,Nirut Sirijanya,Lak Apichat,Somchai Samipak


Main actress

: Pawana Chanajit,Piathip Kumwong,Tasawan Saneewong,Sasima Singsiri



Buy now

:

Thai movie ตามฆ่า 20,000 ไมล์ was released in year 1977 and lasts 1h47mn. Movie director is วินิจ ภักดีวิจิตร. The movie is taking place partly in USA. The movie was released on VCD format in Thailand by company XxX (Triple X) and Lepso Company (TV recording). It was also released overseas under VHS format as an IFD movie named Project G-7 (1h27mn), mixing some part of the original Thai movie and some new sequences shot in Hong Kong. Don (Krung Srivilai) is flying to San Francisco, USA. He met Nit (Piathip Kumwong), working as air hostess, in the plane. Plao (Sorapong Chatree), half black and half Thai man, is a FBI officer and has to work with Don. Thai drug is sold to USA and dealer Chan Sopon is suspected as big money transfers are done by him from Thailand to USA. Police is doing enquiry on a double murder, i.e. a woman and her lover were killed. The killer is Aran (มือฆ่าระดับโลก) (Nirut Sirijanya). The husband, Chan, is a rich businessman and also a generous donator to local Buddhist temple but he claims to have nothing to do with this murder. His mistress is Nit, air hostess. Sasima Singsiri and Tasawan Saneewong are lady journalists enquiring on Chan's suspect wealth. Fighting in a car dealer and a car chase occur. So Don and Plao disrupt Chan's business by catching his heroin. Chan is upset and orders his men to get rid of Don and Plao. The two lady journalists are undercover Thai policewomen. While having a break and having good time on a beach, a hitman misses to shoot Plao and one of the journalist ladies is killed. Plao's wife and his daughter are also killed per retaliation. Plao and Don storm Chan's place but he is gone overseas to Thailand already. Back to Thailand, Lak Apichat and เมือง อพอลโล่, part of Chan's team, follows them. Attacked by ruffians, Thai police woman Krissuda (Pawana Chanajit) comes on time to help Plao and Don. Aran and other ruffians fail to kill them once again but Plao is injured. Ruffians are convinced there is a police traitor among them as Thai police arrests Chan's drug traffickers. Nit is the one helping Thai police. Somchai Samipak is playing the head of police. Aware of ruffians' activities near a golf, Don and Tatsanee are captured and tortured by ruffians (ขายชาติ). Trying to warn Thai police for help, Nit is identified as the traitor. Aran loves secretly Nit since a long time. As Aran disobeys Chan's order to kill Nit, Nit is finally killed by Lak. Plao and Krissuda come to help after being informed by Nit just before her death. Police storms the place. Aran kills the leader Chan as revenge as he loved also Nit. Through a final duel, Plao kills Aran.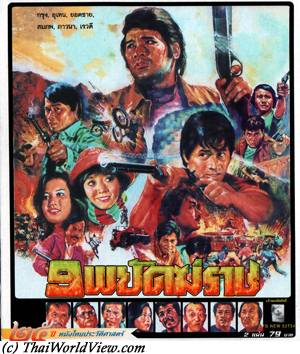 Year

: 1977



Thai title

:

9 พยัคฆ์ราช




English title

:



Rating

: 2/5


Director

:



Main actor

: Krung Srivilai,Yodchai Meksuwan,Uten Boonyong,Pinyo Parnnui,Sithao Petcharoen,Somphob Benjatikul,Sompong Phonmitr


Main actress

: Pawana Chanajit,Rewadee Pattaphong
This movie is one of the many Thai action movies released during decade 1970s. This movie involves a quatuor of famous Thai actors, i.e. Krung Srivilai, Yodchai Meksuwan, Uten Boonyong, Pawana Chanajit. Side characters are Pinyo Parnnui, Sithao Petcharoen, Somphob Benjatikul as a ruffian, Sompong Phonmitr. The daughter Kaessini (Rewadee Pattaphong) is back. She succeeded getting an university diploma. She wishes to use her knowledge for the benefits of the villagers. The villagers have serious issues with local ruffians. Krung is coming from Bangkok. Krung beats a few ruffians. Yodchai Meksuwan is playing a fake medium and provides fake medicine (ยาเทวดา). Yodchai is recruited by Krung. Thugs leader wants to force villagers to sell their land. As they refuse, he kidnaps Pawidee (Pawana Chanajit) in front of her father (Sompong Phonmitr). Shootings happen at the teacher's home. The movie sold by Lepso VCD company seems incomplete or cut as the release of Pawidee is not shown. Frequent fightings happen between ruffians (นักเลง) and Uten and Sa ong. Similar to The Magnificent Seven movie, Krung and his three friends resist to the ruffians. As the ruffians prepare a plan to kill them, Krung prepares a strike back offensive. Ruffians are the ones to fall in a trap. Heavy fightings and shootings happen. All ruffians are defeated or killed. Sa ong is killed. Movie '9 พยัคฆ์ราช' was released in year 1977 and lasts 1h43mn. The Lepso VCD has an horrible sound. Thai action movies were very popular in decade 1970s. This movie gathers many famous stars (Krung Srivilai, Yodchai Meksuwan, Uten Boonyong) but the result is average.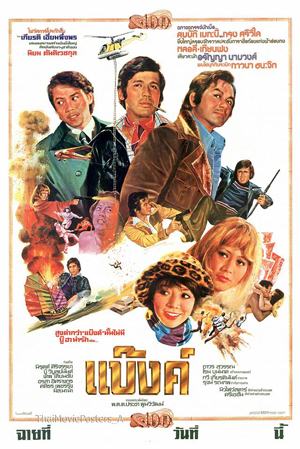 Year

: 1976



Thai title

:

แบ๊งค์




English title

: Bank



Rating

: 3/5


Director

:



Main actor

: Sombat Methanee,Krung Srivilai,Lo lieh,Thep Thienchai,Nirut Sirijanya,Boo Wibunnan,Somchai Samipak,Ruj Ronnapop


Main actress

: Aranya Namwong,Pawana Chanajit,Orasa Isarangkul,Sulaleewan Suwanthat,Sasithorn Phetrung
Thai movie แบ๊งค์ was released in year 1976 and lasts 1h51mn. A remastered version was released in decade 2010s. Shaft movie (1971) soundtrack music is used. Boo Wibunnan is using armored car from bank to transport money. During transportation, the convoy is attacked and money is stolen. An ambulance car is used to be discrete, but police is chasing them. Robbers throw some money to cause a traffic jam and to block the police. The police identifies that 10M THB was stolen but it is fake money. As the fake banknotes are very good quality, Thai police wants to keep it low profile to avoid Thai population to be worried about fake money. Thai police calls back Lit (Sombat Methanee) to investigate. He is currently busy shooting a romance movie directed by Ruj Ronnapop and with actress Orasa Isarangkul. Thep Thienchai, Lit's friend, puts the fake money in the bank. Thep is kidnapped as Boo and Somchai Samipak believe Thep is part of the gang, who stole their money. Lit is following them as he wishes to know who produces the fake money. Releasing Thep, Lit wishes to join Boo as partner. Another 10M bath transaction shall happen soon. A plane brings the money. Police intervenes. Ruffians are neutralized. Lit succeeds to enter in the plane before it takes off. The pilot is his friend Po (Krung Srivilai). Po is just a transporter as he doesn't know where the money is coming from. He receives orders from Hong Kong. Lit flies to Hong Kong and meets inspector Fe (Lo lieh, Hong Kong actor). Some men follow Lit. Fe and Lit find Po again. Po's multiple trips to Hong Kong have intrigued Hong Kong Police so they dispatched a policewoman named Teresa (Aranya Namwong) acting as a singer to check Po. Lio, the bar owner, doesn't like Teresa to mingle with Po so he sends tough men to give a lesson to Po and Lit but it fails. During the fighting, Nirut Sirijanya is injured. Po and Lit send him home and meet his younger sister Lin (Pawana Chanajit). Lio is their uncle and educates them as their parents are dead. Lio is suspected to be the fake banknotes producer. Lio tries to abuse Lin. Lin is going to Chinese University of HK. Sulaleewan Suwanthat brings her to school every day. For their safety, HK Police keeps Lin and her brother. Her brother, being addicted to drugs by Lio, flees after stabbing a policeman. He informs Lio that HK and Thai police are investigating on him. Ruffians attack Lit and Po again in order to catch Lin but it fails. Po takes the opportunity to meet Sasithorn Phetrung. Lin identifies that Nirut is often going in a Chinese temple. HK Police investigates. Under the temple, there is a secret factory producing banknotes. Nirut's father, still alive, is producing fake money for Lio. Knowing that his daughter is now safe with HK Police, he wishes to stop doing this bad business. Fighting erupts with Lio. Lio shoots Nirut and his father then burns the whole temple. Back to his club, he wishes to flee overseas with Teresa, but he is shot by the paralyzed lady, being his club business partner and who is in fact a man! The partner shoots Teresa and flees with the money. Lit and Fe chase the man by car up to Pa Sha Wan and then by boat. About to flee by helicopter, Lit shoots him and all the banknotes fall in the sea...



Year

: 1976



Thai title

:

3นักสู้ผู้ยิ่งใหญ่




English title

:



Rating

: 3/5


Director

:



Main actor

: Sorapong Chatree,Phairoj Jaising,Sukon Koewliam,Pipop Pupinyo,Uten Boonyong,Boo Wibunnan,Krai Kanchit


Main actress

: Pawana Chanajit,Moeifa,Duangjai Hathaikarn,Runglawan Sripatimakul
3นักสู้ผู้ยิ่งใหญ่ movie deals about two ruffians factions competing for leadership. One group is led by wealthy man (พ่อเลี้ยง) Yan. The second group is led by Sia (คนอิทธิพลมาก). Sia is played by actor Boo Wibunnan, who always plays the mafia leader, half Chinese half Thai, speaking a Thai language mixed with Chinese words. Sia's daughter is Taptim (Pawana Chanajit). She is fair and doesn't hesitate to recognise mistakes done by her father or his team. Both ruffians leader have sexy mistresses (ดาวโป้) played by Moeifa and Runglawan Sripatimakul. Yumei is Yan's mistress but she has also another lover, i.e. Roj (Phairoj Jaising), Yan's close associate. Some of Sia's ruffians take compromising pictures in order to blackmail Roj as they are aware he is having an affair with his boss mistress. Jom (Sorapong Chatree) and his wife Srithong find a job inside Yan's company. Yan's daughter Songla notices Jom. Sia's ruffians threaten villagers working as gold prospectors. Jom and Roj have a fight with Sia's ruffians as they raped one of the village lady. Each ruffians leader is responsible and protecting his territory and people. While Jom is away, Srithong is raped and killed. Jom promises to revenge her. Siep (Uten Boonyong), an undercover policeman, having a strong punch, is entering the area. Sia wishes to recruit him. As Taptim has studied in university, Siep tries to convince her that her father activities are wrong (เดือดร้อน) towards villagers. Jom is captured by some ruffians led by Hin while walking endlessly. He is finally released as he is identified as staff from Yan. Hin accepts Jom in his team and trains him so that he can revenge his wife. Roj And Yumei are expelled by Yan as they are having an affair. Yan has received a comprising picture given by Sia! Roj joins Sia's team. Siep and Taptim try to reconcile both parties causing Sia's ire. As Siep shoots one of Sia's ruffians trying to rape a villager, he is considered as a traitor (ทรยศ) and imprisoned. Jom joins back Yan as he has finished his training. Moeifa drugs Yumei so that she cannot refuse Sia's advances. Her plan is to take the team control with Roj. Yumei is punished and killed by Roj. Knowing Yumei's death, Yan requests a one to one duel with Sia. Yan shots Sia but then Roj cowardly shots Yan also. Roj is the new leader. Meanwhile Taptim helped Siep to flee. Jom and Siep fight back in order to defeat Roj and his ruffians. The area now becomes ruffians free. It is a 2h12 movie with some 1970s key actors. Movie picture is quite poor and colorless. It certainly comes from an old TV program recording.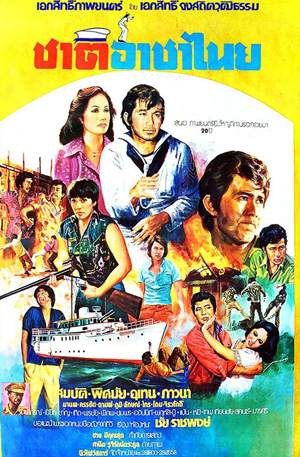 Year

: 1976



Thai title

:

ชาติอาชาไนย




English title

:



Rating

: 3/5


Director

:



Main actor

: Sombat Methanee,Uten Boonyong,Manop Aussawathep,Kanchit Kwanpracha,Krai Kanchit,Dam Datsakorn,Lak Apichat,Choomporn Theppitak,Boo Wibunnan,Paen Pleumsachai


Main actress

: Pissamai Wilaisak,Pawana Chanajit,Moeifa
Thai movie ชาติอาชาไนย was released in year 1976. It features Sombat Methanee as main actor and Pissamai Wilaisak as main actress. The movie is lost in Thailand but there is a short trailer of 1mn30s left to be seen. Other actors and actresses are Uten Boonyong, Pawana Chanajit, Manop Aussawathep, Kanchit Kwanpracha, Krai Kanchit, Dam Datsakorn, Lak Apichat, Choomporn Theppitak, Boo Wibunnan, Moeifa. The short left trailer allows to see a brawl involving Sombat, Kanchit, Dam, Krai, Choomporn and Paen Pleumsachai. Sombat hits Kanchit as he refuses to betray? The movie was previously released in year 2500 with Ratanaporn Intarakamhaeng, เชาวน์ แคล่วคล่อง, Somkuan Krajangsat, ทม วิศวชาติ and กมลพันธ์.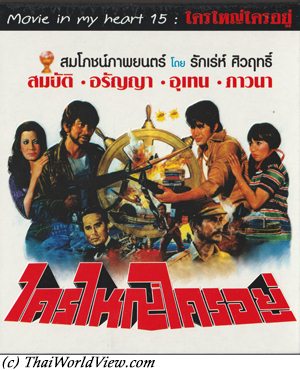 Year

: 1976



Thai title

:

ใครใหญ่ใครอยู่




English title

: The great outlaw



Rating

: 4/5


Director

: เสนีย์ โกมารชุน



Main actor

: Sombat Methanee,Uten Boonyong,Dam Datsakorn,Taksin Jampol,Kecha Plianvithee,Tat Ekathat,Pan Borapet


Main actress

: Aranya Namwong,Pawana Chanajit,Moeifa



Buy now

:

Thai movie ใครใหญ่ใครอยู่ / The great outlaw was released in year 1976 and lasts 2h08mn. The movie was released on VCD format in Thailand by company XxX (Triple X). Movie director is เสนีย์ โกมารชุน. Lom is having a boat transportation business on the river. Nai Prakit's ruffians (including Pan Borapet and เมือง อพอลโล่) are threatening Lom's team (Tat Ekathat). Nai Prakit (Kecha Plianvithee) wishes to marry Lom's daughter, i.e. Nam Rong (Aranya Namwong) but Lom refuses. Nai Prakit's team shoots Lom's boats and crew. Lom's staff decides to leave as they are afraid to be killed. Nam Rong proposes to talk to Nai Prakit in order to find a solution. Threatened by ruffians, Nam Rong gets help from an unknown man named Chuey (Sombat Methanee). She hires him! Peace is proposed to Nai Prakit but he is refused. Chuey is the son of an old friend of Lom. Lin See Thong (Uten Boonyong) arrives in the city and comes to eat sweets at Sida's shop (Pawana Chanajit). Fighting occurs with ruffians as one of them dislikes Lin See Thong trying to seduce Sida. Lin See Thong asks to join Nai Prakit's team. Rampeung (Moeifa) is Prakit's girlfriend. Prakan (ลูกรัก)(Dam Datsakorn) is back per his father's request. Prakit needs his help to destroy Lom's business and gets rid of Chuey. A new policeman (Taksin Jampol) arrives also in the city. He is a strong punch man and trashes ruffians lacking respect to him. Prakan, using small speed boats, disrupts Lom's boat fleet and prevent Lom's goods to be sold on the market. Two ruffians, Mek and Sing, intend to get rid of Lin See Thong as he is getting too close to Nai Prakit. Rampeung seduces Lin See Thong. Mek and Sing ask Nai Prasit to beware Rampeung and Lin See Thong. Ruffians try to storm Lom's house at night time. Shooting happens. Police arrive very fast and ruffians have to retreat. Nai Prakit suspects there is a traitor among them. Even Taksin dares to enter in Nai Prakit's house (บ้านเจ้าพ่อ). Speed boat fighting occurs as Chuey prepares resistance to the ruffians. Action scene is managed as well as in James Bond movies. Chuey defeats Prakan. Nai Prakit kills Rampeung as she sacrifices her life mentioning the police radio found belongs to her despite it belongs to Lin See Thong. Lin See Thong is kept prisoner in his room as Nai Prakit isn't sure he is innocent or not. Ram Rong is kidnapped by Prakan. Lom and Chuey enter Nai Prakit's home. Meanwhile Thai police is informed, and they arrive by boat. To win time and to allow Thai police to come, Lin See Thong asks for a fight one to one with Chuey to show his sincerity to Nai Prakit. Heavy shootings occur. Lom is shot. Nai Prakit and Prakan are captured. Both Chuey and Lin See Thong are undercover policemen. Policeman Taksin mentions that nobody is big enough to be above the law!



Year

: 1976



Thai title

:

เหมือนฝัน




English title

:



Rating

: 3/5


Director

:



Main actor

: Nard Poowanai,Dam Datsakorn,Taksin Jampol


Main actress

: Pawana Chanajit,Mayurachath Muarnprasitivej,Metta Roongrat,Moeifa,Chosri Misommon,Sasima Singsiri
Thai movie เหมือนฝัน was released in year 1976. It lasts 2h09mn but is still incomplete. Sakuna (Mayurachath Muarnprasitivej), Ot's young sister, shots a man in a nightclub (คนทรยศ). Yeah Nut (Metta Roongrat), a singer, and Kachen (Taksin Jampol), nightclub's owner, believe Ot (Dam Datsakorn) is responsible but he refutes any implication. Yeah Nut and Kachen go upcountry side to meet Meuan (Nard Poowanai), the younger brother of the dead man. He is responsible of a temple school. Meuan decides to go to Bangkok. Yeah Nut likes secretly Meuan. It seems a part of the movie is missing there but Meuan is recruited by Kachen to work as gigolo. Meuan has a girlfriend (แฟน) called Mascilla in Bangkok but still needs to perform his gigolo job with demanding customers such as Moeifa. A hitman (นักเลงรับจ้าง) tries to kill Kachen but Meuan foils this plan. Meuan needs to meet his new customer called Linda. Ot decides to use Sakuna to neutralise Meuan. Meuan is finally the one to catch Sakuna! Meuan, while looking for Linda, gets a pieing from Luuk Maew (Pawana Chanajit). Chosri Misommon is playing a role as Linda's domestic helper. Luuk Maew is Linda's daughter and she dislikes Meuan. Aware that Meuan is going to Kanchanaburi with Linda, Ot prepares a plan to get rid of him. As Linda and Meuan are not back after one week, Mascilla and Luuk Maew go there to look for them. Everybody meets at the same restaurant along the river. General fighting happens and all ends up in police station. Linda and Mascilla decide to fight over Meuan (ถึงเก่ายังไม่มีสนิม). They have arguments about beauty comparison and money (ซื้อความสุขจากเขา). Meuan gets slapped by Linda. Luuk Maew is kidnapped. Meuan is fed up of his job. He indulges in alcohol and has arguments with Linda, Mascilla and Kachen as he feels other people just use him. Meuan kidnaps Sakuna (ตัวประกัน) to exchange her with Luuk Maew. During the exchange, Meuan is injured and Tawat (สมชาย ศรีภูมิ), who kidnapped Luuk Maew, is killed. Sakuna promises to revenge over Meuan. Luuk Maew loves Meuan but finds Linda in bed with Meuan (หลอกลวง). She flees away. Meuan requests his money to Kachen. Meuan plans to give his money back to the temple school he funded. All protagonists meet in the temple. Sakuna wishes to kill Meuan but Yeah Nut wishes to protect him. They end up killing each other. Meuan, injured but helped by Fan, finds strength to bring the money to the temple school. Both Kachen and Ot stop fighting as they have their dead young sisters to take care.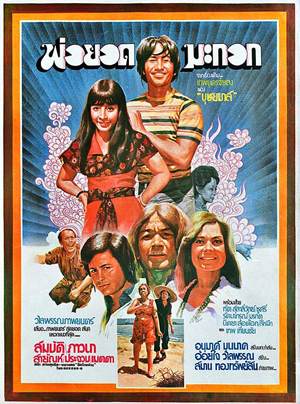 Year

: 1975



Thai title

:

พ่อยอดมะกอก




English title

:



Rating

: 3/5


Director

:



Main actor

: Sombat Methanee,Prachuap Ruekyamdee,Sayan Chantaravi​boon,Lor Tok,Tat Ekathat


Main actress

: Pawana Chanajit,Metta Roongrat,Chosri Misommon,Ratanaporn Intarakamhaeng,Malee Wetpraseri,Sisala Thongtara,Sulaleewan Suwanthat
Thai movie พ่อยอดมะกอก was released in year 1975. The movie is lost in Thailand but a sequence of 1h13mn remains to be seen. The last three film reels were saved. Oon (Pawana Chanajit) is a young single lady. Chosri Misommon is her house's domestic helper and also close friend. Prachuap Ruekyamdee and Chui (Sombat Methanee) are brothers with funny hairstyle. Oon's mother is played by Ratanaporn Intarakamhaeng. It seems there is no more father. Grandmother Malee Wetpraseri is the elder sister of the mother. Oon's uncle is played by Tat Ekathat. Oon has to be engaged. She wishes to marry Pong (Sayan Chantaraviboon) and is supported by his sister Pleun (Metta Roongrat). Chui keeps disrupting Oon and Pong. Chui has also a fiancee called Kwan since a long time but he doesn't love her. Malee and Chosri are sent to Aunt's home to investigate who is really Chui. Aunt Sulaleewan Suwanthat welcome them. Chui and Ratchin are same person. Oon shall marry Ratchin, who is from a high status family. Oon lies she is no more pure (เสียหาย) as she is Pong's girlfriend. Ratchin refuses to cancel the wedding and forbids Oon to meet Pong anymore. Engagement (คู่หมั้น) shall happen. Malee is helping Oon to meet Pong. Pong wishes to flee with Oon but Oon cannot do this as it would bring disgrace to her parents and her family name (เกียรติ). As Pong loves really Oon, he has to sacrifice himself (เสียสละ). Chui / Ratchin is aware of Malee's stratagems. Prachuap meets Pong. Ratchin prevents Oon to meet Pong and wishes to accelerate the wedding. Ratchin asks Pong to stop seeing Oon but Pong asks to meet her a last time. Ratchin still believes Oon is pure and wants to avoid Pong being the first. Oon and Ratchin keep fighting. Finally Oon succeeds to escape from Ratchin. She meets Pong but faints. Pong tries to abuse her but gets stopped on time by Ratchin. Pong's intentions were not as pure as he always mentioned. Oon finally marries with Ratchin. This movie similar to many movies from decades 1960s~1970s is about arranged weddings and early engagement done by parents but it finally ends happily.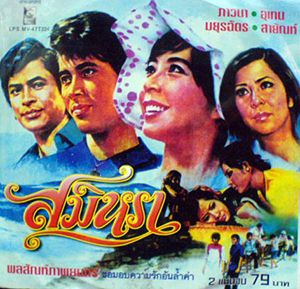 Year

: 1975



Thai title

:

สมิหรา




English title

:



Rating

: 3/5


Director

:



Main actor

: Uten Boonyong,Sayan Chantaravi​boon,Sawin Sawangrat,Sukon Koewliam,Rong Kaomulkadee


Main actress

: Pawana Chanajit,Mayurachath Muarnprasitivej,Metta Roongrat
Thai movie สมิหรา was released in year 1975 and lasts 2h01mn. Two students, Alissa (Mayurachath Muarnprasitivej) and Suntaya (Pawana Chanajit), are two close friends studying in Chiang Mai. Pong (Sayan Chantaraviboon) is Alissa's brother. Metta Roongrat is the aunt called Vina. Yot (Uten Boonyong) accepts to take Suntaya as secretary (เลขาคนใหม่) per Alissa's request. Sawin Sawangrat is the father of Yot. Yot hat a hot temper (ใจร้อน, เอาใจตัวเองอย่างเดียว). Vina warns Alissa about letting Suntaya too close to Yot (ใกล้มากก็ไม่เคยจะดี). Pong wishes to marry Suntaya but he is younger (รุ่นน้อง). Yot and Suntaya go to Hat Yai for business trip while Alissa needs to go overseas again. A difficult meeting happens in Hat Yai regarding company ownership. Suntaya demonstrates her negotiating skills and impresses Yot. During nighttime, Suntaya and Yot becomes lovers (ทรยศเพื่อน). They stay in Hotel Samira (สมิหรา) so giving the movie title. Suntaya asks Yot to stop seeing her in Bangkok. Vina also asks Suntaya to find her own place to allow time between Yot and Alissa. Yot wishes to marry with Suntaya but she doesn't want to hurt Alissa. One day Suntaya feels dizzy while walking in Bangkok. She is pregnant. Pong brings her to the doctor. Yot has then a misunderstanding that Suntaya sees secretly Pong. Being sick, Yot visits Suntaya and is surprised by Alissa. Alissa is disappointed by her friend (น่าเจ็บใจ, เสียดายเพื่อนรัก). Feeling guilty, Suntaya is lost. Pong, aware of the situation, proposes to marry her to ensure the child has a father. Finally Suntaya writes a letter to Alissa and disappears. Yot only realises that she was pregnant. Suntaya is now a teacher in a remote hill tribe village. Sukon Koewliam is also playing a short domestic helper role. Pong's friend, a doctor, meets Suntaya in the village and warns Pong as she is going to deliver her baby. It is discovered that Suntaya has hemophilia (รอดไม่ได้). Pong warns Yot. Alissa also joins. During a final touching sequence, Suntaya gives her baby to Yot and Alissa, then passes away.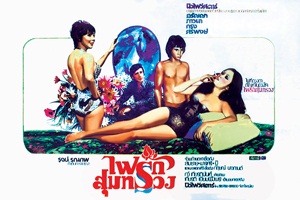 Year

: 1975



Thai title

:

ไฟรักสุมทรวง




English title

:



Rating

: 4/5


Director

: Ruj Ronnapop



Main actor

: Sorapong Chatree,Krung Srivilai,Somchai Samipak,Boo Wibunnan


Main actress

: Aranya Namwong,Pawana Chanajit,Marasri Bangchang
Thai movie ไฟรักสุมทรวง was released in year 1975 and lasts 1h40mn. It was released under VCD format by company Solar. Movie director is Ruj Ronnapop. Remastered version of whole portfolio was released during decade 2010s by Five Star Production but movie ไฟรักสุมทรวง was not included. Maybe they didn't the 35mm film anymore and only a U-matic tape. Uma (Aranya Namwong) is a modern lady, who is smoking and drinking. At a party, Ek (Sorapong Chatree), successful overseas student, arrives with his parents (Somchai Samipak and Marasri Bangchang). He meets Uma, an elder woman, who is attracted by him. She asks him to send her home. Afraid to succumb to Uma, he flees. The next day, he meets his old friend Kowit. Ek finally declares his love to Uma. Kowit (Krung Srivilai) is trying to seduce Uma for years but it stayed at friendship level only. Uma accepts to go out with Ek. Phi Uma is drunk. Ek is ashamed to get a room from Boo Wibunnan, hotel manager. Uma's younger sister, Pracha / Pat (Pawana Chanajit), has just finished her studies in Chiang Mai. Uma makes Ek to promise not to ever foul with her sister. Kowit wishes to marry Uma. She is older then Ek so it won't be accepted by Thai conservative society. Uma only respects (นับถือ) Kowit. Pat is coming back. Ek and Uma always need to hide. Ek is tired by such relationship that cannot blossom. Ek's parents push him to meet Pat so he accepts to go shopping with her. Uma warns him he will be heartbroken (เธอจะเสียใจ) but he doesn't believe Uma. Pat is surprised as some people call Ek as khun Sangkom. Ek discloses he loved a woman before, but it is now over (สิ้นสุดแล้ว) and he has to use another name due to privacy protection. Uma is aware. Pat learns finally that Ek had a relationship with Uma. Ek claims it was due only to mood (เหล้า) and alcohol (เหล้า). Pat is now teacher in Pattaya. Ek gets a room there as overseas student (นักเรียนนอก) and follows her. He justifies love (ความรัก) vs lust (ความใคร่). Ek wishes to marry Pat. Pat refuses to marry her elder sister's husband (ผัว)! He insists on following her everywhere. She is going to marry another man called Amnat. Kowit visits Ek and punches him as Ek justifies himself by Uma's own desires (ความต้องการของพี่Uma). Kowit and Uma finally get engaged. Prat has quit her school. Ek is ready to die to marry her (ยอมตาย). He storms Uma's home and learns about the coming wedding. He races to reach it on time and brings a mess in the wedding. Pat flees with Ek. Uma and Kowit let them go as it is impossible to stop such strong real love. This modern movie from mid 1970s put the stress on feminine desire. Most of the previous Thai movies focus only on male desire.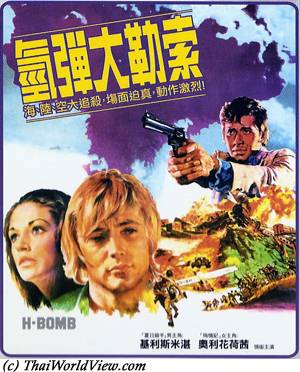 Year

: 1975



Thai title

:

ตัดเหลี่ยมเพชร




English title

: Great Friday



Rating

: 3/5


Director

: Chalong Pukdeewichit



Main actor

: Krung Srivilai,Phairoj Jaising,Pipop Pupinyo,Robert Mitchum,Kecha Plianvithee


Main actress

: Pawana Chanajit,Mayurachath Muarnprasitivej,Olivia Hussey



Buy now

:

Two CIA agent are slain in Pattaya by a mysterious scarface man. A CIA top management meeting is organised in Washington. A nuclear missile called Alpha has been stolen. Suspects are a communist terrorist group called Fuji and led by a Cambodian General named Keng, the KGB and an influential Thai businessman called Koo. All of them are implicated in this Alpha project. Another American agent called Reddy is flying from Hong Kong to find the missile hidden somewhere in Thailand. Reddy tries to meet Koo's daughter, Erica. Reddy and Erica had a former romantic relation and still love each other after 4 years of separation. Zee (Krung Srivilai) is like a son for Koo and also his favorite henchman. Zee loves Erica also. He doesn't trust Reddy and believes he is a undercover CIA agent. Two secret agents of Thailand are also supporting Reddy in his quest. Koo's mistress is played by Pawana Chanajit, the Pearl of Asia. She is in fact working for Fuji group. Koo doesn't want his daughter to see Reddy. An impressive car chasing and shootings takes place during Chiang Mai Songkran festival between Ruddy, Erica and Fuji members. Reddy is captured while entering Koo's house. Erica helps Reddy to flee as he has been drugged. Reddy finally finds the missile after multiple fighting scenes against Fuji group and against Zee. Zee really loved Erica as he sacrifices his own life to avoid her being shot by Fuji members. This movie is fully packed with actions sequences such as train collision, boat chase, shooting, car chase, helicopter gunned down... The movie includes multiple treacheries and double agents. It is nice to see so many Thai actors in this international Hong Kong / Thai movie. Two international stars Robert Mitchum and Olivia Hussey brought more international exposure to this movie. In 1970s Krung Srivilai always played the good guy but in this international production, he is playing well the bad guy. The English dubbing is quite weird but the movie has really a nice budget. This movie is a Bangkok film production. It is available in Thailand as "ตัดเหลี่ยมเพช" and in Hong Kong on VCD format under the title "H-Bomb".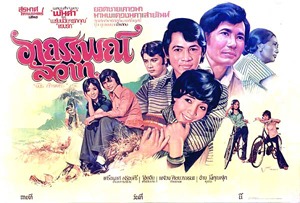 Year

: 1974



Thai title

:

อาถรรพณ์สวาท




English title

:



Rating

: 3/5


Director

: Phan Kam



Main actor

: Yodchai Meksuwan,Sayan Chantaravi​boon,Manop Aussawathep,Boo Wibunnan


Main actress

: Pawana Chanajit,Chosri Misommon,Marasri Bangchang,Duangnapa Autthapornphisan
Thai movie อาถรรพณ์สวาท was released in year 1974. This หนังชีวิตรัก movie is lost in Thailand but 59 minutes are left to be seen. Other actors are Duangnapa Autthapornphisan (ดวงนภา อรรถพรพิศาล), จิระศักดิ์, จรัสศรี, ขุนแผน. Movie director is Phan Kam. Nok (Pawana Chanajit) needs to leave for Bangkok. Her friends, including Tao and Kung (Sayan Chantaraviboon), are already missing her. They are close friends (ลูกทะเล). Nok's mum (Marasri Bangchang) sends her in Bangkok to finish her studies. She shall stay in her mother's best friend home. In Bangkok, Nok meets Kata (Yodchai Meksuwan). Chosri Misommon is playing a domestic helper. Kata doesn't welcome Nok as she reminds him a former love that failed and so bad souvenirs. Boo is debtor recover. Walin (Manop Aussawathep), close friend with Kata, likes Nok also. Nok and Yodchai play jealousy games towards each other. Due to debts, Yodchai's mother succeeds to marry Nok and Kata but there is no real love between them. Kata is ashamed as people shall gossip if it is a wedding due to money arrangement. In reality, Nok's mother doesn't have money anymore also! As his mother warns him on his family name status (ตระกูล) if Nok has any bad behavior, Kata starts to enquiry about all activities of Nok. As Nok's mother is bankrupted, Kata's mother is upset to have organised this wedding and tries to find Nok in compromising situation to have an excuse to cancel the wedding. Nok learns that her mother is ruined and gets sick. While Kata is on business trip and Kata's mother refuses to call a doctor, Kung brings Nok out of this heartless home. Kata's mother puts the blame on Nok but Kata is fully aware of his mother's tricks and decides to get Nok back. Finally Kata accepts to give back her freedom to Nok. Going back, he has a car accident. On the hospital bed, Nok declares her love to Kata. The movie ends happily.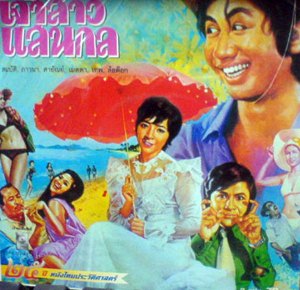 Year

: 1974



Thai title

:

เจ้าสาวแสนกล




English title

:



Rating

: 3/5


Director

:



Main actor

: Sombat Methanee,Sayan Chantaravi​boon,Preuhat Boonlong,Lor Tok,Thep Thienchai


Main actress

: Pawana Chanajit,Sasima Singsiri,Metta Roongrat
Thai movie เจ้าสาวแสนกล was released in year 1974. It lasts 1h53mn. Rataya (Pawana Chanajit) is fleeing her father to avoid a forced marriage (หนีแต่งงาน). Her father (Preuhat Boonlong) promised to marry to an older man called Yiu (Lor Tok). As the father has debts with Yiu, he has no choice. Ran (Sombat Methanee) is fed up being a company owner. He wishes to have a break and asks Varun (Sayan Chantaraviboon) to replace him for a while. Many people believe Rataya drown in the river while fleeing her father but Ran saw her swimming away. An old lady aggressed by thugs (ลูกอัปรีย์) mistakes her as a ghost (ผี). Rataya takes refuge in a friend's home called Too (Sasima Singsiri). Ran wants to be a staff (ลูกช้าง) for a while instead of being a boss. Comic actor Thep Thienchai is even having a small role. Interested by Rataya, Ran succeeds to be hired by Yiu as domestic helper under the name of Yim. Rataya makes Yiu believe that she is a ghost now (ผีหลอก). Yim is fully aware but doesn't disclose the secret. Too asks Yui to cancel the debts with Rataya's father in order to avoid the ghost harassing him but he prefers to do good deeds (ทำบุญ). Rataya disguised as a ghost tries to get the document (โฉนดที่ดิน) but it ends badly as Yiu's daughter called Nut shoots at her. Unfortunately she is not injured but Yiu is now aware of the trick. On the way to get back his wife (รับไม่ได้), Yiu is attacked by two masked robbers being Too and Rataya. Yui gives Rataya an ultimatum of 10 days. Yim has a plan to replace Rataya by another lady called Prai (Metta Roongrat). Finally Yui announces he is not able to perform husband duty! Yim gives him a special medicine but it is finally a laxative medicine (มีปืนก็ไม่มีลูก, ยิงเท่าไรก็ไม่ดัง). Rataya starts to suspect that Yim is more than a domestic helper as he can speak English. Yiu gives back the property title and the debt reconnaissance is burnt. Aware that Yim's real name is Ran, Nut, daughter of Yui, is suddenly interested in Yim. Seeing Yim arguing with Nut, Rataya flees away. Movie ends happily, i.e. Ran with Rataya and Yiu with Prim. A TV serie based on the same story was released in year 1992.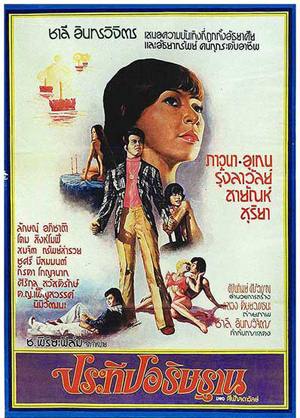 Year

: 1974



Thai title

:

ประทีป อธิษฐาน




English title

:



Rating

: 4/5


Director

:



Main actor

: Uten Boonyong,Sayan Chantaravi​boon,Suriya Chinaphan,Lak Apichat


Main actress

: Pawana Chanajit,Chosri Misommon,Somjit Sapsamruey,Runglawan Sripatimakul
Thai movie ประทีป อธิษฐาน was released in year 1974. It lasts 1h57mn. It was shown on Thai TV cable. Pan (Pawana Chanajit) and Kalan (Uten Boonyong) meet during Loi Krathong. Kalan announces to her that he is her future boss as Hotel manager! Chosri Misommon is Pan's aunt. She always asks for money as she keeps gambling. Pan's mother had a lover as her husband didn't take care of her and her daughter. Upset, the husband wished to bring her to her lover for clarification but a car accident happened on the way and both died. So Pan stayed with her aunt. Sek (Suriya Chinaphan) loves Pan and always does courtship her as a gentleman. Kalan's mother is played by Somjit Sapsamruey. Somjit introduced Da (Runglawan Sripatimakul) to Kalan and wishes for a wedding. The mother believes Pan cannot be trust as cashier as her aunt Chosri is a big spender (การพนัน). Aunt Chosri ends up in jail. While nobody wants to be the guarantor, Kalan offers the money to bail her out. Pan is promoted to manager assistant (ผู้ช่วยผู้จัดการ). Karun (Sayan Chantaraviboon), the second son, is back from overseas but he has heart disease. He likes Pan also. An American tourist is always trying to seduce her also. So four men have hopes on her. Finally she marries Karun. The aunt gets a big amount of money (ใช้หนี้). She knows she doesn't love him. Karun is unable to perform husband duties per a congenital disease. Kalan was former lover of Pan's mother but Kalan confirms it was a platonic love. Smoking scenes and love scenes are blurred. Pushed back by Kalan, Da goes with Lak Apichat to Hua Hin. They become lovers. Karun, being over jealous on Pan, ends up at hospital. Kalan decides to marry with Da to avoid any more jealousy crisis. Unfortunately fightings happen at Kalan's wedding as Karun sees Pan talking to Sek. Pan flees. Kalan announces to Da that he cannot love her as he knows she is pregnant with somebody else (Lak). Kalan finally finds back Pan. Meanwhile Karun is getting crazy and even shoots two people at night believing it was Kalan and Pan. Being a bad girl, Da quits Kalan. Finally Kalan and Pan can have happiness. This is a romantic drama from 1970s with much more realistic story compared to 1960s decade movies.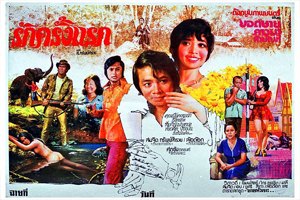 Year

: 1974



Thai title

:

รักครั้งแรก




English title

:



Rating

: 3/5


Director

: Lor Tok



Main actor

: Yodchai Meksuwan,Sayan Chantaravi​boon,Op Boonthit,Sithao Petcharoen,Lor Tok,Krai Kanchit


Main actress

: Pawana Chanajit,Chosri Misommon,Somjit Sapsamruey,Malee Wetpraseri,Khomapat Attaya,Manat Boonkiet
Thai movie รักครั้งแรก was released in year 1974. Main actors and actresses include Pawana Chanajit, Yodchai Meksuwan, Sayan Chantaraviboon, Malee Wetpraseri, Somjit Sapsamruey, Op Boonthit, Chosri Misommon, Sithao Petcharoen, Lor Tok, วิภาวดี ตรียะกุล, Khomapat Attaya, Krai Kanchit, Manat Boonkiet. Movie director is Lor Tok. The film is lost in Thailand but a left sequence in 35mm format can still be seen. The picture is very damaged and reddish. It lasts six minutes. During the remaining sequence, Nim (Pawana Chanajit) loves Seum (Yodchai Meksuwan), being a poor man. Sorasak (Sayan Chantaraviboon) is her promised fiance per her parents' arrangement. Sorasak's mother is Manat Boonkiet. On Nim's birthday, an official engagement ceremony shall happen but Nim declares her love to Seum in front of her family. Sorasak loses face and punches Seum afterwards. Nim's parents are mother Mom Somjit Sapsamruey and father Op Boonthit. Chosri Misommon has pity over Nim. Seum teaches Nim to play music with old instrument. Seum is Nim's first love. This movie highlights the dilemma between a chosen marriage by parents and children's own love choice.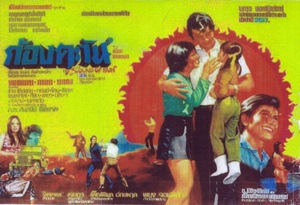 Year

: 1974



Thai title

:

ก้องตะวัน




English title

: THE SOUND OF SUN



Rating

: 3/5


Director

:



Main actor

: Yodchai Meksuwan,Manop Aussawathep,Pipop Pupinyo,Thep Thienchai


Main actress

: Pawana Chanajit,Khomapat Attaya
Thai movie ก้องตะวัน / THE SOUND OF SUN was released in year 1974 and lasts 1h56mn. This movie was never released in Thailand under VHS, VCD or DVD. Kiet (Yodchai Meksuwan) and Daojai (Pawana Chanajit) are stuck in the countryside as their car engine is broken. Thep Thienchai is playing Kiet's domestic helper called Ouam. The sun reverberation is particularly strong in this countryside area. They are married for 7 days. It is not a reciprocal love. Wanna, doctor's wife, is often out with Daojai. The doctor is always obedient to his wife. Kiet is sick while Daojai is away. To create interest from Daojai into Kiet, the doctor lies about a critical disease if she doesn't care more about her husband. Everything is back to normal and they do have a daughter called Sanit. One day, an old friend of Kiet, called Dom, asks him for help. The friend invites him to discuss in a bar and a lady, called Lomrak (Khomapat Attaya), pushes him to drink a lot. He finally sleeps there being drunk. Life goes back to normal but Lomrak keeps calling Kiet (หลงรัก). Kiet keeps going back home late (เมียน้อย) so Daojai is very worried. Very drunk, Lom brings back Kiet at home and meets Daojai (แม่บ้าน). Kiet wishes to use the marital room with Lomrak. Kiet slaps Ouam blaming him. Daojai, Sanit and Ouam quit the house on the same night. They take refuge in a relative's home, who is often drunk. At nighttime, Choei tries to abuse (ปล้ำ) Daojai. Kiet keeps drinking heavily (ทำผิด). Kiet has to sell his car to pay debts. He is fired from his company as 400 000 baht have disappeared from the banking accounts. Kiet is broke (หมดตัว). Kiet discovers that Lomrak is Dom's wife and that they stole his money. Dom's ruffians including Pipop Pupinyo teach him a lesson. The ruffians leave him for dead. Daojai meets อา Montri (Manop Aussawathep). Kiet starts a new life by being a car driver. Daojai and Montree see him on the road side. Daojai misses Kiet but she doesn't want to be weak in front of him so she rejects his apologies and even prevents her daughter to meet Kiet. She mentions that Montri is her new husband. Kiet and Montri have a man-to-man explanation but Dom appears and tries to shoot Kiet. To avoid any issues with Thai justice, Dom has to get rid of Kiet as he is aware of his illegal activities. Dom runs his jeep over Kiet's leg. Due to extreme sun reverberation in this countryside area, Dom loses control of his jeep and crashes into a tree killing Lomrak. A mysterious local doctor takes care of Kiet and he can recover within seven days. Kiet, Daojai and their daughter are back together.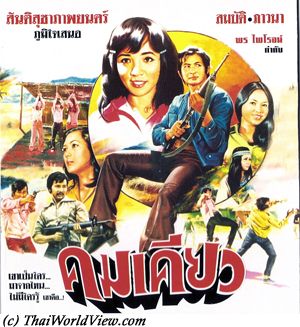 Year

: 1974



Thai title

:

คมเคียว




English title

:



Rating

: 3/5


Director

:



Main actor

: Sombat Methanee,Dam Datsakorn,Lak Apichat,Choomporn Theppitak


Main actress

: Pawana Chanajit



Buy now

:

Thai movie "คมเคียว" image and sound are quite poor and damaged. Phanmitr company issues a warning that they have used the last known copy of the movie to release this VCD (สภาพฟิล์ม 16 ม.ม.สโคป เรื่อง คมเคียว). So movies fans should be happy to watch it before the last copy disappears from our world. This movie was very popular in 1970s. Hang Seuk, a ruffian leader, and his band are terrorizing villagers. Hang Seuk (Dam Datsakorn) wishes to kidnap Kathin to have her becoming his wife. Kwan (Lak Apichat), her fiance, tries to oppose them but to no avail. Kwan is buried except his head. If he survives 7 days then he will be released. A mysterious man coming through a raft helps to release Kwan and promises to help the villagers. Choomporn Theppitak is the village doctor and helps another lady called Chaba to recover after being assaulted by ruffians. The mysterious man names himself "small red mouse" (หนูแดง)! He trains the villagers with weapons. Hang Seuk doesn't touch Kathin but she doesn't dare going back to the village as nobody would believe her so she stays with him. Hang Seuk's sister, Siroon (Pawana Chanajit), promises things will get better. Nai Seua is a ruffian leader controlling a territory near Hang Seuk's area. Putao is a village leader having a beautiful daughter called Saeng Sao. The mysterious man is recommended as Putao's nephew and is renamed Kachen. Hang Seuk and Seua are friends but in fact a competition is happening between them. Hang Seuk promised his sister Siroon's hand to Seua before so he needs to find a way to break the promise. Hang Seuk needs a strong man to get rid of Seua. Putao recommends his mute nephew Kachen. If Kachen defeats Seua then the wedding promise is cancelled. Seua doesn't wait for the fight and sends ruffians to kidnap Siroon. Hopefully Kachen is around but is injured while protecting Siroon. The mysterious man's real name is Diaw Khom Thong. He realises that Hang Seuk is not that bad. The real bad ruffian is Seua. The village doctor helps Saeng Sao who was bitten by a snake. Kwan has to warm her body as she has a cold fever. Villagers start to rebel such as Kwan. Kachen defeats Seua in one to one fight with knife. Hang Seuk knows that Kachen is not mute as he heard Siroon's love declaration to him. A fight happens between Kwan and Hang Seuk. Kathin convinces Kwan and Hang Seuk to pacify as Hang Seuk will be father soon. Meanwhile the three ladies get captured by Seua. All gather to fight back Seua and defeat him following strong gun fights. The movie ends happily as Kwan will marry Saeng Sao, Hang Seuk with Kathin and Diaw Khom with two ladies, i.e. Siroon and Chaba! Thai movie "คมเคียว" is a typical movie action from 1970s decade with a hero taking justice into his own hands to protect villagers against ruffians.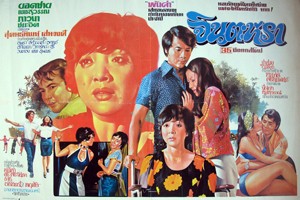 Year

: 1973



Thai title

:

จินตะหรา




English title

:



Rating

: 4/5


Director

: Phan Kam



Main actor

: Yodchai Meksuwan,Choomporn Theppitak,Adul Dulyarat,Preuhat Boonlong


Main actress

: Pawana Chanajit,Amara Asavananda,Marasri Bangchang,Juree Osiri
Thai movie จินตะหรา was released in year 1973 and lasts 1h50mn. It was released under VHS format. Movie director is Phan Kam. It is a romance drama (หนังชีวิตรัก). Montree (Yodchai Meksuwan) is a famous sport student in the university. Kesa (Choomporn Theppitak) introduces him to sexy lady Kha (อภิญญา วีระขจร). Basaba (สุคนธ์ทิพย์ เสนะวงศ์) and Jintara (Pawana Chanajit) are close friends and are joking about Montree. Kha makes Montree drinks a lot. Montree flees before sleeping with her making her very upset. Busaba's father and Jintara's mother have decided to marry. This is a new wedding for the parents (Amara Asavananda and Adul Dulyarat). The grandfather (Preuhat Boonlong) hopes to have a grandson (หลาน) so that his son's life is useful (เสียชาติเกิด)! Busaba and Jintara become half-sisters but from different father and mother! Jealousy often occurs between the two sisters as Jintara likes to have or to use everything that Busaba has. Busaba has interests in Montree. Jintara hides to read playboy. Jintara starts to be jealous to see Busaba and Montree together. Jintara tries to take Montree away from Busaba. Montree is confused. The grandfather wants a son to keep the family lineage. He pushes his son to take a minor wife as the new wife is still not pregnant. Jintara is blamed by her mother as she keeps having bad behavior, i.e. เอาแต่ใจตัวเอง. Jintara collapses (เป็นลม) due to big headache. A doctor finds she has a brain cancer. She has only six months to live. She changes her behavior and becomes a nice person (ความหวังดี). She tries to reunite Montree and Busaba but it fails. In order to push back Montree to Busaba, she stops showing interest to Montree and simulates to be interested in another student called Asawin. Fighting occurs between Asawin and Montree. Montree is injured. Montree's mother, Juree Osiri, complains that Jintara brings troubles to her son (ลูกไม่รักดี). Jintara's mother is finally pregnant. Montree wishes to know the truth behind Jintara's behavior change. Jintara's health is getting worse. Her mother is about to deliver and Jintara has still to perform the school theater performance for orphelin children. Her theater performance becomes similar to her real life as she collapses during the last scene (ฉากสุดท้าย). The new child is a daughter and is named Jintara as the first Jintara is leaving this world… Jintara makes Montree and Busaba promise to love each other.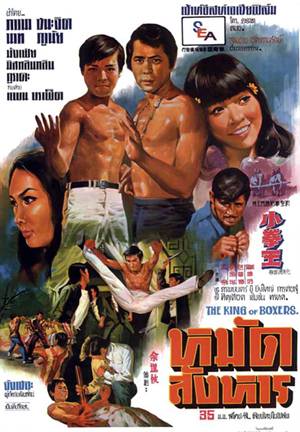 Year

: 1972



Thai title

:

หมัดสังหาร




English title

: The King Boxers



Rating

: 3/5


Director

:



Main actor

: Nard Poowanai


Main actress

: Pawana Chanajit
Movie The King Boxers - หมัดสังหาร - 小拳王 is a Hong Kong Thai co production released in 1972. Main Thai actors present are Pawana Chanajit and Nard Poowanai. Japanese main actor is Yasuka Kurata (Japan's No 1 top actor according to VHS cover). During Surin elephant festival, an overseas Chinese visitor called Yen, interested in Karate, enjoys the festival with his Thai friend Sha (Pawana Chanajit). She shows him Thailand even if there is inaccuracy with a sudden change location from Surin to Chiang Mai (Doi Suthep). At Nakornping stadium, they meet Thai boxer Chow (Nard Poowanai). Local ruffian tries to influence the match result by offering gold but the boxer refuses. Chow wins his match. The ruffians decide to take revenge as they lost a lot of money in betting due to him. Chow defeats the small ruffians but their leader is too strong for him. Hopefully Yen, thanks to his Kung Fu skills, defeats the ruffians leader. Chow asked to be trained by Yen. They visit together famous temples such as Nakhon Pathom chedi. Yen sends a letter to his sister in Hong Kong saying he will stay longer in Thailand. Yen is the leader of a Kung Fu school in Hong Kong. A Japanese school is rival of his school. Their leader Tu Pien comes to the school to defy them but Yen is overseas in Thailand. So he breaks their school board as a sign of defiance. Yen is finally back from Thailand. The fight can happen between both leaders. Yen defeats the Japanese leader but this latter starts to build his revenge. He invites Yen to a Chinese restaurant to celebrate peace but it is a trap. Yen is injured during the meal with a violin and then attacked by dozens of men. He is overwhelmed and finally killed. Ruffians prevent anybody to join the mourning. Yen's two Thai friends just arrive in Hong Kong in order to bring to Yen the tusk he ordered from Thailand. They discover he is dead. Chow and Sha are invited by Yen's sister during the mourning. Fight erupts between the two Kung Fu schools. Chow uses a mix of Thai boxing and Chinese Kung Fu taught by Yen. Tu Pien is about to win thanks to nunchaku usage but hopefully Chow reminds of Yen 's secret weapon and defeats Tu Pien. Most of the part in Thailand is filmed outdoor but the part in Hong Kong is played indoor. It is one of the five movies that Pawana Chanajit, the pearl of Asia, played in Hong Kong movie productions.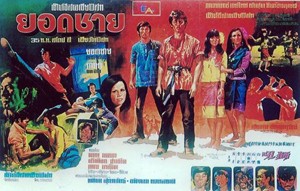 Year

: 1972



Thai title

:

ยอดชาย




English title

: The Roaring Lion



Rating

: 3/5


Director

:



Main actor

: Yodchai Meksuwan


Main actress

: Pawana Chanajit
Thai movie ยอดชาย / The Roaring Lion was released in year 1972. It is a Hong Kong / Thai coproduction. The movie is lost in Thailand. Hopefully it is still available in Hong Kong under the name 獅吼. It lasts 1h45mn. A small trailer, lasting one minute, remains to be seen in Thailand. It features Thai dance and some fighting. Thai actors Pawana Chanajit and Yodchai Meksuwan have participated to a few Hong Kong movies during 1970s decade. Pawana Chanajit, called Pearl of Asia, has acted in five Hong Kong movies. A group of friends are workers in a sawmill. As the foreign boss badly treats his workers, a rebellion happens. The friends, including JeuEr and Chiaouza, have to quit their job. It makes JeuEr's mother very upset and she asks him to stop fighting. Chased by ruffians, they have to flee their village by boat. They are now working in an outdoor mine in Thailand. Workers are over exploited until exhaustion. Pawana gives them information on the ruffians. In Nakhon Pathom pagoda, one of the friends recognizes his sister. She flees but he follows her and finds she is now working in an entertainment place for adults. He tries to release her but fighting erupts. They get defeated by the head of the ruffians who is a strong opponent. To avoid the sister being harmed, they have to accept being defeated in some fighting tournaments. As Chiaouza refuses to lose during the fight, he is finally killed after a tournament overwhelmed by ruffians. JeuEr upset joins the tournament but gets defeated through a bad trick. Looking for JeuEr, ruffians storm his kung fu school. Upset he becomes the roaring lion and defeats a dangerous fighter using whip. Back to the entertainment club, JeuEr through his kung fu skills defeats a dozen opponents and affronts successfully their leaders.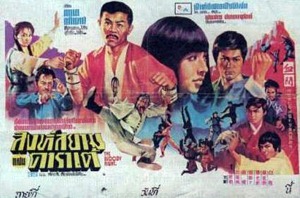 Year

: 1972



Thai title

:

สิงห์สยามถล่มคาราเต้




English title

: Bloody Fight



Rating

: 3/5


Director

:



Main actor

:


Main actress

: Pawana Chanajit
Thai HK movie สิงห์สยามถล่มคาราเต้ - 拳門 - "Bloody Fight" was released in year 1972 and it lasts 1h32mn. Thai actress Pawana Chanajit, called the Asian Pearl, played in five Thai HK movies (สิงห์สยามถล่มคาราเต้ - Bloody Fight, พี่น้องตระกูลอึด - Duel of Fists, หมัดสังหาร - The King Boxers, ยอดชาย - The Roaring Lion). A Japanese boxer called Cheng Chung defies many Chinese teachers. He is organising fights up to the death. He defeats one Chinese teacher. Before dying, he sends his daughter Ching Mei to stay with his brother Chen. As the brother Chen is also a Chinese Kung Fu teacher, the Japanese fighter defies and injures him. His son Chi Chu doesn't succeed to defeat the Japanese man. Other fighters such as Tien Wa defies the Japanese fighter Cheng Chung but they are all defeated. Chen wishes to get the pride back from the Japanese men with new skills. Chen unifies the best of three Kung Fu styles. Ching Mei is reunited with her lost brother Tin Wa as her father chased him many years ago. Chen trains four fighters very hard (Ching Mei, Tin Wa, Chi Chu, Pawana). Pawana Chanajit performs a Thai dance as fighters are ready to defy Japanese boxer Cheng Chung. The two ladies, Ching Mei and Pawana, take care of the numerous small fighters while Tin Wa and Chi Chu focus on Cheng Chung. Even Thai actress Pawana Chanajit is doing very well in Kung Fu fightings! Cheng Chung is finally defeated.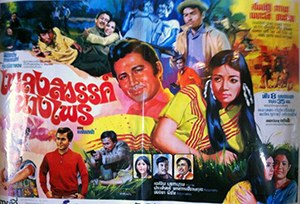 Year

: 1971



Thai title

:

เพลงสวรรค์นางไพร




English title

:



Rating

: 3/5


Director

:



Main actor

: Sombat Methanee,Sawin Sawangrat,Choomporn Theppitak,Anucha Ratanaman,Krai Kanchit,Noppadol Duangporn,Sompong Phonmitr


Main actress

: Pawana Chanajit,Khomapat Attaya
Following huge success of movie "Mon Rak Luk Tung" (มนต์รักลูกทุ่ง) in 1970, many song movies were released to catch up with this trend. Such movies include songs, a bit of action, romance and humor. Thai movie เพลงสวรรค์นางไพร is one of them and was released in year 1971. It features nine songs. Director is พิชิต มีชัย. This movie was a lost movie in Thailand. In year 2013, a last copy was found in a Thai temple in the North of Thailand. Only three reels of the movie are left, so around 1h30mn. Unfortunately the film reels were in bad condition due to water soaking, so only 18mn are usable. It is in 16mm format so there is no sound as such format requires dubbing. No songs are left. No movie poster is left. A movie partial summary is still available. Sombat Methanee is Waiwai, working as forest guard. Pawana Chanajit is SaenGneun. Others actors include Sawin Sawangrat, Choomporn Theppitak, Anucha Ratanaman, Krai Kanchit, Khomapat Attaya, countryside folk singers (นักร้องลูกทุ่ง) such as Noppadol Duangporn. Action takes place in a village. Ruffians are terrorizing and aggressing local ladies. A spirits doctor is coming to the village. A ghost appears to the villagers during an assembly. Romance is happening between Waiwai and SaenGneun. A small sequence shows Sombat Methanee punching ruffians. The remaining sequences are not enough to understand the movie.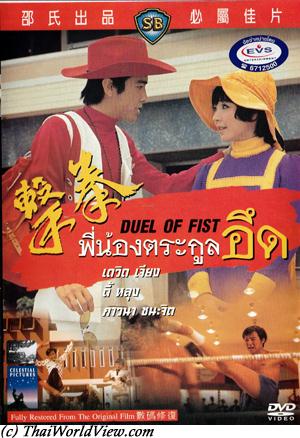 Year

: 1971



Thai title

:

พี่น้องตระกูลอึด




English title

: Duel of Fists



Rating

: 3/5


Director

:



Main actor

: David Chiang,Ti Lung


Main actress

: Pawana Chanajit



Buy now

:

Thai movie พี่น้องตระกูลอึด was released in year 1971 and lasts 1h42mn. It is a Shaw Brothers movie. Duel of Fists / 拳擊 movie, a Thai HK co production involving the Pearl of Asia, i.e. Pawana Chanajit. In Hong Kong, Fan Ko's father dies. Before dying, he asks his son to go to Thailand to find his half lost brother Boonlot. He should have a special tattoo on the shoulder and be a Thai boxing fighter. Fan Ko (David Chiang) meets young Thai lady Pawana Chanajit during Songkran festival in Bangkok and she helps him to search after his lost brother. Boonlot (Ti Lung) is a strong fighter but he refuses to join ruffians to play fake matches (ไม่ใช่นักพนัน). Fan Ko assists to a boxing match, where strong fighter Djung Pao kills his opponent with bare hands. Two fighters have died before. Fan Ko intervenes believing the dead fighter is his brother. He then meets Boonlot, who appreciate his skills (ฝีมือไม่เบา). Once again Boonlot refuses to bend to the ruffians. His next match is against Djung Pao. Boonlot bets all his money on his win as he needs to cure his mother (ผ่าตัด). Some sequences in Bangkok allows seeing Wat Po, Wat Benchamabophit. Boonlot's girlfriend is worried that he will die. Fan Ko meets the ruffians as he is still looking for a fighter with a tattoo. The ruffians understand Boonlot and Fan Ko are brothers. Following a very difficult match, Boonlot finally defeats Djung Pao. The two brothers are reunited. Meanwhile a relative of a former Thai boxer killed by Djung Pao, strangles him. The ruffians' leader kills the relative and wants to force Boonlot to replace Djung Pao. As he refuses, Kung Fu fightings happen between Boonlot, Fan Ko and the ruffians. Their leader is much stronger than Djung Pao...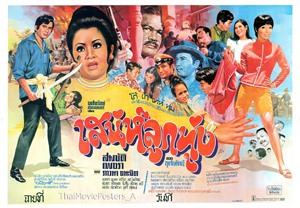 Year

: 1970



Thai title

:

เสน่ห์ลูกทุ่ง




English title

:



Rating

: 3/5


Director

: อนิรุทธิ์



Main actor

: Sombat Methanee,Choomporn Theppitak,Joomjim Khemlek,Pipop Pupinyo,Lor Tok,Phirapon Piyawan,Sukon Koewliam


Main actress

: Petchara Chaowarat,Metta Roongrat,Pawana Chanajit,Chosri Misommon
Thai movie เสน่ห์ลูกทุ่ง was released in year 1970. Main actors and actresses include Sombat Methanee, Petchara Chaowarat, Metta Roongrat, Pawana Chanajit, Choomporn Theppitak, พร ไพโรจน์, เสถียร ธรรมเจริญ, สุนทร, Joomjim Khemlek, Pipop Pupinyo, หมี, พรชัย, Lor Tok, Phirapon Piyawan, Chosri Misommon, Sukon Koewliam and multiple ลูกทุ่ง singers such as ชินกร ไกรลาศ, เรียม ดาราน้อย, พนม นพพร, ละอองดาว-สะกาวเดือน, ศรีไพร ใจพระ, พนาไพร, นพดล, สรวง สันติ, นฤมล, ดวงสมร, บุญมี เดชขจร, มานะชัย, ขุนแผน, ถนอม นวลอนันต์, เสนีย์ ถนอมรัตน์, ประจวบ จำปาทอง, ด.ญ.อรุณี ดารารับเชิญ. Movie director is อนิรุทธิ์. The film is lost in Thailand but a sequence in 16mm format can still be seen. The picture is very damaged. The lost sequence was found in Cambodia. The 16mm film reel was damaged by water or humidity / heat faced over the years. The sound can barely be heard. It lasts 15 minutes. During the remaining sequence, ruffians are talking. They prepare to rob a house. They discuss with the owner. A kid is following them. The owner's three daughters bring food. The ruffians kidnap them. A handcuffed simple-minded tries to stop the ruffians but gets beaten also. Pawana arrives and is informed about the kidnapping. Being upset, she decides to act herself. Choomporn is part of ruffians' team. Sombat is storming the ruffians' house. He is fighting with fist and then with gun. The last scene shows Petchara, Pawana and two Sombat!! The original movie included 14 songs in 35mm format.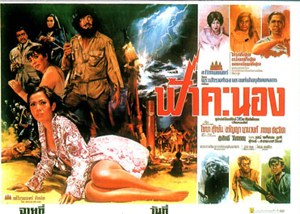 Year

: 1970



Thai title

:

ฟ้าคะนอง




English title

:



Rating

: 4/5


Director

:



Main actor

: Chaiya Suriyun,Sorapong Chatree,Sukon Koewliam,Ruj Ronnapop,Surasit Sattayawong


Main actress

: Aranya Namwong,Pawana Chanajit,Chosri Misommon,Wilaiwan Watthanaphanit
Thai movie ฟ้าคะนอง was released in year 1970 and lasts 1h22mn. It features main actors Chaiya Suriyun, Aranya Namwong and Pawana Chanajit. Movie ฟ้าคะนอง was restored and shown on Thai cable TV. It features a beautiful colorful image. Sorapong Chatree and Charika (Pawana Chanajit) take a bus to go to Fa Khanong pier. Sorapong Chatree, one of the most famous Thai actors with Mitr Chaibancha and Sombat Methanee, was still an unknown actor at that time and was playing side roles. Everybody discourages Charika to go to Fa Khanong island. People are talking about ghosts... It seems many people died before due to pirates. Spirits (วิญญาณ) are said to be around. Chosri Misommon is playing Charika's domestic helper (คนรับใช้). Mysterious deaths happened previously on the island. People, who took the job of nurse (นางพยาบาล) before Charika, all died... Ruj (Ruj Ronnapop) is playing a crazy disabled man (เล่นตุ๊กตา) always scold by the governess. Khun Phujing (Wilaiwan Watthanaphanit) is disabled. Her mother needs also to take medicine. Charika is responsible to take care of them as a nurse. Khun Lek (Aranya Namwong) is Khun Phujing's younger sister. During a storm, Charika has a vision, i.e. she sees a hirsute man entering in her room. The following day, Charika meets Turatee (Chaiya Suriyun) and believes the hirsute man and he are the same person (Chaiya Suriyun plays both roles). At nighttime, the hirsute man enters in the grandmother's room to steal a map. The hirsute man is recognized as Khun Phuchai, who died many years ago. The island superintendent Durong (Surasit Satayawong) and his mistress, the governess, are worried as it could be the map leading to the pirates' treasure of Plao island. The next day, crazy Ruj harass again Chosri and Charika. The governess scolds and beats again but it turns badly as Ruj cuts the governess head! During this messy situation, Charika loses conscience and disappears carried by the hirsute man. Durong is hoping to find a secret pirates' treasure (สมบัติ). He has also a relationship with Khun Phujing. Willing to know what is really happening on Plao island, Chaiya and Lek try to reach the island by boat. The superintendent, a few tough men, Chosri and Khun Phujing follow them by boat also. Both boats capsize but they can all avoid the sharks. Stranded on Plao island, the superintendent is trying to locate the treasure and to catch Turatee, Lek's fiance, and Lek. Durong believes Turatee has the treasure map. An old man Tao is helping Turatee about to be killed. Charika wakes up in a cave with the hirsute man. The hirsute man is Khun Phuying's younger brother, who is still alive. He mentions that Durong killed all nurses. He knows about the pirates' gold hidden in the cave. italian actor. Durong tries to abuse Khun Lek but is injured by Khun Phujing. Durong then shoots and kills Khun Phujing. Tao leads Durong and his men to the treasure. Finally, Durong and his ruffians die as they are more obsessed by collecting gold than running for their life as the cave is collapsing. Lek, khun Phuchai, Charika and Turatee succeed to escape on time. Romance can happen between Lek and Turatee, between Charika and Khun Phuchai.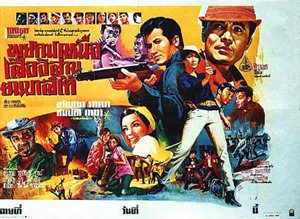 Year

: 1969



Thai title

:

พยัคฆ์เหนือ เสืออิสาน ยมบาลใต้




English title

:



Rating

: 3/5


Director

:



Main actor

: Sombat Methanee,Kecha Plianvithee,Prachuap Ruekyamdee,Surasit Sattayawong,Joomjim Khemlek,Sawin Sawangrat,Ruj Ronnapop


Main actress

: Aranya Namwong,Pawana Chanajit,Kaenjai Meenakanit,Yaowaret Nisakorn
Ruffians capture a man fleeing with a suitcase. Two important letters inside have disappeared from the suitcase when he hit a group of three people while running away. Those people are a father (Surasit Sattayawong), his daughter Fimeuang (Pawana Chanajit) and their friend (Joomjim Khemlek). Those letters are related to their plan to bring troubles from overseas into South of Thailand (คนขายชาติ). Sak (Prachuap Ruekyamdee) and inspector (สารวัตร) Cheut (Sombat Methanee) meet the 3 characters in Nakhon Sawan and sympathize. Ruffians try everything to get back those letters but Sak and Cheut support them. Cheut communicates with his Police Headquarters through young lady Nop (Yaowaret Nisakorn also called Petchara 2). Ramet (Kecha Plianvithee), undercover ruffians leader, tries to seduce Dao (Aranya Namwong) but she doesn't like him. Ramet is a good friend of Krit (Ruj Ronnapop), Dao's brother, as he can always borrow money to him for gambling (พนัน). Cheut also appreciates Dao. Fimeuang and her father take refuge in Chiang Mai. Finally Fimeuang understands that Cheut is a right and trusty man, so she gives him the envelopes. Fimeuang loves secretly Cheut and goes back to Surin. Cheut's heart is divided between Dao, Fimeuang and Nop. Cheut is captured by the ruffians. Finally Sak helps him on time. Ramet is captured but finally later on free again so it looks like a part of the movie is missing. Willing to get back the letters, the ruffians capture Fimeuang and her friend Kamoon. The father shall give back the letters back to Ramet to save his daughter's life. Policeman Cheut, Sak and Nop help to penetrate the ruffians' camp. Dao and Chris also realize who is Ramet while visiting the camp and find that Fimeuang is held captured there. During final shootings, Fimeuang is unfortunately shot. Ruffians are defeated. Movie พยัคฆ์เหนือ เสืออิสาน ยมบาลใต้ is a mix of action and comedy. This small movie really features a great bunch of Thai actors and Thai actresses from decade 1960s.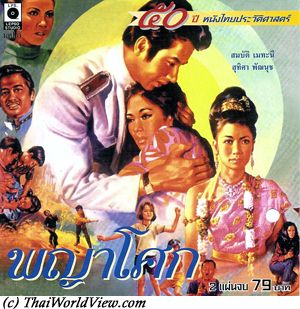 Year

: 1969



Thai title

:

พญาโศก




English title

:



Rating

: 4/5


Director

: Cherd Songsri



Main actor

: Sombat Methanee,Sawin Sawangrat,Prachuap Ruekyamdee,Choomporn Theppitak,Sukon Koewliam,Joomjim Khemlek


Main actress

: Suthisa Putnuch,Pawana Chanajit,Kaenjai Meenakanit
During World War 2, a man betrays his country (ขายชาติ) and even kills his wife Narinee as she refuses to keep silent. The father then disappears. His own daughter flees and is rescued by a young man called Boripat, who put her in a well off family. She is renamed Lamphap. A few years have passed. Lamphap (Suthisa Putnuch) is a beautiful grown up lady. Boripat plans to become deputy (ผู้แทน) in Phatalung province. Boripat and Lamphap love each other. Cheutchalao (Kaenjai Meenakanit), a jealous lady who wishes to marry Boripat, shows to Boripat's mother a picture of Lamphap's mother. Is it good that Boripat as a future deputy marry a country traitor? Following a night with Boripat, Lamphap flees away as she is ashamed of her background. Boripat looks for her. When he is aware of her parents' background, he breaks up with her and finally marries Cheutchalao. Lamphap is followed by her father's bad reputation. Boripat has become a member of parliament. Cheutchalao introduces Khun Yousapong (Prachuap Ruekyamdee), who is a salesman, to Boripat. Boripat needs to pay back the funding he receives from him through some sales advantages with government projects. Boripat rejects and resigns as he refuses to betray his own principles. Cheutchalao is very upset as Yousapong is in fact her hidden lover. She even refuses to keep the child she is currently having with Boripat! Cheutchalao has an argument with Boripat's mother causing her to fall from the stairs and dies. Boripat then indulged in alcohol and, being sick, decides to die in the place he met Lamphap the first time. He dies in her arms. Kenang is the child born of their brief union. Many years have passed. A young lady called Pen (Pawana Chanajit) stops by the village due to a flat tyre and is helped by Kenang (คนป้า). Pen is daughter of the salesman Yousapong. Salesman is still with stepmother (แม่เลี้ยง) Cheutchalao. Yousapong has always been concerned about money only (ไม่รู้ค่าความรัก). Pen dances on a show and displays her great dancing performing skills (รำไทย) to pay back his father as studies compensation. She gets a reward and wishes to offer it to Lamphap but Cheutchalao prevents her to do it as Lamphap is daughter of a country traitor (เป็นกรรม). Chatkalin, Lamphap's second son (Choomporn Theppitak) doesn't want anybody to mention he is Lamhap's son anymore as he wished to marry Pen. He is in fact Boripat and Cheutchalao's son. Cheutchalao left the child in an orphanage and Lamphap, having pity, raised him. Well off people (ผู้ดี), having status, are seeing down poor people. As a revenge Kenang kidnaps Pen and brings her to a remote place near seaside. Chatkalin burns Lamphap's house as retaliation. Kenang, having finally freed Pen, arrives on time to save his mother. Following a fight with Chatkalin, a passer-by is shot. They all accuse Kenang. Lamphap chases everybody. A policeman offers her an opportunity to clean her name but she has to give information regarding the secret place where her traitor father and his team are hiding. After reaching the place in the mountain, Lamphap's father wished to test her if she is not a spy. She shall kill her own son, Kenang, as he has been accused by Cheutchalao, Chatkalin and Yousapong of having killed the father's own son, i.e. the passer-by. Only Pen defends Kenang. Lamphap has to do a sacrifice (เสียสละ), i.e. Kenang's life against the four other lives (Cheutchalao, Chatkalin, Yousapong, Pen). Finally one of the ruffians revolts for the sake of his country preventing Lamphap to make an impossible choice. Bad characters are punished. Some episodes were cut in this Lepso VCD release, i.e. one episode where Sombat Methanee is singing and another climax episode when the ruffian forces the mother (Suthisa Putnuch) to shoot her own son (Sombat Methanee) but finally changes his mind. Sombat Methanee plays both the father Boripat and the son Kenang. This 1960s movie shows that faithfulness to country is more important that faithfulness to own family. It is typical of many 1960-1970s movies, which featured nationalist elements against the red communist threat. พญาโศก is a less known good movie from famous director Cherd Songsri. It also includes many references to the Thai royalty.



Year

: 1968



Thai title

:

พิศวาสไม่วาย




English title

:



Rating

: 3/5


Director

:



Main actor

: Sombat Methanee,Phirapon Piyawan,Lor Tok


Main actress

: Pawana Chanajit,Mom Chan Phuangwan,Metta Roongrat
The movie พิศวาสไม่วาย was released in year 1968. It features Pawana Chanajit as main actress and Sombat Methanee as main actor. The movie is lost in Thailand but a 3 minutes trailer is left to be seen. Other actors are Mom Chan Phuangwan, Metta Roongrat, เมืองเริง, ไสล, ทานฑัต, ดุษฏี เถาเสถียร, พูลสวัสดิ์, ทองฮะ, ทองถม, Lor Tok, Phirapon Piyawan, ชื้นแฉะ, ลุงโกร่ง. The sequences shown in the trailer are related to the usage of a shaman (หมอผี), Pawana and Sombat having a kid, Sombat being aggressed, Pawana being a spirit, Metta slapping Pawana, Pawana protecting her son while still being a spirit. As the movie is in 16mm format and in mute state as such movies need to be dubbed, it is not easy to understand the story. Pawana is at the same time a fearful and commiserate ghost. Thai movie พิศวาสไม่วาย (1968) was sometimes confused with movie แว่วเสียงยูงทอง (1965) as it also features Pawana Chanajit and Sombat Methanee.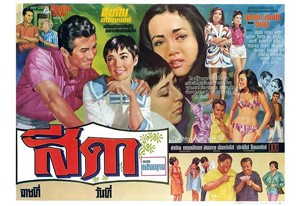 Year

: 1968



Thai title

:

สีดา




English title

:



Rating

: 3/5


Director

:



Main actor

: Sombat Methanee,Adul Dulyarat,Prachuap Ruekyamdee,Daonoi Duangjai,Sompong Phonmitr


Main actress

: Pawana Chanajit,Pissamai Wilaisak,Metta Roongrat,Kaenjai Meenakanit,Mom Chan Phuangwan,Marasri Isarangkul,Chosri Misommon
Thai movie สีดา was released in year 1968. It lasts 2 hours and the film image is quite damaged as being only in red color. This movie was never released on VCD but shown on Thai cable TV only. Naren (Adul Dulyarat) and Nuan (Pissamai Wilaisak) have two children. Naret has a heart decease and ends up at the hospital. He dies there. Many years have passed. Nuan is living in a slum with her two daughters, Sophee (Metta Roongrat) and Sida (Pawana Chanajit) still studying. Daonoi Duangjai and Sompong Phonmitr are their neighbours. Malin and Kaenjai (Kaenjai Meenakanit), playing an actress, meet Sophee. Sophee is lazy and big spender. She dreams of becoming an actress, be famous and have money. Nuan is hurt by a car driven by Wan (Sombat Methanee). Ramet (Prachuap Ruekyamdee) is a movie director. Main actor Panong is pushed by Malin for wedding but he is a butterfly and is interested by Sophee. Sophee refuses to recognize her mother is in the street as she is ashamed of her origins. Pa (Marasri Isarangkul) is Wan's aunt. Wan meets Sida as his car splashes her but he pretends to be a car driver only in order to be friend with her as she has a kind heart and has education. Changing his name as Tiaw, he looks for a job in the slum. An undertaker job (สัปเหร่อ) is proposed to him. Sophee is offered the role of main actress. She wishes to quit the house. The mother is sick, they have no more money and Sida stops going to school. Sophee lends to Sida 100 baht but doesn't want to see her anymore. The landlord คุณนาย (Chosri Misommon) expels them. Sida and Nuan have to live under a bridge. Sida becomes blind following a car accident involving Ramet. Wan, aware of this, takes care of Sida. Net, Wan's official fiancee, is jealous and hires the domestic helper to cause Sida to fall from a cliff. Hopefully Wan helps Sida on time. On Sophee's birthday, Nuan and Sida visit her but she is not happy to see them and asking them to stop visiting her. Altercation happens and Sophee pushes Sida, whose head hits a pillar. She ends up at hospital again. Meanwhile Sophee and Panong promise love to each other. Malin, fed up by Sophee and Panong, throws acid to their faces. Luckily Sopha recovers her sight while Sophee is disfigured. She asks for mercy to Sida and Nuan. She decides to become a nun. This movie highlights that doing good always pays off while doing bad always ends up sadly.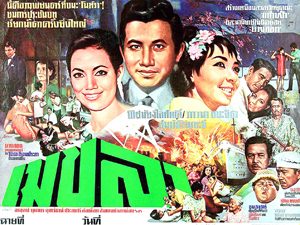 Year

: 1967



Thai title

:

เมขลา




English title

:



Rating

: 3/5


Director

: Cherd Songsri



Main actor

: Sombat Methanee,Adul Dulyarat,Choomporn Theppitak,Lor Tok,Sompong Phonmitr,Daonoi Duangjai


Main actress

: Pissamai Wilaisak,Pawana Chanajit,Mom Chan Phuangwan
Thai movie เมขลา was released in year 1967. It features Sombat Methanee as main actor and Pissamai Wilaisak as main actress. Director is Cherd Songsri. The movie is lost in Thailand but a sequence of 23 minutes is left to be seen. It is a drama movie. Other actors are Adul Dulyarat, Pawana Chanajit, Choomporn Theppitak, Lor Tok, Sompong Phonmitr, Daonoi Duangjai, Mom Chan Phuangwan. The summary is a below. A Japanese lady called Mitsuko (Pissamai Wilaisak) meets and loves a Thai man (Adul). He goes as a diplomat to Japan. They have a daughter called Mekala (Pawana Chanajit). Adul needs to go back to Thailand and bring Mekala also. Pissamai shall follow up later. Unfortunately Mitsuko gets irradiated by the nuclear bomb sent previously by USA on Japan. Her face is disfigured. When she finally arrives in Thailand, Mitsuko finds Adul has remarried and has another daughter. The new wife and her daughter keep trying defaming Mekala as they are jealous that Sombat (Sombat Methanee) is more interested in Mekala. Mitsuko is ashamed of her new appearance so doesn't dare showing up. The new daughter find evidences that the disfigured lady is in fact Mekala's mother and uses this information to humiliate Mekala. Mitsuko tries to reject the accusations and through an accident the new daughter loses her life. The new wife accuses Mitsuko to have killed her daughter. Truth is revealed during the following trial. Sompong Phonmitr and Choomporn Theppitak are playing lawyers. During the trial Sombat as witness is disclosing some truth that Mekala is the daughter of Mitsoko. Mitsuko is cleared and Adul hires the best surgeon to heal Mitsuko. Finally happiness is back as Adul and Mitsuko are back together. Sombat marries Mekala.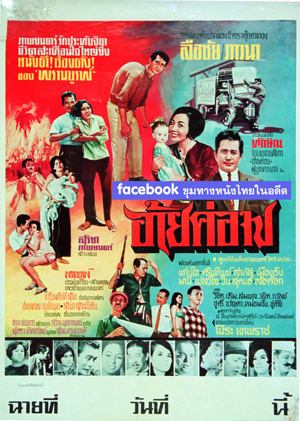 Year

: 1966



Thai title

:

อ้ายค่อม




English title

:



Rating

: 3/5


Director

:



Main actor

: Luechai Natnat,Taksin Jampol,Sukon Koewliam,Lor Tok,Preuhat Boonlong,Tawan Siriwat


Main actress

: Pawana Chanajit,Kaenjai Meenakanit,Sarinthip Siriwan,Chosri Misommon,Mom Chan Phuangwan,Prim Praphaporn
Thai movie อ้ายค่อม was released in year 1966. Main actors and actresses are Luechai Natnat, Pawana Chanajit, Taksin Jampol, Kaenjai Meenakanit, Sukon Koewliam, Lor Tok, Sarinthip Siriwan, Preuhat Boonlong, เมืองเริง, มานี, เปลวใจ, วิน, วิชิต, Prim Praphaporn, Chosri Misommon, Mom Chan Phuangwan, Tawan Siriwat. Movie director is เกรียงศักดิ์ สุริยา. The movie is lost in Thailand but a sequence in 16mm format is left to be seen. It features the movie title sequence and only lasts one minute. The image shows lotus in front of a village. Colors are lost. The movie was released again as a remake in year 1980 with Sorapong Chatree and Jarunee Suksawat.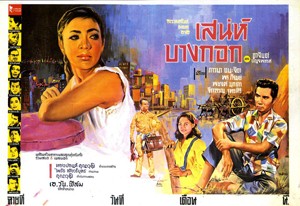 Year

: 1966



Thai title

:

เสน่ห์บางกอก




English title

:



Rating

: 5/5


Director

: Wichit Khunawut



Main actor

:


Main actress

: Pawana Chanajit
เสน่ห์บางกอก (Charm of Bangkok) is a Thai movie released in year 1966. It has still a colorful image. It was never released officially in any video format such as VHS, VCD or DVD. So luckily in year 2013, it was released on Thai TV CH7 during the program อมตะหนังไทย. It lasts 1h35mn. Originally the movie lasts 2h20mn. It remains famous as one of the first song movies (หนังเพลง) in Thailand. It featured 8 songs. It received three golden statuettes during Thai cinema awards. The main actor is a real Thai singer (นักร้องลูกทุ่ง พร ภิรมย์). A Thai collector still has the full length movie but in mute mode as it is a 16mm movie so it needs to get dubbed. He shared an additional 19 minutes extract with songs on Internet. Too sad that the movie from director Wichit Khunawut (วิจิตร คุณาวุฒิ) cannot be seen in its original state. Sabai (สไบ) (Pawana Chanajit) is riding bicycle and gets hit by Plae's (แพร) car. Animosity happens immediately between them (เครียดกัน). Sabai is friend with Tong, Plae's sister. Plae wishes to continue his studies but his father Kamnan wants him to ordain as a monk and then to marry Sabai! Dance (รำวง) happens in the village. The dancing ends up in a fighting between Plae and a ruffian trying to seduce Sabai. Plae is bitten by a snake. While he is recovering, his father already asked Sabai's parents for her hand through a procession ceremony (พิธีแห่ขันหมาก). Sabai claims she doesn't love him (แต่งแล้วจะรักกันเอง). Later on they even argue strongly (คนผีทะเล). Ordination ceremony happens. Plae's father intends to have a lakorn to entertain guests. Some guests from Bangkok are coming. Khun Luang and a star (ดาราละคร) are coming. Plae falls under the charm of the actress. Khun Luang wishes to rent the Buddha image (พระองค์งาม) but Kamnan refuses as it protects the family happiness. Still under the charm, Plae hits his own brother to steal the Buddha and flees to Bangkok (หนีบวจ) hoping to become rich (ความเจริญในเมืองบางกอก). Losing face, the father decides to look for his son in Bangkok. Many comic situations happen as Kamnan has never been in big city like Bangkok (บ้านนอก). There are amazing sequences showing Bangkok and its famous tourist spots 50 years ago. Plae goes to Khun Luang and the actress house. He meets Sabai there as she knew he will come here! The actress already forgot him. Disappointed, he leaves. Khun Luang (หัวหน้าร้าย) sends thugs to find Plae. Meanwhile Plae befriends with a Thai boxing ring owner and leaves the Buddha statue at his home. Plae gets kidnapped by the thugs. Kamnan needs to give the Buddha statue in exchange. Finally Kamnan, the Thai boxing ring owner and the police neutralise the ruffians. Through a thrilling Thai boxing match, Plae beats his opponent and wins enough money to bring everybody back to the village. He will fulfill his promise to ordain and then marry Sabai. Many Thai movies are about the theme of the up country guy coming to Bangkok and hoping to become rich but only facing disillusion. This story has been readapted a few times, i.e. in years 2011 and 1996 for Thai TV series and in year 1981 for a Thai movie with Sorapong Chatree and Naowarat Yooktanun.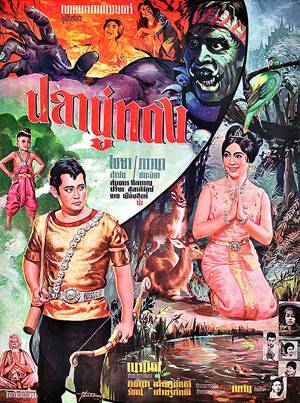 Year

: 1965



Thai title

:

ปลาบู่ทอง




English title

:



Rating

: 3/5


Director

:



Main actor

: Chaiya Suriyun,Daonoi Duangjai,Sukon Koewliam,Somkuan Krajangsat


Main actress

: Pawana Chanajit,Preeya Roongrueng,Malee Wetpraseri,Wilaiwan Watthanaphanit,Sulaleewan Suwanthat
Pla Boo Tong (ปลาบู่ทอง) movie with Chaiya Suriyun and Pawana Chanajit was released in year 1965. The movie is lost in Thailand but a short extract was found in year 2013 thanks to a ThaiCine fan. The extract has still a colorful image and is only three minutes left. Other actors are Daonoi Duangjai, Preeya Roongrueng, Sukon Koewliam, Malee Wetpraseri, Somkuan Krajangsat, Wilaiwan Watthanaphanit and Sulaleewan Suwanthat (ป้า สุลาลีวัลย์ สุวรรณทัต) as a witch. The short extract shows a "kuman thong" child, the mother spirit imprisoned in a bird and Chaiya Suriyun and Pawana Chanajit together. Old still pictures of this last sequence can still be found. This story has been played many times through TV series and through movies (1965, 1972 from TV to cinema, 1979 with Lalana Sulawan, 1984 with Suriya, 1994). Certainly there is a need to find a more recent version in order to better understand this three minutes old trailer. In the past, such movies needed four people to perform the dubbing.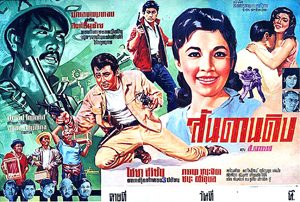 Year

: 1965



Thai title

:

สันดานดิบ




English title

:



Rating

: 3/5


Director

:



Main actor

: Chaiya Suriyun,Chana Sriubon,Lor Tok


Main actress

: Pawana Chanajit,Kaenjai Meenakanit
สันดานดิบ is a Thai western movie released in year 1965. It features three famous awarded Thai actors, i.e. Pawana Chanajit, Chana Sriubon and Chaiya Suriyun. The whole 2 hours movie is still available amid local Thai collectors but was never released on the movie market. A 25mn sequence can be seen online. This old movie still has a colorful image. It is a 16mm movie so there is no sound as it requires dubbing. Below summary is based on the 25mn sequence available online. Pawana is a doctor always willing to help poor people. Chaiya plays a ruffian (นักเลงผมทอง) always holding two guns. Chaiya tries to seduce Pawana but it causes Kaenjai Meenakanit, playing the sexy girl role, to be jealous. Two groups of ruffians shoot each other for the possession of a mysterious box probably containing drugs. Even Kaenjai is shot. The movie ends up with a ruffian kidnapping Pawana but Chaiya rescues her on time following final shootings. Many gun duels happen in this movie as it was an era where westerns movies were very popular.
---