Increase or decrease font size for easier reading : A+ A-
Patama Panthong
Patama Panthong (1967) - ปัทมา ปานทอง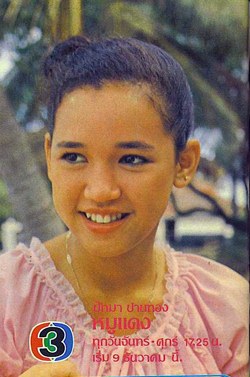 Patama Panthong played in around 20 movies
This Patama Panthong movie page contains 6 records.
---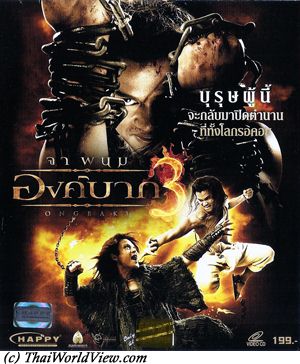 Year

: 2010



Thai title

:

องค์บาก 3




English title

: Ong Bak 3



Rating

: 3/5


Director

: Tony Jaa,Panna Rittikrai



Main actor

: Tony Jaa,Mum Jokmok,Nirut Sirijanya,Choomporn Theppitak,Saranyu Wongkrachang


Main actress

: Patama Panthong



Buy now

:

Ong Bak 3 movie is a follow up of Ong Bak version 2 where Tien was defeated and captured by King Jom Rachan soldiers. Tien (Tony Jaa) is condemned to death by the King Jom Rachan (Saranyu Wongkrachang). His body is broken and beaten harshly. Insurrection is ongoing against the King Jom Rachan (พระองค์) but this latter eliminates all his opponents (Choomporn Theppitak). On the execution day, Tien is saved at last minute and sent to Ayutthaya. Bad omens are seen by the King. To try to influence the future, he sends some ninjas to kill Tien in Ayutthaya. They fail thanks to some courageous Ayutthaya soldiers. Thanks to Buddhist prayers, offerings, casting of a Buddha statue, dances and Buddhist monk's (Nirut Sirijanya) healing skills, Tien is cured. But full recovery is difficult. He considers suicide as he is almost infirmed. Through inner peace, meditation and efforts (ฝึก), he starts to recover management of his limbs. A new fighter take over the King Jom Rachan looking for power only (อำนาจ). Aware of Tien recovery, the new King sends soldiers to catch him and burns his village. Tien is wearing white clothes (purity) while the new King is wearing dark clothes (evil). Tien has no choice but to go to the King palace to defy him in order to release the villagers and his love. Following epic fights including jumping from one elephant to another or using real elephant tusks to fly, Tien defeats the evil King. As usual in Tony Jaa's movies, actor Mum Jokmok is played a relief character. In Ong Bak 2 there was an action scene with two elephants. In Ong Bak 3, the actors were among more than 20 elephants. Tony Jaa introduces Nattayut in Ong Bak 3. It is a dharma martial art that can protect soul from bad deeds. It is a kind of meditation that can heal heart and soul.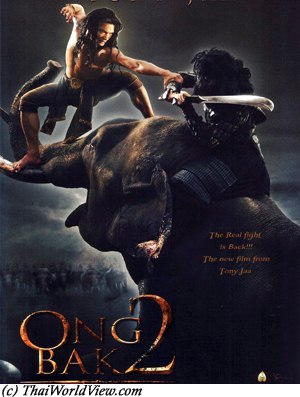 Year

: 2008



Thai title

:

องค์บาก 2




English title

: Ong Bak 2



Rating

: 3/5


Director

:



Main actor

: Sorapong Chatree,Tony Jaa,Santisuk Promsiri,Saranyu Wongkrachang,Nirut Sirijanya


Main actress

: Patama Panthong



Buy now

:

During Ayuthaya period, a teen, called Thien, following a fight with slaves merchants, is rescued by Cheu Nang. Cheu Nang is the village head of a group of warriors and fighters. Thien is the son of Lord Sihadecho, who has been assassinated by Lord Rachasena. Thien is trained to become a powerful fighter in Thai boxing and weapons handling such as sword, spike, nunchaku, rope, bomb etc... Becoming an adult, he helps to stop the former slaves merchants that held him and to release their slaves. He then succeeds to kill Lord Rachasena in his palace but when going back to Cheu Nang's village, he is attacked by score of fighters and is overcome by them. Lord Rachasena is not dead. During a final fight forced by Lord Rachasena, Thien has to compete against Cheu Nang. Ong bak 2 is not a second Opus of Ong Bak as the previous one was taking place in modern Bangkok. At the end of movie, Thien is captured and Lord Rachasena promised him a long and painful agony. Ong Bak 3 is on the way for 2010! Many incredible action scenes are involving Tony Jaa and real elephants. The 2009 Thai Films Award Best Supporting Actor for "Ong Bak 2" was for actor Sorapong Chatree.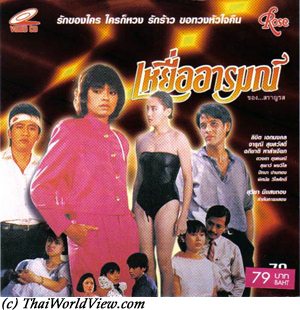 Year

: 1988



Thai title

:

เหยื่ออารมณ์




English title

: Victim of lust



Rating

: 4/5


Director

:



Main actor

: Likit Eakmongkol,Apichat Halamjiak,Suchao Pongwilai


Main actress

: Jarunee Sooksawad,Pissamai Wilaisak,Duangta Tungkamanee,Patama Panthong
A middle age lady Tien (Pissamai Wilaisak) has two children, Yetha (Duangta Tungkamanee) and Takasit (Likit Eakmongkol). The mother is having a young lover Somrit (Apichat Halamjiak) so getting disapproval from her both children (แม่ไม่อาย). Arop (Suchao Pongwilai) is having two families, one with the major wife Oon (daughter Pim but from another wedding) and one with a minor wife Plaew (daughter Leu). Takasit has just divorced with Yaboot (Jarunee Sooksawad). Somrit is having diner with Yaboot. Somrit is a seducer (ต้นไม้หลายดอก). Pim has seen Arop with Plaew and threatens to do everything she can to break this relationship (ช่วยไม่ได้). Takasit, aware that Somrit is seeing Yaboot, asks her to stop this before she gets disappointed. Yetha also sees Somrit in a disco with Yaboot. She is worried about her mother (บัดซบ / เกลียด). Yaboot's mother sees Somrit with Taen in a restaurant. Both Takasit and Yetha dislike Somit (แมงดา) and are afraid of the consequences on their mother (ไม่ยุติธรรมสำหรับแม่) as she gets love only because of her money. Tien offers a business to Somrit but there is a need to spend a lot of money on promotion. Misunderstanding increases between Yeuta, Tien, Yaboot and Takasit. Somrit is claiming nobody understands him. Yaboot is confused between Somrit and Takasit. Who does she really love? Could she marry again the husband she just divorced? Pim declares her love to Arop. Arop cannot accept this but Oon hears everything, i.e. a daughter loving her step father! Those two families are in middle of serious love crisis. Oon is the traditional Thai wife forgiving his husband's mistakes such as minor wife. Finally the crisis are solved. Pim decides to go studying abroad and gets pardon from her parents Oon and Arop. Somrit's double game is unmasked as he asks Yaboot for wedding. The love story with Tien is over and Somrit is chased by Yetha (ไม่ลูกผู้ชาย) under a weapon threatening without any indemnities. Yaboot finally goes back with Takasit and stops listening to her mother. Morality is safe. Somrit remains alone without anything. The movie เหยื่ออารมณ์ (1988) is about love (รัก), separation (เลิก), appearance and society constraints, i.e. no divorce in older age, no young lover for a woman. A previous version with Krung Srivilai, Aranya Namwong, Sahat Piempongsan was released in 1975.



Year

: 1987



Thai title

:

พิศวาส




English title

:



Rating

: 2/5


Director

:



Main actor

: Kriengkrai Unhanan


Main actress

: Penpak Sirikul,Patama Panthong
A young lady is oppressed by her tutor that has brought her since her youth. She wants to get freedom and be able to choose her own life. She decides to flee, finds a safe place to stay in Chiang Mai area and discovers love also. Her tutor, becoming crazy due to such ingratitude, does everything possible to get her back...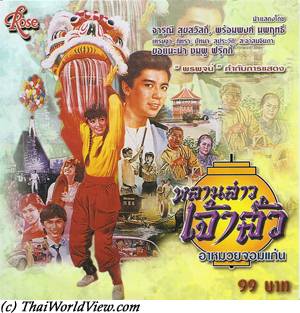 Year

: 1986



Thai title

:

หลานสาวเจ้าสัว




English title

:



Rating

: 3/5


Director

:



Main actor

: Prompong Nopparith,Sor Asanajinda,Settha Sirachaya


Main actress

: Jarunee Sooksawad,Patama Panthong
Two friends are unfortunately making funny mistakes by trying to seduce two young ladies. During Chinese New Year, while trying to earn money in order to repair their mistakes, one of the young lady discovers that she is the Mr Liu's daughter. As Mr Liu is very rich, will it change their frienship and love?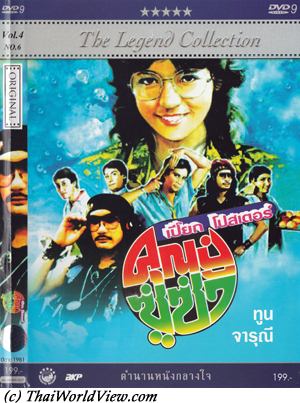 Year

: 1981



Thai title

:

คุณปู่ซู่ซ่า




English title

:



Rating

: 2/5


Director

: Piak Poster



Main actor

: Toon Hiransap,Der Doksadao,Somchai Samipak


Main actress

: Jarunee Sooksawad,Juree Osiri,Sulaleewan Suwanthat,Janthana Siriporn,Chaweewan Boonprok,Patama Panthong



Buy now

:

Thai movie คุณปู่ซู่ซ่า was released in year 1981 and lasts 1h59mn. It is available under DVD format released by BKP. Movie director is Piak Poster. Invited to a wedding party, Et (Toon Hiransap) is still single and is a playboy. He meets Juree Osiri. Et has inherited from his grandfather so he doesn't need to work. He doesn't want to marry as he likes freedom. He invites young lady Pat (Patama Panthong) to Pattaya. Kaew (Der Doksadao), his domestic helper, invites a lady (Janthana Siriporn) in his home while he is away. A little girl called Mot comes to their home. She is Et's relative daughter. As her family has financial issues, the relatives leave Mot with him. Et gets issues with police as he goes to teenager's party (ซวยจริงๆ). Mot's teacher is Thip (Jarunee Sooksawad). As there is nobody to stay with Mot, Thip stays to be her friend as both Kaew and Et are out every night. Et is going out with Chaweewan Boonprok. Enamoured with the teacher Thip (ครูสวยฉิบหาย), Kaew suggests bad ideas to Et in order to seduce Thip such as using sedative (ยานอนหลับ) or inviting her while there is nobody at home. All ideas fail and Thip is very upset with Et as she complains he lives a bad life only spending money and bringing no value to Thai society (ประโยชน์ต่อสังคม). Thip decides to change. Thip's father (Somchai Samipak) is a bakery's owner. Et succeeds to be hired in the bakery and launches successful cakes having tits shape. A co-worker (Sulaleewan Suwanthat) complains he is salacious (ลามก). Worried that Et will bring shame to his father and their business, Thip fires him. Apologizing for his behavior and feeling very sad, Et quits the bakery. While helping the father aggressed by two robbers, he is injured by them. Finally Thip understands Et is a good guy. Et promises to quit his bad behavior and acts as an adult. The second part of this Thai movie is named as คุณย่าเซ็กซี่ was released in year 1982.
---