Increase or decrease font size for easier reading : A+ A-
Passorn Boonyakiat
Passorn Boonyakiat (1969) - ภัสสร บุญยเกียรติ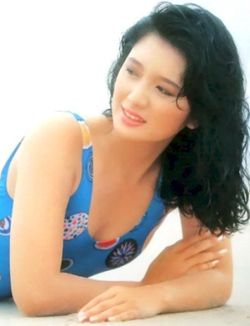 Passorn Boonyakiat was Miss Photogenic International in year 1988 and then has been a top model. She is also known as Honey Passorn Boonyakiat
This Passorn Boonyakiat movie page contains 5 records.
---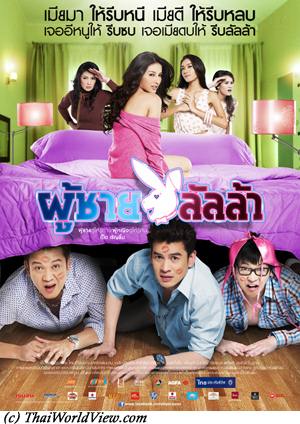 Year

: 2010



Thai title

:

ผู้ชายลัลล้า




English title

: Lunla Man



Rating

: 1/5


Director

:



Main actor

: Akom Preedakul,Note Chernyim,Shahkrit Yamnarm,Mum Jokmok,Jaturong Mokjok


Main actress

: Passorn Boonyakiat



Buy now

:

It is a comedy about three men unfaithful to their wives. They always need to find excuses for their wives as they are coming back home late. Up to now their lies succeeded to convince their wives. Teng (actor Shahkrit Yamnarm) needs to find a new model. He finds a beautiful woman in a mall and takes pictures of her but forget to ask her contact references. Teng finally meets her in a bar. Her name is Sosi. Teng is expert to play the liar (สบายๆ) but Sosi is also lying. Her husband is called Sia. Finally Teng's two friends are uncovered by their wives as their lies were getting bigger and bigger (working late - OT, late meetings, fight against ruffians...). Proofs were stored in their blackBerry smartphones. To make him stop, one of the wife sings in a pub he often frequents and she accepts tips from customers (ทำประชด). Teng has a lovely wife called Bow but a love story is really starting between Sosi and Teng. Finally the male stratagems are discovered. They have to stay home and bring their wives to a holidays resort. But they cannot stop trying seducing other women. They use sedative drugs to make their wives fall asleep (ยานอนหลับ). The drugs don't last enough and the three men are caught being with girls again by their wives. A final last chance is given. Sia is upset by Sosi's behavior and wishes to punish her. Sosi's brother calls Teng for help but Teng has promised to his wife to stop seeing Sosi. Teng and his friends try to rescue Sosi but are captured. Their wives, following them, are also captured. Sia forces them to play silly and humiliating games (mud game, paint game...) to save their husbands. Mum Jokmok, as a guest star apparition, makes them all released. Bow and Teng reconcile once again. But the three men cannot stop flirting (หลายใจ) when seeing beautiful women. Morality is kept as the husbands stays with their wife. There is a few comic guest stars apparition, i.e. Akom Preedakul, Note Chernyim, Mum Jokmok, Jaturong Mokjok. Former Miss Photogenic International Passorn Boonyakiat is playing one of the wives. There is a succession of gags similar to Thai TV comedy shows. This movie is about the old chauvinist Thai tradition to have minor wives (เมียน้อย). Gags are often over exaggerated with easy references such as the shy timid wife wearing glasses.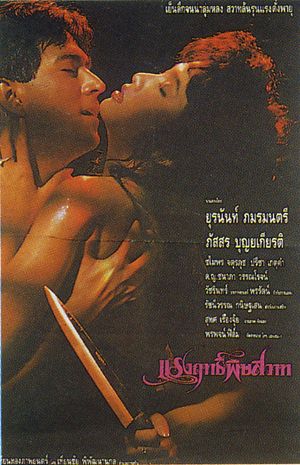 Year

: 1990



Thai title

:

แรงฤทธิ์พิษสวาท




English title

:



Rating

: 3/5


Director

:



Main actor

: Yuranan PamornMontri


Main actress

: Passorn Boonyakiat,Chamaiporn Jaturaput
Narit and Pat are a happy family with one daughter. They have a trip to Pattaya. There Narit meets Jenjira, a lonely beautiful young girl. Narit is doing commercial advertisements. As looking for a model for sport car advertisement, he meets Jenjira again. She seduces him. He starts to party. He was a good husband but starts to misbehave. Jenjira never had a father and her mother died when she was 12. Jenjira is too possessive and crazy. She hurts herself in order that Narit stays longer and takes care about her. Narit and Pat move to a new home. Jenjira wants to see Narit again but he prefers to break up in order to focus on his family and job. Jenjira is heart broken. She starts to call at his home. She announces that she is pregnant and that she will keep the baby. Jenjira shows up at Narit's apartment, which is for sale, and meets his wife feigning interest as a buyer. She blames Narit for having no responsability same as her father. She puts a snake inside their daughter's bird cage. Narit has to say the truth about Jenjira to Pat. Jenjira kidnaps their daughter O but finally releases her. Pat is hurt by a car. Jenjira starts to be violent and try to kill Narit as she is afraid to lose him to Pat. Through a final confrontation, Pat has to shot Jenjira in self-defense. It is the Thai remake of Fatal Attraction with Michael Douglas and Glenn Close.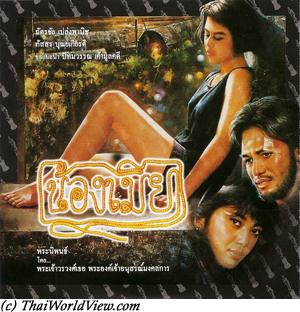 Year

: 1990



Thai title

:

น้องเมีย




English title

: Song for Chao Phraya



Rating

: 5/5


Director

: ChatriChalerm Yukol



Main actor

: Chatchai Plengpanich


Main actress

: Passorn Boonyakiat,Sulaleewan Suwanthat



Buy now

:

The director ChatriChalerm Yukol had done a remake of his own 1978 movie. New actors are playing and a similar scenario is used. This movie got three Thai awards. Four members of a family are living on a sand barge (เรือทราย). They navigate between provinces. Saeng, young man, is married to Plang. They have a young baby. Taptim is the young 15 years old sister-in-law. They are boat people (คนเรือ) since generations. The barge arrives in Bangkok. Plang is fed up with her life on the boat. She is still young and wants to have fun. She threathens Saeng to choose between his sand barge and her. She would like to sell the sand barge and change their life. Saeng bought the sand at high price but the Bangkokian trader only proposes a low price. The boat is leaking and needs repair. He refuses to sell as it means losing money. Plang believes she can be an actress (ดารา). Plang meets in a hair-dresser shop a gentle lady called Mrs Aree, who proposes to help her. Due to her provincial accent, Mrs Aree understands immediately who is Plang and sell her dreams. Mrs Aree is in fact a mama-san (มาม่าซัง). Taptim refuses to join Plang as she is afraid to become a prostitute in Bangkok. Plang quits the barge. Saeng is shocked and finally sells the sand at lower cost to have money and to look for his wife in Bangkok. Bangkok is so big. He walks bare foot alone through the streets, markets and malls to no avail. Taptim has to take care of the baby as both parents are out in Bangkok. Saeng meets the taxi driver who brought his wife to the hair dresser. The taxi is his home same as the boat is Saeng's home. There is mutual understanding between the two men (คนบ้านนอก). Aree is said to be working in a Patpong gogo bar. There are dozens of bars in Patpong. Mrs Aree is now said to be a woman recruiting girls for Chao Praya massage parlour. Saeng succeeds to get Mrs Aree's address but has spent a lot of money. Being drunk, he falls in the river while boarding the boat and so loses his money. Saeng has to sell his boat for 100 000 baht but once debts are paid, there is a few money left to buy a small boat. In Bangkok, business is business. The taxi driver is not as friendly as in first opus and will not transport Saeng for free. Saeng continues to walk and walk many days around Sukhumvit area but cannot find Plang. Meanwhile Plang is still dreaming. Mrs Aree introduces an old rich man to Plang. She is the birthday gift of a movie producer. It is a financial transaction. After a diner, Plang is drunk and sent to a motel. Meanwhile Saeng finds Mrs Aree but then there is a fight with the condominium guard. He is beaten and sent to jail. Realizing that the older man is trying to rape her, Plang fights back and flees but Mrs Aree's ruffians beat her. Taptim pays for Saeng's bail so that he can exit from jail. Saeng wishes to get Taptim as new wife. They all go back to countryside. Anyway they are reunited as a family. When aims are too high, the fall is tough. Bangkok is a symbol for poor up-country people, i.e. dream of wealth. Some people dream to get rich there but many of them come back home without money. Some countryside people arrive in Bangkok and get abused by Bangkokian people.



Year

: 1990



Thai title

:

หลงไฟ




English title

:



Rating

: 3/5


Director

: Ruj Ronnapop



Main actor

: Santisuk Promsiri,Waruth Woratum


Main actress

: Passorn Boonyakiat



Buy now

:

Kaew is a beautiful university student but she is coming from a poor family. Accompanying a friend for job interview, she meets a lady, Waew, that proposes her to work as escort girl and promises her easy money and life. Kaew has to leave her aunt's house as her uncle is trying to take advantage on her so she accepts to work as escort girl and gives 40% to the mamasan. She gets 30 000 Baht for the first night for the loss of virginity. She gets used to easy money. She starts to get advantage of the men that wish to marry her, her office boss and her university friend, Chon. Both of them buy her gold bracelets. Chon is a nice guy coming from country side (Santisuk Promsiri plays again a character similar to Boonchu) with only a 5000 Baht monthly salary. He even sends her money to prepare the dower. A german customer, Jacob, also proposes to marry her in Germany. But Kaew has higher goals. She is used to easy money and doesn't want to lower down her status. She starts to seduce the son of a rich family, who is already fianced. He rapidly gets fond of Kaew. The parents reject this love and enquiry on Kaew's side activities. They cut their son pocket money and his car. The relationship gets tense with Kaew as she is the one to support to him. They finally break up. Meanwhile Chon and Kaew's office boss understand they have been tricked and the police catches her. Kaew tries to have a new life but fails. Being too old for working with Waew as escort girl, she gets trapped with a brutal local pimp, who beats her and forces her to see many customers. She only escapes this hell by stabbing him. Wishing to get an easy life, she only gets pain. She finally leaves for Germany by answering positively to Jacob's offer. Arriving there, some local men take her passport and money. She understands she has been tricked in a local prostitution ring again. She needs to work hard to pay back her debt to Jacob. Fed up by this life with no future, she starts to deeply upset the local prostitution ring. Finally Jacob strangles Kaew. This movie shows the bad situation in which young Thai ladies can be trapped if they choose easy money way of life.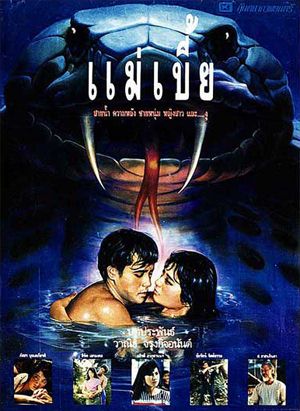 Year

: 1989



Thai title

:

แม่เบี้ย




English title

: MaeBia



Rating

: 3/5


Director

:



Main actor

: Likit Eakmongkol,Sor Asanajinda


Main actress

: Passorn Boonyakiat,Apiradee Pawaputanon
Mekhala is a rural young attractive lady living in a old house. Tourists groups are frequently visiting the house to buy local products. Chanachol, urban educated businessman, is visiting the house and there is an immediate match between Mekhala and him. Mekhala is living with Pa, Lung and a little girl. The previous owners of the house and their child drowned but the corpse of the child was never found. Chanachol has the feeling that he already comes before in this old house. Chanachol is already married and have two children. Finally Chanachol has a liaison with Mekhala. A supernatural jaleous cobra is protecting Maekala. The cobra tries to send Chanachol away but Mekhala refuses and protects Chanachol against the snake. Phot, a local resident, also wishes to marry Mekhala but she refuses. The cobra sends him away. Phot comes back to Mekhala's house in order to catch and kill the cobra. He gets bitten and dies. Meanwhile Chanachon's wife realises that her husband has an extra-marital affair. She tries to threathen Mekhala. Still loving strongly Chanachon, Mekhala decides to break with him in order not to wreck his family. Chanachol cannot stand this separation and go back to the old house. On the way back, the cobra makes him fall from the boat and he drowns. It seems that Mekhala's previous suitors ended up dead and a new one is already courting Mekhala...
---