Increase or decrease font size for easier reading : A+ A-
Pao Porapak
Pao Porapak (195x) - เป้า ปรปักษ์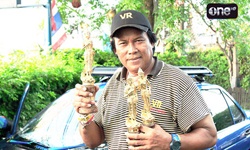 Pao Porapak often played ruffian roles such as hitman. He got three cinema awards. He is often called as นักบู๊พเนจร. He was actor and director
This Pao Porapak movie page contains 31 records.
---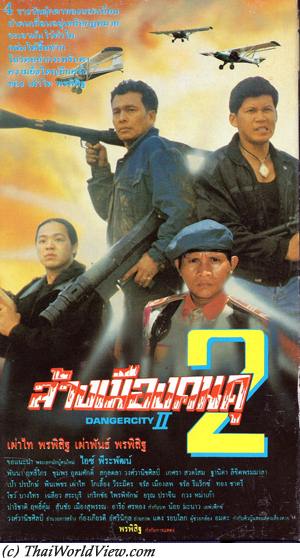 Year

: 1997



Thai title

:

ล้างเมืองคนดุ 2




English title

: Dangercity II



Rating

: 3/5


Director

:



Main actor

: Panna Rittikrai,Pao Porapak


Main actress

:
Thai movie ล้างเมืองคนดุ 2 / Dangercity II was released in year 1997. It lasts 85mn. It was released under VCD format by Thai company Lepso but it doesn't feature a very sharp picture. It was also released under VHS format many years ago. Before dying, a father recognizes he kidnapped his two children, Paopan and Ai, when they were just born. Many years passed. Ruffians attack a resort under construction. Police inspector Prai (สารวัตรใจเพชร) (เผ่าไท พรพิสิฐ) uses a plane to arrive on site and gets support from Police officer Paopan (เผ่าพันธุ์ พรพิสิฐ). Ruffians are pushed back and flee in the jungle. Panna Rittikrai is one of the ruffians' leaders. Police officer Paopan has to ordain (บวช) to honor his father memory. Shootings do happen during the ordination ceremony as ruffians are looking for revenge. Police inspector Prai chases the shooter up to an outdoor cinema (หนังกลางแปลง). Prai asks Paopan to stay calm and to continue being a monk. He will manage the ruffians by himself. The big boss Choomporn is looking for war weapons (อาวุฒิสงคราม). Phayak (Pao Porapak), as hitman, is hired to get rid of other ruffians' opponents. A young man, called Ai, (ไอซ์ พีระพัฒน์ - his first movie) comes to visit the monk, his younger brother. His target is to catch the ruffians. The resort's owner is kidnapped by Panna and his ruffians during his birthday celebration. As the owner refuses to collaborate, the leader Choomporn asks Phayak to kidnap the daughter. The young man, part of CIA, meets Prai and they start working together. The daughter is kidnapped. The supermarket owner Ploy, Prai's sweetheart, is also kidnapped. Police inspector Prai, police officer Paopan and the young man Ai finally storm the camp. Panna, Phayak and the leader Choomporn are killed. There is an excessive use of action as the heroes always succeed to escape the grenades and bullets but it remains a full action-packed movie targeted for Thai provinces. Other actors and actresses include สกุลตา. Dangercity I was released in year 1992. The movie Dangercity II got four Thai cinema awards in 1997.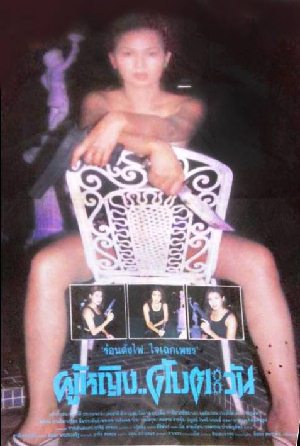 Year

: 1997



Thai title

:

ผู้หญิงดับตะวัน




English title

:



Rating

: 3/5


Director

:



Main actor

: Pao Porapak


Main actress

:
Thai movie ผู้หญิงดับตะวัน was released in year 1997 and lasts 1h22mn. Main actors / actresses featured are แจ๊กกี้ เชน and กิตติ อัญชลี. The movie was released under VCD format by Lepso company. Hot scenes are probably censored or cut as the movie is unusually short and the scene shown on the poster is not present in the VCD. Young women Nancy (แจ๊กกี้ เชน) and Sairung are close friends. Nancy wishes to revenge about a few men, who hurt her (ความแค้น). While Nancy was with her boyfriend Man, four men entered in their room, killed Man and raped Nancy. Nancy and Sairung go to Pattaya to continue their investigation on those men. They stay in uncle Chat's resort (Pao Porapak). Suriyan helps a drunk lady aggressed by four ruffians in Pattaya. Ruffians are doing a women traffic. Nancy and Sairung are aggressed again and get help from Suriyan and his friend Somporn. Friendship starts. Suriyan wishes to help Nancy (งานล้างแค้น). Suriyan brings Nancy (สินค้า) to ruffians in order to act as a Trojan horse. She kills one ruffian but gets captured. Assamuya is the ruffians' leader. Uncle Chat is killed as he couldn't repay his debts. Without news from Nancy, Sairung and Suriyan decide to storm Assamuya's place. They succeed to release her. Assamuya is captured alive but others are all killed during the fighting.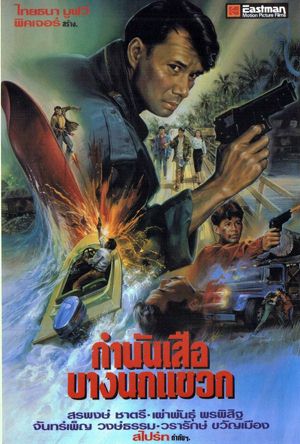 Year

: 1994



Thai title

:

กำนันเสือบางนกแขวก




English title

:



Rating

: 3/5


Director

:



Main actor

: Sorapong Chatree,Pao Porapak


Main actress

:
Thai movie กำนันเสือบางนกแขวก was released in year 1994 and lasts 1h28mn. It was released under cable TV. This movie is part of the last movies where Sorapong Chatree was still the main actor in Thai action movies. He was 45 years old already so Thai directors also tried to introduce new younger actors such as เผ่าพันธ์ พรพิสิฐ. Four ruffians commit a deadly robbery and flee by speed boat. Subdistrict headman Seua (Sorapong Chatree) chases them and shoots them. Young lady Manao is aggressed by Sia Lek. The village leader, her father, chases him. Teacher Rataya is also aggressed by Sia Lek and his teammates. New deputy district office (ปลัดอำเภอ) Han (เผ่าพันธ์ พรพิสิฐ) is nominated in this area. Surapon is a local leader. Boats have to pay a regular fee to him in order to be able to run business. A new bridge is going to be built so Sia Surapon tries to make it failed as it will jeopardize his business. Most of the villagers have debt with Sia Surapon (อิธิพลคุม). Han and Seua join to get rid of Sia Surapon. Subdistrict headman Seua forbids such illegal business. As retaliation, ruffians try to shoot him at nighttime. Sia Lek tries again to aggress Manao and the teacher Rataya but luckily Han and Seua help. Cheut and Phi Chit (Pao Porapak) have debts to Sia Surapon linked to their parents, who lost their land title, as they couldn't read the paper they sign. Sia Surapon hires Cheut to bomb the bridge. About to press the detonator, Cheut refuses as the teacher Rataya and children are crossing the bridge. Fighting erupts between Cheut and Sia Surapon's ruffians so Cheut has to flee. Cheut shares information about Sia Surapon's dirty business with Han. Cheut is shot by Surapon's ruffians and Han is captured but he refuses to join Sia Surapon. Sia Lek captures the teacher Rataya and Manao. Subdistrict headman Seua is aware. Subdistrict headman Seua and the village leader storm the hangar. The village leader is shot. Subdistrict headman Seua releases Han and then the two ladies. Subdistrict headman Seua and Han then face Sia Surapon's ruffians. Heavy shootings occur. Ruffians are neutralized.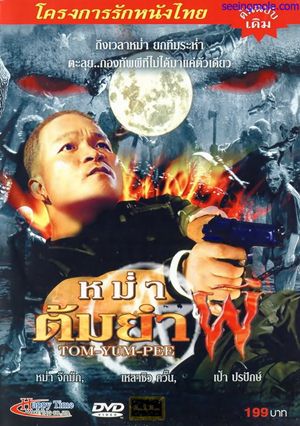 Year

: 1991



Thai title

:

ผีดิบดิบ




English title

:



Rating

: 1/5


Director

:



Main actor

: Mum Jokmok,Pao Porapak


Main actress

:



Buy now

:

Thai movie ผีดิบดิบ was released in year 1991 and lasts only 1h09mn. It is an horror R movie (R - Restricted). It is available under VCD format and was released by Happy Time Marketing Co company. Due to marketing purpose, as Mum Jokmok was popular, the movie name was changed from ผีดิบดิบ to หม่ำต้มยำผี (Mum Tom Yam Ghost). The movie is censored or cut in order to be released widely under VCD format but only 1h09mn remains. Some love sequences are blurred or even cut. Master Mum Jokmok is fighting versus Pao Porapak. Both have supernatural powers. Elder brother Kwan is back from overseas studies. A will is opened as his father died suddenly. The daughter Chiep and the son Kwan get 100% of the heritage. The young mother-in-law (แม่เลี้ยง) Oi just gets authorisation to stay in the house. If anything happens to the children, then the heritage will be hers. Nattaporn, Oi's lover, promises to manage this. Kwan is upset as his father died so fast. He has a bad relationship with the young mother-in-law. Kwan, his sister Chiep and her boyfriend have issues with ruffians hired by Oi in a discotheque. Nattaporn is doing black magic incantations to cause Kwan to have a motorbike accident. He falls in hell (เมืองผี) and meets his father! The father warns him about Oi and tells him how to go back to the earthen world. Nattaporn is some kind of vampire. Kwan is back as a ghost and contacts the lawyer, who is afraid of ghosts. Nattaporn kidnaps Chiep. Kwan asks for the lawyer's help. Kwan possesses Oi's body to kill Nattaporn but he fails. Master (อาจารย์) Mum is then involved in order to defeat Nattaporn. Following lengthy fightings, Nattaporn and Oi are defeated. The movie is cut too much to be appreciated and the release under a new name is just a commercial gimmick as Mum Jokmok has only a limited second role.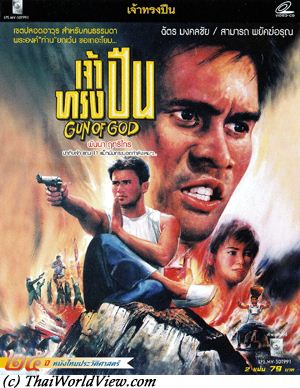 Year

: 1991



Thai title

:

เจ้าทรงปืน




English title

: Gun of god



Rating

: 2/5


Director

:



Main actor

: Panna Rittikrai,Chat Mongkolchai,Pao Porapak


Main actress

:



Buy now

:

Thai movie เจ้าทรงปืน was released in year 1991 and lasts 1h30mn. Hitman Tom (Pao Porapak) kills a man but then he is chased by people wishing to kill him. His boss is เจ้านาย Somkit (Chat Mongkolchai). Tom always supported Jao (Panna Rittikrai), a young mechanic (ช่างเทวดา). Following a killing where a child dies, Tom decides to stop being a hitman (มือปืน) and announced it to Somkit, who asks him to think again about it. Internal fightings happen between some local ruffians to control the area. Mongkol wishes to revenge against Somkit. Tom dies while protecting Somkit a last time. Jao arrives just when Tom is about to die. Before dying, Tom recommends Jao to take refuge in one of his friends' home. Masked killers get rid of Somkit's opponents including Mongkol. They stop by the restaurant to shoot Tom's friend and chase after Jao. Jao is shot but the bullets don't enter thanks to a holy Buddhist amulet provided by Tom before his death. He is rescued by Lung, who explained Tom's past to him. Jao decides to chase Somkit. This one assures him he is innocent but masked men capture Jao. The mastermind is indeed Somkit. The movie ends up with multiple fights involving Jao and his friends versus Somkit and his ruffians. This movie mixes action and comic sequences including low level jokes such as flatulence noise, gay fighter...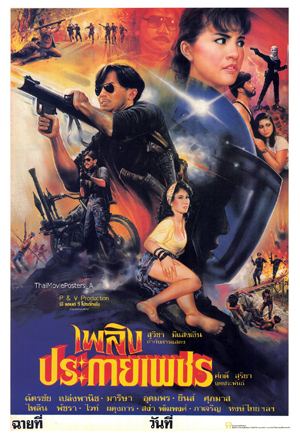 Year

: 1989



Thai title

:

เพลิงประกายเพชร




English title

:



Rating

: 3/5


Director

:



Main actor

: Chatchai Plengpanich,Pao Porapak


Main actress

:
Thai movie เพลิงประกายเพชร was released in year 1989 and lasts 1h25mn. It is a full action-packed movie but unfortunately the transfer from 35mm film to VHS was poorly done. Main actor is Chatchai Plengpanich. Additional actresses and actors featured are มาริษา อุดมพร, ไพลิน พัชรา, ยีนส์ ศุภมาส, male actor ไวท์ ผดุงการ. Two ruffians leaders, i.e. Sia (เสี่ย) Boonsung and Sia Pheum, are destroying the local forest. The ruffians' leaders know it is a bad job destroying forests (ทำร้ายป่า) and against the law but it allows then getting rich fast. A man called เพลิงประกายเพชร is wearing an opaque helmet and is protecting the forest in Isan region while riding a motorbike around. He is also putting some posters to warn people damaging the forest. Hired by Sia Boonsung, Dot, a hitman, tries to kill policeman Moo Daeng (Chatchai Plengpanich) but shoots other policemen instead. Moo Daeng catches him and sends back the bones to Sia Boonsung as a warning. The ruffians' leaders suspect Moo Daeng to be เพลิงประกายเพชร. Everybody wants to know who is เพลิงประกายเพชร. Young lady Duang Kaew meets Chat Chaiyaphum (Chatchai Plengpanich), unwilling to unveil he is a policeman. Chat kills three men attacking Duang Kaew. Moo Daeng releases Dam, captured by ruffians. Duang Kaew is his sister. Puangkae, sister of Sia Pheum, is captured by Moo Daeng's team and used as a bait (ตัวประกัน). The ruffians' leaders hire additional hitmen (มือปืนรับจ้าง) to fight back. Moo Daeng like Duang Kaew and visits her often so Pao Porapak (นักบู๊พเนจร) tries to trap him there. Soi is Sia Boonsung's sister. The hitmen storm Moo Daeng's base and kill many of his teammates. Meanwhile Wai (ไวท์ ผดุงการ) brings Puangkae out of danger and another man brings Soi out of danger also. Moo Daeng and his two last colleagues succeed to kill the ruffians but more are still left around a hangar (โกดัง). Puangkae breaks her lover's promise to Wai (ทรยศ). Duang Kaew is taken as hostage by Puangkae. Sia Boonsung refuses to listen to his sister Soi asking him to surrender and flees to take refuge in Sia Pheum's home. Moo Daeng and Dam decide to storm the place. War weapons are used such as shoulder-fired missiles and M16 rifles. นักบู๊พเนจร shots Dam. Through a daring finale, Moo Daeng kills both ruffians leaders and gets his life saved thanks to Wai who diverts Puangkae about to kill Moo Daeng and sacrifice his life to protect the forest (รักษาป่า). Without people like Moo Daeng and Wai, Thailand will be a desert (ประเทศของเราจะเป็นทะเลทราย).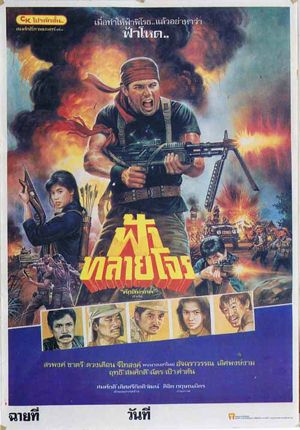 Year

: 1989



Thai title

:

ฟ้าทลายโจร




English title

:



Rating

: 2/5


Director

:



Main actor

: Sorapong Chatree,Chat Mongkolchai,Rith Luecha,Somsak Chaisongkram,Pao Porapak


Main actress

: Duangdeuan Jithaisong
Thai movie ฟ้าทลายโจร was released in year 1989 and lasts 1h32mn. It is available under VCD format released by Lepso company. It was renamed as ถล่มพระกาฬ by Lepso. As often with war movies from 1985 to 1995, it is very violent with a lot of blood to make it more realistic. Hanfan (Sorapong Chatree) and his men ambush a group of soldiers. By capturing a soldier, they can identify where the enemy camp is. Heavy fighting happens and many soldiers are killed on both side. Hanfan is the only survivor but he is also injured. He is rescued by villagers. Meanwhile ruffians led by Chat Mongkolchai storm the village. The men (โจรป้า) rape the girls and kill all inhabitants. Only two young ladies (including Duangdeuan Jithaisong) are left and are hiding in a cave inside the mountain with Hanfan. They help Hanfan but he wishes to go to the ruffians' camp in order to release some of his men (ทหารชุดดำ) held captive there. Somsak Chaisongkram is head of the camp and Pao Porapak is one of his soldiers. The doctor of the camp disagrees with Somsak's harsh methods. Hanfan kidnaps the doctor (ขายชาติ) to know where his men are held captive. Somsak, aware that Hanfan is still alive, sends his men to chase him. The soldiers find where the two young ladies are hiding and capture them. Meanwhile additional soldiers enter in the jungle but they fall in a trap. Only two survive and are captured. Somsak and his men torture the two ladies. Hanfan storms the place, releases them and kills Somsak. Hanfan releases the doctor but she is captured by Chat's team. Other ruffians led by Rith Luecha join them. The doctor is aggressed by two ruffians including Pao Porapak but Hanfan helps again on time. Rith tortures Hanfan's soldiers. Disgusted, the doctor steals some documents for Hanfan. She is followed by Chat and other ruffians as they wish to track Hanfan. Fightings happen between Hanfan and the ruffians. They shot the doctor but Hanfan kills them all including Chat. Hanfan and two ladies storm the ruffians' place to get rid of them. Severe fightings happen and the two ladies are killed. Similar to a a Thai copy of Rambo II, Hanfan succeeds to get a huge machine gun with ammunitions over the shoulder. All ruffians including Rith are killed.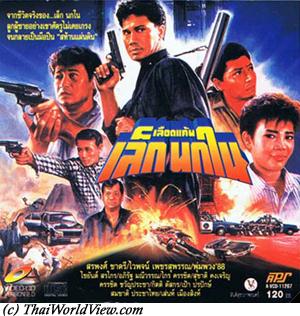 Year

: 1989



Thai title

:

เลือดแค้น เล็ก นกใน




English title

:



Rating

: 3/5


Director

:



Main actor

: Sorapong Chatree,Kanchit Kwanpracha,Chaiyan Sorakrai,Krai Kanchit,Pao Porapak


Main actress

: Pumpuang Duangchan
LepsoStudio also sells this movie but names it incorrectly as มือปืนสะท้านเมือง or 7 สิงห์แดนนรก. This movie is based on a real story. Life's circumstance changes Lek's existence and forces him to kill 12 men. A few village headmen (ผู้ใหญ่บ้าน) have a meeting to decide who will be the next subdistrict headman (กำนัน). Current subdistrict headman Liem wants to push his own son to be his successor. His son is a local police officer. They use bad influence (อิทธิพล) to control the subdistrict. Village headman Naparn tries to oppose. Naparn has two sons, Lek (Sorapong Chatree) and Porn. One night village headman Naparn and Porn are killed. Subdistrict headman Liem hire a hitman (มือปืนรับจ้าง) to kill also Lek. During the funeral (งานศพ), the police officer asks Lek to follow the law (หน้าที่ของกฎหมาย). Lek decides to do his own justice as it will be too difficult to find proofs against a subdistrict headman backed up by a policeman son. The subdistrict headman Liem and one of his son are killed by Lek, who has to flee. The subdistrict headman Liem's second son is not killed as he is a policeman. Liem's ruffians team asks support to subdistrict headman Sing (Kanchit Kwanpracha). Various intimidation and murders are performed by the ruffians team. Lek's family members or friends are killed one by one. They were innocent. Lek cannot remain neutral (เป็นคนดีไม่ได้). Lek has no choice than to exit from his retreat. He shoots a few ruffians. Then Lek quits the province to find a new job. He gets a job in a sawmill (โรงเลื่อย) in Saraburi. The boss is a lady (Pumpuang Duangchan). As he saves her from a log accident, they become sweethearts (แฟน). The ruffians find his retreat. A first murder tentative fails. Understanding that the ruffians will never let him safe, he decides to get rid of them (ต้องฆ่าให้หมด) to solve this endless situation. Lek prays every evening as life's circumstance forces him to kill ruffians to protect people he loves. Lek refuses to become an official hitman as he will not kill people who didn't hurt him. He attacks directly the ruffians' HQ. Sing and the ruffians are afraid for their lives. They ask help from another subdistrict headman. Lek and his remaining friends decide to raid his house to get rid of them. Police arrives to separate both groups. Believing that Lek is injured, his wife hurries up to go there and convince him to surrender (มอบตัว). After a trial, Lek and his friends are condemned to life imprisonment but are finally released after 12 years in jail. The real Lek was then killed by a hitman in 1993.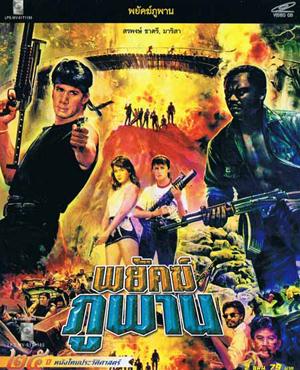 Year

: 1989



Thai title

:

พยัคฆ์ภูพาน




English title

:



Rating

: 3/5


Director

:



Main actor

: Sorapong Chatree,Pao Porapak,Pipop Pupinyo,White Padungkan


Main actress

:
Thai movie พยัคฆ์ภูพาน was released in year 1989 and lasts 1h29mn. It was released under VHS and also under VCD by Lepso Ltd Company. Ruffians are blocking the road to the market and are asking for a passage fee (ค่าผ่าน). A black man, called Cha, is beaten as he refuses to pay. In (Pipop Pupinyo), as restaurant owner, is married to Da (ยีนส์ ศุภมาส). Da's sister, Saeng, stays with them (น้องเมียกู่). Klong (Sorapong Chatree) is stopping by In's restaurant to have a drink based on 12 fresh eggs! He is selling coffins (ขายโลงศพ) because he heard many people are dying in this area! A fighting with ruffians happens as they ask him to leave the area. Local kingpin Nai Chawaen has bad business reputation. He is assisted by White Padungkan. Another ruffians' team is led Kraison and assisted by Pao Porapak. Nevertheless, both ruffians' teams meet for business. They suspect a third party is involved as business disruption is occurring. Saeng (มาริษา อุดมพร) is aggressed by ruffians asking for protection fee. Klong helps her. A romance starts between Saeng and Klong. One night, ruffians storm In's restaurant to kidnap his wife and sister in law. Klong helps again. Cha's uncle is shot by white's team. White puts the blame on Klong so that Cha wants to take revenge. Cha joins White's team. Paorak warns Klong proactively so Klong joins his team. Kraison is looking left-hand (มือซ้าย) to support him as he has already a right-hand (มือขวา) through Pao Porapak. Another money drugs exchange occurs between the two groups but it ends up with shootings again. Klong pushes them against each other. Nai Chawaen finally gets both money and drugs. Saeng and her sister Da are kidnapped to attract Klong. Meanwhile Kraison's team wishes to take profit to attack Chawaen's team. In brings additional support with policemen. Final battle occurs. Ruffians are all killed. Cha is also killed during the fightings. The area is now safe with both ruffians' team being neutralized.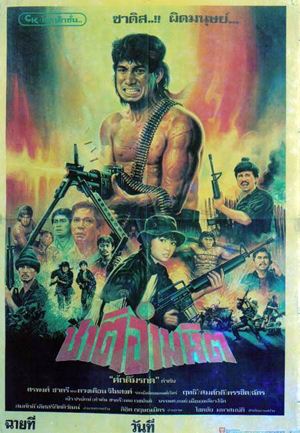 Year

: 1988



Thai title

:

ชาติอำมหิต




English title

:



Rating

: 3/5


Director

:



Main actor

: Sorapong Chatree,Kanchit Kwanpracha,Chat Mongkolchai,Rith Luecha,Somsak Chaisongkram,Pao Porapak


Main actress

: Duangdeuan Jithaisong
Thai movie ชาติอำมหิต was released in year 1988 and lasts 1h33mn. It was released under VHS and VCD formats. Sorapong Chatree plays a role similar to a Thai Rambo. A lot of shooting and bloody fightings occur in this war movie. Trafficker Pao Porapak tries to break a weapon deal with Somchai but it fails and he gets killed. Thai soldier Pleung (Sorapong Chatree) is back to his home but Chat Mongkolchai and his men are waiting for him. They ask for a military code. Young Lady Dawee (Duangdeuan Jithaisong) and her brother Somchai are back to their village and face forest bandits (โจรป่า) attacking the village. Her father is Kanchit Kwanpracha. Dawee wishes that the villagers move to a new place but her father refuses. Chat and his men torture Pleung to get the code as he refuses to disclose it. At nighttime, a villager helps Pleung to flee. Chat's men chase Pleung but it is not easy as he is used to fight in the jungle. He kills many of them one by one. While fleeing, Pleung faces the forest bandits again and they chase him. Dawee is around at that time and a misunderstanding occurs as Pleung believes she is part of the forest bandits. They understand they have a common enemy (ศัตรูเดี๋ยวกัน). Chat and Rith Luecha, Somsak Chaisongkram meet in their main camp. Upset that Pleung succeed to flee thanks to Dawee, the forest bandits storm her village and kidnap her father. Aware, Pleung and Dawee prepare a plan. They put some explosive around the ruffians' camp and succeed to release the father and Somchai. Very heavy fightings and explosions occur. Pleung, as expected, is using a heavy machine gun. Most of protagonists die except Pleung and Davee.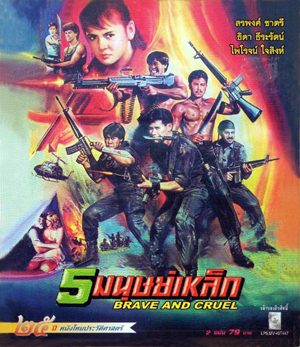 Year

: 1988



Thai title

:

5 มนุษย์เหล็ก




English title

:



Rating

: 3/5


Director

: Payoong Payakul



Main actor

: Sorapong Chatree,Pao Porapak,Phairoj Jaising


Main actress

: Thida Thidarat,Chutima Kawinla
Thai war movie 5 มนุษย์เหล็ก / Brave and cruel was released in year 1988 and lasts 1h21mn. It was released under VHS format and also VCD format by Lepso Studio company. Movie director is Payoong Payakul. This movie was also released internationally under the name "Hell Hunters" by Filmark production. It was then mixing sequences from the Thai movie and original sequences shot in Hong Kong. Hell Hunters VHS lasts 1h18mn. IFD and Filmark used to buy uncut / unrated negatives that included alternate versions / shots, nudity and similar topics because they used those movies for international markets where censorship was different. Hell Hunters include nudity scenes removed from Thai VHS. Captain (ผู้กอง) Leuat (Sorapong Chatree) is leading Thai soldiers including Pao Porapak. They are attacked and have to retreat. Five soldiers are left only and they don't have radio to ask for help. Mapree (Thida Thidarat) brings her mother, who is injured following village attack. She meets doctor Phairoj Jaising and nurse Chutima Kawinla. They plan to go back to the village to take care of other injured villagers. On the way to the village, the five soldiers stop the van and share it to reach village Nong Prai. All villagers are dead. The five soldiers accept to chase the attackers guided by Mapree and to release the missing villagers. Three foreigners, met on the way, join them, i.e Kellyann Kelly, David Klaper, Bernard Hindenberg. These three foreigners are not famous actors. It reminds "Gold" / "ทอง" movies by movie director Chalong Pukdeewichit. They also always included foreign actors but they were famous actors and the movies budget was much higher than "5 มนุษย์เหล็ก". The attackers storm another village. The foreigners' Thai families have been killed. Leuat needs to go with his men to a ralliement point. Through the small van, they continue their journey towards the attackers. The ralliement point is also attacked by the ruffians. Thanks to Mapree, they find where the attackers are staying. Despite being a small number, they decide to attack the ruffians. Thanks to a radio found at the ralliement point, they ask for renfort. Attackers are aware of this as they spy the radio waves. Heavy fighting occurs. The Thai soldiers win but one of them dies to protect his country (รักษาแผนดิน).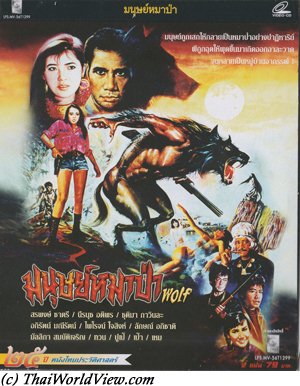 Year

: 1987



Thai title

:

มนุษย์หมาป่า




English title

: Wolf



Rating

: 2/5


Director

:



Main actor

: Sorapong Chatree,Phairoj Jaising,Lak Apichat,Pao Porapak


Main actress

:
Thai movie มนุษย์หมาป่า / Wolf was released in year 1987. It lasts around 1h30mn. Two versions were released, one on VHS version and one on VCD format released by Lepso (renamed as จิ้งจอกผีสิง). On VCD version, luring scenes are censored but longer action sequences are present. Sompon (Sorapong Chatree) leads a group in the forest (เดินป่า) looking for treasures. Four years ago he was the only survivor. His life was saved by the daughter of the village leader called Pailin (นีรนุช อติพร). Ghosts (ผี) are guarding a cave with treasures. Pao Porapak is part of Sompon's team. The group is attacked by robbers (โจรกลุ่มน้อย). Some villagers protect the cave and are under the spell of Mae Mo, a local sorceress. Villager leaders are Phairoj Jaising and his son Lak Apichat. Another group is following Sompon as they are eying for the treasures also. Sompon's group reaches the caves first. The villagers attack the second group but they succeed to escape. During nighttime, ghosts attack Sompon's group. ผีผู้หญิงกลัวพ่อ ผีผู้ขายกลัวแม่ so Sompon asks the teammates to get naked to chase the ghosts away. In the second group, a rapist tries to abuse a lady so internal fightings occur. Mae Mo discourages Pailin and Sompon's love story. At nighttime, Sompon is transformed as a werewolf (หมาป่า) but the spell is not strong enough. The second group chases the first one from the caves. At nighttime they are attacked by ghosts and the remaining members are killed by villagers through torture. Sompon refuses to flee. A duel happens between Sompon and Lak. As Sompon wins, it shows the triumph of love towards fake magic from sorceress Mae Mo. Other actresses include อภิรัตน์ มณีรัตน์, มัลลิกา สมบัติเจริญ.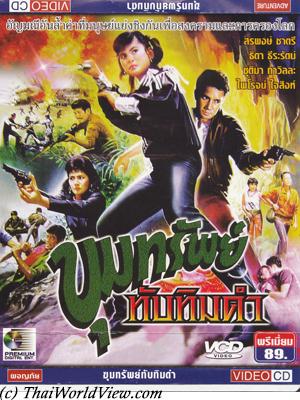 Year

: 1987



Thai title

:

ขุมทรัพย์ทับทิมดำ




English title

: Forbidden ruby



Rating

: 2/5


Director

: Payoong Payakul



Main actor

: Sorapong Chatree,Phairoj Jaising,Lak Apichat,Pao Porapak


Main actress

: Thida Thidarat
Thai movie ขุมทรัพย์ทับทิมดำ / Forbidden ruby was released in year 1987 and lasts 1h28mn. It was released under VCD format by Lepso company and VHS format before. It was also released internationally under the name "Magic emerald" by Filmark under VHS format (1h26mn). Payoong Payakul is movie director. The movie features the same village as Thai movie มนุษย์หมาป่า. So it looks like movies ขุมทรัพย์ทับทิมดำ, มนุษย์หมาป่า, มหัศจรรย์สุดขอบฟ้า are part of a trilogy. Praisanee (Thida Thidarat) has issues with four ladies warriors as she enters a forbidden part of the forest. Their master (อาจารย์) stops the fighting. Two villages are opposing each other. One is led by Chao Mae and one is led by Jaising. Mae Mot (แม่หมด) sanctuary, old heritage, is protected by the two villages and they keep arguing. Jaising's villagers are attacked by Chao Mae's villagers led by Pao Porapak. Five of them die. The leader Chao Mae (เจ้าแม่) is a lady. Chao Mae maintains discipline among her male warriors by offering ladies to them or even herself. Chao Mae's villagers attack Jaising's village while Lak Apichat, village leader Phairoj Jaising and his daughter Praisanee are away. They promise to get revenge. Three men arrive in Chao Mae's village for a weapons deal to get rid of Jaising's village. They get full hospitality from Chao Mae. Another groupe including Macawan (Sorapong Chatree), Kaewta, Warun, Phit and lady Pissamai is visiting the forest to find old jewels. They are aware to be near ancient dangerous villages. The weapons exchange fails thanks to Praisanee. Another weapons exchange fails again following heavy shootings. Praisanee and villagers arrests Macawan's team to understand why they enter the forest. Chao Mae needs blood to stay healthy. Macawan decides to help Praisanee. While visiting the Mae Mot sanctuary, Phit dies. Pissamai is captured by the Chao Mae's villagers. She is aggressed and killed by them. At night time, Praisanee enters in the village to release her but it is too late. She then faces Pao Porapak and defeats him. Unfortunately, Pissamai is dead already. Both groups of villagers enter the sanctuary and heavy shootings occur. Praisanee gets the magical weapon from Mae Mot and gets rid of opponents such as Chao Mae, Pao Porapak… Peace is back in the area.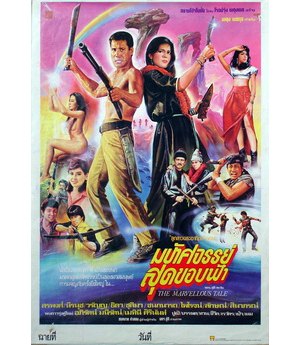 Year

: 1987



Thai title

:

มหัศจรรย์สุดขอบฟ้า




English title

: The Marvellous Tale



Rating

: 2/5


Director

: Payoong Payakul



Main actor

: Sorapong Chatree,Phairoj Jaising,Lak Apichat,Pao Porapak


Main actress

: Thida Thidarat,Chutima Kawinla
Thai movie มหัศจรรย์สุดขอบฟ้า was released in year 1987 and lasts 1h25mn (incomplete movie). It was released under VHS format. Five years have passed. Young man Ati is still remembering young lady Monoko met during a trip to a remote village. He convinces a few friends and a group is created to go back to the village. Tatsanee (Thida Thidarat), daughter of archeologist, and Chatchai are part of them. They meet weird monsters (มนุษย์ปีศาจ). They are inoffensive during daytime but attack the group at nighttime. They are chased away by using fire. Iti cannot find Monoko as she has moved to a new village. A bunch of ruffians including Pao Porapak asks for protection money (เก็บเงิน) to villagers managing a local market. As villagers have no money, Pao's team hit them. Pen Yiem (Sorapong Chatree) interposes. Fighting erupts but Lak Apichat stops all of them and retreats. Pen Yiem meets Monoko. Chao Mae (เจ้าแม่) is upset that her men were chased from the market, so she gives order to burn it. The group sees five ladies dancing naked on a cliff. Ati recognizes Monoko but she flees. The group is then attacked by villagers linked to Chao Mae. Thanks to Pen Yiem, they succeed to escape. Pen Yiem refuses to accompany them to the border as it is too dangerous. Phairoj Jaising leads another village. Villagers delegations meet each other. Only one village can protect the sacred land. Jaising's villagers win the contest. Chao Mae captures Ati's group and men are attached under the sun. Pen Yiem helps Jaising's villagers attacked again by Chao Mae's villagers. Distrust happens between both villages as Chao Mae's villagers don't accept peace despite they were defeated in official contest. Lak kills Chao Mae and then Pao Rak through a fierce duel as he wishes to become new village leader. Ati wants to meet Monoko (Chutima Kawinla). They are finally captured by Jaising's villagers. Pen Yiem forces Jaising to find a solution. Jaising agrees to release them but they need to go through hell gates first... The movie ends up here.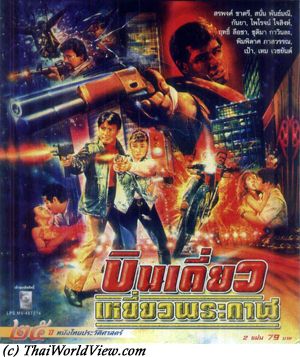 Year

: 1987



Thai title

:

บินเดี่ยวเหยี่ยวพระกาฬ




English title

:



Rating

: 1/5


Director

:



Main actor

: Sorapong Chatree,Rith Luecha,Phairoj Jaising,Lak Apichat,Pao Porapak


Main actress

: Thida Thidarat,Chutima Kawinla
Thai บินเดี่ยวเหยี่ยวพระกาฬ was released in year 1987 and lasts 1h18mn. It is an estimation only as the movie seems to have been released in level 2 standalone theaters (โรงชั้นสอง) only. It is a low budget movie. The soundtrack belongs to other movies such as "Shaft". There are quite a few nice sequences with Sorapong Chatree but the overall film editing is average. It is in fact a movie made with other movies sequences from Sorapong Chatree so that is why the editing is so poor! The numerous love sequences seem here only to ensure the movie can last 1h18. A new police officer (ผู้กอง) Kamtenthong (Sorapong Chatree) arrives in North of Thailand. A ring leader called Dam has dirty businesses such as helping people to cross Thai border illegally, drugs traffic, smuggling of weapons. Many fights and shootings happen between wealthy men (พ่อเลี้ยง) teams. Dam (Rith Luecha) benefits of it until police starts to involve into his business also to stop the numerous killings. Finally police rushes into Dam's ranch and neutralize the ruffians and hitmen. But the leaders are not here. Dam's secretary, Pen, is the one informing the police. It causes the ruffians' leaders to believe the other team betrays them as police is always there when weapons trading is happening. Dam is finally also neutralized through a final shooting. Pen was an uncovered policeman. It is a typical Thai action movie from 1980s mixing some Hong Kong style action sequences such as flying jump. Year 1987 was very prolific with action movies as Panna Rittikrai started to release his own action movies also. Movie บินเดี่ยวเหยี่ยวพระกาฬ features a few actors from 1970s action movies such as Phairoj Jaising but they look quite tired except Sorapong Chatree.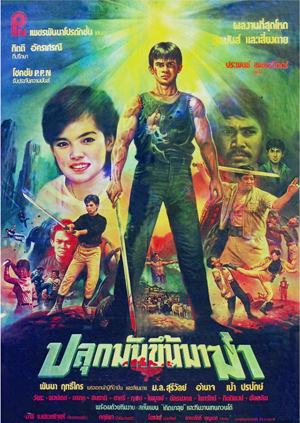 Year

: 1987



Thai title

:

ปลุกมันขึ้นมาฆ่า




English title

:



Rating

: 4/5


Director

:



Main actor

: Panna Rittikrai,Pao Porapak


Main actress

: Suriwan Suriyong
Thai movie ปลุกมันขึ้นมาฆ่า was released in year 1987 and lasts 1h35mn. It was released under VCD format. Four episodes were released, i.e. in year 1987, 1989, 1990, 1994. Panna Rittikrai had small budget for his movies but the result was extraordinary as Panna always made his movies through true feelings and dedication. Villagers capture Duang, an expert in black magic, who caused many troubles in the village. About to be lynched, they finally attach him to decide about his fate the next day. During the night, Duang succeeds to flee. Five years have passed. A group of travelling villagers is facing a weird young man played by Panna Rittikrai. He assaults them and kills most of them through extraordinary fighting skills. The village leader is worried as a group of Japanese visitors is coming to the village to see a sacred item. A group of Chinese visitors is also coming to the village for the sacred item, but they face Panna. Most of them are killed by Panna. The group of Japanese visitors, led by Suriwan Suriyong, faces ruffians (โจรร้าย) led by Pao Porapak. Ruffians are defeated. Learning that the Japanese group has arrived, the village leader sends his best two men to neutralise Panna. They also fail. All groups (Thai, Japanese, Chinese) gather to defeat Panna but they fail as he is like a ghost (blades don't hurt him). The village leader informs villagers and they decide to quit the village afraid to be killed by Panna. Duang, the former expert in black magic (หมอผี), enters the village. He was chased by the village leader five years ago and created fighter Panna through black magic incantations to take his revenge. Panna enters the village to chase the three groups. They cannot find any weak point. The black magic expert enters in the village again to see their defeat. The three groups try to defeat him in order to neutralize Panna. He seems also invincible (ฆ่าไม่ตาย). Only when he receives by accident a sarong (ผ้าถุง), feminine object, on his head then spike and blade can enter in his body, so he dies. Panna falls dead at the same time but then resurrects again. Only when a white magic expert gives holy weapons to Suriwan, then Panna can be defeated.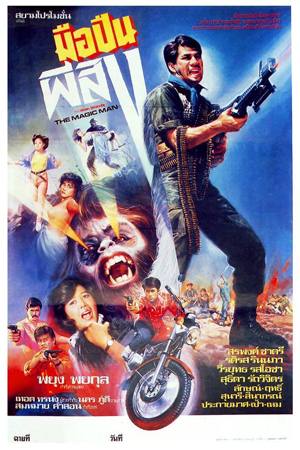 Year

: 1986



Thai title

:

มือปืนผีสิง




English title

: The Magic Man



Rating

: 3/5


Director

: Payoong Payakul



Main actor

: Sorapong Chatree,Lak Apichat,Pao Porapak,Rith Luecha


Main actress

: Thida Thidarat,Sinaporn Philailak
Thai movie มือปืนผีสิง was released in year 1986. It lasts 1h25mn. It is a mix of Thai footage and Hong Kong footage done by Filmark production. The movie is in Spanish language. The international title is "Mad Move". The Thai footage lasts one hour. The Thai actors are not even mentioned in the credits. Director is Payoong Payakul. A lot of sexy scenes are still present but might be removed from the Thai VCD. Lepso released it under the name นักรบผีสิง. Actresses also include ธิดา ธีระรัตน์, สินาภรณ์ พิไลลักษณ์ (Sinaporn Philailak – sexy star), สุนารี. Actors also include วีรยุทธ รสโอชา. Below summary is then partial. Sorapong Chatree is a soldier in black uniform. All his colleagues are dead. Sorapong is seen holding a machine gun and shooting enemies. Lak Apichat is visiting a family. Lak offers money the family but the father refuses. Later on, ruffians kill the whole family. Sorapong is back and finds his family dead. In a sawmill, shootings happen with ruffians. Both Sorapong and Lak are involved in the shootings. As Sorapong believes Lak is responsible of his parents' death, they both fight. Sorapong finally understands that Lak is innocent. Pao Porapak and Rith Luecha are parts of the ruffians. Sorapong finally catches the ruffians, who shot his family. Out of strength, Sorapong collapses and wakes up in a monk's cave. He needs to pacify his heart. While being in a brothel, ruffians have fighting with Lak. Sorapong still has atrocious visions about war. The ruffians send a beautiful lady to seduce Sorapong but it fails. Outside of the room, Pao is waiting and Sorapong is captured by the ruffians. At nighttime Sorapong becomes a werewolf and defeats his captors. The leader's girlfriend abuses the confidence of Bonnie (รติรส รินนภา) but the werewolf stops her. The werewolf abuses her as a revenge. Meeting Lak, the werewolf follows him and by paying respect to a Buddha statue, the werewolf becomes Sorapong again. Rith refuses to believe the stories about a werewolf but finally following the proofs, he gathers a big team to fight back. Finally Sorapong's team acts first. The movie ends up in shootings and two final fights between Lak and Pao, between Sorapong and Rith.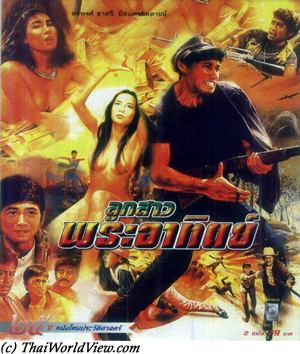 Year

: 1986



Thai title

:

ลูกสาวพระอาทิตย์




English title

:



Rating

: 1/5


Director

:



Main actor

: Sorapong Chatree,Pao Porapak,Lak Apichat


Main actress

:
A Japanese soldier is stranded in Thailand. His plane crashed. He is rescued by a Thai family. The Japanese gets married with their daughter but she dies when giving birth to a daughter. Twenty years have passed. An armed group arrive in the village. They are looking for the old Japanese gold that is supposed to be hidden inside a cave. Yem (Sorapong Chatree) is protecting the group. Another armed group is already occupying the area. Gun fights occur between the two groups. Following various fights, kidnapings and so on... the Japanese former soldier triggers an explosion inside the cave so that nobody can get the gold. Phra Athit (พระอาทิตย์) means sun but also gold. This movie has nothing to do with the movie "ลูกสาวพระอาทิตย์" shot in 1968. It is a typical grade B action movie from decade 1980s with kung fu fights and gunfight sequences. It includes a little of romance and a lonesome hero who prefers to stay in the forest than going back to modern world. Favorite sentence of such movies is "cha tham arai to pai" (จะทำอะไรต่อไป) - What shall we do next? During the anti-communist years, Sorapong Chatree played soldiers and mercenaries in perhaps 100 action films. Most of these were low-profile, though some were popular as they played to the national sentiment.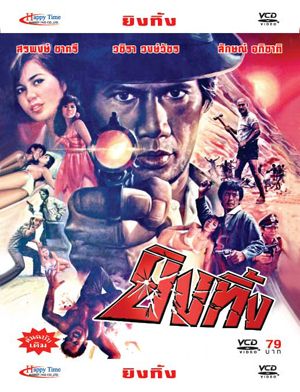 Year

: 1986



Thai title

:

ยิงทิ้ง




English title

:



Rating

: 3/5


Director

:



Main actor

: Sorapong Chatree,Lak Apichat,Chat Mongkolchai,Pipop Pupinyo,Choomporn Theppitak,Pao Porapak,Paen Pleumsachai


Main actress

: Sinaporn Philailak



Buy now

:

Thai movie ยิงทิ้ง was released in year 1986 and lasts 1h20mn but parts of the movie are cut. Ruffians shoot a van transporting money (ปล้นเงินเดือน). Lak Apichat is injured. Police arrives and catches ruffians but Wong (Chat Mongkolchai) and Pon (Pipop Pupinyo) succeed to flee. Pon hides the money but is also arrested later so Wong doesn't know where the money was hidden. Wut (Sorapong Chatree) is police inspector. He is married to Na (วชิรา วงษ์วัชร์), who complains he doesn't give enough time to his family (เป็นหน้าที่). Head of police Choomporn Theppitak enquiries if Lak is involved in the robbing or not. Choomporn gives the case to Wut. By enquiring, Wut meets Wong and Pao Porapak but they succeed to escape due to the mistakes of other policemen. Wong and Pao succeed to release Pon. Choomporn asks Wut to get them back but Wut requests an assistant (ผู้ช่วย), i.e. Lak. As Pon is reluctant to give back the money, Wong kidnaps his wife (พิศมัย ภุมมา). Meanwhile Wut and Lak are chasing Pol also. They fail to catch Wong and Pao despite Pol leads them to their house. Wut verifies that Mon (Sinaporn Philailak) doesn't hide Wong anymore. Choomporn starts to lose patience as Wong is still not captured by Wut. By spying Mon, Wut finally gets back the money but Wong succeeds to escape. Wong kidnaps Na in order to force Wut to give back the money. Following fightings and shootings with ruffians, Wut, Lak and Na defeat them. Lak ends up in jail as he still has to pay for his previous bad behavior. A four minutes trailer is also still available. It features sexy scenes cut off from VHS release.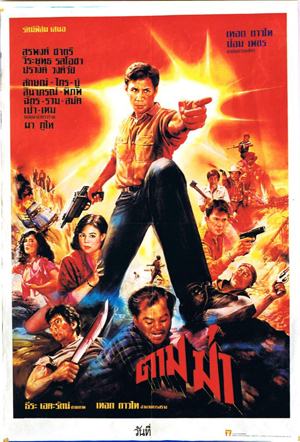 Year

: 1986



Thai title

:

ตามฆ่า




English title

: Twinkle Ninja Fantasy



Rating

: 4/5


Director

:



Main actor

: Sorapong Chatree,Lak Apichat,Krai Kanchit,Boo Wibunnan,Chat Mongkolchai,Pipop Pupinyo,Pao Porapak


Main actress

: Sinaporn Philailak
Thai movie ตามฆ่า was released in year 1986 and lasts 1h46mn. The VHS release is very sharp. The movie was also released overseas by Filmark movie production. It is called "Twinkle Ninja Fantasy". It is mixing the Thai movie and Ninja sequences shot in Hong Kong. Vin (Lak Apichat) organises gambling on a mining site. Manager (ผู้จัดการ) Somchai (Krai Kanchit) decides to give him a harsh lesson. Kiet (Sorapong Chatree) interposes as Somchai is going too far. Fighting erupts and You (Sinaporn Philailak) has to stop them. The big boss Thana (Boo Wibunnan) refuses to fire Kiet as he is a good staff. You is Thana's girlfriend but she is also Somchai's mistress. As Kiet has to transport important company goods, Somchai plans to get rid of him. As Kiet's sister has a domestic accident, Kiet cannot go. Vin then leads the convoy, which is attacked by ruffians. Only Vin succeeds to escape as the ruffians believe he falls from a cliff. You pushes to marry with Thana (แม่เลี้ยง) but this latter wishes to inform his son coming back from overseas first. As the convoy is robbed, Somchai accuses Kiet to be the mastermind behind. Pinyo tries to convince Vin to accuse Kiet but as he refuses, he is beaten and left for dead. Thana doesn't trust Somchai so he wishes to replace him by his son. Aware, Somchai hires Chat Mongkolchai to attack the next convoy led by Thana and Kiet. All staff die including Thana. Only Kiet escapes but his sister gets killed as he takes refuge in his home. Somchai now plans to kill Thana's son called Virayut (วีรยุทธ รสโอชา). While exiting the train station, ruffians chase and shoot Virayut. Luckily doctor Wana (ปรางค์ วงศ์วัช)(แสนสวย) passes by and saves his life. Pipop Pupinyo and Pao Porapak storm the doctor's house to find the son. Wana chases them on time before any killing occurs. Virayut wishes to kill Kiet as You brainwashed him that he is the killer. Ruffians try to kill again Virayut but they fail so they kidnap the doctor Wana. Meanwhile Virayut follows Lak to find Kiet. Following fighting, Virayut understands that Kiet is innocent. Understanding that Somchai doesn't love her, You tries to release Wana but it is too late and she gets killed. Kiet gets revenge over Chat Mongkolchai by putting a grenade in his mouth. Knowing that Somchai is planning to flee overseas by boat, Thai police, Kiet, Vin, Virayut storm the pier to release Wana. The boat succeeds to escape but Kiet and Virayut are on board. Through a final fight, Somchai is killed. As often in Thai movies, it is discovered that Virayut is a Bangkok police officer. Before going to Bangkok, he promotes Kiet as new manager and Vin as intendant. This Thai includes many stereotypes from 1980s Thai action movies.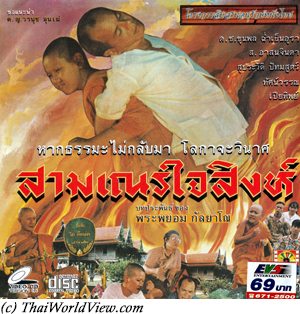 Year

: 1985



Thai title

:

สามเณรใจสิงห์




English title

:



Rating

: 5/5


Director

:



Main actor

: Sor Asanajinda,Pao Porapak


Main actress

: Tasawan Saneewong,Piathip Kumwong



Buy now

:

Thai movie สามเณรใจสิงห์ was released in year 1985 and lasts 1h38mn. It is available under VCD format. Some of the actresses and actors are ด.ช.ขุนพล ฉ่ำเย็นอุรา, สุประวัติ ปัทมสูตร, วรนุช ลุนเผ่, โชติช่วง พุทธสิน. Thai movie สามเณรใจสิงห์ is a powerful movie about Thai Buddhism and people greediness. The story was written by a Thai monk. A family has four kids. The wife Sae (Tasawan Saneewong) is managing a small restaurant selling food and drinks. The husband is a drunkard. He has a group of 4 friends (including Pao Porapak) always drinking together. He keeps asking money to his wife to buy alcohol. The grandmother is rich and keeps supporting her daughter. One son called Sing Chai is still going to school. Two other daughters and another son are not doing much except asking for money, partying, taking drugs. One day, one of the son's friend tries to steal money from the grandma by threatening her with an artisanal bomb. It ends badly as the grandma dies and the son loses his leg in the explosion. Sing Chai believes there is a waste of money and injuries as a huge and expensive funeral is organised with outdoor movies, firecrackers... Luang Ta (Sor Asanajinda) is always around. It is Buddhist lent (เข้าพรรษา) coming and Sing Chai is sad to see his family going towards this wrong path. Sae and her husband argue on money, so she gets beaten and then asks for divorce. Sae then keeps playing cards. One day one of the daughter Usa is found dead having been raped by thugs but her parents don't care. Unable to support this anymore, Sing Chai enters monkhood as novice. Sae has a new lover, i.e. the village leader, who keeps borrowing money from her. Sai, one of Sae's daughter, is also his mistress. Luang Ta keeps smoking and delivers sermons in old fashioned way. Novice Sing Chai delivers sermon in a modern way. It makes Luang Ta upset as a novice becomes more popular than him. Even Piathip Kumwong is not visiting Luang Ta anymore but novice Sing Chai to get advice. Sae, knowing that the villager leader and her daughter Sai betrayed her (คนทรยศ), wishes to get suicide. Novice Sing Chai helps her on time and the mother becomes a nun. Young teen girl Chantana is back to the village and invites novice Sing Chai to get alms everyday (รับบาตร). Sing Chai is feeling awkward caught by human feelings toward Chantana. Luang Ta tries to catch him doing improper things (ศึกแน่ๆ). Sing Chai is even accused of committing a murder. Village leader Gneun, father of Chantana, is causing troubles. Luang Ta recognizes he was wrong to try to accuse Sing Chai. Gneun is finally shot by Sai as he was refusing to recognize his paternity. Sing Chai rejects his mother due to bad feeling but recognizes his mistake. He still hopes to convince his father to stop drinking alcohol. On the way to his father's home, a fire occurs. Sing Chai saves his father but the handicapped son is unable to flee. Mother Sae (ยอมแม่) is sick and dies while listening sermon. The father (ยอมพ่อ) becomes a monk also. The movie ends up on Sae's funeral where Sae's voice in background regrets to have led such a bad life.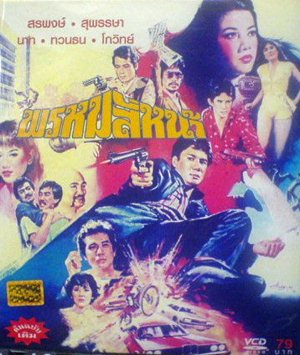 Year

: 1984



Thai title

:

พรหมสี่หน้า




English title

:



Rating

: 3/5


Director

:



Main actor

: Sorapong Chatree,Pumi Patanayut,Nard Poowanai,Tuanton Kammeesri,Kowit Wattanakul,Krai Kanchit,Pipop Pupinyo,Rith Luecha,Chat Mongkolchai,Paen Pleumsachai,Somsak Chaisongkram,Pao Porapak


Main actress

: Supansa Nuengpirom,Piathip Kumwong,Wiyada Umarin
Thai movie พรหมสี่หน้า was released in year 1984 and lasts 1h44mn. It was released under VCD format and also under VHS format. สุรพล กรสวัสดิ์ is the movie director. Many actors and actresses are featured in this movie such as Sorapong Chatree, Pumi Patanayut, Nard Poowanai, Tuanton Kammeesri, Kowit Wattanakul, Krai Kanchit, Pipop Pupinyo, Rith Luecha, Chat Mongkolchai, Paen Pleumsachai, Somsak Chaisongkram, Supansa Nuengpirom, Piathip Kumwong, Wiyada Umarin, โสธรณ์ รุ่งเรือง, วรารัตน์ เทพโสธร. Wan (Sorapong Chatree) calls from Germany for his father's birthday party. A bomb, hidden in the birthday cake, explodes. The whole family almost dies. His elder sister (Piathip Kumwong) and also the family car driver (โสธรณ์ รุ่งเรือง) survive. Teen Ta (ด.ญ. กระแต) has also survived but she is now paralyzed. Wan, a former soldier, is back from Germany. Police is too slow for Wan so he decides to manage by himself. His father was a businessman. Wan watches the birthday video and identifies a man offering a gift and leaving soon. He is a ruffian living in Chiang Mai. Wan learns through that ruffian that Pumi Patanayut is involved and was the one to order to bring the cake. Pumi Patanayut is working for mafia leader (พ่อเลี้ยง) Nard Poowanai. Noun (Tuanton Kammeesri) is a journalist refusing corruption and doing inquiries on Nard. Mai (Supansa Nuengpirom) is a young lady, whose mother was also killed by Nard due to business conflict. Kowit Wattanakul is close friend of Wan and introduces him to Mai. Mafia leader Nard Poowanai is trying to become member of parliament and is supported by Wiyada Umarin, his girlfriend. Wan starts to get revenge. Nard's right hand is first killed by Wan. Nard suspects Mai. Then Wan shots Kamlee (Paen Pleumsachai) and warns Nard that soon it will be his turn. Wan is introduced to the ruffians as new shareholder with Mai. It is a trick to be close to the ruffians and the next one to be killed is Pumi Patanayut. Noun is investigating on those killings. Wan and Kowit are identified to be behind the murders. Kowit is shot by ruffians while visiting uncle Sai (Pipop Pupinyo). Wan has no choice but to continue in order to get rid of mafia leader Nard. Nard hires a hitman to get rid of Wan but it fails. Chat Mongkolchai kidnaps โสธรณ์ in order to find where Wan is hiding. As Mai is passing, she is kidnapped and โสธรณ์ is killed. Chat (หน้าตัวเมีย) wants to force Mai to sign documents. Wan successfully releases Mai and chases after Nard until he kills him. Wan is finally pardoned by Thai police thanks to Mai's plea.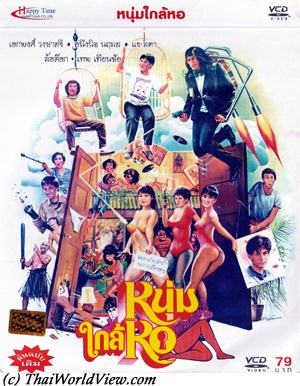 Year

: 1984



Thai title

:

หนุ่มใกล้หอ




English title

:



Rating

: 2/5


Director

:



Main actor

: Lor Tok,Pipop Pupinyo,Thep Thienchai,Doo Dook Kradon,Rong Kaomulkadee,Thuam Thoranong,Note Chernyim,Pao Porapak


Main actress

: Chosri Misommon
Thai movie หนุ่มใกล้หอ was released in year 1984 and it lasts 1h39mn. It is a light sexy comedy and it reminds of the Italian 1970s comedies. The dorm owner (หอสาวแม่) forbids her girls to approach men (สตรีที่ดี). She raises some orphan girls (เลี้ยงเป็นลูก). Pipop Pupinyo is used as a bodyguard to prevent intruders in the dorm. Doctor Lor Tok opens a dorm for men (หอชาย) on the opposite side! Among Lor Tok's disciples, there are veteran actors Doo Dook Kradon, Rong Kaomulkadee, Thuam Thoranong, Note Chernyim. The mother forces Pipop and another guard to take medicine to moderate their ardor (ไม่ไว้ใจ, อารมณ์เพศ). The young men take their revenge by giving to the mother a laxative so that they can be alone with the girls. On the following night, they even cut the water to force the girls to bathe in the swimming pool. Lor Tok tries to provide special medicine (ยาพลังเพศ) to convince Pipop to join them. The mother complains all men are dirty (ลามก). As a new male joins the dorm, the guys change their tactics and use the new handsome guy (รูปหล่อ) to seduce the mother (สุภาพ, แข็งแรง). He succeeds to be invited by the mother as an additional guard when the young ladies sunbathe (สาวอาบแดด). Basically the mother is doing the opposite she was teaching to her girls. They protest against their mother (อย่าทำผิดอีกเลย)! Lor Tok insults her as a mix of madonna (แม่พระ) and witch (แม่มด). Thep Thienchai, as a toilets cleaner, is also involved. Lor Tok is arrested by the police following complaints of Chosri Misommon. Finally the young men fall in love with the ladies. Lor Tok is released from prison and is back with two disciples (ลูกศิษย์) including Pao Porapak. As the two thugs plan to kidnap some girls, the young men intervene to catch them. The ladies dorm's owner decides to remove the fence between the male and female dorms as she recognizes that women cannot live without men. Lor Tok is finally arrested again for selling porn videos. The movie ends up with sexy sequences showing what Lor Tok has secretly filmed. Those sequences present in the 35mm film have been removed from the VCD released by Happy Time. Note Chernyim only plays in a few sequences. There was disagreement on his salary for this movie so he was replaced by Doo Dook Kradon.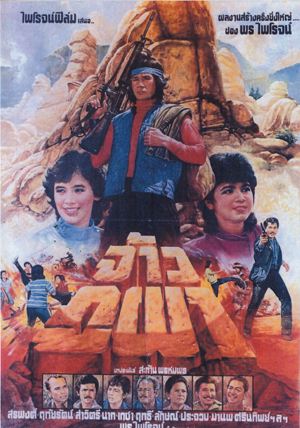 Year

: 1983



Thai title

:

จ้าวภูผา




English title

:



Rating

: 4/5


Director

:



Main actor

: Sorapong Chatree,Nard Poowanai,Lak Apichat,Prachuap Ruekyamdee,Pipop Pupinyo,Somkuan Krajangsat,Manop Aussawathep,Rith Luecha,Chat Mongkolchai,Pao Porapak,Kecha Plianvithee,Krailat Kriengkrai


Main actress

: Sarinthip Siriwan,Sawitri Samiphak,Hatairat Amatavanich
Thai movie จ้าวภูผา was released in year 1983 and lasts 2h04mn. It was released under VHS format only. Phanum (Sorapong Chatree) is getting trained by teacher (อาจารย์) Pipop Pupinyo in a training camp located on a mountain. Phanum has stayed in the training camp for two years but he cannot remember who he is. A man called Chan, who brought him there, has disappeared already. He decides to leave the camp to enquiry on his past. He is now skilled enough in martial arts (ใช้ได้). He meets young lady Feui (สาวิตรี สามิภักดิ์) aggressed by three ruffians. Feui's brother is Lak Apichat. Fortune teller (หมอดู เทวดา) Feng (Prachuap Ruekyamdee) is also looking for Chan. Young lady Yeewa (ฤทัยรัตน์ อมตะวณิชย์), daughter of village headman Kwat (เจ้าพ่อใหญ่). Feui's Father is Somkuan Krajangsat. It seems that Chan has ennemies looking for him. Chan is currently working for village headman Kwat (Manop Aussawathep). Sarinthip Siriwan is playing Kwat's wife. Chat Mongkolchai is village headman's assistant. Today is Kwat's birthday celebration. Somebody offers an ominous gift (ของขวัญวันตาย), i.e. a coffin (โลงศพ). A hitman, offering a gift, shots Kwat three times. Phanum and Feng are arrested as suspected to be involved as they were not invited to the party. Lit (Rith Luecha) sent the killer in order to be the new village headman (กำนัน). Kwat survives as he was wearing a bullet jacket. Feng has to demonstrate his divine skills to show they are not involved in the murder tentative. The birthday celebration continues but during the evening Lit's ruffians bring the mess. Fighting (การต่อสู้) between Pao Porapak and Panum happens. Nakorn (Kecha Plianvithee) learns about Panum and send two hitmen to get rid of him and Chan. Chan is played by Nard Poowanai. Nakorn's ruffians are killed by Chan. Chan has to flee again. Two ruffians sent by Lit fail to shoot Panum. Panum is divided between Yeewa and Feui. Chan helps Panum and Feng attacked by ruffians while sending money to a wood sawmill. A master (อาจารย์) helps Panum to remember his real name as Ek. Nakorn is Ek's uncle. Ek was back from studying abroad. His father was killed (ถูกฆ่าตาย) and Ek lost memory while being injured. Thanks to master (อาจารย์), Ek recovers memory. Through the final, they storm the ruffians' place and all of them are shot. Unable to choose between Yeewa and Feui, Ek marries both of them!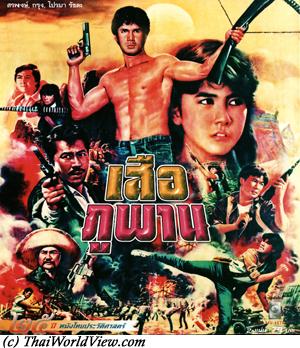 Year

: 1983



Thai title

:

เสือภูพาน




English title

:



Rating

: 2/5


Director

:



Main actor

: Sorapong Chatree,Krung Srivilai,Somsak Chaisongkram,Boo Wibunnan,Pipop Pupinyo,Chat Mongkolchai,Krai Kanchit,Pao Porapak


Main actress

: Nareerat Monsiri



Buy now

:

Thai movie เสือภูพาน was released in year 1983. The movie "เสือภูพาน", released under VCD by Lepso ltd, lasts only 56 minutes so for sure the original movie was cut a lot so making the whole story a bit difficult to understand. The movie เสือภูพาน was already released by Happy Time ltd so this version might be longer. Another online version lasts 1h07mn. It was also released under as an international title as "Spy Inferno" (1h26mn). It is a mix of Thai footage and Hong Kong footage done by Filmark production. The movie is in Spanish language. The Thai footage lasts more than one hour. The picture quality of "Spy inferno" is much better than the Thai VCD release. Some scenes are present only in the Filmark version and some only in the Thai VCD version. The Thai actors are not even mentioned in the credits. Soldiers led by Phupan (Krung Srivilai) are attacked by traitors. As their leader is injured, they have to retreat. This group of traitors is led by a big chief (Boo Wibunnan). The big chief leader wears Vietnamese clothes with a communist red star. They are traitors to the Thai nation. His ruffians' team includes Somsak Chaisongkram, Chat Mongkolchai, Krai Kanchit, Pao Porapak, ชูชัย ชัชดา and Pipop Pupinyo. They terrorize and ransack the local population. Kamnan (กำนัน) Lit is taking orders from a female boss (หัวหน้า) called Melan (Nareerat Monsiri). Only two men, Seu (Sorapong Chatree) and Phupan, are organizing resistance against them. Seu's parents and younger sister were killed by the ruffians. The international version shows the village attack by the ruffians. Subdistrict headman (กำนัน) Yeun refuses to sell his land to the ruffians. Lit tries to intimidate Yeun. Seu helps a singer aggressed by Somsak Chaisongkram (เล่นผัวเมียกัน). Seu is kidnapped by the ruffians but refuses to divulge information on Phupan. The doctor Bua helps Seu to flee. A chase is engaged to catch them back. Kamnan Lit kidnaps Yeun to force Yeun's daughter (ไปรมา รัชตะ) to be his wife. Her friend Promod helps to release Kamnan Lit. There is a secret informer (หูตา), called Number 13, inside the ruffians' team. The traitors move to another secret place but Bua leads the Thai army there. Melan is finally uncovered as the hidden informer inside the ruffians. The Thai army, helped by Seu, storm the ruffians' headquarters but faces strong opposition. Seu appears in hill tribes clothes. All ruffians are killed. Bua dies in the fightings. Thai movie เสือภูพาน reminds of movies such as ชุมแพ 2 (1984) or เสือภูเขา (1979) where a hill tribe character has strong fighting skills.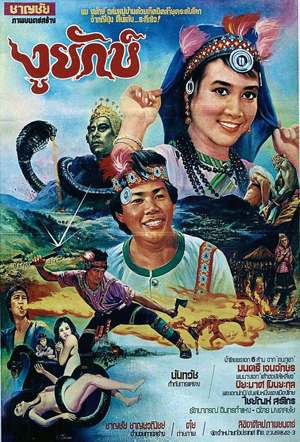 Year

: 1982



Thai title

:

งูยักษ์




English title

: King Kong vs The Snake Phantom



Rating

: 1/5


Director

:



Main actor

: Chaiyan Sorakrai,Chat Mongkolchai,Pao Porapak


Main actress

: Piyamas Monayakol,Ratanaporn Intarakamhaeng
Thai Taiwanese movie "King Kong vs The Snake Phantom" / งูยักษ์ / 金刚大战蛇妖精 was released in year 1982 and lasts 1h34mn. It seems the Taiwanese version was only released in year 1987. The movie is lost in Thailand but a Chinese version with English subtitles is still available and was released under VHS format by Taiwanese company New Ship Enterprise LTD. The movie was certainly cut from the original version in order to fit the VHS format. A group of snake men led by Chat Mongkolchai storm a Miu hill tribe village and kill all villagers. A master is requested to get rid of the snake men. His team, including Chaiyan Sorakrai and his sister Piyamas Monayakol, is looking for the snakes. A rare golden snake is captured. The master is killed but many snakes get cut into pieces during the fightings. The snake king wishes to revenge. The snake men attack the village again. Thanks to a Chinese monk, the snake men are pushed back. Disguised as the monk, the snake king convinces the fierce village fighters to go on a quest. The target is that they get killed while trying to find a mystic nun. One of the village ladies become pregnant with a snake man. The Chinese monk cuts her belly full of snakes. They finally meet Ratanaporn Intarakamhaeng as nun in a cave and get support from her as she offers a powerful magic golden statue. They are attacked by some forest fighters on the way back. Chaiyan Sorakrai defeats Pao Porapak. He exchanges the release of his sister and others versus Pao Porapak's life. The movie ends up by a giant fight between the King snake and the powerful spirit present inside the golden statue. The King snake is defeated.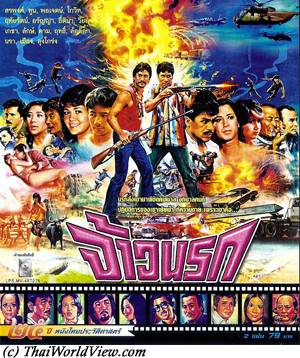 Year

: 1982



Thai title

:

จ้าวนรก




English title

:



Rating

: 3/5


Director

: Payoong Payakul



Main actor

: Sorapong Chatree,Lor Tok,Toon Hiransap,Kecha Plianvithee,Dam Datsakorn,Rith Luecha,Porjed Kaenpetch,Lak Apichat,Kowit Wattanakul,Pao Porapak,Paen Pleumsachai


Main actress

: Aranya Namwong,Wiyada Umarin,Thitima Sangkapitak,Reuthairat Amatawanit
Khongra (Sorapong Chatree) is relative (หลาน) of Am Su Ra Krai (Toon Hiransap). Khongra is coming to Phailom district to visit Am. Am's team, such as Wo (Lak Apichat), needs to carry guns as the area is full of ruffians (นักเลงบ้านนอก) such as Thaem (Porjed Kaenpetch). Mr Putr is accused to have stolen (ปล้นรถไถ) Am's tractor. Local ruffians forbid farmers to cultivate the fields but as Khongra dares to bring a tractor, he has no choice but to shoot them. Later on, he helps a young lady Chairon harassed by three ruffians. Chairon is living alone as her parents died already. Thaem is defeated by Khongra on one to one fight. Friendship starts between Thaem and Khongra. Godfather (เจ้าพ่อ) Bamjong (Kecha Plianvithee) wishes to recruit Khongra as he likes his style. Khongra discovers that the tractor was stolen by Mr Putr despite his disclaimer. Romance starts between Khongra and Chairon. All the illegal activities are handled by a local few godfathers including lady Sa (Aranya Namwong), Bamjong, Dam (Dam Datsakorn) and Reut (Rith Luecha). Chairon has been kidnapped and Khongra is ordered to leave the area within 24 hours. Meanwhile Khongra (เสียตัว) is also kidnapped by mysterious Amazons (Sopha played by Wiyada Umarin and Thitima Sangkapitak) but succeeds to escape. Gnoh (Kowit Wattanakul) is a policeman coming to arrest drug traffickers believed to be linked to local ruffians. Am, Khongra storm Putr's home to know where Chairon is. Before dying, Putr just says she is located at Beung Mai. While going to Beung Mai, they meet Sopha again. It is a trick to split Am, Wo and Khongra. In a fierce shooting, Wo is killed. Sa is suspected to have kidnapped Am. Khongra and Thaem are captured and imprisoned with Am. Chairon provides a hidden message but her behavior is noticed by the guard (ทรยศ). Chairon and Sopha are sentenced to death by Sa. Hopefully Khongra, who succeeds to escape, helps them on time. A festival for farmers is happening in Phailom district. Khongra is aware of the ruffians' plan to intimidate farmers in order to finally possess the whole land in the area. Explosions happen during the festivities. Following various shootings and car chasing, all ruffians are killed or captured by Khongra, Am and police led by Gnoh. This Thai movie จ้าวนรก, directed by Payoong Payakul, is a typical 1980s action movie involving many key leading actors from decades 1970s-1980s.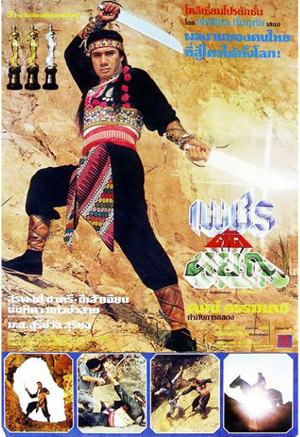 Year

: 1982



Thai title

:

เพชรตัดหยก




English title

:



Rating

: 4/5


Director

: Kom Akadej



Main actor

: Sorapong Chatree,Lak Apichat,Dam Datsakorn,Phairoj Jaising,Chat Mongkolchai,Kecha Plianvithee,Somsak Chaisongkram,Pao Porapak,Pipop Pupinyo,Norman Chu


Main actress

: Suriwan Suriyong,Nanthida Kaewbuasai
Thai movie เพชรตัดหยก was released in year 1982 and lasts 1h54mn. It is a VHS featuring the movie in format 4:3 instead of 16:9 so left and right parts of the original image are lost. Kom Akadej is the movie director. The main character, Lao Thong, has special skills such as running very fast or jumping very high. This movie is considered as part 2 of Thai movie เสือภูเขา / The mountain lion (1979). Lao Thong (Sorapong Chatree) is a Meo hill tribe villager. Lao Thong's wife (Suriwan Suriyong) and his son are killed by ruffians led by Dam Datsakorn storming a Meo hill tribe village to steal the cattle. Lao Thong has to get revenge. Tong Chi (Lak Apichat) joins him. Lisu village leader wishes to marry his two daughters including Asuma (Nanthida Kaewbuasai). Per local customs, the husband (พิธีเลือกคู่) needs to win a fight between all contenders. Tong Chi is about to win but ruffians including Pao Porapak and Chat Mongkolchai storm the Lisu village and kidnap Asuma. Lao Thong helps and releases Asuma. He refuses her hand as he is under mourning period but promises to help getting guns to be able to fight against ruffians. In another village, Lao Thong helps a lady aggressed by thugs. She has same face as his former wife. Her name is Soyi and she has good fighting skills also. She is carried by Pipop Pupinyo and Somsak Chaisongkram. Lao Thong buys guns from her brother Lao (Phairoj Jaising), who tries to get rid of him and Lak. Soyi helps Lao Thong to flee so causing her brother's ire. A mysterious soldier (Hong Kong actor ฉีเส้าเฉียน / Norman Chu), called Norman, helps Asuma and her sister aggressed by ruffians. Tong Chi fights against Norman as he believes he tries to seduce Asuma. Lao Thong and Norman also fight. Norman asks to meet Lao to buy weapons. Norman kidnaps Soyi as he wishes to infiltrate the ruffians. Lao tries to release his sister but he is defeated by Norman. Lao Thong releases Soyi and takes away the weapons with Tong Chi. Lao Thong defeats Norman but spares his life. Tong Chi hides weapons inside Lisu village. The village is stormed by ruffians. All gather to storm the ruffians' place. The big leader is identified as Decha (Kecha Plianvithee). Fightings and explosions occur with all ruffians being killed but unfortunately Lao and Tong Chi also die.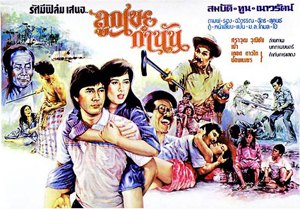 Year

: 1982



Thai title

:

ลูกเขยกำนัน




English title

:



Rating

: 3/5


Director

:



Main actor

: Sombat Methanee,Dam Datsakorn,Toon Hiransap,Sukon Koewliam,Doo Dook Kradon,Chat Mongkolchai,Paen Pleumsachai,Pao Porapak


Main actress

: Naowarat Yooktanun,Chaweewan Boonprok
Thai movie ลูกเขยกำนัน was released in year 1982. The movie is lost in Thailand but a 3 minutes trailer remains to be seen. Its image is unfortunately half damaged as the film was soaked with water and it has an inaudible sound. Various short sequences are shown in the trailer. Sombat Methanee is the subdistrict headman (กำนัน). Naowarat Yooktanun is his daughter. Dam Datsakorn and Toon Hiransap are fighting and punching each other. Naowarat is being kidnapped. Naowarat is fighting with veteran actress. It is a romantic action comedy movie. Similar to many Thai movies, it features various styles in order to please the whole family including with a hot love scene (featuring Dam and Chaweewan Boonprok). It uses the same ingredients as popular Thai movie ลูกสาวกำนัน (1981) but it was not as successful. Other actors seen in the trailer are Chat Mongkolchai and Pao Porapak, actor always playing tough ruffian roles. Other actors / actresses are รอง, Chaweewan Boonprok (ฉวีวรรณ บุญปรก), Sukon Koewliam, Doo Dook Kradon, หน่ำเลี๊ยบ, Paen Pleumsachai.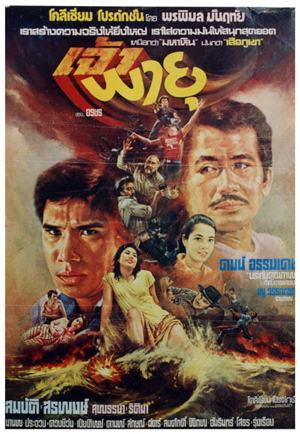 Year

: 1980



Thai title

:

เจ้าพายุ




English title

: Thunder Kid



Rating

: 5/5


Director

: Kom Akadej



Main actor

: Sorapong Chatree,Sombat Methanee,Manop Aussawathep,Prachuap Ruekyamdee,Dam Datsakorn,Somsak Chaisongkram,Lak Apichat,Choomporn Theppitak,Somchai Samipak,Chat Mongkolchai,Pipop Pupinyo,Siripong Isarangkul,Paen Pleumsachai,Pao Porapak


Main actress

: Supansa Nuengpirom,Piathip Kumwong,Thitima Sangkapitak,Duangcheewan Komolsen
Thai movie เจ้าพายุ was released in year 1980 and lasts 1h55mn. It was never released in Thailand but is still available overseas in Sweden as it was sold through VHS format. Palat (Sombat Methanee) rapes Piathip Kumwong, his former wife, as he is upset she has another lover (Manop Aussawathep). A kid is born from this relationship but it has no recognized father (ไม่มีพ่อแต่ต้องมีชื่อ). Manop is said to be Yu's father. Uncle (พ่อลุง) Jaeng (Prachuap Ruekyamdee) names the kid as Thunder (เจ้าพายุ), as he is born during a storm, but his nickname is Yu. When Yu was 3 years old, Piathip left home as Palat was having a new wife called Duangcheewan. Being adults, Eum (Thitima Sangkapitak) and Yu (Sorapong Chatree) love each other since childhood. Eum's parents promise her to another man called To (Dam Datsakorn). Palat, Somsak Chaisongkram and To try everything to break this relationship. Eum and Yu flee but are chased by Palat and ruffians led by To. Yu accepts to surrender and is sent to prison. Manop Aussawathep, father of Yu, learns that Palat has been nominated as chief district. He still has a debt to pay with Palat. While Palat is resting with his family, he does attack them. Palat's new wife (Duangcheewan Komolsen) is shot dead. Pho Seua (Choomporn Theppitak) in prison teaches Yu to master resistance and strength. Yu becomes friend with Pha (Lak Apichat) in prison. Eum, knowing that Yu's father killed Duangcheewan, cannot marry Yu anymore and accepts to marry To. Yu is devastated to learn this news. After a while, Yu is released from jail. Pha is waiting for him. Yu helps Sia Wiwat (Somchai Samipak) and his daughter Chan (Supansa Nuengpirom) Chan having issues with ruffians. He has conflicts with Chat Mongkolchai, head of workers (ป่าไม้). Meanwhile To sends some men (Somsak Chaisongkram and Pipop Pupinyo) to get rid of Yu. Siripong Isarangkul is playing the big boss. They push Manop to force his own son Pha to get rid of Yu. Pha and Yu are in fact brothers. As Pha refuses to kill Yu, To sends Paen Pleumsachai to kill him but it fails as Pha is only injured. Pha gets revenge by shooting Siripong Isarangkul. To's hidden plan is to get rid of Sia Sawat, Yu and to get the sawmill for himself and to get Chan as wife for Chat. Chat uses heavy machine to drop tree logs on the office, where Sia Wiwat and uncle Jaeng are working. Uncle Jaeng dies. Yu has to take revenge on Chat and To. Yu chases To until he can kill him. Final fighting does occur between Manop, Palat and Yu. Manop catches Yu and threatens to kill him if Palat doesn't surrender. Yu is Palat's real son! Piathip already lost one son so she cannot accept this and shoots Manop.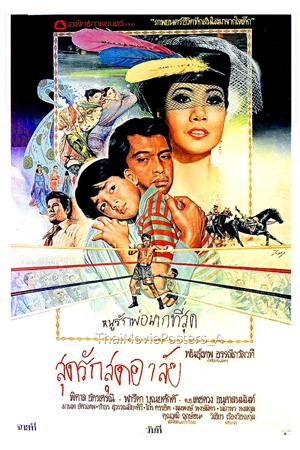 Year

: 1980



Thai title

:

สุดรักสุดอาลัย




English title

:



Rating

: 5/5


Director

: พันธุ์เทพ อรรถไกวัลวที



Main actor

: Pisarn Akraseranee,Manop Aussawathep,Krai Kanchit,Pao Porapak,Kamthorn Suwanpiyasiri,Sompong Phonmitr


Main actress

:
Thai movie สุดรักสุดอาลัย was released in year 1980 and lasts 1h55mn. It was released under VHS format. This Thai movie is based on US movie "The Champ" (1979). Movie director is พันธุ์เทพ อรรถไกวัลวที. Pisan (Pisarn Akraseranee) is a former boxing champion. He has to quit seven years ago due to a brain issue. He still has a dream to go back on the ring. He is leaving alone with his son Chapan (เดชดวง อนุศาสนนันท์), being seven years old. He is divorced with Farida (ฟารีดา บุณยศักดิ์), who left him for a richer man, i.e. Nop (Manop Aussawathep) seven years ago. Pisan often drinks and gambles (พนัน). He bets 100 Baht and wins 150 000 Baht. He buys a horse for his son as a gift. The horse joins horse racing competition. The horse falls and is injured. Being also at the horse racing club, Farinda meets Chapan, her son, for the first time. Pisan is still very upset and refuses Farinda to tell his son that she is her mother as she left them seven years ago. Pisan told Chapan that his mother was dead (ตายแล้ว). Farida knows she is guilty and wishes to take care of Chapan also. She offers expensive gifts (ของแพงๆ). Krai Kanchit and Pao Porapak manage an underground casino. While betting, Pisan and Nop meet. Nop tries to convince him that Chapan still needs a mother. Pisan refuses. 20 000 Baht debt happens as Pisan gets upset. He cannot find any friends to lend him 20 000 baht. He has to ask Farinda. Krai still comes to get the horse as he doesn't believe Pisan can pay back the debt. A fighting erupts and police catches Pisan. Pisan has to stay in jail a while. Chapan stays in Farinda's home as his father Pisan forces him to go there. He would prefer to stay with uncle Sompong Phonmitr or with นภาพร หงสกุล. Chapan, learning that Farida is his mother, rejects her as she is not living with her father anymore. Pisan even asks Farida to come back. The boxing ring manager (Kamthorn Suwanpiyasiri) accepts Pisan back as boxer despite the health risks as Pisan wants to gain money to build a future for his son (studies, house). They train together. Farida gives also support (กำลังใจ) to Pisan. Farinda decides to go back living with her son. The boxing match happens. Pisan wins the first part of the match but the youth of his opponent allows him to come back. Pisan's vision starts to alter as he gets hit at the head. He is knocked down twice but refuses to stop. He finally wins his match but collapses in the cloakroom. Before dying, he asks Chapan to stay with Farida, who is a good person (ต้องการพ่อ / ต้องการอยู่กับพ่อ).
---