Increase or decrease font size for easier reading : A+ A-
Panna Rittikrai
Panna Rittikrai (1961-2014) - พันนา ฤทธิไกร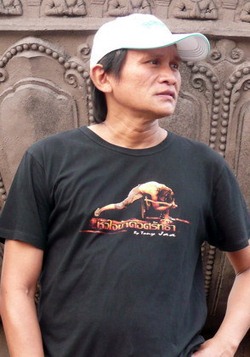 Panna Rittikrai, stunt choreography, has been well-known to play and direct low budget movies. Such B-grade action and horror movies were popular from the mid-1980s to 1997. Panna Rittikrai is born in Khon Kaen and was influenced by outdoor action movies of Mitr Chaibancha. He later became influenced by Hong Kong superstars, Bruce Lee and Jackie Chan. He became a self-taught martial arts expert. He worked with Kom Akadej in Bangkok for three years as a physical trainer for actors and also appeared in daring stunts. He later on formed in Khon Kaen his own stunt team. He forged a new style of low-budget action films which emphasised pure stunt work. Panna's Born To Fight (เกิดมาลุย - 1986) was the first of some 100 films he would produce, direct and act in over more than ten years.
This Panna Rittikrai movie page contains 9 records.
---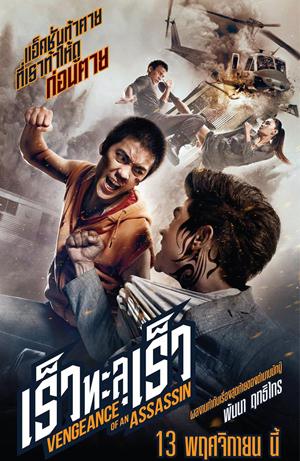 Year

: 2014



Thai title

:

เร็วทะลุเร็ว




English title

: Vengeance Of An Assassin



Rating

: 3/5


Director

: Panna Rittikrai



Main actor

: Kowit Wattanakul,Dam Datsakorn


Main actress

:



Buy now

:

Thai movie เร็วทะลุเร็ว / Vengeance Of An Assassin was released in year 2014. It is the last movie directed by Panna Rittikrai before his death. This movie lasts 1h30mn. A young boy called Phiti wishes to know what happened to his parents, who died earlier. The uncle has been raising the two children but refuses to disclose anything as it can only bring troubles to them. The uncle keeps indulging in beers to forget. He holds a key to a secret cabinet. It includes secret documents and VHS tapes featuring military trainings. Dam Datsakorn, now a monk, was former colleague of the father. Phiti wishing to know the truth leaves the uncle's home and goes to find Dam. Than, his younger brother stays with the uncle. Phiti meets also Athong, former friend of his father and now understands the truth. He gets revenge one by one through some impressive killings (in a restaurant with shootings happening at waist level, in a golf course...). The ruffians' leader is traitor Kowit Wattanakul, who was also one of the father's former friends. The boy helps a young lady wearing blond wig, in traditional costume (นางรำ) and chased by a killer. The girl was used as bait. Her teacher (ครู) is killed. Dam is also killed. The boy succeeds to defeat the ruffians but is severely injured. A doctor (หมอจีน) helps them and they take refuge in the uncle's house. Ruffians follow them there. The young lady is kidnapped and fightings happen on a moving train. Through daring final fightings, ruffians are defeated.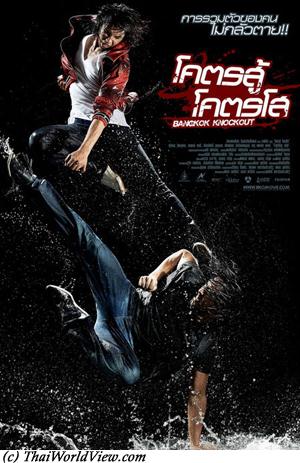 Year

: 2010



Thai title

:

โคตรสู้ โคตรโส




English title

: Bangkok Knockout



Rating

: 3/5


Director

: Panna Rittikrai



Main actor

: Panna Rittikrai,Sorapong Chatree


Main actress

: Supaksorn Chaimongkol,Pimchanok Leuwisetpaiboon



Buy now

:

Mr Sneed, a despising foreigner, and Dr Dachanon, head of arts performing department, are organizing a fight contest. Pod is the leader of one team called "Fighting Club" (Ao, Ed, Pom, Lerm, Ko, James). Two teams fight for a ring. The winning team will go to Hollywood. Pod's team celebrates their victory. But due to strong alcohol flooding during the celebration party, they have arguments with the waiters. They wake up with no phones, no cars, no motorized vehicles. They have been drugged. Some ruggedised cars try to smash them. Meanwhile Joy is kidnapped. Joy is Ram's daughter (Sorapong Chatree). Two men loves Joy, i.e. Pod and Pom. Kidnappers are masked and wear ninja clothes. They are led by Parina (Panna Rittikrai), an old art martial expert. In fact it is a wargame organised by Dr Dachanon to test the team and verify if they are really true friends. Mr Sneed is getting international gamblers to bet big money on the best fighters to win. It is game up to death. The action takes place in a disaffected factory. Ao and Ed win against three opponents. James and Pom move to the wrong side due to money matters. Strong group fights take place and finally the "Fighting Club" team wins. A final fight against master Parina happens. Pod's mum is held captured to influence him negatively. Anyway they defeat the master as he needs some respiratory medicine. A final epic fight happens on moving trucks. Gamblers are also punished. Panna Rittikrai trained actor Tony Jaa so fights are always intense and real. Some acrobatic jumps on motorbikes or high jumps from buildings are really impressive. The movie scenario is simple but Panna Rittikrai's fans want to see true fights only. This movie is similar to video game concept.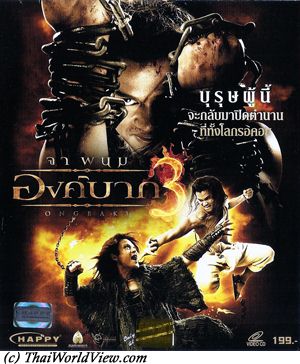 Year

: 2010



Thai title

:

องค์บาก 3




English title

: Ong Bak 3



Rating

: 3/5


Director

: Tony Jaa,Panna Rittikrai



Main actor

: Tony Jaa,Mum Jokmok,Nirut Sirijanya,Choomporn Theppitak,Saranyu Wongkrachang


Main actress

: Patama Panthong



Buy now

:

Ong Bak 3 movie is a follow up of Ong Bak version 2 where Tien was defeated and captured by King Jom Rachan soldiers. Tien (Tony Jaa) is condemned to death by the King Jom Rachan (Saranyu Wongkrachang). His body is broken and beaten harshly. Insurrection is ongoing against the King Jom Rachan (พระองค์) but this latter eliminates all his opponents (Choomporn Theppitak). On the execution day, Tien is saved at last minute and sent to Ayutthaya. Bad omens are seen by the King. To try to influence the future, he sends some ninjas to kill Tien in Ayutthaya. They fail thanks to some courageous Ayutthaya soldiers. Thanks to Buddhist prayers, offerings, casting of a Buddha statue, dances and Buddhist monk's (Nirut Sirijanya) healing skills, Tien is cured. But full recovery is difficult. He considers suicide as he is almost infirmed. Through inner peace, meditation and efforts (ฝึก), he starts to recover management of his limbs. A new fighter take over the King Jom Rachan looking for power only (อำนาจ). Aware of Tien recovery, the new King sends soldiers to catch him and burns his village. Tien is wearing white clothes (purity) while the new King is wearing dark clothes (evil). Tien has no choice but to go to the King palace to defy him in order to release the villagers and his love. Following epic fights including jumping from one elephant to another or using real elephant tusks to fly, Tien defeats the evil King. As usual in Tony Jaa's movies, actor Mum Jokmok is played a relief character. In Ong Bak 2 there was an action scene with two elephants. In Ong Bak 3, the actors were among more than 20 elephants. Tony Jaa introduces Nattayut in Ong Bak 3. It is a dharma martial art that can protect soul from bad deeds. It is a kind of meditation that can heal heart and soul.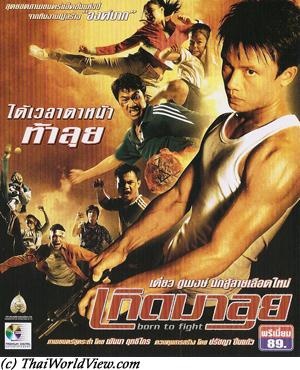 Year

: 2004



Thai title

:

เกิดมาลุย




English title

: Born to fight



Rating

: 3/5


Director

: Panna Rittikrai



Main actor

: Santisuk Promsiri


Main actress

:



Buy now

:

A Police team is successfully catching a ring leader selling drugs. Later on a sportmen team and the police inspector are going to a remote village in Northern Thailand to make donations (ของบริจาค). They feature demonstration of famous Thai sports (รำมวย, ตะกร้อ). The village is then attacked by mercenaries wearing a red scarf similar to Khmer Rouge soldiers. Santisuk Promsiri is playing the head of the mercenaries and excels in a bad guy role. The abbot, the headman of a tambon (กำนัน) and the village headman (ผู้ใหญ่บ้าน) are killed. All Thai authorities symbols are dead. The mercenaries take the whole village in hostage in order to negotiate the freedom for their group leader. The central power needs to help the provinces. The merciless mercenaries have a missile and threathen to launch it on Bangkok. Villagers shall decide to fight or die (ยอมตายหรือสู้). At 8 AM in the morning the villagers and sportsmen decide to rebel when listening to the King royal anthem. Everybody is fighting against the mercenaries, i.e. young, old, handicapped, men and women. The movie takes a nationalist turn and looks like a modern "Bang Rajan" as it also deals about a Thai village resistance against invaders. Similar to old 1970s action movies, the way for Thailand to survive is to protect the nation, the religion and the monarchy. Thanks to villagers collaboration and the sportmen skills, the mercenaries are defeated. With Panna Rittikrai as director, great cascades and explosions can be expected (ทำจริงเจ็บจริง). The director, Panna Rittikrai, is famous for stunt choreography. Panna released in 2004 his first big-budget studio movie called Born to Fight. He made no fewer than 50 budget movies during the past two decades. เกิดมาลุย is a remake of one of his first movies.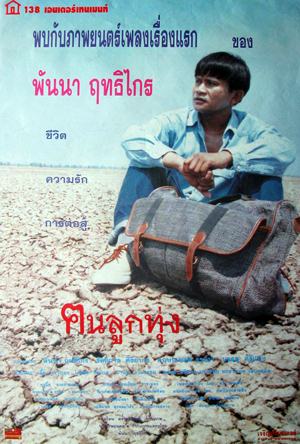 Year

: 1996



Thai title

:

ฅนลูกทุ่ง




English title

:



Rating

: 3/5


Director

: Panna Rittikrai



Main actor

: Panna Rittikrai,Krissanapong Rachata


Main actress

:
Thai movie ฅนลูกทุ่ง was released in year 1996. The movie is lasting 1h23mn. Panna Rittikrai is well known for its action movies but less for such romantic comedy. The movie is shot in Isan language. Many songs sung by Panna are featured in this movie. Panna was nicknamed as นักร้องเสียงเด็ก. This movie could be the "Mon Rak Luuk Thung" (มนต์รักลูกทุ่ง) of Isan with songs and gags. Kamoon (Panna Rittikrai) loves one of the village young lady called Nam Oi. One Bangkokian man is coming to the village hoping to get pure girls. The village lady is agressed by the two villagers. The Bangkok guy helped by two bodyguards including (Krissanapong Rachata) chases them away. The guy proposes a job to Nam Oi in Bangkok. The mother is reluctant but the father wishes to receive the money given as enticement. Finally Nam Oi accepts in order to support her older parents (ตอบแทนบุญคุณพ่อแม่). Panna is on the way to request Nam Oi's hand through an engagement procession parade but the Bangkok man is taking her with him. Panna realises she is gone. Under a misunderstanding, Pana believes she goes willingly with the Bangkok guy as a boyfriend. He tries to stop them but gets heavily beaten by the two bodyguards. An old teacher takes pity on Kamoon and teaches him martial arts. Meanwhile Nam Oi flees her job in Bangkok understanding the evil behaviour of the Bangkokian guy. She reaches her village as the same time as the ruffians chasing them. Kamoon is ready for a fight to protect her. As the Bangkokian guy claims a contract was signed and money given, the villagers help each other and gather the amount of money due per the contract. It shows the strong solidarity of Isan people and their continuous fight against life as living conditions are harsh in poor Isan. The Bangkokian guy sure to win proposes a fighting against his bodyguards with Nam Oi's hand and the contract sum as rewards. This time, Kamoon wins easily and the Bangkok guy accepts his defeat.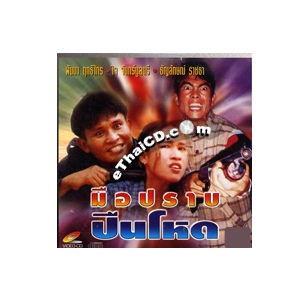 Year

: 1996



Thai title

:

มือปราบปืนโหด




English title

: Hard Gun



Rating

: 3/5


Director

: Panna Rittikrai



Main actor

: Panna Rittikrai,Tony Jaa,Jai Juntamooltree


Main actress

:



Buy now

:

Thai movie มือปราบปืนโหด (Hard Gun) was released in year 1996. It lasts 1h22mn. A group of four ruffians led by พี่ Biaw (Panna Rittikrai) needs to stay in a house until the police stops looking for them following a robbery. It shall be their last job. Nom is always complaining. Police led by inspector Phitak (Jai Juntamooltree) finds them and surrounds the house. Two ruffians get shot by Phitak including Nom, who is Biaw's younger brother. Upset that Nom is dead, Biaw shots Phitak but only injures him and flees. Phitak recovers and goes back to his uncle's home (พ่อบุญธรรม). His uncle is a local policeman. The uncle, following the death of his wife, keeps drinking alcohol. He fails to save his wife used as hostage by a ruffian. Biaw still wishes to get revenge over Phitak. He goes with Tony (Tony Jaa) up to the small city to kill Phitak. Once he finds Phitak, he shots without hurting him and kidnaps the uncle's daughter, Ann. The movie ends up with art martial fightings between Tony and Phitak as Phitak tries to release Ann. Biaw is so sure that Tony cannot be defeated but Phitak succeeds. The uncle this time doesn't fail and saves his daughter threatened by Biaw. The uncle starts a new life with confidence recovered and stops drinking alcohol. There is a mix of action and humour as Phitak is also facing local ruffians in the city. There are gags reminding Baan Phi Pop movies serie and such movies were targeted for Isan area, Northeast of Thailand.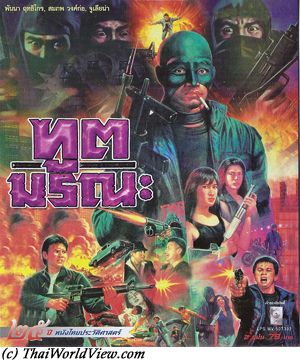 Year

: 1993



Thai title

:

ฑูตมรณะ มันส์เต็มพิกัด




English title

:



Rating

: 3/5


Director

: Panna Rittikrai



Main actor

: Panna Rittikrai,Krissanapong Rachata,Sompop Wong Ko


Main actress

:



Buy now

:

Thai movie ฑูตมรณะ มันส์เต็มพิกัด was released in year 1993 and lasts 1h18mn. It was released on VCD by Lepso (1h19mn) and of course on 35mm film (1h18mn). A man gives instruction to a hitman (มือปืน) by leaving a paper in a jar in a disaffected building. The hitman, wearing a mask, kills a few people in a house. Despite being busy with his girlfriend, Sia (เสี่ย) Manit has to meet Arun. Sia Manit uses Arun (Sompop Wong Ko) to convince villagers to sell their land as he plans to resell it to Japanese investors planning to build factories. Arun uses the local village leader (ผู้ใหญ่) to convince villagers. Each time, another buyer called Kamnoon had proposed more money than Arun, i.e. 150 000 baht for one rai so Arun is very upset. Some villagers such as Thaem (Panna Rittikrai) are not interested to sell (ไม่ขาย). Normally the land is only 40 000 baht per rai so there is certainly a hidden plan behind this offer. Sia Manit agrees to increase the price to 200 000 baht per rai. He calls his favorite hitman, i.e. his own girlfriend, for help also. Meanwhile Arun gathers his men including Jackie (Krissanapong Rachata). Arun sends his men to give a lesson to Kamnoon and to ask him to stop trying to buy the land. As a revenge, Kamnoon hires his usual masked hitman. Thaem and his friend Kon are facing Arun's ruffians but push them back. Kamnon's hitman starts to kill a few men linked to Arun. Sia Manit is very upset as Arun and his team always fail. Kamnoon proposes a deal to Sia Manit to share benefits but Sia Manit plans to trick him. Kamnoon asks his hitman to get rid of Sia Manit and Arun. Kot is killed. Sia Manit, his girlfriend, Kamnoon end up in the disaffected building and shoot at each other. The masked hitman intervenes and is in fact Arun! He shots Sia Manit, his girlfriend and Kamnoon hoping to get the whole deal for him. Thaem has called the Thai police. Refusing to surrender to Police, Arun gets shot. Such movie is precursor of Ong Bak movies with Tony Jaa. Panna Rittikrai is former B grade movies maestro and stunt choreographer of Ong-Bak. A Thai TV serie on Channel 7 with same title "ทูตมรณะ" was released in 1990 with Sorapong Chatree, Sombat Methanee, Rith Luecha, Suchao Pongwilai and Jarunee Sooksawad.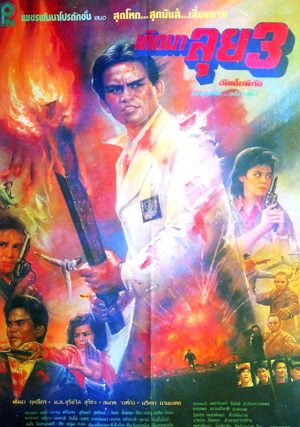 Year

: 1990



Thai title

:

เกิดมาลุย 3




English title

:



Rating

: 3/5


Director

: Panna Rittikrai



Main actor

: Panna Rittikrai,Sompop Wong Ko,Krissanapong Rachata,Jai Juntamooltree


Main actress

: Suriwan Suriyong
Thai movie เกิดมาลุย 3 was released in year 1990. It lasts 1h24mn. The first four minutes start with Panna Rittikrai presenting all actors and actresses in his movie. Panna kills a lawyer as he refuses to give him a testament. Afong (Suriwan Suriyong) is back from Hong Kong where she worked as lawyer assistant. Her former boss is dead and she gets death threats as she refused to forge a testament. 80% of the heritage goes to the daughter called Naen. Her former boss' new wife called Yen Feui wishes to get the whole heritage instead of only 20%. Wassana is the mother's name but she died already. A relative, subdistrict headman Jaem, brought the daughter to Tha Bo in Nong Khai province. Ruffians from Hong Kong led by Panna Rittikrai and accompanied by two tough bald guys are also looking for the lost daughter. All those people including local ruffians meet in Tha Bo. Subdistrict headman Jaem is upset with Vinai, local ruffian leader. The local ruffians led by Vinai decide to kidnap Naen (หลาน) to pressure him to sell his land. Panna and his two bodyguards interrupt as they are looking for the daughter also. Of course multiple fightings happen between all of the three groups as they have different interest. Afong's four friends take care of the two bald bodyguards and defeat them. Afong herself faces Panna Rittikrai through a fighting in white costume. She gets defeated. The four friends face Panna but gets defeated also. United, they finally defeat Panna through a daring final. The original movie features "Beat It" song from Michael Jackson but finally replaced by another music in the VCD certainly due to copyright issue. The movie ends up with some failed action sequences similar to Jackie Chan's movies. เกิดมาลุย movie franchise is a full action movies series. Other actors are สมภพ วงศ์ก่อ (Sompop Wong Ko), นริศรา, บรรลุ, สุรินทร์, น้อย, กิม.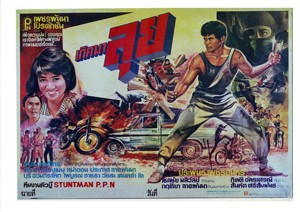 Year

: 1986



Thai title

:

เกิดมาลุย




English title

: Born to Fight



Rating

: 3/5


Director

: Panna Rittikrai



Main actor

: Panna Rittikrai,Krissanapong Rachata


Main actress

:



Buy now

:

Thai movie เกิดมาลุย / Born to Fight was released in year 1986. It lasts 94 minutes. It is first movie directed by Panna Rittikrai. This movie was released under VCD format (unfortunately in 4:3 to match old TV format and not 16:9) in Thailand and blu-ray format in USA in 2016. Panna sold his home to finance his first movie เกิดมาลุย shot in years 1985~1986. Other actors have to pay also to be part of this movie! At the beginning, main actor was supposed to be Toon Hiransap and the main actress was supposed to be Suriwan Suriyong but finally Isan actors were used! Panna Rittikrai's first movie เกิดมาลุย was not successful in Bangkok. Sieng Fong is a Hong Kong lawyer fleeing from Hong Kong to Thailand as he has got important papers showing the corruption of his boss. He takes refuge in uncle Kosi's home. Five ninjas are chasing him and storm uncle Kosi's home. Two young teens, seen later in Panna movies (Krissanapong Rachata and yyy), are getting an art martial training from Thong (Panna Rittikrai). Five masked men come to defy Thong and to check his skills. Thong defeats them and is hired by a Hong Kong policeman to find back Sieng Fong. Sieng Fong and uncle Kosi's daughter are gone to Nong Khai. Uncle Jaem helps Thong to find them. Multiple fights and motorbike chases are featured as ruffians try to block Thong. A final fight again the five ninjas shows many skills (sword fighting, martial art...) and ideas (action sequence replayed a second time with a different angle, action sequence shown at slower speed...) that were reused in other famous Panna's movies including Ong Bak and Tom Yam Goong. Panna's movies remain famous for their action scenes genuineness.
---