Increase or decrease font size for easier reading : A+ A-
Pan Borapet
Pan Borapet (1932) - แพน บรเพ้ด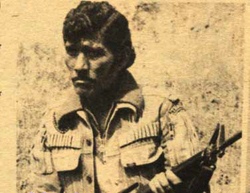 Pan Borapet always played the role of the ruffian or bad guy.
This Pan Borapet movie page contains 18 records.
---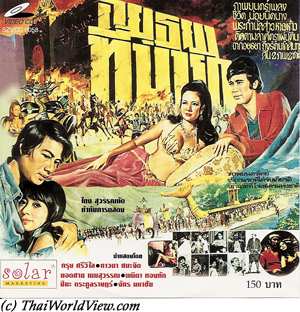 Year

: 1979



Thai title

:

อยุธยาที่ข้ารัก




English title

: The last day of Ayudhya



Rating

: 3/5


Director

:



Main actor

: Krung Srivilai,Yodchai Meksuwan,Piya Trakulrard,Surasit Sattayawong,Tawan Siriwat,Lor Tok,Pipop Pupinyo,Pan Borapet


Main actress

: Pawana Chanajit,Chosri Misommon,Somjit Sapsamruey,Marasri Bangchang,Sulaleewan Suwanthat



Buy now

:

Thai movie อยุธยาที่ข้ารัก / The last day of Ayudhya was released in year 1979 and lasts 2h18mn. The movie features many songs. The Thai chief soldier (Tawan Siriwat) is a traitor. Young lady Lam Duan (พนิดา ทองทัต) helps the Thai King (Surasit Sattayawong) to flee. Ayutthaya city is burnt and destroyed as the traitor opens the door to Burmese soldiers. Resistance is on. Lam Duan and her husband Reuang (Yodchai Meksuwan) try to kill the Burmese King but they fail and are sentenced to death. They promise to love each other every life (ทุกชาติ) and to kill the Thai traitor. 200 years have passed. Lam Duan is reborn under MouMou's name. Reuang is reborn under Decha's name. Sulaleewan Suwanthat is playing MouMou's mother. Dam (Pipop Pupinyo) kidnaps the subdistrict headman's daughter. Decha (Yodchai Meksuwan) likes painting and falls for Noi (Pawana Chanajit), a good heart prostitute. Decha is hired (นับสืบ) by a rich lady (Somjit Sapsamruey) to find her lost granddaughter (หลานสาวเศรษฐี). Dam buys a young lady called MouMou (พนิดา ทองทัต) for 3 nights from her parents but she refuses and escape after hitting Dam. Decha finally helps her but she doesn't trust believing he is another rapist. They take refuge in a cave. At nighttime, Decha dreams that MouMou is Noi and makes love to her. He promises to be responsible of his acts. Chased by Dam's ruffians including Pan Borapet, MouMou splits with Decha to attract the ruffians. She is unfortunately shot by ruffians and falls from a cliff. Toon (Lor Tok) is Decha's assistant. Lor Tok as medium (คนทรง) convinces the grandmother that Noi is her lost granddaughter. If Decha marries Noi, lost granddaughter, then they will have 1M baht to share! On the wedding day, MouMou is back. She wants to get her husband Decha back. Krung was the one to rescue MouMou when she falls from the cliff. He wishes to marry her but she refuses as she loves Decha, her husband in this life and previous life as Reuang. In order not to lose 1M baht, Noi has to accept to share Decha with MouMou. One day in alternance (โควตา) but jealousy makes it impossible to happen. Krung Srivilai has finally a small role in this movie but he is displayed on the poster as the main actor. Decha and Noi plan to send MouMou to a psychiatric hospital. She rebels and when facing Tawan Siriwat, she reminds he was the traitor in Ayutthaya and stabs him. The rich lady realises that her missed granddaughter is MouMou and not Noi! MouMou flees and reaches Ayutthaya. There, disappointed by life, she becomes a nun.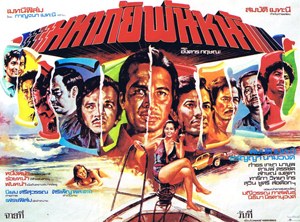 Year

: 1978



Thai title

:

มหาภัยพันหน้า




English title

:



Rating

: 3/5


Director

: Sombat Methanee



Main actor

: Sombat Methanee,Lak Apichat,Kecha Plianvithee,Dam Datsakorn,Rujira Isarangkul,Thep Thienchai,Kanchit Kwanpracha,Manop Aussawathep,Kamthorn Suwanpiyasiri,Pan Borapet,Paen Pleumsachai,Krai Kanchit,Sawin Sawangrat,Wittaya Sukdamrong,Pumi Patanayut


Main actress

: Aranya Namwong,Tharika Thidathip,Metta Roongrat,Orasa Isarangkul



Buy now

:

Thai movie มหาภัยพันหน้า was released in year 1978 and lasts 2h06mn. It was released under VCD and VHS formats. It is a Methanee film production with กาญจนา เมทะนี (Sombat Methanee's wife) as movie producer. Sombat Methanee is movie director. James bond style music is featured. Multiple famous Thai actors and actresses are featured in this movie such as Sombat Methanee, Aranya Namwong, Lak Apichat, Kecha Plianvithee, Dam Datsakorn, Rujira Isarangkul, Thep Thienchai, Kanchit Kwanpracha, Manop Aussawathep, Tharika Thidathip, Metta Roongrat, Kamthorn Suwanpiyasiri, Pan Borapet, Paen Pleumsachai, Krai Kanchit, Orasa Isarangkul, Sawin Sawangrat, Chosri Misommon, Lor Tok, Wittaya Sukdamrong. Multiple murders are committed in various places such as golf club... Each time the killer has a different face, i.e face of Kecha Plianvithee, face of Dam Datsakorn... The killer is having an assistant, i.e. Lak Apichat. The murders are committed by มหาภัยพันหน้า as those men were harmful to Thai society such as corrupted politicians or ruffians trafficking drugs or weapons. The killer is Sakao (Sombat Methanee) with his assistant Wai (Lak Apichat). Sakao is using different masks so he gets called the "great danger with thousand faces" (มหาภัยพันหน้า)! Thep Thienchai and Wai suggest to Sakao to have a lady joining their team. Their boss is Rujira Isarangkul. Det (Kanchit Kwanpracha) is also part of the team. The boss has an important work for them. They have to neutralize Sia Bancha (Kamthorn Suwanpiyasiri). Pho Lieng Boonta (Kecha Plianvithee) and Plaem (Dam Datsakorn) are working with Sia Bancha's team. Sakao and Wai go to Valentino club, where multiple Japanese and Hong Kong singers are working. This is Sia Bancha's usual place. Sakao meets Japanese singer Misiko (Tharika Thidathip). Sakao helps also Sai (Metta Roongrat) beaten by Klang (Krai Kanchit). Sakao has then arguments with Peter (Manop Aussawathep). Fighting occurs in Valentino club. Pho Lieng Boonta asks for an enquiry on Sakao. Sakao changes his face to be similar as Sia Bancha. Ratree, Bancha's girlfriend, is played by Orasa Isarangkul. Sakao enters in Sia Bancha's bedroom to steal documents. Khun Deu (Aranya Namwong) is welcome at the airport by Sakao, Wai and Det. Ruffians recognize Sakao's car and follow it. They aggress Deu being the driver as they believe she is Sakao's wife. Luckily, they flee as police is around. Sakao and Wai disguise themselves as plumbers so that Sakao can listen to Pho Lieng's plans. He meets Misiko again. Peter recognises him so Sakao has to flee on a small motorbike. Deu discovers that Sakao is มหาภัยพันหน้า. Deu finally joins them. Sakao and Klang meet Thongkam (Pumi Patanayut) that recommends them to follow Dr Singhon (Sawin Sawangrat). Ruffians fail to get rid of Sakao. Misiko asks to meet Sakao again and warns him (เล่นกับความตาย) that ruffians are trying to kill him. Sakao is finally captured. Deu uses Dr Singhon's signature to enter in their hidden place and install a microphone under the table. Sakao is beaten but refuses to disclose who he is. Ruffians are doing a weapons traffic to disrupt Thailand. Deu gathers information and informs the Police. Thai Police, led by Wittaya Sukdamrong, are ready to surround the house where ruffians are hiding. House is stormed and all ruffians are neutralized. Misiko was finally an inspector from Japanese Police.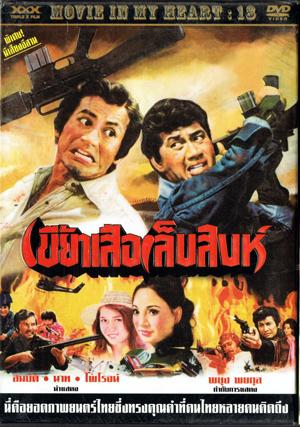 Year

: 1977



Thai title

:

เขี้ยวเสือเล็บสิงห์




English title

:



Rating

: 3/5


Director

: Payoong Payakul



Main actor

: Sombat Methanee,Phairoj Jaising,Nard Poowanai,Dam Datsakorn,Pipop Pupinyo,Pan Borapet


Main actress

: Rewadee Pattaphong



Buy now

:

Thai movie เขี้ยวเสือเล็บสิงห์ was released in year 1977. It lasts 1h48mn. Director is Payoong Payakul. Atit (Sombat Methanee), a mercenary (ทหารรับจ้าง) is back to his village in Isan. His father was kidnapped. Some ruffians try to kill him but Atit is faster to shoot them. He meets his old friend Akan (Phairoj Jaising), now Turkish bath manager. Seua Suk (Dam Datsakorn) and Pan Borapet storm the school as village header Thong complained to the police about their ruffians' activities. Teacher (Rewadee Pattaphong) is his daughter. Mokara (Nard Poowanai), a policeman, acting as a telecom company employee, hides a microphone inside Mien Wo's phone. Athit helps Mokara, aggressed by three ruffians, so they sympathize. He promises to help to find his kidnapped father. Mokara identifies that Mien Wo is the ruffians' leader (นายผู้หญิง) behind the kidnapping. Mokara requests the help of Seua Suk to identify ruffians around. They accept to work together. Upset by this, Mien Wo's team kidnaps the daughter of the village leader Thong to have a guarantee (ตัวประกัน). The dream team composed of Athit, Mokara, Akan, Seua Suk and others prepare to storm the ruffians' place. Pipop Pupinyo is leading the resistance but ruffians are defeated. A foreigner, Athit's friend, tries finally to betray him and to flee by helicopter with the father. Following a daring fight, the foreigner falls from the helicopter but Seua Suk dies while helping Athit. The DVD movie is certainly composed of two sets of partial reels as sometimes the image is colorful and sometimes it is reddish.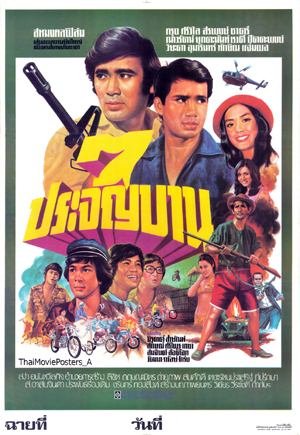 Year

: 1977



Thai title

:

เจ็ดประจัญบาน




English title

:



Rating

: 3/5


Director

: วิเชียร วีระโชติ



Main actor

: Krung Srivilai,Sorapong Chatree,Taksin Jampol,Nirut Sirijanya,Sayan Chantaraviboon,Lak Apichat,Kecha Plianvithee,Somjin Thammatat,Lor Tok,Tawan Siriwat,Pan Borapet,Chanee Yotchai,Krong Kangkengdaeng


Main actress

: Naowarat Yooktanun,Rewadee Pattaphong,Wiyada Umarin
Thai movie เจ็ดประจัญบาน was released in year 1977. Main actors and actresses include Krung Srivilai, Sorapong Chatree, Naowarat Yooktanun, Rewadee Pattaphong, Wiyada Umarin, Taksin Jampol, Nirut Sirijanya, Sayan Chantaraviboon, Lak Apichat, ศรีไพร ใจพระ, Kecha Plianvithee, Somjin Thammatat, Lor Tok, วัฒนา กีชานนท์, Tawan Siriwat, Krong Kangkengdaeng, Pan Borapet, Chanee Yotchai. Movie director is วิเชียร วีระโชติ. The film is lost in Thailand but a sequence in 35mm format can still be seen. The picture is very damaged and reddish. The sound is almost inaudible. It lasts around 50 minutes. During the remaining sequence, the seven mercenaries can be seen. The team includes Krung, Sorapong, Nirut, Lak, Sayan, Taksin and ศรีไพร ใจพระ. They help each other. A mission towards Thai nation is given by their boss. Multiple fighting and shootings against ruffians happen. A romance is happening between Sorapong Chatree and Naowarat Yooktanun. Taksin Jampol is playing famous role of จ่าดับ จำเปาะ role, i.e. a mercenary / a gunman wearing คาดเชือกกล้วย and red pants (กางเกงในสีแดง). The movie "เจ็ดประจัญบาน" was a sequel of movie "หนึ่งต่อเจ็ด" also released in 1977. Movie "หนึ่งต่อเจ็ด" is a lost movie. It featured Krung Srivilai, Sorapong Chatree, Rewadee Pattaphong, Tharika Thidathip, Taksin Jampol, Nirut Sirijanya, Sayan Chantaraviboon, Lak Apichat, ศรีไพร ใจพระ, Aranya Namwong, Kecha Plianvithee, Dam Datsakorn, Adul Dulyarat, อัศวิน รัตนประชา, Pipop Pupinyo, Siripong Isarangkul, Pramin Jarujareet, สมุย. It was a remake of the previous version released in 1958. Thai movie "หนึ่งต่อเจ็ด" (1958 version) featured Surasit Sattayawong, Wilaiwan Watthanaphanit, วิภา วัฒนธำรงค์, Sarinthip Siriwan, Adul Dulyarat, Sor Asanajinda, ทม วิศวชาติ, สมชาย ตันฑกำเนิด. Movie director was Sor Asanajinda. It is a movie mixing action and comedy. The movie made more than one million THB.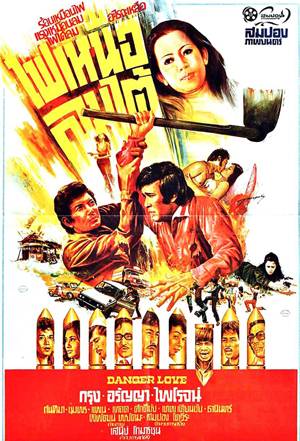 Year

: 1977



Thai title

:

ไฟเหนือลมใต้




English title

: Danger Love



Rating

: 3/5


Director

:



Main actor

: Krung Srivilai,Phairoj Jaising,Choomporn Theppitak,Thep Thienchai,Pan Borapet


Main actress

: Aranya Namwong,Kantima Daraphan,Janthana Siriporn
Thai movie ไฟเหนือลมใต้ was released in year 1977. It features Krung Srivilai as main actor and Aranya Namwong as main actress. The movie is lost in Thailand but a sequence of 1h01mn remains to be seen. Sia (Choomporn Theppitak) is playing pool. Krot (Krung Srivilai) arrives in the game room and shoots him. He then flees. Sia killed Krot's whole family so Krot is taking revenge. Chit (Phairoj Jaising) is upset that his older brother Sia was shot by Krot, a close friend. Chased by ruffians, Krot succeeds to flee by a train going to Hat Yai. A hitman called Takro is killing many people. He finally gets killed due to a trick played by 3 ladies including Linda (Janthana Siriporn) (ไม่น่ามาฅายเพราะว่าข่าอ่อนแบบนี้เลย). The local mafia leader needs to find a new hitman and asks for Krot. Meanwhile Chit finds Krot again and gives him a lesson as he is drunk. Krot succeeds to flee thanks to a taxi driven by Aranya Namwong. Aranya finds a woman picture in Krung's jacket pocket. Probably his former wife killed by Sia. Krot shots 3 drugs traffickers. Chit still tries to catch Krot and a fighting happens on a moving truck. Aranya is in fact a policeman. Krot shots Aranya with a sniper rifle despite Aranya saw him. Krot flees and boards a plane to Chiang Mai. His co passenger is similar to Aranya! Her father just died. Two songs are featured in nightclubs. Linda is also killed by Krot. Aranya is surprised that he is so cruel (หน้าตาดีแต่ใจโหดร้าย). Krot is a professional killer (มือปืนรับจ้าง). Police wants to get him alive to know who are the sponsors behind (ผู้ติดต่อ). So Aranya is assigned to this dangerous task. The remaining sequence ends up here. It could be that Aranya plays two roles. Other actors are กันทิมา, แพน, เทิด, ศักดิ์ชัย, ธานินทร์. A summary of the movie is still available through old Thai stars magazines.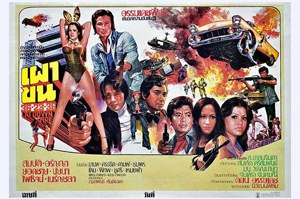 Year

: 1976



Thai title

:

เผาขน




English title

: Lay Down and Die



Rating

: 3/5


Director

: Kom Akadej



Main actor

: Sombat Methanee,Manop Aussawathep,Phairoj Jaising,Kanchit Kwanpracha,Yodchai MeksuwanBoo,Choomporn Theppitak,Dam Datsakorn,Boo Wibunnan,Kom Akadej,Pipop Pupinyo,Pan Borapet


Main actress

: Aranya Namwong,Naiyana Shewanan,Moeifa,Chosri Misommon,Neranchala Thaleungsak
Thai movie เผาขน was released in year 1976. The movie was never released on VCD or DVD in Thailand but a collector saved the film from 16mm format into VHS many years ago. The copy was not so good and was in red color as the film was already old. It lasts 1h44mn and is incomplete. The movie was also released in Italy under the name Lezi Puca Se (Lay Down and Die). It was also released by IFD Films and Arts, a Hong Kong company, under the name Bionic Heroes (1977) and lasts 1h25mn. The VHS rip is still colorful and sharp but the original Thai version has been reduced and cut to fit VHS standard format. Some sequences missing in the Thai remaining version are present in the international release. Enemies are trying to enter Thailand. At the border, Fon (Sombat Methanee) refuses to meet his younger sister Naiyana. He has to investigate who is providing weapons for Thai enemies. The enquiry leads him to a bunny bar, owned by Manop Aussawathep. Both Aranya Namwong and Pong (Phairoj Jaising), sister and brother, have resentments against Manop as he failed to honour the promise to their father to take care of them. They are used by him for low jobs. Pong (Phairoj Jaising) keeps having arguments with Dam, Manop's right hand. Boo Wibunnan is shot by Kanchit Kwanpracha, who ends up in jail. Aranya is having issues with Ah, an older man, who is trying to rape her as she was sold by Manop. Pong shoots him deadly. Pong and Aranya are then chased by the police. Prisoners Kanchit and Yodchai Meksuwan escape from the prison and are chased by the police. Some ruffians led by Dam Datsakorn try to shoot them while they are fleeing. They split to increase the chance for escape. Yodchai meets Pong and Aranya. They bring him temporarily with them to avoid police but then get rid of him on the backside of the road. Manop Aussawathep's girlfriend is played by Moeifa. Both Pong and Aranya fail to kill Manop. Kanchit wishes to revenge also on Manop as he believes he was betrayed. Manop pacifies everybody and Yodchai joins the team also. Dam, Yodchai and Kanchit do a heroin traffic in the train. Naiyana Shewanan spies them. Manop, as head of the traffickers, is upset as his latest traffic was discovered by the police so there must be a spy in his team. Manop decides to use Aranya for a Thai boxing match in order to exchange drugs versus money among a busy crowd. The niece of Manop is Pissamai (Neranchala Thaleungsak). Pissamai and Pong become very close. Chosri Misommon is playing Aranya's Thai boxing trainer. Choomporn Theppitak is playing a drug trafficker. Aranya wins her Muay Thai boxing match. Nayana spies Kanchit and his ruffians charging drugs in a truck. Yodchai convinces the ruffians that he will manage Nayana by himself. As Manop tries to abuse Pissamai, Pong helps her and they flee together chased by Dam. Meanwhile Fon shows to Aranya that Manop uses her as a mule only as drugs is hidden under banknotes. They also flee. Pong is captured while trying to release Nayana. Fon flees with Aranya and Pissamai. While trying to capture drug dealer Choomporn, Fon is finally neutralized by Pipop Pupinyo, Pan Borapet and Kanchit. They are transferred to the ruffians' base by helicopter. Fon is attached to a rope under the helicopter. He falls in a lake. Ruffians are attacking a border station to let enemies enter Thailand. Some ruffians are changing side such as Kanchit trying to protect Yodchai, who was the one always informing the police. The movie highlights police and military helping each other to push back enemies of Thailand. Pong and Pissamai die in each other's arms while fighting for Thailand. Director Kom Akadej is also having a small role as policeman. The movie features a very big number of famous Thai actors / actresses from decade 1970s.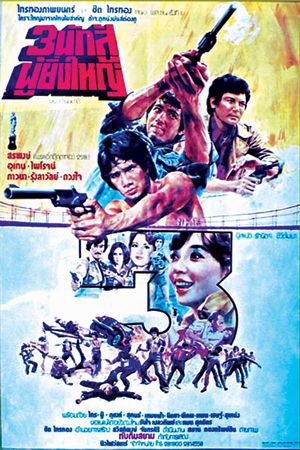 Year

: 1976



Thai title

:

3นักสู้ผู้ยิ่งใหญ่




English title

:



Rating

: 4/5


Director

: ทับทิมสยาม



Main actor

: Sorapong Chatree,Phairoj Jaising,Sukon Koewliam,Pipop Pupinyo,Uten Boonyong,Boo Wibunnan,Krai Kanchit,Pan Borapet


Main actress

: Pawana Chanajit,Moeifa,Duangjai Hathaikarn,Runglawan Sripatimakul
Thai movie 3 นักสู้ผู้ยิ่งใหญ่ was released in year 1976 and lasts 2h33mn. Movie director is ทับทิมสยาม. A remastered version was released by Five Star Production (ไฟว์สตาร์โปรดักชั่น) in the decade 2010s and shown on Thai TV cable. The movie was also released by Lepso Studio under VCD format. The VCD picture is quite poor and colorless. It certainly comes from an old TV program recording. The VCD lasts 2h12mn. Thai actors and actresses in this movie are Phairoj Jaising, Sorapong Chatree, Pawana Chanajit, Boo Wibunnan, Moeifa, Runglawan Sripatimakul, Pipop Pupinyo, Pan Borapet, Krai Kanchit, Uten Boonyong, Sukon Koewliam, Duangjai Hathaikarn, ภุชงค์ นาคราช, เชษฐ์, สุเหน่ง, sexy actresses (ดาวยั่วดวงใหม่) รินใจ เปลวทิพย์ and แมน ศุภมิตร. Wealthy man (พ่อเลี้ยง) Yan shall meet Sia (คนอิทธิพลมาก) Boo. Sia is played by actor Boo Wibunnan, who always plays the mafia leader, half Chinese half Thai, speaking a Thai language mixed with Chinese words. Yan is calling Lot (Phairoj Jaising) for support as a 20M THB deal is involved. They have to go to Pattaya. Taptim (Pawana Chanajit) is staying in a hotel with her father Boo (Boo Wibunnan). Her mother-in-law Nam Moei (Moeifa) is also there. Yan is staying in the same hotel and asks Lot to take care of Yu Mei, his mistress, while he is going out for business. Yan fails to reach a business agreement with Boo. Boo's men take compromising pictures of Lot and Yu Mei. Meanwhile Jom (Sorapong Chatree) and See Thong, his wife, get a job as a clerk in Yan's mining company. Sola, Yan's daughter (Runglawan Sripatimakul), is back from overseas. Pipop Pupinyo has arguments with Pan Borapet as he hurts one of his teammates. Pipop knows Yan well. Pan and Krai wish to hurt Boo's workers, so they send men to attack a woman at nighttime. Upset by this night attack, Jom, Lot and Sola storm their camp and take their weapons. Unwilling to settle, Boo and his men enter Yan's mining company to complain. Finally they retreat as Taptim realizes some men, working for her father, did behave badly. At nighttime, Boo's men enter Yan's company dormitories and assault ladies. The overseer is corrupted and has opened the door to ruffians. He now accuses Yan of being unable to protect his staff. While Jom is away, See Thong is raped and killed. Jom quits his job in Yan's mine in order to get revenge. Chiep (Uten Boonyong) arrives in the city. He stays in Sukon Koewliam's house where his two daughters, including Duangjai Hathaikarn, are fond of him. As Chiep is having a strong punch, Sia Boo wishes to recruit him and he accepts. As Taptim has studied in university, Chiep tries to convince her that her father activities are wrong (เดือดร้อน) towards villagers. As she is a university graduate, she shouldn't tolerate this. Jom ends up in Seua Hin's territory. Ruffians believe Jom is a hidden cop but Pipop confirms he is working for Yan. Knowing his will to avenge See Thong, Seua Hin's team trains him to become a strong fighter. Boo's team puts the compromising picture of Lot and Yu Mei together, so Yan spies them and catches them together. He chases both of them from his domain. Yan and his daughter Sola are then alone to manage the mine with no protection. Upset, Yu Mei joins Boo's team. Taptim is looking for a solution to the conflict between Yan and Boo. She decides to visit Yan with Duangjai and Chiep. Upset, Boo forbids his daughter to go anywhere. As Chiep shoots one of Sia's ruffians trying to rape a villager, he is considered as a traitor (ทรยศ) and imprisoned. Jom joins Yan as he has finished his training. Moeifa drugs Yu Mei so that she cannot refuse Sia's advances. Moeifa's plan is to take the team control with Lot. Yu Mei is punished and killed by Lot. Knowing Yu Mei's death, Yan requests a one to one duel with Sia. Yan shoots Sia Boo but then Lot cowardly shoots Yan also. Lot is the new leader. Meanwhile Taptim helps Chiep to flee. Jom and Chiep fight back in order to defeat Lot and his ruffians. The area now becomes ruffians free.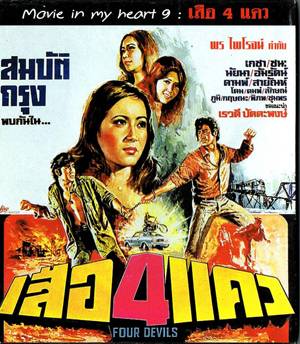 Year

: 1976



Thai title

:

เสือ 4 แคว




English title

: Four Devils



Rating

: 4/5


Director

:



Main actor

: Sombat Methanee,Krung Srivilai,Choomporn Theppitak,Kecha Plianvithee,Pipop Pupinyo,Dam Datsakorn,Chana Sriubon,Kom Akadej,Lak Apichat,Sayan Chantaraviboon,Pan Borapet,Paen Pleumsachai,Pumi Patanayut


Main actress

: Naiyana Shewanan,Rewadee Pattaphong



Buy now

:

Thai movie เสือ 4 แคว was released in year 1976. It lasts 2h20mn. Pleung (Krung Srivilai) and Chat (Sombat Methanee) are always fighting in a prison. The head of prison decide to transfer them to another prison. To avoid any issues during the transfer, they are hogtied together. During transfer, Pleung's teammates attack the police armed escort. Pleung and Chat flee together. Choomporn Theppitak is playing a policeman. They do realize that they have a common enemy called พ่อเลี้ยง Do Tawan (Kecha Plianvithee). Do Tawan is aware that Pleung is now free. Choi (อัมรัตน์ ขัตติยา) is Do Tawan's girlfriend. Four devils [เสือ4แคว] (Pipop Pupinyo – Seua Wang, Dam Datsakorn - Seua Nan, Seua Ping - Chana Sriubon, Seua Yom – โดม สิงห์โมฬี) are called by Do Tawan to kill Pleung. 1M Baht reward is promised for the one who succeeds to kill Pleung. น้อง Kaew (Rewadee Pattaphong), a teacher, is Do Tawan's younger sister. She knows the secret behind her brother. Do Tawan (โจรใจบาป) is selling drugs. Pleung, a former teammate, asked him to stop but ended up in jail because of Do Tawan. Pleung's younger sister Wallin (Naiyana Shewanan) is still kept captive by Do Tawan (ตัวประกัน). A bomb is hidden in her bungalow. Kaew prevents her brother from abusing Wallin. ภูมิ พัฒนายุทธ, Kan (Kom Akadej), Wai (Lak Apichat), Suki (Sayan Chantaraviboon) meet Chat in the restaurant (เอาเต็มที่). He claims to be เสือ4แคว. They sympathize with Chat, who sends them to help Pleung against the 4 devils. Meanwhile, Chat plans to enter Do Tawan group in order to spy them and release Wallin. Pleung, being attacked by Seua, decides to fight back and attack them directly also causing Dam to flee. Do Tawan hires Chat. Seua Ping's team includes veteran actors Pan Borapet, กฤษณะ อำนวยพร and Paen Pleumsachai. Chat pushes the teams against each other. Chat succeeds to exchange Wallin with Kaew simulating a kidnapping. Meanwhile Choi helps to provide information on Do Tawan's business. Chat is identified as the traitor. Chat shall be smashed by a train but Pleung helps him on time. Knowing that Chat is not dead, Do Tawan moves his stock of drugs in a safer place. Pleung identifies the place and decides to attack it. Chat, being finally a policeman, also comes with reinforcement. All ruffians are killed by the Thai A-team. Unable to flee, Do Tawan prefers to explode the warehouse to avoid surrendering. Pleung has to go back to jail but Chat promises that his efforts to catch Do Tawan will be taken into account to reduce the severity. This movie features a huge number of famous Thai actors and actresses.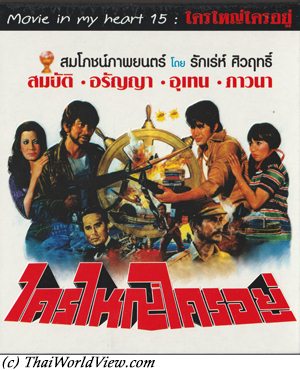 Year

: 1976



Thai title

:

ใครใหญ่ใครอยู่




English title

: The great outlaw



Rating

: 4/5


Director

: เสนีย์ โกมารชุน



Main actor

: Sombat Methanee,Uten Boonyong,Dam Datsakorn,Taksin Jampol,Kecha Plianvithee,Tat Ekathat,Pan Borapet


Main actress

: Aranya Namwong,Pawana Chanajit,Moeifa



Buy now

:

Thai movie ใครใหญ่ใครอยู่ / The great outlaw was released in year 1976 and lasts 2h08mn. The movie was released on VCD format in Thailand by company XxX (Triple X). Movie director is เสนีย์ โกมารชุน. Lom is having a boat transportation business on the river. Nai Prakit's ruffians (including Pan Borapet and เมือง อพอลโล่) are threatening Lom's team (Tat Ekathat). Nai Prakit (Kecha Plianvithee) wishes to marry Lom's daughter, i.e. Nam Rong (Aranya Namwong) but Lom refuses. Nai Prakit's team shoots Lom's boats and crew. Lom's staff decides to leave as they are afraid to be killed. Nam Rong proposes to talk to Nai Prakit in order to find a solution. Threatened by ruffians, Nam Rong gets help from an unknown man named Chuey (Sombat Methanee). She hires him! Peace is proposed to Nai Prakit but he is refused. Chuey is the son of an old friend of Lom. Lin See Thong (Uten Boonyong) arrives in the city and comes to eat sweets at Sida's shop (Pawana Chanajit). Fighting occurs with ruffians as one of them dislikes Lin See Thong trying to seduce Sida. Lin See Thong asks to join Nai Prakit's team. Rampeung (Moeifa) is Prakit's girlfriend. Prakan (ลูกรัก)(Dam Datsakorn) is back per his father's request. Prakit needs his help to destroy Lom's business and gets rid of Chuey. A new policeman (Taksin Jampol) arrives also in the city. He is a strong punch man and trashes ruffians lacking respect to him. Prakan, using small speed boats, disrupts Lom's boat fleet and prevent Lom's goods to be sold on the market. Two ruffians, Mek and Sing, intend to get rid of Lin See Thong as he is getting too close to Nai Prakit. Rampeung seduces Lin See Thong. Mek and Sing ask Nai Prasit to beware Rampeung and Lin See Thong. Ruffians try to storm Lom's house at night time. Shooting happens. Police arrive very fast and ruffians have to retreat. Nai Prakit suspects there is a traitor among them. Even Taksin dares to enter in Nai Prakit's house (บ้านเจ้าพ่อ). Speed boat fighting occurs as Chuey prepares resistance to the ruffians. Action scene is managed as well as in James Bond movies. Chuey defeats Prakan. Nai Prakit kills Rampeung as she sacrifices her life mentioning the police radio found belongs to her despite it belongs to Lin See Thong. Lin See Thong is kept prisoner in his room as Nai Prakit isn't sure he is innocent or not. Ram Rong is kidnapped by Prakan. Lom and Chuey enter Nai Prakit's home. Meanwhile Thai police is informed, and they arrive by boat. To win time and to allow Thai police to come, Lin See Thong asks for a fight one to one with Chuey to show his sincerity to Nai Prakit. Heavy shootings occur. Lom is shot. Nai Prakit and Prakan are captured. Both Chuey and Lin See Thong are undercover policemen. Policeman Taksin mentions that nobody is big enough to be above the law!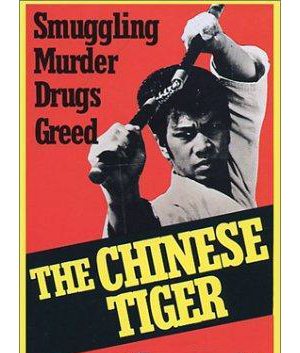 Year

: 1974



Thai title

:

ไอ้เสือตี๋




English title

: The Chinese Tiger



Rating

: 3/5


Director

:



Main actor

: Larry Lee,Pan Borapet


Main actress

: Louise Lee Si-Kei
Thai Hong Kong ไอ้เสือตี๋ / "The Chinese Tiger" / 唐山猛虎 movie was released in year 1974. It lasts 1h30mn. Chinese citizen manage a company providing goods shipment from Thailand to Hong Kong. An employee is killed. Ruffians take advantage to hide drugs among the cereals. Goods are shipped to Hong Kong. Pan Borapet is hired to kill Limin (Larry Lee) in order to stop investigation but he fails. Limin's brother as courier is arrested by Hong Kong police as drug was discovered. Mr Choi is behind this. Limin decides to go to Hong Kong to investigate. Young lady Fefei (Louise Lee Si-Kei) is used as drug mule by the gang. Ruffians try to stop Limin but his Kung Fu skills are too good for the ruffians. Limin identifies that drugs exchange is happening in a high class restaurant through Fefei. Limin joins the transporters and assist to a fighting between the big boss and two ruffians trying to take over their business. Limin is the troublemaker from Thailand! Limin defeats the big boss and his brother is released. Fefei has to go to jail. She promises to visit Limin in Thailand when she has purged her sentence. Back to Thailand, Limin has to fight against the ruffians, who hid the drugs inside his company goods.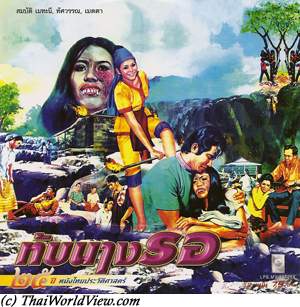 Year

: 1973



Thai title

:

ทับนางรอ




English title

:



Rating

: 3/5


Director

: Chutima Suwannarat



Main actor

: Sombat Methanee,Kamthorn Suwanpiyasiri,Jamroon Nuatjim,Tat Ekathat,Rong Kaomulkadee,Pan Borapet


Main actress

: Tasawan Saneewong,Boosara Narumit,Metta Roongrat,Malee Wetpraseri
Thai movie ทับนางรอ was released in year 1973 and lasts 1h43mn. It was released under VCD format by Lepso Company. Sombat Methanee, Kamthorn Suwanpiyasiri, Pan Borapet, Jamroon Nuatjim, Tasawan Saneewong, Boosara Narumit, Tat Ekathat, Metta Roongrat, Malee Wetpraseri, Rong Kaomulkadee are the main actors and actresses featured in this movie. Movie director is ชุติมา สุวรรณรัต. A baby girl is abandoned in the forest as she has a deformed face (ลูกผี). She is rescued by Tat Ekathat and is named Sopi. At school, she is rejected by other children. Being an adult, her face becomes normal but a awful decease endangers her (อย่าพบความรัก). If she gives life to a baby, she shall die. Her parents (played by Boosara Narumit and Kamthorn Suwanpiyasiri) prevent her from seeing any boy. Chakapan (Sombat Methanee), a Bangkok young man, falls in love with her and asks for her hand but Sopi's parents refuse (เรื่องหัวใจ). Pim (Metta Roongrat) and Rong Kaomulkadee are having a romance. They keep helping Chakapan and Sopi. Sopi is aggressed by two ruffians, including Pan Borapet, working for the village leader. She flees but falls from a cliff. Chakapan saves Sopi's life so her parents finally accept the wedding but knowing that she shall die following a pregnancy. Sopi is now pregnant. Following delivery, Sopi's deformed face is back, so she flees from home with her child. She ends up dying in Chakapan's arms per the doomed prediction.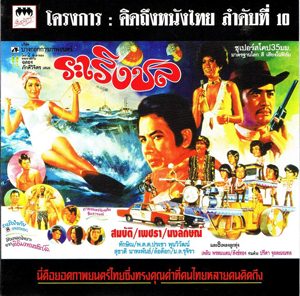 Year

: 1972



Thai title

:

ระเริงชล




English title

: Ra Rueng Chon



Rating

: 5/5


Director

: Chalong Pukdeewichit



Main actor

: Sombat Methanee,Songthong,Rujira Isarangkul,Lor Tok,Pan Borapet,Taksin Jampol,Paen Pleumsachai


Main actress

: Petchara Chaowarat,Somjit Sapsamruey,Marasri Isarangkul,Orasa Isarangkul,Wassana Chalakorn
Thai movie ระเริงชล was released in year 1972 and lasts 2h07mn. It was released under VCD format by XxX company in year 2001. Director is Chalong Pukdeewichit. The movie was found overseas and the picture is sharp and colorful. Unfortunately the first part of the movie (around 20 minutes) was missing. So in order to be able to release the movie, a remaining 35mm film was digitized. As the film reel was almost 30 years old, the colors were gone and scratches could be seen. But at least the first 20 minutes were recovered and VCD was released. Eight songs are featured including the group "Impossible" (วงดิอิมพอสซิเบิ้ล), Songthong and เพลิน พรหมแดน... Petchara wears extraordinary hats in this movie. Pak (Sombat Methanee) is back from overseas. Per his parents' arrangement, he needs to marry a young lady called Rareung (Petchara Chaowarat). His father (Rujira Isarangkul) and his mother (Somjit Sapsamruey) have a debt towards Thon (Lor Tok) and his wife (Marasri Isarangkul), who helped them financially. They must have gratitude (บุญคุณ) towards this family. It is the overseas student versus the upcountry lady (เด็กบ้านนอก). Pak is not willing to marry Rareung and wishes to break the engagement (ถอดหมั้น) as he has a fiancee, called Sopha (นงลักษณ์ โรจนพรรณ), still being overseas. The young lady, Rareung, is behaving like a hippy. If no wedding, Pak's father has to pay back the debt but he doesn't have the money. Pak agrees to work for Thon one year in order to pay back his father's debts. The engagement is maintained. They have to move back to Rayong. Pak met Pleun (เพลิน) as local architect and Sang (Songthon). Plaem (Orasa Isarangkul) is aggressed by ruffians including Pan Borapet. Pleun and Rareung help her on time. Sopha is back from USA and is willing to pay the 1M Baht debt. Pak refuses as he is not a thing that can be purchased. Rareung calls him "golden pimp" (แมงดาปิดทอง)! Pak is authorised by Thon to go to Sopha's birthday. A fight occurs during Sopha's birthday. Bouleu (พ.ต.ต.ประชา พูนวิวัฒน์) hires ruffians to beat Pak as he sees him as a rival. Rareung and his friends help him. Sopha's mother (ประพิศ พราวพรรณ) wishes her daughter to marry Bouleu, a rich businessman. Bouleu has a mistress already (Wassana Chalakorn). Den (ปรีดา จุลละมณฑล) has a car accident with Sopha so he tries to seduce her and comes to her house. Rareung's mother is suddenly dead. Thon has a mistress. Her brother Chu (Taksin Jampol) pushes her to become official wife. Pak refuses that Rareung's breaks her debt contract. Rareung is aggressed by three ruffians but Pak helps her on time. Bouleu hires Chu to recover some drugs fallen in the sea. A party (งานฉลอง) is organised to celebrate new bungalows opening so many families are gathering. Sopha knows she lost to Rareung. Bouleu proposes to help her by damaging the parachute. While Rareung is parasailing, Paen Pleumsachai shoots the parachutes and ruffians kidnap the ladies. They ask for 1M baht ranson to Thon. Bouleu is the mastermind behind. The ransom fails as the police intervenes. Chu is involved but he is doubled. Plaem (sister of policeman Den) and Thon's mistress are also captured. Police is about to storm the island where Bouleu and his team is hiding. Wassana is disappointed that Bouleu still loves Sopha. She warns Pak and the police regarding mines hidden under the beach. Bouleu shoots her. Police led by Den and Pak succeed to storm the HQ and to release the ladies. They have to flee as a time bomb shall destroy the HQ. A final fight occurs between Pak and Bouleu. Wassana harpoons Bouleu. Happy romance can happen between Pak and Rareung, between Den and Sopha, between Pleun and Plaem.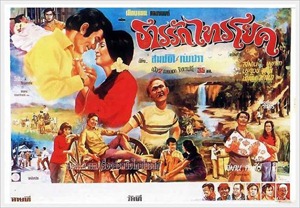 Year

: 1971



Thai title

:

ธารรักไทรโยค




English title

:



Rating

: 3/5


Director

:



Main actor

: Sombat Methanee,Prachuap Ruekyamdee,Paen Pleumsachai,Sawin Sawangrat,Pan Borapet,Songthong,Tat Ekathat


Main actress

: Petchara Chaowarat,Metta Roongrat,Wassana Chalakorn
Thai movie ธารรักไทรโยค was released in year 1971. Main actors and actresses are Sombat Methanee, Petchara Chaowarat, Prachuap Ruekyamdee, Paen Pleumsachai, Sawin Sawangrat, Metta Roongrat, Wassana Chalakorn, Pan Borapet, singer Songthong, Tat Ekathat. The movie is lost in Thailand but a dubbed sequence in 16mm format lasting 1h30mn was shown in Thai Film Archives. The movie takes place in Saiyok area, Kanchanaburi province. Multiple songs are featured. Trailer sequences show various action and romance scenes. The remaining film is in 16mm format but songs are in 35mm format so songs sequences have poor quality as 35mm film degrades faster in time. Prachuap is trying to seduce Metta. Petchara's father, Sawin, doesn't like people from Bangkok. Sombat and Prachuap are accused to be robbers.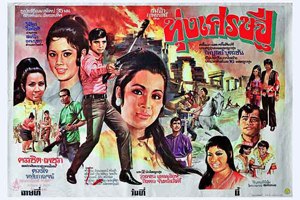 Year

: 1971



Thai title

:

ทุ่งเศรษฐี




English title

:



Rating

: 4/5


Director

:



Main actor

: Kanchit Kwanpracha,Taksin Jampol,Phan Kam,Rujira Isarangkul,Tat Ekathat,Pan Borapet,Adinan Singhiran,Pramin Jarujareet


Main actress

: Petchara Chaowarat,Ratanaporn Intarakamhaeng,Sisala Thongtara,Jomchai Jarintorn
Thai movie ทุ่งเศรษฐี was released in year 1971 and lasts 2h46mn. It was never released under VHS, VCD or DVD but an unofficial version can be found as a collector made a copy of the film, found in 16mm format with soundtrack. This unofficial VHS version features a very damaged black and white image with many vertical lines and distorted sound as the remaining film was projected very often. It is even more damaged than Thai movie มนต์รักลูกทุ่ง. Main actors and actresses are Kanchit Kwanpracha, Petchara Chaowarat, singer รุ่งเพชร แหลมสิงห์, singer กิ่งดาว จันทร์สวัสดิ์, Taksin Jampol, Ratanaporn Intarakamhaeng, Phan Kam, Rujira Isarangkul, สีเผือก, ศรีสุริยา, เทิ่ง สติเฟื่อง, Tat Ekathat, Pan Borapet, Adinan Singhiran, Pramin Jarujareet. 16 songs are featured. Thai movie ทุ่งเศรษฐี is a musical movie (หนังเพลง). The most famous song is ขนมจีนน้ำยา. Subdistrict headman and ruffians' leader Pongdin (Tat Ekathat) is asking lady Molee's hand. She is the village leader Chiaw's (Rujira Isarangkul) daughter. Cherm (Taksin Jampol), armed with swords, pushes back the wedding procession led by Pongdin. Molee (Ratanaporn Intarakamhaeng) succeeds to escape with her boyfriend Pong (Phan Kam). Cherm jumps on a horse and flees also before being overwhelmed. Molee lives with Pong and their child but remains concerned that Pongdin will find them one day. Adinan Singhiran and Pramin Jarujareet succeed to find them but Pong refuses to flee in front of Pongdin again. He is finally killed. Pong's house is burnt. Molee and her child Prai have to flee to Bangkok. Cherm decides to stay in a Buddhist temple. Twenty years have passed. Prai (Kanchit Kwanpracha) and Rung Phet are selling vinyl records during temple fairs. Kwan Dao (Petchara Chaowarat) is visiting the fair also. Prai falls in love with Kwan Dao. He sings romantic song for her. Prai and his friends get beaten by ruffians (including Pan Borapet) because they talked to the daughters of ruffians' leader Pongdin. Pongdin has a wedding plan for his daughter even she doesn't know or love her future husband. Kwan Dao doesn't want to marry a ruffian (นักเลง). Prai with Rung Phet's help are looking for Cherm and Chiaw. While paying respect to an old pagoda, Prai and his friends visit a small wooden house. They are attacked by Borapet and his ruffians. Ruffians are pushed back. They discover that the man meditating in the house is uncle Cherm! Cherm brings them to meet former village leader Chiaw's (Rujira Isarangkul), who is Prai's grandfather! He is now subdistrict headman (กำนัน). Prai is still looking for his father. He doesn't know if his father is still alive or not. Thai boxing matches are organised in the village for the annual festival. It starts with a dwarf match. Next match features Adinan versus Prai. Kwan Dao needs to give the winning reward. Prai defeats Pongdin's champion. It ends up by a lady match. Pongdin accepts them as 'children'. Romance songs occur between Prai and Kwan Dao, male singer (รุ่งเพชร แหลมสิงห์) and female singer (กิ่งดาว จันทร์สวัสดิ์). Face to face occurs between Pongdin, uncle Cherm and Prai. Prai is still looking who killed his father. Both of them are beaten and captured by Pongdin's ruffians. Friends ask for subdistrict headman Chiaw's help. Kwan Dao tries to release Prai and succeeds. Prai knows Pongdon killed his father so he needs to take revenge. Prai captures Pongdin and wishes to torture him on a pyre like he tortured his father (รับกรรม). Molee and Cherm tries to convince him not to kill Pongdin. No more sins shall happen. Seeing his mother collapsing makes Prai realises that he was wrong. Pongdin changes and recognizes his mistakes. Thung Sethi (ทุ่งเศรษฐี) area will have happiness.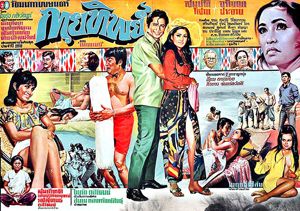 Year

: 1970



Thai title

:

กายทิพย์




English title

:



Rating

: 3/5


Director

:



Main actor

: Sombat Methanee,Chana Sriubon,Prachuap Ruekyamdee,Sukon Koewliam,Sithao Petcharoen,Krai Kanchit,Sawin Sawangrat,Ruj Ronnapop,Sompong Phonmitr,Pan Borapet,Op Boonthit


Main actress

: Aranya Namwong,Sopha Sataporn,Wilaiwan Watthanaphanit,Sarinthip Siriwan,Khomapat Attaya
Thai movie กายทิพย์ was released in year 1970. The movie lasts 2h30mn but only 1h00 is left to be seen. Jaomanat (Sarinthip Siriwan) is Atibadi's domestic helper. Jaomanat has two sons Phayoton (Sombat Methanee) and Pontet (Prachuap Ruekyamdee), playing a gay character (กะเทย). Atibadi (Chana Sriubon) has two daughters Romadee (Aranya Namwong) and Deuan Rung (Sopha Sataporn). Atibadi's wife (Wilaiwan Watthanaphanit), called Nimnuan, is dead already but her soul (วิญญาณ) has possessed Jaomanat. Three house spirits (ศาลพระภูมิเจ้าที่) are also involved. Two of them are played by Sukon Koewliam and Sithao Petcharoen. Krai Kanchit, a hairdresser, gets warned by Phayoton not to disturb Jaomanat anymore. Fighting in slum(สลัม) happens between Phayoton and Krai. Krai is defeated. Sawin Sawangrat comes later with more men to beat Phayoton but the three house spirits help him. สุมาลี ทองหล่อ, mother of Khomapat Attaya, wishes to grab Atibadi. Finally Atibadi takes Sumalee as his new wife. During the wedding party, Khomapat comes with Ruj Ronnapop but Khomapat has more interest in Phayoton. Sompong Phonmitr is playing a หมอทำเสน่ห์. Sumalee and Sawin visit the magician at the same time but they get teased again by the spirits. Krai comes at that time and meets Sumalee. They become lovers. Sumalee and Atibadi spend their honeymoon in Pattaya. Deuan Rung likes Phayoton but this one manages to have his brother Pontet taking care of her so that he can be with Romadee. Meanwhile Krai has seduced also Khomapat so causing Sumalee's ire. She sends Pan Borapet and Sawin to teach (สังสอน) Krai but they kill him. Upset, she also kills Pan Borapet and Sawin. Sumalee is feeling sad (น้อยใจ). Op Boonthit identifies that Nimnuan's sould (วิญญาณ) is inside Jaomanat. A proper ceremony needs to be done. Sumalee wishes to interrupt it. Monks need to be brought. While the soul is about to exit, Sumalee prevents the holy water to be poured. She is struck by a lighting and dies. Ruj is ravaged. Finally Jaomanat can fully recover.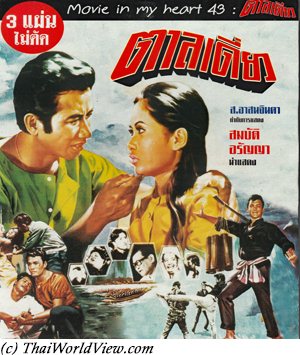 Year

: 1969



Thai title

:

ตาลเดี่ยว




English title

:



Rating

: 4/5


Director

: Sor Asanajinda



Main actor

: Sombat Methanee,Ruj Ronnapop,Tat Ekathat,Pan Borapet,Choomporn Theppitak,Sawin Sawangrat,Paen Pleumsachai,Daonoi Duangjai,Siripong Isarangkul


Main actress

: Aranya Namwong,Metta Roongrat,Somjit Sapsamruey,Kaenjai Meenakanit
Thai movie ตาลเดี่ยว was released in year 1969 and lasts 2h50mn. It was released by Triple XxX company and features 3 VCD discs. The VCDs are mixing sequences based on 35mm format (songs) and sequences based on 16mm format (main movie needing dubbing as this format has originally no track sound). The movie features a few songs. Movie director is Sor Asanajinda. Many famous actors and actresses are featured in this movie such as Sombat Methanee, Aranya Namwong, Ruj Ronnapop, Somjit Sapsamruey, Metta Roongrat, Tat Ekathat, Pan Borapet, Choomporn Theppitak, Sawin Sawangrat, Kaenjai Meenakanit, Paen Pleumsachai, เมืองเริง ปัทมินทร์, Siripong Isarangkul, ขุนแผน ภุมมารักษ์, ถนอม นวลอนันต์, นวลศรี, แป้น ปลื้มสระไชย, ฉกาจ, บิ๊ฟ, พีระพล, ตาล, มานะชัย, Daonoi Duangjai. Dio (Sombat Methanee) and Kut (Ruj Ronnapop) are close friends. Dio's mother, Poei, is played by Somjit Sapsamruey. Kratin (Metta Roongrat) is Kut's sister and she loves Dio. Jamroon Nuatjim is Kratin's father. Tan (Aranya Namwong) is the daughter of subdistrict headman (กำนัน) Phet (Tat Ekathat). Dio's father died in subdistrict headman Phet's garden before by falling from a tree while harvesting sugar palm. Phet forbids Dio to meet his daughter but he agrees to give him a job. Dio's mother is sick and they are running out of money. Kratin gives Dio 100 Baht to buy some medicine. Dio starts to work in Phet's garden to harvest sugar palm. Kratin helps him. Two ruffians (including Pan Borapet) working for subdistrict headman Phet makes joke about him and his relationship with Kratin. A fight occurs, and ruffians get beaten by Dio and Jamroon. They complain to subdistrict headman Phet but as Tan saw them, then Phet knows that both are lying and were looking for troubles first. They quit their work and promise to get revenge towards Dio. Plok (Choomporn Theppitak) wishes Tan to become his wife. He plans to abuse her with the help of the ruffians chased by Phet. Once abused (เสียแล้ว), he will ask for her hand and subdistrict headman Phet cannot refuse. Ladders to climb palm trees are damaged. Dio and Jamroon suspect the ruffians. One evening, Jamroon, being drunk, have arguments with Plok and his men. He gets severely beaten. Plok's father is played by Sawin Sawangrat. Tamleung (Kaenjai Meenakanit) is another lady fond of Dio. Annual festival (งานประจำปี) occurs and features a boat race. Plok tries to kidnap Tan (ลูกตาล) but Dio helps her on time. Plok and his father have to apologize to subdistrict headman Phet and his daughter. Subdistrict headman Phet wishes to give money to Dio as a reward but he refuses. Dio and Tan declare love to each other. Kut, also loving Tan, has even a fight with Dio but recognises he was wrong to fight against his friend. Being jealous, Kratin complains to subdistrict headman Phet to break Dio and Tan relationship. Tan gets beaten by her father and is locked in her room. Dio escapes beating thanks to her mother but he loses his job in the orchard. They have to leave. Dio visits Tan in her room and they become lovers. About to leave by boat, Tan also comes and announces she is leaving her father as she loves Dio and is now his wife. Kratin and Kut are heartbroken. Dio and Tan take refuge in a relative home. Plok and his father announce to subdistrict headman Phet that they will help to find where Dio and Tan are hiding. Dio and Tan move to a relative's place, being a village leader called Duang. His wife, Mae Sri, is upset and afraid to have problems with subdistrict headman Phet so Dio, Tan and the mother move to Bangkok. Plok decides to kidnap Kratin in order to know where Dio is hiding. His father wishes to have Kratin becoming his minor wife. The issue turns badly as other ruffians fight with the father over Kratin. The father dies and Kut is able to release his sister. Life is harsh in Bangkok and Dio has to be tricycle and taxi driver. A child is born. After two years, they finally move back to Duang's place. Mae Sri informs subdistrict headman Phet, who kidnaps his own daughter with Plok's help. Dio, upset, goes to subdistrict headman Phet's house bringing his son. Phet refuses to Dio to see his wife and pushes him severely out. Hearing that Plok plans to rob subdistrict headman Phet's house at night time by claiming being Dio, Dio has to help. One of his friends warns the police. Plok is killed during the fightings. Seeing that Dio is finally a good and brave man, sub district headman Phet agrees to an official wedding of Dio and Tan.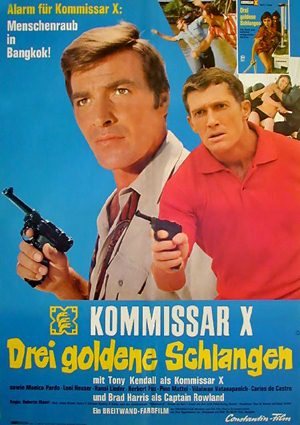 Year

: 1969



Thai title

:

สารวัตรเอ็กซ์กับสามหัวงูทองคำ




English title

: Kommissar X Island of Lost Girls



Rating

: 3/5


Director

:



Main actor

: Chana Sriubon,Pan Borapet


Main actress

: Kaenjai Meenakanit,Wilaiwan Watthanaphanit
Thai German movie Kommissar X Island of Lost Girls / Three Golden Serpents was released in year 1969. It lasts 1h25mn. Some American tourists are visiting a floating market in Bangkok area. The daughter Dylis is kidnapped. Captain Rowland attends a Police conference in Bangkok and met Thai policeman Chana Sriubon. The mother wishes to hire a German private detective called Jo Walker to find her daughter. Kaenjai Meenakanit tries to get rid of Rowland but she fails. Three men including Pan Borapet try to kill Jo after he lands in Bangkok but they fail as Rowland helps him on time. There is a secret organization as each man has a tattoo with three interlaced snakes. Jo escapes to poisoning by an air hostess. Girls who fail are sent to a mysterious remote island... Jo and Rowland visit Andrew, an expert in oriental culture, to learn more on this secret gang. Andrew is in fact one of the secret leader. Jo Walker uses gadget to get rid of opponents. Girls are drugged through opium on the remote island and then forced to prostitution. Kaenjai Meenakanit drugs Jo but captain Rowland helps on time again. As captain Rowland is coming to help, she prevents Andrew to kill him. Madam Kimso (Wilaiwan Watthanaphanit), rich lady, managing a charity, is the one behind the secret island's dirty business. She has a farm of crocodiles protecting the island. ทองฮะ วงศ์รักไทย is the one bringing foreigners on the island. Jo takes the risk to be drugged in order to reach the island. Knowing she will get rid of Jo, Madam Kimso shows him the secret of the island. Thai army gets the location of the island and sends parachutists there. Rowland helps his friend Jo on time. Madam Kimso is arrested and the daughter Dylis is released.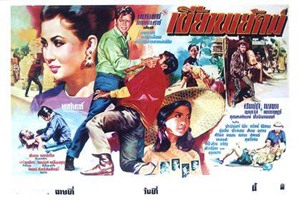 Year

: 1969



Thai title

:

เขี้ยวพยัคฆ์




English title

:



Rating

: 3/5


Director

:



Main actor

: Sombat Methanee,Pramin Jarujareet,Joomjim Khemlek,Tawan Siriwat,Pipop Pupinyo,Sukon Koewliam,Pan Borapet


Main actress

: Petchara Chaowarat
Thai movie เขี้ยวพยัคฆ์ was released in year 1969. The movie is lost in Thailand but a trailer lasting five minutes remains to be seen. The image is quite redish and damaged. The remaining film is in 16mm format so it is in mute state as such format requires live dubbing. Main actresses and actors featured in this movie are Sombat Methanee, Petchara Chaowarat, กุณฑลทิพย์ ปัจฉิมานนท์, Pramin Jarujareet, พีระ, Tawan Siriwat, Pipop Pupinyo, Joomjim Khemlek, ประกอบ, สรวง, ฉกาจ, ศรีนิล, Pan Borapet, เทพ, Sukon Koewliam, ทองฮะ, โกร่ง, แป๊ะอ้วน, ขวัญ, ดุจดาว. นครินทร์ is the movie director. It is a Thai western movie. Various short sequences in the trailer allow seeing Sombat Methanee, Sukon Koewliam, Tawan Siriwat as fake policeman, Sombat Methanee kissing กุณฑลทิพย์ ปัจฉิมานนท์, Petchara Chaowarat as government nurse, Chinese opera featured, a man hitting his teenage daughter, comic scenes involving Sukon Koewliam.
---