Increase or decrease font size for easier reading : A+ A-
Oxide Pang
Oxide Pang (1965) -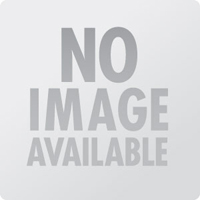 Another new director from the Thai advertising industry is Hong Kong born Oxide Pang. He entered the field with "Who Is Running? - ท้าฟ้าลิขิต" (1997)
This Oxide Pang movie page contains 5 records.
---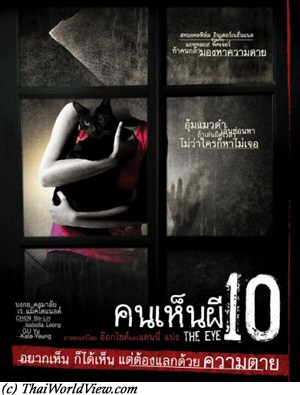 Year

: 2005



Thai title

:

คนเห็นผี 10




English title

: The Eye 10



Rating

: 3/5


Director

: Oxide Pang,Danny Pang



Main actor

: Ray McDonald


Main actress

: Bongkoj Kongmalai



Buy now

:

In Thailand, five Thai and Hong Kong teens, including 2 girls and 3 boys, are interested in scary stories and ghosts. One of them purchases a book titled The Ten Encounters, which describes ten ways to see ghosts. They wish to see ghost as it is fun time for them (เรื่องสนุก). They perform ceremony to call ghosts (พิธีเรียกผี). The ceremonies mix Chinese and Thai ways. One way is to hit chopsticks on a rice bowl to call hungry ghosts. Another way is to use a black cat at midnight to have the ghosts coming. One of the teen boy, Kofai, disappears as he urinates on a tree containing a ghost Mae Takhian (แม่ตะเคียน). It is an insult to the ghosts so he is taken away by them. One of the girls, Apliu, uses another way to see ghosts by applying coffin soil on her eyes. This soil is called hell soil (ดินนรก) and it burns her eyes. Hopefully the mother can help in time. She encourages them not to play with ghosts (รับไม่ไหว) as it is a dangerous matter (ใช้ของ). They still wish to find their friend Kofai. Hong Kong teens are back to their home town and still have ghosts visions in bus, when walking in tunnel or inside public housing estates (ก้มหน้าลง to see ghosts). The shots are particulary scary in Hong Kong old public housing estate. The teens want to stop playing ghost games. They performed a last ceremony to go to underworld by wearing dead people clothes but need to come back when a bell is ringing. They find Kofai but he prefers to stay in the world of death with his girlfriend. The mother cannot call them back on time and so they become spirits already (เรียกวิญญาณกลับไม่ทันเป็นผีแล้ว). The morality is not to play ghost game incorrectly (เล่นพิธีไม่ถูกก็ตายได้) as it can cause death. The film is actually the third of a film trilogy by the Pang brothers. It was shot in Thailand and Hong Kong.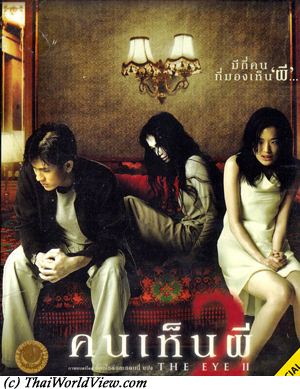 Year

: 2004



Thai title

:

คนเห็นผี 2




English title

: The Eye 2



Rating

: 4/5


Director

: Oxide Pang,Danny Pang



Main actor

: Jesdaporn Pholdee


Main actress

: Shu Qi



Buy now

:

Joey, young and beautiful Hong Kong lady, is spending a lot of money on shopping in Bangkok to forget her problems. She even tries a suicide tentative because she can see ghosts. The tentative fails. She call a Thai man called Sam during her insomnia. The hotel sends Buddhist monks to chase the ghosts from her room. She goes back to Hong Kong. Her Thai boyfriend still refuses to answer to her calls. She still sees ghosts in many occasions, i.e. in restaurants, MTR train station, bathroom. She discovers that she is pregnant. She decides to see a medium expert and gets Buddhist explanations on her ghostly visions. The medium tells her that a ghost wishes to enter inside her womb and be reincarnated inside her baby. When somebody dies, the spirit shall be reincarnated. It is karma (กรรม) Buddhist belief. So she tries not to panic when seeing ghosts. People believe she is crazy so she is sent to hospital. She sees a spirit trying to enter her womb. A woman ghost is chasing her. She enquiries on women who got suicide in MTR train stations. She forces the ghost to come out by trying to hang up herself. She finds the ghost's name is Michelle. By interviewing some of Michelle's family members she finds that her boyfriend Sam was Michelle's husband! Sam couldn't see Joey anymore without thinking about Michelle's suicide. His wife is going to be his daughter! His wife got suicide as a retaliation on Sam having a mistress. Joey doesn't want Michelle to become her baby so she jumps from the hospital roof but fails to die. Finally the baby is born and Joey can live happily with her daughter as she accepts to leave with the moral burden that she has part of responsibility in Michelle's death. "The Eye" movies are an horror series, with the latest one titled "The Child's Eye 3D" released in 2010.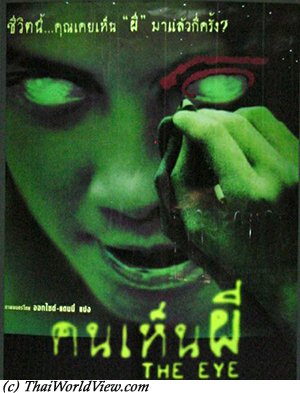 Year

: 2002



Thai title

:

คนเห็นผี




English title

: The Eye



Rating

: 4/5


Director

: Oxide Pang,Danny Pang



Main actor

:


Main actress

:



Buy now

:

Miss Wong is blind since she is two years old. She got the opportunity to get new eyes from a donator (บริจาคตา). After the operation, it is still blurry. She starts to see stranges things and has visions. Later on she understands that she can see ghosts. She can see things that other cannot see. She even can see the soul collector. She asks her doctor, Dr Wah, for help. He finally believes her. There is no improvement as she even decides to always stay in the darkness by closing curtains in order to avoid seeing ghosts. The doctor decides to bring her to Thailand in order to find more the eye donator. The eye donator is a young Thai lady called Ling. Ling was always despised by her neighbours as she could foresee when people would die. One day she could see that a big fire shall happen in the slum (สลัม) but nobody trust her. She finally hang herself as she felt ashamed not being able to prevent all these deaths. Miss Wong sleeps in Ling's room and can see the truth. She helps to the reconciliation of Ling and her mother so that Ling can rest in peace. When going back to Bangkok, Miss Wong can see that an accident is going to happen, i.e. a gas transport truck is going to explode. It is based on a real tragedy, which happened in 1990. A gas transport truck exploded along the New Petchaburi Road in Bangkok causing the death of 59 people. But same as Ling, nobody is believing her... Being blind again due to burnt eyes, she is now happier with Dr Wah at her side. Following the success of the first opus, movies "The Eye 2" and "The Eye 10" were then released in 2004 and 2005. An American remake was done in 2008 with Jessica Alba.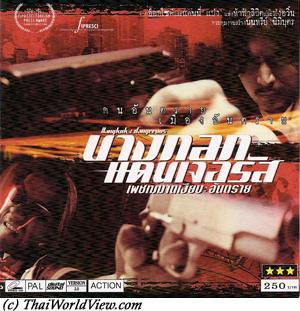 Year

: 2000



Thai title

:

บางกอก แดนเจอรัส




English title

: Bangkok dangerous



Rating

: 4/5


Director

: Oxide Pang,Danny Pang



Main actor

:


Main actress

:



Buy now

:

This is the story of a mute killer ("MEU PEUN" - มือปืน), i.e. how he becomes a killer, his impossible love story due to his bad job, the sob awareness of his job (killing good people) and his final destiny. This movie gets a Fipresci international award. In 2008, a US remake directed by Oxide Pang and Danny Pang was released. It was starring Nicolas Cage and Shahkrit Yamnarm.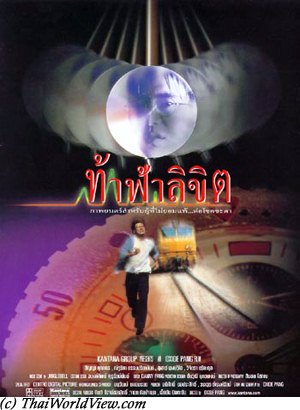 Year

: 1997



Thai title

:

ท้าฟ้าลิขิต




English title

: Who is Running?



Rating

: 5/5


Director

: Oxide Pang



Main actor

: Suchao Pongwilai


Main actress

:
Kwan and Siep are girlfriend and boyfriend (แฟน). She is pure traditional Buddhist believer. She often goes to Buddhist temple (วัด). He is not a believer. When coming back from Khao Luang cave (ถ้ำเขาหลวง) in Phetchaburi, she is hurt by a car. Her body is not hurt but there are serious internal problems. She has only 20% chance to survive. Siep goes back to Khao Luang cave to ask for Buddha to protect Kwan as she has never done doing bad to others. The abbot explains to him that Kwan current situation is linked to her karma (กรรม) but Siep doesn't understand (กรรมเก่ามีจริง). Kwan was a robber in her previous life and killed 5 people. Siep needs to save lives of 5 people in exchange of redemption (ชดใช้) for his girlfriend. First he prevents a policeman to bet 300 000 baht on a horse that is favorite but shall finally lose. If he doesn't prevent the policeman to play, the policeman would have lost the money and gets suicide as it is not his own money. Siep also asks the policeman to give back the money he wrongly intended to use. Then Siep saves another life. A teen under the strong pressure of his parents to succeed his exams cannot bear it and wishes to kill himself. Another teen girl wishes also to throw herself under a train at the train station because her boyfriend wants to break up. He stops her just in time. He gives to her and the boyfriend the business card of the policeman so that he can help them to solve their problems. This movie is positive as it shows there are always solutions to problems. A robbery is going to happen in a Chinese jewelry with 5 people including bombs and shootings between robbers and police. His intervention allows to catch the robbers and avoid one policeman death. In another intervention aiming to save a running kid going to be crashed by a speeding car, Siep saves the wrong kid. So Kwan dies (เวรกรรม). Siep cannot find the abbot anymore. There is no monk since many years in Khao Luang cave... When going out of the cave, he gives some coins to an old beggar lady. So he gets another chance to save the kid (ทำดีได้ดี). This time he succeeds and Kwan wakes up. This movie got 5 Thai film awards in 1997. Director Oxide Pang is coming from Thai advertising industry so he uses different methods (fast shooting to indicate the speed and then slow movement for the last poignant seconds).
---