Increase or decrease font size for easier reading : A+ A-
Orasa Isarangkul
Orasa Isarangkul (1943) - อรสา อิศรางกูร ณ อยุธยา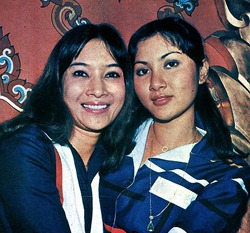 Orasa Isarangkul's full name is Orasa Isarangkul Na Ayutthaya. Her mum is Marasri Isarangkul Na Ayutthaya
This Orasa Isarangkul movie page contains 30 records.
---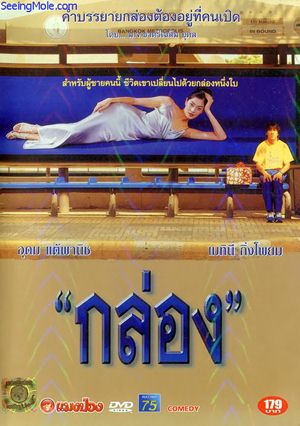 Year

: 1998



Thai title

:

กล่อง




English title

:



Rating

: 3/5


Director

:



Main actor

: Udom Taepanich


Main actress

: Metinee Kingpayom,Orasa Isarangkul,Juree Osiri,Marasri Isarangkul
Thai movie กล่อง, directed by ChatriChalerm Yukol, was released in year 1998. It lasts 1h36mn. A story is told by a comic show actor (Udom Taepanich - อุดม แต้พานิช). The people appearing in the story are in fact present in the theater. He reuses them. The story is about Cheut, who is a song composer and has only problems having debts, being annoyed by the landlord (Orasa Isarangkul), being exploited by ruffians or by policemen (asking for money for police charity but keeping for himself) and being unlucky. His wife (Metinee Kingpayom) always blames him (คนหรือควาย). He goes to a music producer but cannot get any appointment so even loses his musical compositions there. As he always gets cheated, bullied, annoyed, blamed (กง แกล้ง รังแก ด่า) so he decides to get suicide but he fails despite several attempts (ไม่เคยทำอะไรสำเร็จ). Wishing to plunge from a tall bridge, he misses the bus. He notices another passenger also waiting for the bus. Trying to talk to him, he realizes that the passenger is dead. He steals his box as anyway it cannot have any usage for a dead man. Cheut and his wife try to open the box without success. In the morning, the wife is very unhappy as she found from the newspaper that the dead man is a drug trafficker and that box certainly contains heroin. So they are in serious problem. Following multiple happenings, Cheut gets rid of the box. His wife, learning from TV that the deceased was finally a rich man and not a drug trafficker, asks him to get back the box asap. As the landlord is asking for the rent, Cheut's wife tells her there is certainly money in the mysterious box. Rumours spread fast (นินทา). People are greedy. People previously bad with him are now very polite, very attentive as they believe he is now a rich man. They all fail to open the box. Luckily the producer finds the songs written by Cheut and he becomes a rich man. He decides to throw away the box. The box is like Pandora box, a box for dreams. As their dreams are achieved, they don't need the box anymore.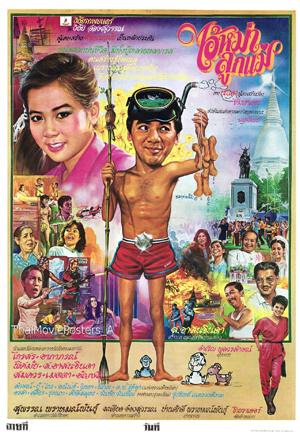 Year

: 1984



Thai title

:

ไอ้หม่าลูกแม่




English title

:



Rating

: 5/5


Director

: Sor Asanajinda



Main actor

: Somkuan Krajangsat,Lak Apichat,Boo Wibunnan,Sor Asanajinda,Pipop Pupinyo,Krai Kanchit,Wittaya Sukdamrong


Main actress

: Pissamai Wilaisak,Orasa Isarangkul,Metta Roongrat,Apaporn Kornthip,Malee Wetpraseri,Anchalee Chaisiri
Thai movie ไอ้หม่าลูกแม่ was released in year 1984 and lasts around two hours. The TV cable version lasts 1h40mn and the VHS version lasts 1h42mn. They include various different sequences so the original movie should last around two hours. Sor Asanajinda is movie director. This movie is a drama comedy movie. This movie features many actors and actresses including ด.ช.ไอ้จุก (แห่งขวานฟ้าหน้าดำ), ศศิธร, รุ่งนภา กลมกล่อม, ศักดิ์สมุทร, วันชัย วันเพ็ญ, new actress รุ่งทิพย์ เนตรวงศ์งาม. Father Nio (Somkuan Krajangsat) is married to Yui (Pissamai Wilaisak). They have two children, i.e. a daughter called Nuan (Orasa Isarangkul) and a boy called Neun (ไกรสร แสงอนันต์). Nio is very avaricious and complains that his wife is doing temple donations too often (ทำบุญ). Another family has lady See (Metta Roongrat) as family leader. She has two children i.e. Oi (Lak Apichat) and Pae (Apaporn Kornthip). Neun is going to temple fair with Pae. See wishes her daughter Pae to marry Boo (Boo Wibunnan), a rich but old bachelor. The two families are always in conflict so a wedding between Neun and Pae is a challenge to happen. Sor Asanajinda and Malee Wetpraseri visit relatives with their daughter Kaet (Anchalee Chaisiri). Kaet (นางฟ้า) shall stay in countryside a few months as she is pregnant... Pae is also pregnant with Neun. Father Nio refuses to pay the dowry (สินสอด). See asks for 10,000 THB. Nio only offers 1 baht! Finally, Yui steals 5,000 THB from her husband. Oi steals 5,000 THB from his mother See. So, wedding can happen. But due to Nio and See conflicting, it fails and both Neun and Pae are chased away from their families as they stole money from their parents. Thanks to a recommendation, Neun finds a job by working for Pipop Pupinyo. Kaet goes back for Bangkok and leaves the child behind. As there is a need for money to pay for house windows, Neun asks Pipop for money advance. His wife agrees but she asks for endearment from Neun. Pipop comes back home and fighting occurs with Neun. The wife tries to interpose and gets stabbed by accident. Pipop accuses Neun of having murdered his wife. Neun must flee. Pae and Neun's child is born. Krai (Krai Kanchit) and Pipop commit burglary and murders under the name of Neun. See, Pae's mother, is indebted by playing cards. See and Oi arrange a wedding with Boo. They lie that Neun has a new wife to convince Pae. It makes Neun upset. Wittaya Sukdamrong recommends him to calm down. Neun needs to flee police called by Oi. Neun takes refuge in Bangkok in Kaet's family as a car driver. Kaet's husband, Anoon (อนันต์ สัมมาทรัพย์), has another wife so Kaet is heartbroken and Sor recommends her to build a new life (ตั้งต้นไม้). Oi sympathises with Kaet's husband being a teacher. หมอเสน่ห์ is hired by Pae's family so Boo fires them. A romance between Kaet and Neun happens. Grandma Malee doesn't accept it. Nio is killed by Krai following an external affair. Yui's house is burgled. Neun arrives too late but hopefully Nio's money was well hidden. Neun meets Pipop and Krai fleeing after the robbery. They finally shoot each other unable to share the money. Yui, Neun's mother, sends a parade to ask for Kaet's hand. Neun gives 100,000 THB as promised for Kaet's hand and builds a big house on the land given by Sor. During a drinking session, Anoon discloses to Oi, that Neun is a stupid countryside man as he is marrying Kaet while both of her children are from himself! Despite having university diploma, Anoon behaves badly and the diploma has no value (กระดาษชำระ) as it didn't teach him to behave correctly in life. Informed by Oi, Neun keeps drinking and meets Pae, working in a club as partner. Pae ended up as Prostitute (กะหรี่) and lost her childcare. Anoon even receives 100,000 THB from Sor to keep quiet. Anoon gets beaten by Neun but is only worried about the money. Upset that Kaet lied to him (หลอกลวงเขา), Neun burns the new house (ไฟไหม้เรือนหอ) and surrenders to the Thai Police. Before being arrested, Neun asks Kaet to give money to Pae every month so that she can stop working and take care about their child. This movie highlights poor people versus rich people. Poor people have better heart than rich people.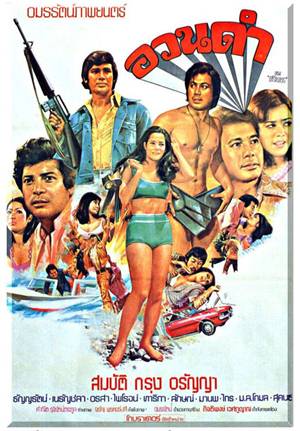 Year

: 1979



Thai title

:

อวนดำ




English title

:



Rating

: 3/5


Director

:



Main actor

: Sombat Methanee,Manop Aussawathep,Krung Srivilai,Phairoj Jaising,Prachuap Ruekyamdee,Krai Kanchit,Sukon Koewliam,Lak Apichat


Main actress

: Aranya Namwong,Sulaleewan Suwanthat,Tanyarat Lohanan,Orasa Isarangkul,Tharika Thidathip
Thai movie อวนดำ was released in year 1979. 1h40mn is left to be seen. Lom (Sombat Methanee) is hired to protect the interests of a company involved in fishery in Mahachai. The owner's daughter called Nori (Aranya Namwong) is concerned about Lom's righteousness. The movie dares a scene with two actresses (including Orasa Isarangkul) kissing each other. Net (Manop Aussawathep) brings money to local mafia leader Prachuap Ruekyamdee. Bulam (Tanyarat Lohanan), selling soup, is upset with these two ladies. So she uses Net and his ruffians to bully the ladies (รังแกผู้หญิง). Lom (Sombat Methanee) being around kicks the ruffians. Net asks Lom for one to one fighting on the next day. Krai, Sukon Koewliam, Lak Apichat are part of Lom's team. Lom defeats Net and wins. Grand mother (Sulaleewan Suwanthat) takes care about the girls. While scuba diving, Nori finds some war weapons on an island. Ruffians, aware that Nori discovered their hidden hideaway, put a bomb in her boat but she escapes to death. Bulam is now bullied by the ruffians but this time, Don Manora (Krung Srivilai) helps her. To join Net's team, Don agrees to knock out Lom but he fails. Don flees with Bulam. Don wishes to meet นาย Prachuap as he wishes to work for him. At nighttime he investigates their warehouses and finds boxes full of M16 weapons. Prachuap is upset as his stock of weapons hidden on the island has disappeared. Simulating being a spirit doctor (หมอดู), Phairoj Jaising is visiting the ruffians site. He meets เสีย Prachuap's girlfriend (Tharika Thidathip). Jaising is undercover policeman. He is recognised and captured. Don succeeds to release him and flees with Bulam. The ruffians succeed to kidnap the ladies again. Fightings happen with the police. Ruffians are overcome. Net tries to flee with the van with the girls and runs over Prachuap. He finally crashes the van in a ravine causing his death and death of Bulam also. Nori finally understands that Lom, Don and Jaising are all policemen.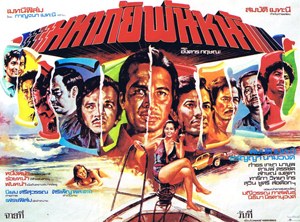 Year

: 1978



Thai title

:

มหาภัยพันหน้า




English title

:



Rating

: 3/5


Director

: Sombat Methanee



Main actor

: Sombat Methanee,Lak Apichat,Kecha Plianvithee,Dam Datsakorn,Rujira Isarangkul,Thep Thienchai,Kanchit Kwanpracha,Manop Aussawathep,Kamthorn Suwanpiyasiri,Pan Borapet,Paen Pleumsachai,Krai Kanchit,Sawin Sawangrat,Wittaya Sukdamrong,Pumi Patanayut


Main actress

: Aranya Namwong,Tharika Thidathip,Metta Roongrat,Orasa Isarangkul



Buy now

:

Thai movie มหาภัยพันหน้า was released in year 1978 and lasts 2h06mn. It was released under VCD and VHS formats. It is a Methanee film production with กาญจนา เมทะนี (Sombat Methanee's wife) as movie producer. Sombat Methanee is movie director. James bond style music is featured. Multiple famous Thai actors and actresses are featured in this movie such as Sombat Methanee, Aranya Namwong, Lak Apichat, Kecha Plianvithee, Dam Datsakorn, Rujira Isarangkul, Thep Thienchai, Kanchit Kwanpracha, Manop Aussawathep, Tharika Thidathip, Metta Roongrat, Kamthorn Suwanpiyasiri, Pan Borapet, Paen Pleumsachai, Krai Kanchit, Orasa Isarangkul, Sawin Sawangrat, Chosri Misommon, Lor Tok, Wittaya Sukdamrong. Multiple murders are committed in various places such as golf club... Each time the killer has a different face, i.e face of Kecha Plianvithee, face of Dam Datsakorn... The killer is having an assistant, i.e. Lak Apichat. The murders are committed by มหาภัยพันหน้า as those men were harmful to Thai society such as corrupted politicians or ruffians trafficking drugs or weapons. The killer is Sakao (Sombat Methanee) with his assistant Wai (Lak Apichat). Sakao is using different masks so he gets called the "great danger with thousand faces" (มหาภัยพันหน้า)! Thep Thienchai and Wai suggest to Sakao to have a lady joining their team. Their boss is Rujira Isarangkul. Det (Kanchit Kwanpracha) is also part of the team. The boss has an important work for them. They have to neutralize Sia Bancha (Kamthorn Suwanpiyasiri). Pho Lieng Boonta (Kecha Plianvithee) and Plaem (Dam Datsakorn) are working with Sia Bancha's team. Sakao and Wai go to Valentino club, where multiple Japanese and Hong Kong singers are working. This is Sia Bancha's usual place. Sakao meets Japanese singer Misiko (Tharika Thidathip). Sakao helps also Sai (Metta Roongrat) beaten by Klang (Krai Kanchit). Sakao has then arguments with Peter (Manop Aussawathep). Fighting occurs in Valentino club. Pho Lieng Boonta asks for an enquiry on Sakao. Sakao changes his face to be similar as Sia Bancha. Ratree, Bancha's girlfriend, is played by Orasa Isarangkul. Sakao enters in Sia Bancha's bedroom to steal documents. Khun Deu (Aranya Namwong) is welcome at the airport by Sakao, Wai and Det. Ruffians recognize Sakao's car and follow it. They aggress Deu being the driver as they believe she is Sakao's wife. Luckily, they flee as police is around. Sakao and Wai disguise themselves as plumbers so that Sakao can listen to Pho Lieng's plans. He meets Misiko again. Peter recognises him so Sakao has to flee on a small motorbike. Deu discovers that Sakao is มหาภัยพันหน้า. Deu finally joins them. Sakao and Klang meet Thongkam (Pumi Patanayut) that recommends them to follow Dr Singhon (Sawin Sawangrat). Ruffians fail to get rid of Sakao. Misiko asks to meet Sakao again and warns him (เล่นกับความตาย) that ruffians are trying to kill him. Sakao is finally captured. Deu uses Dr Singhon's signature to enter in their hidden place and install a microphone under the table. Sakao is beaten but refuses to disclose who he is. Ruffians are doing a weapons traffic to disrupt Thailand. Deu gathers information and informs the Police. Thai Police, led by Wittaya Sukdamrong, are ready to surround the house where ruffians are hiding. House is stormed and all ruffians are neutralized. Misiko was finally an inspector from Japanese Police.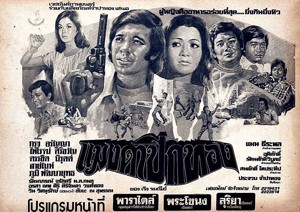 Year

: 1976



Thai title

:

แมงดาปีกทอง




English title

:



Rating

: 3/5


Director

:



Main actor

: Krung Srivilai,Phairoj Jaising,Kanchit Kwanpracha,Pumi Patanayut,Sayan Chantaraviboon,Nirut Sirijanya


Main actress

: Aranya Namwong,Sirikwan Nanthasiri,Orasa Isarangkul
Thai movie แมงดาปีกทอง (Pimp with golden heart) was released in year 1976. The movie is lost in Thailand. It was found in Taiwan under the name "Phoenix the Invincible" as it was released in VHS format. "For your eyes only" (1981) song is featured so the Taiwanese version was released 5 years minimum after the Thai version. This version was released by Taiwanese company New Ship Film Enterprise Co Ltd and lasts 1h27mn. The movie is in Mandarin language with no English subtitles. The movie was also found in Europe under the name "Lady Killer". It lasts 1h28mn and was released under VHS format by company Budget Label. The original movie has been cut to fit in standard TV format 4:3. Krung Srivilai enters as a robber in a house to steal money from a safe. He is the son of the victim! He steals his own father as he needs money! Krung is living with two close friends, i.e. Sayan Chantaraviboon, a steward and photographer, and Pumi Patanayut. Krung and his father despise each other. Krung keeps asking money from his father. He is finally disheritated and his father recommends him to find a lady to nurture him. Trying to gain easy money, Krung loses a big amount to Phairoj Jaising during cards games. Phairoj doesn't give him any credit as he knows Krung has been disheritated. Krung meets Aranya Namwong having problems with her car. Aranya is coming from a rich family. Nirut Sirijanya is her brother. Krung is working as gigolo to earn a living. Sirikwan Nanthasiri meets Krung in a bar. She is Phairoj's girlfriend. Ruffians argue in a pool bar but Kanchit Kwanpracha stops them. Kanchit then spends good time with Sirikwan. Kanchit joins Phairoj's team and takes active part to develop the business. Krung is going out with Orasa Isarangkul as he keeps acting as a gigolo. Finally, Kanchit wants more money from Phairoj for his business participation. It makes Phairoj upset. During a birthday party, two guys (including Pumi) are bothering Aranya but Krung helps. It is a trick as Krung knows well Pumi. Krung and Aranya sympathise and a romance starts. Phairoj's ruffians fail to kill Kanchit. As Phairoj's ruffians fail to get rid of Kanchit through a fight, they finally shoot him. Before dying, Kanchit gave a secret notebook to Sirikwan. Nirut, Aranya's brother, doesn't want her to meet Krung again as he only takes profit of women as gigolo. Krung claims to have changed and has stopped working as a gigolo. Phairoj loves Aranya also. Aranya's father meets Krung but it turns sour. The father is bankrupted so he has to promise his daughter to Phairoj. Phairoj hires Aranya as secretary. Krung has to find 2M USD to pay the father's debts but no way to find such amount. Aranya is not happy working with Phairoj but she has to pay back her father's debts. Fighting in a disco involving Krung and his friends happens again. Sirikwan asks Krung to keep a secret notebook. Phairoj wishes to break with Sirikwan in order to be with Aranya. Sirikwan accepts but threatens him to provide a secret notebook to the police if he doesn't give her a huge amount of money. Phairoj shots Sirikwan. Krung, having the notebook, informs the police. The secret notebook includes all details about Phairoj's illegal business. Thai police is storming Phairoj's den. About to be caught, Phairoj takes Aranya as hostage. Krung risks his life to save her and shows he really cares for her. Krung is injured but Phairoj is shot dead.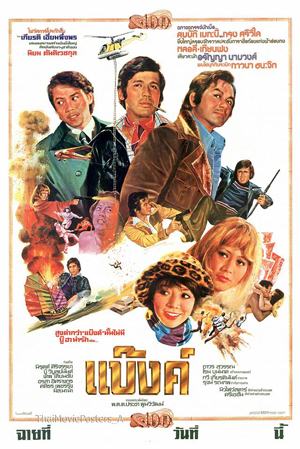 Year

: 1976



Thai title

:

แบ๊งค์




English title

: Bank



Rating

: 3/5


Director

:



Main actor

: Sombat Methanee,Krung Srivilai,Lo lieh,Thep Thienchai,Nirut Sirijanya,Boo Wibunnan,Somchai Samipak,Ruj Ronnapop


Main actress

: Aranya Namwong,Pawana Chanajit,Orasa Isarangkul,Sulaleewan Suwanthat,Sasithorn Phetrung
Thai movie แบ๊งค์ was released in year 1976 and lasts 1h51mn. A remastered version was released in decade 2010s. Shaft movie (1971) soundtrack music is used. Boo Wibunnan is using armored car from bank to transport money. During transportation, the convoy is attacked and money is stolen. An ambulance car is used to be discrete, but police is chasing them. Robbers throw some money to cause a traffic jam and to block the police. The police identifies that 10M THB was stolen but it is fake money. As the fake banknotes are very good quality, Thai police wants to keep it low profile to avoid Thai population to be worried about fake money. Thai police calls back Lit (Sombat Methanee) to investigate. He is currently busy shooting a romance movie directed by Ruj Ronnapop and with actress Orasa Isarangkul. Thep Thienchai, Lit's friend, puts the fake money in the bank. Thep is kidnapped as Boo and Somchai Samipak believe Thep is part of the gang, who stole their money. Lit is following them as he wishes to know who produces the fake money. Releasing Thep, Lit wishes to join Boo as partner. Another 10M bath transaction shall happen soon. A plane brings the money. Police intervenes. Ruffians are neutralized. Lit succeeds to enter in the plane before it takes off. The pilot is his friend Po (Krung Srivilai). Po is just a transporter as he doesn't know where the money is coming from. He receives orders from Hong Kong. Lit flies to Hong Kong and meets inspector Fe (Lo lieh, Hong Kong actor). Some men follow Lit. Fe and Lit find Po again. Po's multiple trips to Hong Kong have intrigued Hong Kong Police so they dispatched a policewoman named Teresa (Aranya Namwong) acting as a singer to check Po. Lio, the bar owner, doesn't like Teresa to mingle with Po so he sends tough men to give a lesson to Po and Lit but it fails. During the fighting, Nirut Sirijanya is injured. Po and Lit send him home and meet his younger sister Lin (Pawana Chanajit). Lio is their uncle and educates them as their parents are dead. Lio is suspected to be the fake banknotes producer. Lio tries to abuse Lin. Lin is going to Chinese University of HK. Sulaleewan Suwanthat brings her to school every day. For their safety, HK Police keeps Lin and her brother. Her brother, being addicted to drugs by Lio, flees after stabbing a policeman. He informs Lio that HK and Thai police are investigating on him. Ruffians attack Lit and Po again in order to catch Lin but it fails. Po takes the opportunity to meet Sasithorn Phetrung. Lin identifies that Nirut is often going in a Chinese temple. HK Police investigates. Under the temple, there is a secret factory producing banknotes. Nirut's father, still alive, is producing fake money for Lio. Knowing that his daughter is now safe with HK Police, he wishes to stop doing this bad business. Fighting erupts with Lio. Lio shoots Nirut and his father then burns the whole temple. Back to his club, he wishes to flee overseas with Teresa, but he is shot by the paralyzed lady, being his club business partner and who is in fact a man! The partner shoots Teresa and flees with the money. Lit and Fe chase the man by car up to Pa Sha Wan and then by boat. About to flee by helicopter, Lit shoots him and all the banknotes fall in the sea...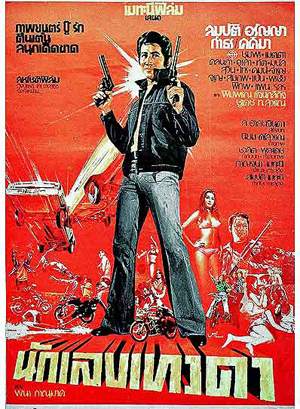 Year

: 1975



Thai title

:

นักเลงเทวดา




English title

:



Rating

: 3/5


Director

: Sombat Methanee



Main actor

: Sombat Methanee,Tat Ekathat,Sawin Sawangrat,Kom Akadej,Kamthorn Suwanpiyasiri,Choomporn Theppitak,Pipop Pupinyo,Krai Kanchit,Sukon Koewliam


Main actress

: Aranya Namwong,Naiyana Shewanan,Orasa Isarangkul,Metta Roongrat,Sasima Singsiri,Donnapha Sophee,Manat Boonkiet



Buy now

:

Thai movie นักเลงเทวดา was released in year 1975. The VCD lasts 1h32mn. Metta Roongrat as market merchant (แม่ค้า) is harassed by ruffians. A car is driven by a mysterious hitman, who kills most of the ruffians of Kamnan Wattana. Wattana (Tat Ekathat) is upset. Kamnan Wattana's daughter, called Wantanee, is played by Naiyana Shewanan. Orasa Isarangkul is also a market merchant (แม่ค้า). Nobody saw his face but he was wearing a red clothing. Thewada (Sombat Methanee) is wearing a red shirt so he is identified as the hitman. Thewada wishes to revenge his friend Somsak killed by ruffians (เทวดามาคิดบัญชี). Thewada enquiries on various ladies to uncover the mysterious hitman. Somsak's wife (ผู้หญิงใจร้าย)(Sasima Singsiri) is involved in the murder with the help of Sawin Sawangrat. Thewada helps Wantanee (ลูกสาวกำนัน). Thewada is not the mysterious killer in red shirt but is willing to find who is behind. Similar to a Thai James Bond with gadgets and kissing all girls (หลงเสน่ห์). Kamnan Wattana agrees to take him as new staff before being son in law (ลูกเขย)! Thewada gets support from Dam (Kom Akadej). A car 'chase happens between Thewada and Kan (Kamthorn Suwanpiyasiri). A sister (Aranya 'Namwong) and her brother (Choomporn Theppitak) are looking for the man, who killed their father นาย Vitun. They believe Thewada is the killer but he succeeds to escape their house just to be captured by Kan (องค์การ). Pipop Pupinyo is part of Kan's team. A third group is with Sawin and Somsak's wife. Kan storms Kamnan Wattana's house and kidnaps his daughter. Metta and Osara are also kidnapped. Thewada and Dam then storm Kan's house to release the ladies. Krai Kanchit is part of Kan's team. Fighting and shooting happen until all ruffians are neutralized or killed. The movie ends up with Thewada leaving with both ladies Aranya and Naiyana.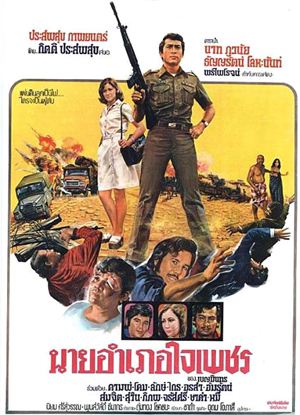 Year

: 1975



Thai title

:

นายอำเภอใจเพชร




English title

:



Rating

: 4/5


Director

:



Main actor

: Nard Poowanai,Pipop Pupinyo,Krai Kanchit,Sawin Sawangrat,Sukon Koewliam,Choomporn Theppitak,Lak Apichat,Dam Datsakorn


Main actress

: Tanyarat Lohanan,Orasa Isarangkul,Somjit Sapsamruey
Thai movie นายอำเภอใจเพชร was released in year 1975. The movie is lost in Thailand. A twelve minutes sequence in bad state can still be seen. Other actors not seen in the remaining sequence include โดม, Krai Kanchit, อัมรัตน์, Somjit Sapsamruey, Sawin Sawangrat, จรัสศรี, หมี. The new chief district officer wishes to clean the district and to get rid of the dark influence. He is getting support from local people. The chief district officer (Nard Poowanai) just arrives in his new district. He visits his subordinates including Tanyarat Lohanan working in school and invites them for introduction lunch. Pipop Pupinyo being around with other ruffians warns the new chief district officer that real power (อำนาจ) is with weapons here. Later on while Pipop is busy with a young lady played by Orasa Isarangkul, he gets warned by corrupt policeman that this new chief district officer is different. Pipop promises to manage him. During the introductory lunch, the new chief district officer scolds many of his subordinates for not being dedicated to their job and to local citizens. Sukon Koewliam, Choomporn Theppitak, Lak Apichat are part of the guests. Dam Datsakorn, Pipop and two other ruffians arrive and invite themselves to the party. As they are looking for troubles, the chief district officer removes his shirt and insignia to give a boxing lesson to Dam. The remaining sequence stops here. Even when Nard Poowanai became real government officer as assistant district officer (ปลัดอำเภอ), Thai people still refers to him as chief district officer (นายอำเภอ) as this movie was really very famous and popular.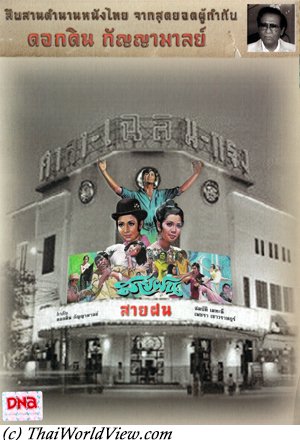 Year

: 1973



Thai title

:

สายฝน




English title

:



Rating

: 4/5


Director

: Dokdin Kanyaman



Main actor

: Sombat Methanee,Man Teeraphol,Dokdin Kanyaman,Choomporn Theppitak,Prachuap Ruekyamdee,Sawin Sawangrat


Main actress

: Petchara Chaowarat,Suthisa Putnuch,Orasa Isarangkul,Donnapha Sophee,Chadaporn Wachirapranee,Somjit Sapsamruey



Buy now

:

Thai movie สายฝน was released in year 1973 and last 2h33mn. It was released under DVD format by company Happy Home Entertainment. The picture is sharp and colorful. Three songs are featured in the movie. Sathit (Sombat Methanee) is a former football player, who failed to have success. Sathit gives back his room keys to his landlord Chadaporn Wachirapranee, quits university and is going back home to Sukhothai. Sathit has to go back urgently (เรื่องยุ่งๆ). Young lady Kaewta (Suthisa Putnuch) is disappointed as she believes there is a love story behind his sudden return. Sathit meets Saipin (Petchara Chaowarat), student coming back from USA, in the train. Likay (Orasa Isarangkul) and Cheunchai (Man Teeraphol) welcome Saipin in Phitsanulok. Uncle Jing (Dokdin Kanyaman) is a teacher and Deuan (Donnapha Sophee) is his daughter. Saming (Choomporn Theppitak) and Sataya (จีรศักดิ์ ปิ่นสุวรรณ) have arguments with Sathit and Jing. Saipin is uncle Saeng's daughter (Prachuap Ruekyamdee). Saeng owns the land where Jing's school is located, and all local villagers are indebted to him. Sathit's mother is played by Somjit Sapsamruey (ลูกไม่รักดี), being almost blind. Half of his land was sold to Saeng to pay for Sathit's studies, so she is upset that he stops studying. Kaewta is a new teacher arriving in Jing's school. She wishes to be close to Sathit. Sataya wishes to marry with Deuan. Love triangle occurs between Sathit, Kaewta and Saipin. Saming and Cheunchai manage an illegal game den (บอล) where villagers get poorer. One villager hangs herself due to debts. Sathit decides to get rid of this underground den. Deuan is pregnant with Sattaya but he refuses to recognize his paternity. Sathit calls the police to have the den closed. Upset, Saming decides to get rid of Sathit. Sathit organizes a rebellion to increase the salary of the farmers paid by Saeng. Sawin Sawangrat is part of the rebellion. Saipin helps the villagers by buying food for them (แจก) but villagers are reluctant to accept. Saipin gives secretly money to the mother to pay back her debt. The ruffians burn Sathit's fields to prevent him selling goods to help villagers. Sathit wishes to get revenge but Kaewta calms him down. Sathit loves Kaewta like a sister (น้องสาว). Sad, she wishes to go back to Bangkok, but she finally stays because of poor children needing her. Due to money conflict, Saming kills Cheunchai. Rats eat the supply so even Sawin dies due to disease. Saipin lets the farmers take the rice inside Saeng's barns. Upset, Saeng chases Sathit. Saming is also shot by Saeng. About to shoot Sathit and Jing, Saeng understands that Saming was the one being dishonest with farmers by using the den to make them poor and buying their land at low price. The movie ends up with Thai King Rama IX car convoy passing by and rain falling through a cloud having the Royalty symbol shape.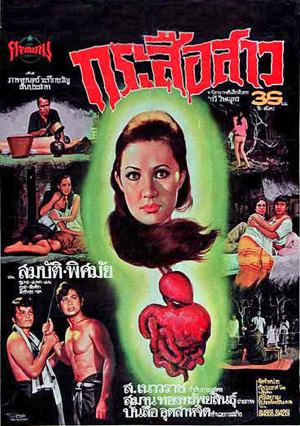 Year

: 1973



Thai title

:

กระสือสาว




English title

: will-o'-the-wisp



Rating

: 4/5


Director

: ส.เนาวราช



Main actor

: Sombat Methanee,Choomporn Theppitak,Sawin Sawangrat,Lor Tok,Songthong,Man Teeraphol,Tat Ekathat,Chao Klaewklong


Main actress

: Pissamai Wilaisak,Metta Roongrat,Sulaleewan Suwanthat,Orasa Isarangkul
Thai movie กระสือสาว / "will-o'-the-wisp" was released in year 1973 and lasts 1h43mn. The movie was never released under VHS/VCD/DVD format in Thailand. Thai movie กระสือสาว was released in 35mm film format and brought new Fx effects in 1973 such as double impression to show the spirit quitting the dead body. It took 3 to 4 months to be shot in the jungle. Thai Film Archives has still a 16mm copy as, in 1973, 16mm projectors were still popular in provinces. Thai Film Archives got it from a donation from a company showing outdoor movies in villages (หนังขายยา). The movie is a bit like the "Nang Nak" movie scenario. It was released under VHS format in Sweden with the original picture, Thai sound and with Swedish subtitles, under the name "Ghost of Guts Eater". The original movie is probably a bit longer as some still pictures show sequences are not present in the Swedish VHS. In the 1970s, a few Thai movie rights were sold in Scandinavia. This movie shows interesting traditional behaviors and patterns such as traditional baby delivery, staying above a hot pot after delivery (การอยู่ไฟ), 100 days ceremony after a relative death, vision of people without head indicating forthcoming death, hidden treasures kept by deity and signalled by an ignis fatuus, Kraseu ghost belief, love filters. Thai movie กระสือสาว is about a traditional folklore ghost called Kraseu (กระสือ). It is a filth-eating floating ghost with a head, a trailing heart and intestines. This ghost loves to eat cordon umbilical and placenta from newborn babies (ผีกระสือจะมากินรกเด็ก). Thai movie กระสือสาว scenario was written by ทวี วิษณุกร and released in two cartoon books in year 1968. Villagers found many dead chickens in their farm. They were eaten by a Kraseu ghost. Villagers followed the floating ghost and hit it critically. A grandmother (Sulaleewan Suwanthat) was in fact possessed by the ghost. Before dying, she gives a ring to her granddaughter, Bua Klee (บัวคลี่)(Pissamai Wilaisak), and asks her not to burn her corpse (so opposite of Thai tradition เผาศพ). Bua Klee then becomes possessed by the Kraseu ghost (ถูกวิญญาญกระสือ). Boon Muang (บุญเมือง)(Sombat Methanee) is her husband. Chat (ฉัตร)(Man Teeraphol), a local thug, still tries to seduce her. Phi Chood (จู๊ด)(Choomporn Theppitak), Boon Muang's closest friend, and Boon Muang chase Chat away. Bua Klee is now pregnant. The Kraseu spirit is inside the ring and is hungry (ไปหากิน). Bua Klee goes outside to look for filthy food and is identified by a villager. She is named as Krasao Sao (กระสือสาว) as the ghost has a young and pretty face! A fight erupts between Chat and Boon Muang as all villagers claim she is a ghost (ผีกระสือ). Boon Muang refuses (ไม่เชื่อ) such allegations but the villagers push him to verify if his wife is a ghost. So he hits her with a stick to chase the ghost but nothing is happening except tears from Bua Klee. A local shaman (หมอผี) Pradit (Tat Ekathat) invokes a dead spirit (ผีโขมดพราย) to take revenge on Boon Muang and Bua Klee. Yomatut, the hell guardian, comes to get his life as he is a nasty man (ลงนรก). Boon Muang decides to leave the village. They take refuge in a relative home, i.e. uncle Chaeng (Sawin Sawangrat). Bua Klee meets another Kraseu old ghost in the village. Bua Klee is delivering her baby in traditional Thai way by holding a rope attached to the ceiling. The Kraseu old ghost and its husband try to steal the baby. Boon Muang fends them off and hits back. The husband (ผีกะหังและกระสือแก่) dies and the Kraseu old ghost dies in the early sunshine. Boon Muang visits the sub district headman of Dong Dok Kaew area (Chao Klaewklong) to bring him some gifts from uncle Chaeng. Madeua (Metta Roongrat) is the daughter of the sub district headman and is fond of Boon Muang. While accompanied by Madeua, Boon Muang is shot in the arm by Chat. Madeua is disappointed to learn that Boon Muang is already married. She used love potions trick to make him forget his wife and son (เสน่ห์ยาแฝด). Meanwhile Bua Klee wishes to get a treasure (สมบัติ) by seeing an ignis fatuus. When a flame is coming from the ground, it is a spirit haven according to traditional belief. She can get the treasure by showing her nudity! But finally, she needs to give the treasure back to the guardian as she still needs to pay for karma (กรรม). Boon Muang and Madeua marry. Following Bua Klee's request, Uncle Chaeng goes to the subdistrict headman home. The son Chiep is also coming with a sacred thread to recover his father. On the way Chaeng and Chiep see each other without a head! This is a bad omen indicating a forthcoming death! Uncle Chaeng has to shoot Madeua to protect Chiep. The sub district headman wishes to avenge his daughter. Uncle Chaeng and Chiep are shot dead during the fight. Chood is beaten by Chat. Bua Klee finds uncle Chaeng and Chiep dead bodies. Both Chood and Boon Muang are captured by Chat and the sub district headman. Bua Klee interferes as a Kraseu ghost and causes the sub district headman and Chat to shoot each other. Boon Muang refuses to go back with Bua Klee as she is a Kraseu ghost. Following advice from a hermit, finally the body of the grandmother is burnt, and Bua Klee becomes a normal human being again.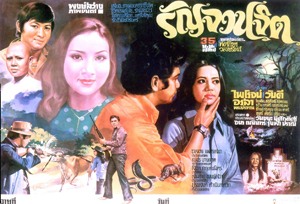 Year

: 1973



Thai title

:

รัญจวนจิต




English title

:



Rating

: 3/5


Director

:



Main actor

: Phairoj Jaising,Surasit Sattayawong,Sawin Sawangrat


Main actress

: Wandee Sritrang,Orasa Isarangkul,Marasri Isarangkul
Thai movie รัญจวนจิต was released in year 1973. The movie is lost in Thailand but a few minutes trailer remains to be seen. Main actor is Phairoj Jaising and main actress is Wandee Sritrang. Other actors are Orasa Isarangkul, Surasit Sattayawong, Sawin Sawangrat, Marasri Isarangkul, สุพรรณ, วันชนะ, อมร, ขวัญฤดี, รุ่งฟ้า. This is a sad drama movie with a bit of action.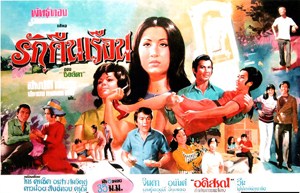 Year

: 1972



Thai title

:

รักคืนเรือน




English title

:



Rating

: 3/5


Director

:



Main actor

: Sombat Methanee,Prachuap Ruekyamdee,Songthong,Krai Kanchit,Daonoi Duangjai


Main actress

: Petchara Chaowarat,Somjit Sapsamruey,Chosri Misommon,Sisala Thongtara,Metta Roongrat,Orasa Isarangkul,Darunee Cheunsakul
Thai movie รักคืนเรือน was released in year 1972. Main actor is Sombat Methanee and main actress is Petchara Chaowarat. The movie is lost in Thailand but a sequence of one hour remains to be seen. The remaining sequence shows a high society party with Petchara singing a song. Petchara is then discussing with Somjit Sapsamruey, her mother. Her mother wants her to marry the son of a friend as they are poor. Veteran actors (Prachuap Ruekyamdee and Songthong), a doctor and a young man (ทม วิศวชาติ) are visiting them. Petchara and the young man appreciate each other. Veteran actress Chosri Misommon is playing a domestic helper. Sombat later on arrives. He is welcomed by Sisala Thongtara and Somjit, then also by Metta Roongrat and Petchara. Petchara is not so happy to meet Sombat. Somjit is feeling unwell and ends up at hospital. Certainly Somjit asks Petchara to really consider Sombat as engagement but Petchara loves already another man. Misunderstanding happens between Petchara and Sombat. A fire in the house happens. This is a romantic drama.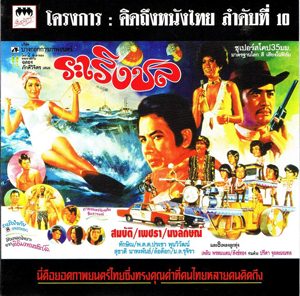 Year

: 1972



Thai title

:

ระเริงชล




English title

: Ra Rueng Chon



Rating

: 5/5


Director

: Chalong Pukdeewichit



Main actor

: Sombat Methanee,Songthong,Rujira Isarangkul,Lor Tok,Pan Borapet,Taksin Jampol,Paen Pleumsachai


Main actress

: Petchara Chaowarat,Somjit Sapsamruey,Marasri Isarangkul,Orasa Isarangkul,Wassana Chalakorn
Thai movie ระเริงชล was released in year 1972 and lasts 2h07mn. It was released under VCD format by XxX company in year 2001. Director is Chalong Pukdeewichit. The movie was found overseas and the picture is sharp and colorful. Unfortunately the first part of the movie (around 20 minutes) was missing. So in order to be able to release the movie, a remaining 35mm film was digitized. As the film reel was almost 30 years old, the colors were gone and scratches could be seen. But at least the first 20 minutes were recovered and VCD was released. Eight songs are featured including the group "Impossible" (วงดิอิมพอสซิเบิ้ล), Songthong and เพลิน พรหมแดน... Petchara wears extraordinary hats in this movie. Pak (Sombat Methanee) is back from overseas. Per his parents' arrangement, he needs to marry a young lady called Rareung (Petchara Chaowarat). His father (Rujira Isarangkul) and his mother (Somjit Sapsamruey) have a debt towards Thon (Lor Tok) and his wife (Marasri Isarangkul), who helped them financially. They must have gratitude (บุญคุณ) towards this family. It is the overseas student versus the upcountry lady (เด็กบ้านนอก). Pak is not willing to marry Rareung and wishes to break the engagement (ถอดหมั้น) as he has a fiancee, called Sopha (นงลักษณ์ โรจนพรรณ), still being overseas. The young lady, Rareung, is behaving like a hippy. If no wedding, Pak's father has to pay back the debt but he doesn't have the money. Pak agrees to work for Thon one year in order to pay back his father's debts. The engagement is maintained. They have to move back to Rayong. Pak met Pleun (เพลิน) as local architect and Sang (Songthon). Plaem (Orasa Isarangkul) is aggressed by ruffians including Pan Borapet. Pleun and Rareung help her on time. Sopha is back from USA and is willing to pay the 1M Baht debt. Pak refuses as he is not a thing that can be purchased. Rareung calls him "golden pimp" (แมงดาปิดทอง)! Pak is authorised by Thon to go to Sopha's birthday. A fight occurs during Sopha's birthday. Bouleu (พ.ต.ต.ประชา พูนวิวัฒน์) hires ruffians to beat Pak as he sees him as a rival. Rareung and his friends help him. Sopha's mother (ประพิศ พราวพรรณ) wishes her daughter to marry Bouleu, a rich businessman. Bouleu has a mistress already (Wassana Chalakorn). Den (ปรีดา จุลละมณฑล) has a car accident with Sopha so he tries to seduce her and comes to her house. Rareung's mother is suddenly dead. Thon has a mistress. Her brother Chu (Taksin Jampol) pushes her to become official wife. Pak refuses that Rareung's breaks her debt contract. Rareung is aggressed by three ruffians but Pak helps her on time. Bouleu hires Chu to recover some drugs fallen in the sea. A party (งานฉลอง) is organised to celebrate new bungalows opening so many families are gathering. Sopha knows she lost to Rareung. Bouleu proposes to help her by damaging the parachute. While Rareung is parasailing, Paen Pleumsachai shoots the parachutes and ruffians kidnap the ladies. They ask for 1M baht ranson to Thon. Bouleu is the mastermind behind. The ransom fails as the police intervenes. Chu is involved but he is doubled. Plaem (sister of policeman Den) and Thon's mistress are also captured. Police is about to storm the island where Bouleu and his team is hiding. Wassana is disappointed that Bouleu still loves Sopha. She warns Pak and the police regarding mines hidden under the beach. Bouleu shoots her. Police led by Den and Pak succeed to storm the HQ and to release the ladies. They have to flee as a time bomb shall destroy the HQ. A final fight occurs between Pak and Bouleu. Wassana harpoons Bouleu. Happy romance can happen between Pak and Rareung, between Den and Sopha, between Pleun and Plaem.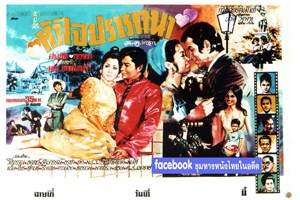 Year

: 1972



Thai title

:

หัวใจปรารถนา




English title

:



Rating

: 3/5


Director

:



Main actor

: Sombat Methanee,Ek Amarin,Adul Dulyarat,Sukon Koewliam,Daonoi Duangjai


Main actress

: Petchara Chaowarat,Wilaiwan Watthanaphanit,Ratanaporn Intarakamhaeng,Orasa Isarangkul
Thai movie หัวใจปรารถนา was released in year 1972. The movie is lost in Thailand but a nine minutes mute sequence remains to be seen. It has a very damaged picture. This movie is a romance movie. Despite being a 1972 movie and labeled as 35mm movie, it is in 16mm format. It was probably shown in Thai provinces where 16mm projectors were still popular. Main actor is Sombat Methanee and main actress is Petchara Chaowarat. It features เอก อัมรินทร์ as a new main actor, Wilaiwan Watthanaphanit, Adul Dulyarat, Ratanaporn Intarakamhaeng, Orasa Isarangkul, Sukon Koewliam, Daonoi Duangjai. The left sequence shows Petchara in the arms of Ek Amarin (เอก อัมรินทร์) and talking together. They are wearing princely clothes. Wilaiwan is talking to Orasa. They are maybe playing jealous ladies roles. Wilaiwan is gorgeous in Hong Kong dress Cheongsam. Sombat Methanee, main actor, is unfortunately not seen in any of the remaining sequences. The movie featured 7 songs.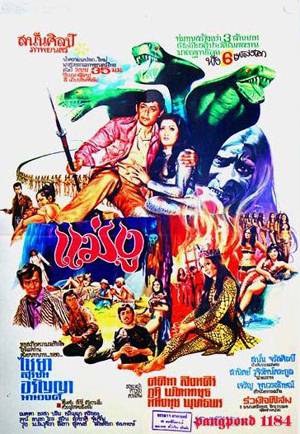 Year

: 1972



Thai title

:

แม่งู




English title

: Snake Queen



Rating

: 3/5


Director

:



Main actor

: Chaiya Suriyun,Ruj Ronnapop,Sithao Petcharoen,Sukon Koewliam,Lor Tok,Sawin Sawangrat,Krai Kanchit


Main actress

: Aranya Namwong,Metta Roongrat,Prim Praphaporn,Sasima Singsiri,Orasa Isarangkul
Booloi and Chom are chased by ruffians. They take refuge in the snake cave (ถ้ำแม่งูสักศีษ). Booloi is pregnant. Ruffians flee as the snake cave has bad reputation. Chom loses trace of his wife. Some snakes transform themselves into young ladies and help Booloi to deliver a baby girl called Haofa. 18 years have passed. Haofa (Aranya Namwong) is now a grown up adult. Haofa still misses her parents. The snake queen selects her as the next queen. This decision makes Haodam (Metta Roongrat) upset. There are fights between ladies during Haofa's crowning. The snake kingdom only includes young ladies and an old sorceress (แม่มด). No men in the cave. In Bangkok, a young man called Tira wishes to ask for young lady Mareudi's hand. Some ruffians, specialized in human trade overseas (รับแขก), keep asking Mareudi to join them for a trip to Japan. She always refuses. Tira's boss called Phanom (Chaiya Suriyun) is playing the matchmaker (เฒ่าแก่) for Pira. Phanom and Pira go to Mae Sai for scientific studies. The ruffians are also going in Mae Sai area to recruit young girls. Ruffians hear about a place near a waterfall with many beautiful girls swimming. So they are hanging around as beautiful girls have been seen bathing. The girls are then attacked by the ruffians but Phanom, being around, is helping and protecting Haofa. They are snakes but Haofa is an human being. A romance is starting between Phanom and Haofa but he cannot go in the cave as it is guarded by snakes. Haodam discloses the incident to the snake queen. According to the snake Queen's rules, nobody is allowed to meet human beings. Chom is accompanying Phanom and is still longing for his lost wife and baby. There is a funny interlude when veteran comic actor, Sithao Petcharoen, is tortured by a fat amazon. Phanom is captured when entering the cave. The Snake Queen condemns him to death but Haofa helps him to flee. Meanwhile snake hunters are back again to attack the hill around the cave. The ruffians are using experts (Lor Tok! Sukon Koewliam!) able to catch snakes (หมองู). Comic sequences happen as they are all useless to charm snakes. The ruffians finally capture the snake girls and the Queen is even shot. The end of the snake kingdom is a disaster. Phanom promises to take care of Haofa and helps to find her father. Haofa wishes to release her other snake sisters. The ruffians try to abuse the snake girls and use them as prostitutes but they transform themselves into venomous snakes. Police finally catches all the ruffians but it is too late as all snakes have been killed. Snakes are really killed and cut in this movie. Only one snake girl, Haodong, survives and she goes back to the snake cave. Haofa is finally reunited with her father. This movie can also be found under Chinese name "蛇國女王'' in China and distributed by Great China Film Co (H.K.). Different character names are used in the Chinese version (Ng Chung for Phanom, Ho Hua for Haofa, Hsiao Hua for Haodam, Chung Shan for Chom, Mei lee for Booloi). The original Thai version of แม่งู lasts 2 hours 50 minutes. The Chinese version has been reduced to 1h30mn only. "Once upon the west" soundtrack is used in the Chinese version. All songs have cut in the Chinese version. Similar to many 1960-1970s Thai movies, it features a long running time and a dozen of songs.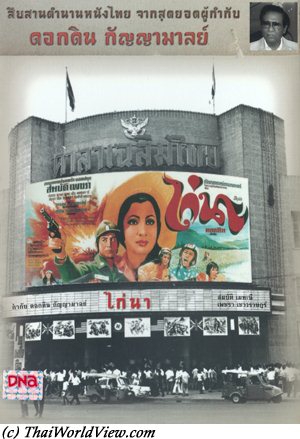 Year

: 1971



Thai title

:

ไก่นา




English title

:



Rating

: 3/5


Director

: Dokdin Kanyaman



Main actor

: Sombat Methanee,Sawin Sawangrat,Prachuap Ruekyamdee,Choomporn Theppitak,Dokdin Kanyaman


Main actress

: Petchara Chaowarat,Orasa Isarangkul,Juree Osiri,Khomapat Attaya,Chadaporn Wachirapranee
Thai movie ไก่นา was released in year 1971 and lasts 2h15mn. The movie was released under DVD format by company Happy Home Entertainment. The DVD features a red picture as the film found was very old. The movie is directed by Dokdin Kanyaman. Jae (Dokdin Kanyaman) and Kai Na (Petchara Chaowarat) sell goods but have issues with policeman Tawan (Sombat Methanee) currently chasing ruffians. Kai Na is a former nurse. She helps an injured man called Chat (Sawin Sawangrat), who claims he was chased by ruffians. After recovery, he flees away and leaves a letter behind. Kai Na brings the letter to the recipient in Bangkok. She meets Mae Nuan (Juree Osiri) and her domestic helper Orasa Isarangkul. The husband Prachuap Ruekyamdee wishes to know where Chat is located now. Prachuap is Chat's old friend. Mae Praem has 20 000 baht debt with Chadaporn Wachirapranee. Her daughter Pan is played by Khomapat Attaya and her bodyguard is Choomporn Theppitak. Prachuap helps Mae Praem with her debt. Prachuap wishes Kai Na to marry his son per Chat's request. Prachupap's son is Tawan! Kai Na accepts as she feels indebted to Prachuap's kindness. As Tawan refuses to marry an unknown lady, he convinces his brother Teewa (จีระศักดิ์ ปิ่นสุวรรณ) to marry her. He secretly loves Kai Na. During the wedding ceremony, Tawan realises that the bride is Kai Na herself! He keeps drinking alcohol to forget his mistake. Teewa was promised to Pan already so her family brings a mess during the wedding party. Pan is already pregnant with Teewa. Teewa announces the news to Kai Na and cancels the wedding. Tawan meets finally Chat, who had been chased by weapons traffickers. Tawan has to go at the Thai border in the North of Thailand. Government official announced that Tawan has disappeared in the forest. To forget her pain, Kai Na and others decide to go helping hill tribes. They give medicine, food and also King / Queen images to them. Teewa is hiding in the mountains as a hill tribe villager as he is chasing some weapons traffickers. Two small parts of the movie are in damaged state and are in fact former songs filmed in 35mm format. In 1960s, movies were shot in 16mm format and had to be dubbed. Songs were shot in 35mm format to have image and sound together. The original movie included 7 songs but only 2 are left. The traffickers storm the hospital where Kai Na is working. The movie ends up happily as Tawan defeats the ruffians. Choomporn is shot. While being in the mountain, Tawan got another wife (a sexy actress - ดาวยั่ว - as usual in Dokdin's movies). Other actors and actresses are พงษ์ลดา พิมลพรรณ, ธัญญา ธัญญรักษ์, สิงห์ มิลินทราศัย, ดลนภา โสภี. Dokdin Kanyaman's movies always include many different tastes (action, romance, comic, a bit of light erotism) in order to please the whole family.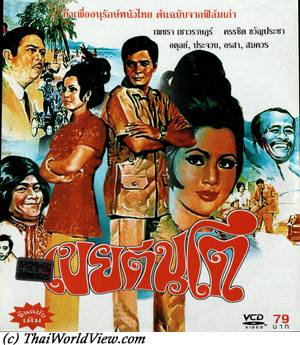 Year

: 1971



Thai title

:

เขยตีนโต




English title

:



Rating

: 3/5


Director

: Adul Dulyarat



Main actor

: Kanchit Kwanpracha,Prachuap Ruekyamdee,Lor Tok,Somkuan Krajangsat,Sukon Koewliam,Adul Dulyarat,Somchai Samipak


Main actress

: Petchara Chaowarat,Orasa Isarangkul,Prim Praphaporn,Metta Roongrat,Juree Osiri,Srisala Thongtara



Buy now

:

Kamnan Noon (Kanchit Kwanpracha) and Krok (Prachuap Ruekyamdee) (พี่ชายต่างประเทศ) are visiting a rich people house. They are welcomed by Lomjai (Petchara Chaowarat) and Iten (Orasa Isarangkul) as domestic helper. Krok comes back after 20 years in his family. He is a lost uncle's son. The uncle has disappeared 20 years ago. Despite having a letter to prove his identity, Krok is not accepted in Thao Thong lineage (ตระกูล) by the father Lom (Somkuan Krajangsat) as Krok doesn't have big feet seen as a family sign. Other family members are Srisala Thongtara (ศรีสละ ทองธารา), Juree Osiri, Prim Praphaporn. Lomjai flees and brings Krok and Noon to meet another family member who is policeman in Chumphon province. Noon and Krok get arrested and accused of kidnapping Lomjai. Noon's father gives guarantee to have them released from jail. Lomjai proposes to marry Noon to avoid him being sued by his father Lom. Neng, Sister of Noon, is played by Metta Roongrat. Noon helps Lomjai's father aggressed by ruffians. A parallel romance is starting between Neng and Lomjai's brother. Lom asks for proper traditions but once Lomjai is back to Bangkok, the wedding is cancelled. Lomjai cannot exit from home. Iten tries to help her to flee but to no avail. Krok becomes India airlines manager (ผู้จัดการ) thanks to his uncle to show to Lom his worthiness. Lom rejected Krok as he didn't want to share heritage with additional family members. Utit (Adul Dulyarat), Lom's brother, is back after recovering his memory. Lom tried to get rid of him twenty years ago. Lom's father (Lor Tok) asks him to surrender to police. Cornered, Lom kidnaps his own father and Lomjai. He finally gets arrested by the police. The movie ends up happily. This romantic drama comedy is based on family rivalry regarding heritage.The movie เขยตีนโต was released in year 1971 but it only lasts 1h23mn as some parts of the movie are missing so the story sometimes suddenly jumps from one sequence to another. The image is of bad quality and is not sharp but the movie has historical value as one of the first movies with Kanchit Kwanpracha replacing Mitr Chaibancha as main actor following Mitr premature tragic death. The poster mentions 7 songs (unfortunately cut and not available on the VCD) and 22 stars present in this movie.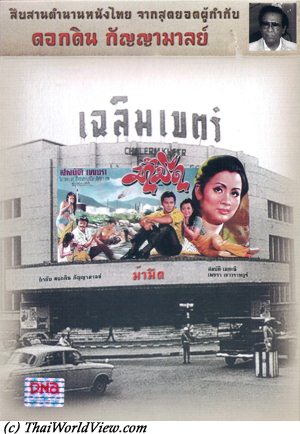 Year

: 1970



Thai title

:

ม้ามืด




English title

:



Rating

: 3/5


Director

: Dokdin Kanyaman



Main actor

: Sombat Methanee,Sawin Sawangrat,Prachuap Ruekyamdee,Choomporn Theppitak,Dokdin Kanyaman,Lor Tok,Rujira Isarangkul


Main actress

: Petchara Chaowarat,Orasa Isarangkul,Wilaiwan Watthanaphanit,Juree Osiri,Khomapat Attaya,Chadaporn Wachirapranee
Thai movie ม้ามืด was released in year 1970. The movie lasts 2h35mn. It is former 16mm format film featuring three songs in 35mm format. Robbers (โจร) are chasing a caravan driven by Kaew (Sawin Sawangrat). Kaew lets a lady called Raya (Wilaiwan Watthanaphanit) to go down first with two young children. Sawin and Raya's husband die later as the caravan falls in a ravine causing a forest fire. During the fire, one of the children disappears (หลานสาว). Sai (Juree Osiri), the husband's mother, accuses Raya to be responsible of those deaths. Prachuap Ruekyamdee, one of the villagers, finally takes care of Raya and her remaining son. Years have passed. The son Chaichan is now an adult and played by Sombat Methanee. He is back from overseas and is supposed to marry but the fiancee Taem Duang changes her mind. He needs to find a solution to avoid his parents losing face (ขายหน้า) in front of the villagers. He helps Meut, a young girl, agressed by ruffians. As a reward for his help, he asks to marry her temporary. The district officer performing the wedding is played by Lor Tok. Keng (Orasa Isarangkul) is Meut (Petchara Chaowarat)'s friend. After the wedding, Meut flees with Keng. In a village, they meet a crazy man who looks like Kaew. They meet also Dokdin Kanyaman. In fact, Meut and Keng have come here to look for petrol. Meanwhile Taem Duang (Khomapat Attaya) and her mother Rasee (Chadaporn Wachirapranee) are gossiping (นินทา) on Chaichan as they believe he was a fake rich guy from countryside. Meut was in fact adopted by Rasee's old husband. Meut wishes to buy a plot of land belonging to Prachuap as it contains petrol. Once Prachuap knows Meut has married his son through a fake wedding, he refuses to sell the land anymore (เขตป่าไม้). Choomporn Theppitak is used by Rasee to perform dirty jobs. Knowing that Meut failed to buy the land, Rasee wants to use her daughter's charms towards Chaichan. Meut recalls from an old grandma that she was brought by her to a rich family when she was young. Chaichan try to stop ruffians led by Choomporn burning the forest (ไฟไม้ป่า). Kaew helps him but gets beaten on the head. His memory is back. Prachuap revels that Kaew is real father of Chaichan, his former associate. Father and son are back together. Bua, a local villager, is pushed by Choomporn and Rasee as granddaughter in order to get heritage but it fails. Finally Rasee, who ordered kidnapping of Meut, shows her real face and tries to force her older husband to transfer heritage to her. Meut and Chaichan stop her on time. It is revealed that Meut is Raya's lost daughter. Meut and Chaichan can now find happiness.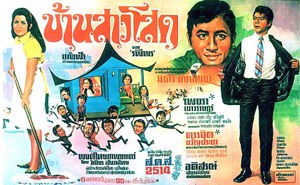 Year

: 1970



Thai title

:

บ้านสาวโสด




English title

:



Rating

: 3/5


Director

: Adul Dulyarat



Main actor

: Mitr Chaibancha,Kanchit Kwanpracha,Adul Dulyarat,Somkuan Krajangsat,Sukon Koewliam,Lor Tok,Prachuap Ruekyamdee


Main actress

: Petchara Chaowarat,Metta Roongrat,Prim Praphaporn,Juree Osiri,Orasa Isarangkul,Jomchai Jarintorn,Marasri Bangchang
บ้านสาวโสด is a Thai movie released in year 1970. It features Kanchit Kwanpracha as main actor and Petchara Chaowarat as main actress. The movie was started with Mitr Chaibancha but it was incomplete due to his premature death. So the main actor was replaced by Kanchit. Another version with Toon Hiransap and Piyamas Monayakol was released in year 1984. In 1970 Mitr Chaibancha worked in many movies in parallel. So some movies still kept one or two sequences of Mitr at the beginning of the reel as additional advertisement for the movie. Around 1 hour 30 minutes is left to be seen. Three single ladies (Metta Roongrat, Prim Praphaporn, Juree Osiri) are living together. Petchara arrives in their home. She is doing chores. Their neighbour is Kanchit Kwanpracha. Other actors are Somkuan Krajangsat, Prachuap Ruekyamdee, Orasa Isarangkul, Adul Dulyarat, Sukon Koewliam, Lor Tok, Jomchai Jarintorn. Kanchit likes Petchara very much. Funny sequences happen on beach seaside between Sukon Koewliam and Prim Praphaporn. Misunderstanding keeps happening between Kanchit and Petchara as other ladies try to seduce Kanchit. It seems that Petchara will marry Prachuap as she is disappointed by Kanchit. Finally kidnappers enter in Petchara's home but they are chased away by Kanchit and captured by Adul Dulyarat and Orasa Isarangkul. Outside the home kidnappers are there again and threaten to shoot Kanchit. Petchara stand between Kanchit and the ruffians to prevent any shootings showing her real love towards Kanchit. In fact kidnappers are this time Adul and Osara playing this trick to force their reconciliation. Six songs are featured. There are still old still pictures showing Mitr playing movie บ้านสาวโสด and the movie poster is also showing his name.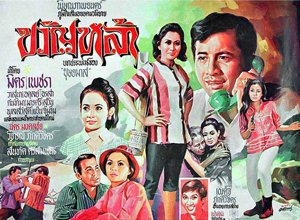 Year

: 1969



Thai title

:

ขวัญหล้า




English title

:



Rating

: 3/5


Director

:



Main actor

: Mitr Chaibancha,Adul Dulyarat,Op Boonthit,Chat Mongkolchai,Adinan Singhiran


Main actress

: Petchara Chaowarat,Orasa Isarangkul,Wassana Chalakorn,Marasri Isarangkul
Thai movie ขวัญหล้า was released in year 1969. It features Mitr Chaibancha as main actor and Petchara Chaowarat as main actress. The movie is lost in Thailand but a sequence of six minutes is left to be seen. Mitr is not seen in the remaining sequence. New star in this movie is Chat Mongkolchai. Other actors are Adul Dulyarat, Op Boonthit, Orasa Isarangkul, Wassana Chalakorn, Adinan Singhiran, ขอใจ ฤทัยประชา, กัณฑิมา ดาราพันธ์. Summary is still available from Thai star magazines. A family has a very cute daughter called Pan Kaew (Petchara). She never saw her parents as she was raised by Pa Puang. Her aunt Pa Puang is sick and so sent her to Chiang Mai in Nai Sarapee's home to be a domestic helper. In fact Pa Puang sold her! But Nai Sarapee likes her so much that she treats her like a daughter. One day when walking near the house, she hears an old man voice crying and asking for food / water. She gives him food and promises to help him again. Nai Sarapee announces to Pan Kaew that she will send her to Bangkok. In fact she is sold to a brothel (ซ่องโสเภณี / ซ่องนางโลม) for 6000 Baht. In the past, Pa Puang used to love Pan Kaew's father. But this love was not reciprocal. When Pan kaew was born, Pa Puang promised to make Pan Kaew's life as miserable as possible as a revenge against her father. Saying goodbye to the old man, he tells her to dig for an old jar and take the bracelet inside. If somebody sees this bracelet, she shall answer she is ขวัญหล้า! If this somebody has a red taint, Pan Kaew shall bring him to help the old man. In Bangkok, Pan Kaew meets Bua Riaw (Orasa). Understanding they have been sold, they try to flee. One day while the brothel owner brings Pan Kaew for her first customer, a man named Sun called her as Kwan La. Knowing Pan Kaew's father, Sun decides to help her. Meanwhile the brothel owner's son also decides to help Pan Kaew to flee. The summary ends up here.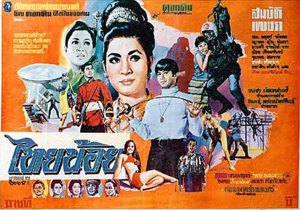 Year

: 1969



Thai title

:

ไทยน้อย




English title

:



Rating

: 3/5


Director

: Dokdin Kanyaman



Main actor

: Sombat Methanee,Dokdin Kanyaman,Sawin Sawangrat,Chana Sriubon


Main actress

: Petchara Chaowarat,Orasa Isarangkul,Chadaporn Wachirapranee
ไทยน้อย is a Thai movie directed by Dokdin Kanyaman and released in year 1969. A 4mn30 mute trailer, shot in 16mm format, is still remaining. Another sequence of 3mn30 can be found on internet also. So parts of the original movie seem to be still available. Sombat Methanee and Petchara Chaowarat are the main actors in this movie. Dokdin Kanyaman and Orasa Isarangkul are playing supporting roles (ตัวประกอบ) so bringing additional fun. As usual, Dokdin's movie features songs and beautiful ladies (Chadaporn Wachirapranee and a veteran sexy actress mixed Thai and foreigner - ลูกครึ่ง). A bit of action is present with a few fist fights involving Sombat Methanee. Sombat and Chana Sriubon also cross swords. Movie ไทยน้อย (Thai Noi) was released in 1969 and movie ไทยใหญ่ (Thai Jai) was released in 1970. Sombat and Petchara are wearing prince / princess clothes in both movies. Despite information is lacking on movie ไทยน้อย (Thai Noi), it is guessed that both movies ไทยน้อย (Thai Noi) and ไทยใหญ่ (Thai Jai) are linked together. Thanks to her unique sweet eyes and face, Thai people loved actress Petchara Chaowarat so much. She got nickname as นางเอกนัยน์ตาหยาดน้ำผึ้ง (honey eyes) or เพชรน้ำหนึ่งราชินีจอเงิน. The other 3mn30s sequence is still colorful and quite sharp. Petchara is selling fruits in a train station and sells to customers in the train when it halts temporary in the station. Petchara plays two roles in the movie. Orasa kidnaps the fruit vendor for Petchara to replace her. Certainly she is chased by some ruffians. Dokdin is selling also fruits in the train station and finds that her behavior has changed. On the way to be recognized by a ruffian, Petchara forcibly feeds Sombat with fruits to create diversion.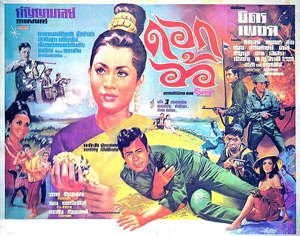 Year

: 1968



Thai title

:

ดอกอ้อ




English title

:



Rating

: 3/5


Director

: Dokdin Kanyaman



Main actor

: Mitr Chaibancha,Sawin Sawangrat,Dokdin Kanyaman,Adul Dulyarat,Man Teeraphol


Main actress

: Petchara Chaowarat,Chadaporn Wachirapranee,Sarinthip Siriwan,Orasa Isarangkul
Thai movie ดอกอ้อ was released in year 1968. Main actors and actresses include Mitr Chaibancha, Petchara Chaowarat, Chadaporn Wachirapranee, Sawin Sawangrat, Sarinthip Siriwan, Dokdin Kanyaman, Adul Dulyarat, Orasa Isarangkul, Man Teeraphol, มนัส บุณยเกียรติ, วริศรา วชิราชัย, ธัญญา ธัญญารักษ์. Movie director is Dokdin Kanyaman. The film is lost in Thailand and was never released under VHS, VCD or DVD. It can be seen at Thai Film Archives and lasts 2h17mn. A dubbed version was shown in Thai Film Archives in year 2018. It features 3 songs, i.e. ดอกอ้อ, ลำนำลำโขง, เริงไพร. This movie was very popular. It made a lot of money especially in Chaleum Chan theater in Chantaburi (เฉลิมจันท์ จันทบุรี - โรงไม้). It was shown 4 times a day. It made almost 1M Baht in this single theater. Mitr Chaibancha (นายอ่อน) sings ดอกอ้อ song (voice from singer สุเทพ วงศ์กำแหง) and tries to seduce Petchara (ครูดอกอ้อ).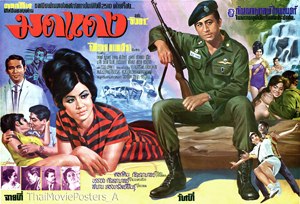 Year

: 1967



Thai title

:

มดแดง




English title

:



Rating

: 3/5


Director

: Dokdin Kanyaman



Main actor

: Mitr Chaibancha,Adul Dulyarat,Sawin Sawangrat,Pramin Jarujareet,Somchai Samipak,Lor Tok,Dokdin Kanyaman


Main actress

: Petchara Chaowarat,Chadaporn Wachirapranee,Manat Boonkiet,Orasa Isarangkul,Malee Wetpraseri,Somjit Sapsamruey
Thai movie มดแดง was released in year 1967. Main actors and actresses include Mitr Chaibancha, Petchara Chaowarat, Adul Dulyarat, Chadaporn Wachirapranee, อาคม มกรานนท์, Somjit Sapsamruey, บุษกร สาครรัตน์, อภิญญา วีระขจร, Sawin Sawangrat, Malee Wetpraseri, Manat Boonkiet, สิงห์ มิลินทราศัย, Pramin Jarujareet, ธัญญา ธัญญารักษ์, ละออ, Somchai Samipak, นาฏ นดา, ด.ญ. ศิริพร เทียนทอง, ด.ช.นวรัตน์ ไชนันท์, ด.ช.บัณฑิต กัญญามาลย์, Lor Tok, Orasa Isarangkul, Dokdin Kanyaman. Movie director is Dokdin Kanyaman. The film was never released on VHS / VCD / DVD format but a sequence in 35mm format can still be seen in Thailand in Thai Film Archives. It is a song lasting only 4 minutes. Petchara, Orasa Isarangkul, Dokdin Kanyaman can be seen in this remaining sequence. In Thai Film Archives, four songs in 35mm format have been restored in 2017. They were shown during the yearly commemoration related to Thai actor Mitr Chaibancha (รำลึกมิตร ชัยบัญชา).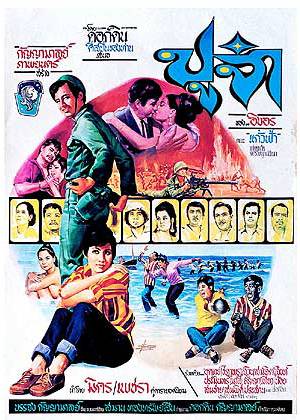 Year

: 1967



Thai title

:

ปูจ๋า




English title

:



Rating

: 3/5


Director

: Dokdin Kanyaman



Main actor

: Mitr Chaibancha,Adul Dulyarat,Prachuap Ruekyamdee,Sawin Sawangrat,Dokdin Kanyaman


Main actress

: Petchara Chaowarat,Chadaporn Wachirapranee,Orasa Isarangkul,Malee Wetpraseri,Somjit Sapsamruey
ปูจ๋า or Pu Ja is a 1967 Thai movie directed by Dokdin Kanyaman. 47 minutes only are left. Normally Thai 16mm movies from decade 1960s used to be made of 4 to 5 reels. One reel lasts around 40 minutes. There is no sound available for this movie as 16mm movies are always dubbed. So understanding the whole movie is quite difficult. Petchara Chaowarat (ปู) is a young lady. Her close friends are Dokdin Kanyaman and Orasa Isarangkul. Sawin Sawangrat, Petchara's father, is a fisherman. Petchara and Dokdin are caught in a military exercise including a beach landing. They meet Mitr Chaibancha, who is an officer. Petchara and Mitr appreciate each other. Mitr rescues a young lady who is about to be drowned. Later on Mitr and his friend Adul mingle (จู๋จี๋) with those two ladies (Chadaporn Wachirapranee and another veteran actress). Petchara, aware of this, is disappointed by Mitr. Petchara's blind grandmother is played by veteran actress Malee Wetpraseri. It is Petchara's birthday. Adul changes the content of a gift offered by Mitr. It is a trick to spoil love between Mitr and Petchara as it starts to emerge. He then offers a proper gift to Petchara. Sawin prevents both of them to fight and asks Petchara to go back home. It seems that Chadaporn is unhappy with Sawin and asks him to push Petchara away from Mitr. Following a fishing trip, Sawin falls in the sea during a storm. Petchara and Dokdin need to find a job and then work as coolie in a construction site. Police officer Adul looks for them as it is found that Petchara is a descendant of a rich family. Sawin isn't dead. it seems he will cause issue to Petchara but love with Mitr will of course succeed. In this 1967 period, Petchara Chaowarat had short haircut. As usual with Dokdin Kanyaman's movies, there is humour, action, romance and good feelings (happy ending).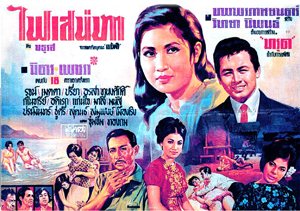 Year

: 1967



Thai title

:

ไฟเสน่หา




English title

:



Rating

: 3/5


Director

:



Main actor

: Mitr Chaibancha,Adinan Singhiran,Ruj Ronnapop,Sukon Koewliam,Sompong Phonmitr,Joomjim Khemlek,Preuhat Boonlong


Main actress

: Petchara Chaowarat,Metta Roongrat,Preeya Roongrueng,Kaenjai Meenakanit,Orasa Isarangkul,Chosri Misommon
Thai movie ไฟเสน่หา was released in year 1967. It features Mitr Chaibancha as main actor and Petchara Chaowarat as main actress. This movie is lost in Thailand and only a 13s sequence is left to be seen. During the short sequence Mitr and Petchara are seen on a raft. Veteran actor Adinan Singhiran can also be seen. On the movie poster, 18 Thai stars are announced, i.e. Mitr Chaibancha, Adinan Singhiran, Ruj Ronnapop, Sukon Koewliam, Sompong Phonmitr, Joomjim Khemlek, Preuhat Boonlong (สาหัส บุญหลง), Petchara Chaowarat, Metta Roongrat, Preeya Roongrueng, Kaenjai Meenakanit, Orasa Isarangkul, Chosri Misommon.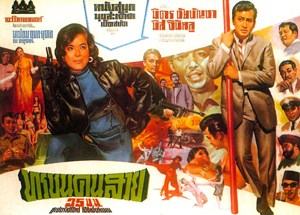 Year

: 1967



Thai title

:

ทรชนคนสวย




English title

: Operation Revenge



Rating

: 4/5


Director

: Mom Ubon Yukol



Main actor

: Mitr Chaibancha,Ruj Ronnapop,Somkuan Krajangsat,Sukon Koewliam,Man Teeraphol,Adinan Singhiran,Preuhat Boonlong,Sawin Sawangrat,Sompol Kongsuwan


Main actress

: Orasa Isarangkul
Thai movie ทรชนคนสวย / Operation Revenge was released in year 1967 and lasts 2h26mn. This movie is directed by Mom Ubon Yukol who is a Thai prince and father of famous Thai director Chatrichalerm Yukol. Thai actors and actresses featured in this movie are Mitr Chaibancha, Ruj Ronnapop, Somkuan Krajangsat, Sukon Koewliam, Man Teeraphol, Adinan Singhiran, Orasa Isarangkul, Preuhat Boonlong, Sawin Sawangrat, Sompol Kongsuwan, สิงห์ มิลินทราศรัย, อดุลย์ กรีน, ทานทัต วิภาตะโยธิน, สักรินทร์ ปุญญฤทธิ์. ทรชนคนสวย is a Thai movie in 35mn format. It was released only in VHS format. In 2020, Thai Film Archives released the remastered version on YouTube on the New Year's Eve day. ทรชนคนสวย is a spy genre movie from 1960s. Such movies follow the popular trend traced by James Bond 007 films. Movie ทรชนคนสวย has a nice and colorful picture. Chairman Wichien (Preuhat Boonlong) is accused of being a traitor causing the secret organization to lose opium worth 100M THB. The organization asks his best friend Tenglin to kill him. He discloses to his friend that opium is hidden in Hong Kong but still gets killed by him. Pusit (Somkuan Krajangsat) is a military officer looking for opium. Police are also looking for it. Vichien's daughter Lin (มิสจิ้นหลู - นางฟ้า from Taiwan) is living in Hong Kong. She wishes to understand why her father was killed. Reung (Mitr Chaibancha), a former policeman, meets her in a hotel. Cheng (Man Teeraphol) contacts Reung to buy the plan guiding to the hidden opium drug versus a 20M baht fee. As Cheng has only half of the money, he gets only half of the map! Suriyan (Ruj Ronnapop) is a policeman. Lin (น่ารัก) listens to Reung and spies his room (แอบฟังอยู่), but she gets discovered by him. She wants to buy the map also. Meanwhile Cheng discovers that sympathetic ink has been used for the map he just bought! Reung shall meet Lin in a nightclub located in Kowloon. She is singing there. Two songs are featured (ปากของคุณน่าจูบจังเลย). Reung invites Lin to Bangkok. Reung gets aggressed by Cheng and his ruffians. Luckily he gets help from Thai policeman Suriyan. Reung and Suriyan need to flee the nightclub. Back to Bangkok, Reung loses a bet to a mysterious Indian guy wishing to get his clothes as the map is inside. Following a fight in the casino, Reung flees wearing underwear only and riding a motorbike with Lin. Reung is accused to have killed the Indian guy and is arrested by Thai police. Pusit helps him to get away. Ruffians try to get back the drugs worth 100M bath (ฝิ่น). Tenglin suspects the drugs to be hidden in Vichien's tomb, but he doesn't inform other ruffians. Pong (สิงห์ มิลินทราศรัย) and Sawin Sawangrat follow him. Lin is going to Songkla and shall meet Reung there. Thai Police are on the way to Songkla also. Suda (Orasa Isarangkul) pretends to be a car failure to meet Reung. She is dangerous (ปีศาจ) and is working for the secret organisation (ถึงอาบคงไม่หายความร้อน / ยินดีเสมอครับ) led by Sompol Kongsuwan. Meanwhile Lin is poisoned in the train by Tenglin, her father's former best friend. She is saved by Pusit. Pong, once knowing where opium is hidden, then kills Tenglin. The opium is hidden under Vichien's grave. Meanwhile ruffians led by Sompol Kongsuwan have a misunderstanding with ruffians led by Cheng. Overcoming danger and traps, Reung and Pusit succeed to enter under the grave and release Lin. Ruffians flee by submarine but it is sunk by Thai army rapid boats. Reung and Lin get married.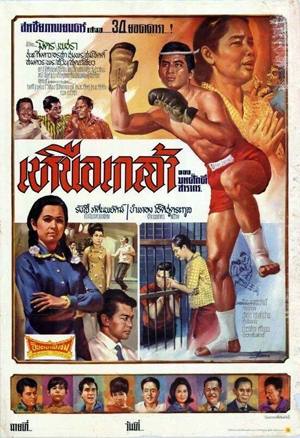 Year

: 1967



Thai title

:

เหนือเกล้า




English title

:



Rating

: 3/5


Director

:



Main actor

: Mitr Chaibancha,Chana Sriubon,Choomporn Theppitak,Somkuan Krajangsat,Lor Tok,Sukon Koewliam,Sompong Phonmitr,Adinan Singhiran,Dokdin Kanyaman,Preuhat Boonlong,Op Boonthit


Main actress

: Petchara Chaowarat,Somjit Sapsamruey,Kingdao Daranee,Orasa Isarangkul
Thai movie เหนือเกล้า was released in year 1967. It is in mute mode as the film is in 16mm format so requesting live dubbing. 1h33mn is left to be seen. It still has a colorful image but the film is partially damaged. Somjit (Somjit Sapsamruey) is working as food street vendor (แม่ค้า). Her husband (Somkuan Krajangsat) is often drunk and violent. They have three kids. They have always financial problems as the father drinks a lot. Years have passed and children have grown up. One of them is Mitr Chaibancha. The others are Chana Sriubon and Choomporn Theppitak. Sompong Phonmitr is head of Thai boxing training centre. Lor Tok is his assistant. One day as the drunkard father asks for money, he becomes violent again and Somjit has to protect herself with scissors. Through an accident, the father receives a fatal injury. Somjit ends up in jail. Mitr, Sompong and Lor Tok leave and look for job to find money to pay for Somjit's bail. Mitr is recruited as Thai boxer. A first match versus Adinan Singhiran happens. Petchara Chaowarat and Dokdin Kanyaman are part of spectators. Mitr finally wins the match despite being told to lose it as he needs money to help his mother. As the match maker refuses to pay, it ends up in another fighting. Preuhat Boonlong decides to hire the three men to working in an outdoor mine. They got troubles with two men in the mine. Fed up the three friends wish to quit the job but Preuhat Boonlong convinces them to stay. The mine is attacked. Mitr pushes back the aggressors but is injured so getting the sympathy from Petchara. The mother is finally released from prison. Kingdao recruits her as domestic helper. Her boyfriend is Choomporn. Finally the mother is also reunited with Mitr. Another attack happens on the mine and Mitr is accused of murder. It ends up to trial. Scolded by his mother, Chana finally gives information that Mitr is not guilty. Ruffians wishing to take revenge on Chana and try to shoot him. The mother interposes herself and gets shot. Mitr and his brothers catch the ruffians. Movie ends up with everybody around the mother's bed at hospital. 34 stars are announced on the movie poster!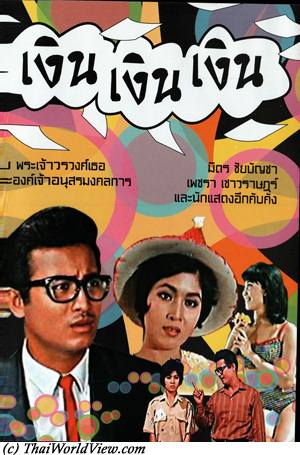 Year

: 1965



Thai title

:

เงิน เงิน เงิน




English title

: Money Money Money



Rating

: 5/5


Director

: Prince Anusorn Mongkolkarn



Main actor

: Mitr Chaibancha,Charin Nantanakorn,Lor Tok,Sukon Koewliam,Adul Dulyarat,Sawin Sawangrat,Daonoi Duangjai,Dokdin Kanyaman,Man Teeraphol,Ruj Ronnapop,Thuam Thoranong,Banglae


Main actress

: Petchara Chaowarat,Wilaiwan Watthanaphanit,Orasa Isarangkul,Chadaporn Wachirapranee,Mom Chan Phuangwan,Chosri Misommon,Sulaleewan Suwanthat



Buy now

:

The movie starts by a small introduction highlighting that everybody fights for money (เงิน เงิน เงิน). This introduction features many actors or actresses with cameo role such as Daonoi Duangjai, Dokdin Kanyaman, Man Teeraphol, Chadaporn Wachirapranee. Tu (Mitr Chaibancha) comes back to Thailand after overseas studies in USA. Tum (สุมาลี ทองหล่อ) is his sister. They are orphans. Their uncle Hirun is a creditor. Mom (Mom Chan Phuangwan) is Hirun's assistant. For Hirun, money is work and work is money. He has no feelings for his customers personal problems. Tu's uncle wants him to take over his duty but Tu doesn't like such job bringing suffering to people (สงสาร) so that is why he has done artistic studies as it can bring happiness to people. He meets Kingkaew (Petchara Chaowarat), a vagabond. Wishing to help poor people and teased by Kingkaew, he proposes to bring the A-ram boys band (เด็กวัด) in Bangkok to play music in a nightclub. His uncle chases him away as he cancelled all debt contracts. Tum is chased also. Teacher (ครู) Rangsun (Charin Nantanakorn) will help writing songs for the band. There is a crazy lady (Wilaiwan Watthanaphanit) in Hirun's house looking for her children. Tum wonders if she is her mother or not. They arrive in Bangkok but have little money. They met a restaurant owner's daughter (Chosri Misommon), willing to join them as a singer. Pa (Sulaleewan Suwanthat) is their house owner. They borrow 300 000 baht from Pa but Tu has to promise to marry her daughter (Orasa Isarangkul) Nataya. Pa knows that Tu is a potential rich heir. Lor Tok proposes ideas for their nightclub promotion. Tu's concept is that art belongs to everybody. Hirun wants to be sure his nephews will fail so he hires ruffians to destroy their nightclub. The ruffians steal their money so Tu and his friends decide to serve and cook by themselves. Hirun comes on the opening day with a bunch of tough ruffians to make noise and also kidnap the performing girls. Indian actor Banglae (บังเละ) is acting as nightclub guard. Kingkaew always find solutions to problems occurring. The ruffians drunk the cook and waiters to delay orders. Hirun takes the teacher (ครู) Rangsun's piano as he didn't pay his rent due to sickness. Adul Dulyarat is a doctor trying to save the teacher Rangsun. Hirun sends his ruffians to create a brawl in order to destroy the nightclub. Artist should be protected. The Thai King giving cinema awards inspires them not to stop fighting (ศีลปินไม่เคยตาย). By hazard, Tum and her friends have chance to release the crazy woman called Nat. Another uncle of Tu called Sompong is released from prison after twenty years. He narrates to Tu the story of his father betrayed by his own brother Hirun and who finally committed suicide. Nat is reunited with her two children, Tu and Tum. All the money of Hirun is coming from the one million baht that the father gave him to raise his children. They promise to take revenge on his 60th birthday coming soon. Hirun has to face the truth on his birthday turning to be a nightmare for him. He finally lost his whole fortune. The nightclub featuring arts becomes a huge success. This movie features 14 songs. A double DVD (3h20mn) including the 35mm movie fully restored was released by Thai Film Archives. The whole movie should even be a bit longer as the song หญ้าโลมดิน sung by Mitr and Petchara is missing. It is present on the VHS version and on a 16mm version left. Another movie version was released in year 1983. Two TV series were released in years 1997 and 2007. The producer is Prince หม่อมอุบล ยุคล. This movie includes more than 60 Thai actors, actresses and singers. Petchara got a Thai cinema reward for this movie. This movie is part of the second 25 films heritage list announced on October 4 2012, which is Thai Movies Conservation Day.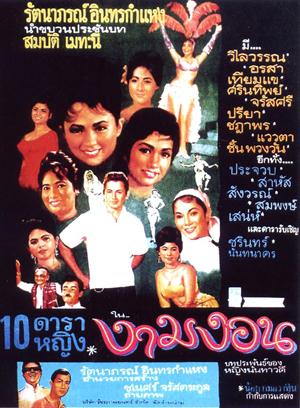 Year

: 1963



Thai title

:

งามงอน




English title

:



Rating

: 3/5


Director

:



Main actor

: Sombat Methanee,Prachuap Ruekyamdee,Charin Nantanakorn,Sompong Phonmitr,Preuhat Boonlong


Main actress

: Ratanaporn Intarakamhaeng,Sarinthip Siriwan,Mom Chan Phuangwan,Wilaiwan Watthanaphanit,Preeya Roongrueng,Orasa Isarangkul,Chadaporn Wachirapranee
Thai movie งามงอน was released in year 1963. It is a romantic comedy movie. It features Sombat Methanee as main actor and Ratanaporn Intarakamhaeng as main actress. The full movie is lost in Thailand but around three film reels are still available (more than 40 minutes). The movie is in 16mm format so it is in mute state as such movie requires live dubbers. No summary is available. This movie was produced by Ratanaporn and directed by her husband. Sombat Methanee's five first movies were produced by Ratanaporn's company (รุ้งเพชร - 1961...). In 1963, Sombat had a similar hairstyle as Mitr Chaibancha. Ratanaporn is playing two roles, i.e. two twin sisters. Sombat Methanee and Prachuap Ruekyamdee wish to seduce the two sisters. An evening party (masquerade ball) is organized. Ratanaporn is disguised as an old sorceress (แม่มด). She gives advices to Preeya Roongrueng. Sombat is getting confused between the two sisters at the masquerade ball. Orasa Isarangkul invites Sombat to dance. Prachuap simulates to have a leg injury to have opportunity to talk to Ratanaporn. He is wearing a fake moustache and works a waiter to be able to join the party. Sombat disguises also himself into a waiter to be close to Ratanaporn. Many Thai stars are playing in this movie, i.e. Sombat Methanee, Prachuap Ruekyamdee, Charin Nantanakorn, Sompong Phonmitr, Preuhat Boonlong, Ratanaporn Intarakamhaeng, Sarinthip Siriwan, Mom Chan Phuangwan, Wilaiwan Watthanaphanit, Preeya Roongrueng, Orasa Isarangkul, Chadaporn Wachirapranee. Chadaporn Wachirapranee is playing the wife of Preuhat Boonlong. 10 Thai feminine stars are present! Finally a romance starts between Sombat and Ratanaporn.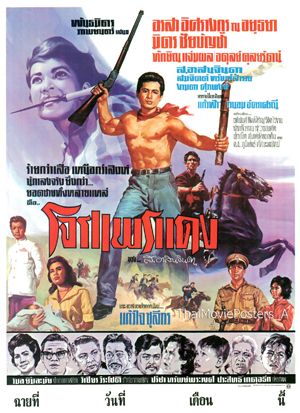 Year

: 1962



Thai title

:

โจรแพรแดง




English title

:



Rating

: 3/5


Director

: วิเชียร วีระโชติ



Main actor

: Mitr Chaibancha,Taksin Jampol,Adul Dulyarat,Sor Asanajinda,Adinan Singhiran,Dokdin Kanyaman


Main actress

: Orasa Isarangkul,Somjit Sapsamruey,Sulaleewan Suwanthat
Thai movie โจรแพรแดง was released in year 1962. Main actors and actresses include Mitr Chaibancha, Orasa Isarangkul, Taksin Jampol, Adul Dulyarat, Sor Asanajinda, Somjit Sapsamruey, งามตา ศุภพงศ์, ถนอม อัครเศรณี, Adinan Singhiran, วิชิต ไวงาน, Sulaleewan Suwanthat, ปราณีต คุ้มเดช, Dokdin Kanyaman, แก้วใจ ชุลีกร. Movie director is วิเชียร วีระโชติ. The film was never released on VHS / VCD / DVD format and was lost in Thailand. In 2020, the 16mm film was found but it was very damaged. Only a succession of very short sequences can be seen during the seven minutes extract. Orasa Isarangkul is playing the main actress. Later on, with Petchara Chaowarat's rise as main actress, Orasa was only playing supporting roles. A remake was done in year 1985 featuring Chaiyan Sorakrai as main actor and พัชนี บุนนาถ as main actress. A movie summary is still available. Being three years old, kid Wang is carried in a red satin cloth (โจรแพรแดง) by his mother Phikul. Phikul drops the baby in front of Nai Somporn's house. Wang is the child of Phikul and Somporn but Somporn broke up with Phikul in order to marry another lady called Ladda. Domestic helper lady Chap recognises Wang and manages his education in order to save face to her employer Nai Somporn. At 10 years old, as the domestic helper dies, Wang is alone again. Somporn and Ladda keep beating Wang as they despise him. Wang quits the house with his red satin cloth and looks for his real mother Pikul.
---