Increase or decrease font size for easier reading : A+ A-
Op Boonthit
Op Boonthit (191x-19xx) - อบ บุญติด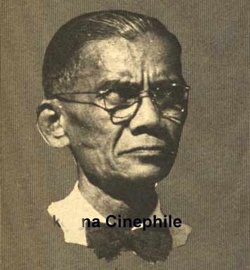 Op Boonthit started to play in year 1930. His last movie was in year 1975
This Op Boonthit movie page contains 19 records.
---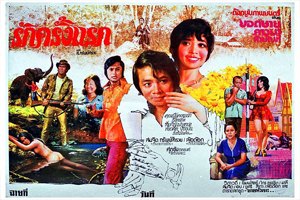 Year

: 1974



Thai title

:

รักครั้งแรก




English title

:



Rating

: 3/5


Director

: Lor Tok



Main actor

: Yodchai Meksuwan,Sayan Chantaraviboon,Op Boonthit,Sithao Petcharoen,Lor Tok,Krai Kanchit


Main actress

: Pawana Chanajit,Chosri Misommon,Somjit Sapsamruey,Malee Wetpraseri,Khomapat Attaya,Manat Boonkiet
Thai movie รักครั้งแรก was released in year 1974. Main actors and actresses include Pawana Chanajit, Yodchai Meksuwan, Sayan Chantaraviboon, Malee Wetpraseri, Somjit Sapsamruey, Op Boonthit, Chosri Misommon, Sithao Petcharoen, Lor Tok, วิภาวดี ตรียะกุล, Khomapat Attaya, Krai Kanchit, Manat Boonkiet. Movie director is Lor Tok. The film is lost in Thailand but a left sequence in 35mm format can still be seen. The picture is very damaged and reddish. It lasts six minutes. During the remaining sequence, Nim (Pawana Chanajit) loves Seum (Yodchai Meksuwan), being a poor man. Sorasak (Sayan Chantaraviboon) is her promised fiance per her parents' arrangement. Sorasak's mother is Manat Boonkiet. On Nim's birthday, an official engagement ceremony shall happen but Nim declares her love to Seum in front of her family. Sorasak loses face and punches Seum afterwards. Nim's parents are mother Mom Somjit Sapsamruey and father Op Boonthit. Chosri Misommon has pity over Nim. Seum teaches Nim to play music with old instrument. Seum is Nim's first love. This movie highlights the dilemma between a chosen marriage by parents and children's own love choice.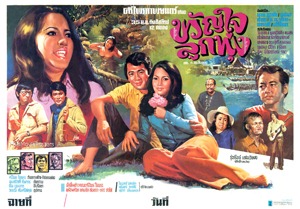 Year

: 1972



Thai title

:

ขวัญใจลูกทุ่ง




English title

: My sweet heart



Rating

: 3/5


Director

: ศรีไพร ใจพระ



Main actor

: Nard Poowanai,Kamthorn Suwanpiyasiri,Sukon Koewliam,Lor Tok,Chaiya Suriyun,Rujira Isarangkul,Op Boonthit,Paen Pleumsachai,Songthong,Sithao Petcharoen


Main actress

: Chosri Misommon
Thai movie ขวัญใจลูกทุ่ง / My sweet heart was released in year 1972 and lasts 2h27mn. Movie director is ศรีไพร ใจพระ. The movie was never released on VHS, VCD, DVD in Thailand. It is only available under 35mm film format, but it was very damaged with colors almost lost. ศรีไพร ใจพระ and บุปผา สายชล were famous singers (นักร้องลูกทุ่ง) since movies ชาติลำชี and มนต์รักลูกทุ่ง shot by รังสี ทัศนพยัคฆ์. They were husband and wife. Movie ขวัญใจลูกทุ่ง was the first movie directed and produced by ศรีไพร and featuring his wife บุปผา as main actress. Chaiya Suriyun was supposed to the main actor in this movie. He started to play in a few sequences, but problems occurred. So, the main actor was changed to Nat Poowanai, who was a new actor who just played in a few movies. Surprisingly Chaiya can still be seen on the movie poster and in a few sequences of the movie. Chot character, played by Chaiya, is killed after a fighting sequence where Chaiya is shot by ruffians. The movie features many actors and actresses such as Kamthorn Suwanpiyasiri, Chosri Misommon, Sukon Koewliam, Lor Tok, Chaiya Suriyun, Nard Puwanai, Rujira Isarangkul, Op Boonthit, Paen Pleumsachai, Songthong, Sithao Petcharoen, วงศ์ทอง ผลานุสนธิ์, พูนสวัสดิ์ ธีมากร, ทานทัต วิภาตะโยธิน,แคหลอ, ชูศรี โรจนประดิษฐ์, ขุนแผน, ถนอม นวลอนันต์, เปี๊ยก, พิม พิไลลักษณ์. 12 songs are featured in this musical movie. Kamthorn Suwanpiyasiri (ลูกกำนัน) wants to seduce Kratin (บุปผา สายชล). Kratin watches boat races with Champi (Chosri Misommon). Sithao Petcharoen is the referee. Uncle Khaem (Rujira Isarangkul) prevents Kratin to meet Yot (Nard Poowanai). He has already a planned engagement with Kamthorn as Yot is a poor man. Kratin is Khaem's granddaughter. Chot (Chaiya Suriyun) and Sri Phrai (ศรีไพร ใจพระ) arrive in the village. Thai boxing match free style is organized and Sri Phrai, despite being a weak opponent, wins. Khaem loses a lot of money. He is upset that Kamthorn makes profit on him. Sri Phrai wishes to marry Kratin. Kamthorn and his ruffians (including Paen Pleumsachai) agress Kratin. Phi Chot and his friends help. Kamthorn gets defeated but one of the ruffians shoots Phi Chot. Op Boonthit plays a Chinese merchant. Hippy Songthong arrives from Bangkok. Uncle Khaem wishes to marry Kratin with Songthong. He is fired as he misbehaves. Next day, a man similar to Songthong with a lady Lin, claiming to be Yot's girlfriend, is having a drink in a cafe. Khaem and his team capture him. The lady flees and meets Kamthorn, who tells her that Yot has already another girlfriend named Kratin. Songthong is covered with flour and chased away. Lin visits Yot and Kratin sees them together so it is causing a misunderstanding. Khaem has to excuse towards Songthong. As a revenge, Songthong is parading the uncle through the city. Following Kratin and Yot pleas, Songthong releases him. The movie ends up happily with uncle Khaem allowing Yot and Kratin to marry, Kamthorn having a romance with Lin.



Year

: 1971



Thai title

:

น้องนางบ้านนา




English title

:



Rating

: 3/5


Director

:



Main actor

: Chaiya Suriyun,Chat Mongkolchai,Choomporn Theppitak,Op Boonthit,Anucha Ratanaman,Sawin Sawangrat,Sompong Phonmitr


Main actress

: Aranya Namwong,Wassana Chalakorn,Chosri Misommon,Khomapat Attaya
Thai movie น้องนางบ้านนา is a Thai movie released in year 1971. It features Chaiya Suriyun as main actor and Aranya Namwong as main actress. The movie was started with Mitr Chaibancha but it was incomplete due to his premature death. So the main actor was replaced by Chaiya Suriyun. The movie features nine songs but none are left. Many famous singers from beginning of 1970s decade are acting in this movie. No movie summary is available anymore. The movie is lost in Thailand but luckily an extract of 56 minutes is still left. Other actors are Chat Mongkolchai, Choomporn Theppitak, Wassana Chalakorn, Khomapat Attaya, Anucha Ratanaman, Sawin Sawangrat, Marasee (มารศรี), Sompong Phonmitr, Chosri Misommon, Op Boonthit. Without a summary and the movie being in mute state as it is in 16mm format, the story is difficult to understand. Aranya Namwong receives a letter from her fiance studying at university. Wassana Chalakorn is jealous and steals the photograph. Op Boonthit and his daughter Chosri Misommon are bar owners. Sompong is their regular customer. Choomporn Theppitak is agressed by a ruffian, who is finally an old friend. Sawin Sawangrat and Rujira (ม.ล. รุจิรา) seem to have bad plans but are spied by Choomporn and Anucha. Chaiya is back from his studies. Chaiya and Wassana Chalakorn are in a rice field having romantic talk. Khomapat Attaya is with them. Wassana Chalakorn tries to prevent Chaiya to meet Aranya. Anucha is trying to abuse Wassana Chalakorn. Heated arguments happen during a wedding colorful procession. This movie reminds of famous movie "Mon Rak Luk Thung" (มนต์รักลูกทุ่ง - 1970) as it features many songs and various couples involving romance and jealousy. Following movie "Mon Rak Luk Thung" success, many romantic song movies (หนังเพลง) were released in the following months and years trying to surf on a similar popular wave.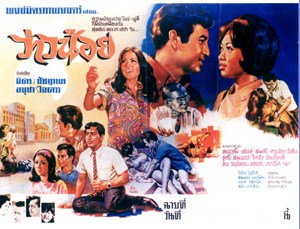 Year

: 1970



Thai title

:

ว่าวน้อย




English title

:



Rating

: 3/5


Director

: Sompong Phonmitr



Main actor

: Mitr Chaibancha,Anucha Ratanaman,Daonoi Duangjai,Sompong Phonmitr,Op Boonthit


Main actress

: Tukata Jindanuch,Chatchadaporn Laksanawed,Chosri Misommon
Thai movie ว่าวน้อย, shot in year 1970, is a romantic comedy featuring Mitr Chaibancha and Chatchadaporn Laksanawed. The film is complete (2h20mn) but was never released in VCD as there is no dubbing script left. It is one of the last complete movies played by Mitr Chaibancha. Actress Chatchadaporn Laksanawed (ชัชฎาพร ลักษณาเวช) is a former Miss Thailand (นางสาวไทย). As it is a 16mm movie, the movie needs to be dubbed. As there is no dubbing script left, the movie is mute. Anucha loves secretly Chatchadaporn. Chatchadaporn is the daughter of a rich family. Mitr and Chatchadaporn know each other while playing kite. Argument between Mitr and Anucha happens as Mitr's kite causes Chatchadaporn's kite to fall. On the next day, kite playing continues and Mitr's kite causes Chatchadaporn to fall in a pond. Daonoi (ตลกตามนาง) and Sompong (ตลกตามพระ) are playing support role actors accompanying the main actor (Mitr) / main actress (Chatchadaporn). Old maiden Chosri Misommon tries to seduce Mitr through delicious dishes. During nighttime Mitr dreams about Chatchadaporn. Chatchadaporn's father (Op Boonthit) is the house owner where Mitr and Sompong live. As they have no money to pay the rent, they have to work as gardeners in Chatchadaporn's house. Mitr is useless and is fired. While going back home, Mitr helps Chatchadaporn aggressed by three ruffians. She starts to appreciate Mitr. Mitr tries to see Chatchadaporn in her house and disguise himself as lion dancer but he is discovered by the father. Mitr and Chatchadaporn spend one night together. Finally their relationship is accepted as Mitr is a good young man. Mitr is also the son of a rich family. Mitr's mother accepts reluctantly the engagement. Mitr needs to go to countryside for business purpose. Chatchadaporn is pregnant. On the countryside a young lady is fond of Mitr but in fact she is sent by Mitr's mother in order to drunk him and take advantage of him at bedtime. Mitr's mother convinces her that Mitr will not marry her. Chatchadaporn's father is sick. They have to sell their house. As her father dies, Chatchadaporn goes to Bangkok to find a job. Chatchadaporn ends up in jail after stabbing her employer trying to rape her. Anucha is now a policeman. Chatchadaporn gives her child to Anucha to ensure it can get a good future. Mitr's mother, being sick, dies also. Before her death, she tells the truth about Chatchadaporn. So Mitr looks for her. Meanwhile with no goal in her life, Chatchadaporn tries to get suicide but a nun prevents to do so. Mitr finally finds her but she refuses to disrobe. Mitr then educates his daughter. Sompong Phonmitr (สมพงษ์ พงษ์มิตร) is the director and is also playing a comic role in his own movie.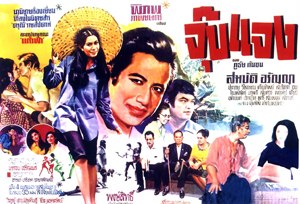 Year

: 1970



Thai title

:

จุ๊บแจง




English title

:



Rating

: 3/5


Director

:



Main actor

: Sombat Methanee,Somkuan Krajangsat,Adinan Singhiran,Prachuap Ruekyamdee,Sukon Koewliam,Op Boonthit,Sompong Phonmitr


Main actress

: Aranya Namwong,Wilaiwan Watthanaphanit,Somjit Sapsamruey,Sarinthip Siriwan,Khomapat Attaya,Chosri Misommon,Marasri Isarangkul
Thai movie จุ๊บแจง was released in year 1970. Main actor is Sombat Methanee and main actress is Aranya Namwong. The movie is in 16mm format and so in mute state as such format requires dubbing. The film is incomplete as only 1h31mn remains to be seen. No summary is available. The movie features four songs but they are lost. Aranya Namwong is Jub Jaeng. Her parents are played by Somkuan Krajangsat as father and Wilaiwan Watthanaphanit as mother. Her mother seems upset. Sombat meets Jub Jaeng's mother indulging in alcohol. Marasee, a rich old lady, orders Adinan Singhiran to kidnap Jub Jaeng. While discussing inside the house, three thugs storm it and kidnap Jub Jaeng. The father and mother get hit by the thugs. Somjit Sapsamruey is Sombat's mother. Prachuap Ruekyamdee releases Jub Jaeng but it is a coup monté. It seems that Jub Jaeng is coming from a rich family. Khomapat Attaya and her mother Sarinthip Siriwan are having arguments with Jub Jaeng. Sukon Koewliam and Chosri Misommon are playing comic roles a domestic helpers. Sombat tries to seduce Jub Jaeng. They finally become lovers. Khomapat and her mother denigrate Jub Jaeng towards Sombat. Khomapat pushes Aranya in the stairs. She ends up at hospital. Wilaiwan and Somkuan finally find Jub Jaeng. They finally get reunited thanks to Sompong Phonmitr. This movie features sequence shot in famous Daimaru former shopping mall. Prachuap has a leg injury and is visited by twin ladies (real singers อารยา ปาริชาติ ฉายาลักษณ์). Finally the parents let Jub Jaeng go with Sombat. Khomapat and her mum are upset about the gifts bought by Sombat to Jub Jaeng. Sombat tries to end the dispute with Khomapat but it ends up badly. While walking on the beach, he gets stabbed by ruffians. Khomapat gets also aggressed by ruffians on the beach. Khomapat tries to hit Jub Jaeng again but she fights back and finally decides to quit this crazy house. Prachuap and Sombat finally understand Khomapat's bad games. Sombat rushes after Jub Jaeng and they finally reconcile.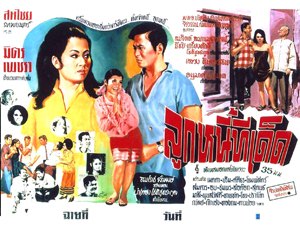 Year

: 1970



Thai title

:

ลูกหนี้ทีเด็ด




English title

:



Rating

: 3/5


Director

:



Main actor

: Mitr Chaibancha,Daonoi Duangjai,Kokheng,Op Boonthit,Somkuan Krajangsat,Sukon Koewliam,Lor Tok,Choomporn Theppitak


Main actress

: Petchara Chaowarat,Metta Roongrat,Prim Praphaporn,Khomapat Attaya,Sasithorn Phetrung,Malee Wetpraseri
Thai movie ลูกหนี้ทีเด็ด was released in year 1970. A partial sequence of 1h45mn in 16mm format is left. It is in mute state and the image is pretty damaged. After removing the damaged sequences, only 1h05mn remains to be seen. Another sequence of three songs in 35mm format lasts 9 minutes. The movie was dubbed and shown in Thai Film Archives in the shorter version of 1h05mn. The movie features 4 songs but only 3 songs are left. The poster selling point is that up to 40 different actors and actresses are present in this movie. Some of the actors are Metta Roongrat, Daonoi Duangjai, Mitr Chaibancha, Prim Praphaporn, Petchara Chaowarat, Kokheng, Op Boonthit, Somkuan Krajangsat, Sukon Koewliam, Lor Tok, Khomapat Attaya, Sasithorn Phetrung, Choomporn Theppitak, Malee Wetpraseri. Lit (Mitr Chaibancha) helps Somkuan Krajangsat and Lor Tok aggressed by ruffians. Somkuan is looking for the house of Op Boonthit so Lit helps him to find it. Wan (Metta Roongrat) is Op's granddaughter. Three friends (Lit and two comic actors) are living together. แม่ค่า Ling (Sasithorn Phetrung) tries to seduce Lit by being friendly with his friends and giving them free food. Ling's mother (Malee Wetpraseri) doesn't want her daughter to meet those poor 3 guys. Sophee, Lit's girlfriend, leaves him as he is poor. Pim (Prim Praphaporn) and Taeng (Petchara Chaowarat) take refuge in their home as rain is falling hard. Pim and Taeng are looking for lost relatives so Lit promises to help them. Policeman Sukon Koewliam and Kokheng are visiting Lit as he needs to pay back some debts. Sukhon threatens to send him to jail. Taeng helps Lit by offering her pearl necklace in order to soothe the usurer. Op Boonthit and Somkuan Krajangsat (พ่ออ้วน) complain Wan likes to go out often. Wan and Noi (Daonoi Duangjai) meet Lit and his two friends to discuss business. Lit visits Op and Somkuan's house. Lit borrows some money as he is opening a business. Wan gives money to Lit and his friends for them to be quiet. Two songs are then featured in the nightclub area. Lit is forbidding his former girlfriend Sophee to dance with Choomporn Theppitak in a nightclub. Chom (Khomapat Attaya) is also present. Lit finally punches Choomporn. Another love song is sung by Khomapat Attaya. Ling declares her love to Lit but Lit only considers her as a younger sister (น้องสาว). Op asks Lit to find his lost daughter. Lit needs to get back the pearl necklace also as Op mentions his lost daughter had such necklace. So he needs to verify if Taeng is the lost daughter or not. Chom is helping by giving money to Lit. Lit buys the necklace back from the Chinese usurier Kokheng. Finally Taeng is reunited with her family thanks to Lit. Later on, Taeng visits Lit in his house. Taeng is then singing with Lit in his house. Thanks to a sign on his chest, Lit is also identified as the lost son of Somkuan. The movie can end up happily. A movie with same name was released in year 1984 but the story is different.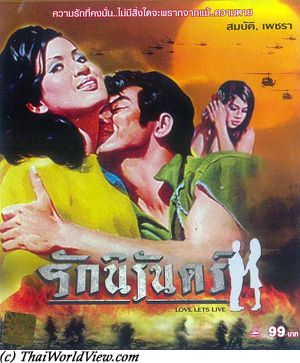 Year

: 1970



Thai title

:

รักนิรันดร์




English title

: Love let's live



Rating

: 2/5


Director

:



Main actor

: Sombat Methanee,Op Boonthit,Sukon Koewliam,Tawan Siriwat


Main actress

: Petchara Chaowarat



Buy now

:

Ratom is a young Thai lady living in Hong Kong. Buakam, Ratom's friend, sings songs in a bar frequented by US sailors. Ratom has to replace Buakam as she is leaving to Laos. Ratom is waiting for her father at the Kai Tak airport in Hong Kong. He has disappeared for 10 years. He (เจ้าพ่อ) comes back with a young new wife (แม่ใหม่). His father visits her in Hong Kong and they go to visit seaside. Robbers including a young man called Lak (Sombat Methanee) steal their belongings. Ratom sympathizes with Lak as both of them have a sad life. Lak can sing well and protects her against the other bad ruffians. Her mother kills herself due her treacherous husband so Ratom has to sing again in bars. This movie shows old Hong Kong with Kwun Tung police station, rickshaws, old double decker buses, chinese dresses cheongsam, Aberdeen. Her father is not happy that she stays with Lak so he brings her to Laos. Lak decides to follow her. This movie features numerous songs including molam and foreign songs. The movie mixes romance and action. Lak has to rescue her from a camp located in the jungle. The father and soldiers chase them. There is some inconsistency as from Laos, they can reach rapidly the sea! The father succeeds to catch Lak but the soldiers decide to kill both Lak and the father. Finally they can all escape and love between Ratom and Lak can finally become true.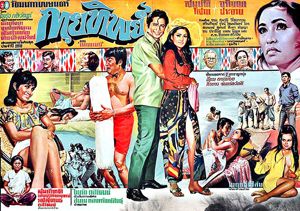 Year

: 1970



Thai title

:

กายทิพย์




English title

:



Rating

: 3/5


Director

:



Main actor

: Sombat Methanee,Chana Sriubon,Prachuap Ruekyamdee,Sukon Koewliam,Sithao Petcharoen,Krai Kanchit,Sawin Sawangrat,Ruj Ronnapop,Sompong Phonmitr,Pan Borapet,Op Boonthit


Main actress

: Aranya Namwong,Sopha Sataporn,Wilaiwan Watthanaphanit,Sarinthip Siriwan,Khomapat Attaya
Thai movie กายทิพย์ was released in year 1970. The movie lasts 2h30mn but only 1h00 is left to be seen. Jaomanat (Sarinthip Siriwan) is Atibadi's domestic helper. Jaomanat has two sons Phayoton (Sombat Methanee) and Pontet (Prachuap Ruekyamdee), playing a gay character (กะเทย). Atibadi (Chana Sriubon) has two daughters Romadee (Aranya Namwong) and Deuan Rung (Sopha Sataporn). Atibadi's wife (Wilaiwan Watthanaphanit), called Nimnuan, is dead already but her soul (วิญญาณ) has possessed Jaomanat. Three house spirits (ศาลพระภูมิเจ้าที่) are also involved. Two of them are played by Sukon Koewliam and Sithao Petcharoen. Krai Kanchit, a hairdresser, gets warned by Phayoton not to disturb Jaomanat anymore. Fighting in slum(สลัม) happens between Phayoton and Krai. Krai is defeated. Sawin Sawangrat comes later with more men to beat Phayoton but the three house spirits help him. สุมาลี ทองหล่อ, mother of Khomapat Attaya, wishes to grab Atibadi. Finally Atibadi takes Sumalee as his new wife. During the wedding party, Khomapat comes with Ruj Ronnapop but Khomapat has more interest in Phayoton. Sompong Phonmitr is playing a หมอทำเสน่ห์. Sumalee and Sawin visit the magician at the same time but they get teased again by the spirits. Krai comes at that time and meets Sumalee. They become lovers. Sumalee and Atibadi spend their honeymoon in Pattaya. Deuan Rung likes Phayoton but this one manages to have his brother Pontet taking care of her so that he can be with Romadee. Meanwhile Krai has seduced also Khomapat so causing Sumalee's ire. She sends Pan Borapet and Sawin to teach (สังสอน) Krai but they kill him. Upset, she also kills Pan Borapet and Sawin. Sumalee is feeling sad (น้อยใจ). Op Boonthit identifies that Nimnuan's sould (วิญญาณ) is inside Jaomanat. A proper ceremony needs to be done. Sumalee wishes to interrupt it. Monks need to be brought. While the soul is about to exit, Sumalee prevents the holy water to be poured. She is struck by a lighting and dies. Ruj is ravaged. Finally Jaomanat can fully recover.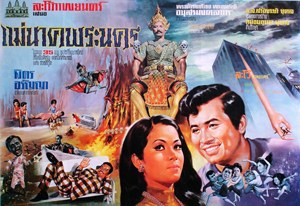 Year

: 1970



Thai title

:

แม่นาคพระนคร




English title

:



Rating

: 3/5


Director

:



Main actor

: Mitr Chaibancha,Sompong Phonmitr,Sukon Koewliam,Op Boonthit,Songthong


Main actress

: Aranya Namwong,Mom Chan Phuangwan,Sisala Thongtara,Kingdao Daranee,Chosri Misommon,Yaowaret Nisakorn
Thai movie แม่นาคพระนคร was released in year 1970. The movie is lost in Thailand but the movie is still available at the Thai Film Archives in Nakhon Pathom. Main actor is Mitr Chaibancha and main actress is Aranya Namwong. Other actors and actresses are Sukon Koewliam, Sompong Phonmitr, Mom Chan Phuangwan, Sisala Thongtara, Kingdao Daranee Op Boonthit, Chosri Misommon, Yaowaret Nisakorn, Songthong. Most of them are comic actors / actresses. So this 1970 version is more comic oriented (หนังผีตลก) than horror oriented. In this 1970 version, Nak also extends her hand but not to catch a lemon falling from the kitchen but to save somebody falling froma building. Mitr is playing Mak (มาก) and Aranya is playing Nak (นาค). The movie is taking place nowadays. Nak is hurt by a car driven by Doctor Mak, who is the reincarnation of soldier Mak from last century! The movie is lasting 145 minutes. The story is still available through old Thai magazines also.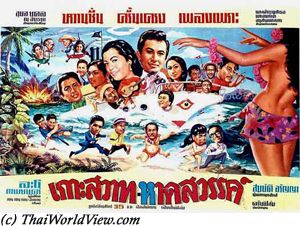 Year

: 1969



Thai title

:

เกาะสวาทหาดสวรรค์




English title

: Paradise Island



Rating

: 3/5


Director

: Prince Anusornmongkolgan



Main actor

: Sombat Methanee,Thuam Thoranong,Rujira Isarangkul,Ruj Ronnapop,Anucha Ratanaman,Op Boonthit,Sukon Koewliam


Main actress

: Aranya Namwong,Chosri Misommon,Manat Boonkiet,Metta Roongrat,Marasri Isarangkul,Sisala Thongtara
Khun Pradeun, a playboy, loves to party. He doesn't work. His father has arguments over coconuts gardens in Ko Samui with another businessman. They bet who could work more successfully, i.e. the son, Khun Pradeun, or the daughter, Khun Tum. Tum is a modern Thai lady wishing to work and with no husband. Her mother wants to find one husband for her but she prefers to go to island Sawat to help her father. If Pradeun wins, Tum must marry him. If he loses, he shall give up his business to her. Similar to many movies at the end of 1960s decade, this movie is rythmed with songs. Pradeun and Tum meet each other on the boat to island Sawat. Pradeun doesn't know the real identity of Tum as he expects somebody called Tum (ตุ่ม - pimple) to be fat, stupid. But he only shows his arrogance and suffisance. Tum and his friends try everything to have Pradeun to go back to Bangkok but to no avail. In the midst of controversy, he falls in love with her. Meanwhile, she begins to be confused because she might be in love with him as well. Pradeun tries dumping tactic to prevent sales but his three thousands coconuts have disappeared. He then needs to sort the coconuts that are mixed on purpose with those of Tum. They decide to use ruffians (นักเลง) to intimidate each other. Despite a few KO, Pradeun is the last one to stand up. Finally he knows the true regarding Tum and slaps her face for her treacherous behavior (in many Thai movies or Thai TV series, violence over women is surprisingly a way for men to show their love). Love is stronger between both of them. He saves her life during a fire in the local school and they finally marry. It is a 2h30 long lovely emotions movie. In 1960s decade, 2 hours length was frequent for many movies. This movie was then successfully updated in 2000s decade as a Thai TV serie.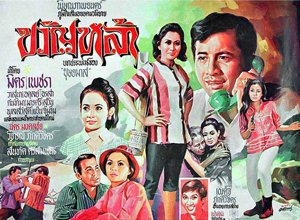 Year

: 1969



Thai title

:

ขวัญหล้า




English title

:



Rating

: 3/5


Director

:



Main actor

: Mitr Chaibancha,Adul Dulyarat,Op Boonthit,Chat Mongkolchai,Adinan Singhiran


Main actress

: Petchara Chaowarat,Orasa Isarangkul,Wassana Chalakorn,Marasri Isarangkul
Thai movie ขวัญหล้า was released in year 1969. It features Mitr Chaibancha as main actor and Petchara Chaowarat as main actress. The movie is lost in Thailand but a sequence of six minutes is left to be seen. Mitr is not seen in the remaining sequence. New star in this movie is Chat Mongkolchai. Other actors are Adul Dulyarat, Op Boonthit, Orasa Isarangkul, Wassana Chalakorn, Adinan Singhiran, ขอใจ ฤทัยประชา, กัณฑิมา ดาราพันธ์. Summary is still available from Thai star magazines. A family has a very cute daughter called Pan Kaew (Petchara). She never saw her parents as she was raised by Pa Puang. Her aunt Pa Puang is sick and so sent her to Chiang Mai in Nai Sarapee's home to be a domestic helper. In fact Pa Puang sold her! But Nai Sarapee likes her so much that she treats her like a daughter. One day when walking near the house, she hears an old man voice crying and asking for food / water. She gives him food and promises to help him again. Nai Sarapee announces to Pan Kaew that she will send her to Bangkok. In fact she is sold to a brothel (ซ่องโสเภณี / ซ่องนางโลม) for 6000 Baht. In the past, Pa Puang used to love Pan Kaew's father. But this love was not reciprocal. When Pan kaew was born, Pa Puang promised to make Pan Kaew's life as miserable as possible as a revenge against her father. Saying goodbye to the old man, he tells her to dig for an old jar and take the bracelet inside. If somebody sees this bracelet, she shall answer she is ขวัญหล้า! If this somebody has a red taint, Pan Kaew shall bring him to help the old man. In Bangkok, Pan Kaew meets Bua Riaw (Orasa). Understanding they have been sold, they try to flee. One day while the brothel owner brings Pan Kaew for her first customer, a man named Sun called her as Kwan La. Knowing Pan Kaew's father, Sun decides to help her. Meanwhile the brothel owner's son also decides to help Pan Kaew to flee. The summary ends up here.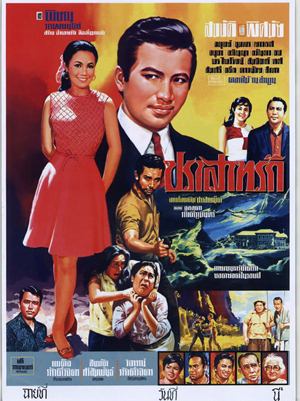 Year

: 1968



Thai title

:

ปราสาทรัก




English title

:



Rating

: 3/5


Director

:



Main actor

: Sombat Methanee,Adul Dulyarat,Anucha Ratanaman,Choomporn Theppitak,Sithao Petcharoen,Daonoi Duangjai,Op Boonthit


Main actress

: Pissamai Wilaisak,Somjit Sapsamruey,Yaowaret Nisakorn,Kwanta Buapliensri,Mom Chan Phuangwan
Thai movie ปราสาทรัก was released in year 1968. It features Sombat Methanee as main actor and Pissamai Wilaisak as main actress. The full movie lasts 2h08mn. Phairoj (Sombat Methanee) meets Uma Rangsee (Pissamai Wilaisak) in the train to Chiang Mai. Phairoj invites Uma to be a tutor for a disabled teen in his house called Prasat Meut. Uma finds a crazy woman (Somjit Sapsamruey) in a house near Prasat Meut. Food is given to her every day. Uma is not welcomed in the house by existing family members as Phairoj was supposed to marry with Kanya. After meeting Uma, he changes his mind. While Phairoj is away, Uma is aggressed but he comes back just on time to save her. Somjit, trying to carry Uma away, falls from a cliff and dies. Feeling threatened, Uma quits Prasat Meut and goes to province Narathiwat. Phairoj goes there to bring her back to Prasat Meut. The truth is finally revealed during the movie final. Many years ago Somjit was imprisoned by her father in Prasat Meut to stop a relationship with a noble man. She got crazy. Uma is in reality Mom Chao jing Uma Rangsee, Somjit's daughter. Yaowaret, Prasat Meut main superintendent, is the mother of Kanya and hired earlier a thug to hurt Uma. This movie features a big number of stars including Adul Dulyarat, Anucha Ratanaman, Op Boonthit (อบ บุญติด) ,Choomporn Theppitak...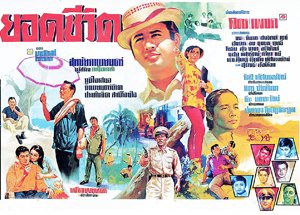 Year

: 1968



Thai title

:

ยอดชีวิต




English title

:



Rating

: 3/5


Director

:



Main actor

: Mitr Chaibancha,Somkuan Krajangsat,Chana Sriubon,Lor Tok,Sukon Koewliam,Op Boonthit,Choomporn Theppitak,Adinan Singhiran


Main actress

: Petchara Chaowarat,Kingdao Daranee,Somjit Sapsamruey
Thai movie ยอดชีวิต was released in year 1968. It features Mitr Chaibancha as main actor and Petchara Chaowarat as main actress. The movie is lost in Thailand but a sequence of 6mn30s remains to be seen. Various sequences show Somkuan Krajangsat discussing with Chana Sriubon, Mitr wearing the famous hat shown on the movie poster, a men being Mitr's father is dying, some fighting in outdoor mine, some family issues as slapping and punching happen, gun shooting. Other actors are Lor Tok, Op Boonthit, Sukon Koewliam, Kingdao Daranee, Somjit Sapsamruey, Choomporn Theppitak, Adinan Singhiran. The movie summary is still available through Thai stars old magazines.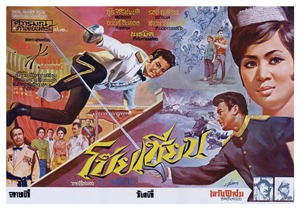 Year

: 1967



Thai title

:

โป๊ยเซียน




English title

:



Rating

: 3/5


Director

: Neramit



Main actor

: Mitr Chaibancha,Lor Tok,Sukon Koewliam,Prachuap Ruekyamdee,Preuhat Boonlong,Op Boonthit,Pramin Jarujareet,Joomjim Khemlek


Main actress

: Petchara Chaowarat,Somjit Sapsamruey,Preeya Roongrueng,Malee Wetpraseri
Thai movie โป๊ยเซียน was released in year 1967. Main actors and actresses are Mitr Chaibancha, Petchara Chaowarat, Somjit Sapsamruey, Lor Tok, Sukon Koewliam, Prachuap Ruekyamdee, Preeya Roongrueng, Preuhat Boonlong, Op Boonthit, Pramin Jarujareet, Malee Wetpraseri, Joomjim Khemlek. Movie director is Neramit. The movie is lost in Thailand but a sequence in 16mm format can still be seen. It lasts twelve minutes and features colorful sequences. The remaining sequences allow to see Mitr and Somjit Sapsamruey playing his mother. The house owner wishes to chase them. Lor Tok gives money to calm her down. He also brings food to Mitr and Somjit. Mitr and Lor Tok are doing multiple jobs such as cleaning clothes, working in hairdresser shop... A customer arrives. It is first time for Mitr to cut hair so it is disaster. Mitr finally works as assistant in a photographer shop. He is fired again but the shop owner has pity and helps him. The remaining sequences show Mitr wearing prince clothes, Petchara crying, Mitr being reunited with his mother Somjit.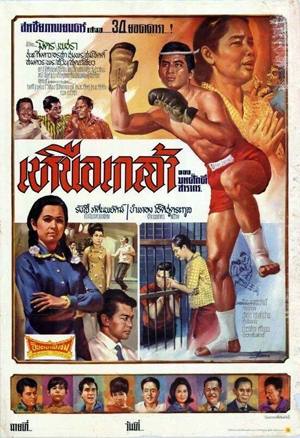 Year

: 1967



Thai title

:

เหนือเกล้า




English title

:



Rating

: 3/5


Director

:



Main actor

: Mitr Chaibancha,Chana Sriubon,Choomporn Theppitak,Somkuan Krajangsat,Lor Tok,Sukon Koewliam,Sompong Phonmitr,Adinan Singhiran,Dokdin Kanyaman,Preuhat Boonlong,Op Boonthit


Main actress

: Petchara Chaowarat,Somjit Sapsamruey,Kingdao Daranee,Orasa Isarangkul
Thai movie เหนือเกล้า was released in year 1967. It is in mute mode as the film is in 16mm format so requesting live dubbing. 1h33mn is left to be seen. It still has a colorful image but the film is partially damaged. Somjit (Somjit Sapsamruey) is working as food street vendor (แม่ค้า). Her husband (Somkuan Krajangsat) is often drunk and violent. They have three kids. They have always financial problems as the father drinks a lot. Years have passed and children have grown up. One of them is Mitr Chaibancha. The others are Chana Sriubon and Choomporn Theppitak. Sompong Phonmitr is head of Thai boxing training centre. Lor Tok is his assistant. One day as the drunkard father asks for money, he becomes violent again and Somjit has to protect herself with scissors. Through an accident, the father receives a fatal injury. Somjit ends up in jail. Mitr, Sompong and Lor Tok leave and look for job to find money to pay for Somjit's bail. Mitr is recruited as Thai boxer. A first match versus Adinan Singhiran happens. Petchara Chaowarat and Dokdin Kanyaman are part of spectators. Mitr finally wins the match despite being told to lose it as he needs money to help his mother. As the match maker refuses to pay, it ends up in another fighting. Preuhat Boonlong decides to hire the three men to working in an outdoor mine. They got troubles with two men in the mine. Fed up the three friends wish to quit the job but Preuhat Boonlong convinces them to stay. The mine is attacked. Mitr pushes back the aggressors but is injured so getting the sympathy from Petchara. The mother is finally released from prison. Kingdao recruits her as domestic helper. Her boyfriend is Choomporn. Finally the mother is also reunited with Mitr. Another attack happens on the mine and Mitr is accused of murder. It ends up to trial. Scolded by his mother, Chana finally gives information that Mitr is not guilty. Ruffians wishing to take revenge on Chana and try to shoot him. The mother interposes herself and gets shot. Mitr and his brothers catch the ruffians. Movie ends up with everybody around the mother's bed at hospital. 34 stars are announced on the movie poster!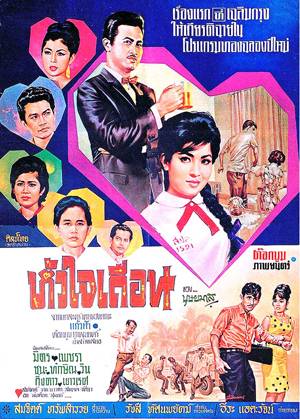 Year

: 1964



Thai title

:

หัวใจเถื่อน




English title

:



Rating

: 3/5


Director

:



Main actor

: Mitr Chaibancha,Taksin Jampol,Lor Tok,Chana Sriubon,Tat Ekathat,Op Boonthit,Sukon Koewliam


Main actress

: Petchara Chaowarat,Kingdao Daranee,Yaowaret Nisakorn,Somjit Sapsamruey,Malee Wetpraseri
Thai movie หัวใจเถื่อน was released in year 1964. It features Mitr Chaibancha as main actor and Petchara Chaowarat as main actress. Other actor includes veteran Taksin Jampol. He tries to kidnap Petchara twice. The movie is lost in Thailand but a 8 minutes sequence is left to be seen. Other numerous performers are Lor Tok, Chana Sriubon, Kingdao Daranee, Yaowaret Nisakorn, Tat Ekathat, Somjit Sapsamruey, Op Boonthit, Sukon Koewliam, Malee Wetpraseri. It looks like an action movie. A few shooting sequences happen involving Mitr, Chana and Taksin. A few brawls happen with ruffians trying to kidnap Petchara. The company producing this movie belonged to Somjit and her husband Lor Tok.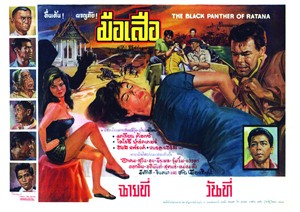 Year

: 1963



Thai title

:

มือเสือ




English title

: The Black Panther of Ratana



Rating

: 3/5


Director

: Tae Prakardwutthisan



Main actor

: Sawin Sawangrat,Sukon Koewliam, Dokdin Kanyaman, Adinan Singhiran,Op Boonthit,Phirapon Piyawan


Main actress

: Mom Chan Phuangwan
LaRoche and two Thai men steal a diamond encrusted in a sacred Buddha statue head. LaRoche betrays the Thai men and leaves them to their fate while keeping the diamond for himself. During the troupe review army day by the King of Thailand, Bradberry, mine expert, is asked to go to South of Thailand. Mr Chang (Op Boonthit), owner of a mine in South Thailand, wishes to retire. Larry Flinch, working in the mine, is a drunkard and is fired by Mr Chang. Very soon, Mr Chang seems to have been attacked by a panther and dies. Roller is the new chief of operations. Monk (Sawin Sawangrat) has arguments with Larry. Monk and Larry shall meet in Silver Moon bar. Larry meets there a sexy lady called Eva and a fight erupts. Monk is found dead being killed by a black panther also. Jack Roller plans to sell the tin mine to go back to Europe so the buyer is sending an inspector, Mr Bradberry. Nicole Anderson is a doctor in a Catholic mission led by Father Antonio. Madeleine is Jack's girlfriend and had introduced him to Mr Chang. A Thai man, the second complice in the burglary is also killed. Father Antonio is also killed. Bradberry and Nicole believe those four murders are linked. Who is the killer? Larry? Roller? After his tests, the mine purity is deemed not so good so Bradberry refuses to sign the buying contract. Veteran actor Thai Akom Mokaranondha is also playing in this movie. Roller kidnaps Nicole to force Bradberry to sign the papers. Roller and LaRoche are in fact the same man. Larry helps them but LaRoche succeeds to flee. Finally LaRoche is arrested by the police led by Eva while trying to pocket the mine selling. The Black Panther of Ratana (มือสือ) is a Thai co production with Germany and was released in year 1963. It was a joint effort between Tae Prakardwutthisan and German Hans Berthel. For the release in Thailand a special scene was added in the movie, i.e. around 16 minutes of songs and featuring a few famous singers and comic actors in Thailand (Sukon Koewliam, Dokdin Kanyaman, Adinan Singhiran, Mom Chan - หม่อมชั้น). Movie is lasting 1h27mn and the additional Thai sequence is 16mn37s. It is a lost movie in Thailand but it can still be purchased overseas.



Year

: 1961



Thai title

:

ดรรชนีนาง




English title

:



Rating

: 3/5


Director

:



Main actor

: Op Boonthit


Main actress

: Pissamai Wilaisak
Thai movie ดรรชนีนาง was released in year 1961. It features Pissamai Wilaisak as main actress and Saen Surasak (แสน สุรศักดิ์) as main actor. This 16mm film is lost in Thailand but around 1h10mn is still left. The original movie features 7 songs. Two militaries, including an officer called Niran (Saen Surasak) and a veteran comic actor (พูนสวัสดิ์ ธีมากร), spy Danchanee (Pissamai Wilaisak) through binoculars. Pissamai has a gorilla protecting her and able to speak also. Pissamai is crying on the grave of her mother Danchanee Chai Lai and gets comfort from her father. Her mother died just after giving birth to Danchanee. The father warns Danchanee to beware of the soldiers. The father wants to avoid disappointment for Danchanee regarding flirting with a city dweller (หนุ่มกรุงเทพ). He welcomes the soldiers with a gun and forbids them to meet Danchanee. Following a letter given by the monkey, Danchanee meets the officer Niran at night time without waking up her father. She also meets him while her father is away catching fishes. The father is back before and see a scene between both of them (ชีวิตรัก / ลูกเสีย). Niran has to leave but promises to take care of Danchanee. Danchanee is punished (ถูกทำโทษ) by her father. Time passes. Danchanee's father brings her to Bangkok where they meet Op (อบ บุญติด), Niran's father. Danchanee is pregnant. Danchanee and her father find Niran kissing his fiancee in the swimming pool. Niran gives her money but Danchanee throws it back to him. The father gets angry and even he gets faint. They all go back to Songkhla. One day, Niran and his new wife Gnamta (งามตา ศุภพงษ์) find a bad odour in their house. Danchanee cut her small finger and sent it as wedding gift with a letter. Later Niran understands his mistake. Gnamta lets him go and Niran rushes looking for Danchanee. Her father is dead following grief. Danchanee welcomes Niran with a gun and injures him in the arm. He finally asks for forgiveness and receives it.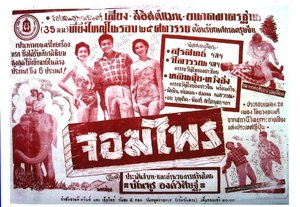 Year

: 1957



Thai title

:

จอมไพร




English title

: The Autumn Phoenix



Rating

: 4/5


Director

: Ho



Main actor

: Surasit Sattayawong,Taksin Jampol,Op Boonthit


Main actress

: Wilaiwan Watthanaphanit,Jeanette Lin Tsui
Thai movie จอมไพร (The autumn phoenix - 秋鳳 - Qiufeng) was released in year 1957. It is a Thai HK Taiwan co production. It lasts 1h18mn40s. The movie is lost in Thailand but it can still be seen at Taiwan Film Archives or HK Film Archives. A trailer lasting 1mn02s can be seen online. Thai actress Wilaiwan Watthanaphanit and Thai actor Surasit Sattayawong are playing. The director is Ho. It is Ho's first colour film, i.e. "The Autumn Phoenix" (1957) starring Jeanette Lin Tsui. Despite being a 60 years old movie, it still has a colorful and very good quality picture. It features two songs. The movie starts by showing working elephants driven by mahouts in the jungle and pushing trunks. They also get latex from tree. The characters are Op Boonthit (the father), his son Lilan (Surasit Sattayawong), his daughter Yuen Lai (Wilaiwan Watthanaphanit). Their close friends are uncle wang and his daughter Tsiu Fung (Jeanette Lin Tsui). Lilan has a lame leg and loves secretly Tsiu Fung. Yuen Lai always likes to make fun and wears always colorful nice dresses. A man wishes to become a new partner for timberland activities but the father Op refuses. Luwan, the son, (Taksin Jampol), is looking for troubles. Uncle Wang is hurt by elephants due to the mess caused by Luwan. It is Buddha day. Friends are talking about an old Chinese tragic tradition, the hanging ghost, when young ladies get suicide when raped. Friends are going out and bathing in waterfalls. Luwan is around riding a horse and is looking for trouble with Lilan. Fighting happens. Lilan is knocked out so Luwan tries to rape Yuan Lai. Tsiu Fung gets some help. Uncle Wang arrives on time and beats Luwan severely. Luwan is looking for revenge. His ruffians lock Uncle Wang's home doors and scorch the house. Uncle Wang and Tsui Fung succeed to escape. They know it is a criminal act done by Luwan. On a visit to the Duke, Yuen Lai is kidnapped. Yuen Lai is given back but she was raped. Family honor is engaged. Her father wants to avoid spreading this as Duke would learn. Uncle Wang learns it from drunkards. Uncle Wang has arguments with them and Duke's house keeper also learns it. The Duke, Yuen Lai's fiance, cancels the wedding and engagement. Tsui Fung visits the Duke's home to explain the truth to him and to beg him. He accepts. Too late as Yuen Lai has already hanged herself. The father Op has an heart attack. Both are dead. Chinese rites are performed. Uncle Wang is looking for revenge. One of the rapist was bitten severely at the hand. Uncle Wang identifies him and forces him to say the truth. Chase happens inside the temple with Luwan. Uncle Wang kills him but is severely injured. A car brings him home. He dies after entrusting his daughter Tsiu Fung to Lilan. Honor is washed. The Chinese Taipei Film Achieves said that the copyright of this movie originally belonged to a HK company but the HK company sold the rights to Taiwan Film Culture Co., which was a movie company belonged to Taiwan Provincial Government. Since there is no Taiwan province now, all the assets of Taiwan film culture Co., is now taken care of by Ministry of Culture. The Ministry of Culture authorize the Chinese Taipei Film Achieves to take care of these films, including The autumn phoenix year 1957. This movie cannot be copied or viewed online. The only way to watch this movie is to go there. The quality of this movie is not good since it is transferred from 3/4 to digital betacam.
---